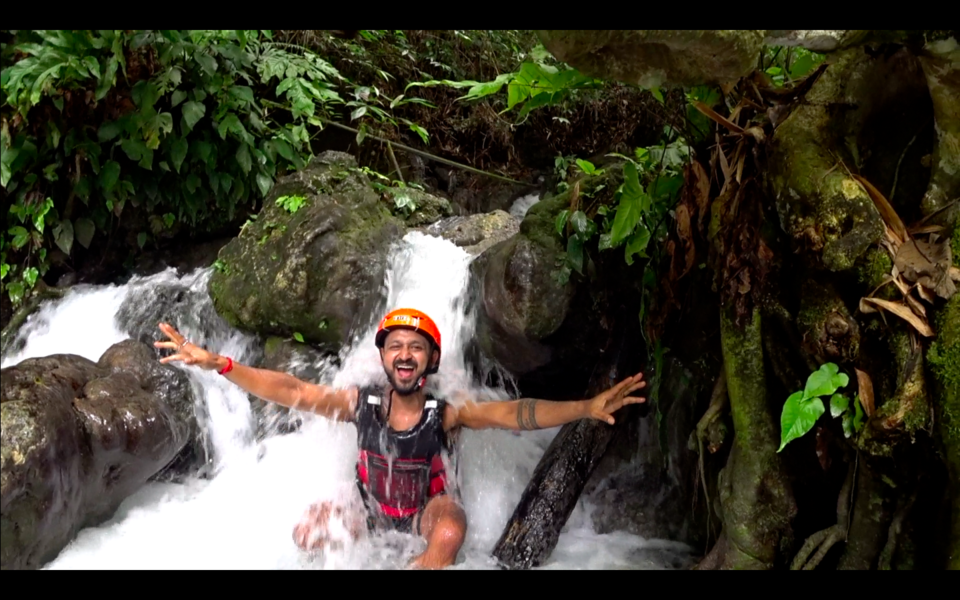 On the 18th, we checked out from our property in Cebu, the NS Royal Hotel at around 5.30 AM, as we were starting off for our next destination, Moalboal (South Cebu). We asked at the reception and they directed us to the Van Terminal in Cebu City. We hired a cab to go there and boarded a van, which costs us 130 PHP each, however, we had to pay another 130 for our luggage. The journey lasted for around 3.5 hours, when we reached the MoalBoal Police Station.
Now, I had already made friends with Albert (Moalboal Piscador) on facebook a couple of months ago and he was waiting for us there. We met him and then took a habal-habal (tricycle) to our resort, which was located right on the beach front far from the hustle and bustle of the town(around 15-20 minutes ride from the police station). We paid 200 PHP for the ride.
After our day trip in Bohol on the 17th, we returned to Cebu and experienced the evening life therein (around Ayala Mall) post which we retired for the day!
It was around 4.30 PM, when we left for Lambug Beach, which is another white beach in Badian, a 45 minutes ride from Panagsama Beach. We reached there just in the nick of time, to watch the sunset and trust me, it was magical. To be honest, the sky in Moalboal is so clear and full of clouds that it appears to be hand painted, during the sunset.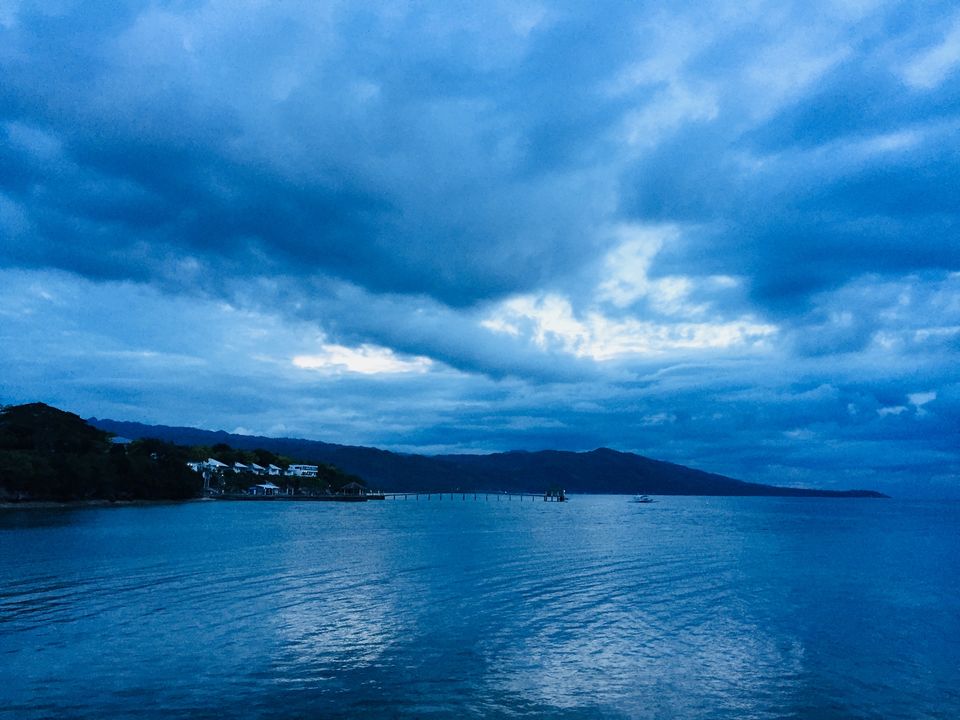 After freshening up, Angela arranged a scooty for us (500 PHP a day) and we set off to roam around the place in the afternoon. The weather was so comforting with clear skies and sea-breezes blowing all over. We asked around and reached Panagsama Beach after 20 minutes of bike ride. We parked our bike and occupied a table at the Veranda Kitchen & Bar, where we just chilled out for 2 hours drinking beers one after another. We never felt drunk though because of the lovely weather. Beer is a lot cheaper in the Philippines. It costs us 80 PHP (but if you buy at a store it would cost you 55 PHP).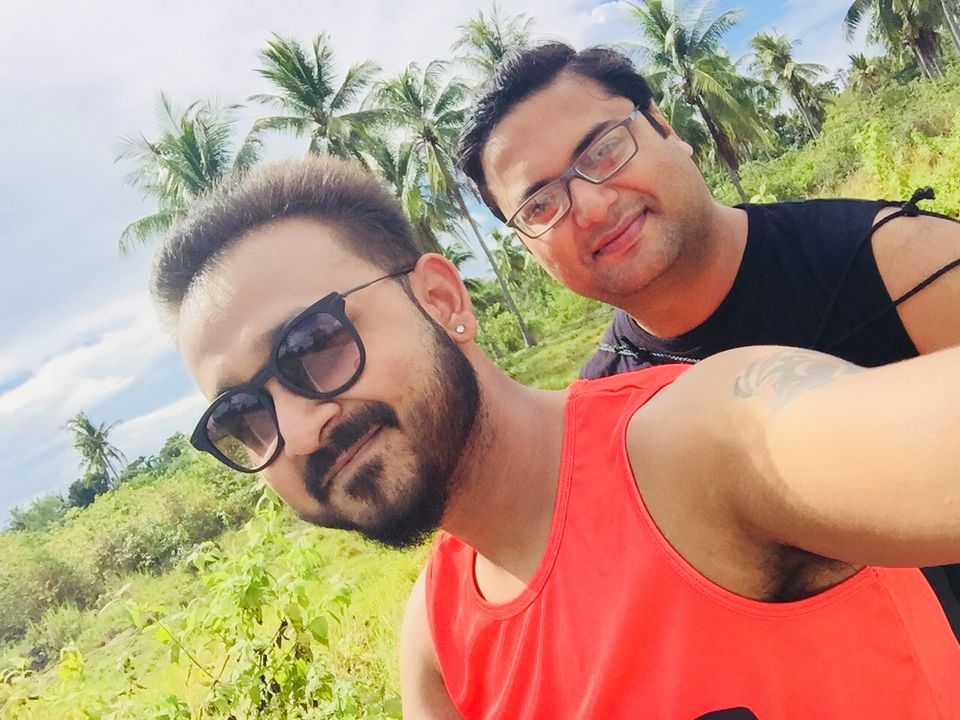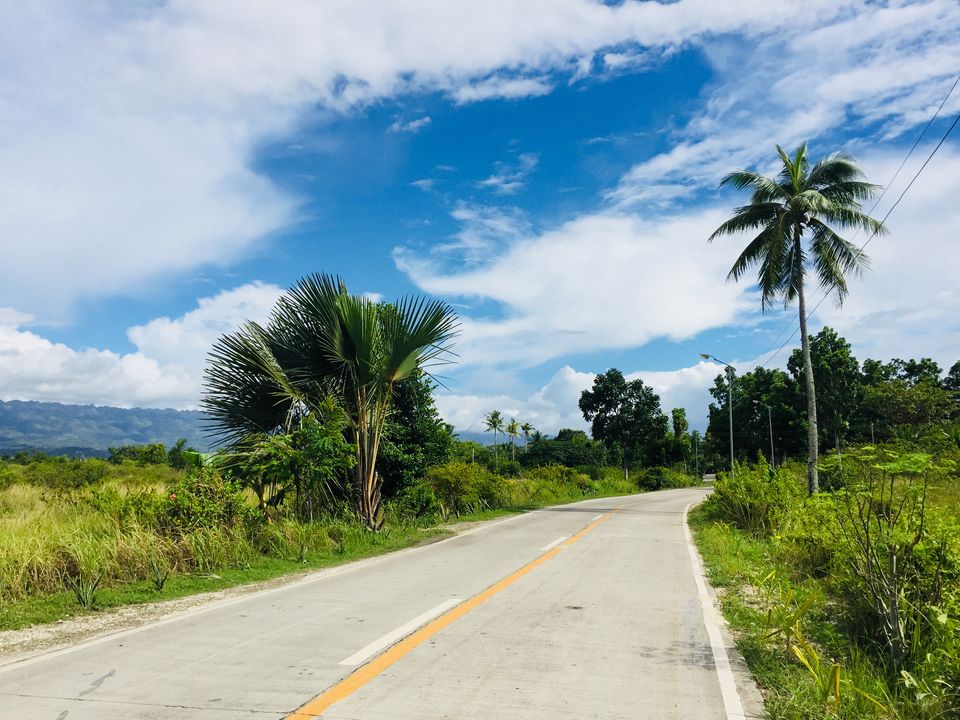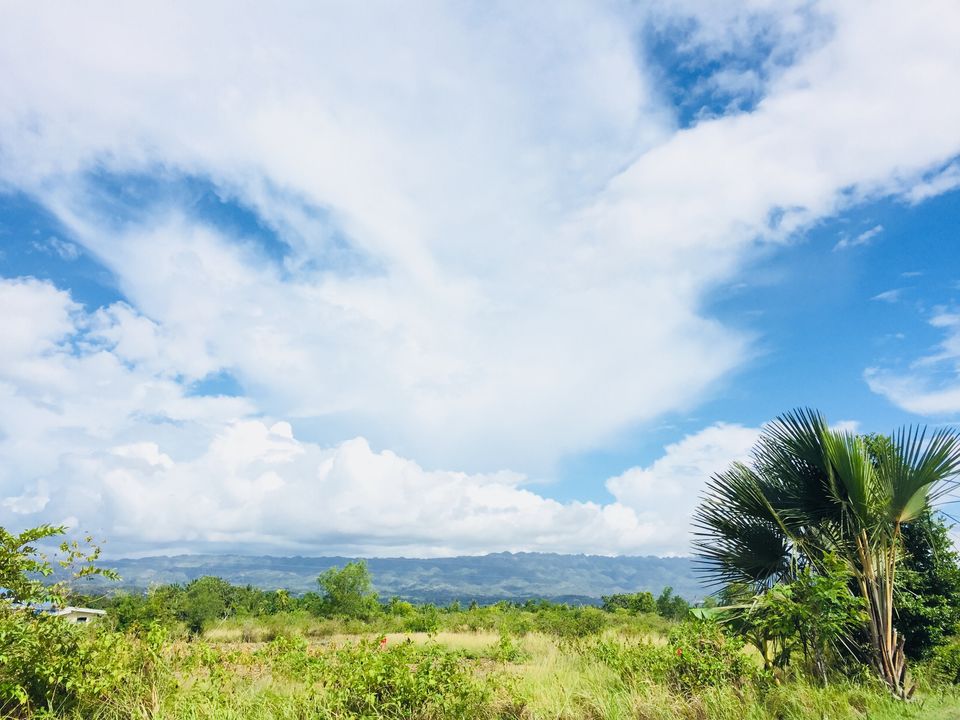 A couple of guys were drinking at a local shop and they were doing a videoke session. Videoke is a form of recreation for the locals in Philippines. They have a huge directory of songs, which are preloaded in a television set and when you punch in numbers, then the lyrics pops up on the television screen. It was so much fun and we sang songs one after another & had a great time with these guys who were visiting from Manilla. They were a great company, to be with. It was 8 PM when we left and came to know that the best party place is Chili Bar at Panagsama Beach. We started off with playing pool accompanied by beers. The crowd started coming in around 11 PM and our party on the 1st night at Moalboal lasted till 2 AM in the morning. Exhausted and this time drunk, we returned to our resort in the wee hours of the morning and slept like a baby.
Next day, we had initially planned for Oslob, but couldn't make it since we couldn't wake up at 3AM. Woke up at 6.30AM and went for an early morning swim in the sea. That day, we spoke to Albert and he suggested that we do the Canyoneering at Kawasan Falls, Sardines Run and the Turtle Watching. So, we started with our guide Jhong (Albert's team) at 9.30 AM. Rode up-to Badian which took us 40 minutes and had our breakfast and coffee at a local shop. We got our gears (life-jacket, shoes & helmet) in there, for a fee of 100 PHP. Post that, we started the canyoneering course, which included climbing the waterfall through the slippery rocks, 35 & 40 feet jump sessions, natural water slides, swing and the turquoise water of Kawasan. They call the color Gatorade Blue. Please ensure that you hire a guide for the canyoneering otherwise it would be very dangerous, because you might jump and land on the rocks. A lot of accidents have taken place in the past. The entire course ended around 1.30PM and then we had our lunch (we were hungry AF)
Next, we rode back again to the Moalboal Police Station and just beside it, you would find the pier/jetty from where the boats leave for the Sardines Run and Turtle Watching. We had to sign a few documents and then finally boarded the boat along with Jhong and 3 other boat crew.
Sardines Run: We had never seen so many Sardines in life. There were millions of them and it seemed as if they were swimming to a tune. It was amazing.
Turtle Watching: As it was a high tide that day, thus we didn't see a lot of turtles, just one. At least that way, our efforts paid off. Even saw a fish feeding off the moss on the turtle shell. It seemed like it was riding on the turtle back. What a coordination!
Our activity for the day came to an end around 4.30 PM and we retreated to our resort. We had a heavy lunch (Spanish Mackerel) and just drank the night through. Beers are so good in the Philies and the more I write about it, the more my beer buds miss them :(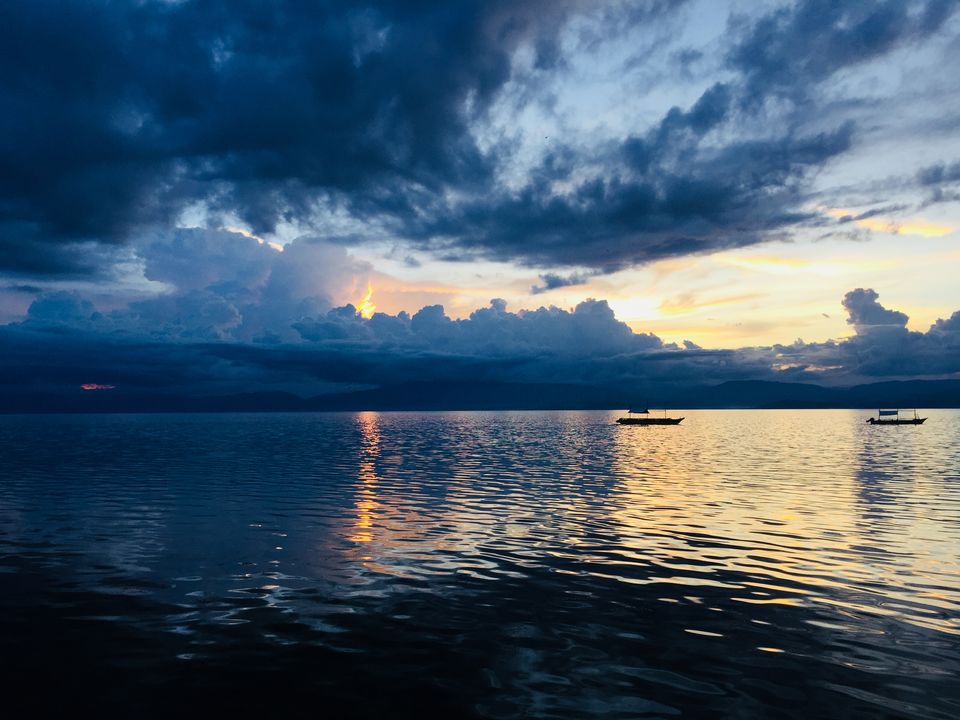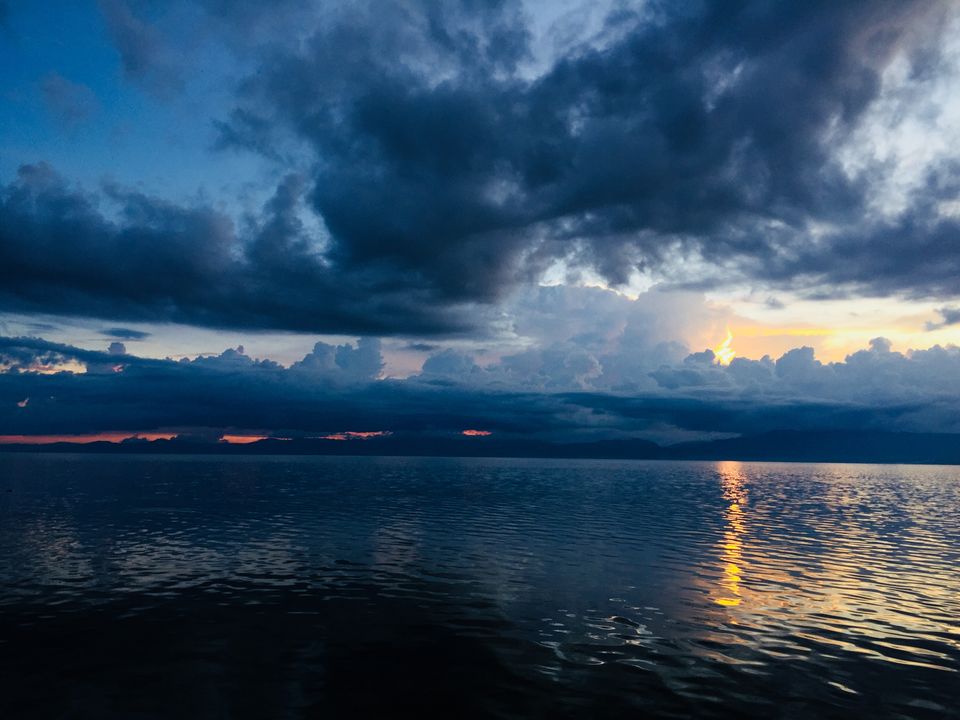 We were greeted by Angela at The Blue Orchid Resort and she started the orientation for the day. We chatted a lot about our travels and she also showed me around the beautiful resort. The best part though was the honeymoon suite, which has all the amenities you can think of and the amazing view-deck from the top, where we saw the entire coastline of Moalboal. That was indeed the showstopper. They charge only 9400 PHP for it, which is a great deal looking at what you're getting in return. We also spoke to Steven (Angel's husband) and they are a Brit-Scottish couple respectively. We also met Julie (she takes care of marketing for the resort) and she is a Brit as well. They were so amiable and hospitable throughout our stay, that we couldn't ask for more. Samson (a lab who recently passed away) and Esmerelda (The Rufous Hornbill) were our playmates all day. They were so adorable.
P.S. - The Wild Orchid Resort is WIP. It would be open to the public probably by next year. Richard is looking after it and it is worth a visit travelers.
Needless to say, our 1st day at Moalboal was a huge success and it was more than what we could've ever asked for. If you have travelled to Moalboal, please share your experiences as well. Would love to hear about your travel story \m/
-----------------------X--------------------------------------
A BIG THANKS to ALBERT & HIS TEAM
MOALBOAL PISCADOR - https://www.facebook.com/delbert.metran
*** Reach out to him in case you have any query about Moalboal. He is a great guide and he would give you the best reasonable rates for the tour ***
-----------------------X--------------------------------------
A BIG THANKS to ANGELA-STEVEN-JULIE:
THE BLUE ORCHID RESORT - https://booki.ng/2yzgDtS
If you want to experience a wonderful stay by the beach.
-----------------------X--------------------------------------
Our hotel in Cebu City:
NS Royal Hotel - https://www.booking.com/hotel/ph/royal.en-gb.html
-----------------------X--------------------------------------
Bars & Pubs we hopped @ Panagsama Beach:
1. Veranda Restaurant and Bar: https://bit.ly/2CHzLuc (Trip Advisor)
2. Chili Bar: https://bit.ly/2RMBmmL (Trip Advisor)
-----------------------X--------------------------------------
FOLLOW ME AROUND \M/
My Social Network Links:
Facebook: https://www.facebook.com/Bulkan.Neil
Instagram: https://www.instagram.com/neilmeister/
-----------------------X--------------------------------------
Peace\m/
Regards,
The Lost Bong