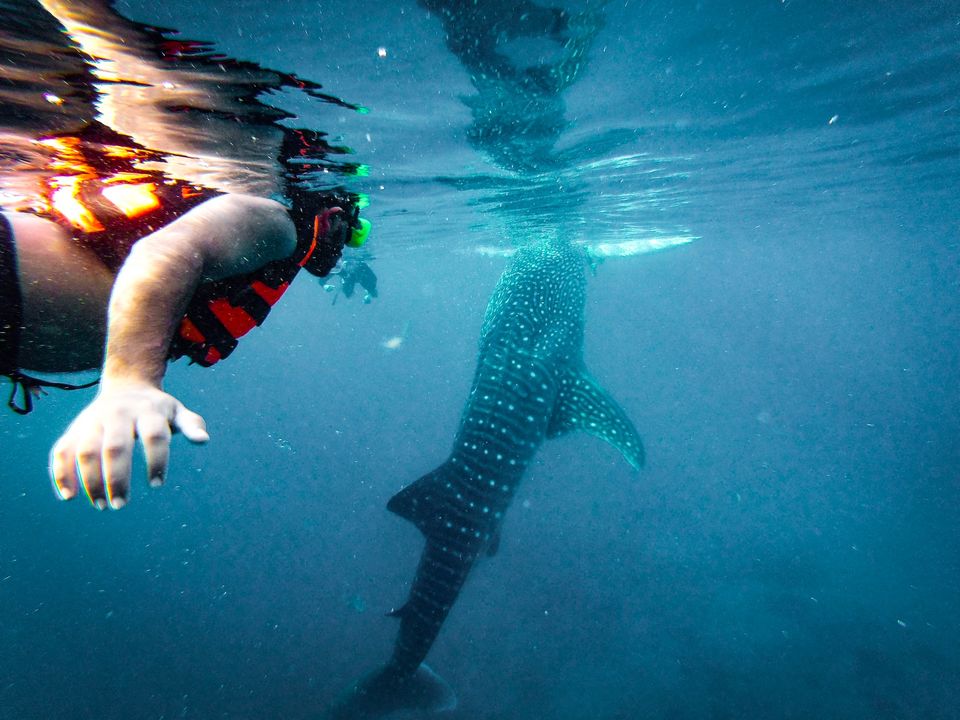 With more than 7000 islands to explore, Philippines is a unique destination to backpack around. It has its own mix of cultural and natural experiences and is isolated from tourist hotbeds such as Thailand and Bali. Admittedly, I knew very little of Philippines and I was not sure of what to expect from the country before I embarked on the journey. For my five day long backpacking trip to the Philippines, I decided on spending my time at the southern island of Cebu. Specifically, I wanted to check out the region of Oslob. Located on the south end of Cebu, Oslob is growing in popularity. Besides its beautiful beaches and the Whale Shark diving experience, Oslob also boasts of several breathtaking waterfalls and coral reefs. Add a dash of Spanish influenced food and architecture, infuse with a colorful blend of religious traditions, and music, and you've got an addictive mix that makes Philippines easy to love but hard to leave.
One of the world's most widely photographed waterfalls according to Travel + Leisure, Kawasan Falls are located about 80km from Oslob. I rented a bike for this two-hour journey along the coast. The views throughout the drive were breathtaking and I stopped several times to admire the Filipino shoreline. I was lucky to have amazing weather throughout the day.
The 20-minute hike to Kawasan Falls starts at Matutinao Church located on the highway. I parked the bike here for PHP 50/ USD 1. The trail passes through a tiny village along the Kawasan river. You will see abandoned bridges, wooden huts and several women doing their laundry in the river. Along the hike, you will also see the entrance to the falls, where tickets can be purchased for PHP 40/USD 0.80.
Kawasan Falls are a treat to your senses. Fresh turquoise colored water and lush greenery make for outstanding scenery. Taking a dip here is an absolute must. If canyoneering interests you, there are several tour guides around for you to approach. The price is between PHP 1000-2000/USD 20-40.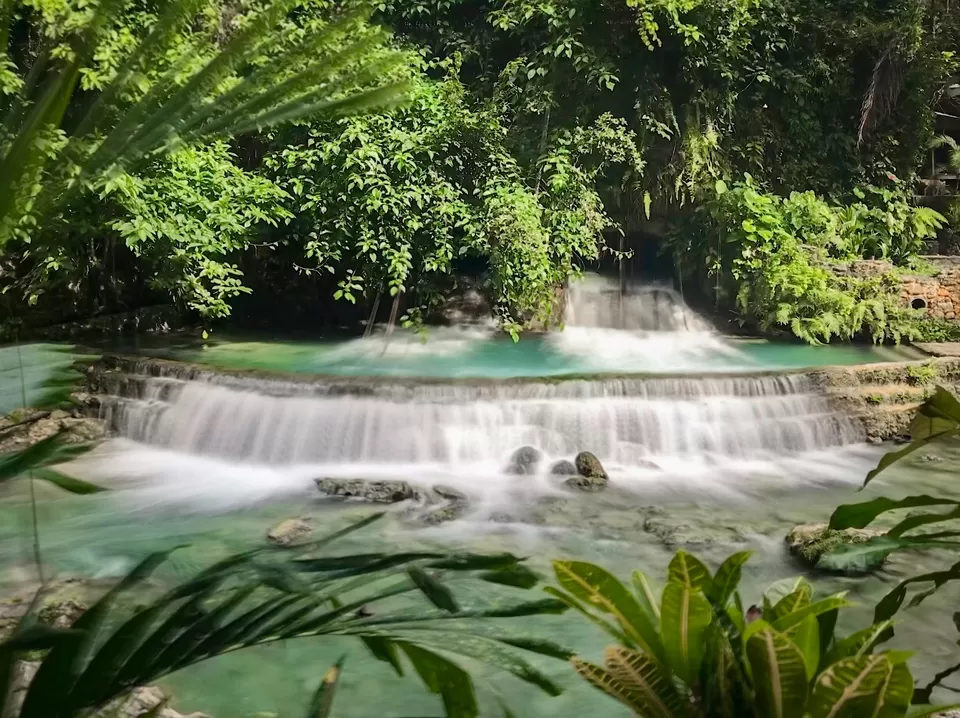 Having said that, it is important to realize that these falls are super touristy, and you will find many eager beavers trying hard to take the perfect selfie. Several touts would offer you rides on a bamboo raft (PHP 600/USD 12) or a canyoneering tour. Since this place is popular among locals as well as tourists, you should avoid visiting over the weekend.
I stopped at Lambog Beach on my way back from Kawasan Falls. Although this beach is tricky to get to, it is worth the visit. It is a pretty strip of sand and is usually not crowded. The beach is beautiful, and there's little to do but grab a coconut and laze on it.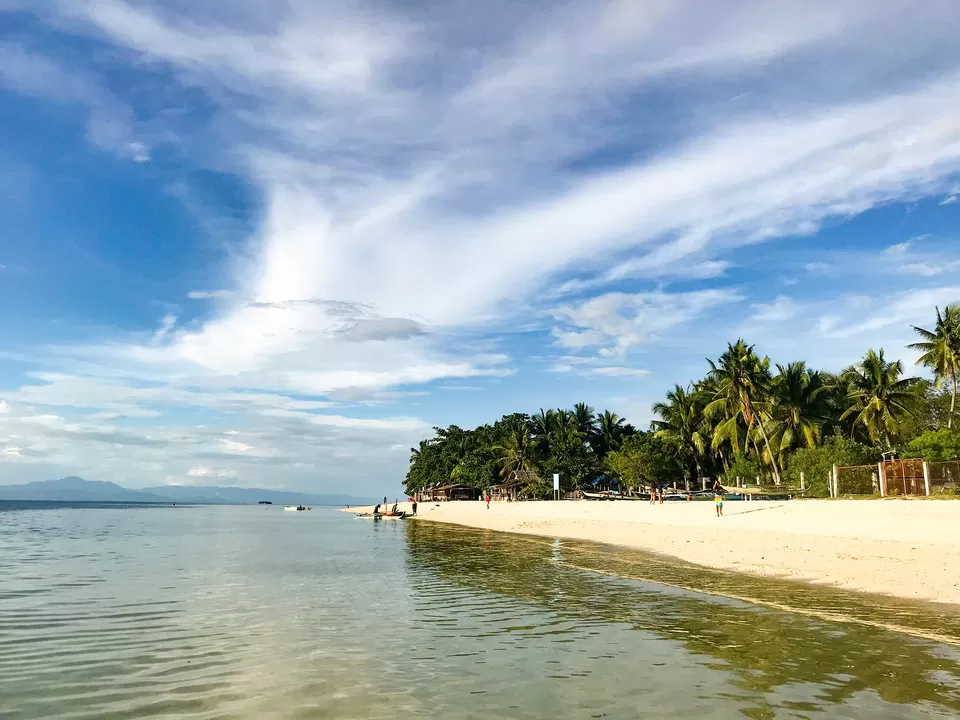 Swimming with whale sharks is the ultimate underwater adventure. If you're going to the Philippines and are seeking thrill, then swimming with them is a must. Whale sharks are the world's largest fish and can grow up to 12 meters in length and can weigh up to 20 tons. Despite their size, they are not aggressive and are harmless. They also have no teeth.
My day started bright and early since the best time to see these gentle giants in the wild is early in the morning. I purchased a 30-minute diving package from Aaron's Beach Resort for PHP 1000/USD 20. I was also provided with the necessary snorkeling gear. After a quick safety briefing, I was taken in to the sea in a small boat.
I would never forget the first time I saw a whale shark. I knew they were big but did not realize their scale until I saw them up close. The shark was docile and was graciously swimming around, looking for food. Before I knew it, I was surrounded by four giant whale sharks. Although I was careful of keeping a distance of at least 4mt from the beasts, they did not seem to be aware of the rule! Extremely curious, a couple of them swam to almost touching distance of me. Trying hard not to freak out, I grabbed my GoPro and took a few photos of the sharks. I have photographed several wild animals in the past, but this was one of the most thrilling experiences I have ever had.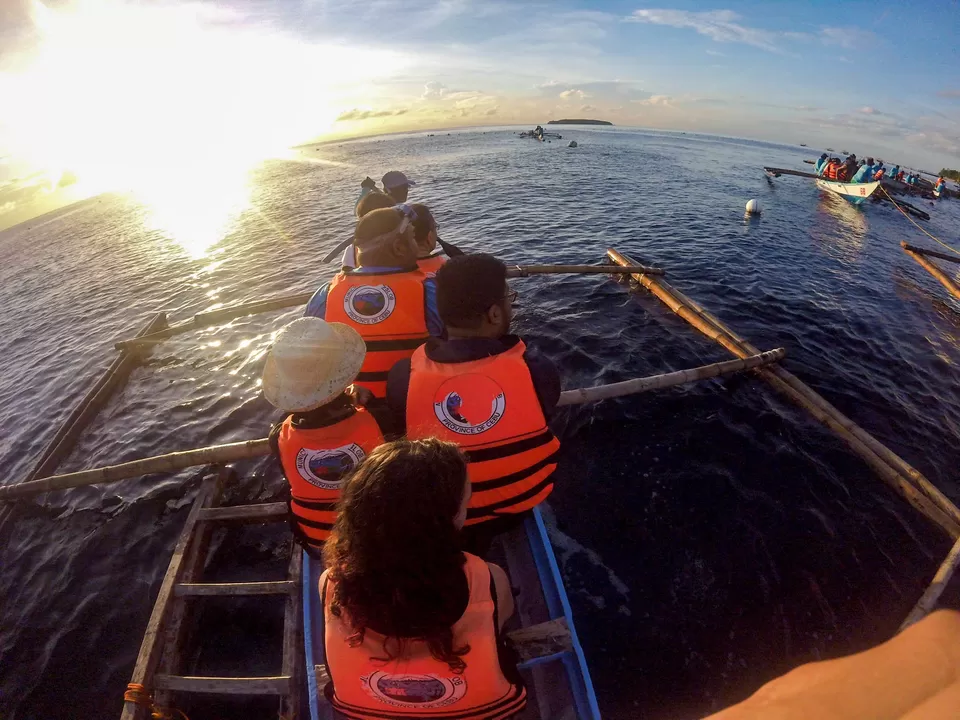 One of South Cebu's best beaches, Tingko Beach is half an hour from Oslob. It is relatively low profile and this appeals to most travelers that throng the beach. The shore is covered in white sand and dotted with beach houses. The beach also has a playful, festive vibe to it. I saw locals sing karaoke and play frisbee. The water was clear, and the sun was perfect to grab a couple of beers and admire the views.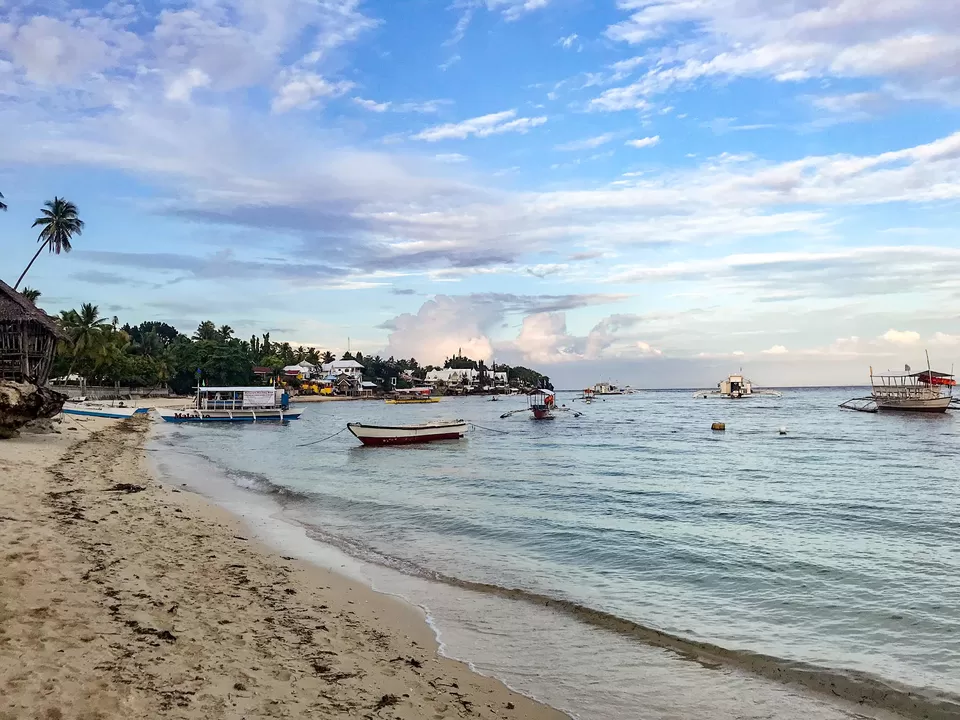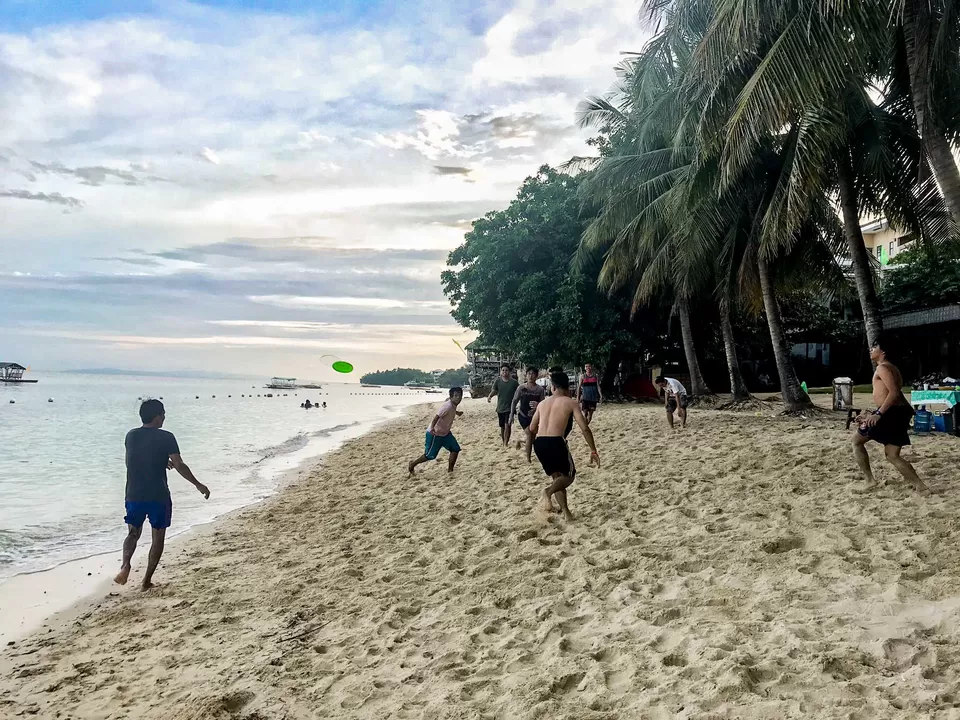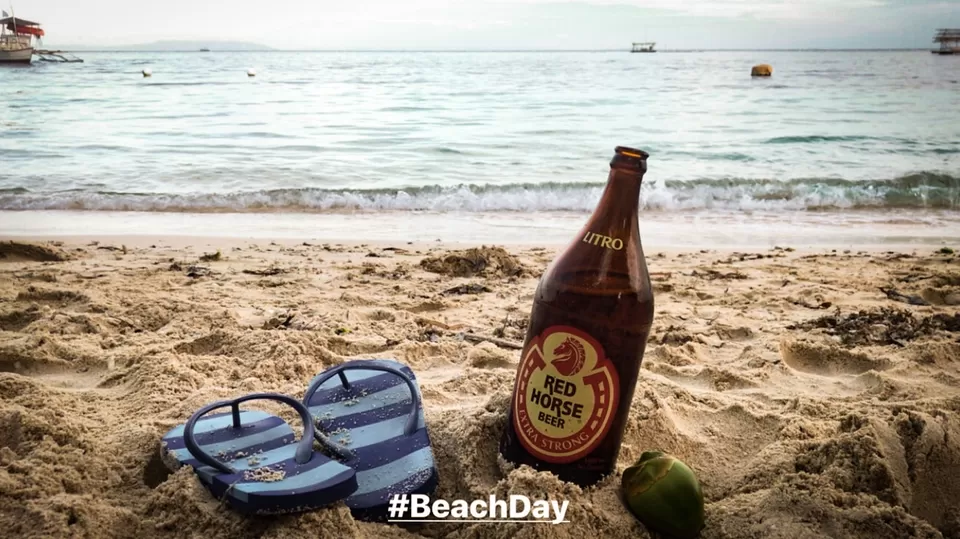 A full day activity, visiting Sumilon Island was one of the highlights of the trip. Sumilon Island is a small, 24-hectare island located 15 minutes off Cebu's shore. It is famous for its sandbar and the coral reef snorkeling experience. I got a boat to the island for PHP 1000/USD 20 (round trip) and decided to spend the day sun-bathing, snorkeling and sipping Philippine's famous spirits. The sky was clear, the water was turquoise, and the sand was fine.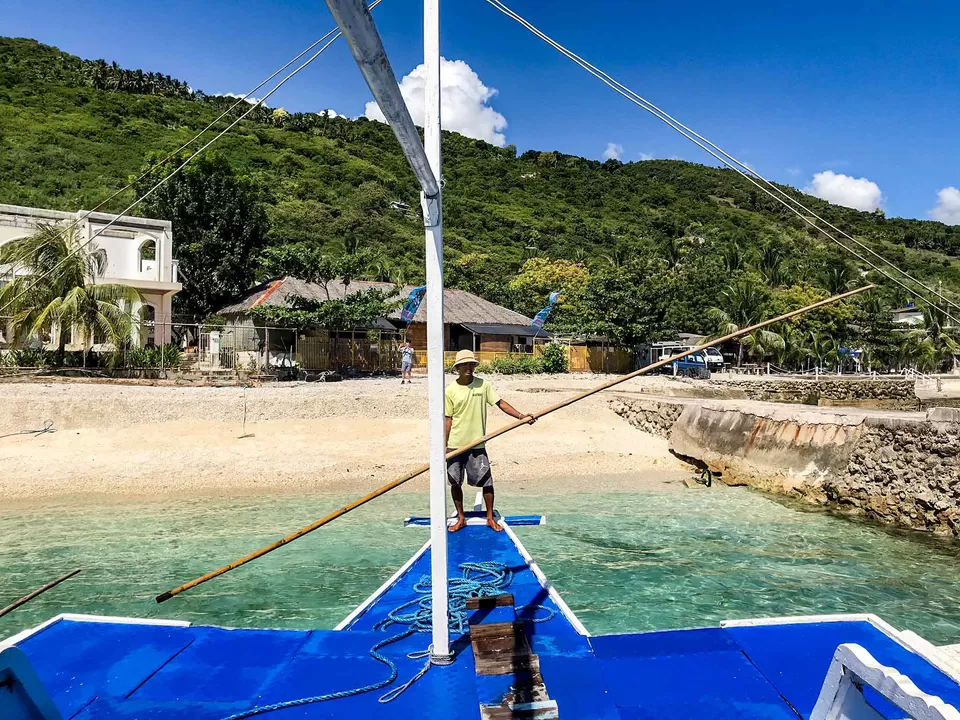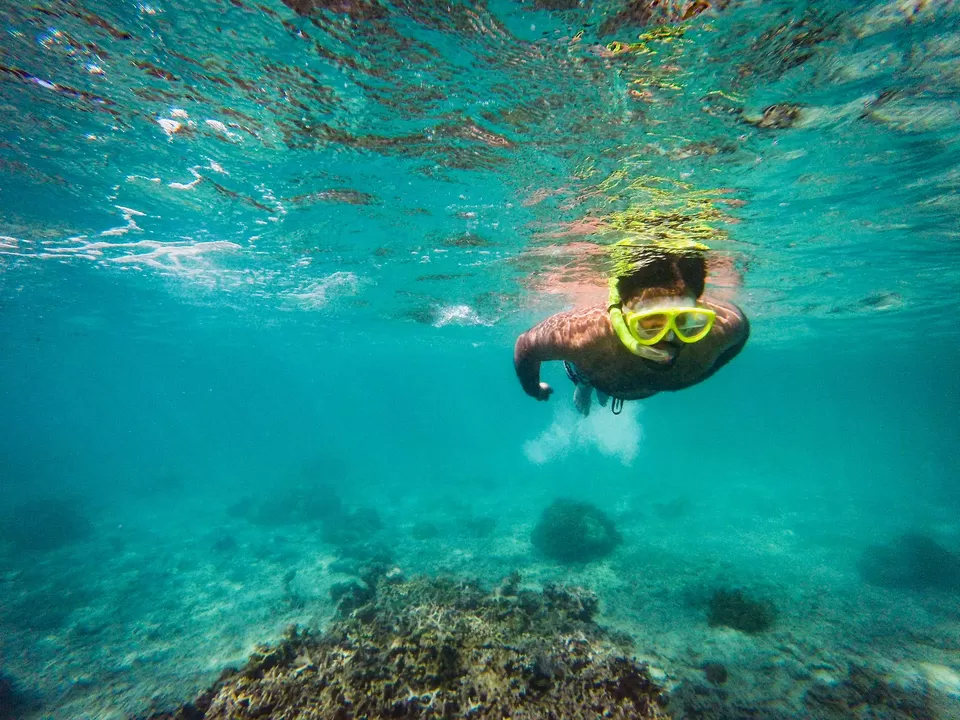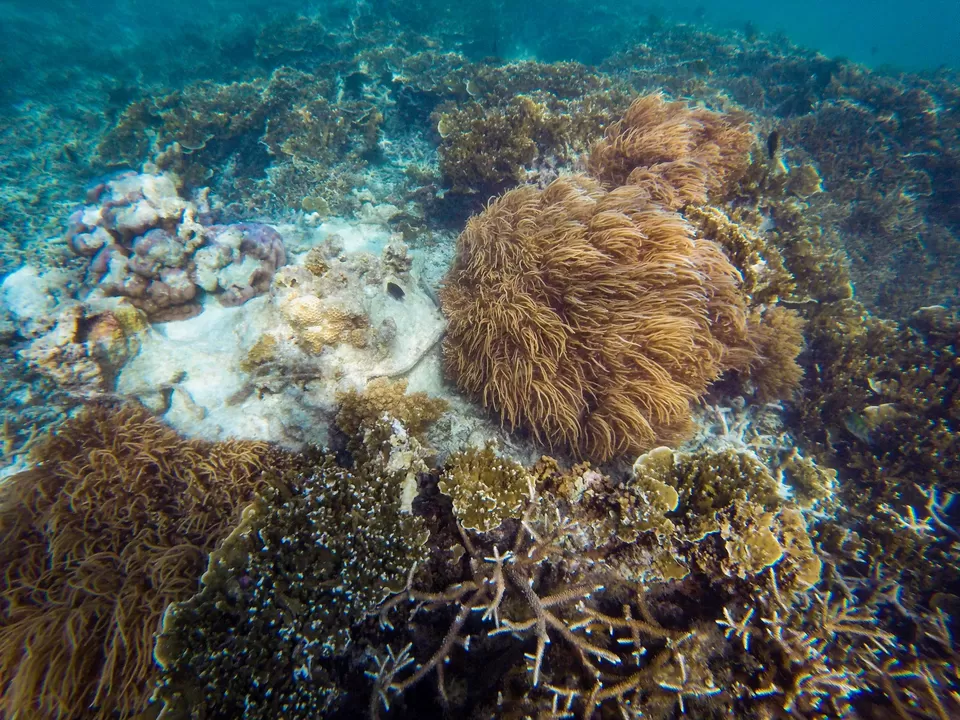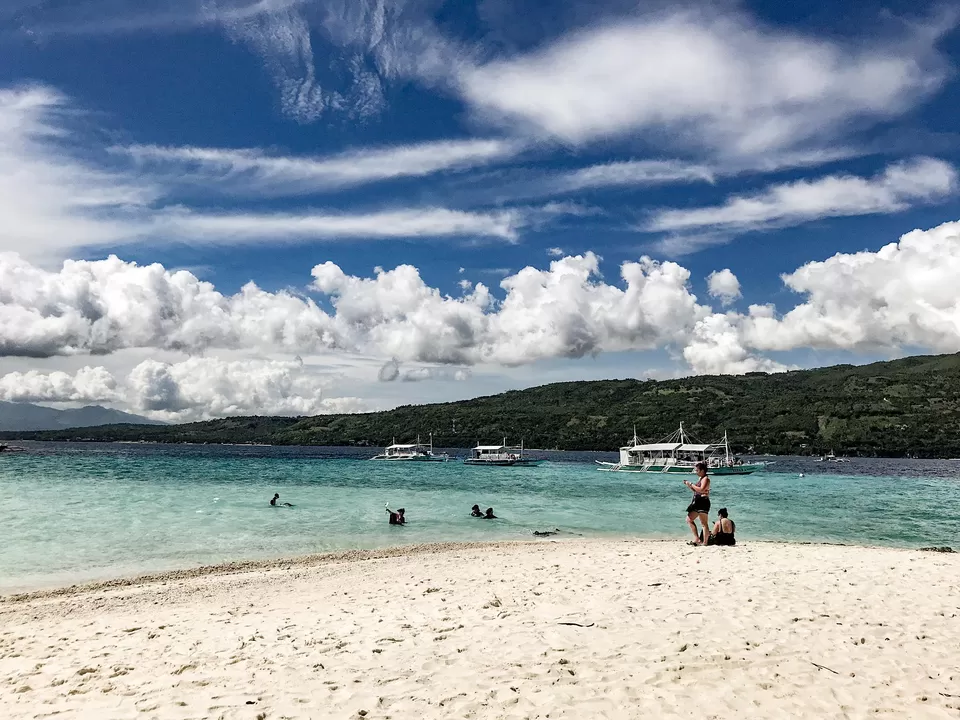 Tumalog Falls are a 10-minute ride from Oslob. This experience is unique since you will have to drive your way up a hill to get to the entrance. You can park your bike here free of charge and proceed to walk down a steep hillside to get to the falls. The tickets to these falls are PHP 20/USD 0.40.
Tumalog falls are massive and water-curtain like and have a magical feel about them. Despite the height, the drop is not heavy since rocks break the fall. I was lucky to be there on a sunny day and even saw a rainbow in the pool beneath the falls. The basin is about 4 ft deep and the water is slightly murky. Compared to Kawasan, Tumalog was less crowded and touristy. Don't forget to get your GoPro or a wide-angle lens to capture the falls in its entirety. There is also a natural fish spa close to the main falls. Feel free to dunk your feet and get spa treatment in the wilderness. To make your way back to the parking, you can get a ride up the hill for about PHP 30/USD 0.60. Or you could make use of your legs!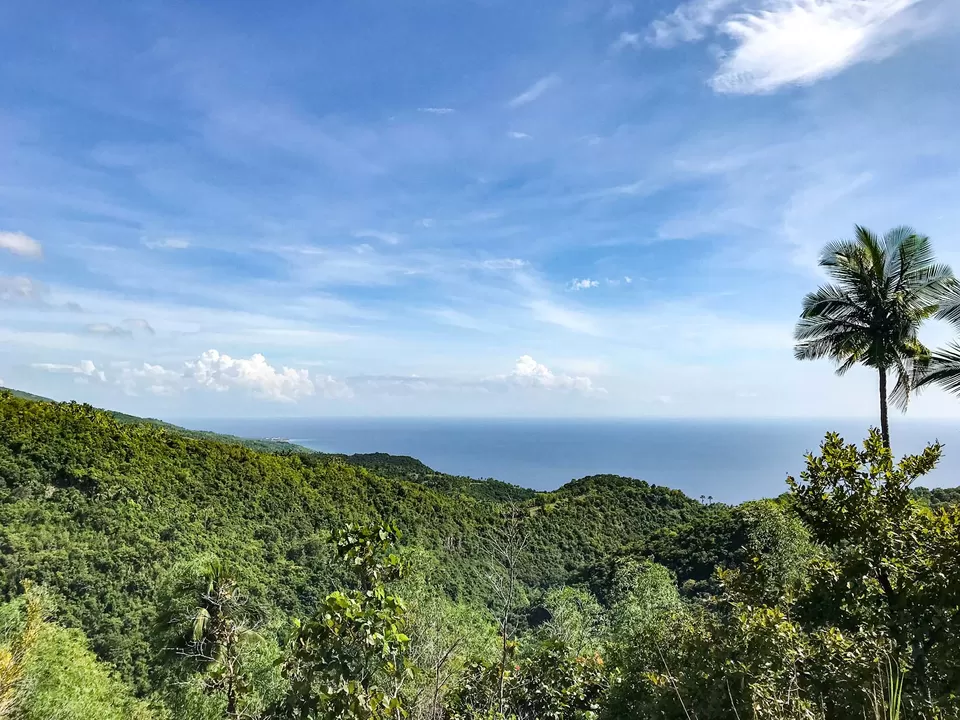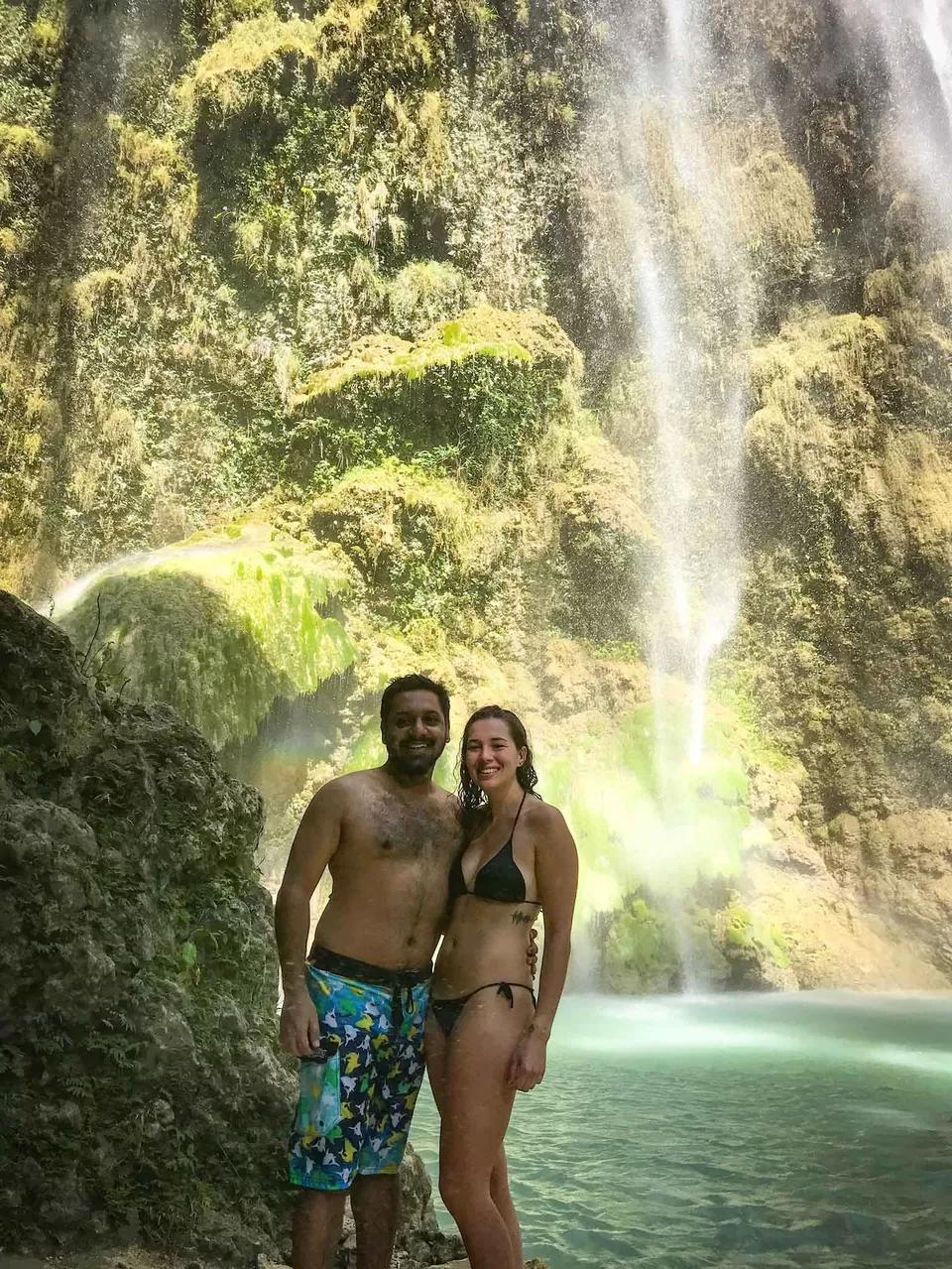 Best Time to Travel
The best time to visit Cebu is between November and February. You will find bright days, pleasant nights and almost no humidity. Carry light cotton clothes and tons of sunscreen. It is always wise to check for typhoon warnings before traveling to the Philippines. I was lucky to miss one by a day!
Getting there and around
The easiest way to get to Oslob is to fly to Cebu Mactan Airport and then take a cab (PHP 3000/ USD 55 one way). You could also take a bus from the Cebu South Bus terminal (PHP 250/ USD 5 one way). Though the bus is cheaper, the cab saves you an hour and a half and may make more sense if you're crunched for time or are traveling with a group. The cost of the flights is not included for this itinerary. Flights from India to Philippines are in the range of INR 25000-35000 if booked ahead of time.
Most tourist spots in Oslob are well connected by road. I hired a bike for a couple of days for PHP 1000/ USD 20. Frequent buses connect Oslob with the waterfalls and prices are in the range of 20-40 Pesos one way. However, you may end up walking a fair bit since buses only drop you on the highway.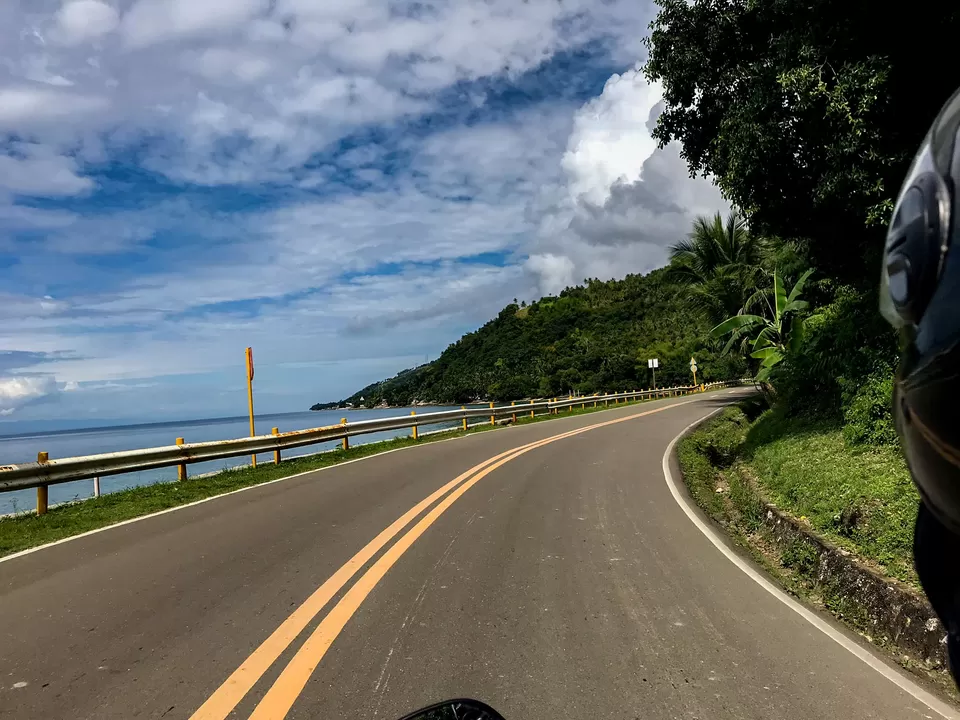 Indian nationals need to apply for a tourist visa that costs about USD 40. However, if one has a valid US, Japanese, Australian, Canadian, Schengen, Singapore or UK visa or permanent resident permit, they may be granted visa-free entry for a stay not exceeding 14 days. I used my US visa to enter Philippines. The process was smooth, and I was not asked any questions at immigration.
Where to Stay
I stayed at Casa Bonita Inn, a budget hostel in Tanawan located 15 mins from Oslob town. The staff was polite, friendly and extremely helpful. There were several restaurants within walking distance. Even the whale shark diving spot was a five-minute walk away. There aren't a lot of hostels/hotels in the area, so it may help to book ahead. I paid about PHP1500/ USD 30 for a double room.
What to Eat
There were 5-6 restaurants close to the hostel. My favorites were La Terrasse and Caferoniq. They serve local Tagalog as well as Western fare. There is also a convenience store located 5 minutes from Casa Bonita Inn. Average Price for a meal for two is PHP 500/ USD 10. While in Philippines, you must try Chicken/Pork Adobo, local sausages and grilled chicken. As someone who prefers eating vegetarian, finding vegetarian options was a struggle! Alcohol aficionados should be on the look out for San Miguel and Red Horse beers as well as Tanduay Dark Rum.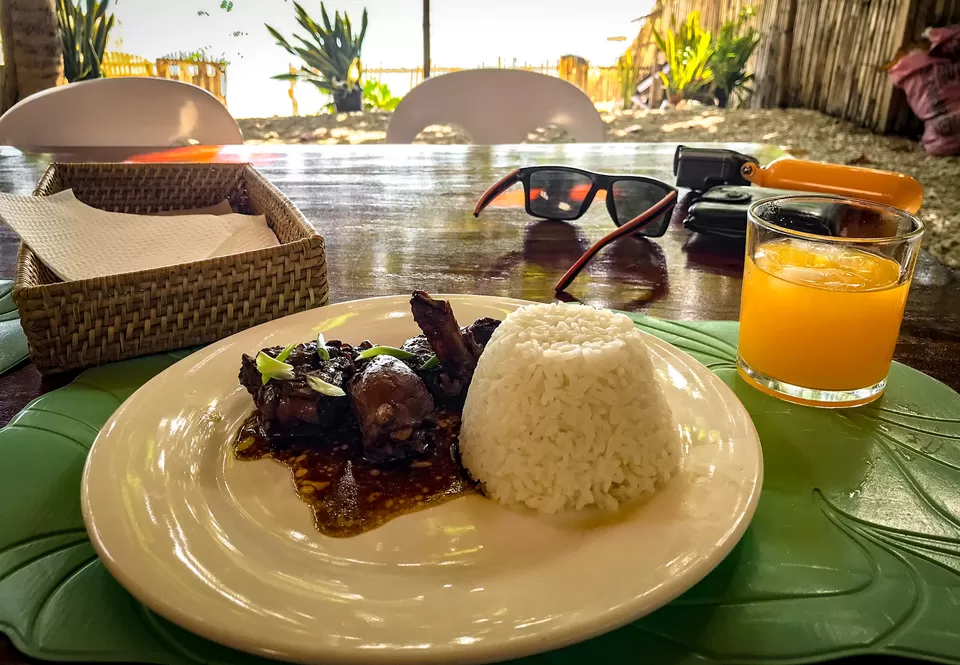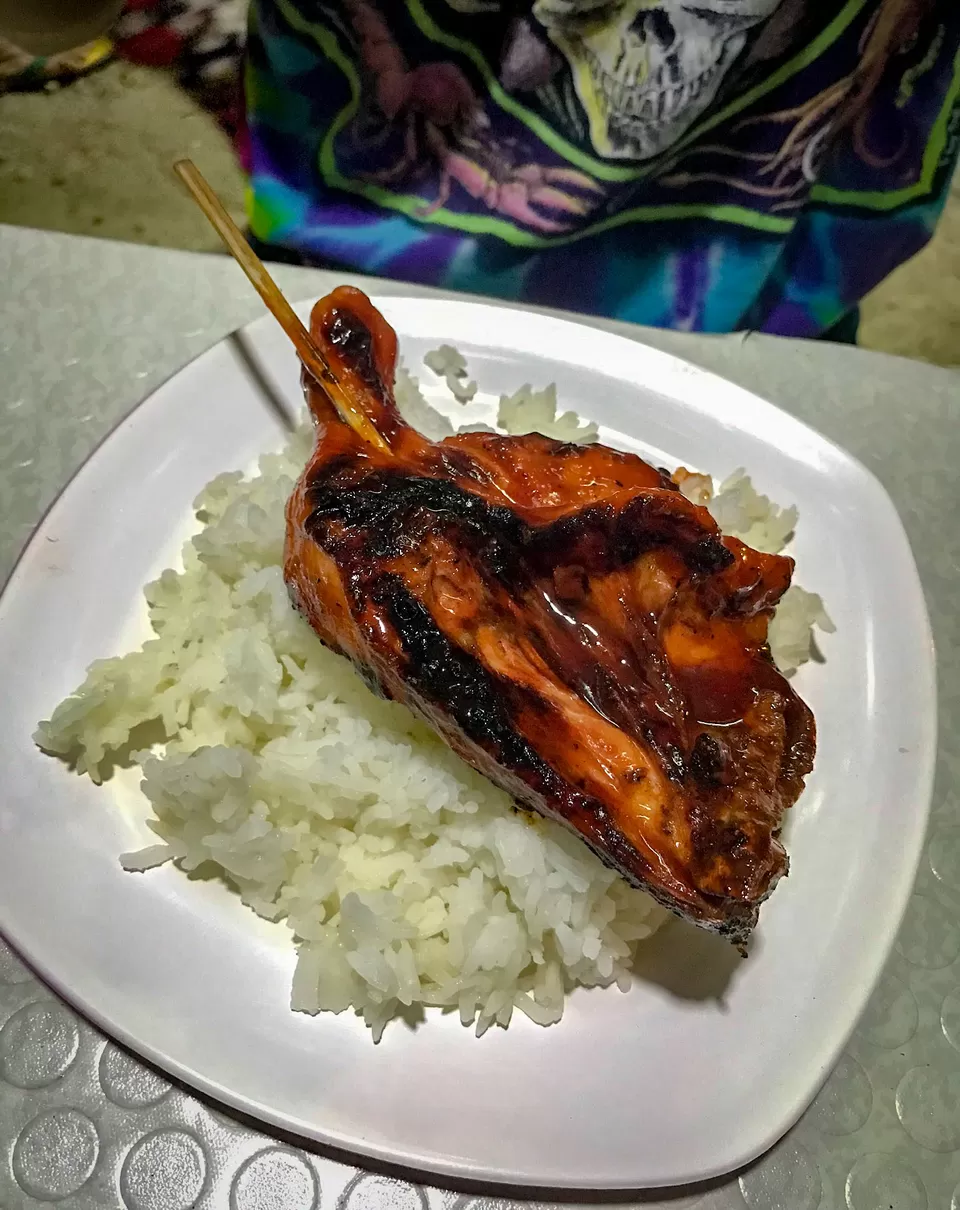 A traveler at heart, I have been to 22 countries on 6 continents. My favorite experiences are plunging in to sub-zero Antarctic waters, renovating a Buddhist monastery in Sri Lanka and hiking Borneon jungles. I am also an engineer, a public speaker, a sustainability believer and a polar explorer. Follow my misadventures on www.passportuncontrol.com and Instagram @geeknextdoor