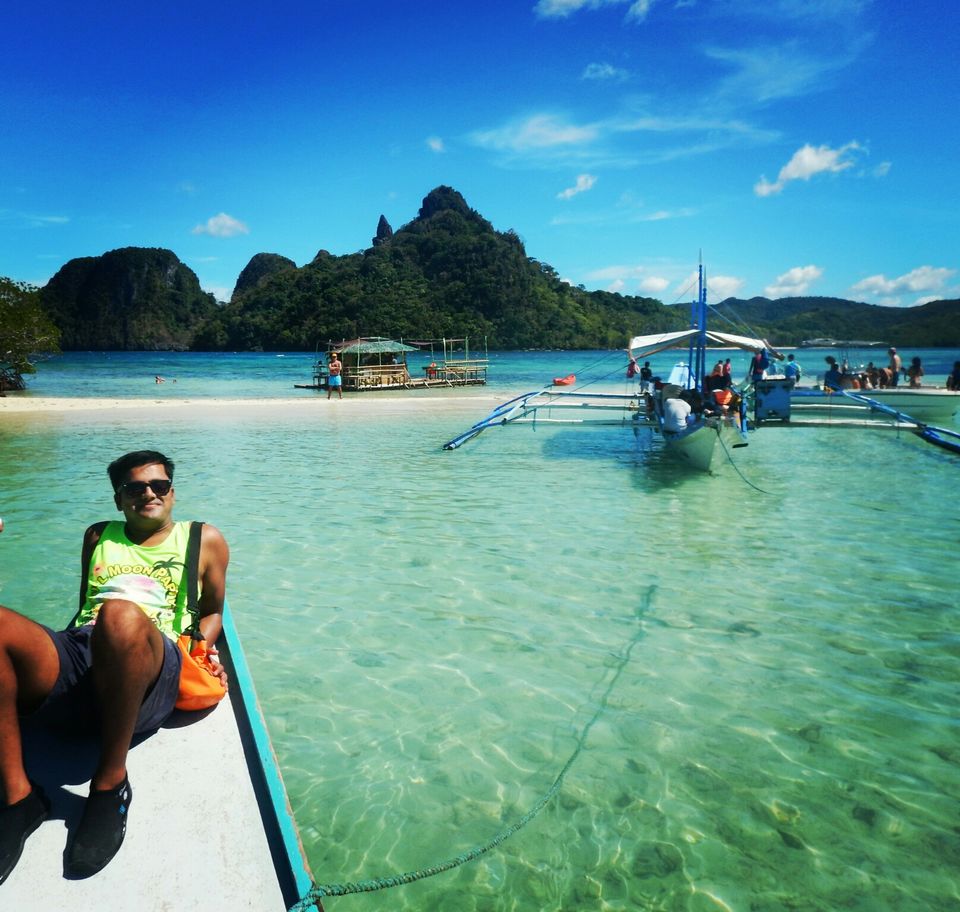 Ola fellow backpackers!!! A very warm Namaste to all you guys. This is my first attempt at writing a travel blog so I am both excited & nervous. Recently I had the opportunity to backpack in Philippines for a month and I wanted to share my experience.
Philippines is a very beautiful country but planning an itinerary could be difficult due to its numerous islands - 7107 to be precise. When I started planning my trip, I was completely lost. There was so much to see and I had no idea how to go about it. After reading various blogs, articles and doing weeks of research, I was able to form a tentative itinerary. This itinerary worked fine for me except for a few changes. Hence I am sharing my experience to help other travellers with similar dilemma.
Check the attached travel route map for reference: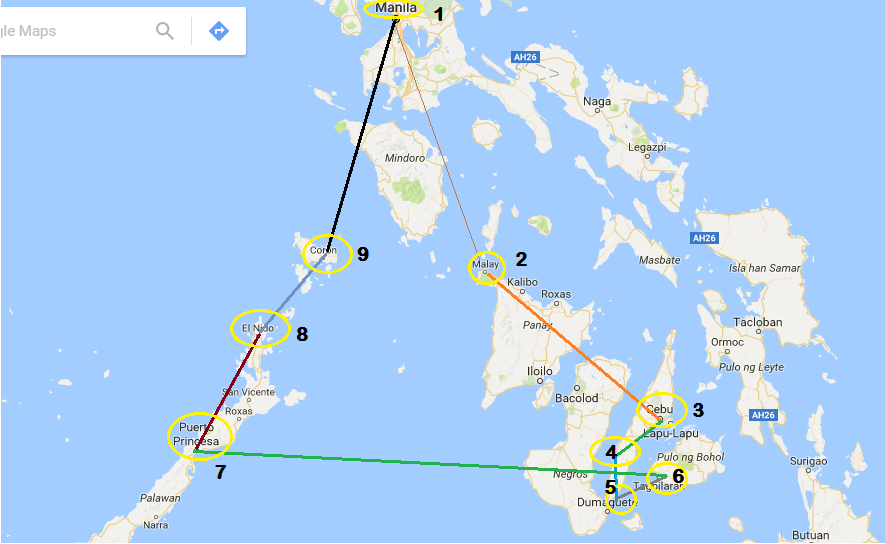 Being on a tight budget, I chose Air-Asia to fly from Kochi-Manila via Kuala Lumpur. It set me back around $140 one way. After reaching Manila, I had my Cebu-Pacific flight to Caticlan airport (2 on the map) from the same terminal. Cebu-pacific and AirAsia are the favourite low-cost airlines in the country. To reach Boracay island, one has to take the ferry (ride time: 20 minutes) from the Caticlan port. Another way to reach this port is the 2hours bus journey from the Kalibo airport.
Boracay is a very small and exotic island- its main attraction being the 4km long white sand beach. I had four nights stay planned here in Station 1 at Frendz Resort ($12 per night). Boracay has something for everyone- adventure sports, sunbathing, fireshow, late-night parties, massage etc. The must do here included the island hopping tour, cliff jump from Ariel point, Boracay PubCrawl, sunset sailing, sea-walking, puka beach tour and late-night parties at Exit Bar.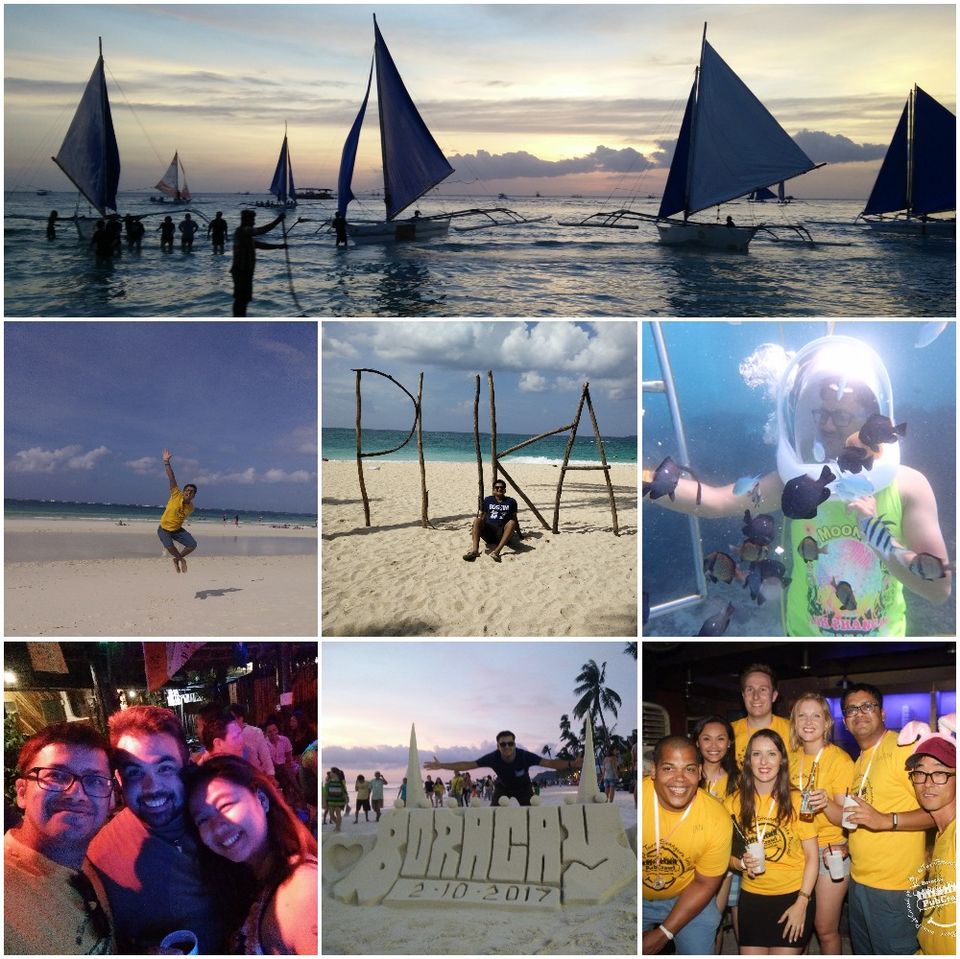 After Boracay, I took the Cebu-pacific flight to Cebu (3 on the map). Cebu is a province in the Central Visayas comprising of about 150 islands. The airport in Cebu is located in a small island called Mactan and it is about 12km from the city centre. Cebu airport serves as the gateway to other travel destination in/around cebu like Moalboal, Oslob, Dumaguete, Siquijor Island, etc. I had a two night stay in Ceby city near the Ayala Mall. It is like any other asian city- crowded and beaming with energy. There are a few things to see here like- Fort San Pedro, Tops Lookout, churches and malls but overall not that great. A half day taxi trip to sightsee will cost about 700p. The really enjoyable thing here is the sky adventure in crown plaza.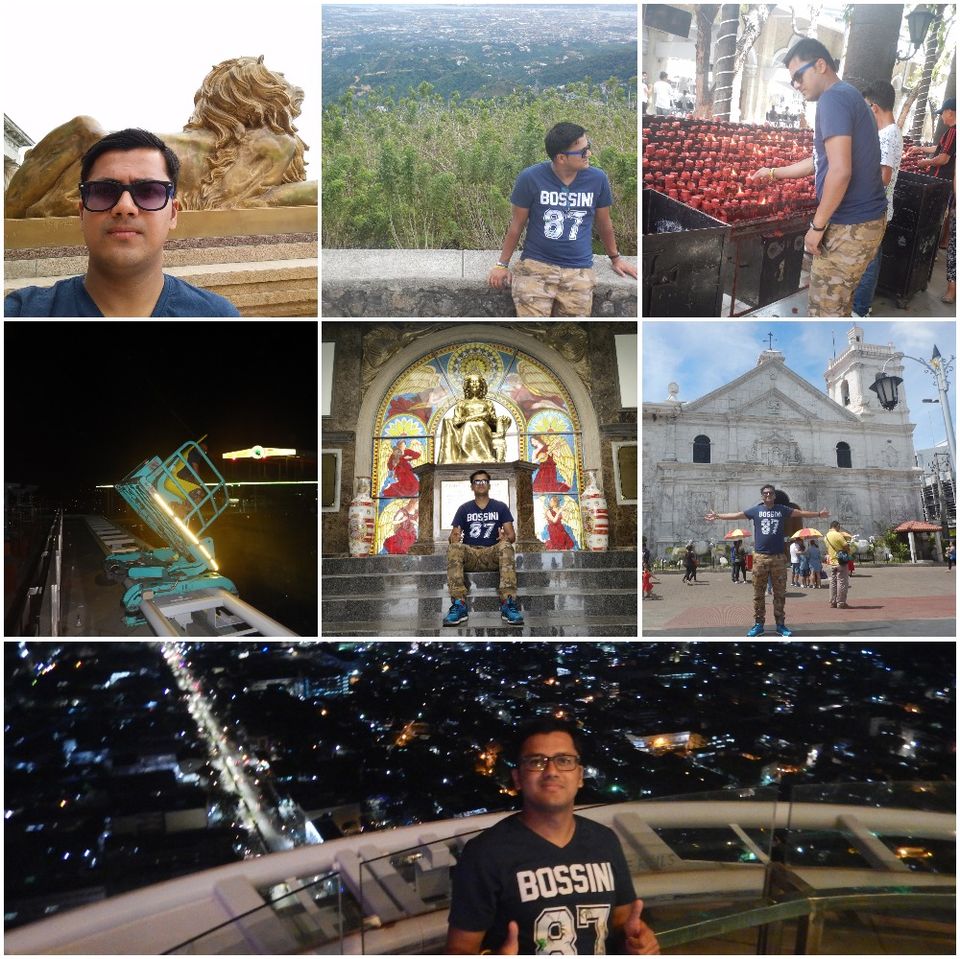 From the Cebu south bus terminal, I took the bus for Moalboal (4 on the map). There are both a/c and non a/c buses plying on an hourly basis with minimal fare difference with travel time of upto 4 hours. There are also taxis to Moalboal but could be a little expensive. Moalboal is the entry point for Panagsama Beach which is famous for the sardine run- swimming with millions of sardine. I had accommodations at the Moalboal Backpackers Lodge which was very basic but convenient & cheap (about $8 per night). The must-do activities here comprise of island hopping tour, diving with sardines, canyoneering in Kawasan falls. There is also a small white sand beach (but nothing as impressive as the one in Boracay). Chilli Bar is a good place to chill in the evening and for vegans there is a restaurant called Maya's native garden serving the best vegetarian Indonesian noodles.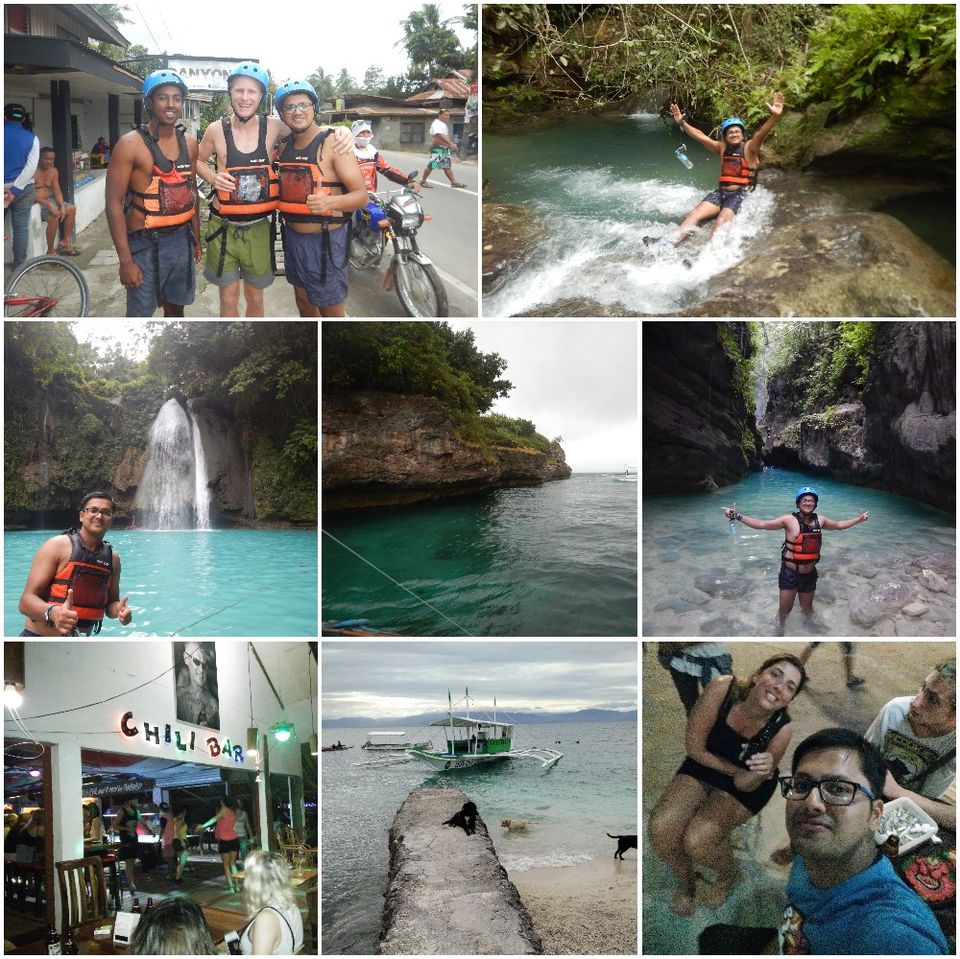 From Moalboal I took the bus for my next destination- Oslob (5 on the map). It's about 2 hours travel time with bus change at Bato bus terminal. The only activity here is the whale shark diving. The actual experience is under 45 minutes, but the queue can be pretty long. The mistake that I made here was staying overnight in Oslob. It's a very small and quiet fishmonger town, so not much nightlife/restaurant options. Instead one can book this activity from Moalboal or Bohol. However for people keen on staying overnight, there are a couple of waterfalls (Aguinid, Tumalog) to check out after the dive.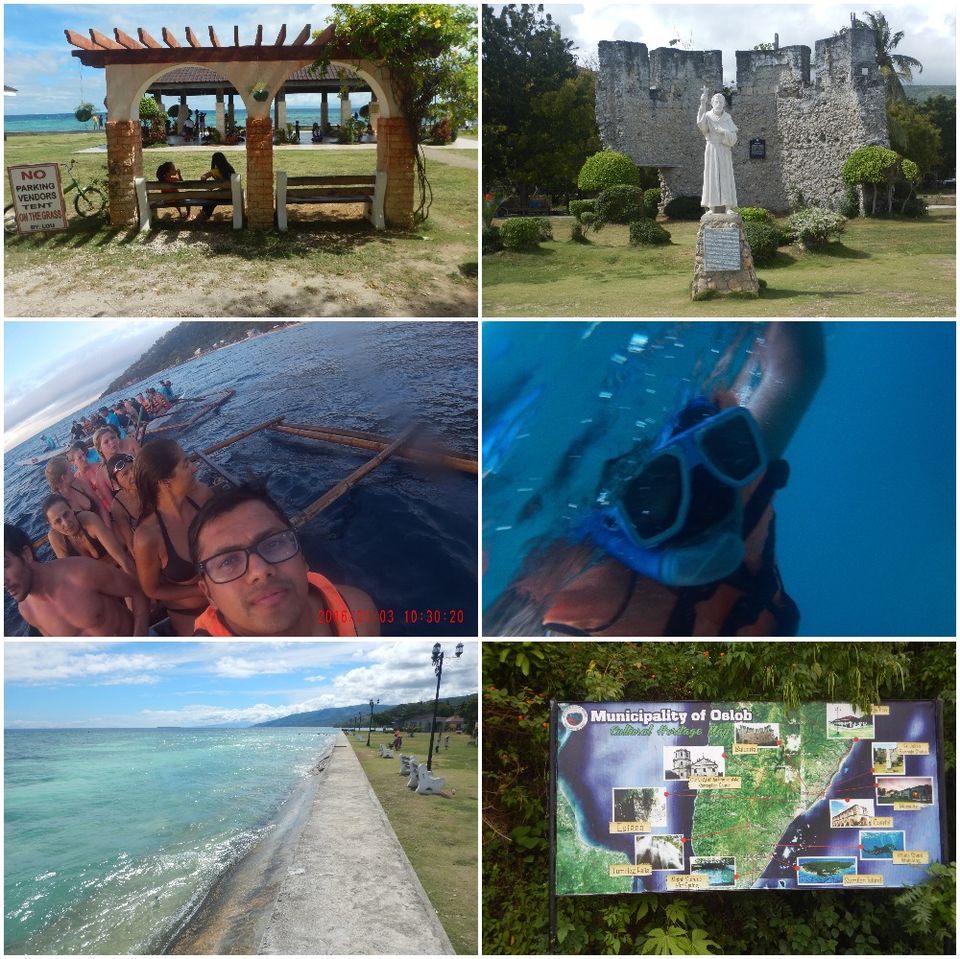 After Oslob, my next destination was Bohol Island (6 on the map). There is a ferry departing from Oslob to bohol everyday at 11.30 am costing 1000peso with 2hours travel time. But I had a bad experience here: The ferry didn't leave until 1.30 pm and only arrived in Bohol at 5pm. It was a pretty rough and tiring journey. Anyways, Bohol is a really exotic island-a must visit. It reminded me of Goa with its narrow roads, two-wheelers and greenery. I chose Alona Beach for my 4 night accommodation to stay close to the nightlife. Even though the best way to explore Bohol is using the two-wheeler, I chose the minivan tour because of the weather. The sightseeing included chocolate hills, Tarsier sanctuary (finger monkey), 850m zipline in Loboc & floating restaurant (can be avoided). There is another tour for island hopping which covers the Virgin & Balicasag Island and is pretty good. Dumaluan Beach is another very charming white-sand beach close to Alona. For nightlife, there are several bars & pubs along the beach. I strongly recommend the Reggae Bar for its amazing music & cheap cocktails (About 50p)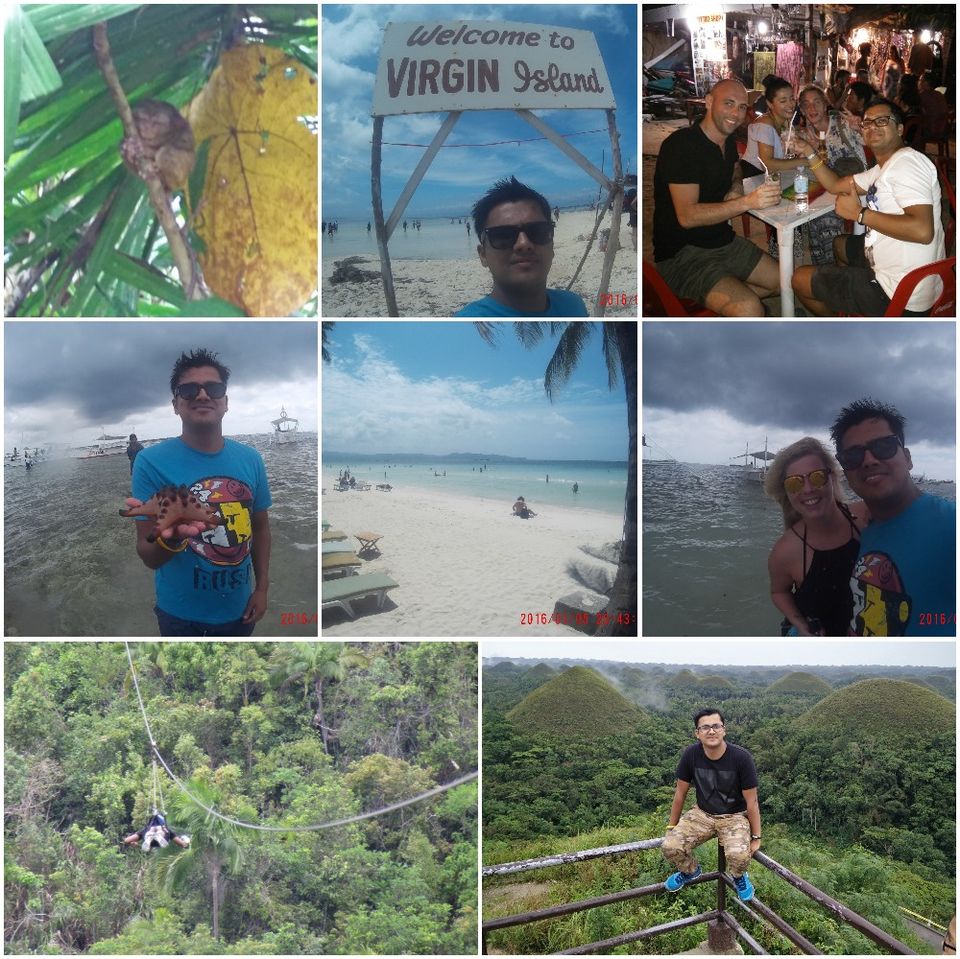 Puerto princesa (7 on the map) was my next destination. To get here I took the AirAsia hopping flight via manila (TAG-MNL-PPS) for $125.This flight is pretty expensive so should be booked early. The main attraction here is the Honda Bay and the underground river tour (not very impressive). The main reason to visit pp was to get to El Nido. I didnt know this at the time of booking but El Nido has an airport and there are direct flights from manila. For people craving for vegan food in pp visit Imas. Food 5/5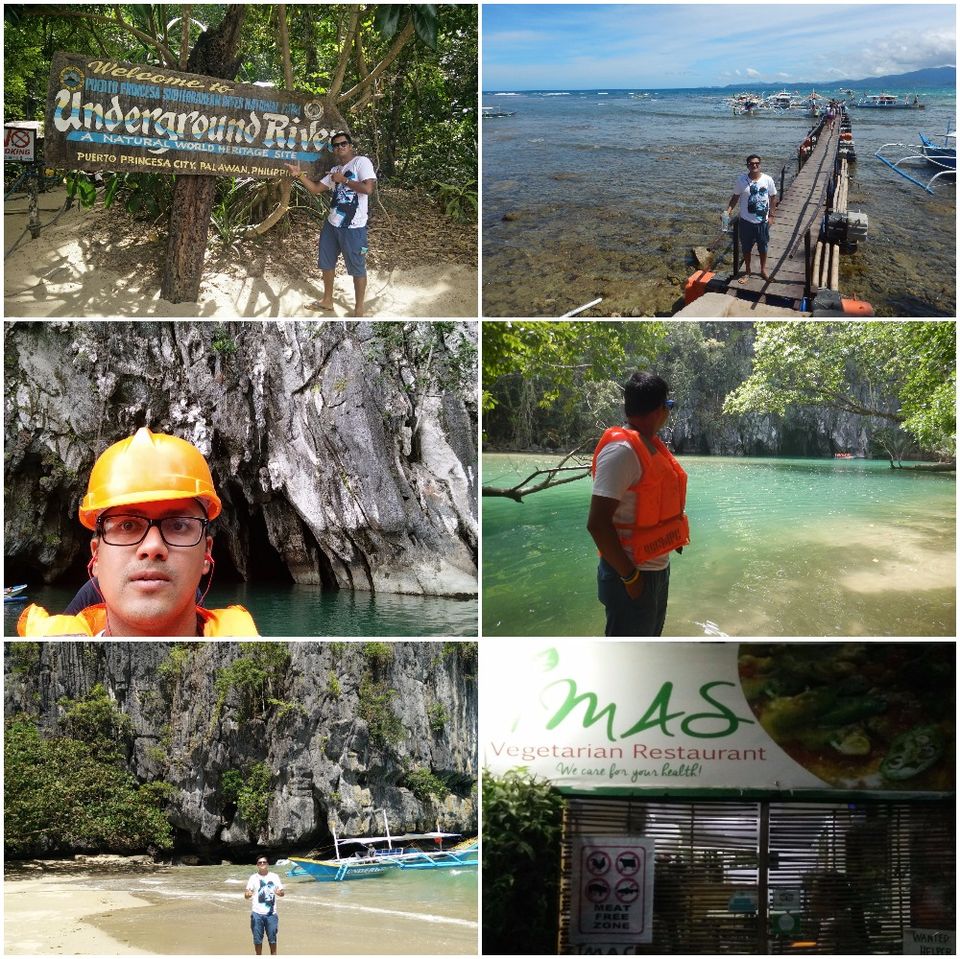 Getting from pp to El Nido is a big pain. The minivan supposedly takes 5-6 hours but in reality it can be even 8 hours. This bad experience is shared by most backpackers. However upon arrival in El Nido, the tedious journey seems totally worth it. El Nido is a small cosy beach town comprising mostly of diving shops, tour/travel agents & bar and restaurants. I was here for four nights in ATM- at the Moment hostel (about 600pesoight). El Nido is famous for its island hopping tours- A,B,C,D costing roughly between 1000-1200 peso each (including lunch) and takes about 7-8 hours ( morning 9am-5pm). I was able to cover three of them- A, B & C and must say they were all totally worth it. It's really mesmerizing with its turquoise blue water & white sand beaches- like a paradise. But Vegans beware: the lunch menu in these island hopping tours has limited vegetarian food -mostly fruits, rice and soy salad. Aqua shoes are strongly recommended for the island hopping tour. Nacpan beach is another must visit place in El Nido. The Nagkalit-Kalit falls can be avoided. For food, Altrove serves good quality pizza (about 350 peso) and FALAFEL serves the best falafel (about 200 peso)- closest feeling to eating Indian food. For partying both pukka & coco bar are pretty awesome.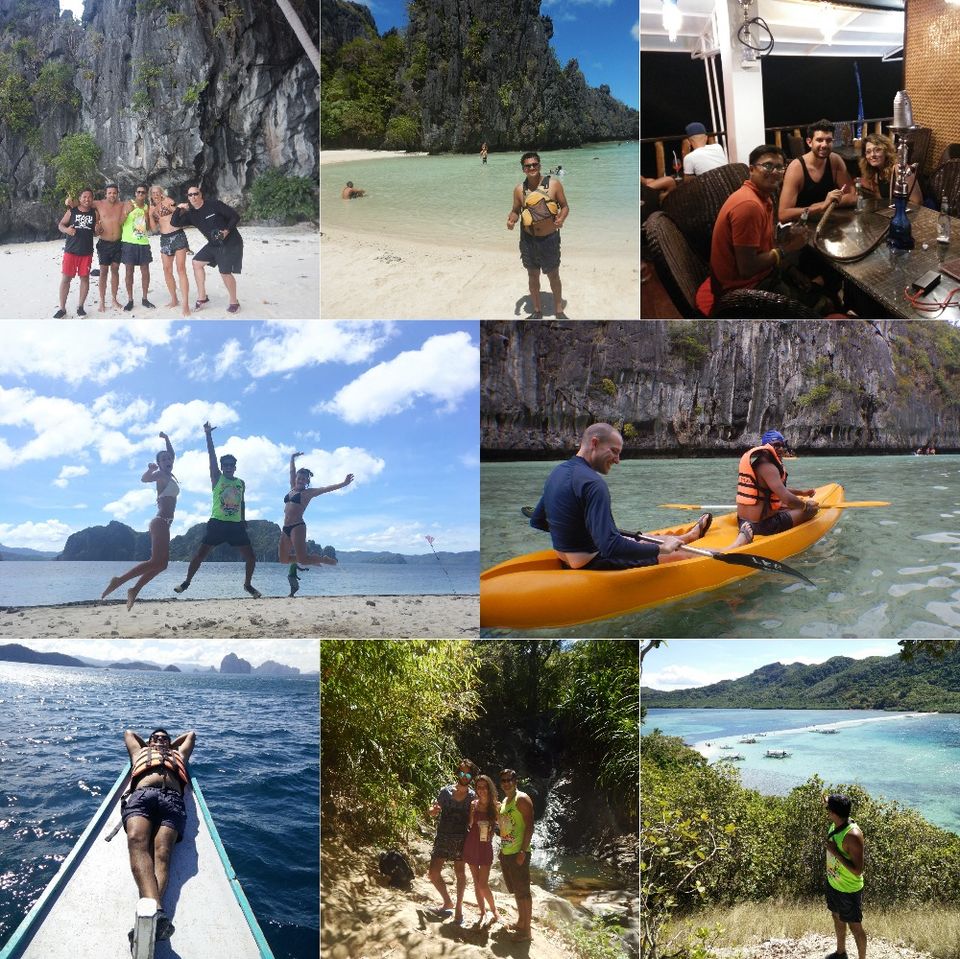 After spending 4 amazing days in El Nido, it was time to bid adieu and move to my next destination- Coron (9 on the map). I took the fast ferry from El Nido costing 1760 peso with 3-4 hours travel time. This ferry departs at 6:30am and the ride can be a little bumpy-beware of motion/sea sickness. Another cheaper option to get to Coron is the slow ferry but its takes 7to 8 hours. Anyways from the Coron port to the Coron town is hardly 2kms. For accommodation, I strongly suggest the Seahorse guesthouse. The must do things here include the island hopping tour- A, B & C (Tour D: not that good) and Climbing the 700plus steps to Mt Tapyas to view the sunset. The island hopping tours are priced from 800 to 1200 peso but do not include the snorkelling gear. There is an extra charge of 150p/day to rent that. I booked all my tours from Unico Hijo Budget Tours and was able to rent this gear for zilch. Aqua shoes are strongly recommended for the island hopping tour and can be bought for 250p or rented for 100p/day. There are a few other activities to consider like the Maquinit Hot spring & Calauit Safari park. For grubs there is a branch of Altrove here serving good pizza. Another popular eating joint is Brujita serving good life-saving food for vegetarians. For nightlfe there are several bars here charging roughly 50-60 peso for a bottle of beer.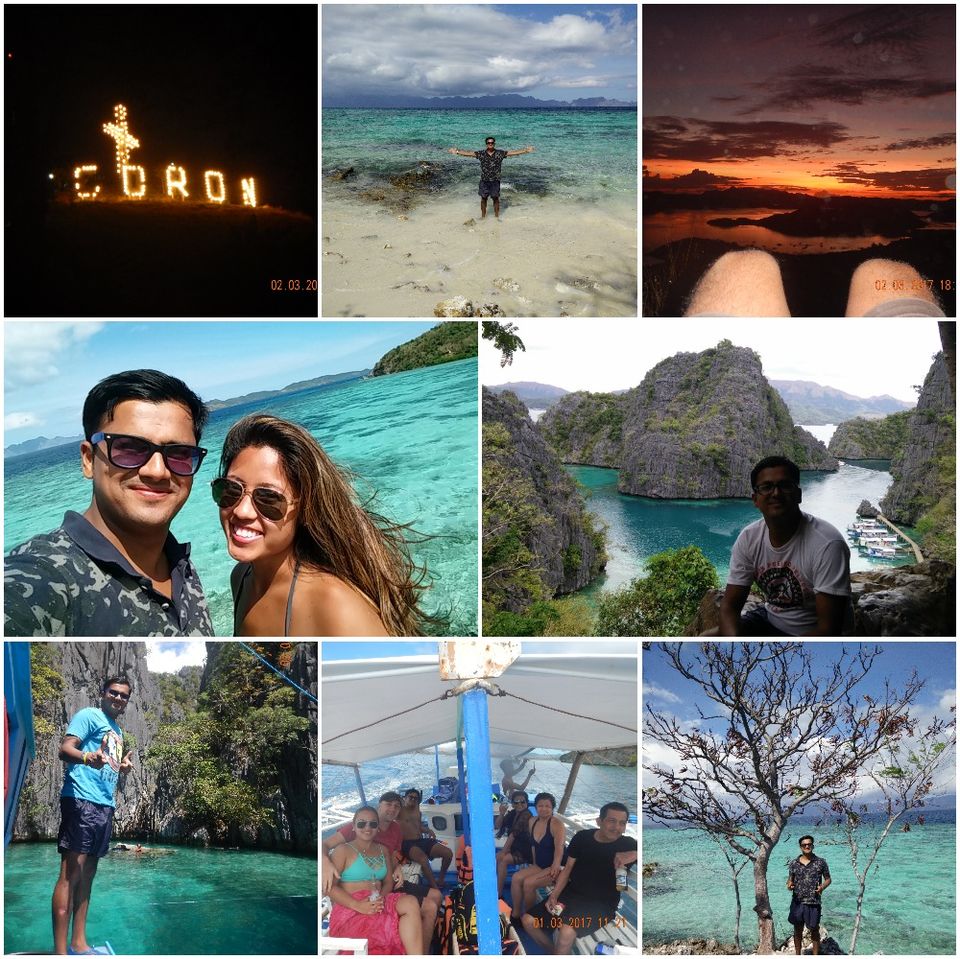 After spending a good four weeks island-hopping in the Philippines, meeting many interesting people and having the best time of my life, it was time to move to my next destination- Thailand. My flight was scheduled to depart from Manila. I took the overnight 2go ferry from Coron costing roughly 2000p. This ferry departs every Thursdays and Sundays with 15 hours travel time (4:30pm to 7:30am). The journey is pretty smooth and doesn't feel tiring. Another option is via the Cebu-Pacific flight from Busuanga airport. Note: This flight can get pretty expensive and should be booked early. Anyways, I had a full day to sightsee in Manila. I was able to visit Intramuros, dine at an Indian restaurant in Makati, followed by a visit to MOA- Mall of Asia before retiring to a casino in Resorts World, opposite the airport. In conclusion I must say that backpacking in Philippines was a wonderful experience and strongly recommended.
Feel free to comment.
Feel free to message me for any feedback/queries.
For more pics, follow me on instagram : gautam_backpacker
#YOLO #HappyTraveling #VeganIndianBackpacker