Planning your next adventure trip?
Philippines is a tropical paradise for those who love to explore and want to escape the ordinary. Philippines approximately has over 7000 islands out of which only 2000 are inhabited.
This country will definitely make you fall in love with it's white sand beaches, turquoise blue waters and the most unique landscapes.
When to visit:
Dry season in Philippines spans from November through May which is also considered the best time to visit this tropical archipelago and a wet season between June and October.
Avoid visiting in the wet season since there are frequent typhoons around that time.
Day 1: Land in manila , the capital of Philippines. Manila is like any other capital city with malls , a few heritage sites and heavy traffic!
You can either stay a night in manila or take a connecting flight to Puerto Princesa, Palawan the same day.
If you are planning to spend a night in Manila, here's a list of places you can visit:
1. Visit Intramuros. This heritage site consists of 6-7 forts all built by the Spanish during World War 2 and can take up one full day if you visit each one, however, the most famous ones include The Manila Cathedral , Fort Santiago.
2. One of the best ways to know a city is through it's museums and Manila has lots of them. Visit museums like Metropolitan Museum of Manila, Ayala Museum.
3. Go Shopping in The Mall of Asia, who doesn't love to shop anyway!
4. Visit The City of Dreams. It's the biggest casino in Asia and worth a visit, who knows the odds might be in your favour ;)
5. Take a walk by the Manila Bay.
Day 2-4: Land in Puerto Princesa. While the city center doesn't have much to explore. I would recommend you to go for the 2 famous tours in Puerto Princesa.
Honda Bay Island Hopping Tour.This is a full one day tour which includes a visit to a number of islands out of which, Starfish Island, Cowrie Island and Luli Island are great for swimming and snorkeling. The beaches are absolutely spectacular. Even though snorkels are an inclusion in the tour for rent, I would recommend you to buy one. This would give you more opportunities to see breathtaking corals and fishes underwater. Just grab your snorkel and go for a dive!
The Underground River Tour. This cave is one of the Seven Wonders of Nature of the World. You'll be amazed to see how flawless nature is when untouched by man. Go see it for yourself!!
Day 5-7: Reach El nido. The drive from Puerto Princesa to El nido is about 6 hours so leave early because you don't want to miss the sunset at Las Cabanas.
Here's how you can make the most of your 2 days stay in El Nido:
Watch the Sunset at Las Cabanas. Take advantage of the happy hour offered by bars /restaurants at the beach and enjoy the beauty of the sunset.
Take the tours. There are 4 tours namely, Tour A, B C and D. Each includes visit to different islands in El Nido, however, Tour A and C are said to be the best ones. If you want to cover both the tours but don't have enough time go for combination Tours A and C, just like we did. You can choose the Tours according to what interests you and suits you best. These are full day tours as well.
Spend a day at Nacpan Beach. Nacpan is just a 30 minutes drive from El Nido and undoubtedly the most stunning beach I have ever been to. Spend your day swimming, relaxing and eating delicious food at any of the bars/restaurants at the beach. You can also stay a night in nacpan as there are several accommodations available at the beach.
Day 8-10: Fly to Cebu. This island is a heaven for thrill seekers and those who love to explore. Here are some of the must do's :
Moalboal Island Hopping with Kawasan Falls. Swim with sea turtles, spot your favorite nemo characters while exploring the underwater sea garden and be chased by sardines, well not literally haha! Canyoning around the Kawasan Falls shouldn't be missed, although you can skip canyoning and go straight to the falls as well. Kawasan falls are truly magical.
Mactan Island Hopping. This tour is very similar to the Honda Bay tour back in Puerto Princesa, however, the islands are comparatively less crowded.
Oslob Whale Shark Watching. Save the best for the last. This is a totally unforgettable experience. This big beauty swims just 5m away from you and sometimes even closer. Although you are in water for only 10-15 minutes with the shark, it's worth the visit. You can later go to Sumilion Island or Tumalog falls both nearby. We went to Tumalog falls which made us feel as if we were in The Jungle Book.
Cebu is comparatively less crowded than the more touristy island of Palawan and this is why I would recommend you to definitely visit Cebu. You can escape the crowd and explore more new regions.
Where to go:
For those visiting Philippines for the first time, I would recommend you to visit the most famous and beautiful island Palawan along with the island of Cebu. Why Cebu? Well, doesn't the idea of swimming with whale sharks and canyoning your way into the waterfalls excite you?
Time to hit the beaches!!
We spent a night in Nacpan and this is absolutely a must visit.
I fell in love with El Nido instantly and it was so hard to say goodbye. You just can't get enough of this paradise, will definitely go back.
You will have to come back to Puerto Princesa for flying to Cebu, hence, can also visit El Nido first and Puerto Princesa later, it's upto you!
Jungles and waterfalls are calling!!
Tips for those on a Budget:
Philippines is very affordable and not expensive at all, trust me! What you experience is value for money, however here are some pointers for those travelling on a budget:
1. Book for Tours/Tickets/Accommodations in advance.You can easily find good deals on Booking.com or Agoda.com on hostels/hotels. It is also important to book in advance since during the peak season the accommodations are usually full.
About the tours, you can search for a good travel agency online or when you arrive or you can ask your hotel to arrange it for you. Be sure to compare the prices.
2. Bargain.I mean it. Bargain everywhere possible , even if you are buying your Tours or shopping. You can save a lot just by bargaining.
3. Do your research. Locals may charge higher to a tourist, for example, Tricyles in Puerto Princesa can take you anywhere in the city just for P10-P15 don't pay higher than that and hence avoid getting fooled.
4.Eat like a Local. Local food will always be comparatively cheap and readily available which reminds me, do try the local delicacy of Palawan, Lechon which is roasted pork dish. Honestly, you'll either love it or not like it at all. Try at your own risk!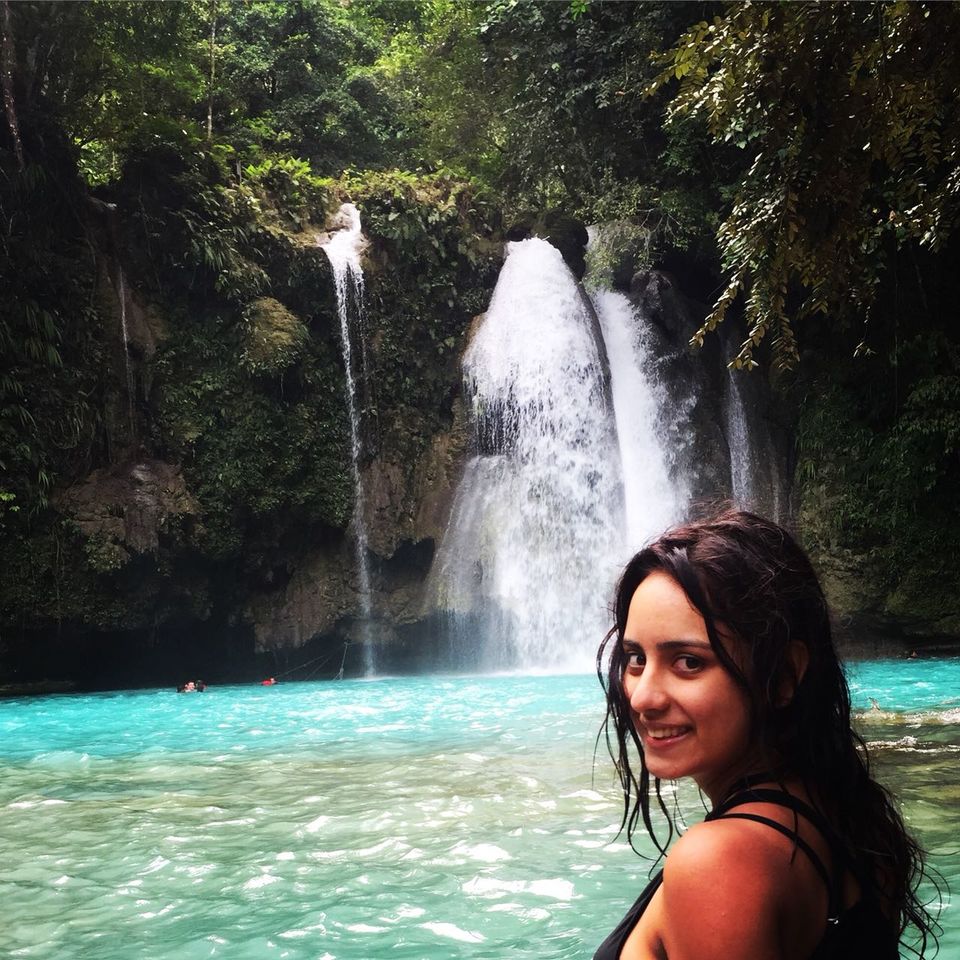 I honestly can't wait to go back and discover more of this picturesque country. I hope this country offers you the most mystical experience of a lifetime.
Frequent searches leading to this page:-
Philippines itinerary 10 days, Philippines tour, Philippines trip, Philippines travel guide