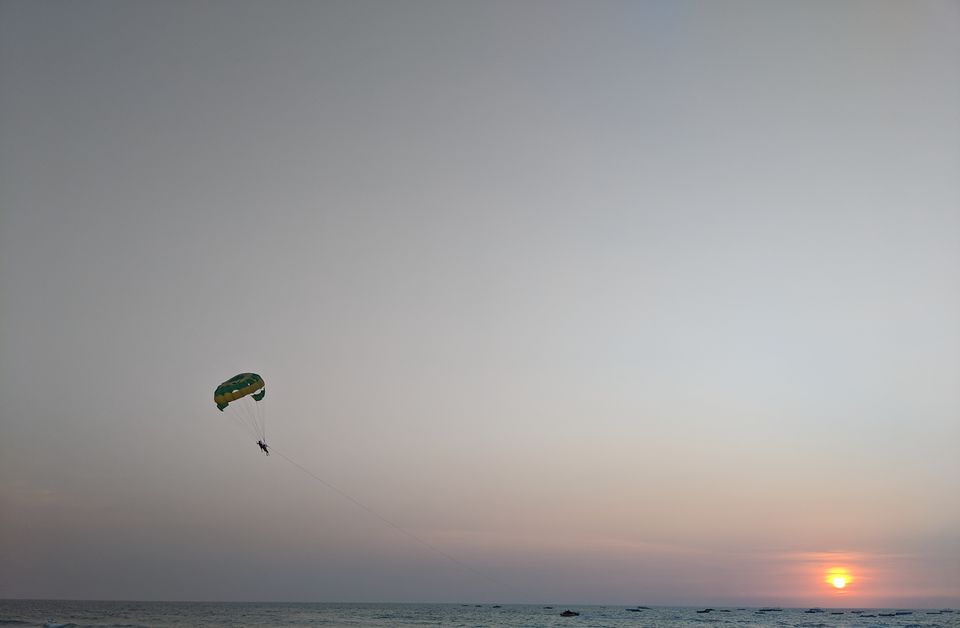 Studying in a college in Goa is tough.There's no other place in the country where you have to trade the desire to head out to a beach or a waterfall in return for lectures.So come weekends and I'm likely to be found strolling around on a beach that's preferably less crowded,less popular,yet commanding a magnificent view of the sunset.
That's when I stumbled upon Colva,which silently boasts of being the second largest beach of India.
I use the word silently,as Colva is nothing like the crowded beaches that you'll find up North.Colva prefers having its white sands ornamented with shacks only during the peak tourist season of December and January,while lying dormant for the rest of the year,with stretches of green that mingle with its endless expanse of white sand,imparting a lazy yet calm feel to the place.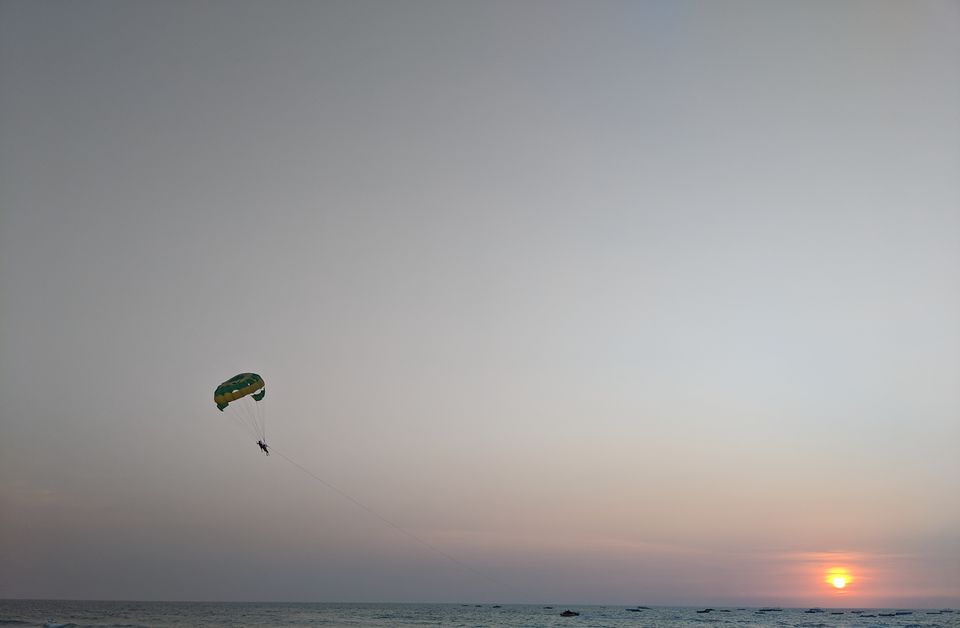 I joined my college in the monsoons though,and thus made it to Colva after I was done with my first semester exams,in mid December.While navigating to Colva from my college involves taking a cab directly to the beach,people arriving at the airport can make good of the pre paid taxi facilities available by booking a cab from the office just outside the arrivals gate at the Dabolim airport.A non-AC cab should cost between INR 615 and INR 760,depending upon the time you visit the beach,the latter being the rate for a time between 11 PM to 5 AM.Similarly, an AC cab would put you back by INR 655 or INR 805.Reaching Colva has you driving your way through narrow but well paved roads with woods or water bodies on both sides,pockmarked by Portuguese styled villas at regular intervals.Immediately you feel the essence of being in Goa,the charm of the erstwhile Portuguese colony making your eyes look all around,making the 45 min drive to Colva a treat to the eyes.
On reaching Colva you are greeted by a small bridge that crosses over a tiny water body that further enhances the charm of the place.Tall palms adorn either sides and a vast expanse of white sand and clear water welcomes you with open arms.
We were a group of friends with interests as diverse as the country we live in,and to our delight Colva had something in store for each one of us.You can enjoy a dip in the water,at your own risk obviously,although there are lifeguards blowing whistles and controlling people from treading par the safe limit.A few of my friends having anticipated this and armed with spare clothes,ran towards the sea,throwing their tshirts away along with the stress and forgetful remembrances of the comprehensive examinations that had just ended.
I, however,had come here seeking relaxation and peace from the ruffling of question papers and buzzing of people discussing their grades and whining over silly mistakes.Moreover,Colva is calm,blissfully clean and relaxed,with its lazy shacks having tourists taking a while to appreciate life,or locals enjoying a drink after a day of work.So I found my cup of tea in strolling around the beach,witnessing the bright blue sky that was about to turn into a brilliant fusion of orange and purple.
And that's what I feel is the best bragging point of Colva.The majestic view of the sunset that it commands.Orange,yellow,blue and purple playing with each other,all the while adorning their own places in the sky is a treat to the eyes and the mind.A game of football with the others,who were now out of the water,having played contentedly,followed.It was then succeeded by a heated debate over settling down on a restaurant that could cater to the hungry stomachs of vegetarians and non vegetarians both,and yet be close enough to the beach to save us from a tiring walk.
Garden restaurant was the one that triumphed,and obeying Google Maps,we found ourselves at an ambient place that served good food at prices that were quite frugal by Goan standards.The chicken tandoori emerged favourite,the tender chicken dipped in liquid butter and roasted in the tandoor with generous spices as its companions rewarding both our senses of smell and taste.I also tried the Chicken Xacuti,a local Goan dish with chicken pieces in green curry,less on oil and more on spices.It suited the rice well,and devouring cheese garlic naan sealed the meal for the evening.A glass of Sula's Reisling had begun the meal and banana and strawberry ice cream from a Baskin Robbins store nearby provided the necessary desserts.
And we took a cab to return to campus even as I grabbed a bag of cashews from a wholesale store in the local market that we encountered on our detour towards the ice cream store.With a wonderful evening by the beach,I had enough to look back upon to make me smile,while with a bag of cashews in my hand and suitcases ready for me in the hostel,I had a lot more to look forward to make that smile even wider as I would bid Goa goodbye and leave for home the next day for a much needed winter break.