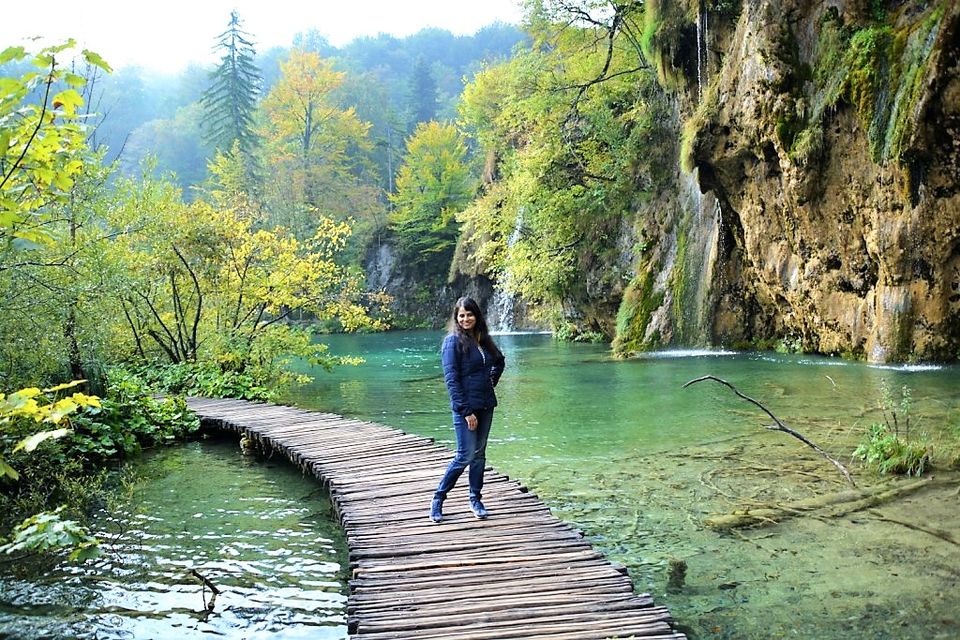 Croatia became quite famous from Game of Thrones, but it is much more than that. But I will be honest in admitting that we included Croatia in our Central Europe itinerary because both of us are great fans of GOT. At first, only Plitvice and Dubrovnik were in our schedule, but later when I read various travel blogs on Croatia, we ended up spending half of our planned vacation leaves in Croatia.
We planned our travel in first two weeks of Sept. as tourist season had just ended and there was still some time before Europe would start getting cold. We included Budapest, Ljubljana (which I will be covering in separate blog) and Croatia in our travel itinerary.
We reached Zagreb around 10 am in morning by bus from Ljubljana. The bus network in Croatia is reliable and easy. Buses are rarely delayed. We covered entire Croatia by bus and ferries. We booked all our Croatia transport in advance through getbybus.com (for bus travel) and jadrolinija.hr (for ferry travel). We couldn't explore Zagreb as we had a connecting bus to Plitvice in 2 hours.
Plitvice
We reached Plitvice around 2 in the afternoon. We had booked an airbnb, which was just 10 min away from the park. Many people prefer to base at Zagreb or Zadar to explore Plitvice National Park, but we decided to stay at the town itself. We rested that day and just ventured out to have lunch/ dinner at cafes around. The next day we started early and were ready to enter park at 7 am (opening time). Now, there are two entrances to the park St1 and St2. Our host suggested to take St2, walk till P1 and then take a ferry to P2 to explore the other side of Kozjak lake. We were perplexed at this suggestion as many blogs had recommended entrance through St1 to explore Big Waterfall and nearby areas and then proceed to P1. But we were glad to accept our host's recommendation as later we realized that the entire crowd is taking the blog recommended route and we had the P2 side all to ourselves to explore.
The park has narrow walkway and at some places, only one person can cross. But it was breathtaking with blue-green water and cascading waterfalls. The water was so clean that we were able to see the weeds and water plants growing underneath. Also, due to white limestone base, it was giving a perception of a sapphire coloured lake. We enjoyed thoroughly, walked till St 3 and then took a bus till St1. Till then, most of the buses/ travel tours from Zadar and Zagreb had arrived at the park and it got very crowded. We still explored some part around St1, but couldn't take the courage to go to Big Waterfall as pathway was quite narrow and crowded. We were quite happy as the place was unique in terms of its flora, fauna and cascading waterfall. We had some basic lunch (as food was not great as I am a vegetarian) and took a bus at 3 pm to Split.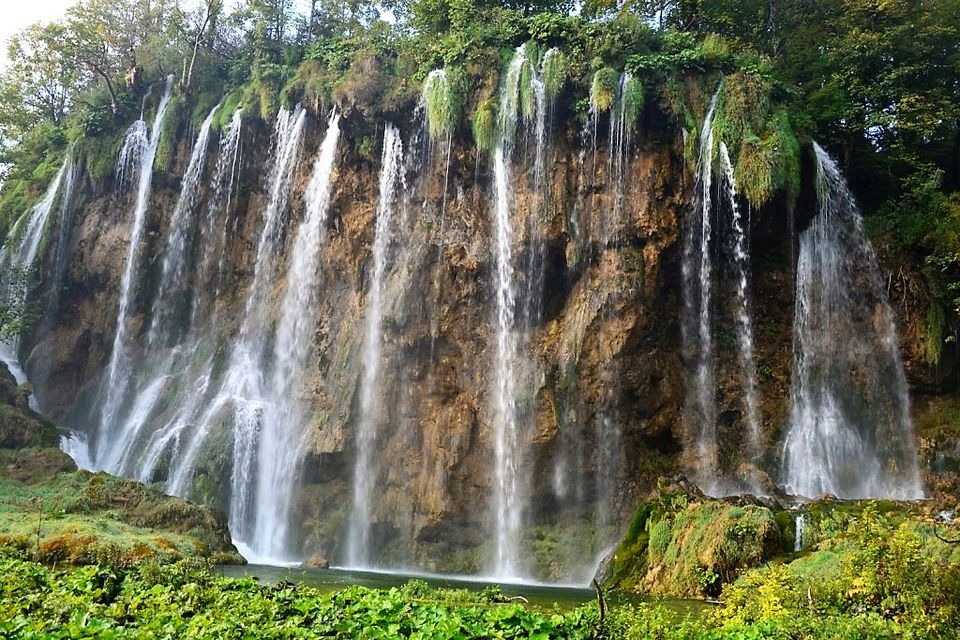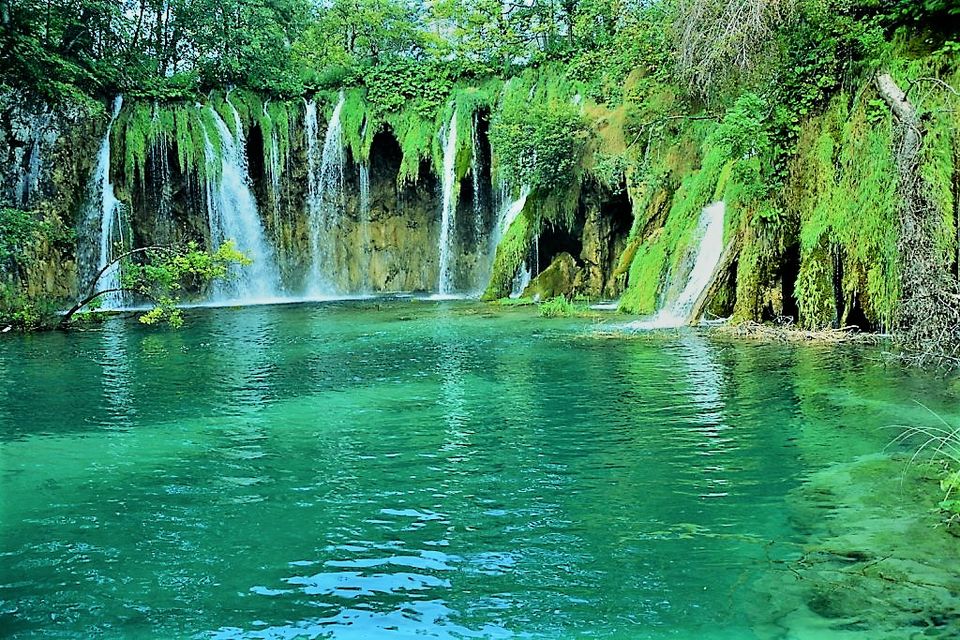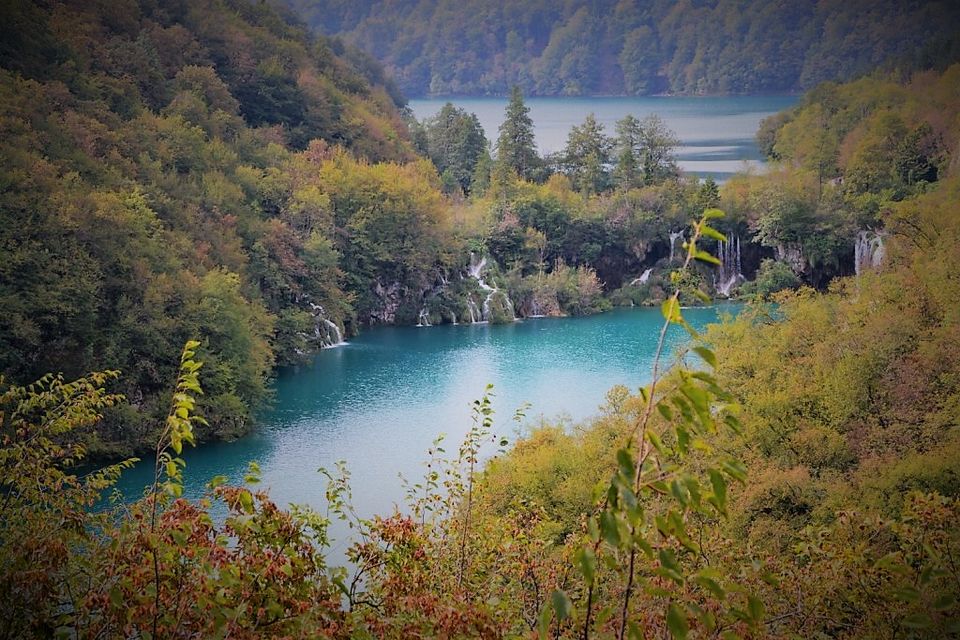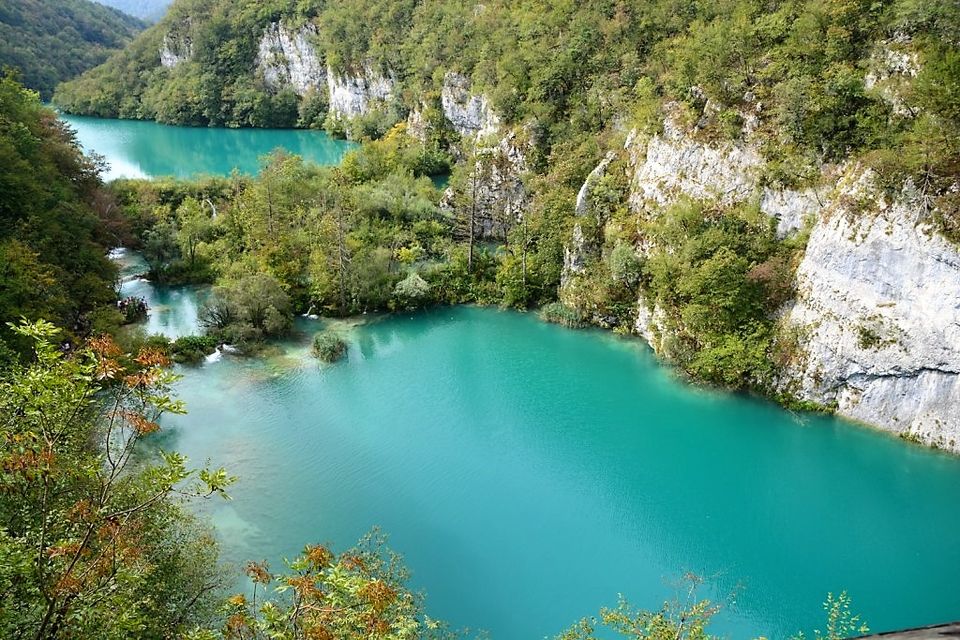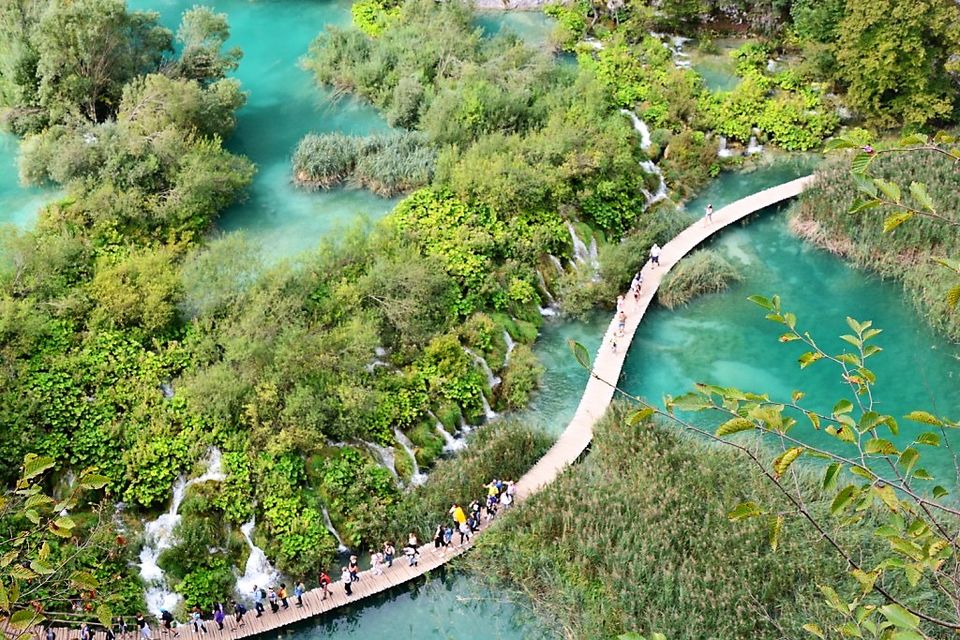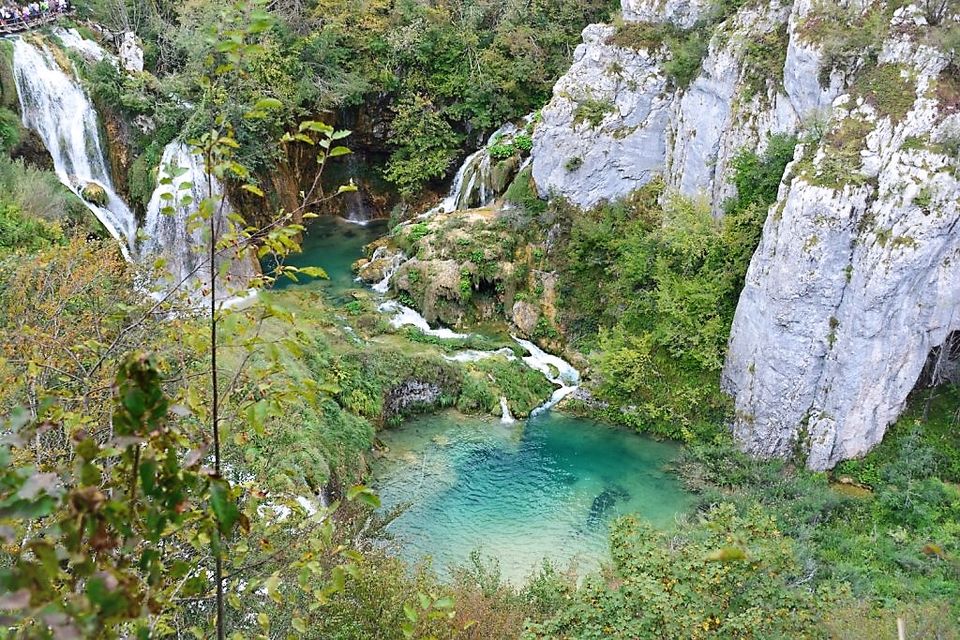 Split
We had a stop-over in Split for a day and booked an airbnb near the port. In the evening, we explored the Diocletian's palace area (300 mts away), which were mostly ruins. The place had small alleys with shops and restaurants on either side. It becomes lively in the evening with the lightings and music. We had a lovely dinner at Marta's Veggie (vegan restaurant) in the palace. We were so happy with the food that we did breakfast also at Marta. The next day, we took a ferry to Vis.
Vis
Vis is a hidden gem and not many people know about this place. Its reputation is quite laidback as compared to Hvar (party island). We were torn between the two and chose the former. The island was not accessible to tourists till 1991 and has thus retained all its beauty and charm. We spent 3 days at this island and enjoyed every bit of it. We arrived around 12 noon at Vis (about 2.5 hrs ferry ride from Split). Our host was there to receive us and he took us to the airbnb. The place had mesmerizing views of the bay and mountains. The host had also made arrangements where one could take a dip in shallow waters of bay. On the day of arrival, we explored Kut, nearest town. The place had narrow stone pathway alleys with red bricked houses. We had lunch in one of those houses turned into restaurant. We returned and spent rest of the time at our airbnb exploring the bay area. The next day, we hired a scooter and visited Stoncica beach. It had gentle slope, which was ideal for us (being not great swimmers). The beach had an entrance through a vineyard. The only negative was there were some yachts parked around this beach, which blocked the sea view. After playing in the water for some time, we left for another beach called Srebrna. This is a white pebble beach which gives the water sparkling blue colour. It had steep slope and hence we didn't venture further in the sea. After covering the two beaches, we returned to our place for afternoon nap. Later, in the evening we went to explore the military cave in the mountain opposite to us (Vis was Yugoslavian base till 1991, and there were various caves dug up by Tito and his army). We watched sunset from the cave. For dinner, we went to Fort George (famous party place). It was all lit with candles and gleaming lights, which was an ideal setting for a romantic dinner. The next day, we started for Komiza, which was the farthest town. Mamma Mia 2 was shot in this town. On our way, we came across vineyards in the heart of the island and took some pictures in the setting. We also crossed a mountain called Mt. Hum and saw so many tourists riding bicycles (perhaps they were fit than us and we felt a pang of shame). Nonetheless, we reached the town and went for a quick lunch at one of the shore area restaurant. After lunch, we booked speed boat tickets to see Blue cave, situated on a nearby island. It is natural phenomenon and words cannot justify the awe that you feel inside the caves. After returning, we roamed around the alleys, bought some souvenirs and clicked some selfies and started for our place. We spent the evening with our host drinking home-made wine and understanding the history of Vis. The next day, we had our ferry scheduled quite early to Split for our onward journey to Dubrovnik and this also gave us the chance to see breathtaking sunrise from our airbnb. With heavy heart, we left the place and decided to make one quick return in coming years before it gets all famous and crowded.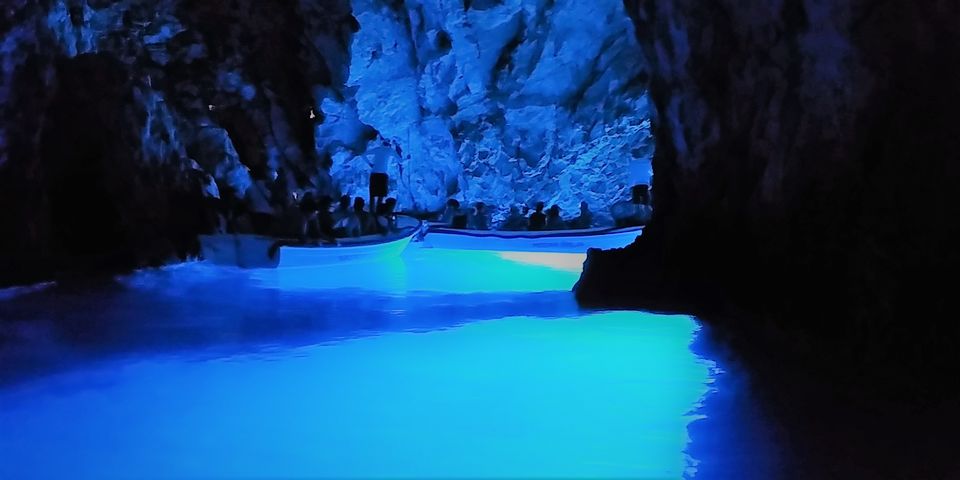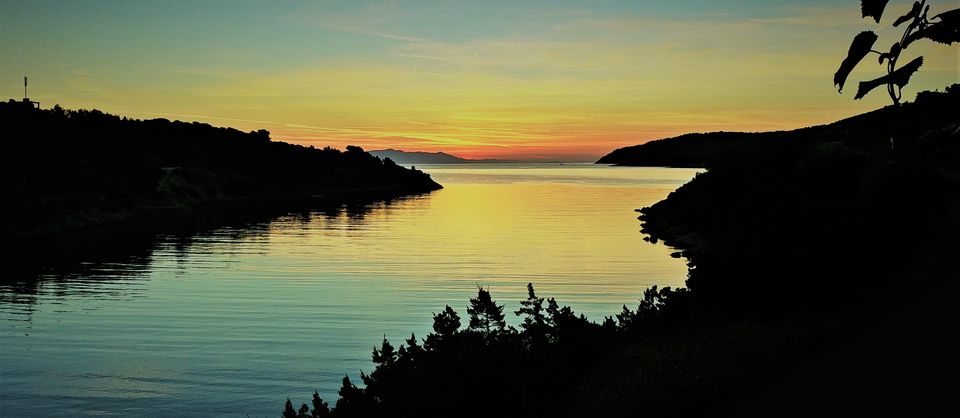 Dubrovnik:
We took a bus from Split at 10 am and took about 5 hours to reach Dubrovnik. But the journey was a treat to the eye and worth the time spent on travel (Pls take right side window seat). The last 1.5 hours of journey covers the stunning shoreline on one side and mountains on the other. We could not get an airbnb inside the old city as we got late in our booking. But our place was amazing in terms of its view of the sea and was about 2 kms away from the old city. We rested that day and ventured out just to have dinner. The next day we started early to explore the old city as it gets very hot later. We bought a 3-day pass which included 1-time passes to most of the famous places, and 6 bus ride tickets to get around town. We spent about 3-4 hours roaming around the entire area. The whole of King's Landing from GOT has been shot in various places in the Old city and we could identify many of them. We got tired and ordered some lunch from a hotel nearby to our airbnb. Then we went in the evening and the place got very lively. The restaurants were nicely set up in the alleys with beautiful lamps on each table. Some of them were playing live music which had a distinct European vibe. We had dinner in one of such Mexican eatery. The next day, we started for Cavtat, which is a small town nearby Dubrovnik. It was away from all the hustle bustle of tourists. The place had a 10 km walking trail along the shoreline with a picturesque view with various spots ideal for diving and swimming. We had some lunch and started back for our place. It was last evening of our vacation and we wanted to make it special. We arranged a candle lit dinner in the balcony of our condo, enjoying the views of sunset and the sound of waves.