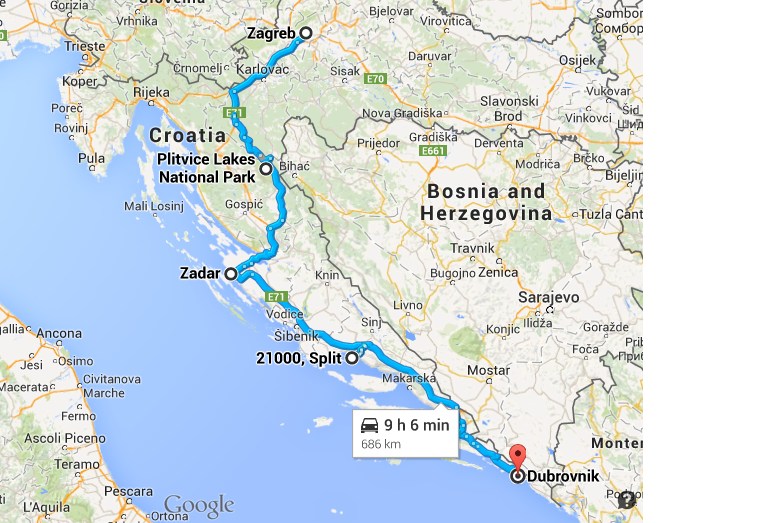 Croatia is the underdog of European touristic destinations. It's a small country situated at the confluence of Southern and Eastern Europe. With Adriatic sea to its west, it has rich marine life, wetlands, mountains, natural parks and forests. I would be sharing my experience of this European paradise in another blog. This blog will help you plan an offbeat trip to this not-so-popular Croats land.

If you are wondering what Croatia has to offer, check out the Serene Croatia. If you are still not convinced, let me just tell you that Dubrovnik is the real world location of King's Landing in Game Of Thrones.
If this is your first trip in Europe, you may first want to read How To Plan Your First Trip In Europe

Important information:

Money : Croatia has a local currency called Kuna. Get around 150 Euros converted on a good exchange rate on the first day itself.
Travel : You will have to take buses to reach most of the places. Autobusni has real-time information about all the buses and ticket prices. Tickets can be bought on the bus itself for most connections. You can also check Bus Croatia before mid October when it displays accurate information.
I started my trip from Munich and went first to Slovenia before visiting Croatia. I am including this information for anyone who wishes to see a spectacular natural phenomenon.
My Itinerary was as below:

Day 1 : Reach Ljubljana, Slovenia from Munich. Take another train to Divaca, Slovenia. If you visit after mid October, you will have to travel in a bus which start from the station itself. You can buy the ticket inside the bus or use your train ticket/pass, both are valid. Reach Divaca in an hour long journey and visit the Skocjan Caves. These caves are around 2.5 million years old, formed by the flow of river Reka. Steep stalactites and stalagmites are worth the effort. There are buses outside the station that will take you to the location of the caves (3 Km). At the tourist center near the caves, you can check for the return timings. Cave tours are 2 to 3 hr long and cost around 10 to 20 Euros. Do avail the student discount if applicable. Return to Ljubljana and take another train to Zagrab, Croatia.

Day 2 : Explore Zagreb for the whole day. There are many museums, architectural sites to keep you busy. Evenings are beautiful on the central square.

Day 3 : Take a bus from Zagreb and reach Plitvice Lakes National Park. It will cost around 12 Euros and take four hours. Spend the whole day inside the park. Tickets can be bought outside either Gate 1 or Gate 2 and would cost around 20 Euros. Get information about the trails to follow from the information center. You can keep your luggage in the a separate cabinet at the entrance for free of cost.

You can take a return bus to Zadar, watch sunset and stay overnight.
You can take a return bus to Split and stay overnight. You can roam around the next day. Split Guesthouse is an amazing place to stay.
You can reach Zadar, watch the sunset and take another bus to Split and stay overnight at Split.

Day 4 : After spending a day in Split, take a bus to Dubrovnik. It will cost around 12 to 20 Euros and take 4 hours.
The entire journey in the evening is an unexpected surprise. It's absolutely beautiful with glittering mountains carving out a way as your bus moves alone in the darkness. Stay overnight at the Red Dwarf Hostel. It's near the station, gives a perfect view from the top and has wonderful owners.

Day 5: Roam around the old hilly town of Dubrovnik. Kayak with local guides in the warm afternoon. Take a cable car and reach the top point for a view of the sea and the city.

Day 6: Start your return journey. If you are flying back, you will have to reach Zagreb. If you are taking trains, then you will to take multiple trains and buses to reach Zagreb. Check the information beforehand as the schedule may vary in the off-season.

Croatia is relatively cheap and has good restaurants. People are extremely sweet and the natural beauty is untouched. There are other natural parks and cities that you may want to visit if you have more time (Rijeka is very famous). Once you reach Zagreb, the entire trip should cost less than 250 Euros.

Croatia is definitely the most underrated destination in Europe! Don't miss it.