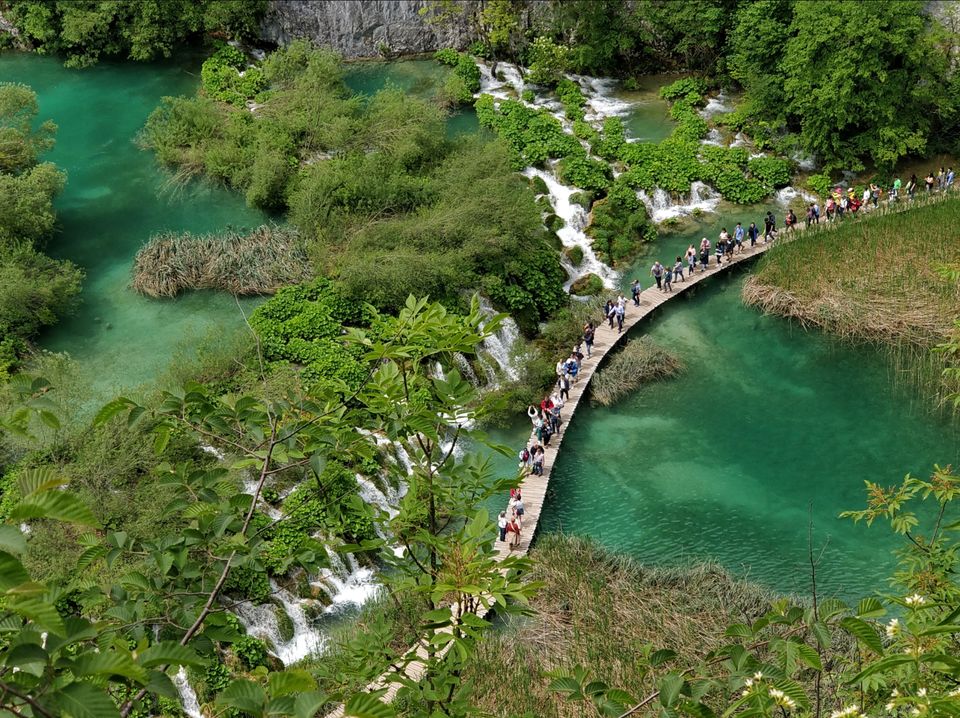 CROATIA is all over the internet as the hidden jewel destination in Europe, that you must visit. If you have been enchanted by the surreal landscapes of Plitvice waterfalls, the wonderful blue caves, the party scene in Split and Hvar and the game of thrones locations, you should book you trip now!
If you are confused over where all to go, let's get planning.
You should at least have a 10 day trip to Croatia, maybe you can cover a place or two in Hungary/Austria/Slovenia before or after Croatia.
Start with Planning your route
Zagreb -> Zadar -> Split -> Dubrovnik
So if you are planning your first Euro trip:
1. Be extremely enthusiastic about it, otherwise what's the point!
2. Find a friend or plan solo, but just plan.
3.Have a budget, unless you are too rich to care
4.Decide a part of the continent, like 2-3 countries if you plan a two week trip.
5.Consider the prime places that you wish to visit or the activities you would like to do and plan the route accordingly
6.Don't jam pack your schedule, not everything goes according to the plan, and sometimes it nice to roam around a place without any plan too
ZAGREB- Two days in Zagreb are good enough, one day to chill and roam around the city center. Next day you can plan a day trip to Plitvice national park which is a must see.
Stay: Hostel Shappy (Clean, comfortable, location in city center)
Things to do in Zagreb:
1. Go and chill around the city square (when we went, there was a festival going on for special kids, and the whole square was decorated), otherwise it is just a square with a figurine.
2. Check the dolce farmers market, it starts early morning, open till 3pm. You Can buy lots of fresh fruits at reasonable prices
3. Try the Croatian beer, next to the market there is a street full of bars- Street Radiceva. Try the Mali medo pub, for their special brew. Ozujsko and Karlovacko beer is what you will find everywhere and its great!
4. Try the Vincent Ice cream near the city center, it is just amazing. Also very reasonably priced for a heavy scoop of fresh berry ice cream. REMEMBER, there is no such thing as too much Ice cream! Have loads.
5. The hostel was at city center so we could go around at night and taste some more beer. However the city almost shuts at 10pm.
6. Shop! If you need to buy any clothing this is the place to shop in Croatia. There are retail brands and the prices are close to Indian prices, nothing fancy but better to shop here, rest of the tourist spots will be expensive
PLITVICE- We did a day trip to Plitvice from Zagreb, booked a bus ticket from Zagreb bus stop and back in the Evening
This is the best place in Croatia, just unreal! A day we felt was sufficient, go early to beat the crowds later in the day it becomes too crowded there are queues in some spots.
Also carry a packed lunch for the day trip, inside its very costly and there are not many restaurants. Be prepared for a lot of walking!
Some people stay at Plitvice, however the accommodation is expensive near the lakes, also know there is no view from outside. If you decide to stay in a small town near Plitvice, you need your own car to reach the lakes. It is really a forest area, and you can't do anything outdoors after sunset. So unless you are going for a relax weekend for 2-3 days in Plitvice and have your own car don't stay there. You can do a day trip from Zagreb, or there is a luggage counter where you can put your stuff and then catch an evening bus to Zadar/Split.
ZADAR- Not many people include Zadar in their Croatia Itinerary, but it is a nice place if you have good amount of time in Croatia. So like all Croatian cities the Zadar old town is a walled city, with no Vehicles allowed and really narrow lanes. So be prepared to tug your luggage to your stay.
Stay: three corners hostel (good location, cramped rooms, but clean)
Things to Do in Zadar-
1. Sea organ- Awarded the best pulic mordern architecture in Europe. Buy wine from supermarket and watch the sunset at the Sea organ
2. Greeting of the sun- Just behind the sea organ is a solar disc which lights up after sunset
3. Take a walk around the promenade and look at the yachts
4. Take a Day trip to Krka national park, make sure you check the schedule beforehand if you want to go to interior points, there are only few buses or else you need your own vehicle. Krka is mostly a picnic spot for locals, and in summers you can swim in one of the lakes. It is pretty but you can skip it, Plitvice will cover up for this.
5. Souvenir shopping- Along the coast near the sea organ there is like a souvenir flea market.
Otherwise these is nothing much in Zadar, it is good chill time that you can spend your packed trip.
SPLIT- It is the city of the water, when we reached Split, it was like a Hollywood movie set. The main street Riva is a seafront with many bench restaurants, cool breeze and hot sun!
Stay: Hostel Dvor (Prime location, spacious rooms-book AC in summers, good staff and includes breakfast)
Things to do In Split-
1. Blue caves tour- if you have researched about Croatia this wonder would have definitely come in your search results. It is a cave on an island far away from the rest and hence you need to book a package to visit. These packages are usually for 100euros or upwards.
But it is worth, since it's a natural wonder and you can visit 5 islands on this boat tour. Also you will get burnt, damn the sun here is harsh (and I am from India!)
2. Pub Crawl- Its a great deal if you want to party!
3. Hike on Marjan hills- it is a short climb up the Marjan hills, here you get to see the view of the whole city.
Go swimming in beaches around Marjan hills. However all the beaches are pebble beaches so it's difficult to get inside. Also stay aware of the sea urchins.
4. Dolciatian Palace- Go around the palace and the church, get a beer and find a place to chill. Also you might get to see a wedding ceremony.
5. Walk around the promenade- unlike other places Split was lit through the night, so chill at the promenade with Pancakes, Crepes, Mini donuts or a gelato along with the cool sea breeze.
Dubrovnik- The last stop- The city of Dubrovnik, apart from the Game of thrones and Star trek fame, is a very pretty city. The city is walled from all sides and the houses inside are build next to other with narrow stairways.
About Dubrovnik, first thing inside the old city you notice apart from the medieval times charm, is the insane crowds which come in. The cruises halt here in the evenings and you cannot find a spot to even stand.
Dubrovnik has become one of the most expensive cities is Europe. The food is horrible to say least. But if you can survive on ice creams you are sorted.
Stay: Old city walls (inside the old city-prime location, good basic clean dorms)
Things to do in Dubrovnik
1. City walls tour- this is the highlight of Dubrovnik old city, you get a good view of the town, just go very early or else you will burn bad.
2. Kayaking- Go Kayaking around the old city, it's a 3 hour tour and you need to be fit to do it. Or at least have a fit friend to pull you through. And definitely go for the sunset tour, it's just beautiful. The Kayak guide takes you around and will tell you about the history and present of Dubrovnik.
3. Go cliff jumping- There is a spot near the paradise café where you can cliff dive. Only if you are a good swimmer. Or else just chill here with a bottle of Ozujsko (buy from supermarket and not at the café) watching the colors of sunset sky and other people cliff jumping.
4. Game of thrones tour- There are many highly priced tours.
5. Pub Crawl- It's pricier here, but by Dubrovnik standards it's reasonable. Also the pubs are open here all night, and play crazy loud music. You may need ear plugs if your stay is nearby.
6. Cable Car- You can either trek up the hill or take the cable car to the highest point in Dubrovnik. The view from the top is super. Be sure of the route if you plan to trek and go at sunset, to avoid the heat.
7. Island of Lokrum- There is nothing here, except lot of peacocks and Croatians coming for family picnics. (Many people told us it is must to go and we didn't have an accommodation for the day so we went) Also pack your lunch if you go. There is nothing on this Island, it's better to skip.
Things not to do in Croatia-
1. Don't have great expectations about food, it is highly okay in most of the places. Unless you go to Istria, they have really famous food scene.
2. Don't have a time table, relax
3. Don't forget your sunscreen and Hats
4. Don't shop much, there is nothing here to buy except souvenirs.
5. Don't drink in public spaces, it is not allowed. If you get caught, act like you are too naïve.
Tips-
1. We didn't buy any SIM card or never paid for Wifi throughout the trip. Wifi is available in all hostels and hotels, also everywhere near the main square. Also why do you need connectivity anyway on the trip
2. Preload the maps- Before landing in any city, download the offline maps. It helps when you don't have Wifi to navigate.
3. Pay in Euros where ever you can, some of the hostels accept Euros, so pay in Cash with Euros, or else you will be charged conversion charges on card.
4. Cook your meals- one way to save on budget is to cook your meals, so hit up the supermarket and fill your buckets with the great variety they have(ready to cook pasta, breads, sausages, puddings, berries). Also buy beer and wine from supermarkets, it is cheap and nothing beats finding your spot and chilling, rather than paying up more for same thing at a restaurant.
5. Book tours/Day trips after reaching the place- You can get much better deals offline, if you bargain you might also get a discount (only in off season)
6. Check with your Hostel reception about the local things to do- they will give you better suggestions and directions.
7. Travel Light- Max one suitcase is what you should fit everything in, otherwise it is just going to be too difficult to move around.
8. Check your baggage allowance- in the flights or the buses you take, most buses had one suitcase allowance per seat.
9. Carry an international adapter for charging
10. Find the rest on your journey, screw ups on trips make them most memorable! :-P