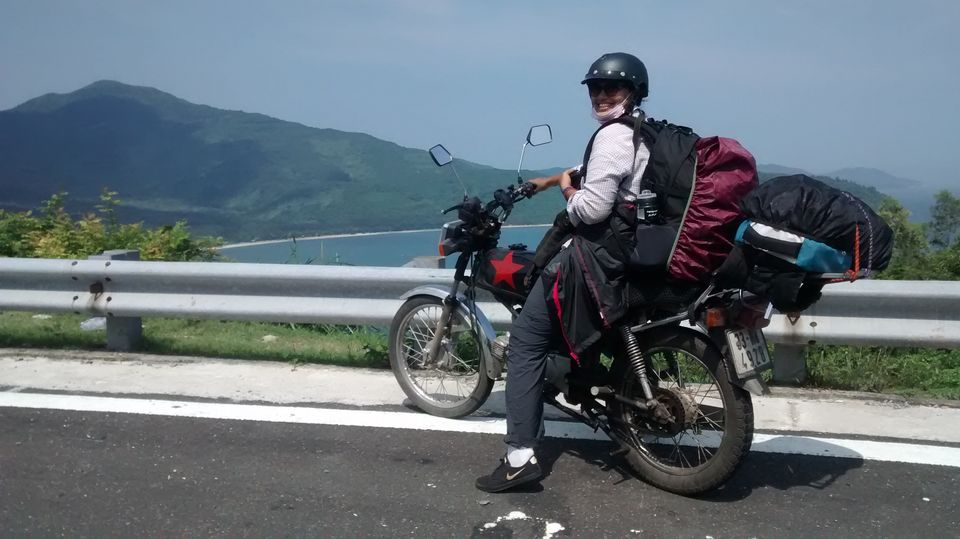 I clearly remember the day when I first thought about it. I had left my apartment in Pune, sold whatever little I owned and was out embracing the life of a Digital Nomad. I was at a backpackers hostel in Varanasi then. I have always been a traveler without any definite plans. I zero in on a place, find out how to reach there and when I reach there I just talk to locals and travelers and make plans on the go. Like any usual evening in a hostel common room, all travelers were gathered having a good time together, sharing their incredible travel experiences. One story, in particular, caught my attention that day. A British guy was traveling across India on a Royal Enfield. Intrigued I asked him " How does he find riding in India?" to which he replied "It's all right, I have been riding in Asia for quite some time now. I just rode across Vietnam."
How I went about my budget Vietnam trip?

I had been planning a Vietnam trip for a long time but riding was a faraway idea. Now when I think about it, I cannot imagine how subtly gender roles are ingrained in Indian females. My first bicycle was the pink, basket adorned, top-tube less, light weight Ladybird which I was told was meant for me while the hunky looking Razorback was meant for my brother (Though I rode it when my brother got my dad's old Bajaj Chetak till the time I was presented with Purple Scooty Pep). I loved my scooter to the core never thought about motorbikes. They were just things meant for boys. Three months later I would find out that was an absolute hogwash.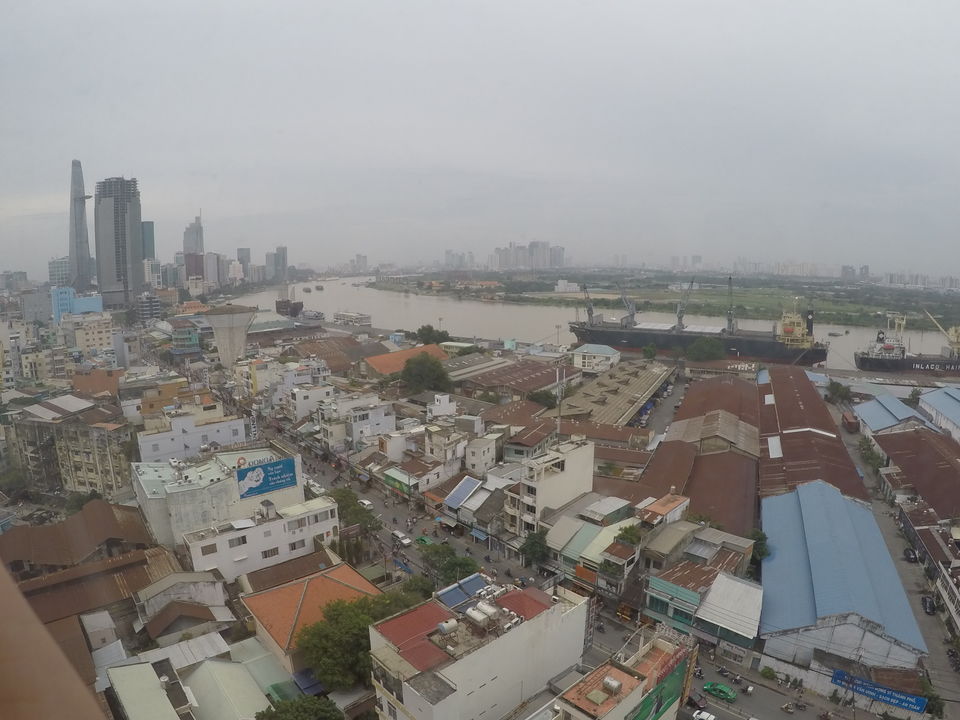 I was one month into my travels in South East Asia. I had already spent 2 weeks in Cambodia and was two weeks into my Vietnam trip. I needed some direction for my travel. When you have all the choices in the world, it takes a lot to choose a particular way that you want to carry forward. I had two more months in Vietnam and I had a choice to make. I could either take an open bus that would take me to all the famous places or I could buy a Motorbike/scooter and go where ever I wished.
I had seen quite a few Honda Wins going around and had definitely developed a crush on that. So just to fool around with the idea of buying a motorbike in a foreign country, I went looking for one to ride.
I reached a shop called Mister Motorbikes in HCMC. I told him- I have never ridden a motorbike before but I want to see if I can ride one. Without batting an eyelid he started taking out amazing looking shiny badass motorbikes. The enthusiasm with which he was showcasing the motorbikes changed something in me. He actually believed I would be able to ride one. That was an amazing feeling and gave me the push I needed. I treated this as - I might learn a new skill even if I fail to ride through. Thus began the searching of the perfect motorbike for the trip.
I tried several motorbikes but finally decided on the Honda Win 110cc with Detech Engine from Indonesia. He told it was better than its Chinese counterparts. These bikes are basically assembled. Honda Wins are pretty huge among backpackers in Vietnam though none of the locals ride it in general. They usually ride the automatic easy going scooters. I wanted to do something different thus I chose the motorbike; And to ride I just followed these little instructions by Mr. Motorbike- Get down from the left side, You will never burn your legs. Pressing clutch all the way is equivalent to neutral. Riding and changing gear would be a habit in a day or two.
Driving direction in Vietnam is opposite of India, Mr. Motorbike said I'll figure out easily as all the vehicles would be coming at me if I am on the wrong side of the road. (:p)
Choosing the motorbike was like choosing the magic wand at the Ollivander's. It was as if the motorbike chose me. It did not try to throw me off, it did not stop in the middle of the road and when it did I could just press on the tiny self-start button and it moved forward smoothly without making me feel nervous. It did not burn or bruise me above all the feeling was there. It looked good on me and we belonged together from that day on.
Now that I had a motorbike that I named Ben Jackman Jr. a journey route needed to be planned. But I did not. I just took Ben around Saigon for a day to practice while getting lost and finding my way. It was incredible. I just let the journey unfold, learning with every mistake made. I just began riding.
Stay- Skygon Hostel and Vintage Hostel
Eat - Benh Than Night Market, Bui Vien Street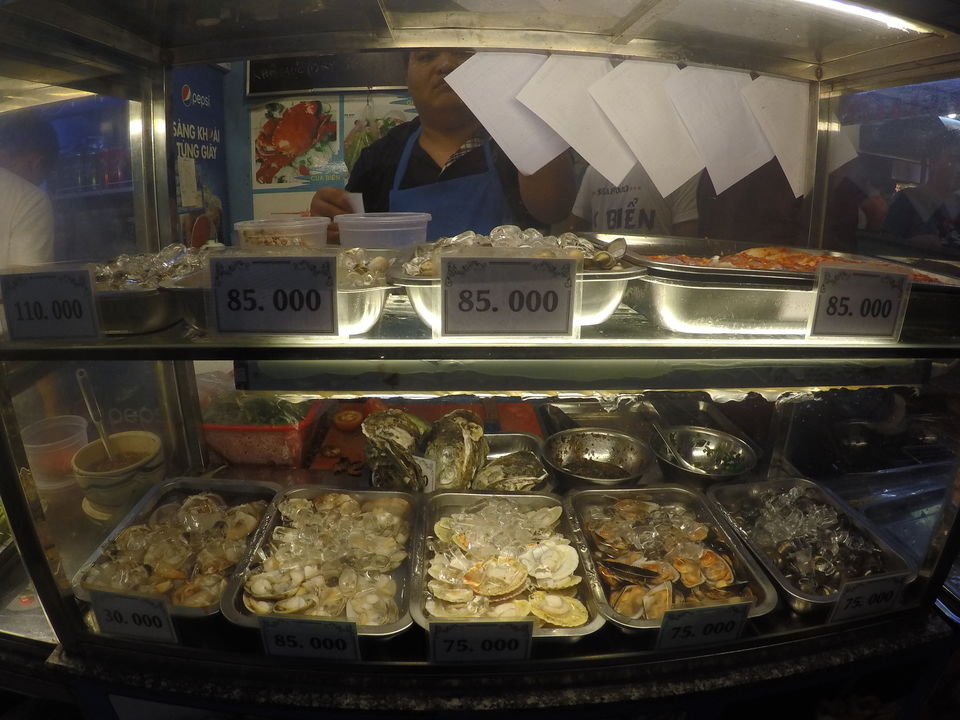 1. Trip of Wrongs - Ho Chi Minh to Vung Tau- 120 km
Not planning a motorbike ride was a blunder. I started riding around 11 a.m with huge backpack tied on the back of Ben. I was nervous. All I had was a google map nothing else. I started riding and was very thrilled at the beginning till I was stopped by police on a car-only highway. So I took a random turn hoping google map would redirect. It did not. I ended up going in circles for 3hrs straight in the sweltering sun. It was just the beginning. I made a stop for water at a small shop and left my bike on the side stand. When I came back it had fallen down and when people helped me pick it up I saw the front brake was dangling lifelessly.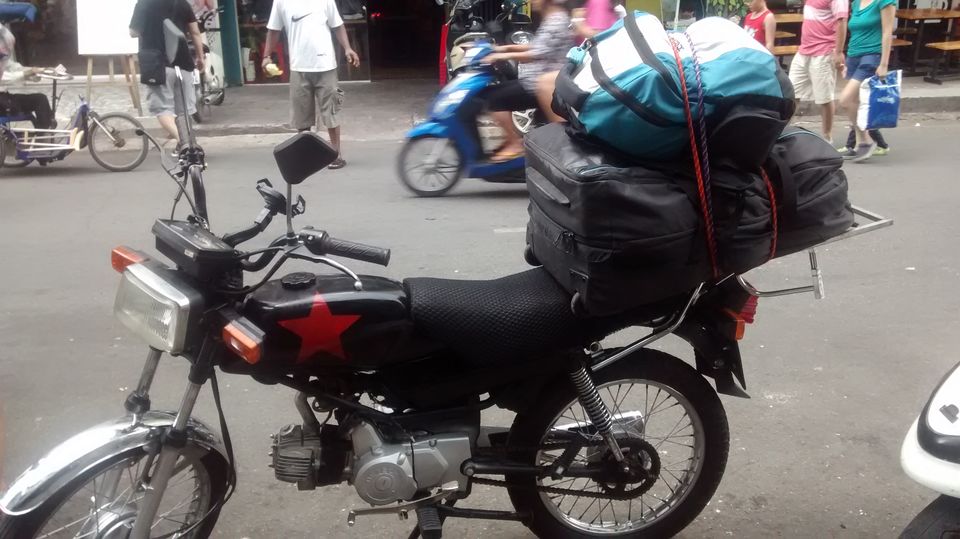 I was numb with fear. A very conscious realization hit me- I had no idea as to what I was doing. I was lost with a motorbike, in a foreign country where I could not speak the language and my mobile was draining sec by sec. I googled and found out I had to take a ferry to cross a river (that is why google map failed). I reached the ferry dock crossed the river with Ben and realized I needed the front brake.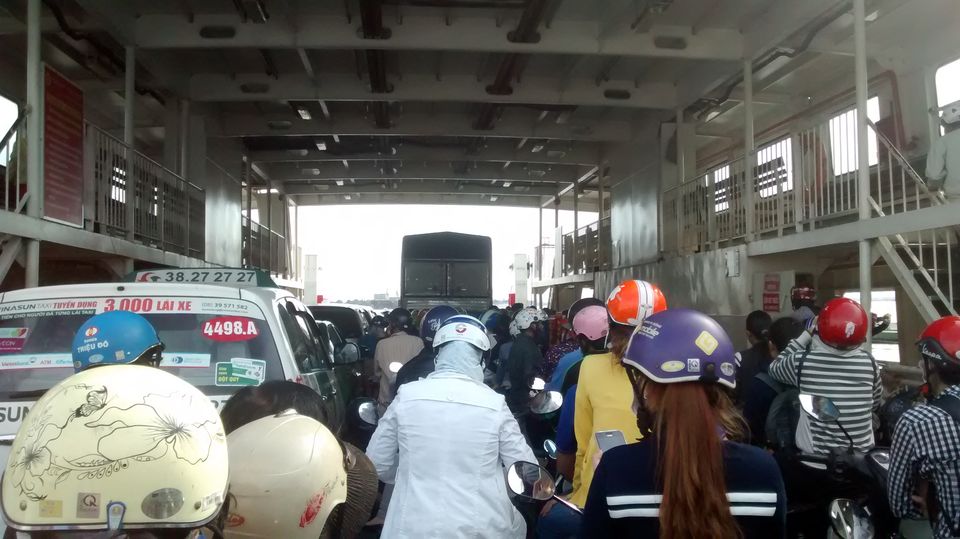 Fixing it took 2hrs. It was 5 p.m already. It was getting dark. I still had to ride 80kms. I started cruising thinking the worse was over. I was so wrong. It started to rain like crazy. I made stops at petrol pumps, charged my phone battery while waiting for the rain to be less ruthless. I drove in rain shivering till the end and I finally reached my hostel at 9:30 pm. Took a hot shower, told my friends I am alive, but I was shaken.
I stayed in Gecko Hostel. The person working there exclaimed with joy when I rode into parking- "You made it!". I wasn't feeling so proud of how the day had unfolded so I said- "I made it alive" and told him the whole story; he told everybody gets lost on that highway one American took a day to reach here. I will be honest it made me feel less lost.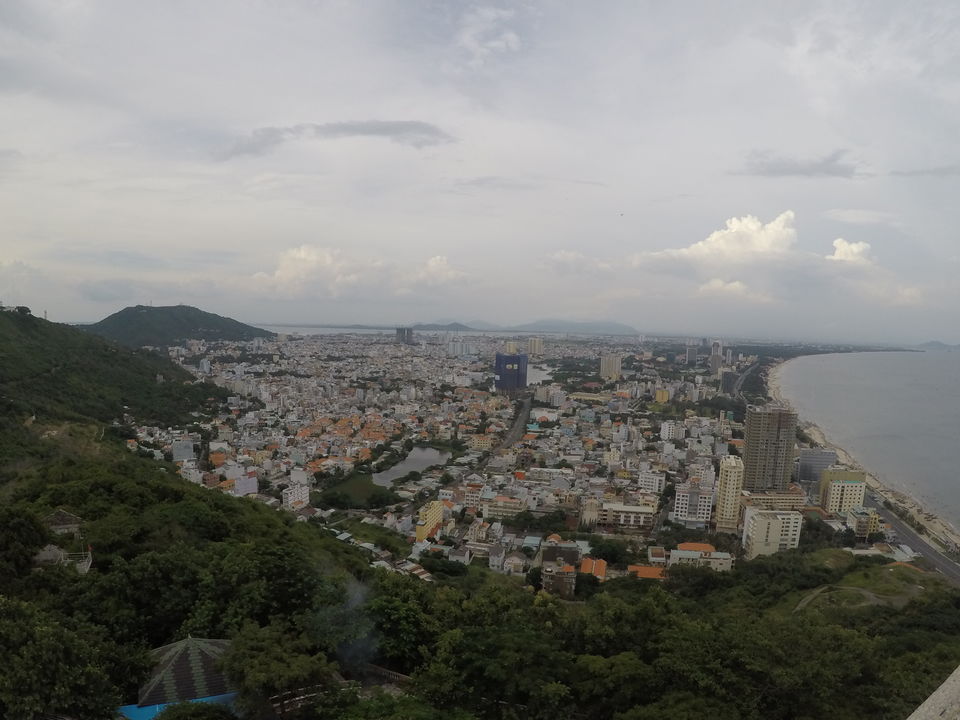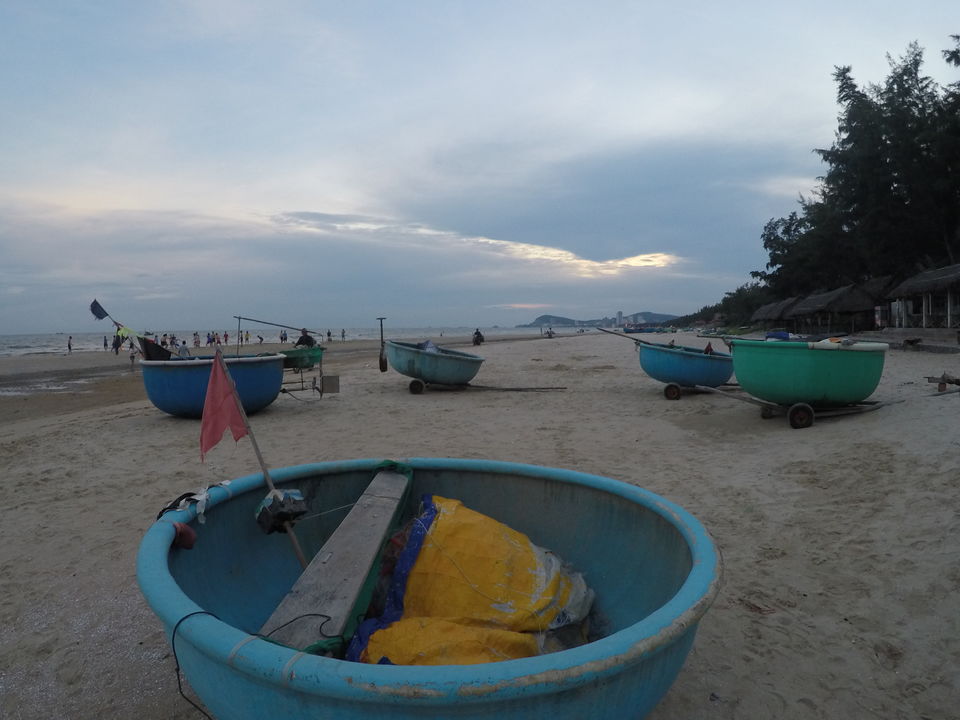 Stay - Gecko Hostel
Eat - Hot Pot and Pancakes
2- Easy Ride - Vung Tau to Lagi - 100 km
I stayed in Vung Tau for a bit to get over initial bad experience and made amends. I couriered my big backpack to Ninh Binh that was 100kms away from final destination Hanoi and got two power banks. I wanted to take it easy so made route plan not more than 100kms a day. Vung Tau to Lagi was smooth and flawless. Made up for a bit of lost confidence.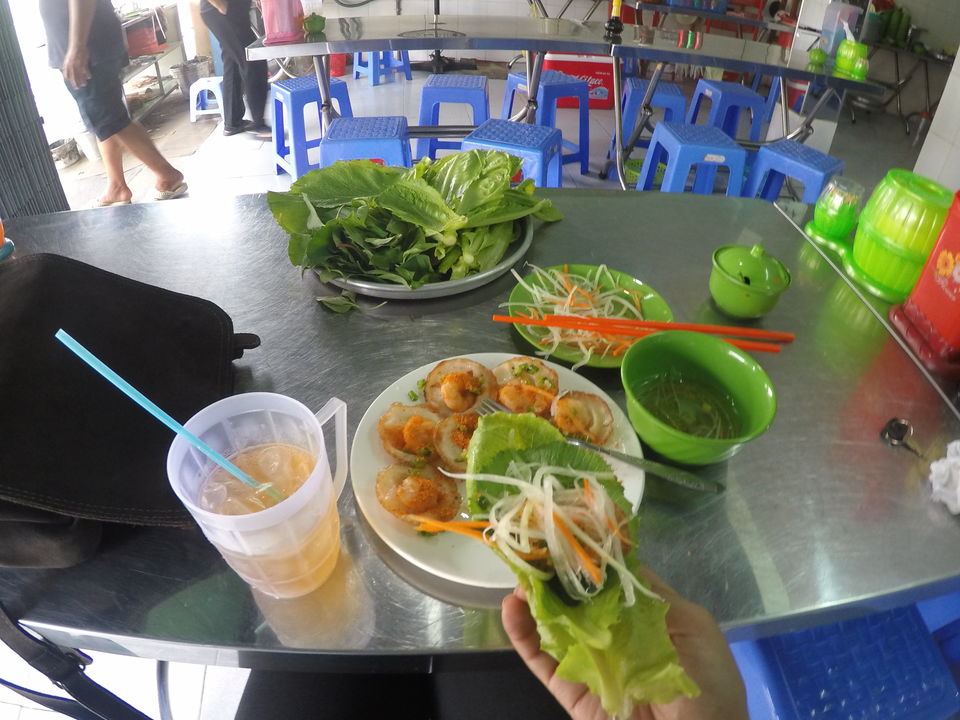 Stay- Resort Ba That, Lagi
Eat - Shrimp and Porridge
3 - The Ocean Road - La Gi to Mui Ne - 96 km
Ride to La Gi to Mui Ne was beautiful as well. It had open views of the ocean and the little fishing villages. I stopped and admired views more than few times. Mui Ne was amazing and so was the place I stayed.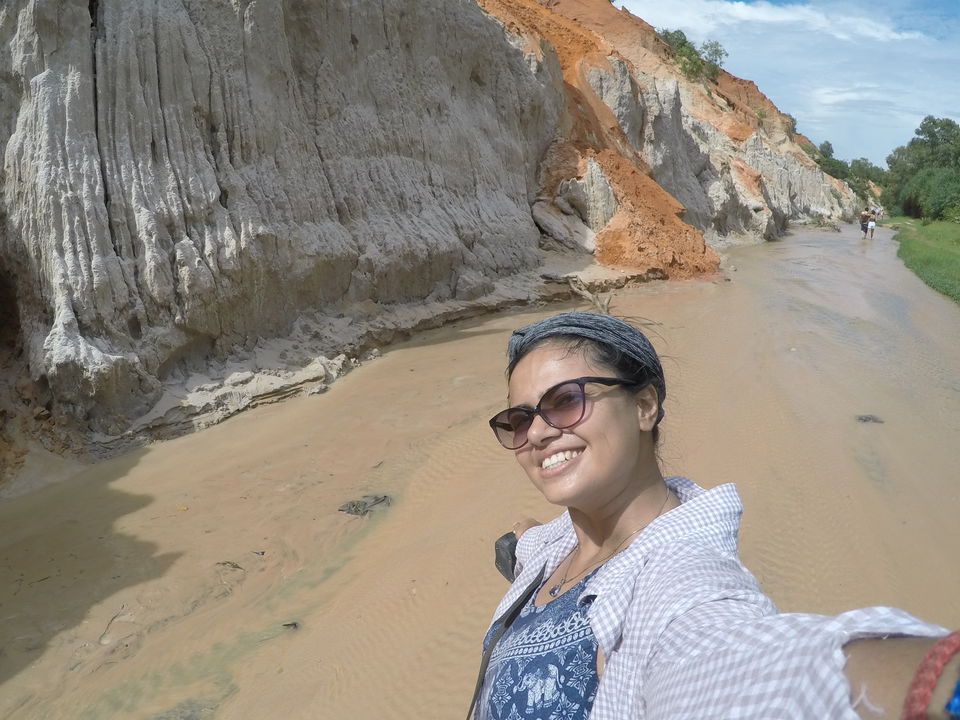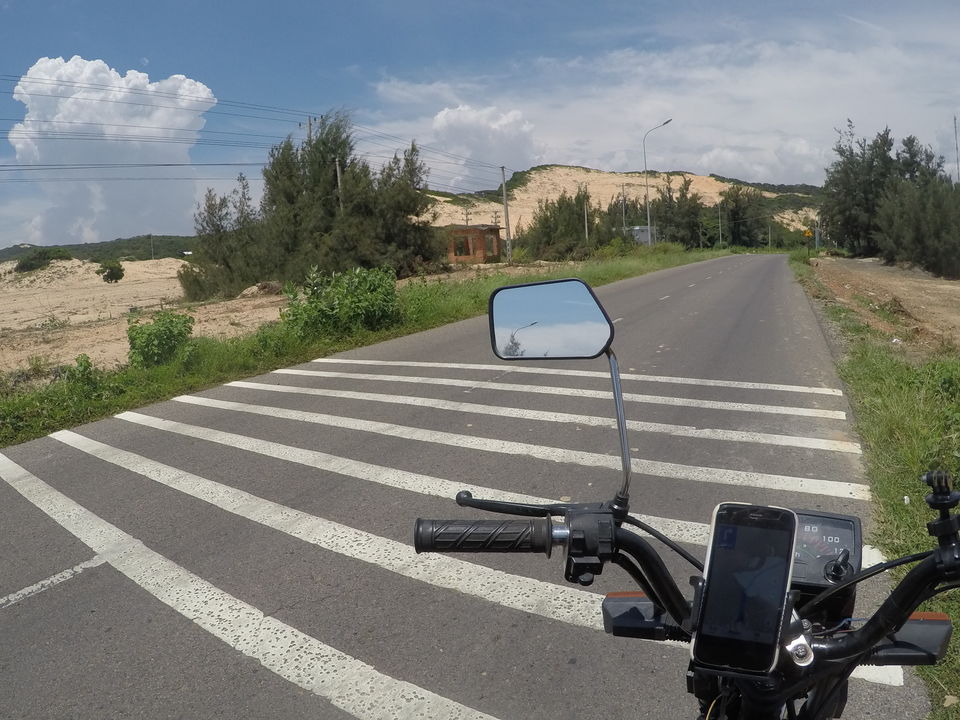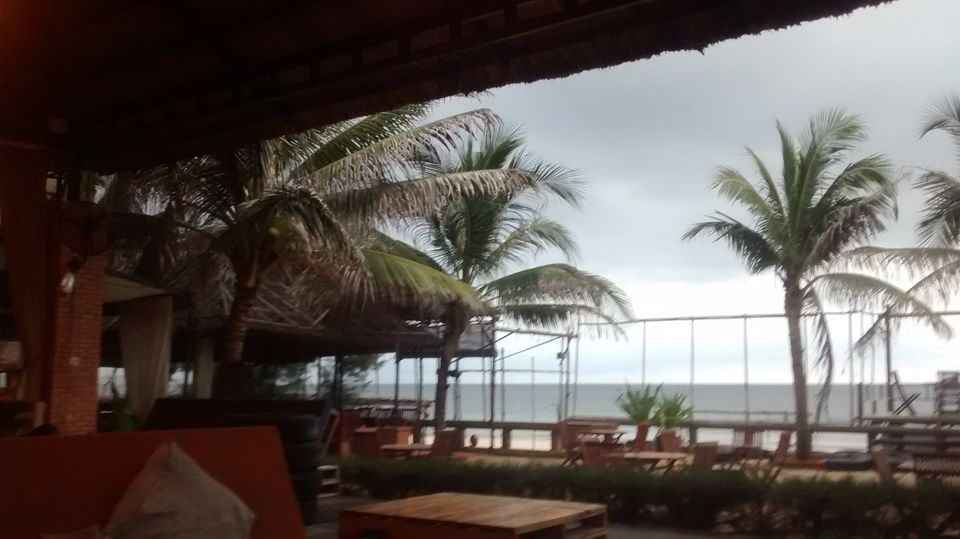 Stay- Long Son Mui Ne Resort
Eat- Hot Pot and at French Restaurants in Mui Ne
4 - Bad luck comes in 3s - Mui Ne to Da Lat - 147 km
In Mui Ne, I met two South African girls who were also riding the same route and we decided to ride together. We began well but things started going wrong 2 hours into the ride. One girl had a minor crash. After that, I fell randomly while the bike was stationary and managed to sprain my leg badly. After that, I got a flat tire. 1 hour later one girl ran out of petrol. We had it all and then we finally started cruising. But it was fun. The ride was insanely beautiful but then it started raining. Mountains and rain are pretty in movies but when you are riding you just want to reach the destination safely. We made it well. I did nothing in Da Lat but felt sorry for my sprained knee. I was limping and I thought I was done for a week.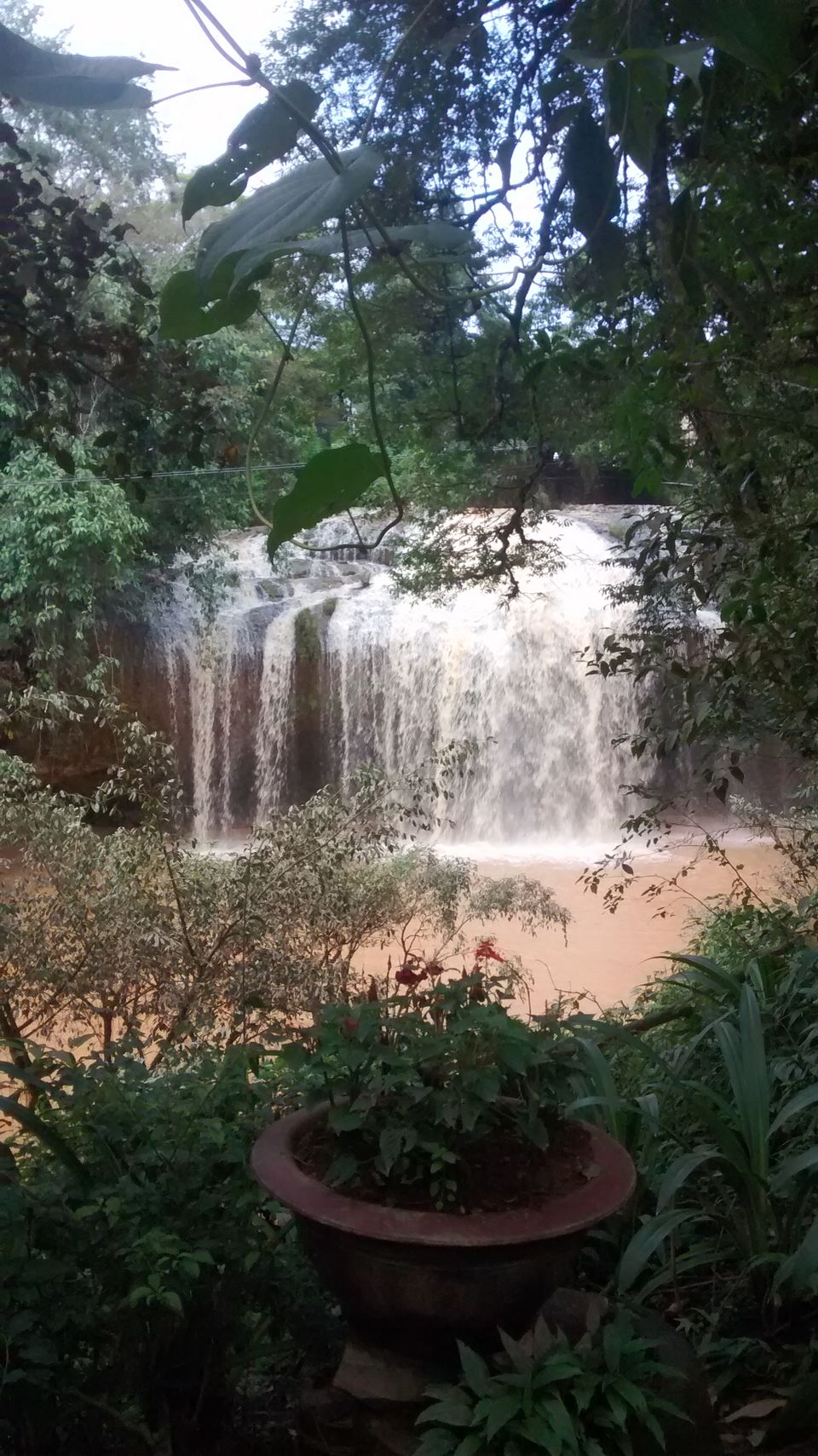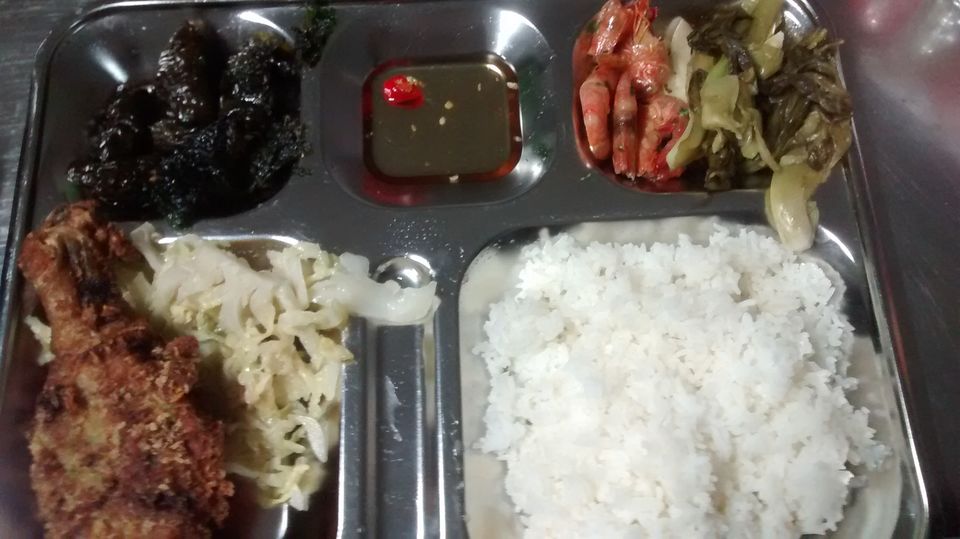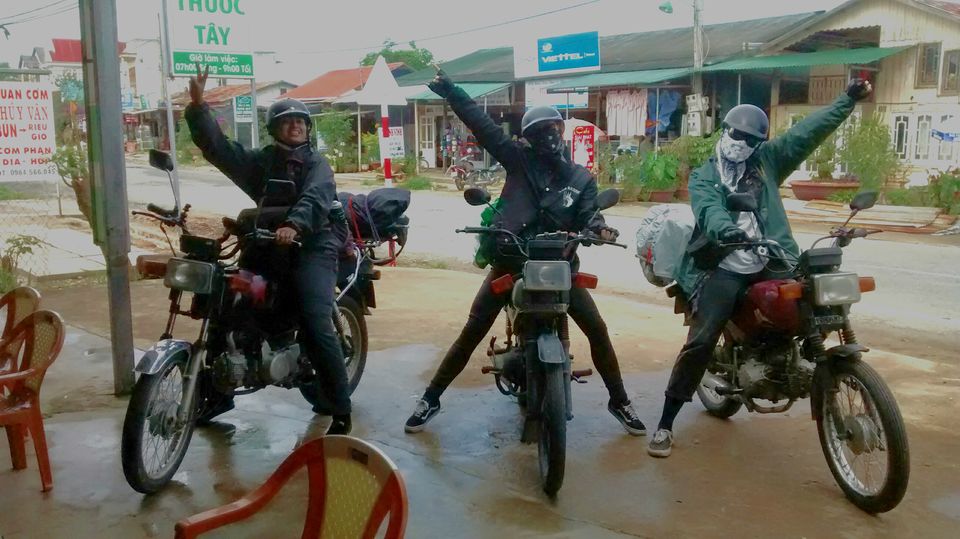 Stay - Da Lat Backpackers Hostel
Eat - Beetle leaf wrapped meat on bbq
5 - 1.5 Legs and a Birthday- Da Lat to Nha Trang - 137 km
"Do you want to ride with us?" asked Tani the South African girl who had become a good friend by now. I was miserable but thought I cannot walk but I sure can ride and thus I said: "Actually I can". We rode together once again. It was a beautiful flawless ride. I thoroughly enjoyed it. We three were so much in sync. Nobody got lost we reached Nha Trang.
This place has a lot of Russian settlement possibly because it is a big city with pretty beaches. Nha Trang has a high rate of bag snatching incidents. Two people, I met during the trip were afflicted by it. So beware if there.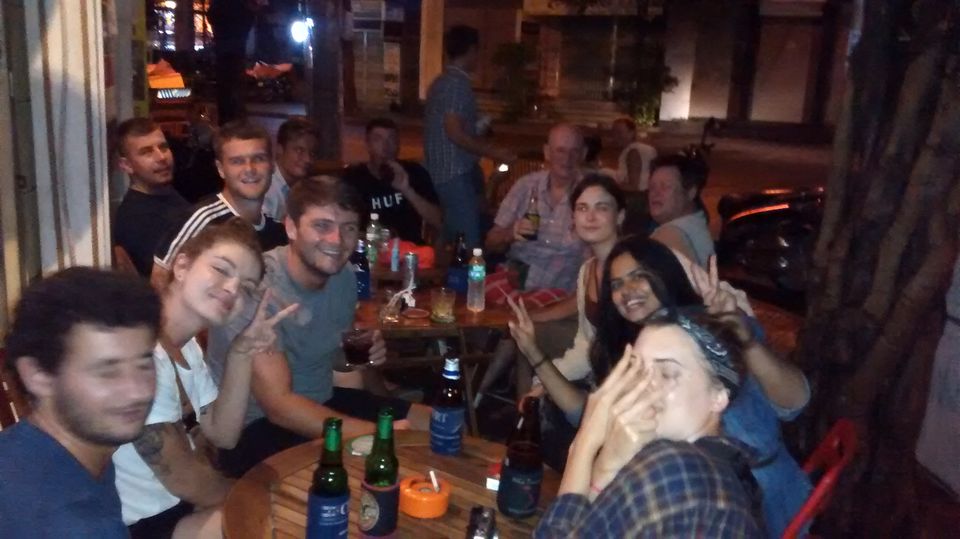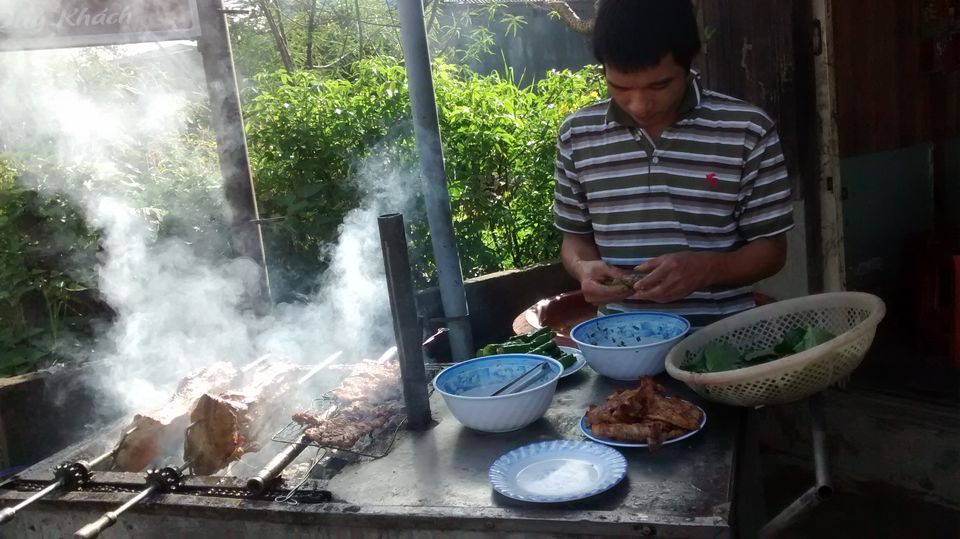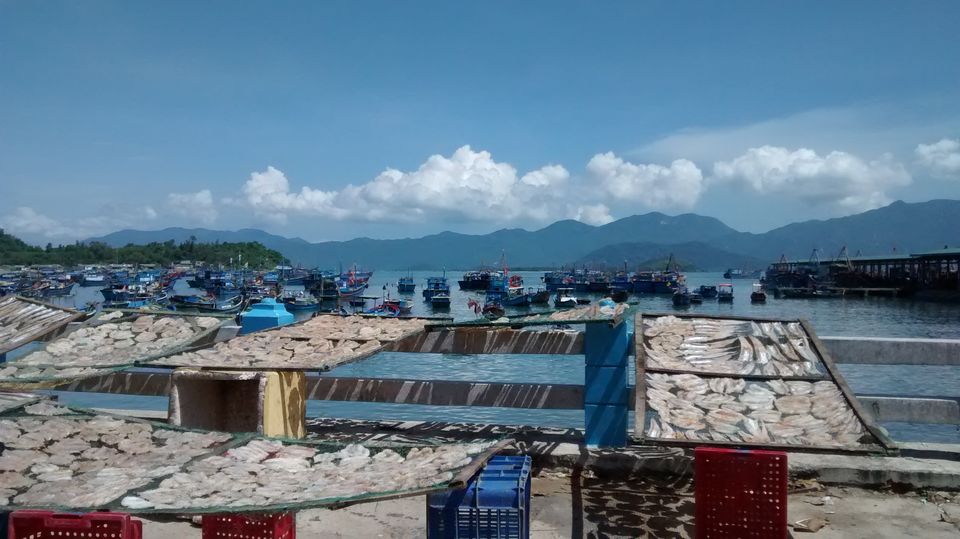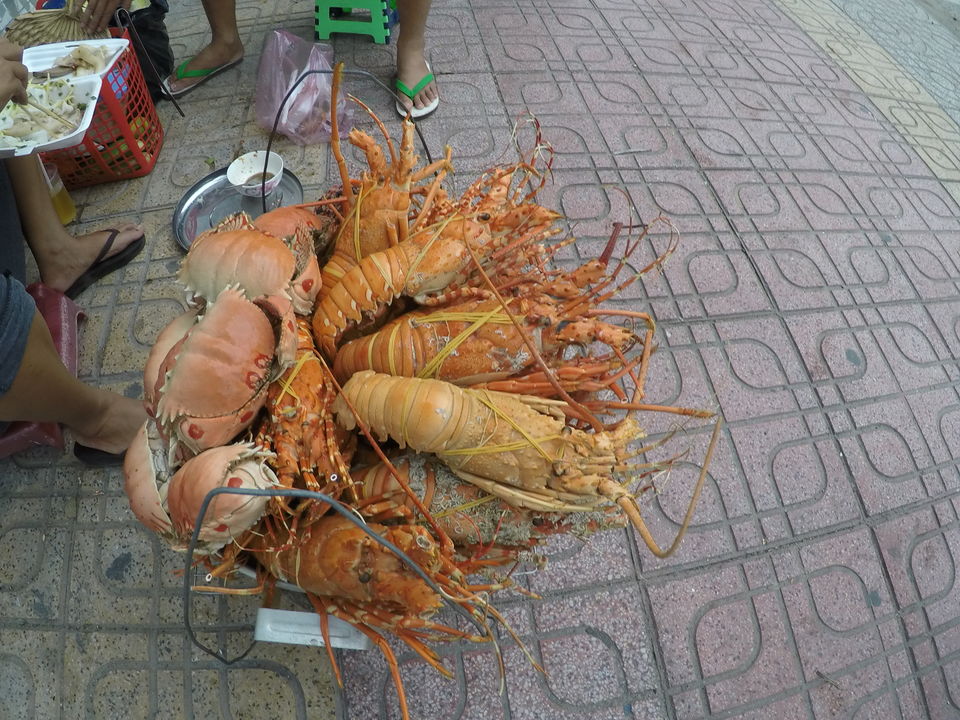 Stay - Mojzo Hostel
Eat - Fresh Seafood
6 - The long smooth Ride - Nha Trang to Qui Nhon - 222 km
This one was the first long ride but with the awesome company, it was more bearable than ever. We made it without any breakdowns and glitches like a boss. Qui Nhon blew my mind in its own way. We stayed in a place called The Beach. It was straight out of fantasy land.
Stay - The Beach Hostel
Eat - Chicken Curry Rice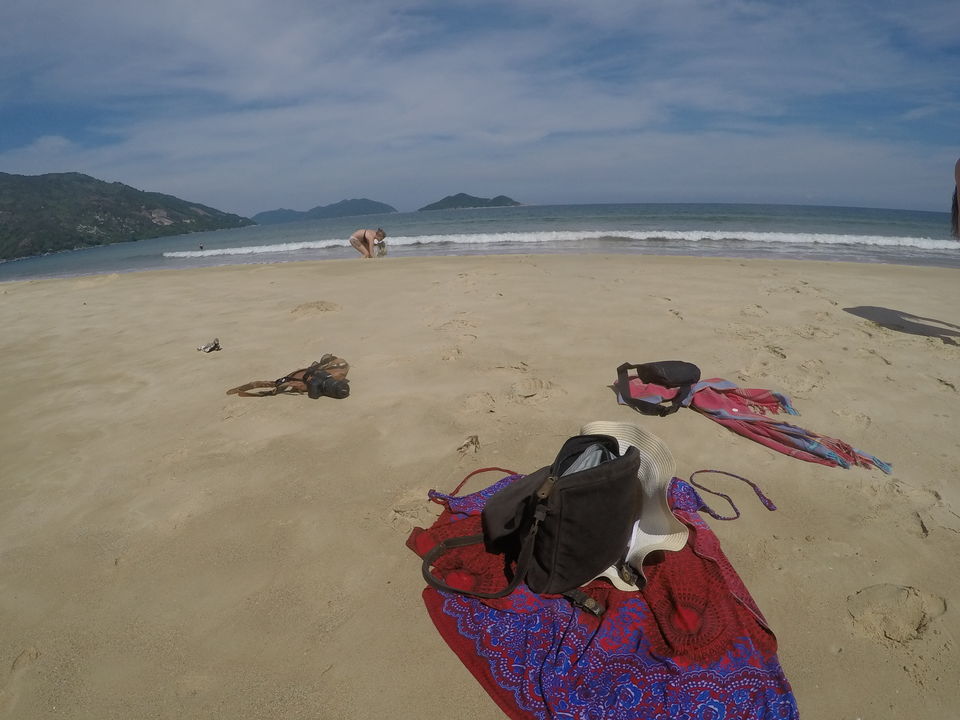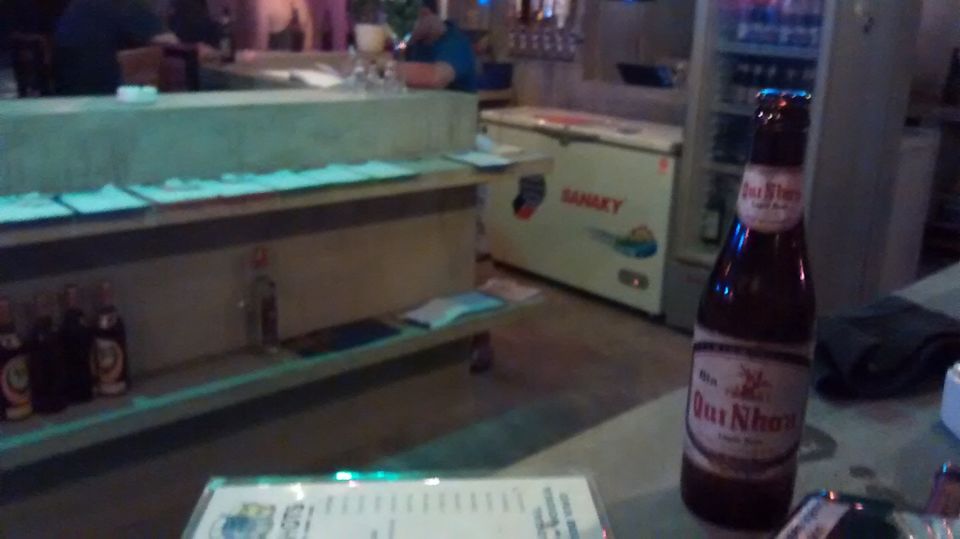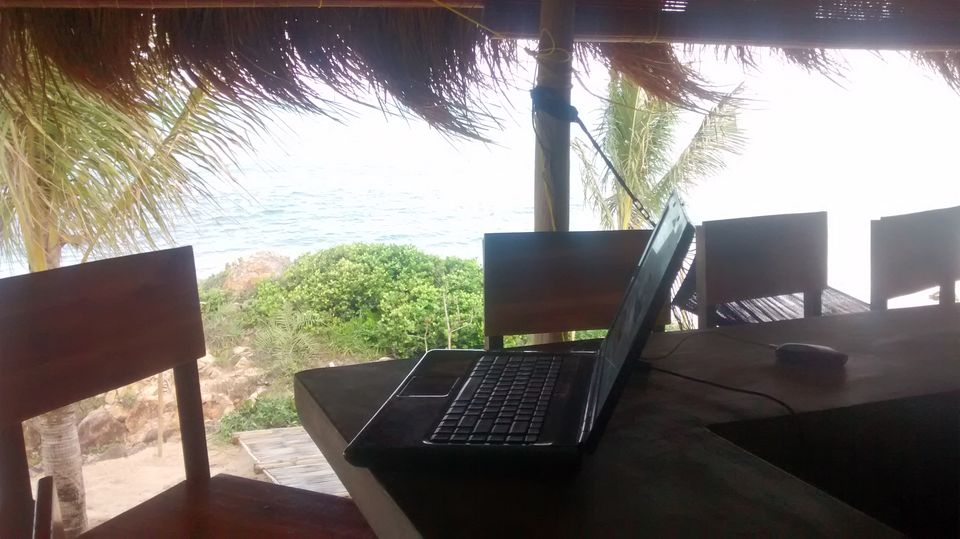 7 - The Longest ride and Lost Riders- Quy Nhon - Hoi An - 306 km
I got new riding company for this trail, Sam. He is 21 years old French-American and an absolutely rad person I met in Quy Nhon. We rode together for 120kms then somehow we lost each other while I got caught up in checking my new freckles that were never there before in rear view mirror while I thought he was straightening his bag. I rode rest of the path alone. Nothing went wrong, I made it to the destination. I felt that day I have gained something- Patience.
Hoi An is a tourist town full of gooey-eyed couples and families. It is world famous for skilled tailors. People usually get dresses and suits made. The place is charming with its canals and quaint ancient houses. Da Nang city was 30kms far that I left for when cyclone warning was over.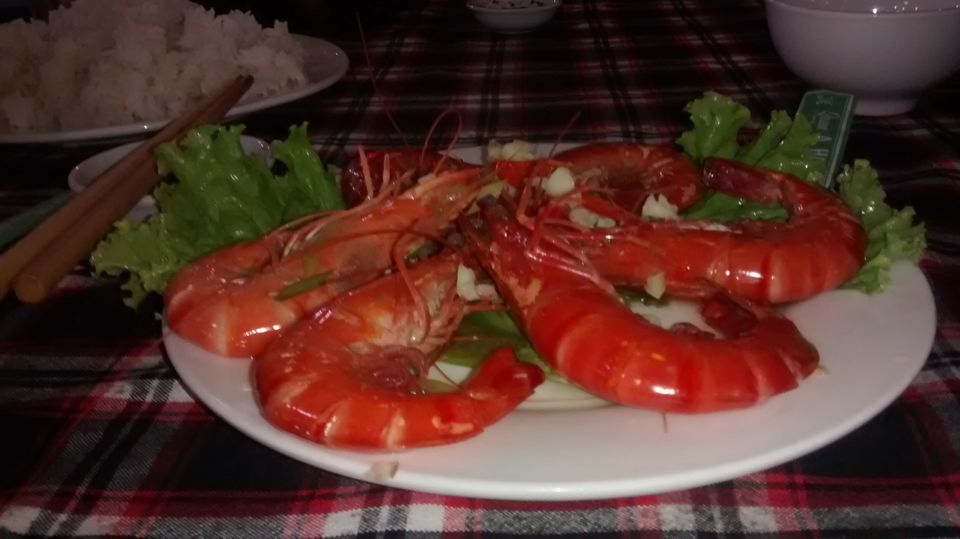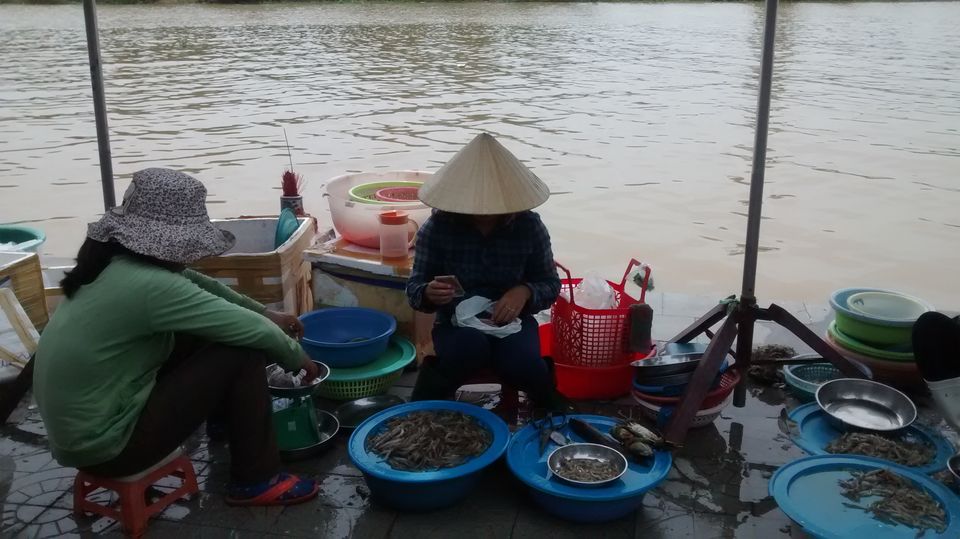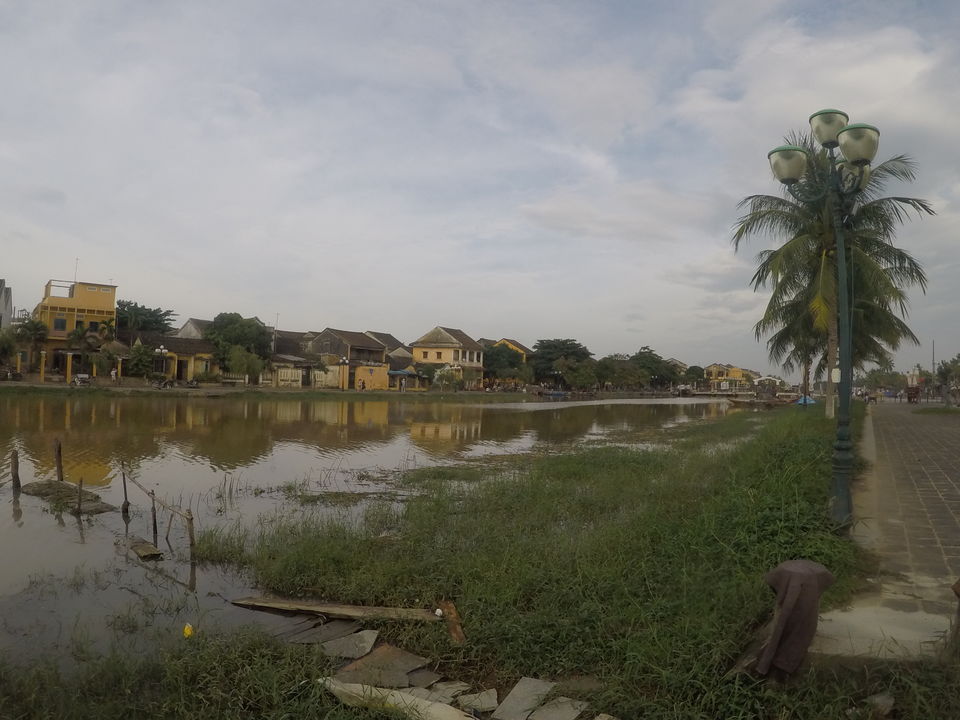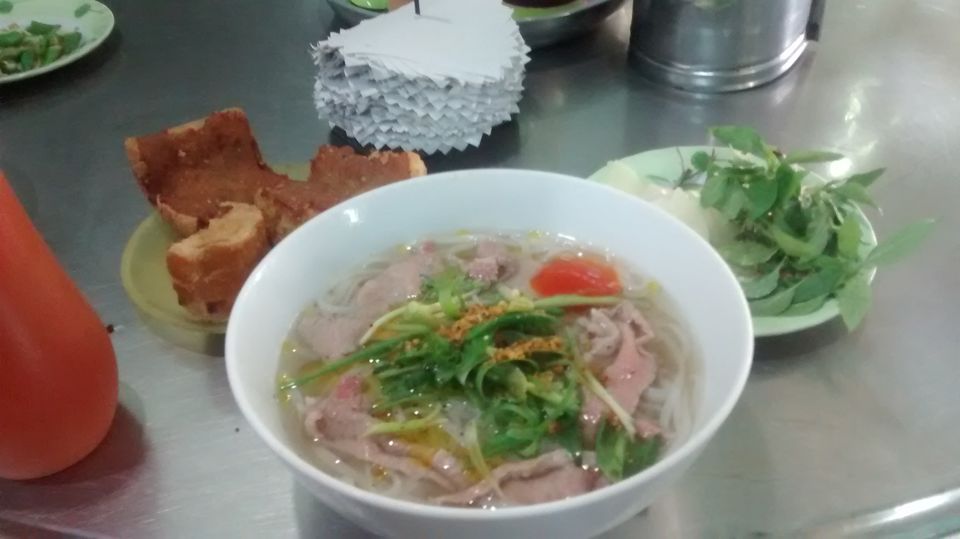 Stay - Phong La Villa, Barney's in Danang
Eat - Hoi An Night Market
8 - Short Ride- Da Nang to Hue - 99 km
I met Tani again in Da Nang and we rode to Hue together through beautiful Hai Van pass. It was a wondrous ride that took my breath away.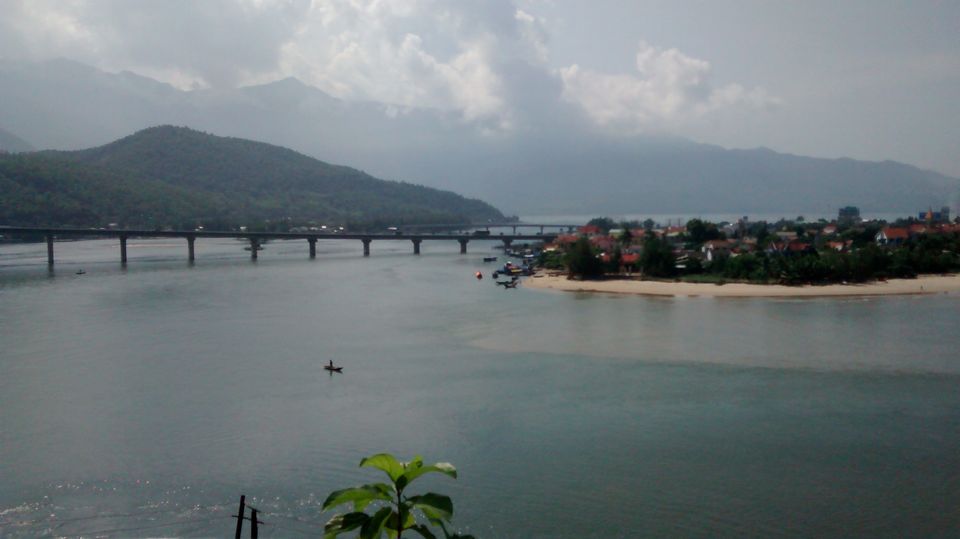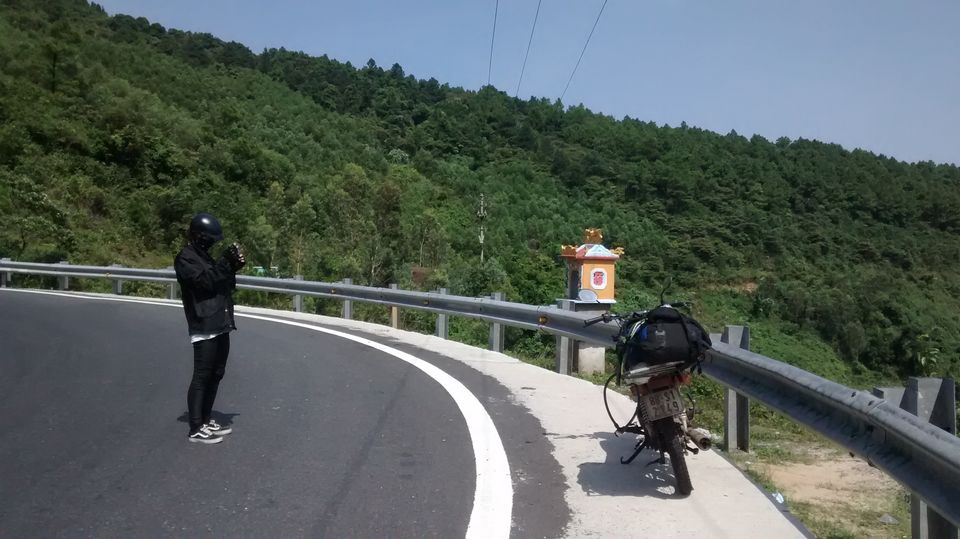 Stay- Hue Backpacker's Hostel
Eat - Street food
9 - Ride to my favorite place- Hue- Phong Nha - 210km
I rode with Larry and Gary.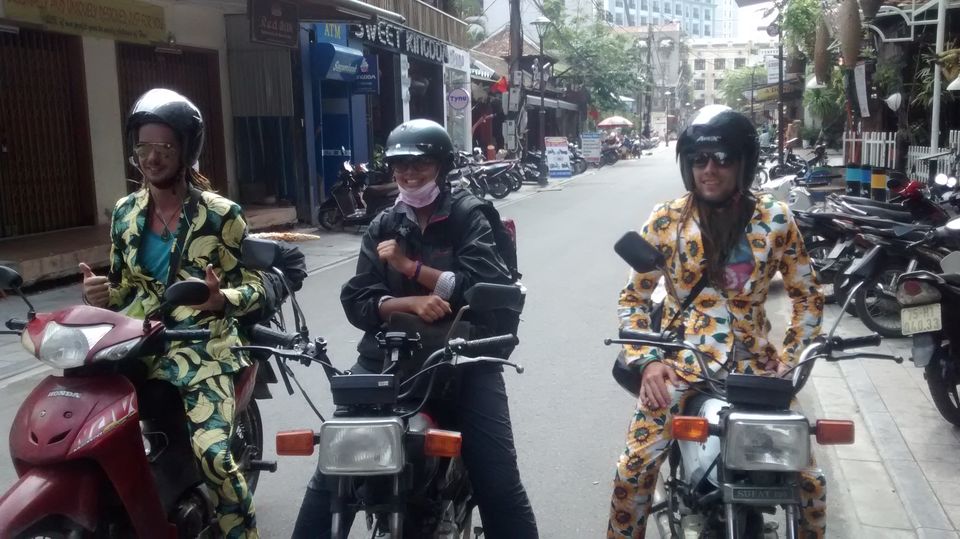 They were the two most hilarious people I had met on my ride. Gary had lovingly named his bike(Because it kept breaking down.):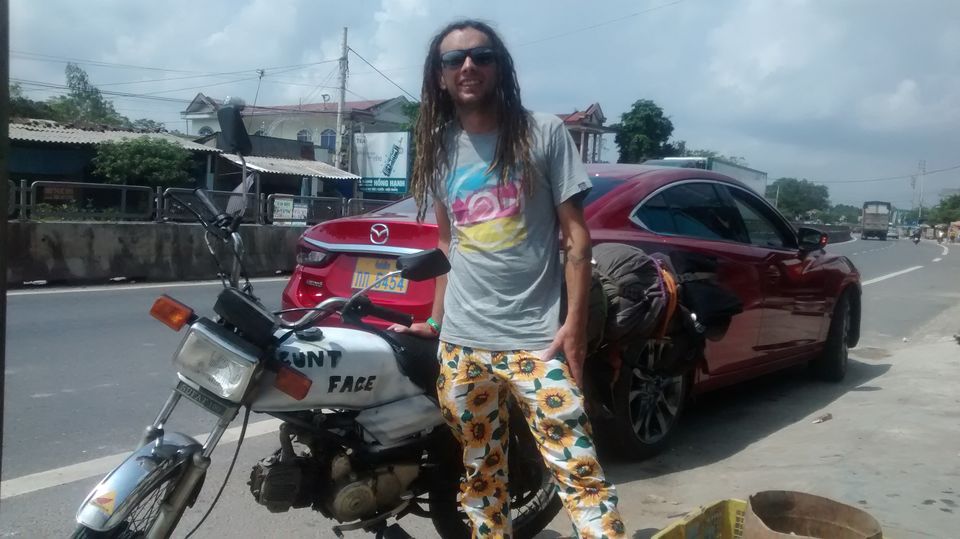 But in this ride surprisingly nobody broke down. It was a beautiful and fun ride. I had lost them during last 10kms when I was too immersed in the beauty of what I saw and just slowed down.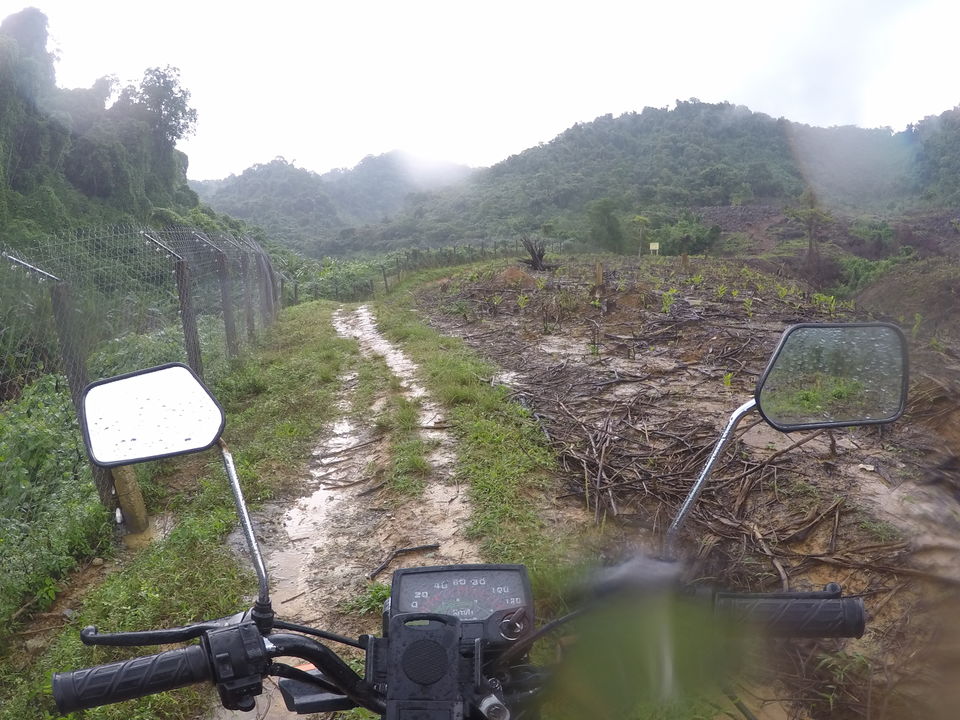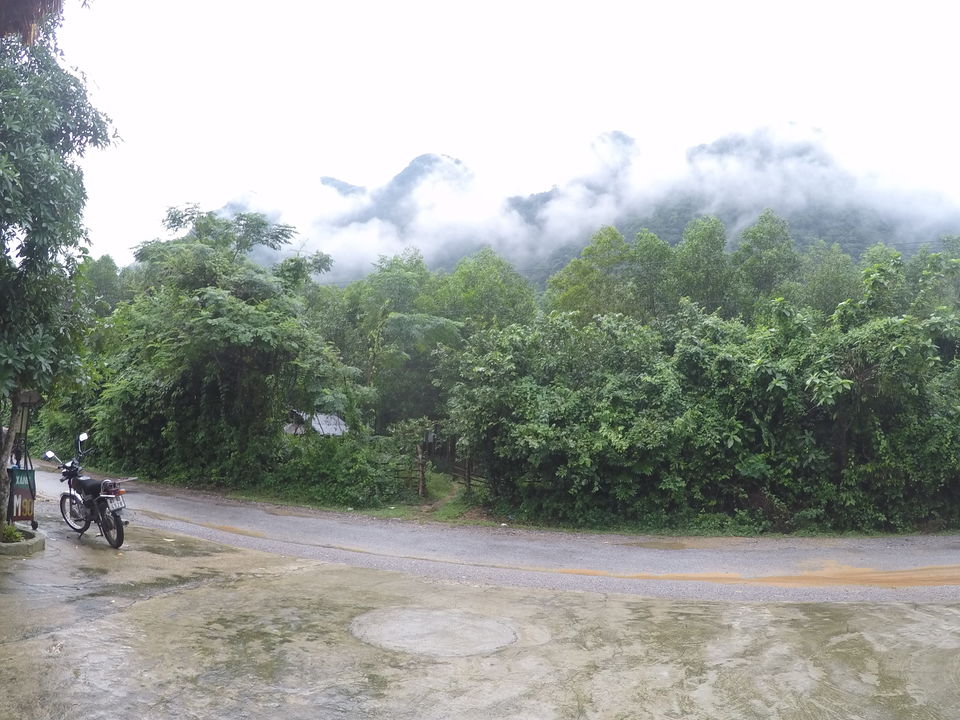 Also, this happened while riding in Phong Nha..Oh Well!
Stay - Easy Tiger
Eat - Home made Bangers
10 - Ride for Cake - Phong Nha to Vinh - 198 km
Most people had parted ways so I was on my own. I took the road to Vinh though I thought I might stop somewhere before if I get tired. It was pretty nice. I had stopped at a small shop selling heaps of tobacco to take a breather but was offered tea and many questions about why I am alone and not married. I was pretty immune to this by now. I stayed in Phuong Hoang Hotel here. It was right behind happy bakery which was probably the best bakery of my Vietnam trip.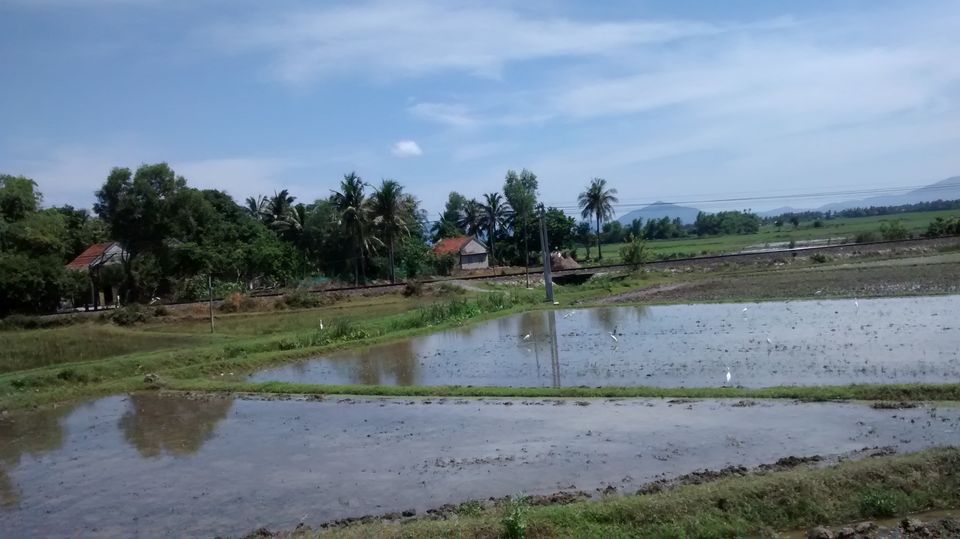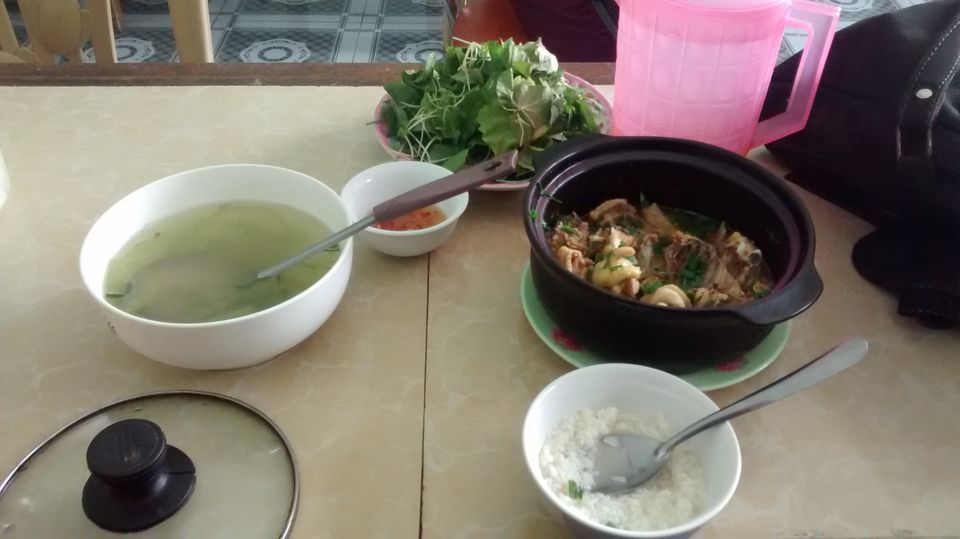 11 - Place from my Dreams - Vinh to Ninh Binh - 202 km
This ride was pretty smooth as well. It was sunny and did not rain at all.
Ninh Binh was a place straight out of my dreams. I stayed in a homestay called Chezbeo. I was astounded by the beauty of its location it took my breath away. Fried Pork was the best dish and Goat meat is also very famous.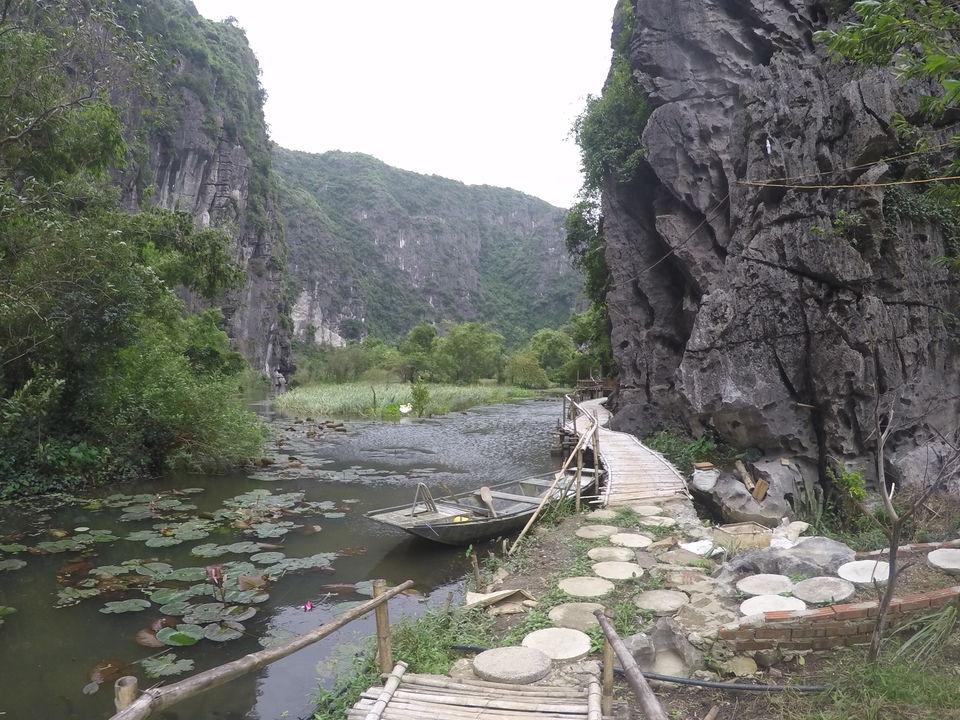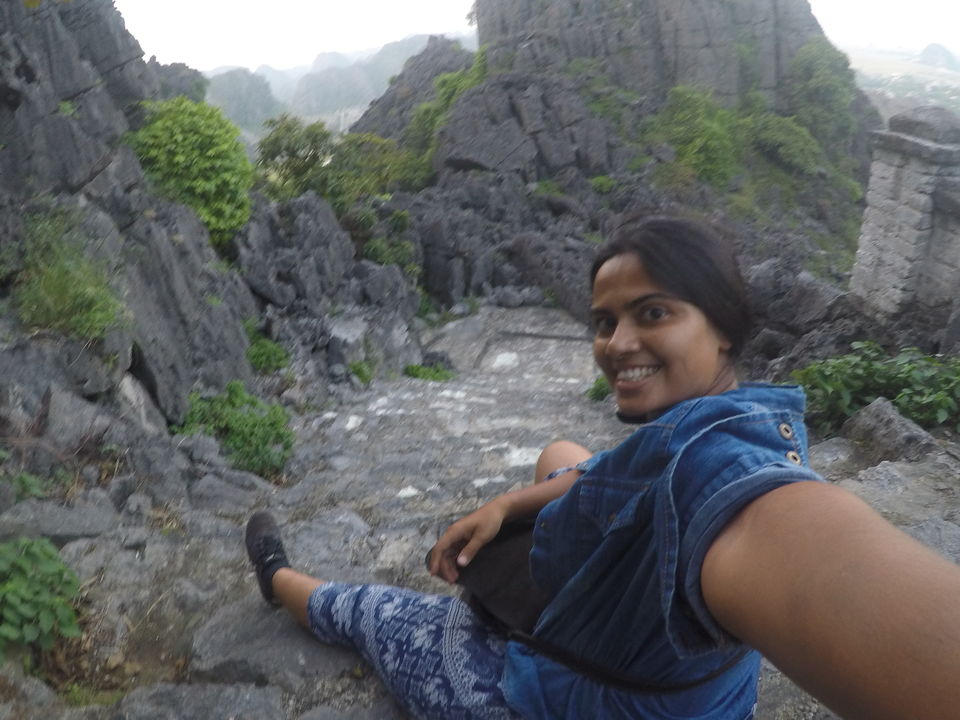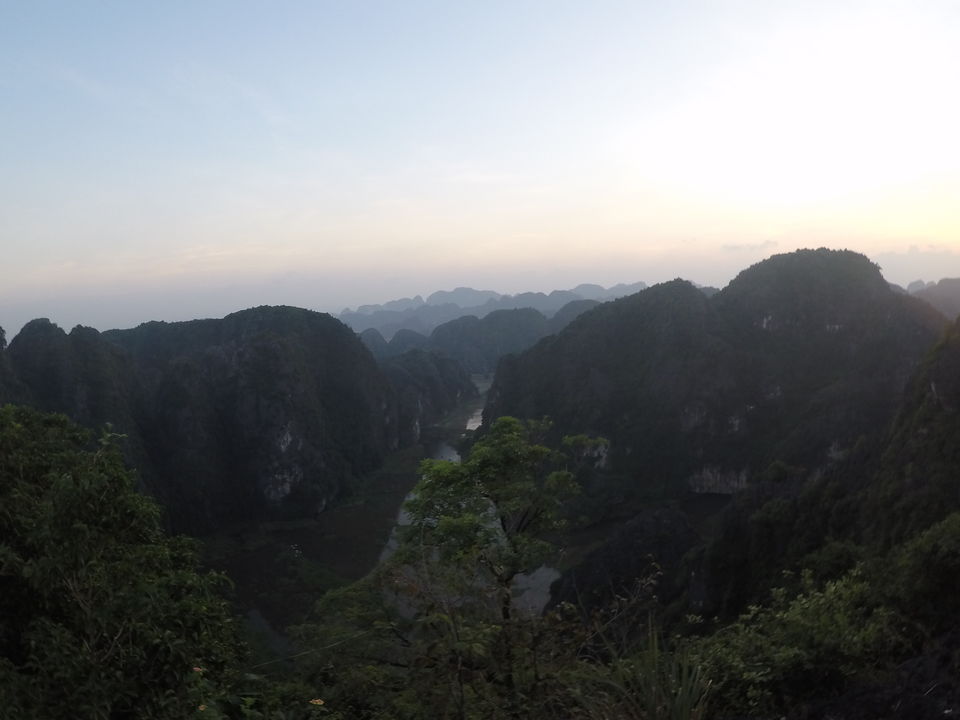 12 - Final Destination- Ninh Binh to Hanoi 106 km
This was the final ride and my Vietnam trip was nearing the end. I could not contain my happiness. I actually made it. This ride was easy. Like HCMC there was a tricky part with cars only highway but I was a lot more informed to not be lost. I could communicate in basic language (sign language mostly) and ask for directions. Hanoi was chaos. I just relaxed for few days.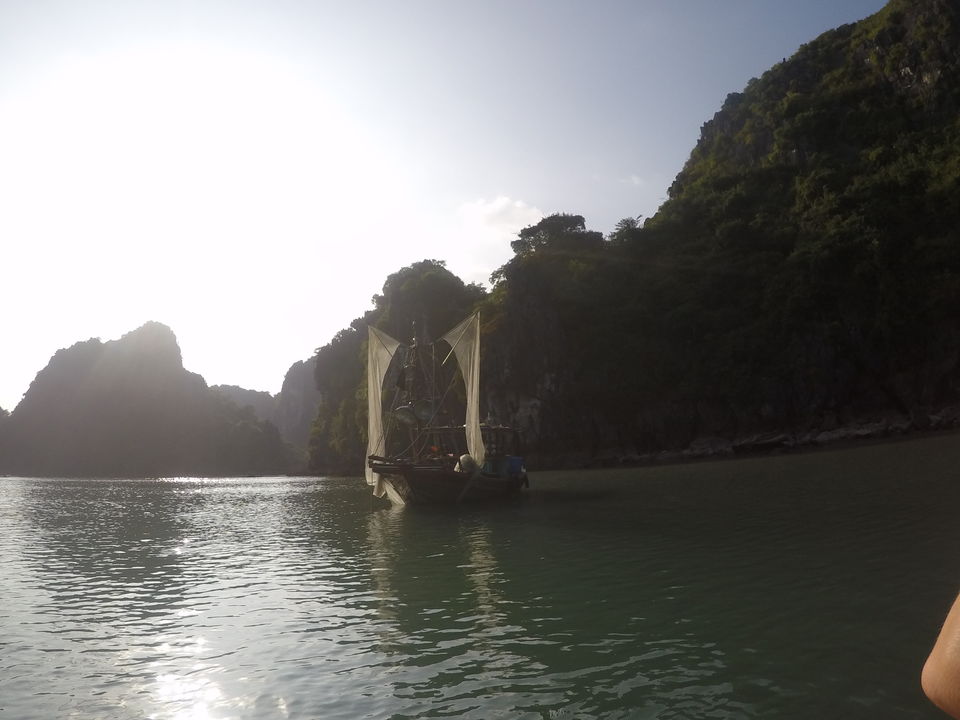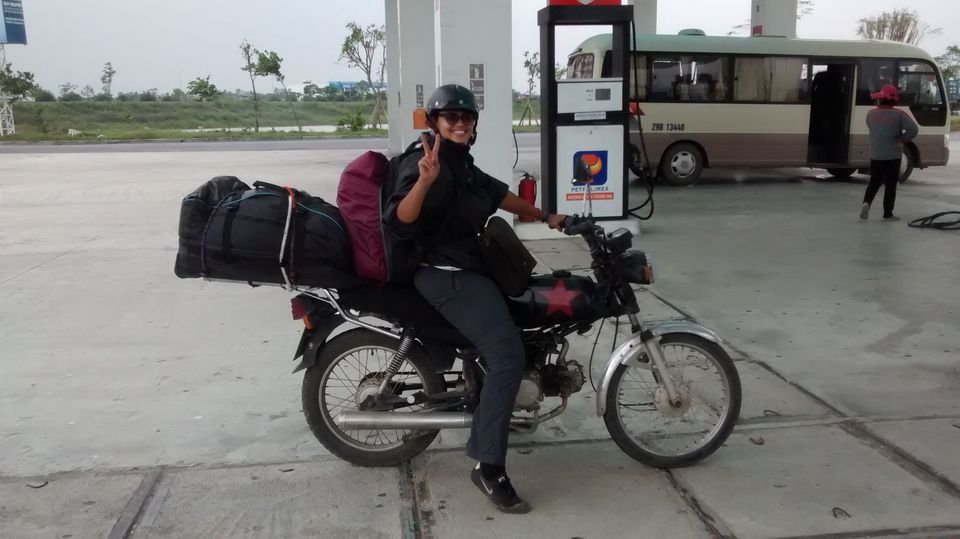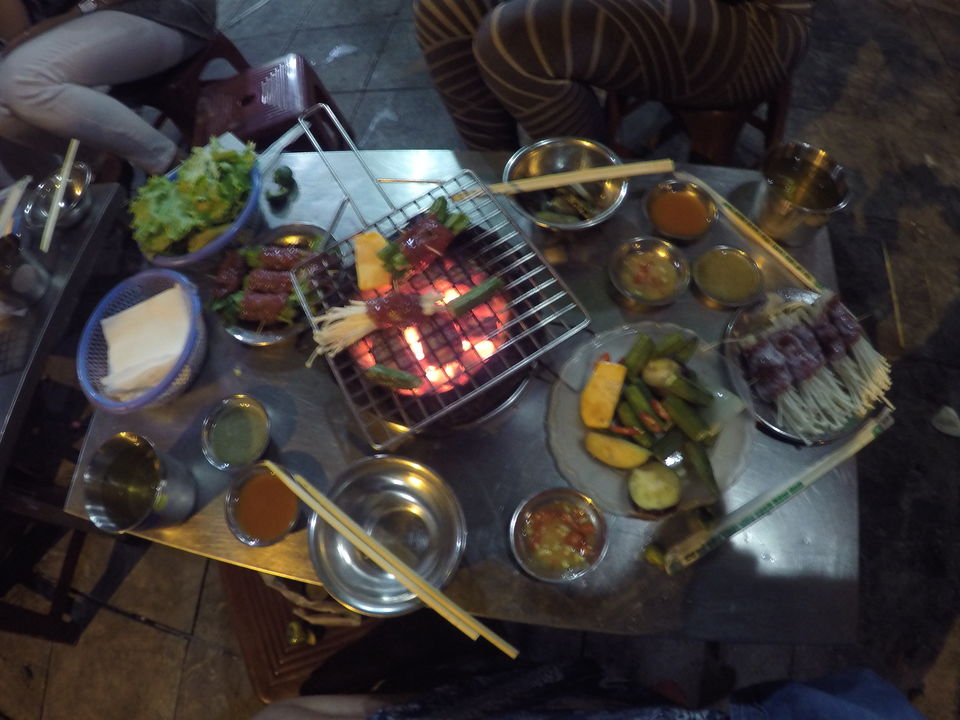 I had bought the bike for $300 and sold it to fellow backpacker from Chile in my Dorm Room for $260 and took a bus to mountains while missing Ben all the way.
It might be an ordinary small motorbike for most but for me it was- Freedom. It was my first and will always be super special, for it made my Vietnam trip a memorable one.