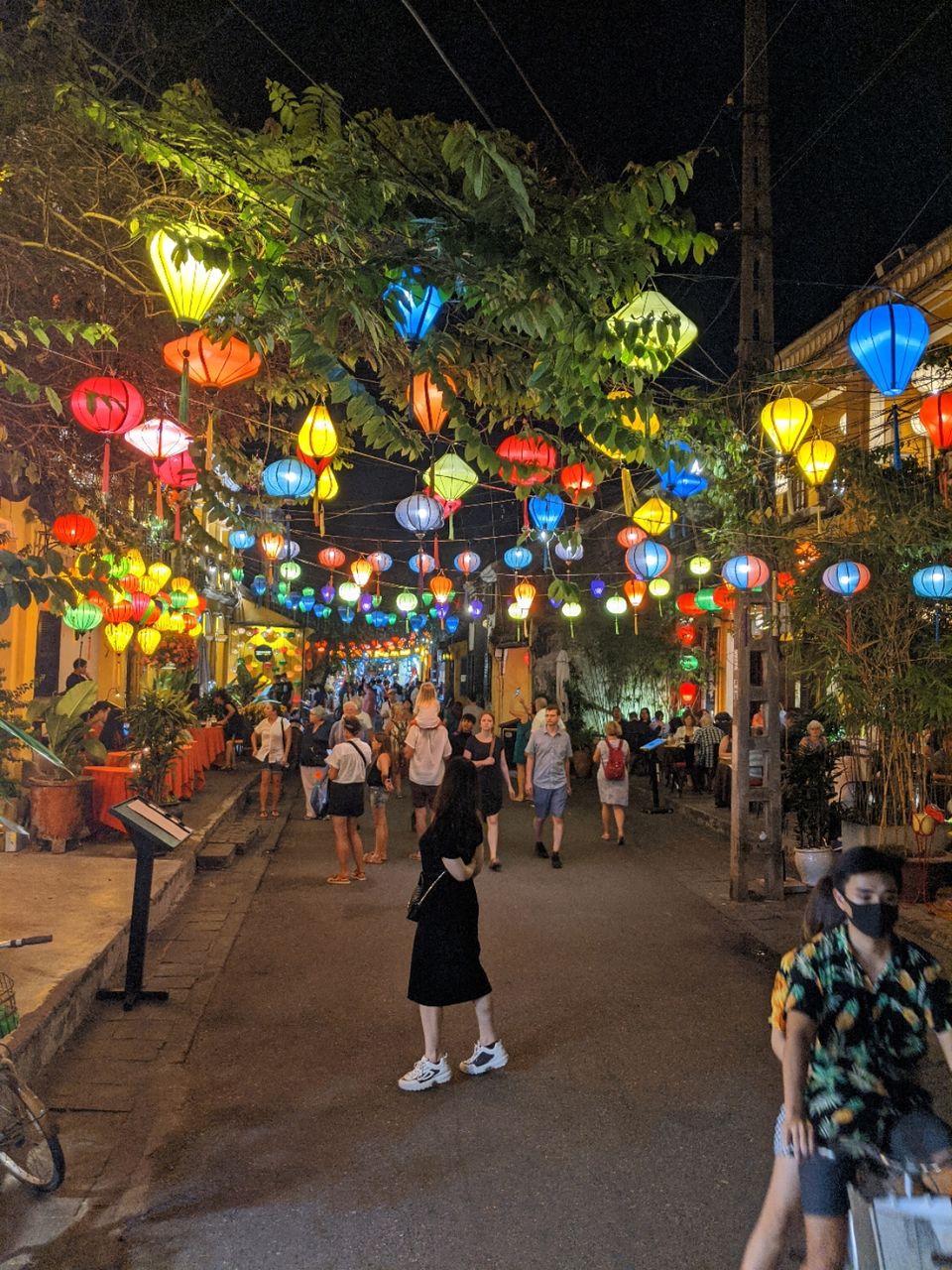 Vietnam is a beautiful country in South East Asia and is becoming a major tourist destination for Indians these days. I did a very budget trip to Vietnam and if you plan accordingly you can manage all your expenses including flights to Vietnam and between the Vietnam cities in mere 35k INR.
VIETNAM VISA: Vietnam visa process is very simple. You just need to go to a third party website and provide your details( Passport number, date of arrival, arrival airport and DOB). Within 48 hours you will receive your Visa Authorization letter on your email ID. You'll have to make a payment which varies from $6-$15 as per the website you're filing through. I paid $11 and got it done from a trusted website. Remember this is not your Visa, it is a Visa Authorization letter for you to get a Visa stamp on arrival at any of the Vietnam International Airport.
Documents Needed for Visa on Arrival : Passport with 6 months Validity and at least 2 blank pages, a 4*6 cm photo in white background, Visa Authorization letter and 25 USD in cash.
I started my trip from Mumbai and booked a round trip to Delhi in 5k INR. Now I'll split my Journey in Days for your better understanding of The Vietnam Itinerary.
I took an early morning flight from Mumbai to Delhi and reached Delhi by 11 am, stayed in 500 bucks hotel in Mahipalpur which is near Airport. Had my lunch and took some rest. I left my Hotel by 6 pm and it took me only 10 mins to reach IGI Delhi Airport Terminal 3 (80 bucks by OLA Cab).
I was carrying 225 USD in Cash. 25 USD for the Visa fees in Vietnam which needs to be paid in Cash only and rest 200 USD for my personal expense. I got the money exchanged at a Thomas Cook Branch in Mumbai which costed me around 700 INR for exchange rate.
So my flight was at 11:50 PM from Delhi To Hanoi which is a direct Vietjet flight and it reaches Hanoi at 5:20 AM. Vietnam is 1.50 hours ahead of India.
Flight Cost : 6600 INR (booked 1.5 months back) without check in baggage. Hand baggage till 7 KGs allowed.
The Vietjet counter opened at 8:30 PM and the staff will check if you have the Visa Authorization letter before handing you over your Boarding Pass.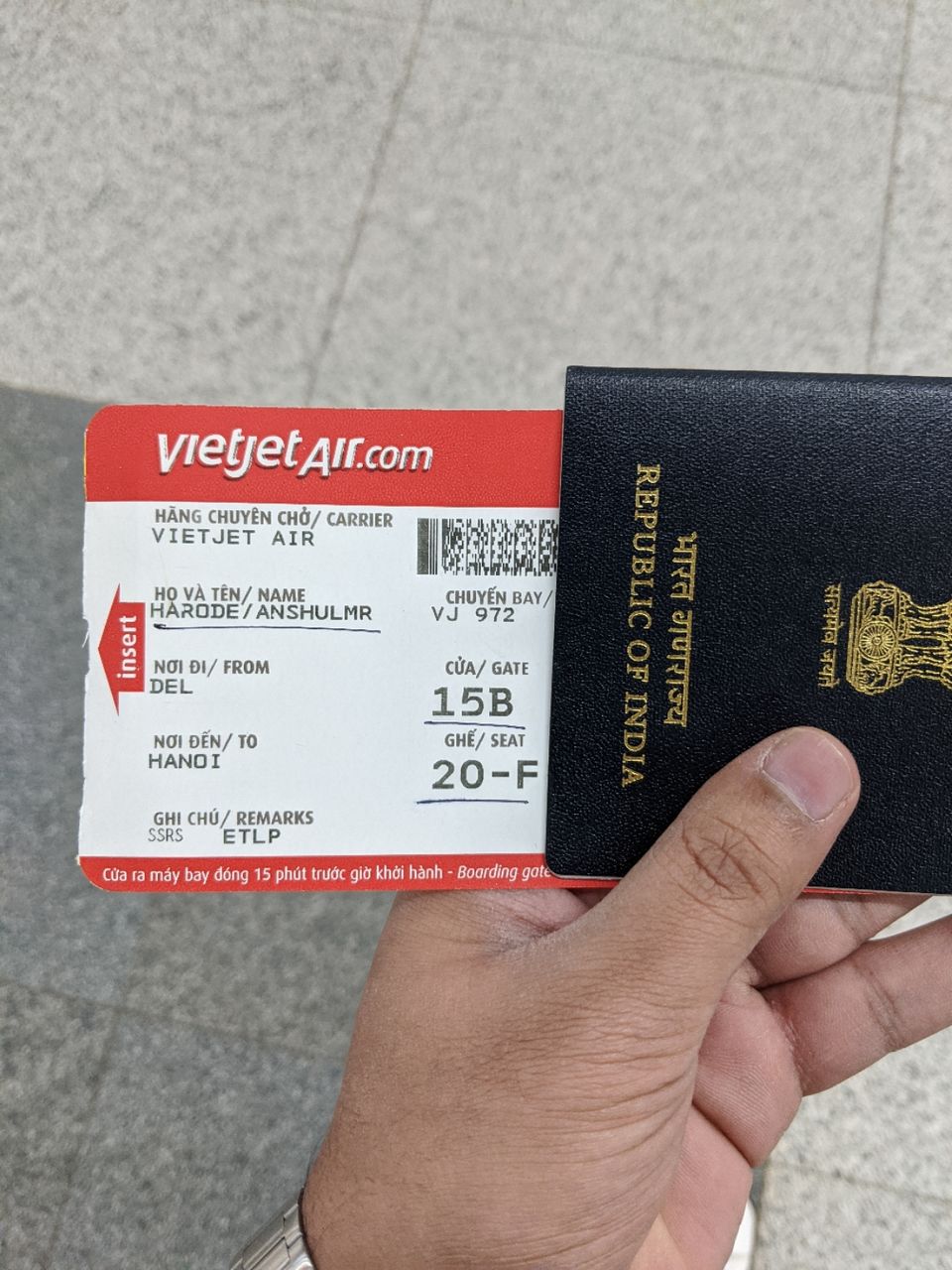 Arrival at Nairobi International Airport in Hanoi at 5:30 AM, I switched on my phone and My Idea sim was catching Viettel Provider's network and incoming messages were on.
Head to the Visa on Arrival area. Here you need to fill your form for Visa on Arrival, just some basic details and hand over to a counter all the documents - Photograph, Filled Visa form, Visa Authorization letter and your Passport. Sit and wait for some time, they will call your name and display your photo on a television screen. Go there with 25 USD in cash, they'll handover you the passport with stamped Visa with a one month Validity and you're good to go for immigration.
Immigration official did not ask me a single question. This lady just took my passport and stamped the visa for entire one month period.
Approx Exchange Rate:
1000 Vietnamese Dong VND: 3 Indian Rupees INR
The denomination in Vietnam is as below:
1000, 2000, 5000, 10000, 20000, 50000, 100000, 500000 and 1000000.
1 mn VND = 3000 INRI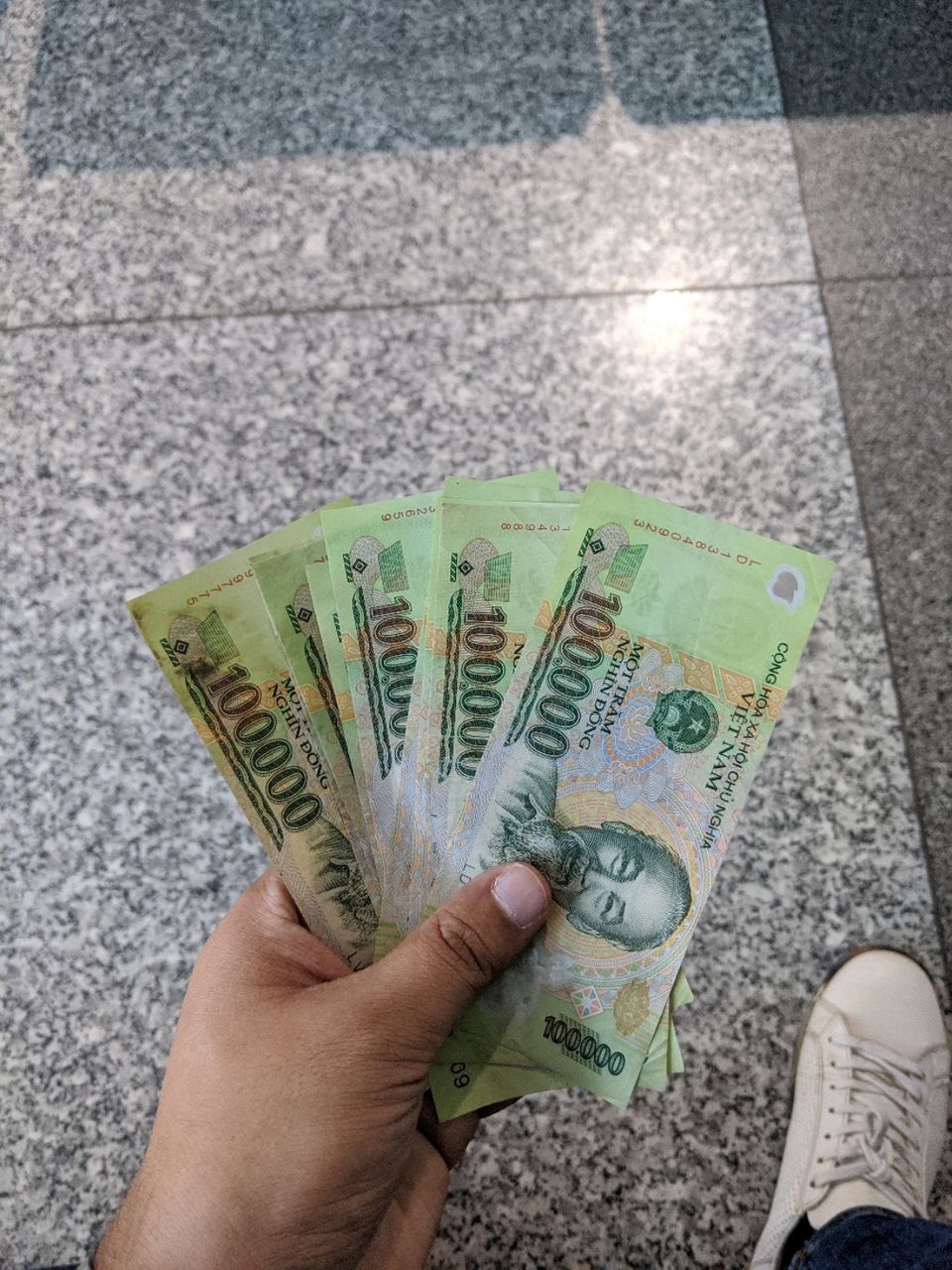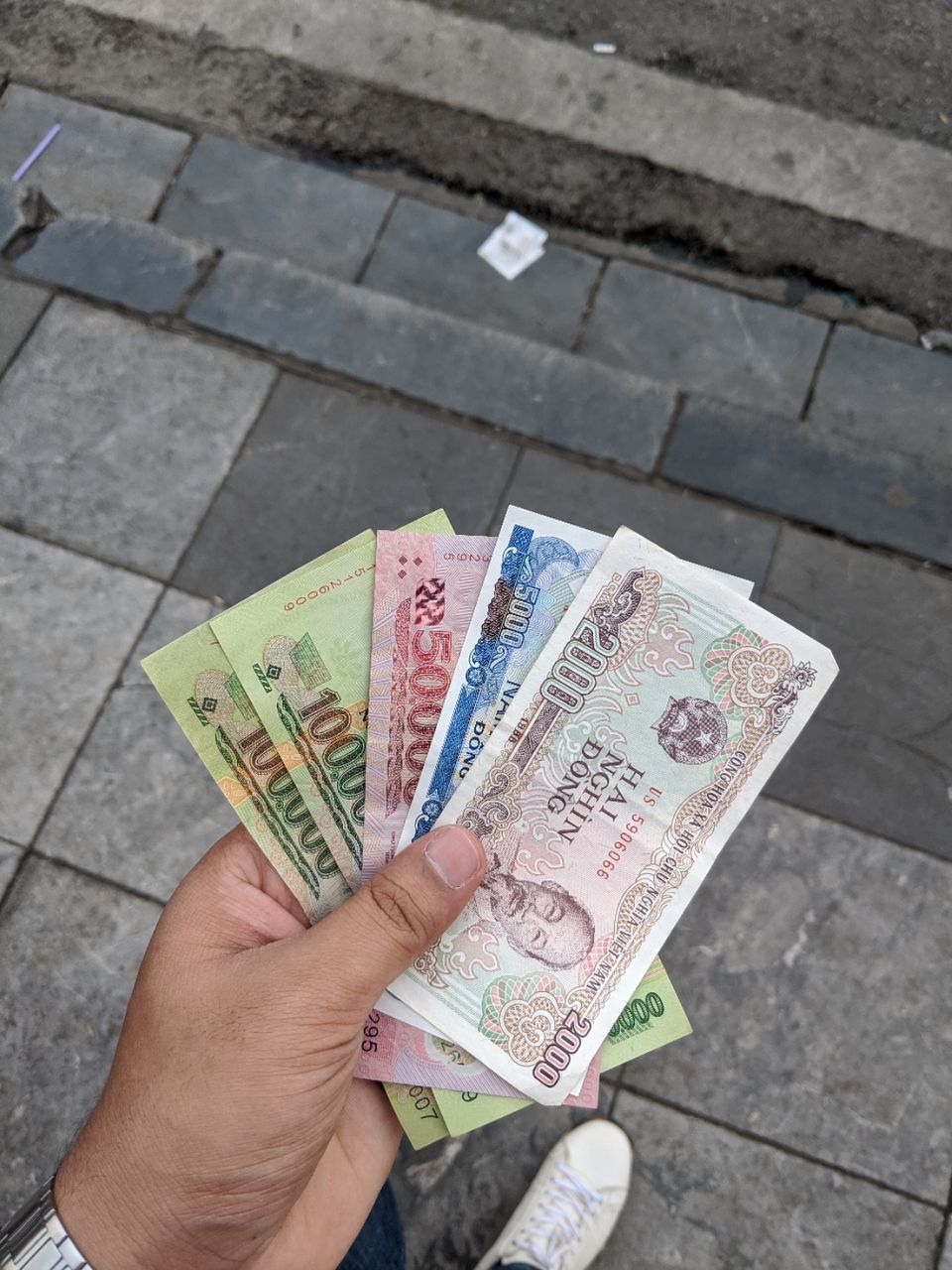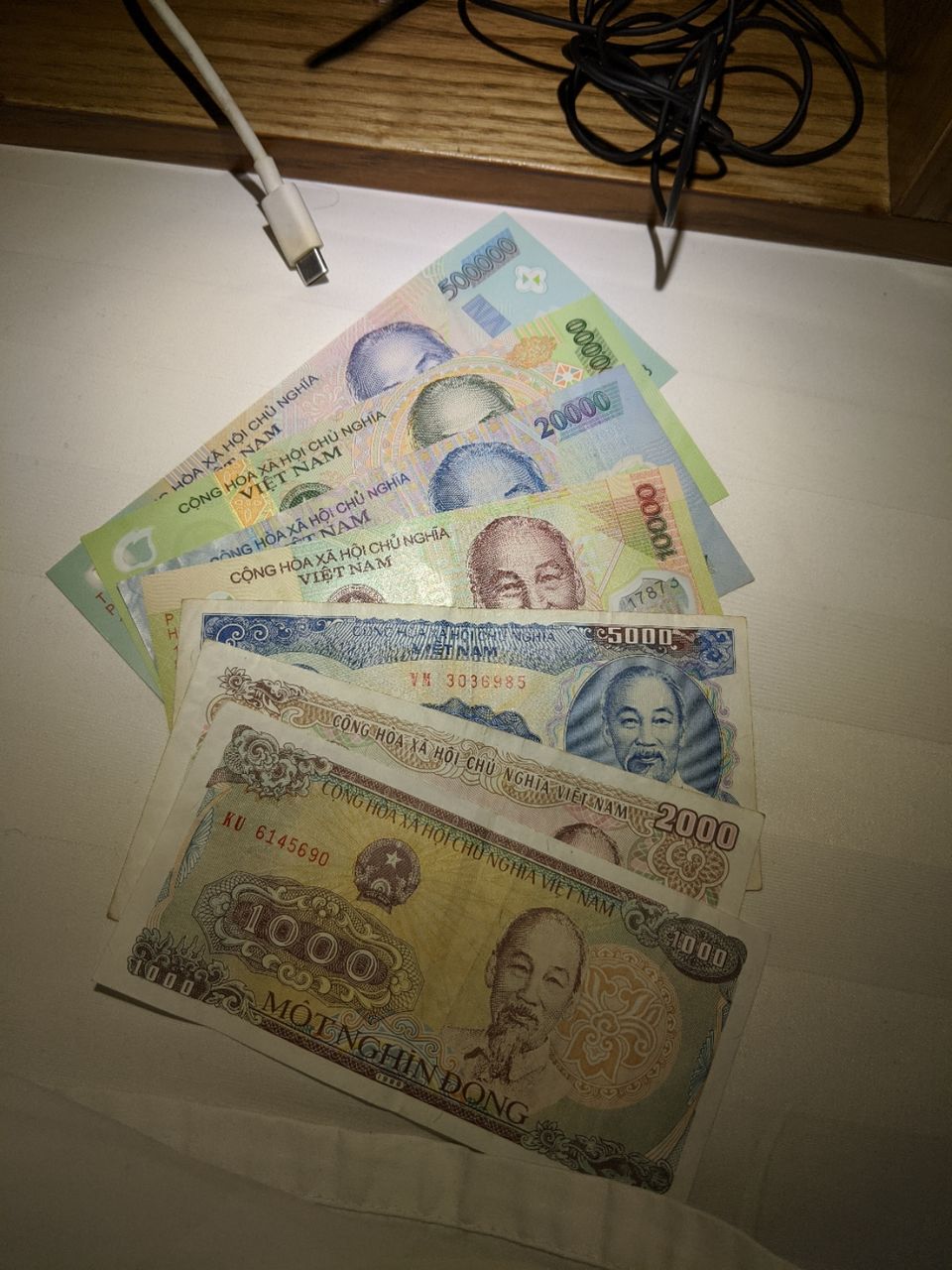 I bought a Viettel sim as well for around 700 INR which had a really good network throughout my journey in Vietnam and I had 10 GB of data with no calls in this plan.
Once done with sim and money exchange I found a sharing mini van which dropped to me old Quarter Area which is the tourist Hub in Capital City Hanoi. Also Hanoi Airport is around 30 kms from main city and takes around 45 mins time. The van dropped me in front of my Hostel. Van costed me 250 VND = 750 INR( very expensive, but that's my first mistake of this trip).
HOSTEL: Little Charm Hanoi Hostel (500 INR per night)
This Hostel was amazing and had a really good Breakfast which you can actually order for them to prepare as per your choice apart from the basic coffee, fruits, juice and salad. The property was very clean and beds were super comfy. Also fellow travelers were good too and had a really good time interacting with them.
Booked the Hostel from the night before so I could reach early in the morning and sleep for a while after having breakfast.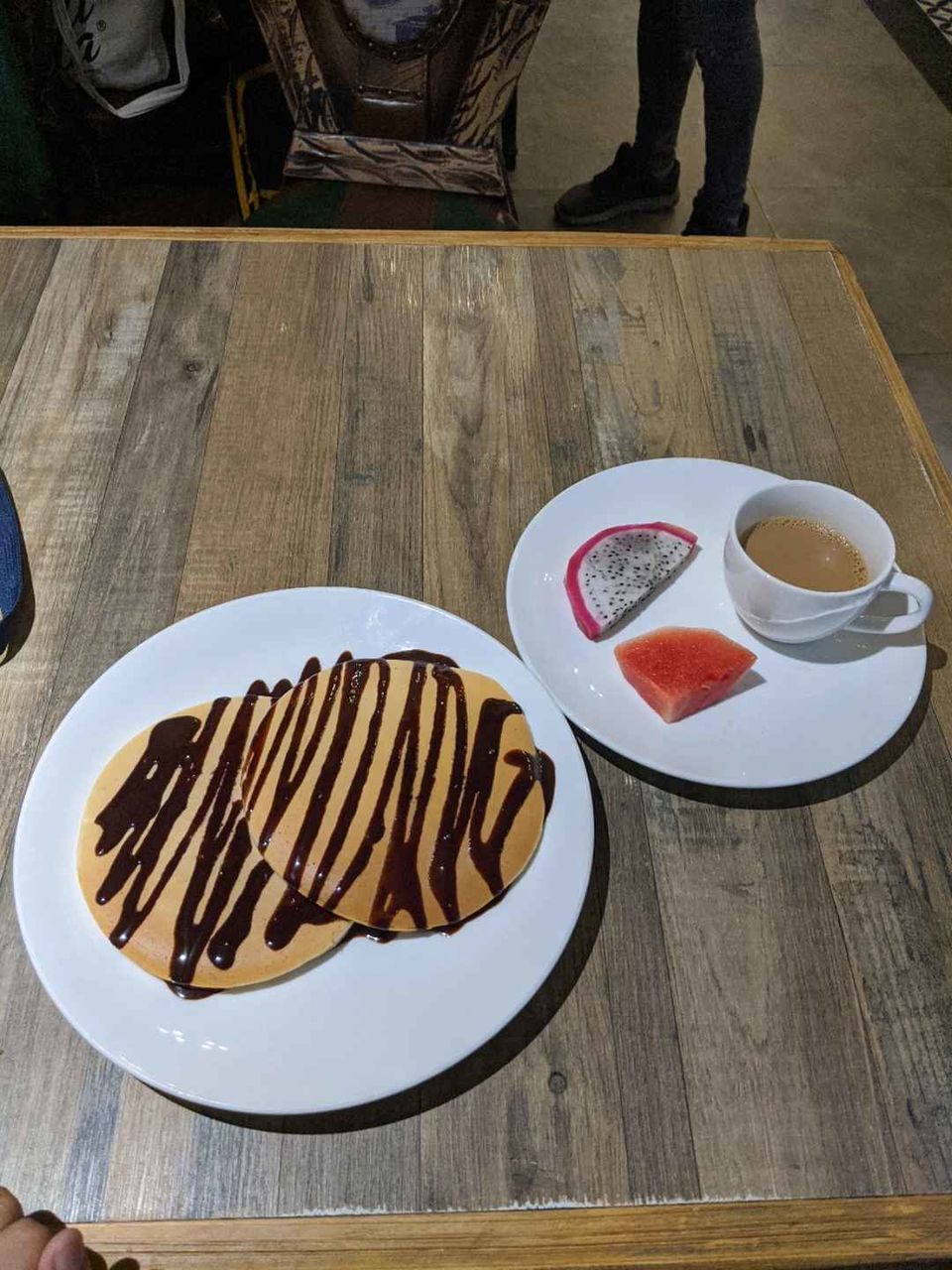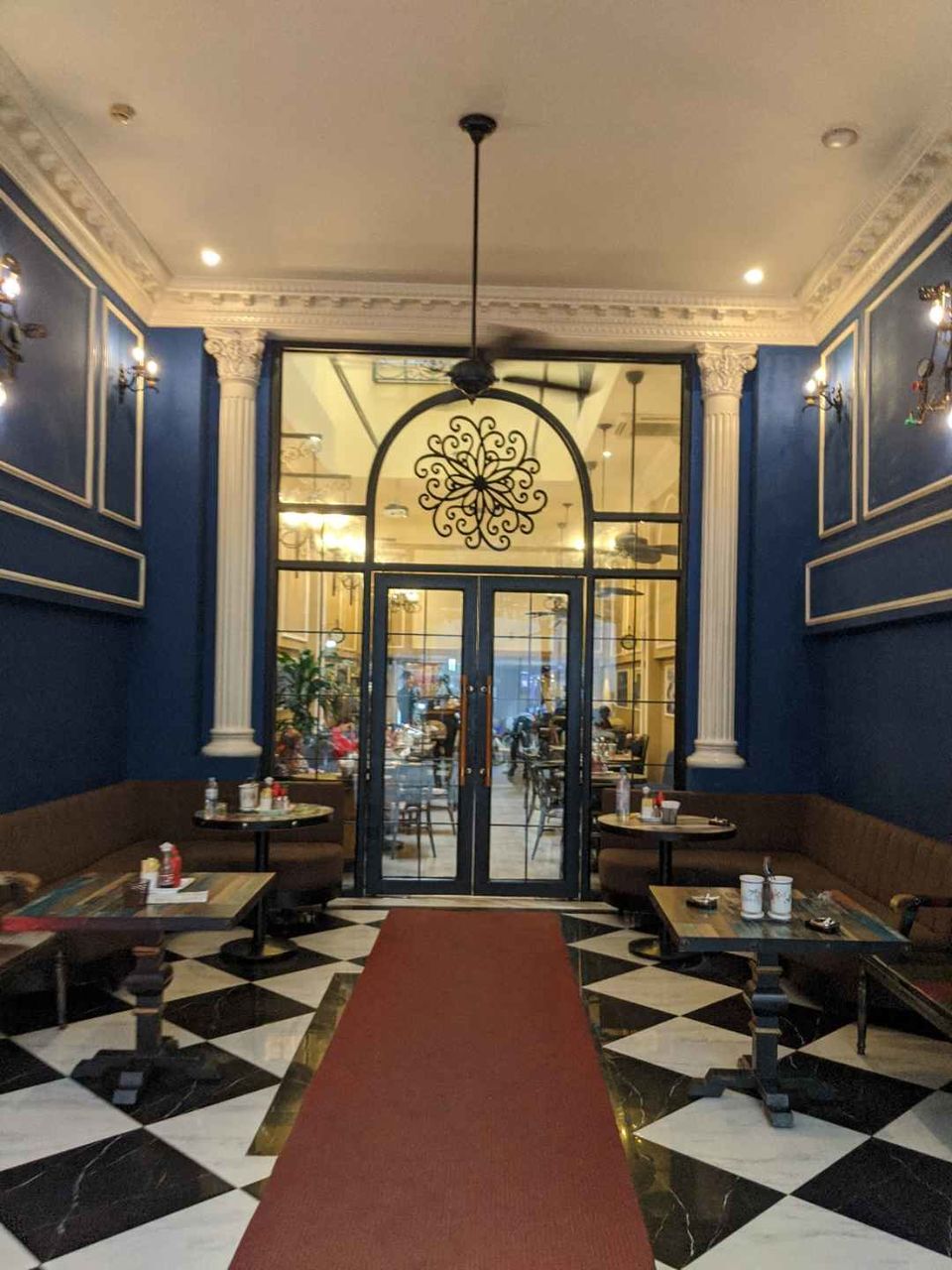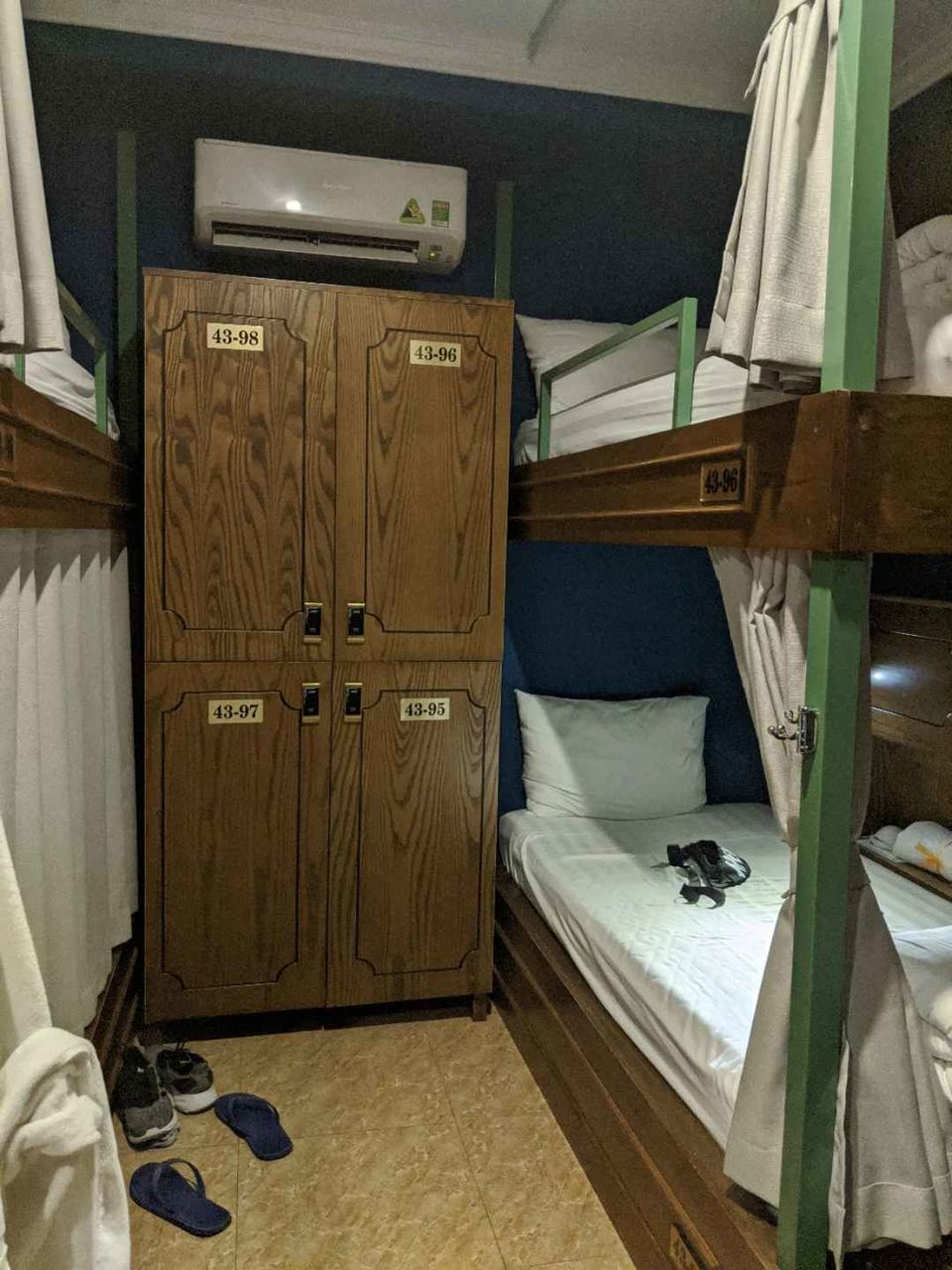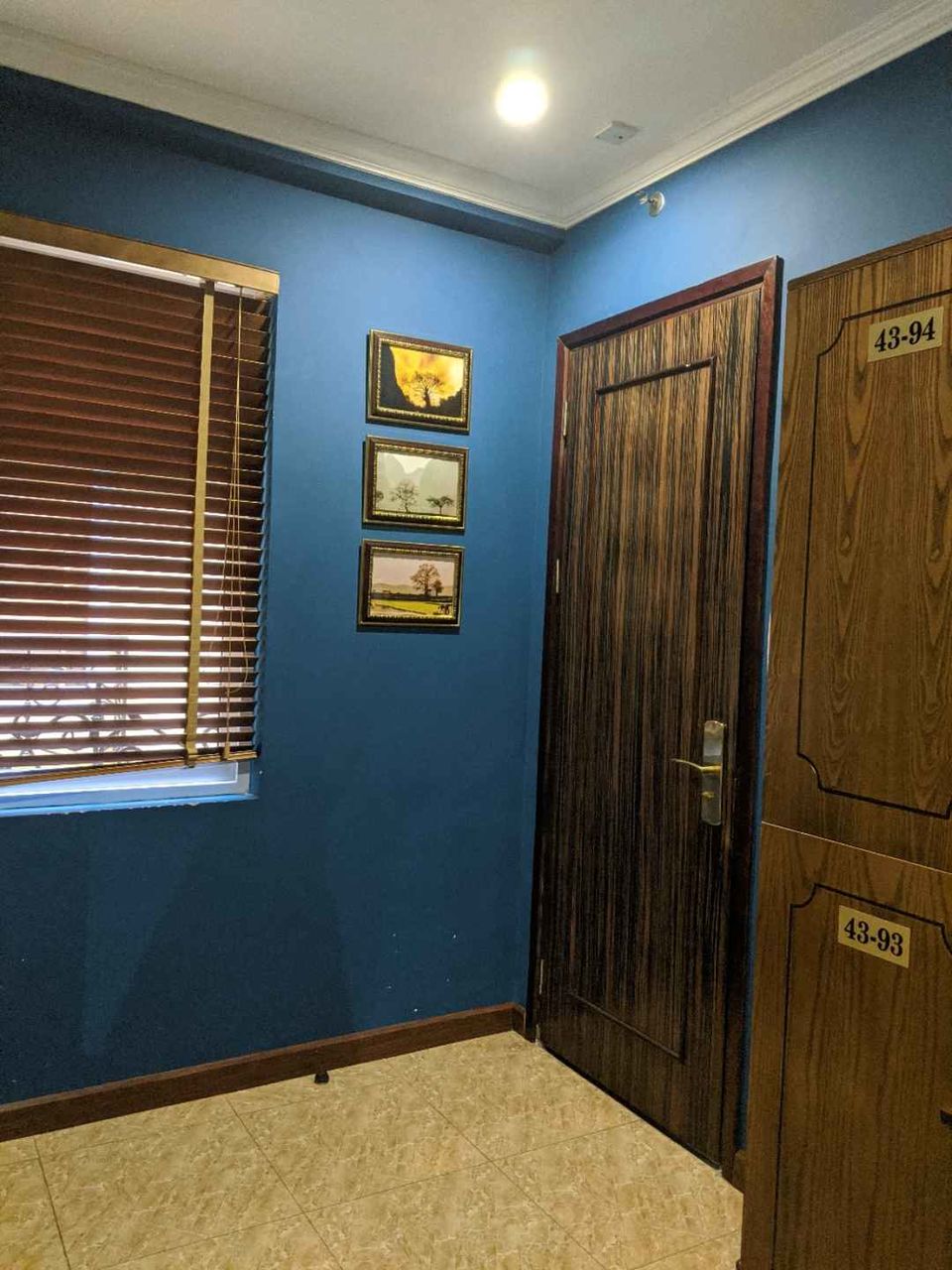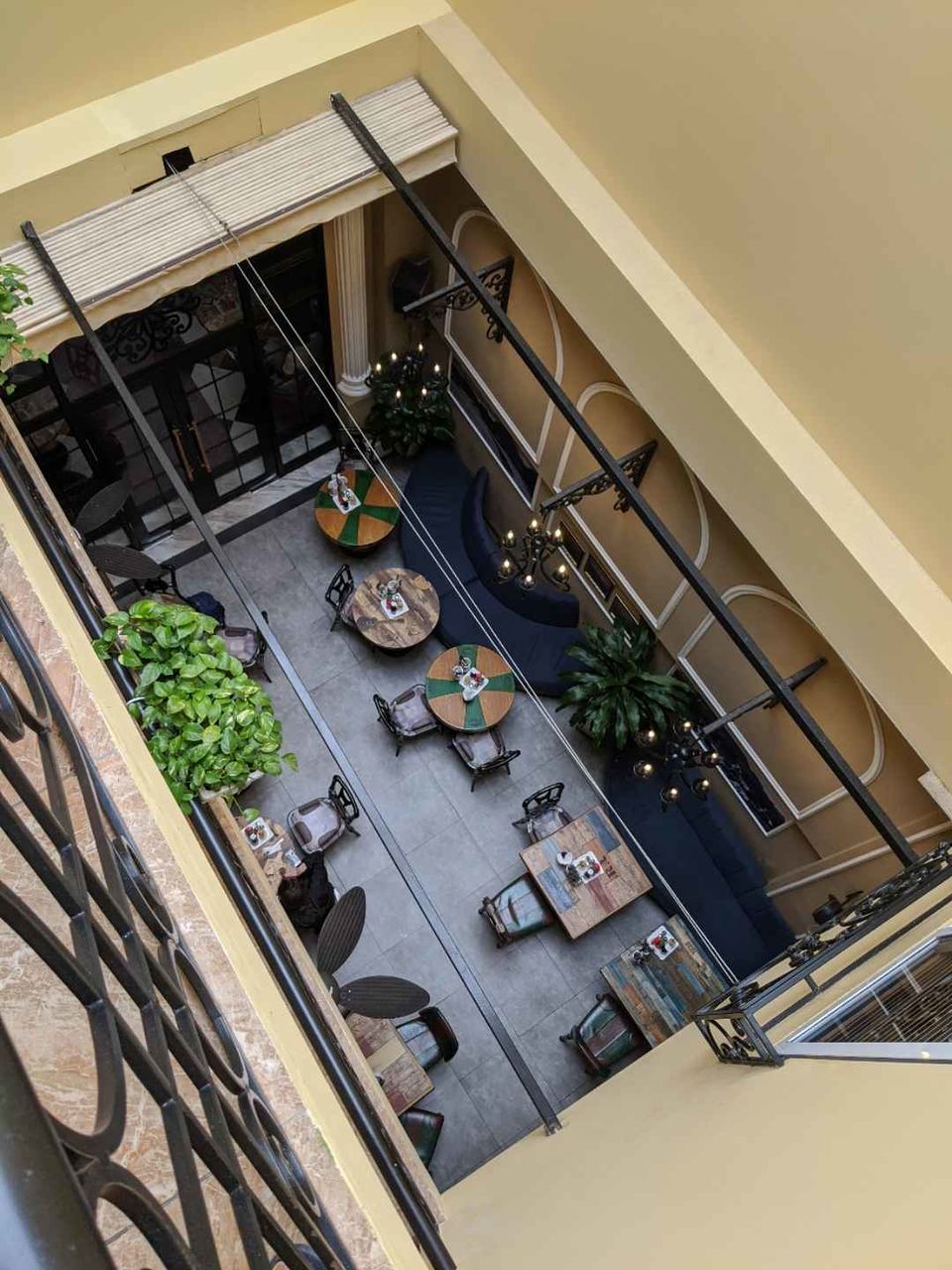 I woke up by 12 and left for sightseeing immediately. I walked for a while and then took a bike taxi to Ho Chi Minh Mausoleum. It's the final resting place of Vietnamese leader Ho chi Minh.
The bike taxi costs will not cost you more than 50-100 INR anywhere you go in HANOI. You just need some good bargaining skills. You can simply wave hands to stop a Grab Bike or use Grab Taxi app and book it from there. All payments I did were in Cash.
Next Stop:
Temple of literature- Ancient Temple of Literature is Vietnam's first National University dedicated to Confucius.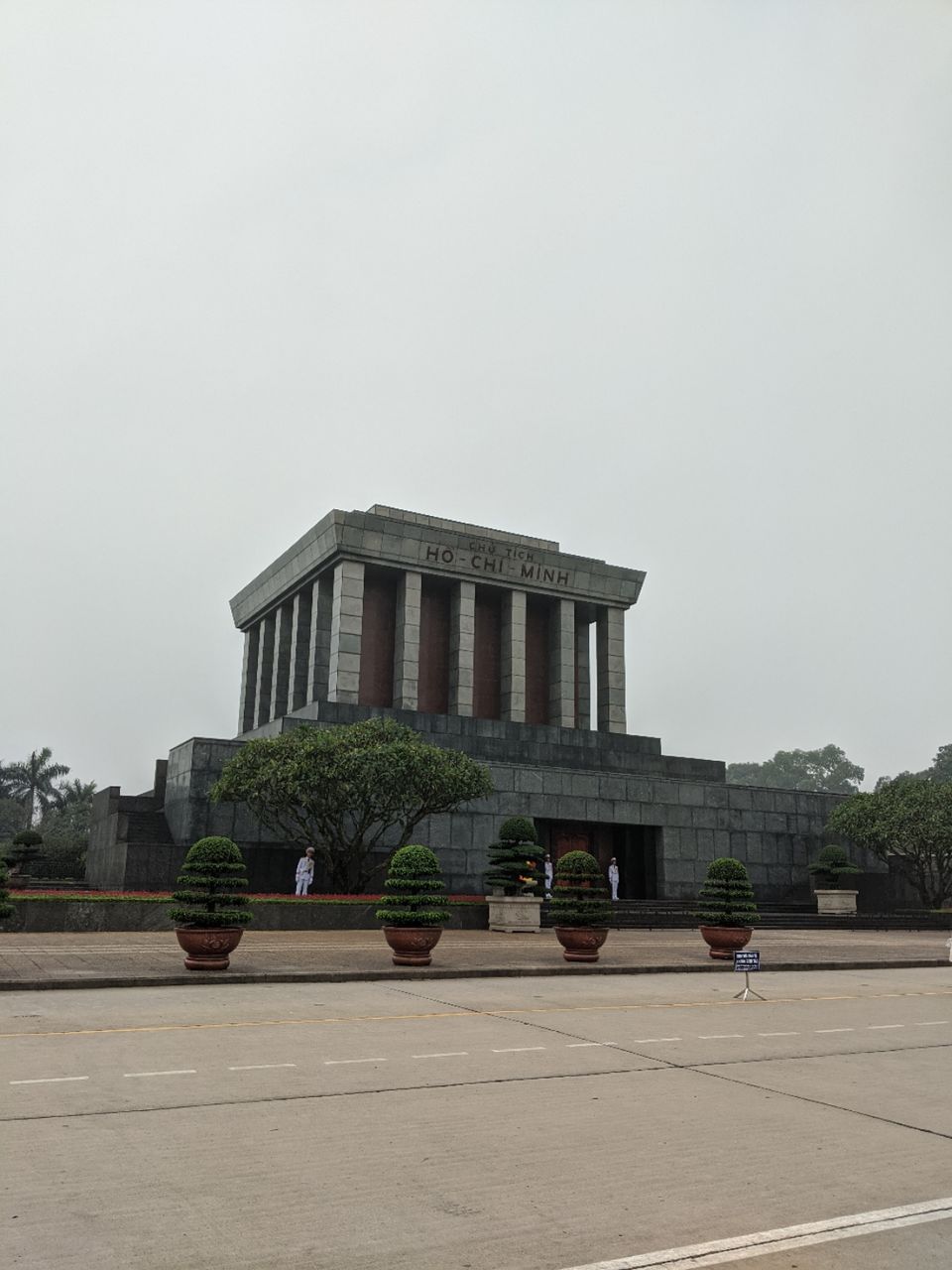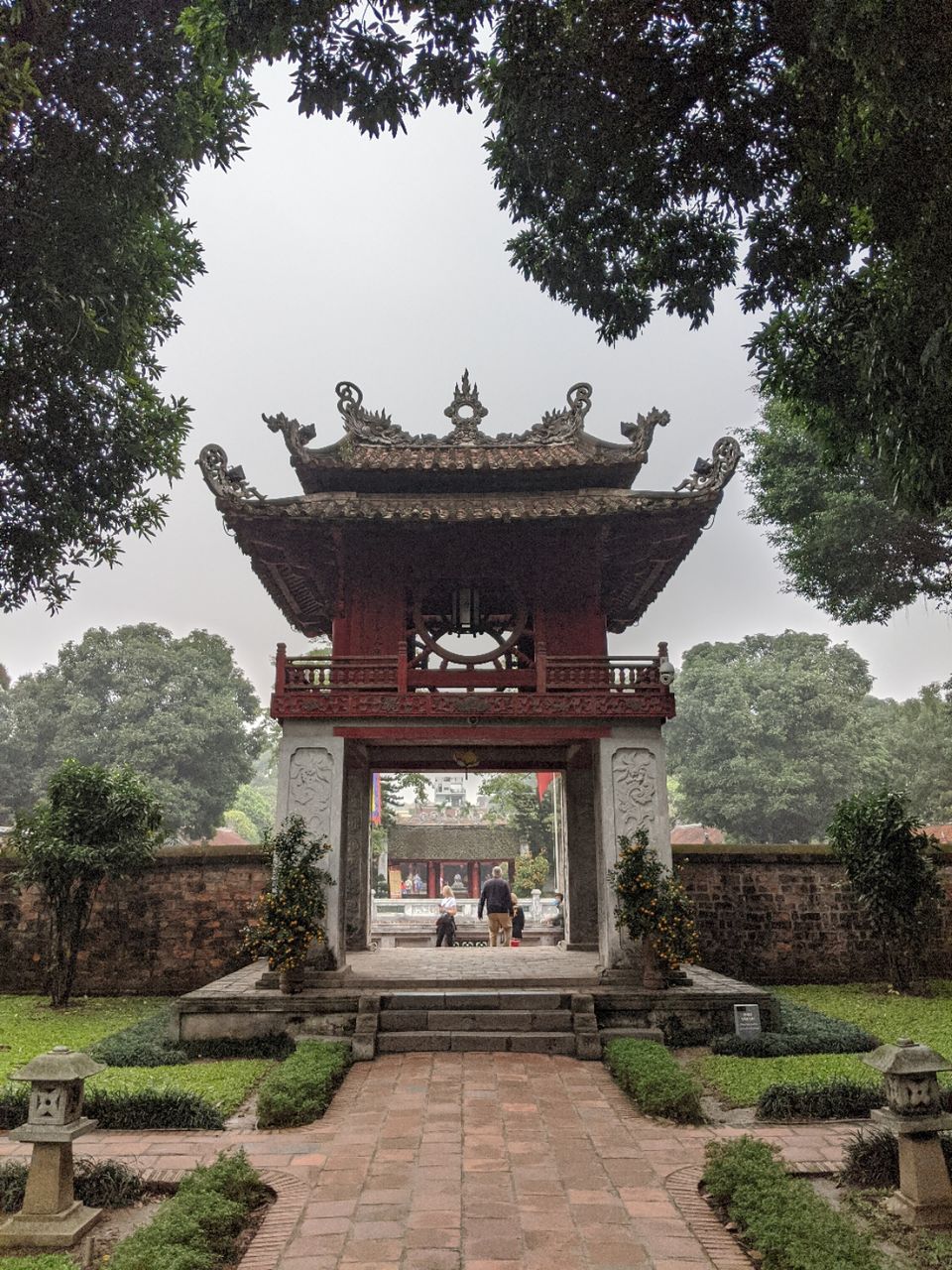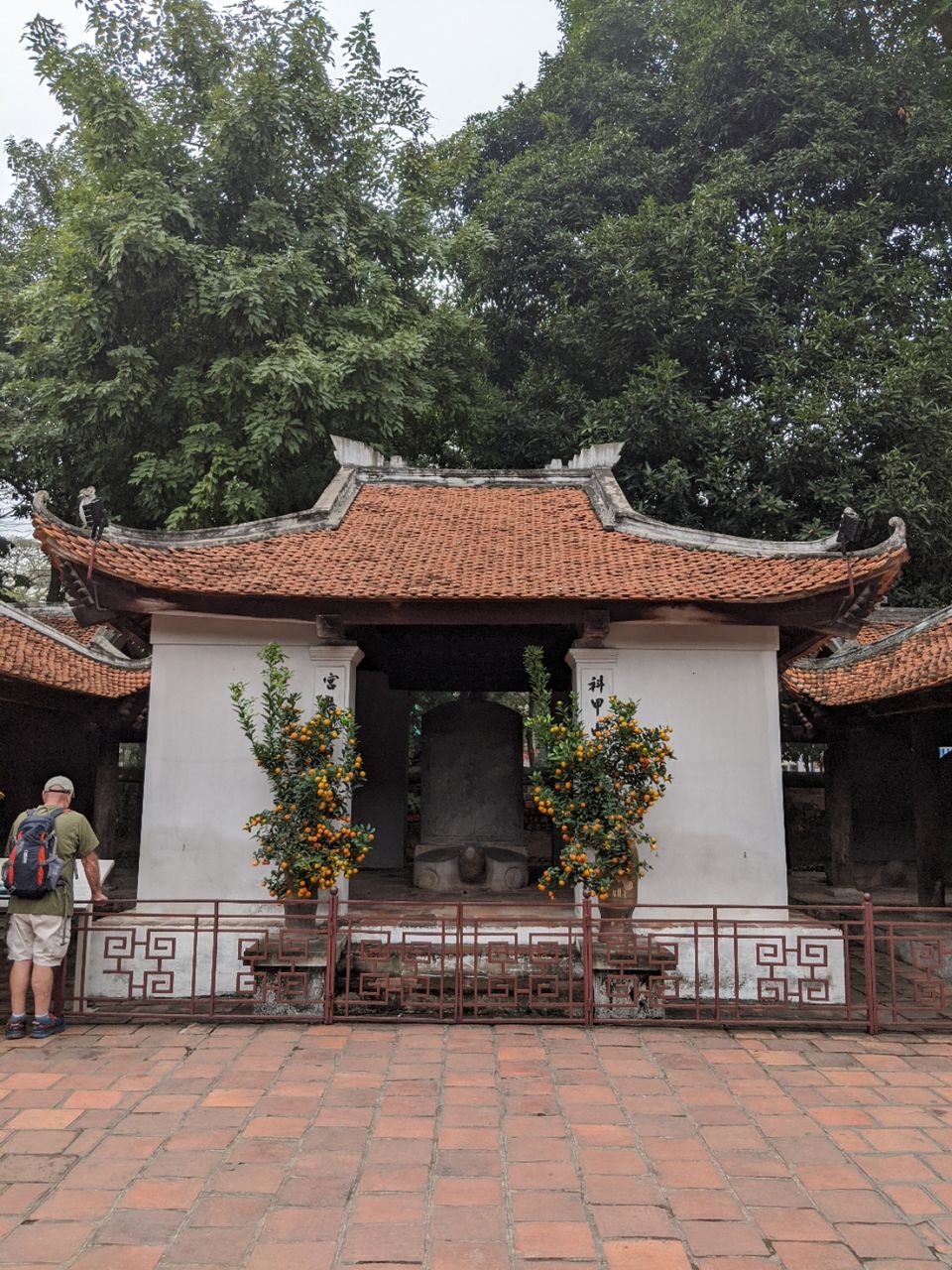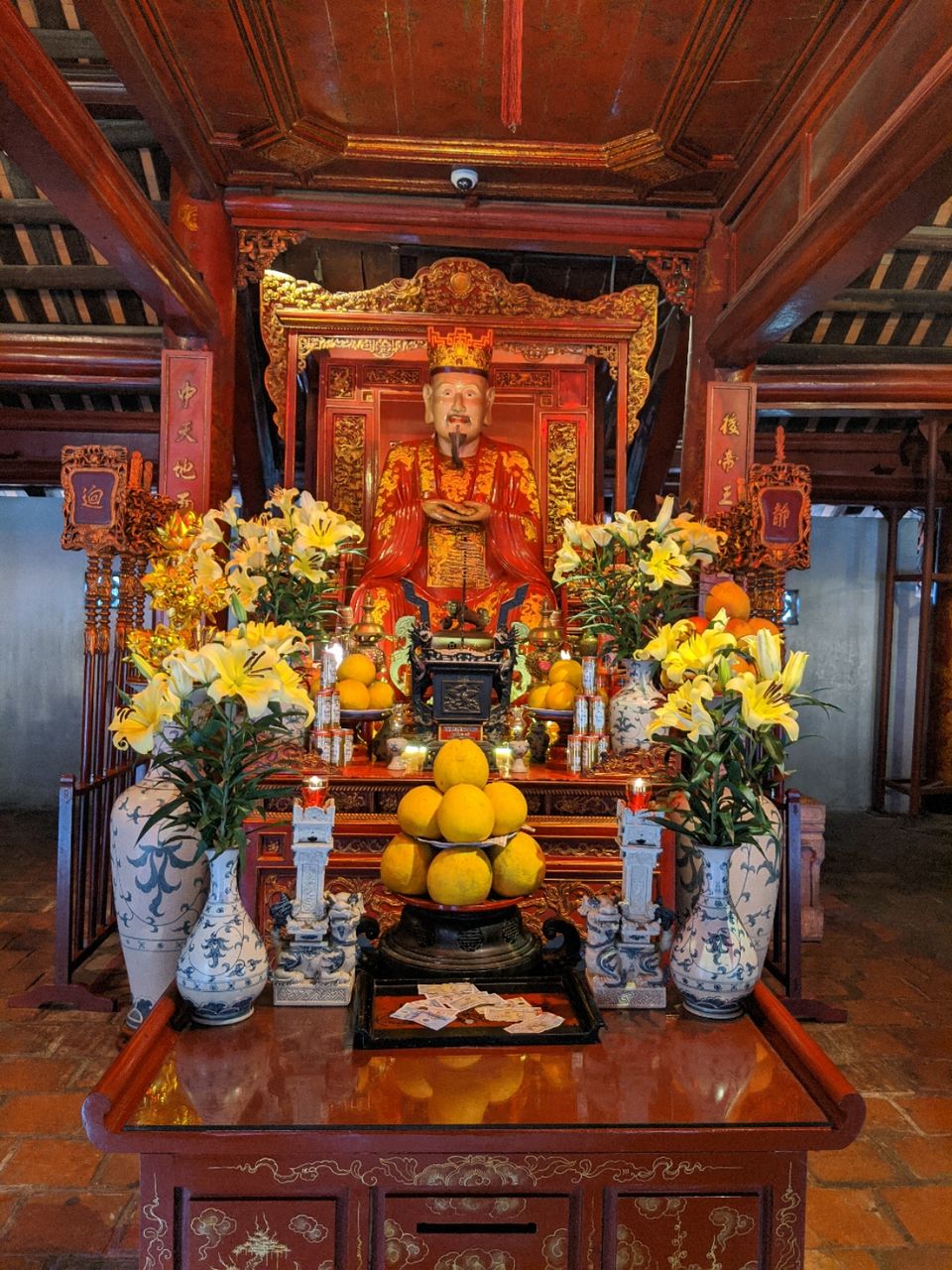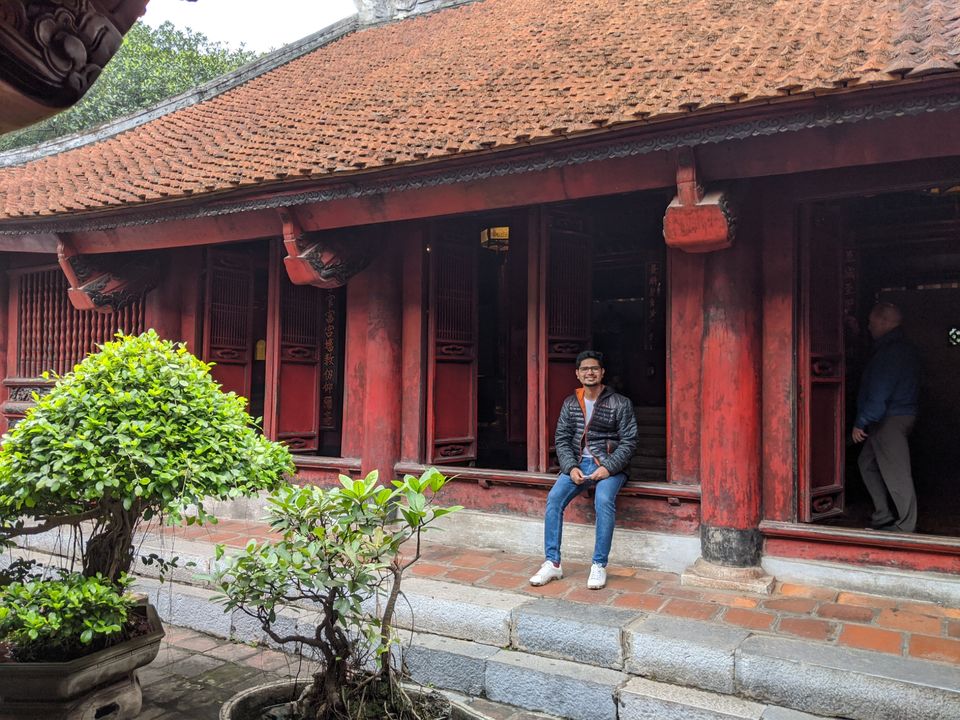 Next Stop:
Very Famous food joint Bun Cha Huong lien where once Barack Obama and Anthony Bourdain sat for a $6 meal on low plastic stools consisting of Bun Cha and Cold Hanoi Beer.
I had veg option and I didn't like it personally but who am I to question Bourdain. I'll suggest you give it a try and decide yourself.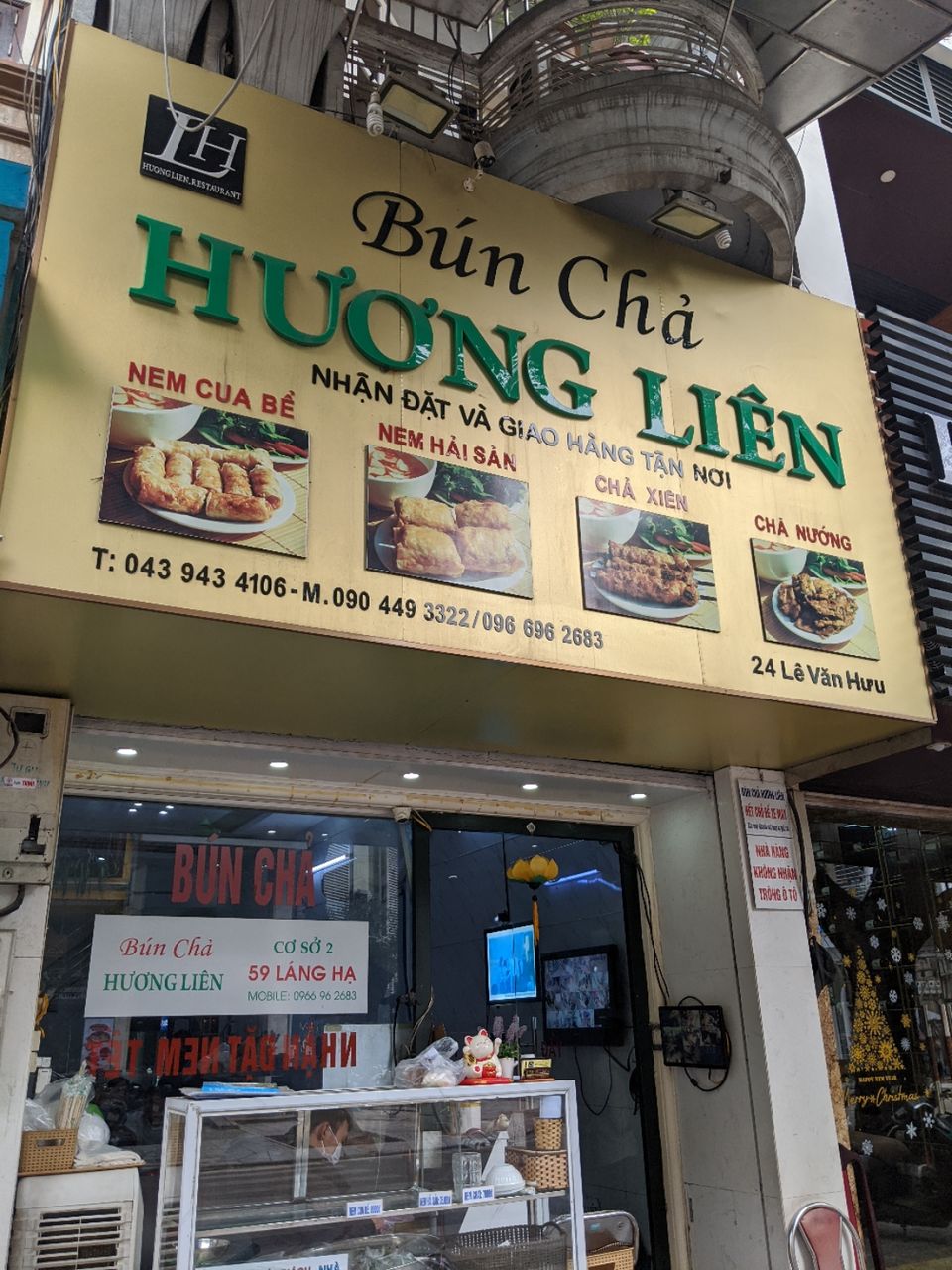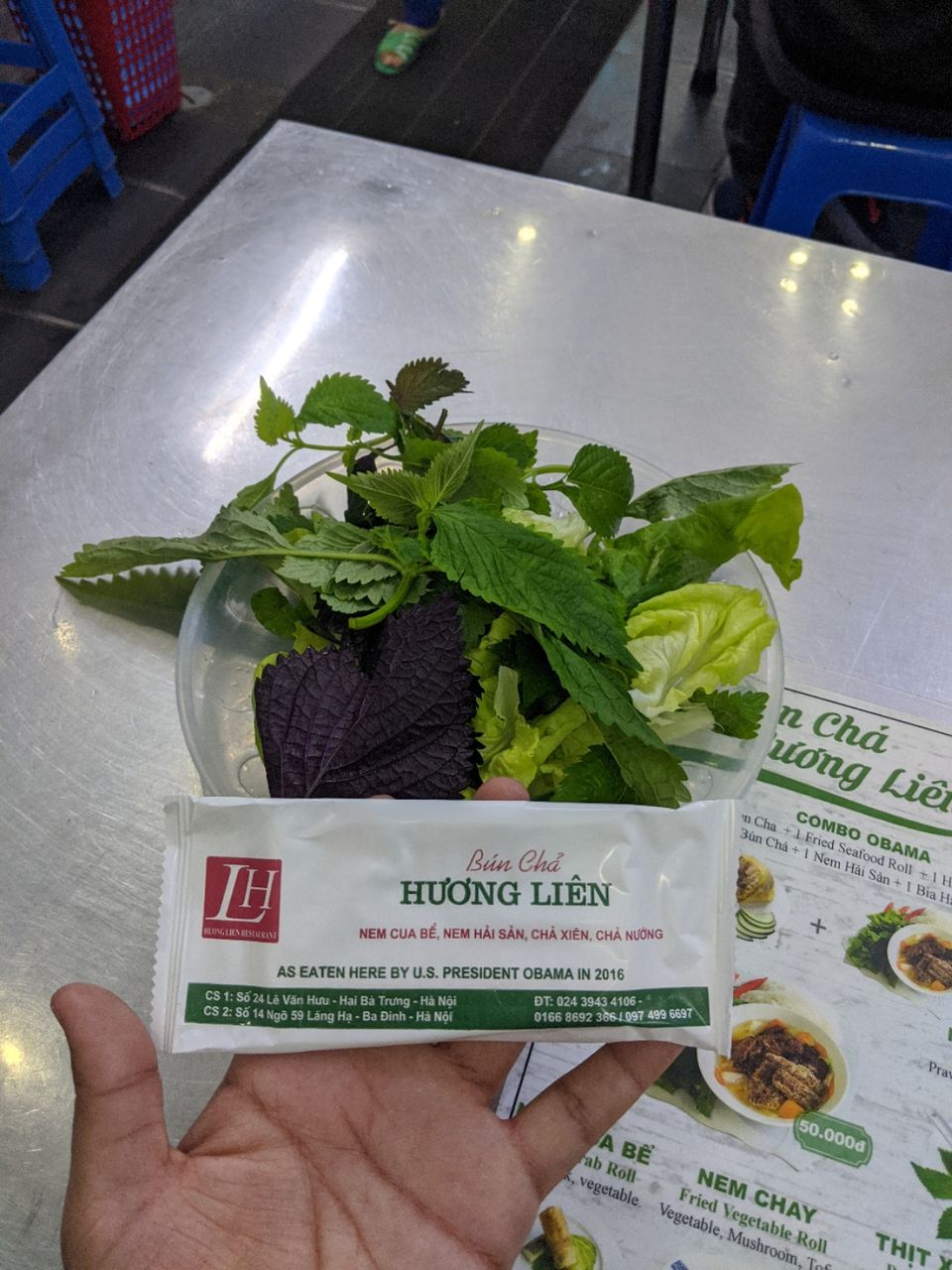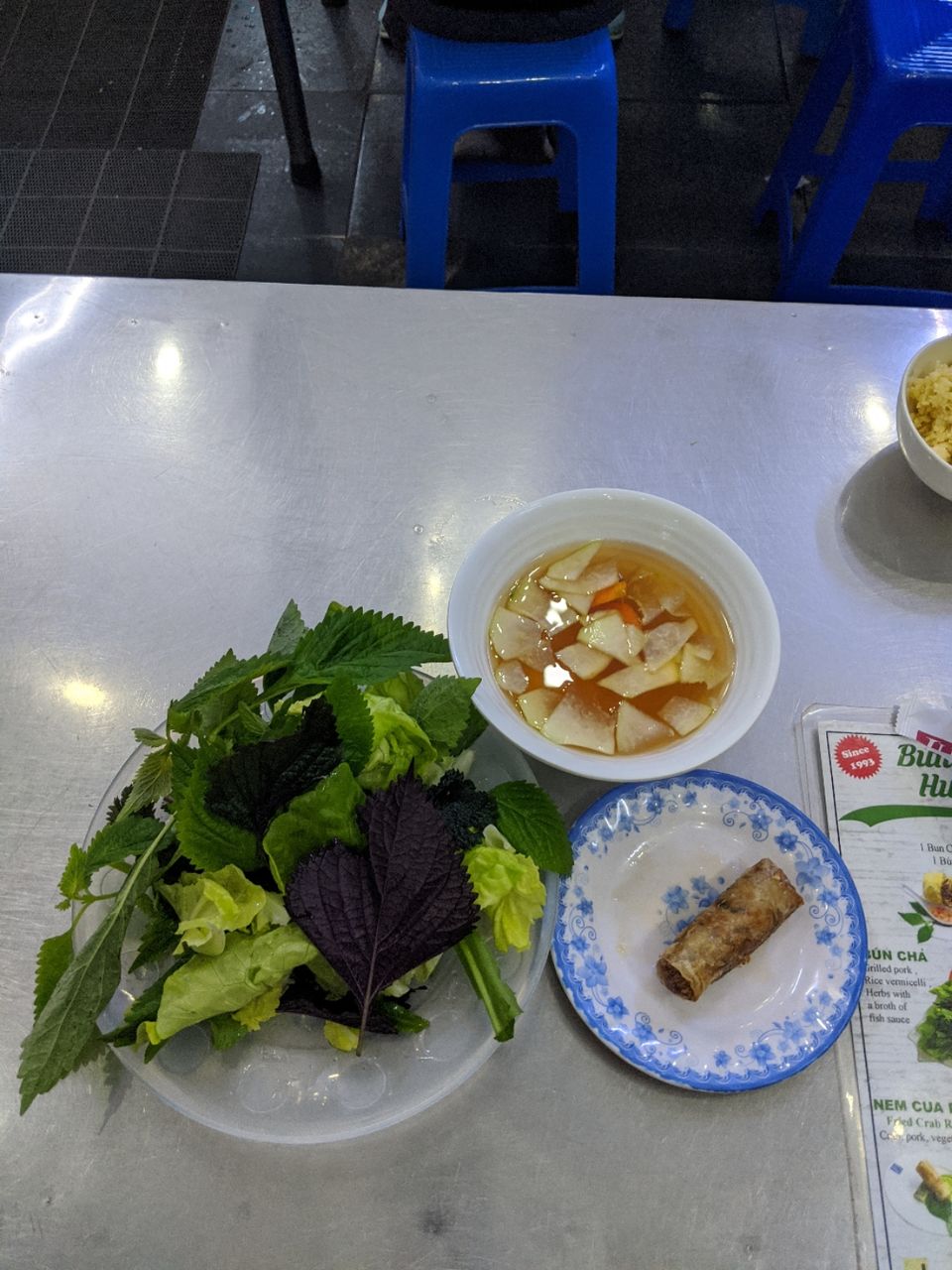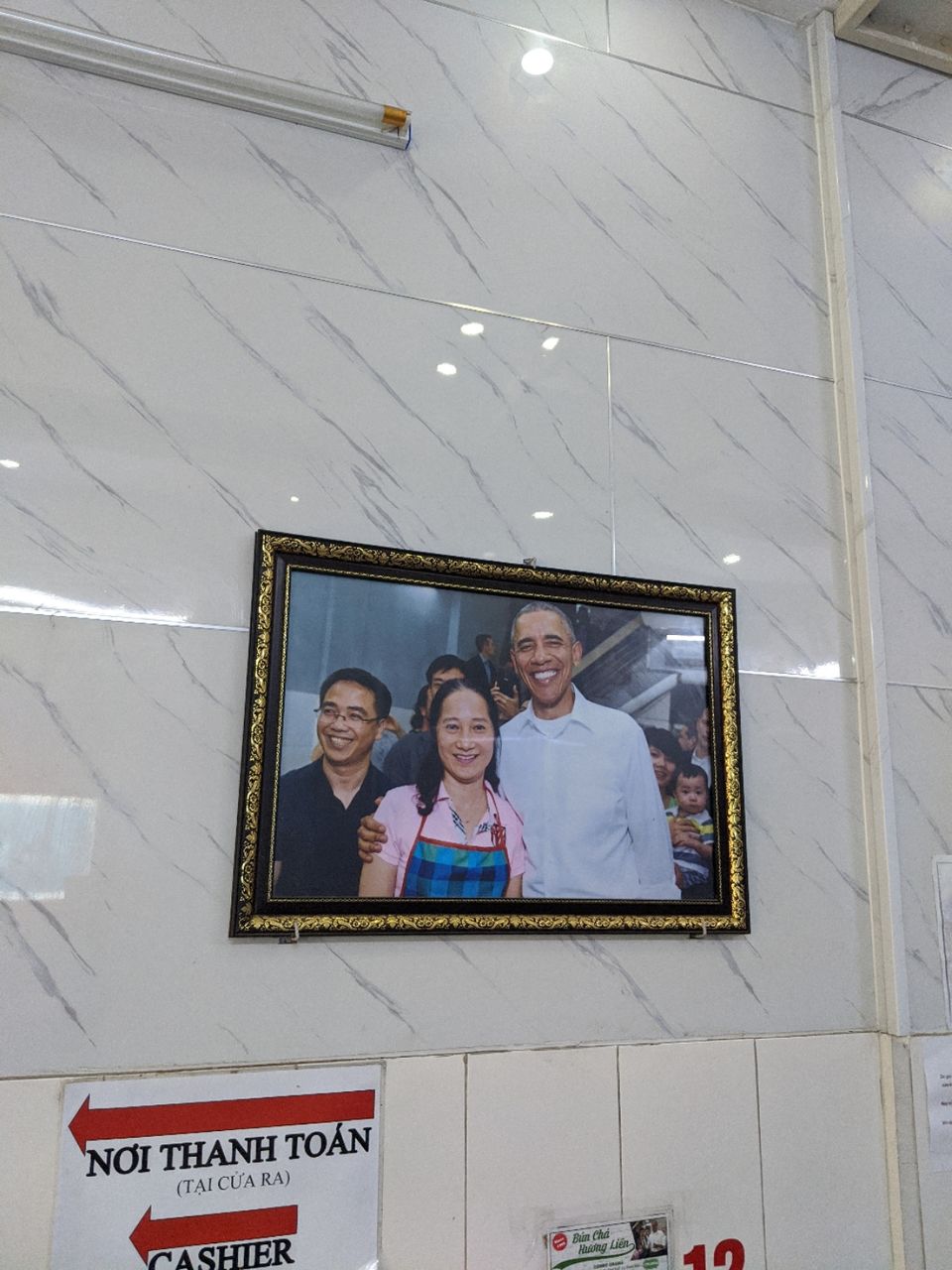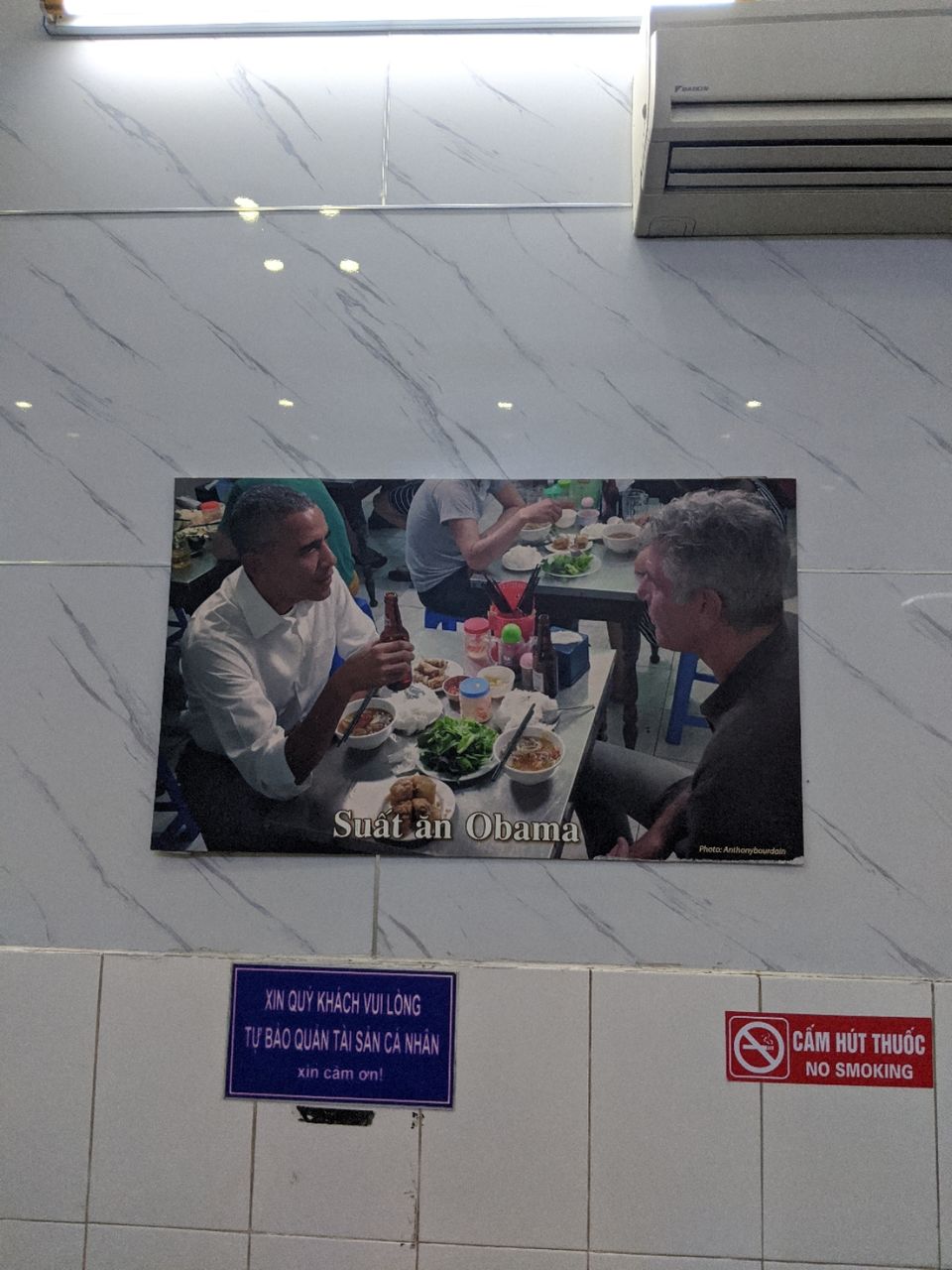 Next Stop:
Train Street Hanoi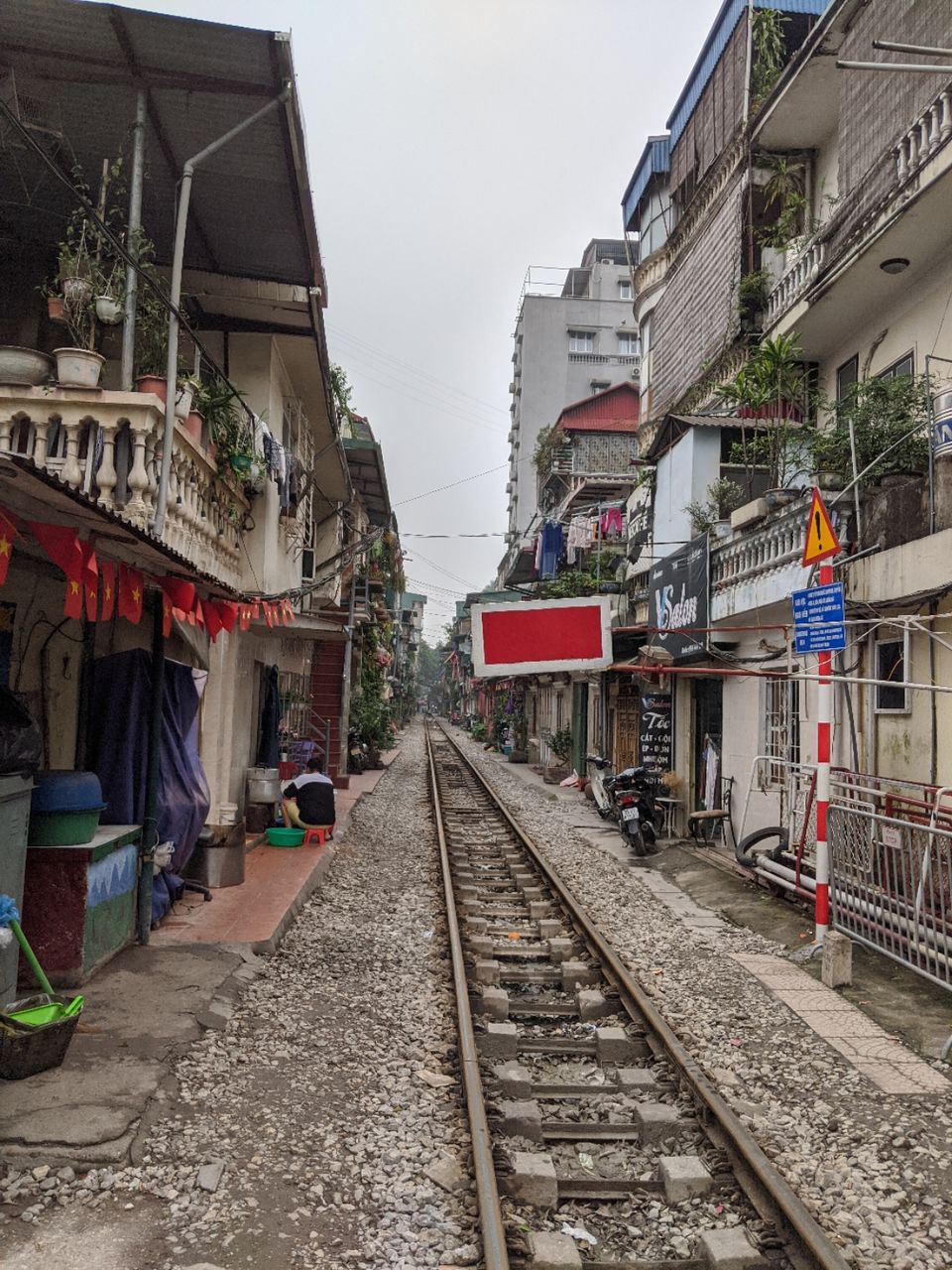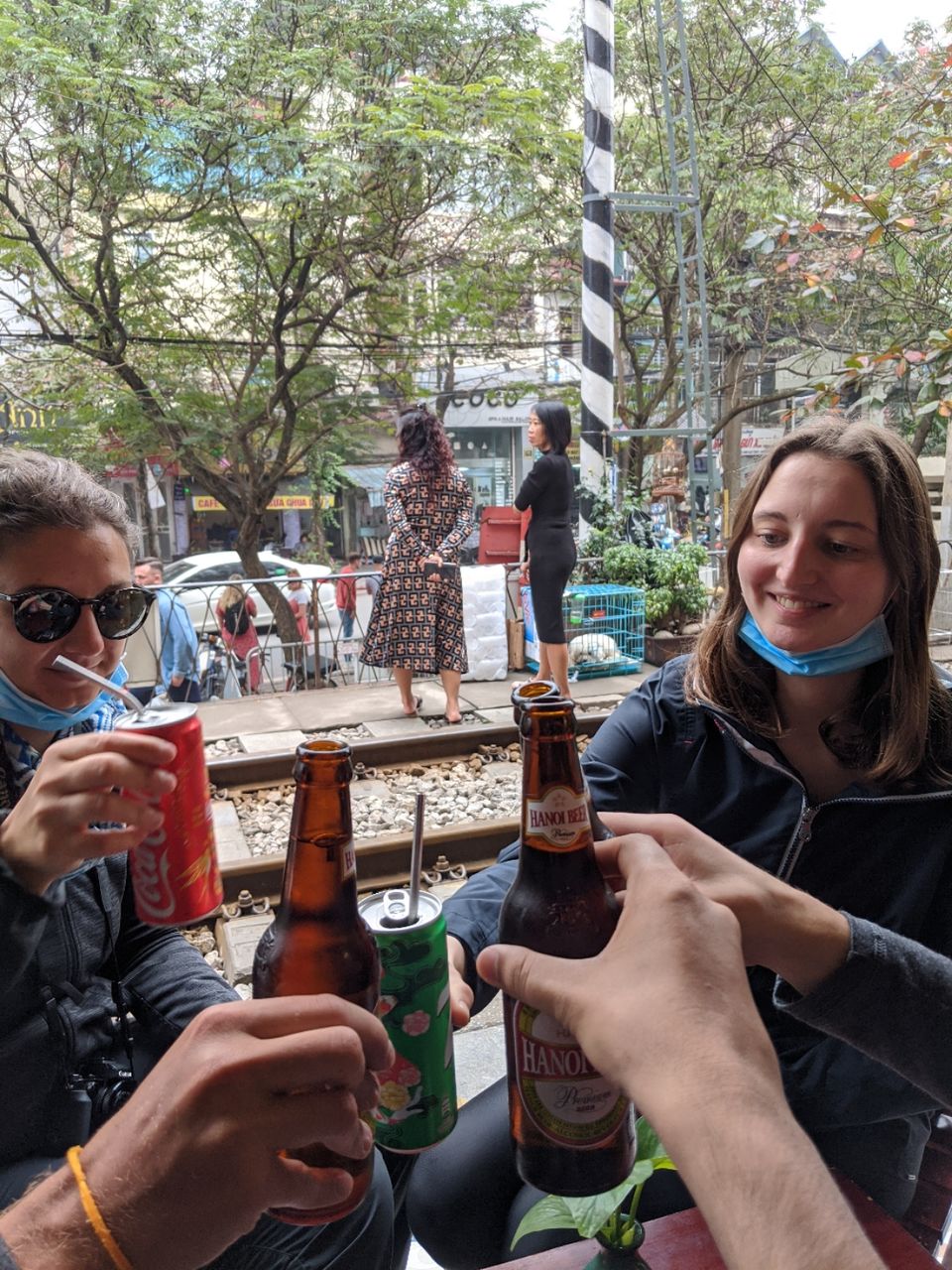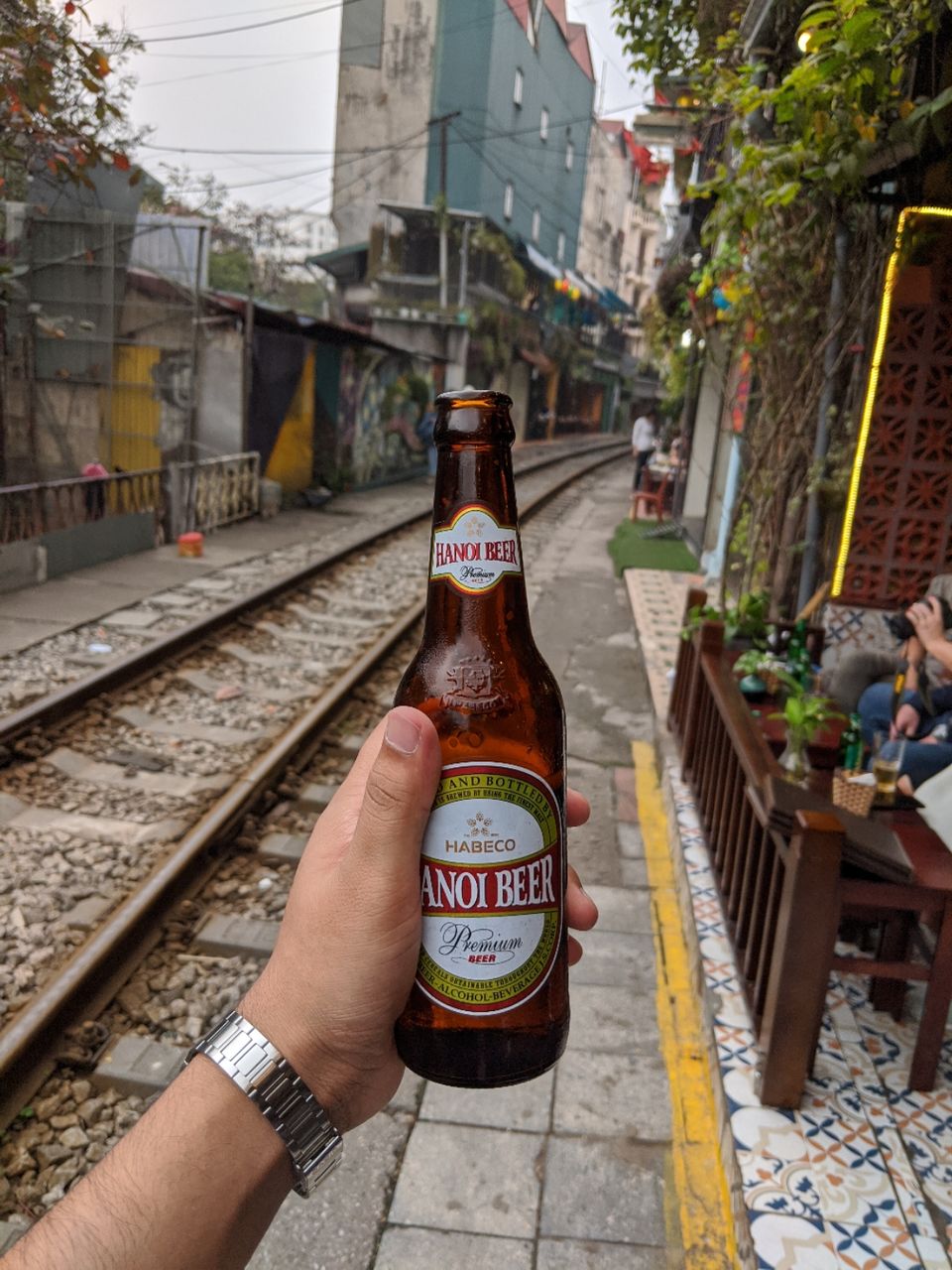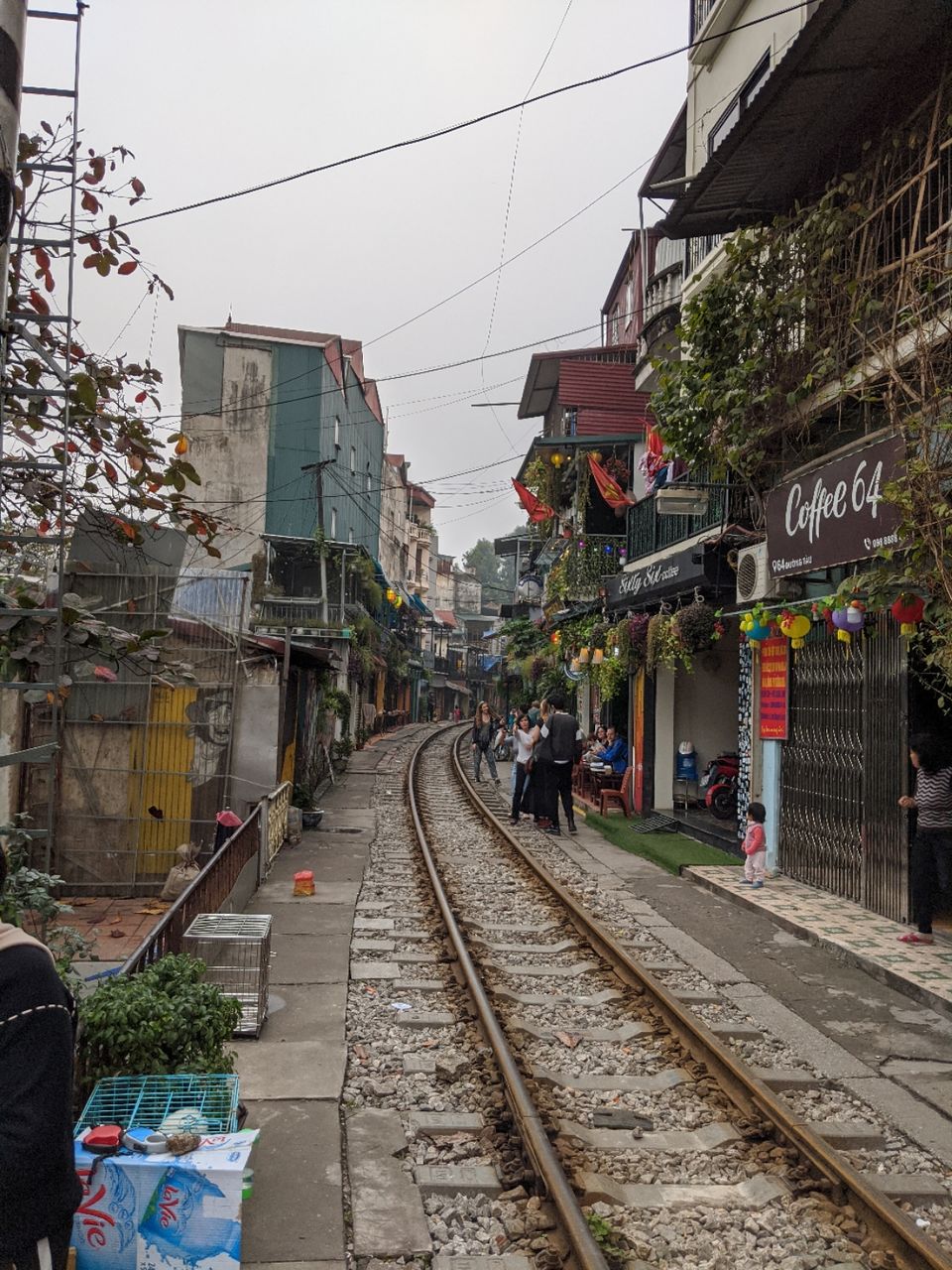 Lunch:
So around 4 Pm I thought of eating something and I went to KFC for a Zinger Burger. I must say it didn't taste like anything we order here in India and the taste was so bland. So far I hadn't had a chance of having some great food experience except for the pancake breakfast in Hostel which obviously wasn't a local cuisine.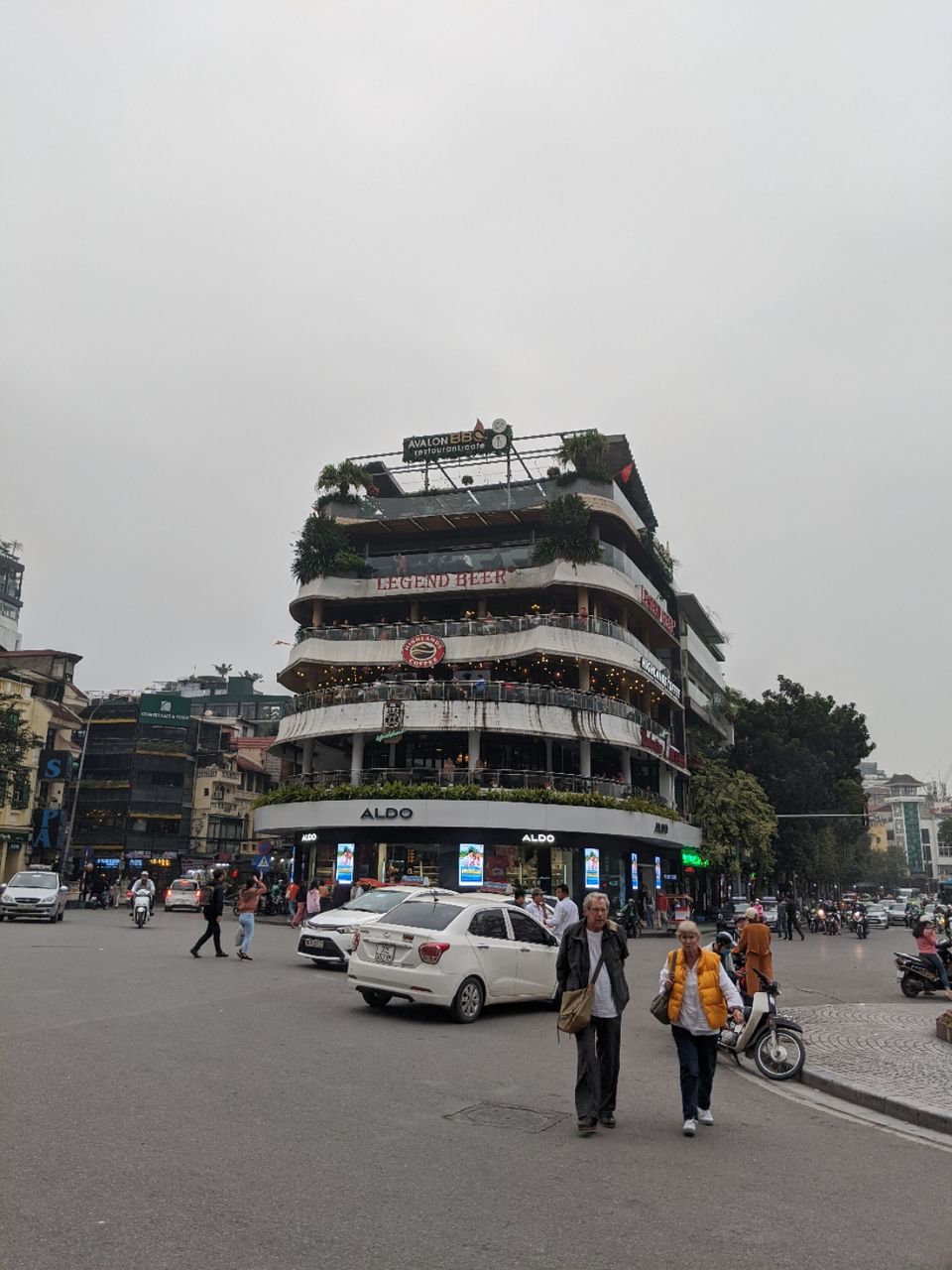 I basically did nothing in the night and went to this Indian restaurant Little India for dinner. The food was Okayish as I just had Biryani. Costed me around 210 INR or 70k VND.
Next day I woke up by 6:30 and got ready by 7 AM. Had my breakfast and at 7:15 I got picked up by the Cruise service. We were headed to Lan Ha Bay Day Tour.
I booked this tour from Klook app. It costed me 3200 INR and booked it before leaving for Vietnam so it costed me very less. I got to know on the cruise that people had paid way more than that when booked a day before.
LAN HA BAY: Lan Hay Bay is beautiful place known for its hundreds of towering limestones topped by rainforest. Ha long bay is a more popular tourist destination in Vietnam but I chose Lan Ha Bay because it provides the same scenery and very less tourists come here. Tonkin is one such cruise which provides a full day tour on Lan Ha bay including two way transport to Hanoi, Lunch, snacks & Tea and Kayaking on the Bay.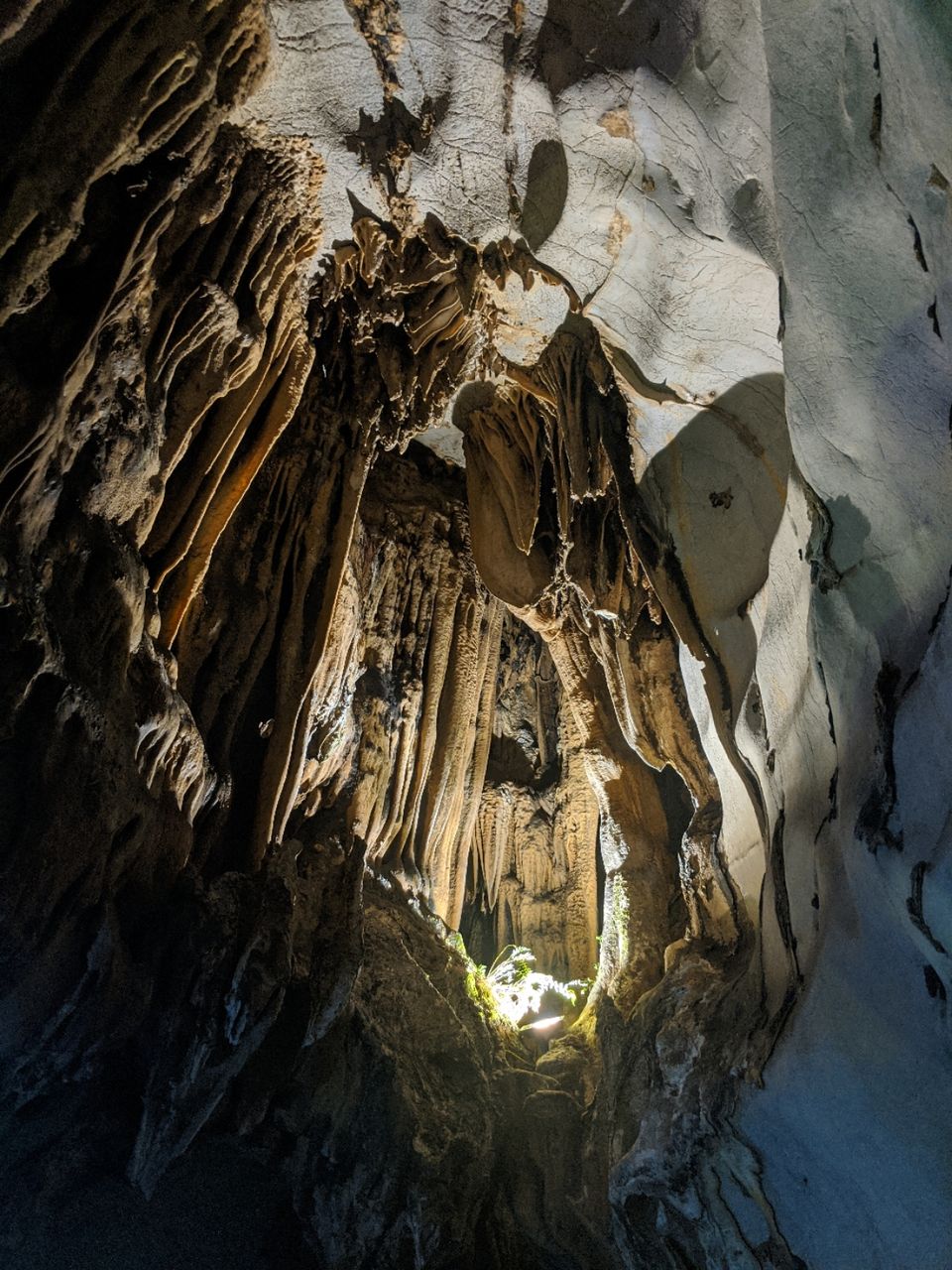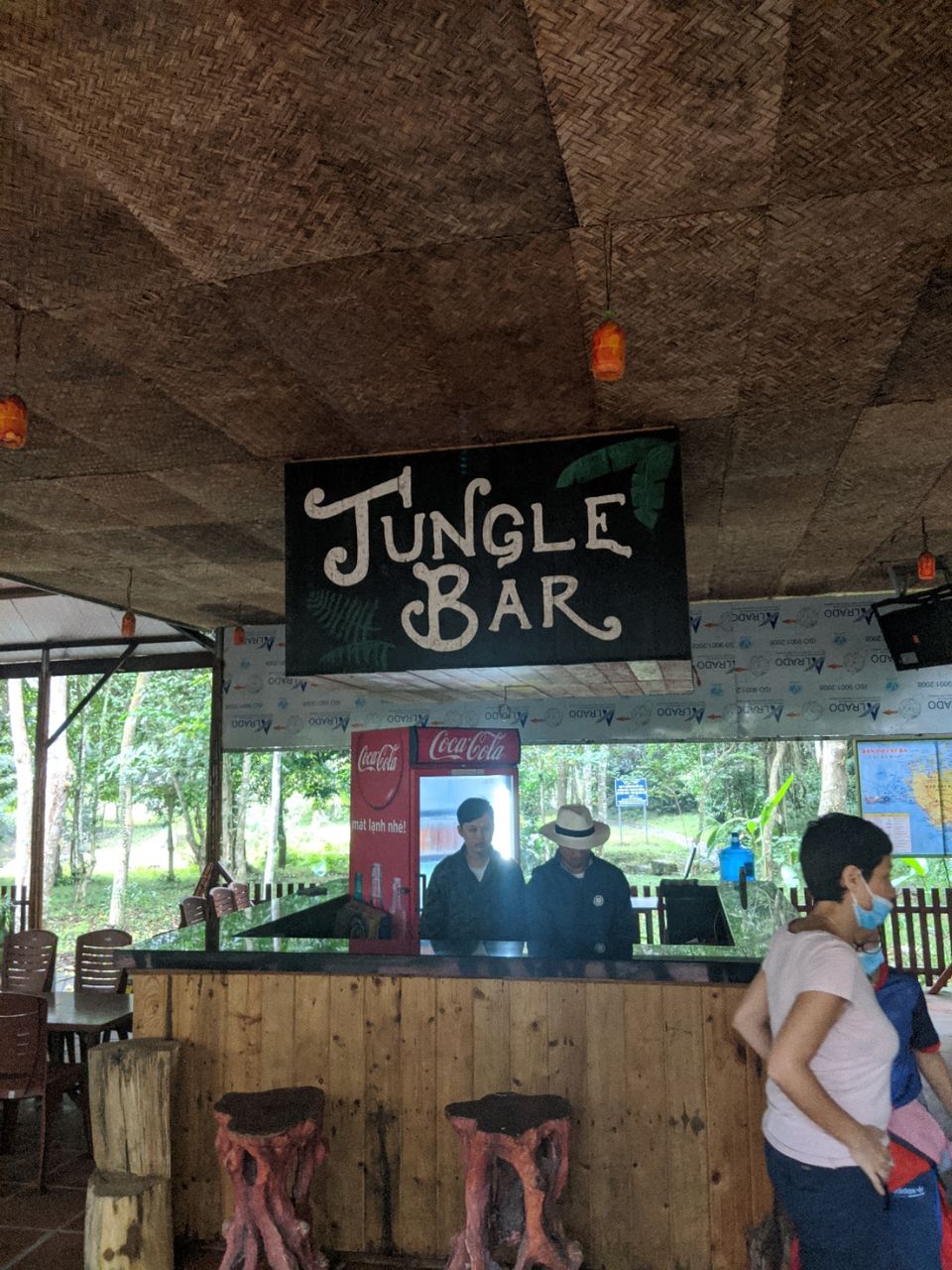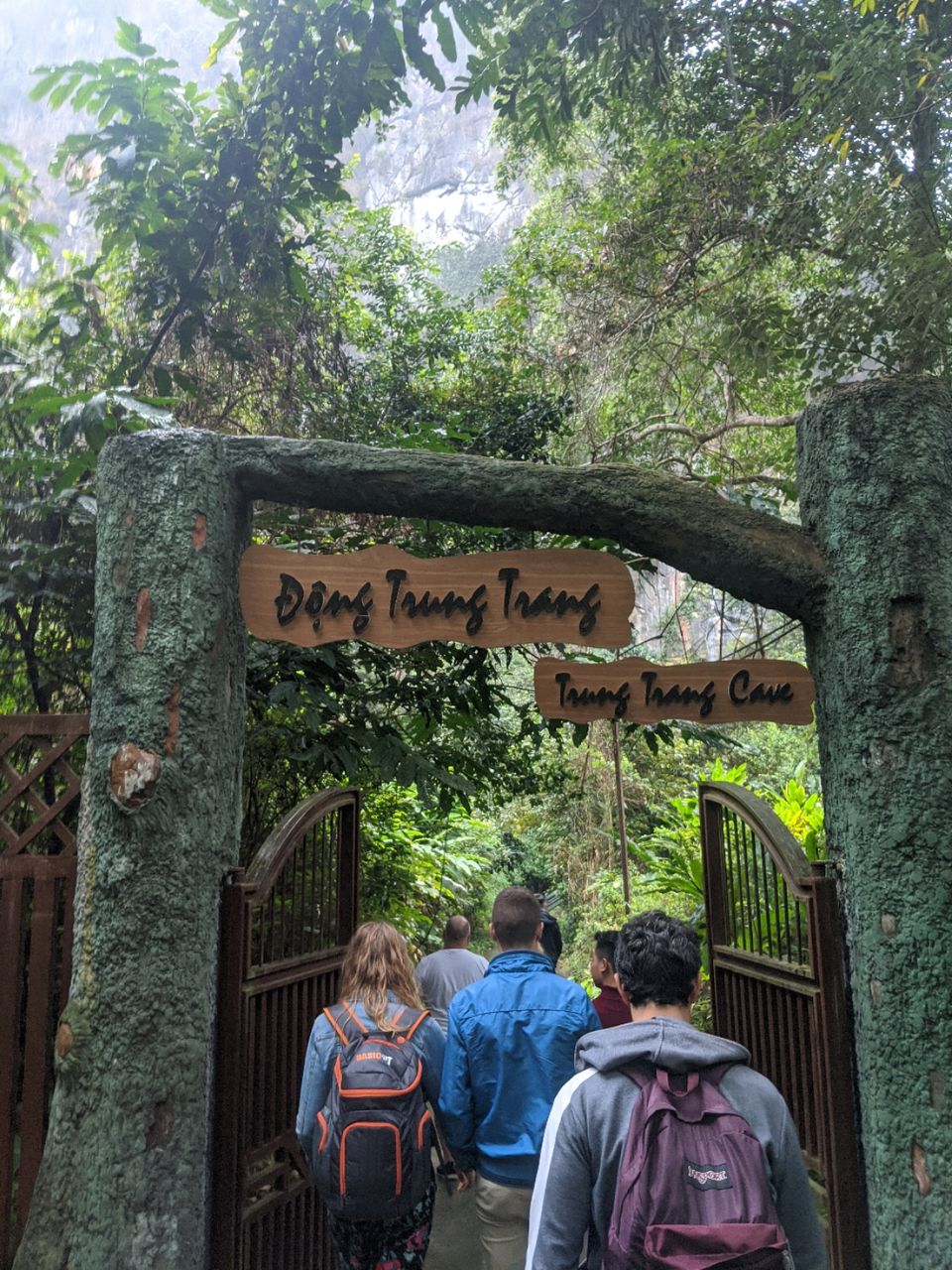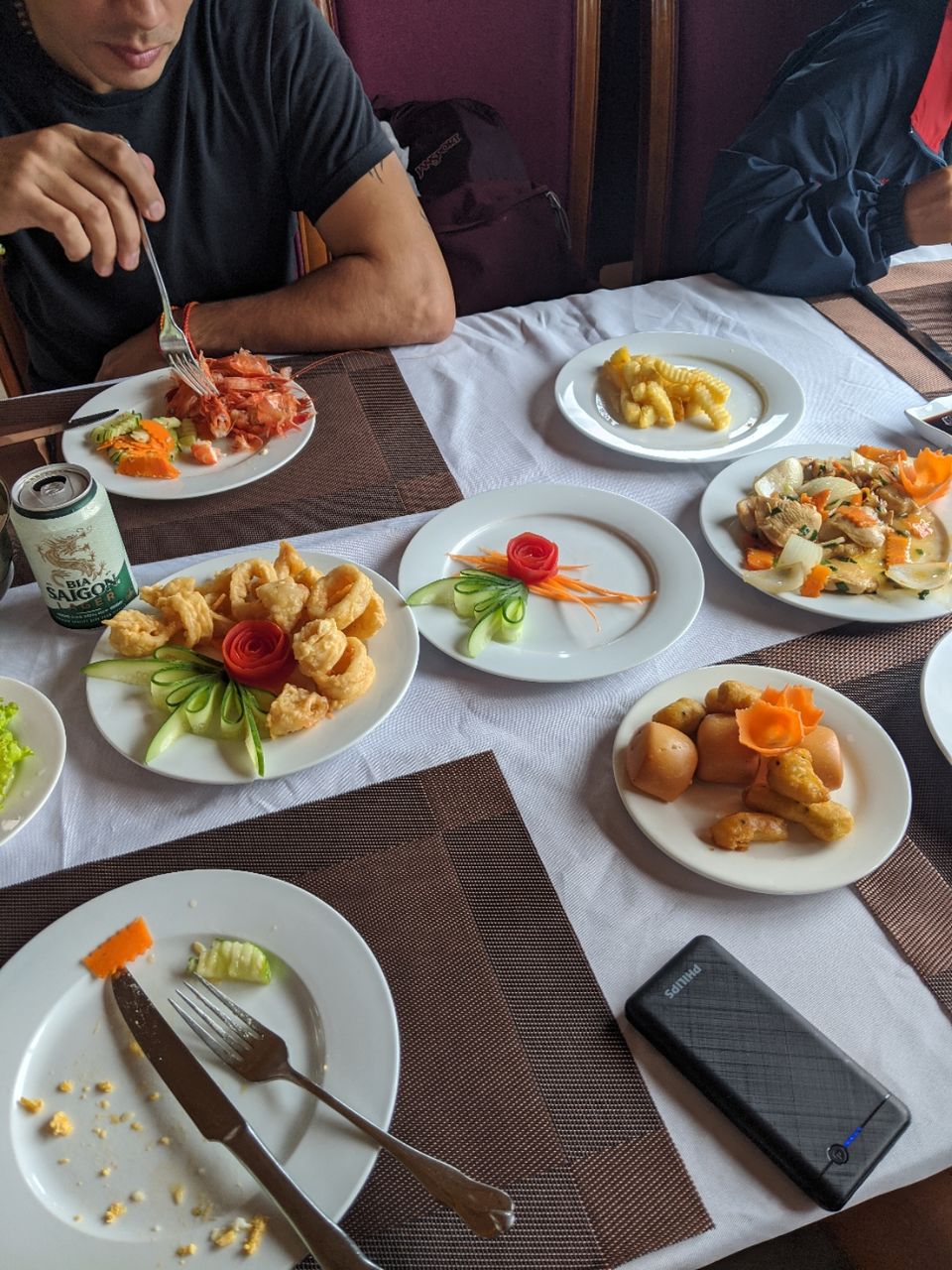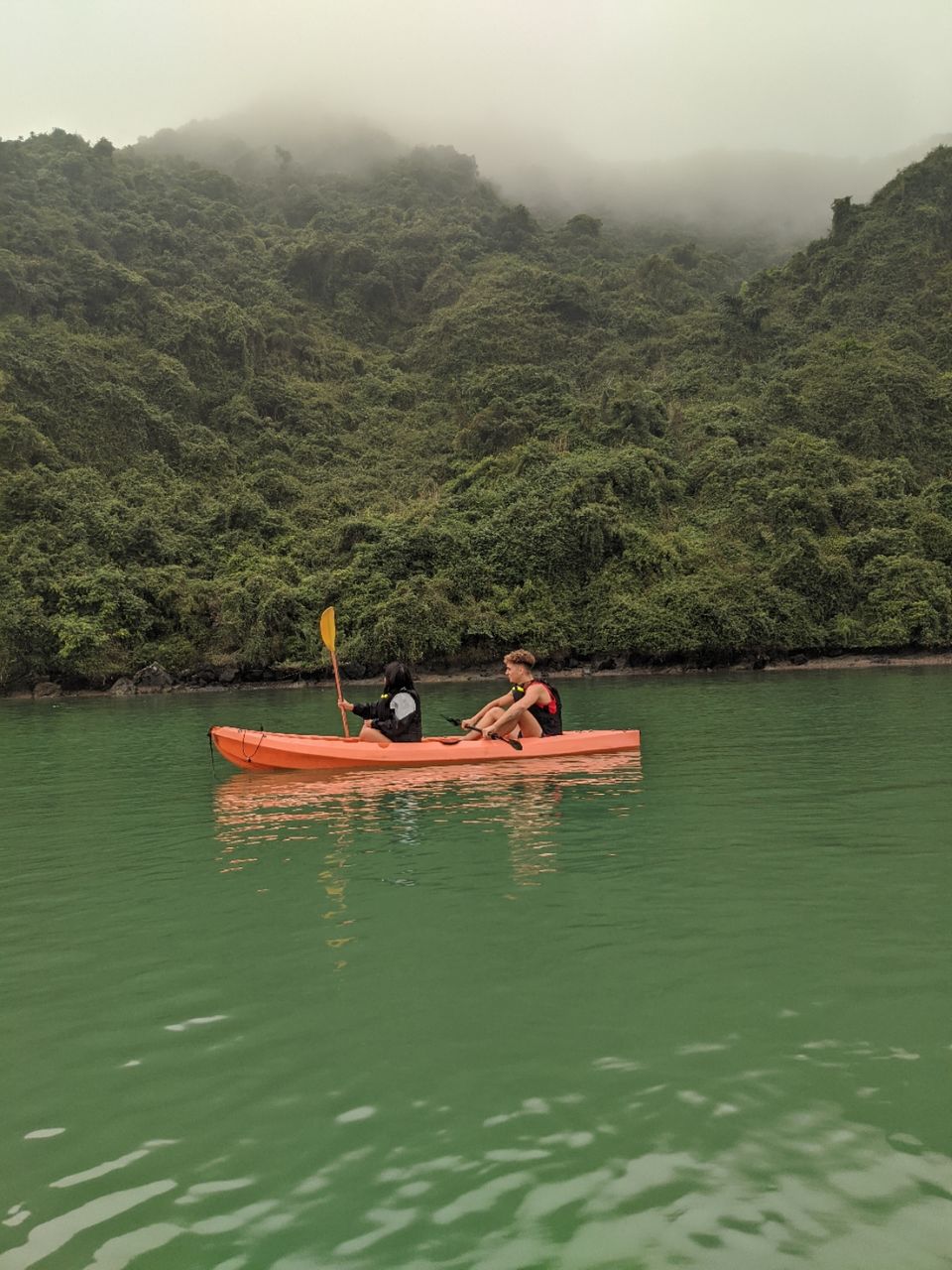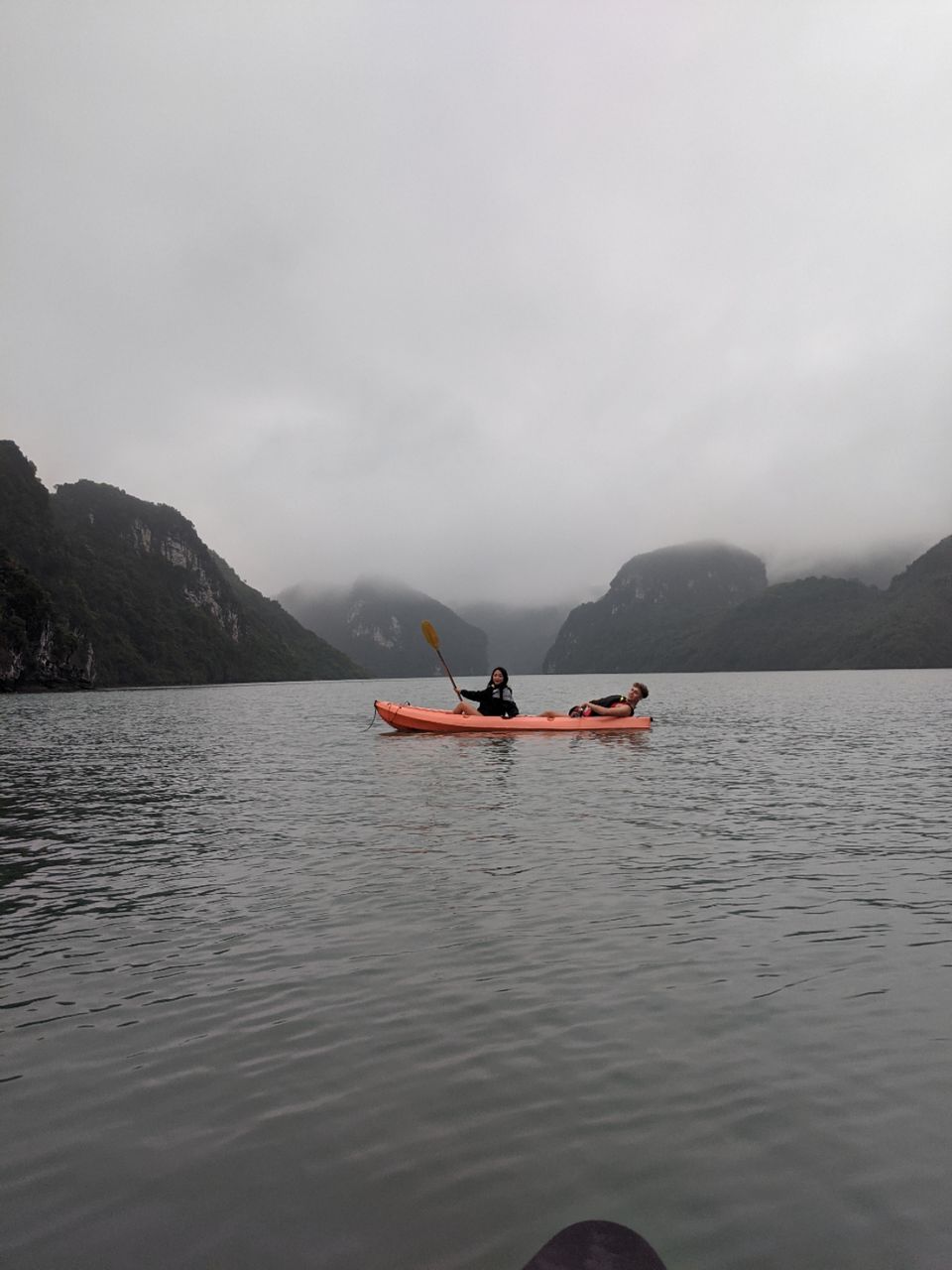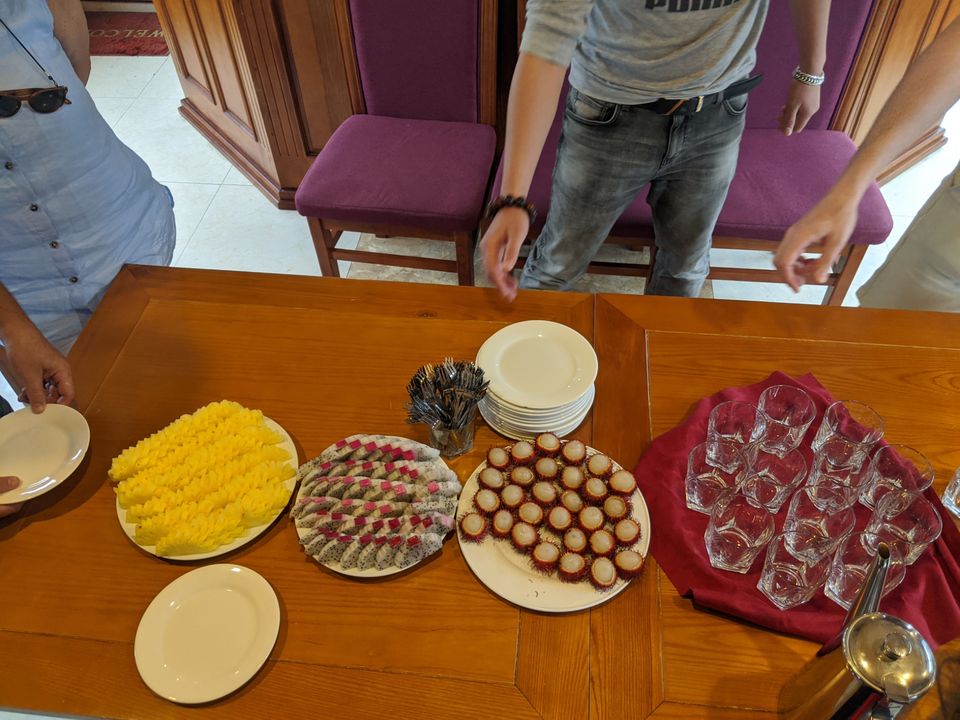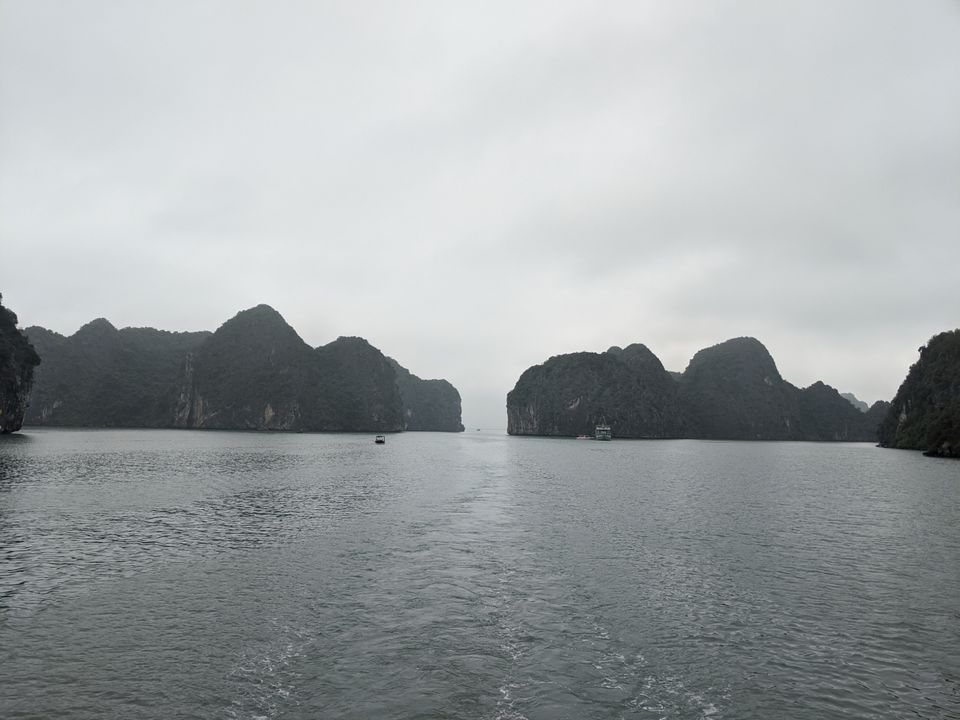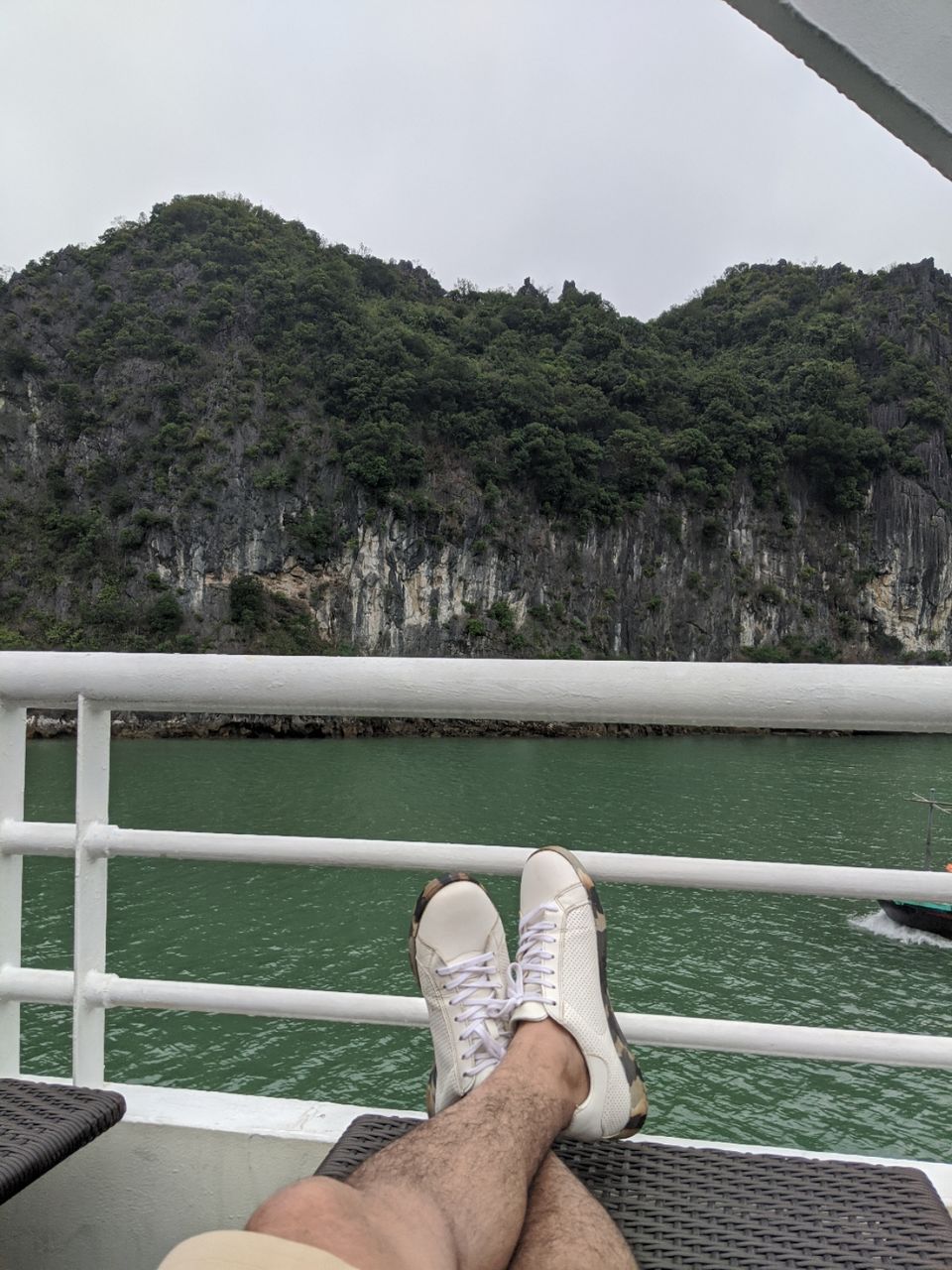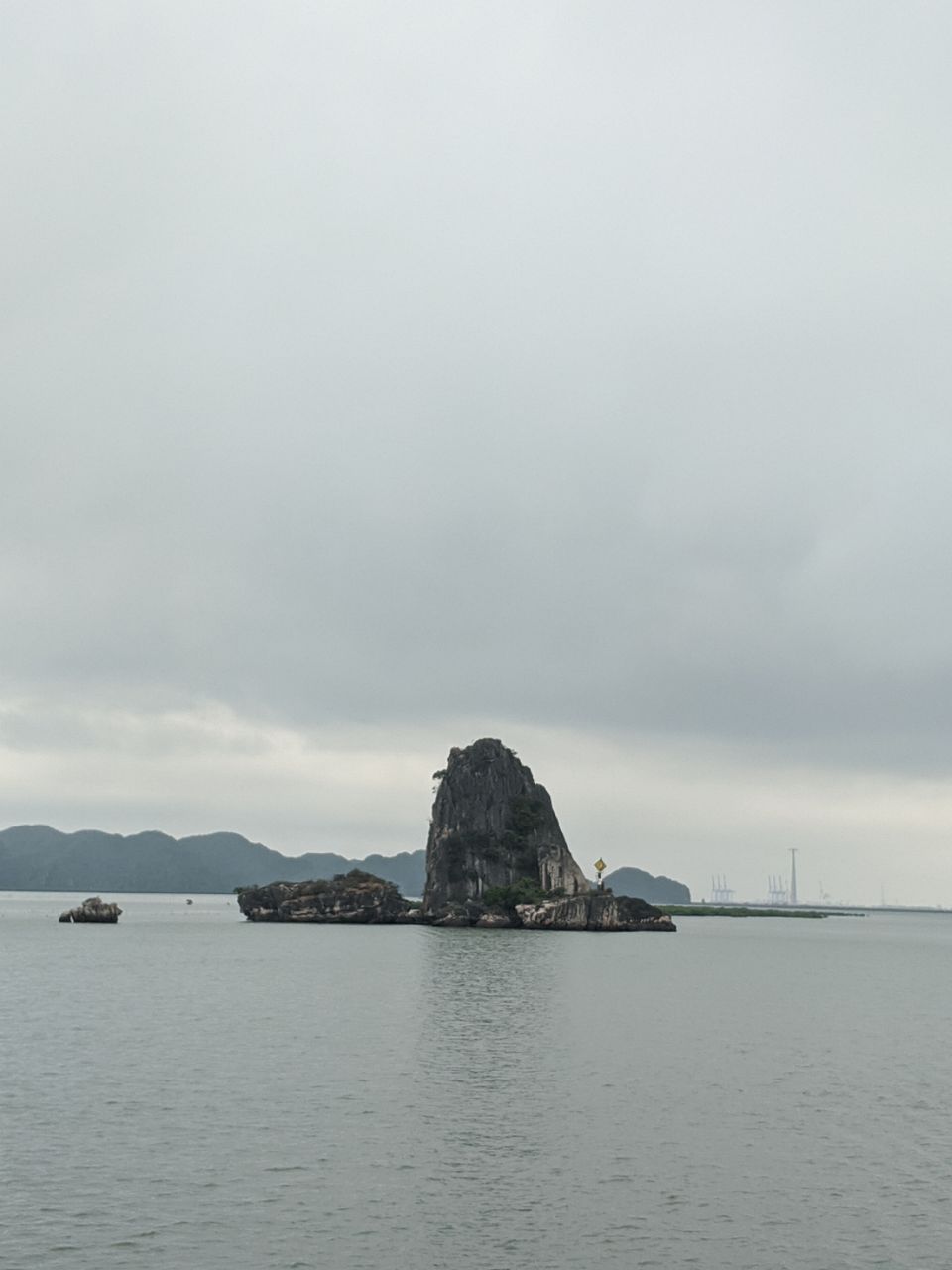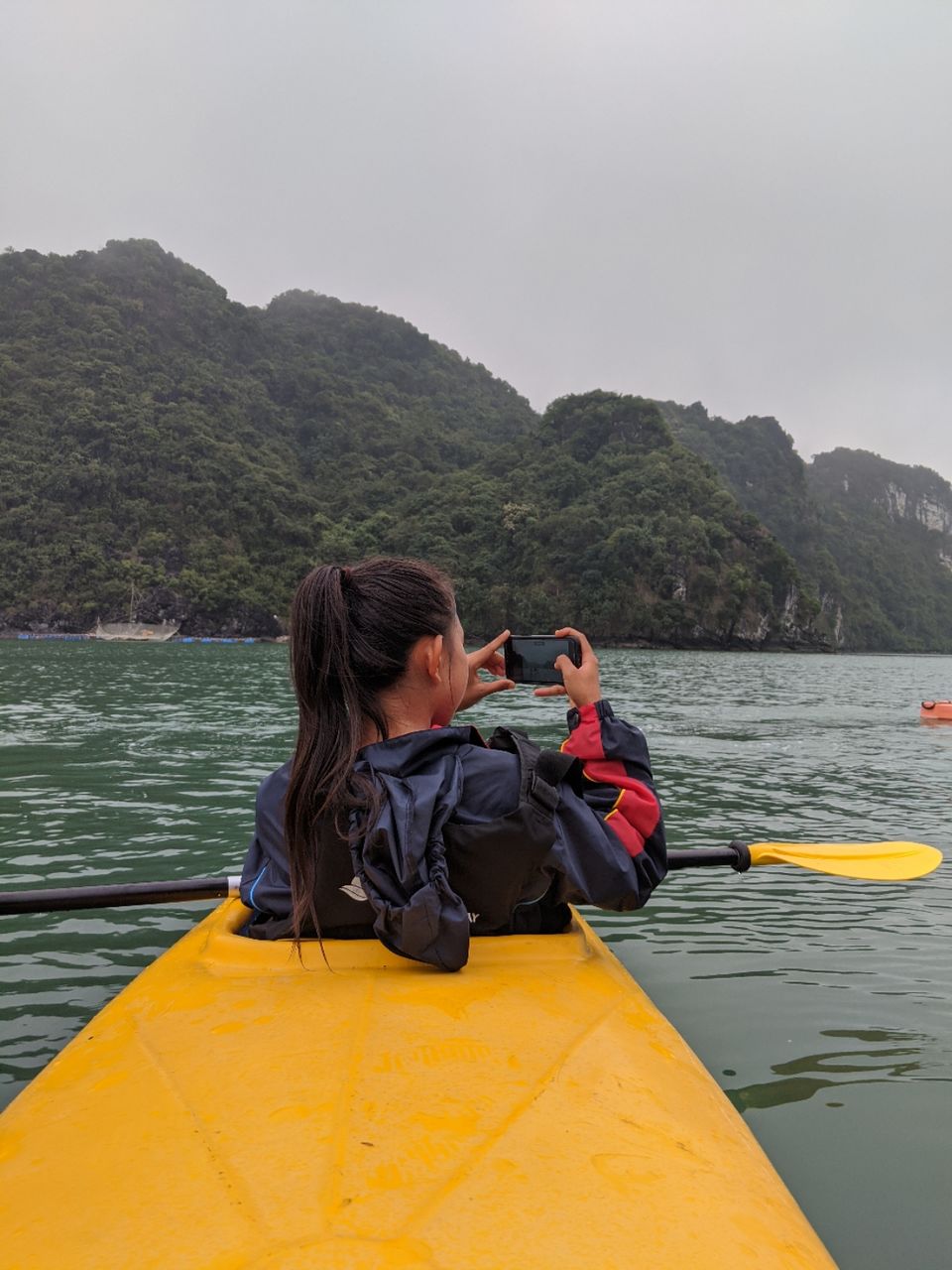 Everything thing was included in the trip, except for the beer which is anyway very cheap in Vietnam. You can get beer for 45 INR anywhere in Vietnam.
The trip ended by with Sunset Party with some fruits, Tea and soulful music. They dropped us back in Hanoi by 8 pm.
Had my dinner at another Indian restaurant which was a disaster and I wasted 500 bucks on that.
I had a flight at 11 AM from Hanoi to Da Nang which got delayed and was rescheduled at 2:30 pm.
So I utilized this time to try the Famous Egg coffee.
Giang Egg Coffee which actually is a birthplace of Egg Coffee.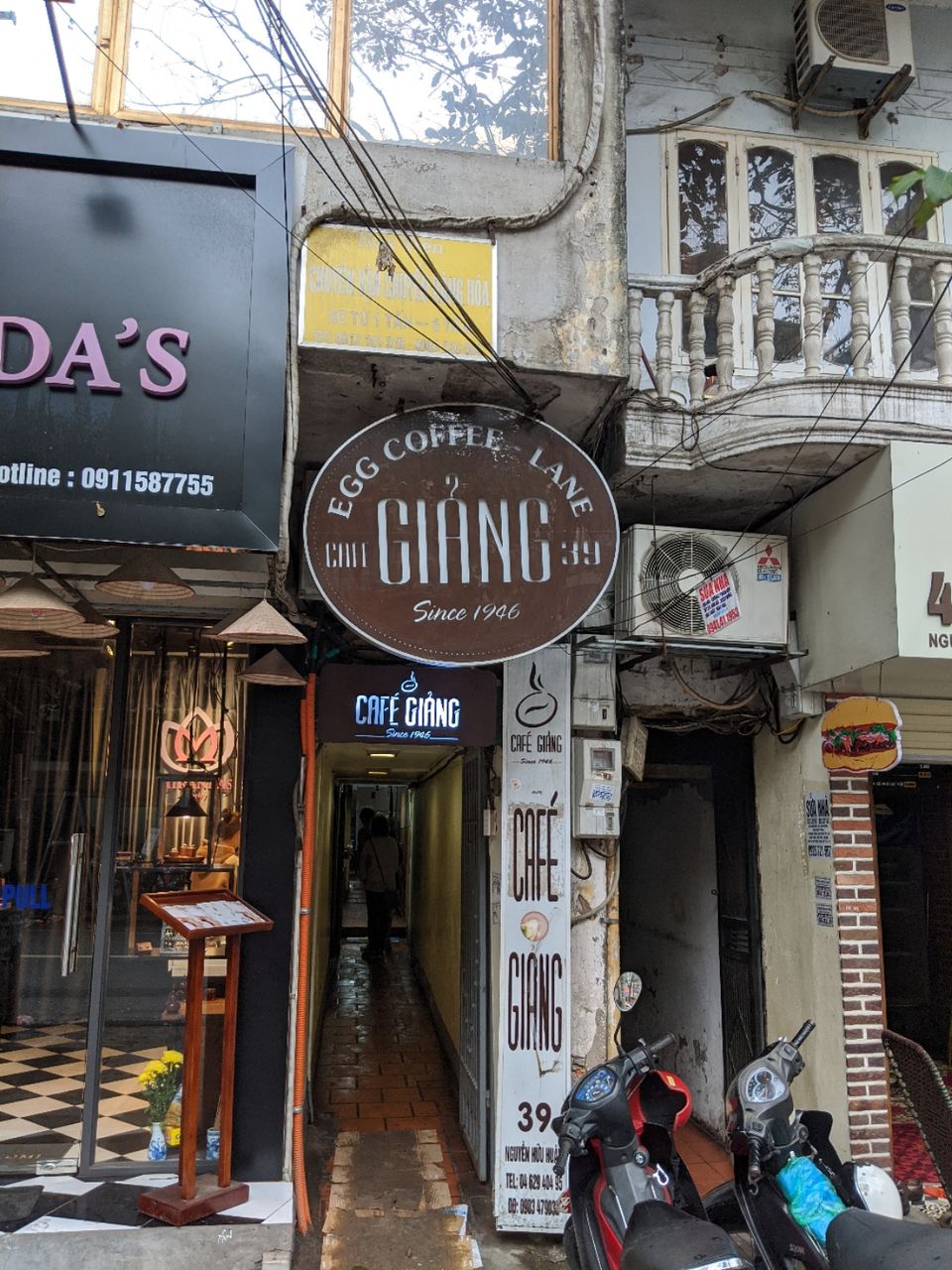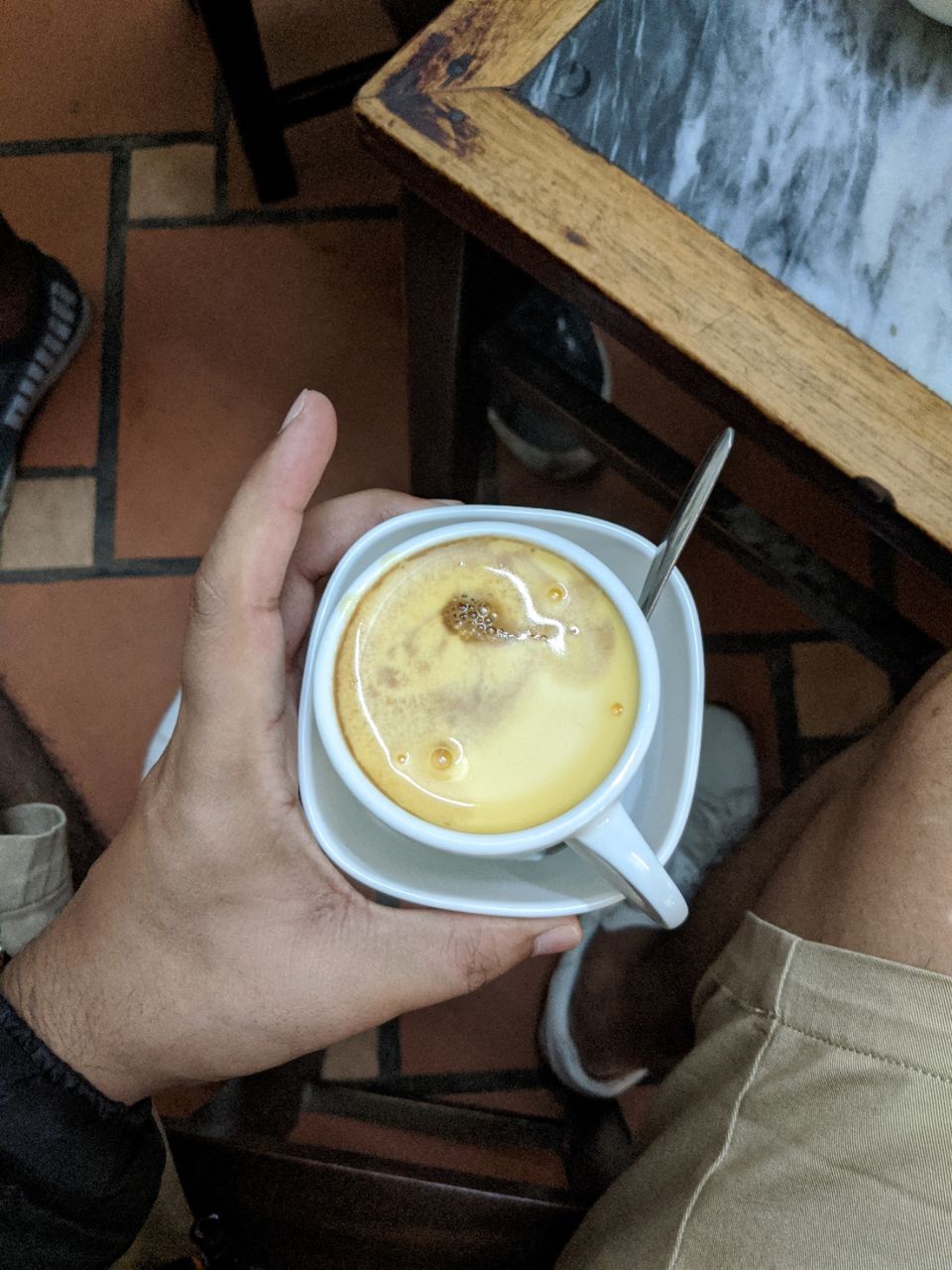 Hostel to Hanoi Airport Bike Taxi: 100k VND= 300 INR
Flight Cost: 1800 INR Hanoi to Da Nang.
Also tried this famous Vietnamese dish called PHO. I took the chicken option and you can choose from Beef, pork and so many other.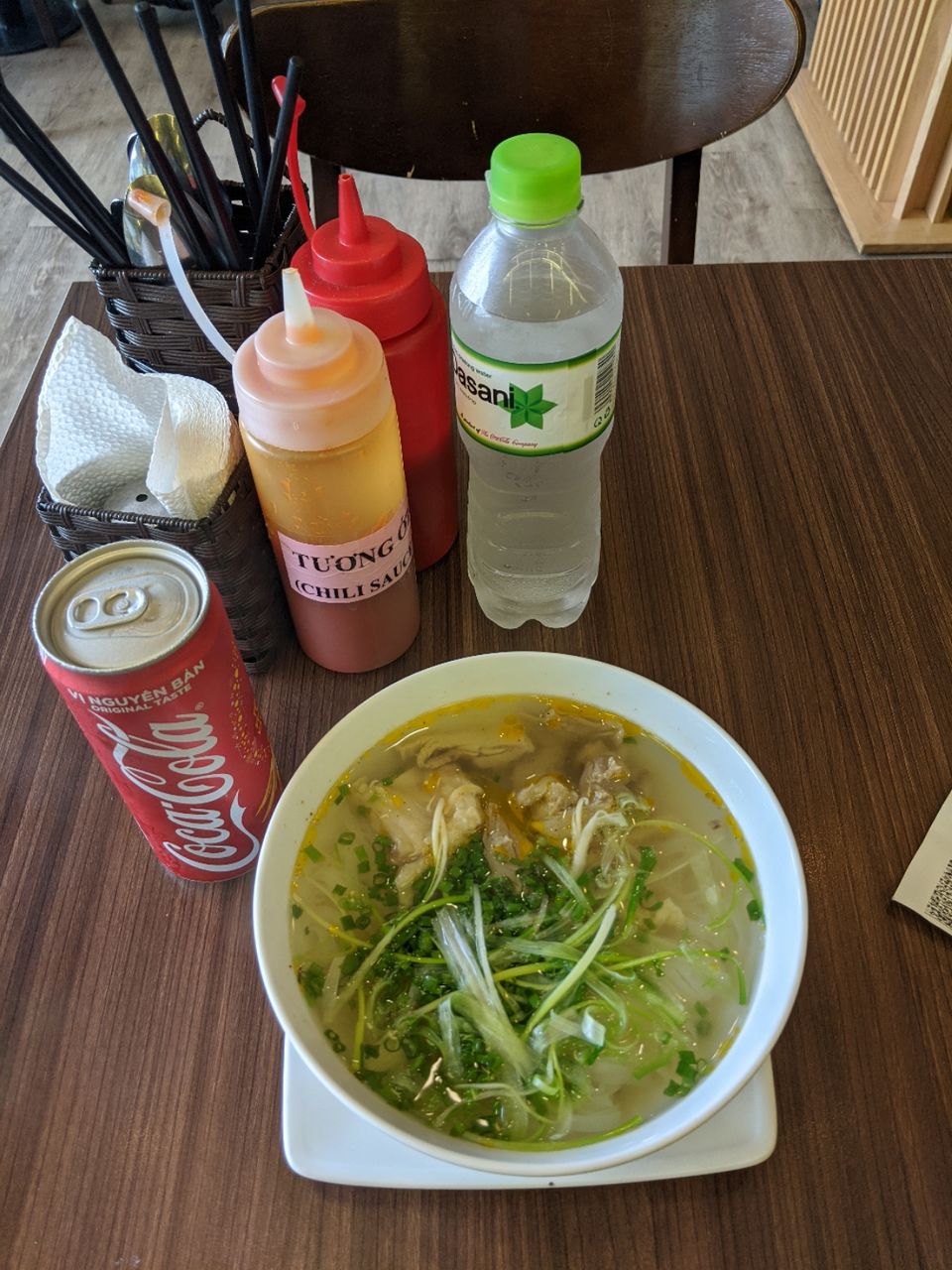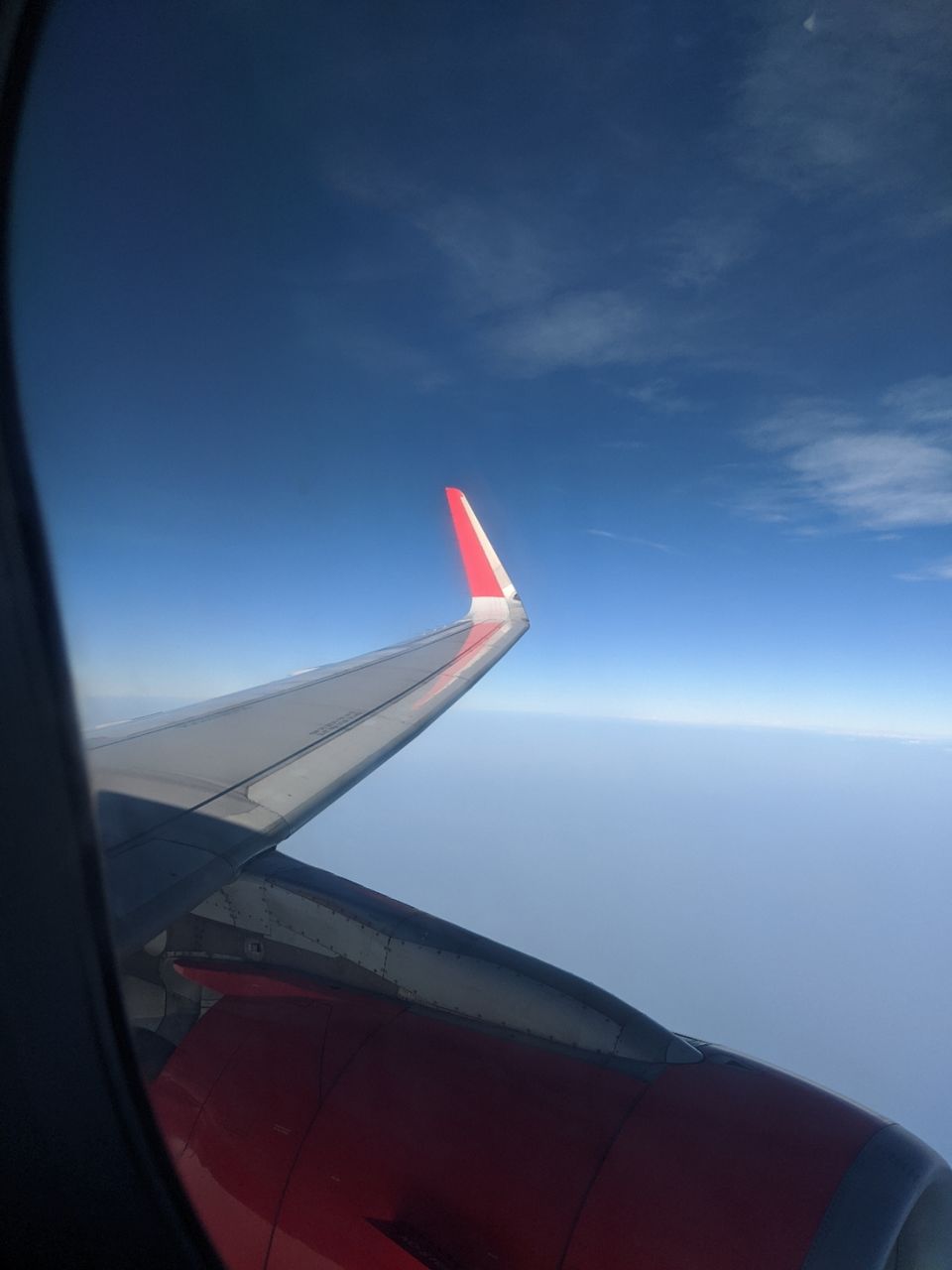 I reached Da Nang Airport at 4pm and I had already informed my Hostel in Hoi An to pick me up from Da Nang Airport.
Da Nang to Hoi An Ancient Town : 30 Kms/ 45 Mins
Hostel pickup charges: 150k VND = 450 INR
Hostel: Tribee Kinh Hostel Hoi An. 380 INR per night.
I checked in at around 5:30 pm, took some rest and left by 6:30 for COCOCHA HOSTEL POOL PARTY. This is a free pool party for Tribe Kinh Hostel people which is just 10 mins walking distance. You can pay and buy drinks which are decently priced.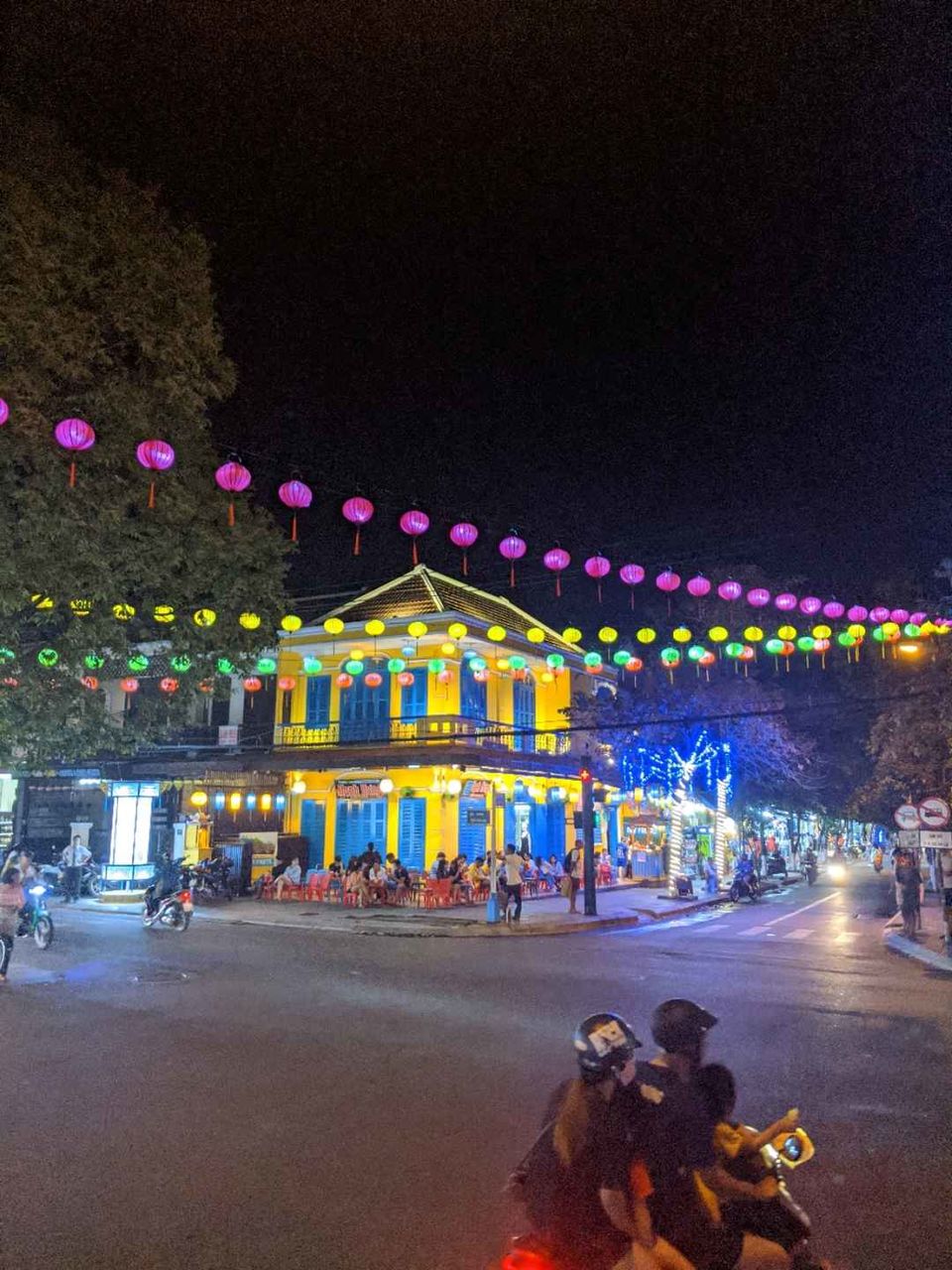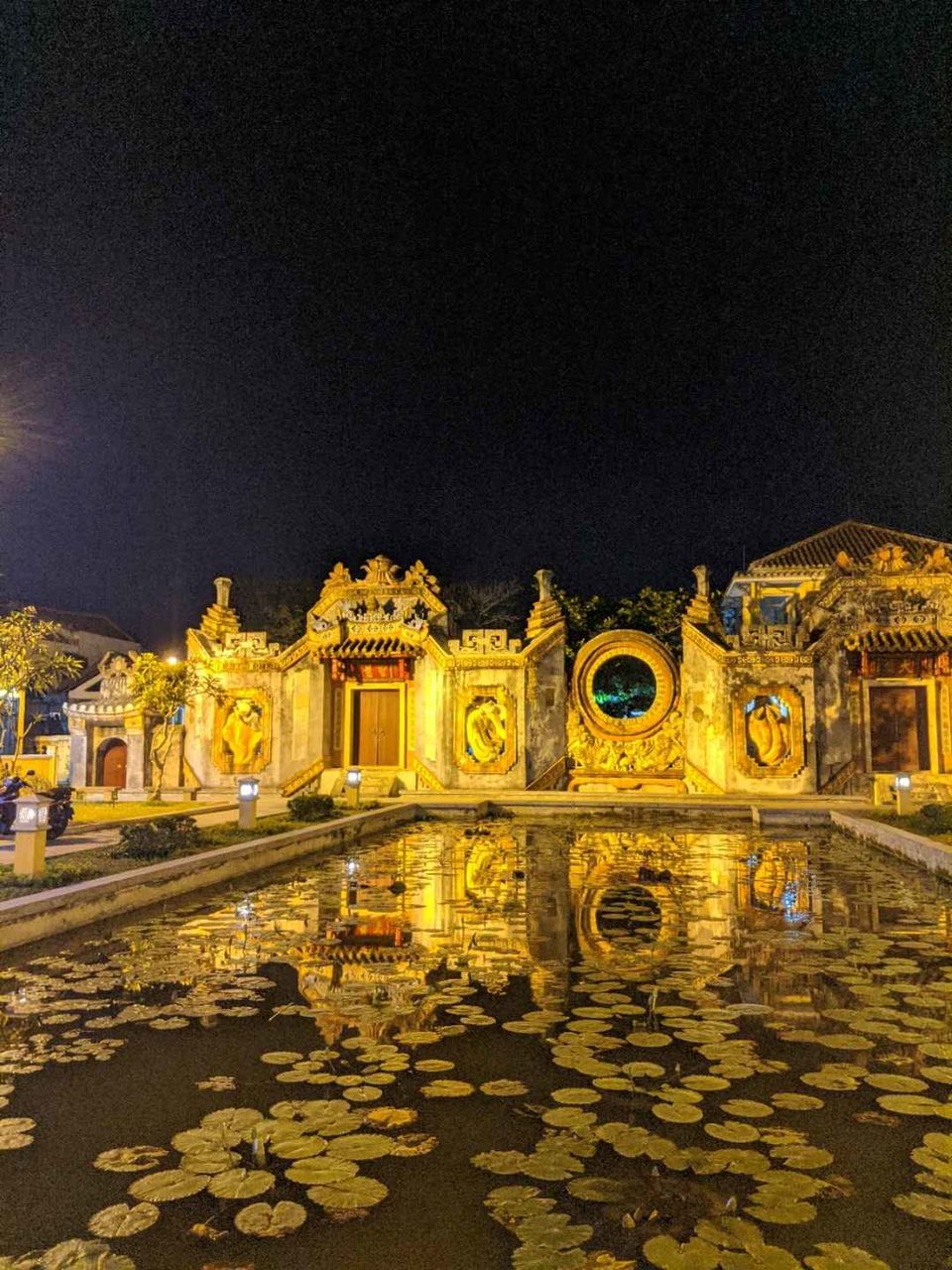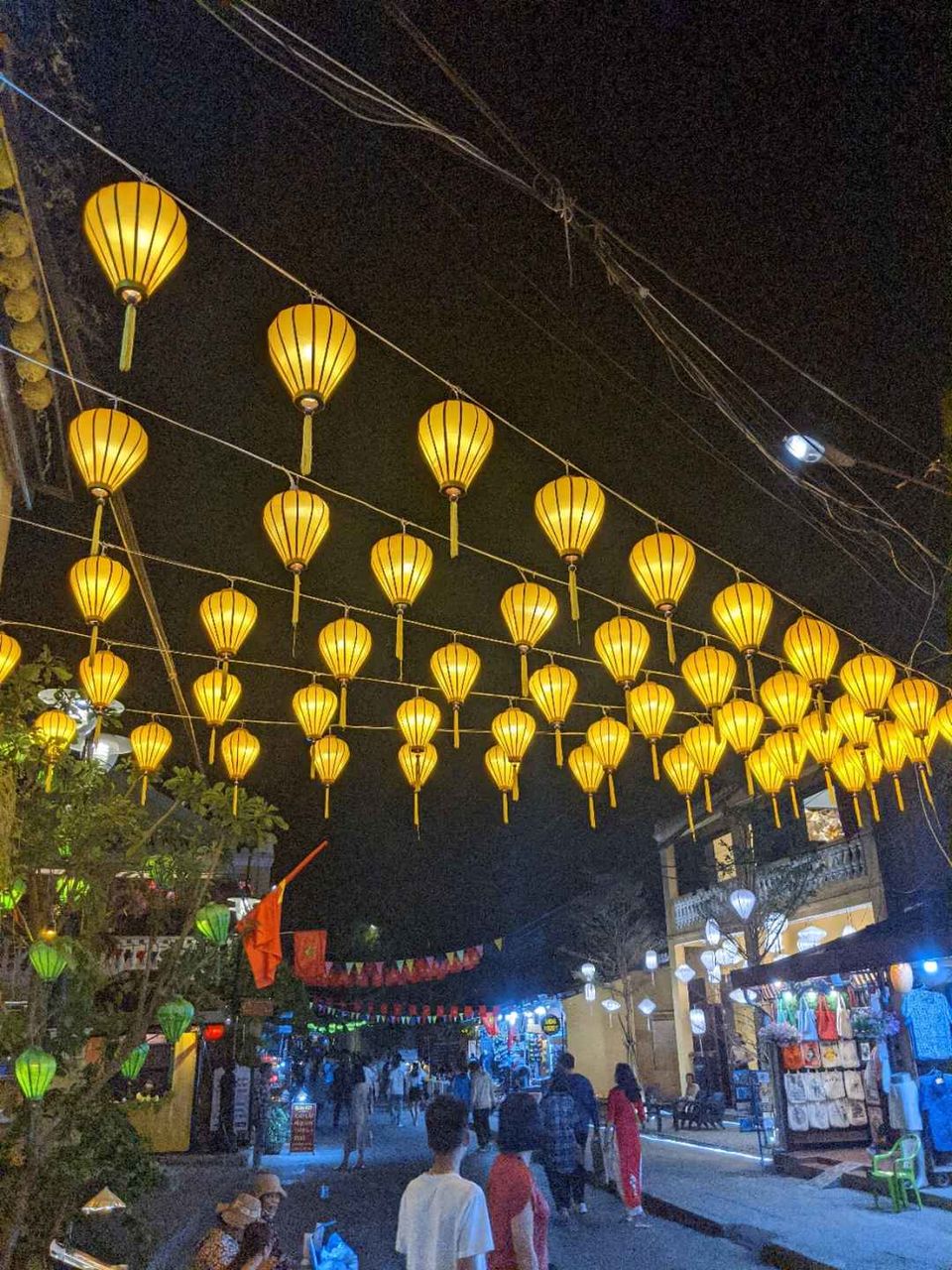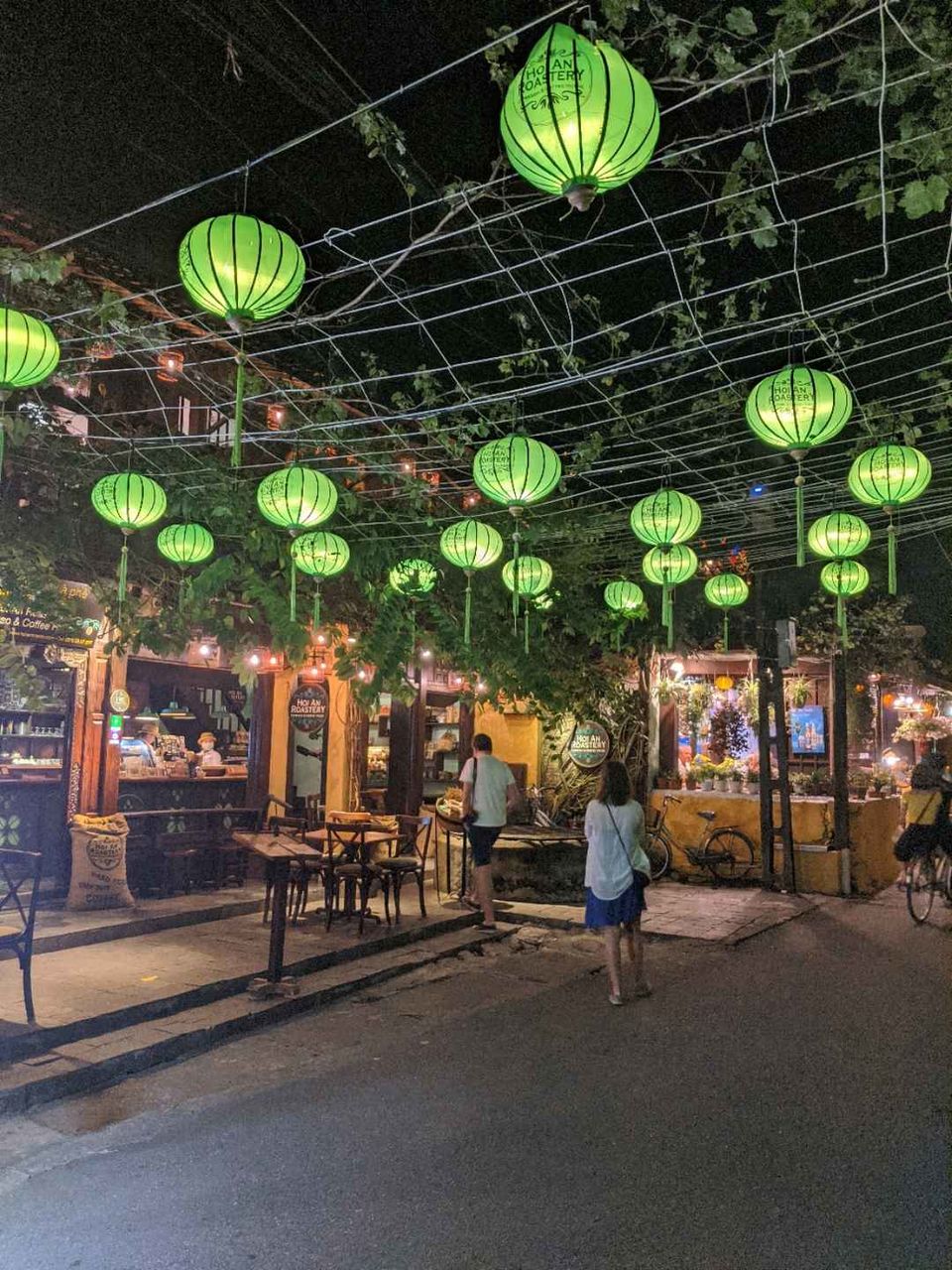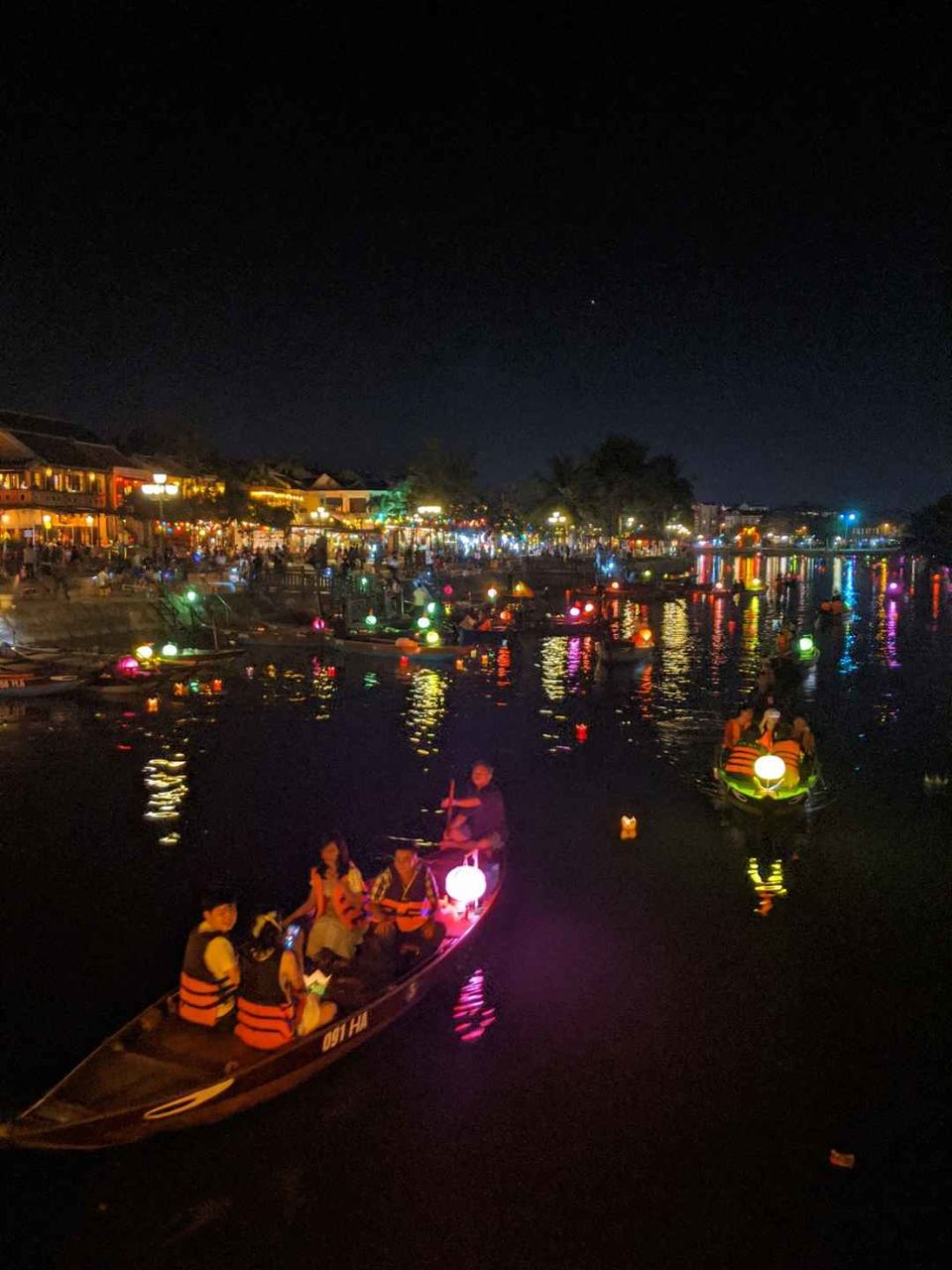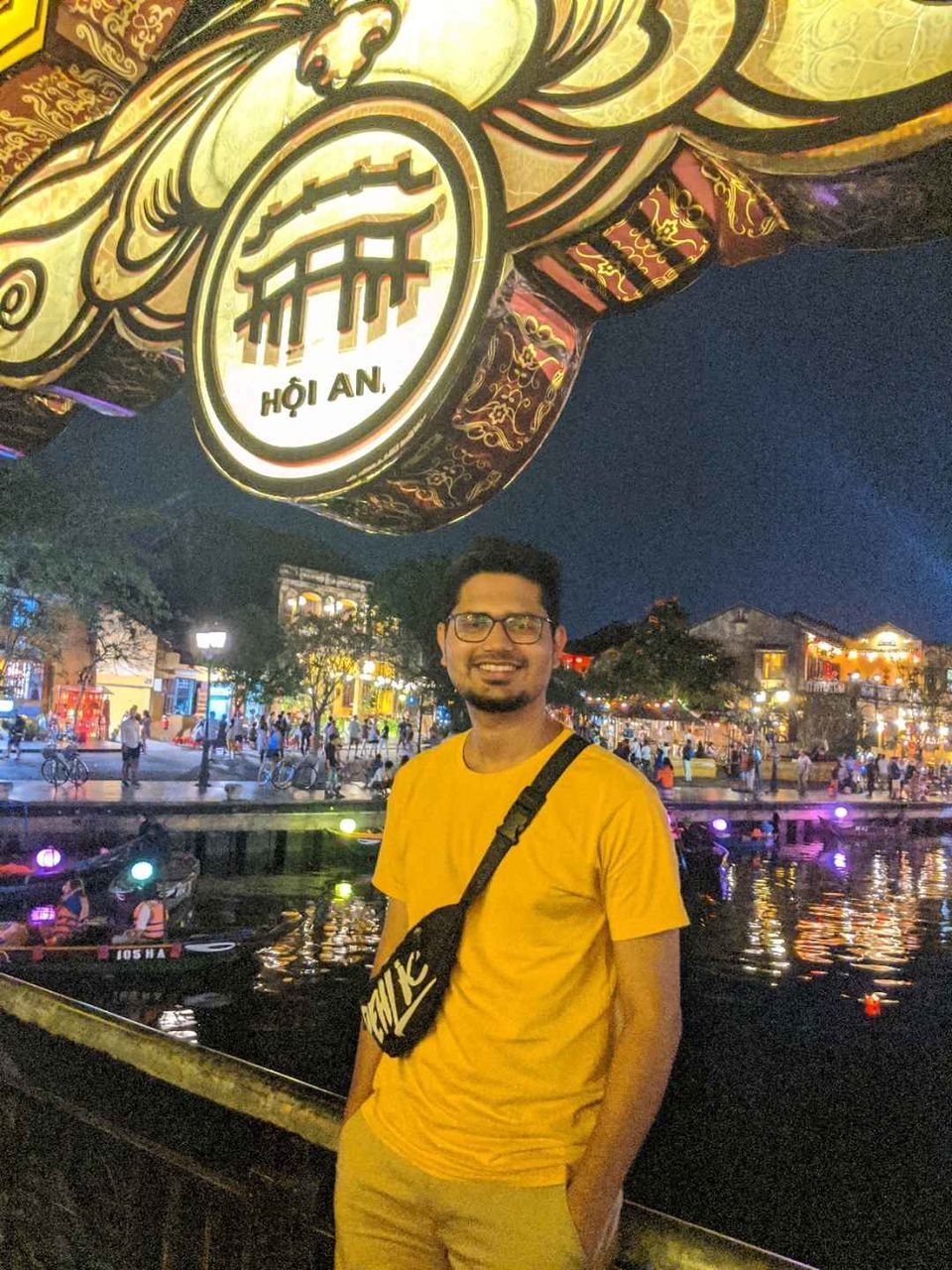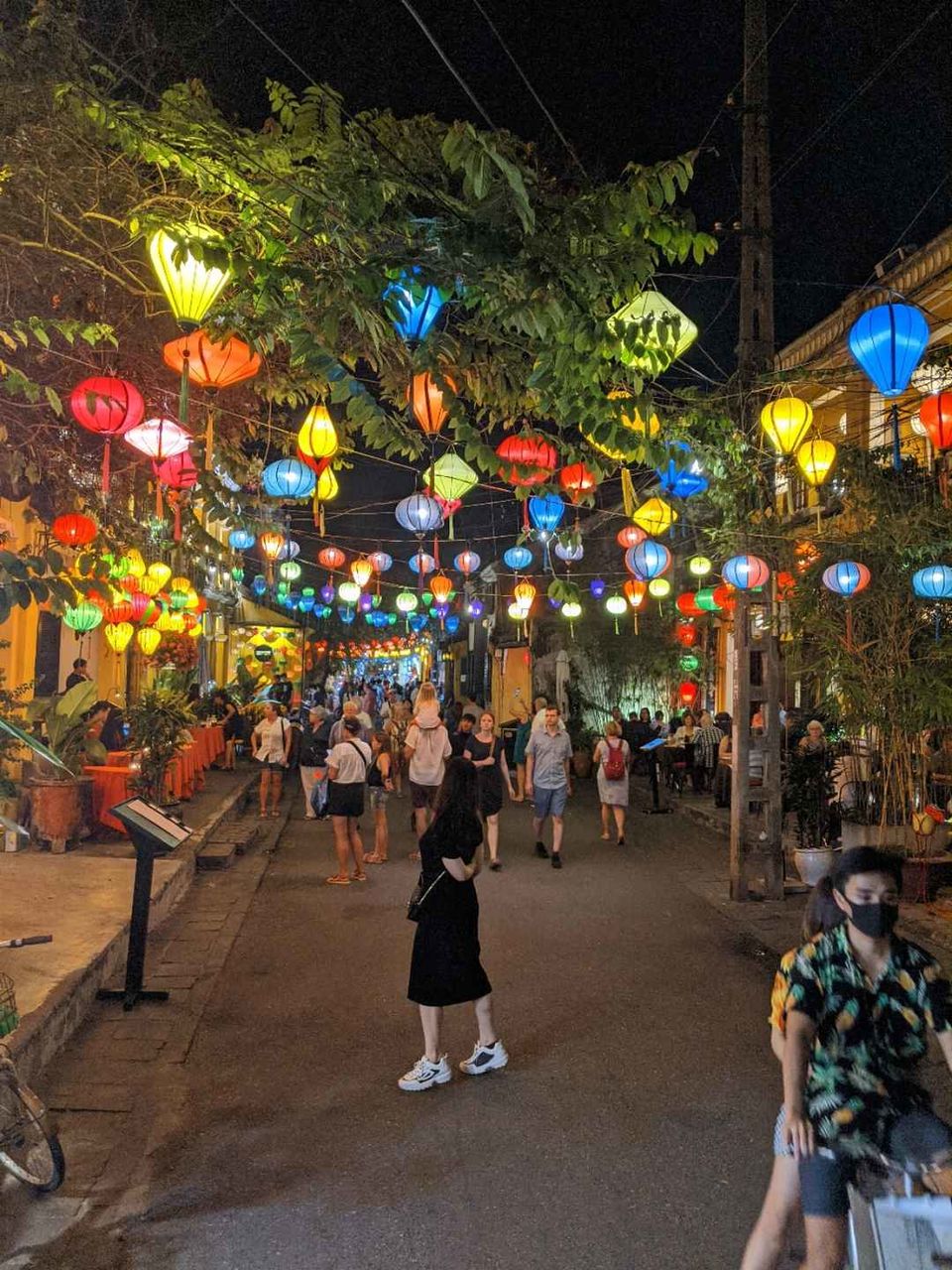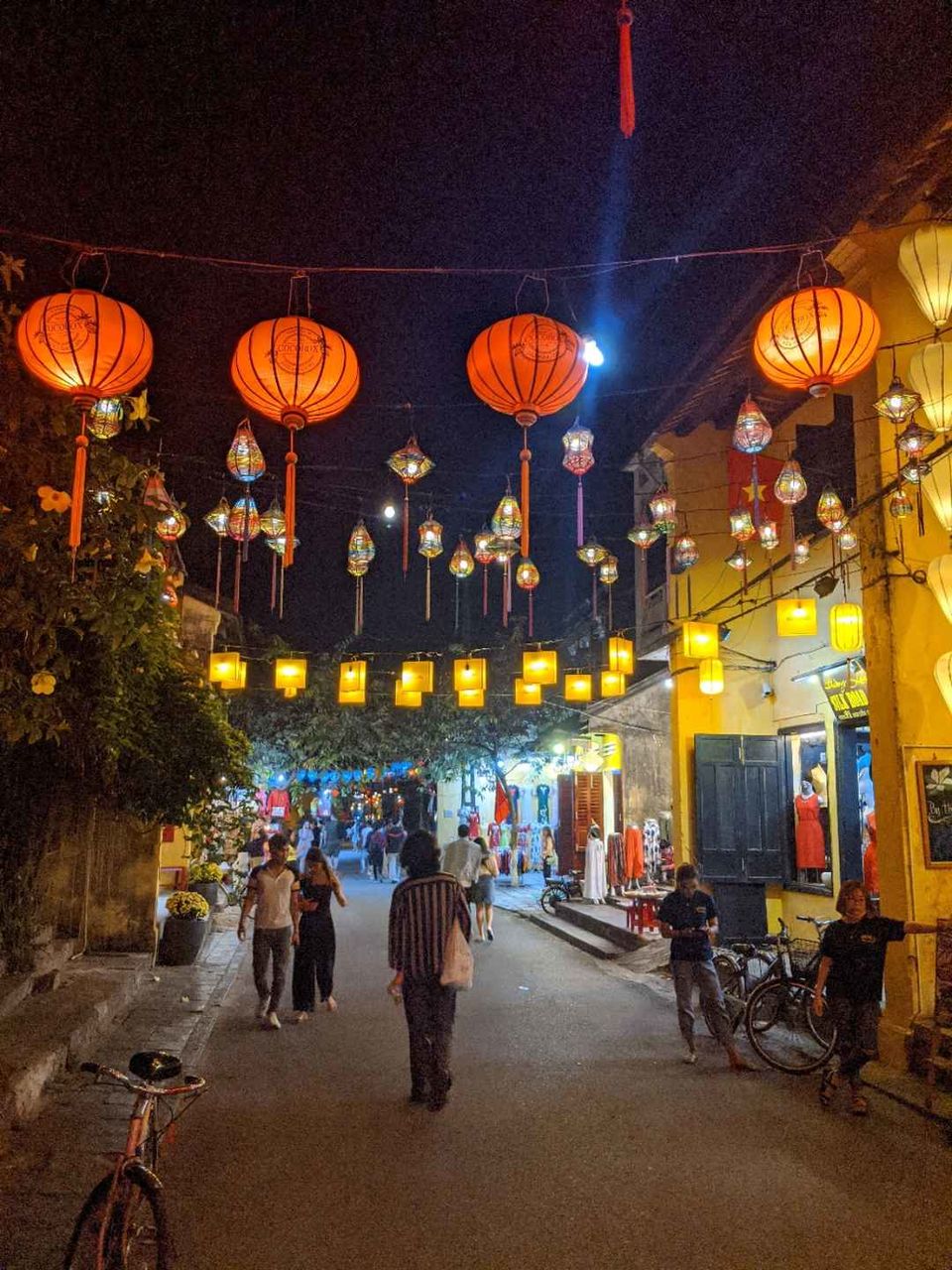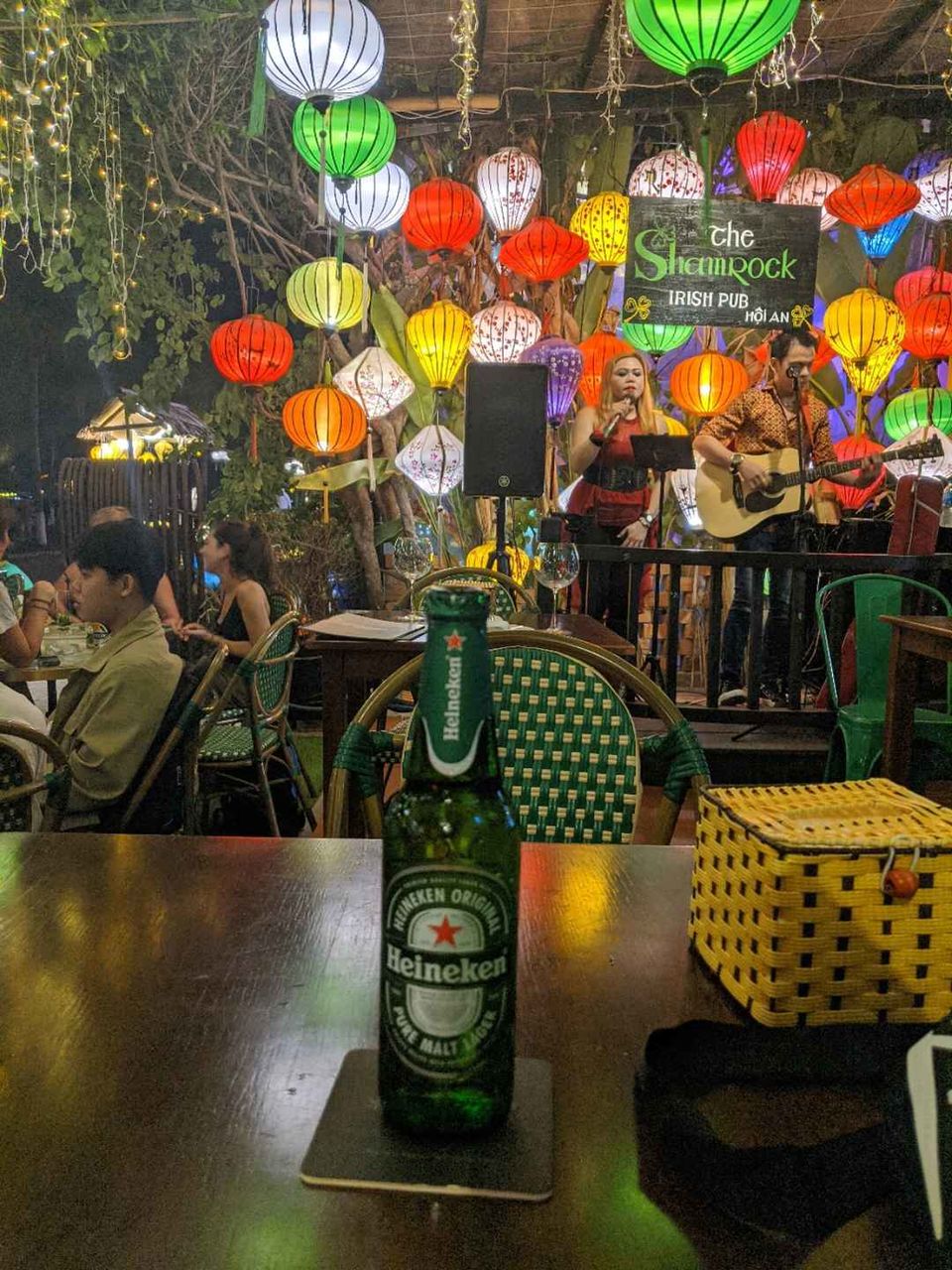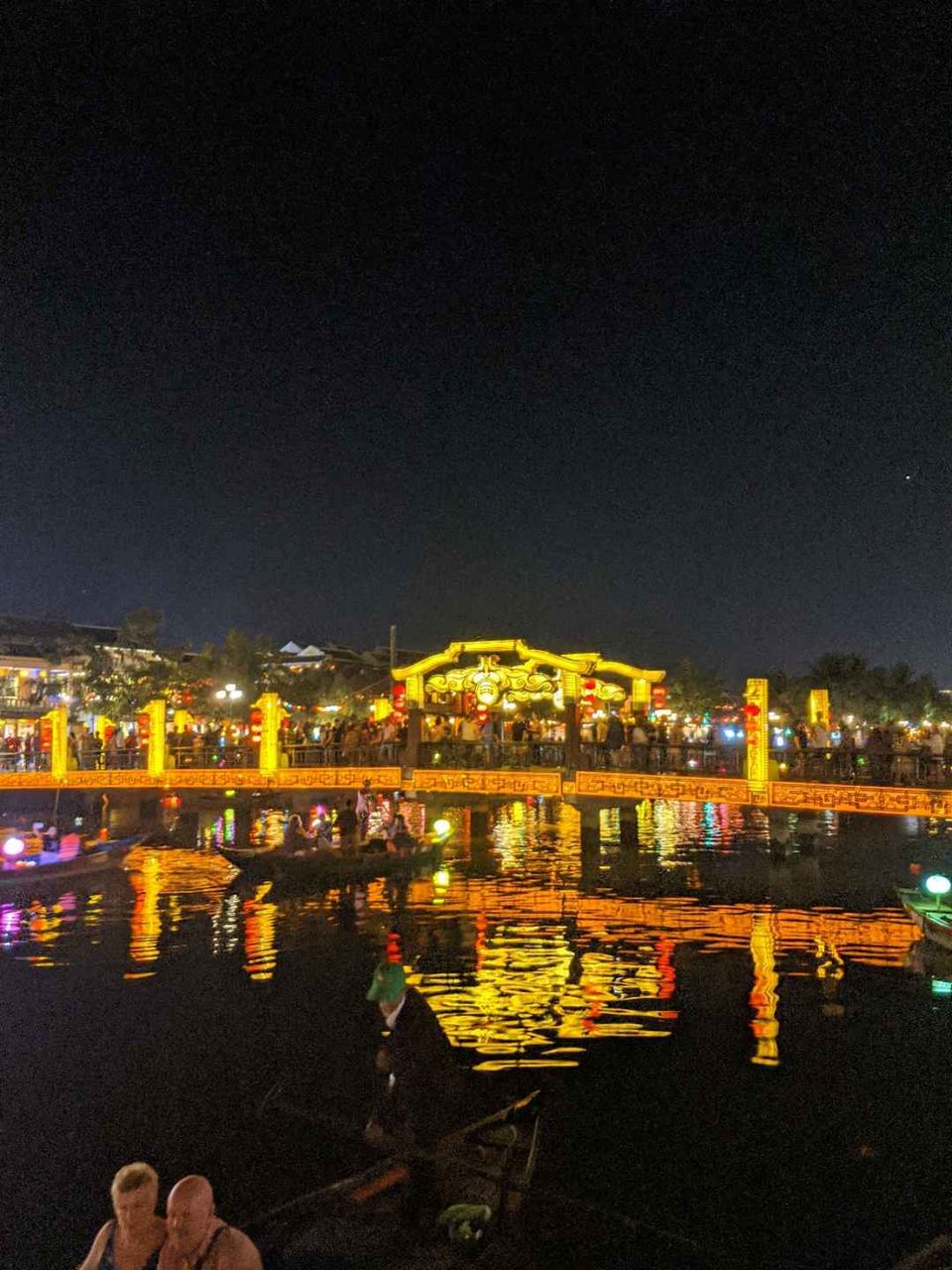 After attending the party for just an hour I left for exploring this beautiful City of Lanterns : Hoi An.
Just see them Pictures......
After attending the party for just an hour I left for exploring this beautiful City of Lanterns : Hoi An.
Just see them Pictures......
I sat for a beer in one of those street pubs and then came across this Indian restaurant which was where I had the best food in my entire Vietnam trip. And it was just plain egg curry with Tandoori roti.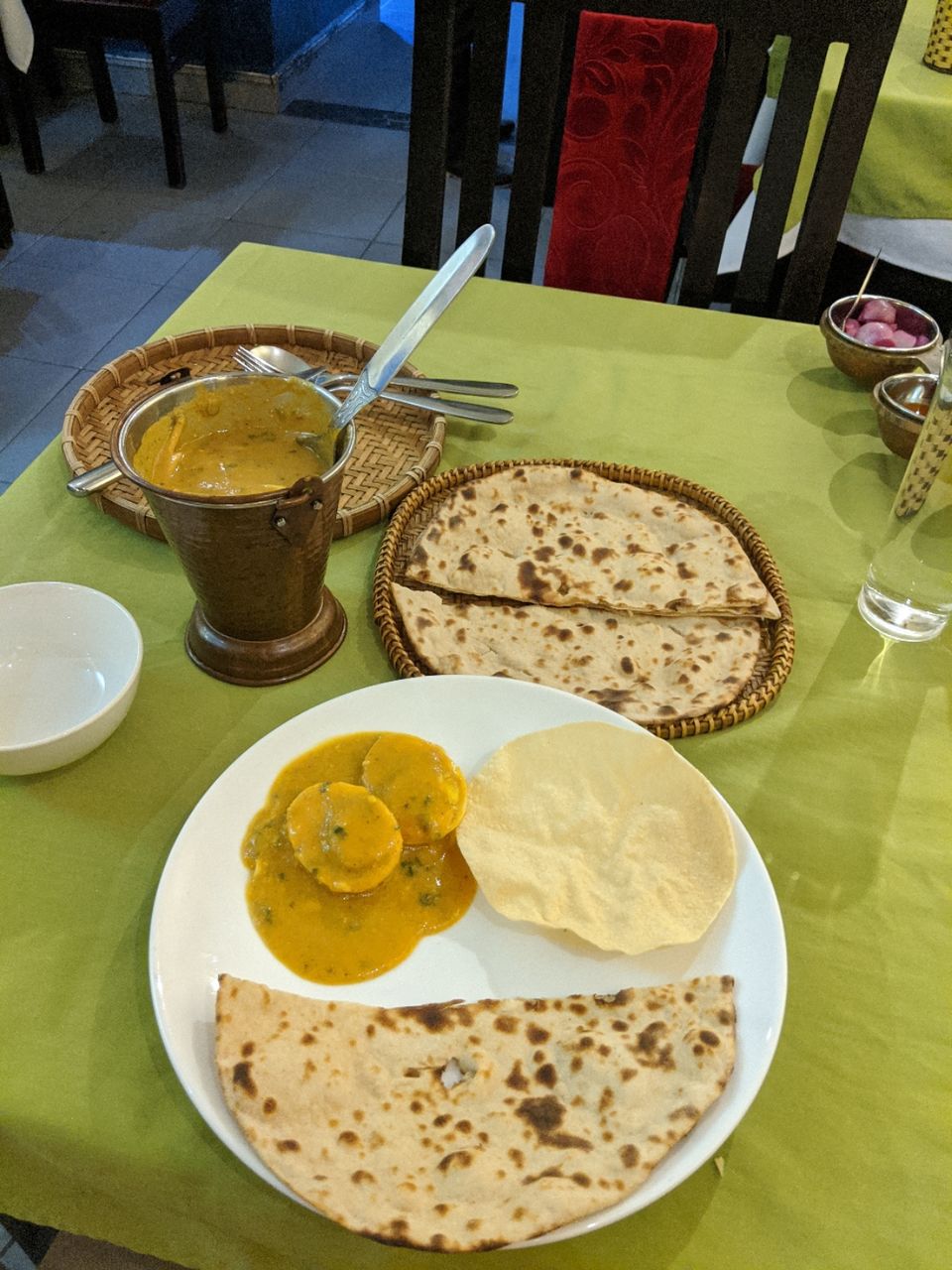 After this delicious meal I headed back to my Hostel where there was free Rum and Coke. I had a few and then went to this famous Night Club in Hoi An 'Hair of the Dog'. You can try the Famous Happy Baloon here which is filled with Nitrogen Gas that gives you a 30 second high.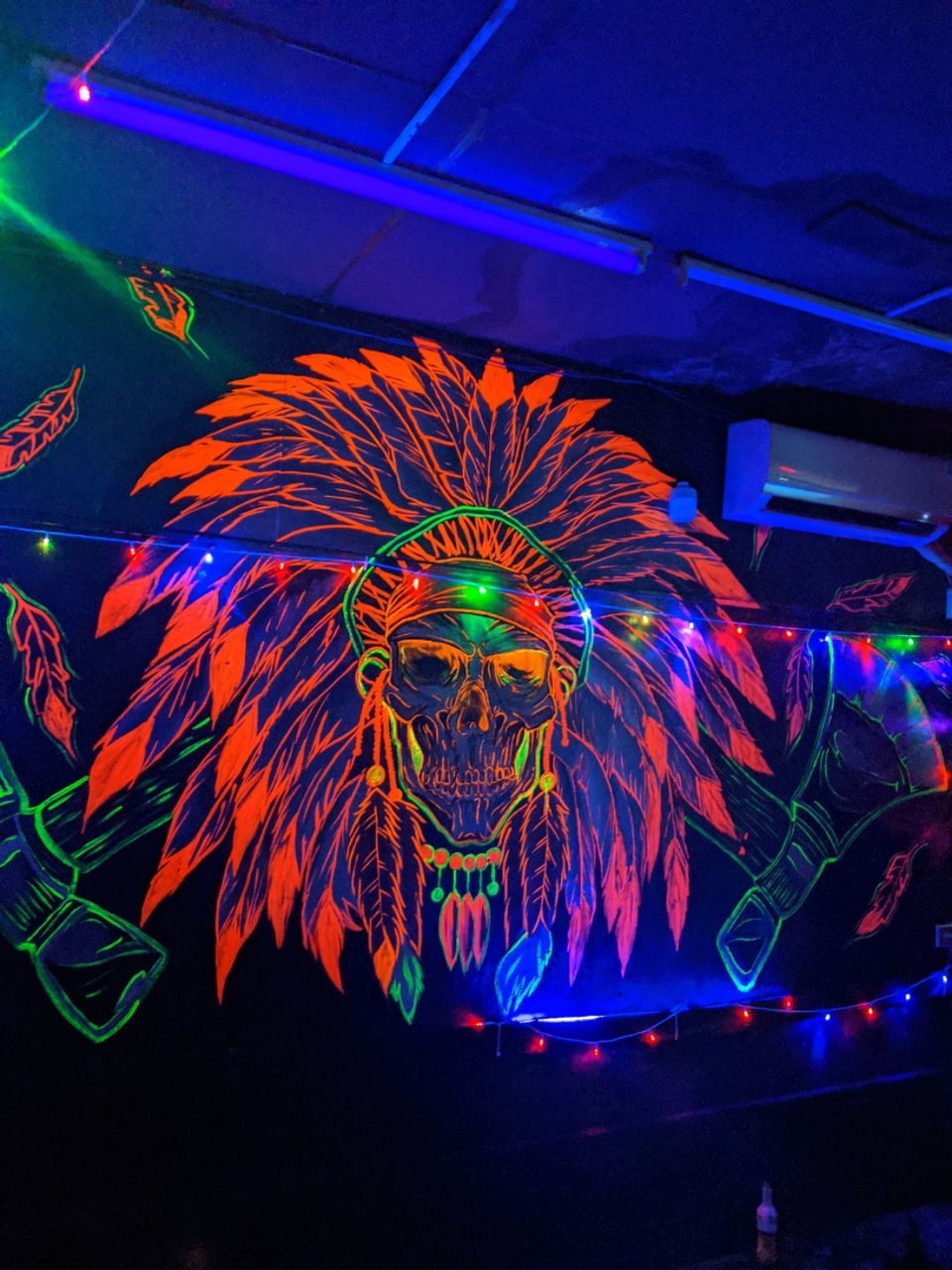 Next Day I had my free Hostel Breakfast and rented a bicycle at just 90 rupees for the day and I headed to An Bang Beach. The road to this beach is really beautiful and you'll spot rice paddy fields along the way.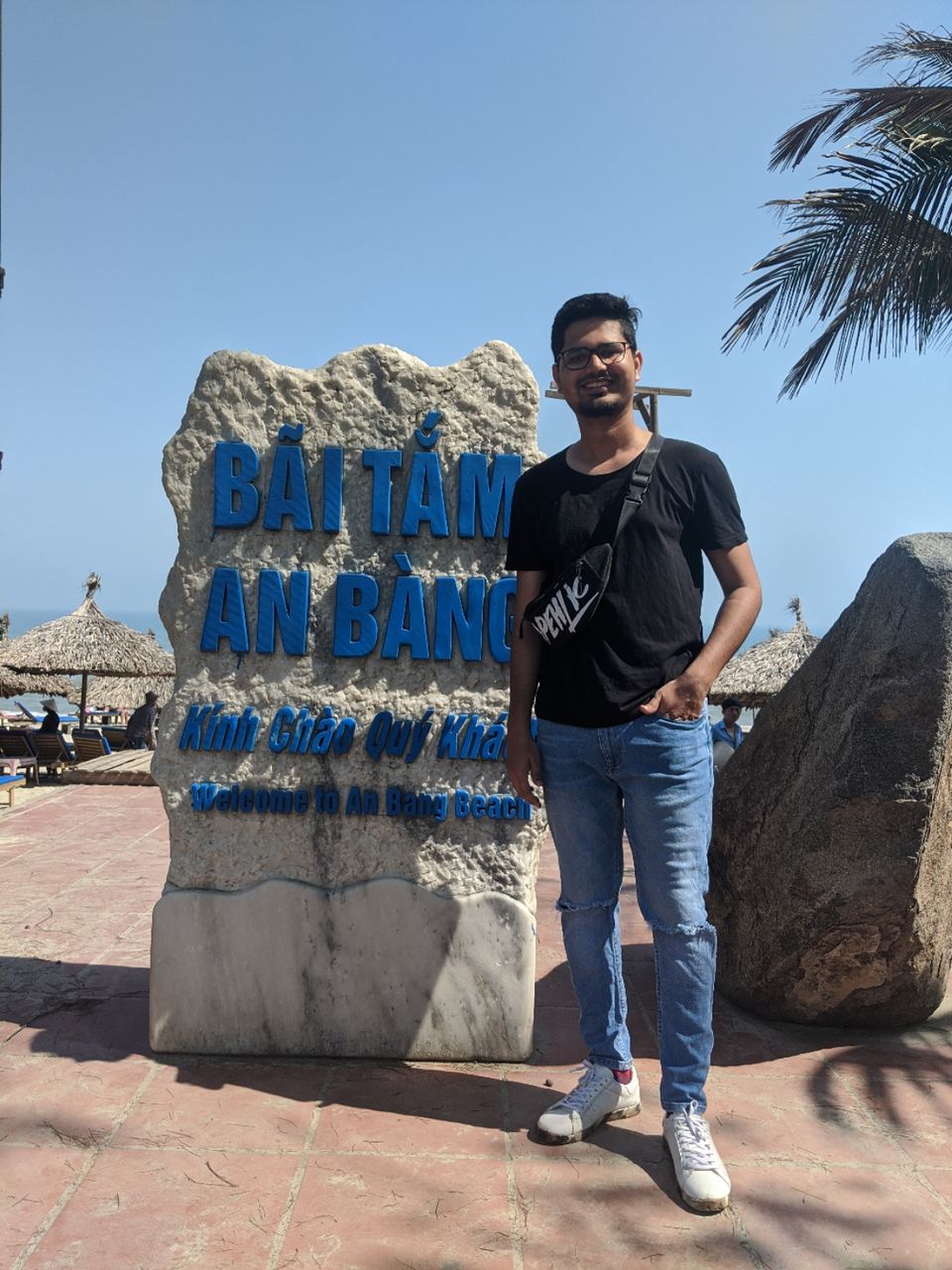 After spending some time at the beach I visited this beautiful coffee house 'Espresso Station' for the famous Coconut Coffee.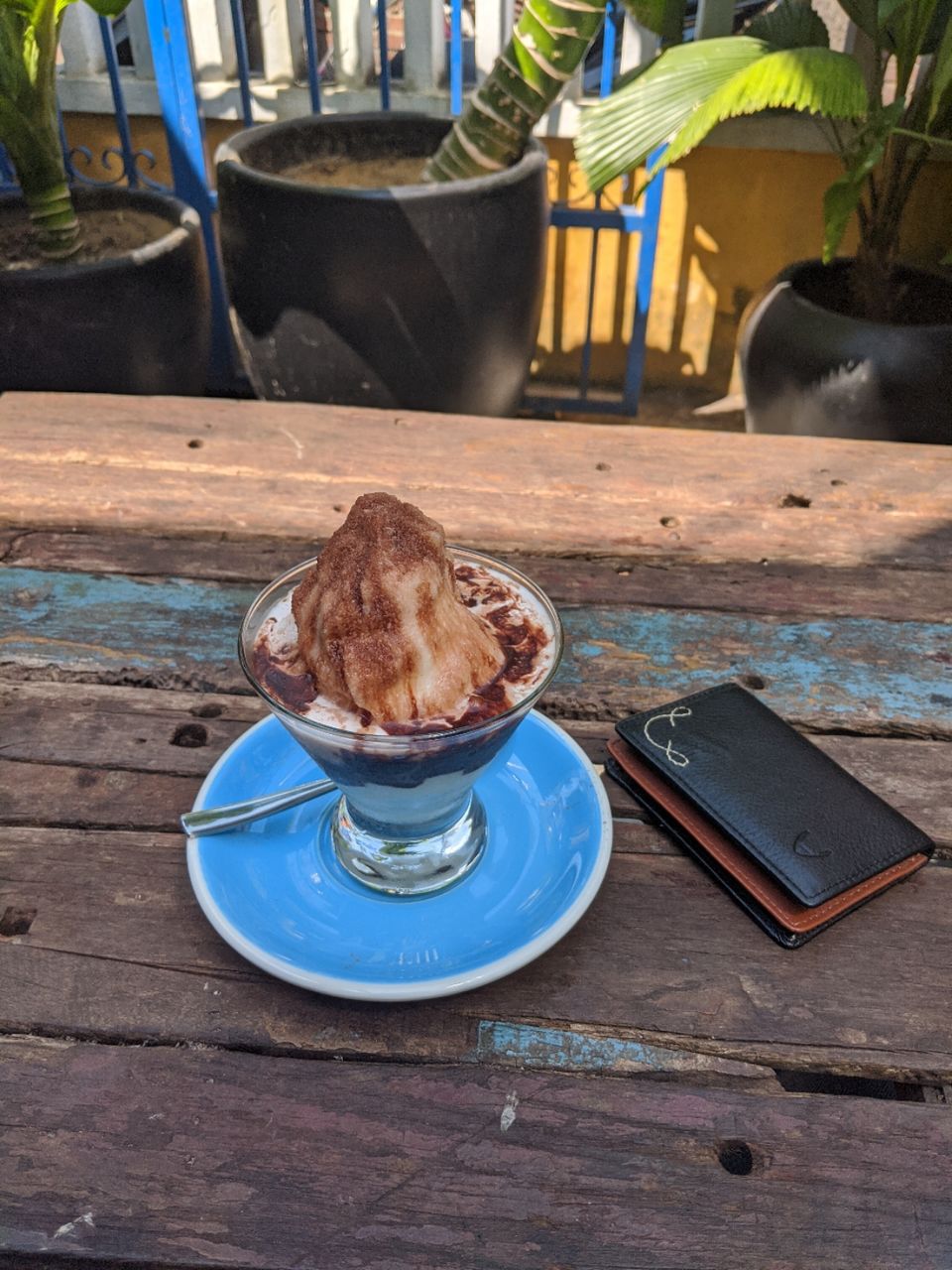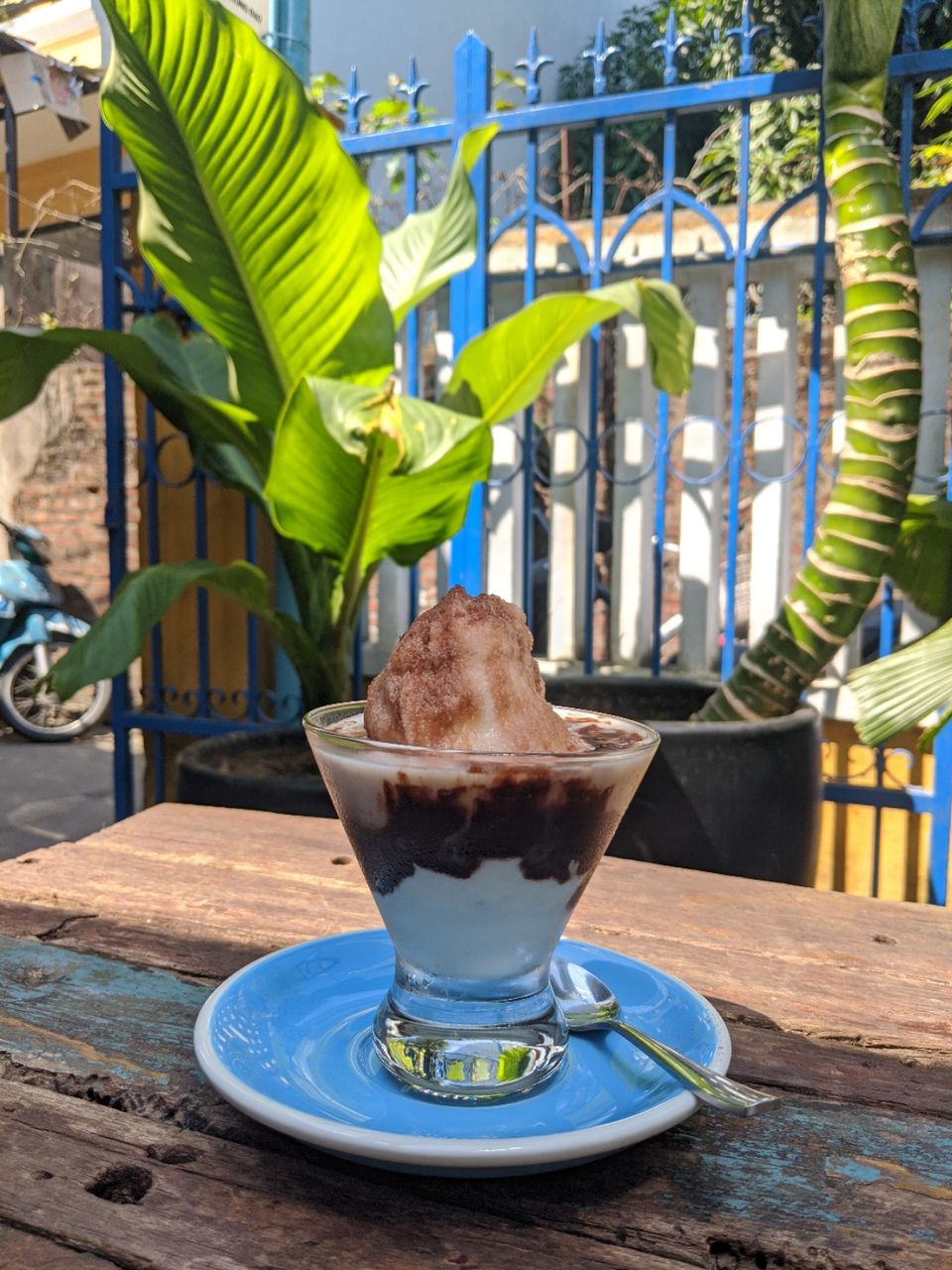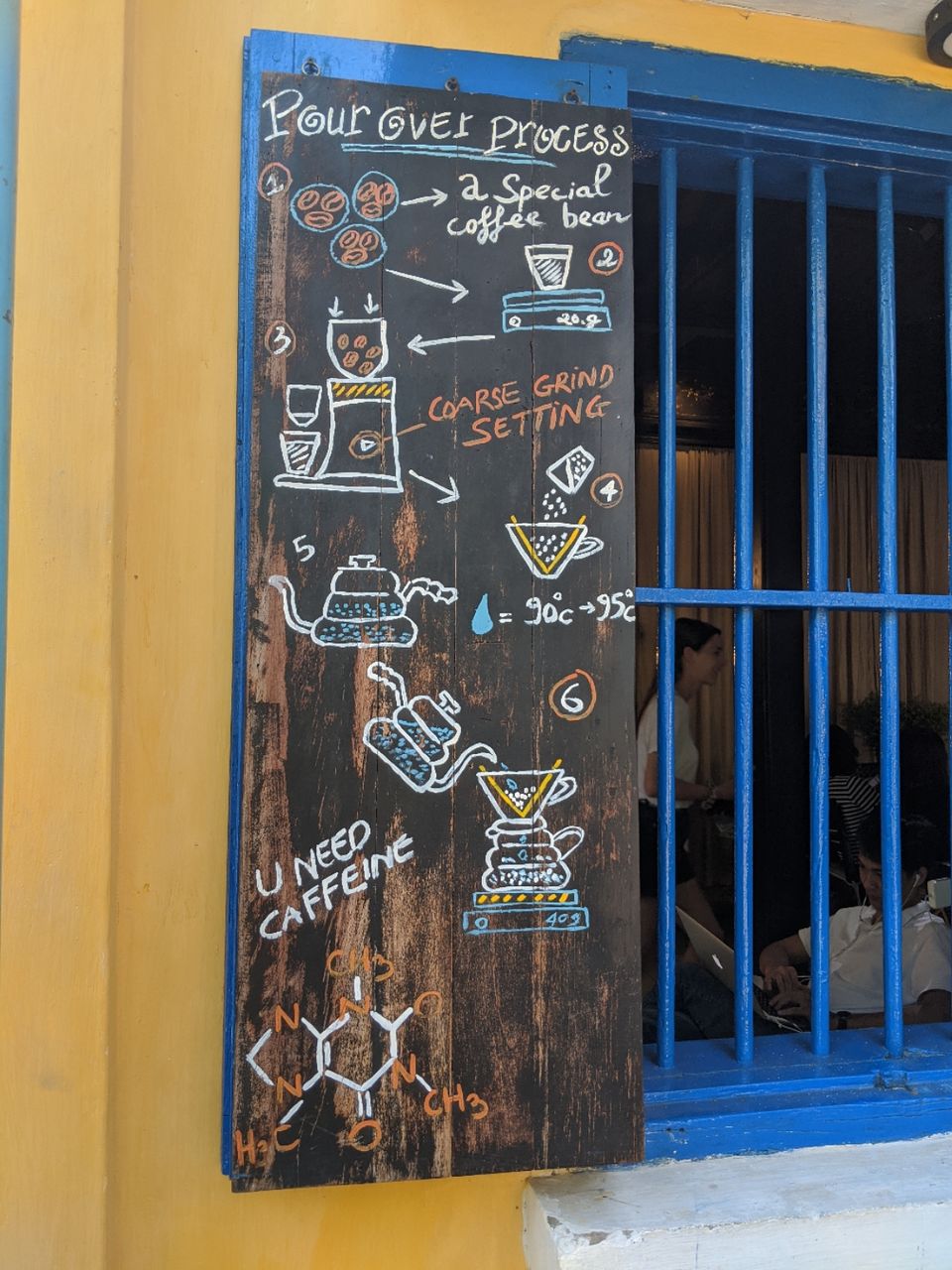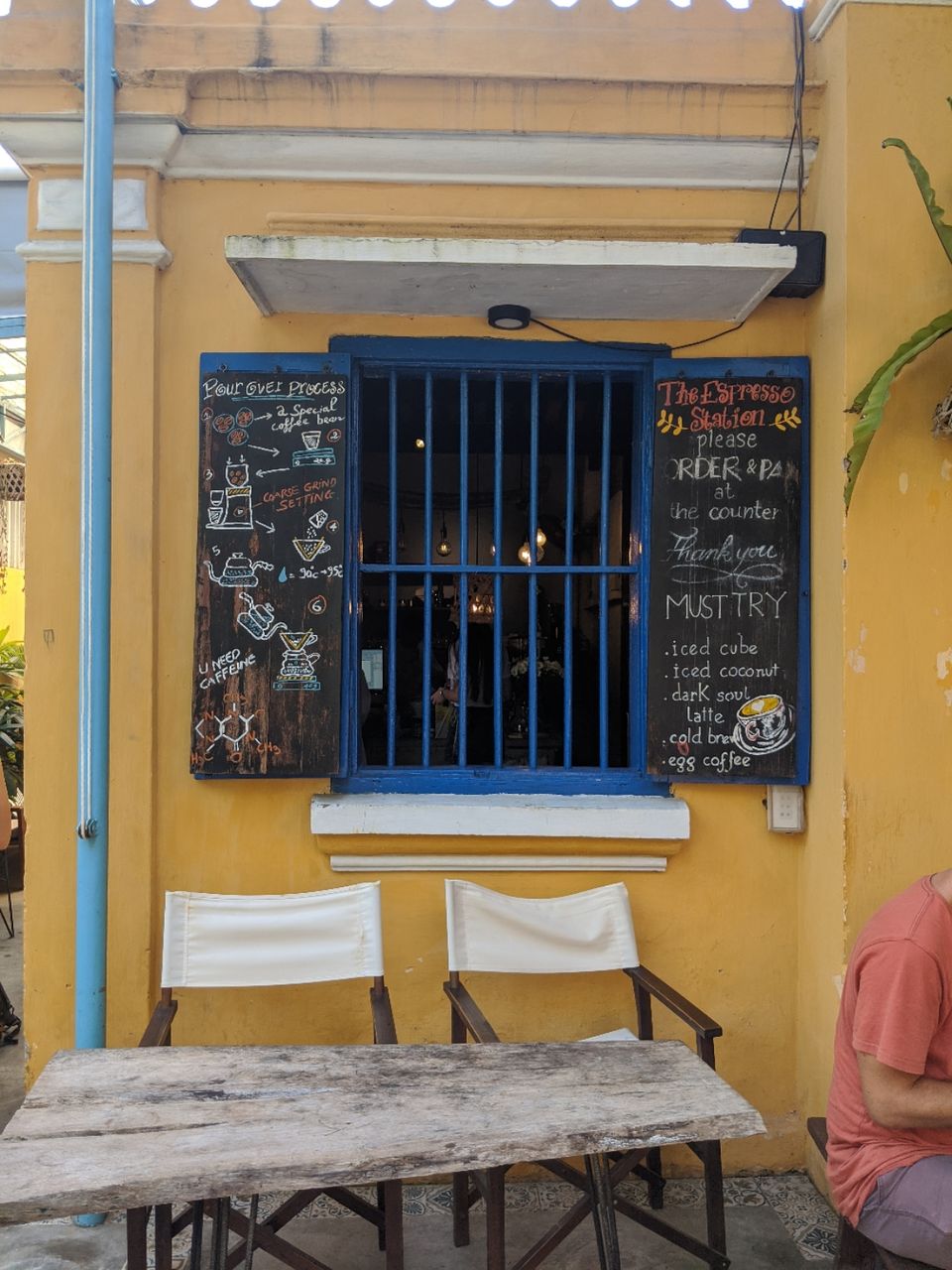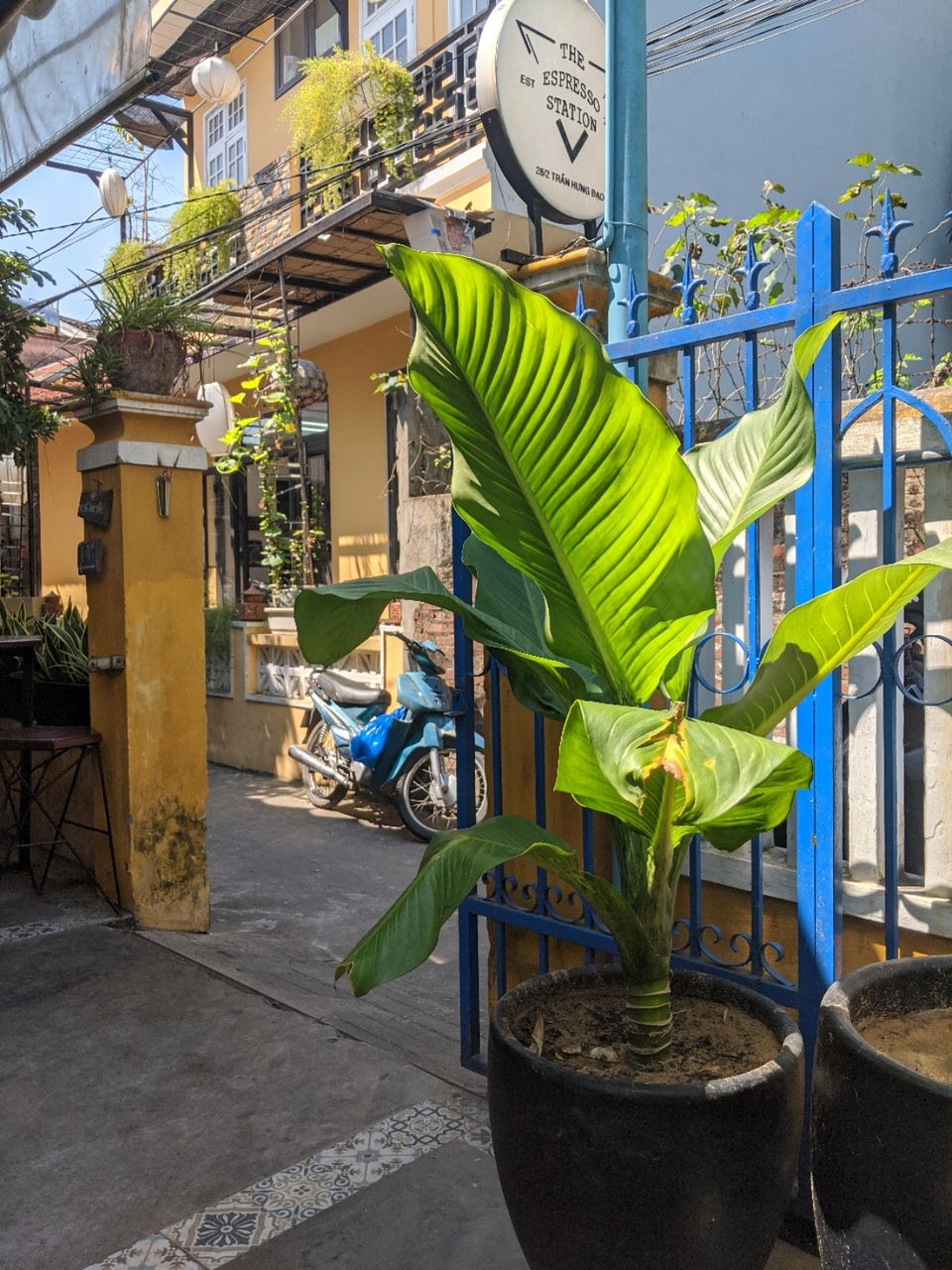 After coffee I went back to the hostel, returned my rented bicycle and checked from the hostel.
Took a bus from Hoi An to Da Nang which was a government public transport bus and costed 30k VND = 90 INR.
I reached to my Hostel in Da Nang by 2pm
Ten to Ten Hostel Danang- 500 INR per night.
Headed for my lunch I could only find one restaurant which was Taj Mahal Indian restaurant. It was open in the afternoon and I had a good Saigaon Beer and some delicious Samosas. The owner was from Kerala and he in fact gave me a ride till main road.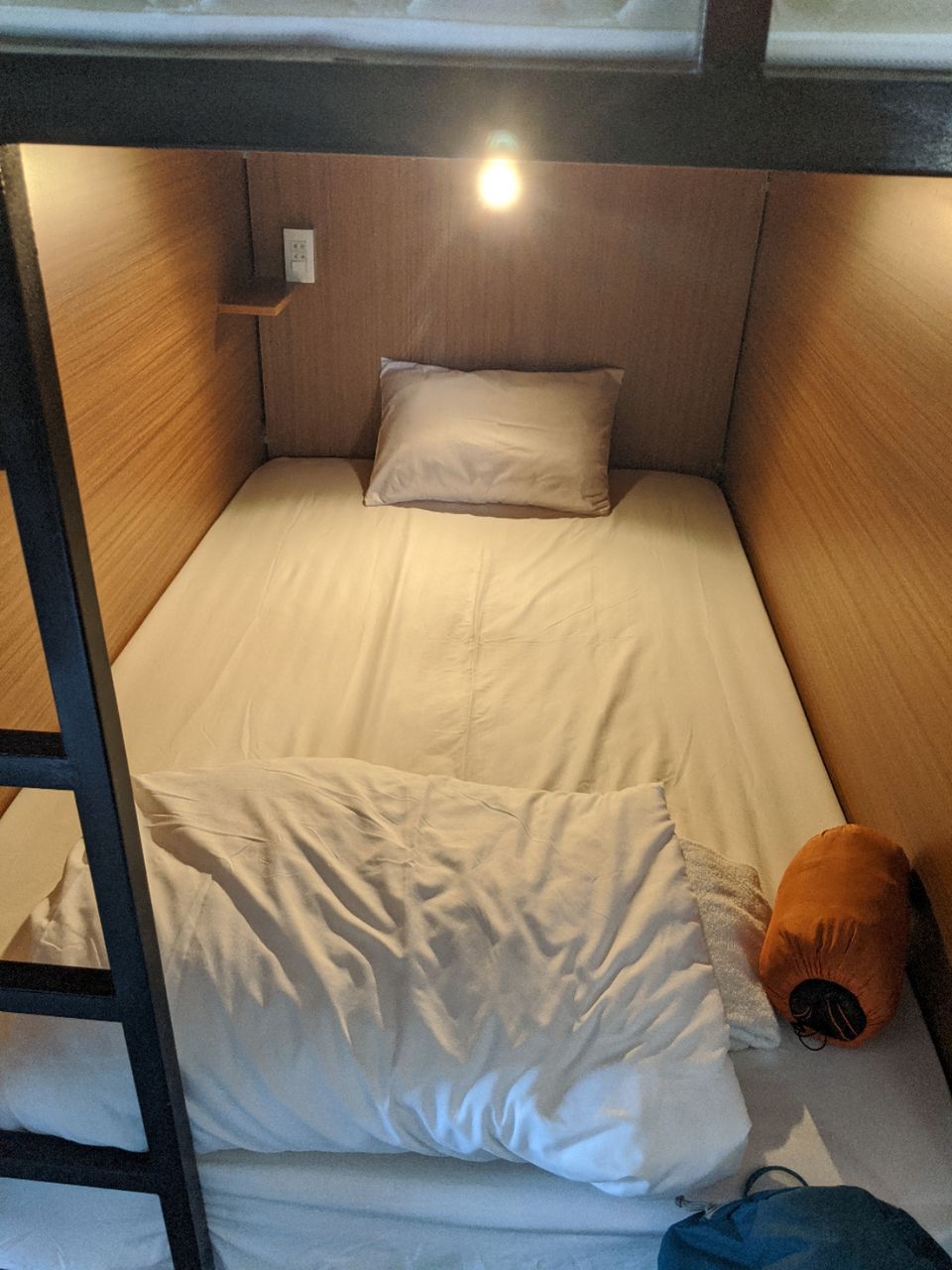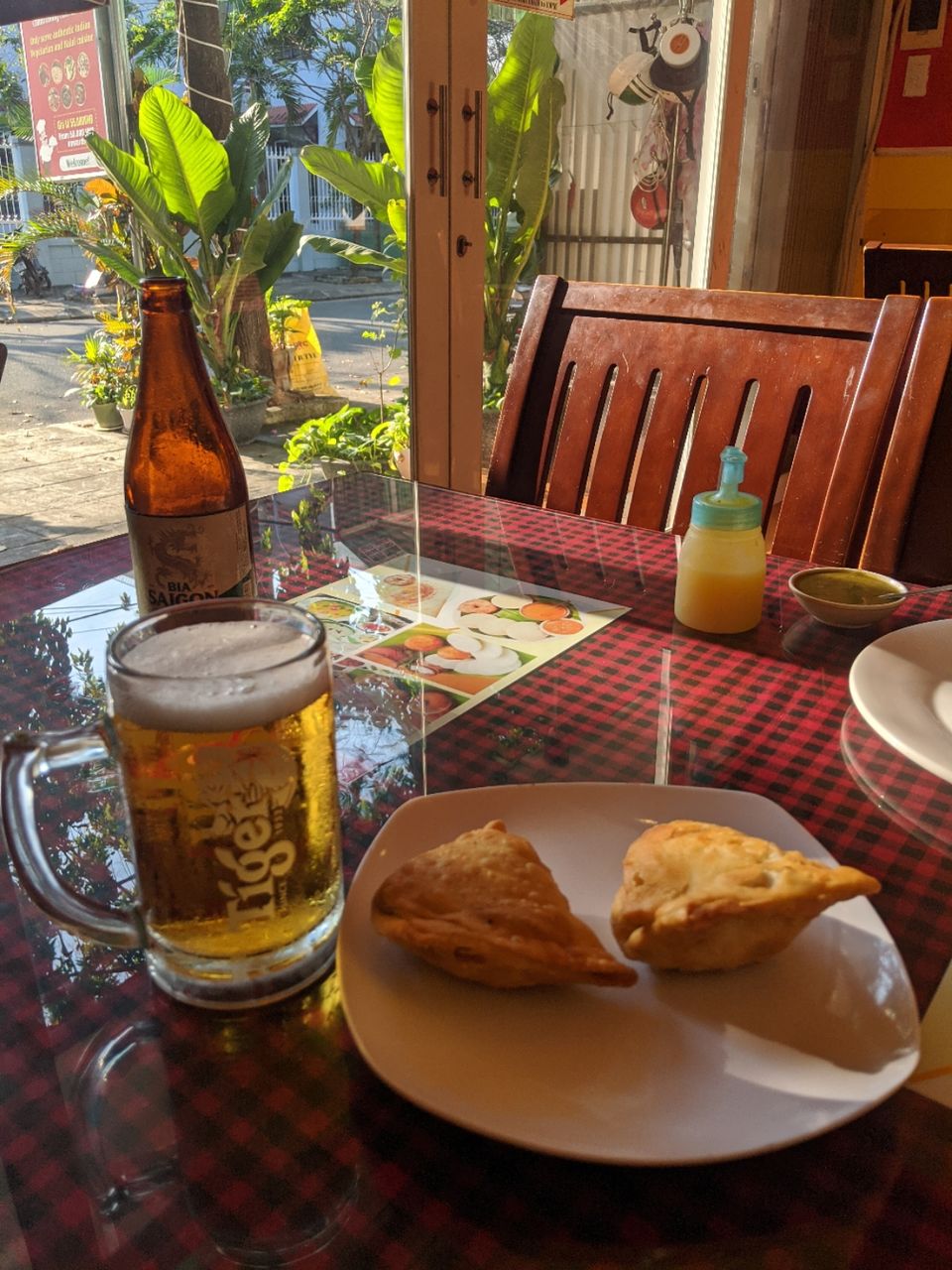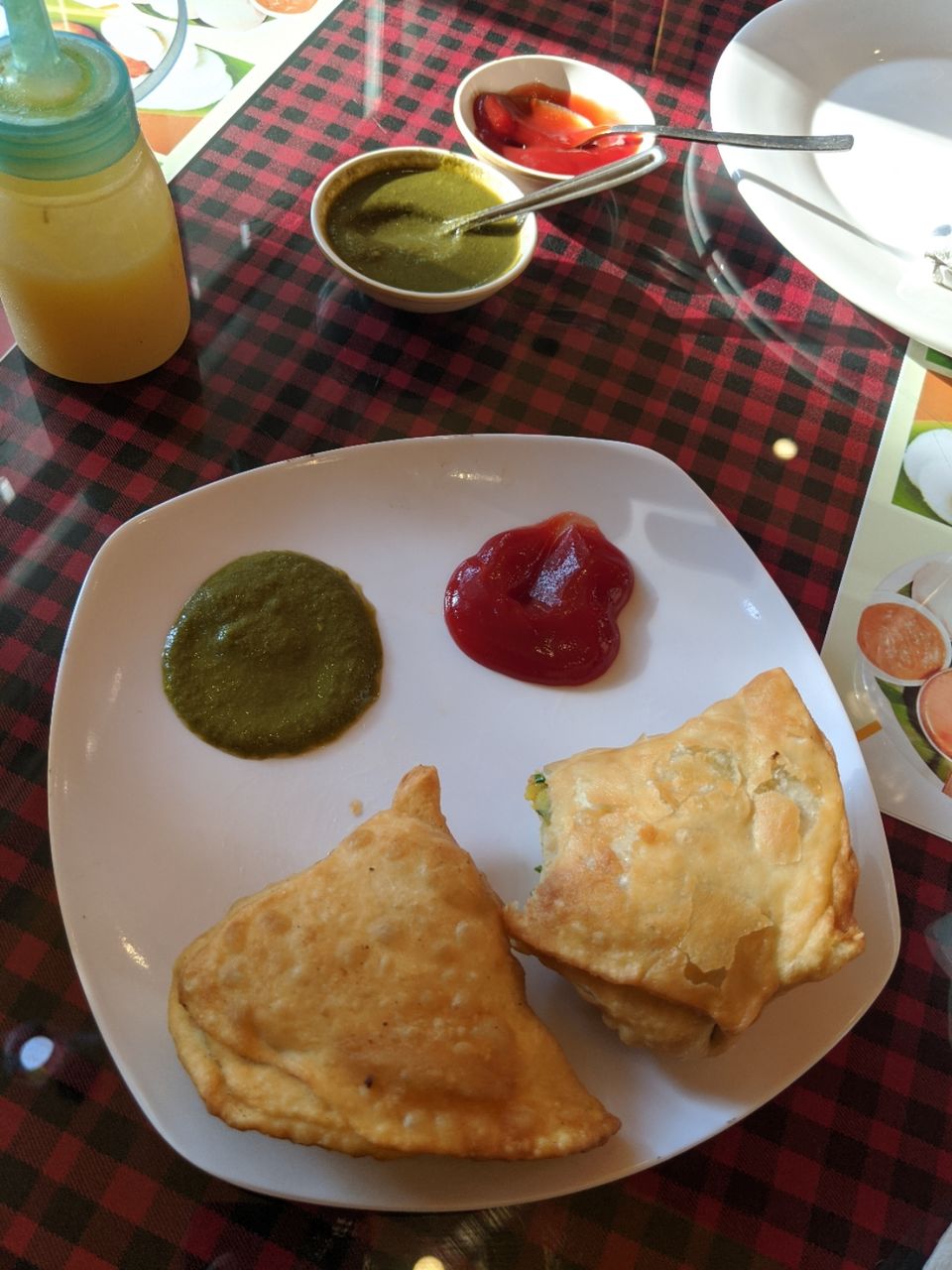 Next stop was LADY BUDDHA
See the pictures below. I paid 50k VND for a bike taxi to drop me here. It is on a mountain outside the Da Nang City.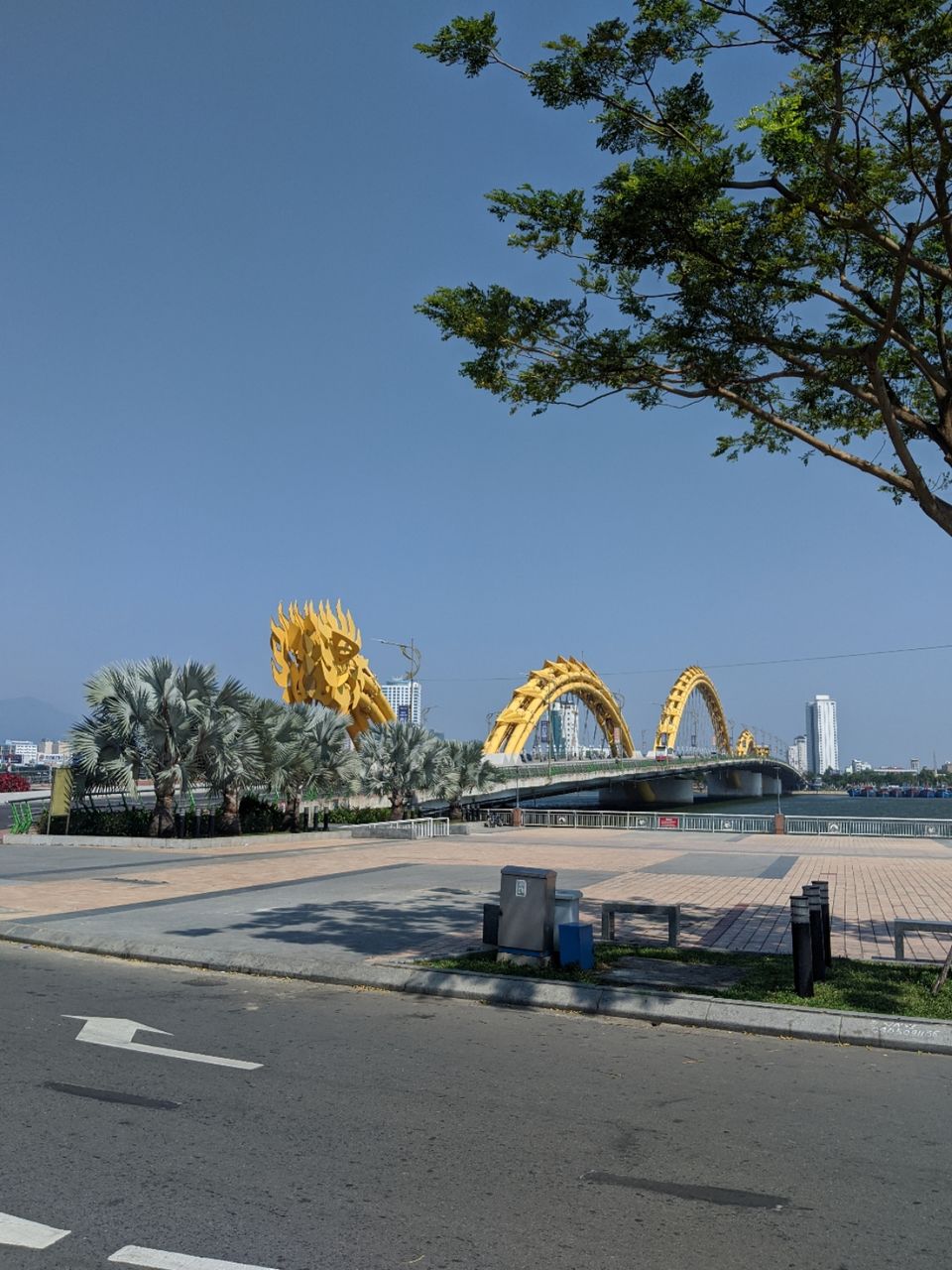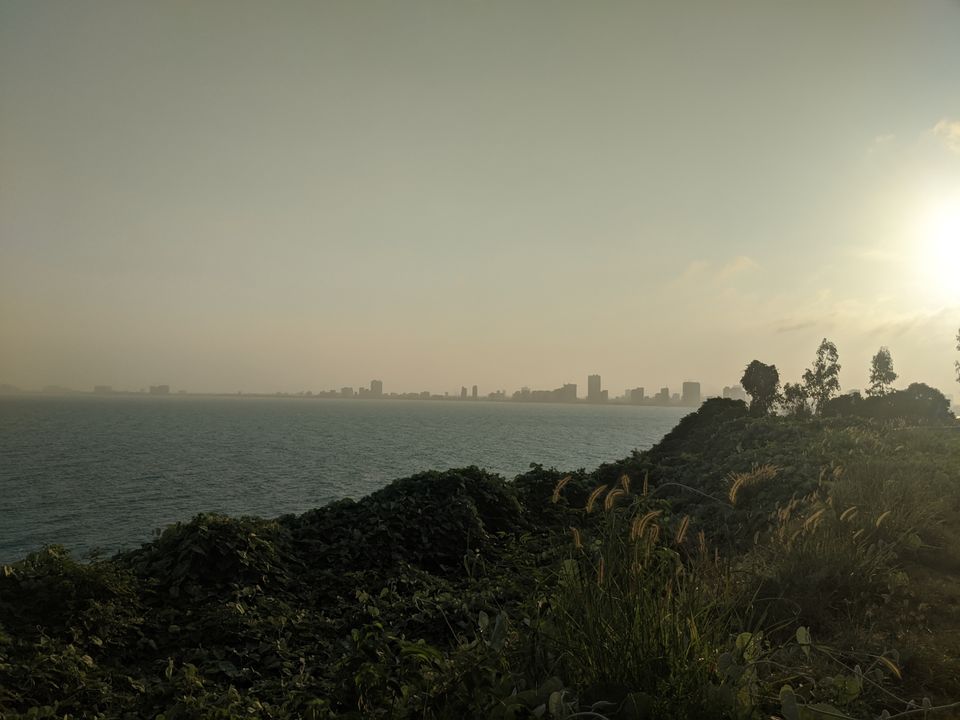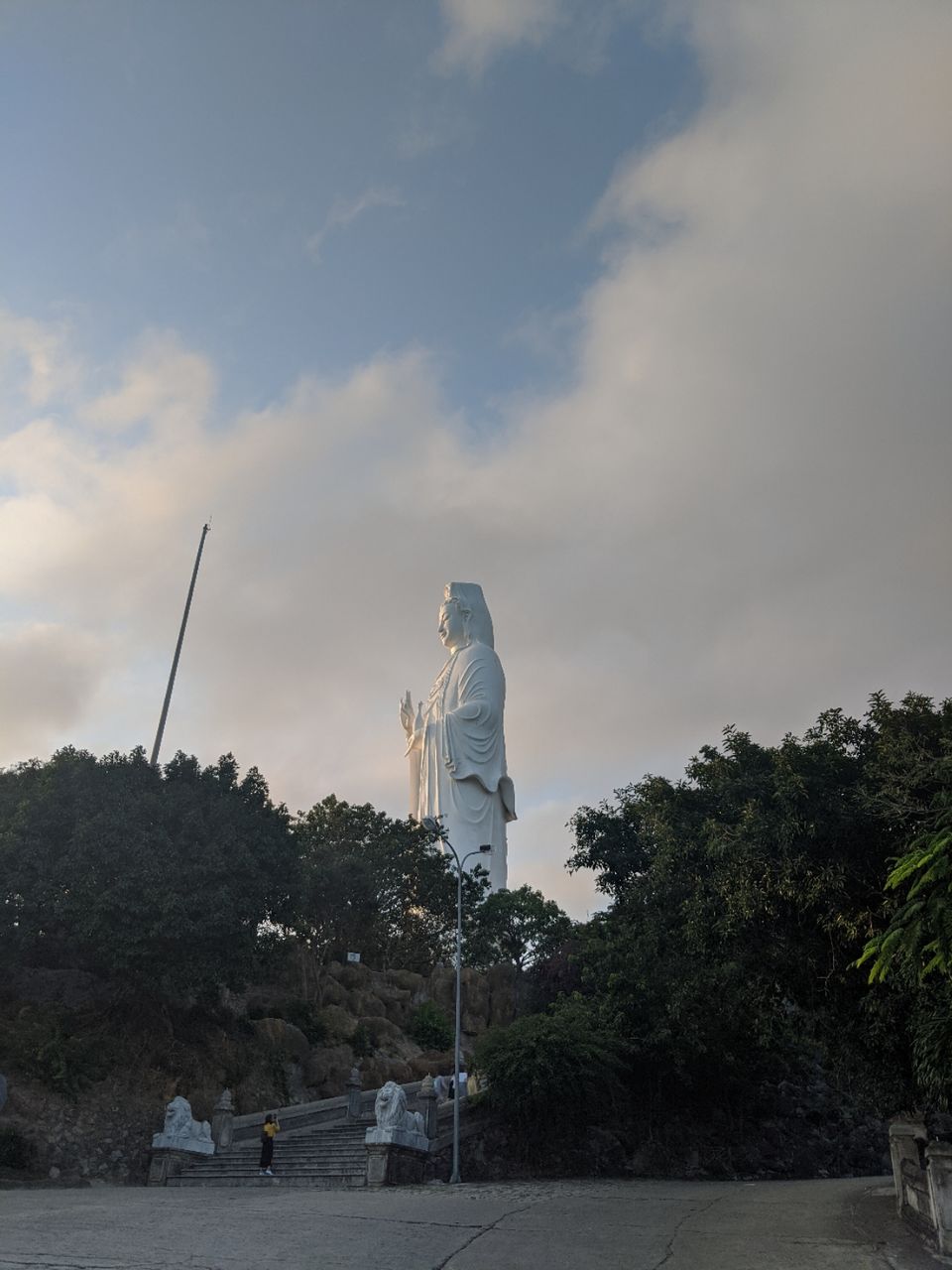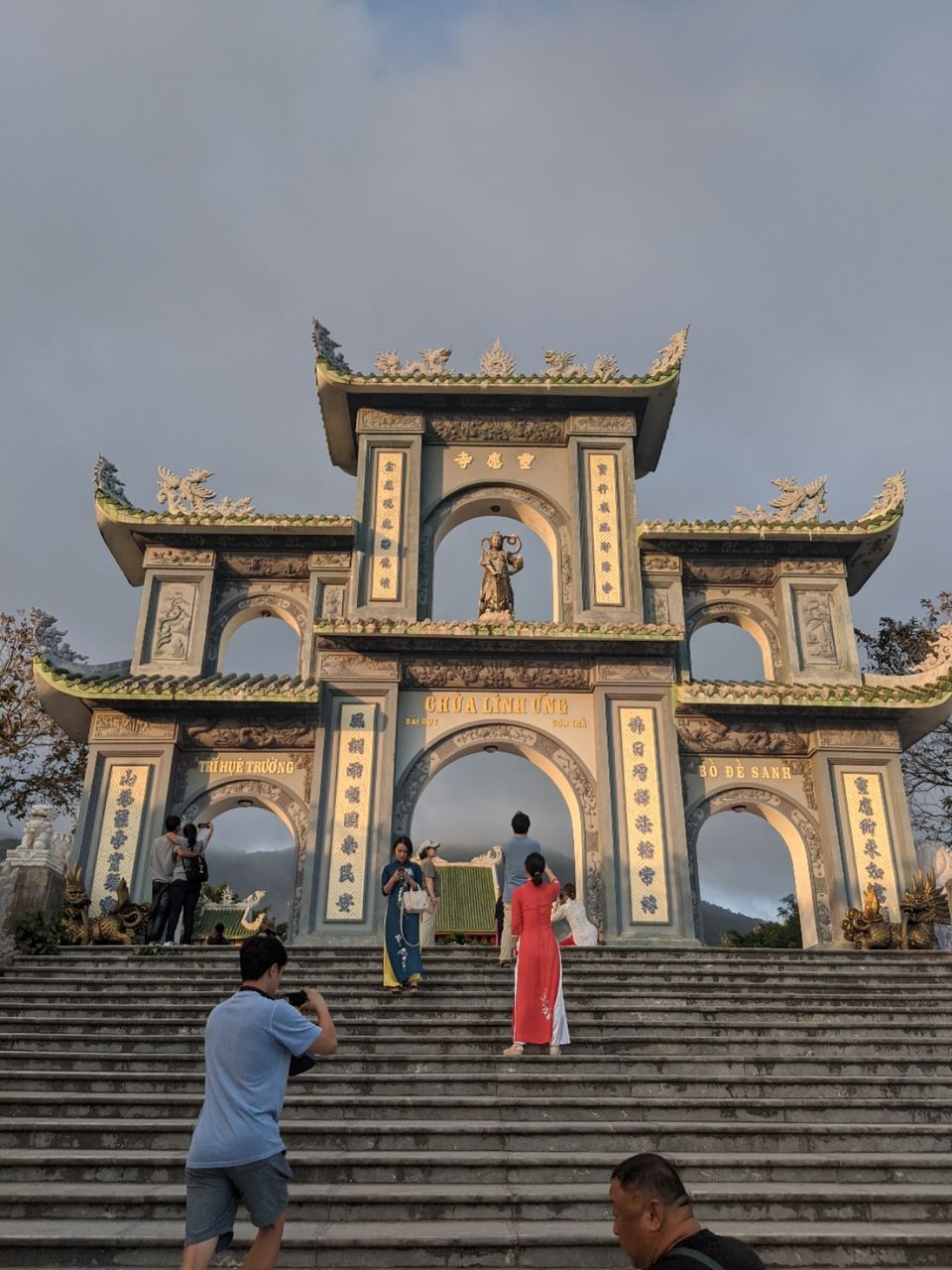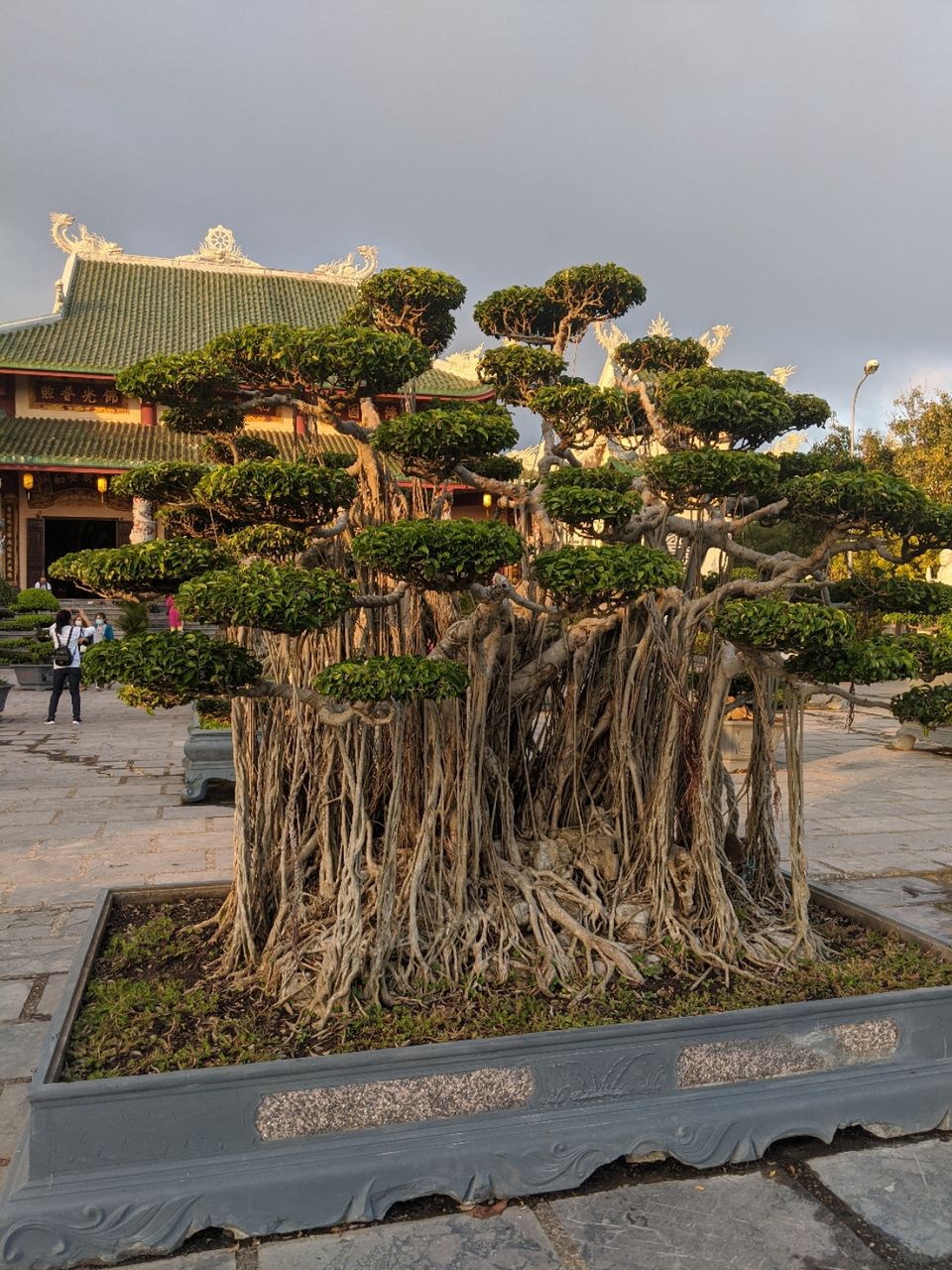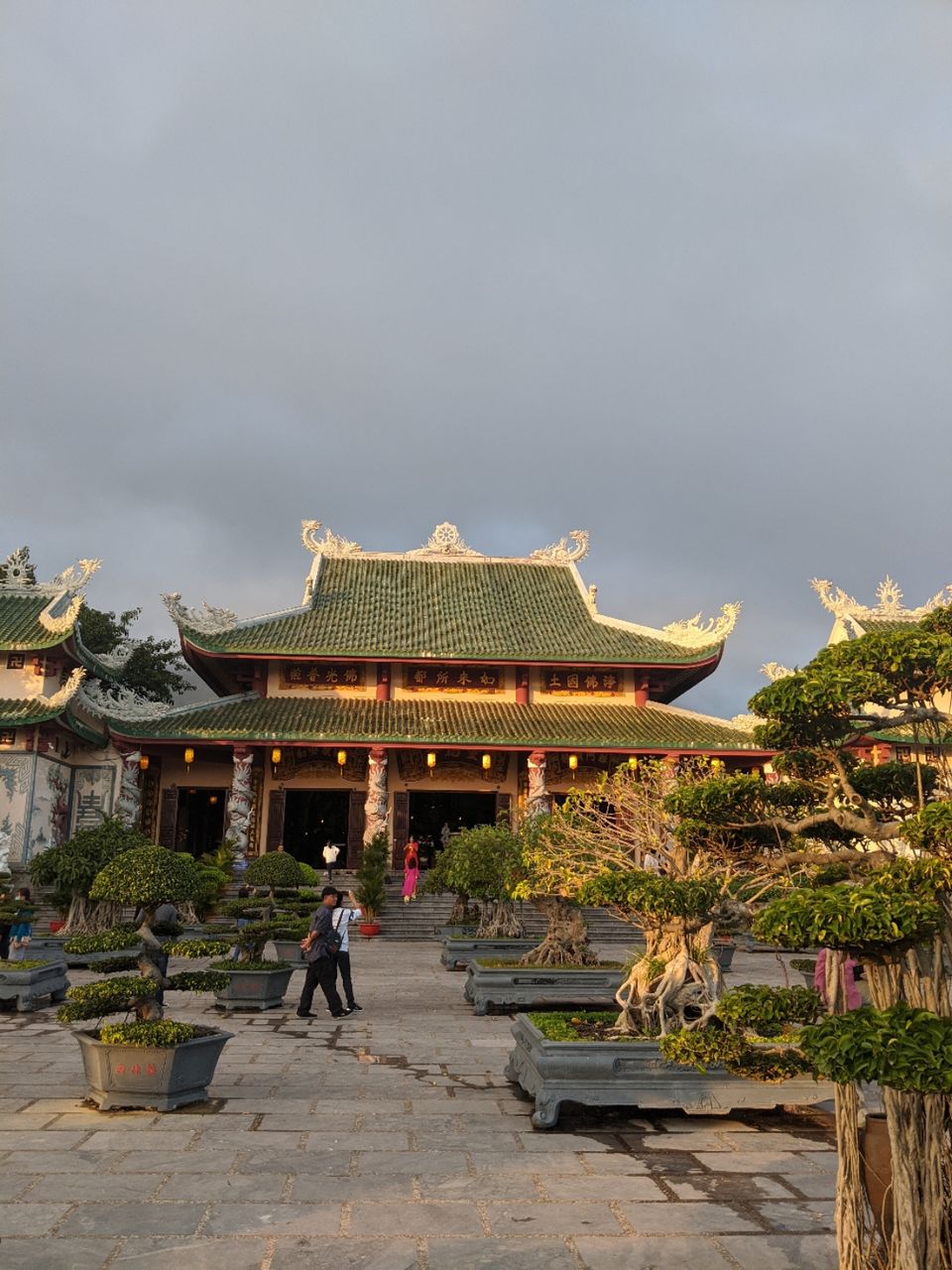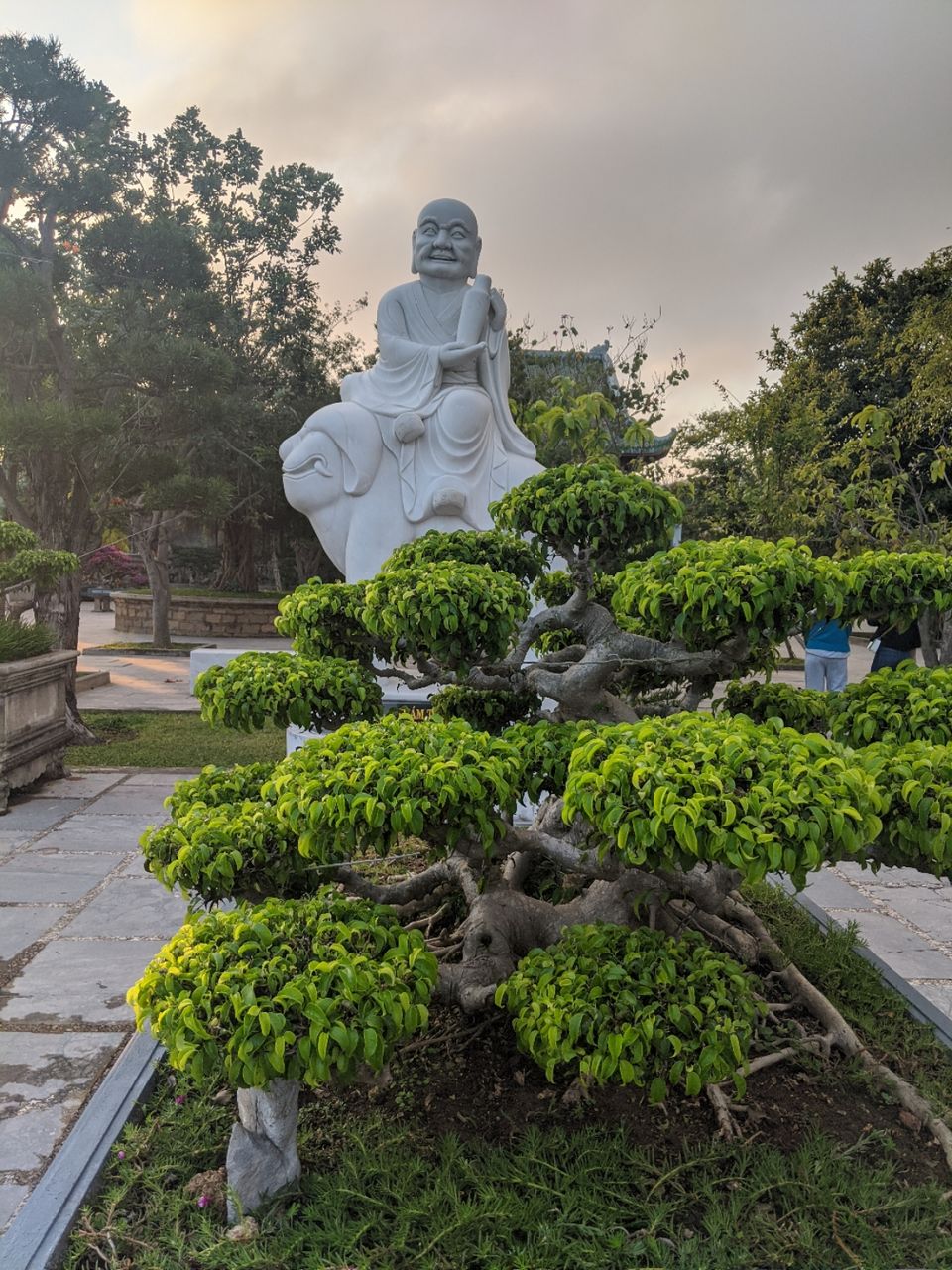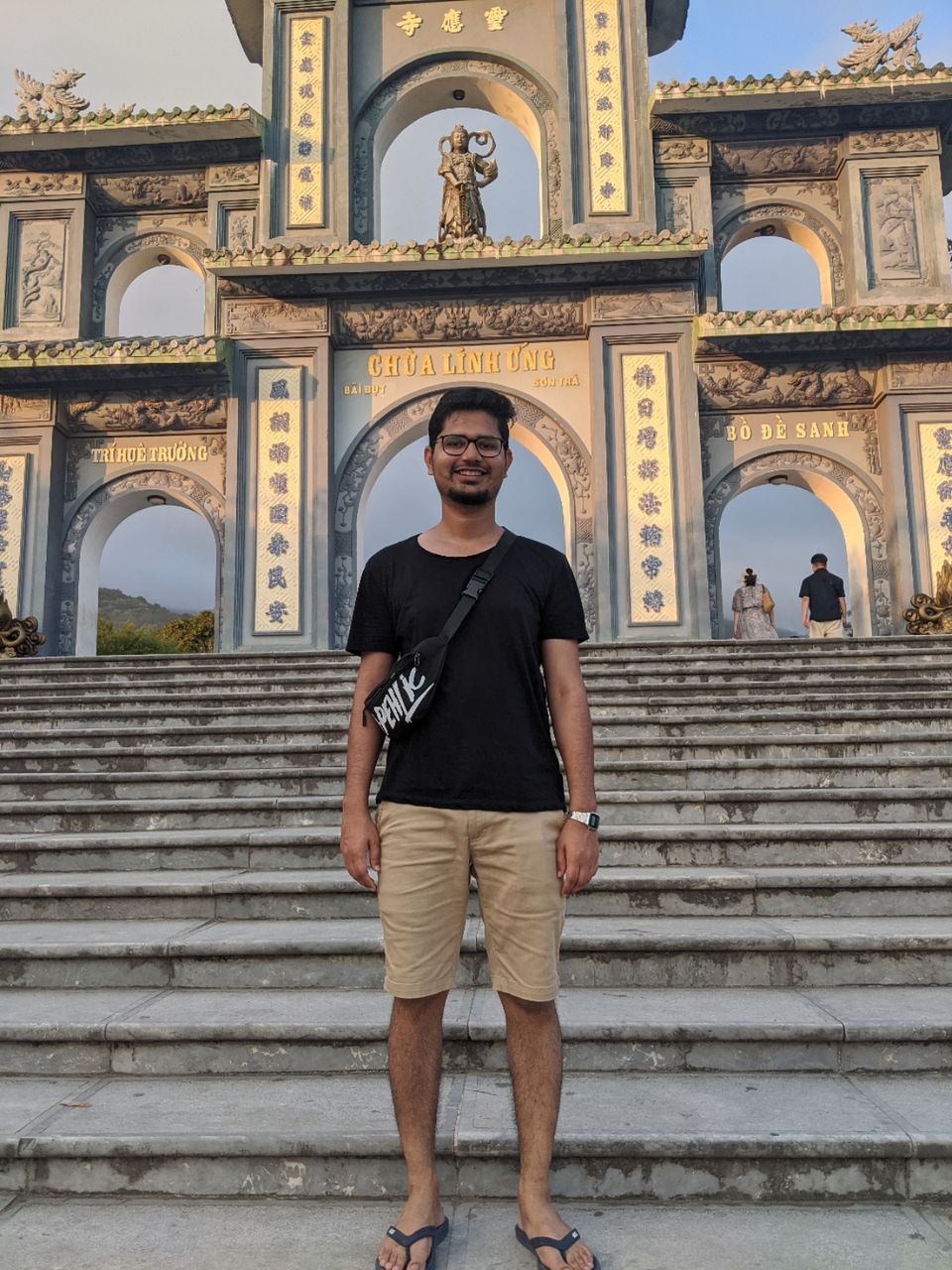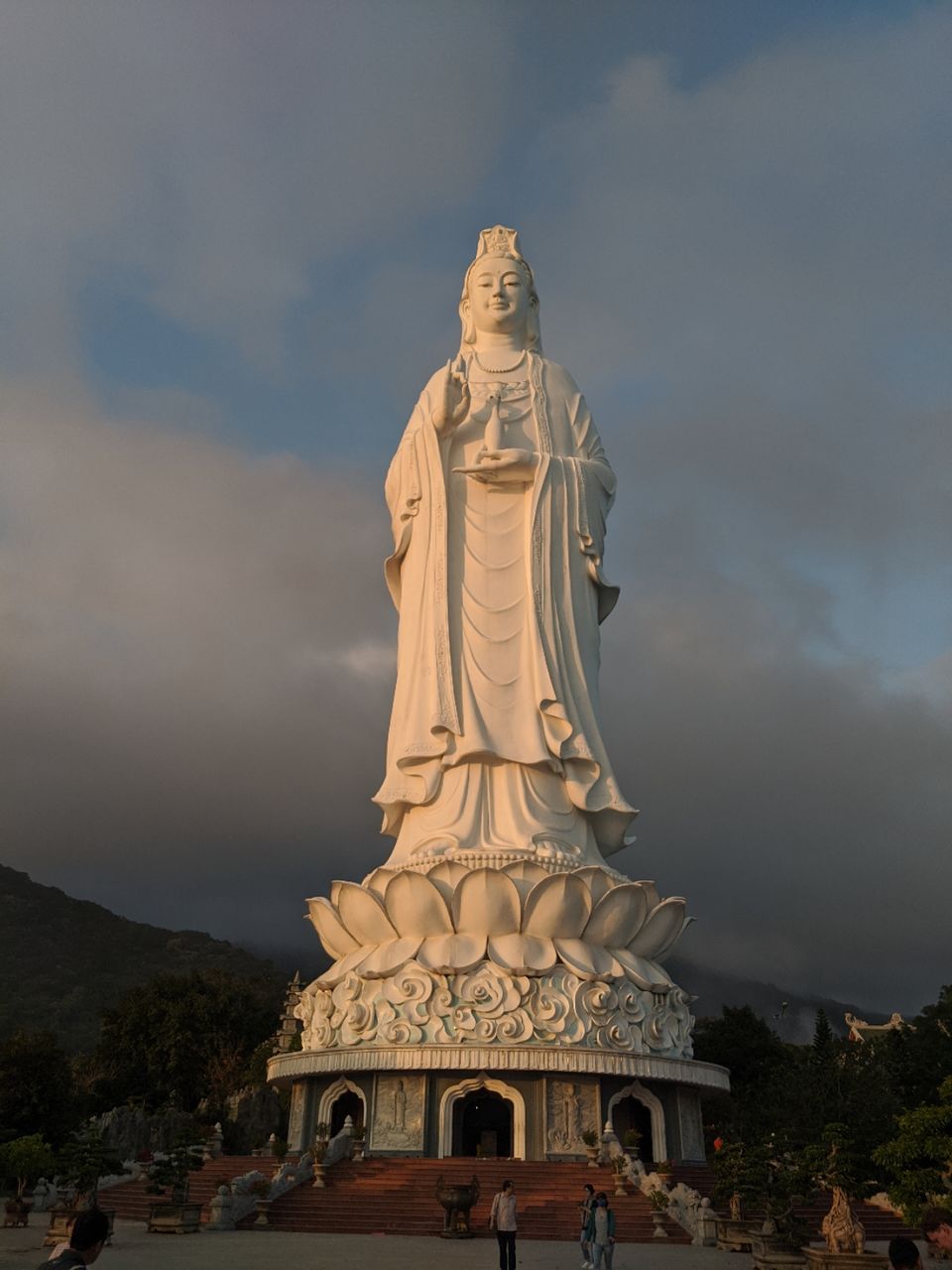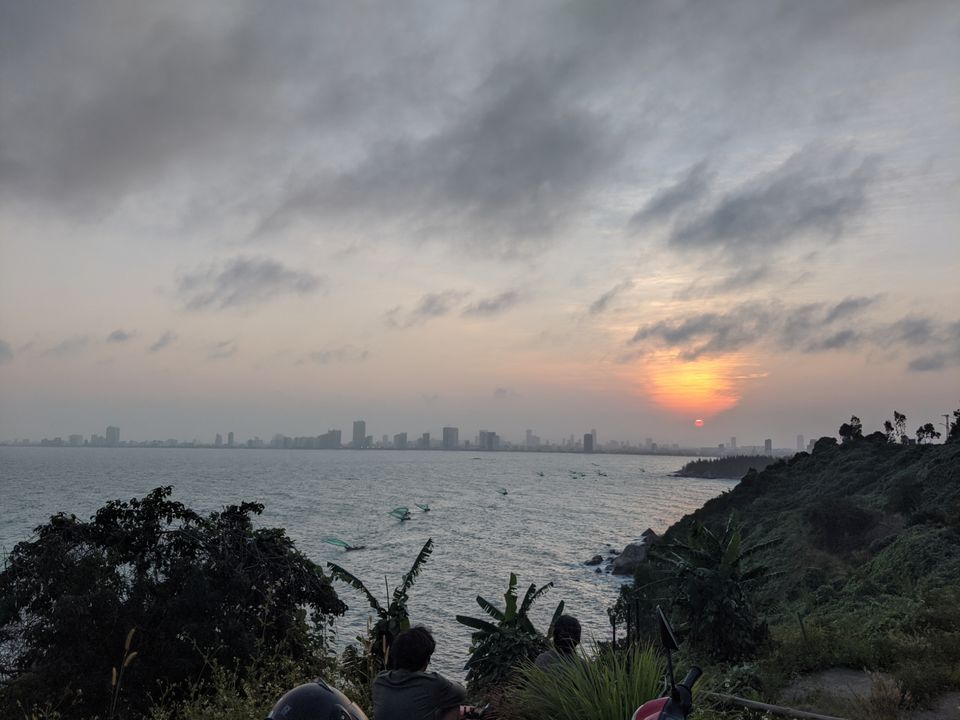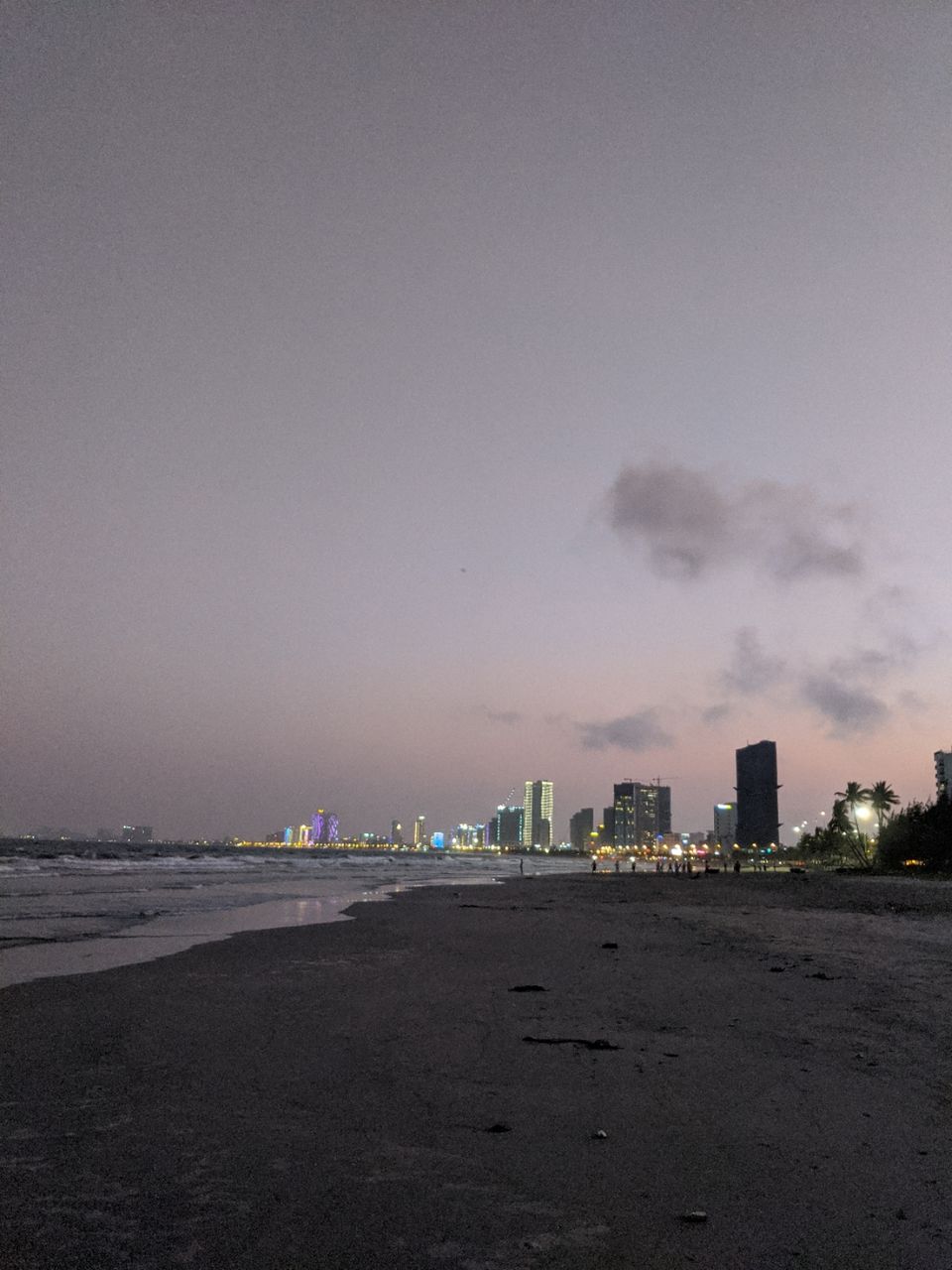 Exploring the Da Nang City:
After lady buddha I just explored Da Nang City on walk. The city looks stunning at night and I did a walk by the beach. The beaches in Vietnam are so clean and you'll not spot a single plastic anywhere on the beach. Kudos to the Vietnamese people.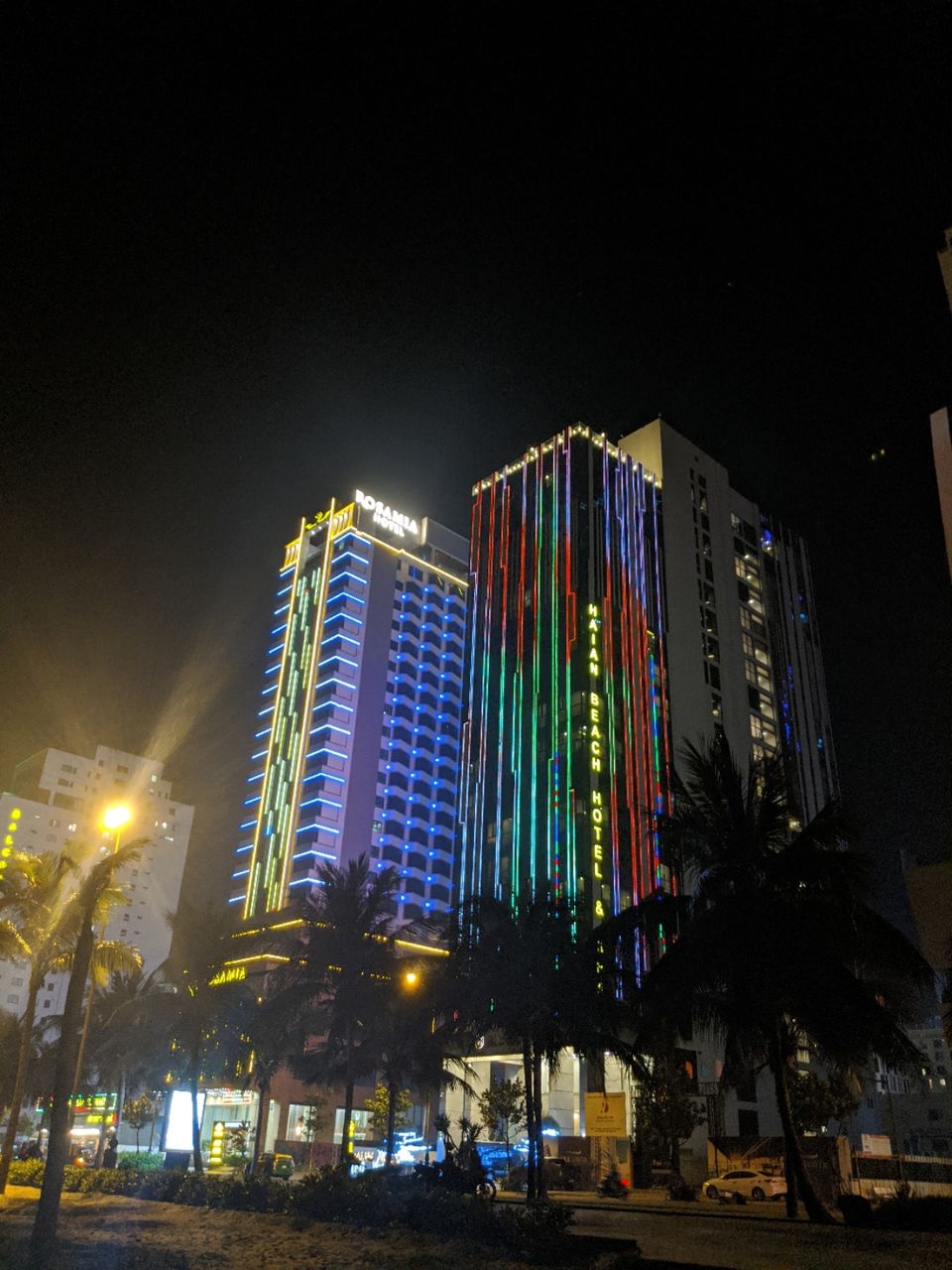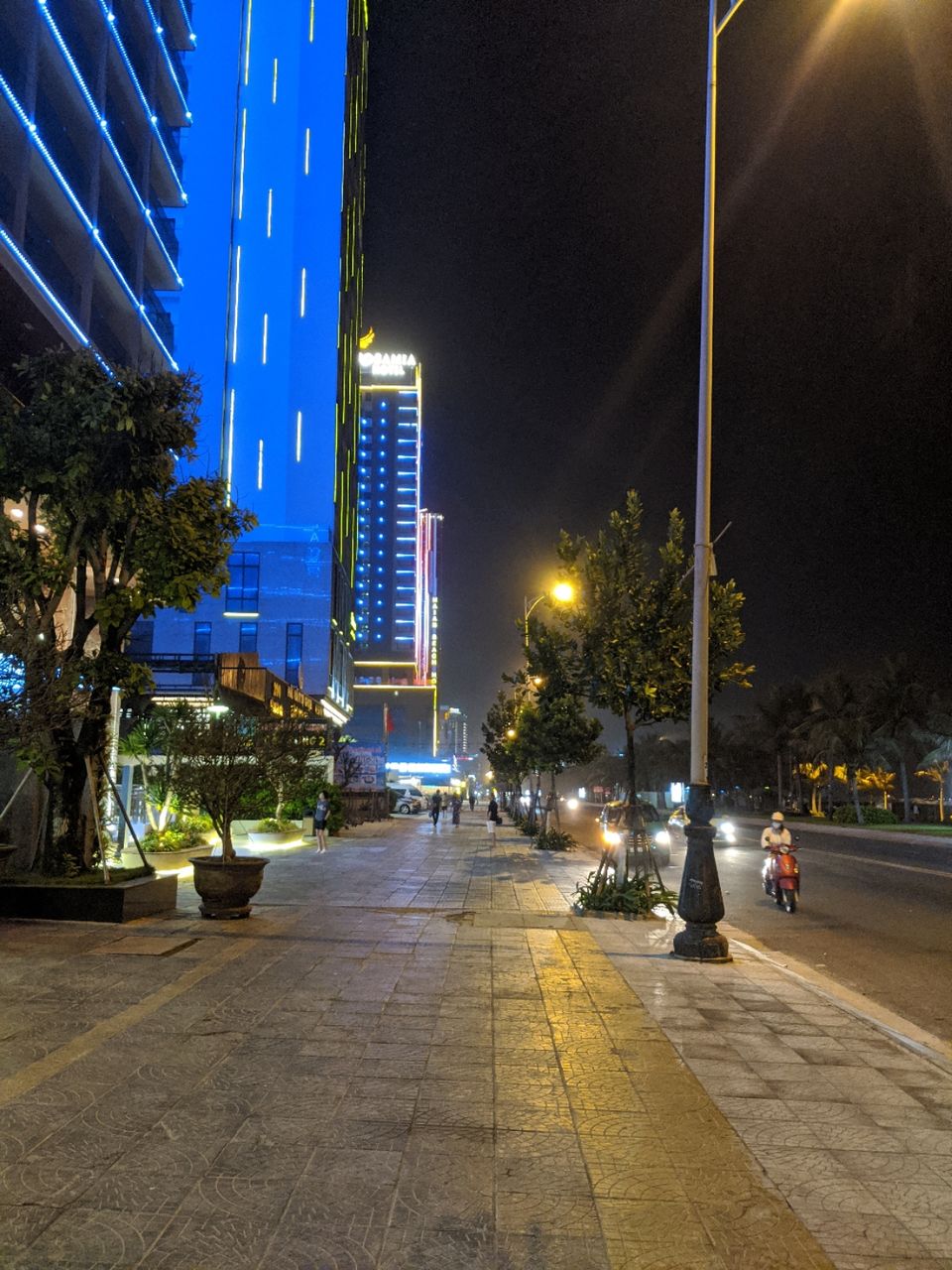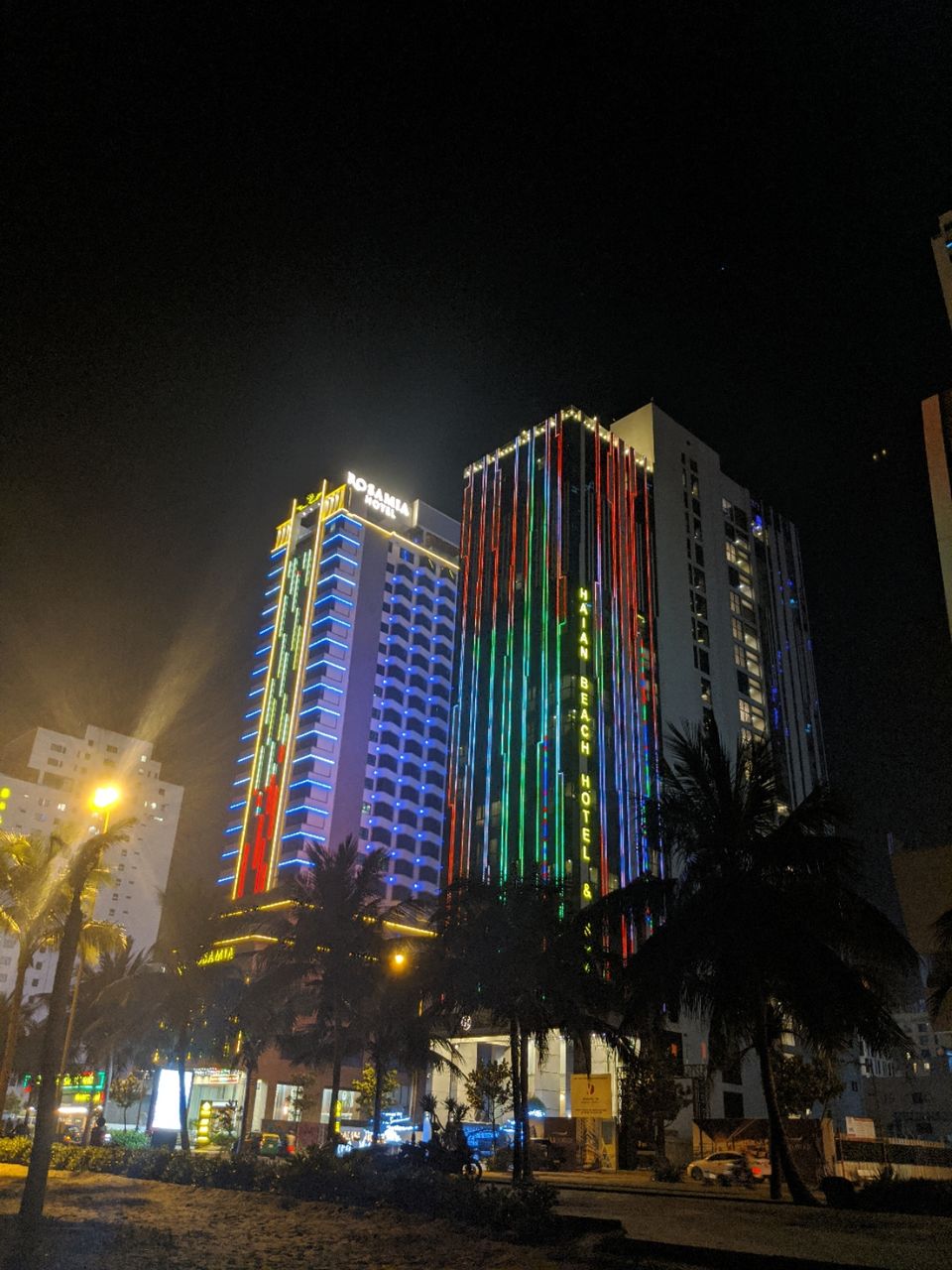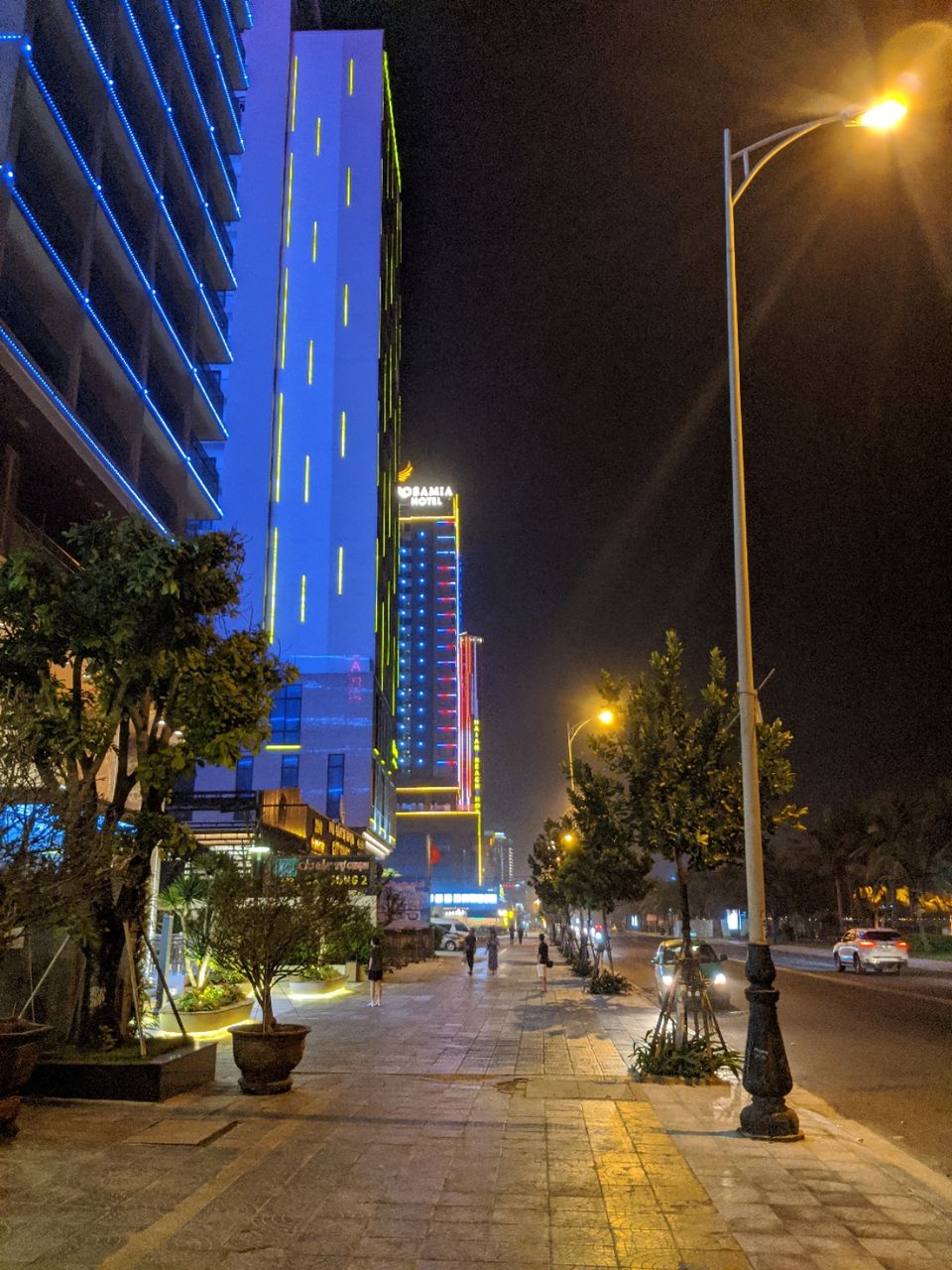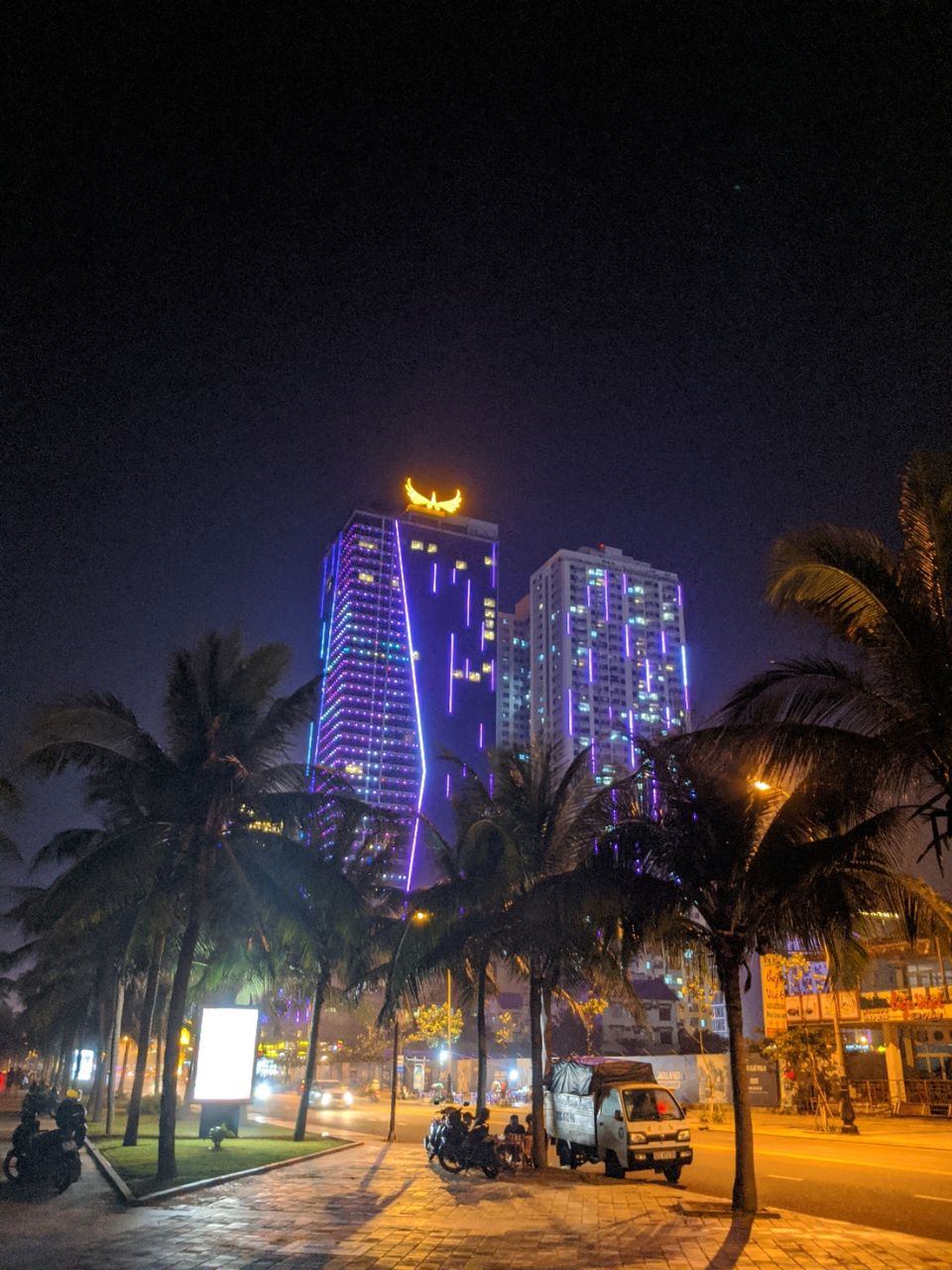 So I had plan for visiting this famous casino in Da Nang. The Casino is inside Furama Resort which is a 5 star property. There are no charges for entry and you just need to show your passport. I played roulette and lost around $8. You can have unlimited drinks, smokes and food on the house.
Now coming to the best part:
When I asked at reception where can I get taxi back to my Hotel, she told me that she has already booked a taxi for me and you just go upstairs and tell your name. I went upstairs and what I saw was unbelievable. There was a limousine waiting for me. I asked the person there if I need to pay any charges. He said no sir it's a free drop service for you.
Next I went to this Pub called dirty fingers where I just had a beer and by the time it was already 12:30 and most restaurants were closed. Luckily I found some Indians sitting outside Veda Restaurant. They were actually the owner of the restaurant and they offered me some delicious food for free. Really appreciate this kind gesture.
Headed back to Hostel and slept.
Next morning I took an early morning flight from Da Nang to Ho Chi Minh city.
Flight Cost : 1650 INR
I reached Ho Chi Minh by 8 Am and checked in to one hostel that I booked from the night before to get some sleep.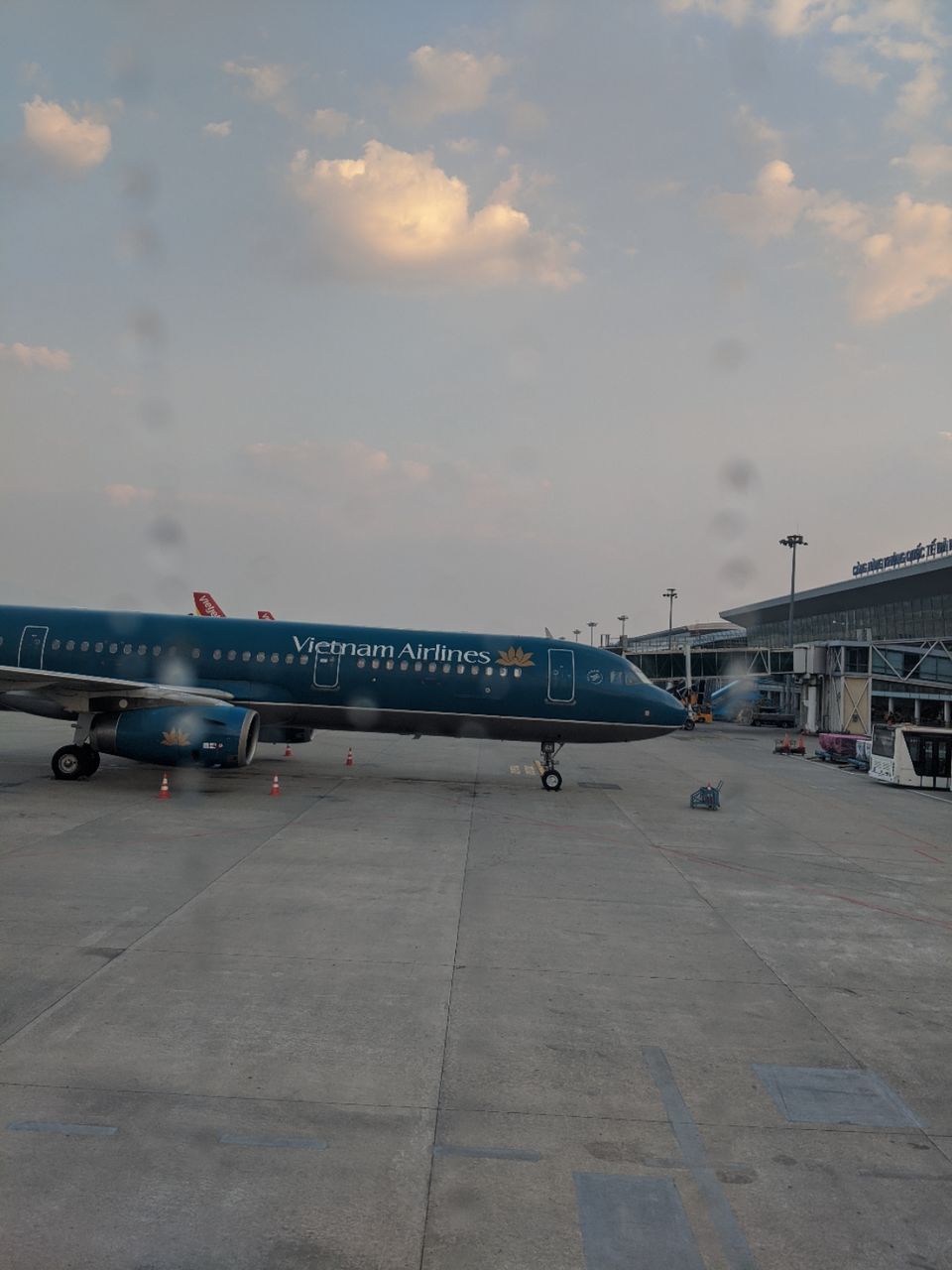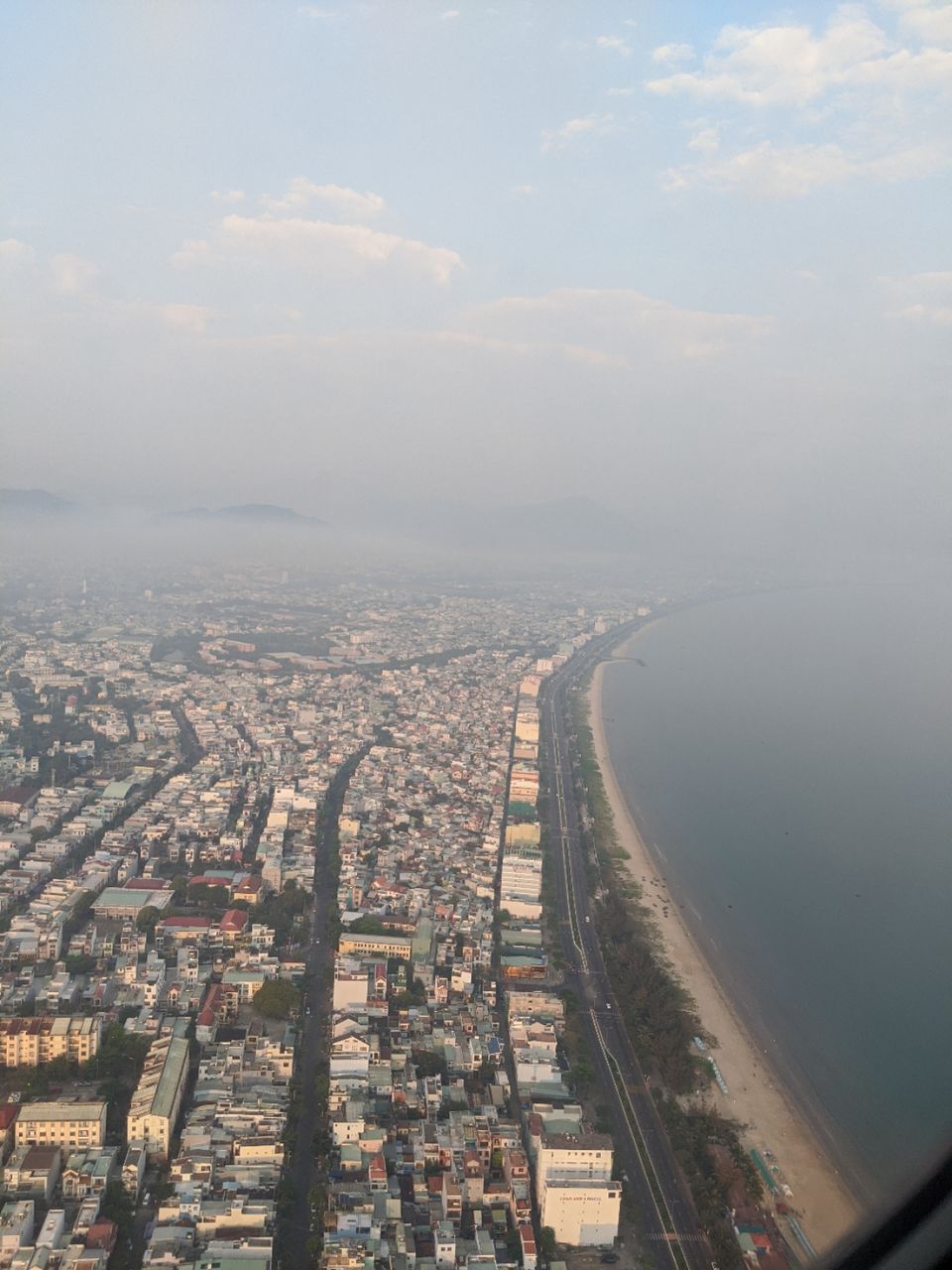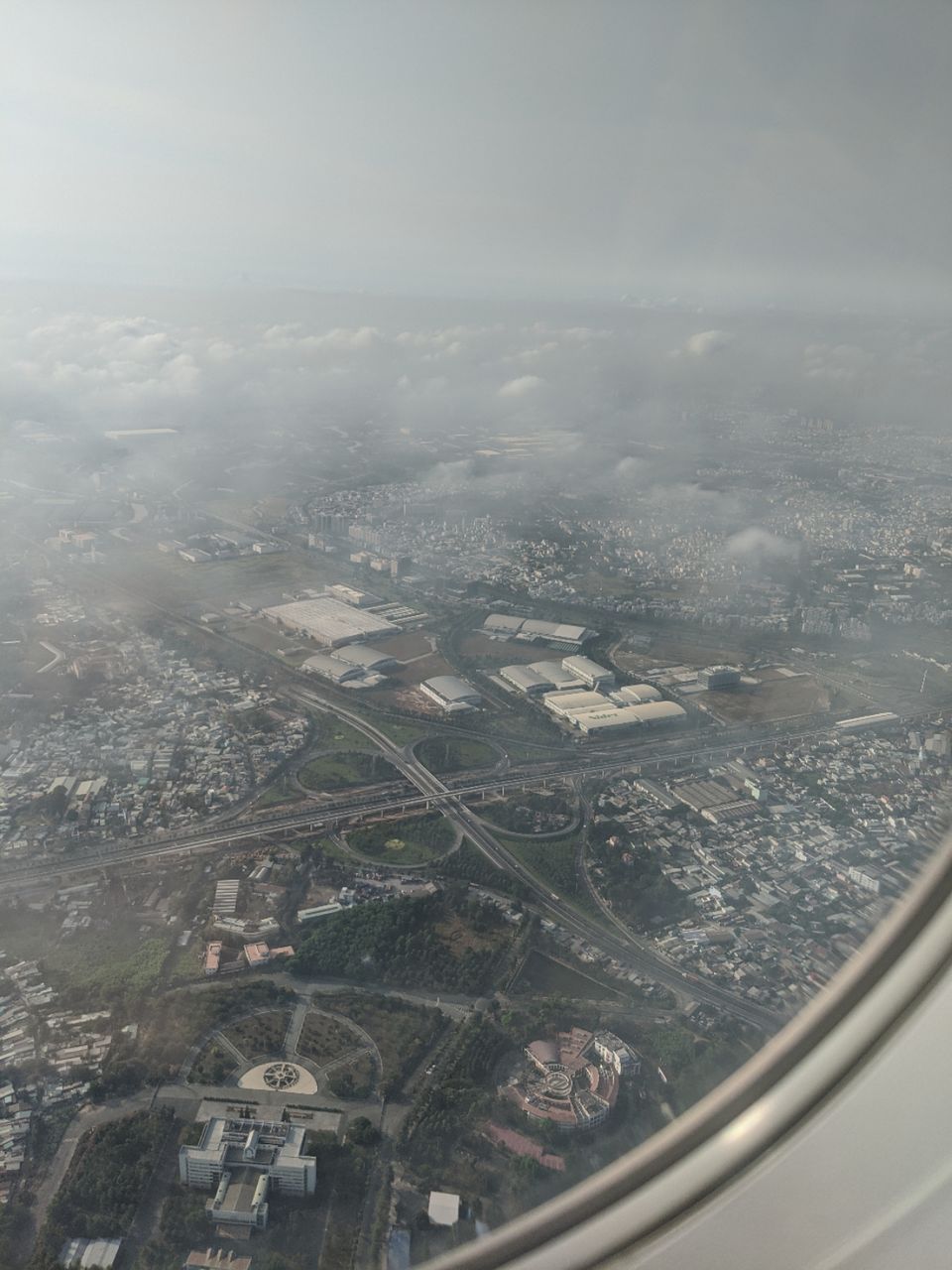 I woke up by 11:30 and did check out and walked to my last Hostel of this trip:
The Hideout Hostel: 400 INR per night.
The Hideout is a party hostel. I must say that the facilities are not very good and beds are not that comfy. Washrooms not great either but the only good thing is the Party here.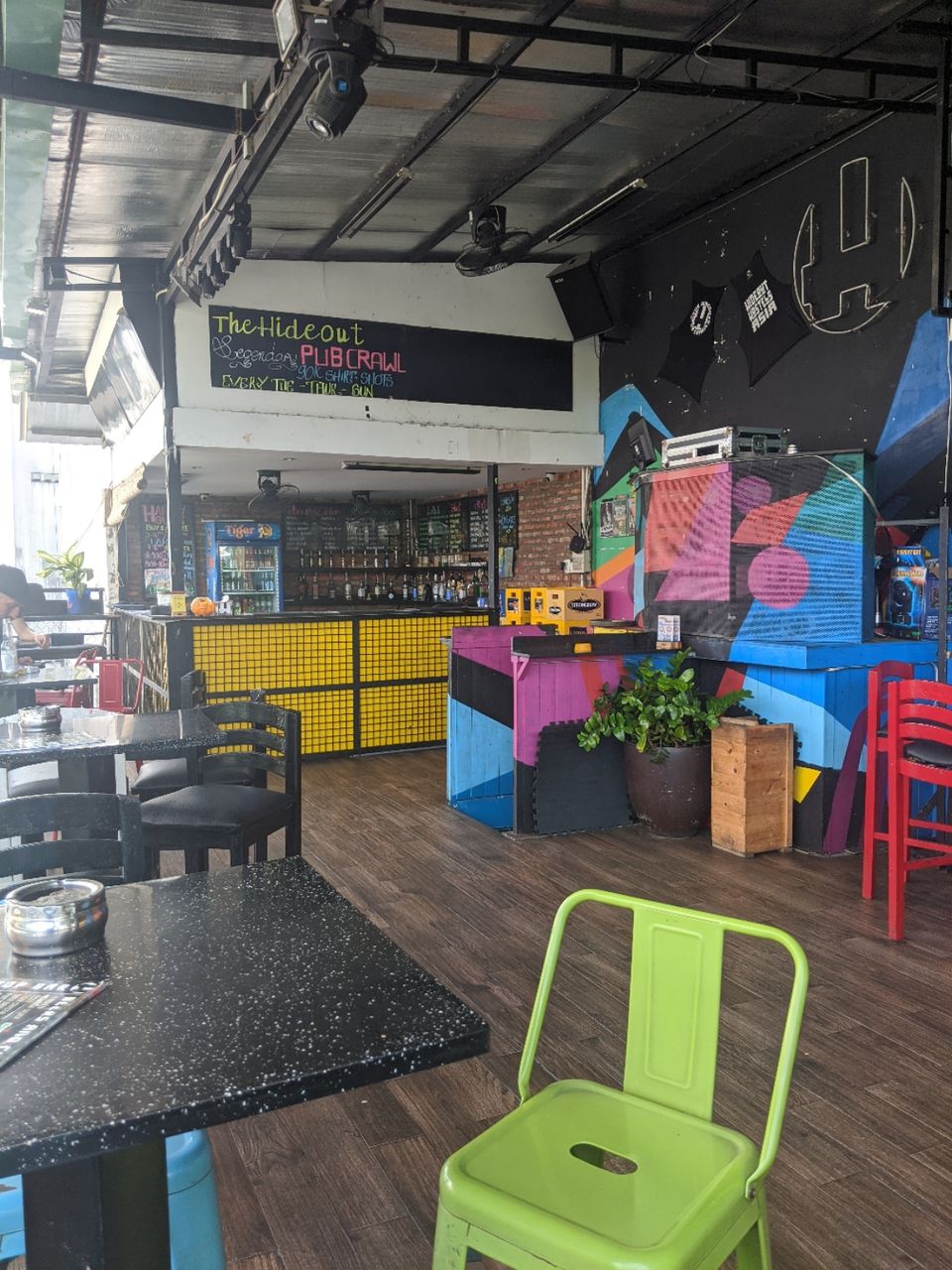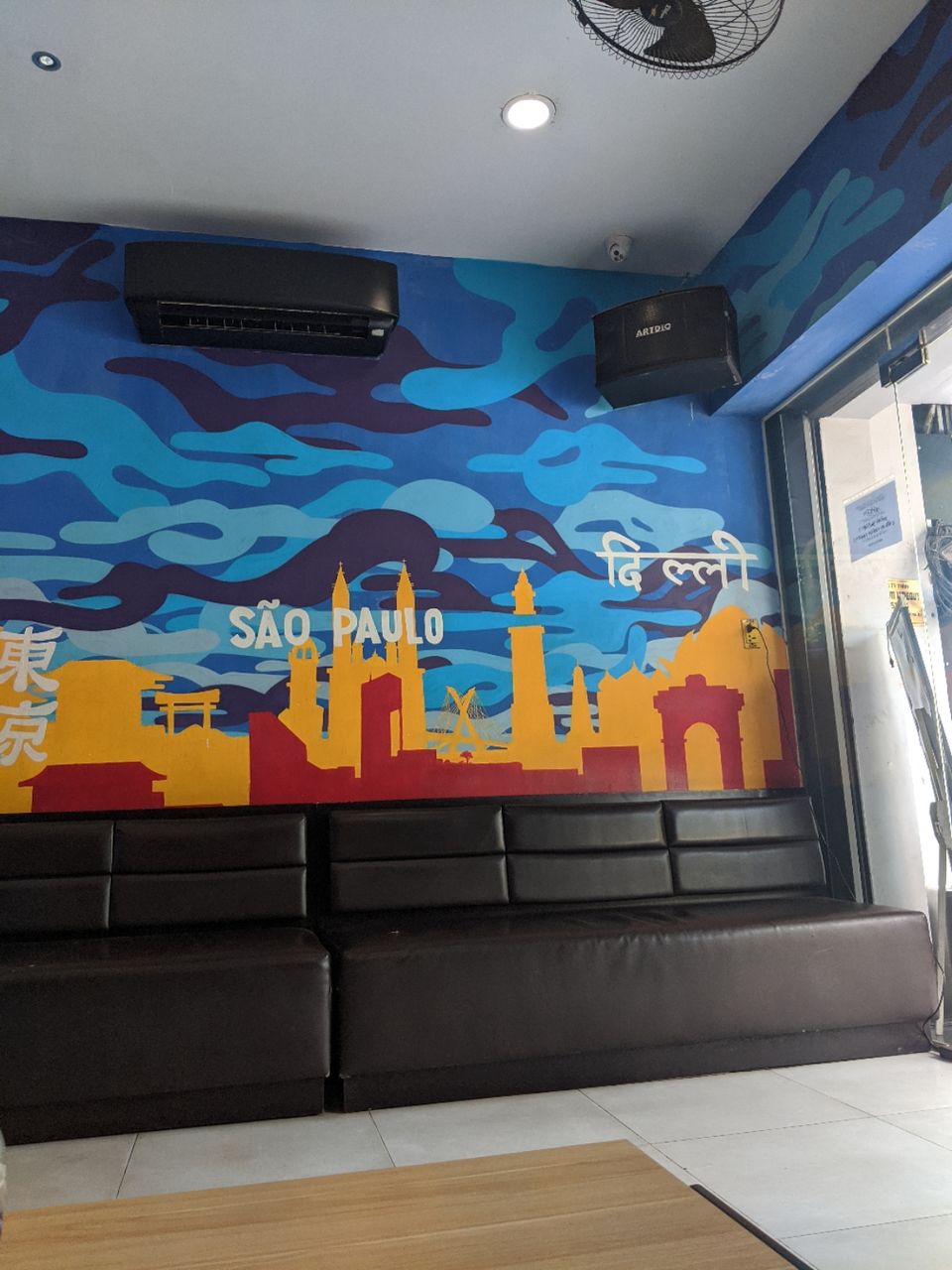 I got my check in at 2 pm and by that time I had my meal at famous Namaste Indian Restaurant. The price was decent and I had a veggie fried rice.
I slept for a while after check in and then did a stroll to famous Nguyen Hue Street. Pictures below: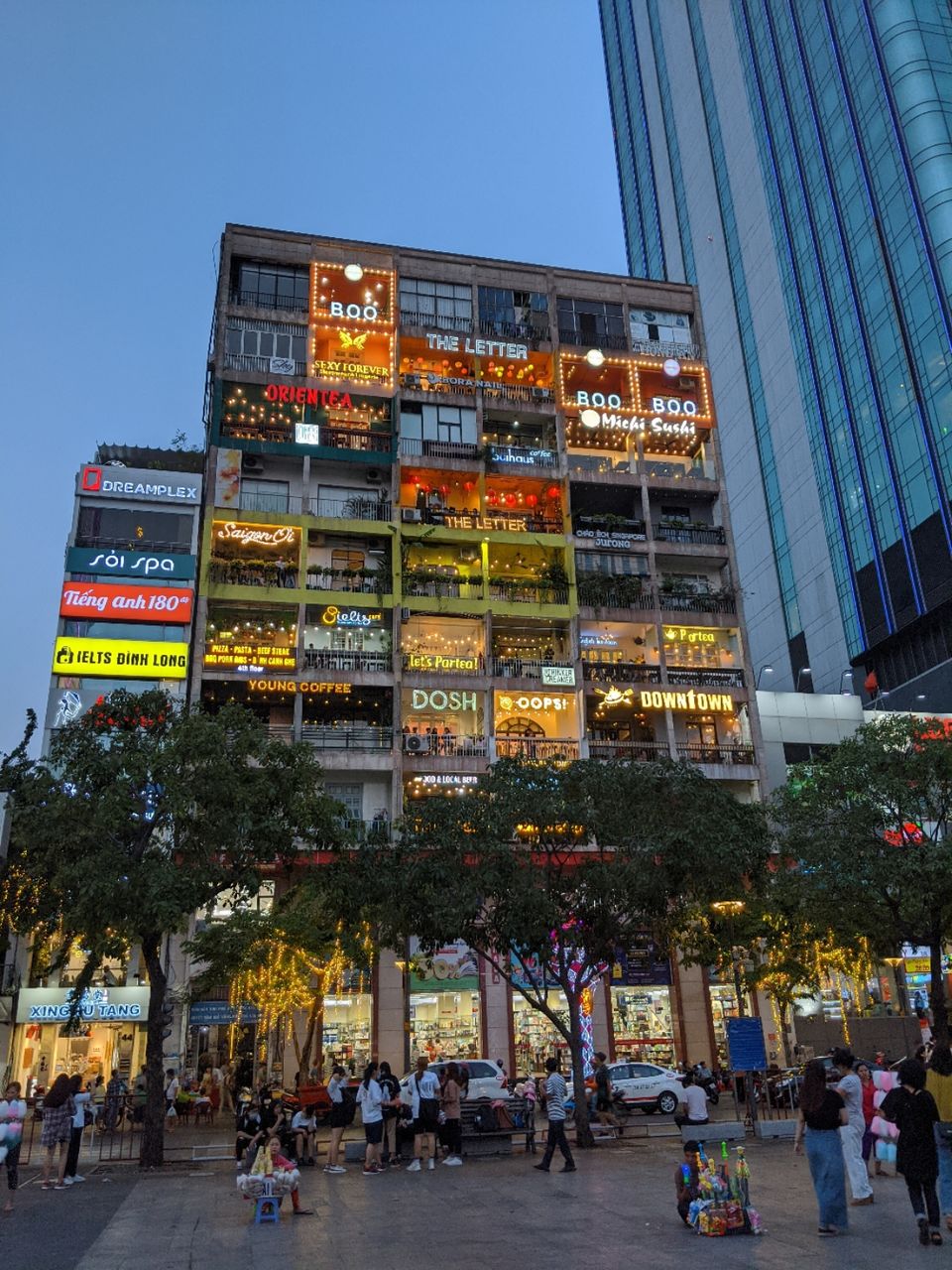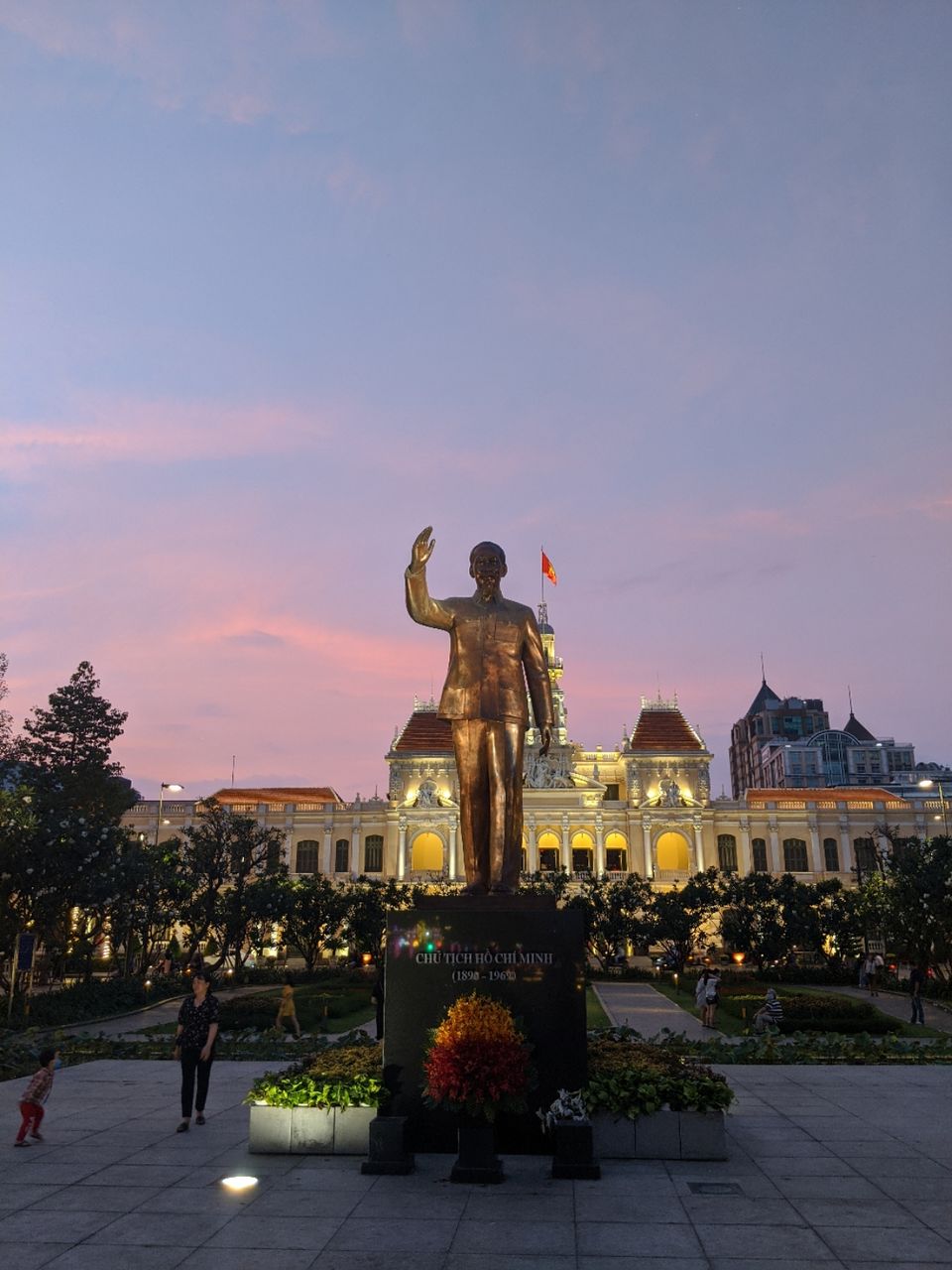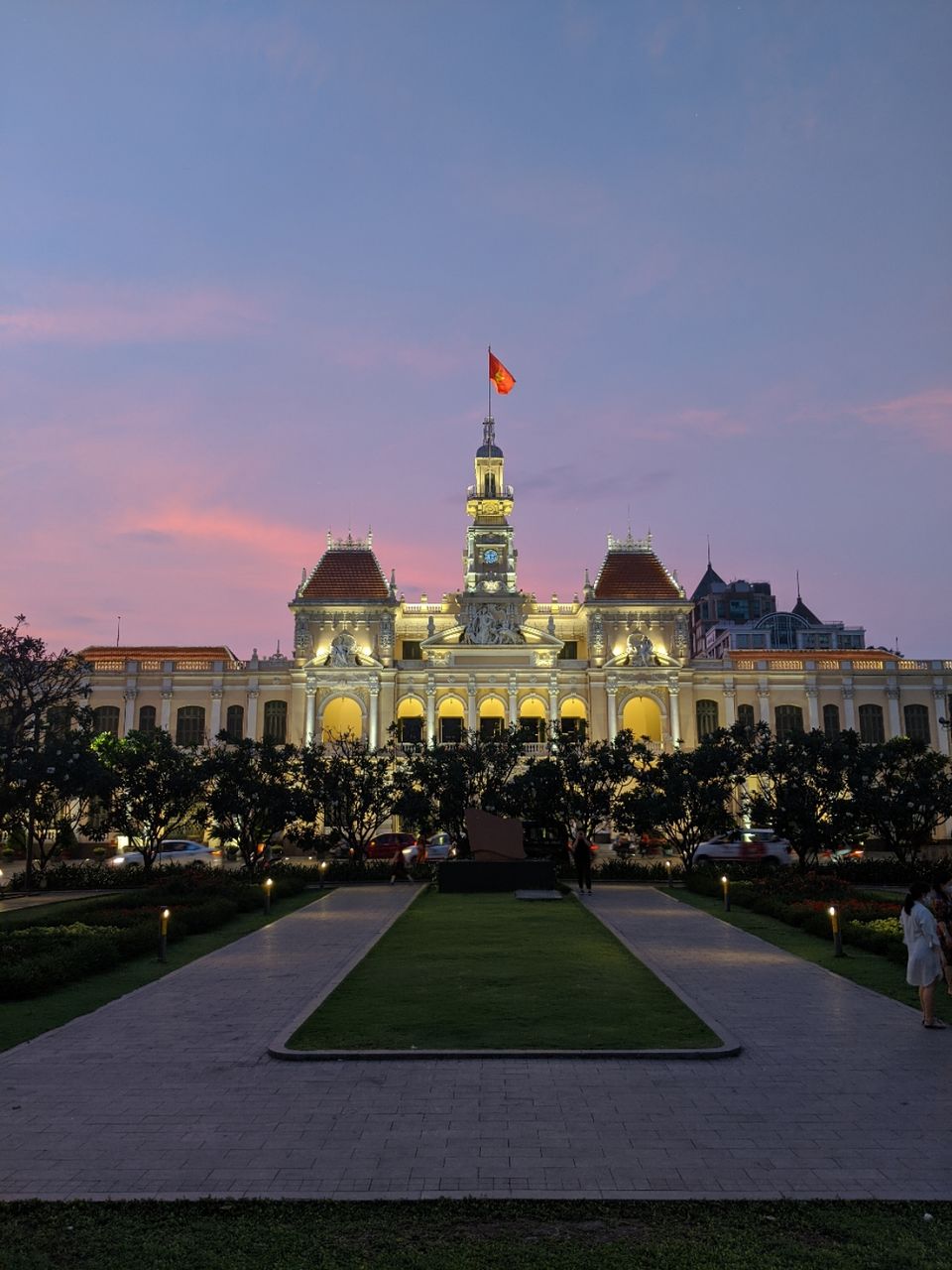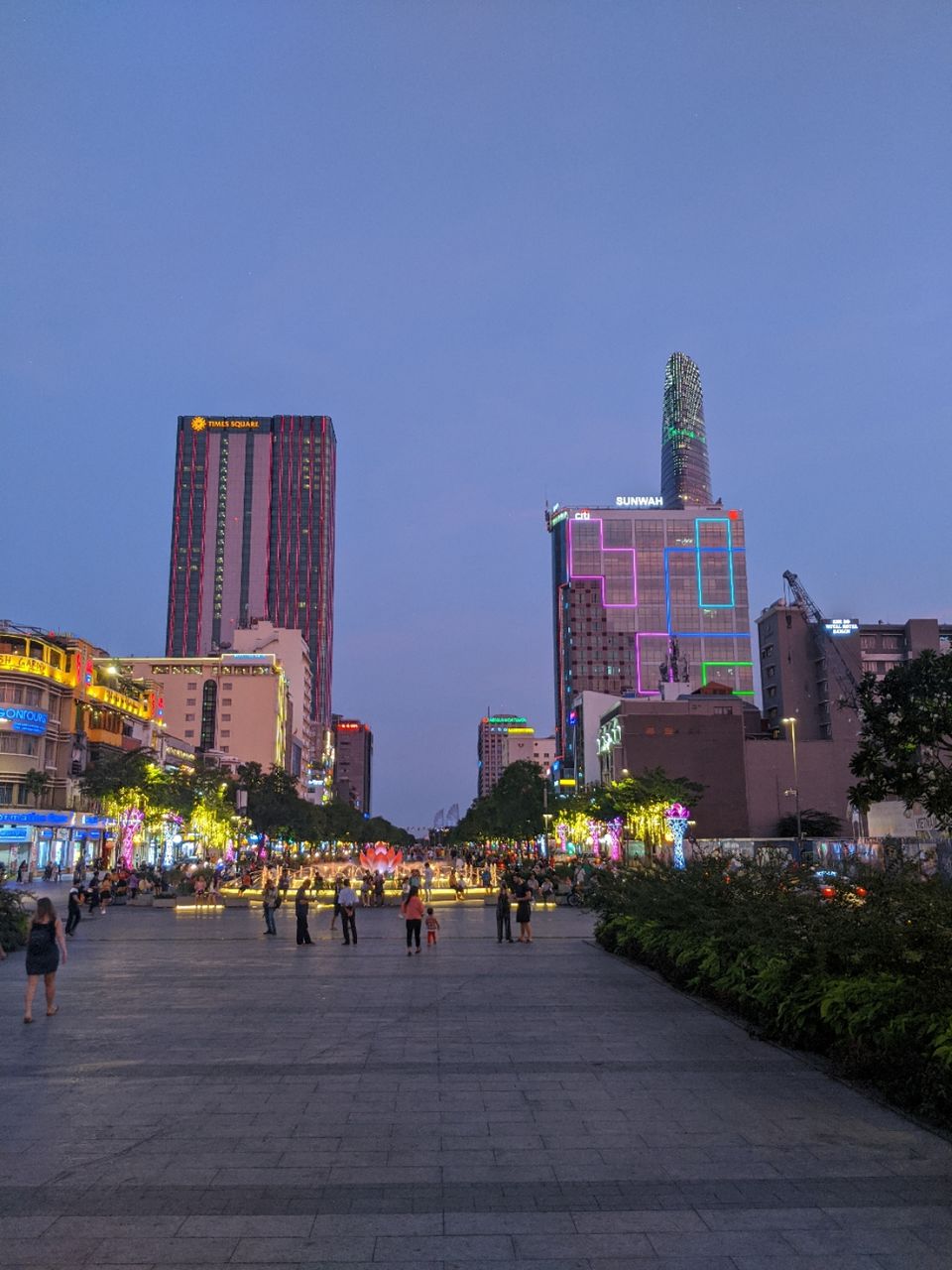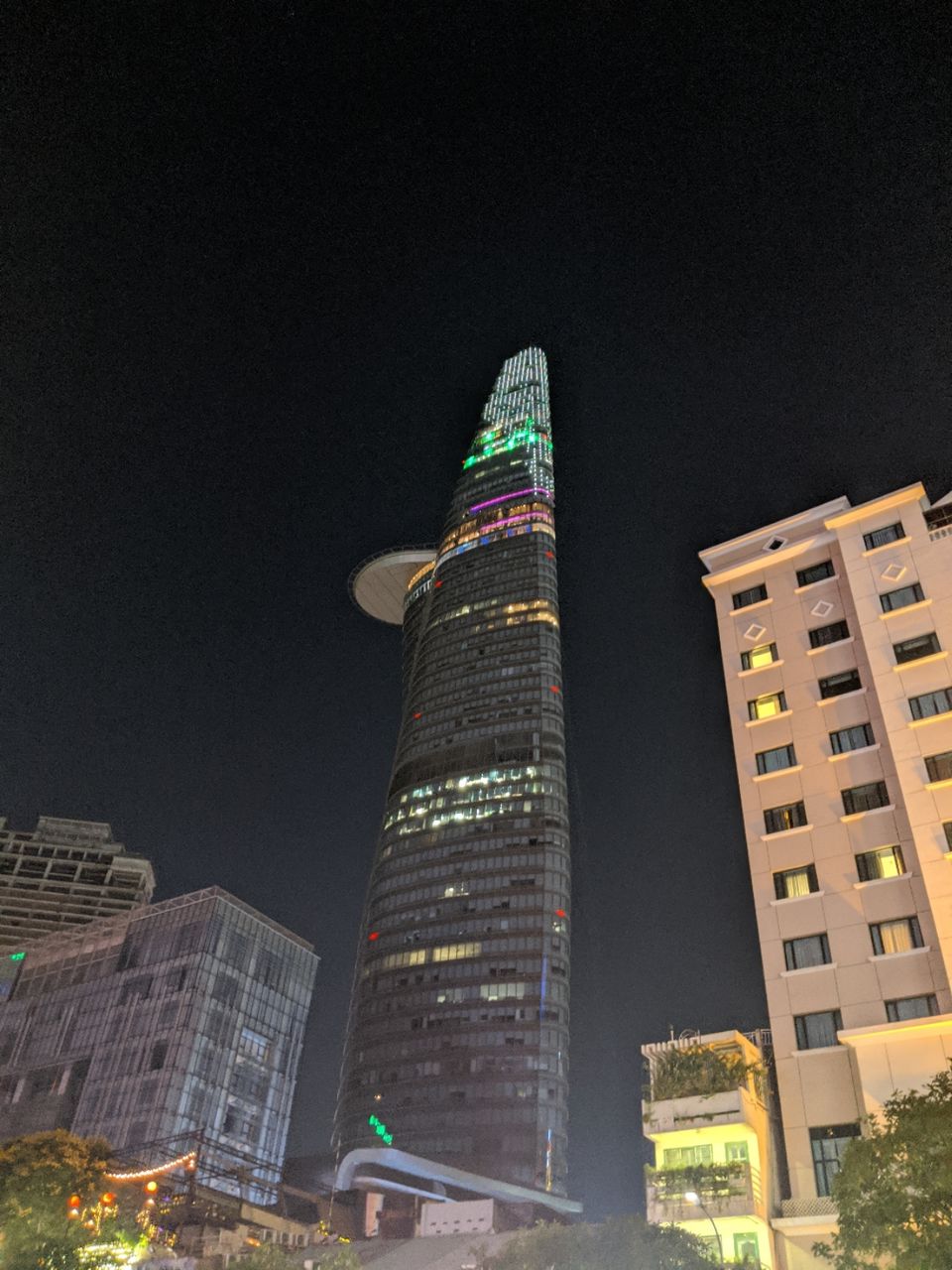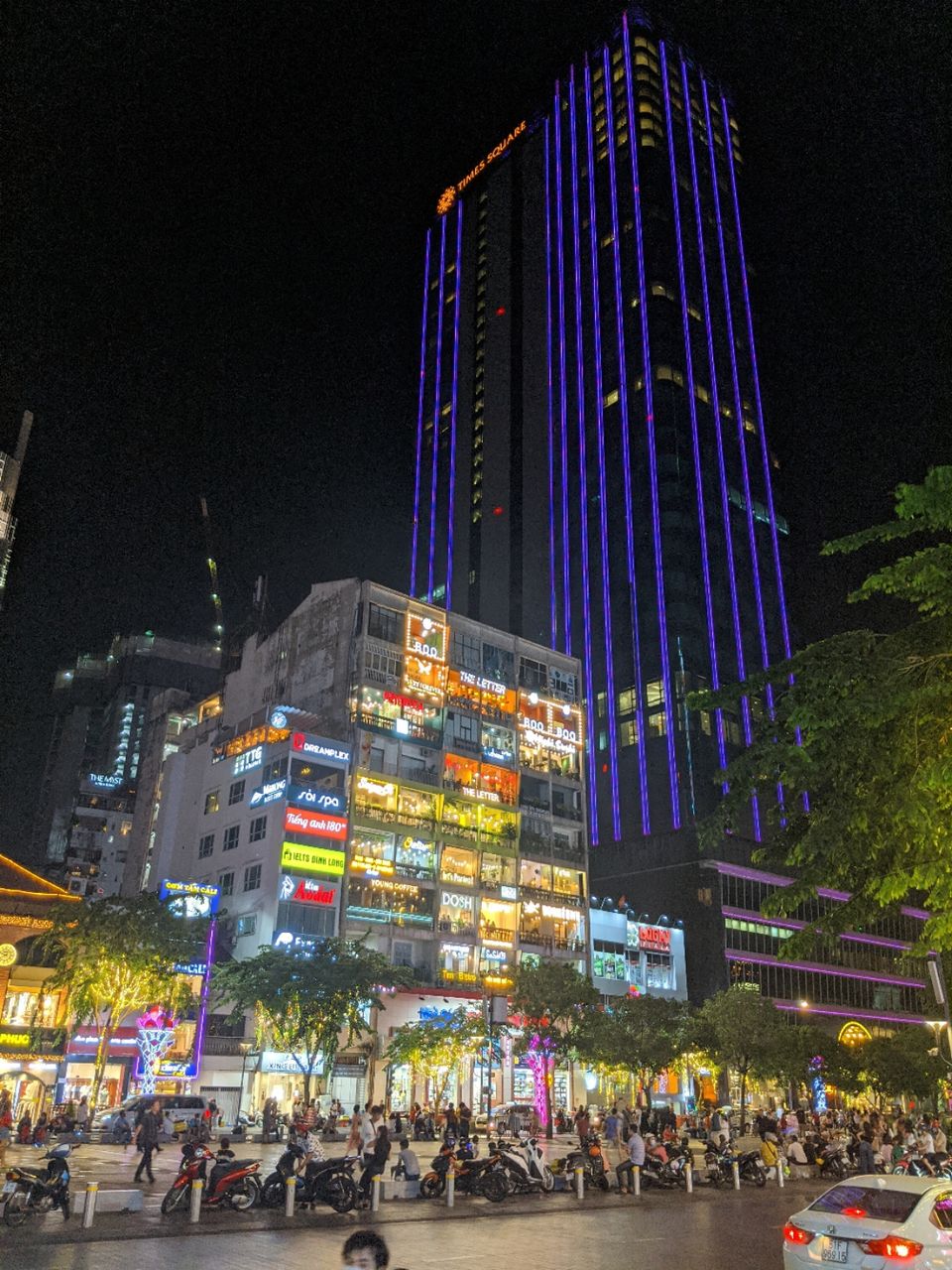 Next up was the HIDEOUT HOSTEL PUB CRAWL.
PUB CRAWL CHARGES: 90k VND = 270 INR
The pub crawl charges includes a T shirt as well.
Before heading to the crawl I had a Banh Mi which is a famous Vietnamese food and is nothing but a Subway only. I paid 25k VND for it on street.
So coming back to PUB CRAWL it basically starts at the Hostel Rooftop where there is one free beer and you have to be wearing the pub crawl tee for that. After that you can buy the drinks and enjoy the party. There'll be games like beer pong and musical chair. Once it is 11 o clock. Everyone drinks a shot of vodka and starts moving down from the rooftop. Next up is an actual Pub Crawl where there's a team leader who walks ahead and everyone follows him. They take you to around 5-6 clubs and you get free shots at the entry of every club. This crawl continues till wee hours.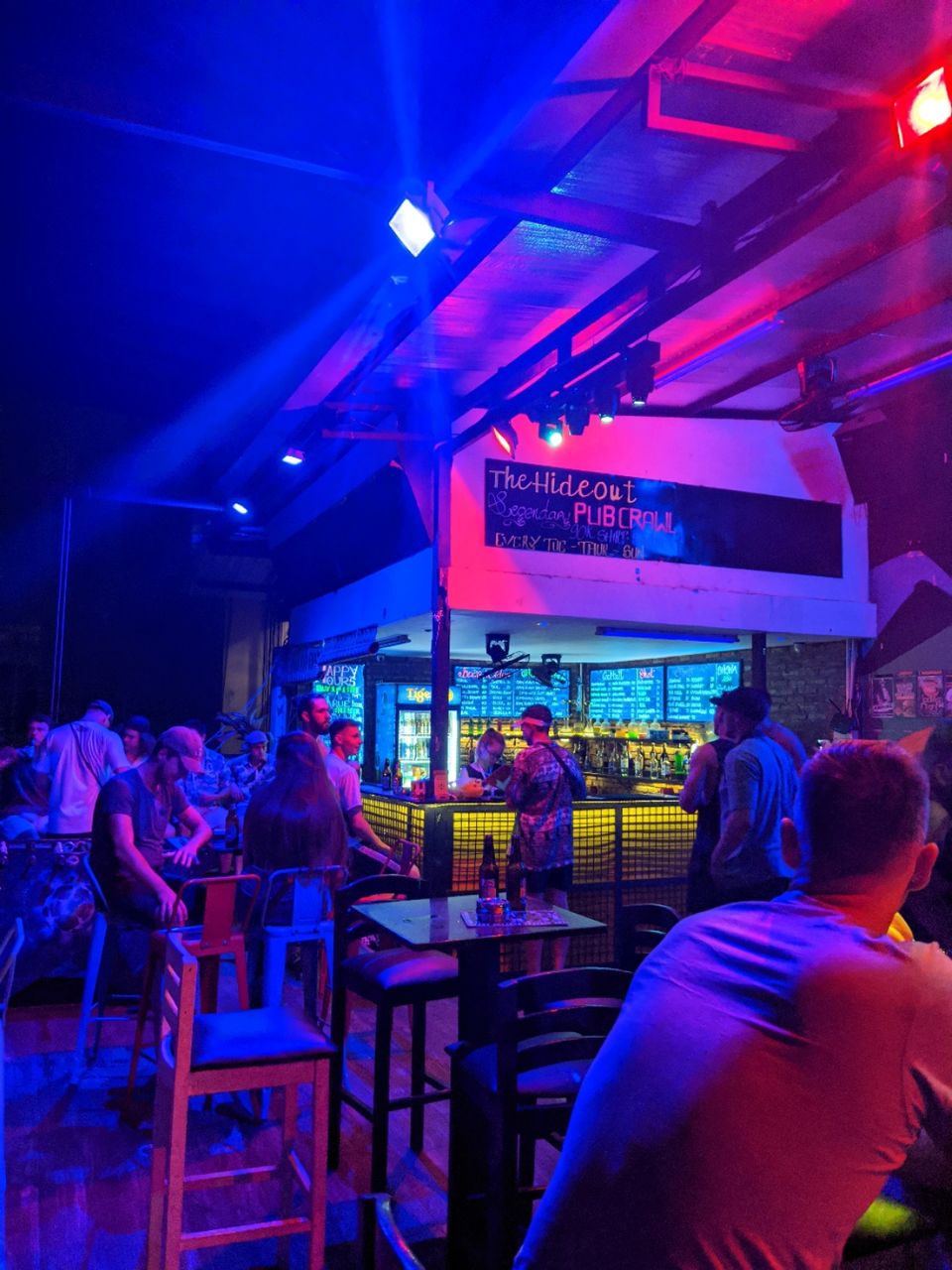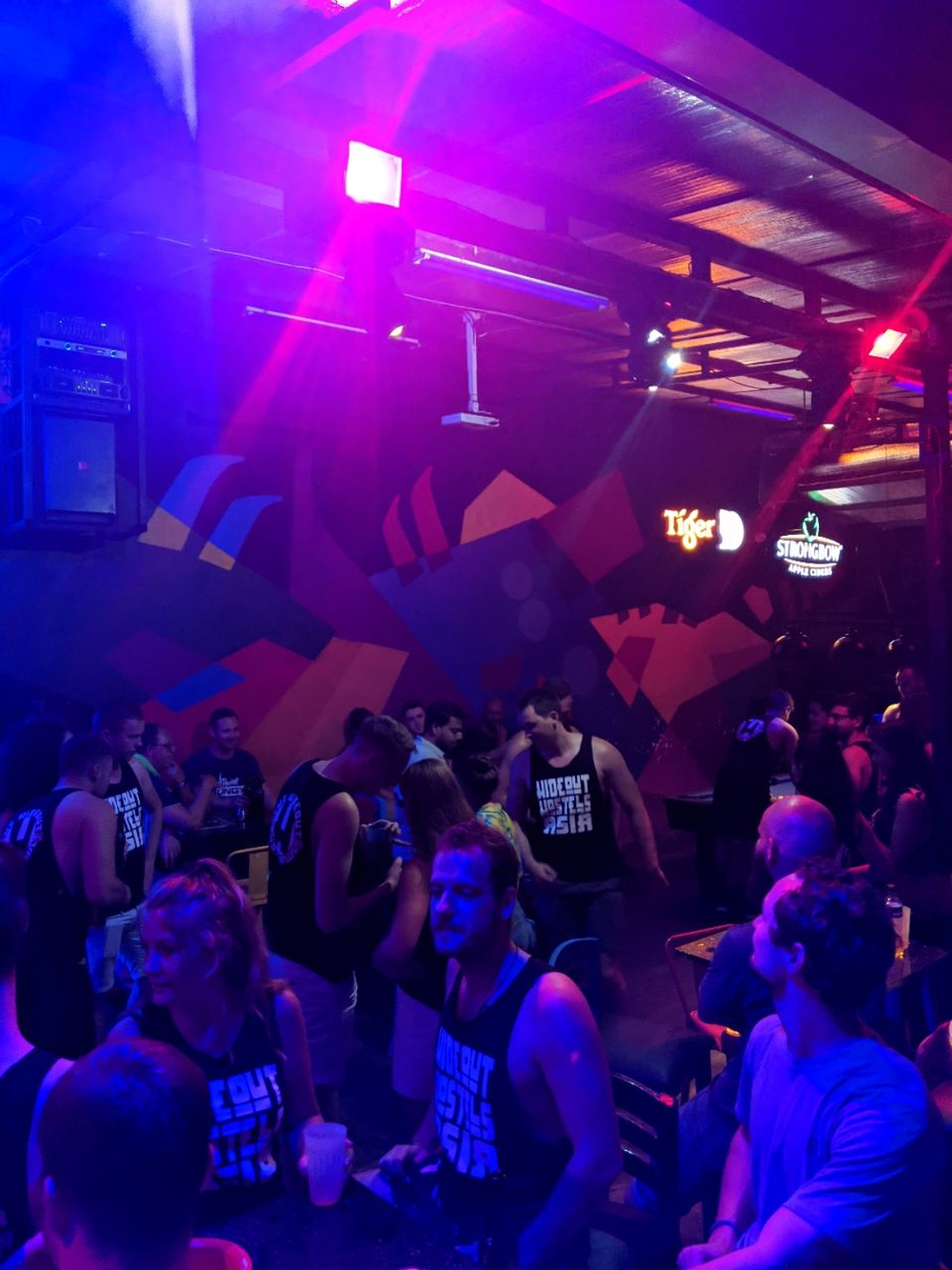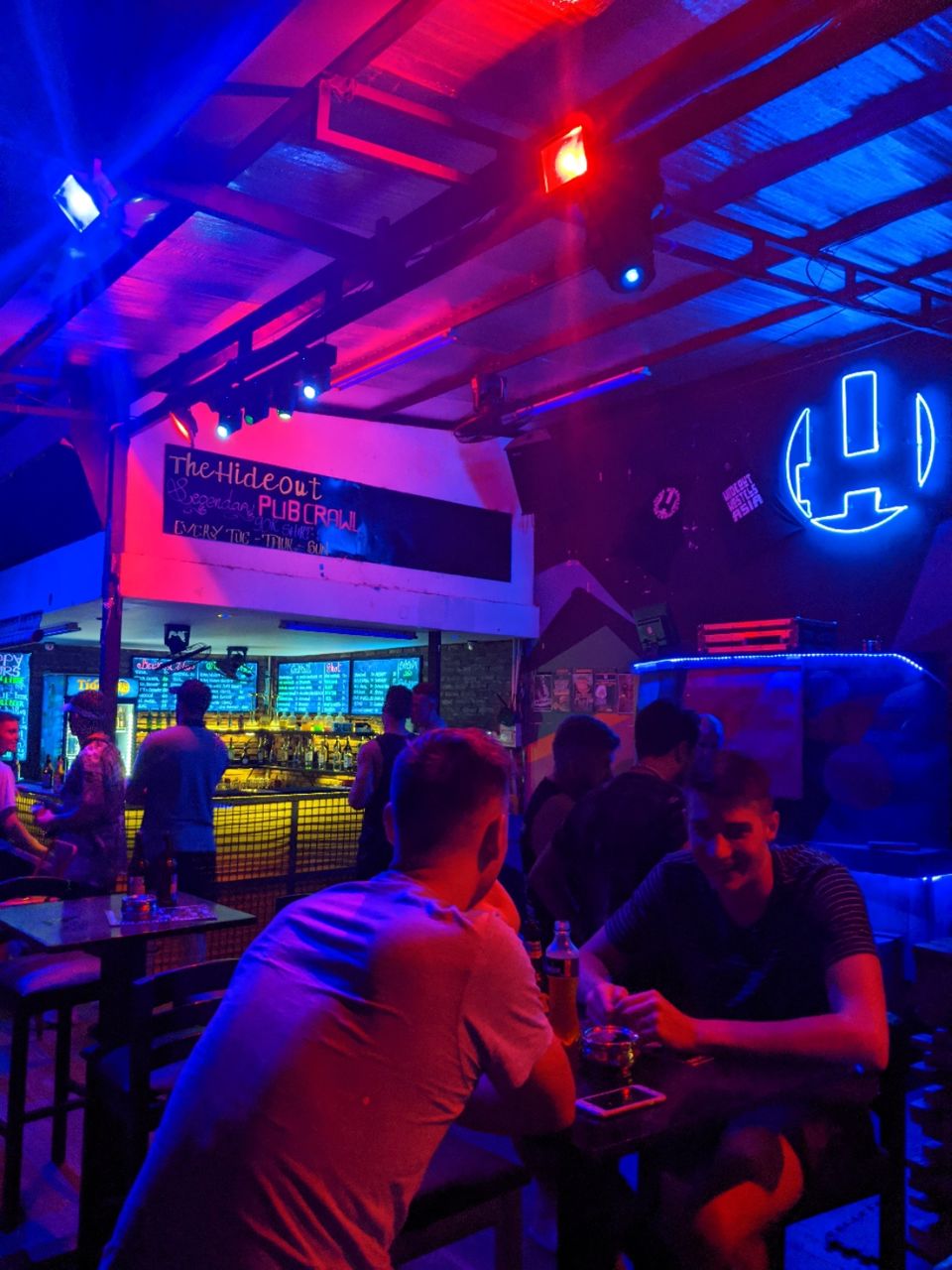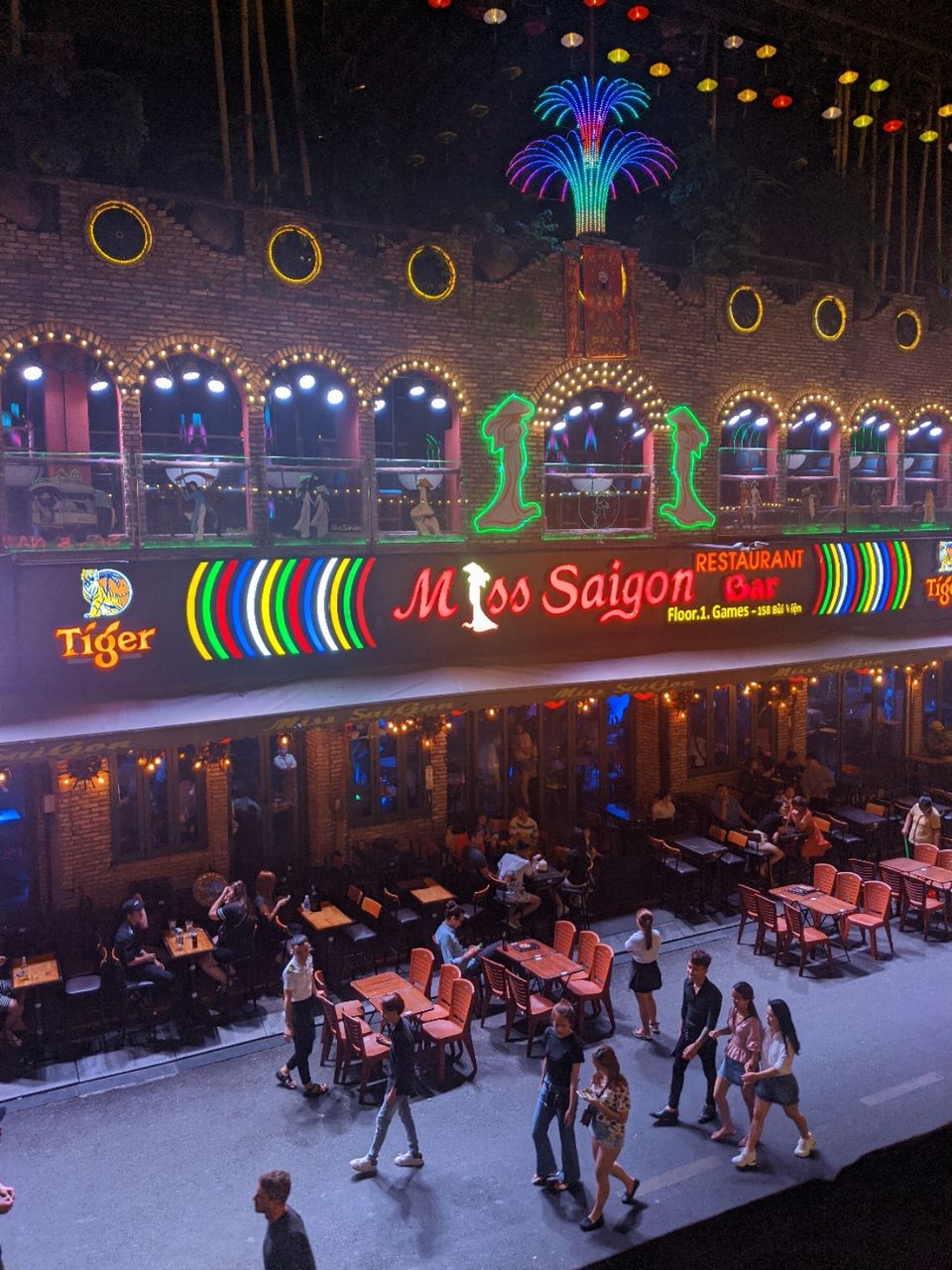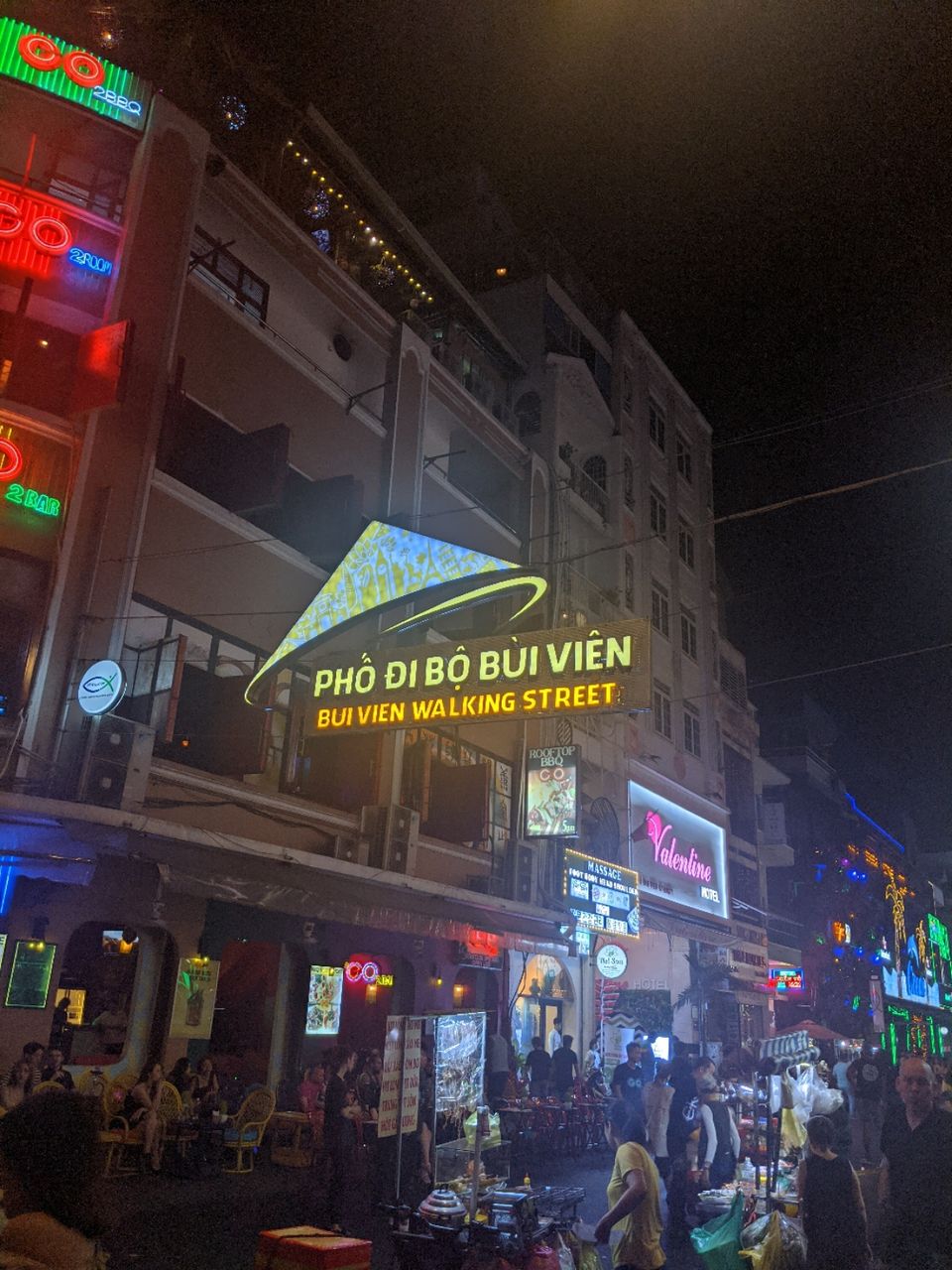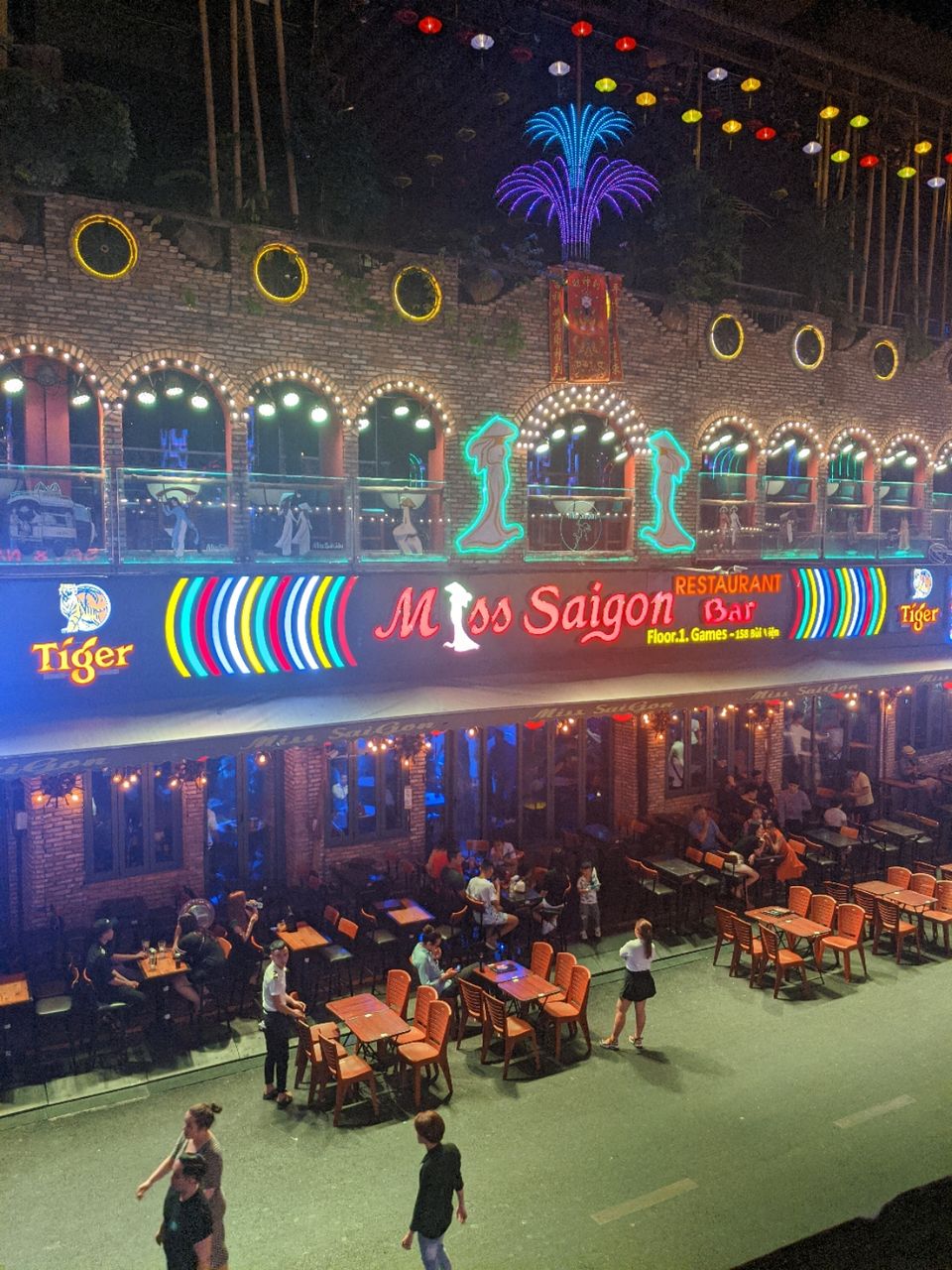 Last Day in Vietnam:
I woke up pretty late on the last day and obviously there was hangover from the previous night. I has my breakfast and started my day at around 11:30. I went to the Famous War Remnants Museum where there are so many artifacts from the Vietnam War. I spent full hour over there and then went on to see the Pink Church of Chi Minh City. It was close dues to some reconstruction work so I only got to see it from outside.
For Lunch I ended up at Shanti Indian restaurant and I ordered one veg schezwan rice which okayish. Next was a small coffee shop next to my Hostel where I ordered one Hot Chocolate for 55k VND.
I ended the trip on a sweet note. Visited this cute little cafe which had a variety of Donuts and I chose the Peppermint one which tasted heavenly.
Came back to Hostel. Picked up my Bag and left for the Saigaon Airport.
Bike Taxi: Hostel to Airport - 40K VND = 120 INR
Did some regular Duty Free Shopping and boarded my Vietjet Flight for Delhi from Ho Chi Minh Airport.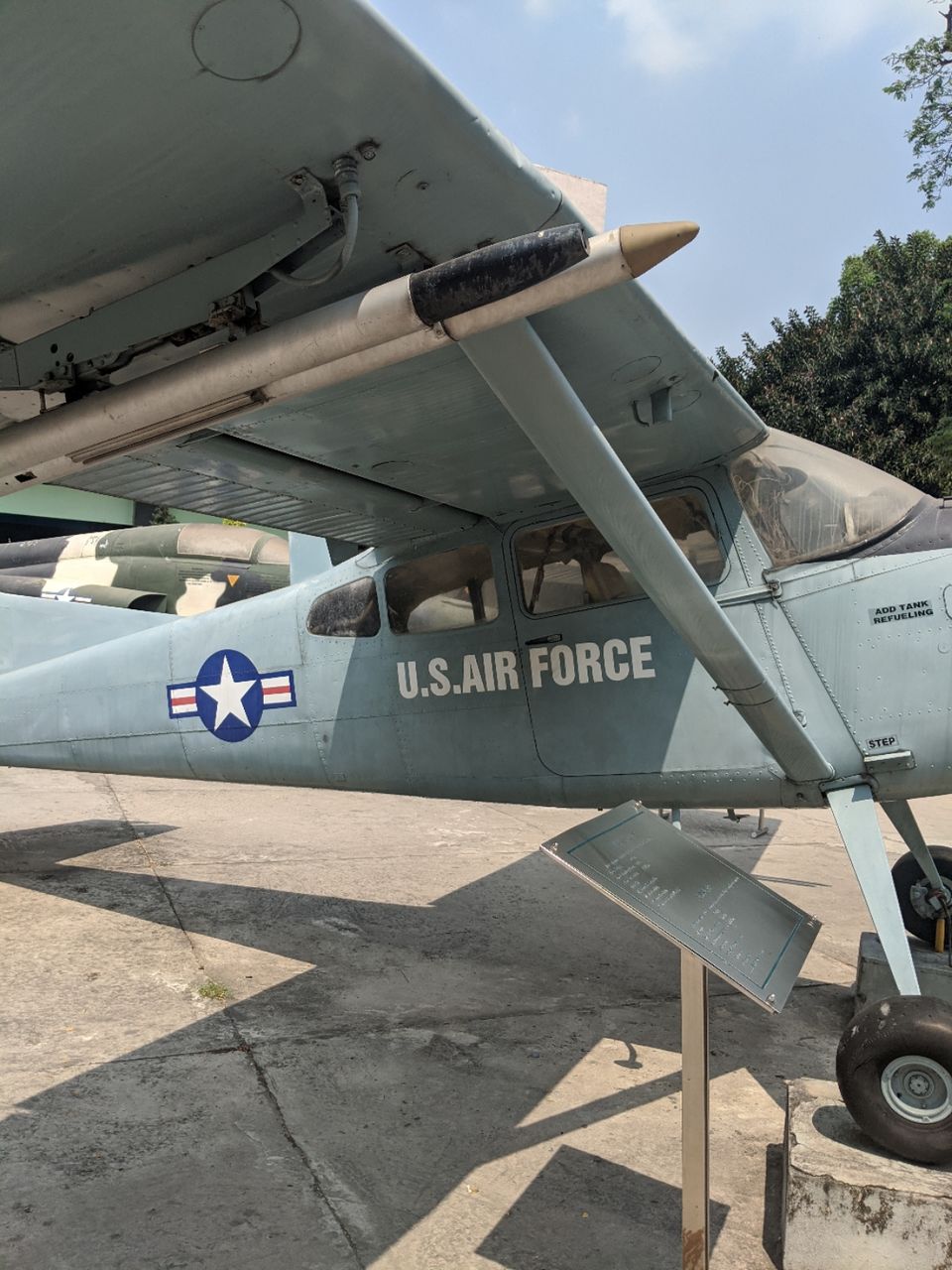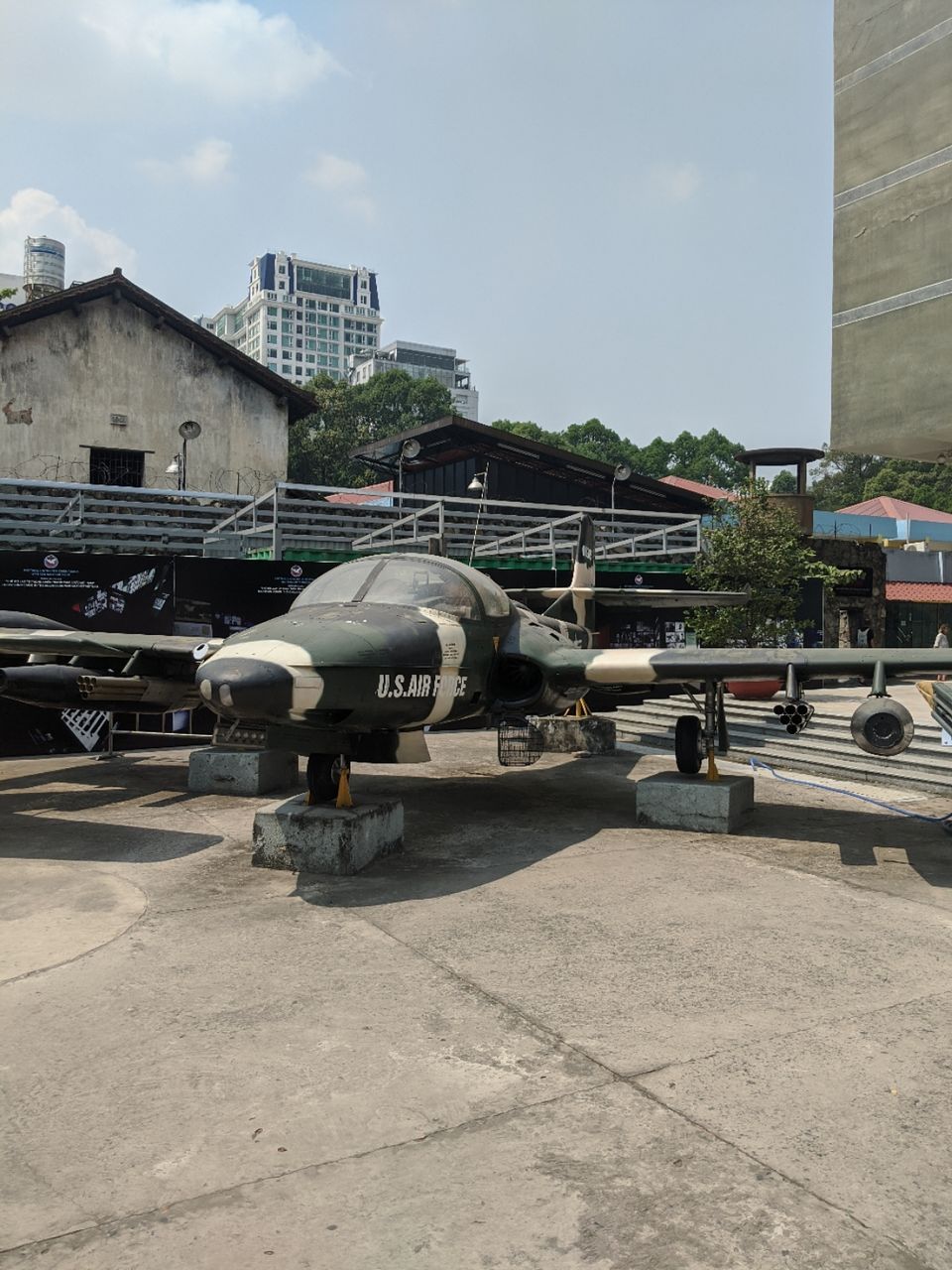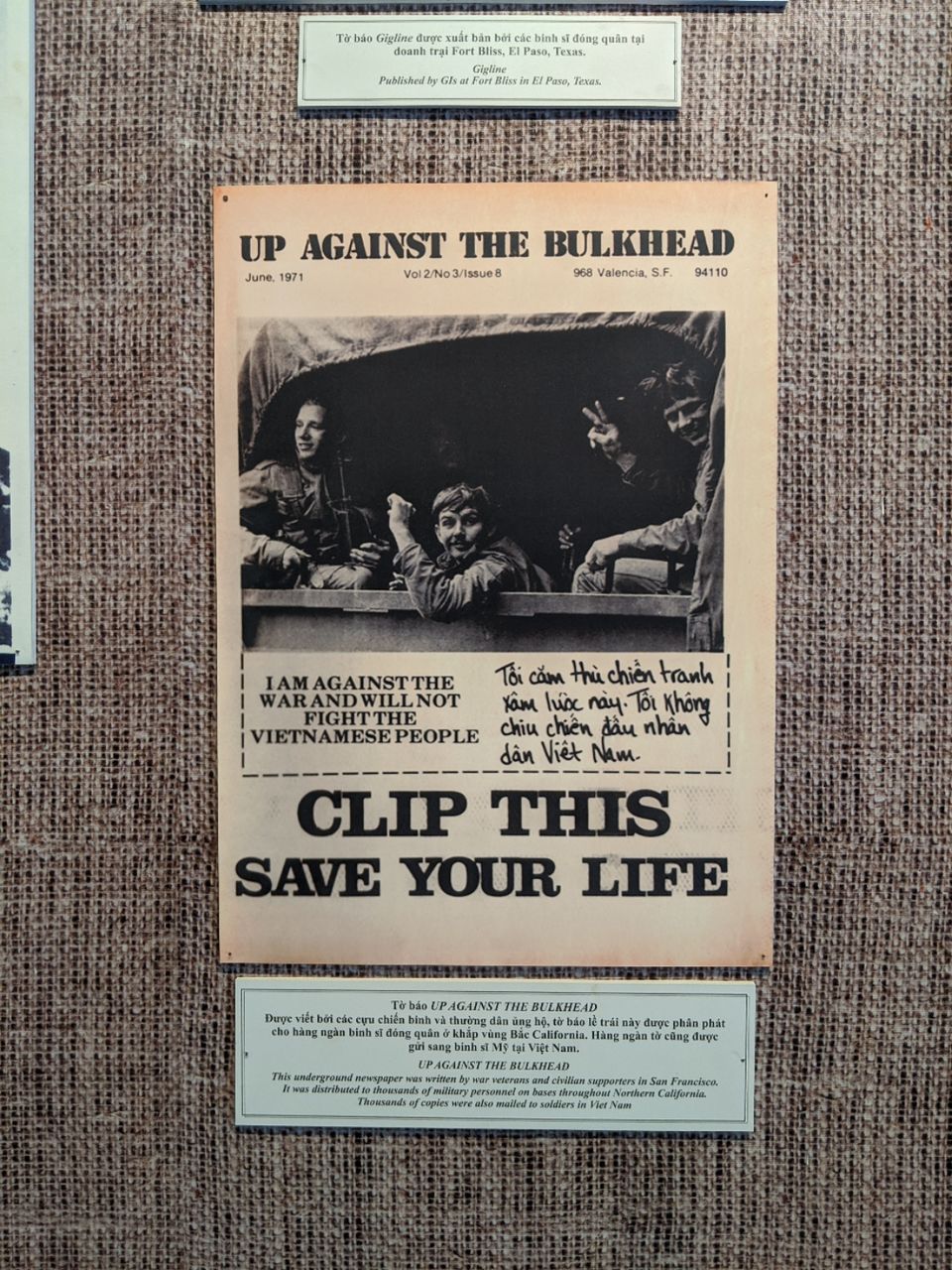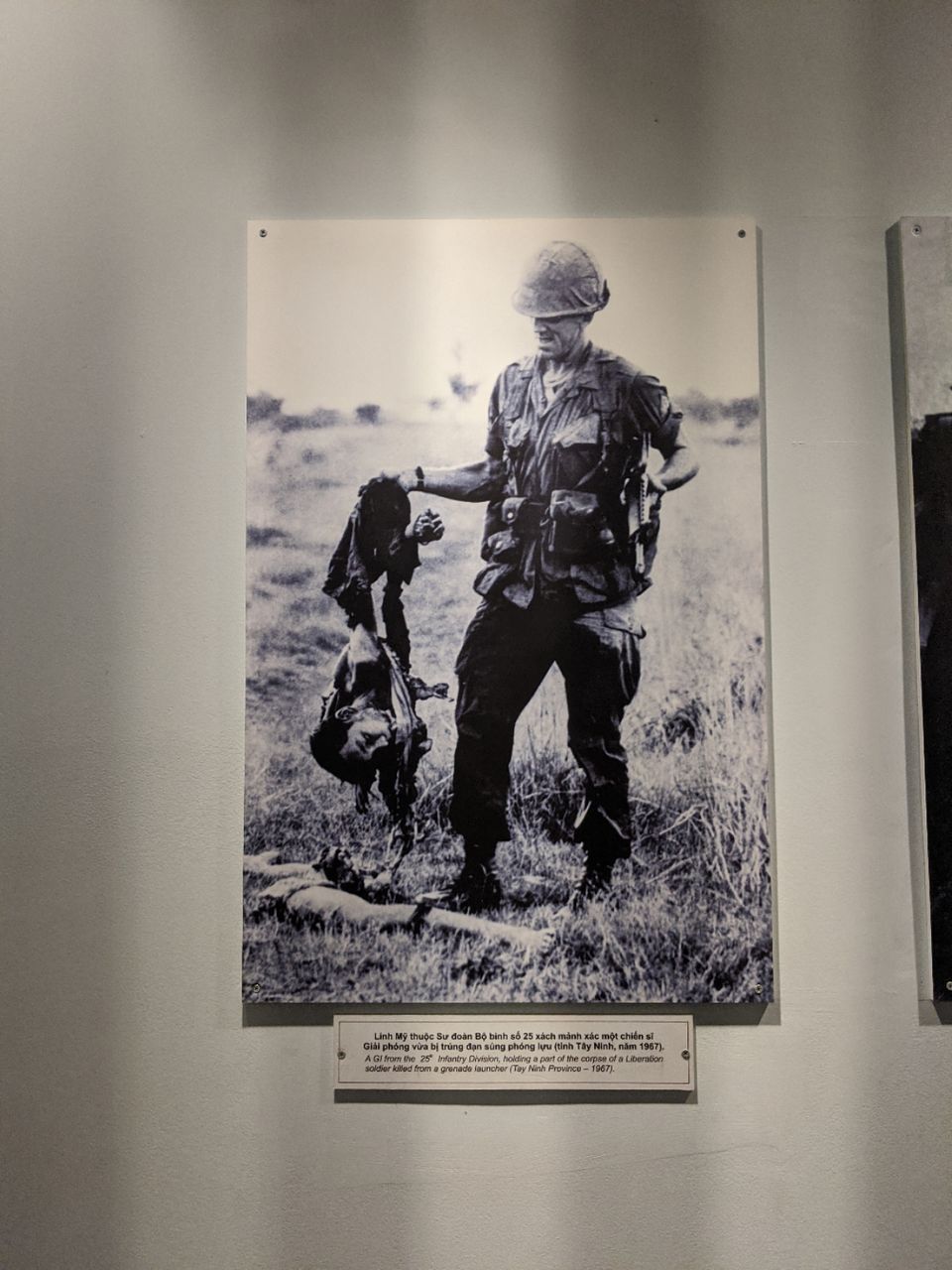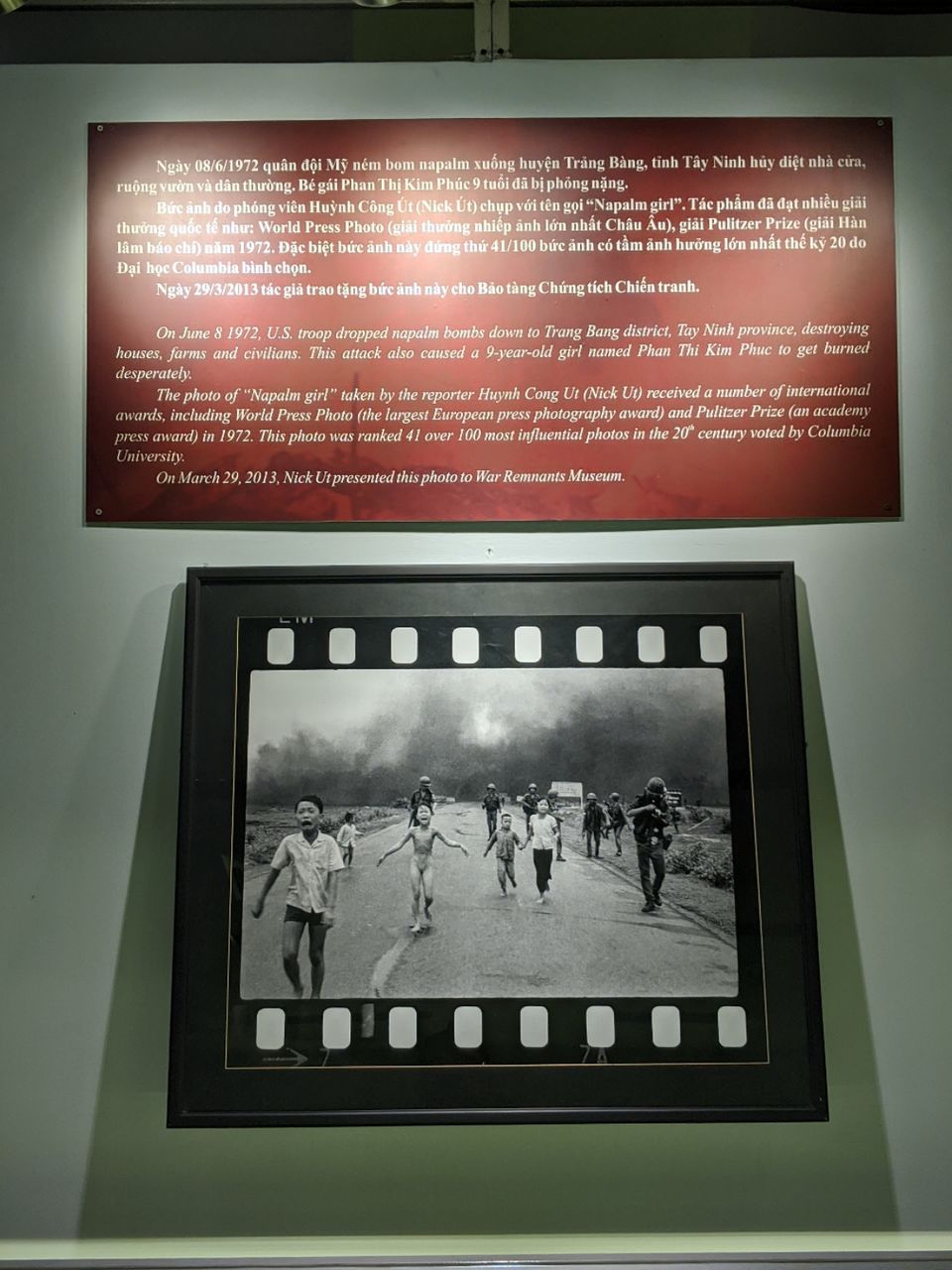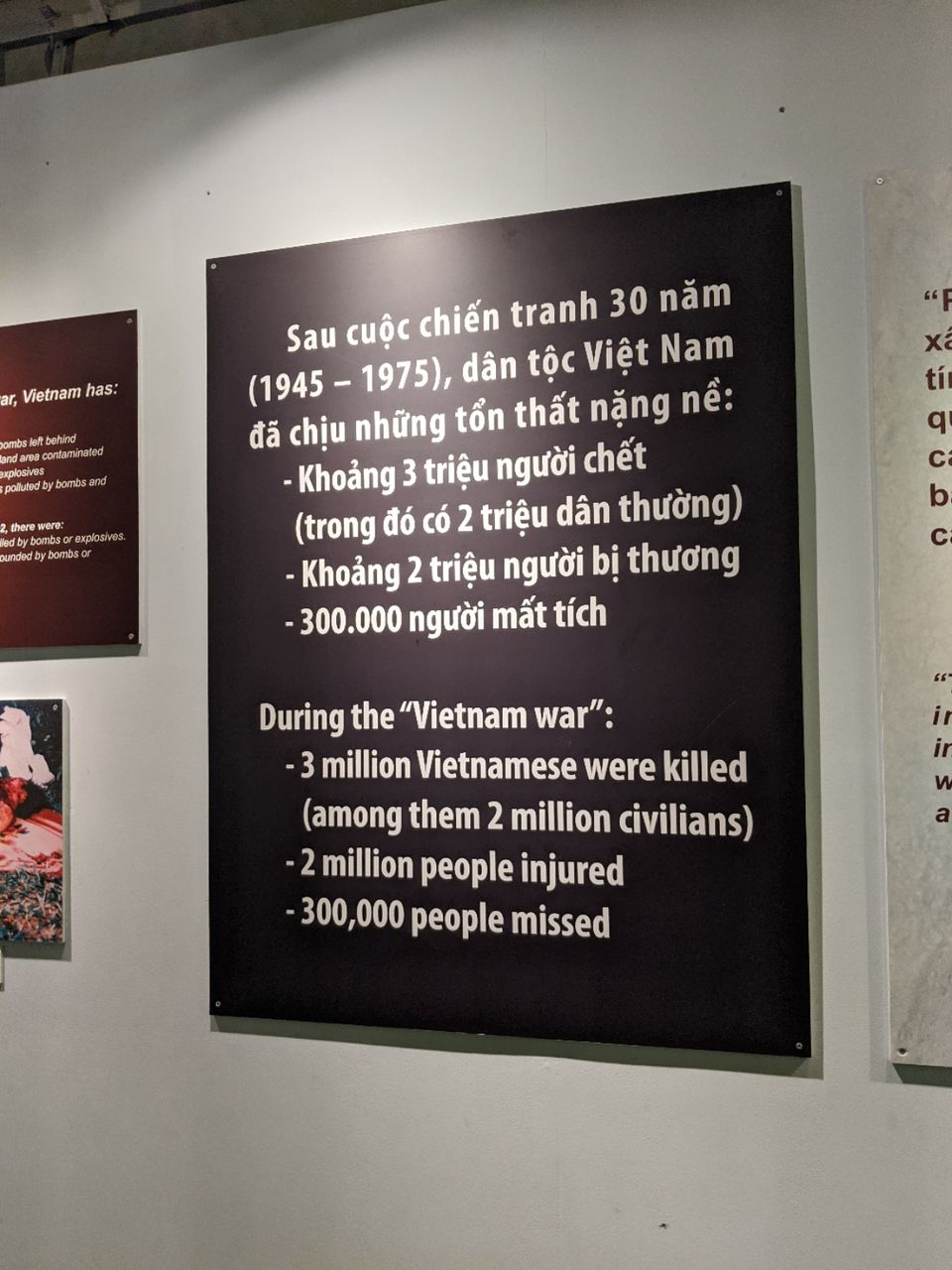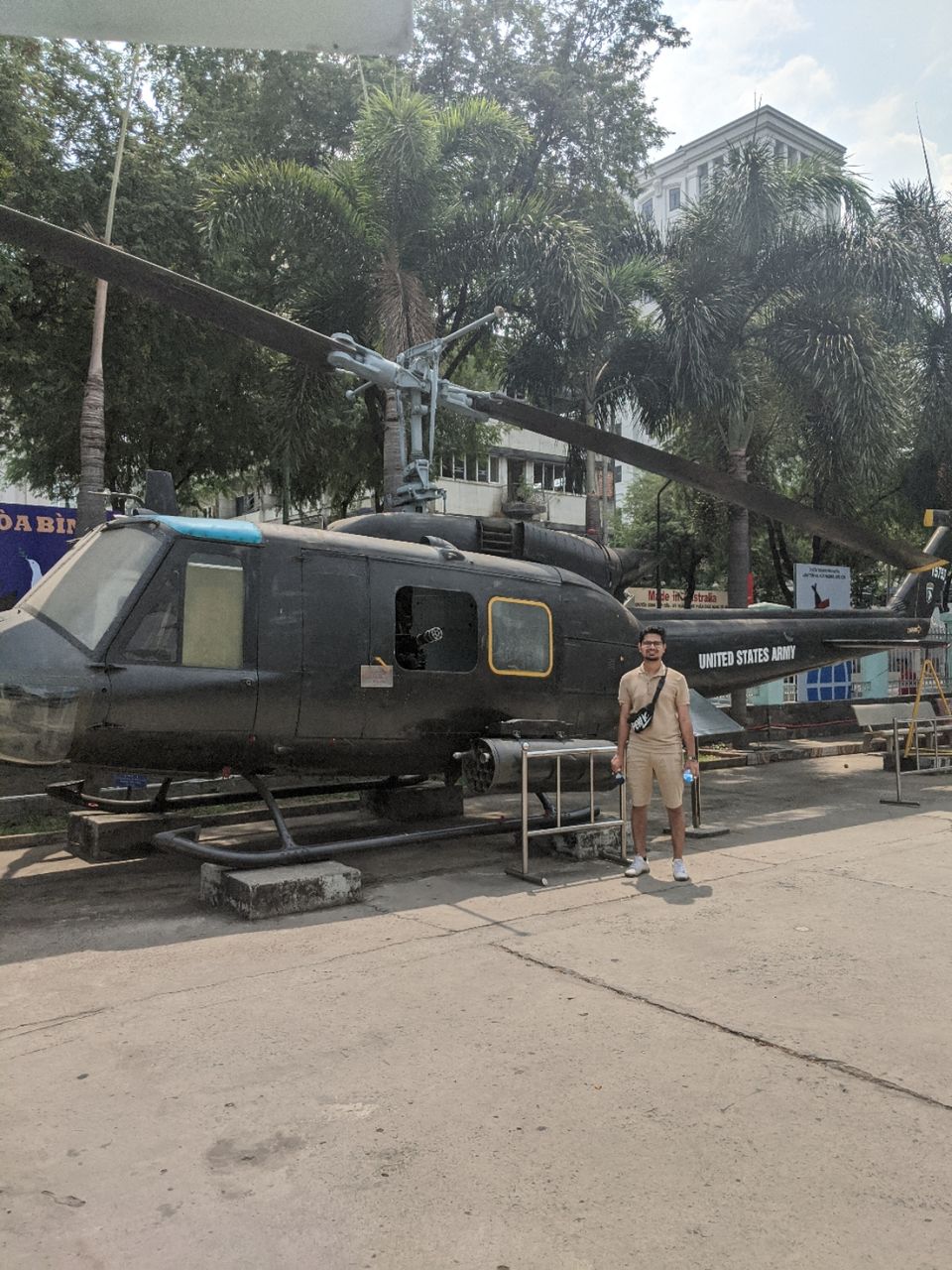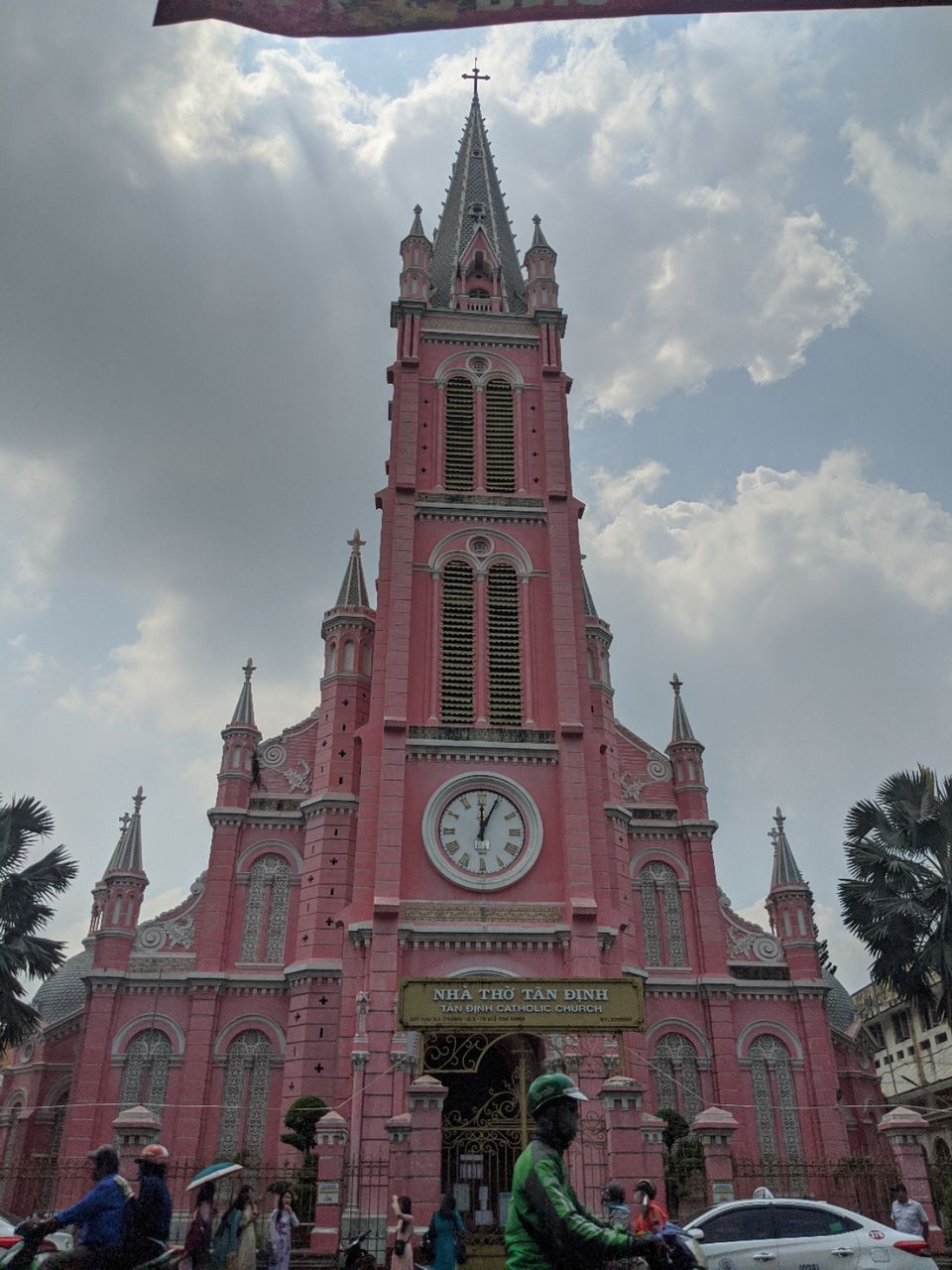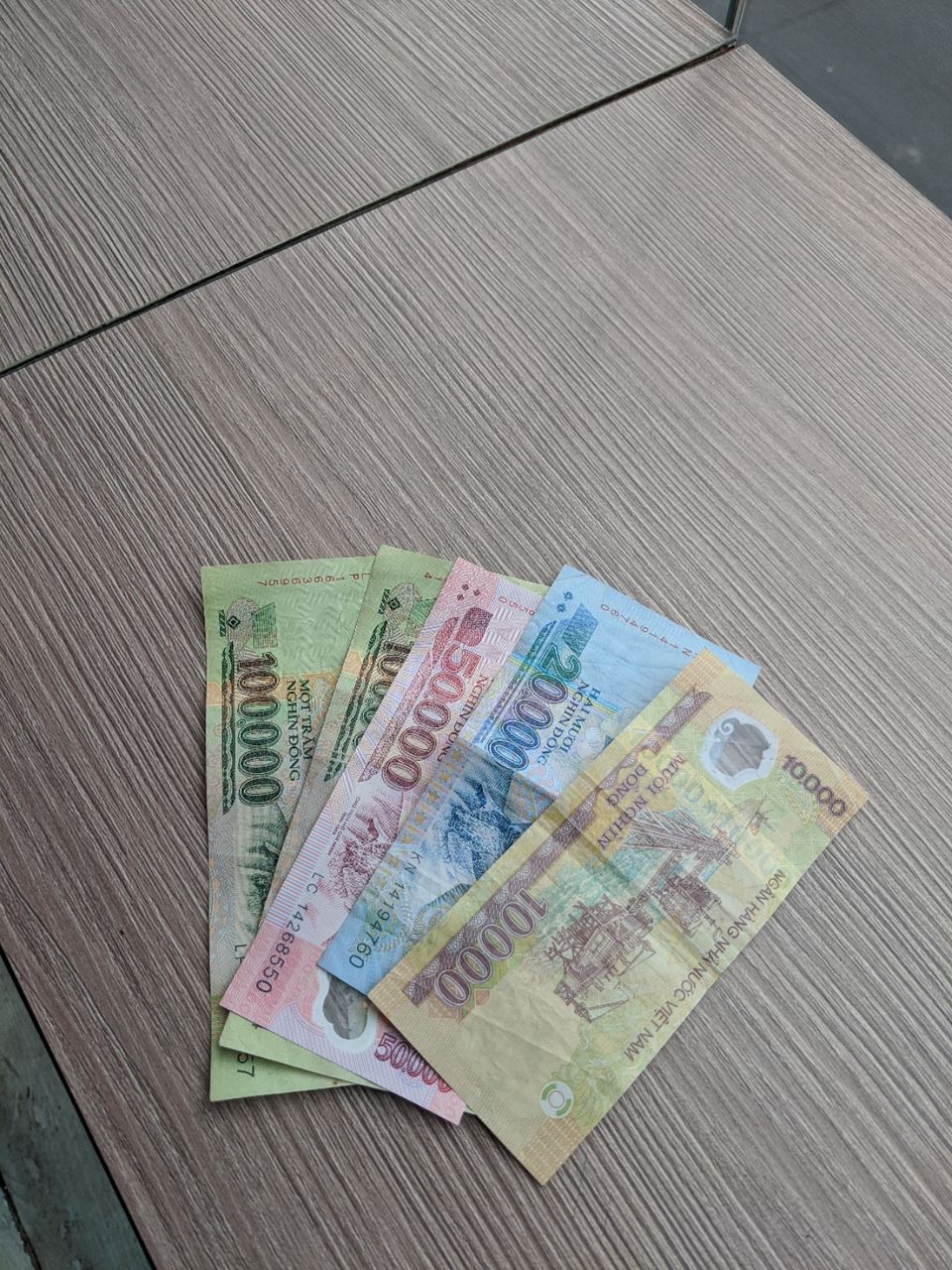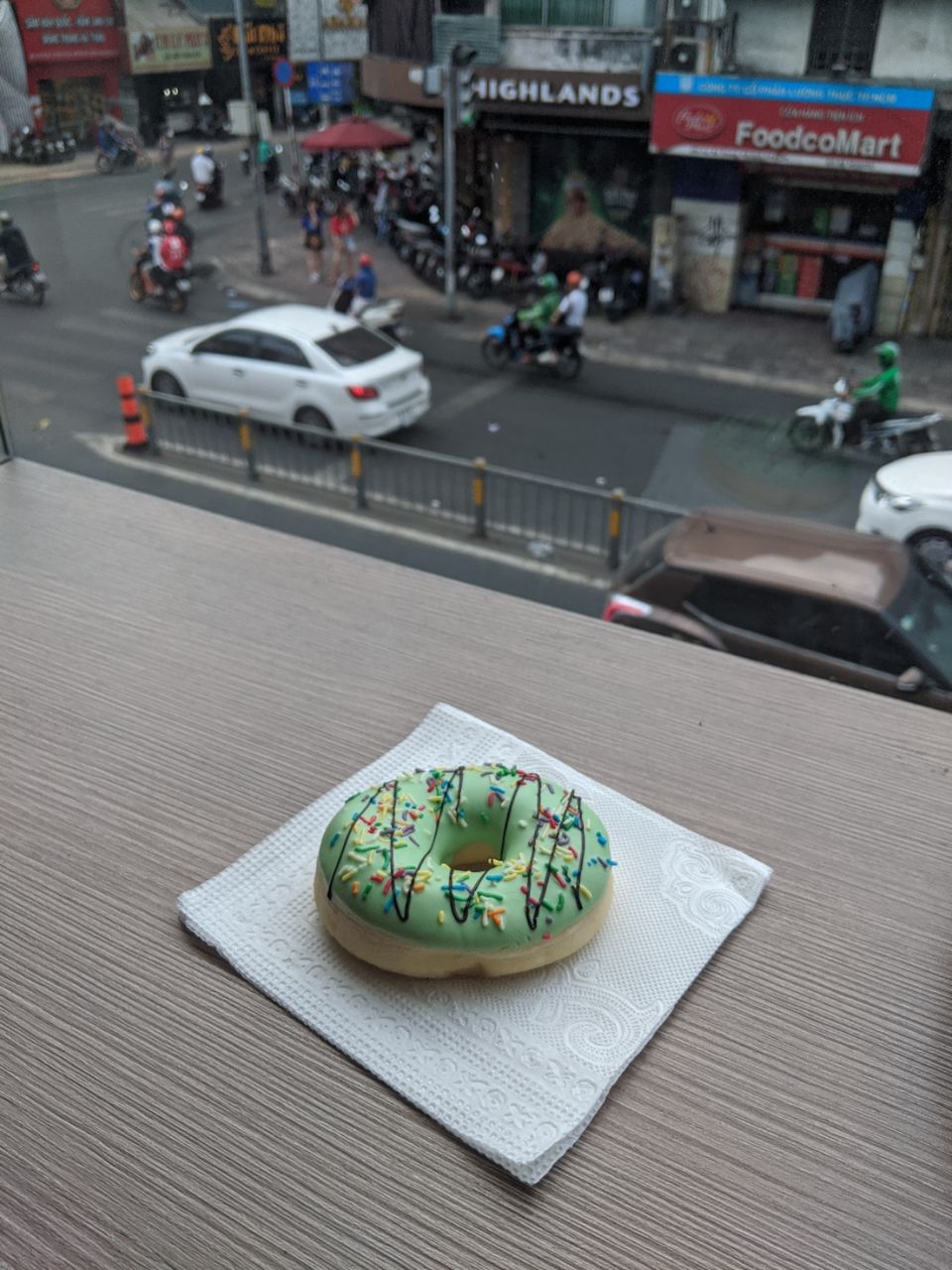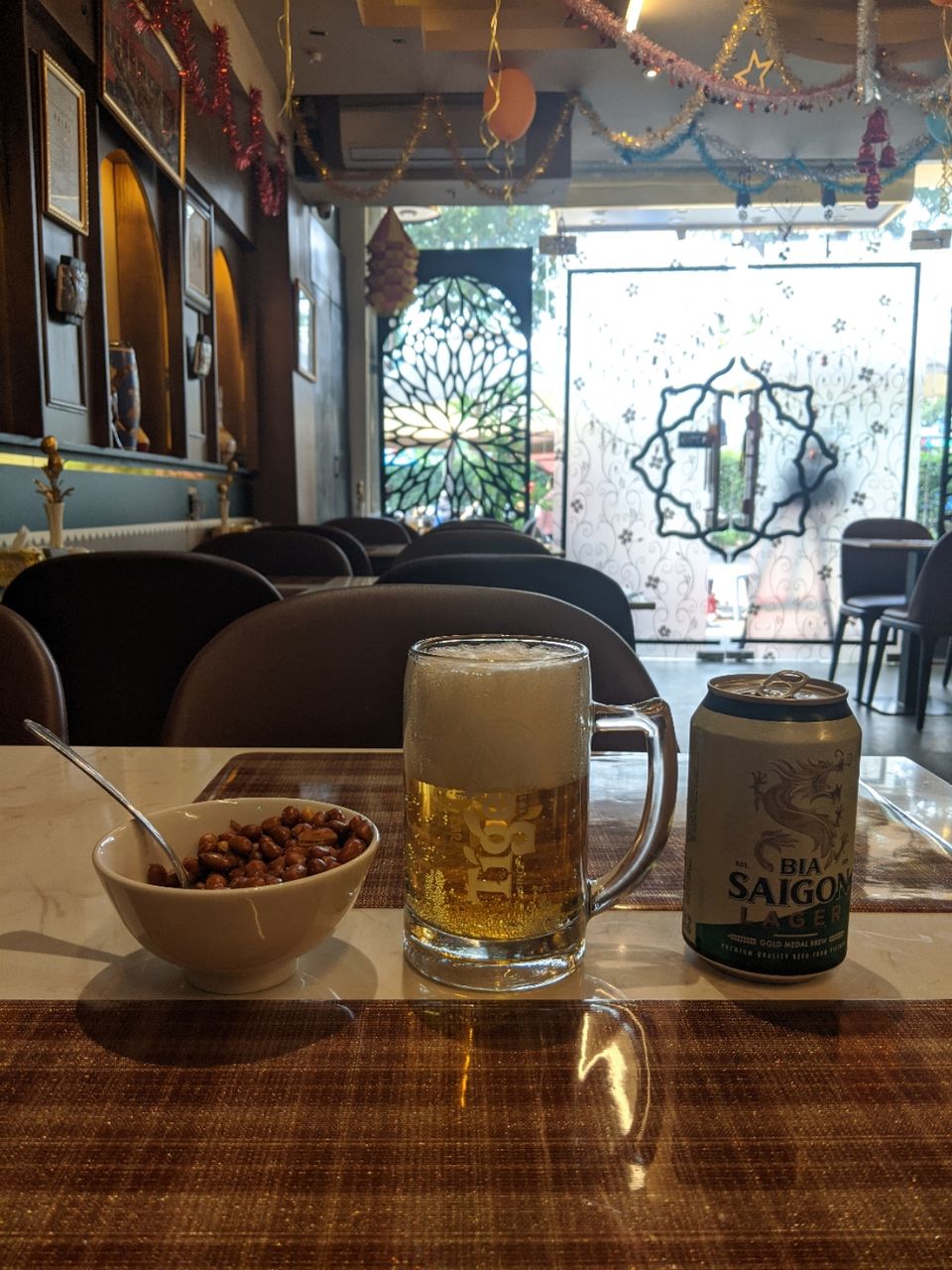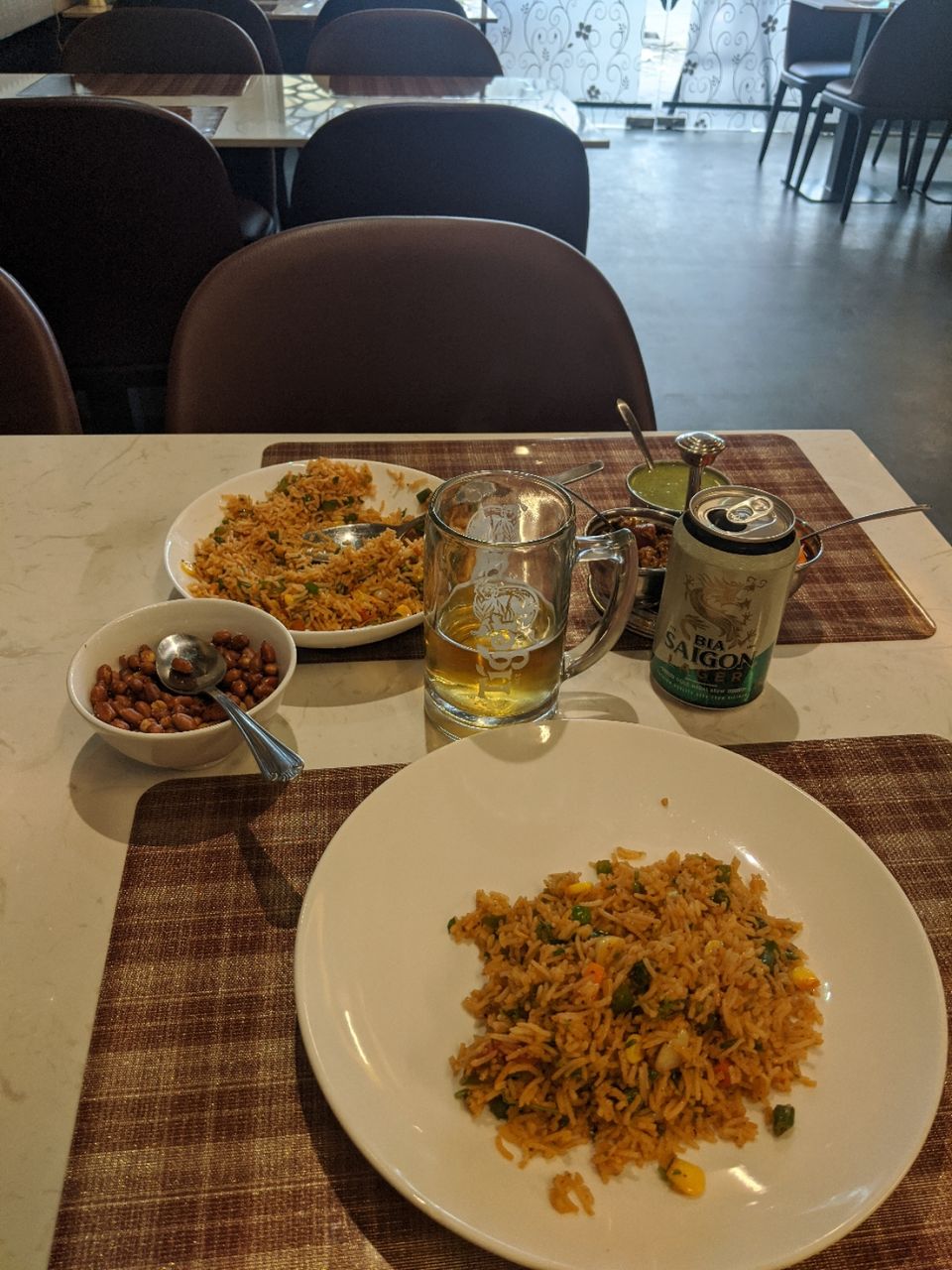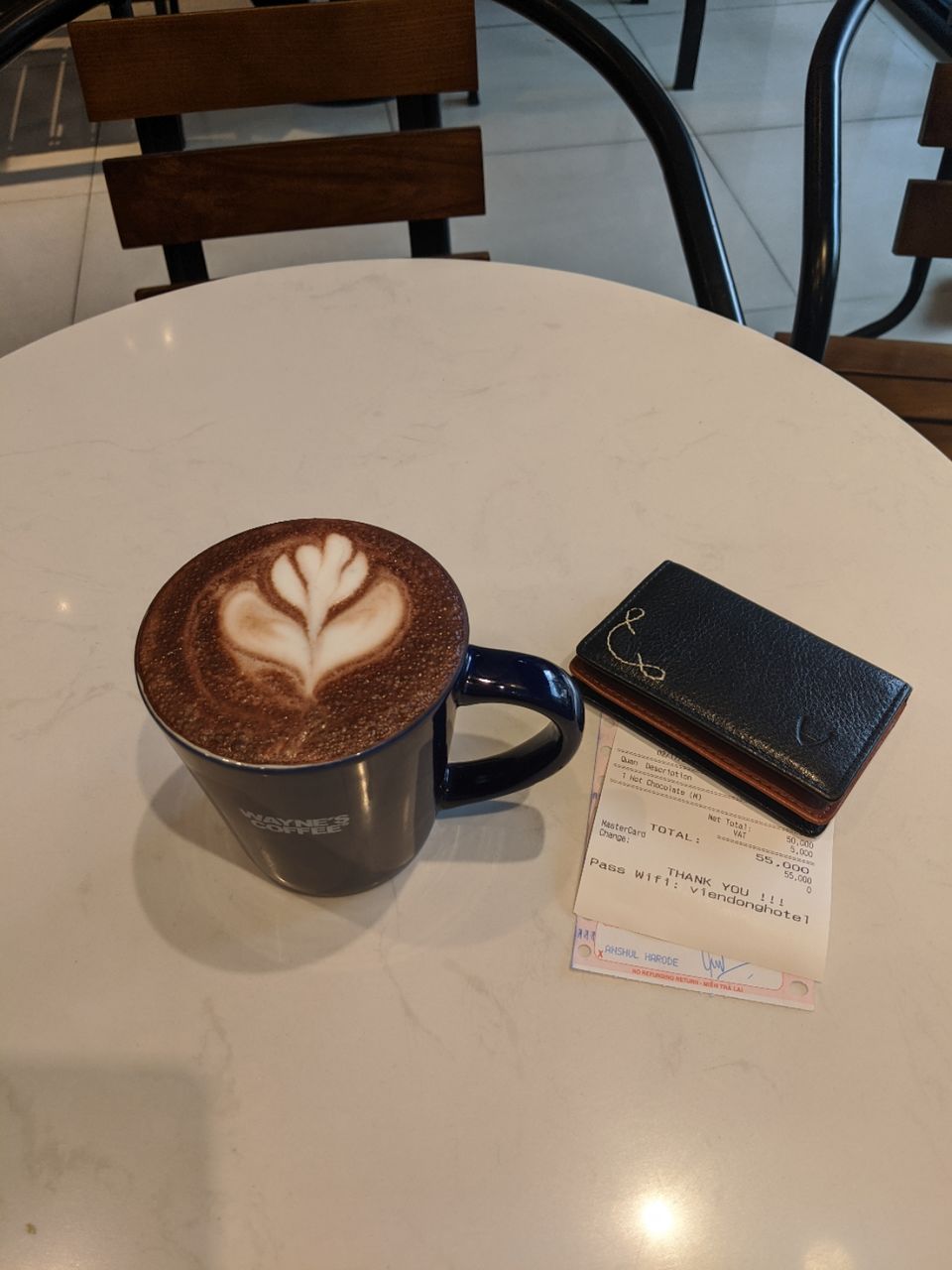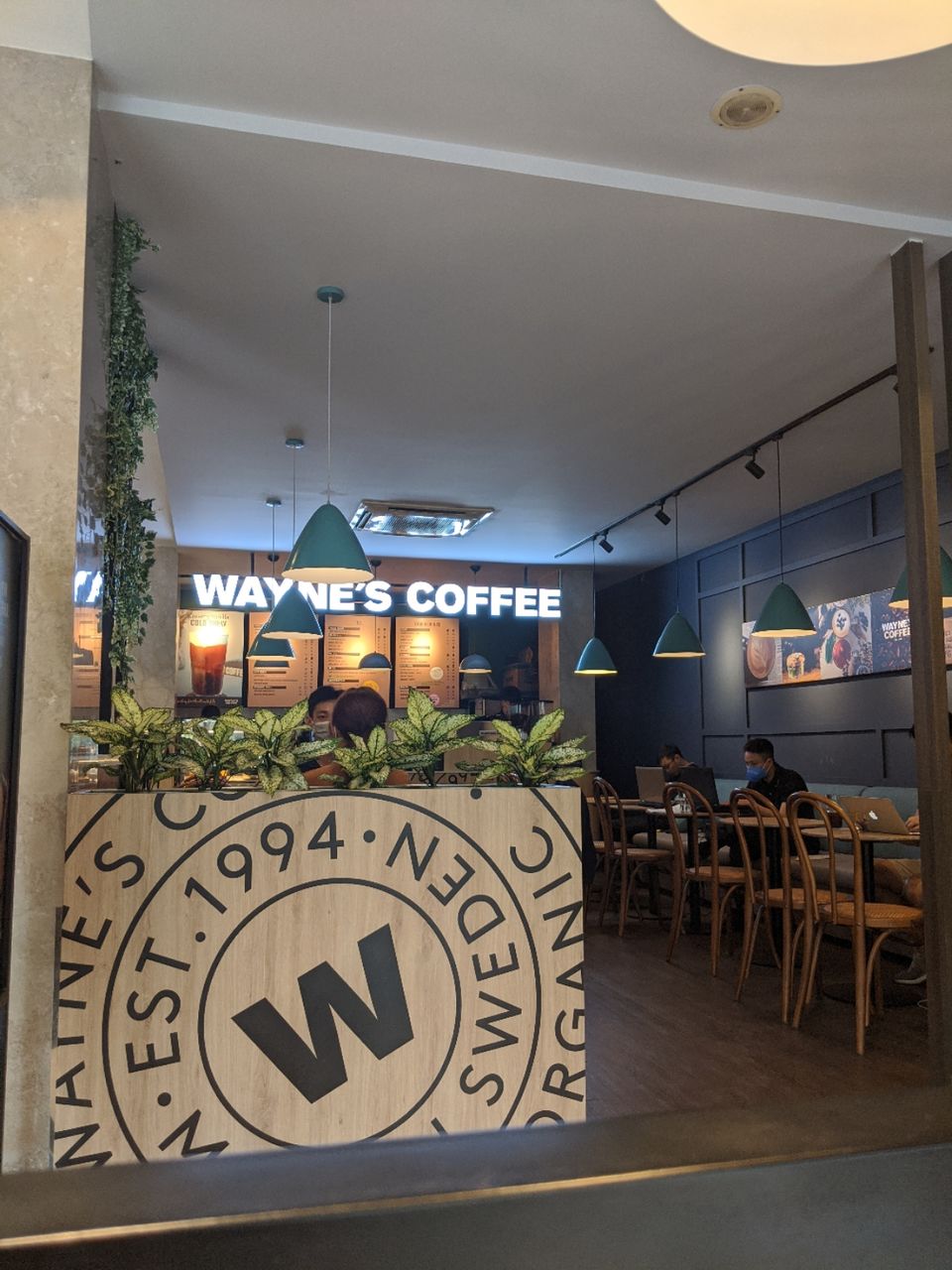 I hope you now have a pretty good idea of what goes into a Vietnam Trip. I tried my best to cover all the aspects regarding my travel itinerary and it surely will help you cover some of the best tourist Hotspots of Vietnam.
Do reach out to me if you have any queries on Vietnam.
Happy Traveling!