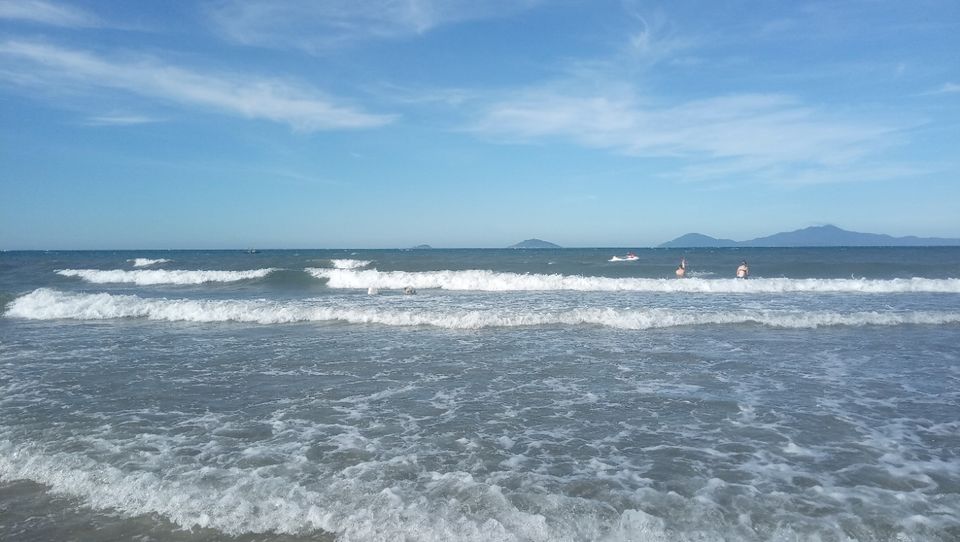 Vietnam was on my mind from the time I arrived in Kolkata in 2017 to pursue my higher studies. But our first international trip that we planned in 2018 was to Thailand as the flight tickets were cheaper for Bangkok than Vietnam and we were on tight budget.
So when the plan for second trip was made in 2019, Vietnam was the obvious option. Also our time in Kolkata was coming to an end and we wanted to do a trip before we left the city of joy.
After the tickets were booked in April, we were just counting our days and soon enough the departure day arrived. We were super excited for the trip and set for the journey ahead. Our flight had a stop in Kuala Lumpur and the layover of 2 hours gave us a chance to explore the airport. When the security check started, we stood in the queue and were surprised to be approached by a Vietnamese guy who happens to live in Pune and coincidentally had a friend from Assam too. We chatted a bit and then entered the sitting area before our boarding call was announced.
Once in the flight we were anticipating and counting our time hoping to reach Hanoi soon.
As soon as we landed and the immigration-visa process was done, we got our SIM cards and left the airport. As we planned to take a bus to the main city, we had to struggle a bit as people did not understand English and we had a bit of trouble to find the bus stop. Once we got into the bus, we were kind of relieved to find our way to the city in a public transport. But the struggle wasn't over yet. As we did not know the bus stops and we were having troubles in communicating with the people around us, we got down a little too far from our hostel area. So after walking for a good 20-25mins we reached our hostel. We booked a mixed dorm in the Hanoi Evergreen Hotel via GoIbibo and our bunk beds were waiting for us. As soon as we went to the room, we met Annie, a 20 yr old German girl who just arrived in Vietnam after backpacking Japan for 3 months. We talked a bit before freshening up and changing to fresh clothes. We decided to go out for lunch and as Annie was hungry too we 3 left together. We found this place in the corner of the street which served Bun Cha (Vietnamese style noodles). We sat and waited for our food while chatting with Annie about her backpacking trip, Japan, her education, Germany and her future plans. In between our conversations, a huge bowl of Bun cha was served to each one of us and we digged in with the chopsticks (forks were not available in any restaurant). The huge bowls did fill our appetites and we left the place after overeating. Annie suggested we go to a nearby lake for sometime and then see the Night Market which was right beside it. Me and my friend looked at each other with tiring eyes and decided to go for it. We reached Hoan Kiem Lake and clicked some pictures while enjoying the breeze for sometime. After it started to get dark, we walked towards the Night Market to find the stalls being set up so we wandered around for sometime before deciding that it was time to retire for the night. After getting some food for dinner, we left the place and reached our dorm. Luckily it was just 3 of us that night in our 8 people dorm room and we got a quiet slumber and a peaceful morning.
The fun activities began the next day as it was our cruise day to Halong Bay. We booked our adventure outdoorsy activities in Klook and Halong Bay was the first one. We got up early in the morning, got ready before the pickup bus came to take us. We got into the bus and our journey to Halong Bay started. The guide was super friendly and helpful. He entertained us along the way with some fun facts about the country and our destination. After 2 and 1/2 hours journey we reached the docks and our cruise ship was ready for us. As it was already 1pm when we reached the ship, we were provided with lunch (from steamed veggies to eggs, chicken, rice, fish, rolls, fruits etc). We sat with 3 Americans, 1 Dutch in a 6 seater table and indulged in small talks while savouring our dishes. Soon after we finished our lunch, we went to the upper level of the cruise and witnessed the mesmerizing scene the nature presented us. After witnessing the natural scene and clicking tons of pictures, it was our time to choose between canoeing and boating. As canoeing would mean getting wet and moving it all by ourselves, we chose boating to be safe. It was an amazing experience to boat around, taking it all in and enjoying the serenity for a while. After it was done, we went to Thien Cung Cave and explored it before the trip for the day ended. We reached the main city at around 8pm and were super tired and satisfied with the day.
Next morning was another adventure as we had our tickets booked for Trang An tour. The pick up bus came to get us from the hostel at around 8am and the journey to Trang An in Ninh Binh province started. First stop was Bai Dinh Pagoda, which is one of the biggest and beautiful pagodas in the country. We stayed there for sometime and then moved towards Trang An/Skull Island destination. Before reaching there we made a stop at a hotel for our buffet lunch which was included in the trip package.
Once we reached Trang An, we hopped on to boats and spent around 2 and a half hour boating and witnessing one of the most beautiful places we ever witnessed. It was majestic just like the tour suggested. In between boating we made a stop at Skull Island for 15 minutes, the place where Kong: Skull Island (2017) movie was shot. They restored the movie set to attract tourists and it worked. It was beautiful and memorable. It was already evening by the time 'our trip of the day' ended. We got into our bus to return back to the city. The rest of the night was uneventful as we were tired so we packed our food and returned to our hostel. There we booked our sleeper bus tickets to Hue for the next night.
The next day was our last day in Hanoi so we decided to do a city tour by ourselves. We checked out of our room and after dumping our luggage in the lobby we set out to see the famous Train Street in Hanoi. We followed Google Maps and reached the Train Street. It is a narrow lane with rail tracks and houses, cafes on both sides. There were other tourists who were sitting and sipping on coffee or having beer while waiting for the train to pass through the lane. We also got comfortable in a small cafe and ordered some iced tea. Soon after the whistles were blown indicating that the train is about to come. We all got up, our chairs were folded and we took safe positions. Our phones were ready to get pictures and videos of the train and in one swift the train arrived and passed through that narrow lane blowing wind on our faces. We clicked some pictures on that track before deciding to leave. We stopped to have some lunch and decided to explore a nearby market. At around 5pm we returned back to our hostel and got our luggage. The pick up van arrived soon after and we left Hanoi after spending 3 wonderful days.
The sleeper buses in Vietnam were so good. We got into our bus and our respective seats. We stretched our legs, had some hot dogs we packed for dinner and slept the night. In the early morning, we reached Hue. We took our backpacks and started walking towards our hostel which was far from the bus stop. It was a sunny morning and it took around 40 minutes to reach our hostel. As we arrived before our check-in time so we had to wait for few hours before our beds were ready. In the meantime while waiting in the lobby we looked at different people coming down to have their breakfast. We also ordered some breakfast as we were hungry and while observing people, we even managed to develop some crushes (:P). Anyway after few hours of waiting, our beds were ready and we got called. We got to our 12 bedded room and took baths before heading out for the day. First we decided to fill our tummies. Bun Cha for the win (easiest food to find). Then we walked towards the Imperial City of Hue before making a stop in a park with a spectacular and greeny view near the Perfume River. We sat there for some time resting when a local man stopped in front of us and gave us few forms to fill. He was an employee in the tourism department and was doing a survey on tourists visiting Hue city. We chatted for a bit and then moved along towards the Imperial Citadel where the Emperors lived and conducted all their business. It was a culturally rich experience and we enjoyed every bit of our time. We returned back to our room in the evening and rested for a bit. At around 7:30pm we headed out towards the Walking Street, Hue and spent some time there. We bought our dinner and had it in a beautiful quiet park while enjoying the breeze.
The next day was 5th June (my birthday) and after having our breakfast we set out to Hoi An by a sleeper bus. After around 4hrs and passing through Da Nang, we reached Hoi An and walked to our homestay which was really far. We were exhausted and tanned by the time we reached our destination. We freshened up and changed into fresh clothes before heading out to a beach. Hidden Beach was around 2kms away from our place of stay. It was a really hot day and we struggled to reach the beach. After reaching we ordered some fried rice and fresh fruits before getting into the water. It was a fun filled few hours as we enjoyed the water and had immense fun. By the time we returned to our room it was evening and a cool breeze was blowing. After spending the day amidst sand we showered, changed and set out towards Ancient Town and the Night Market. It was beautiful when we reached there. The streets were all lightened up with lanterns. People were boating in the lake and pubs were playing fun music. We walked through the streets while clicking pictures and eating local food. As our homestay was far from this area, we decided to head back soon.
It was our time to leave Hoi An the next day and move to Ho Chi Minh City. Again the sleeper bus was booked so we had the morning to ourselves. But due to the scorching heat we decided to not go anywhere. We checked out of our hotel, kept our luggage in the lobby and moved out to have lunch. We ordered fried rice, soup, green tea. It was a good meal we had after a long time. We bought dinner as well for the night we were about to spend in the bus. In the evening the pick up van came to take us to the bus depot where our bus was waiting to take us to Ho Chi Minh City. We crossed Mui Ne and reached Ho Chi Minh City the next morning. As we checked in to our hostel, we decided to shower and move out to explore the city a bit and have lunch. We walked towards the Ben Thanh Market and had some Tapioca starch with shrimp, fried rice and sugarcane juice. We did some window shopping and walked back towards our hostel. Ho Chi Minh City has a lot of parks and greens specially in our area. We saw a lot of people playing games, using gym equipments set in the parks and many enjoying roadside snacks while chatting with others. As we did not have much rest we retired to our rooms to rest for sometime. In the evening we walked for a bit, bought dinner and retired early.
Next morning we had plans to visit Cu Chi Tunnels. We bought the trip from Klook and reached our meeting point before time. It was a sunny day in the beginning but as we got closer to our destination, we witnessed heavy rainfall. Luckily I had an umbrella and my friend was given a raincoat by our entertaining and friendly tour guide. We reached the tunnels and even though it was pouring cats and dogs, that didn't stop any one of us from exploring. The history of Vietnam-US war could be well understood when visiting this place. The struggles of the people and the after effects of the war was shared by our tour guide and we could visualize it. Cu Chi Tunnels is a must visit for everyone who plans to travel to Vietnam.
The next day we set for local tour of the city after having breakfast. We visited the Notre Dame Cathedral and the Central Post Office which were next to each other. The cathedral was under renovation and the Central Post Office was one of the oldest and beautiful post offices in Asia, giving us a sample of French colonial times. The Independence Palace was our next stop. Also known as Reunification Palace it is a landmark in Ho Chi Minh City and was home and workplace of the President of Southern Vietnam during war. In the evening we went to the Night Market, bought some edibles and wandered around thinking of our entire trip of 10 days from Northern Vietnam to Southern Vietnam. It was our last night and we were to catch our flight back to India next morning.
After having breakfast the next day we checked out and hopped on a public bus which took us to the airport. After the immigration process and waiting for our flight, it was time to say goodbye to one of the most memorable trips I have ever been to. We boarded the flight and with hopes of planning our next trip bade farewell to mesmerizing Vietnam.