Just got revived from the hangover of the vacation that lasted 2 weeks. Yeah I covered 1 more place from my checklist. "VIETNAM" - a complete blend of everything.
Me and madhav were all set for Sikkim and Bhutan. All done, shopping check, tickets check, bookings check. everything done. but suddenly 20 days before our departure,we felt that our budget has really exceeded to that extent that we can have a lavish backpack vacation outside India. After consulting with many friends and ya, Quora, of course, made up our mind for cancelling the bookings and go for Vietnam. Coincidentally some sale was going on for intl flights, so everything was in our favour. We booked our tickets, hotels etc. and thus the itinerary was set.
After so much research, we decided to cover Vietnam from North to South somewhat "Hanoi - hue- da nang - hoi an - Da lat - Nha trang - Ho Chi Minh City". It felt like complete blend of everything- nature, beaches, mountains, cities, history, food, people. And yeah it proved us right too.
So, the day arrived, full of anxiety and fun, we arrived to kochi from pune as we had red-eye flight to hanoi from kochi. We had reservation in one nearby hotel to relax named "Princess Residency". The owner was very courteous to drop us to airport. We checked-in at airport. We had 3 hrs layover at malaysia. It is always fun to enter some foreign land. In the morning at approx 11.30, we arrived Hanoi . After immigration formalities (as visa was on arrival), we converted some currency and bought a local sim. The cab from the hotel was right standing outside airport to welcome us. The look and feel of whole vietnam was just like India but just the difference was cleanliness at every end. After checkin, we were too excited to enjoy the city but all got down when we came to know that we were allotted the room on 6th floor with no lift. After so much request,the hotel upgraded our room to the suite on 2nd floor. Yipee....now it seemed like everything is just perfect. We roam around streets, enjoyed the famous "The Egg coffee". The food is so cheap there ( on an average 400rs/ meal).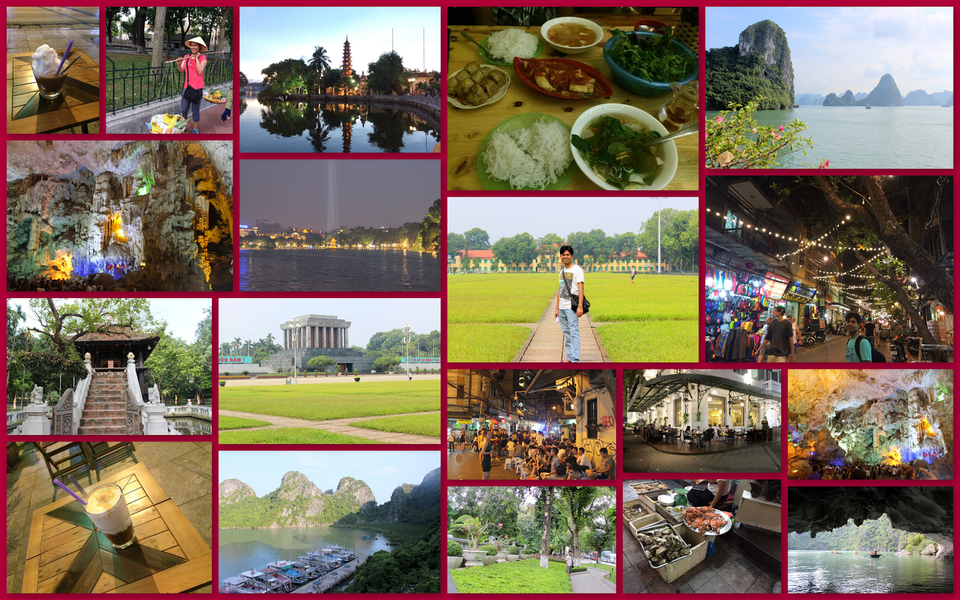 Hanoi is famous as the Food capital of vietnam. We tried endless veg varieties in vietnamese cuisine and it was too perfect. You can see countless roadside restaurants with great dim light ambience and vast varieties for seafood lovers. We stayed hanoi for 4 days and on 3rd day we had a tour to "Halong Bay".
It was just awesome full of breathtaking views, numerous mountains in the sea. and a cave in between full of stalactites and stalagmites. We went to many famous places which were quite memorable.
Landed in hue on 5th day of the trip. The hotel mgmt arranged the transfers for us. Hue is called as the "Historic Capital of vietnam" as it was the ruled by Nguyen Dynasty emperors. It is full of pagodas and palaces like Imperial city, Tomb of Minh Mang , Thien Mu Pagoda , Imperial Tomb of Dong Khanh , Tomb of Khai Dinh. Once we done all the check in formalities in the hotel, we took the city map from the front desk and started exploring the city. We took the collective pass for the above tombs and decided to cover the Imperial Citadel that day only as it takes approx 2-3 hrs to explore the whole place. We Got to know a lot regarding history of vietnam and Nguyen Dynasty. A lot of walk is required but a worth visit. The remains are quiet well maintained. It had a beautiful landscape and many beautiful gardens to roam around.
The next day, we hired the 2-wheeler and covered all the attractions of the city. The weather was too favorable and everything was just photo-friendly. There was also a night market near buy along the famous "perfume river" full of red lanterns all along the road making the way soo beautiful. We did some shopping from there. We stayed in hue for 2 days/2 nights. The next day after breakfast we were off to Da-nang by Train.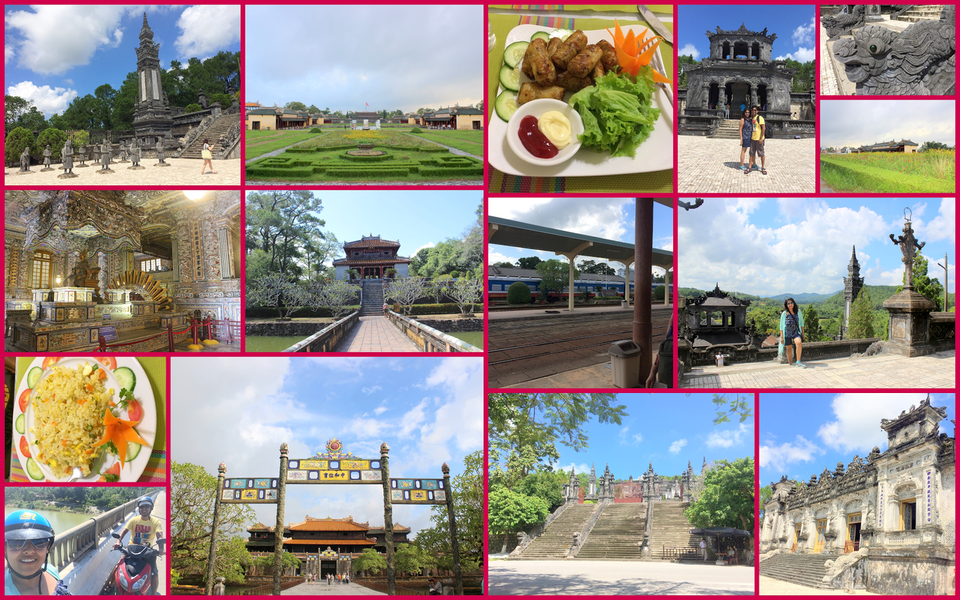 For reaching to Da-Nang there was approx 2 and half hrs train journey, out of which 1 hr is along the sea coast. The turquoise blue sparkling colour of the water on the sunny day was just a breath-taking experience. I just couldn't able to stop myself from taking photos.
Da Nang is a coastal city in central Vietnam known for its sandy beaches and history as a French colonial port. On arriving to Da-nang, we hired a cab to the hotel, " Queen's finger hotel", just 5-10 mins walk from the famous beach. We had planned 3days/3night for da-nang. After check-in, we moved in search of restaurants for some food & we found the number of cafes and restaurants with the great veg varieties. After the delicious Vietnamese meal, we headed to enjoy the beach. In the evening, to our surprise, Our hotel had the bar and swimming pool on the 13th floor rooftop with the mesmerising city view and infinity sea view. What else is needed. Had a beer on the pool with the sunset view with my love.
Next day, We hired a 2-wheeler to enjoy the city. We experienced little rains and dense clouds but we were enjoying. The look and feel of every city in vietnam was different in its own way. Danang is a blend of gleaming new modernist buildings, clubs, pagados and beaches. The famous attractions in da nang are Lady buddha, The marble mountains, My Khe beach, Museum of Cham Sculpture, Hàn River Bridge, Novotel hotel and Novotel Danang Han River Bridge. The city is fully lighted at night making it really beautiful.
The next day, we decide to take a tour to the UNESCO Heritage city " hoi an". It is Prominent in the city's old town and the historic district, recognized as an well-preserved place for Southeast Asian trading port dating especially between china, portugal, Japan, Dutch and India, from the 15th to the 19th century. It is covered by "Japanese Bridge," dating to the 16th-17t1h century. We stayed there for 3-4 hrs. Our guide was very nice to answer our all questions and help us in exploring the beautiful town. It's always awesome to in evening to enjoy the city of lights.
The next day, we decided to visit Novotel club on 36th floor which offers breathtaking city view at night. There was a dragon bridge which oozes fire on late weekends. We enjoyed every bit of moment there and each day, tried to enjoy to our best. Next day, We had our early morning flight to our next destination, "Da lat".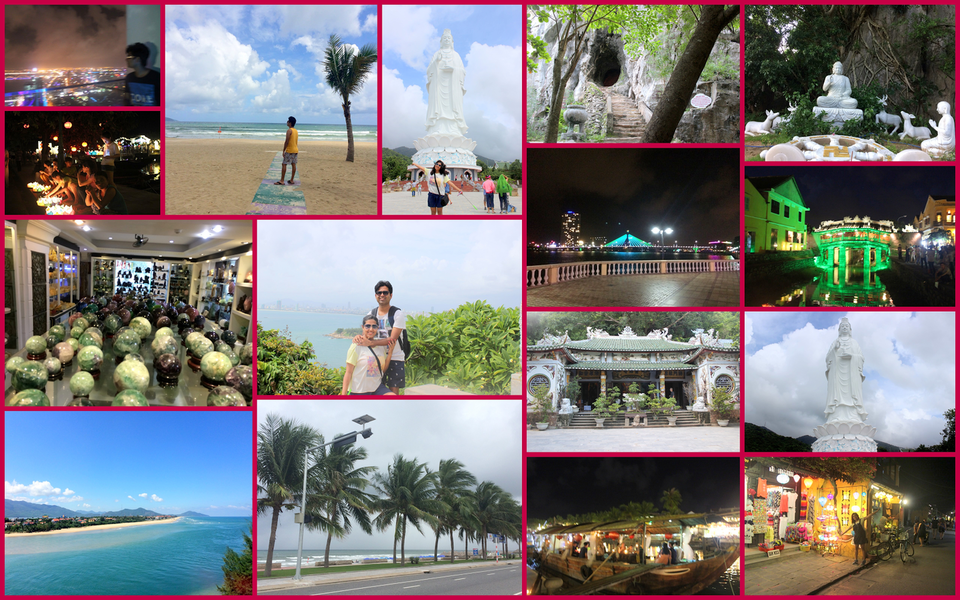 Here we landed Da lat airport. The view is so serene and calm but suddenly, a cool air banged, gave the feeling of reaching a hill station. Da lat is southern Vietnam's Central Highlands, popularly known as the "City of Eternal Spring" for its distinctive temperate climate. It was developed as a resort by the French in the early 1900s, and many reminders of its colonial heritage remain.The hotel has arranged the cab to pick us.
The city was 45 min drive away. The way was so beautiful surrounded by pine woods and colourful gardens. The route was somewhat a hilly journey. After check-in, We bought a city map and got all set to explore the city and its attractions. The city is around a beautiful lake and golf course, and surrounded by hills, pine forests, lakes and waterfalls. We first visited the flower park. The park was neat, maintained and relaxing. It had huge variety of different species of plants and roses. It was a nice walk across it. We spend almost an hr or two and headed towards a cafe for a nice sip of coffee. Da lat is famous for its coffee and i have passion for it. "A perfect combination". There was a cafe just opp to our hotel "Len's cafe" where we spent a nice evening.
Then we visited linh phuoc Pagoda by train. It is really beautiful and worth visiting. This pagoda has lots of interesting details. The oldest part of the temple is beautifully done. In the garden, there is a dragon that is made up of empty glass beer bottles. In New part , there is a goddess that is made up of dry flowers. The next day we had a nice walk around the lake, visited the crazy house, church,n may attractions. We bought a variety of teas and coffee from da lat. It was worth spending 2 days here. Every city has its own charm and beauty. Cheers to the itinerary... !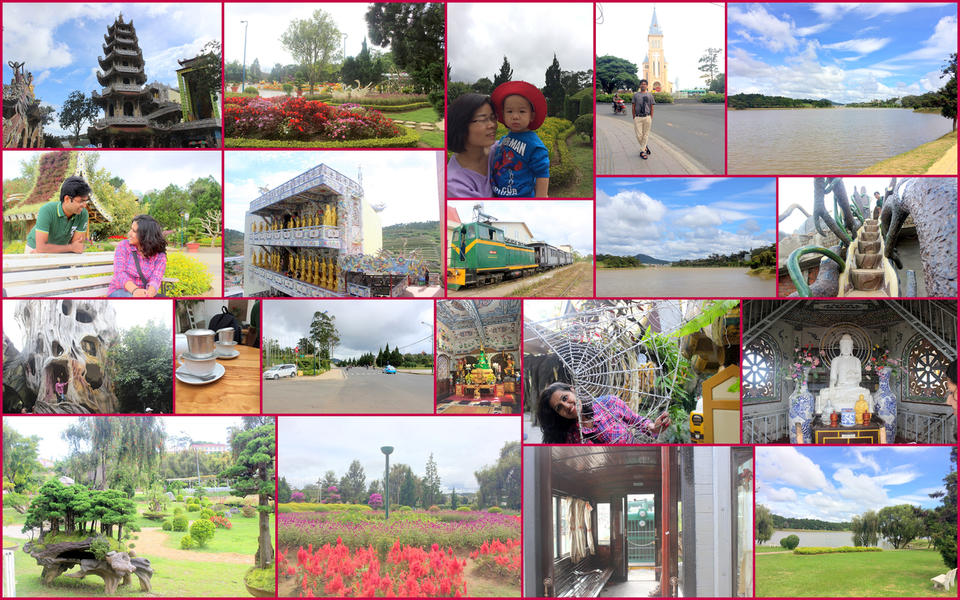 So, Next destination was Nha TRang, A coastal city and capital of Khánh Hòa Province, on the South Central Coast of Vietnam. It rains a lot in south asia in winters. So, we encountered a good amount of rain in nha trang, so strong that i have never experienced. The building of our hotel was shaking ( we were on 14th floor) and when we reported at the front desk, the receptionist calmed us down that it's quite normal here.
We immediately made up our mind to either change the hotel or change the room to the lowest possible floor as we wanna end the trip on the sweeter note not with any bad experience. So, we shifted to 2nd floor and felt too much relaxed. It was sunny also sometimes. The storm comes in intervals, full of heavy rains and very strong winds that it was sometimes difficult to walk also.
So, there was no point of exploring the city till too far off, we decided to cover the nearby places only like Long son pagoda, Sailing club, Po nagar cham towers. We didn't take any risk of carrying cameras along due to rains. The beaches were clean and peaceful. The food was too awesome. Till now, I had started loving Vietnamese cuisine. We stayed here for 2 days and headed towards our last destination Ho chi minh city.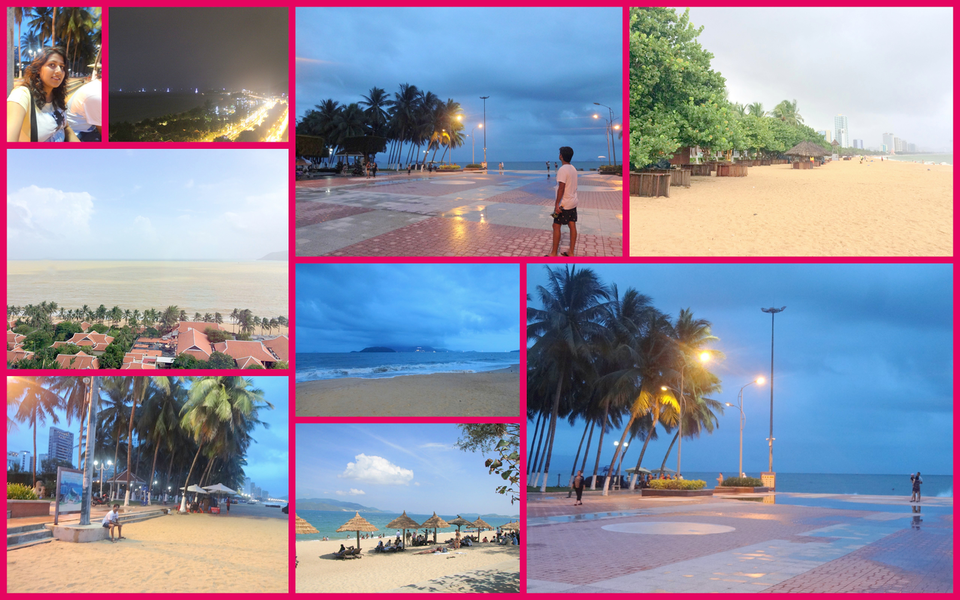 Destination 7 (Last city to explore) :- Ho Chi Minh City
After landing to ho chi minh city, We felt the drastic change in the panorama of the city. It is a metropolitan city, commonly referred as Saigon. Under the name Saigon, it was the capital of the French colony of Cochinchina and later of the independent republic of South Vietnam.On July 1976, It was officially renamed Ho Chi Minh City after revolutionary leader Hồ Chí Minh. It is a hub of various companies. It took us an hr to reach the hotel from airport. After check-in, we went out in search of food.
To my surprise, our hotel was in one of the famous streets of Ho Chi Minh city, "bui vien street", full of restaurants, nightlife, roadside pubs, discos. After having brunch, we headed towards the War Remnants Museum. It was a takeaway experience. After going to every floor, our minds were so lost, thinking of the sufferings, sacrifices and compromises of the vietnam. The history of vietnam is very deep, full of war and the support from the world. Then we visited various attractions like Jade Emprorer Pagoda, Notre Dame Cathedral, Central Post Office, Saigon Opera House, Nguyen Hue Street, Ho Chi Minh squares and the famous Ben Thanh Market. Next day, we planned to visit Cu chi tunnels but unfortunately, it rained heavily. So, we missed it. But anyways we enjoyed the city very much. Vietnam is indeed a beautiful country.... Hence proved..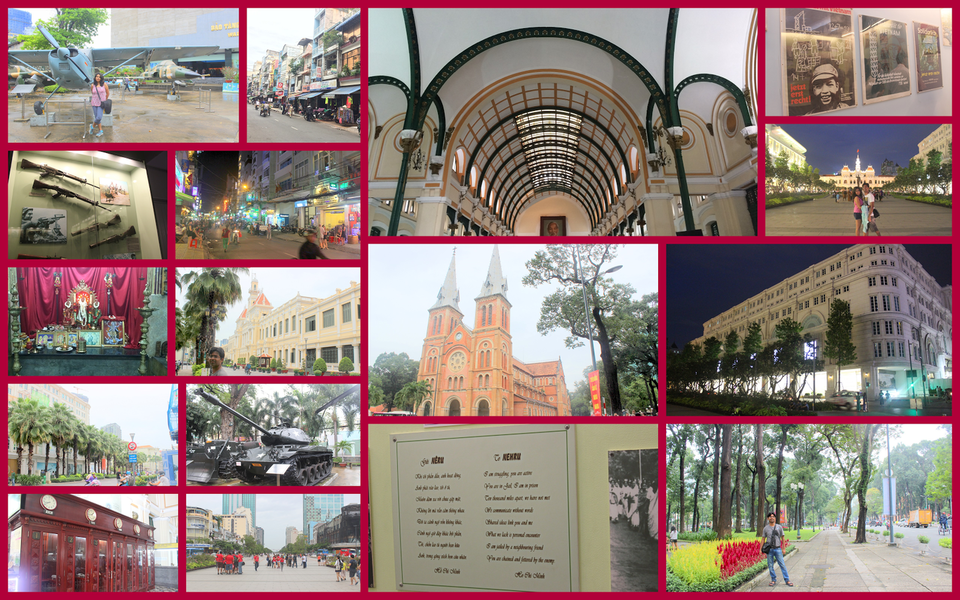 Last day, we partied hard , gathered all the beautiful memories of the trip and cherished them. Done backpacking and Yup all set to go home the other day with a smile and thousands of photographs.
This post was originally published on Varttika Goyal's Blog.
Frequent Searches Leading To This Page:-
India To Vietnam Flight Cost, Hyd To Vietnam Tour Package, Vietnam Travel Package Deals, Northern Vietnam Tour Package, Cheapest Vietnam Tour Package From India, Vietnam Tour Package From Kerala, Vietnam Tour Package For 3 Days