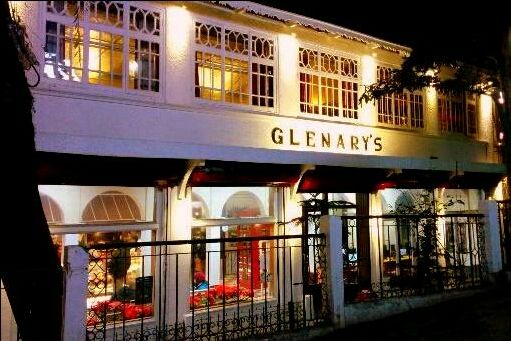 Darjeeling the queen of the hills is famed for the splendid view of the Mt. Kanchenjunga and of course the heritage Darjeeling Himalayan Toy train ride. But a vacation to Darjeeling is incomplete without experiencing the mouth-watering food of some infamous local food joints. When you are in Darjeeling definitely give a treat to your taste buds from these delicious eateries.
1. Keventer's
You should not miss this place if you are fond of English breakfast and snacks and Keventer's is my personal favourite. It is famous for serving traditional English breakfast with items like sandwiches, chicken salami, sausages & meat loafs, ham & pork sausages since the British colonial era. Accompany it with a pot of hot Darjeeling tea or foamed cup of coffee. The best part is enjoying the splendid view of Mt. Kanchenjunga and the mountains from the open terrace seating area while sipping your hot tea or coffee. If nothing, for the Keventer's one can return to Darjeeling again and again. It is situated at the beginning of the busy Nehru road.
2. Glenary's Bakery & Café
Glenery's is undoubtedly the best bakery and cake shop in Darjeeling. This British era cake shop and café which is owned by Edward family located on the ground floor of a two storied building in the Nehru road. You must try their mouth-watering cakes, pastries and patties. During the breakfast time they serve different types of sandwiches, pizza, burgers, pies etc. You will get refreshing Darjeeling tea and coffee also. The café has a wonderful seating area with the breathtaking view of the mountains and valley through the glass wall. Now they provide free wifi to the guests and also accept debit/credit cards.
3. Glenary's Restaurant
This heritage restaurant of Darjeeling which was established during the British era is situated on the first floor of the same building in which Glenary's Bakery & Café is operating. The restaurant's decoration and ambience is very elegant and charming. The wooden and glass windows give amazing view of Mt. Kanchenjunga and the valley during the day time. They have a bar with good collection of Indian and foreign liquors. Their specialty is in Continental, Tandoor and Chinese dishes. You must try their Grilled Chicken, Roasted chicken, Pork Steak, Pork Roast, Beef Steak etc. But they also make very delicious Tandoori, Kabab and Tikkas. The Chinese preparations are also no way less. So if you are in Darjeeling don't miss this by any chance.
4. Kunga
Kunga, a small and budget Tibetan restaurant located on Gandhi road below the hotel Dekeling just next to the taxi stand. You will get one of the best momo of Darjeeling here. You must try their delicious steamed chicken, pork or beef momo. You can also try their tasty soups and thukpas along with the momo. They serve very tasty noodles, fried rice and side dishes. The food is cheap and served in large quantities. You can accompany your meal with lemon ginger honey tea or a cup of black or milk coffee. This is a casual restaurant and very small, hardly can accommodate 15 to 20 guests. It is very difficult to get place here during a rush hour.
5. Sonam's Kitchen
Sonam's Kitchen is a small eatery run by a Nepali couple Sonam and his husband Puran. The café is located on Zakir Hussain Road a few minutes uphill walk from the Chowrasta Mall. It is actually a garage space is used for running the eatery but now they have an extension just on the opposite side of the road. You should visit this for awesome pancake with fruits, hash brown potatoes, porridge, cheese toast, fried eggs, and sandwiches in breakfast. Sonam is really a great coffee maker, so don't miss the coffee. They don't serve lunch. In dinner you will get delicious pastas and different kind of soups. You can try their Nepali dishes also.
6. Golden Tips
The Golden Tips tea lounge located on the Chowrasta Mall is run by the Golden Tips Tea Company. You can get the fresh and best Darjeeling tea here along with some veg snacks like pakoda. You can order Darjeeling tea of different variety & flavours from their menu card. The seating lounge offers an amazing view of mountains through the large windows. You also can buy some packaged Darjeeling tea for your home from the counter.
7. Gatty's Café
This is a comparatively newly made café on Zakir Hussain Road. The casual ambience with dim light and creative decoration gives a great ambience. The café is gifted with a magnificent view of the mountains. So you can enjoy your tea or coffee with a view of the mountain ranges. There is good stock of books in one section of the café for the book lovers. You will get pork and beef dishes in western cuisine or you can try fried dumplings, fish or chicken cutlet, crispy chicken etc. The café has a music room and bar also. Live music is performed in the evening. This café remains open until late night which is very unusual in Darjeeling.
Note: Few images courtesy to Google