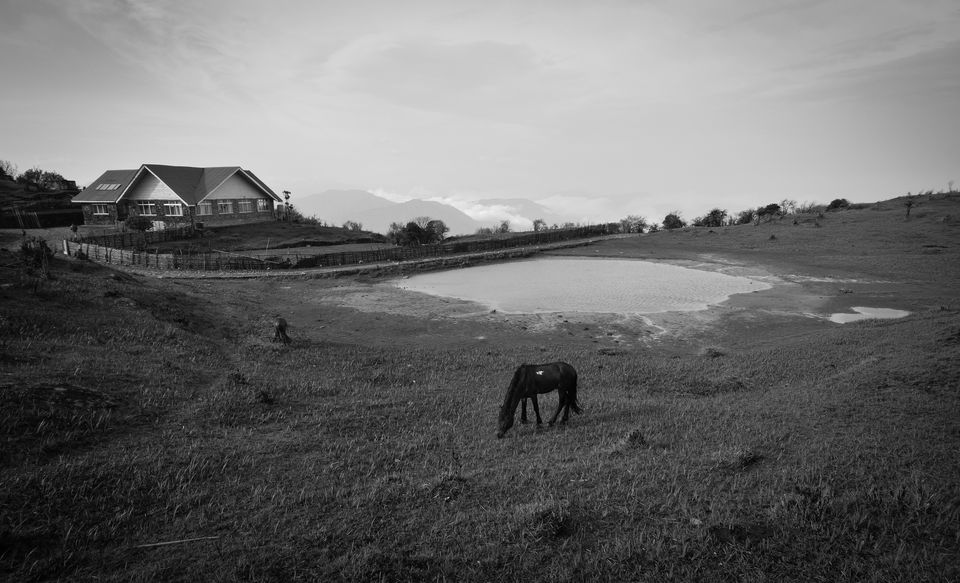 Tonglu situated in the Darjeeling district, West Bengal, is typically the first pit stop during the much famed Sandakphu trek. Being only a couple of hours from Dhotrey, this place is a fabulous weekend adventure destination that offers some of the most majestic mountain views, collectively known as "The Sleeping Buddha".
Over the last few years, I have been to Tonglu for many a times and in different parts of the year. So, I have enjoyed the beauty of this place across different seasons. Nature has usually been kind to me and my trek experiences have mostly been pleasant. However, in one occasion, I faced the wrath of nature that I will remember for a long long time.
It was in February 2018 me and few of my friends decided to visit Tonglu yet again. February, though cold, is a good time to visit the mountains – the skies are usually blue and the views, much better. From New Jalpaiguri Station, we hired a car till Dhotrey. Our booking was done in Sherpa Lodge. The owner of Sherpa Lodge by now has known me, thanks to my frequent visits to those places. A warm smile and a warm food welcomed us. After lunch, we decided to go for a walk and explore the surroundings. While most of my friends being avid bird watchers, engaged themselves in bird watching, I wandered around the Dhotrey village trying to capture the expressions of the people and their lifestyles. Their simple, idyllic, yet contended lifestyles never fail to amaze me.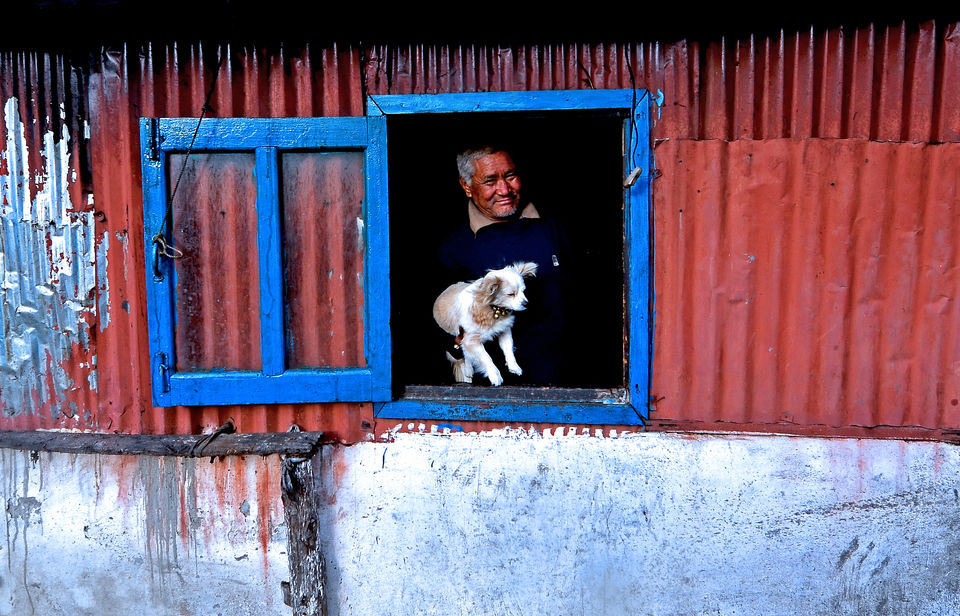 It soon turned dark and we all returned to the Sherpa Lodge and gathered over a quintessential Bengali "adda" and several rounds of coffee. There was a short spell of heavy thunder lightning and shower though we didn't mind since a heavy shower means a clearer sky the next day. We had our dinner in a while and retired to the bed.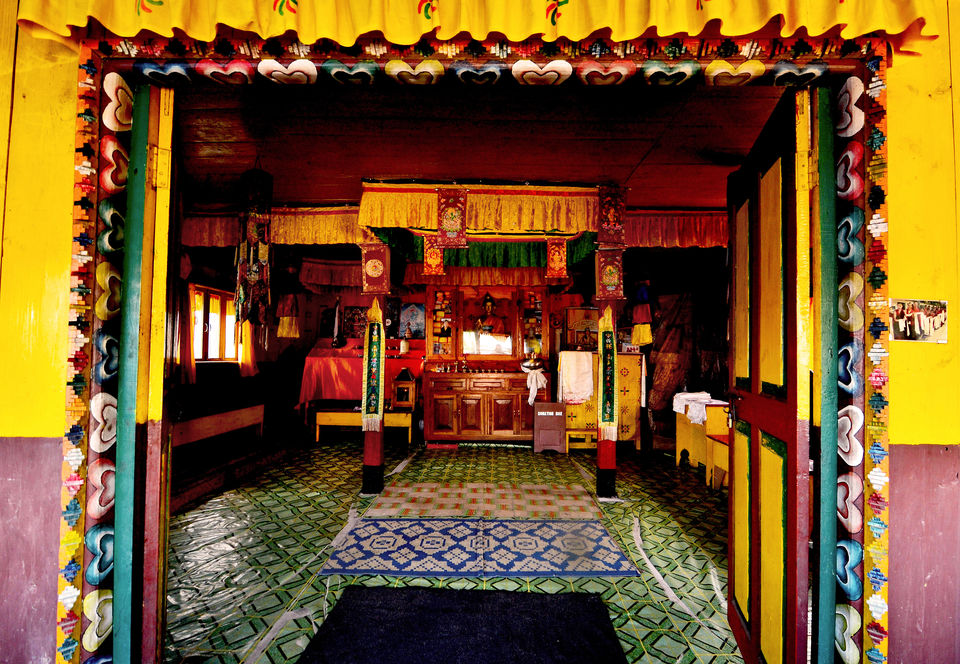 Our birder friends woke up early on the morning and ventured out with their cameras to try their luck in capturing the exotic birds found in that locality. I too left the bed shortly and went to the "Guide and Porters' Association" office at Dhotrey jeep stand and completed the mandatory registration process that is required if one is going to trek from Dhotrey towards Tonglu and further. The remaining team members had returned to our trekker's hut and we all were good to start our trek. Breakfast was ready and Palden, our guide soon joined us to lead our way. Although I have been to Tonglu for a number of times before and knew the Dhotrey – Tonglu trail pretty well, having a guide is mandatory these days. Weather was bright and sunny and we all were in a very good spirit. It was almost 9:30 by then and soon we bade farewell to Dhotrey and started our trek towards Tonglu.

The trail from Dhotrey to Tonglu, falling in the buffer region of Singalila National Park turns into a riot of colours during April – May because of the different types of rhododendrons that bloom in that time. This trail is also famous for the different species of exotic birds which makes this region every bird watcher's delight. Needless to say, our birder friends engaged themselves in spotting and photographing the birds. However, soon, we realized that it was a disaster in the making. There is a very famous saying that "Pahar ka mausam, aur Mumbai ka fashion kabhi bhi badal sakta hai" which loosely translates to, "The weather in the mountains and the fashion in Mumbai can change at any point of time." And how apt is the saying! It was almost 12 noon by then but we didn't even cross two Kilometres. Me and our guide persuaded everyone to speed up as we notices that the blue sunny sky has turned dark and cloudy in a matter of just a few minutes. We took a small break for refreshment and by the time we were done, it started to rain. First a drop or two that soon turned into a drizzle and then, a torrential rain with accompanied with a very strong wind. In no time, we got drenched as a crow and though we tried to walk as fast as we could, we could barely proceed because of the near zero visibility caused by the massive rainfall. The bitter wind added to the woes as we started to shiver in cold and fingers were numb. Our umbrellas were being blown away by the strong wind. The remaining distance we walked like zombies. Finally, the trekker's hut at Tonglu came into our visibility and we breathed a sigh of relief, though we gathered that at the same time that it will take at least half an hour to cover that apparently small distance. We walked as fast as we could but the nearer we came to the trekker's hut, it seemed to be receding more and more. Thankfully, since all bad things come to an end, the massive rainfall had started to weaken. But by that time we already were drenched like crow, shivering in cold and all our belongings soaked like sponge. We managed to enter our room booked beforehand from Kolkata. We composed ourselves and changed our dress which barely made any difference as they too were soaked in the rain. The hot lunch was like Elixir that brought us back to our lives. The good thing was that, the weather was mellowed down and we could witness the Sleeping Buddha, much to our contentment, for which Tonglu is famous for. Evening descended soon and we had our dinner and decided to go for an evening walk. There was a bunch of young, enthusiastic photographers in our team who dated to brave the cold and went ahead to take night photographs. The stars were visible and so was Darjeeling. It was magical and at the same time, mysterious to witness everyone's favourite Darjeeling and we thanked Mother Nature to give us the opportunity for that. While our photographer friends were busy to capture innovative night shots, the remaining of us decided to slip into the warmth of our blankets. Needless to mention, the sleep we slept was one of the sweetest we ever had.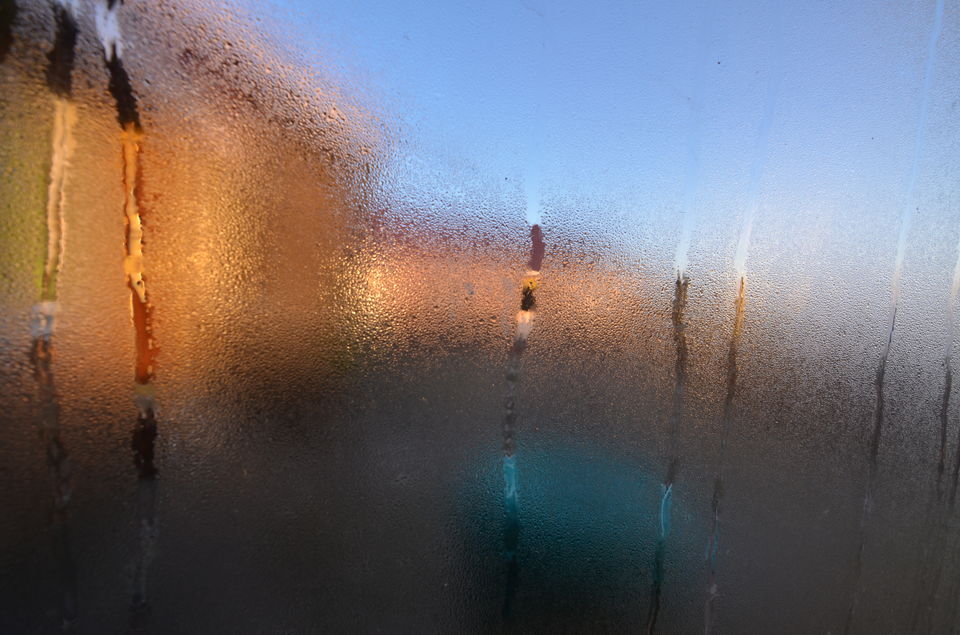 It was around 5:30 in the morning when one of our friends woke up and noticed that the mountain ranges were just catching up the golden rays of the sun. She was smart enough to wake all of us up. What we witnessed will be etched in our memories forever. Although I have experienced such a divine view during my previous visits to Tonglu, I will never get bored to witness such a sight. All our tiredness and the hardship we encountered seemed to have vanished with that scene. We didn't take much time to set up our cameras and tripod and took as many shots as we could. Soon we realized that out of excitement, we have forgotten our jackets and caps and we were feeling cold. But we didn't mind that as long as we could take good snaps. The session lasted for half an hour or so in spite of the spine chilling cold and ruthless wind that was almost knocking us down.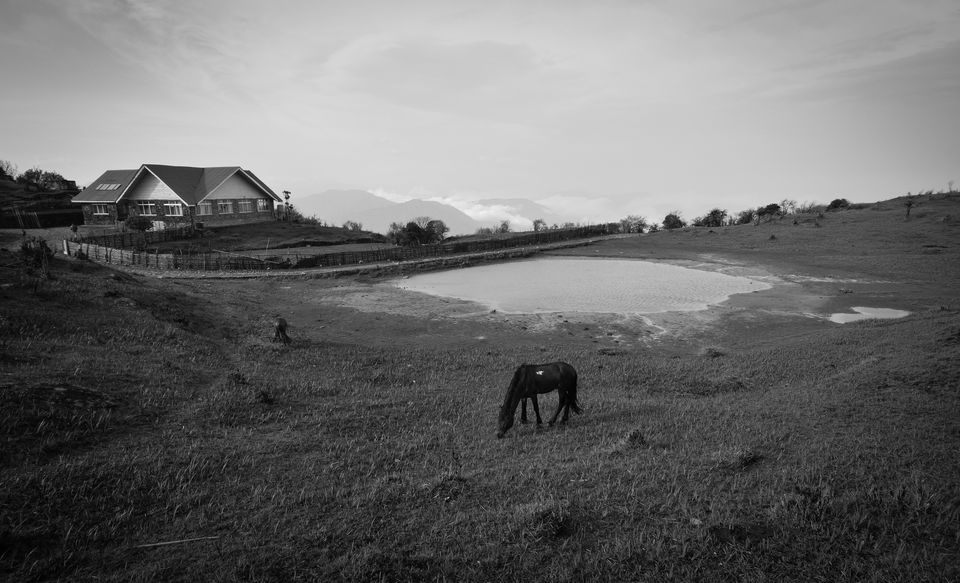 Soon we returned to our room. We had our morning tea and went for a short walk towards Tumling, another popular hamlet on the way to Sandakphu. After an hour or so, we returned to our room with plenty of photographs and happy memories. Breakfast was ready by then. We had our breakfast and packed our bags. It was the time for our return. We bade farewell to Tonglu after another round of tea and started our trek towards Manebhanjan, which was eleven kilometres from Tonglu. We observed road construction being carried out at various places along the way and a significant rise in the number of motor cars. We realized, all these were to allure more and more tourists and make things easier for them. My favourite Tonglu will no longer be the same few years down the line. The influx of more and more tourists will make it lose its pristineness and soon convert the place into a popular tourist spot like the neighbouring Darjeeling. Nevertheless, Tonglu will never fail to mesmerize and surprise us and lets wish this place to remain the same as it is…