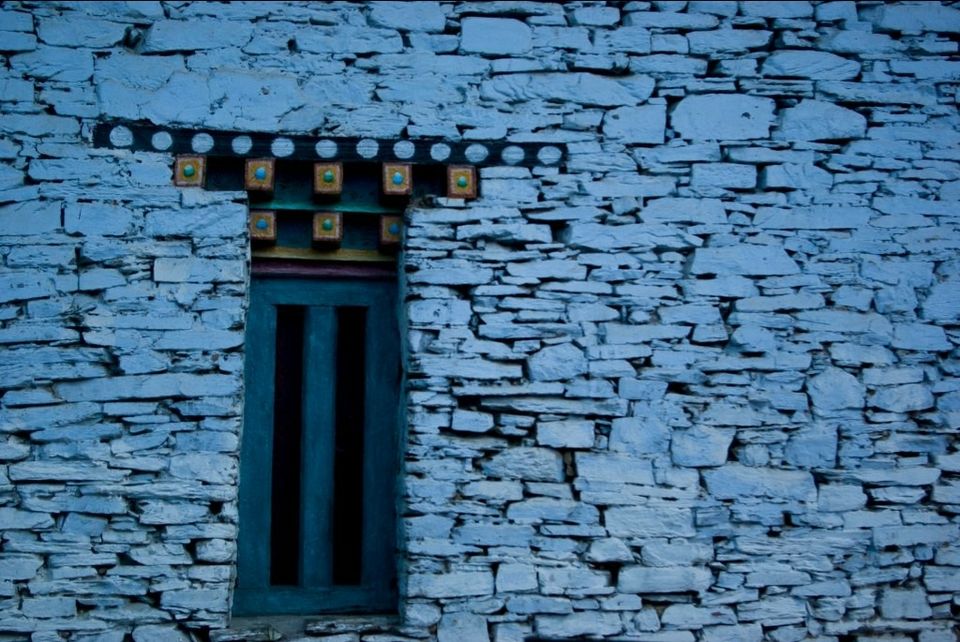 Sudden midnight plans are truly wonderful!
I take pride in myself as I'm different and I have done something different! I have decided to go to Tonglu, a less marketed travel destination. Tonglu is one such place in my country where you witness true beauty and above all a full moon night amidst the Kanchanjanga range. We don't need to visit a foreign land, spend dollars when we have true scenic landscape in India and most importantly in West Bengal.
We, a group of four young people started our journey with a mission to reach an elevation of 10,070 ft. The thought of the 10 km hard trek gave me goose bumps but the zeal to travel off beat places motivated. My first trip to Tonglu was for 3 days and I share some of the places travelled and things seen. I hope to share my travel experience in addition to some suggestions.
There are various routes that take you to Tonglu but we experienced two different routes while up hilling and down hilling.
Day One: Manebhanjan
On a Saturday night, we boarded the super-fast Darjeeling Mail (from Sealdah, Kolkata) to reach New Jalpaiguri, the nearest and the only railway junction to our destination. A shared transport took us to Ghoom station, where another Sumo took us to Manebhanjan, the gateway to Singalila Range and the beginning of our trek. It took us nearly 4 hours to reach Manebhanjan. Direct transports are available from New Jalpaiguri to Manebhanjan but we thought of investing less on transport and more on local cuisines!
Manebhanjan is a small village in Darjeeling district and on the border of India and Nepal, and it is from here that the Sandakphu and Singalila trek begins. Manebhanjan is one place where you will still find the old 4-wheel drive Land Rovers that were once used during the British days. These vehicles are ideally suited to climb the steep gravel road that leads up to Sandakphu. Only handful of such Land Rovers are still remaining in this area and are maintained by their owners like their own siblings.
After few minutes of strolling, we came across a young Chelsea fan guy who introduced us to his father and our Guide for the trip. After having our first bite of the very famous dish – momo, we started off for the trek to Tonglu with hopes and aspirations (Taking a Guide is always advisable in this trek).
The path appeared steeper as I started to pant after a while. The motivation from my fellow companions and our dear Guide saab regained my zeal to reach our destination. The steeper path had a beautiful view and as we were climbing the temperature started affecting us. The route passes through pine, fir, birch forests and bamboo glades. On the way, we decided to cover the first steeper 3 kms and halt at Chitrey as we were approaching towards dusk and trekking during dusk seems difficult for natives of plains.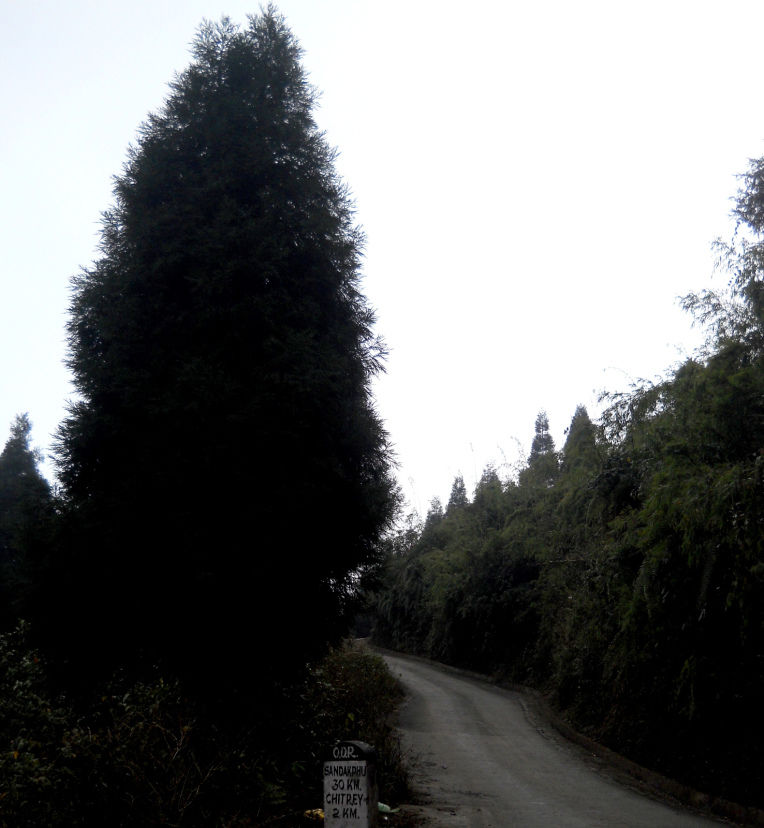 Day One: Chitrey
We were actually in a small village in Nepal! Chitrey is a beautiful small village in the district of Nepal and a place to halt for trekkers to Sandakphu and Tonglu. The only rest zone is the Hawk's Nest, owned by Mr. Phunsuk. A warm gentleman along with his wife welcomed us to their nest and we were given a room with an amazing view.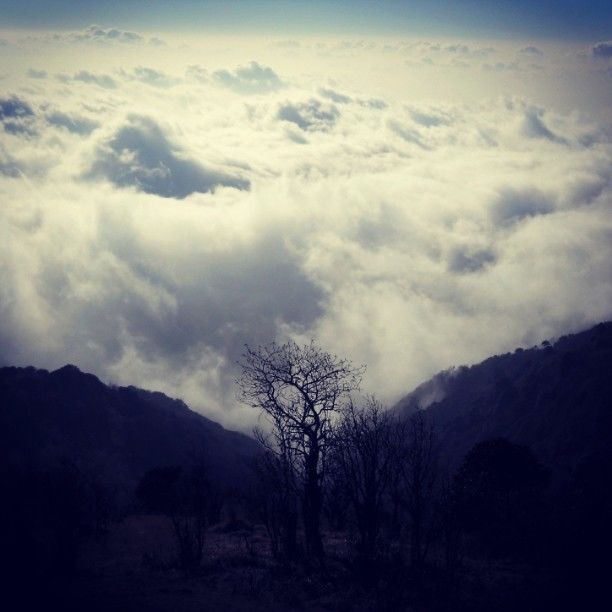 After a while of sipping tea, we went for a quick stroll to the nearby isolated monastery.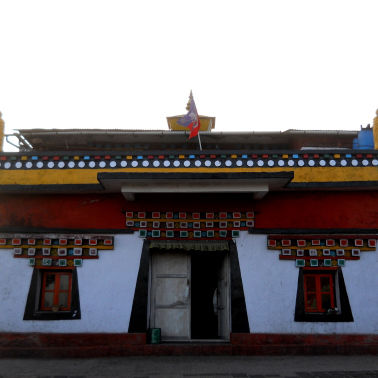 The evening was spent inside the home stay as it was chilling outside and moreover enjoying a full moon night from within our room window was quite mesmerising.
We loved the delicious home cooked rice, dal, sabji & chicken curry cooked and served with affection by Mrs Phunsuk and team.
I forgot to mention about Tomba! A fermented barley drink served in a bamboo container which is equivalent to a bottle of wine was served and statutory warning was given by Mr Phunsok as the drink once taken brings out inner thoughts into your lips! Warm water is poured into the container every few minutes until the drink loses its flavour. He too suggested that the drink is especially for bachelors & spinsters! We loved the amazing sense of humour of Mr Phunsok.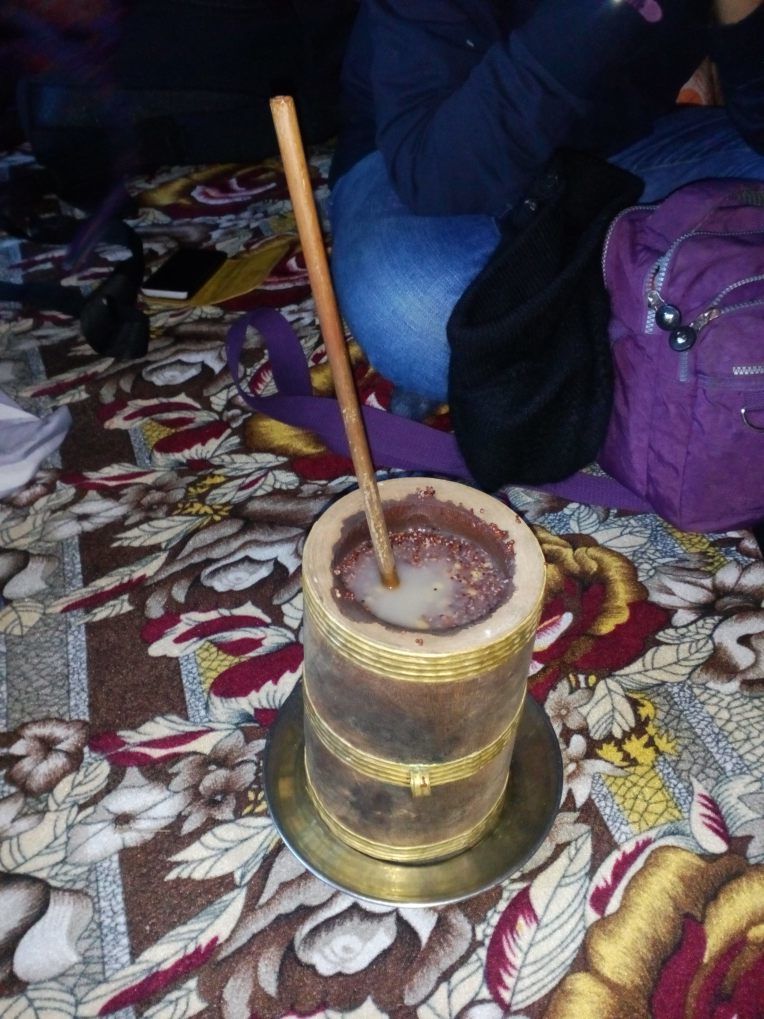 Day Two: Lamedhura
According to our Guide saab's instruction, we started early the next morning as we have to travel 7 km up hill. Bidding goodbye to the humble gentleman and his wife with a filmi saying 'Hum hai rahi Pyaar ke...Phir milenge Chalte Chalte', we moved on.
The path to Tonglu seemed steeper than before! With inner will and strength we moved forward. Every turn of the hills has its own charm.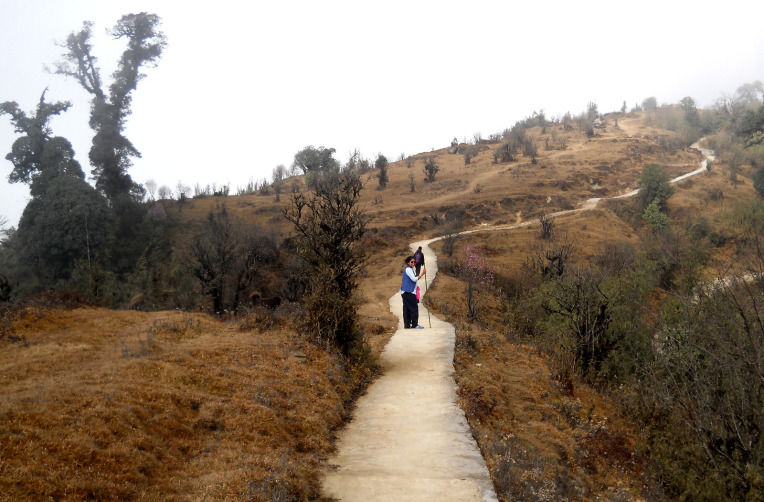 The path to Lamedhura, our next halt for some refreshment, mesmerised us with its curves and views. We hardly realised that we actually covered 2 kms in no time! Lamedhura is another small village in the Darjeeling district and trekkers to Tonglu and Sandakphu usually pass by Sherpa Stall for a plate of momo.
After our light refreshment with boiled eggs and tea at Sherpa stall, we moved towards our next halt and yet another picturesque mountain village, Meghma.
Day Two: Meghma
We were approaching towards Meghma, a mystic mountain village located on the Singalila ridge at an altitude of 9,514 ft and is mostly covered with a blanket of cloud. Hence, the name! This sleepy and mystic village falls right at the border of India and Nepal.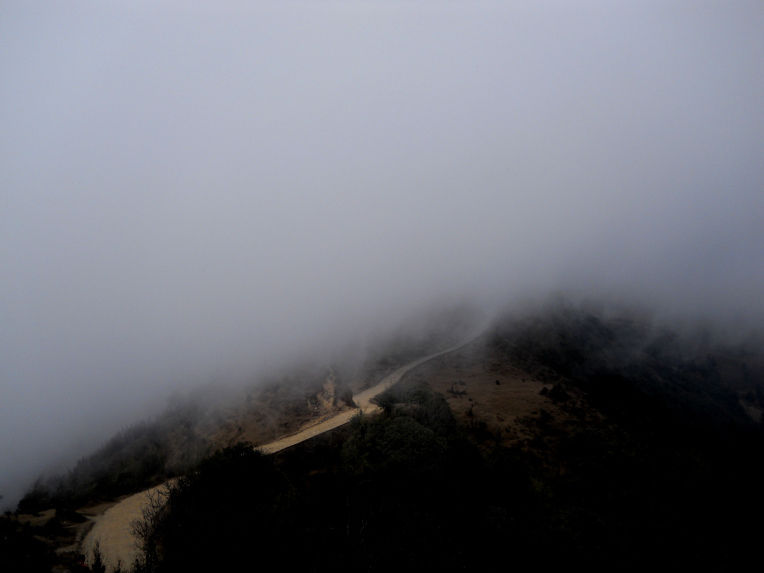 At Meghma, there is a border check post where several security guards are posted. And there are only handful village huts where the local families live. But there is actually no checking done here. It's like a free way although the route from Meghma freely enters Nepal and India at various points. India and Nepal being two friendly neighbouring countries and having had no trouble across the border in the past, this area has been virtually kept as a free way for all. Neither there is any visa required. Only an age-old tree divides the two countries!
While approaching Meghma, there is a small monastery at the entrance of the village. It has a strange and a difficult name – Sangchen Ugagyur Hoshal Dechen choling Monastery. We were told that a monk had been praying inside continuously for the last three years without having seen the sunlight and the villagers would provide him food at night.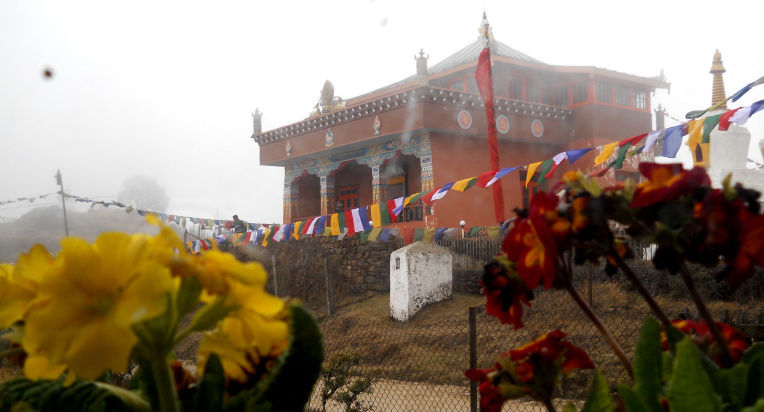 We took a break at a nearby trekkers hut and a humble Nepali lady served us with hot vegetable thukpa, a local cuisine. The hut is well maintained with clean accommodation as usually trekkers to Sandakphu spend a night at Meghma.
Day Two: Tonglu
After the sumptuous meal, we headed towards our destination. As we started walking, we felt that the roads too started walking with us and the roads seemed better than our destination! As the name says, we were actually walking among the blanket of clouds and could feel the chill within.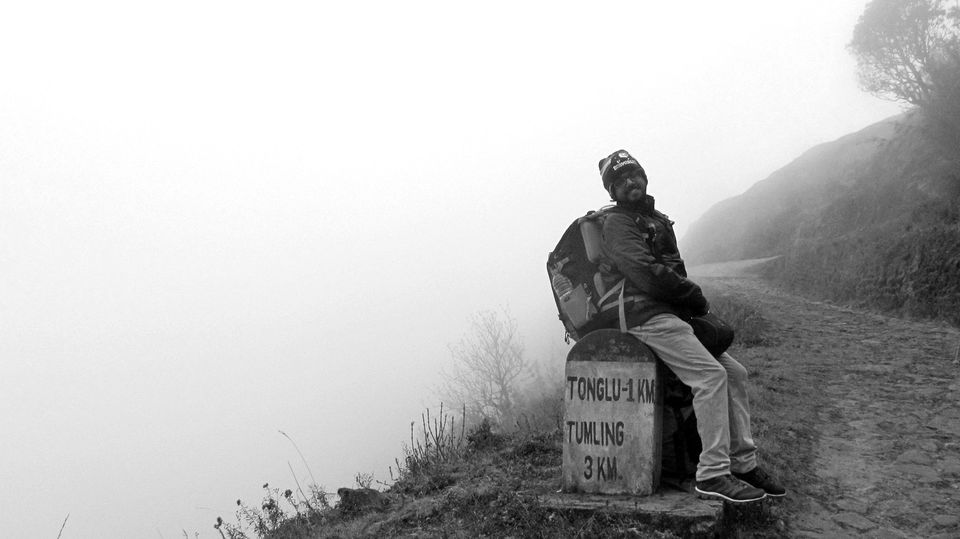 From a distant we could see a hut like structure and felt happy with the fact of reaching our destination. As we approached, we were shaken by the beautiful view-point amidst clouds. That hut like structure was the view point at an elevation of 10,070 ft.
And yes, we reached our anticipated destination Tonglu. The small village is named after one of the higher peaks of the Singalila Ridge. It is located inside the Singalila National Park in Darjeeling district near the India – Nepal border. Tonglu is the perfect retreat to unwind and explore the mountains.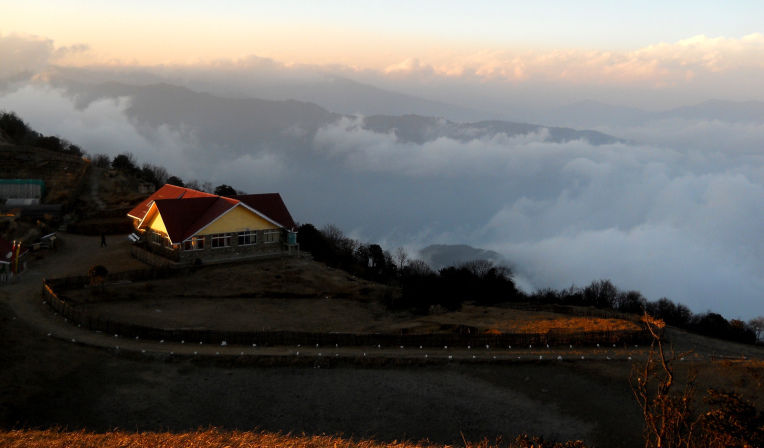 We spent the rest of the day lazing around. After an hour of resting we approached towards a nearby hill to witness the sunset as advised by our guide saab and we were awestruck by what we saw.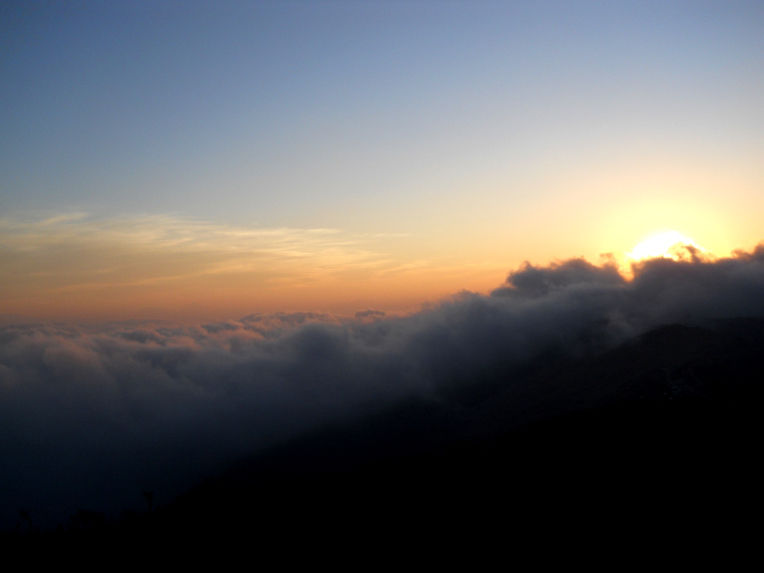 Day Three: Tonglu to Dhotre
The next morning, we witnessed the sun rise behind the Kanchenjunga range. It was a magnificent sight. The play of colours on the snow-capped peaks is worth getting up at the crack of dawn.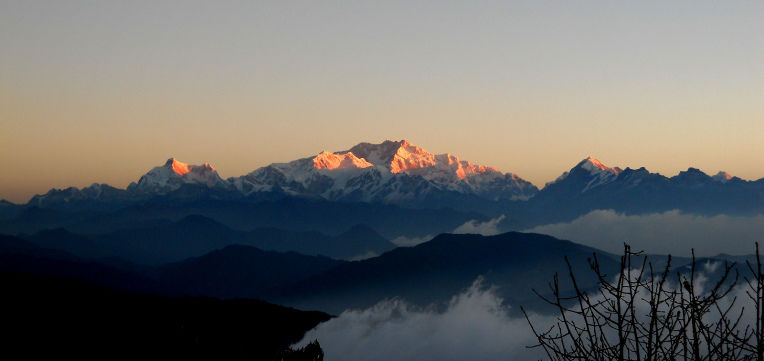 The feeling of excitement of the downhill trek to Dhotre amongst the jungle already started growing deeper as we relished ourselves with 'thukpa'. Mountains have so much to offer but our 2 day (excluding journey) trip is no where doing justice to it. The last day of the trip is the least likely day and we started realising that we were actually creating memories of the last 2 days!
Dhotre is a forest village with small huts within the buffer zone of the Singalila National Park. People start their trek to Tonglu and Sandakphu from Dhotrey as well but we took this route while downhill. A trek to Tonglu would be a fantastic travel destination for mountain lovers at a pocket-friendly budget. Our 2 nights 3 days trip was too short to explore the hidden places but I look forward to a long stay at the mystic place.