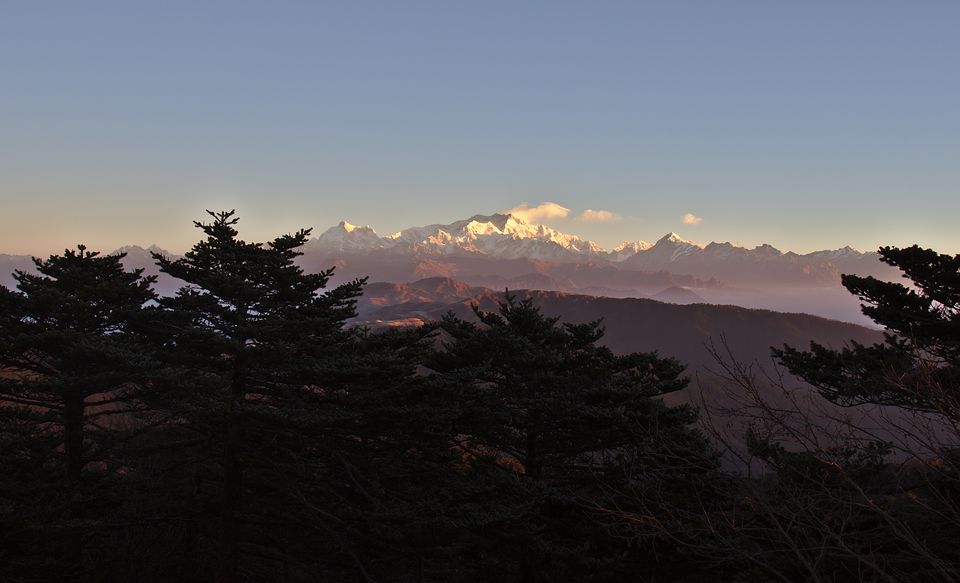 Sandakphu was in our bucket list since a long time. There were eight of us, mostly first-time trekkers! We started from Kolkata and took an overnight train to New Jalpaiguri. Our car which was arranged by our guide himself was waiting at New Jalpaiguri. Please note that we did not travel with any tour agency and we were on our own, with our guide.
We reached Kalipokhri at 4 pm approximately. We spent some time inside our trekkers' hut to rest before coming out and clicking some photographs of the mesmerizing sunset. The people here and in all other places throughout the trek were extremely helpful and we were deeply moved by the warm hospitality.
We reached Sandakphu at around 3 pm. Sandakphu loos like a quaint little village straight out of a fairytale. Located at an altitude of 12,000 ft, it is the highest point of West Bengal. We were all tired and ate some noodles and roti before resting for sometime. It grew dark soon and at night, as usual we were out for astrophotography. Sandakphu was extremely cold at night, the temperatures went down to -5°C and we were all shivering while we were out.
After a while it started snowing. We trekked for about two hours in the snowfall. It grew a bit difficult towards the end as I was not carrying a poncho and the last part of the trail is through a dense forest and is extremely uneven. After an extremely tiring day, we reached Molley at 6 pm. It was still snowing heavily and the entire area was covered in a layer of white. Molley, at 11,800 ft. has an army camp and a trekkers' hut, that's literally it!
After trekking downhill through a forest for about 5 hours, we reached the village of Samamden. We had some maggi and chai here and came to know that Gorkhey is just a couple of kms away. It was clear that we were down from the high mountains to lower villages as the greenery all around increased drastically! The trek was tricky as all the snow started to melt and we were slipping a lot in the forest trail. After another hour, we reached Gorkhey. It was around 4 pm, we got some warm water and some of us took a nice warm bath after being deprived of it for 5 days!
We woke up and started for Bhareng in Sikkim at around 8 am. Bhareng was about 3 kms from Gorkhey and we were scheduled to get a vehice from Bhareng, all the way to Jorethang. Gorkhey in the morning was unforgettable. It was all green and yellow all around with the Sun playing around with nature. It also got warmer, and a hence a bit more comfortable in the cold December.
Our driver was ready and we started for Jorethang. After a couple of hours, we reached Jorethang. It was a mess here in the car stand and cars to Darjeeling were not available. After spending a long time here, some police officers helped us and we got a car till Darjeeling. It was almost 7 pm when we reached Darjeeling. We quickly got a hotel near the Mall Road and got out to some cafes and restaurants. We finally had some amazing food after 5 days of living literally off maggi and dal-roti!
The next morning we got some souvenirs from Darjeeling and were off for New Jalpaiguri at afternoon. Our train was scheduled at 7:30 pm from New Jalpaiguri to Kolkata. It was an end to a beautiful trip: one with memorable experiences, gorgeous sceneries, mind-blowing challenges and life-changing lessons! I would definitely recommend our guide, Mr. Santosh Rai whom you can reach at +91 97359 69360 (he uses Whatsapp in the same number). You can refer my name to him while booking. That's all folks, let's end this travelogue with another mesmerizing view of The Sleeping Buddha!
We left New Jalpaiguri at around 10 am. We got all the cash necessary for the trip from here. It was a long journey, and on the other end of it we reached Tonglu at 6 pm. Usually the trek starts from Maneybhanjan or Dhotrey but we were short of a day and hence decided to reach Tonglu in a vehicle. Tonglu is a small hamlet at the border of West Bengal and Nepal. The night sky at Tonglu was superb and we spent almost the entire evening trying to capture the amazing stars! Soon temperatures dropped to near zero degrees, and we had to go in. We were staying at the GTA Trekkers' hut at Tonglu, at an altitude of 10,000 ft.
The next morning was even more beautiful. It was the first sight of what this trek is known for. The mighty Kanchenjunge range: also known as The Sleeping Buddha glowing in the sunrise colours! I tried to brush my teeth but alas all the water was frozen, and I had to get some boiled water for the purpose! We climbed up a nearby hil to get cool 360° views.
It was time to start the trek. We prepared ourselves and started by 8 am. We had a distance of 12 kms to cover today, all the way to Kalipokhri. We had a little breakfast at Tonglu before we set off.
The ascent was steep at places and we were shit tired! We stopped on the way at several places like Tumling and Gairibans. Just as you cross Tumling, you will see the huge gate of the Singalila National Park and you need to show your permits before entering the gate.
The next morning brought in a bit of sunlight and a bit of warmth, we were all near dead from the cold night. Had a quick breakfast of maggi and some chai before kicking off the day's plan. Today we were off for Sandakphu, another 8 kms away.
After an hour or so we reached Bikeybhanjan, the last village before Sandakphu. We had some chai and refuelled ourselves. The climb from Bikeybhanjan to Sandakphu is steep. Towards the end it really got hard and some of us had pretty bad aches in our legs and shoulder.
The night was extremely cold and I actually could not sleep. It was 5 am when our guide woke us up. It was time for the highlight of this trek: the 360° view of the Everest Range and the Kanchenjunga Range. Note that the top 4 of the 5 highest mountains in the world are visible from Sandakphu in the same frame! I was all ready with my camera and tripods to capture these views of the Everest Range (Lhotse, Everest, Makalu and Nuptse):
and also the might Kanchenjunga Range or The Sleeping Buddha:
After enjoying the glorious dawn, we returned to the trekkers' hut and pepped up for today's trek: a whooping 15 kms all the way to Molley, also known as Sabargram. The road today was the most difficult of the trek, and also the most beautiful. We passed some meadows and a beautiful crystal clear lake before reaching an army camp where we had some food that we were carrying.
I guess, I clicked my favourite photograph from the trek here, by the amazing lake!
The next day, we woke up a bit late. We went out and were mesmerized by the blanket of white all around with the sun shining brightly, it was absolutely a dream sequence! There were a couple of cute dogs in the army camp and we spent a long time playing with them.
We had some quick chai and boiled eggs before starting off for the day. Today our destination was Gorkhey, which is down at 7000 ft. Before starting we bid farewell to Singalila and the amazing little trekkers' hut at Molley.
The evening and the night were spent in loud laughters, a satisfying feeling of completion, campfire under the stars and a beautiful tune in the harmonica by our guide. It felt pretty sad that we had to bid farewell to this amazing place. With mixed emotions we went to sleep after an amazing dinner, after a long long time!
We reached Bhareng at 10 am and spent an hour having some food.