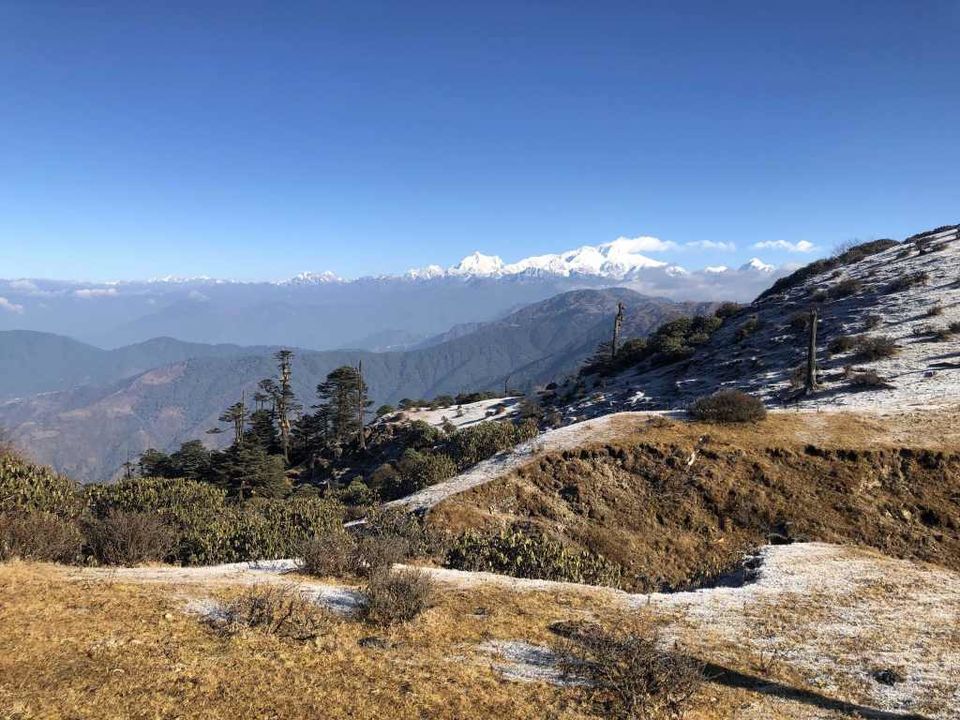 Sandakphu is the highest peak in West Bengal. The place is famous for providing a first hand view to The Sleeping Buddha range, which consists of the 3rd highest peak in the world and highest in India, Kanchendzonga. Other mountains like Everest, Lhotse & Makalu, the 1st, 4th & 5th highest peaks in the world, are also visible from here.
We had been planning this trip for quite a long time. And I was of course the mastermind. Quickly we got 7 members to join our trip, in the end it was down to 6 though. Most of us planned to start separately and meet at Siliguri, which is the place to be to go anywhere in North Bengal.
Me and another friend stayed at my home for a day and then we started for Siliguri in Darjeeling Mail from Howrah. It took us about 10 hours. We reached NJP station by 8:30 am on one fine Sunday morning.
We took a Toto (Battery operated auto rickshaw) to my friends house. 5 of us had breakfast there and started in our pre-booked SUV. You can also get other shuttle options from Siliguri Junction as well, which is the main Bus Terminal of the city.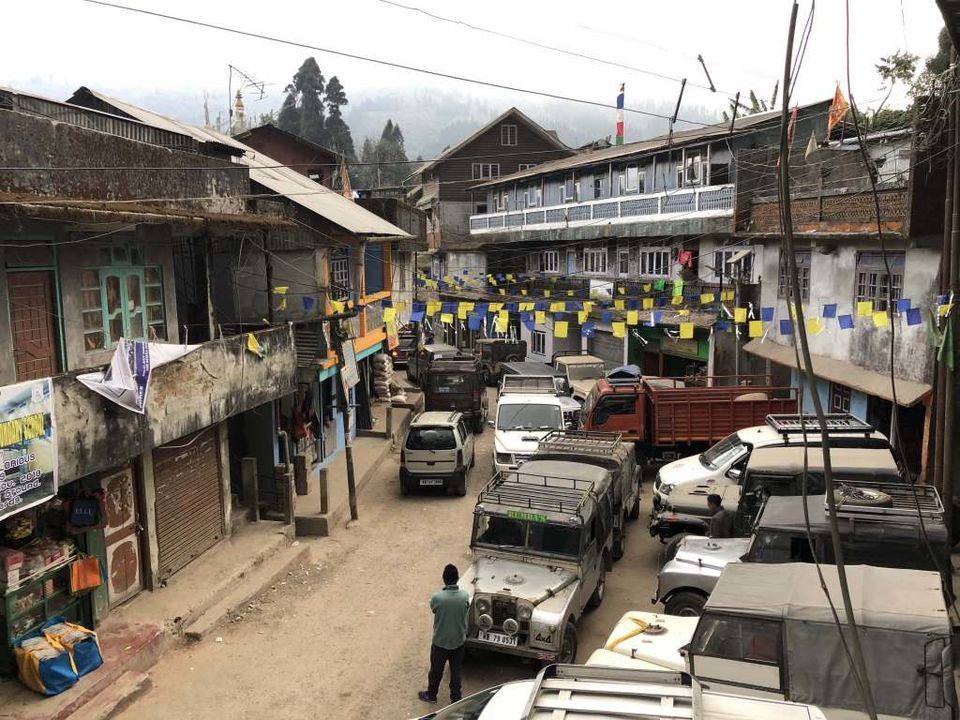 We picked up the last guy and started for Manebhanjyang. On the way we came across quite a few familiar names: Kurseong, Darjeeling, The Highest railway station Ghum etc. It took us about 3.5 hours to reach Maneybhanjyang.
raight to the Singalila National Park ticket counter, but it was already closed by then(around 3:30pm). So we checked in to our pre-booked Hotel Exotica, also known as Masterji's Hotel. After freshening up, we went to the Guide and Porter's Association, 100 meters away. We booked our guide Nima Sherpa for 6 days. Finally we had some awesome Momos for the evening and then some tasty Roti and Egg Curry for dinner in a local restaurant right beside our hotel. The owners as well the food were both really homely. We made our last calls home for the entirety of our trip as we didn't expect any network from here on forth. Also beware of international roaming charges as half the town lies in Nepal. At few specific places we may get Airtel and Jio signals. We played cards until 11 and then slept.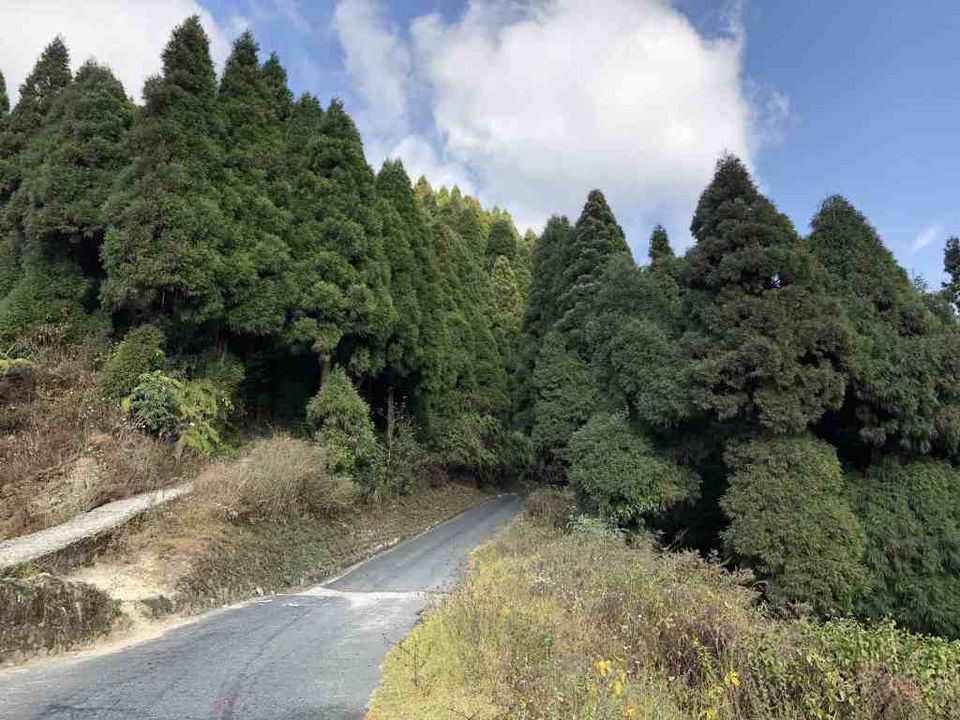 We had our breakfast at the same shop with Roti and Sabji. We got our Singalila National Park tickets (mandatory) from the office and started our trek around 8:30am.
Today our trail was 11 km long with mild ascend. The first half of the trail was through a proper road, but there are staircase shortcuts cutting through the zig-zagging road. Those stairs were quite exhausting though.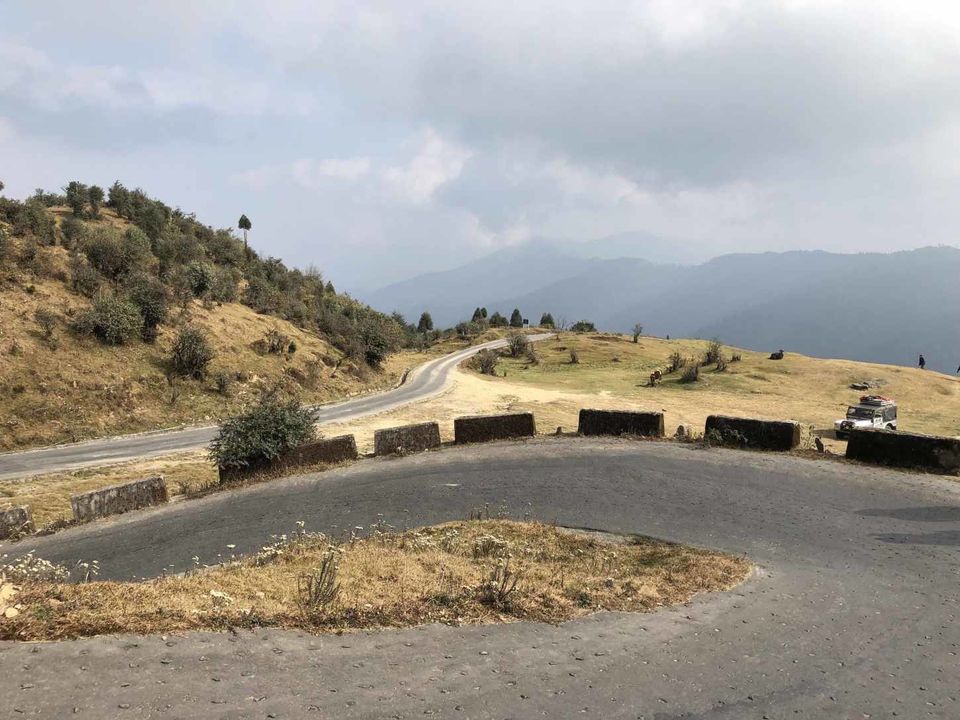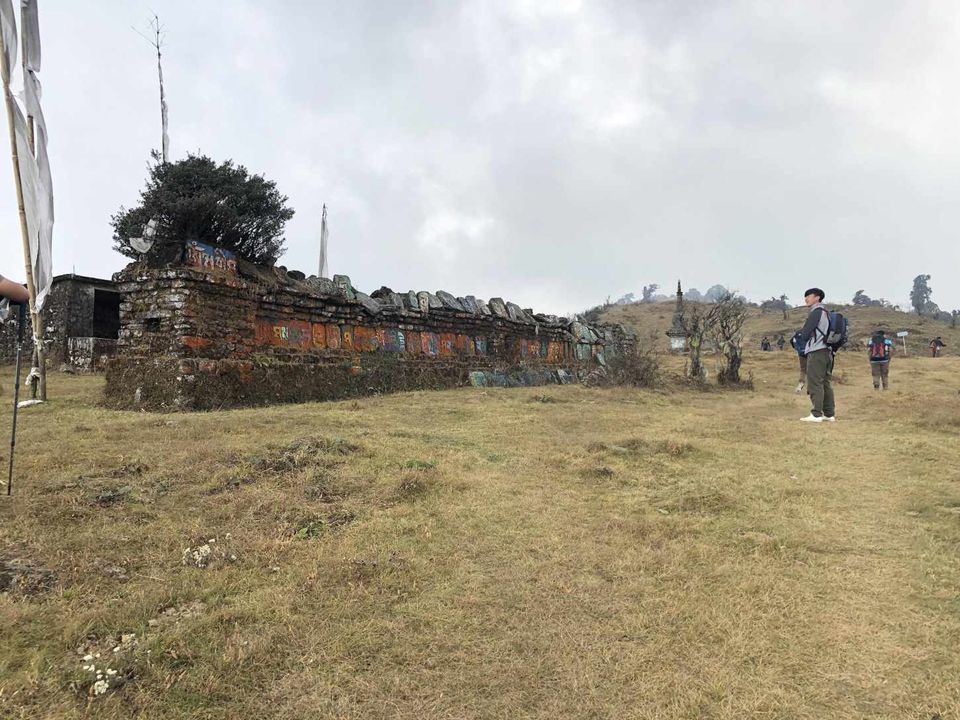 We finally reached lower Chitrey around 10:30am and stopped at a cafe for some refreshments. We were now at 2550 meters. Here we met 2 cats named Bin Laden and Shanti(meaning Peace), quiet the irony.
After half an hour of rest, we set out again. The fog had started to drift in now. After a while, we switched to a dirt trail and by 12:40pm we reached our next stop, Lamaydhura. Had some tea again and bought few candies at the Sherpa Stall.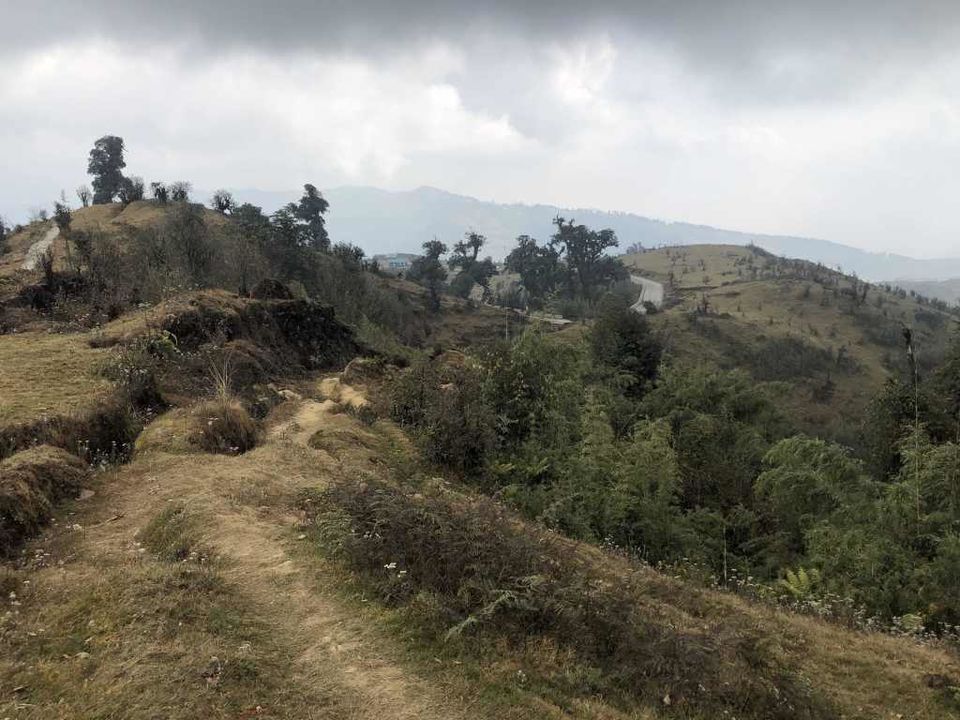 After a short rest at Lamaydhura, we set out on our trail. It was again some concrete roads and staircase shortcuts. On our way, we saw quite a few kinds of birds in the bushes and trees. Next, we stopped at Meghma around 3pm. The weather became quite chilly with all the fog drawing in. We could even watch our sweat evaporate (not sure if it's the correct term). We had Wai Wai noodles for lunch at the only restaurant and started again around 3:30pm.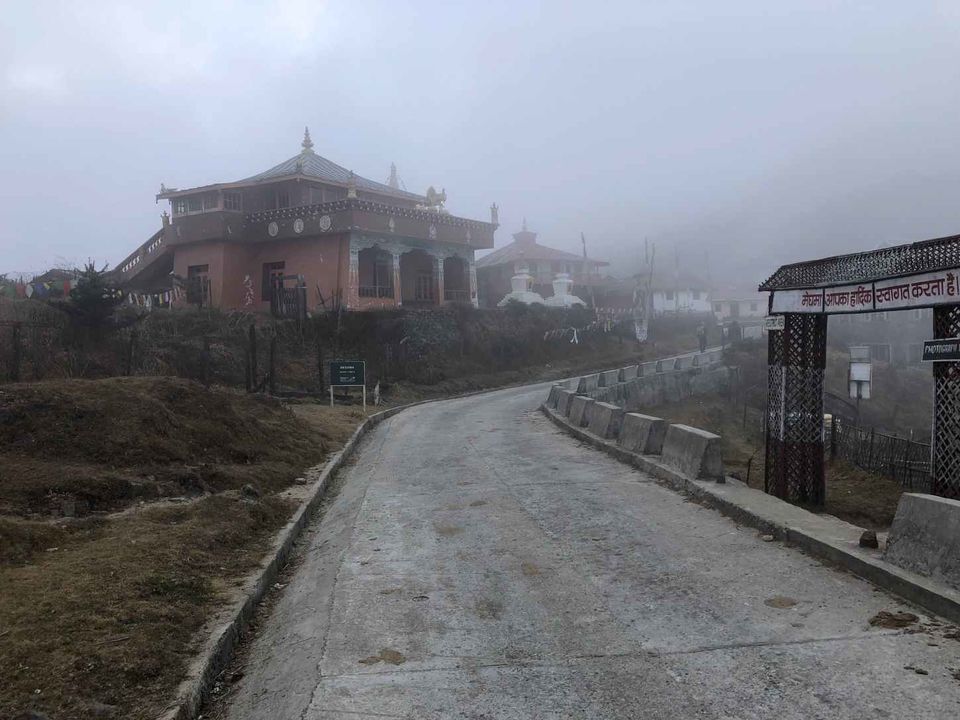 We reached Tonglu around 5:30pm and it was already dark by then. There was a partially frozen lake by the side of the road, I mistook the films of ice as dirt at first glance. We had our booking at The GTA Trekker's Hut (which needs to be pre-booked from Kolkata) and checked-in there. The room's wooden finishing was not up to bar compared to the huts we stayed on our next few days, as the room was not insulated properly and the night was pretty cold. Also, there were no buckets in bathrooms, so you have to use toilet papers. The dinner menu had only two options – Unlimited Khichri meal for ₹160 and Unlimited rice-dal-curry meal for ₹170. We opted for the Khichri meal which tasted as good as our day's trail.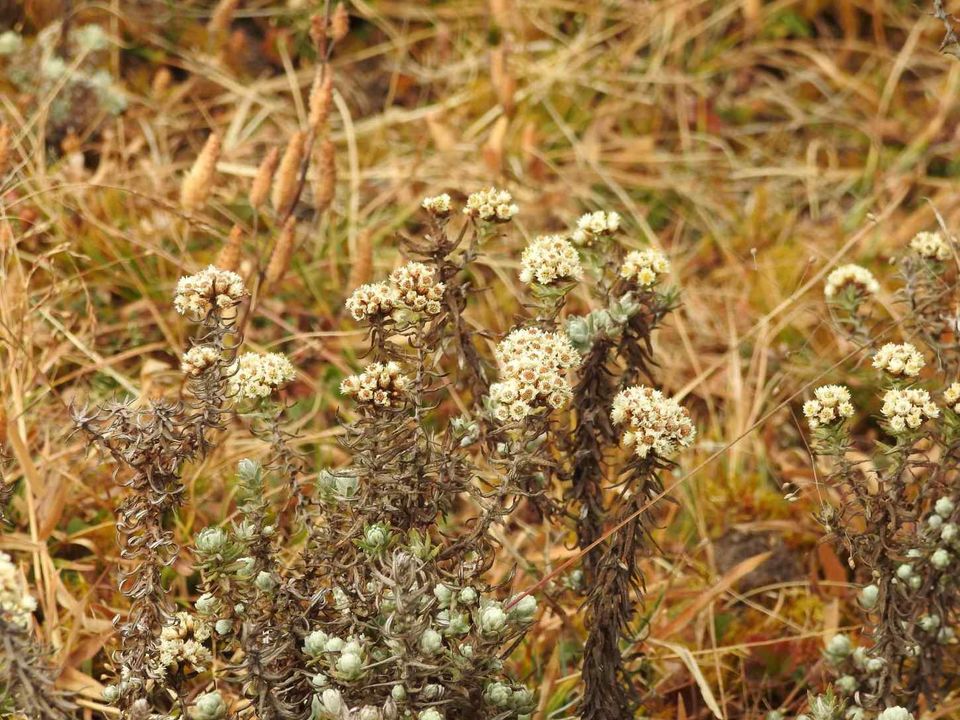 Most people stay at Tumling as there are more options for accommodation. But we chose Tonglu over Tumling as The Kanchendzonga is visible from here. We woke up at 5:30 in the morning for the sunrise view of The Kanchendzonga. We hiked for 10-15 mins on top of a small hill to get a better view. But our luck, it was only visible around 7am and that too for a moment.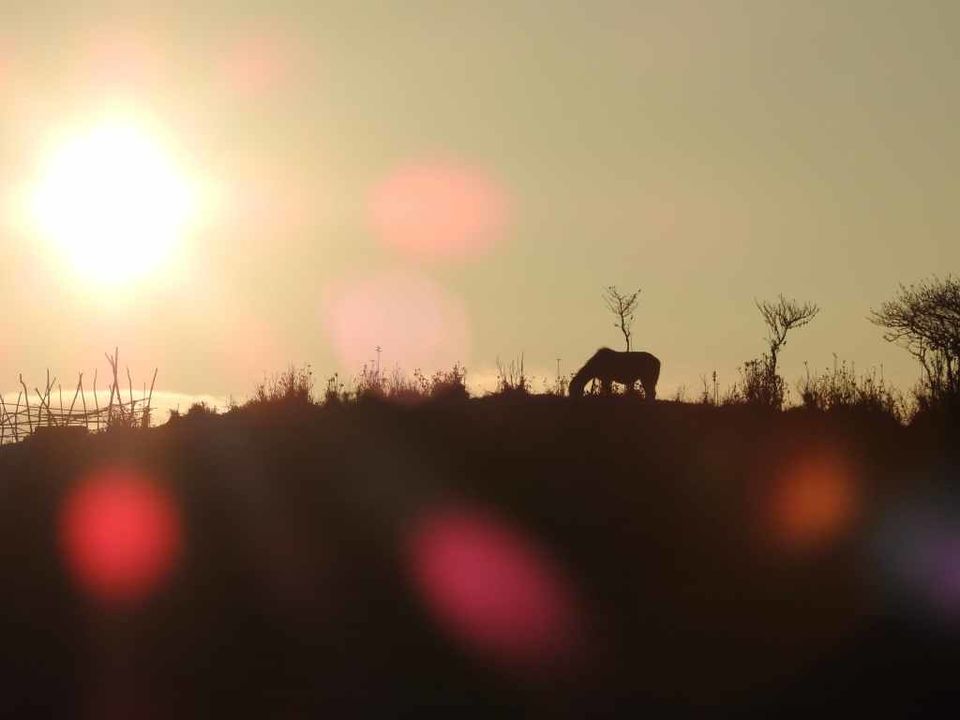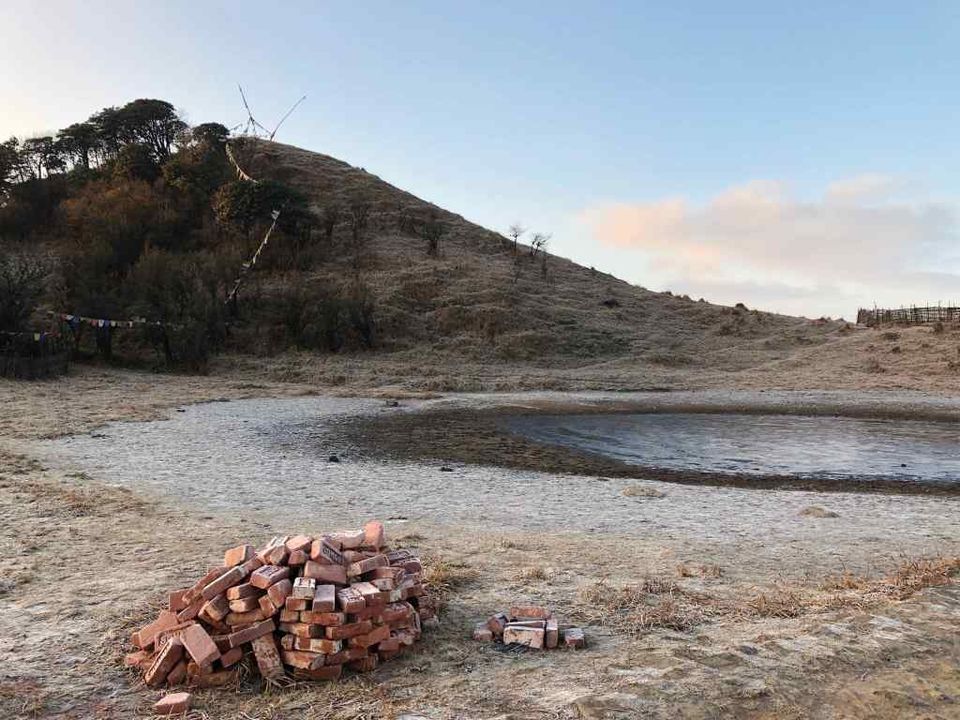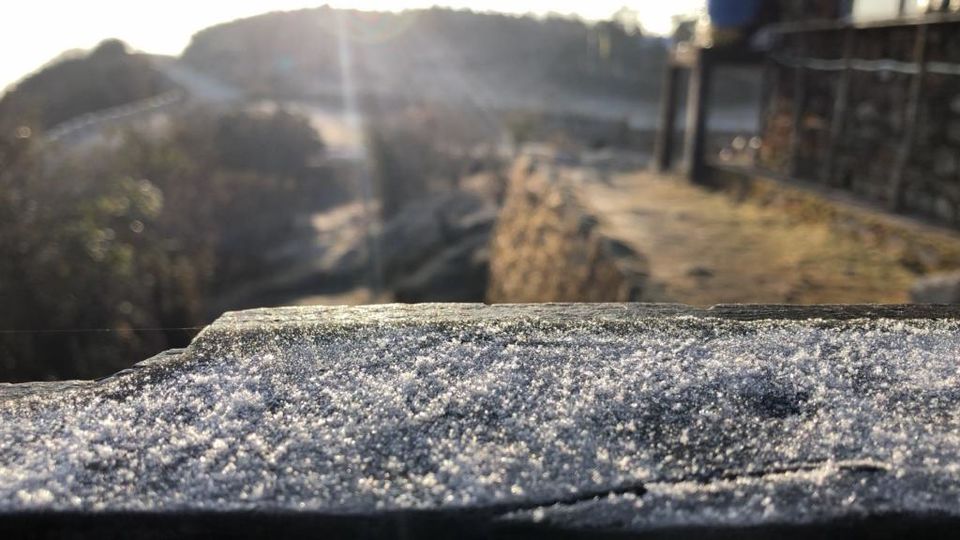 After seeing Kanchendzonga we had our breakfast – Roti and Sabji. The grass and the trees were frost covered. It was 8:30am by the time we started our journey towards Kalpokhri which was close to 14km.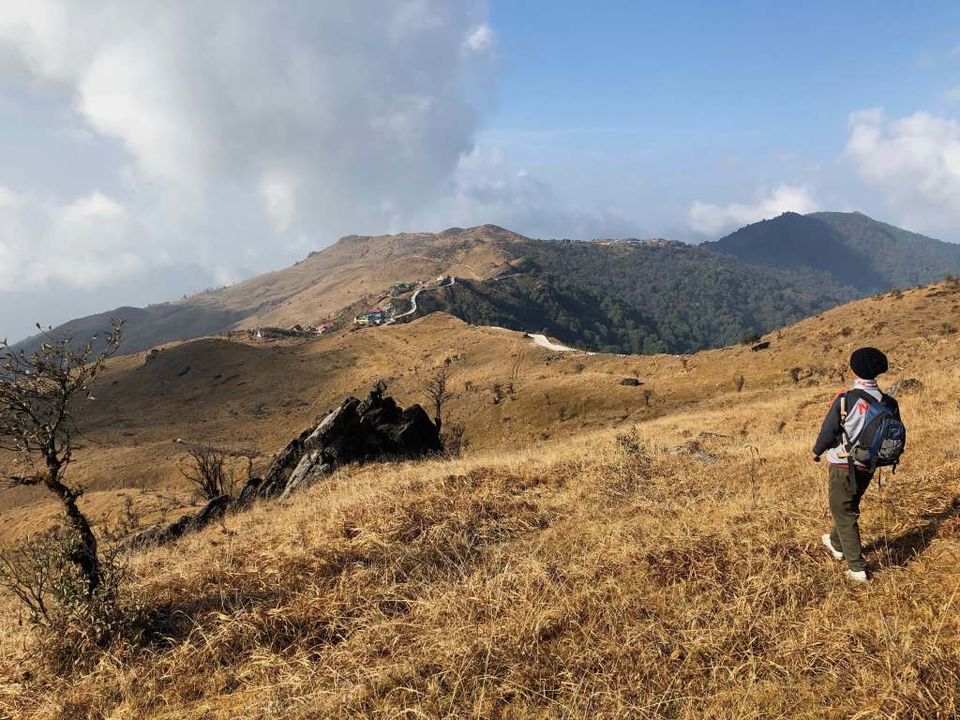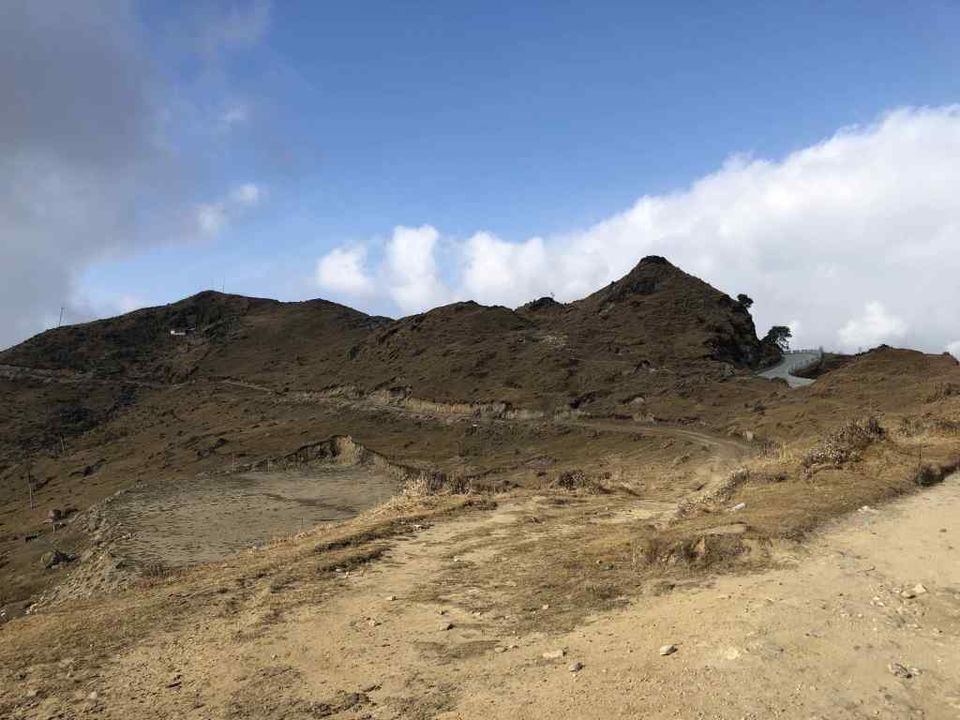 From Tonglu, the first 2 km was a really scenic downhill grassy trail, until we hit the concrete road just before Tumling by 9am. I saw a few familiar lodge names here on the way, that I came across while planning the trip, like Siddhartha Lodge, Sikhar Lodge, etc. After Tumling there was a dirt road on the left and a concrete road on the right. As our guide was a bit behind talking to someone we asked a local which way to go, they said dirt road is long and concrete one is short. But we waited for our guide and found out we are supposed to go on the dirt road. The left route was through Nepal territory and a better scenic route than the right.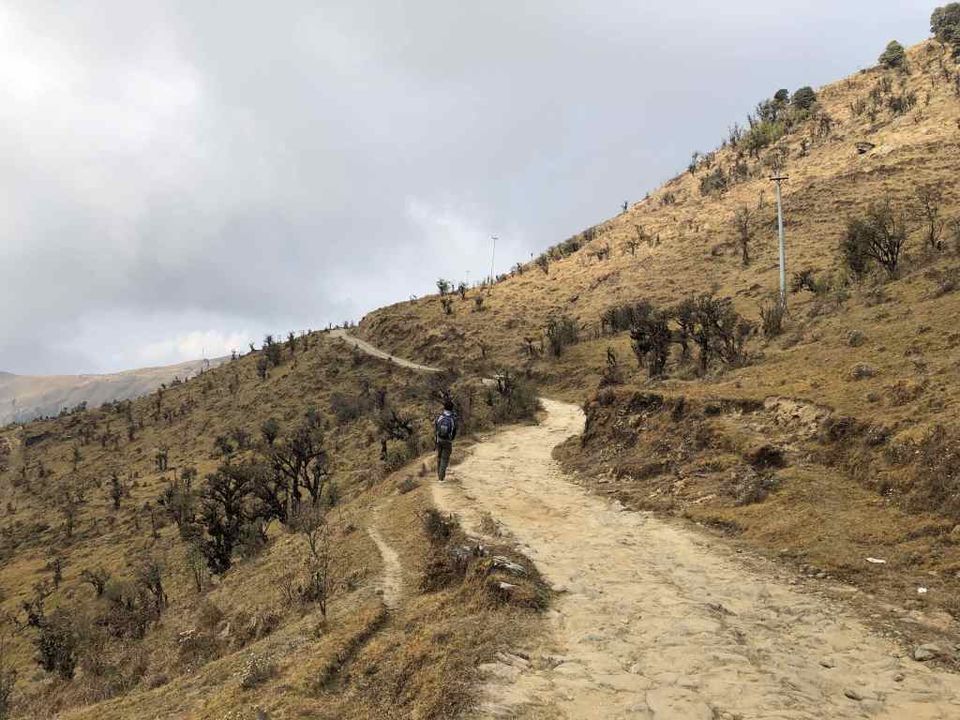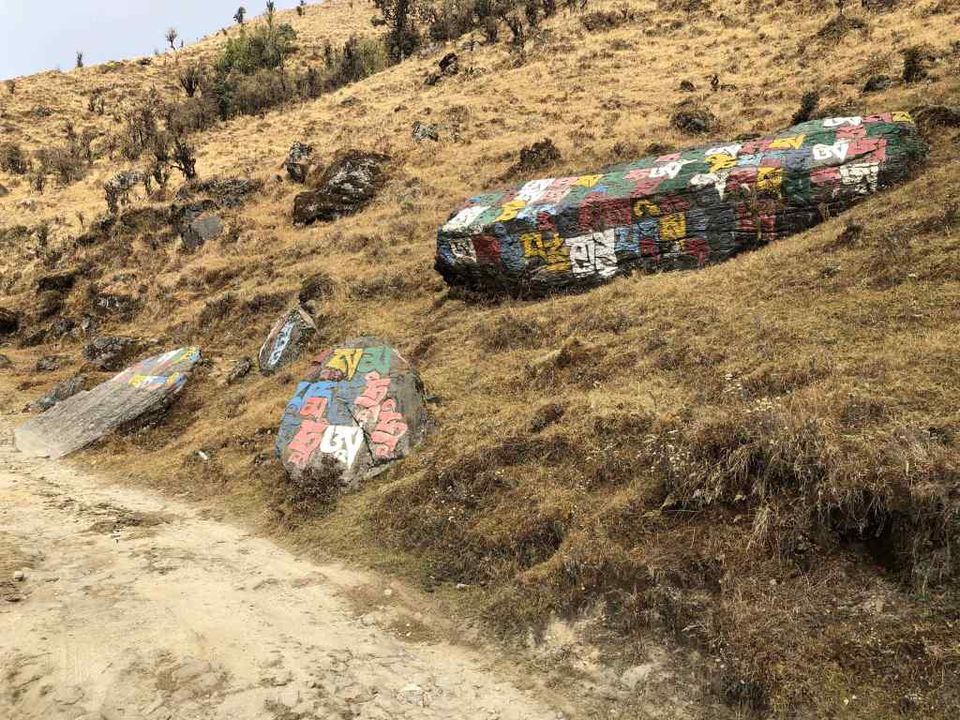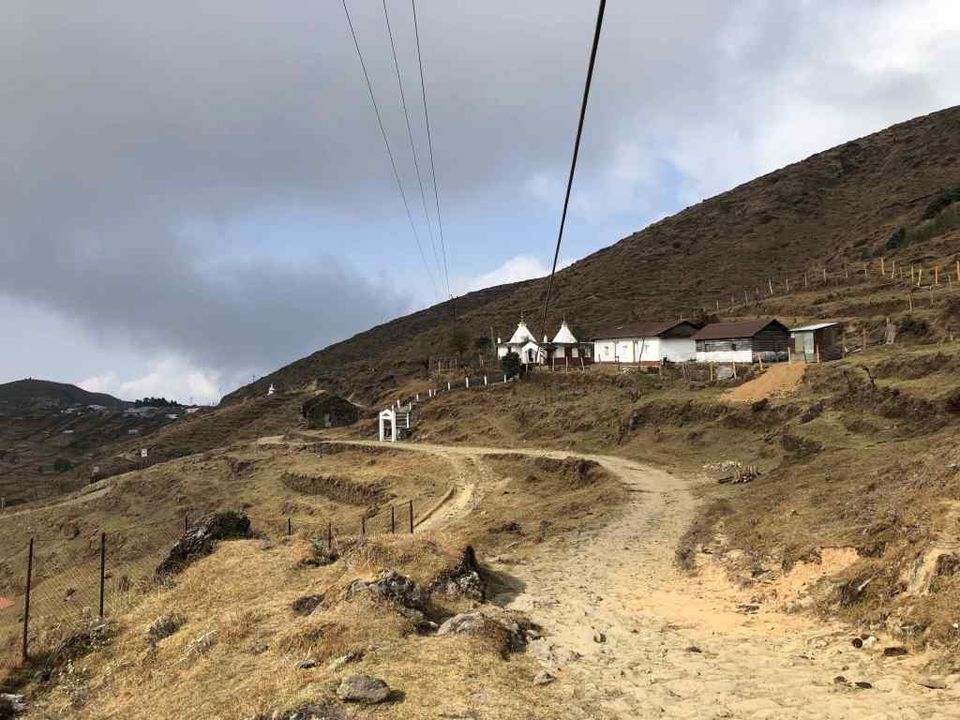 It took us an hour to reach the Jaubari from Tumling where we had to enter our group's details at the check-post. At the village, we stopped for some tea and snacks. Started again by 10:40am. After Jaubari, the trail was downhill for about 2 km till Gairibas. The downhill rocky terrain had strained my left toe, or maybe my shoes were just tied loosely.
Finally we reached Gairibas (or Gairi Bans). There was a army check-post on the right side and on left few restaurants. Another large group(probably the IndiaHikes group) had stopped here too. We had a plate of Momo for snacks. There are 2 paths after this, one is 2km jeep trail and another a more steep 1.5km off road trail. We chose the shorter and the tiring one.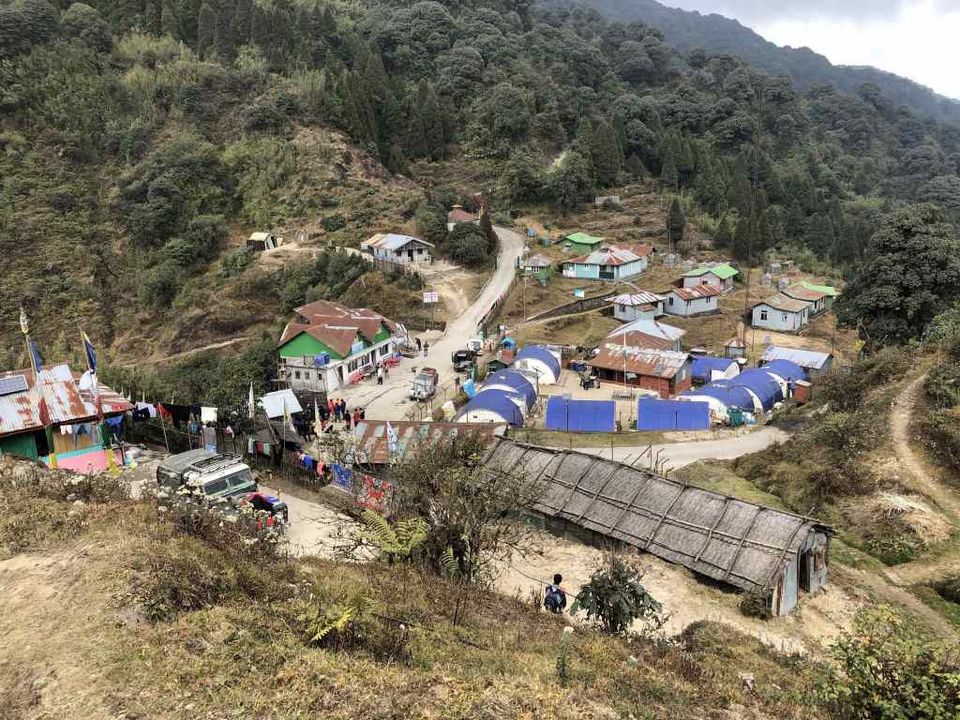 We started from Gairibas by 12 noon. The trail was a dirt road, through the forest. We could hear a lot of birds that flew away with the slightest noise of our footsteps. Around 1 pm we reached the top of that trail, and after some photoshoot, we started on the almost level trail. After about half an hour we stopped by a shop and had some noodles. This is the last place before Kalpokhri and a perfect one for your lunch. Many other trekker's groups had stopped here.
After a 5 km long level road we reached Kalpokhri at around 4:20pm. On the way we stopped by to see a brown squirrel, some birds, thin trail of water frozen on the tracks, etc. At the village entrance, we had to pay ₹30 per person towards Sandakphu Rural Municipality, Nepal Government. We are at 3600 meters now. The village is supported by the lake on the outskirts. The village was bigger than Tonglu/Tumling as so was the lake.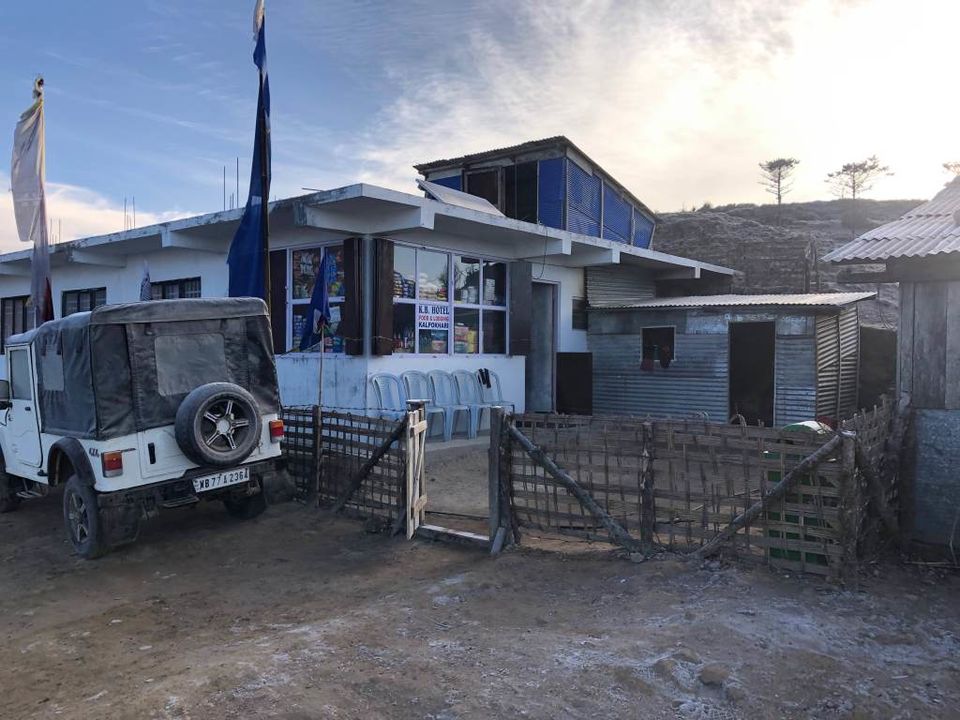 We had a booking at Pandim lodge, but it was already full as IndiaHikes booked all the rooms. But the owner had arranged a room at the K.B. Hotel and gladly walked us down till there. This was the most comfy hotel on the whole trip. I would recommend home stays compared to the GTA huts to anyone traveling, though at double the price but so is the hospitality, cleanliness and the comfort. After freshening up, we went out and had Momos from a small shop just outside the village and also got a few extra plates for free as the owner was closing shop, and later had Rice meals for dinner.
We woke up in the morning and to see everything outside was frozen. There were white patches over every grass blade. Even the small puddles were frozen solid. We walked around for a while breaking a few frozen puddles until it was breakfast time.
Today our trail was 6 km along with 2 km steep ascent. It started with a mild up and down. The sides of the trail were covered in frost. On the way, we crossed a small village named Chourichuk and finally reached Bikhaybhanjyang by 10am, where we had some tea.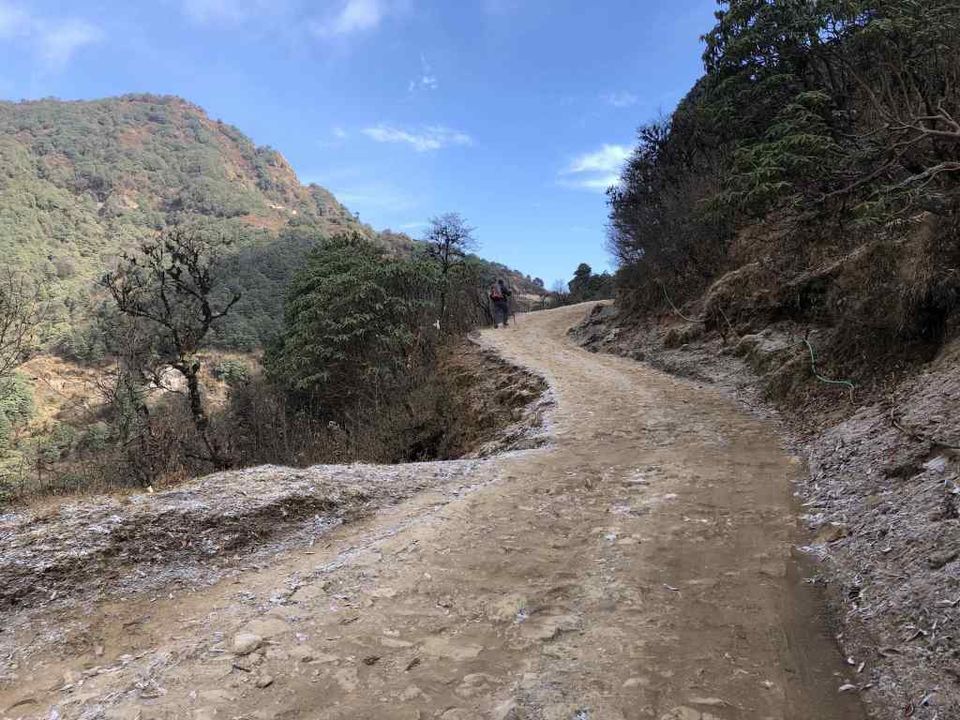 Then started the steep uphill steps. There was a small Gumpha on the way. We stopped by a place after half an hour for a photo shoot, at a cliff with clouds all around. Most of the path after this was really beautiful and colourful with the green and yellow bushes with red tiny fruits all around. We stopped quite a few times to see flowers and to track birds. On our left, we could see Nepal-India border markers at places.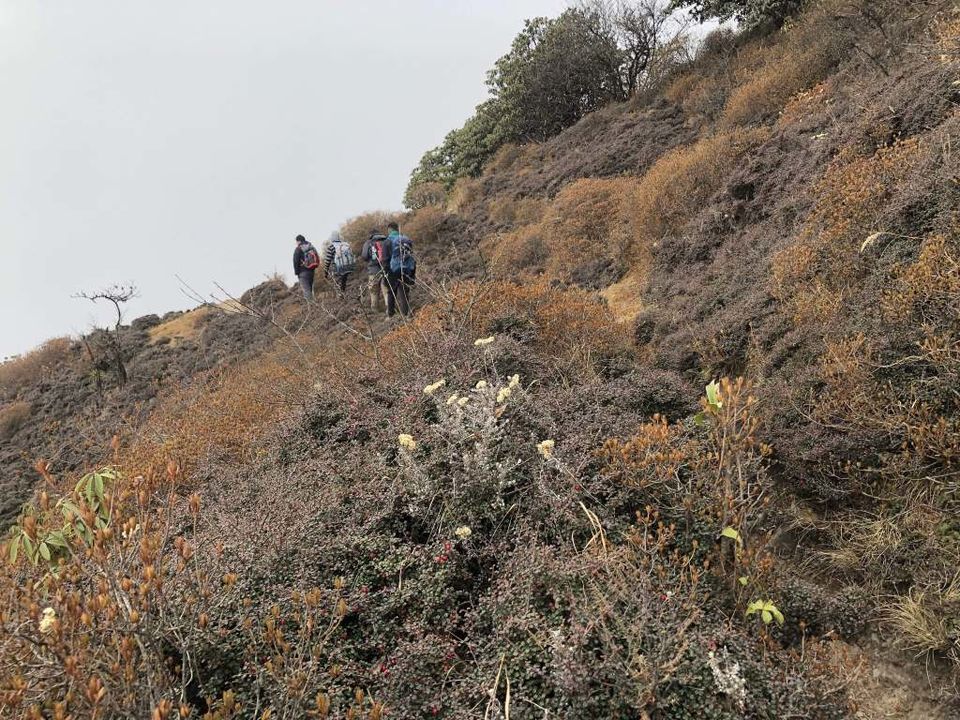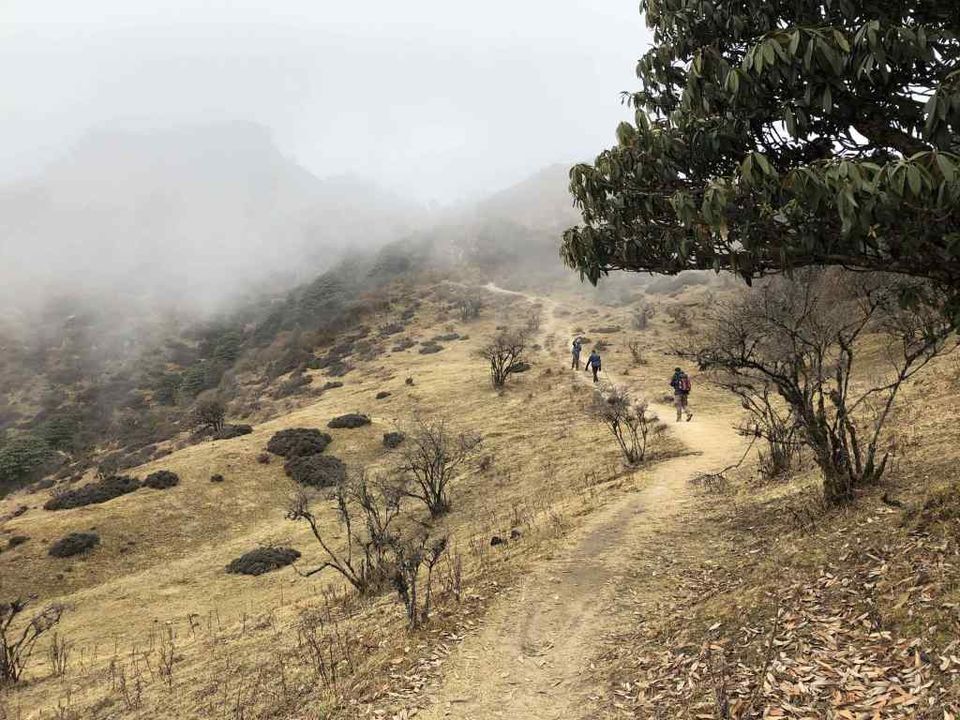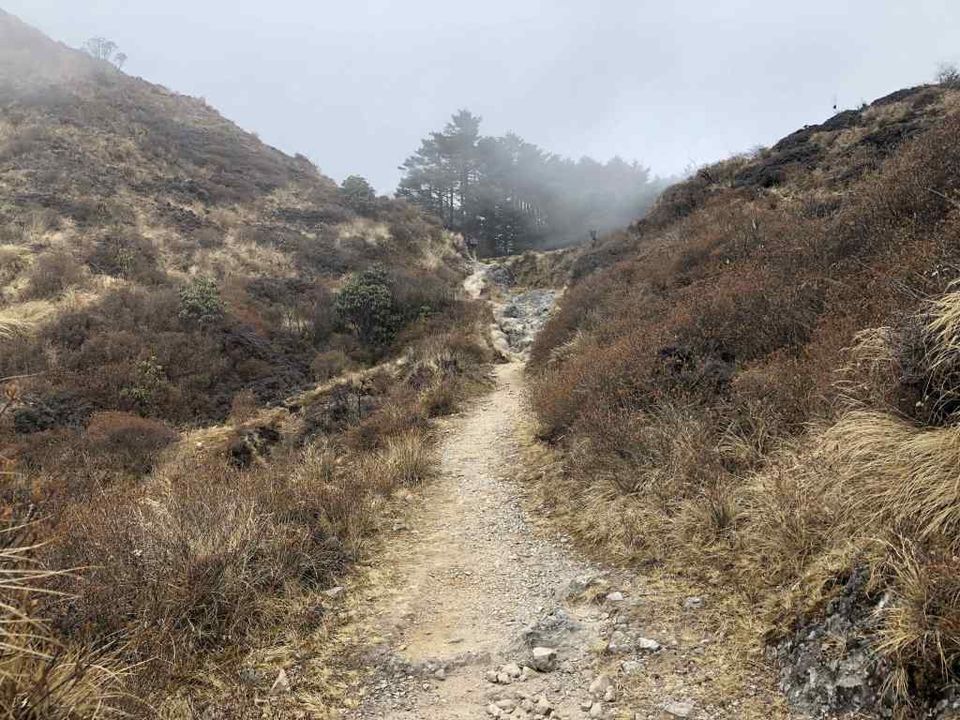 Then we came to the concrete road again, where we could hear birds chirping all around from tall pine trees covered in clouds. We spotted a lot of Roufous-Vented Tits and some other birds. Around 1 pm we entered Sandakphu (or Sandakpur in Bengali), where we could see the multistoried building of Sherpa Chalet Lodge but stopped for a few more birds. Few of us had already climbed up to the town.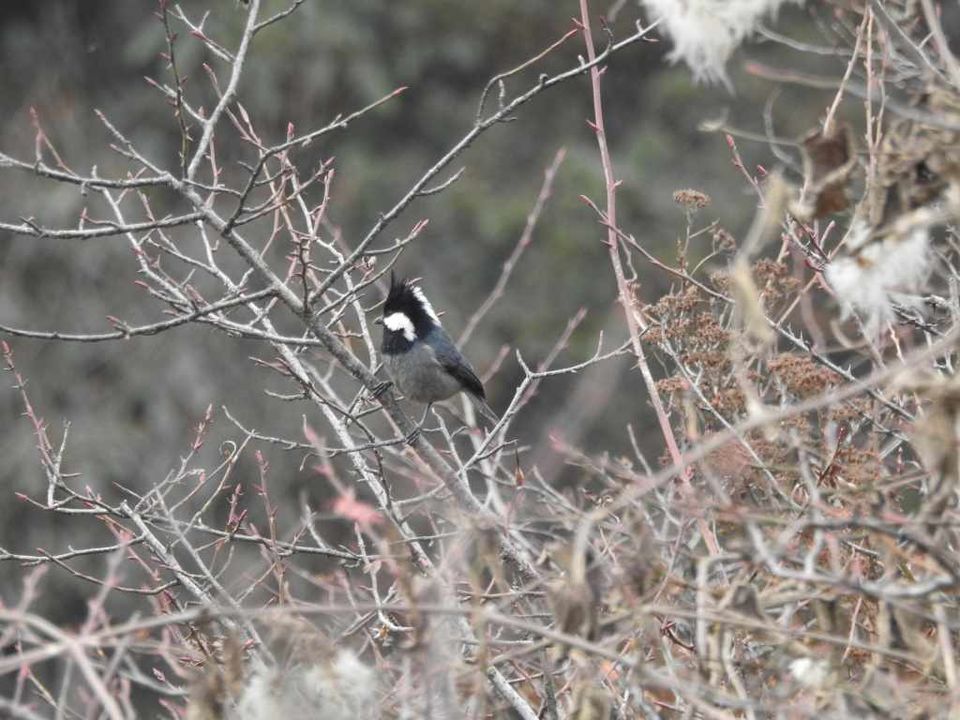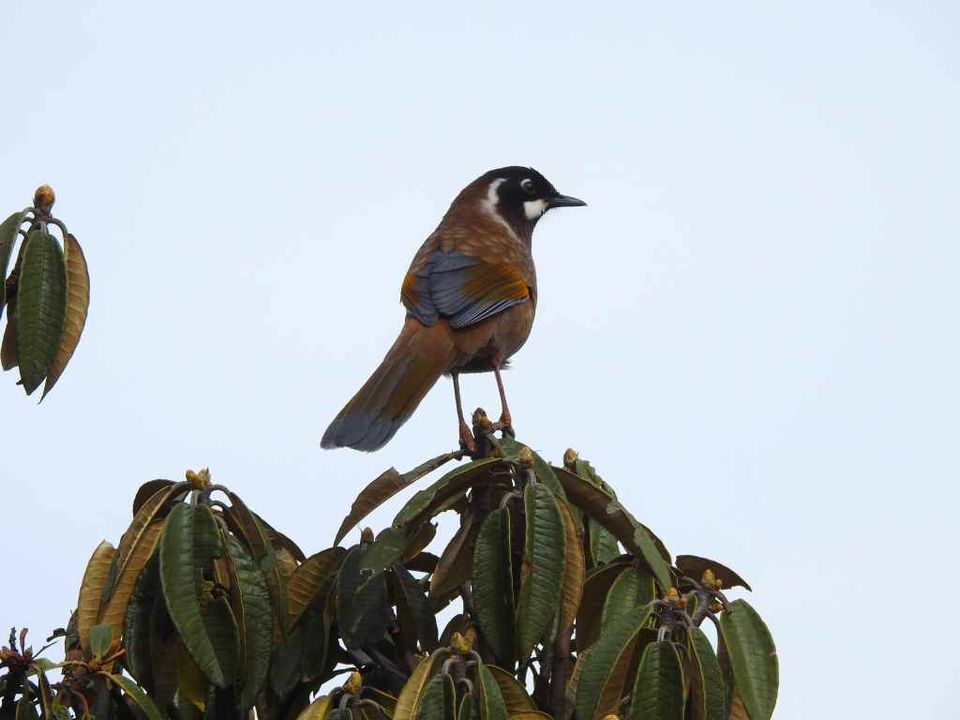 Others who were already up there, called for us to hurry up. As we ascended we were awestruck. We could see Part of Kanchendzonga (or Kangchenjunga) covered in clouds with bright white Kabru-N glittering in front of it and on the left another bright white peak, Kumbhakarna. It actually looked like a humongous sized person sleeping in front of us, The Sleeping Buddha. Others said they could see few more peak a while before.
So we reached our pre-booked GTA hut number B. This room was quite better than one in Tonglu. There were proper toilet with buckets in it, though it was frozen. Even the drains outside were all frozen. But now we are accustomed to the cold. We went to the view point to take a better look at the Sleeping Buddha. But it was all cloudy by then.
Then we went back to our hut and had a nice lunch with some RumPum (a local noodles brand) and omelette. Later we came back to the same view point again and then got to see the peaks again. We could even see few large peaks far left side of us. After seeing the mountains for a while we went outside, near the view point behind the trees we got quite good Airtel and Jio signal too.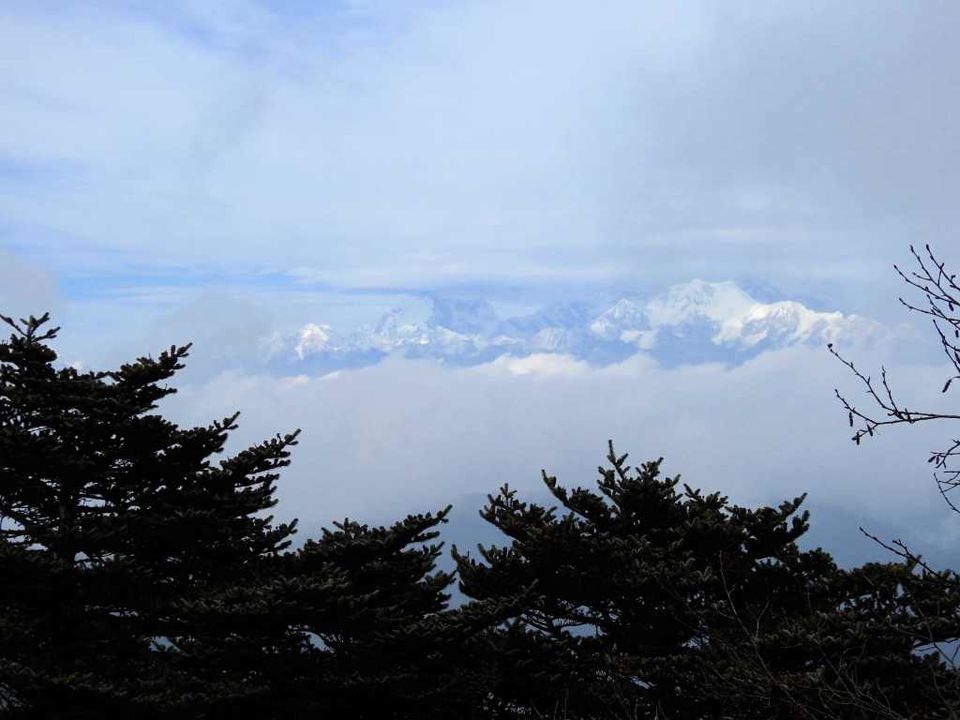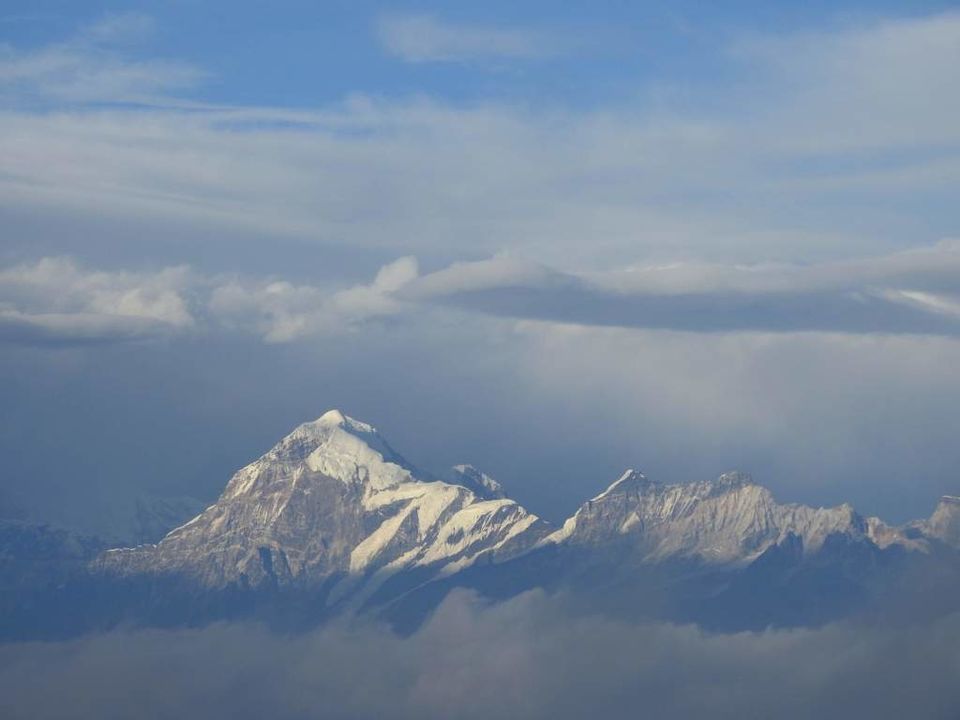 Then went to the other side to take a stroll. On the way met an Army guy, who is from Rajasthan. He told us that their diesel had frozen inside their car, so they are trying to defrost it. The temperature is over zero now but it will go subzero at night, and there might be breathing bproblems. He also showed us way to is a Sunset point just 500 meters off, where we need to climb a bit, but the view is great. We went that way, found a higher ground and climbed on it thinking that it was the sunset point, but it was not, sunset point was a little more far off. But still the view was great from there. You could the whole Sleeping Buddha from there without any obstacles in front of you. There was already a guy, who happens to be from Denmark. We talked for a while and then came back and met our rest of the people at hut.
Played card today again after 2 days, continued the same game of Rummy. By 6:30 we had dinner with rice meal. After meal we came out and looked at the sky. I have never seen the sky soooo clear. I could see the large clustered patches of stars from the milky way with my bare eyes.
We woke up at 5 am to see the sunset. It was still dark, we came out with torches. The sky was still clear, but couldn't see the Milky way anymore. Saw a shooting star.
Then we started off to the same view point again. It was really cold, we could barely take out our hands from gloves and hold the camera. Glad that there was a small glass room at the view point. We waited until the lights came out. We could gradually see all the peaks. Kabru N, Kumbhakarna, Pandim were clearly visible.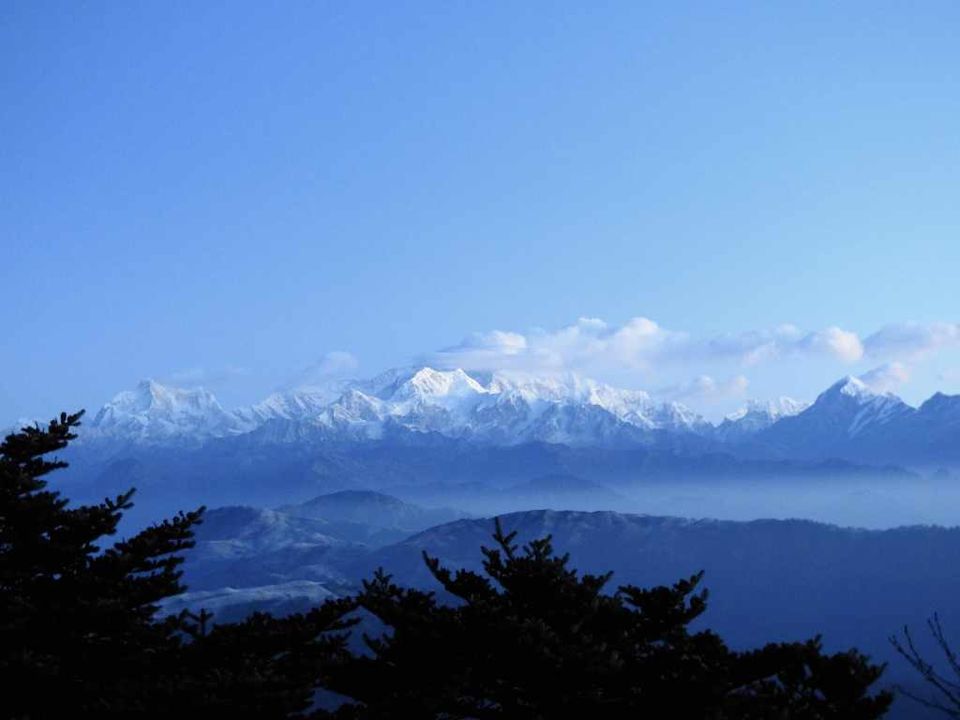 The large peaks on the left were still there. Saw 3 peaks on the far left quite far off, we asumed those are Everest and all. But after matching with the images we took at Manebhanjyang on our phone, realized, that the large peaks in front of us on left are Everest, Makalu, Lhotse, Chamlang and Chamolonzo. Only everest was a bit in shadow of Makalu and top was a bit covered in cloud.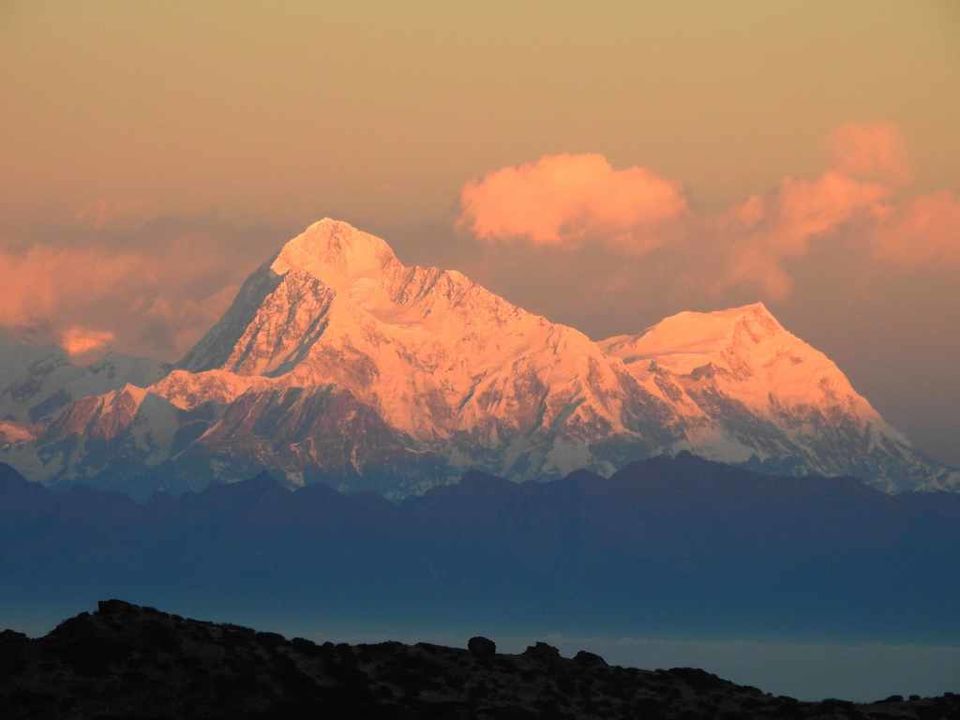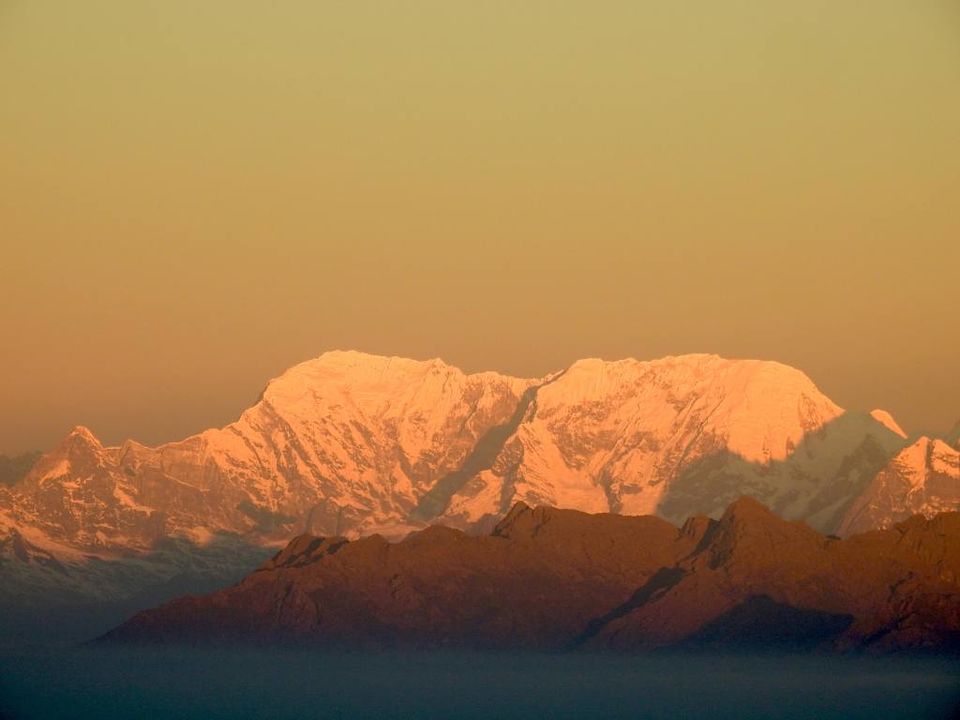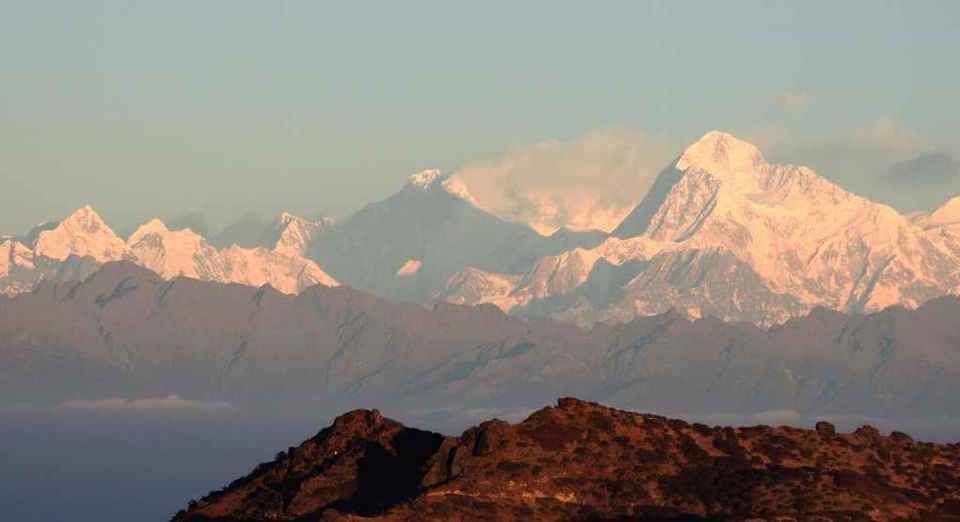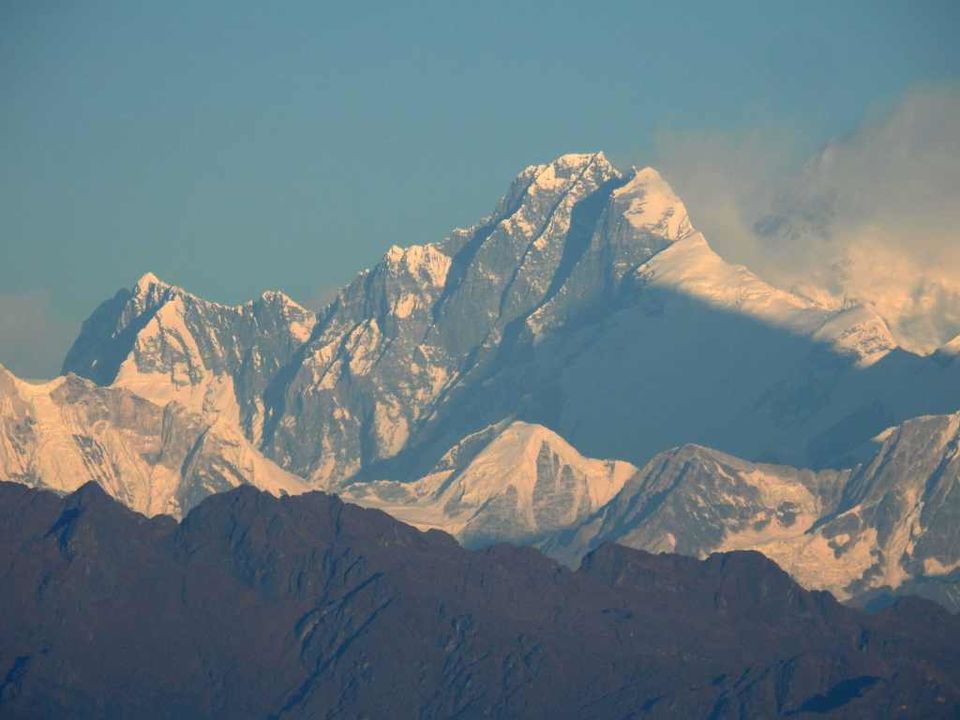 Now, that the sun is up, all the peaks including Kanchendzonga were shinning in red. In between Sleeping buddha and Everest were 3 black peaks called 3 Sisters. The Slepping Buddha was almost clear only a bit cloud on top of Kanchendzonga and Kumbhakarna made it look like a fat guy sleeping, with some coming out of his nose.
Then we came back for breakfast, We the Everest and Kanchendzonga both were completely revealed, with no clouds covering them.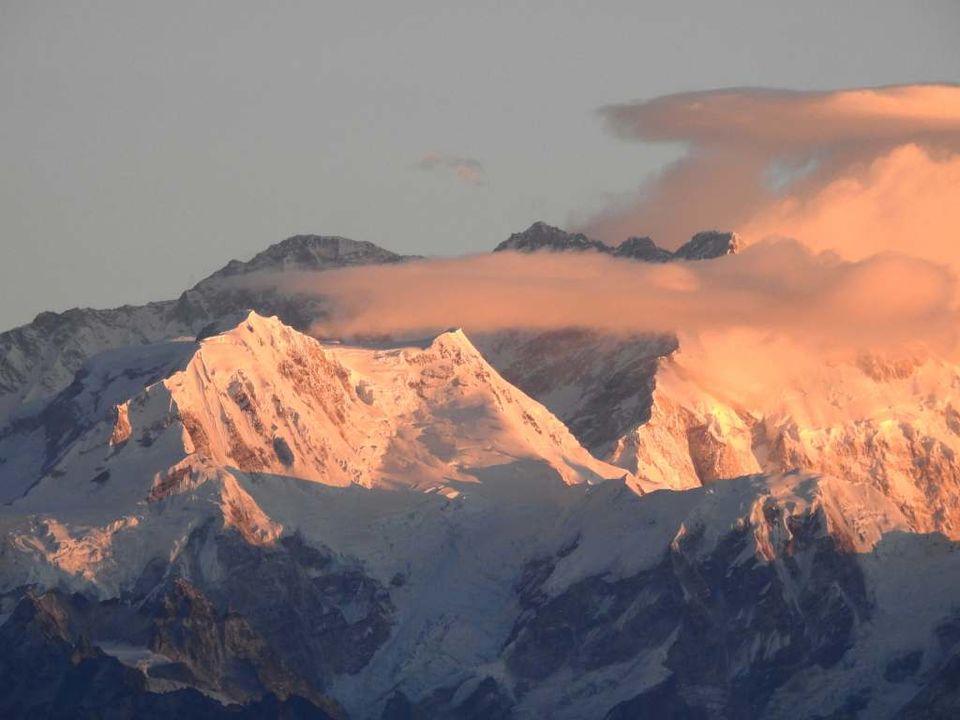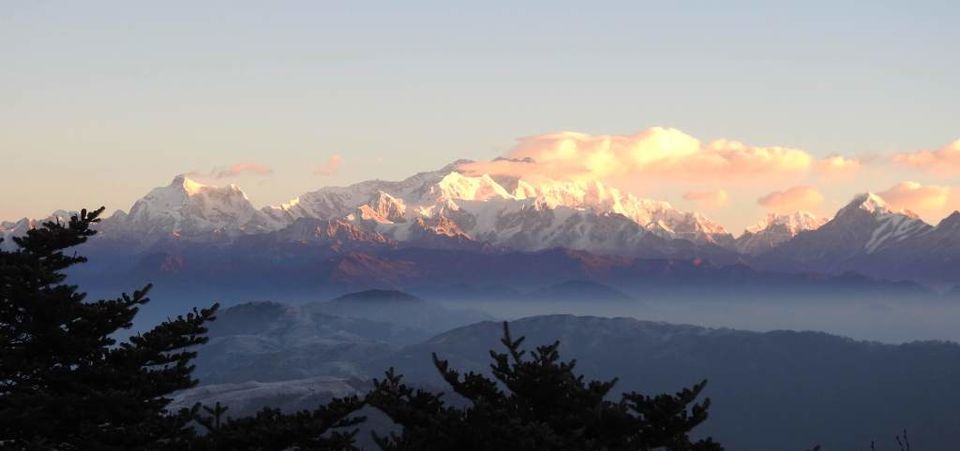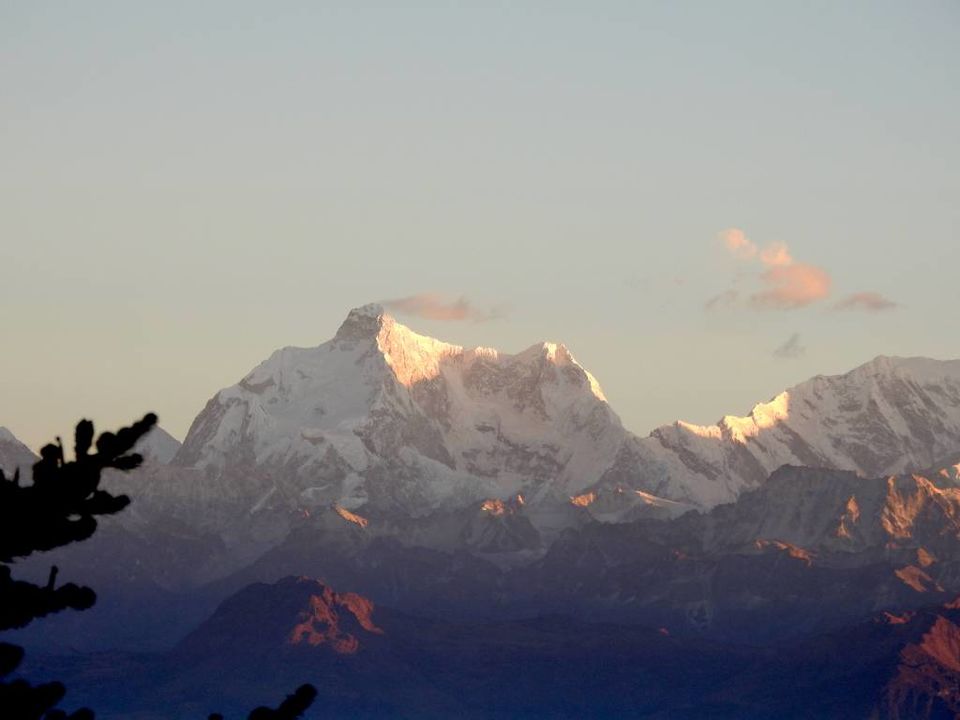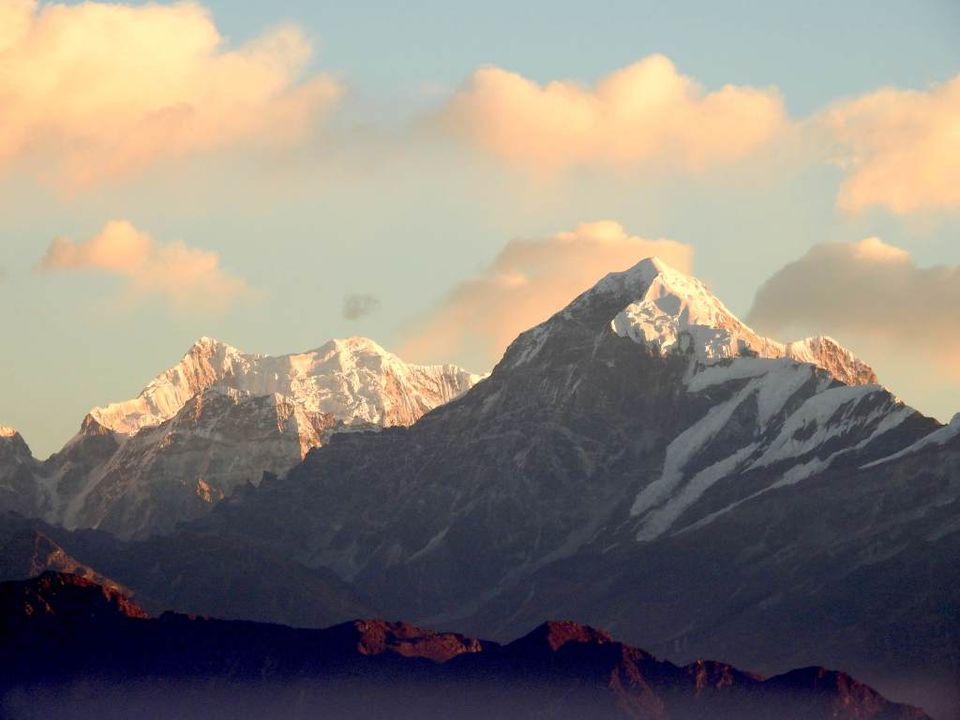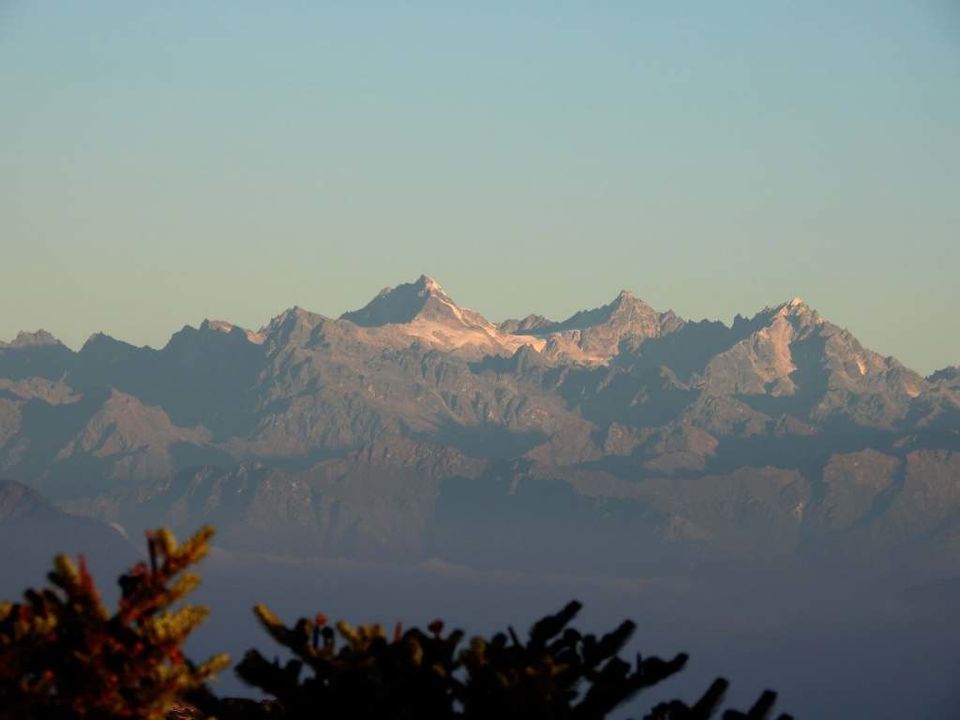 Initially we had plan to go to Phalut today, after Sandakphu. Sandakphu to Phalut is a 21 km walk, with some downs and ups, including about 6km ascent. People told us that it would become dark, if we walk in the same speed, and suggested to take a cab to Sabar Gram and go from there. Sandakphu to Sabar Gram is 13km, and Sabar Gram to Phalut is 8km. Finally we decided to skip Phalut and go directly to Gorkhey from Sabar Gram.
So we booked a cab, it was a Mahindra Thar. Started by 7:45. The road was really scenic. We could see the Sleeping Buddha and the Everest range all the way. All we could see was the clear horizon, and the whole mountains on top of them. All the way there was the path was covered with yellowish grass, and white patches of frost over them, long haired cows and Yaks grazing and running on the all over. We stopped by one place to take a better look to at the scenery.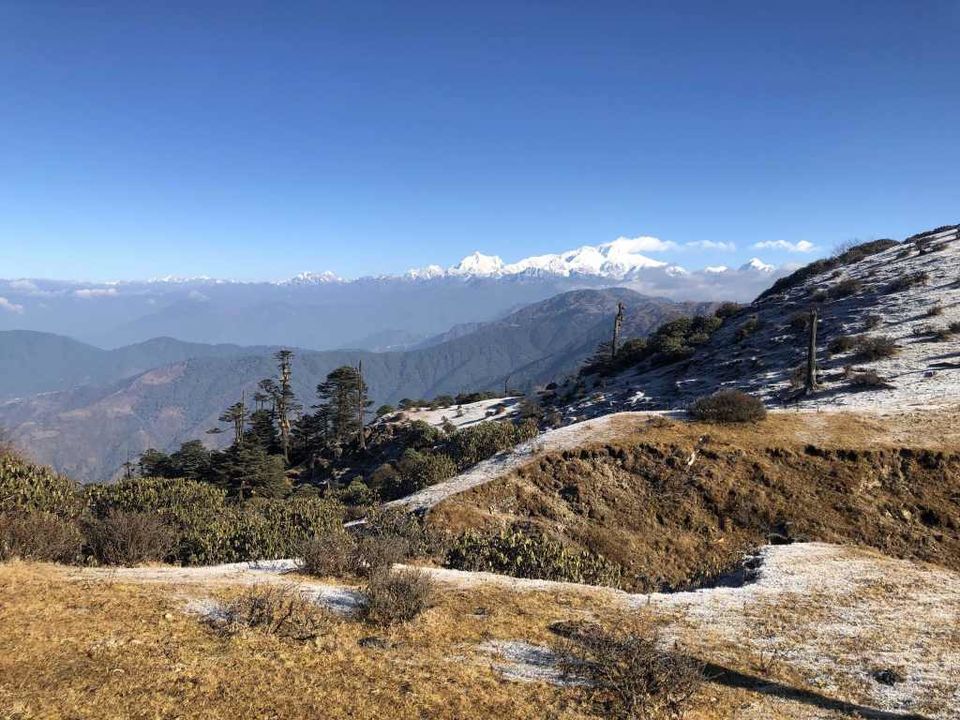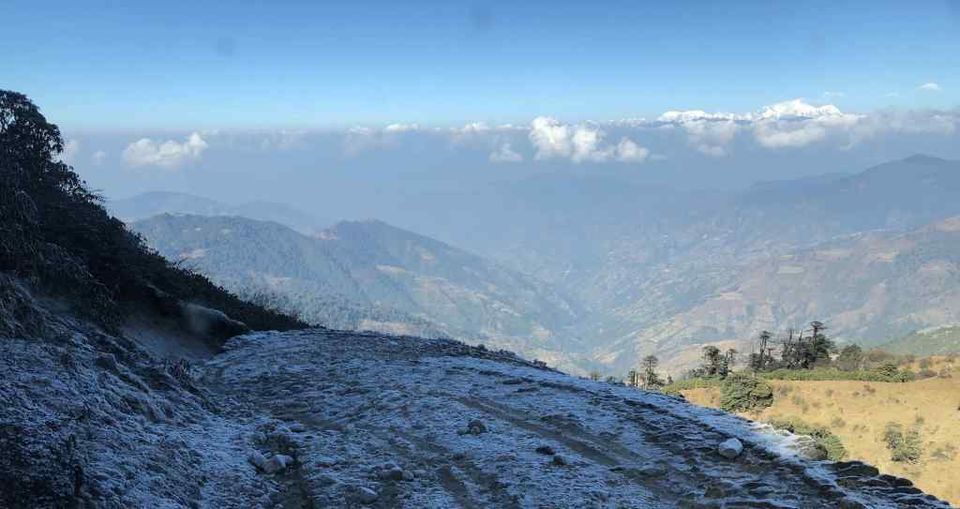 We finally reached Sabar Gram by 10. There was no houses, only a lot of tents. Down the road there were 2 huts, one restaurant and other written Molley Camp. We needed to show our Singalila National Park tickets here. We stopped here to have some noodles again. Even here a lot of grasses and bushes were covered in frost. And there were a lot of colorful birds like Blue-fronted Redstart, White-throated Redstart, Rufous-breasted Accentor etc.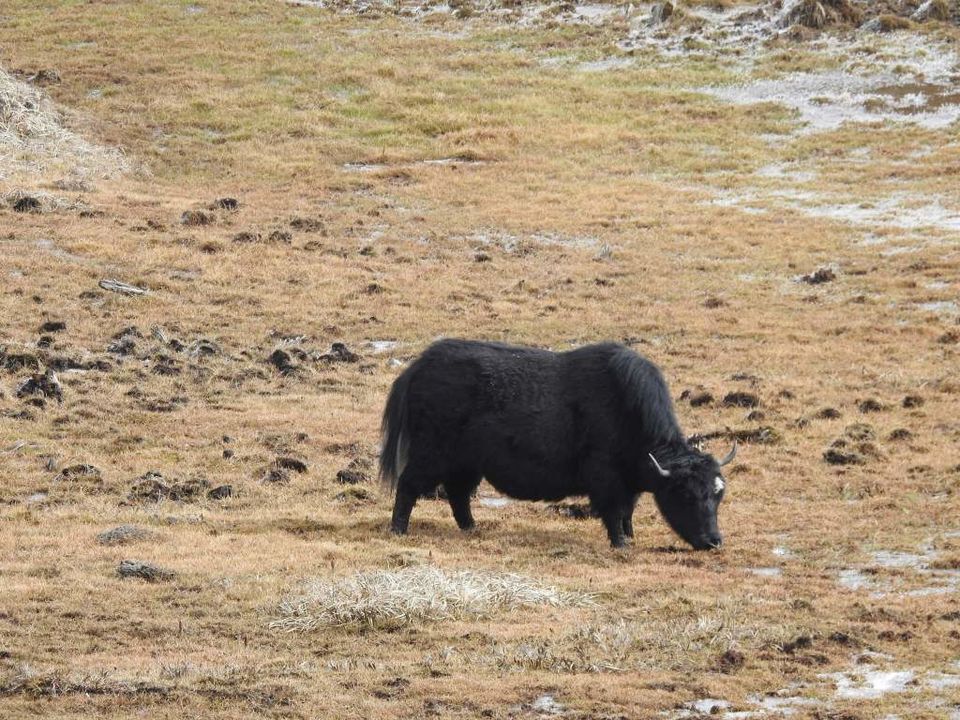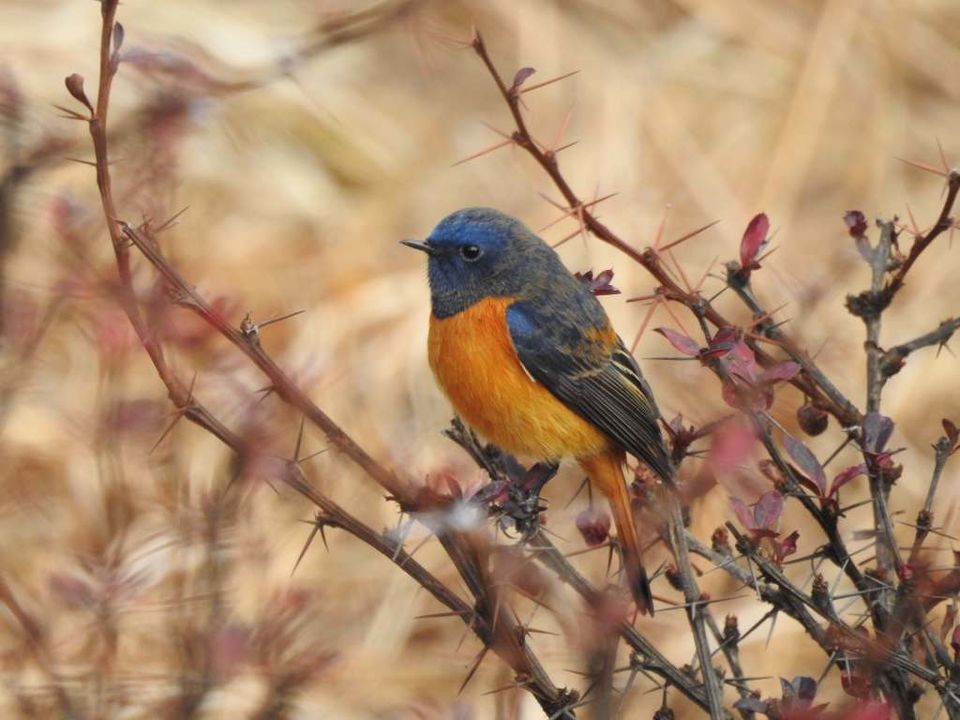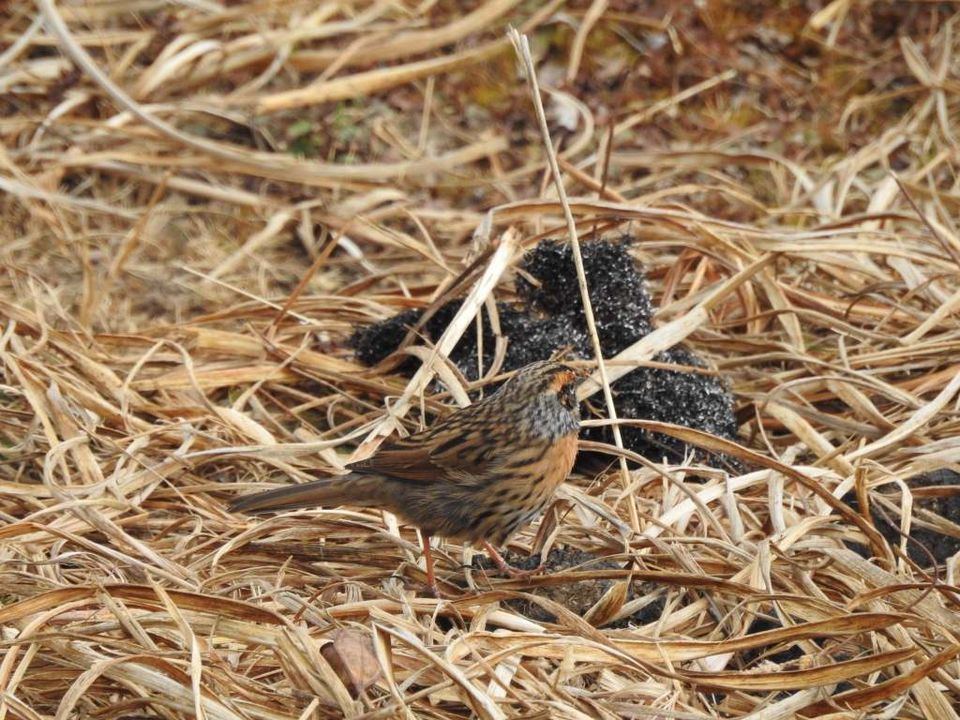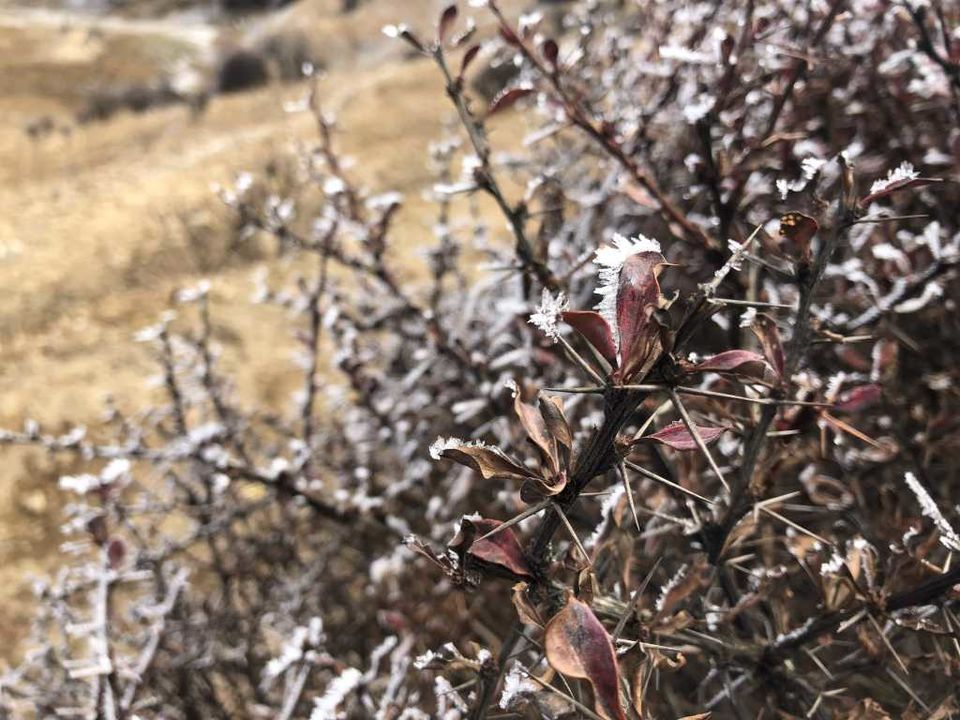 After the snack we set on our 15 km trail. First 1 km was a plain grassland. Then started the downhill road through the forest. The forest started to become dense gradually. Again we were expecting to see some Red Panda, but without luck. But we could hear a whole lot of birds, but its hard to spot them in such a dense forest. Around 2 pm we could see a really scenic Hamlet. It's called Samanden.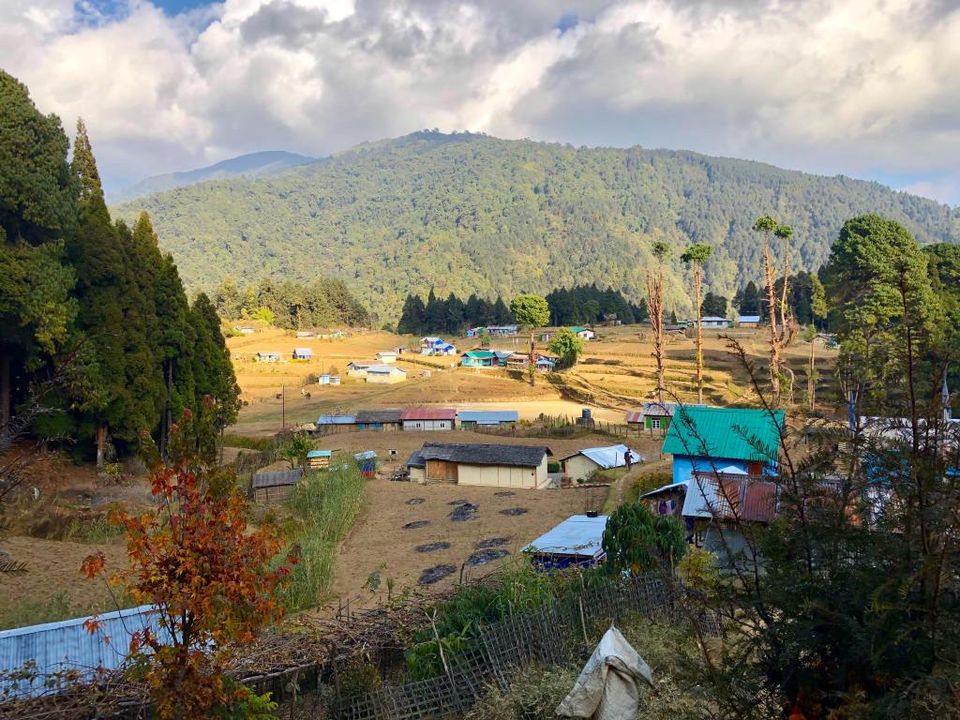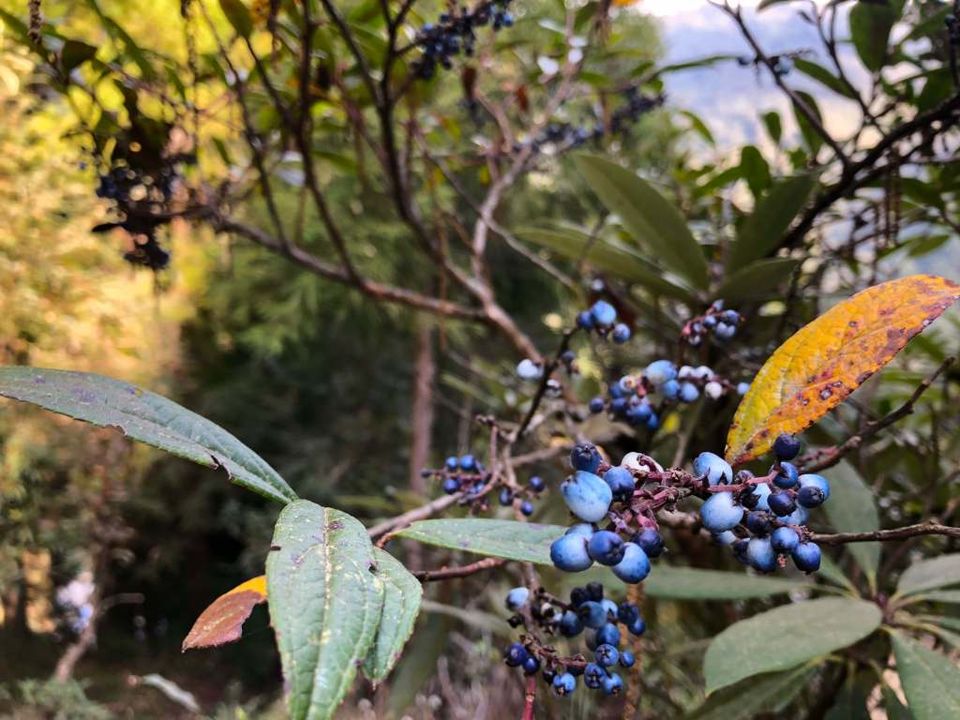 The trail was full of pinecones, acorns, white flowers, blue and red wild berries everywhere.
Before reaching the village, the trail was a bit steep downhill. Finally reached there. There were corns rinsing everywhere. We saw one guy crushing boiled radishes inside a large ditch. We asked our guide Nima, he said they would use it for some curry. I picked up few acorns and small pice cones as souvenir.
Samanden to Gorkhey is another 1 km. Almost all the way from Molley, one black dog joined us, but we lost him in Samanden. After we left Samanden, another golden dog joined us till Gorkhey. It was marking its territory all the way. Finally we reached Gorkhey. It is another picturesque hamlet. We could see the whole village from the trail on the higher ground. There was a Big Cottage by the side, that reminded me of the Castle Age Town Center from Age of Empires.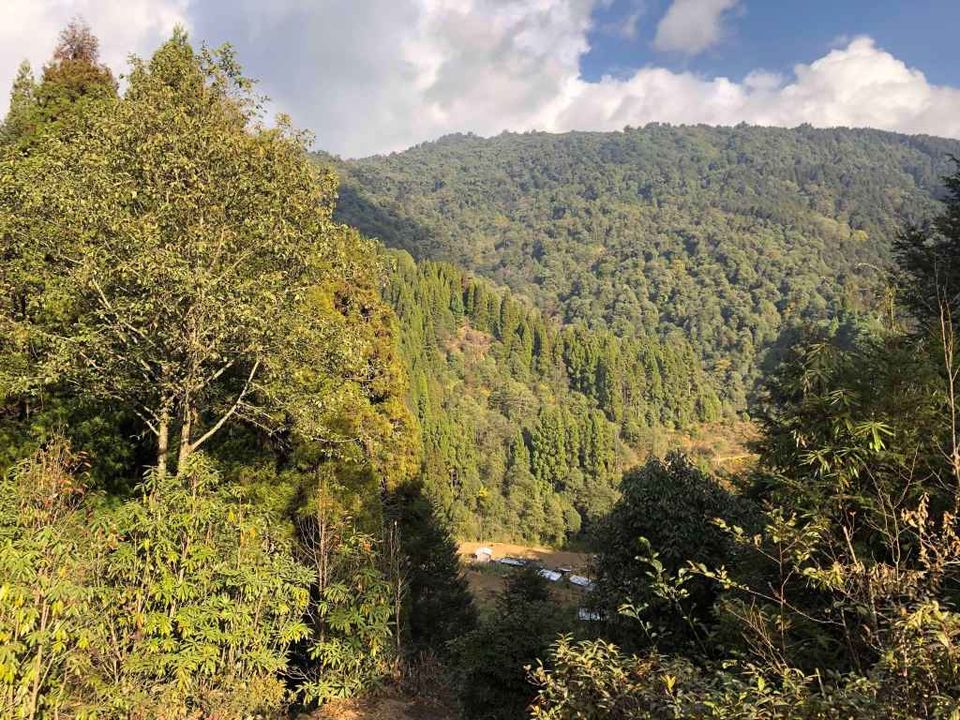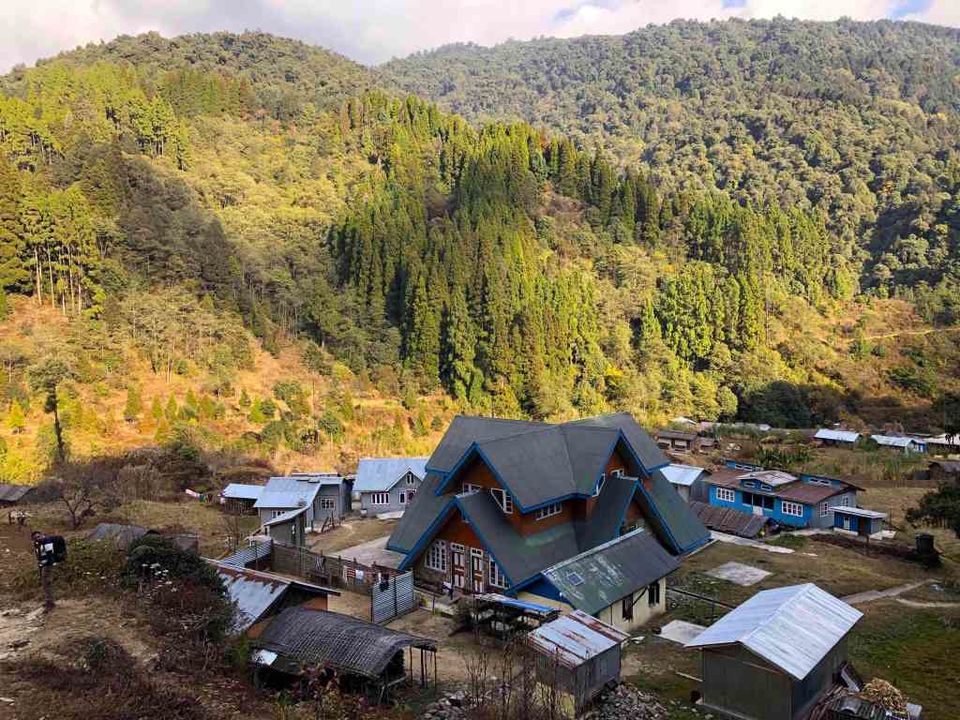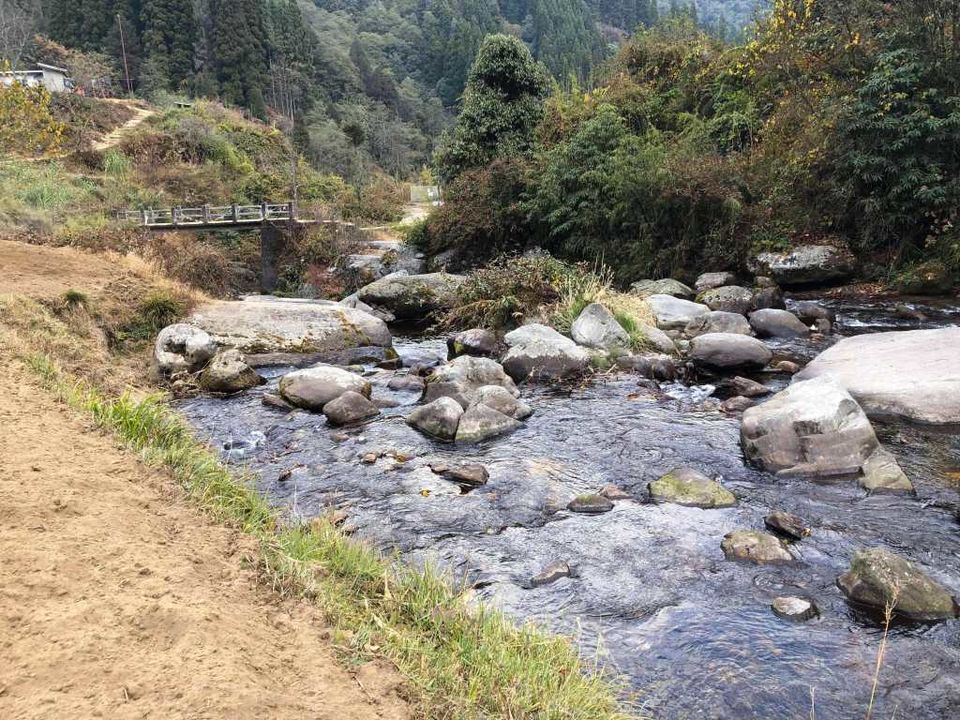 We crossed the small bridge and checked in at Paradise Hotel for one night. We had a few packets of Wai Wai with us, told them to cook for us, they charge ₹20 to add veggies and cook, for each packet.
We went to the stream and dipped our feet in the cold water. It was quite soothing after the long downhill trek. We returned to hut and continued the Rummy, until we were called for dinner. It was rice meal. After dinner, playing cards for a while more and a little bit of stargazing we went to bed, as we need to wake up early tomorrow.
We woke up at 4 am. Needed to start by 4:30 for the 5km trail to Ribdi Bhareng, to catch a cab before 7:30. So we started with torches and headlights. 2 guys from the Indiahikes group joined us.
The trail started with a plain vilage road and grasslands. After 1 km it was mild ascent, streams and tiny waterfalls in between.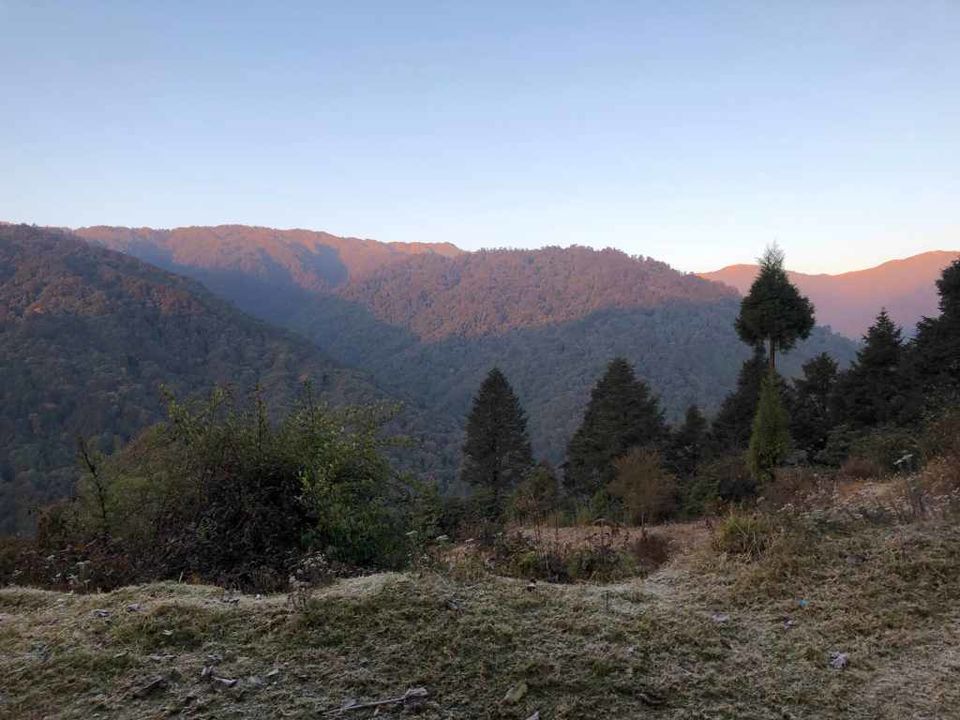 There was light around 5:40. Stopped once at a place, almost at the end, and then continued on the path.
Reached Bhareng around 6:30. Stopped at a tea shop for tea. The driver was at the tea shop only. We offloaded our backpacks on the cab. And started by 7:30. It took 3 hours to reache Jorthang. And then 2 hours to reach Siliguri in another cab.
--------------------------------------------------------------------------------------
Short Itinerary
Dec 2, 2018 : Siliguri-Manebhanjyang in Cab
Dec 3, 2018 : Manebhanjyang-Chitrey-Lamaydhura-Meghma-Tonglu Trek (11km)
Dec 4, 2018 : Tonglu-Tumling-Jaubari-Gairibas-Kalapokhri Trek (14km)
Dec 5, 2018 : Kalpokhri-Bikhaybhanjyang-Sandakphu Trek (6km)
Dec 6, 2018 : Sandakphu-Sabargram Cab (13km), Sabargram-Molley-Gorkhey Trek (15km)
Dec 7, 2018: Gorkhey-Bhareng Trek (5km), Bhareng-Jorthang-Siliguri Cab
--------------------------------------------------------------------------------------
Expense Structure (per person in our 6 person group)
Day 1
⊙ Siliguri to Manebhanjyang Cab – ₹500 (₹3000 total)
⊙Hotel Exotica Manebhanjyang – ₹200
⊙ Guide – ₹1000 (₹6000 for 6 days total)
⊙ Dinner at Manebhanjyang (Roti/Curry) – ₹100
Day 2
⊙ Breakfast at Manebhanjyang (Roti/Curry) – ₹60
⊙ Singalila National Park – ₹100 (+₹100 for camera)
⊙ Lunch at Meghma (Noodles) – ₹60
⊙ GTA Hut Tonglu – ₹200
⊙ Dinner at Tonglu (Khichdi Meal) – ₹170
Day 3
⊙ Breakfast at Tonglu (Roti/Curry) – ₹80
⊙ Nepal Entrance Fee – ₹30
⊙ Light Lunch at Gairibas (Momo) – ₹20
⊙ K.B. Hotel Kalipokhri – ₹450
⊙ Dinner at Kalpokhri (Rice/Roti Meal) – ₹200
Day 4
⊙ Breakfast at Kalapokhri (Roti/Sabji) – ₹100
⊙ GTA Hut Sandakphu – ₹200
⊙ Lunch at Sandakphu (Noodles) – ₹60
⊙ Dinner at Sandakphu (Rice meal) – ₹160
⊙ Guide's Food charges – ₹50 (₹300 total)
Day 5
⊙ Breakfast at Sandakphu – ₹60
⊙ Sandakphu to Sabargram Cab – ₹500 (₹3000 total)
⊙ Lunch at Molley Camp (Noodles) – ₹60
⊙ Paradise Hotel Gorkhey – ₹200
⊙ Dinner at Gorkhey (Rice meal) – ₹130
Day 6
⊙ Bhareng to Jorthang Shuttle – ₹200
⊙ Breakfast at Jorthang – ₹100
⊙ Jorthang to Siliguri Shuttle – ₹190
-------------------------------------------------------------
For more such stories visit: https://bhromonn.wordpress.com
Frequent Searches Leading To This Page:-
sandakphu trekking west bengal, sandakphu trek from kolkata, sandakphu national park, sandakphu trek booking, sandakphu route