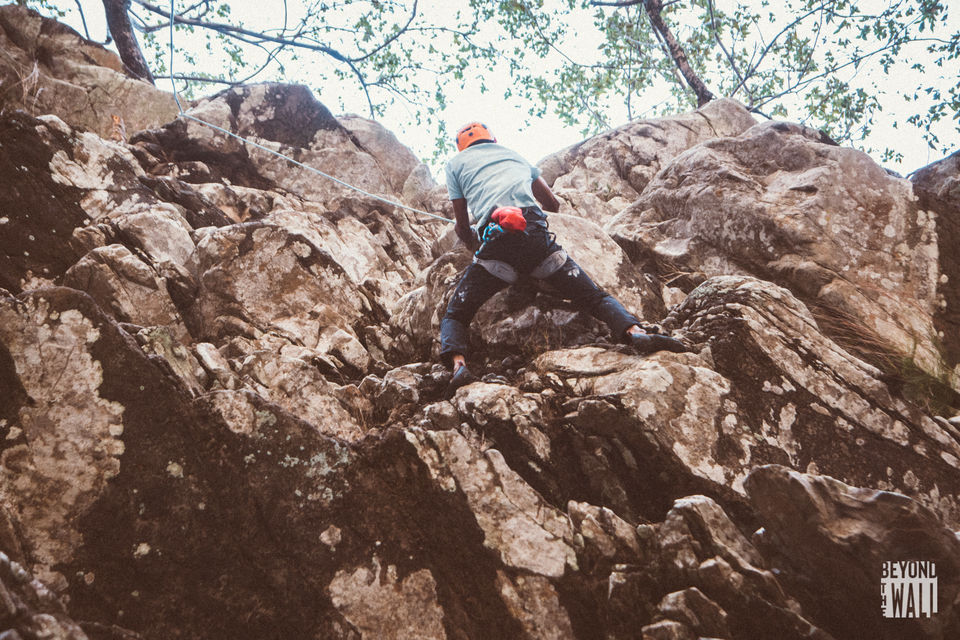 Sitting at home thanks to Covid is something we are all used to now. But the craving for outdoors, the itch to travel, to do something new was always there in the corner of my mind. So when I found out there were rock climbing sites around Dehradun, it got me excited. A friend of mine- Divya was coming into town as well, so we both decided to go for it and do a climbing session that weekend.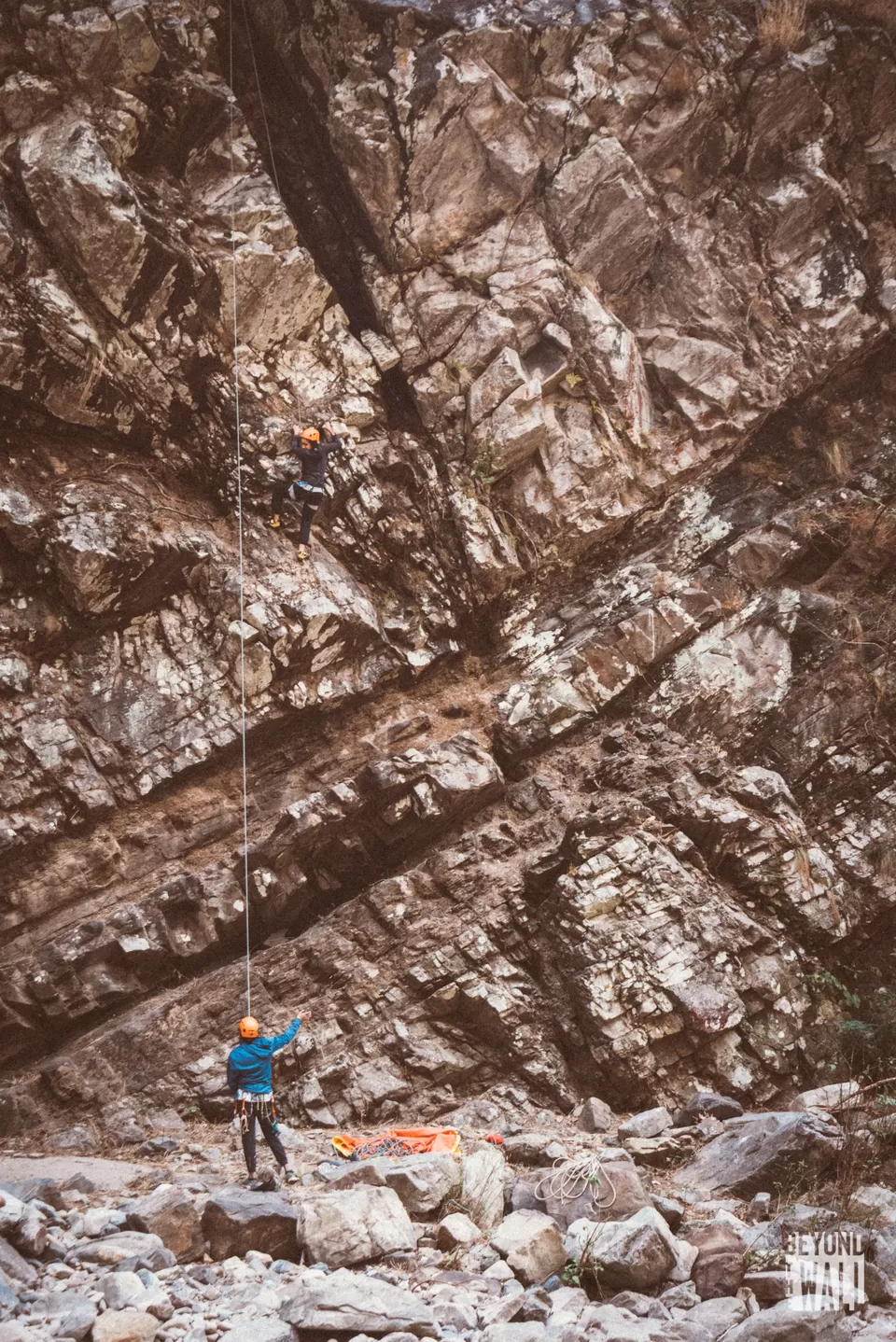 And that is where Beyond The Wall came in. As an outdoor adventure company started and run by a couple of youngsters who are passionate about the outdoors, there couldn't have been a better start to my rock climbing journey. Best part was they took us climbing, even if it was just the two of us. They do care about learning and Covid, and don't take more than 6 people per batch! https://www.beyondthewall.co.in/
Beyond The Wall, as a company, has developed climbing routes by cleaning the rock faces off all the shrubs and bushes, bolting in the anchor and setting up numerous routes. So, it was easy to climb when surrounded by passionate people, the vibe was such an encouraging, positive vibe.
I reached Maldevta at around 8.30 in the morning with Divya. The two guys- Yash and Himanshu who started the company took the workshop themselves and were waiting for us. Himanshu led us to the site and it was peaceful. No people around, away from the hustle bustle of the city, calm with the sun rising behind the peaks. It felt right. The session started with them having a little introduction session and then we moved to the rock face to warm up.
Yash led the warm-up session and we did a full body warm up. Then we took a five minute break to look at the crag as they call it, (or the rocks as I call it) where we were to climb. Located next to the beautiful flowing Song river, the area is away from civilization and just a few cars pass by now and then on the gravel road. It was the perfect getaway into the outdoors, especially in this COVID time.
After the warm up, Yash and Himanshu showed us all the rock climbing gears and how to use them. From helmets, harnesses, shoes, belay devices, we learnt a lot of new things that day. And then we were off to climb. I was asked to put on my helmet and harness, then was led to the rock. There, they did a demo with Yash belaying and Himanshu climbing first. He went up like a monkey and came down in a jiffy. I simply assumed it was going to be very easy after looking at him.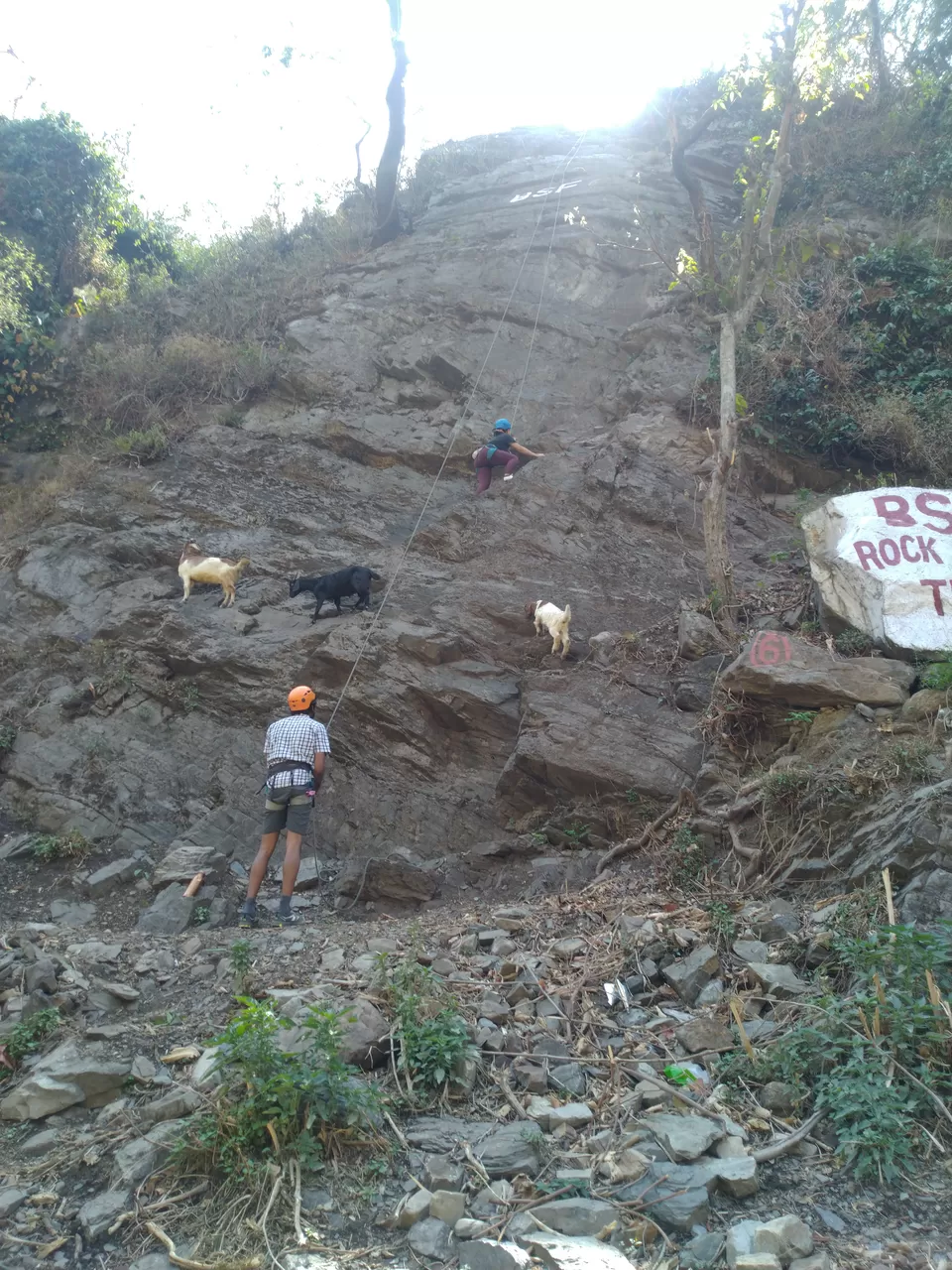 They then tied the rope which was already set up on the rock to my harness and it was my turn to climb. It was challenging, and not as easy as Himanshu made it seem but when I paused to look around, there was almost always an easier move, so I went up slow and steady, analyzing the route and finding the easiest way to the top anchor. And when I did finally make it to the top, I felt content.
For those few minutes, it was just me and the rocks. It sure was exhilarating, though there were a few patches where it felt like there were no holds for my feet or hands and I would simply fall. Soon a feeling of accomplishment set it, that I had done something. All this happened within a span of hardly five to ten minutes, but it felt like forever.
And then they got me down, on the rope. That was the best experience. walking backwards on the rock face, like some superhero! I learnt to trust the rope and the belayer then.
After I climbed, it was Divya's turn. It was her first outdoor adventure activity and she was excited. She did not make it to the top on her first try though, but she did have a good time trying to get there. There were around three routes in this beginner area, after which they taught us how to belay (Divya's life was in my hand and what a fun thing that was :P) Belaying was me holding the rope which is attached to the climbers rope. So, as Divya climbed, I belayed her. And later she got her turn to belay me as well, so you know the circle of life was completed.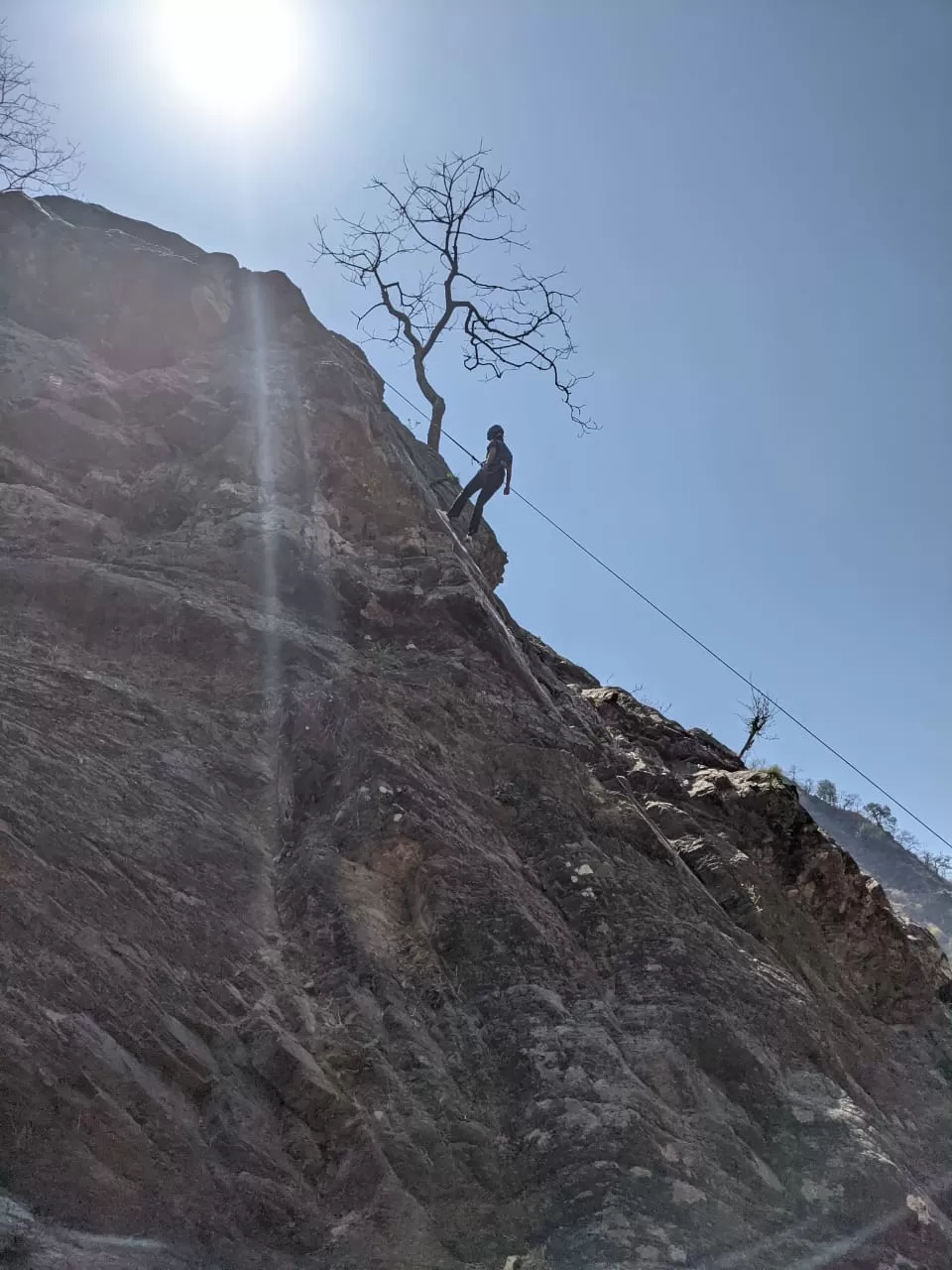 Then after this beginner climbs & belaying, we had a little break where we were given some snacks. As a person who is pro environment, and who does her best to reduce my consumption of products in plastic, this company made me very happy. They had got a watermelon, popcorn which they popped at home and lemonade/ lassi, all made at home. Nothing was bought from the shop and I was super delighted with this.
After snacks, we were taken to the intermediate climbing area, which was much more beautiful. We had to jump across rocks to cross the river, and reached the crag which these guys had developed. Here, they introduced us to bouldering. Bouldering is the opposite of rock climbing in the sense that there is no harness, helmet or high rocks. It was one huge piece of rock with a crash pad under for safety which we had to free climb. A thrill like never before. Of course it got my heart pumping as well.
But by then, we could feel our hands give up. All this climbing, even if they were hardly for five- ten minutes at a time, was a hard workout for almost all parts of the body. I tried to do one more climb in the intermediate area, but gave up mid way as my hands were not listening to my command when I said grab!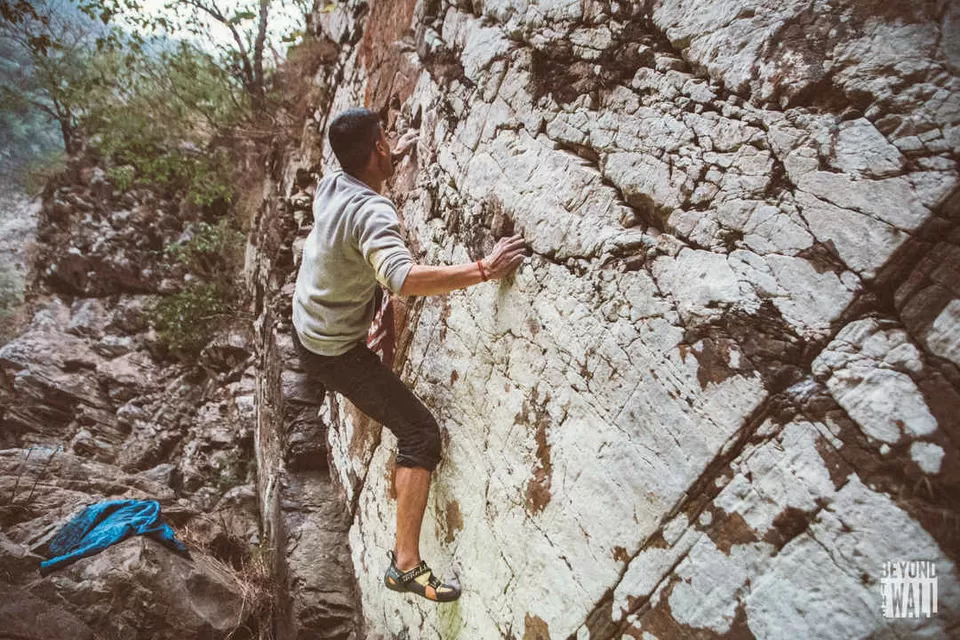 By 4PM, Divya and I had done almost everything they taught beginners. We now knew the equipment used, how to tie a figure of eight knot, how to climb, how to belay( well if you climb safely, not if you take falls) and how to boulder. With our hearts content, we ended the day with a feedback session. As a young company, they seemed to care about feedback and reviews so we sat by the river, as the cool wind blew and the sky turned dark and had a good talk.
Overall, this day was such a good change from the monotonous lifestyle that had set in due to our Covid times. I would recommend it to anyone in and Dehradun, take a day off and climb. I know I will be back, the climb has just begun after all! :D
You can contact Yash directly if you want to try rock climbing as well- 74981 63805