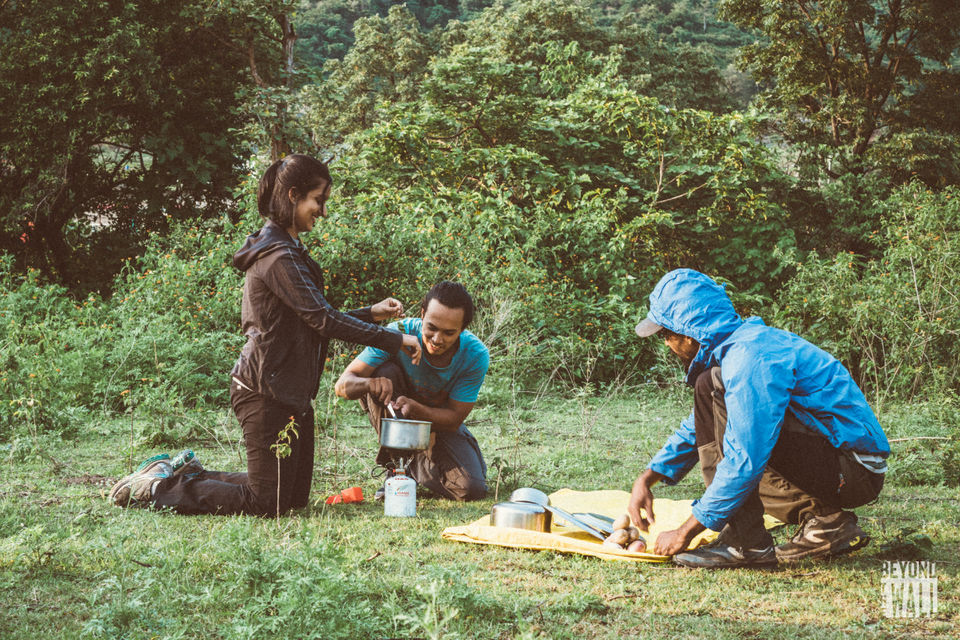 After being home for almost two months due to the lockdown, last Sunday I went out on a nature hike with this company called Beyond The wall and it was a Sunday well spent.
I have been on hikes before, but what was different and fun about this was that we were given a map with the trail and contours marked and were asked to try and lead the way. So this hike turned out to be fun as we learnt how to read a map! (well almost)
We started near Bijapur Dam where I met the rest of the folks. Apart from the Yash and Himanshu, who were the trip leaders there were four of us. They gave us a little briefing about maps and how to read them, spoke about the trail and by 10 am we were on our way.
Rajneesh, a fellow hiker and I decided to try and lead the way. Aligning the North on his phone compass with that of the map, we started by the river and took a detour and followed a goat trail into the jungle.
Unfortunately our map reading skills were not developed yet, and after a while we took a wrong turn, which Himanshu corrected and after passing by a village we entered the wilderness.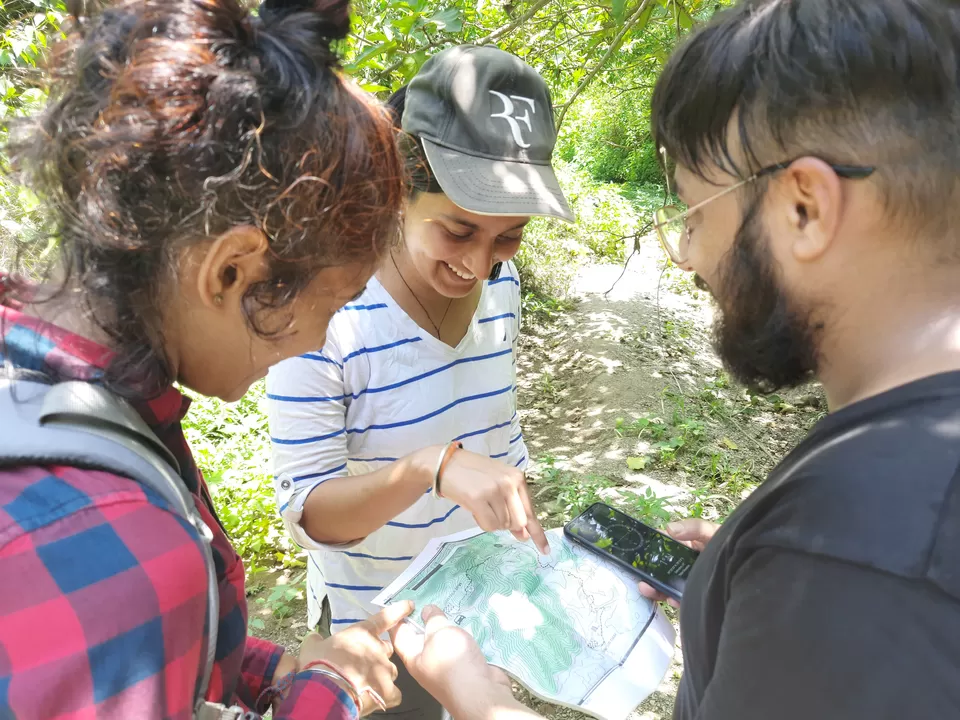 Well I am not sure I could call it wilderness, but it was the jungle, where a stream flows and people mine the sand. Luckily, that Sunday there were no illegal/ legal sand miners and it was just us in the jungle. We followed the river up and trekked in the jungle for about an hour.
During monsoon this trek is filled with water and we walk in the river we were told, but luckily or unluckily, this time the stream was pretty dry and we walked with just a splash on our feet. I was glad I wore my water resistant shoes instead of normal running shoes; my choice worked as there was no water. Otherwise my shoe would've gotten drenched in the river during the hour walk up stream.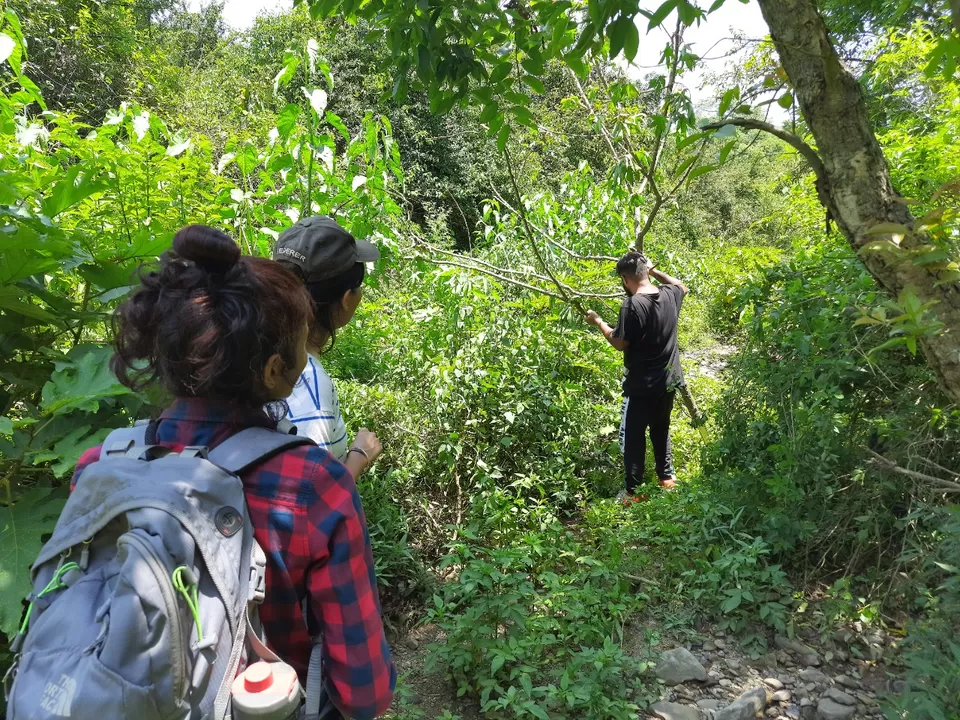 Soon we came out of the jungle trail into a village filled with lychee tree which we couldn't buy as were told they were all rented out to big buyers and we couldn't take any. But after almost two hours we were out of the jungle on a tar road, walking up to a place called mini Switzerland.
We reached mini Switzerland after about two hours, passing by houses, villages, resort and finally reaching the lush green meadow. There Himanshu and Yash opened their bags to take out a grill and marinated chicken and paneer. The joy of getting warm barbequed food after a hot trek of four hours was wonderful.
We sat by the shade on the grass, ate the food cooked and spent two hours simple talking and relaxing. Himanshu showed us how to find out the accurate direction using shadows and sticks, which was something new. Rajneesh and I didn't have to use the phones compass anymore, for that one stretch as we knew based on the suns shadow like Bear Grylls.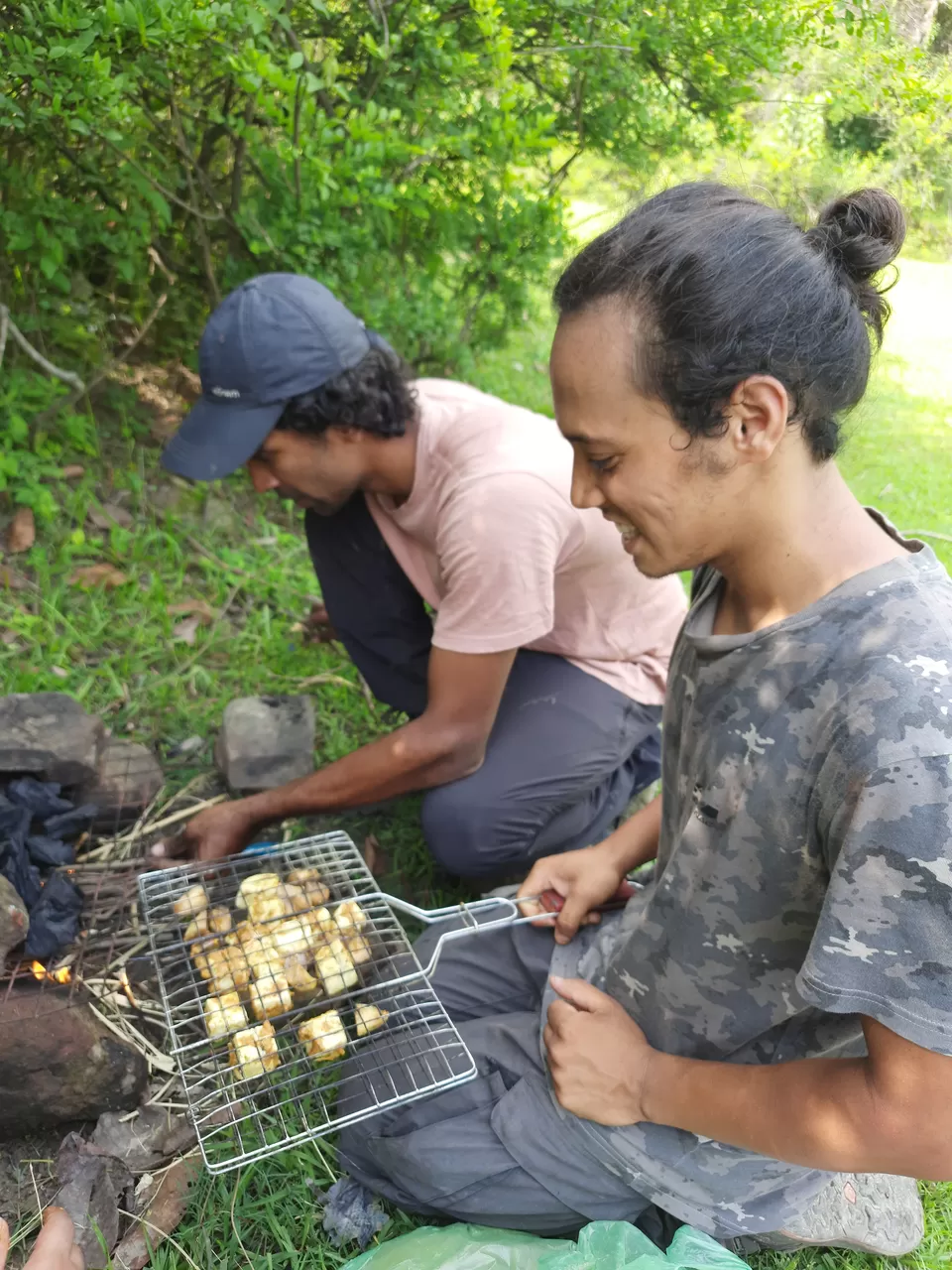 Soon by 5 PM it was time to leave. Unfortunately, the meadow has been spoilt by humans and there was a lot of waste lying around. We collected the bottles and the plastic for about 15 minutes, trying to clean up the area and finally left for our hike back.
On the way we passed a kabadiwala, to whom we gave all the glass bottles. He was ready to pay us 12 Rs for about 15 bottles we had collected. Would have been our earning of the day had we collected it! We then walked back through the main road as one of the hiker was tired. Our original plan was to trek to Santala Devi and head back from there, but we altered the plan at mini Switzerland for the fourth companion.
About two hours later, we were back at the place where we had parked out bikes. What a wonderful day out it had been, perfect for the weekend, to relax and get out in the nature in the middle of the city!