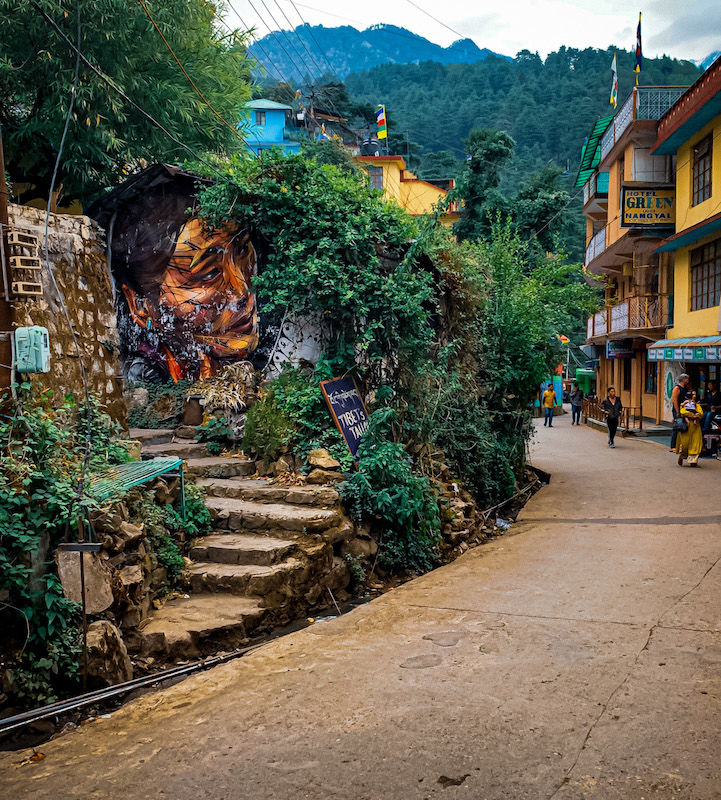 Settled in the lap of Himalayas, Dharamshala is one of the most popular summer vacation destinations in India.
I spent 2 months exploring what Dharamshala and its suburbs had to offer. Below, is a list of my favourite activities and experiences.
How to reach Dharamshala
The best way to reach Dharamshala is either to fly in or to drive down/take a bus. Train network in the region is inferior, and I would recommend avoiding it.
Hack for air travel
If you like flying but want to save some money, then I suggest you fly into either Pathankot or Amritsar as flights to Dharamshala (Kangra) are expensive.
They are both 4 and 6 hours away respectively by road and easily accessible via cabs and local buses.
If you decide to head to Amritsar, do not forget to check out the Iconic Golden Temple .
Best time to visit
February - June as it provides a much-needed break from the scorching Indian heat.
OR
October & November, just before the cold season. A lot of travellers prefer this as the place is quieter and doesn't cater to as many tourists.
Where should one stay?
Avoid Dharamshala as it doesn't have much to offer.
Instead, choose 1 out of the 3 suburbs below👇🏾 depending on the kind of traveller you are.
Mcleodganj
The biggest of the 3 suburbs, Mcleodganj, is where you can experience Tibetan culture at its best.
Hence, it caters best to families, inexperienced travellers, first-time solo travellers and also to people who take one vacation every few year(s).
It has the best infrastructure out of the 3 and you can experience a large variety of food, temples, monasteries and shops.
However, it is the most touristy, crowded and noisy as well.
Pro tip: It is best explored on foot. If you have driven down, leave your car where you are staying.
Bhagsunag
Located 1.5Kms away from Mcleodganj, the main attraction here is the Shiva temple and the waterfall.
Bhagsu Nag is divided into lower & upper Bhagsu. Lower Bhagsu caters primarily to local families and has a lot of hotels to choose from.
Meanwhile, Upper Bhagsu is usually avoided by Indians due to its steep slopes. Due to this, it appeals to young, solo, slow and more experienced travellers.
Yoga schools, meditation centres, varied art forms, a waterfall and several therapies are easily accessible to tourists here.
Accommodation starts as low as Rs. 200 but it could be a trek and difficult to find.
Dharamkot
Located 1.8 kilometres from Mcleodganj, Dharamkot is the quietest, most isolated and the least developed of the 3 locations.
It doesn't have a motorable road making it unique and the least crowded of the 3.
Barring a few hotels, do not expect luxury of any sort and even though accommodation is cheap, the food here can be expensive.
As a result, it caters to the same kind of travellers with similar activities on offer like upper Bhagsu. It is the best place to stay if you need access to the Tushita Meditation Centre or just be in nature.
It is a paradise for vegans 🌱 although meat-eaters 🍖 might find it a bit limiting.
Pro tip: Do not stay here if you are not used to walking or carrying your luggage.
Activities
Dharamshala has a plethora of activities for all age groups and interests.
From sightseeing, volunteering, paragliding, visiting fabulous cafes, visit to nearby villages, trekking and Vipassana.
To learning musical instruments, yoga, massages, meditation, sound healing, jewellery, cooking and many more.
The number of activities took me by surprise and I could have easily spent more time. Below is a list of some of my favourite activities.
The fun stuff
1. Paragliding
Did you know that World's second-highest paragliding spot is only 85kms or approximately 3 hours away from Dharamshala?

Bir Billing is at the forefront of world-level paragliding competitions and the first paragliding World Cup was held here.
While the best time to visit is September to November you can also head here in the summer months.
4 people can rent a car, make this into a day trip and the damage per person will be around Rs. 2200 including the paragliding.
You can rent a motorbike if you are solo or in a couple.
2. Waterfalls
While there are many waterfalls in the region. The two noted ones that are easily accessible are Bhagsu waterfall and The Big waterfall near Gallu Devi Temple.
Pro tip:
At Bhagsu Nag waterfall go downriver. Since, no one goes there it is quieter and free of crowds with a gazillion butterflies & birds fluttering around. If you are lucky you can spot some snakes too 🐍😂
3. Sunsets
The main sunset point near Mcleodganj is a few kilometres away in a village called Naddi.
You can hike from Mcleodganj or take rickshaws. Although, If you decide to walk from Dharamkot, the road will take you through a forest, traditional village homes, lush green fields and a stunning backdrop of snow-clad mountains.
Additionally, at Naddi sunset point you can also go zip-lining, find a trampoline and a jump house for kids. If not, just sip on a cup of hot tea & some Maggi.
Whereas, the other sunset point can be seen from The Sunset cafe.
4. Food
The food scene blew my mind with the spectrum of choices available for the different dietary preferences right from vegan to meat-eating options.
Since I had over a 100 meals during my stay, I felt it is best shared in a different article here.
Religious places of interest
1. His Holiness the Dalai Lama's temple is an important pilgrimage spot for Tibetans. The Dalai Lama prays here and also conducts regular talks which are open to the general public. To attend, one has to register beforehand using ones passport. You will need an FM transmitter as he delivers these talks in Tibetan.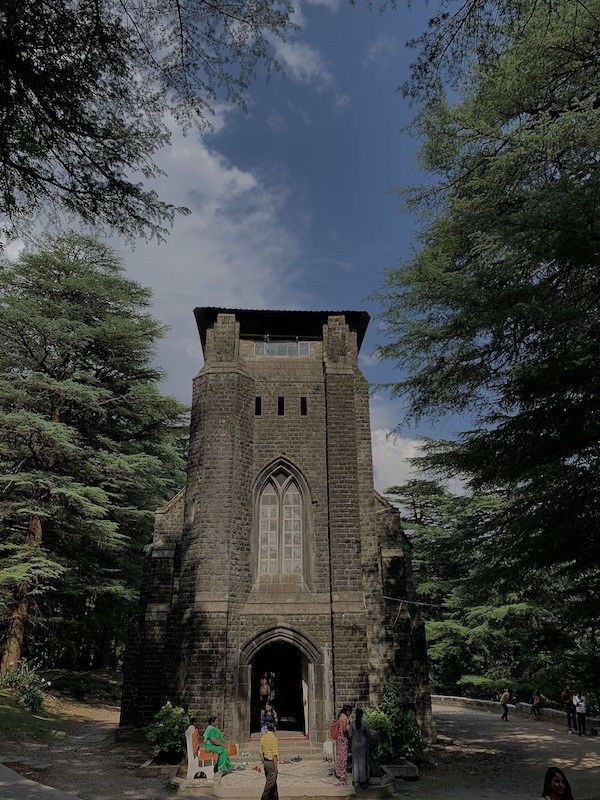 2. St. Johns in the Wilderness Church is located amidst a lot of greenery and was built-in 1852. Even though, it is a bit underrated, I found it quite interesting and is a great spot for history lovers.
While the structure has undergone several changes in the past few decades, it still has a colonial feel to it.
3. Bhagsu Nag temple is one of the most popular hotspots for the tourists visiting Bhagsu Nag.
Since it gets overwhelmingly crowded and especially so on the weekends. I did not visit.
However, for a unique experience, you should check out this Durga temple which is located opposite Lhasa Tibetan Kitchen.
This was by far the most interesting & unique temple that I have ever been to in my life.
Spiritual fulfilment
Dharamshala comes close to some of the other well-known destinations in India that are popular for fulfilling your spiritual needs.
Activities such as yoga, meditation, learning to teach yoga or meditation, sound healing, hypnotherapy, pranic healing, spiritual dance, astrology, etc. are easily accessible.
You can choose between drop-in classes or structured programs, depending on your needs.
1. Yoga & meditation drop-ins or TTC's of different styles are easily available.
TTC courses begin as low as USD 800 which includes stay and food.
2. Tushita Meditation Centre located in Dharamkot, is a popular place to learn meditation or the Tibetan way of life.
They offer a free, open to all meditation session every day between 9 AM and 10 AM except for Sundays.
For their residential or non-residential programs, I would recommend applying in advance. You can find more information here.

3. Himachal Vipassana Centre is located right next to Tushita.
You can enrol yourself for a 10 day Vipassana. It has recently gained a lot of momentum across the world.
It is a way of life and consists of deep meditation for a sustained period to help you soul search.
Some interesting stuff

I saw barter as a form of payment between artists, yogis and practitioners of other art forms quite regularly.
So bring out your creativity and try your hands at some good old barter exchange from the medieval age.
What to carry
Besides the regular travel stuff make sure you carry:
1. Refillable water bottle
2. Jacket
3. Windcheater/umbrella
4. Good pair of shoes
- The weather turns quickly and so a jacket, windcheater/umbrella will come in handy.
- Most shops charge Rs. 10 for filtered water, which is safe to drink. Please make sure you do not buy more plastic bottles.
Last words
That completes my list of things to do in Dharamshala. I hope you enjoyed the post.
In case you feel that I might have missed something that should be included in the post, then do share your recommendations in the comments below. 🙏🏾