The very prospect of travelling to someplace new is therapeutic. In fact, strolling along the winding roads of Dharamshala with the Dhauladhar range behind you, is an image that gets most of us through the mundane days in the plains. This image reverberates with peace, tranquility and utter bliss, so I say, next time you visit Himachal, why not up this experience and indulge into spiritual tourism at the spiritual hub of India. Let's make travel more meaningful than just sight-seeing and place-hopping; let's make travel an experience where you can equip yourself to introspect and seek the happiness that lies deep within you. Meditation centres all across Himachal are a big hit among foreigners, and for a good reason! These meditation centres, with their experienced teachers, aim to spread the knowledge of Buddhist scriptures that suggest methods to lead a more wholesome life. So if you're ready for a spiritual awakening, here are the top places you must visit for meditation courses.
This is a hidden gem located in Dharamkot, Dharamshala. Tushita Meditation Centre resides right at the base of the well-known trek to Triund. This Tibetan Buddhist Meditation centre is renowned for its exceptional meditation courses. It organises courses like introduction to Buddhism, inter-mediate courses and even group retreats. These courses span over 10 or more days, where you reside in the centre, are neither allowed to exit, nor make contact with the world outside its gates. It is truly an enlivening experience, where you are taken through various meditation processes, the ideology of Buddhism, and where you gain access to precious Buddhist knowledge stored in its rich library.
Vipassana is a stringent Buddhist meditative practice that aims to help you gain insight into the three marks of existence: impermanence, suffering and the realisation of non-self. Vipassana, too, is an in-house meditative practice, but goes a step further. In that, it doesn't permit any kind of human interaction. For the entire period of 10 days, all you do is indulge in the course's activities and utilise the rest of the time for introspection. Vipassana has often been defined as a life-changing experience and, thus, should be a target to quench the spiritual thirst in you.
Osho Nisarga is the centre that organises meditation retreats, therapy groups, rejuvenation courses, and training sessions, making your stay an unforgettable experience. This is a unique Himalayan paradise which pays homage to Osho's message: that meditation, healing and aliveness are most easily nurtured in the 'temple of nature'. At Osho Nisarga, involve yourself in the search for your "self" and at the same time, absorb the beauty of nature.
The Z Meditation centre is for those seeking peace, love and freedom. It is a guiding path for those who strive to break free from bad old habits, seek strength after facing a difficult situation in life, and even those who simply want to enhance their state of being. Ranging between 7-10 days, the Z meditation centre circumscribes the principle of "deconditioning" the mind and the body in order to create new belief systems sans prejudice and traumas that affect your personality on an everyday basis. The concept is available for you to lose the burden of rules, regulations and to find the path to self-discovery.
An International Buddhist Tibetan community, the Thosamling Nunnery is an institution and retreat centre located in village Sidhpur near Dharamshala. The institute is rife with teachers and students of the Dharma practice ie., Buddhist philosophy programmes. The institute offers a Dharma course and Shamantha course, the practice of cultivating a focused, clear and calm mind. The Shamantha institution believes that mindfulness is essential for those who wish to subdue and heal our unruly, agitated mind. Based around this concept, their courses range from weekend programmes to 10 day in-house programmes.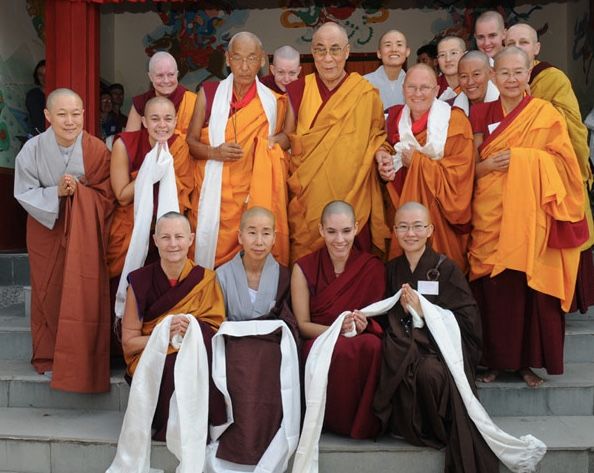 Located near Bir, Dharamalaya organises special courses in mediation, yoga, as well as periodic meditation retreats. Dharmalaya is rooted in the traditional Indian principles of non-violence, compassion, kindness and service. The meditation programs at Dharamalaya aim to provide a holistic understanding of these values in conjunction with the norms of the modern world. The courses at Dharamalaya fuse this understanding with sustainable living.
Located in various towns across Himachal, Sahaja Yoga centre is another venue where you can begin your journey to the path of enlightenment. The Sahaja Yoga is a technique to awaken the Kundalini Shakti which lies in sleeping state at the base of the spine (sacrum bone) of each human being. The awakening of the Kundalini is believed to unlock the power of joy, peace and happiness that can be both felt and given to others. To complement alongside, Sahaja Yoga also revolves around boosting thoughtless awareness. Sahaja Yoga centres are most famous for drop-in meditations which is a good way to start your spiritual journey.
With these meditation centres, you can choose the degree to which you are ready to immerse into spirituality. These meditations are a must try, whether you're looking for a solution in life, or simply want to explore the magical realm of spirituality. Don't let your vacation in Himachal go to waste, do drop into these meditations centres!
Know of more places rich in spiritual tourism? Share your story with us HERE!
Frequent Searches Leading To This Page:-
himachal pradesh couple tour package, himachal pradesh veena world, himachal pradesh kesari tours, family trip to himachal pradesh, himachal government tour packages, group tours to himachal pradesh, amritsar himachal pradesh tour