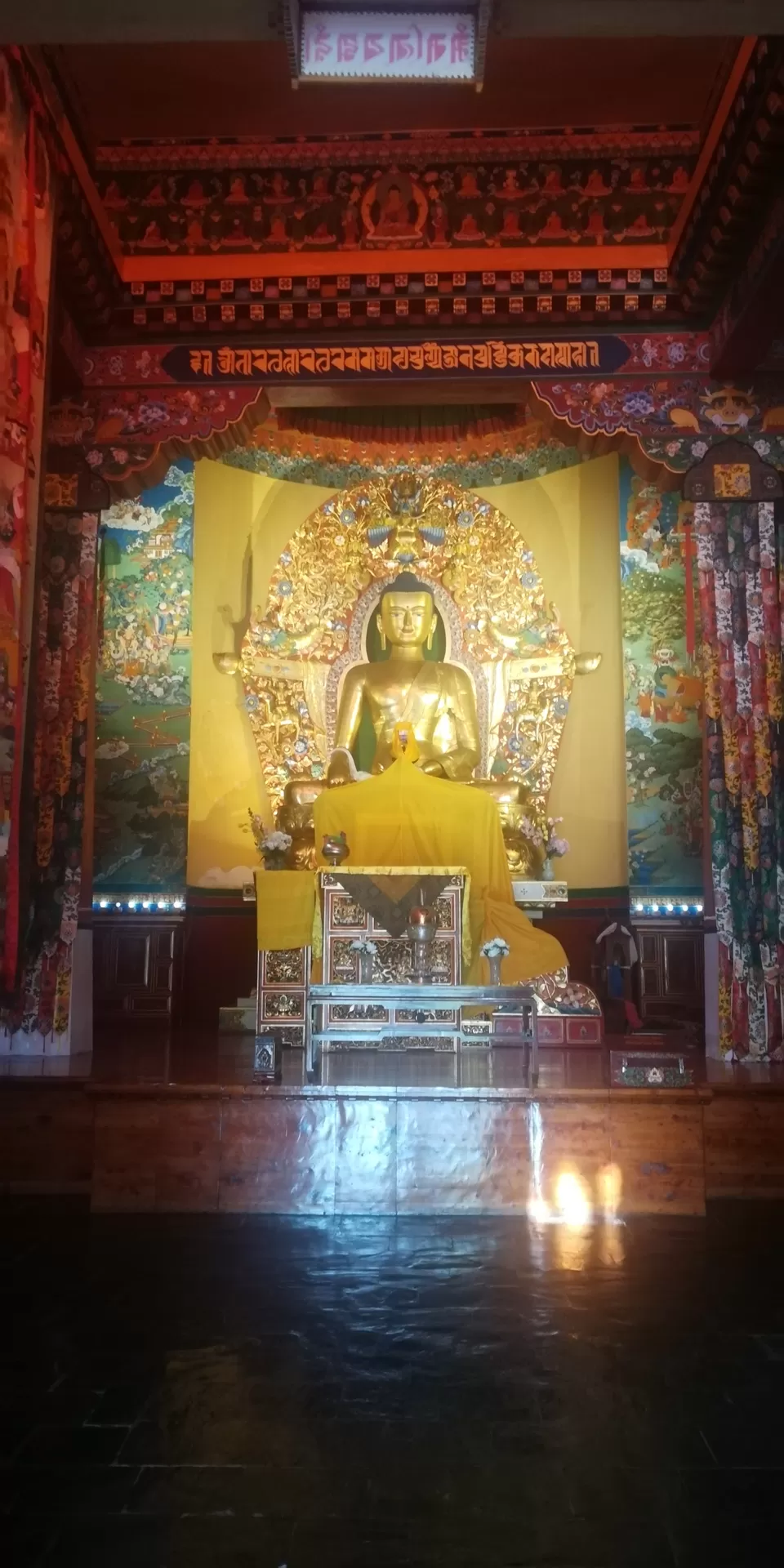 My trip to Himachal Pradesh's Dharamshala and surrounding tourist spots began on Sunday, September 11, when I boarded the Jhelum Express bound for Jammu from my hometown Bhopal at 8.30 am. It was a working holiday and my Mom accompanied me on the trip. All said and done, it was a vacation well spent.
Day 1 - Sunday, September 11, 2022
The train journey to Pathankot on the Pune-Jammu Tawi Jhelum Express was uneventful except for the fact that I lost one of my recently-bought red and black bathroom slippers in the train. It was small mercy that whoever took away my slipper (just one, strangely) spared my walking shoes and hence, much discomfort and the added expense of buying a new, most-probably overpriced pair of shoes fit for the hills.
Taking the Jhelum Express brought back memories of my countless travels to and from Pune, where I completed my graduation from 20-odd years ago. Only this time, the train was bound for the opposite direction.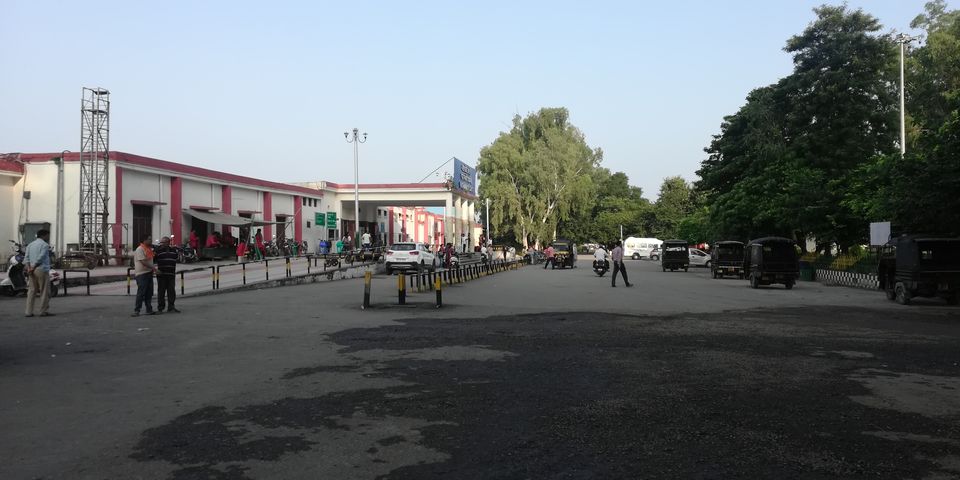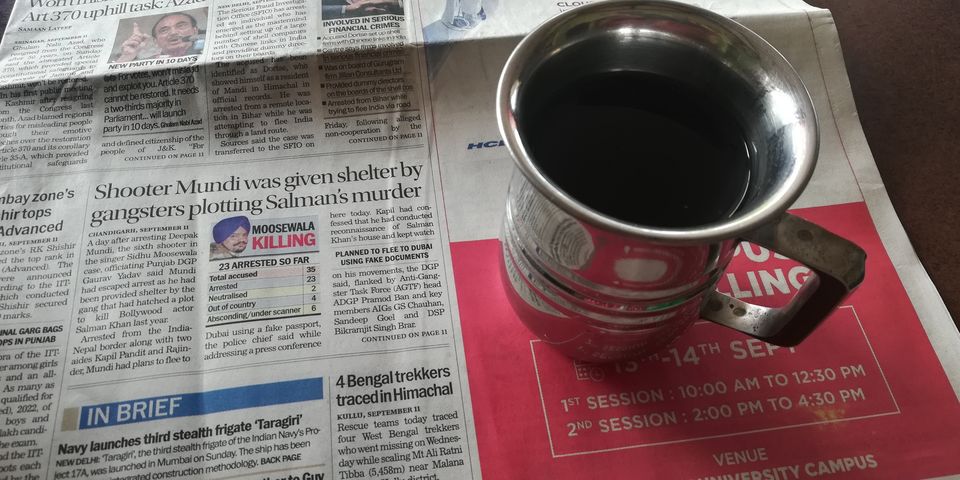 Day 2 -- Monday, September 12
We arrived at Pathankot Cantonment railway station at 7.30 am on September 12 and took a pre-booked taxi (which cost us Rs 2,800) to Dharamshala. Our stay was booked at Mahi Yoga, in the Upper Bhagsu area and the place is quite distinct from main Dharamshala but I did not know it just then.
After a journey along meandering mountain roads, welcome greenery and impressive scenery, we reached Dharamshala around noon. The taxi driver was new to Bhagsu and did not know how to reach our place of stay. So, he dropped us off midway and said, "Auto kar lena…" (Take an auto).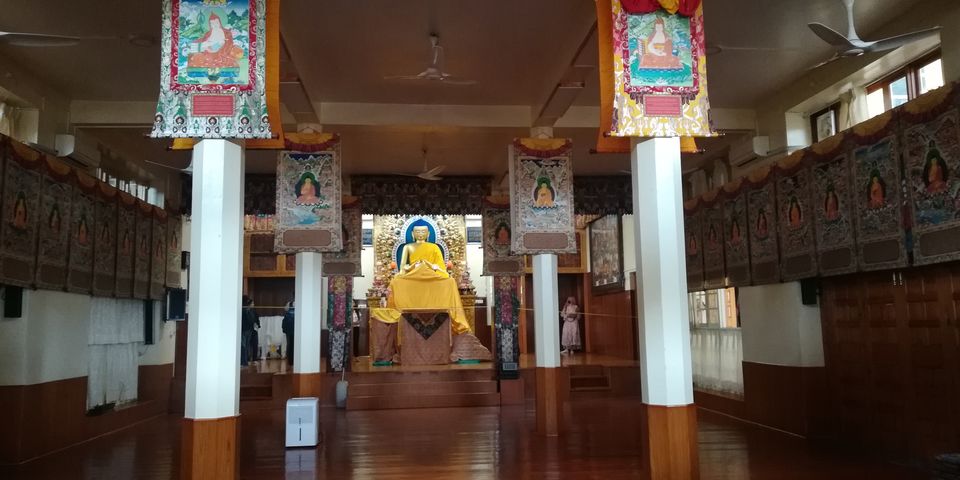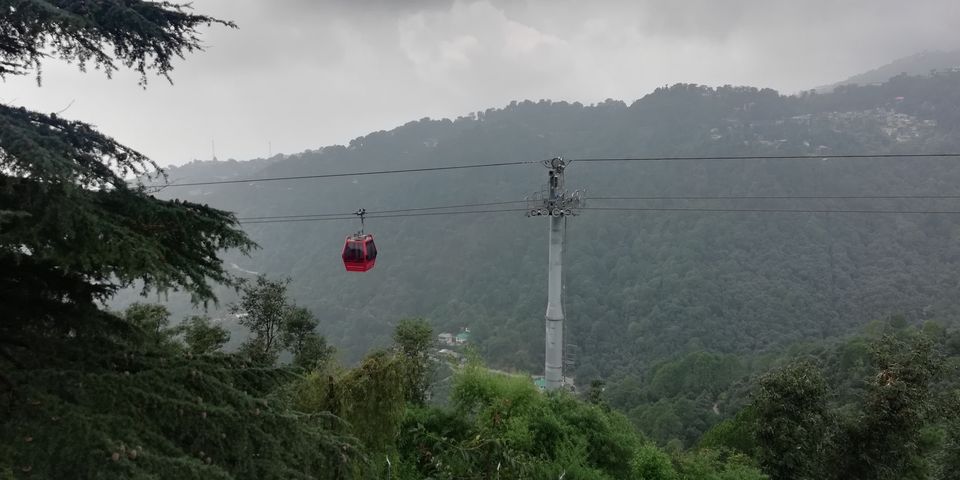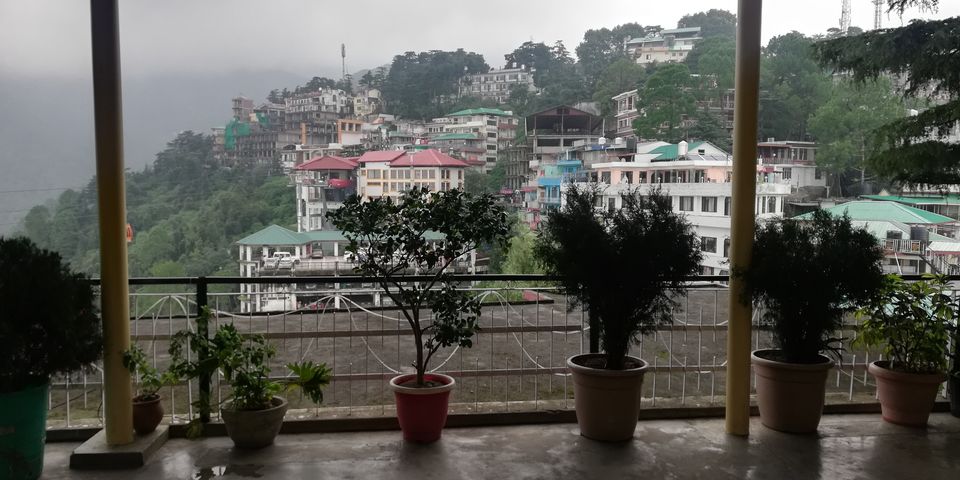 But no autos were willing to take us and our luggage upto Mahi Yoga, as it meant driving on roads inclined at 60 degrees and overlooking deep gorges. Thankfully, the owner of Mahi Yoga came down to the spot where we were stranded and carried us and the luggage upto the guest house on his Activa! A journey which car and auto drivers were unable to make, Mr Mahinder Sharma undertook successfully, in his two-wheeler, by first carrying my Mom and then me…. Thank You again, Mr Mahi.
Having finished off my work for the day, we headed down to Bhagsu taxi stand in the hope of finding a reasonably-priced taxi for some touristy 'point visits'. We were in luck, found a pocket-friendly taxi and went to the Tibetan Temple in McLeodganj, about 10 mins by road. It is also the residence of His Holiness The Dalai Lama.
It's pertinent to mention here that I am a freelance journalist and was hoping to get an audience-cum-interview with HH Dalai Lama and so, had sent an e-mail to his office a few weeks prior to our visit requesting the same. However, I received no response and am still waiting.
Please reply, HH Dalai Lama ji…
Anyway, the Tibetan temple had a peaceful, powerful aura that emanated goodwill and deep spirituality and also a huge sculpture of the Buddha. There were prayer wheels covered in metal and many devotees were performing ritual circumambulation around the temple. We sat down in that deeply peaceful space and just soaked in the atmosphere for a while, before it was time to head back.
Day 3 -- Tuesday, September 13
By Day 3, I had figured out that when someone said they were going to 'Dharamshala', it could mean that they had been to the aforesaid hill town AND/OR Bhagsu AND/OR Dharamkot AND/OR McLeodganj. All four hamlets are located in close proximity and most Indian 'family tourists' are said to prefer staying in Dharamshala (which is the southern-most point) and venturing out from there towards McLeodganj and Bhagsu and Dharamkot.
I even invented an acronym for the place – D-M-B-D (Dharamshala-McLeodganj-Bhagsu-Dharamkot).
By a twist of fate, we had booked our stay in Mahi Yoga for 3 nights and at a newly-opened homestay called Mustard House in lower Bhagsu for the next 7 nights, so we got to stay in atleast two out of the four destinations that make up D-M-B-D.
Since my Mom suffers from lower back pain and the steep descent to Bhagsu and all the walking around from the previous day had left her exhausted, I decided to venture out alone this day.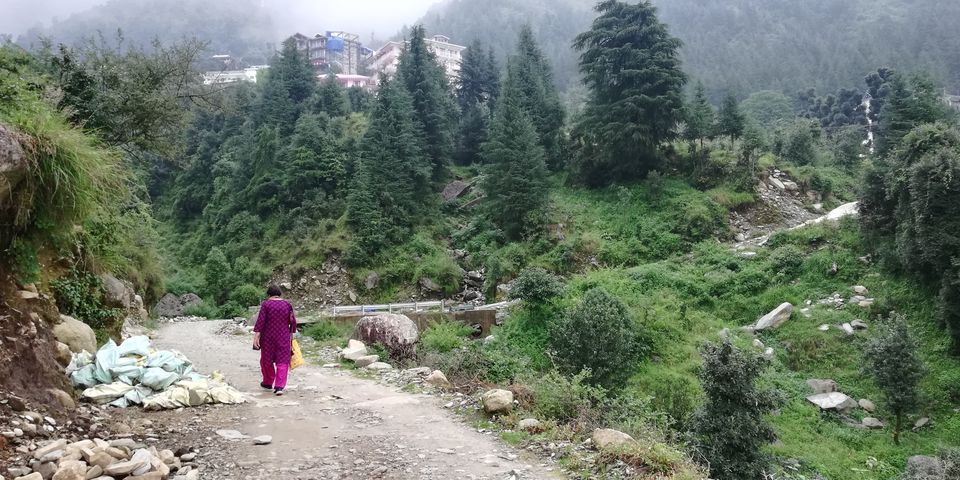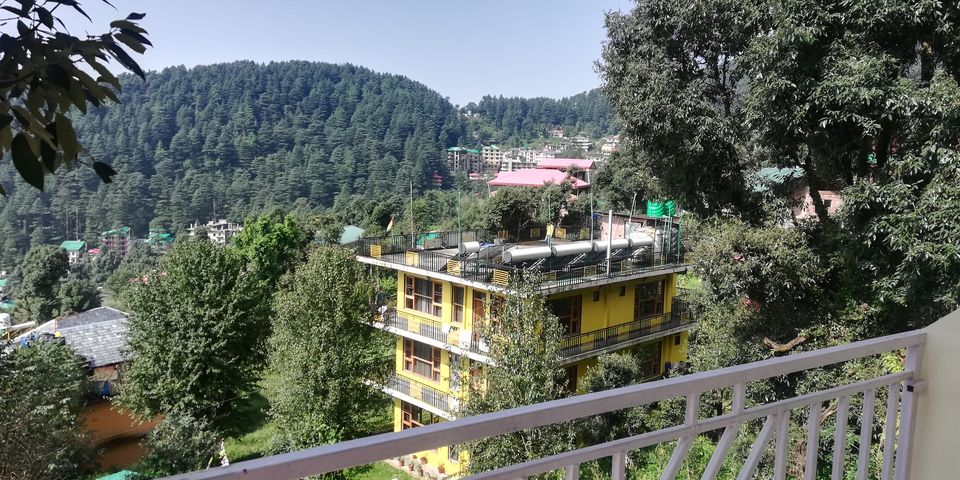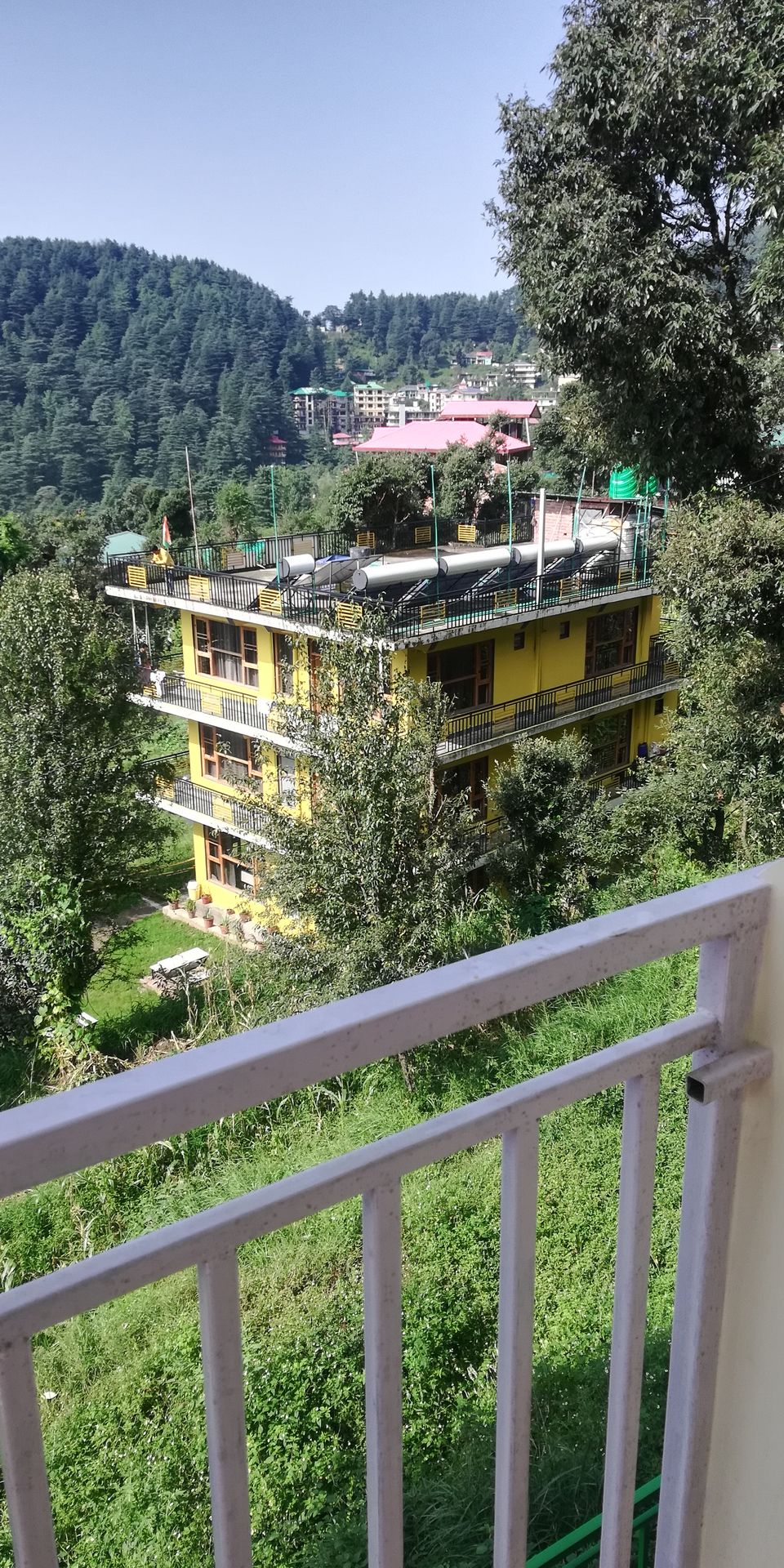 The first stop I made was at the delightful 'Morgan's Place' bistro, located in Dharamkot village. From the moment you enter, you are greeted by brilliantly funny hand-drawn and hand-written metal placards, announcing things like 'I'm Not Crazy, My Reality is Just Different Than Yours'. There are also eye-catching topsy-turvy tea-cups (painted ones) and such like. Once I entered the bistro through the narrow passageway, I was pleasantly shocked to see the vast expanse of mountainous scenery framing the balcony seating area. Modelled largely around the ever-alluring 'Alice in Wonderland' theme, this is one bistro you cannot fully appreciate in just one visit.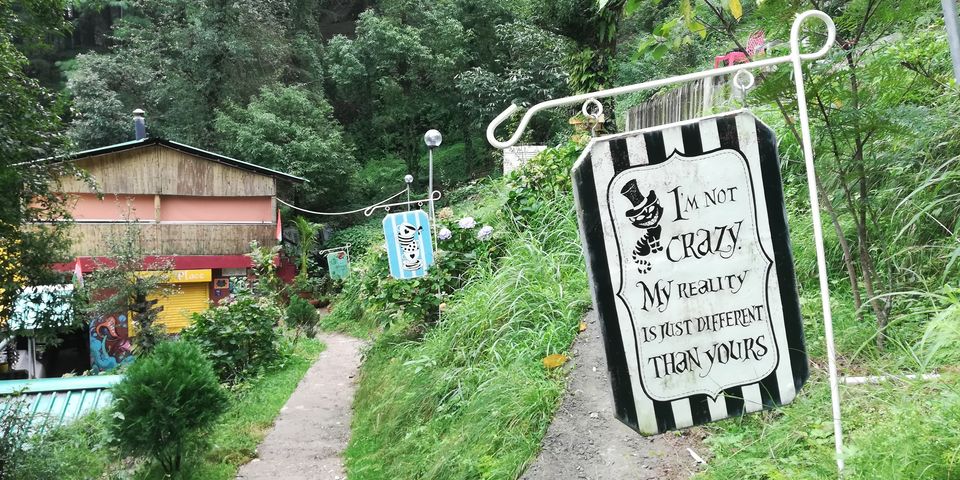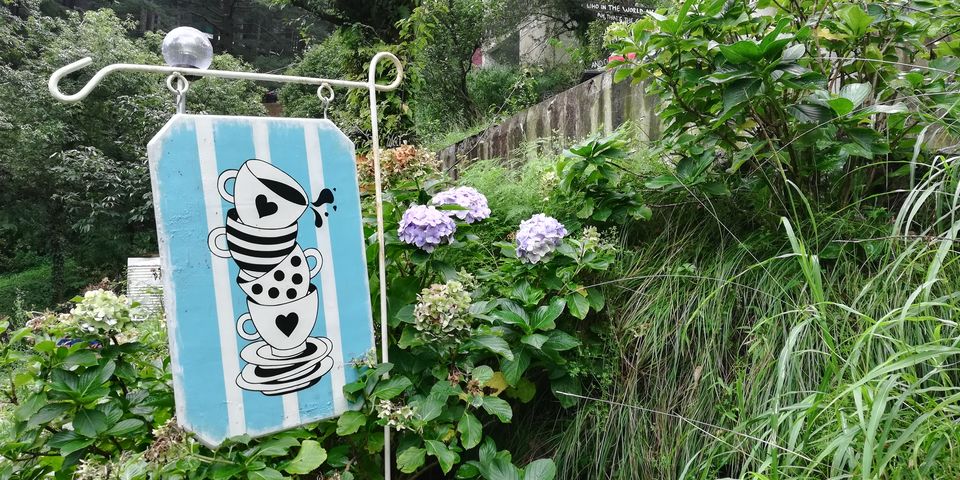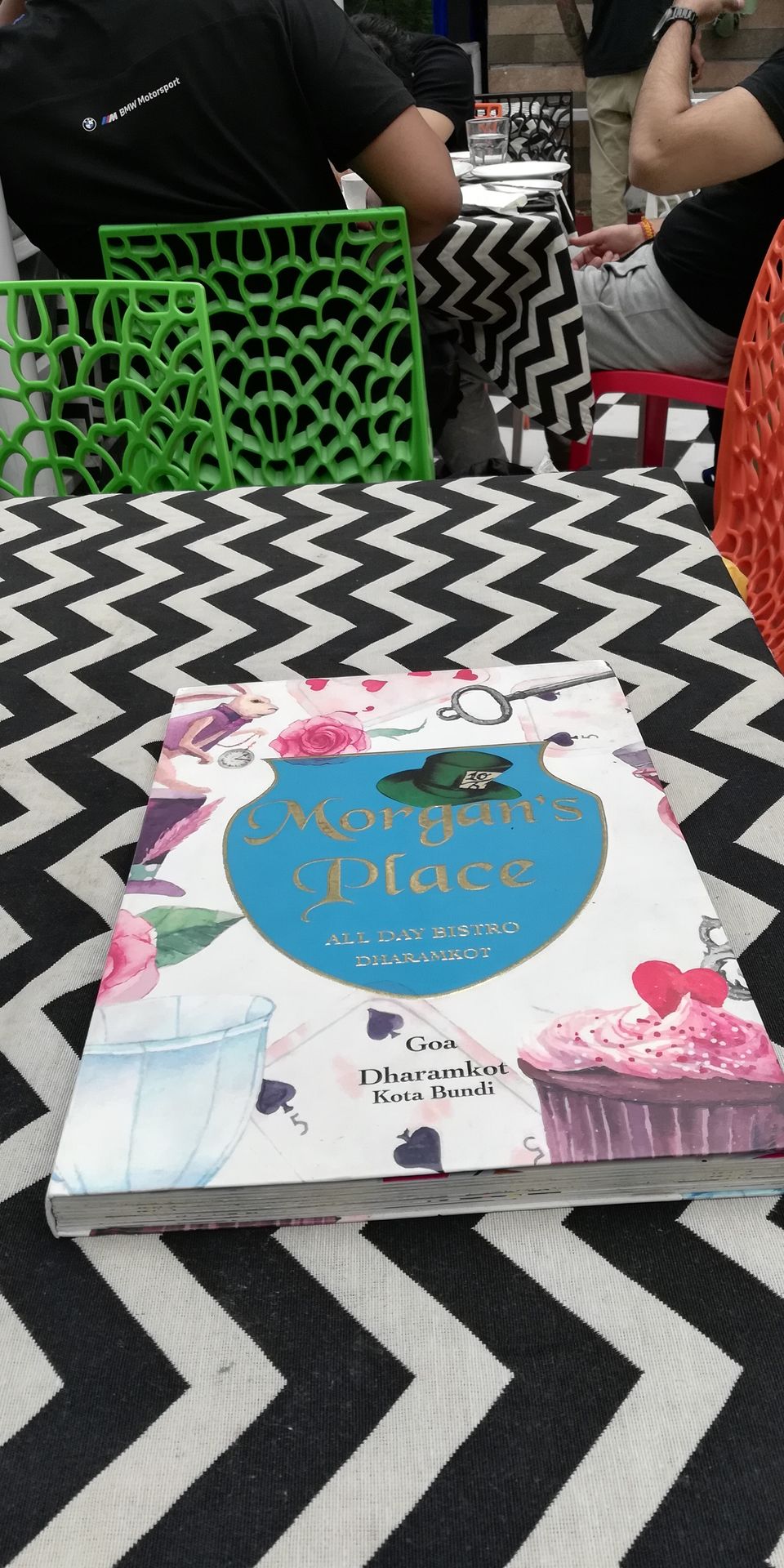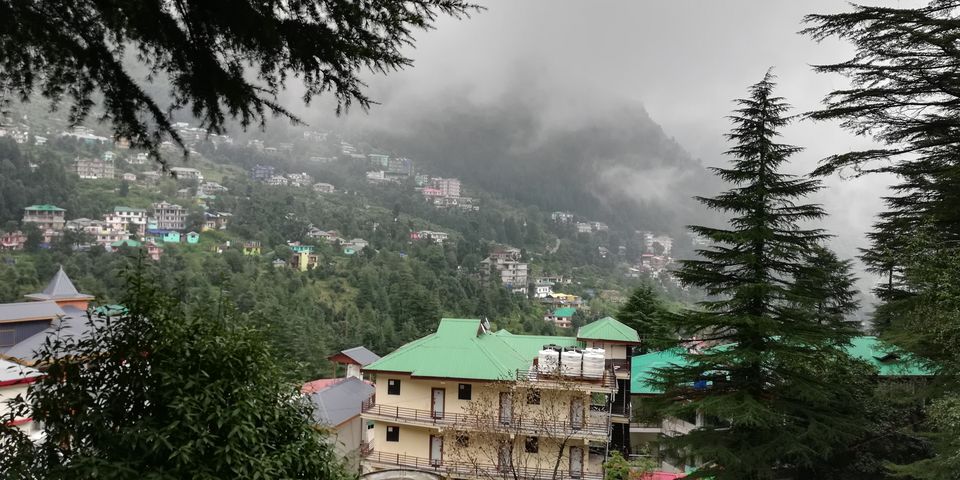 I also went to the Bhagsu Temple and saw the glorious, eponymous waterfall just a few metres away. I wanted to but did not climb the winding path and go all the way to the top and instead had to make do with some lovely photographs of the scenery there.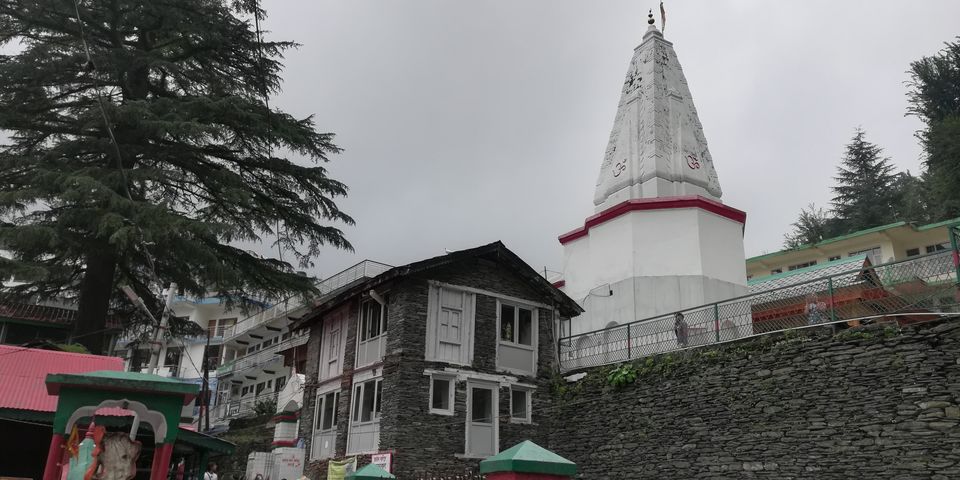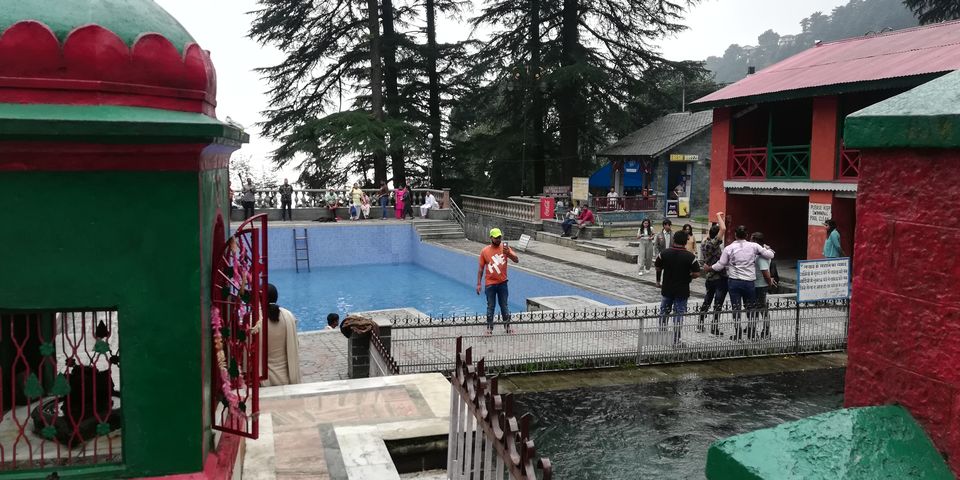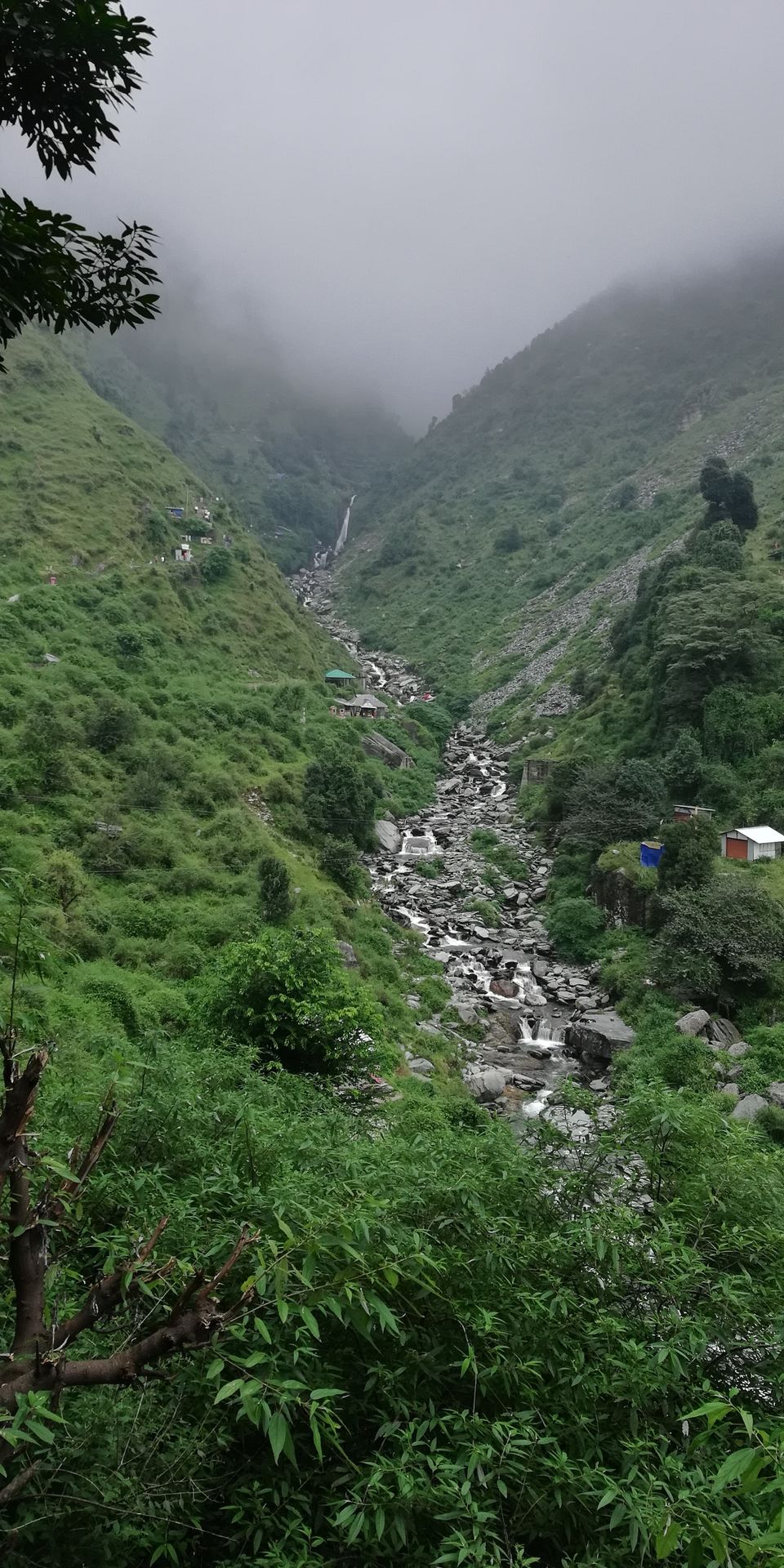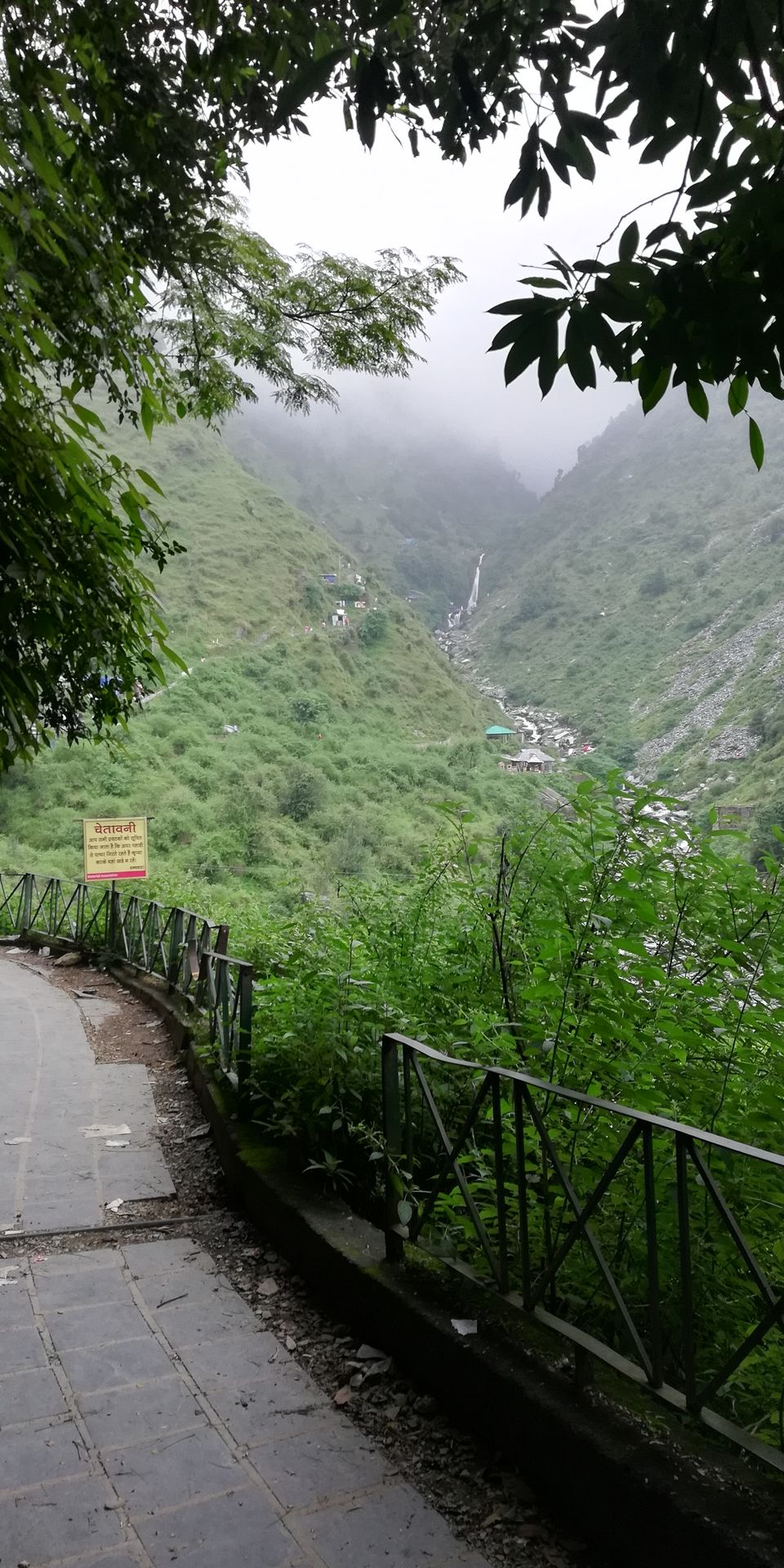 The day ended with a walk back to Mahi Yoga, finishing off the day's remaining work and an early dinner. I was already looking forward to the next day.
Day 4 -- Wednesday, September 14
McLeodganj market is filled with curio shops, souvenir shops and a plethora of restaurants selling a variety of food. There are Indian, Tibetan, Italian cuisines on offer. Whenever I went to McLeodganj, I found essentially two roads (lanes would be a better description), almost parallel to each other, lined with shops and restaurants. At the end of the narrower one, you would find yourself at yet another curio shop, while the wider lane winds down to the Tibetan Temple, after passing countless curio shops and the ropeway to Dharamshala town.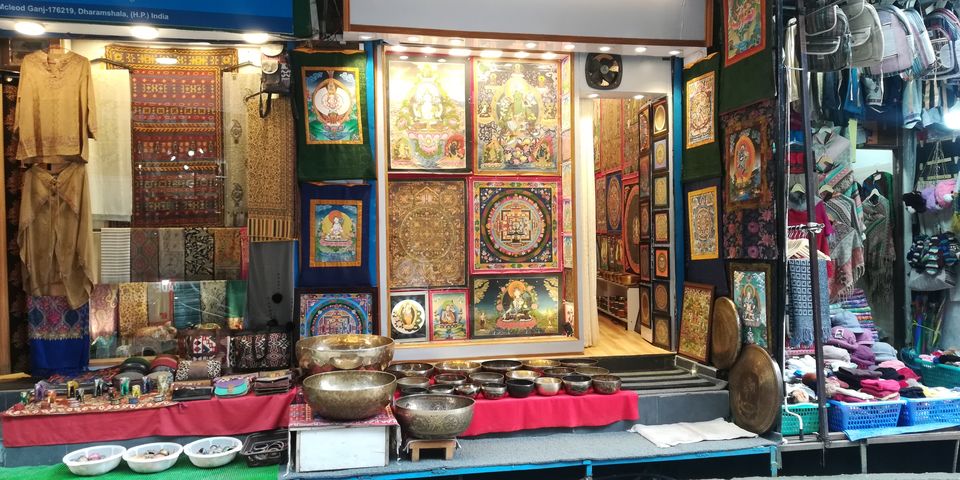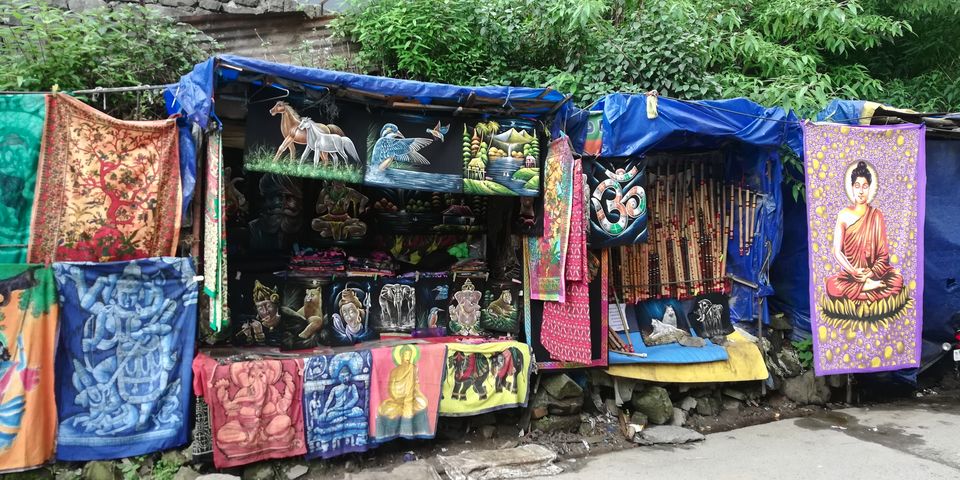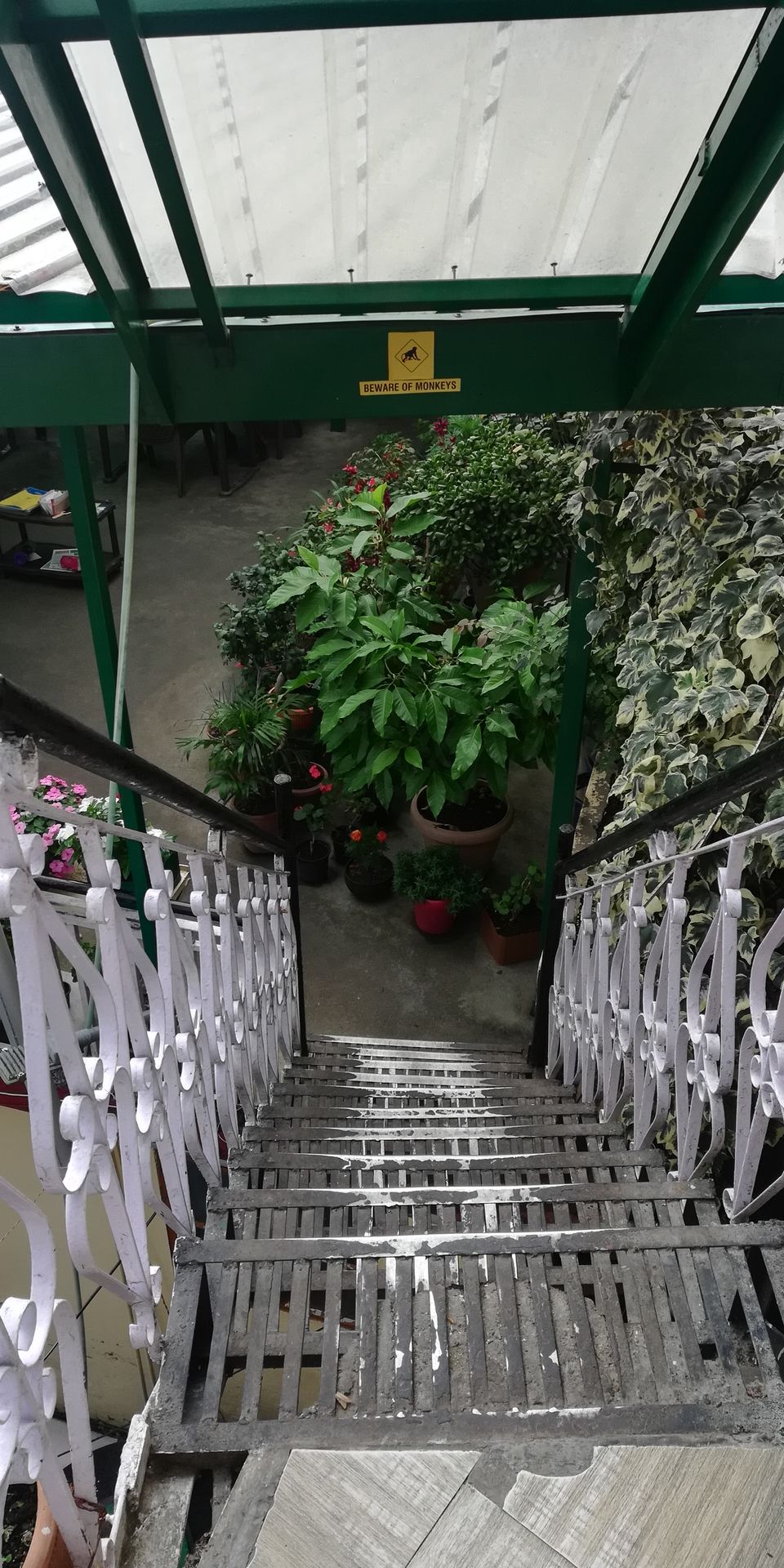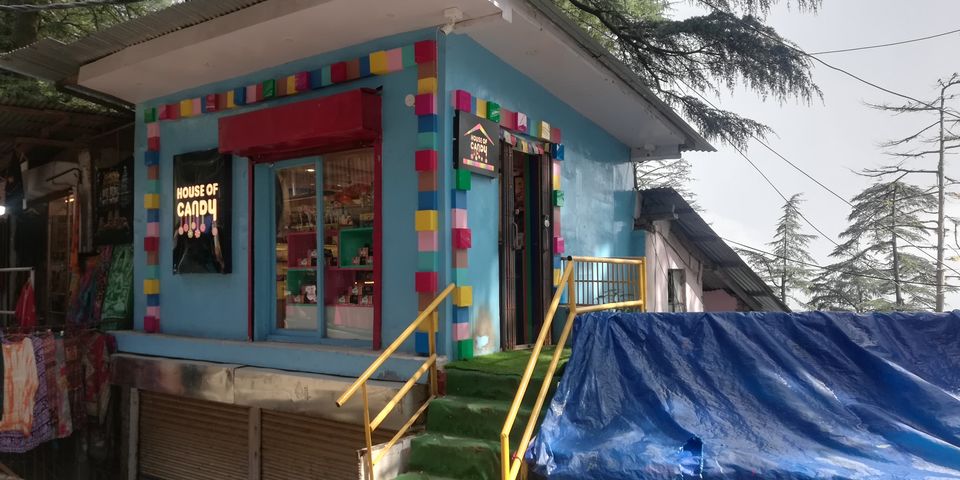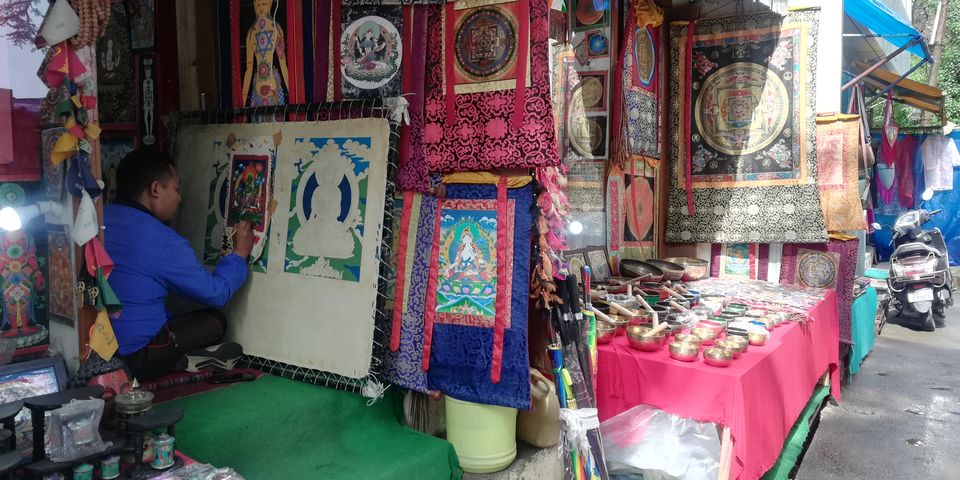 On Day 4, I went into Nick's Italian, located just before the main market for lunch and ordered bruschetta and green tea. The graceful Tibetan woman who owned the place came upto me and offered 'a new chilli dip', which turned out to be perfect when paired with the bruschetta. Nick's is better priced and has more subtle flavours in its dishes than any previous restaurants I had hitherto visited in D-M-B-D.
By now, I had found out that taxis are super expensive in the area and autos are not cheap either. So whenever I could, I would walk, especially if the path was downhill. That's why, on September 14, I walked back from McLeodganj market to Bhagsu and then climbed the steep path upto Mahi Yoga. Not before having vegan tea at the Old German Bakery though. As usual, the day ended with a light dinner, today's menu being toast and green tea.
Day 5 -- Thursday, September 15
Our three days at Mahi Yoga ended more quickly than expected, even though the uphill climb seemed too strenuous on the first day. We kind of missed leaving the large, clean, airy rooms there and the stunning view of the mountains from the balcony, plus the ever-changing weather, with clouds sailing up from the valley one minute and muted sunshine making its way through the clouds within the next 10 minutes.
But we had already committed to Mustard House for a week-long stay and so, that's where we headed after check-out at 10 a.m.
Mustard House is located just below Iyengar Yoga in lower Bhagsu. Since it has opened recently, not many taxi drivers were aware of it but Iyengar Yoga proved to be a good landmark.
After finishing half the day's work before lunch, we took the same taxi that had ferried us from Mahi Yoga to explore more of Dharamshala.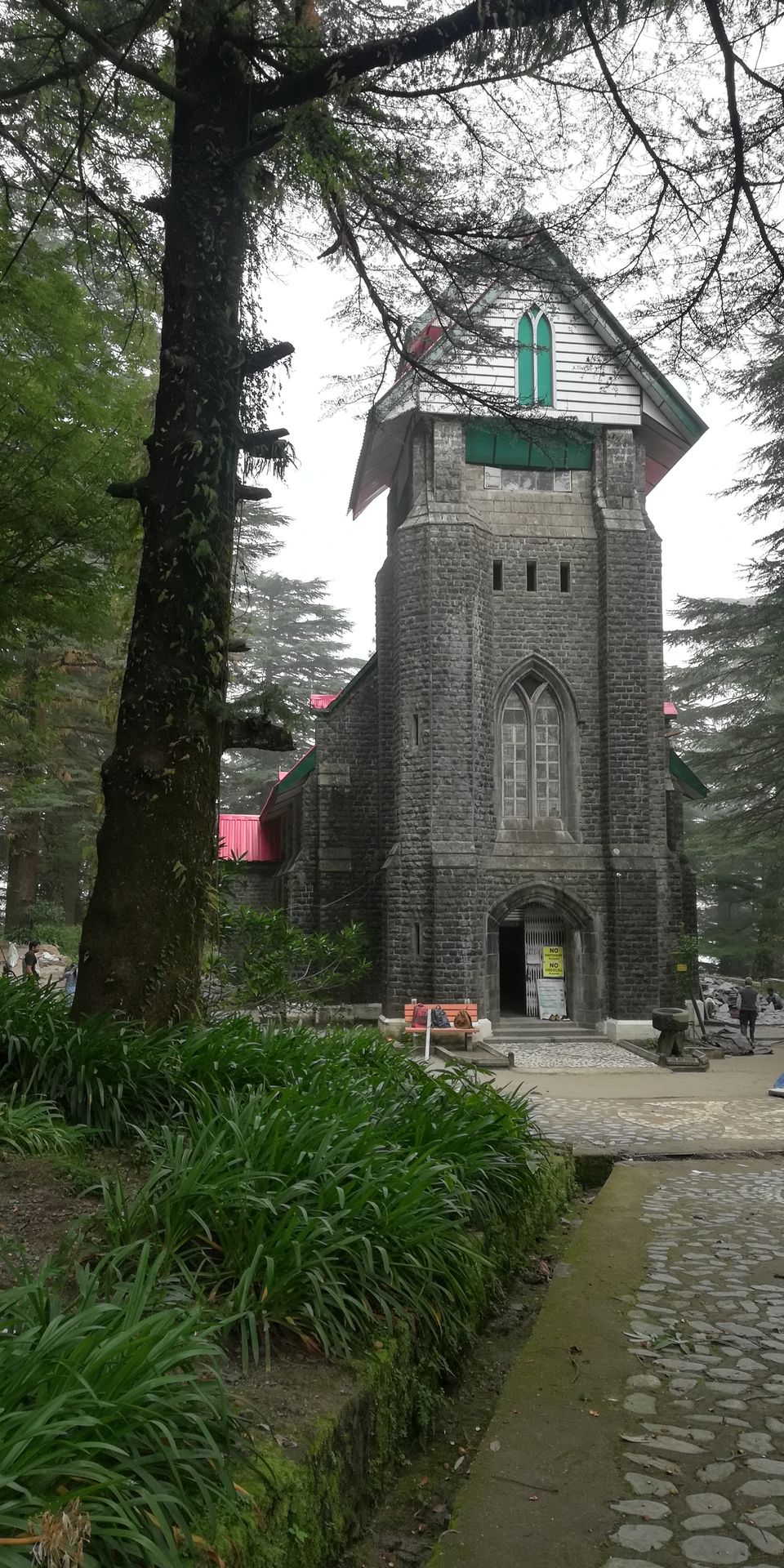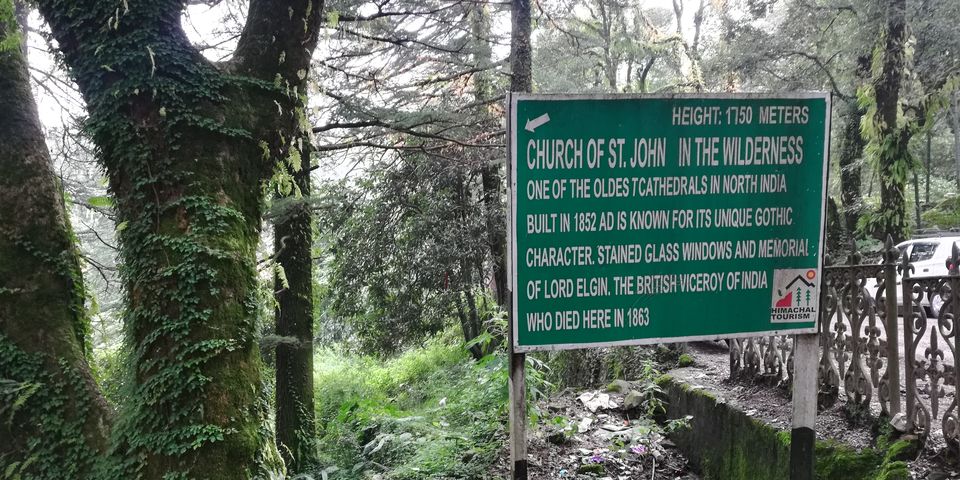 We first visited the Church of St John in the Wilderness, one of the oldest cathedrals in north India, built in 1852. This church was also shown briefly in the movie 'Mary Kom' as the wedding venue. It still retains its charm, despite being 170 years old. The next stop was a privately-owned tea garden, which looked exactly like tea gardens I've visited in Darjeeling and Ooty. We bought some local tea here and proceeded towards the War Memorial. From there, it was a short hop to the Dharamshala stadium, formally known as the Himachal Pradesh Cricket Association stadium, which opened in 2003. What we saw was a tad disappointing, for the stadium's mud-pitch was dug up and was apparently being replaced by an all-weather one. Plus it was raining heavily and I was soaked to the shoes, despite carrying a large umbrella that the taxi driver lent us.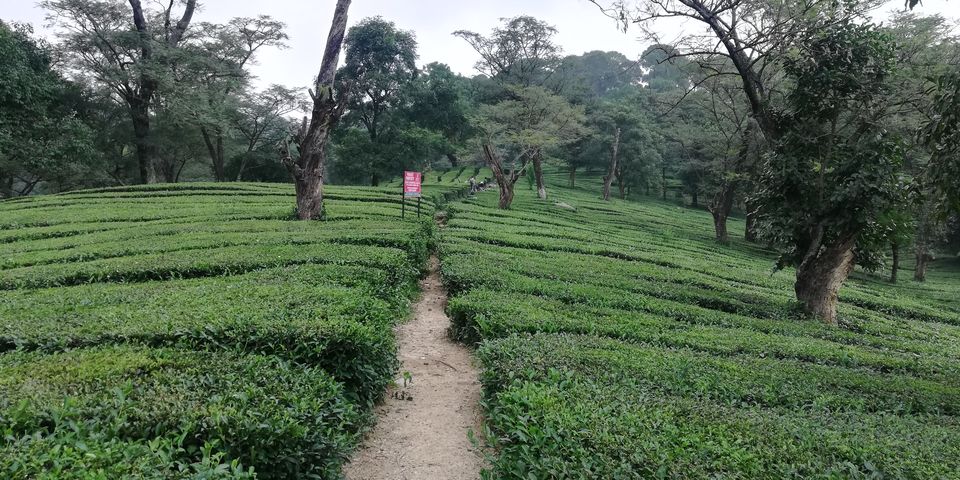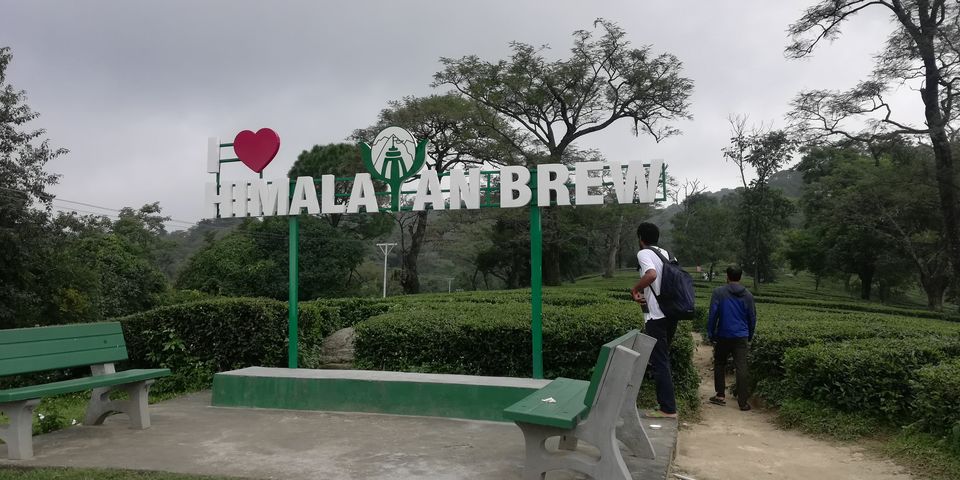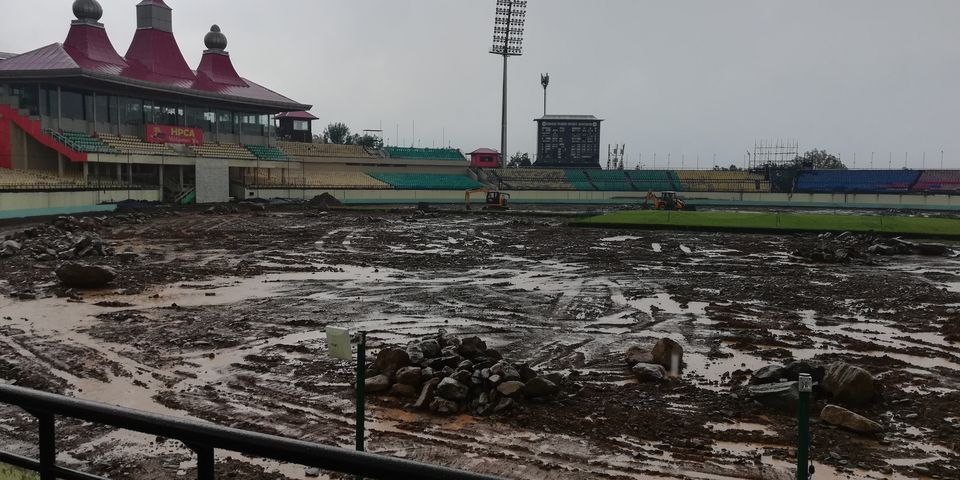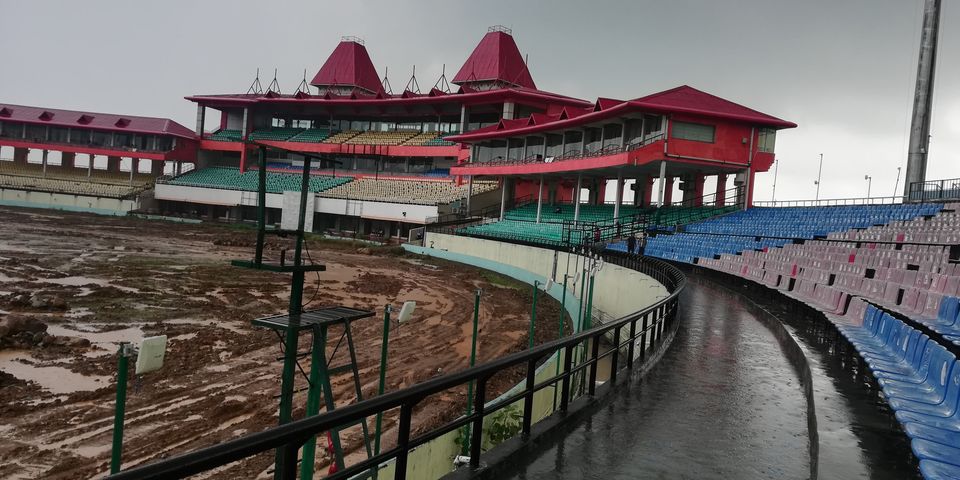 Lunch was dal-roti and stuffed paranthas at a joint favoured by the locals. For dinner, I had the same old comforting toast and green tea while Mom settled for a full Indian dal-roti-sabzi regimen.
Day 6 -- Friday, September 16
Today, I woke up at leisure, to the comforting sound of running water from a stream a few feet away from our room at Mustard House. For breakfast, included in the room tariffthere was poha and green tea. With nothing specific lined up for the day, I ate 2 ripe apples and had some more green tea for lunch. Then we decided to go upto Dharamkot and had delicious falafel at the 'Trek and Dine' restaurant there. It was Mom's first time having falafel but she liked it, I could tell.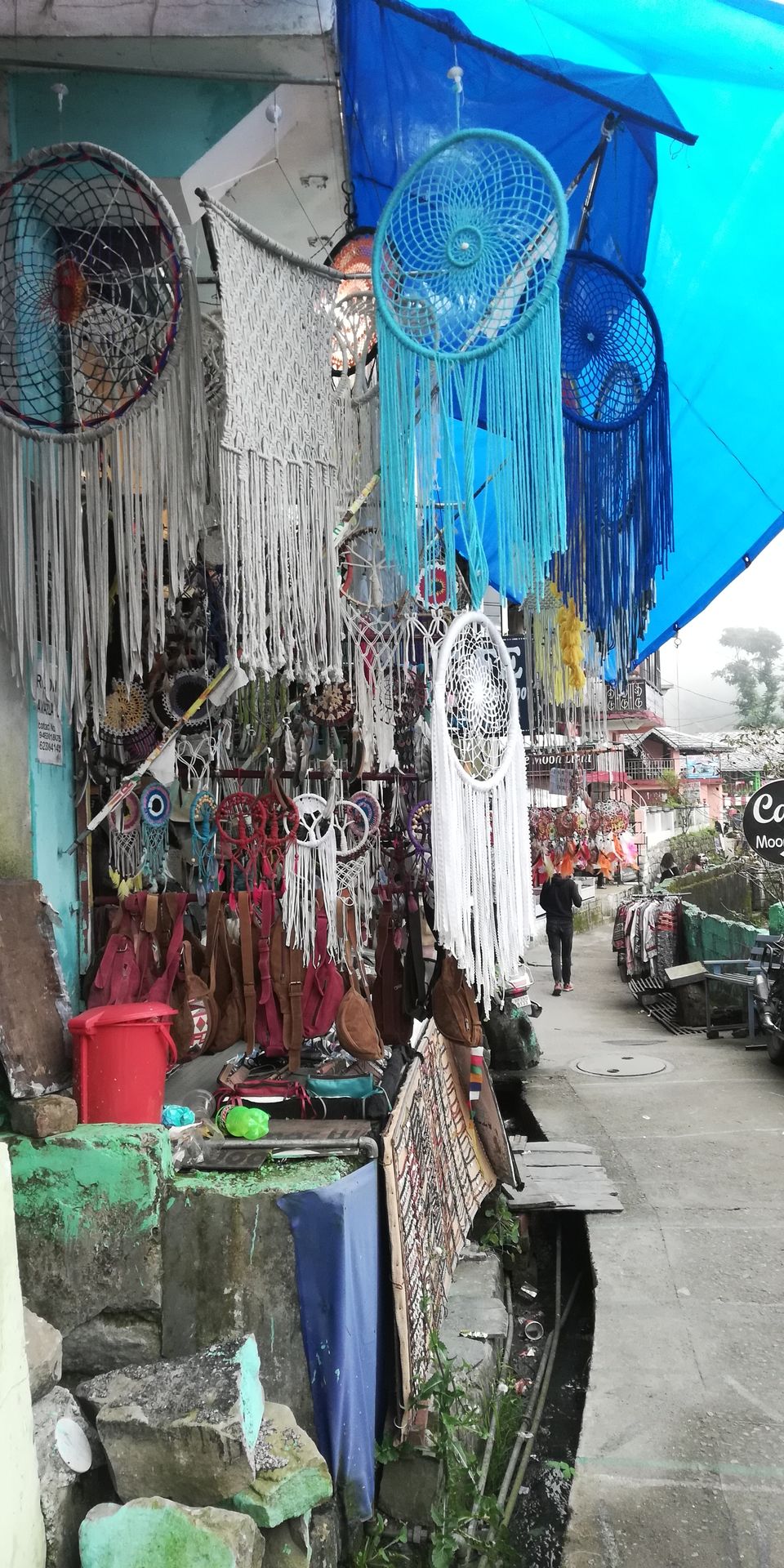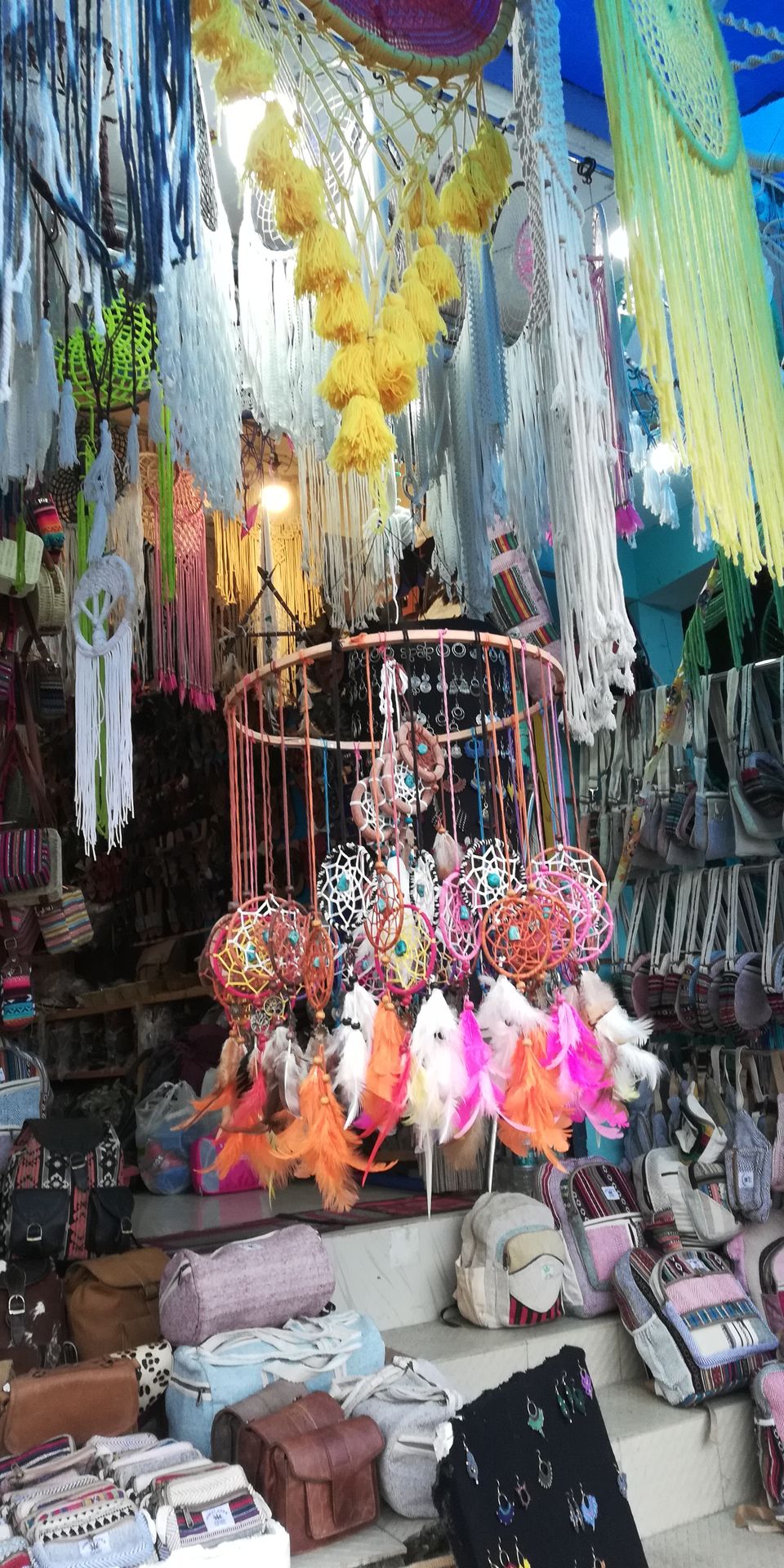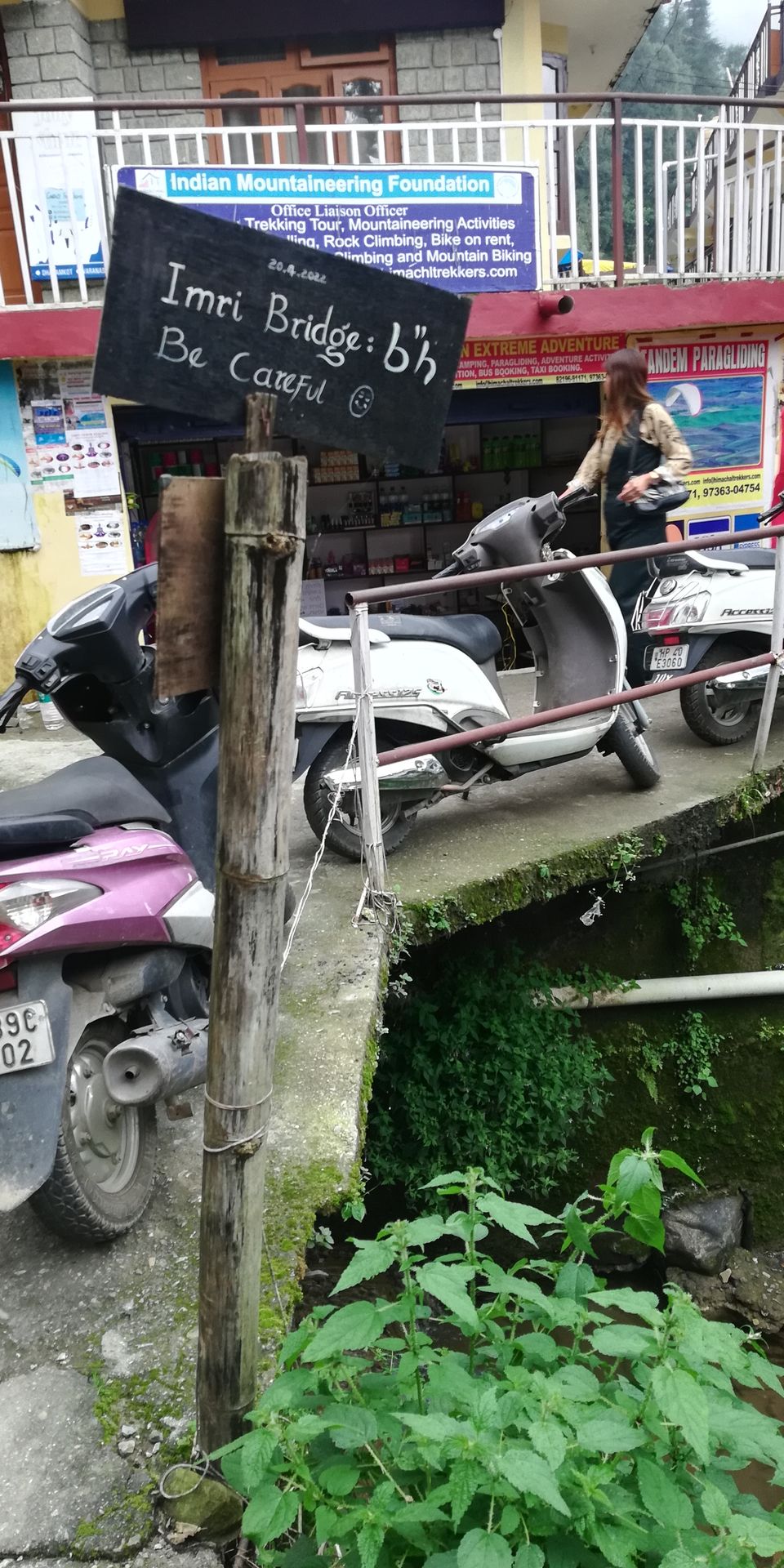 Dharamkot and its narrow paths lined with shops selling dream-catchers, crystals, cotton bags and an assortment of clothing brought back memories of Old Manali village, which is much the same, only its roads are wider and it has more eating joints and guesthouses.
There was a profusion of smoke competing for 'air-time', from incense sticks and chillums. Pulsating club music and a crowd consisting mostly of Israeli tourists, along with some Indians, took me back to 2012 in another part of Himachal. The day ended with an early meal of toast and tea and lights went off at 9.30 p.m.
Day 7 -- Saturday, September 17
I had poha again and Mom opted for paranthas for breakfast on Saturday. We then took the easy road down to Bhagsu taxi stand and procured an auto till McLeodganj town centre. There, we shopped for mementos for friends and family – fridge magnets, tiny, colourful prayer flags with 'Om Mani Padme Hum' (the jewel is in the lotus) written on them and incense/joss sticks made from herbs found in the high Himalayas, all of them easy to carry back home and occupying hardly any space in our bags.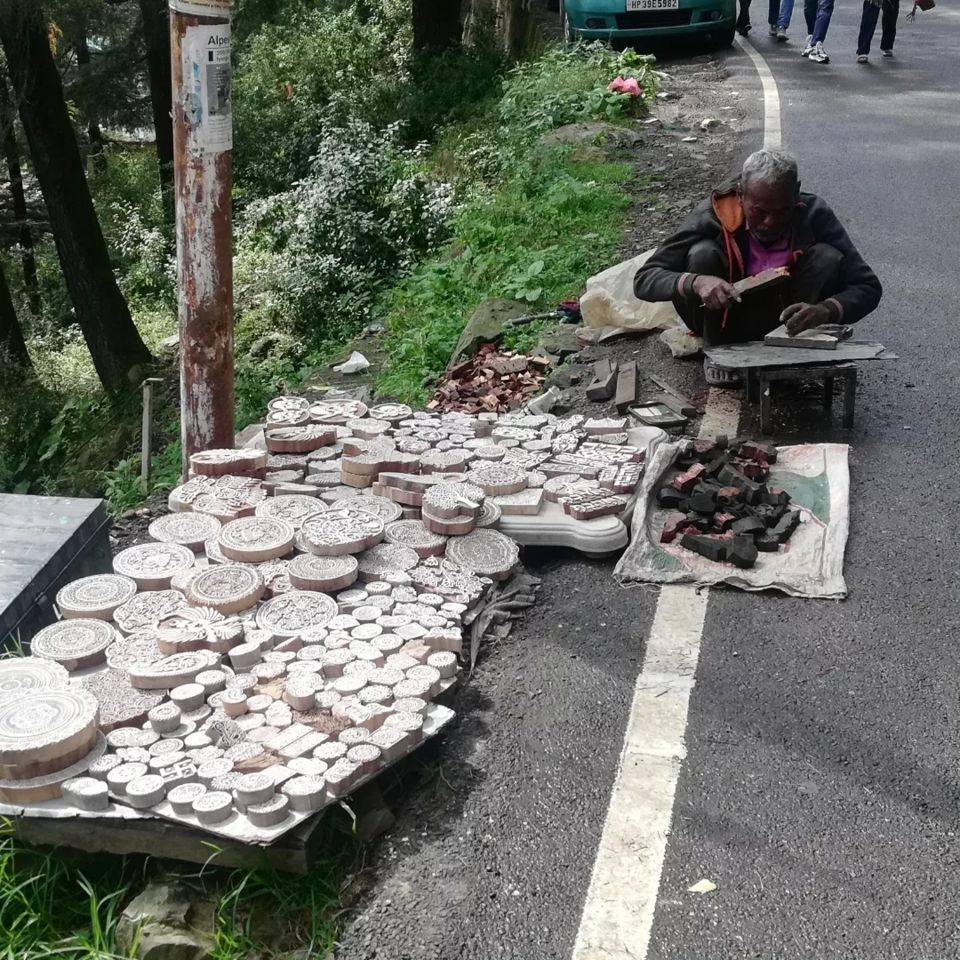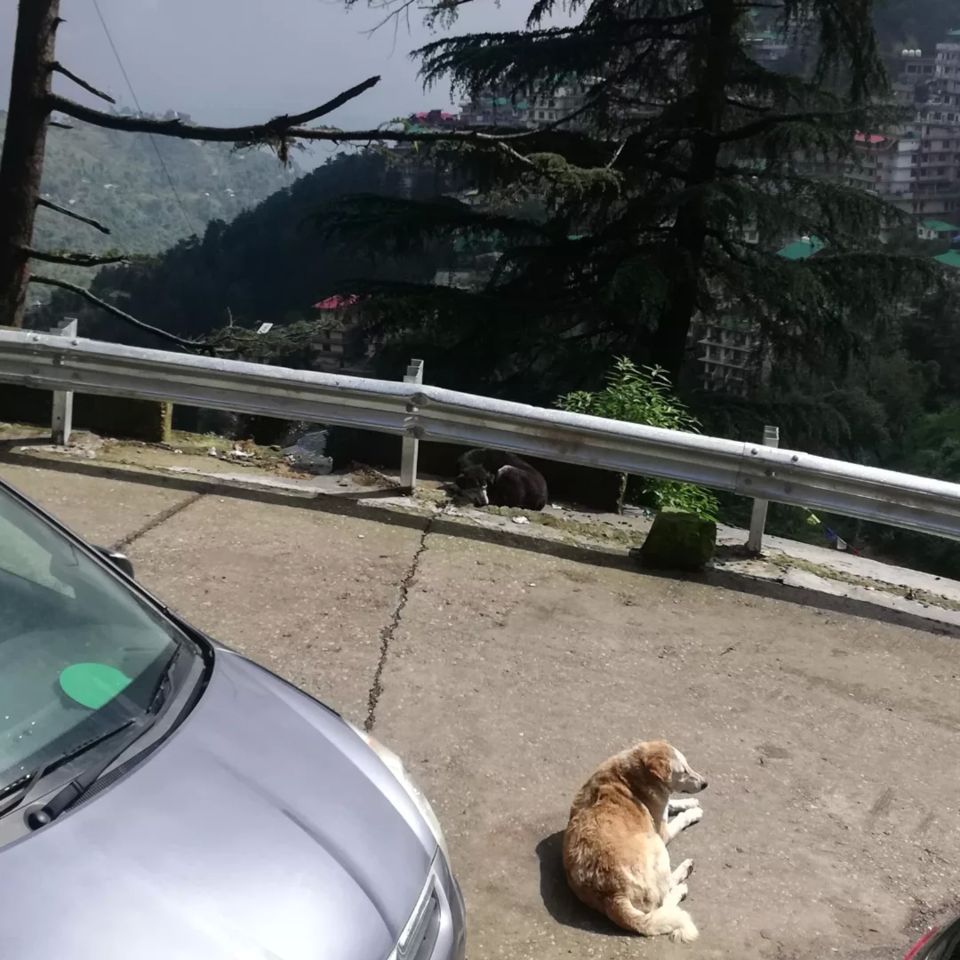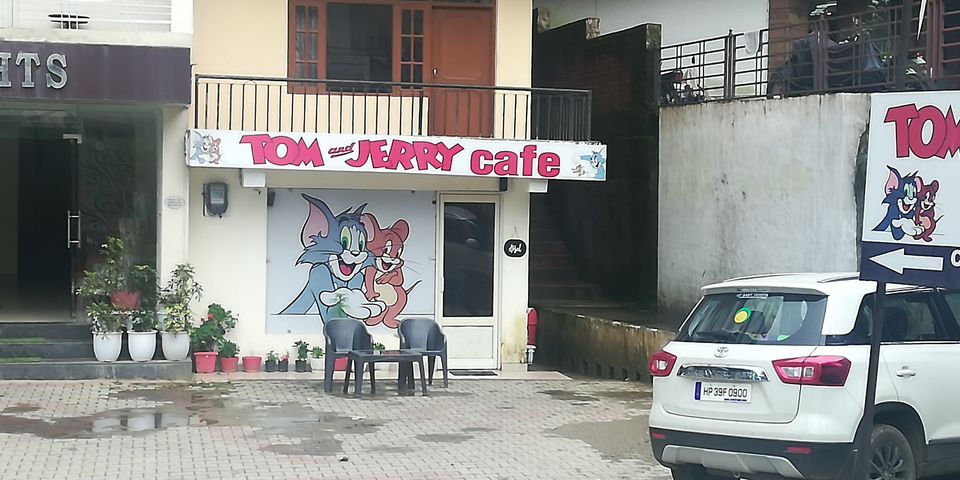 For lunch, since Nick's Italian was close by, we went in and ordered veg steamed momos and stuffed paranthas (yes, almost a staple). Since I wanted to keep to my exercise and diet routine as much as possible, I decided to walk back to our homestay, after sending Mom there in an auto.
Day 8 -- Sunday, September 18
Since it was Sunday, a day when I make it a mantra to take it real easy, I woke up after 9 a.m. and spent the entire day lounging around in the common area of the homestay. We had a laidback Sunday lunch, with a wholesome, delectable spread of aloo-gobhi, dal-rice and roti prepared by Ankita (the househelp) and her mother. Finger-lickin' good! After tea around 5 and the standard dinner of toast and tea by 8, it was curtains on my first Sunday in the hills after ages.
Day 9 -- Monday, September 19
The first day of the new week was reserved for a visit to the Norbulingka Institute, located in Sidhpur, a few kms outside Dharamshala. Built in the traditional Tibetan architectural style, Norbulingka Institute follows a ground plan based on the proportions of the deity of compassion and patron Bodhisattva of Tibet, the thousand-armed Avalokiteshvara. Although it has an unassuming entrance portal, the inside is elegantly-designed and diligently-maintained. As you enter, you are greeted by the sound of water flowing from the mouths of gargoyles, there are ponds with fish in them and a general sense of calm prevails throughout.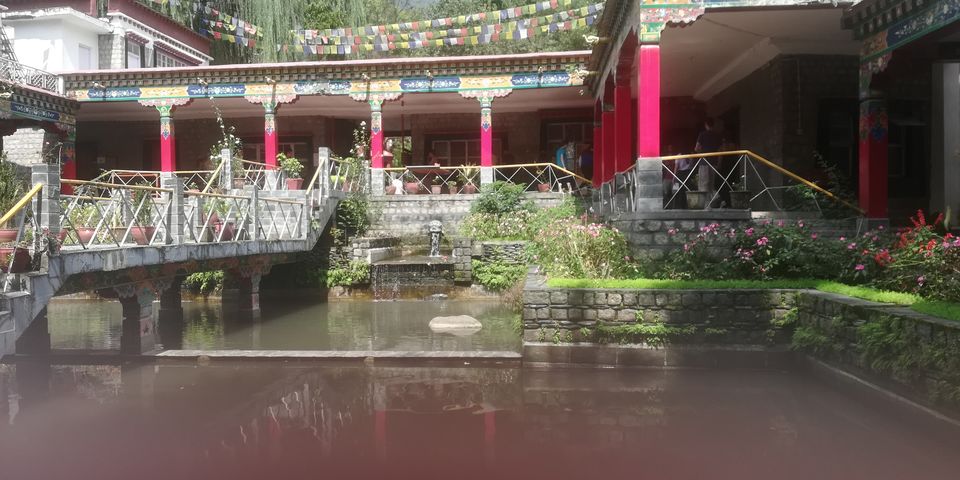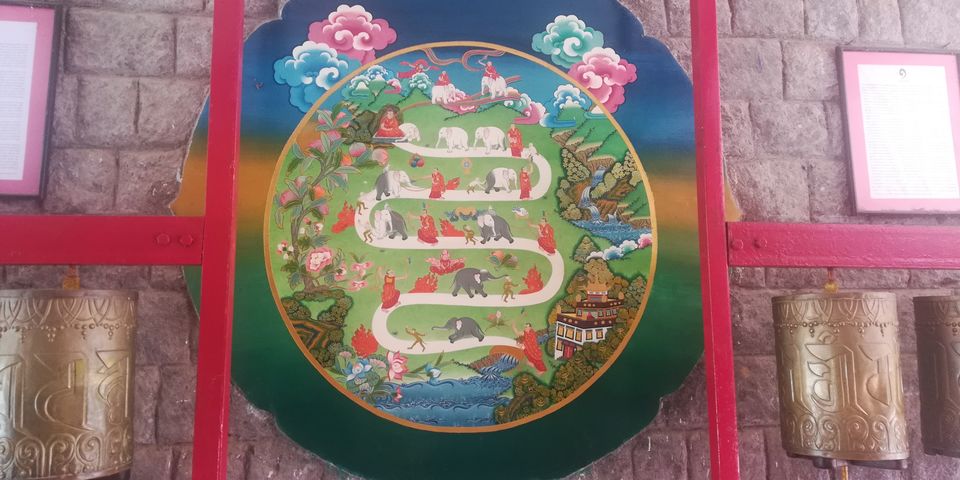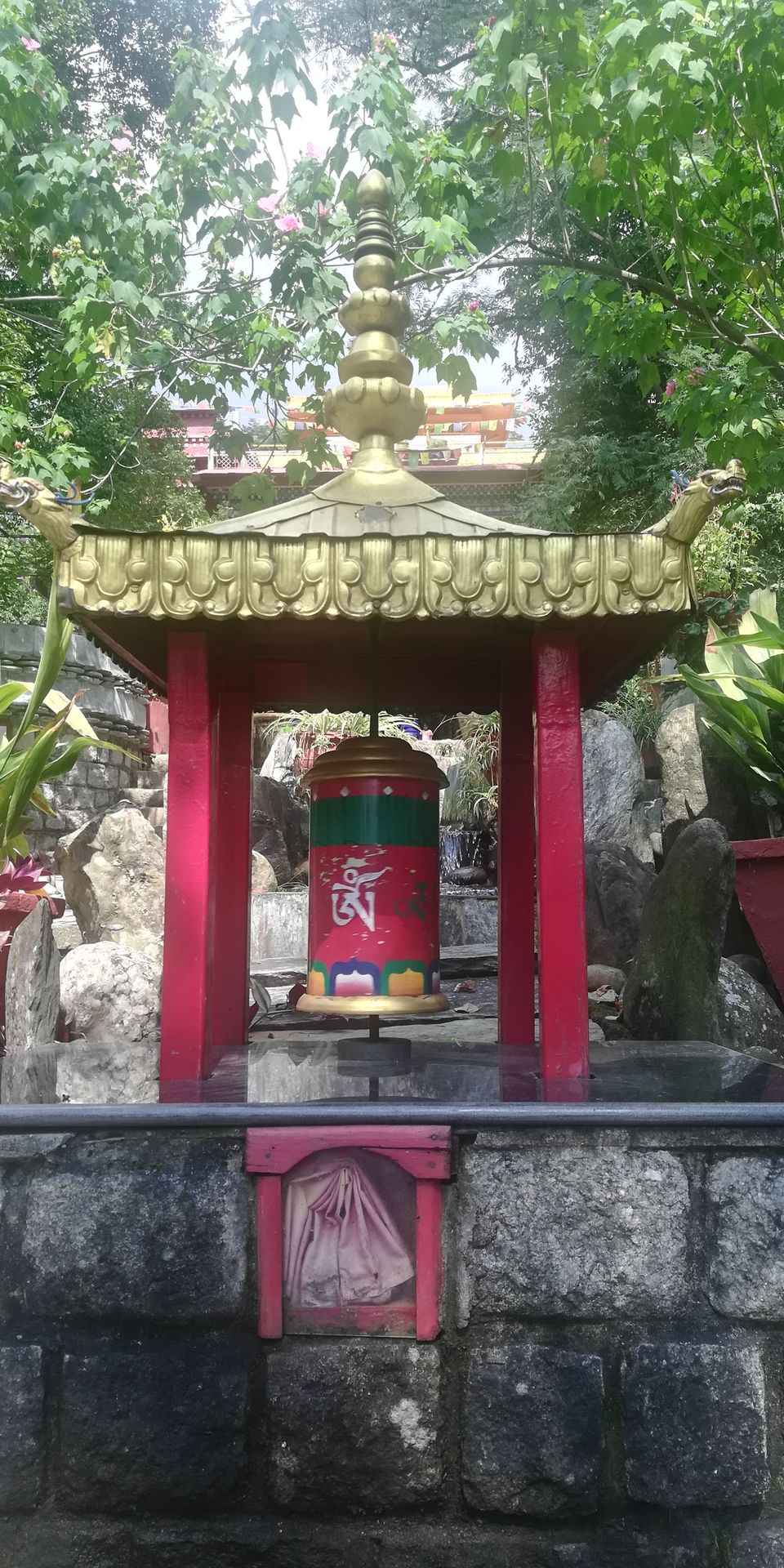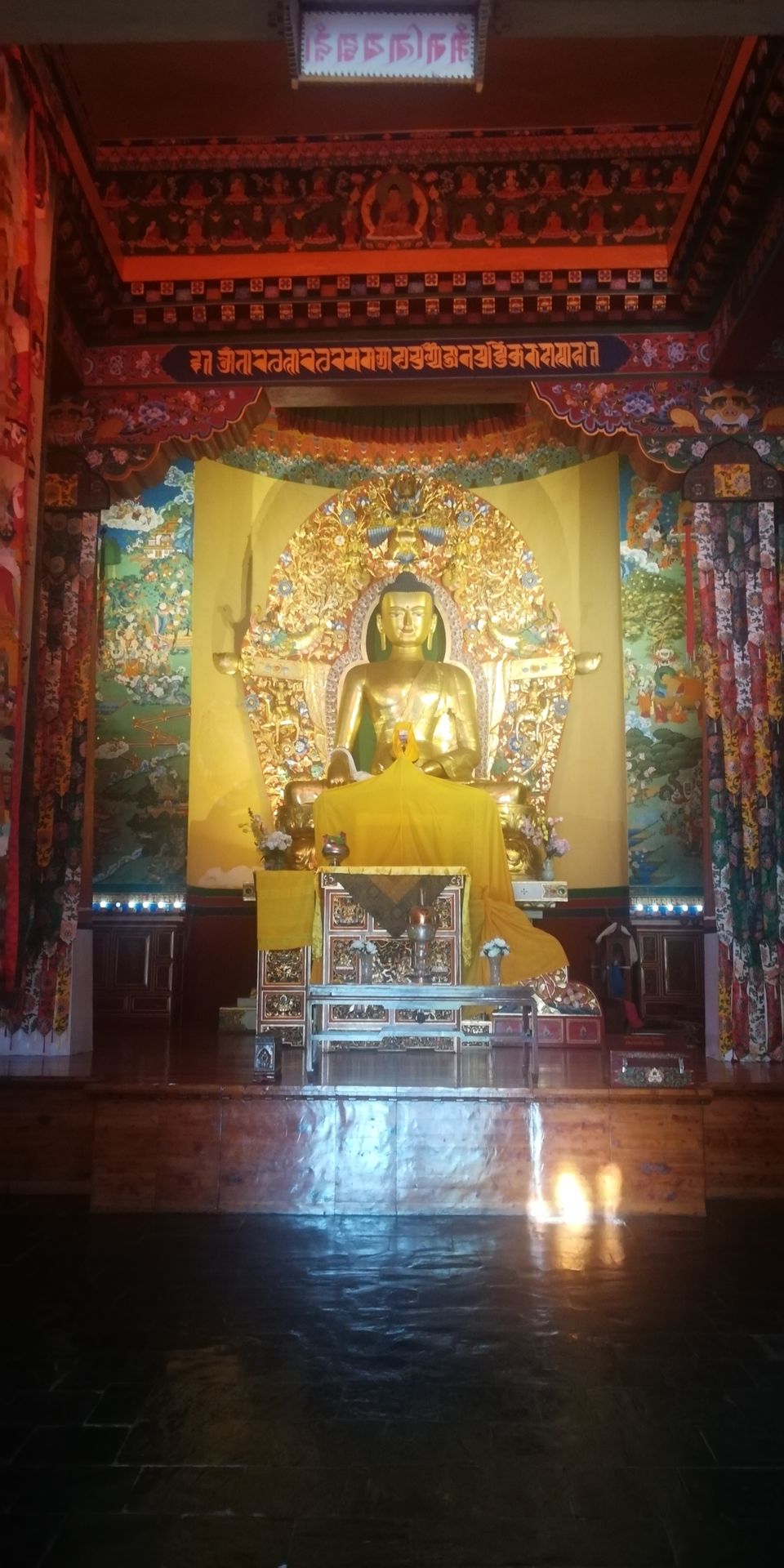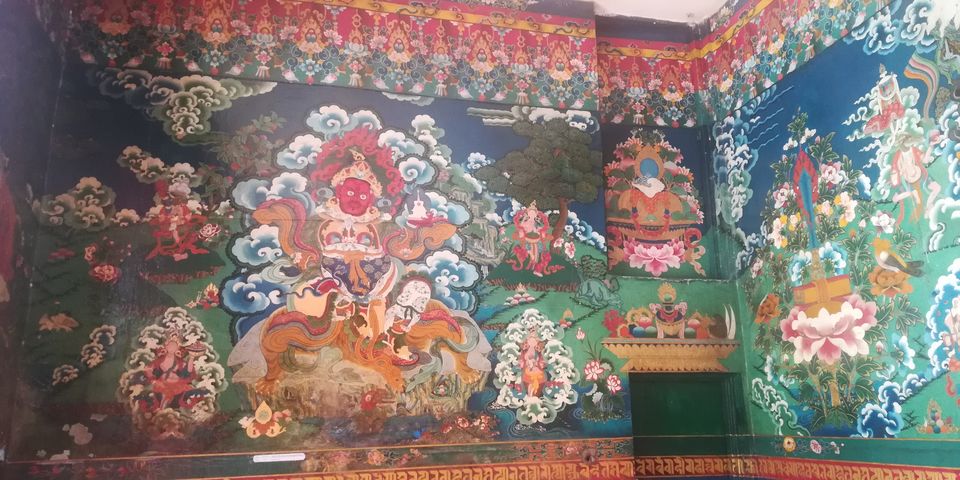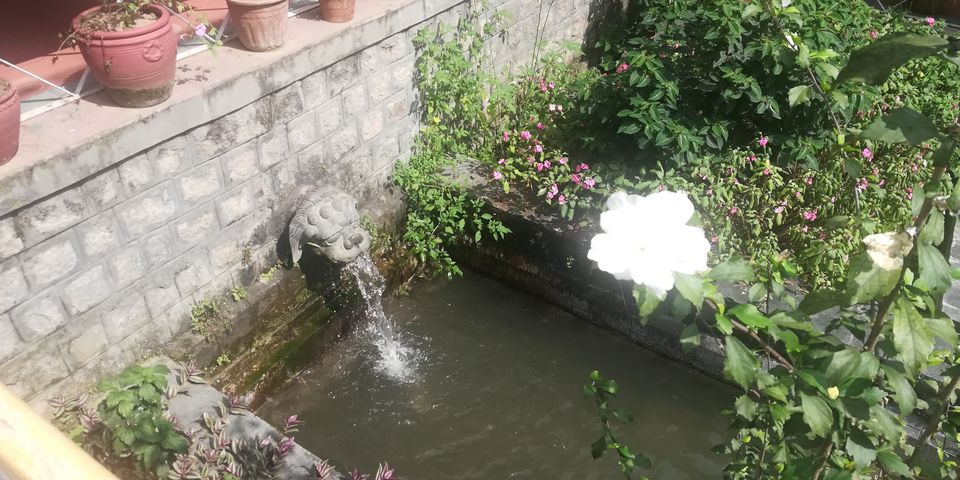 There is also a Mani Stupa – a stupa made out of stones which have been beautifully painted with the words 'Om Mani Padme Hum' -- here.
The following description is taken from the information booklet provided at Norbulingka (meaning Treasure Garden/Park in Tibetan) Institute:
The Norbulingka Institute is about keeping alive centuries-old Tibetan tradition in content, form and process by providing apprenticeship in traditional art forms and making the Tibetan experience accessible for a contemporary lifestyle. Norbulingka focuses on design, meaning and quality. Every product has a story to tell through its materials, processes and themes. From raw material to finished products, Norbulingka is about care and tradition. A community of artisans that fuels a sustainable business model with a strong social mission: keeping Tibetan culture alive by training people for the future. Currently, more than 300 people work at Norbulingka.
The architecture here is unique, in that it is arranged in tiers, with the Norling House (residence for guests) situated at the base. As you climb the steps leading to the temple, you are greeted by an entrancing use of the colour red, the distinctive placement of various training studios for apprentices (in wood carving, wood painting, tailoring, Thangka painting, metal sculpture and other crafts) and the little room where you can light prayer lamps.
The temple itself is large, flanked by prayer wheels, and overlooking the entire Norbulingka Institute in its beautiful, multi-tiered arrangement. As you enter, the sense of serenity that you experience is unprecedented. The Buddha statue is massive, breathtaking and expertly-crafted. It is framed by elaborated, intricate murals and large Thangkas. There exists an inviting silence in this room, and I sensed most people being left awestruck and rendered quiet as soon as they entered the temple hall.
I wish I could have sat there a little longer than I did but the taxi guy was waiting and the meter was ticking, so we made our way back.
On return, I got down at Dharamkot and made my way to the vegan organic café Bodhi Greens, where I ordered a lovely, late lunch of the Middle Eastern Platter, consisting of beetroot hummus, muhammara (made from walnuts and roasted bell peppers), crispy falafel, perfectly-made pita bread triangles and salad. I also ordered and relished two cups of vegan masala chai (my first since I turned vegan more than a year ago). The vegan milk at Bodhi Greens was more palatable than that I have had at home; I should have asked them the recipe.
Even as I indulged in my Middle Eastern platter, it rained heavily for close to an hour and I was glad that I was inside the cozy café, and not outside getting drenched in the showers or finding a place to shelter from it. As usual, since it was mostly downhill, I walked back to Mustard House and after completing my freelance work for the day, settled for light toast and tea for dinner.
We ended the day by watching the funeral of Britain's Queen Elizabeth II. No one does ceremony and pomp like the British and the funeral, with its elaborate cortège and solemnity, reinforced that.
Day 10 -- Tuesday, September 20
I woke up to have a lovely, wholesome breakfast of rawa idli, tomato chatni and sambhar. With Mom having gone to visit a temple a few hours away, I decided to explore Upper Dharamkot and set off by foot. However, since it was all uphill – and very steep at that – I settled for an auto ride, which set me back by Rs 250 and left me mildly upset. In retrospect, it was a good deal because the road to Upper Dharamkot is long and scarped and I would have spent precious time reaching there on foot. With the weather in the hills being what it is, I was glad I took that auto.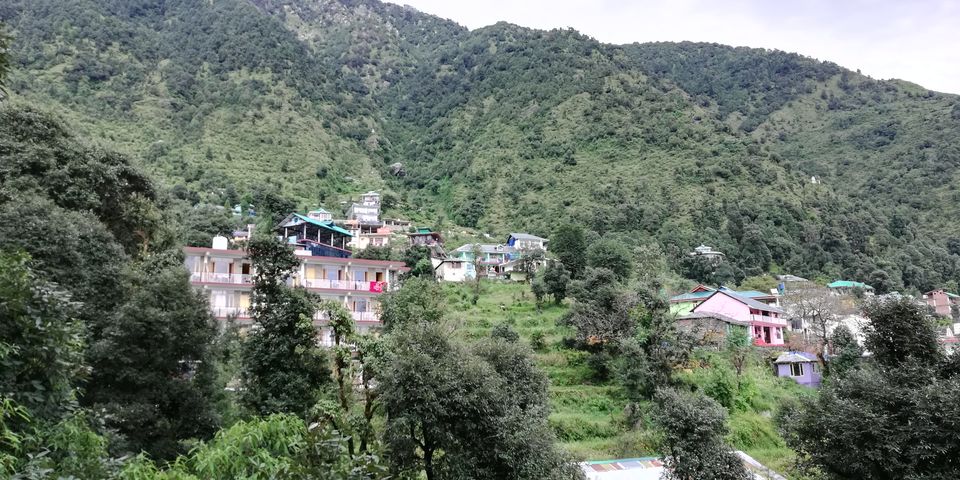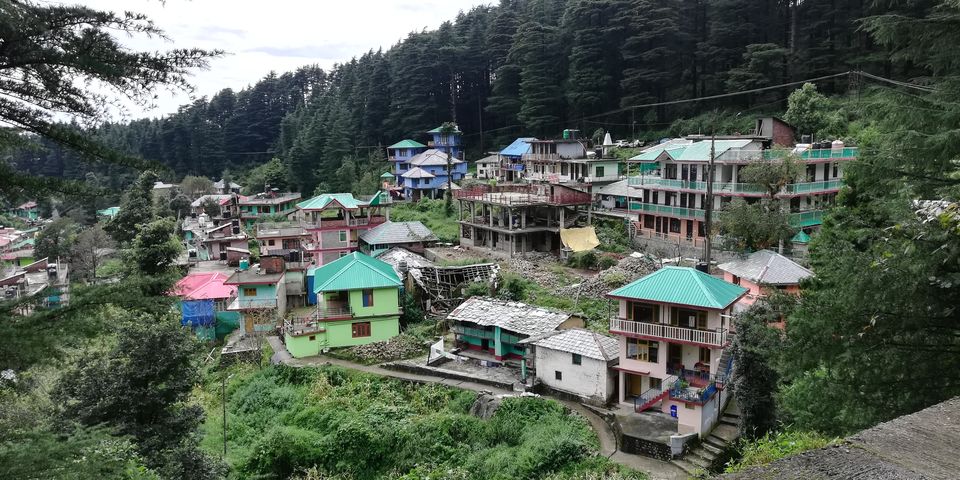 I had originally wanted to stay at Zostel (a chain of backpacker's hostels) on my visit to Dharamshala but someone said, "Zostel bahot upar hai" (Zostel is located way up high) and so I dropped the idea. Plus, with Mom accompanying me, it was not kosher to do so. But I really wanted to see where Zostel Dharamkot was located and that's where I headed, just opposite Heena Café, where the auto dropped me off. I had vegan masala tea (not as good as that at Bodhi Greens) at Zostel café and hung around for some time. It would have been a stunning location once but now the view from the café was blocked by large tin roofs and hardly any part of the valley below was easily visible.
There was a plus, though. A two-storey house perched high up on the hill overlooking Zostel and Heena Café looked very attractive and I made a silent promise to myself to return alone next time and stay there.
Soon, I made my way down to Dharamkot and Bodhi Greens again, where I opted for a vegan pizza (my first-ever) and thick, creamy vegan hot chocolate (again a first). It was delicious, albeit not too easy on the wallet, to be honest.
Day 11 -- Wednesday, September 21
The day began with heavy showers, which showed no signs of stopping and I had to wait until noon before venturing out, which one of the others guests at our homestay called 'brave!'. Borrowing a large umbrella, I decided to step out and do some last-minute shopping for relatives and friends. Mom preferred to stay back.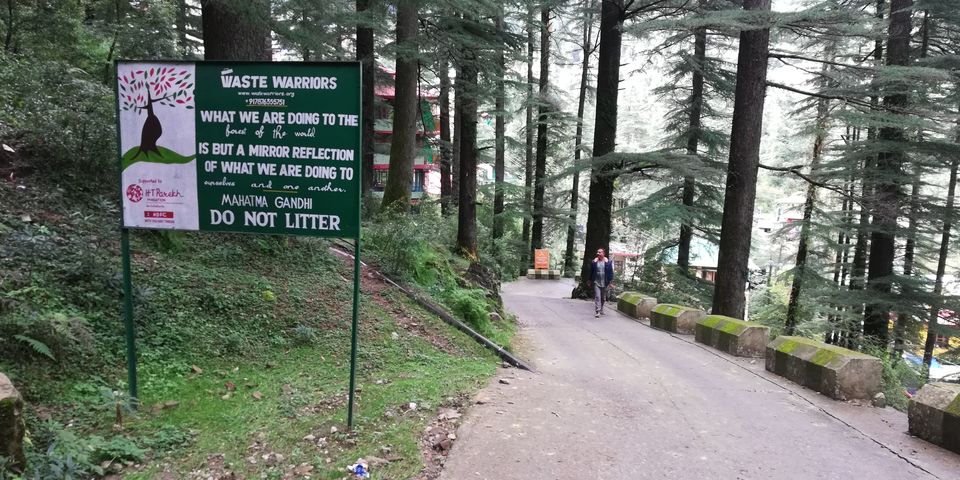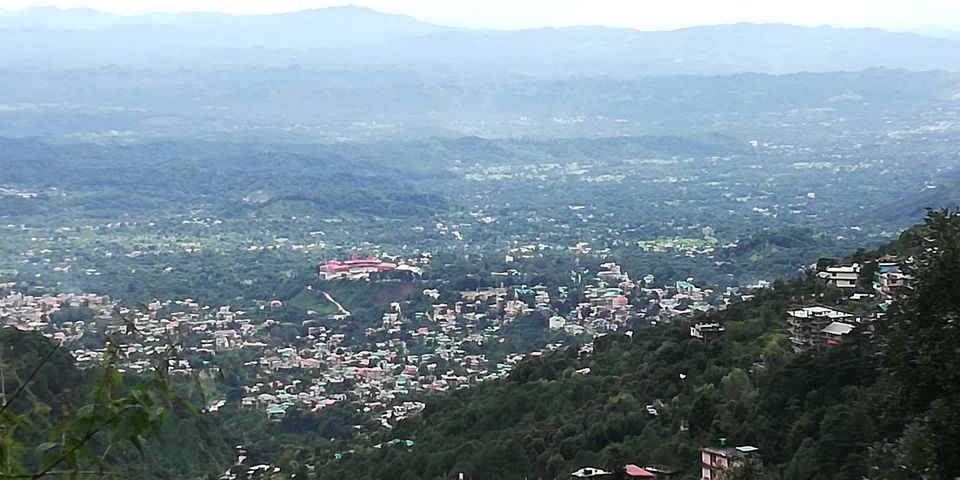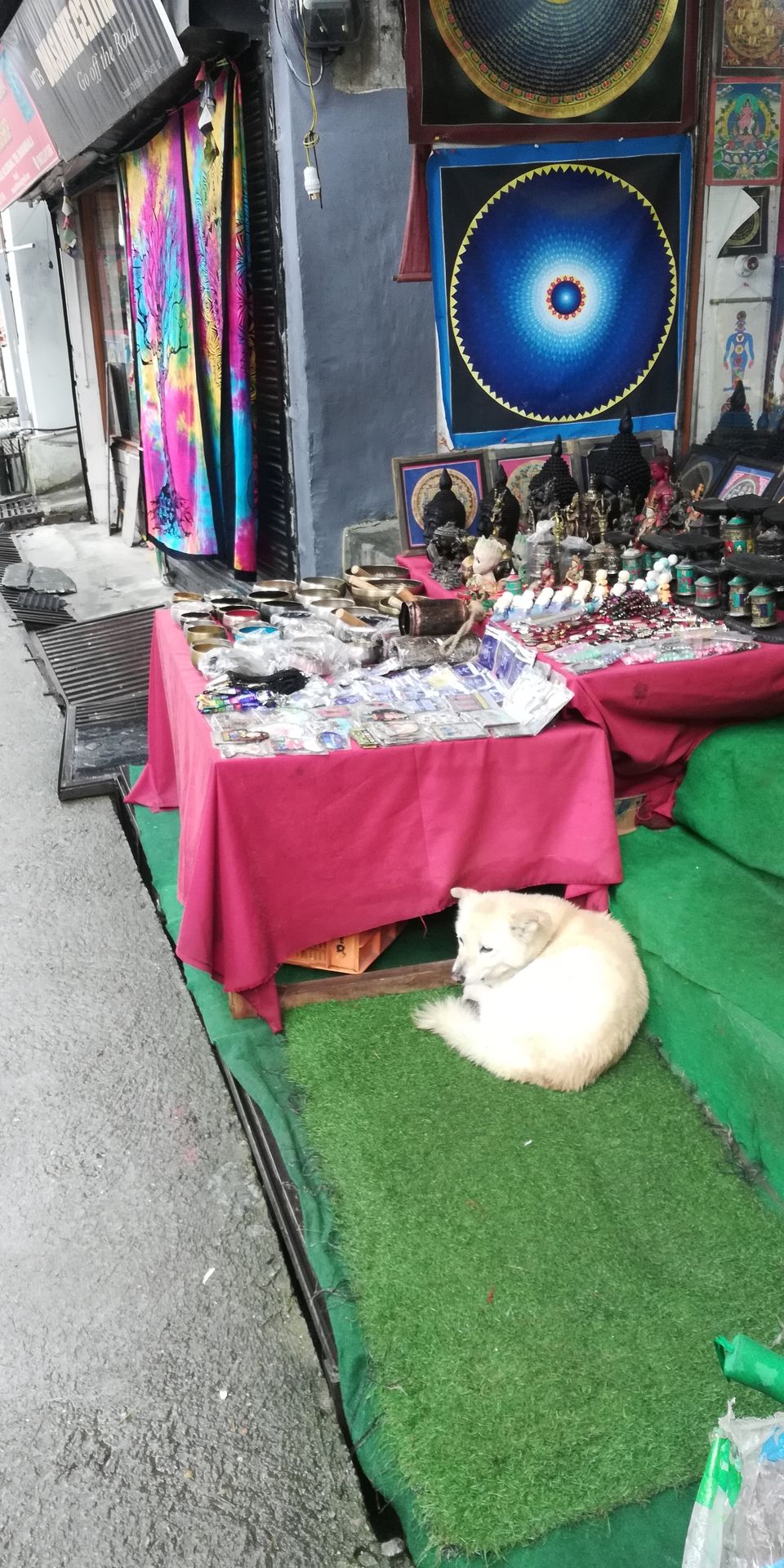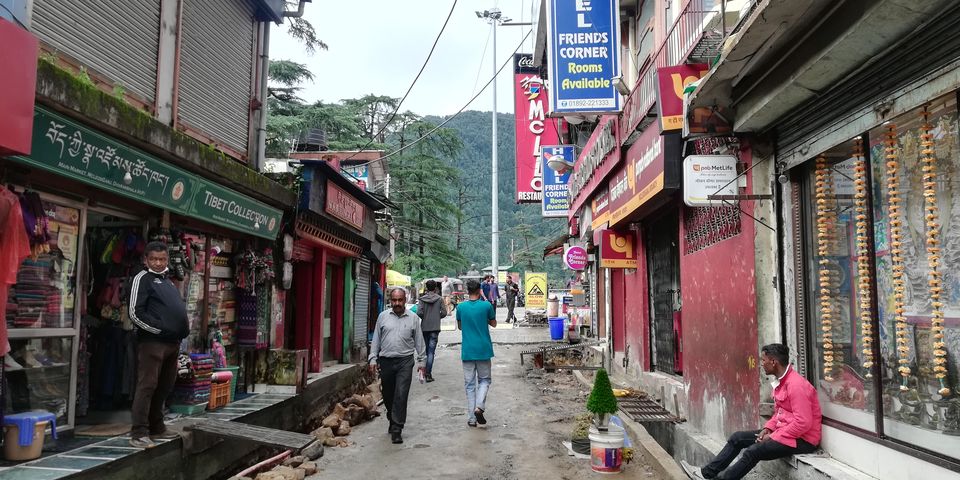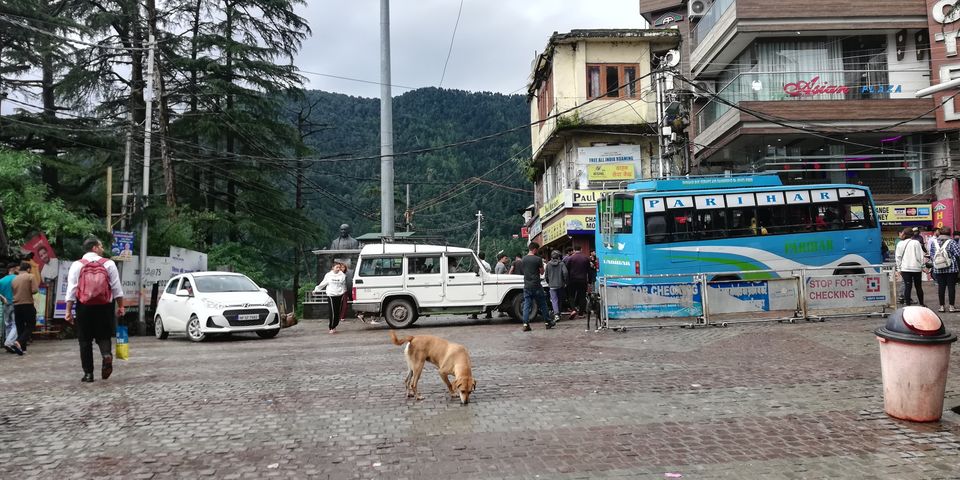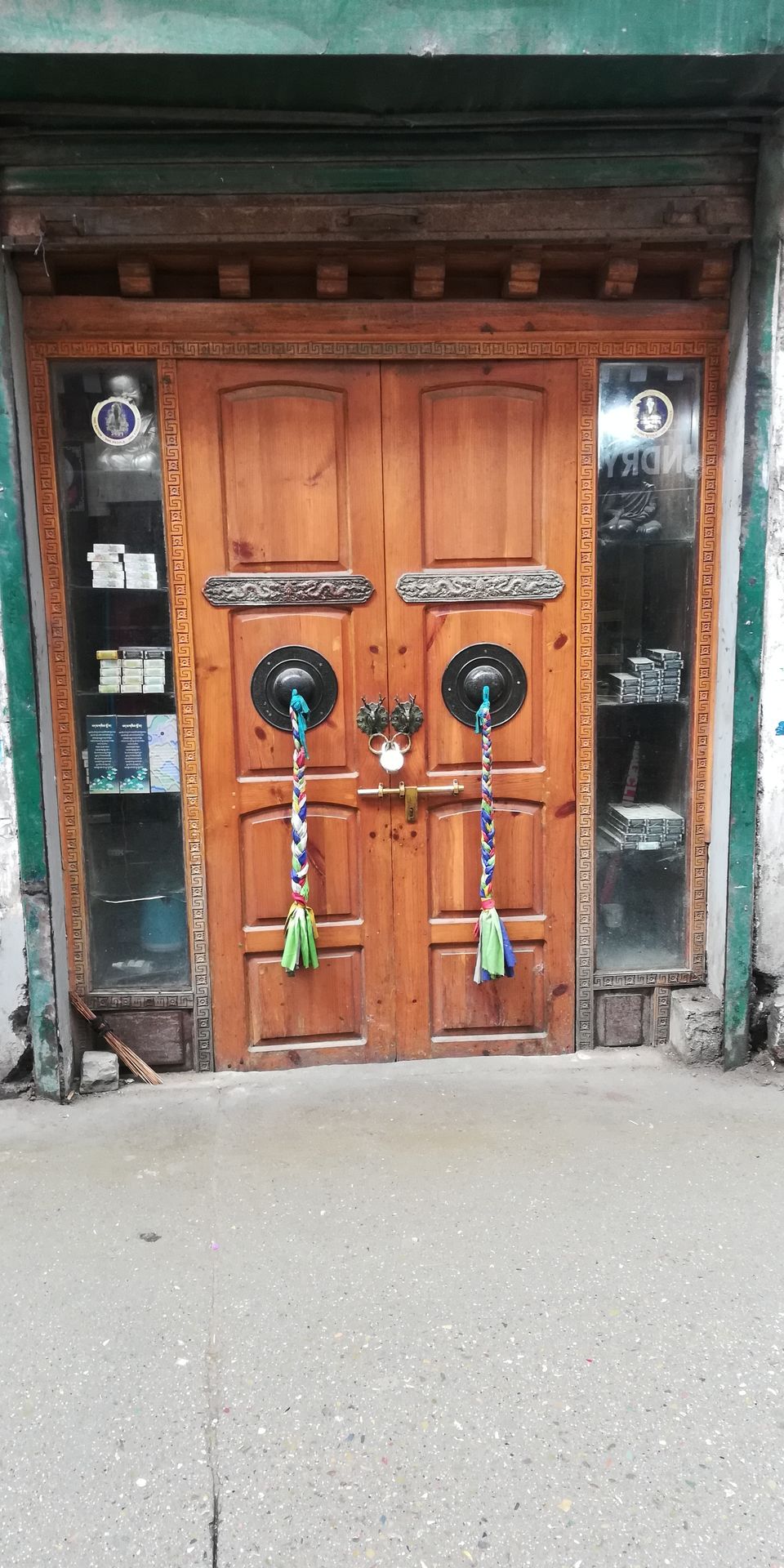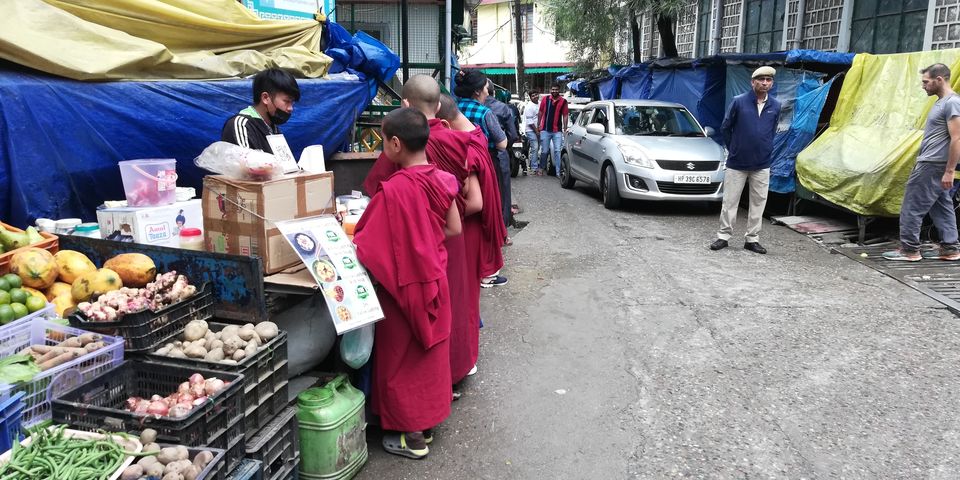 Within a few minutes, the downpour dissipated into a drizzle which soon died away and the sun came out from behind thick mountain clouds.
Even at 1 p.m., some shops in McLeodganj were not open because of the incessant morning-to-noon rainfall. But soon, some of them began rolling up their shutters and I was able to shop for mini prayer flags, Tibetan herbal tea, incense sticks and more such easy-to-carry gifts.
For the third time during my visit to D-M-B-D, I had lunch at Nick's Italian, this time opting for spinach and tofu steamed momos and 'kombucha'. However, since 'kombucha' (a type of fermented drink) was not ready, I decided to opt for black tea instead and relished both the momos and the tea, with some vegan cookies sneaked in with the tea, as a plus, from my bag. Those cookies came in a pack of three and cost Rs 60.
Soon, on my last day in the misty mountains, it was time to head back to Mustard House one last time. Although it had been a good working holiday, I missed the freedom that a proper vacation affords you.
And so I made a bucket-list of the things I MUST DO when I am back there, hopefully soon:
 Triund Trek: I've heard so much about this trek and seen some mind-blowing pictures taken by trekkers. But there was no time to complete it during my working holiday, because it takes up an entire day
 Paragliding in Bir-Billing: This was un-doable this time since the weather was not conducive to it. But next time, it will feature high on my bucket-list
 Longer visits to Norbulingka Institute (and a stay at Norling House) and a proper visit to Tushita Meditation Centre (this time I had only seen it from outside)
 Interview/Audience with the Dalai Lama: Although I missed it this time, fingers crossed for next time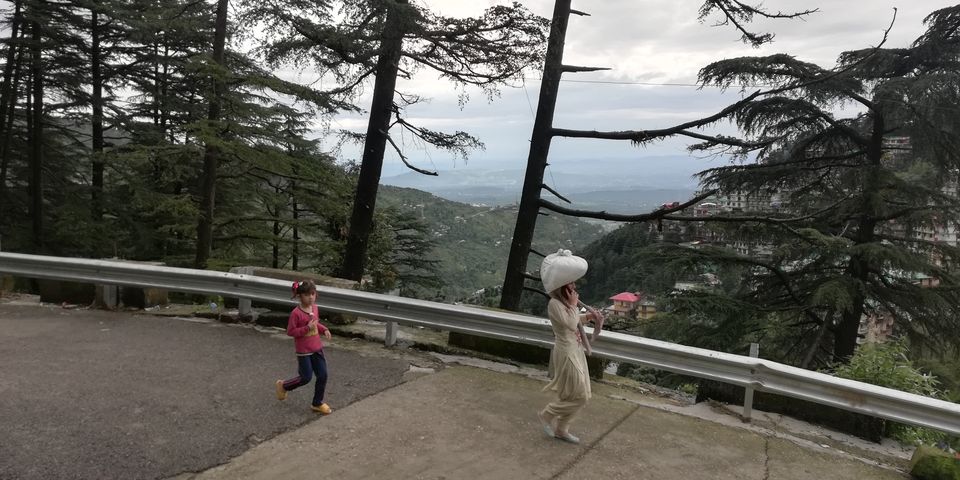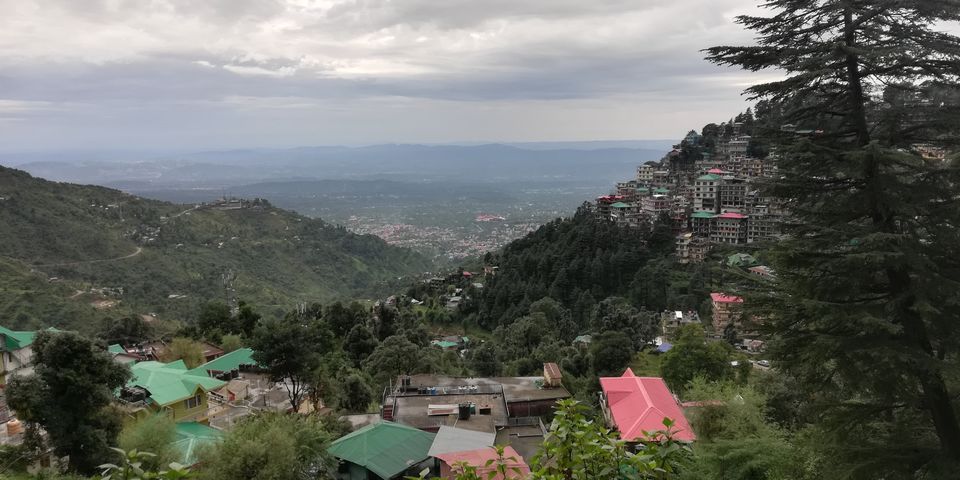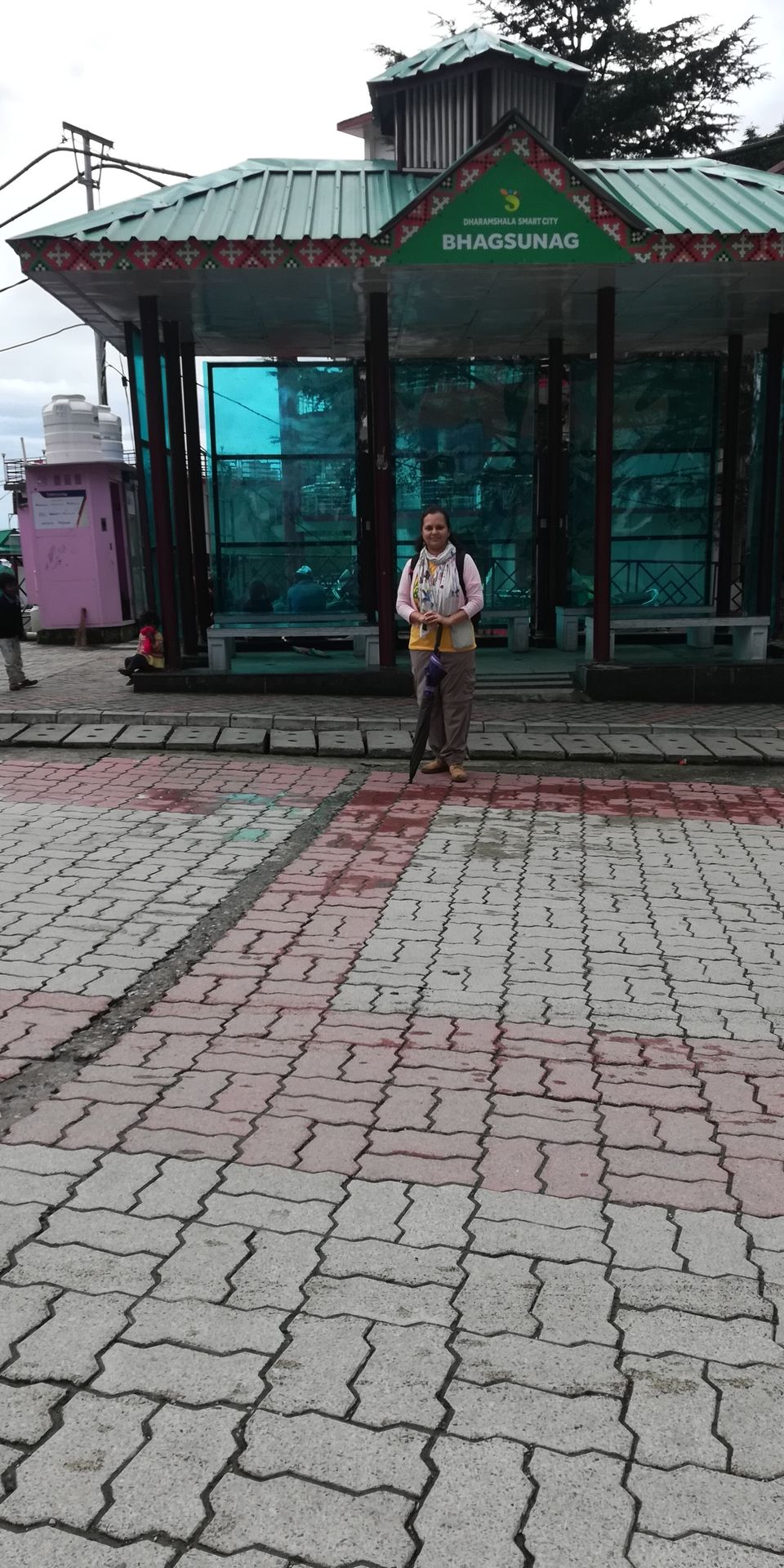 Day 12 -- Thursday, September 23
Saying goodbye to the hills is never easy for me and it was the same this time around. But we had a train to catch at 12.20 p.m. from Pathankot Cantonment Station and so, we packed up, said goodbye to everyone at Mustard House and set off in the local taxi at 7.45 am.
The driver was not as loquacious as Mom would have liked; he was also an advocate for 'development' and preferred wider roads to more trees, saying "Ped to har jagah hain ji" (Trees are everywhere).
Our train arrived a few minutes before time, prompting a scramble to reach our coach but the sprightly coolie was a great help and we boarded the train on time and settled in with some time to spare. Then, the Malwa Express pulled slowly out of Pathankot Cantt station and gave me time to pause and say a little prayer for the misty mountains and the rain-laden clouds that hovered over them like blessings.
On the way back home, I kept sitting in my side lower berth seat continuously from 12-ish till dusk, gazing at the passing landscape and listening to some non-romantic music. Despite huge temptation from vendors selling non-vegan, full-dairy 'Chai-Chai', 'Coafee, Coafee', I managed to resist ordering any beverages, except a lemonade-like drink at the fag end of the day.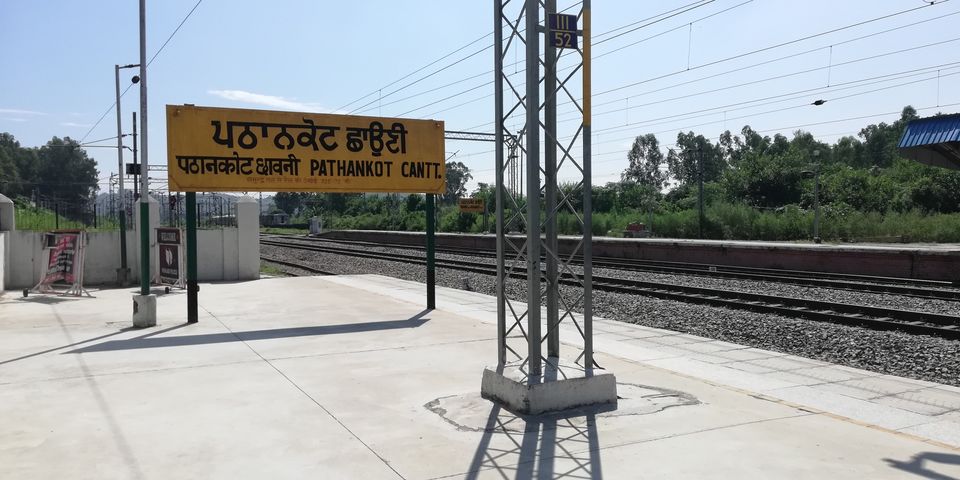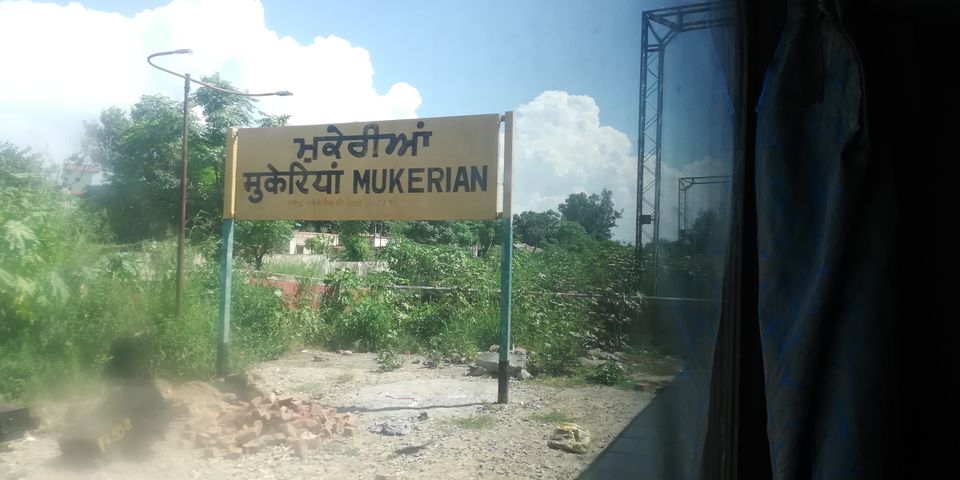 And yes, I also saw a yellow Lamborghini speeding alongside the train on the national highway parallel to the tracks. The train and that yellow automobile appeared to be vying for the fastest spot but then the car just disappeared and I was left looking out of the rectangular, toughened glass window of the train as the world went about its business.