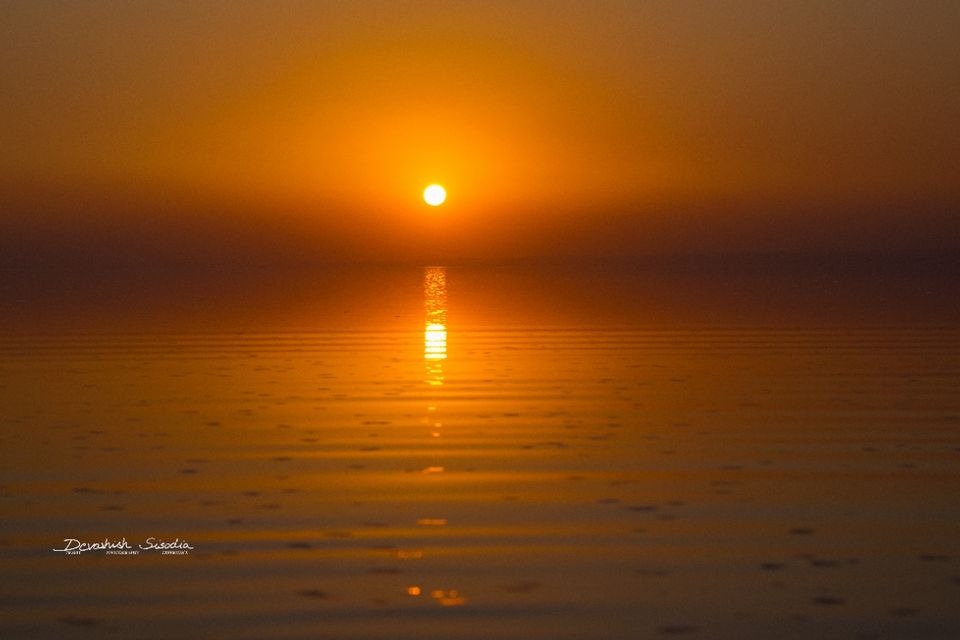 I started riding early towards Rapar & the first interesting thing I noticed was the bluff of Gujarat's Traffic Police. The roads were very good and the traffic was sparse. So, probably to slow down traffic they have installed sign boards stating Police Check Post ahead but 80% of them were bluffs. Smart! Another thing to notice on the roads were signs warning about wrong side traffic which is very common in the area. Soon the highway passed through a huge lake with lots of different birds and I got an opportunity to practise photographing birds firstly because I was new to it and secondly, I had to get used to my newly bought 70-300 mm lens. So, after irritating the camera-shy birds for an hour I was back on the road towards Rapar and left the highway at Adesar. From there the route is very peaceful and the cool breeze with the rural scent is very calming. Also, the area is not exactly plain as I was expecting but appears to be a remnant of some ancient hills which made the ride more interesting with the roller coaster effect of riding the bike up and down small mounds. Just before I was about to reach Rapar I got lucky, there was a huge flock of Great White Pelicans resting in a small pond. These birds are really big with unique characteristics like a large yellow beak, flexible neck which allows them to swallow large fish whole and a very large wingspan which allows them to fly long distances. Watching these birds play in the pond is soothing beyond imagination and that's what I did for an hour.
Now, I was a little hungry but decided to eat only after reaching Dholavira. So, I was back on the road and after sometime the island of Dholavira was in my sights connected by a bridge over the salt marsh surrounding Dholavira. The view was majestic; everything was white as far as I could see, no humans, no rushing vehicles; just me, the view and the calmness which was interrupted by a bird- a flamingo just under the bridge. A great white bird with perfectly contrasting red at the back and a uniquely shaped pink beak. Interestingly, Flamingo is the state bird of Gujarat and what better way to symbolise the beauty of Gujarat other than this bird! Moreover, this particular one was friendly and I could watch it from 10-15 meters away and as I walked closer, I realised the height of the bird was impressive. After spending a lot of time trying to capturing a picture of the bird with its reflection in water (which I couldn't as the wind was very fast and was continuously created ripples in the water), I realised it was 02:00 PM & it had taken me 8 hours to ride the distance which should have ideally taken only 4 hours despite being greeted by some fantastic roads. Now, I was very hungry & afraid that the museum will be closed by the time I reached. So, I decided not to stop anywhere else and reach there before 03:00 PM and with the help of the properly maintained bike from Riant bikes I reached there at 02:35 PM. Dholavira- A small village with almost negligible tourists and just two hotels and 2-3 home stays; was very important during the ancient Harappan times. It was a site of Harappan civilisation specialising in bead making, blade making and pottery making industry but I couldn't totally concentrate on the history because I was very hungry now. So, I enquired from the caretaker If taking pictures was allowed (I planned on reading the details latter) and a place to eat. Interestingly, Mr Meena was from the same place as mine; not only he suggested a good place to eat but also assured me that I could come after eating and he can keep the place open for a little longer if required. Also, I was allowed to take pictures without a flash. Luck was on my side! So, I had lunch or whatever the time was for and returned to the museum. Here are the interesting facts I came to know about: 1. People of Dholavira were good at making blades from stones. 2. The city was fortified and had natural barriers in the form of two rivers flowing around the city.
3. The city was well planned with straight roads and an amazing water management system and rain water harvesting system. Something we need to learn from them! 4. The city had a stadium with seating arrangement for audience. 5. The fortification of the city was 11 m thick which had signs of repair after an earthquake. 6. It is the only site with inscription found on the gate (Ten large sized signs in Harappan script which is still uncodified). Before leaving the place, I bought 5 books from the museum & interestingly it costed only Rs. 105 because archaeological Survey of India sells book very cheap (I also got 40% off). At 06:00 PM I rushed to the salt marshes (Rann) to get some sunset shots and after enjoying the view and sunset till there was light, I went to the BSF post just nearby and asked if pitching a tent was allowed in that area but unfortunately it was not allowed as the border was on the northern side of the salt marsh and night patrols take place to stop intrusion. So, after talking to them for a while I left to hunt for a place to stay and the first one quoted Rs. 6000 for a night on the call (Rann resort Dholavira). So, I decided to ride back 30 kms and pitch a tent but on my way back I stopped at Dholavira Tourism Resort (where I previously had lunch) and I was quoted Rs. 800 for a night. So, after booking a room and taking a shower I went to the dining room and found a group of 60 to 80 kids who were there for an educational tour from Mumbai. And somewhere in my mind I started hating my school for not taking us to such places. While I was waiting for the food, a few of them struck conversation and I noticed a few things like they only conversed in English, they did not know that the white crystals they had walked on during the day was salt and when dinner was served it was futile to make 2 of them understand what sevtamatar was, as they didn't know sev or namkeen or besan or gram flour or tamatar (well both of them knew tomato). So, after realising why their school needed to take them to such trips and mine didn't, I went back to sleep thinking that it's not Rahul Gandhi's fault; his school should have taken him to such trips.