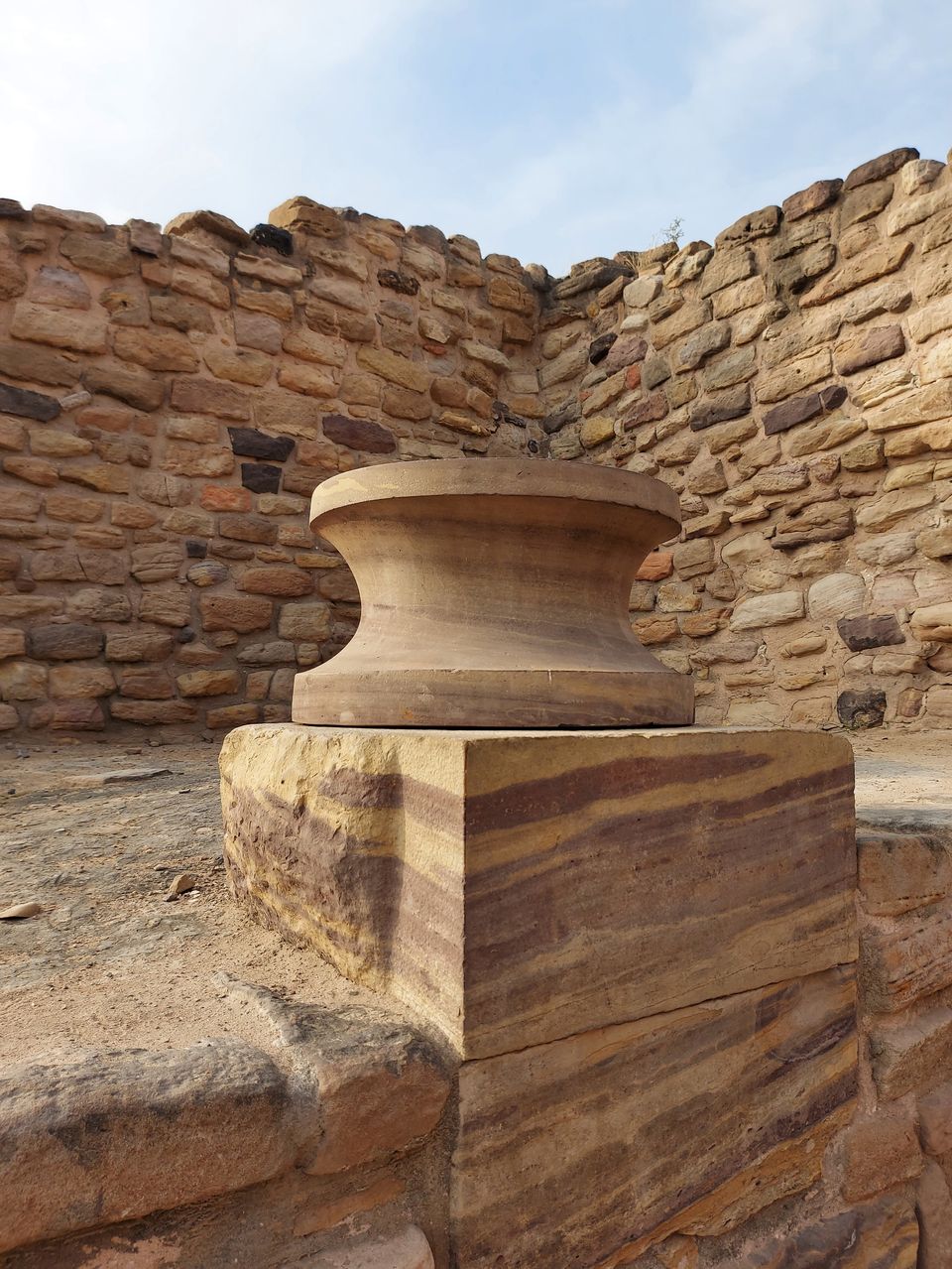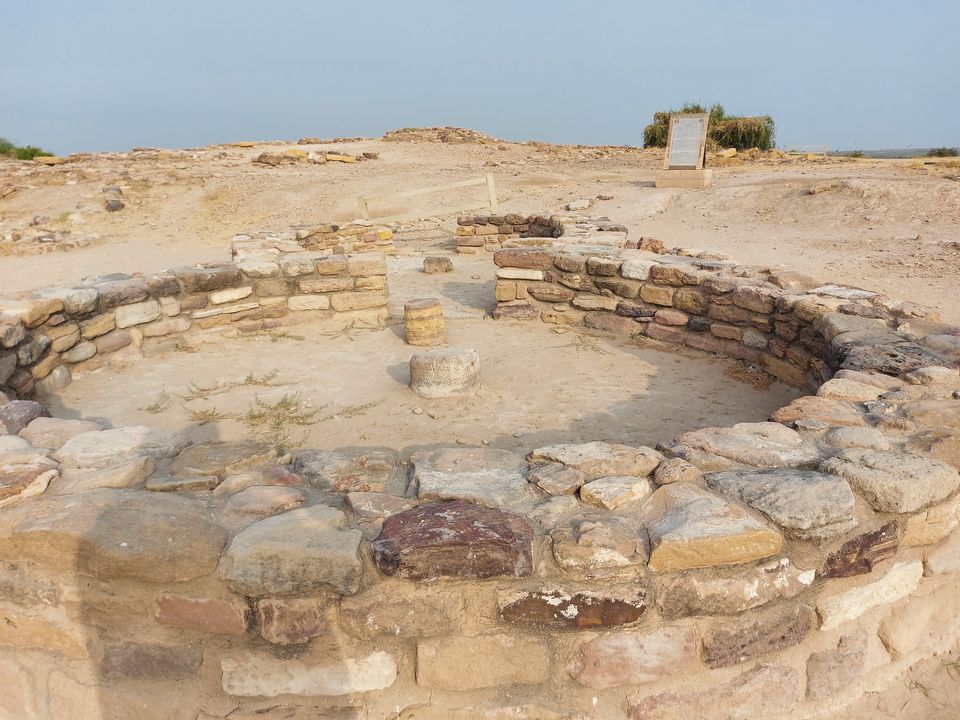 I held a broken piece of pottery in the palm of my hand and stared at it in amazement. Was it really 4000 or 5000 years old? Our tourist guide, Raobhai Solankhi had picked it up from the ground and placed it in my hand. If someone had told me it was fashioned four or five days ago and fell down and broke I would have believed him. 4000 years? Really? OMG! OMG! OMG!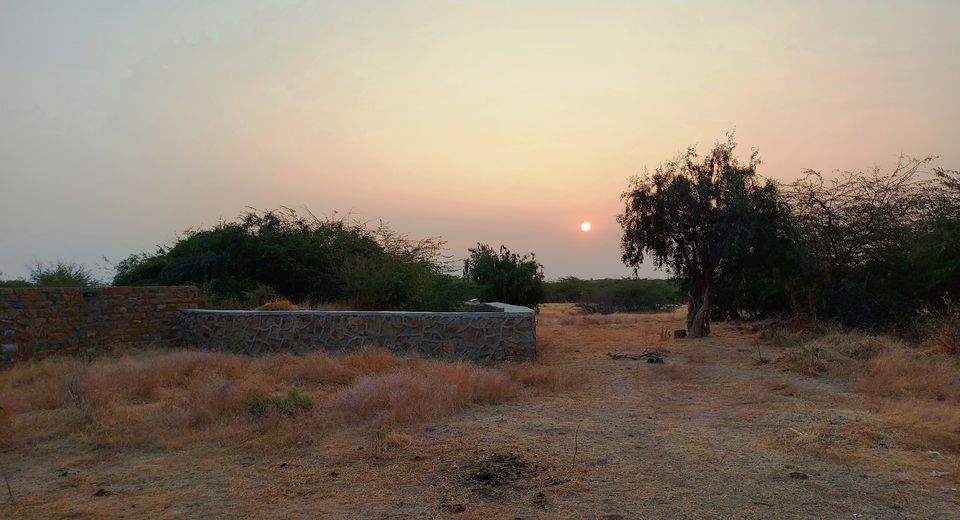 Dholavira
On Khadirbet island in the Great Rann of Kutch in Gujarat, lies Dholavira, one of the largest Indus Valley sites. The other prominent locales are spread over Pakistan and India. While Harappa (Punjab), Mohenjodaro (Sindh), and Ganeriwala (Punjab) are in Pakistan, Rakhigarhi (Haryana), Kalibangan (Rajasthan), Rupnagar (or Ropar, Punjab) and Lothal (Gujarat) are located in India. Besides, there are several minor sites and Gujarat has a fair share of them.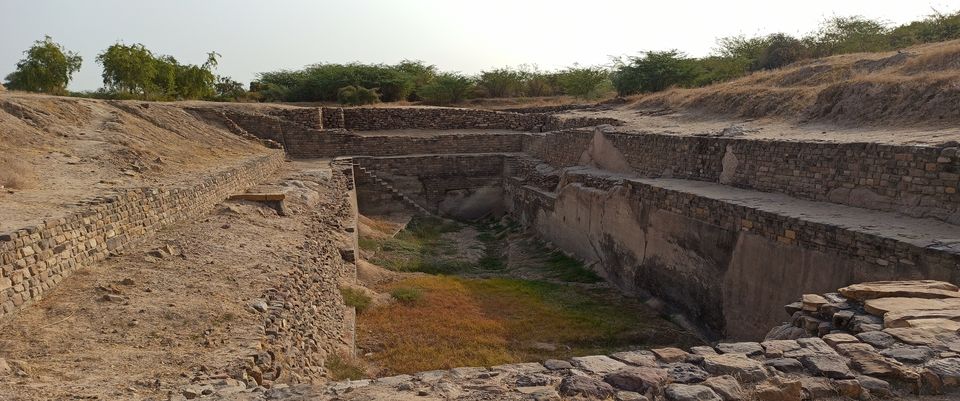 Dholavira could well have been one of the most magnificent cities of a bygone era. There is evidence of trade with other Harappan cities, besides Mesopotamia and the Arabian Peninsula. Situated virtually on the Tropic of Cancer at 23.9°N, this place was once encircled by two seasonal streams, the Mansar and the Manhar, which later disappeared. Dholavira seems to have been occupied as early as 3500 B.C.E. The Harappan phase of civilization may have begun around 2650 B.C.E. and flourished until 1800 B.C.E., after which a steady decline occurred and dragged on for four or five centuries, until finally the place was completely abandoned. Thus Dholavira may have had at least three broad phases of its existence – Pre-Harappan, Harappan, and Post-Harappan. These are merely conjectures based on the present level of excavation and research. However, even today Dholavira is virtually devoid of human habitation and perhaps only the presence of a few resorts and the famed archaeological site encourages a handful of people to live there.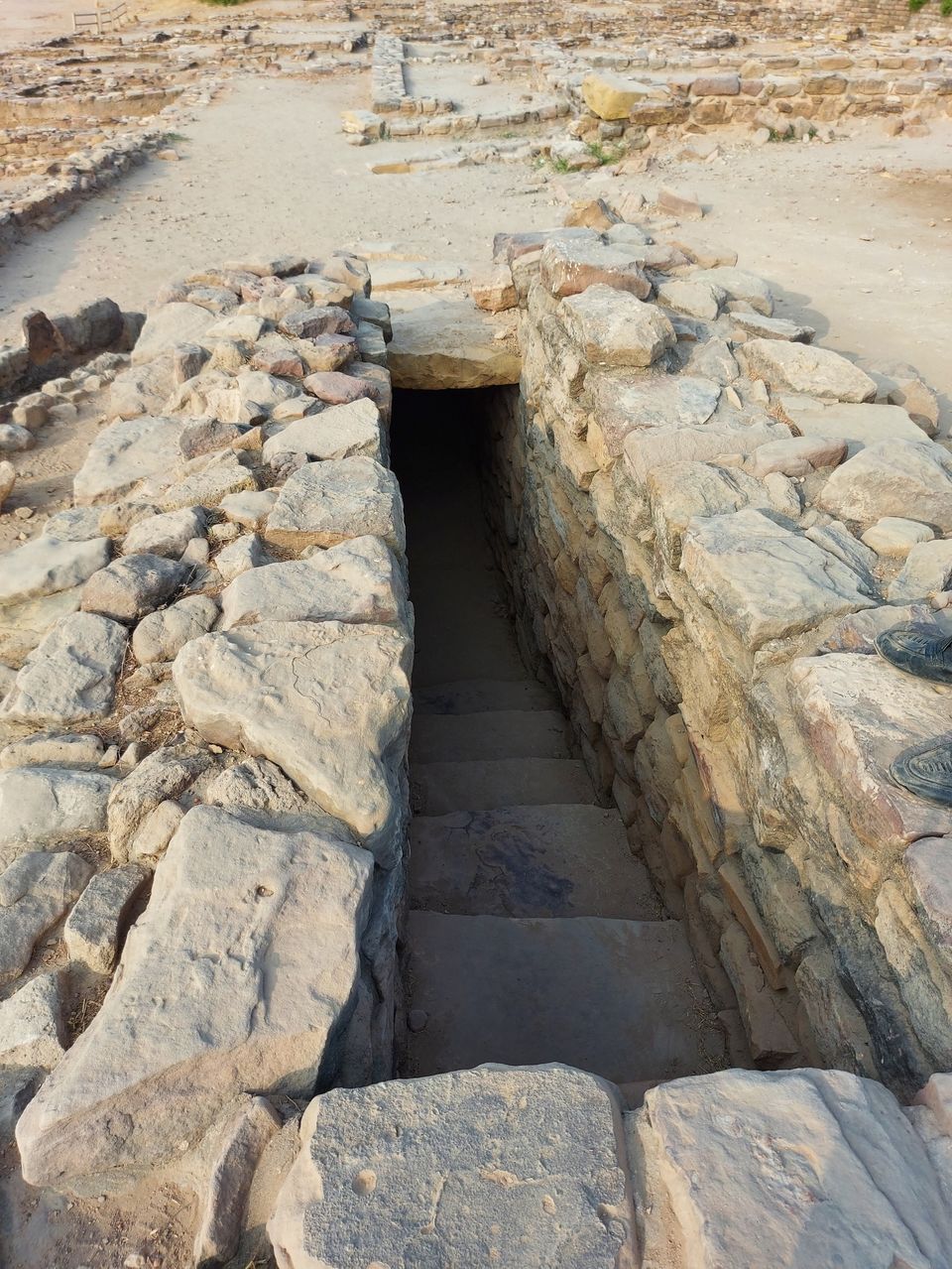 The ASI-led excavation in the 20th century revealed excellent urban planning, sophisticated architecture, hydraulic engineering, and innumerable antiquities including gold, silver, ivory, terracotta ornaments and seals, pottery, bronze vessels, beads and bones. A few of the seals discovered here bore only animal figures and no script. The discovery of the sandstone sculpture of a priapic male with head and feet gone led to much speculation and garnered much interest. The gold ornaments included bangles, ear-studs, wires and beads with holes in them. Tools included bronze hammers and chisels, weights, grinding stones and mortars. Moreover, there were phallus-like stone symbols (shivling?), round and square seals with Indus script, painted pottery, terracotta tumblers and what not. The Museum was closed, so I have no idea whether the unearthed objects are in Dholavira or Delhi. I could almost hear the ghosts of Dholavira sing, "Bring back, oh bring back, oh being back my treasure to me!"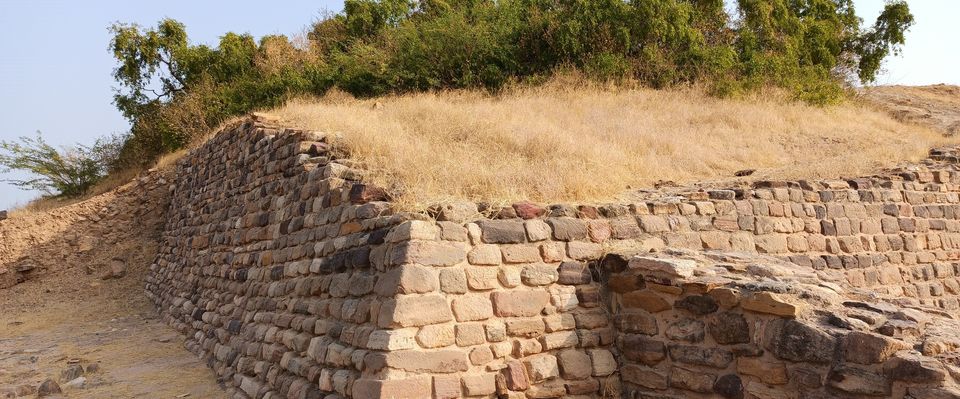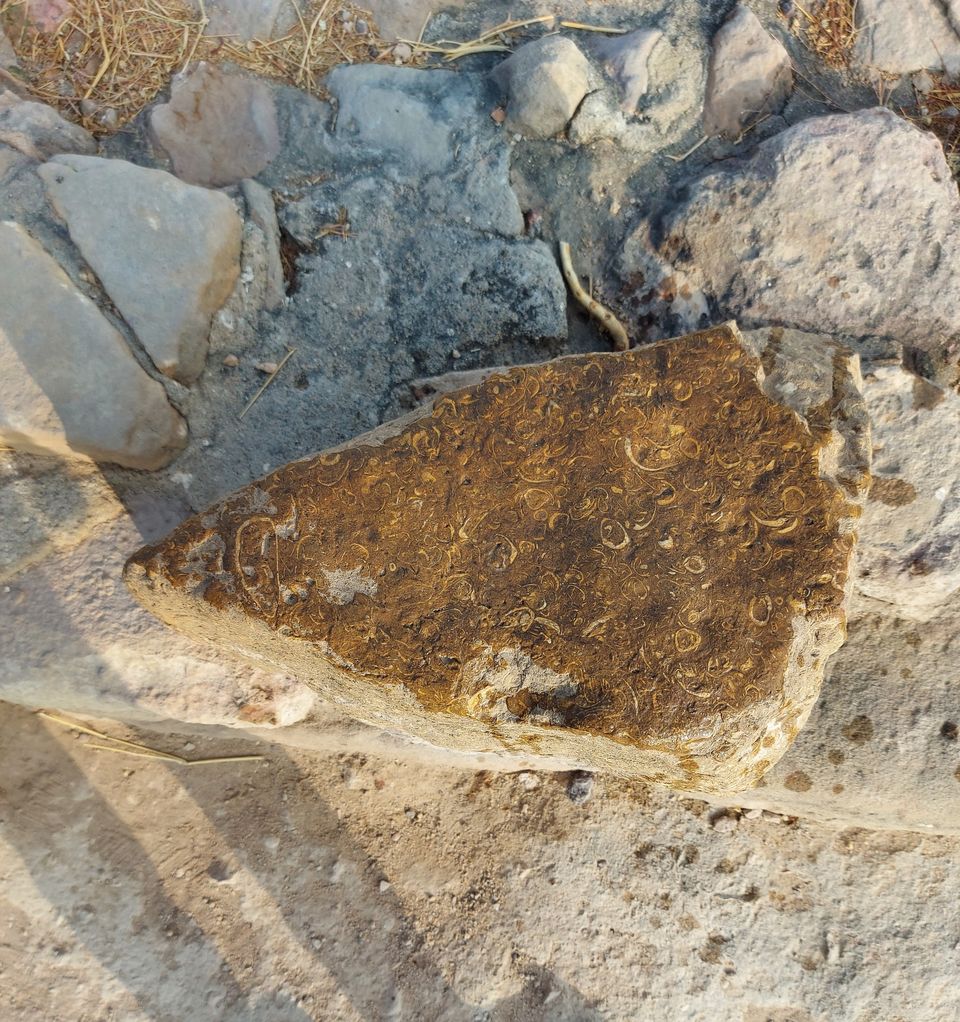 Spread over several acres, the ruins of the city have been broadly classified into three parts, namely a citadel, a middle town, and a lower town. The citadel is a well-fortified area with a castle, bailey, ceremonial ground, streets, water conservation systems, drains, et.al. Did they have a king? Were there nobles and common folk? Social stratification? Perhaps. In any case the town was continuously inhabited for at least 1500 years.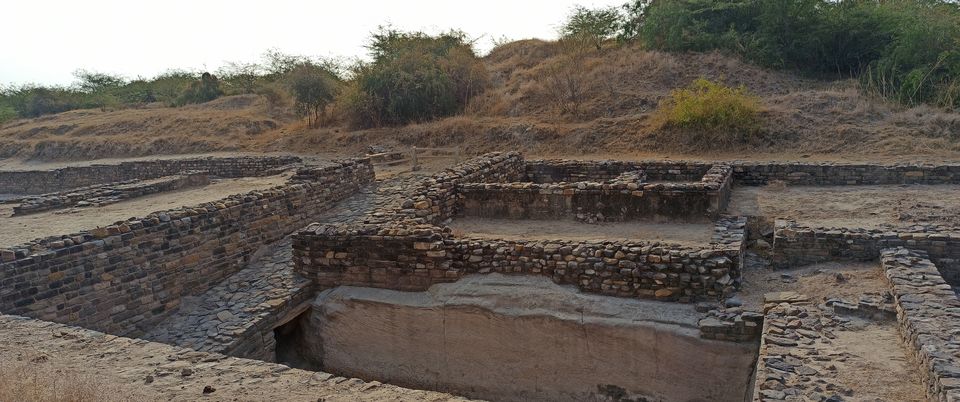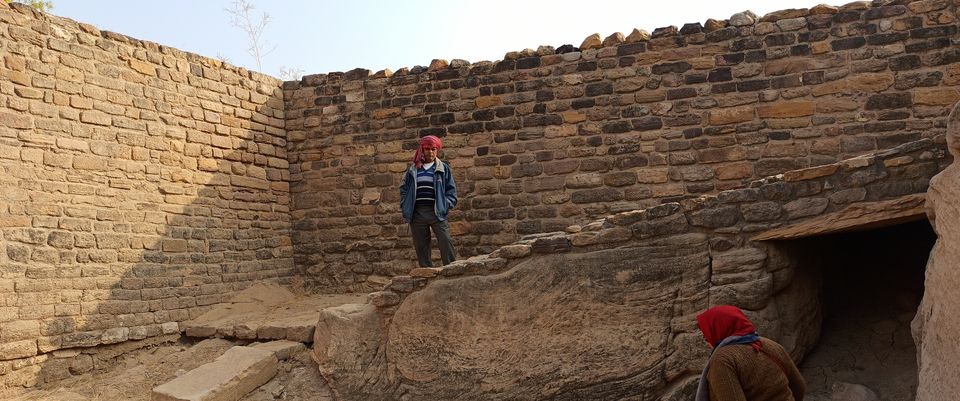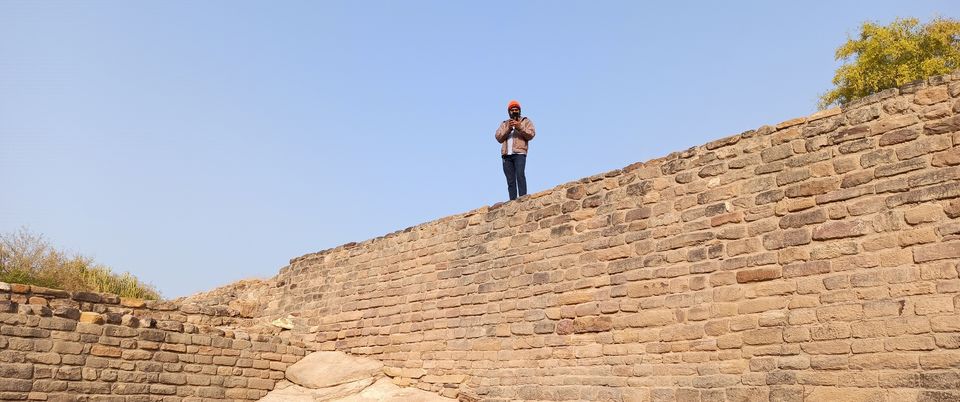 There are a few gigantic reservoirs, obviously used for storing rain water as well as water diverted from the two streams by building dams. There is also a rectangular step-well placed on raised ground, with a flight of steps. A large well and a cemetery have also been discovered. In one grave a skeleton and a copper mirror were found.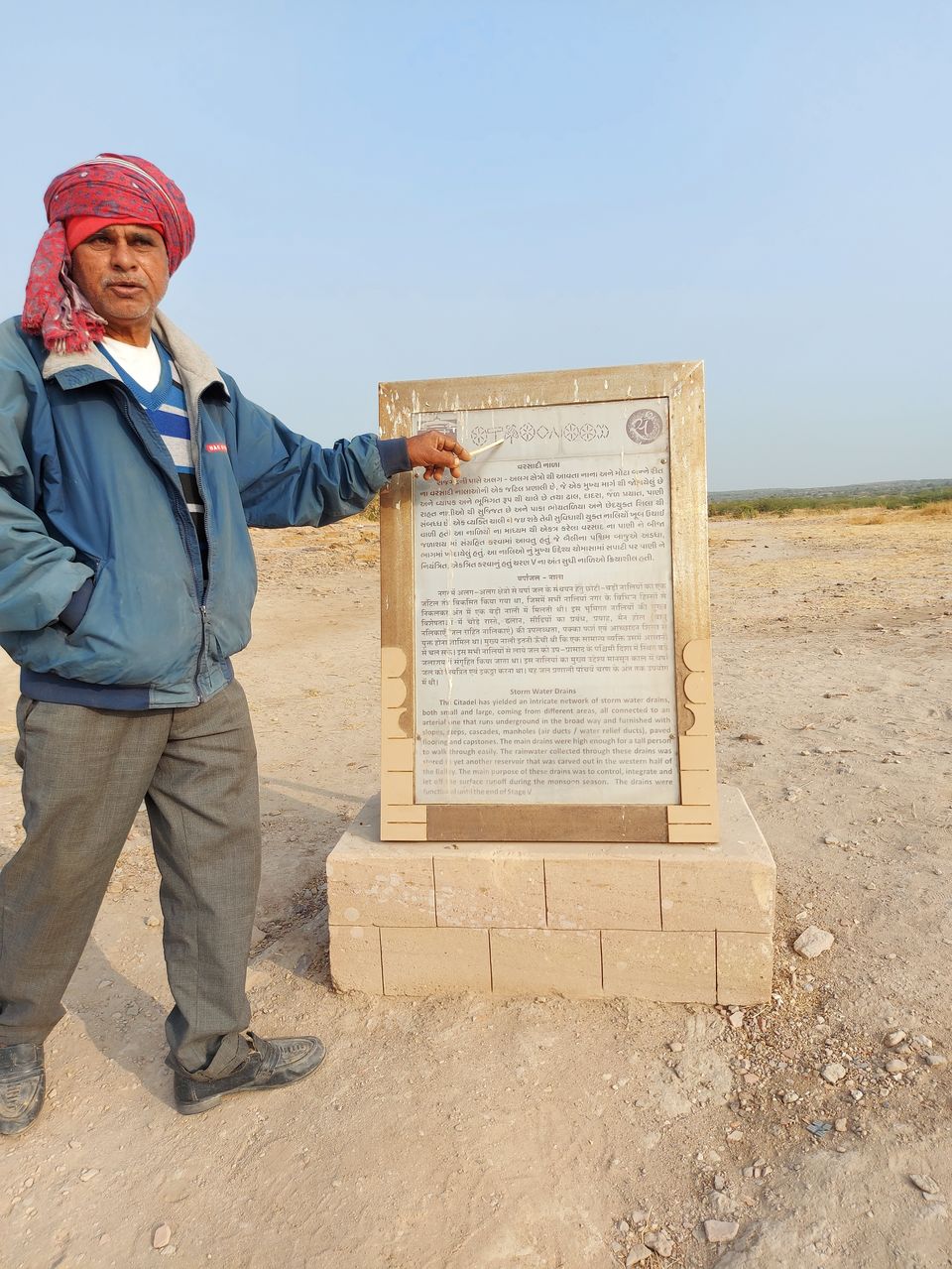 The Dholavira Signboard (ASI reproduced) with 10 mystifying letters was pointed out to me by our tourist guide. It has 10 letters, with one letter appearing 4 times. The letters were made of gypsum and fixed on a large wooden board, which fell on the ground and slowly withered away leaving the letters intact. The Harappan script is yet to be deciphered, but there are those who insist it is Dravidian in nature. Raobhai mentioned one Prof. Madhavan and gave his version of the translation, but I am afraid I understood little and can't vouch for the authenticity. Inscriptions have been found on seals, bronze implements, copper tablets and even terracotta objects. Undoubtedly, the ancient folk living in this city were literate. Then tragedy is that we are yet to understand their language. And we have no answer to the question "Where did the Dholavirans go after they had abandoned their settlement?" Did they move farther inland? Or did they get into their boats and sail south along the Arabian Sea coast? The mystery endures.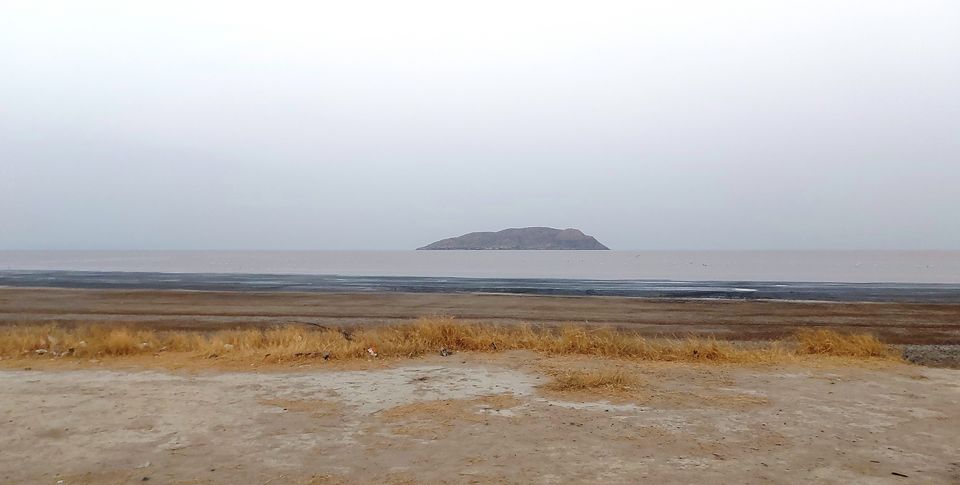 The sun had already set as we drove into the village of Dholavira on the evening of 5th January. The next morning at dawn we went to the Sunset Point and hung out for an hour. It was foggy and we could see the silhouette of an island (Bhanjno island) in the distance and hundreds of flamingoes in the water. A BSF camp stood on the water's edge, and there was small temple (Karni Mandir) from where a lilting bhajan broke the still silence of the misty morning. The only human we saw there was a lone BSF jawan who briefly spoke to us. After all, we are pretty close to the Pakistan border, we realized. It is barely 40 km to Pakistan, across the lake as the crow flies.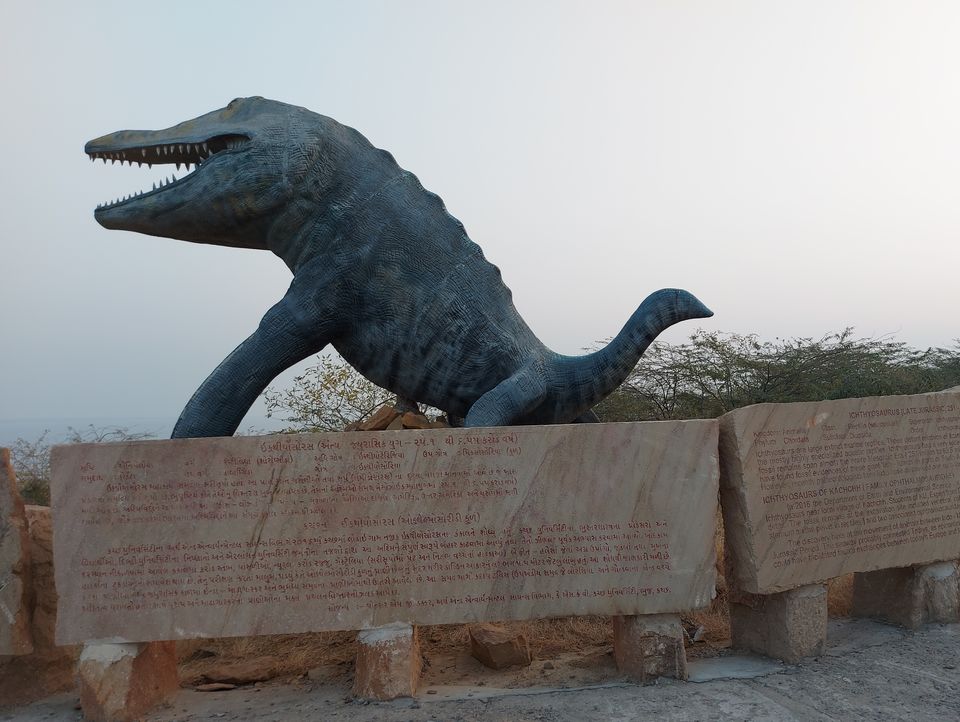 We visited to the Dinosaur Fossil Park, again located near the water's edge in another part of the island. Ichthyosaurus of Kachchh is a marine reptilian species that existed 251 to 65.5 million years ago a signboard informed us. The almost complete fossil found recently in the Kutch region (at Lodai village near Bhuj) is said to be 152 million years old. Khadirbet also contains wood fossils that are aeons old.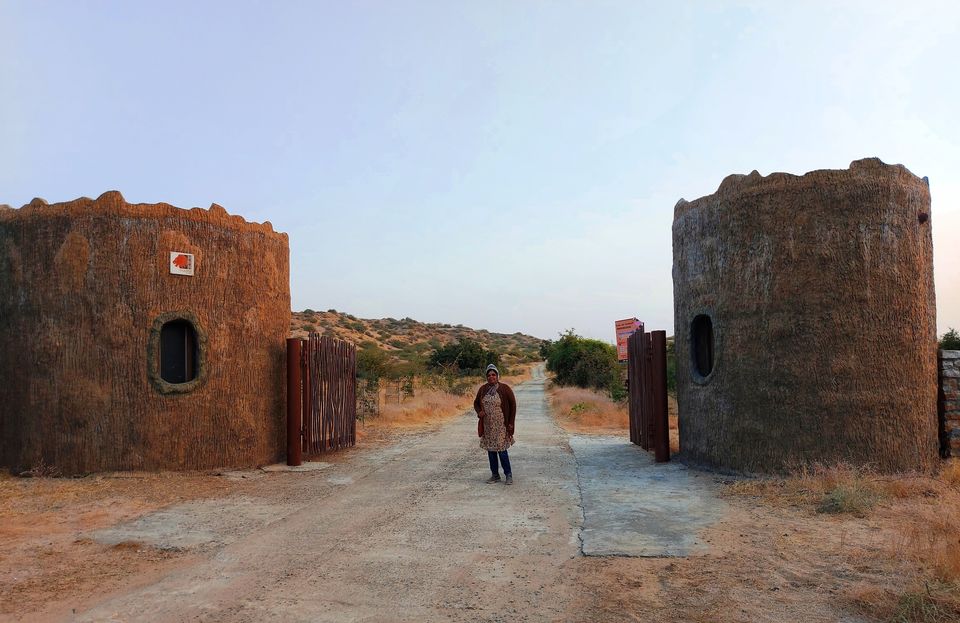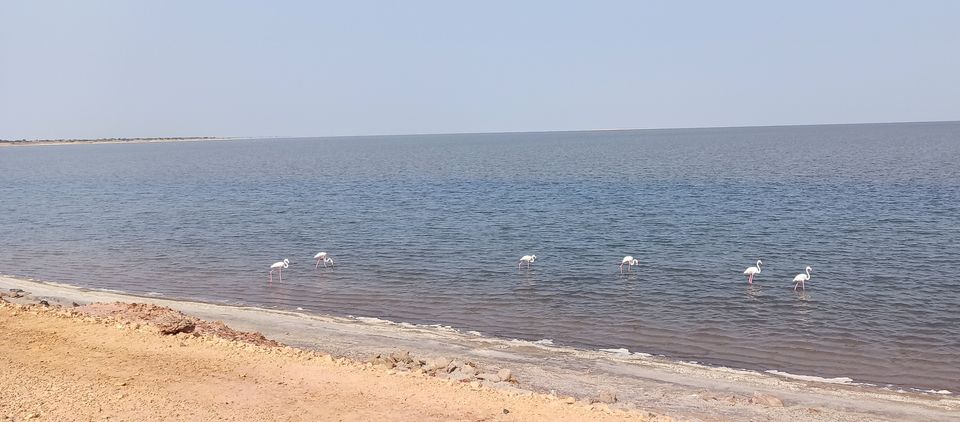 Heavenly Road
From Dholavira we drove to Hodka by the shorter route known as Heaven Road, which was really super. The 30 km stretch across a sea-water lake (Lake Kutch) that is part salt flat and part blue water, connects Khadirbet with Khavda on the mainland. The ethereal beauty of this road is something no camera can capture. We saw dozens of flamingoes en route. Humans were quite rare – only construction workers and their families. It really did feel like the road to heaven! Our joy was doubled when we met some friends from back home who were travelling in the opposite direction (from Khavda to Dholavira).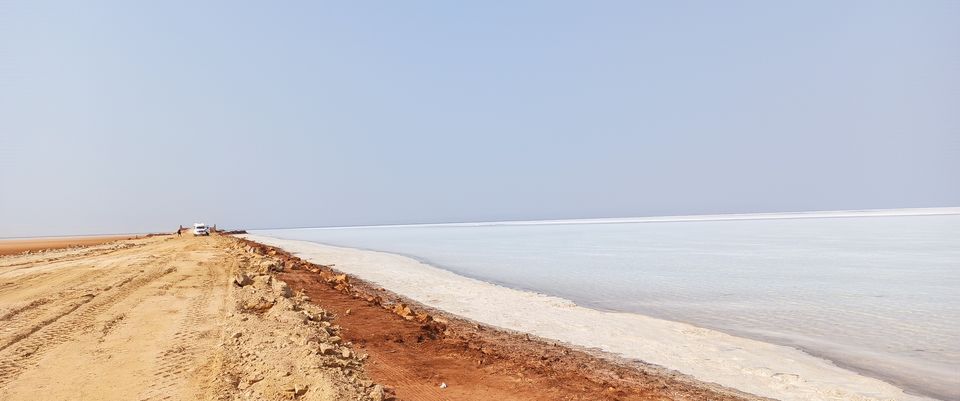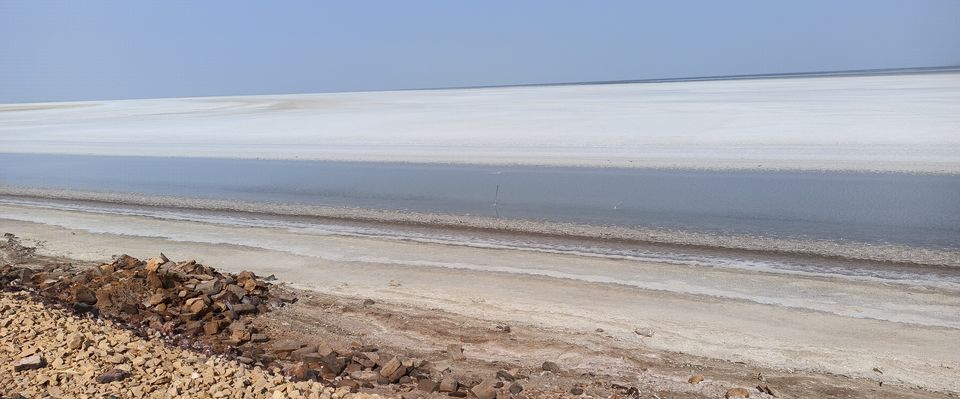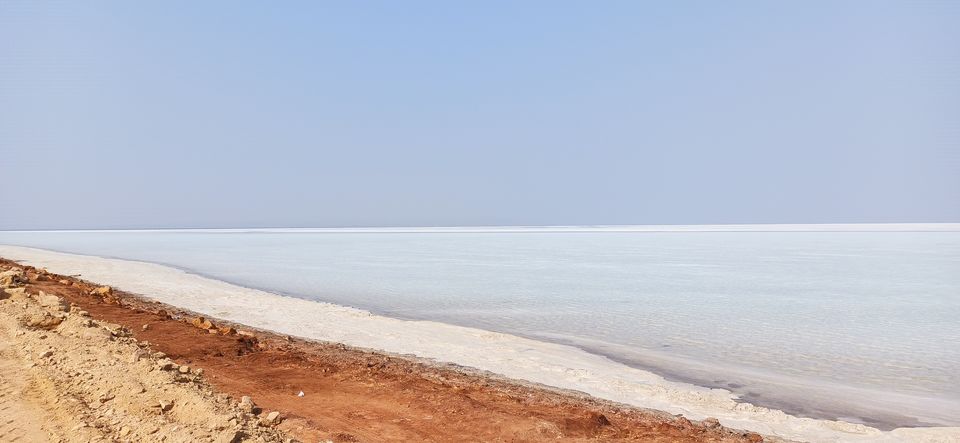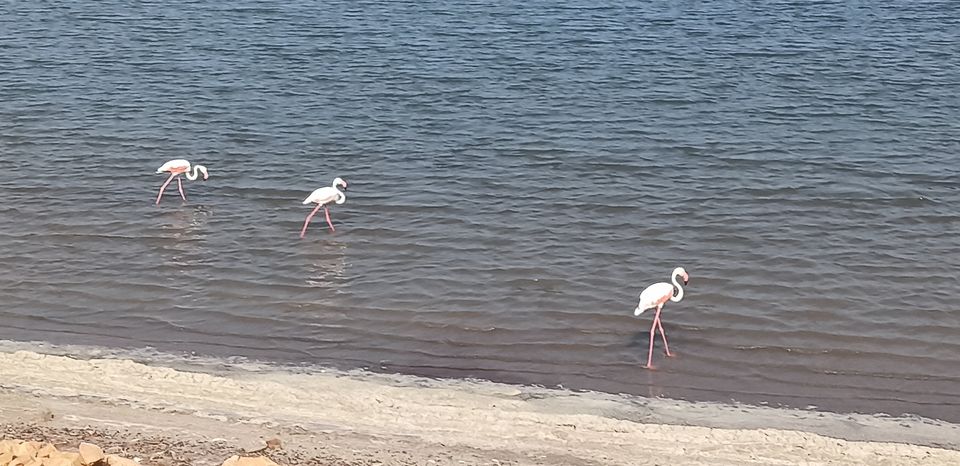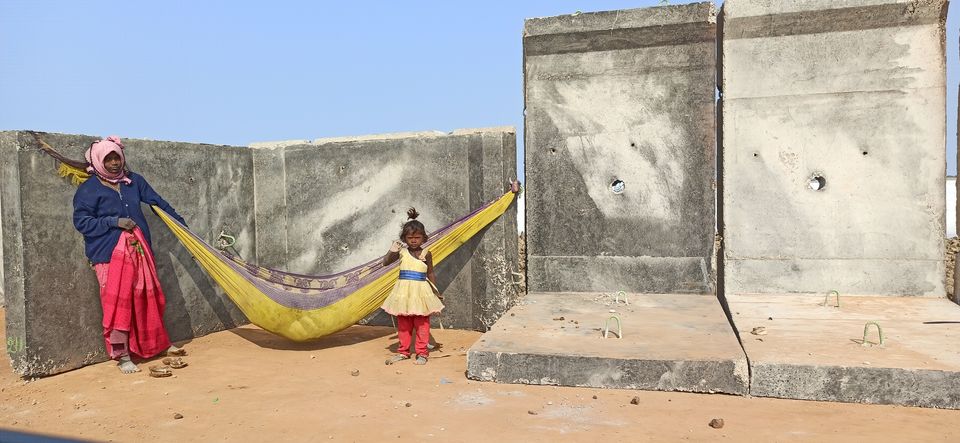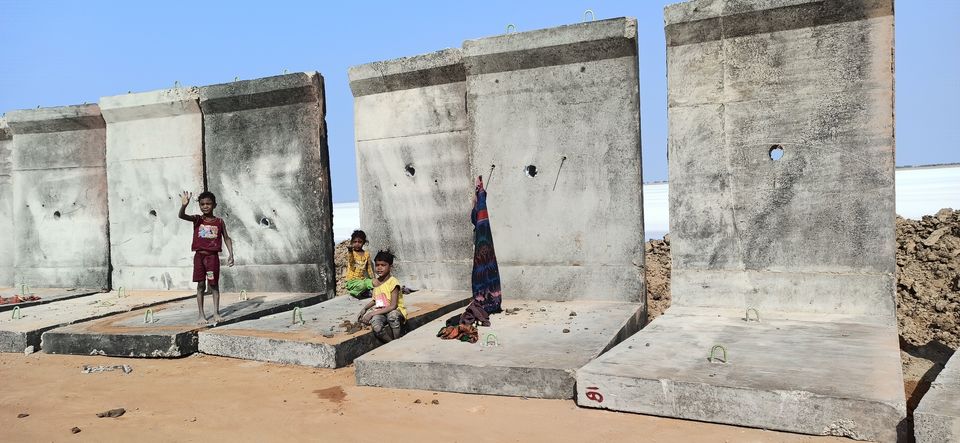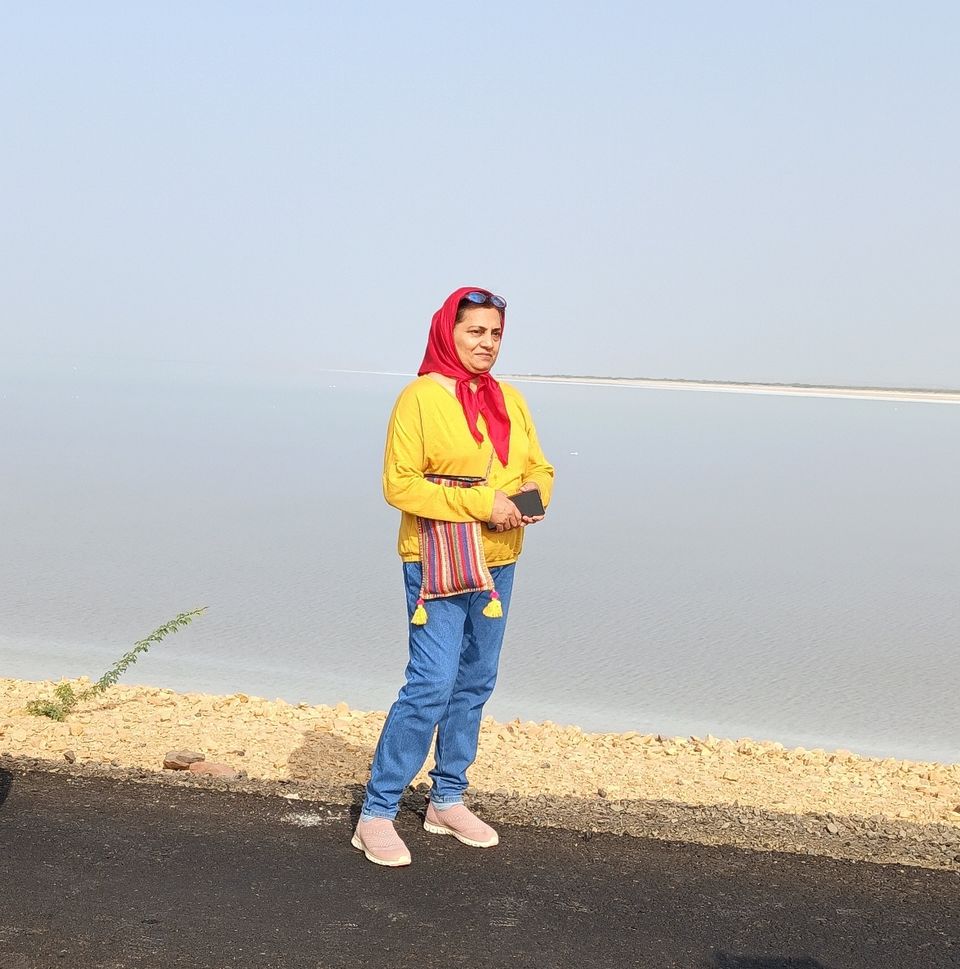 How to get there and where to stay: We stayed in an A.C. bhunga (circular mud-hut) at the Dholavira Tourism Resort which is located very near the archaeological site. The facilities were very basic, the weather was freezing and there were some initial hiccups at the time of check-in, largely due to some super bungling by a Vadodara-based travel company. The hotel staff are polite, decent and very helpful. My advice to travelers including solo female travelers is this: DIY! Do it yourself! Simply book the hotel online and hire a cab from Ahmedabad. (Call Solankhi on 9898771257). We went to Modhera first and then drove on to Dholavira. You go could to Patan to see Rani ki Vav, as this place not far from Modhera. On your return don't miss the road to heaven!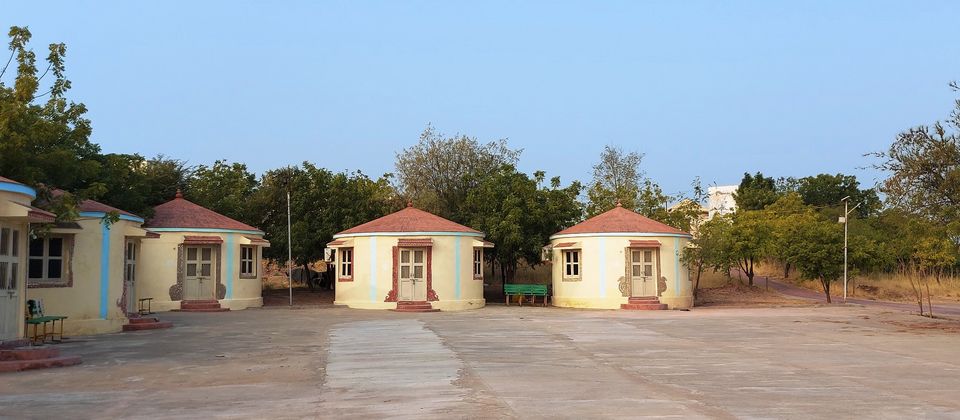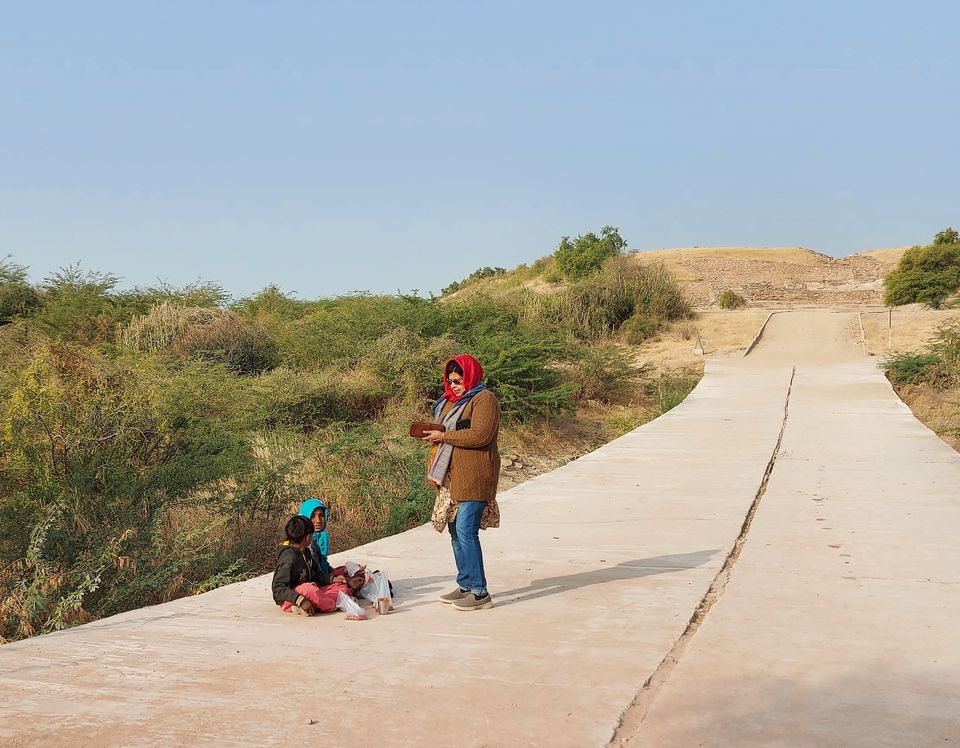 Remember: Filling up your petrol tank is mission -critical! Balasar in the east and Khavda in the west are the nearest petrol stations and they are both 60km away. If you come via Balasar and then take the Heaven Road to Khavda you will need enough fuel to take you 120 kms. Also stock up on water and snacks. The hotel water was brackish. Drink only bottled water. Learn to be a veggie and a teetotaler. It makes life much easier!