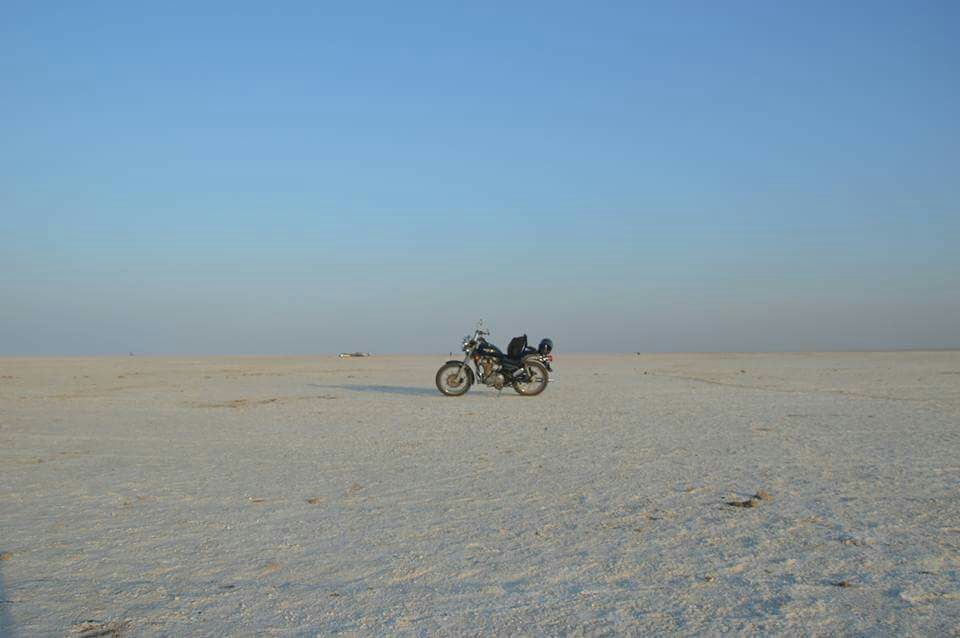 Rann of kutch....a solo ride with my love my Thunderbird.
How it all started?
I like to travel a lot. But that should be a roadtrip on my royal Enfield Thunderbird. So I was planning for a road trip for around 5 to 6 days as getting more leave won't be possible. It was long in my mind to travel to a place where there is few people, empty road and nature at its best as these things will help me spend some quality time with me. I was attracted by the advertising done by Gujarat government for rann of kutch and also many Enfield riders have done this ride. And that's it Rann of kutch was finalized . I started making the required plan for the trip as in the route to travel, places to take halt, places to visit, etc. After a lot of research the plan was ready and the days for the trip was finalized as 6 which included most of the important places like rann of kutch,kala Dunbar, dholavira, etc. When this was ready I had to fix the dates to travel so while doing so I kept in my mind that it would be awesome to visit rann on fullmoon day. As the dates where also fixed and plan being ready. I started making calls to my friends about this trip. I got the same answer from everyone as NO. Though they had their reasons but I couldn't accept that after putting so much of time for this trip its not gonna happen. Suddenly an idea struck my mind that why shouldn't I do it solo. And that's how this trip began.
Day 1:- 21/01/16
Though I was happy that I am going on a trip and excited that I would be riding solo for the next 6 days for more than 2000 km, I hadn't packed my luggage a day prior due to work commitments. Got up in the morning freshened up, packed my bags, took all my jackets, gloves, cords to tie the luggage. Even at this point of time I couldn't believe that I am going on a solo roadtrip. It was already 11 in the morning. Took all my luggage and went towards my Thunderbird. My mom was not happy as I was riding solo and many of my friends started saying you are going alone are you mad, I replied saying if you love your machine and roadtrip even you will like this madness ( filmy dialogue isn't it). Tied all my luggage. And here it was ready for the ride.
As I was Alone so I decided to drive more carefully and not exceeding 80 kmph mark. And started the ride with all the gears. Today my goal was to reach Vadodara from mumbai before it becomes dark and wanted to check into a hotel. After riding for around 100km I stopped for a short break near some place called kasa on the ahmedabad highway and had some refreshments and started to ride again. Within a couple of hours I was inside Gujarat so stopped for lunch break in a hotel nearby. I then realized that wherever I go I will only be getting vegetarian food. So for the first time I had a veg hyderabadi biriyani. I remembered teasing my friends who used to order veg biriyani saying that biriyani only comes in non veg anything other than that is pulav. The food was decent after having it I continued my ride. The highway was too good, I was constantly cruising at 75 to 80 kmph. I reached a place called bharuch and found a traffic jam for around 5 km and thought my plan to reach Vadodara is screwed. But luckily I had no carriers attached to my machine so I could easily navigate in between the trucks as I rode like this till the entire traffic at 60 kmph. Then I found out that the reason behind this traffic was a bridge was being constructed. I was riding according to my schedule and took small halts every 100 km. After riding for 408 km I reached Vadodara at 7:30 pm and started looking for a hotel. I asked some autorickshaw drivers they directed me a hotel which was bang opposite to the highway. Went in and found the rooms were clean and neatly maintained. So I checked in. The guy named Tiwari who was the in charge told me that he will provide me with a thick blanket as it would be too cold in the night . called up my home and friends that I had reached today's target safely. And finished my dinner, watched TV and went to sleep.
Day 2:- 22/01/16
Got up around 8 am freshened up and checkout from the hotel at 9 pm. Had my breakfast, went to ATM got enough cash and filled the tank at the nearest petrol pump and continued my journey. Today I had to reach a place called Radhanpur as it will be easier for me to travel to dholavira next day. Reached Ahmedabad in noon from where I had to leave the national highway and take the state highway. On the way found a hotel which serves non veg, as it was already noon, I got down from my machine and had a chicken masala with roti. Believe me it was just awesome. As now I was travelling on the state highway through the ahmedabad city it was a bit crowded. After reaching a point where I had to take right for sanand where the tata nano factory is located was a traffic at the intersection and no one seems to move. After few minutes I got some space and took my machine through it. Back on empty road.camel carts and chakanow a vehicle made by extending the body of diesel bullet were visible now. The roads were good with farms on both side. Was enjoying the solo ride talking to myself , singing and laughing. The network was strong throughout. So Google maps was working fine. It was 7 pm now and came across a decent hotel so I unloaded my luggage and checked in.
Day 3:- 23/01/16
I was excited today as it was the first day I am gonna see some place after two days of riding. So I started the ride at 9 am. As usual took money from ATM and refilled my tank had breakfast and started the ride. The road at a point passes through wildlife sanctuary before adesar. While passing through the sanctuary came across a lake, so took a short break and clicked some photos of birds on the lake and started to ride again. After reaching adesar there were two routes one was via a place called rapar which is a town and the other is through interior village. The roads via rapar were good as it was passing through a town. But by mistake I took the roads which passes through the interior villages. The roads were fine but at some places there were no roads at all. I had to Either off road or ride through mud. Be ready to get stares by the people as if you are an alien. Its very common that children's on the streets starts waving hands at you the moment they see you. At times even elders also accompany them. By noon I crossed balasar and reached little rann of kutch. And here it was witnessed the white desert for the first time in my life. I was stunned by the view. What next parked my machine got onto the white desert clicked few photos and had to continue for dholavira. By 2 pm reached dholavira excavation site. Took out my DSLR finally. There are guides available, but I chose to explore the place by my own. It was a settlement excavated from a mountain. These were the only place in India where harappan civilization is said to be found. Which dates back around 5000 BC. The settlement was well planned which had houses connected with drainage system, that too so many years before. It had wells interconnected water passage lines. As its not a common tourist place you will find only few people also there is a BSF center being a border area. The excavation work has been going through for years. Initially I planned to stay at a toran resort close to the excavation site. But I finished seeing the site by 4 pm. And still had more than two hours of day light in which I could travel another 100km. As I was driving alone I choose not to ride at night. Also for the first time in the trip i found some bikers here.I started from dholavira with a plan to halt at rapar as it was the only place where you will find accommodation after dholavira. But went ahead of it and reached the highway to bhuj after crossing chitrod. Checked into a hotel and for the dinner had Gujarati thali.
Day 4:- 24/01/16
And the day was here for which the ride was planned to ride on the rann of kutch. I was 100km far from bhuj and greater rann of kutch was 80km from bhuj. So I checked out from the hotel and started towards bhuj. As it was a full moon day I planned to stay at least till 8pm in rann. So I decided that after reaching bhuj the first thing to do is to check into a hotel as it would be difficult to search for one during night after visiting rann. It took nearly an hour to find a hotel as most of them were full due to the rann utsav and the available ones were costly. Finally managed to find one and kept all my luggage in the room and took only the DSLR and other necessary items with me. Now the destination was only 80km. I now started the ride with a smile as I was moving close to the greater rann of kutch. I had finalized to see kala Dungar, India bridge and rann of kutch. After an hour's ride I came across a border checkpoint and obtained a permit to visit kala Dungar and white rann which cost 100rs per person and 25rs for my machine. After crossing the checkpost there was two roads the straight one which goes to kala dungar and india bridge and the one to the left goes to dhordo white rann. As I wanted to stay till night at rann I choose to visit kala dungar and india bridge first. Kala dungar was some 30km from checkpost so I started moving towards it. The last 5 to 8km to kala dungar is a single and narrow inclined road difficult for two vehicles to pass at a time. Climbing this route was fun. And the scenery was good. Reached top of it parked my machine and went to the top. there were army men present , camels dressed up with colour clothes and for the first time I saw few bunch of bikers. At top is a place where Pakistan is distantly visible, clicked few photos and started for india bridge and came across other checkpost where a soldier stopped me and asked for a photo id. After showing my id I asked him where is india bridge for which he replied the one in front of you, I saw it was just a normal bridge. I asked him why people come to see this it's just a normal bridge for which he replied in a frustrated manner saying people don't understand things and come here. From there the border was around 40-80km for which additional permission has to be taken from commissioner Office in bhuj which is closed on probably closed on Sundays. There was another route to white desert from there and no need to come to the checkpost from where the permit was taken. The was like a runway straight till the end for 20 km. After crossing this reached the entrance to the white desert as soon as I crossed the entrance the road goes straight but we had to take a left into the desert and have to off road for 3-5km in the desert to reach the white desert. Finally reached it was like a white carpet laid all over , it was unbelievable and stunning. Took so many photos there. Some couples came to me asked to take photos with my machine. I sat down on the white crystals of salts waiting for the moon. Meanwhile I met 2 guys who came on their machines from Delhi and had some chat. On knowing that I had come alone they asked me to accompany them back to bhuj. We same the moonrise tried to click photos but in photos it was totally different what our eyes could see. On the way return one of the guy riding with us said the tropic of cancer passes through some place on the way. We searched for it and found it . clicked pics and started towards bhuj. As they didn't book room in any hotel we checked for a vacant room in the hotel in which I was staying and found one. Had dinner and With all my memories went to sleep.
Day 5:- 25/01/16
Officially the trip was over and now I had to ride back home from bhuj to Mumbai . so l planned to reach Vadodara by evening and stay at the same hotel where I stayed while coming from Mumbai . It was 475km from bhuj. I left early as I had ride a lot after saying goodbye to them .After few hours when I was 150km away from Vadodara my machine started giving some problem on checking found the hose pipe which carries air fuel mixture to the combustion chamber has developed cracks. So I went to the nearby petrol pump and asked for a hardware store to get some sticking tapes to stick on the cracks but it didn't stick as it had petrol on it. Asked for a mechanic he checked and said will have to replace it but we won't get hose pipe hear. So I went in search of other mechanic and found one even he said the same as the prior but a young boy working with the mechanic said he will try to do something and took M-seal and applied it over the cracks on the hose pipe. On seeing my water bottle empty he asked can I fill the bottle I have cold water with me for which I said yes. He also cleaned my machine and only charged 50rs. Everything was fine now so I started moving towards Vadodara and reached the hotel around 7:30 pm.
Day 6:- 26/01/16
This was the final day of the ride. Started to ride towards Mumbai. According to the schedule I was riding ahead of it and thought would reach mumbai soon. Everything was going fine suddenly the machine stalled it took a while to start again then after few kilometers it stopped again this happened again and again and I was 170km away from mumbai. But anyhow managed to reach manor where I found a mechanic. He checked and found fuse had melted also the hose pipe had started giving problem again. So it started again and I continued the ride. After few minutes it stalled again so took it to other mechanic he spent some time and for time being it was ok .I started the ride and finally reached mumbai by 7 pm. The most wonderful and memorable trip came to an end and the final hiccups didn't bother much as I had Enjoyed the trip a lot.