Overview
Dholavira, locally known as Kotada Timba is an archaeological site that contains ruins of an ancient Indus Valley Civilization/ Harappan City. This site is located in Khadir bet, in the Bhachau Taluka of Kutch District, in Gujarat. The name Dholavira is derived from a modern-day village that is 1km (0.62 mi) south of it and this village is 165 km (103 mi) from Radhanpur. As the most prominent archaeological site belonging to the Indus Valley Civilization in India, Dholavira is one of the five largest Harappan sites in the world. Like Lothal, Dholavira also passed through all the stages of the Harappan culture from circa 2900 BC to 1500 BC. However, most others only witnessed the early or late stages. UNESCO has declared Dholavira - a Harappan city, as the 40th world heritage site in India. Through this nomination, India has now joined the Super-40 club of countries that have inscriptions on World Heritage Sites. Apart from India, other countries have 40 or more World Heritage Sites are Italy, Spain, Germany, China, & France. It's India's first archaeological site of the earliest civilization (Indus Valley Civilization) to be included in the coveted list. In total, India has 40 world heritage sites that include 32 cultural sites, 7 natural sites, and one mixed site.
The ancient city of Dholavira, the southern center of the Harappan Civilization, is sited on the arid island of Khadir in the Kutch Desert Wildlife Sanctuary, in the State of Gujarat. Occupied between 3000-1500 BCE, this archaeological site is one of the most remarkable and well-preserved urban settlements from that period in Southeast Asia, comprising a fortified city and a cemetery. This site is the fifth largest Indus Valley Civilization (IVC) metropolis is Dholavira, after Mohen-jo-Daro, Ganweriwala, and Harappa in Pakistan, and Rakhigarhi in Haryana, India. This Harappan city is unique, since it is made up of stone, as opposed to other cities (Harappan Sites) which are made up of blocks. In this excavation, there were a number of antiques unearthed, including animal bones, terracotta ornaments, bronze vessels, seals, gold, silver and earthenware utensils, as well as a few Mesopotamian sources. There were also 10 large stone inscriptions carved in Indus Valley script, possibly the earliest signs in history. On 27 July 2021, UNESCO declared Dholavira: a Harappan City as a world heritage site.

History of Dholavira
The site was initially discovered by a resident of Dholavira village, Shambhudan Gadhvi, in the early 1960's, who made efforts to bring government attention to the location. The site was "officially" discovered in 1966-68 by Jagat Pati Joshi, of the Archaeological Survey of India (ASI), and excavated almost two decades later by R.S. Bisht in the 1990s. It is among the largest known Harappan settlements in India. After Joshi's discovery, there has been much excitement and speculation regarding the site, and the archaeological excavations conducted in the 1990s revealed many new details about this ancient city that made it one of the "most exciting discoveries of the past half-century".
R.S.Bisht writes in his ASI report that the 1990s excavations uncovered the remains of a Harappan city. The remains have elaborate fortifications, fine water structures, and successive settlements that are characterized by intricate planning over the course of a millennium. Thus, Dholavira not only witnessed the phases of the Harappan culture, but also an antecedent culture often referred to as the pre- Harappan culture, as well as a relatively impoverished post-Harappan culture for a short period.
Architecture
Dholavira stands out in its distinctly Harappan town planning, which while adhering to some of the typical Harappan norms, remains distinct from an overall viewpoint. The acropolis (citadel built on a hill) is within the city, but there are two fortified enclosures of similar size (Lothal & Kalibangan) termed 'Bailey' and 'Castle'. However, Lothal and Kalibangan are divided into upper and lower towns within the city. Dholavira has three parts- an acropolis or the upper town, a middle town, and a lower town. The acropolis and the middle town, presumably the home of the city's ruling class, were insulated on all sides with wide open areas and thick fortified walls. With its neat crisscrossing of broad streets at right angles, the middle town might have been home to traders and craftsmen. An interesting feature of this area is the presence of a large ceremonial ground (similar to a stadium), which may have been used for elaborating public events. The towering "castle" is protected by double ramparts. Next to this stands a place called the 'bailey' where officials lived. Below the middle town lies the lower town, where common workers probably live.
A unique aspect of Dholavira is the extensive use of stone in construction. During the excavations, every part of the castle, from its fortifications with mud bricks flanked by stone walls, to its rooms with dressed stone pillar segments (circular and square) were discovered in their original positions.
Reservoirs
According to R.S.Bisht (Retired as the Joint Director-General of the ASI), the Harappans of Dholavire developed an efficient system for conserving, harvesting and storing water. It is clear that their hydraulic engineering was advanced, given the state of technology at the end of the third millennium BCE". One of the unique hallmarks of Dholavira is the water conservation system of channels & reservoirs, built primarily of stone. Along with the wells, the city also built some of the most impressive water reservoirs. These include one to the east of the castle and one to its south, near the Annex. Of the two largest, one is cut out of huge rock, and is considered the earliest example of rock-cut water reservoir.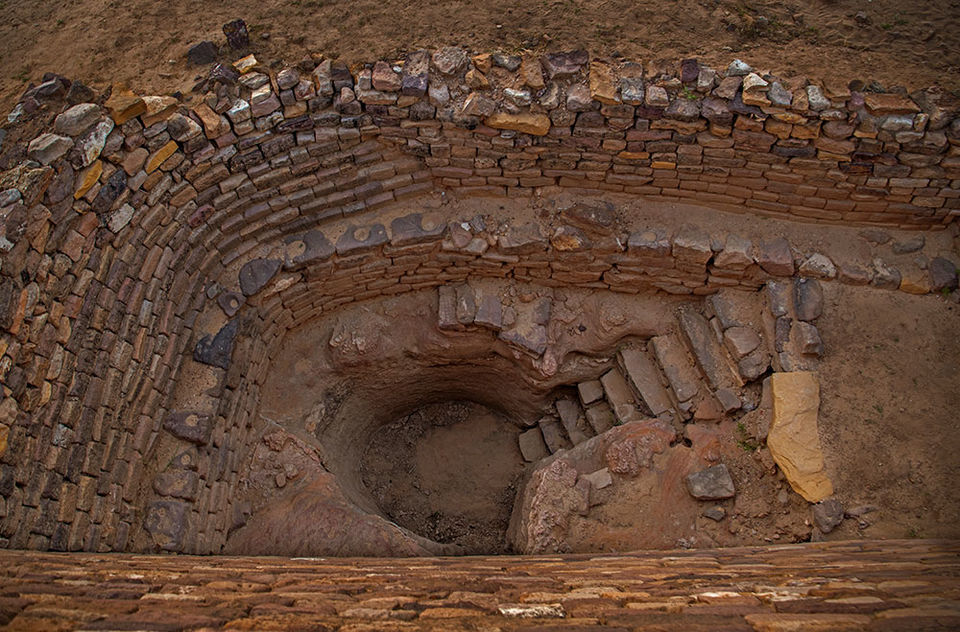 The reservoirs are cut vertically through stone and are about 7 m (23 ft) deep and 79 m (259 ft) long. They skirt the city, while the citadel and bath are centrally located on sloping ground. In addition, there is a large well that has a stone-cut trough that connects to a channel drain for conveying water into a storage tank. This created many more natural reservoirs that would have given the town a lake-like appearance during the rainy season. The bathing tank had steps descending inwards. In October 2014, excavations began on a rectangular stepwell that measures 73.4 m (243 ft) long, 29.3 m (96 ft) wide, and 10 m (33 ft) deep, three times larger than the Great Bath of Mohenjo Daro.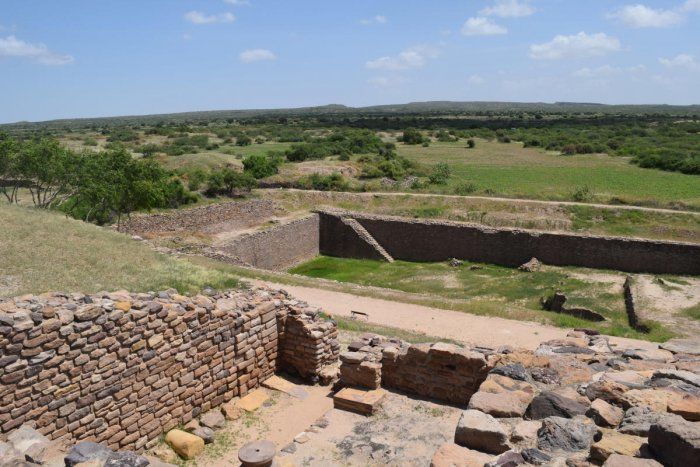 The 120-acre quadrangular city was surrounded by dams that directed water to the lower town area from two seasonal streams, the Mansar in the north, and Manhar in the south. One of the most famous artifacts from this site is a nearly 3 m long inscription made up of carefully cut pieces of crystalline marble. However, because of faint markings on its upper parts, it appears to have been engraved on a wooden board. The wooden plank would have been hung somewhere on the northern gate, visible to the middle town.
A majority of the inscriptions were found on seals (mostly made of stone) and sealings (pieces of clay on which the seal was pressed down to leave its impression). At this site there is also a four-sign inscription with large letters on sandstone that is considered to be the first inscription on sandstone at any Harappan site. Even though the inscription doesn't help to translate the Harappan script, its discovery in the field of archeology has certainly been identified as 'the discovery of the decade,' as V. N. Mishra deemed it.
Other Structures & Objects
An enormous circular structure on the site is believed to be a grave or memorial. However, no skeletons or human remains were found. This structure consists of ten radial mud-brick walls shaped like spoked wheels. There was a soft sandstone sculpture of a male with a phallus erectus, but the head and feet below the ankle truncated. In addition to pottery pieces, terra cotta seals, bracelets, rings, beads, and intaglio engravings, many funerary structures have been found (although none contained skeletons).
Hemispherical Constructions
In Dholavira, seven hemispherical structures were excavated, of which two have been excavated in detail, which were built over large rock cut chambers. One of the excavated structures was designed in the form of a spoked wheel, while the other was designed in the same fashion, but without spokes. Although they contained pottery burial goods, no skeletons were found apart from one grave, where a skeleton and copper mirror were found. In one of the hemispherical structures, a necklace of steatite beads strung to a copper wire with hooks at both ends, a gold bangle, gold and other beads were also found. A report by the Archaeological Survey of India describes these hemispherical structures as reminiscent of early Buddhist stupas.
As an exemplary model city that demonstrates proto-historic India's achievements in high-level urban planning and top-notch engineering skills, Dholavira possesses stories from the pre-Harappan era, as well as exhibiting unique urban planning, and has an advanced and well-developed water conservation system. A UNESCO World Heritage Site tag that it recently received is richly deserved.
Nearby Attractions
1) Great Rann of Kutch is about 20km from this archaeological site, which is famous for its white salty desert sand and is reputed to be the largest salt desert in the world. The word 'Rann' is derived from the Sanskrit word 'Irina' which means 'desert'.

2) Narayan Sarovar Sanctuary is about 196km away from Dholavira, which is famous for its sandy desert. This desert is home to 15 species of wildlife and desert plants with spikes and thorns.
3) Dhordo Village is about 95km from Dholavira, located on the Indo-Pak border, north of Bhuj, and is famous for its White Desert, birdwatching, and craft villages. With the Kutch Rann Utsav (December - January) Dhordo has become a renowned tourist destination.
4) Kutch Museum (Bhuj) is roughly 130km away from this archaeological site, in which the Kshatrapa inscriptions from the first century AD are on display, along with examples of the extinct Kachchhi script. Established in 1877 by Maharao Khengarji. A section of the museum is devoted to tribal cultures, with many examples of ancient artifacts, folk crafts, and information about tribal cultures. There are also exhibits of embroidery, paintings, arms, musical instruments, sculpture, and precious metalwork.
5) The Great Indian Bustard Sanctuary also known as the Lal-Parjan Sanctuary, is about 215km from Dholavira, and is the second main location for the conservation of the Indian Bustard. Despite being only 2 square kilometers, this is one of the smallest bird sanctuaries in the country, but a thriving breeding ground for endangered species. This semi-desert area allows the 'Ghorad' (local name) to feed on cereal crops.
Where To Stay
Dholavira has several mid-range resorts and Heritage hotels that offer budget accommodation such as Toran Hotel Narayan Sarovar, Vijay Vilas Palace Heritage Hotel (Mandvi, Kutch), Holiday Village Resort (Gandhidham, Kutch), The Bhuj House Heritage Hotel (Kutch), Mahefeel E Rann Resort (Kutch), and JP Resort (Nakhatrana, Kutch).
Timings
Dholavira in Kutch is open from 6 am to 8 pm in the evening.
Best time to visit
The best time to visit Dholavira is during the winter months from October to March. Monsoon is also a good time for those who are planning their trip to Dholavira but the summers are unbearably hot and humid.
How To Reach
By Road: Dholavira is 250 kms from Bhuj and is reached via Bhachau and Rapar. There are many state-owned buses, taxis available to reach Dholavira. The option of renting a vehicle is also available.
By Train: There are no direct trains available to reach this archaeological site. You can cover a part of your journey by train and the nearest railway station to reach Dholavira is Samakhiali, just 137 kms away. There are three major railway stations nearby: Bhachau, Gandhidham, and Anjar, each located 152, 187, and 191 kilometers away. After that, one must take a bus or a cab to get to this magnificent location.
By Air: The nearest airport from Dholavira is Kandla airport, situated at a distance of 191 kms. Another reachable airport is Bhuj (215 kms away).