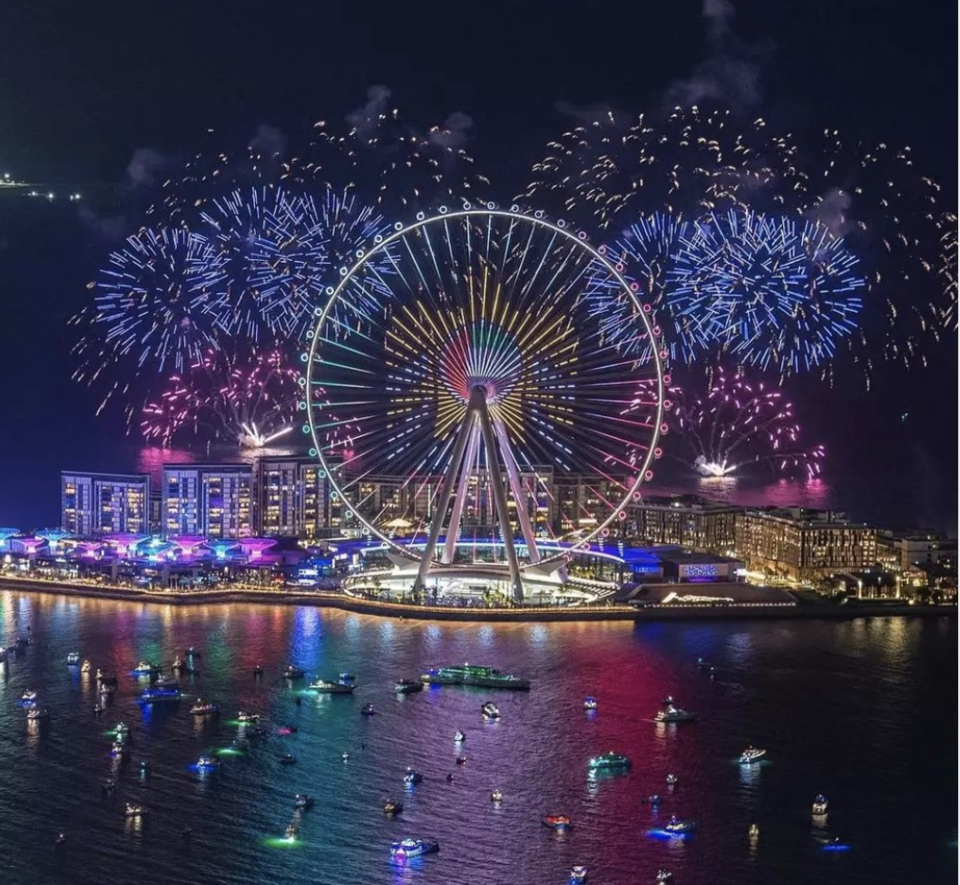 World Expos have provided an excellent platform for cities to showcase the latest innovations in the world for over 170 years. Be it the first live TV broadcast or the world's first telephone, there has always been something exciting to witness, and the latest edition, Expo 2020 Dubai, is no different.

The exposition is taking place in Dubai from 1st October 2021 to 31st March 2022. A first of its kind to be held in the ​​Middle East, Africa and South Asia, it has already set a new bar for the creative and cultural experience that host cities can achieve on a global platform. With the theme 'Connecting Minds, Creating the Future,' Expo 2020 Dubai covers innovations related to sustainability, opportunity and mobility.
What does this mean for visitors? We've handpicked the top 50 must-have experiences at Expo 2020 Dubai to cater to varied interests. Whether you're a foodie, music lover or enjoy sports, there's something for everyone!
1. Travel the world through 200 plates
Explore cuisine from around the world through the 200+ eateries at Expo 2020 Dubai. With award-winning celebrity chefs and unique dining concepts, it is a paradise for food lovers.
2. Get your Expo passport stamped from 192 countries
Most travellers bit by the travel bug dream of having their passports stamped by all the countries of the world. For now, you can get your Expo passport stamped at each country's pavilion, making it a perfect souvenir to take back home!
3. Rendezvous with robots
Ever dreamt of interacting with robots? Now you can do just this at Expo 2020 Dubai! Terminus Group has deployed over 150 robots to perform a range of tasks at Expo 2020 and you can interact with them to help you with everything from food and beverage delivery to other hospitality services!
4. Become an artisanal baker
Who knew that Expo 2020 Dubai would offer artisanal baking classes? Don a baking apron, put on your gloves, and try your hand at artisanal baking with a London-based bakery.
5. Ride a carousel
Ride the Venetian 'Around the World' carousel at Expo 2020 Dubai. The beautiful hand-painted images of past World Expos here are unmissable!
6. Put on your running shoes
For running enthusiasts, Expo 2020 Dubai offers running programmes with participants from 192 countries! The Dubai Expo Run the World Golden Jubilee Edition marks the 50th anniversary of the UAE. The trail passes Ghaf Avenue and all three thematic districts of the Expo - making it an experience you do not want to miss!
7. Enjoy your time at an interactive playground
From 'zero-gravity' chambers to giant swings, Expo 2020 has an interactive playground for children and adults alike!
8. Experience the Talabat Kitchen
Boasting 30 food concepts with cutting-edge technology and robotics to reimagine the dining experience, the two-storey Talabat Kitchen offers an unparalleled dining experience!
9. Devour a meal at the world's first African Dining Hall
Enjoy African cuisine prepared by acclaimed African chefs from around the world at the African Dining Hall. You'll also get to learn about African cuisine, culture, and art here.
10. Take a space-age selfie
Put on Emirati astronaut Hazza Al Mansouri's spacesuit at Terra Auditorium and take a selfie that will surely stand out in your picture album!
11. Talk about the planet, for the planet
Join the Programme for People and Planet to engage in conversations around how to tackle the environmental challenges of our time - because there is no Planet B!
12. Listen to fascinating stories about World Expos and UAE culture
Spend an afternoon listening to renowned Expo historian Charles Pappas as he narrates fascinating stories and facts about World Expos and UAE culture.
13. Participate in myriad sporting events
If you enjoy sporting activities, Expo 2020 Dubai has a bunch of interesting ones from around the world on offer. Free activities, exhibition matches, and a fitness hub and more – there's something for everyone.
14. Learn how to make quilts
Attend a quilting workshop and take home a beautiful quilt stitched by you! The workshop is conducted by Majidi Kabiriti, filmmaker and quilting instructor from Jordan at Hammour House.
15. Chill with whales
Spend quality time with humpback whales at Rashid's playground, where you can hop onto the back of one of them. This is sure to be an exciting experience for your young ones if you're travelling with family.
16. Witness a live cooking show
Curious about what happens behind the scenes of cooking shows? Witness one live at the Rising Flavours food hall. You can also explore rotating culinary pods and other fine-dining restaurants.
17. Design an aircraft
Ever imagined designing your own aircraft? Try your hand at aircraft cabin design at the Emirates Pavilion using materials of the future!
18. Learn how fish can be used for farming
UAE has sunshine, sea and sand in abundance, and the Desert Farm is making the most of these natural resources by showing how saltwater and fish can be used to grow crops.
19. Enjoy the night lights
Bring in the night with magical lights at the night-time lights festival at Expo 2020. Witness light installations and projections to brighten your evening and capture footage for the 'gram!
20. Learn about Nigeria's journey towards zero hunger
Nigeria has long been a pioneer in leveraging technological solutions to tackle agricultural challenges. Learn about their journey towards achieving zero hunger and be inspired.
21. Visit a solar-powered home
What does an energy-efficient home look like? Visit a solar-powered home of tomorrow at the Dewa Pavilion that features a drone-delivery hatch and weight-measuring bathroom floor.
22. Devour a Michelin-star meal
Chefs from Michelin-star restaurants are presenting their signature dishes at the Jubilee Gastronomy Restaurant, which flaunts a rooftop lounge with a view to remember!
23. Visit the Service Station of the Future
The Service Station of the Future is a cutting-edge, solar-powered, carbon-fibre canopy. It is inspired by the structure of the ghaf tree - Dubai's national tree known for its resilience to harsh weather conditions. This station is a must-visit if you're at the Expo!
24. Pick up a souvenir at the World Souq
Pick up an ethically sourced handicraft from the World Souq Pavilion, which features artefacts from around the world.
25. Jam to Expo Beats
If you're a music lover, don't miss the monthly musical 'Expo Beats', which showcases music from different parts of the world.
26. Check out the SpaceX Falcon
Seeing the SpaceX Falcon rocket at the USA Pavilion is a once-in-a-lifetime opportunity. You can also see rocks from the moon and the US Mars Rover here. Let this be the first thing you see at the Expo!
27. Experience Al Wasl at dusk
Catch the dome of Al Wasl at dusk as it comes to life with lights. With blue, red, orange, and purple hues, the structure looks magical at night and is sure to transport you to a dreamy land.
28. Visit the Mobility Pavilion
Reach for the stars at the Mobility Pavilion and learn about mobility innovations that forever changed the world. Attractions include the world's largest passenger lift that can transport 160+ people at a time and mission control.
29. Witness the magic of Hyperloop
Get a glimpse of high-speed technology that is likely to power the future of travel at the Spain Pavilion, which features a six-meter hyperloop carriage model for you to marvel at.
30. Spend some time outdoors
If you thought Expo 2020 Dubai was all indoors, you're mistaken! Take an afternoon stroll, picnic in a park marked by food trucks, and enjoy the outdoor live performances.
31. Enjoy a poetic evening
Bring out the poet in you by attending the monthly gathering of world-renowned and emerging poets from the Middle East.
32. Experience a renaissance reproduction
Don't forget to check out a five-meter tall copy of Michelangelo's David at the Italian Pavilion. It's quite the sight!
33. Jam with the Khaleejis
Join a khaleeji-led jam session with Jalsat @ Expo, an excellent initiation into Arabic tradition.
34. Witness water and mushroom harvestation
Witness water being created out of thin air at the Netherlands Pavilion and mushrooms growing on walls through temperature-controlled methods, offering a multi-sensorial experience.
35. Play with robotic penguins
The Monaco Pavilion boasts of robotic baby penguins run on cutting-edge technology. Visitors can play different games with them, from 'jump and run' games to more complex challenges.
36. Vibe with the Al Wasl Opera
Listen to Dubai's most exceptional school choirs perform extracts from the Al Wasl Opera and vibe with the melodic music.
37. Enjoy the Virtual Expo with augmented reality
Can't make it to the Expo in person? Not to worry - you can attend it virtually as well! The Virtual Expo has its own offerings and promises to keep you equally engaged.
38. Go sight-seeing on an air train
Experience a thrilling sightseeing tour on the world's first compressed Air Train at Expo 2020 Dubai.
39. Walk through a garden in the sky
Take a walk in the Garden in the Sky and enjoy panoramic views from its 55-metre-high upper deck.
40. Enjoy an immersive water, light and fire show
Visit the 14-metre-high Water Feature at the Expo and enjoy immersive water, light and fire shows set to the soundtrack of 'Game of Thrones'!
41. Listen to a Beethoven-inspired robot-band
The Germany Pavilion's Culture Lab has a robot orchestra performing classical, acoustic, rock, electronic, and fusion music. Needless to say, this pavilion is not to be missed!
42. Perform evening prayers with Isha
Performed in a setting with gold and white marble pillars inspired by the Sheikh Zayed Grand Mosque, night prayers at Al Wasl conducted by several award-winning Imams will surely cast a spell of tranquillity on you and are worth experiencing.
43. Experience a nature lover's paradise
If you love plants and flowers, the Expo's 2,20,000 sq.m. nursery is a must-visit. It is home to over 12,000 trees, 2,56,000 shrubs and thousands of flowering plants!
44. Explore the World Expo Museum
There's so much history attached to past World Expos that it needs a museum for itself! Visit the World Expo Museum to learn about past innovations and their real-world impact.
45. Listen to the Firdaus Orchestra with A.R. Rahman
This is your chance to listen to an orchestra directed by the oscar-winning composer and singer extraordinaire, A.R. Rahman! The Firdaus Orchestra is a pioneering women's ensemble — one of a kind in this part of the world!
46. Get a glimpse of old Dubai
Go back in time with a slow walk through the old, charming lanes of Dubai and learn about its illustrious past.
47. Don't miss the Design Hub
Make sure to check out the MENASA – Emirati Design Hub space that showcases local design talent and has a range of handicrafts, accessories, clothing and other lifestyle products for sale.
48. Enjoy an open-air pavilion
Engage with Emirati storytellers and artists at Sameem, an open-air pavilion.
49. Celebrate female change-makers
The Women's Pavilion showcases the many achievements of women from around the world.
50. Keep hope alive
Stop by the Opportunity Pavilion to renew your sense of hope and optimism for a post-pandemic world. It is inspired by three individuals – Mariam, Abel, and Mama Fatma — and their community work concerning food, water and energy.
One day may not be enough to explore everything there is to offer at Expo 2020. With such a diverse set of pavilions and activities, Expo 2020 Dubai promises an exciting outing for all age groups. It caters to a wide range of interests and is a once-in-a-lifetime opportunity to witness so many path-breaking innovations in one place.
For more information about Expo 2020 Dubai, download the Expo 2020 Dubai App. There are various ticket categories, including bundles like Season Pass (Rs 10,767), Multi-Day Pass (Rs 4,232), and Family Package (Rs 20,391). You can opt for the one most suitable for you to make the most of your visit.
Explore Tripoto's guide to Dubai for the best tips and recommendations for the perfect trip to Dubai!
In association with Dubai Tourism Board.
Think we missed out on something? Tell us about it in the comments below. Or write about it here on Tripoto and earn Tripoto Credits!
Watch travel stories come to life with Tripoto on Youtube!