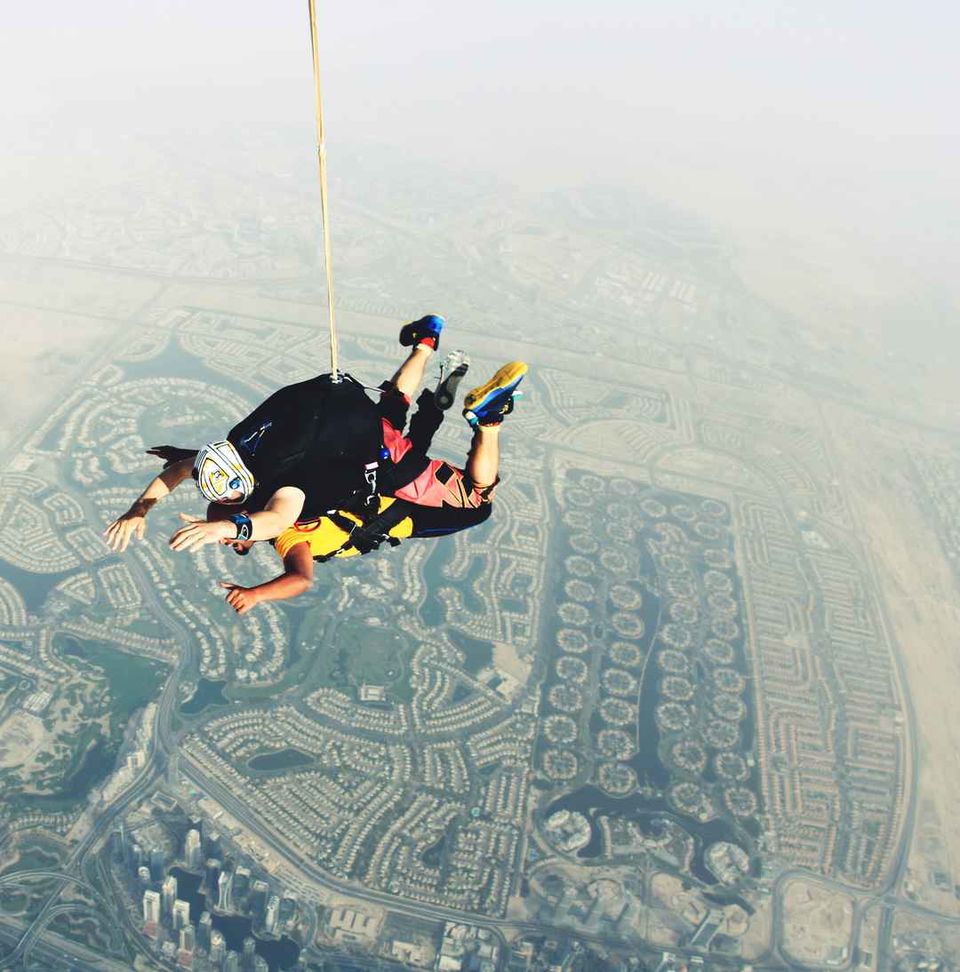 "Don't you get tired after doing this all day", one of the participants asked Ethaan, my instructor. Ethaan's reply: "The most number of skydives, by one person in a single day is 625. Here, we do 4 at max a day. What do you think??"
Videos of people challenging themselves to the farthest limit possible always enticed me. It was decided that I would too, do the same. A skydive sounded exciting, in Dubai. Why???, Because it was (then supposedly), the best location in the world for an activity of such sorts.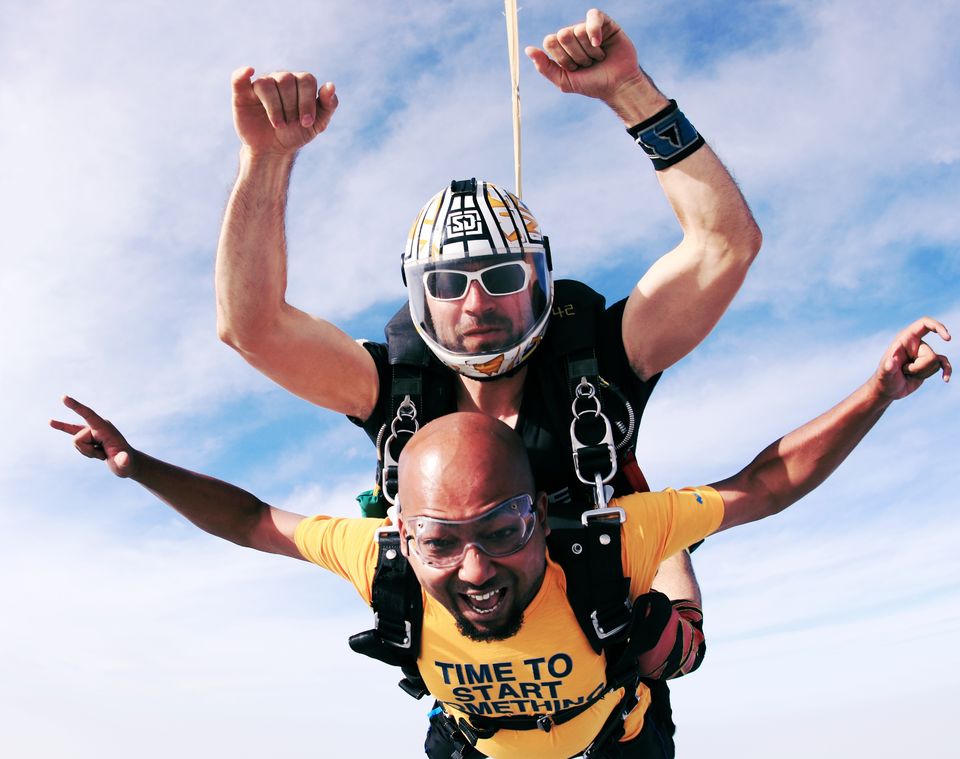 Planning
It took me little time to figure out (from the net) that I wanted to do this with "SkyDive Dubai". All you have to do is make a 50% online payment in advance, and the balance (preferably in cash) on the day of your dive. They offer this experience at two spots: Palm Islands and the Desert. I chose Palm Islands.
Basic Requirements
Please note that the basic requirements, are available on the website. My advice: If in doubt, call and get clarified.
From personal experience, please mind the following:
1. Your weight.
2. Breakfast moderately on the morning of your dive.
3. Use contact-lenses, if you're otherwise using spectacles.
P.S: They checked my weight was checked on the day of diving.
My Preparations
Since I went to Dubai, exclusively for the SkyDive, I had to ensure that it was not cancelled due to any mistakes on my part. For me, it was a green signal on all aspects;
Just so that I don't put on any weight, I drank more green tea and ran a lot more than usual.
The Big Day
1st Day: I was scheduled to dive on March 30th, (which happens to be my birthday). After a moderate breakfast, I was out to report at the site for my dive. It was just then, that I received an email, informing me that my dive has been cancelled due to unfavorable weather conditions. It hurt, because I waited for this for months. My entire plans for the day got disrupted. But there wasn't anything that can be done about the weather.
They gave me three options:
1. Cancel and get back refund.
2. Gyro-copter trip over Palm Islands.
3. Reschedule dive on next available day.
I decided to reschedule and was awarded a slot on 1st April (the last day of my trip).
2nd Day: I was apprehensive of the weather, as two days back my plans were disrupted. It was windy and masses of dark clouds filled the sky; today however, there wasn't any cancellation email in my inbox.
I reached the site and was led in to the reception.
As if the previous blow wasn't enough, I was informed that "As of now all Skydive Operations are on hold", due to unfriendly weather conditions. However, the staff members were still hopeful that things would be better; and saying so, they completed all my pre-checks and documentation formalities.
As I waited over an hour with uncertainty, they announced eventually that the parachuting operations would be resumed shortly. And surely enough, my name was announced a few minutes later.
Advice before gearing up:
1. Use the loo. Otherwise your dive would be a complete disaster.
2. Don't wear any jewellery, watches and gadgets.
Final Checks:
After I was given the basic instructions, and harnessed with the equipments, a quick video interview was done. This was repeated (after my dive) to record my immediate reaction to the experience.
Meeting My Team and getting on-board
My instructors Ethaan and Sabi, were both from Ukraine.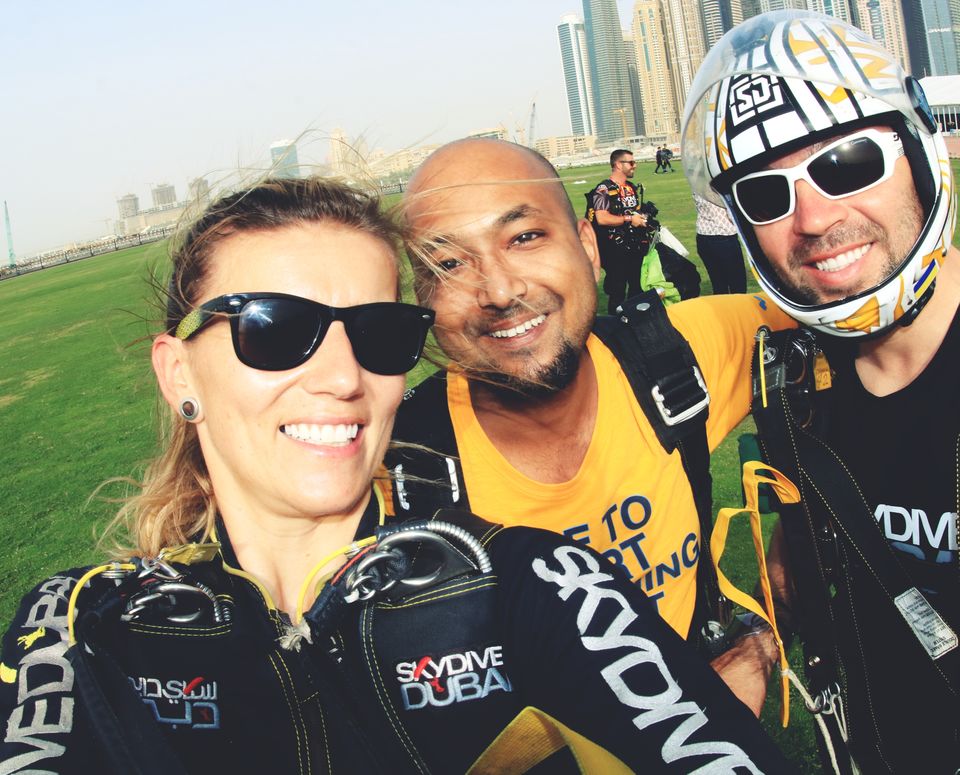 Ethaan would be jumping with me. While on-board, he attached his parachuting suit to mine, and quickly made me go through the basic instructions once again.
Sabi, would be recording the whole dive. She jumped a few seconds earlier than me, got in position and recorded the whole activity.
From the plane we were shown the Palm Islands and the Burj-Al-Arab at a distance.
The jump was an exhilarating experience. I had a bird's eye view of a magnificent city. As we glided down Ethaan taught me to operate the parachute. Sharing too much would spoil the fun.
It was one of my many dreams come true, and totally worth all the pains I took to make it a success.
Thanking everyone around the globe, associated with parachuting sports.