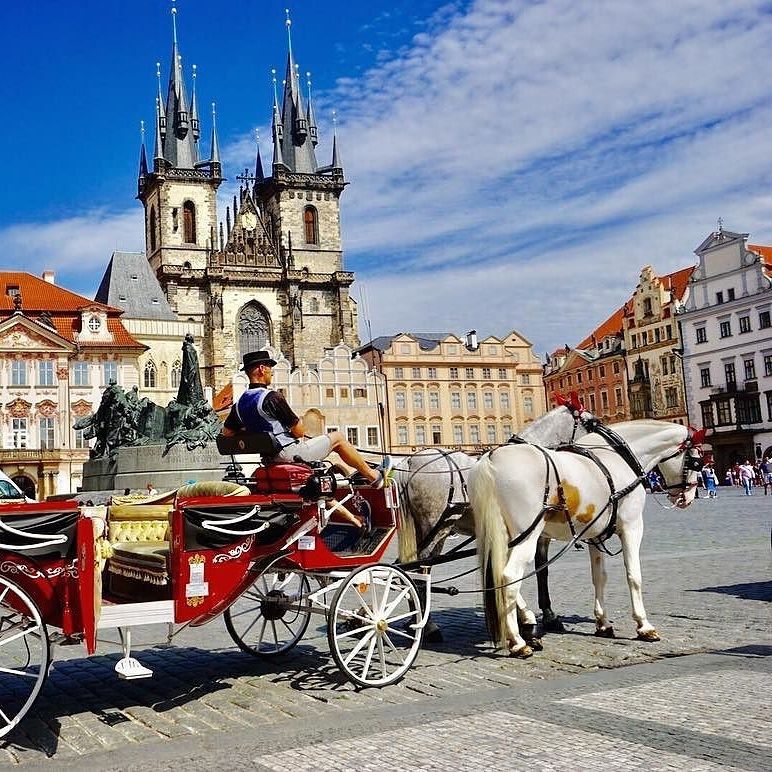 Spring is an amazing time to travel. The weather is getting warmer, days are getting longer and there is plenty of daylight for loads of sightseeing! Additionally, it's also shoulder season (the straddling months between high season and low season) for most European destinations. This means cheaper accommodation and flights! The other huge advantage of travelling in spring is shorter queues. What's not to love?
Furthermore, Europe comes alive in springtime. As the cold subsides, the European nations head outdoors to celebrate. Here are some of the spring highlights the continent has to offer:
RHS Chelsea Flower Show, London (England)
The RHS Chelsea Flower Show takes place in London from May annually. Be dazzled by colourful flowers, innovative garden designs and amazing horticultural exhibits. Once you're done, stick around to explore and enjoy the festive atmosphere around Chelsea.
King's Day (Netherlands)
The Dutch celebrate some of their biggest and most important holidays in spring. Dress in orange and help the locals celebrate their king with street markets, live music and brightly decorated boats on King's Day (known locally as Koningsdag) on 27 April!
Prague Spring Festival (Czech Republic)
Fans of classical music and opera will be dazzled by the Prague Spring International Music Festival. Running from 12 May to 6 June 2018, this historic music festival features top soloists and orchestras from all over the world.
Palm Sunday & Easter Week at the Vatican, Rome (Italy)
Rome is the top European destination for Easter week, or Settimana Santa, which starts on Palm Sunday with a special mass said by the Pope in Saint Peter's Square, Vatican City. On Good Friday there is a Papal Mass at the Vatican in Saint Peter's Basilica; in the evening the ritual of the Stations of the Cross, or Via Crucis, is enacted near Rome's Colosseum. Further religious celebrations unfold throughout the week.
The Fallas of Valencia (Spain)
Springtime in Spain is a time of loud and colourful celebration. From March , the Fallas of Valencia takes over the city's streets with plenty of festive fanfare. Streets are filled with oversized, colourful statues, live performers and all manner of merriment as the city's various 'barrios' (areas) are pitted against each other to put on the most spellbinding show.
Brussels City Parks (Belgium)
Brussels has an incredible array of gorgeous parks, woods and green spaces that burst into bloom come spring. Don your daypack, put on some comfortable shoes and set off on foot. There are endless ponds, gently sloping hills and blooming flower beds to discover.
Oslo Medieval Festival, Oslo (Norway)
The Oslo Medieval Festival takes place from May and takes you back in time to the period when Oslo became Norway's capital. The festival has a genuine medieval atmosphere and a large market with visiting European artisans and makers. Think wandering jugglers, jesters, musicians and beggars; historical plays; longbow shooting and concerts with medieval songs and instruments.
Keukenhof Gardens (Netherlands)
Fun Fact! Keukenhof Park has over 7 million flower bulbs planted annually? Known as 'the garden of Europe', the world-famous Keukenhof attracts thousands of visitors from all over the world each year. Travellers come from far and wide to see it's flowery spectacles.
Hamburg DOM, Hamburg (Germany)
The annual Hamburg DOM is one of Germany's most sought-after annual events. This year it takes place between 23 March ─ 22 April. It's the biggest public festival in Northern Germany and takes place three times a year. This family-friendly affair has something for everyone - vintage carousels, high-tech roller coasters, special events, fireworks, food trucks for days. Everything you want for a rolicking good time, and more!
Luxembourg Gardens, Paris (France)
Spring is the time of new life! Paris definitely starts to come back to life in spring. Not only do the gardens to bloom, you will also find the locals back out on their terraces, drinking tea and soaking up the sun's rays. Go down to the stunning Luxembourg Gardens for a picnic and some people watching. Or just take a nice leisurely stroll around the garden to escape the busy city.
Excited yet? You should be! Springtime in Europe is nothing short of magical. Book your trip to coincide with this gorgeous shoulder season & enjoy the continent at its most vital.
Frequent Searches Leading To This Page:-
European vacation, cruises in Europe, cheap Europe trips, best European tours, cheap Europe packages, European vacation packages, Europe tour itinerary