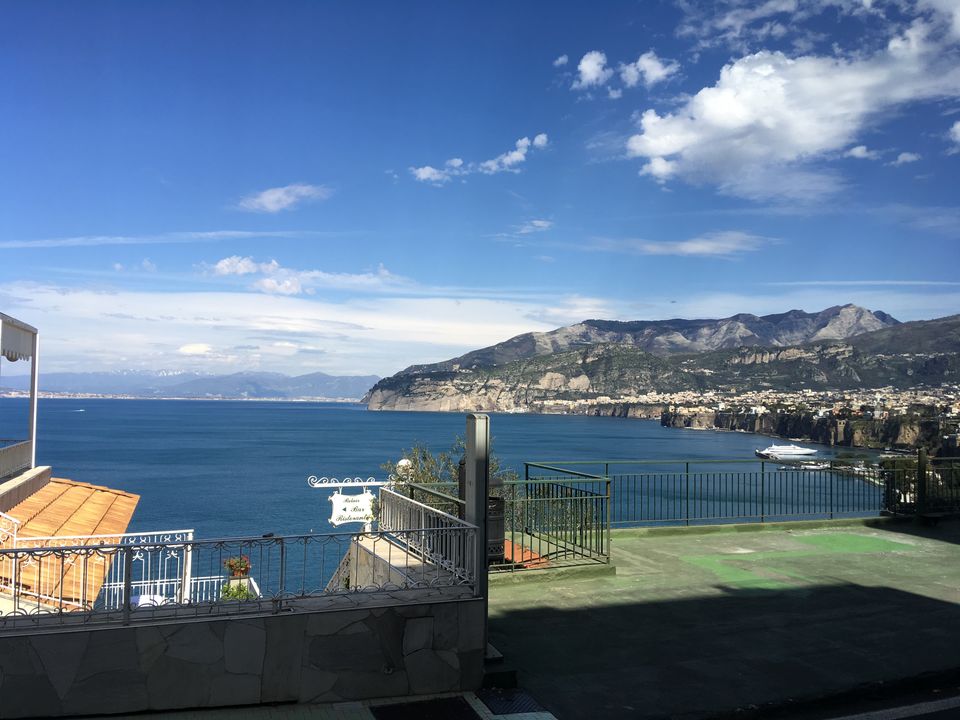 Today was Amalfi coast day. To get to Amalfi from Naples, you have to travel in the Circumvesviana train from Stazione Napoli Centrale (Naples Central station) to Sorrento which is a small town. From Sorrento, you can catch a SITA bus which will drop you different places on the Amalfi coast. To wherever you want to get down.
We slept early at about 11 so that we could catch the train early to reach the coast in time to enjoy. We woke up, had breakfast with Valeria, our Airbnb host, and headed out. From Vanvitelli Metro, we boarded the metro in the opposite direction of the previous day i.e. towards Garibaldi station as this metro station is exactly in front of Stazione Napoli Centrale.
I had forgotten to write about validating the ticket in my previous posts so I'll cover it now. Anywhere you buy a ticket in Italy, it needs to be validated. Validation is nothing but a time and date stamp on the ticket which shows when it started to be in use. 90 minutes ticket will expire in 90 mins after the time stamp hence you have to buy a new one. Validating machine in metros is placed before you go underground through the elevator to catch the train. You insert the ticket in the machine and it comes out validated from the other side. In buses, the machine is placed inside the bus. The fine for not validating a ticket is 250 euros, so once caught will drastically change your budget. Be very careful!
We reached the station and went underground to the place where tickets are sold for Circumvesuviana train. There were boards everywhere to guide us. We had a look at the list of prices and bought two tickets to Sorrento. The train to Sorrento left in 15 minutes. I took a photo of the train timings too for reference.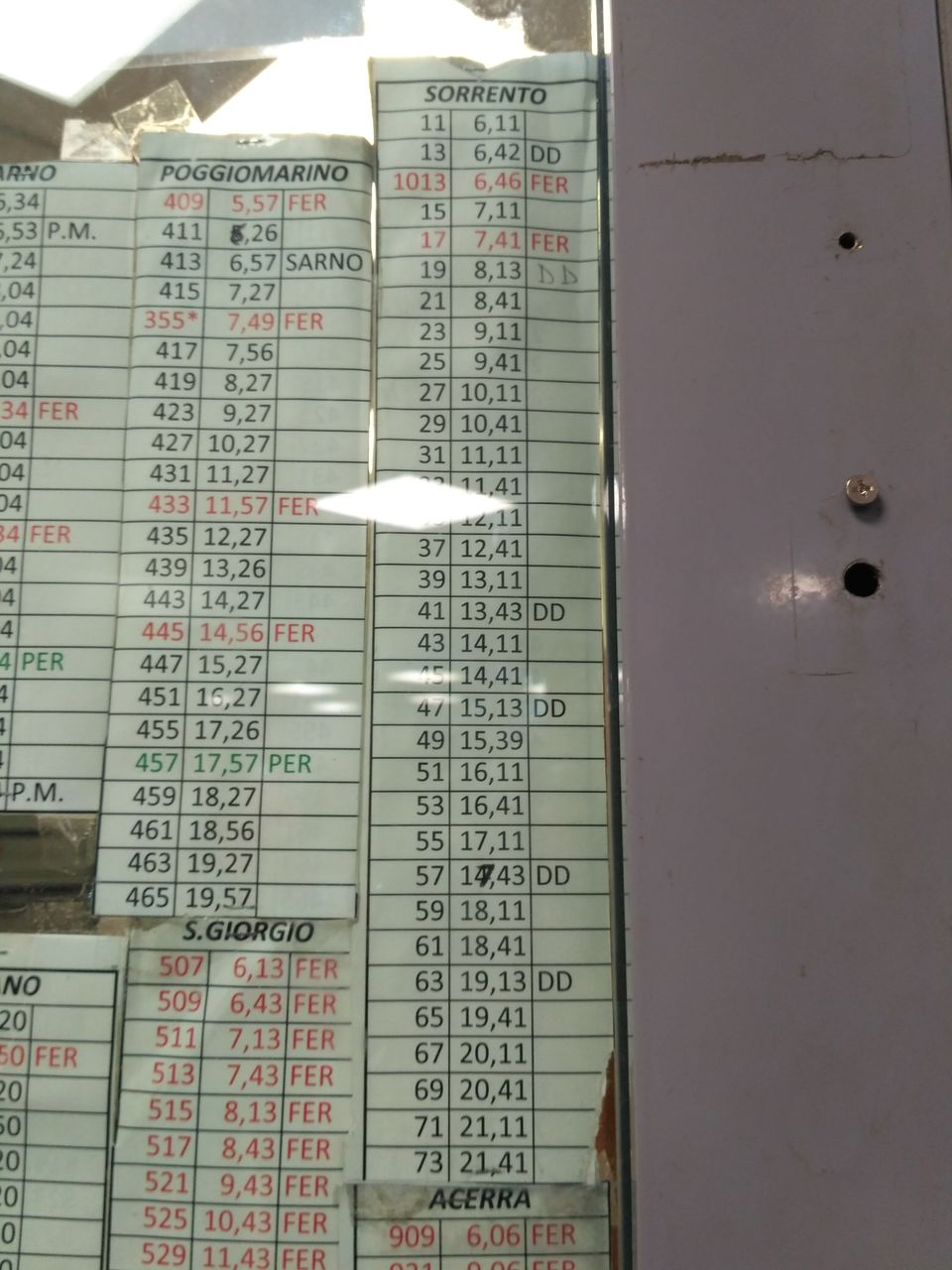 We asked around and went to the platform. This platform was also underground. The train came after about 20 mins. This train was jam-packed with people. We held our luggage, just a bag for this one-day trip, near to ourselves and enjoyed the journey. The train was very similar to a Mumbai local. There are no seat numbers. It was non AC, windows were open, people were packed in and musicians boarded in to sing for alms. The train stopped at Pompeii after half an hour and the crowd lessened. We got seats in front of a British family.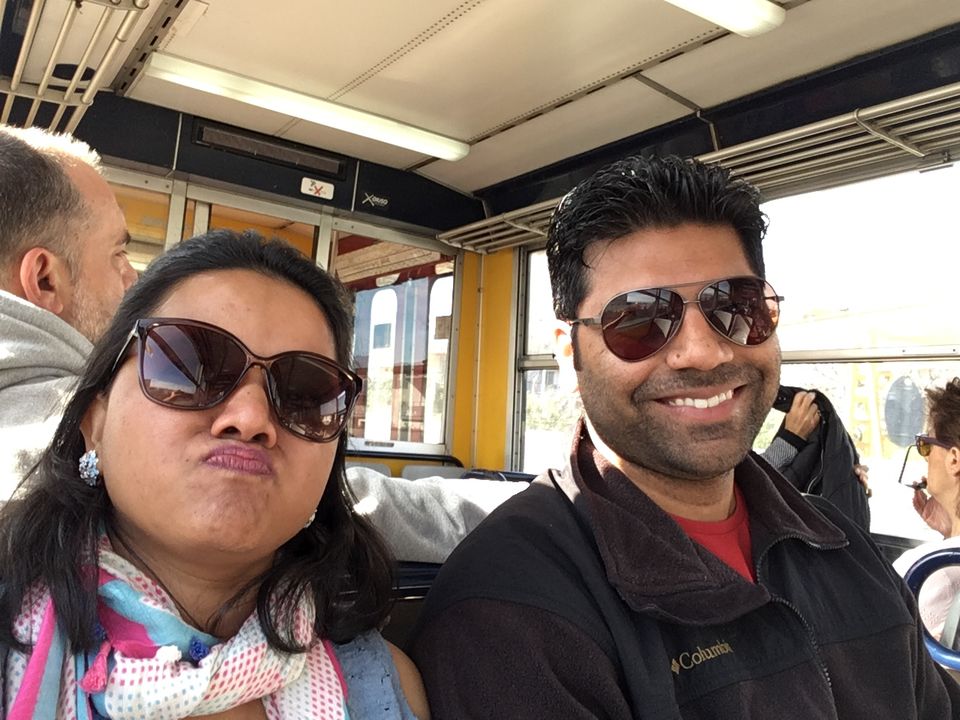 The train stopped at Sorrento after about an hour. People queued up near the paid toilets after the journey which is generally 1 or 1.5 euros all over Italy. We came out of the station and went right ahead on the road in front from where the SITA buses leave.
We waited until one bus left as there was a queue. We were in front for the next bus. A guy was standing with a box and machine and selling tickets. We asked for tickets to Amalfi coast. He said 12 Euros. I told my husband that's too much. I have read it's lesser. The guy then informed that if you want to travel across the whole coast, its 12 euros. Otherwise, you can get down anywhere in between like Positano or Ravello or Minori etc. and that would cost less. We went ahead and bought the tickets for Positano for 2.5 Euros each and sat in front of the bus on the RIGHT SIDE. Mind you, sitting on the right side is very important as the view of the ocean is easily visible from the right side. The bus started to fill in and people were even standing for the journey.
The journey started and the most beautiful thing I noticed immediately are the orange and lemons trees grown along the roads. We came by various lemon and orange orchards too.
The Amalfi Coast is a stretch of 50 km which runs along the ocean and is famous world-wide for its beauty. People say driving on this road is one of the luxuries of an Italian Holiday. The bus slowly took serpentine turns moving out of the town of Sorrento. The first glimpse of the ocean and you are mind-blown. You have only seen this in movies and in your dreams. Now, it is in front of you. How do you react to something like that?
The bus kept turning around and we got glimpses of the ocean from different angles. Blue and still. The ocean sparkled like a sky full of stars. Pictures might give you an idea of what I am talking about.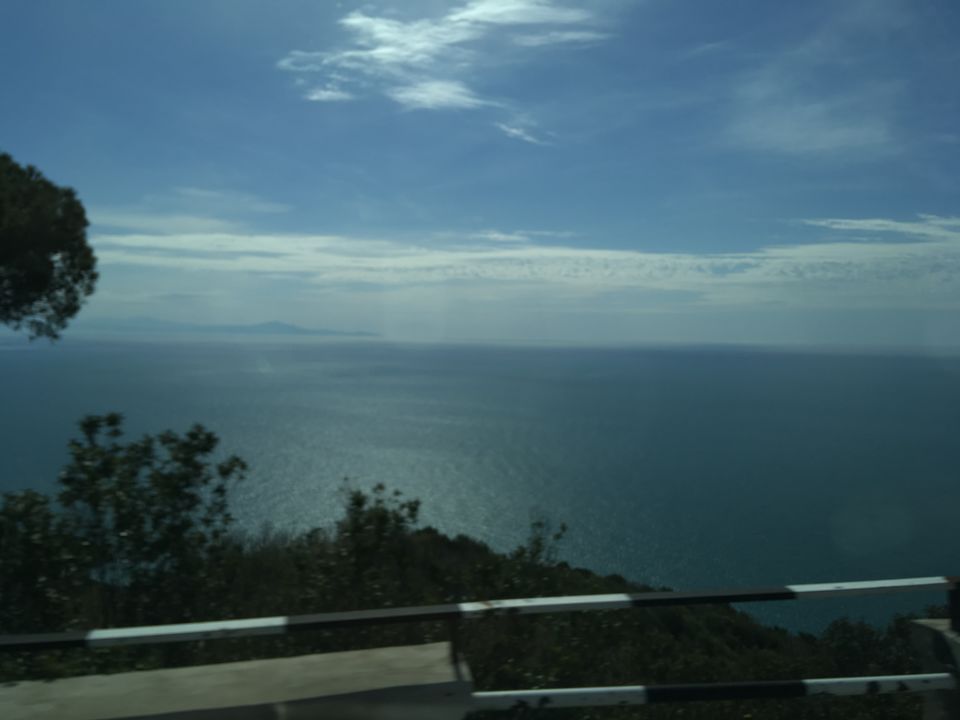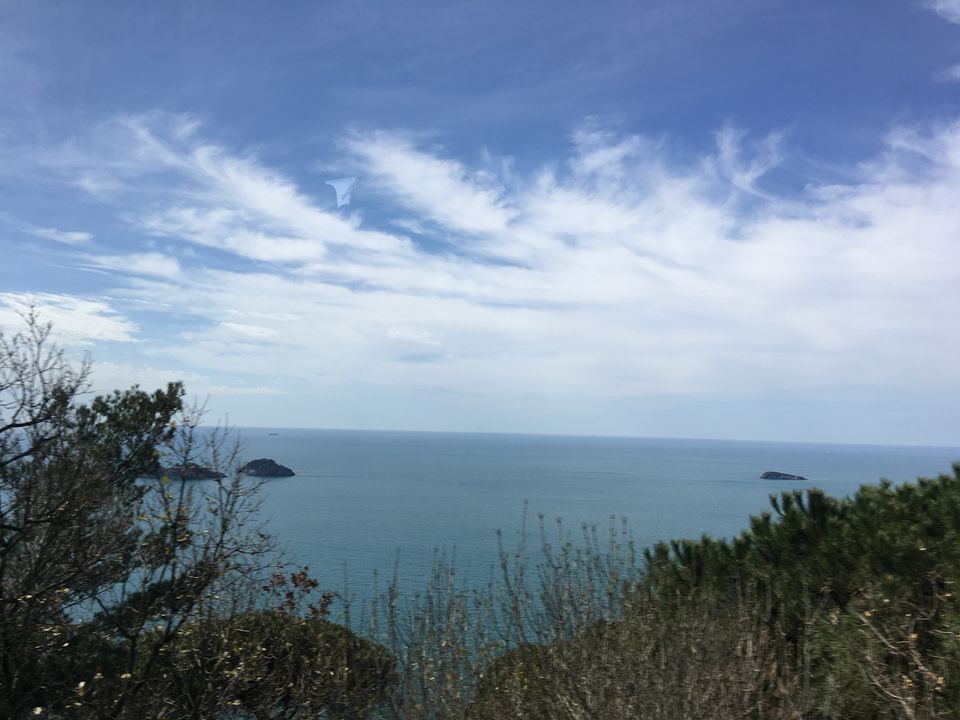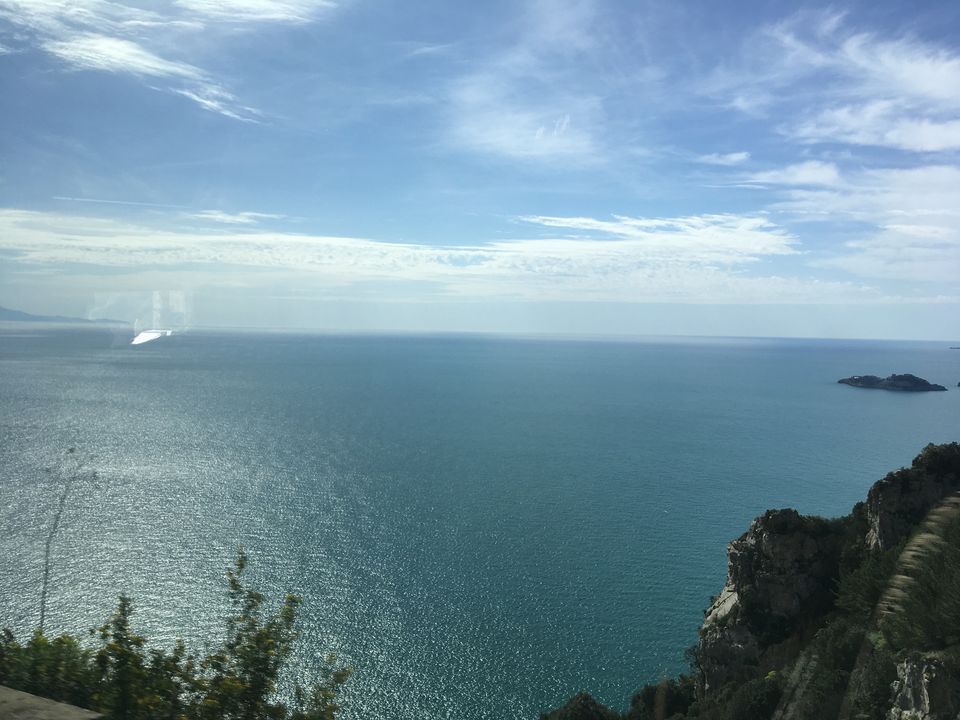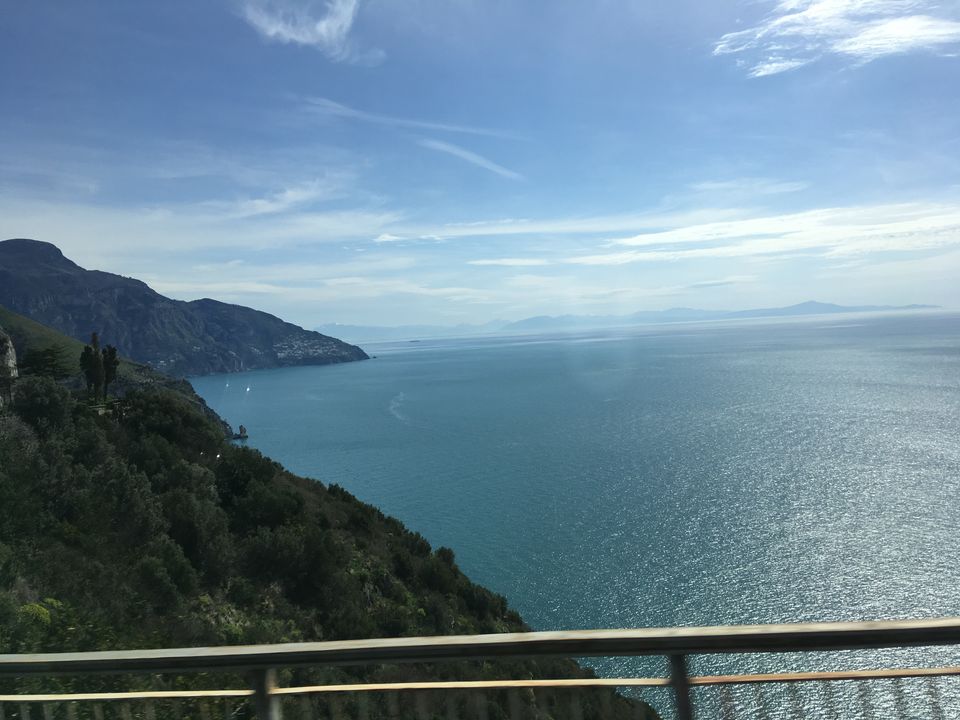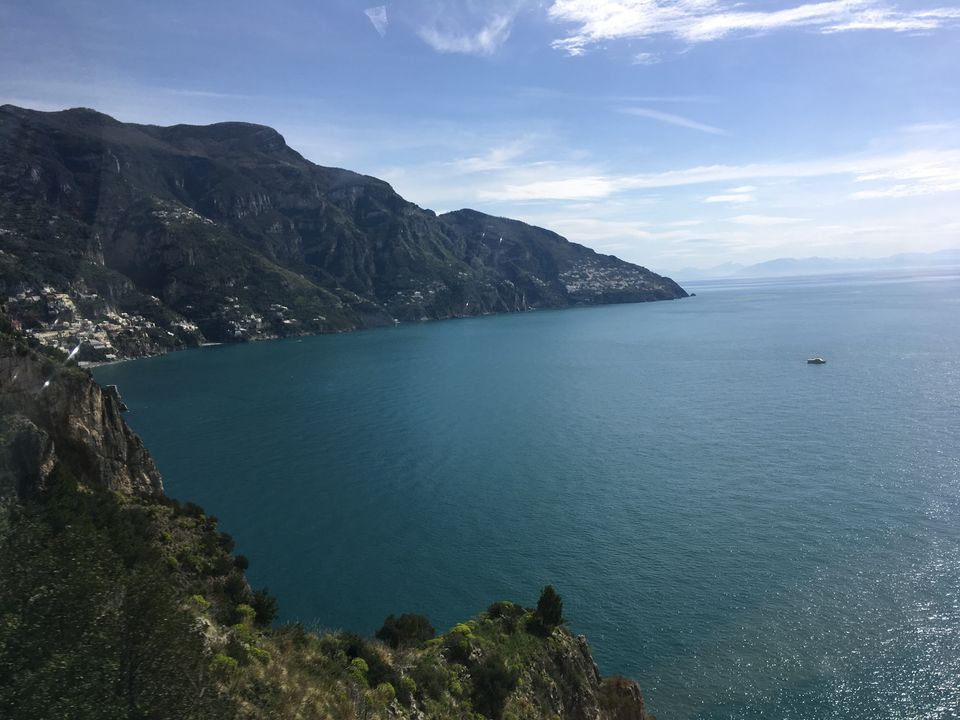 We arrived in Positano town after 45 mins. of bus ride. The bus had stopped one or two places for a long time. The driver guided Positano people to get down and informed that we could take the bus back from there itself whenever we are free. We were standing in the middle of the road. It was 11 a.m. We followed a few people who had got down with us. The road took us down a lane/road. The picturesque town of Positano which we see in Google images was visible from here. Happy me!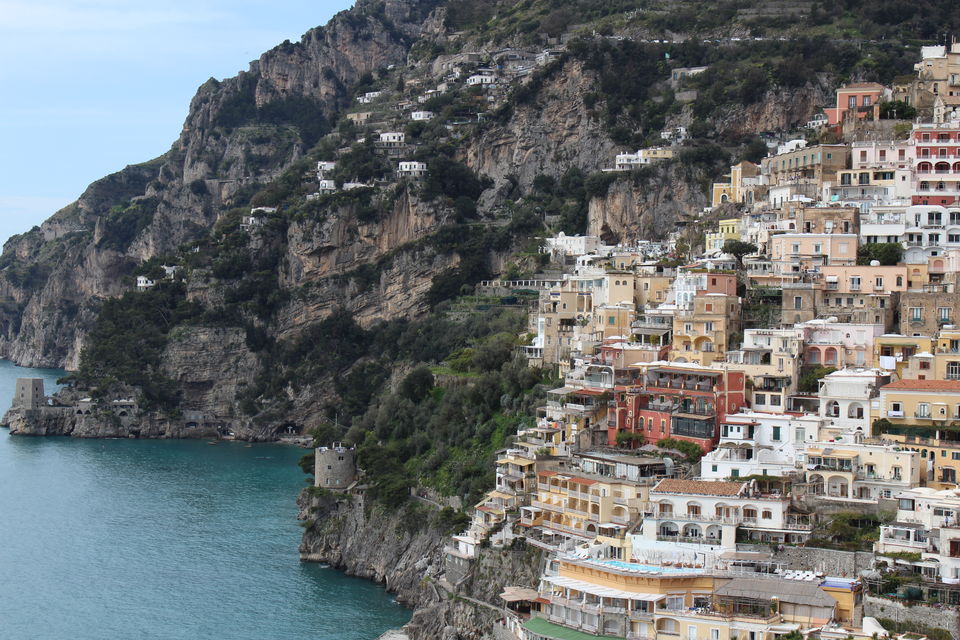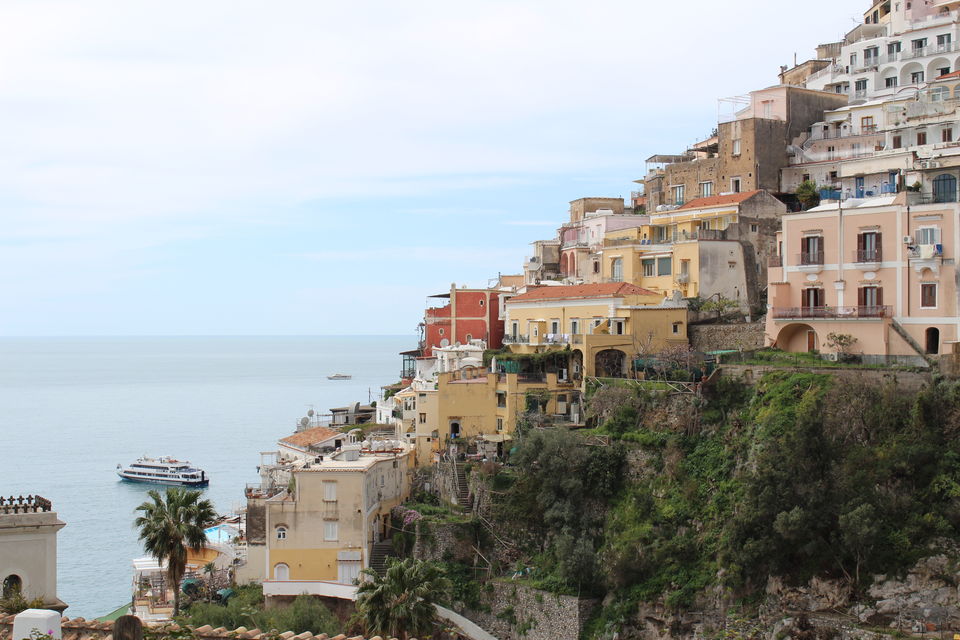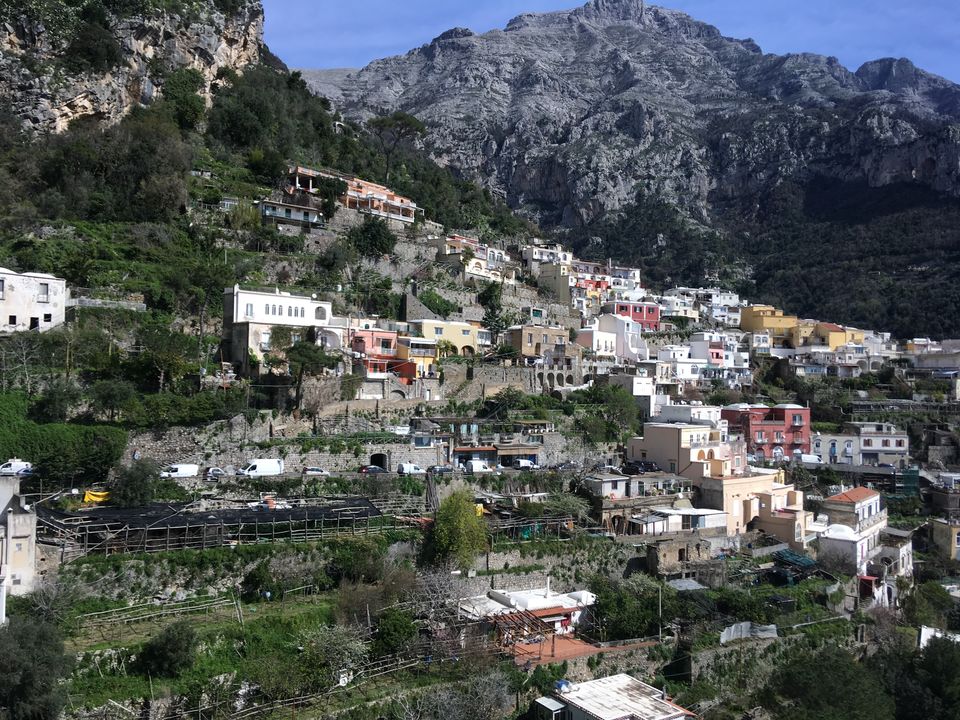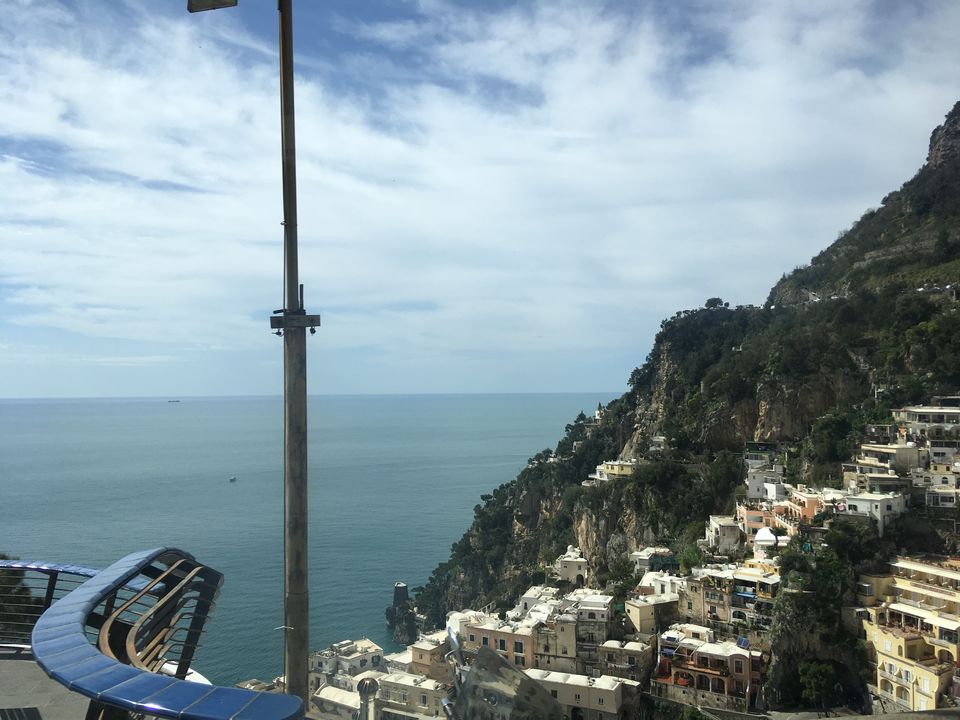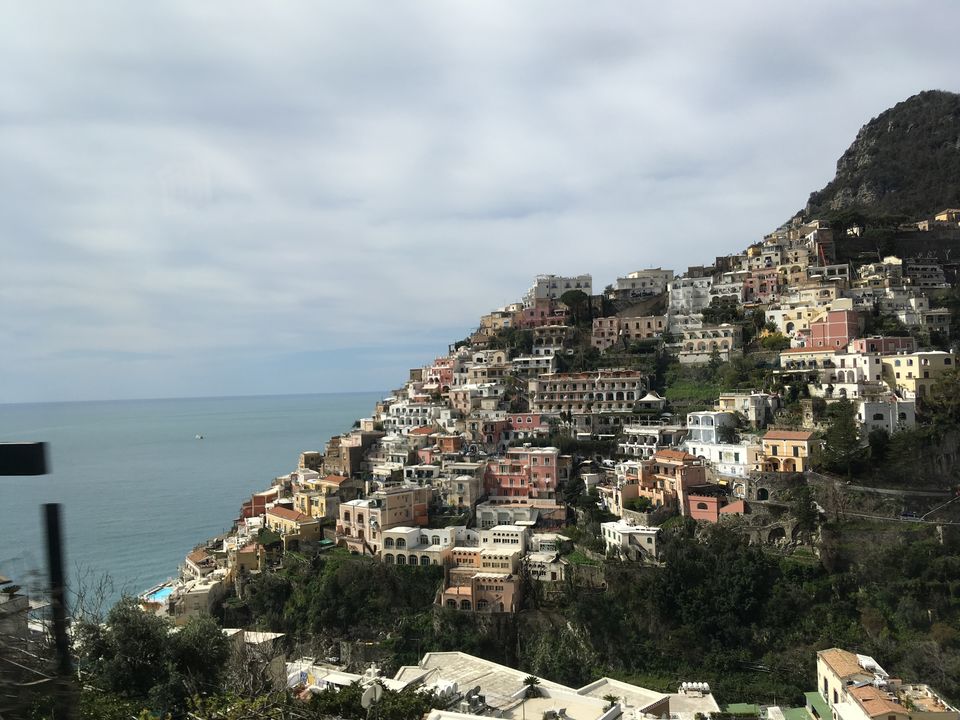 We walked down the road. Both sides of this road was lined by pretty, small cafes and restaurants. After walking half a km we reached the open beach. Beauty! The beach was black. I touched the Mediterranean Sea for the first time in my life. Happier me!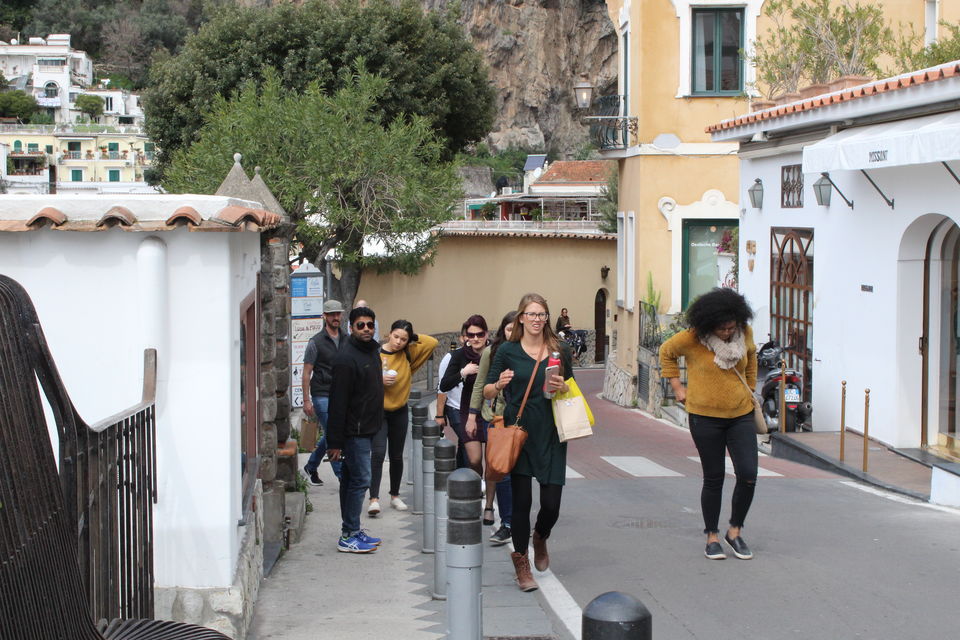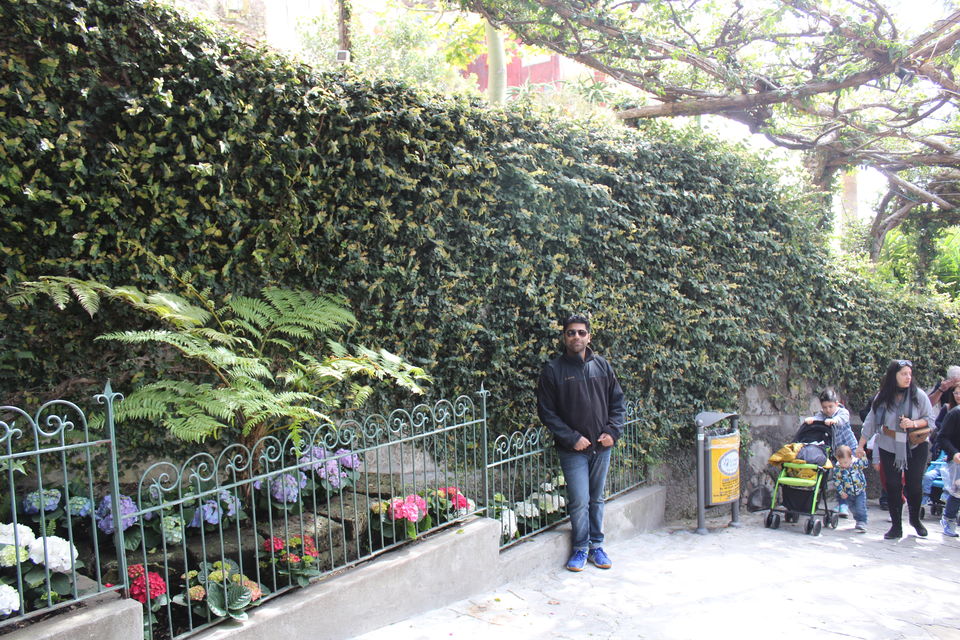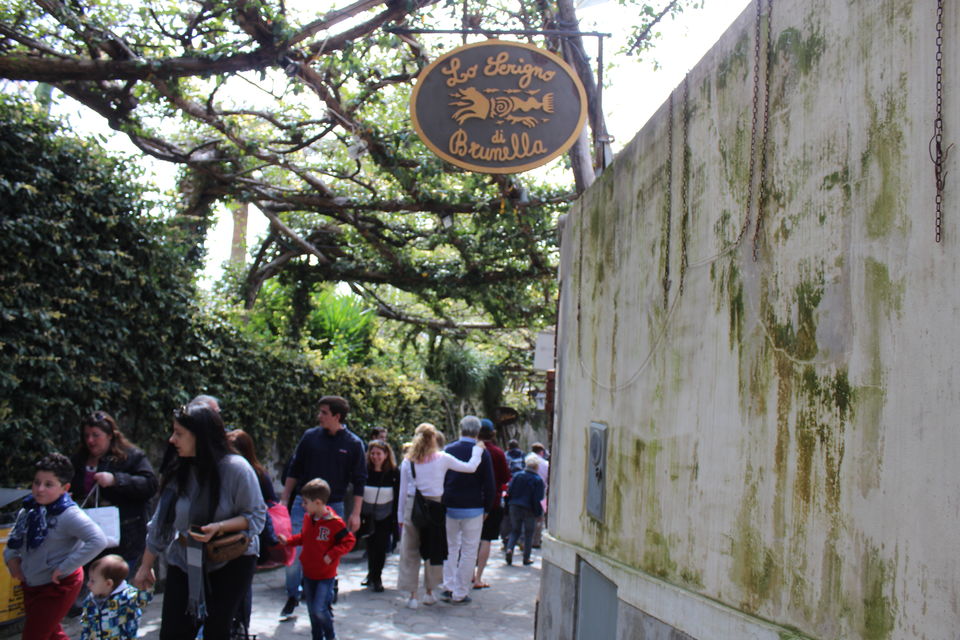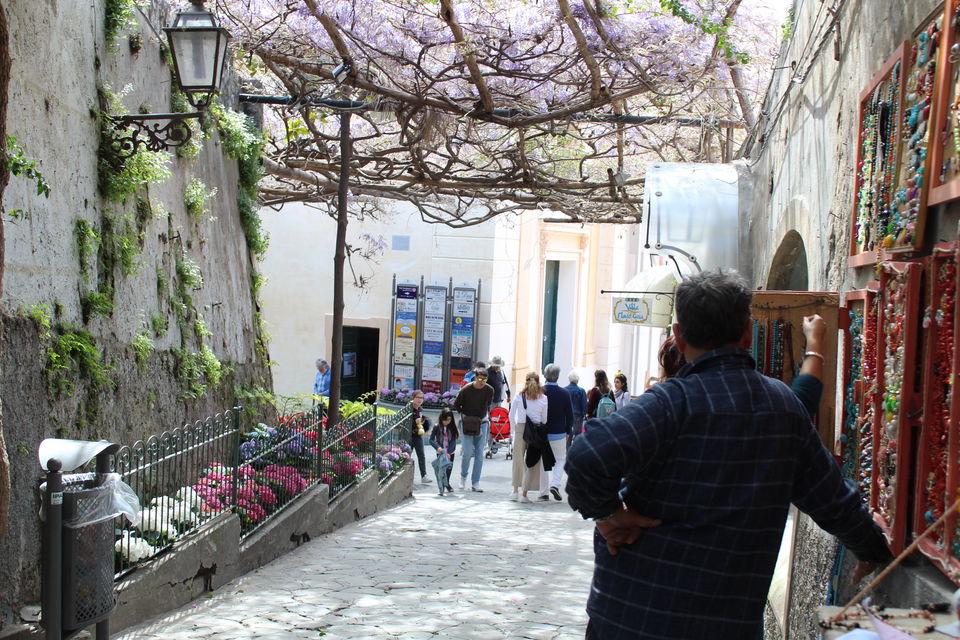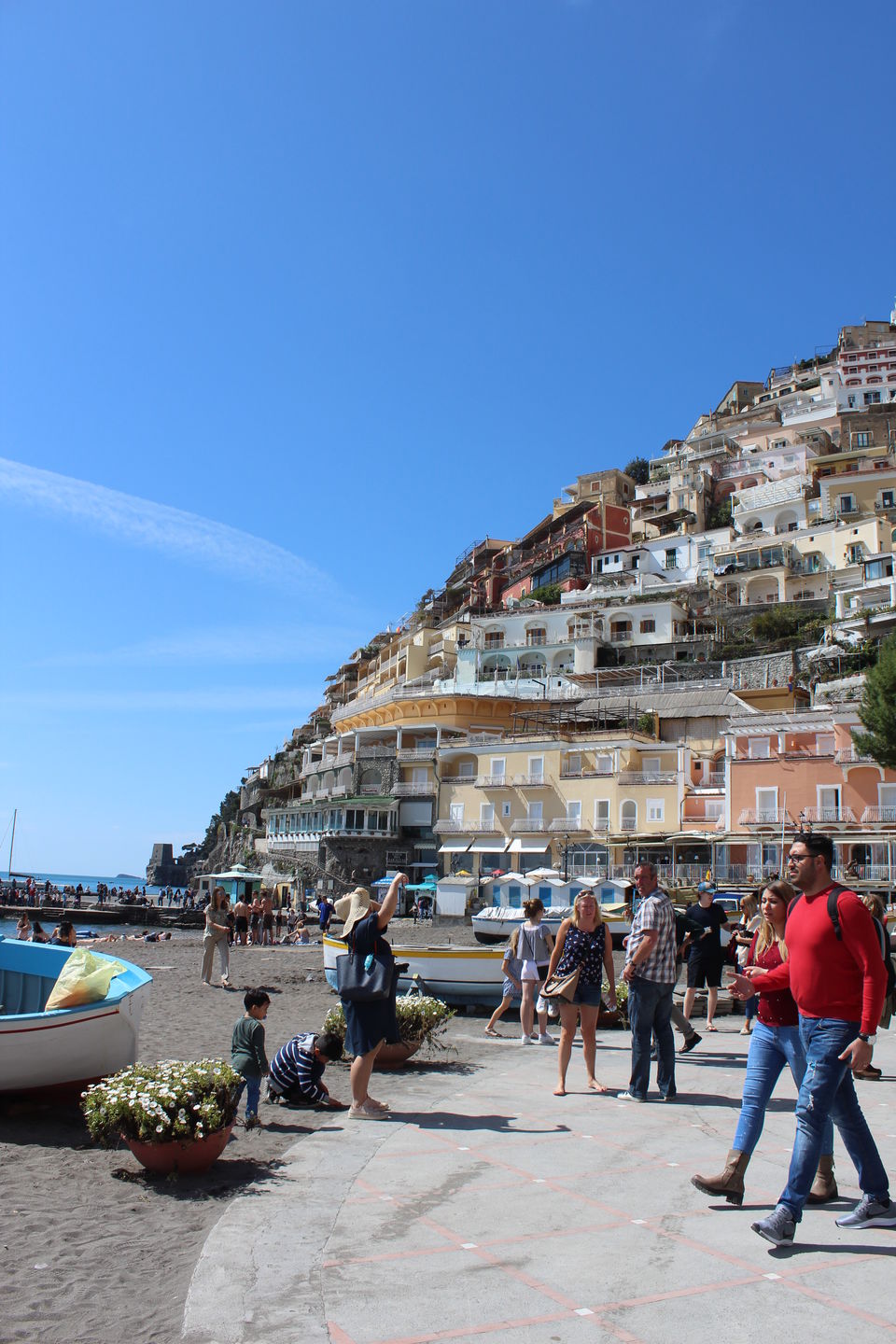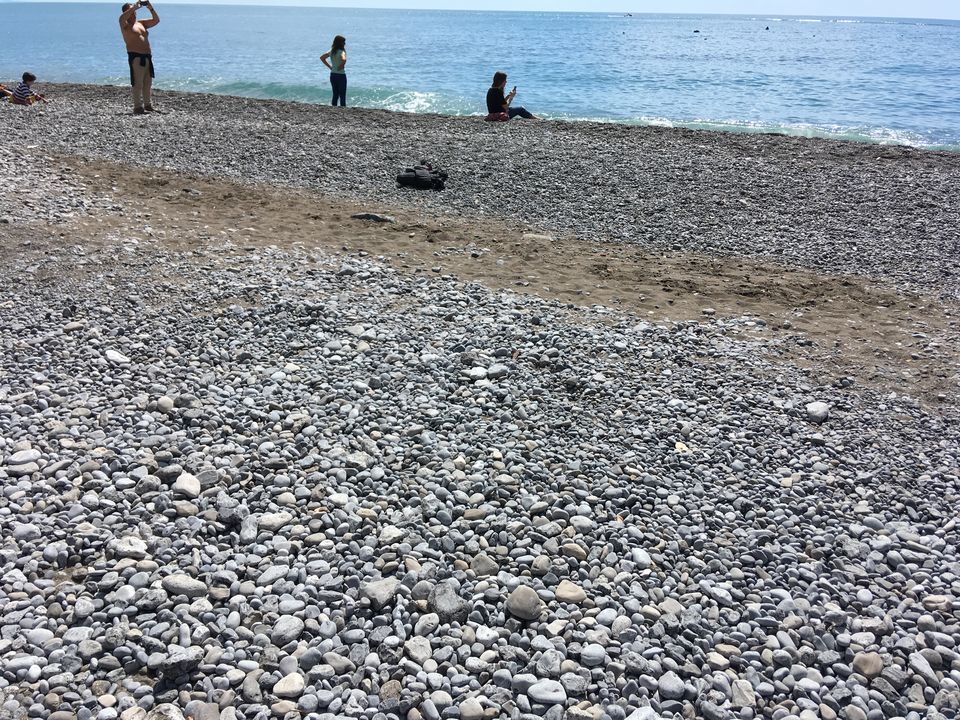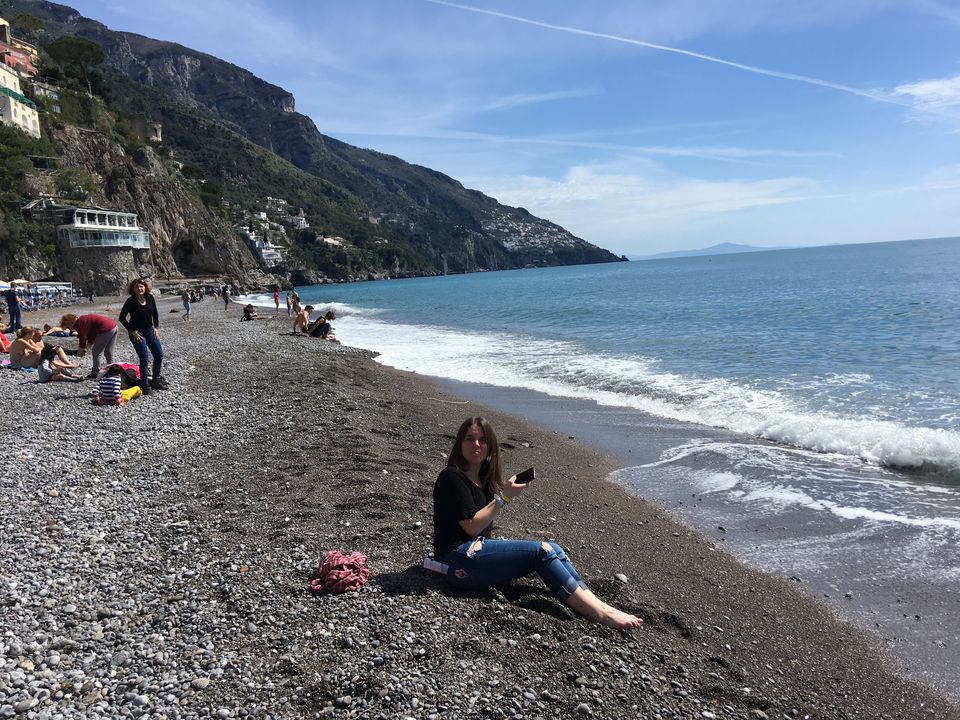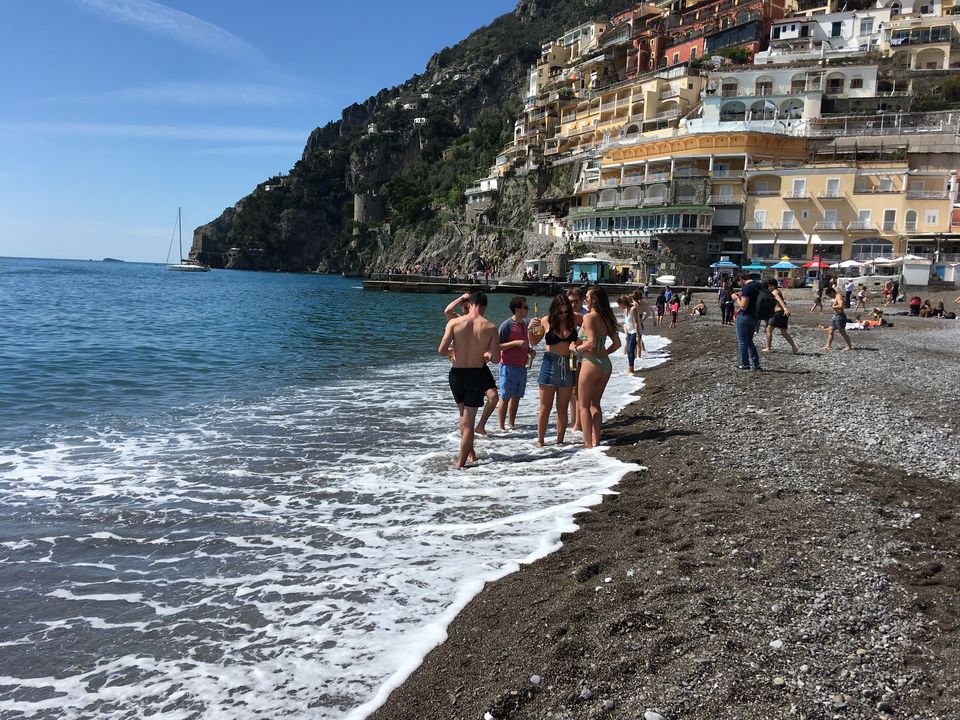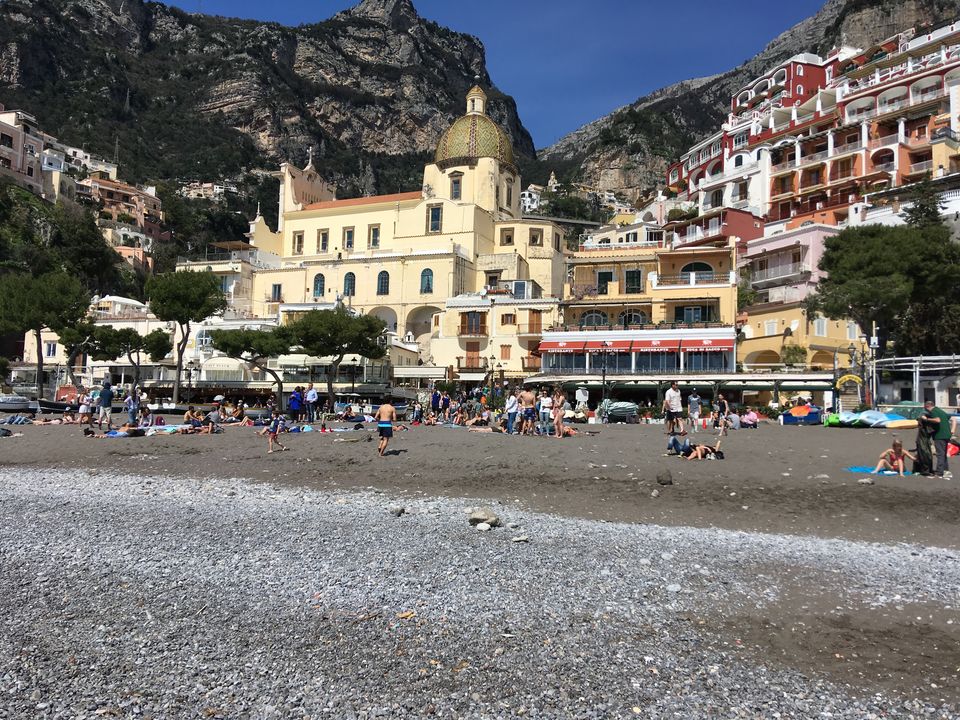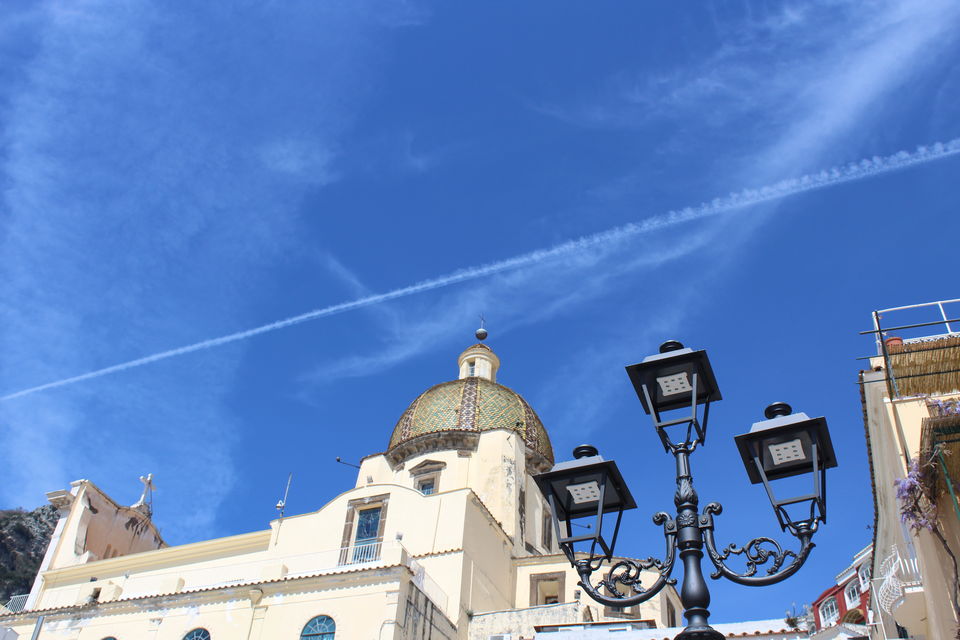 after taking some pictures here and visiting the church on the beach, we turned around to the restaurants on the beach. Such a pretty picture it was! We went to a few restaurants and looked at the menu. We checked whether it was affordable to sit at the beach restaurant or did we have to go to an interior . It was mandatory to confirm. In Italy this is the best part. Menus are displayed outside the restaurant and you can check it before sitting and placing the order. We sat at La Pergola at the beach and had a sumptuous meal.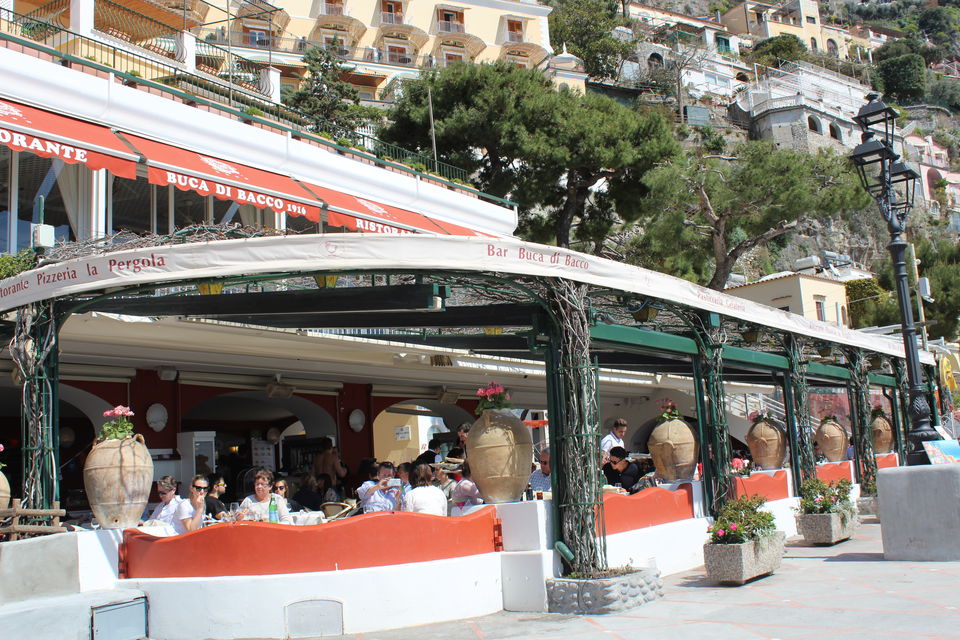 All that we ordered had orange and lemon sauces. We had to check the quality of the best world famous lemons and oranges. Fish in orange sauce was ordered. And along with it we called for shots of world-famous "limoncello". Limoncello is an indigenous lemon alcoholic drink of Southern Italy especially famous in the territory of Naples. The taste was so sour and quirky. It was like having shots of tequila where you are left with hot burning sensation in the stomach except in this case the sourness of lemons left a tingly sensation in the mouth too.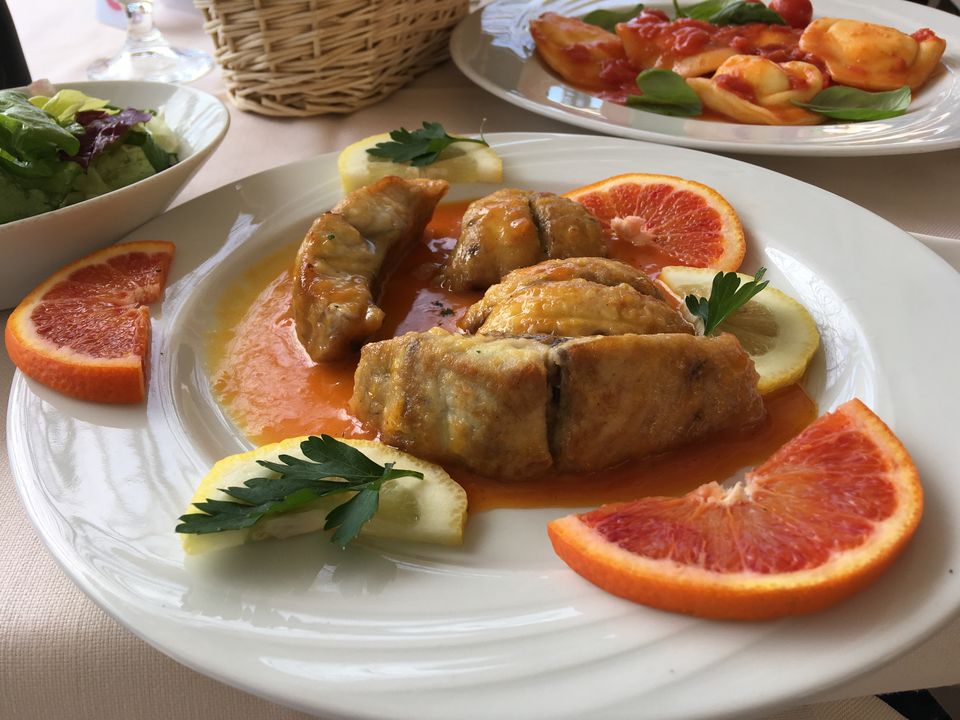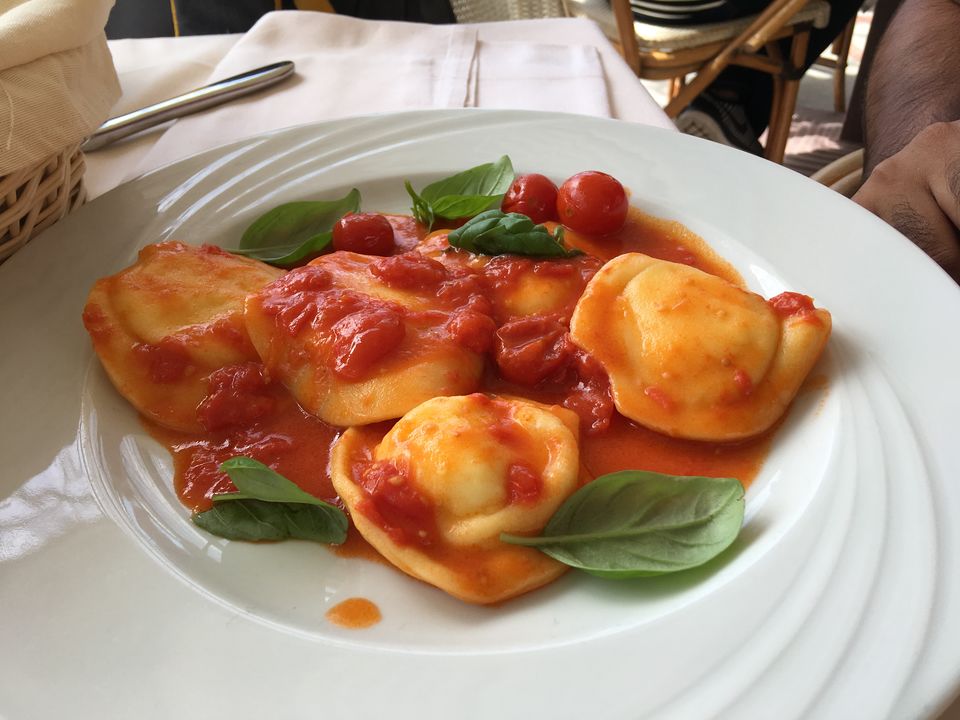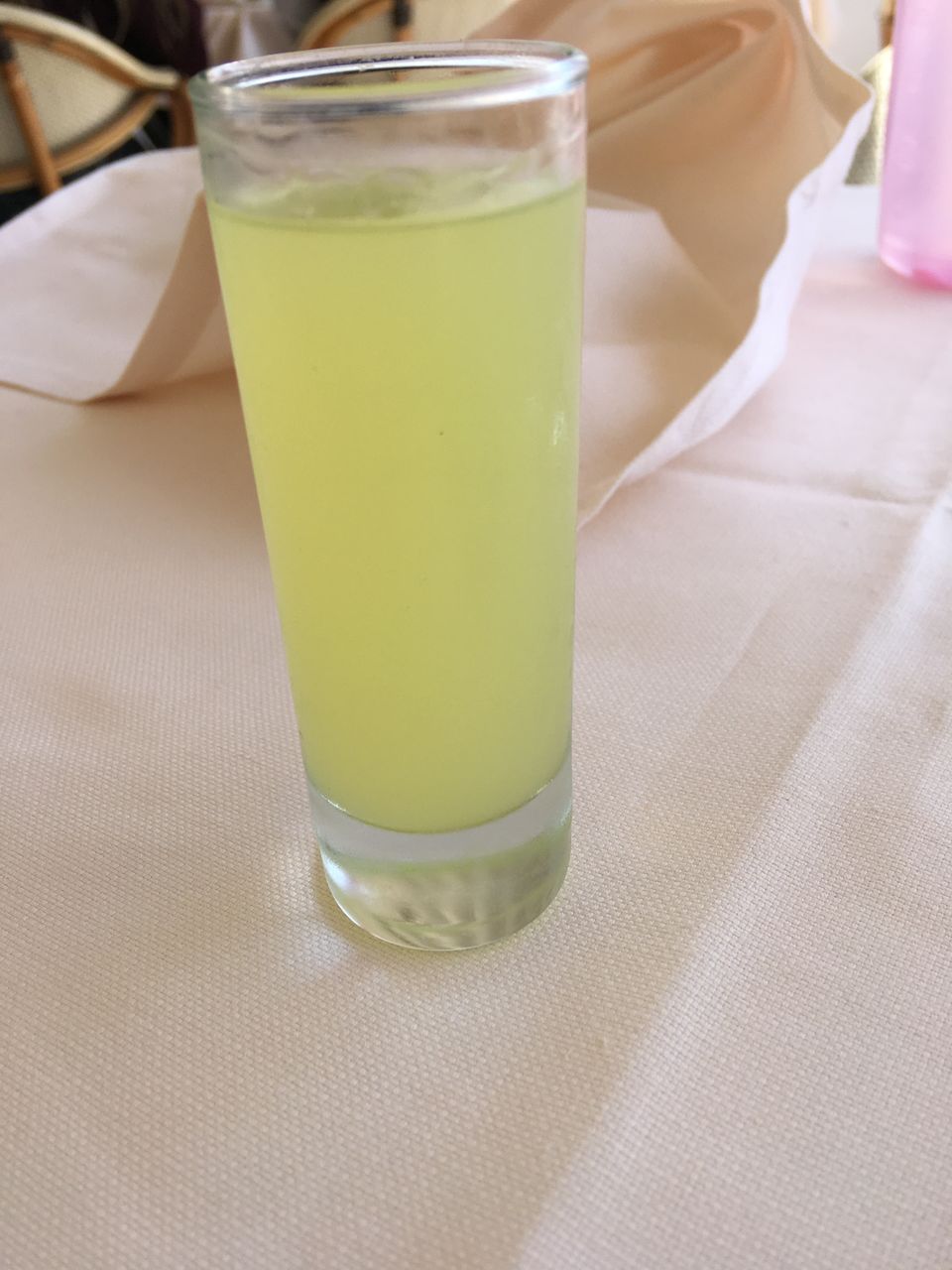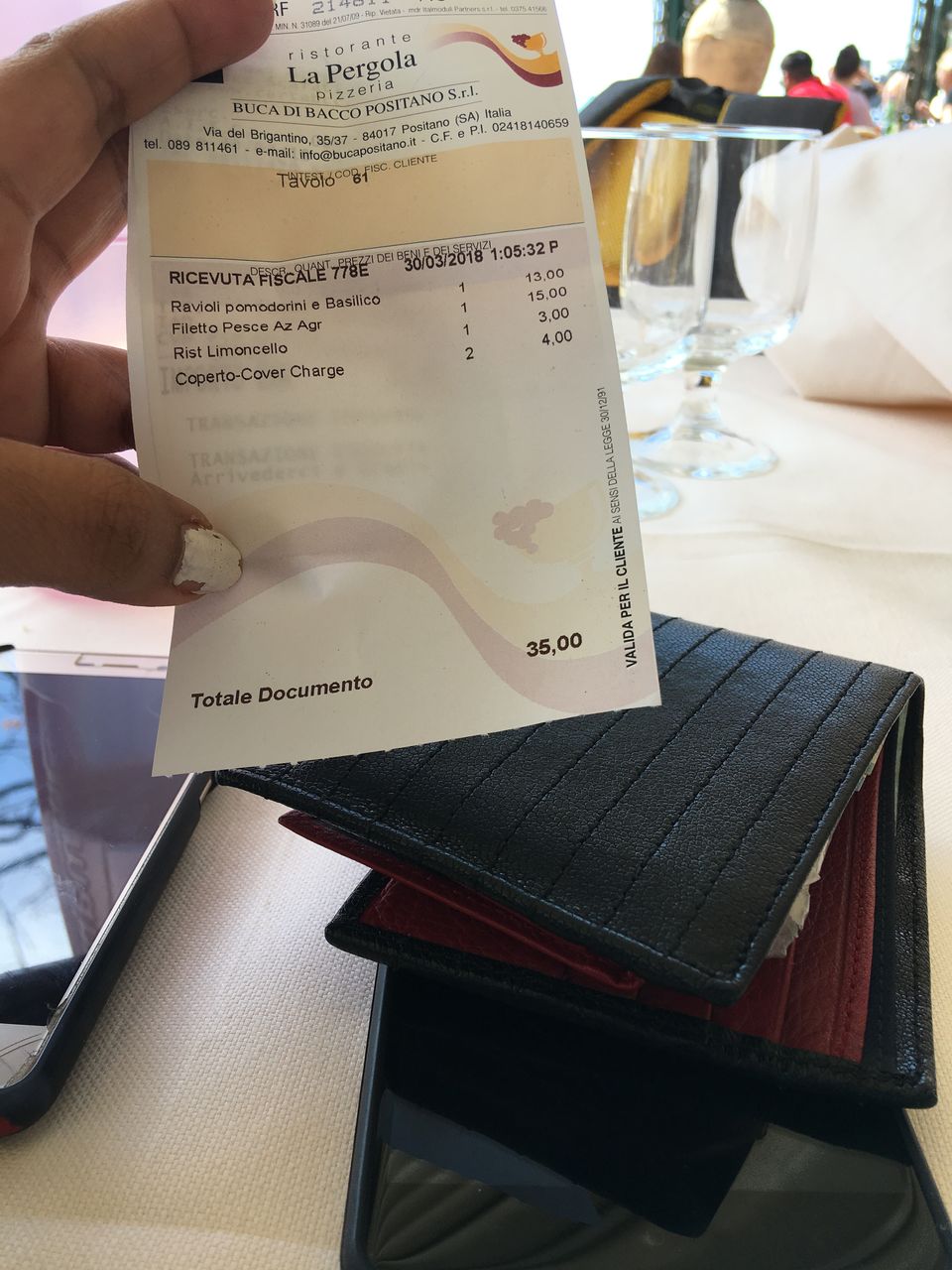 We had lunch at peace gazing the open sea in front of us. We noticed an Indian family was sitting near our table. We paid for lunch and headed back towards the bus stop after spending some good 3 hours at the beach.
On the way back, I saw Sfogliatelle in a bakery. I had seen about this Italian pastry on some travel channel. We bought one and had it on our way. Several layer of crispy cover like leaves hid a citrus flavor candy inside. I have read that the fillings may vary. It may also consist cheese in place of a citrus flavor. Have one on your trip.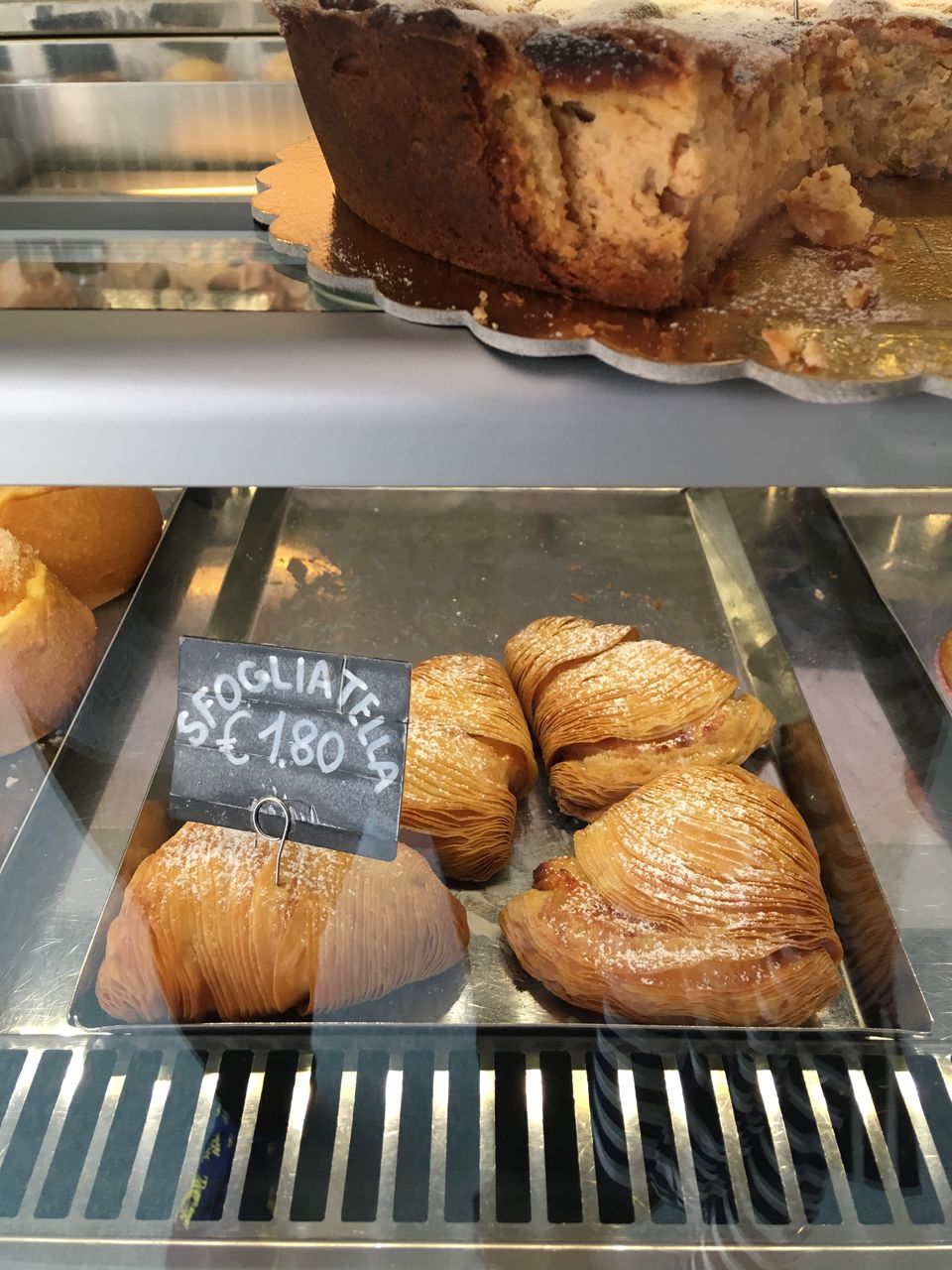 We came back to the bus stop and waited for a bus. There were many people waiting for it. We wondered whether we would get a seat. We had to wait long here.
After about 45 mins we got into a bus and reached Sorrento. We got into the train back to Naples at 3.30 p.m. I had planned that if we get free from Amalfi early, we would visit Pompeii on the way. But that was not possible now. Pompeii is a whole day visit or 5 hours at the least.
We reached Naples at 5 p.m. We boarded the metro and reached Vanvitelli, nearest metro to our apartment. We had noticed that there was a Supermarket nearby. We decided to check it out. Just to see what are the rates and buy some fruits and stuff if we like anything. Wide variety of cheeses and meats and wines and what not was there. We bought some beautiful oranges and bananas and went back to the apartment.