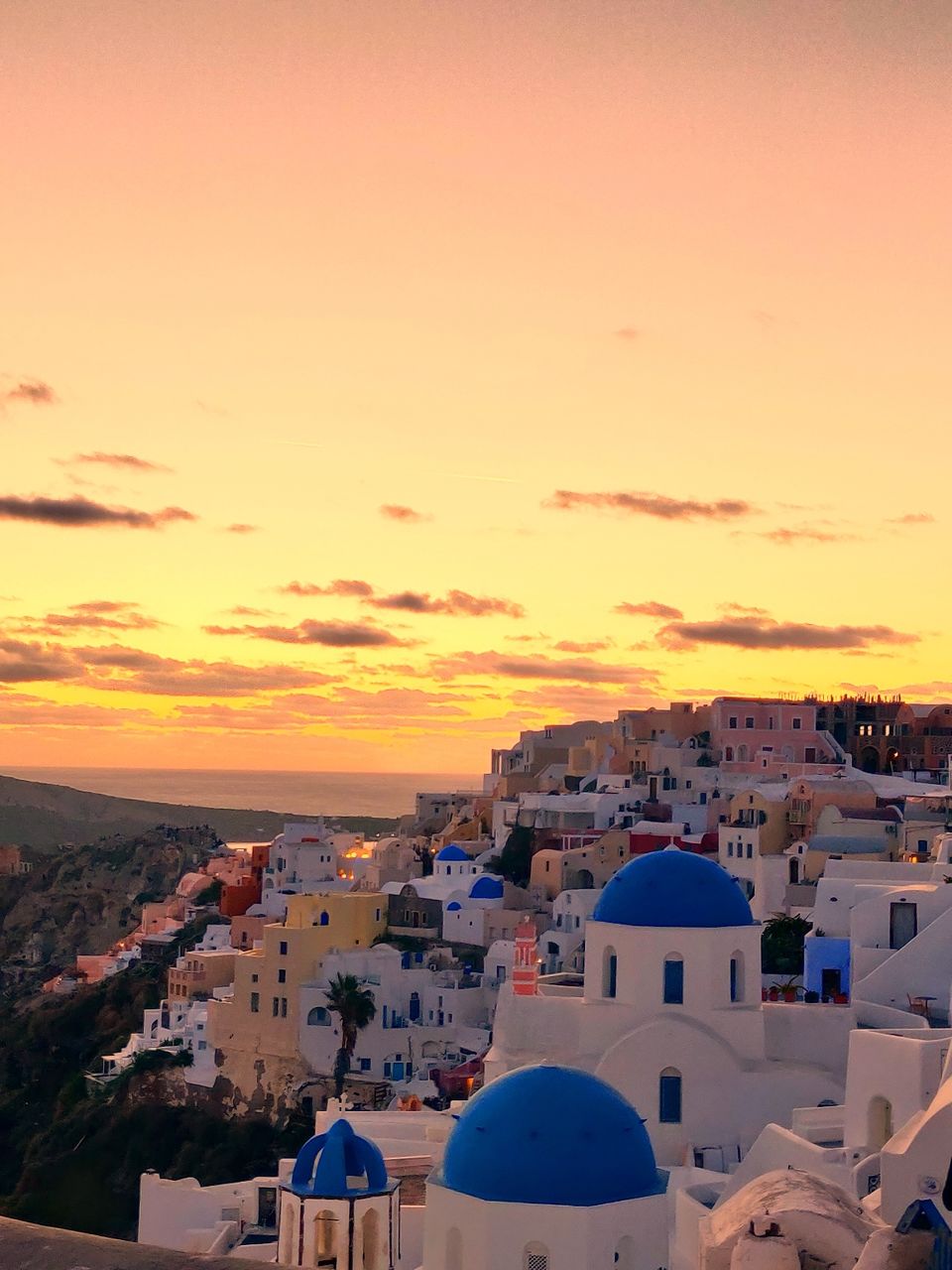 I was finally getting married to the love of my life and nothing could top the excitement I had! Or could it? 😉
To be honest, the crazy travelhead in me couldn't stop jumping out of joy about having another reason to travel. 'Honeymoon', as they call it; 'an excuse to experience the exotic Europe', I called it.
After being glued to the Map of Europe (ahem, alright, the google map of Europe, though calling it a Map makes it sound so much cooler! *Smirk smirk*), and crossing off the list countries like Amsterdam (too cold by 'his' standards), Switzerland (too cliched) and Norway (too cold even by my standards), we zeroed in to Italy and Santorini Island in Greece as our D-Destination.
I resorted to researching and planning extensively for the trip. And all my hardwork paid off, as post trip, my husband, who wasn't a big fan of travelling earlier, now can't wait to go on our next adventure! :D
My day-wise itinerary of hand-picked destinations and a few curated tips are spilled across in this travelogue.
Day 1:
Our excited duo hopped on a flight from Delhi to Naples, which along with being a prominent industrial city of Italy, could profoundly be designated as the gateway to the glorious Amalfi coast. After landing at Naples international airport, we took a shuttle bus, which is available right outside the airport, to Porto di Napoli (Naples Port).
Tip 1: Let me drop the most important travel tip at this point. Cabs in Italy are super expensive, so unless you want to drain you pockets, resort to using public transport or your chirpy little legs! Italian public transport network is extremely convenient, economical and I might as well add, punctual.
The shuttle ride of about 30 minutes (we bought tickets on board) took us to the Port, from where we had a scheduled ferry departure to Sorrento, a town in the Amalfi coast.
Tip 2: Now I'm gonna tell you what made intra-city commute in Italy super duper easy! There's an App called 'Omio' (which I claim to be God-sent :P) through which one can buy train, ferry and bus tickets to almost all the Italian cities. We had pre-booked almost all of our intra-city commute by Omio (including the ferry ride from Naples to Sorrento), and not only we escaped the hassles of buying a ticket on counter, but also we saved a lot of Euros, as train tickets in Italy, just like flights, increase with every filled occupancy.
A 45 minutes crisp ferry ride took us to Porto di Sorrento (Sorrento Port). What more can I say about Sorrento than Enchanting! This little hamlet at one end of the Amalfi coast has pure magic in its air. On the first night, we strolled its ravishingly lit streets which made us feel that even though January was inching towards its end, a whiff of Christmas was still around. Both sides of the stoned road were adorned with pretty shops selling Lemon candies, Lemon biscuits, Limoncello (a lemon based alcohol) and a great variety of souvenirs to choose from. Our day ended with some Italian Pizza and sips of the tangy Limoncello.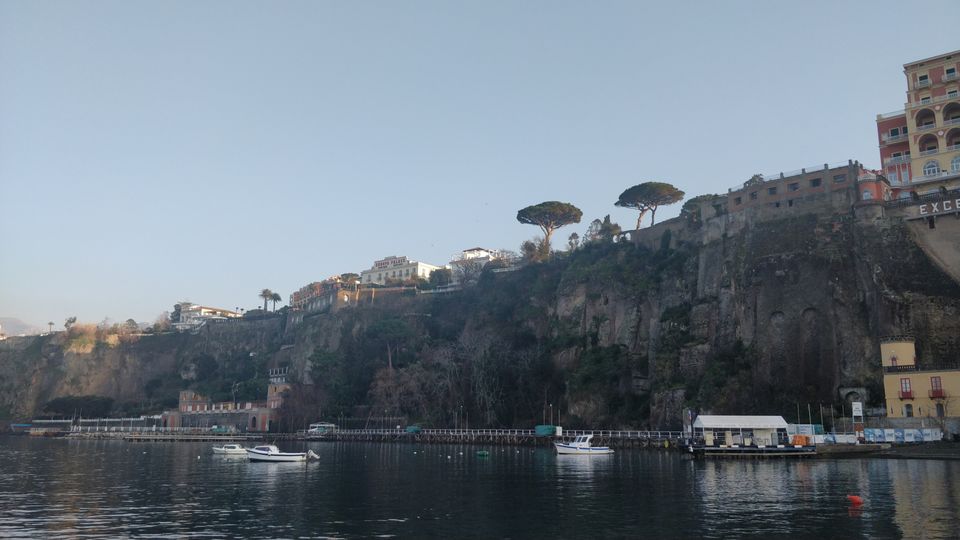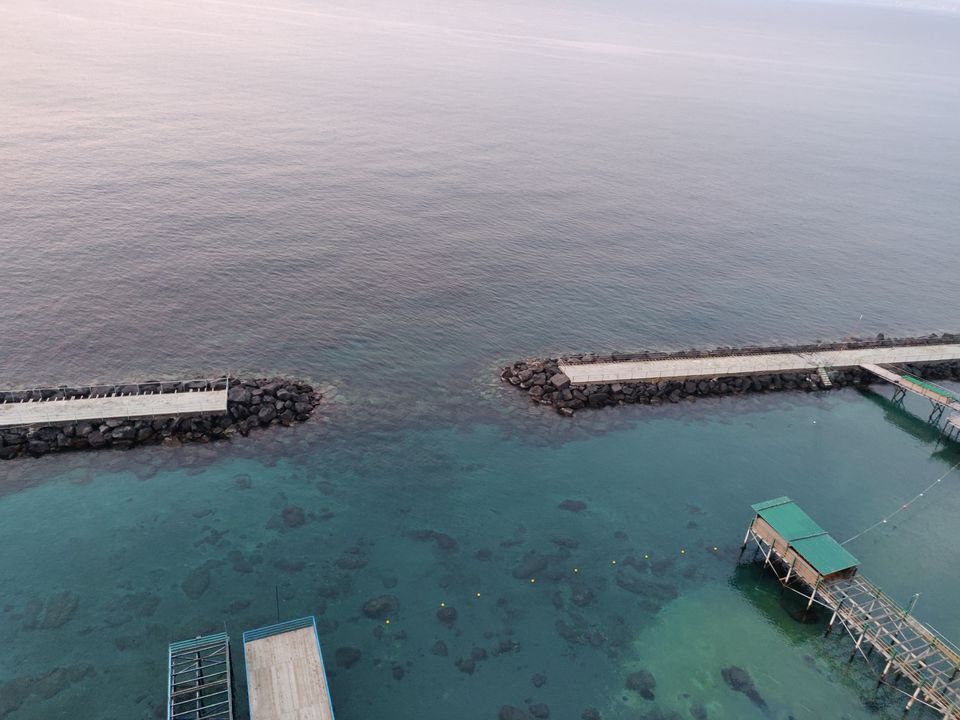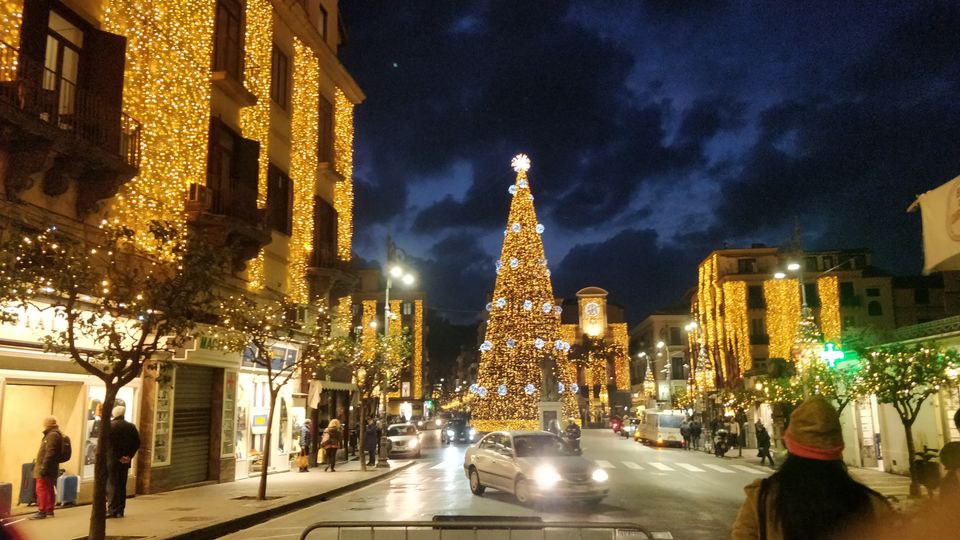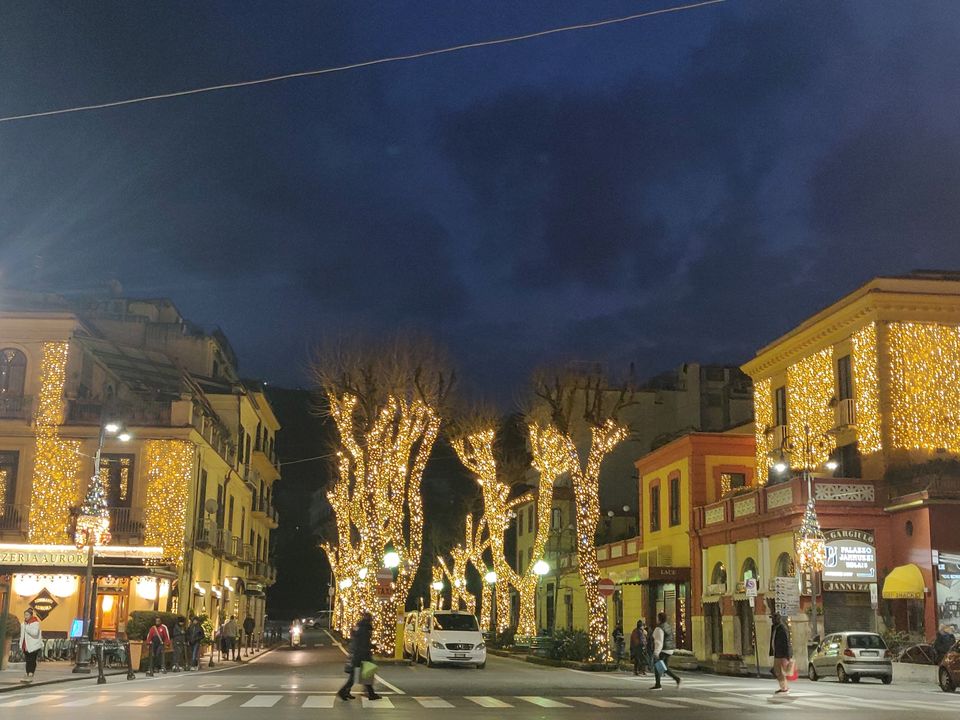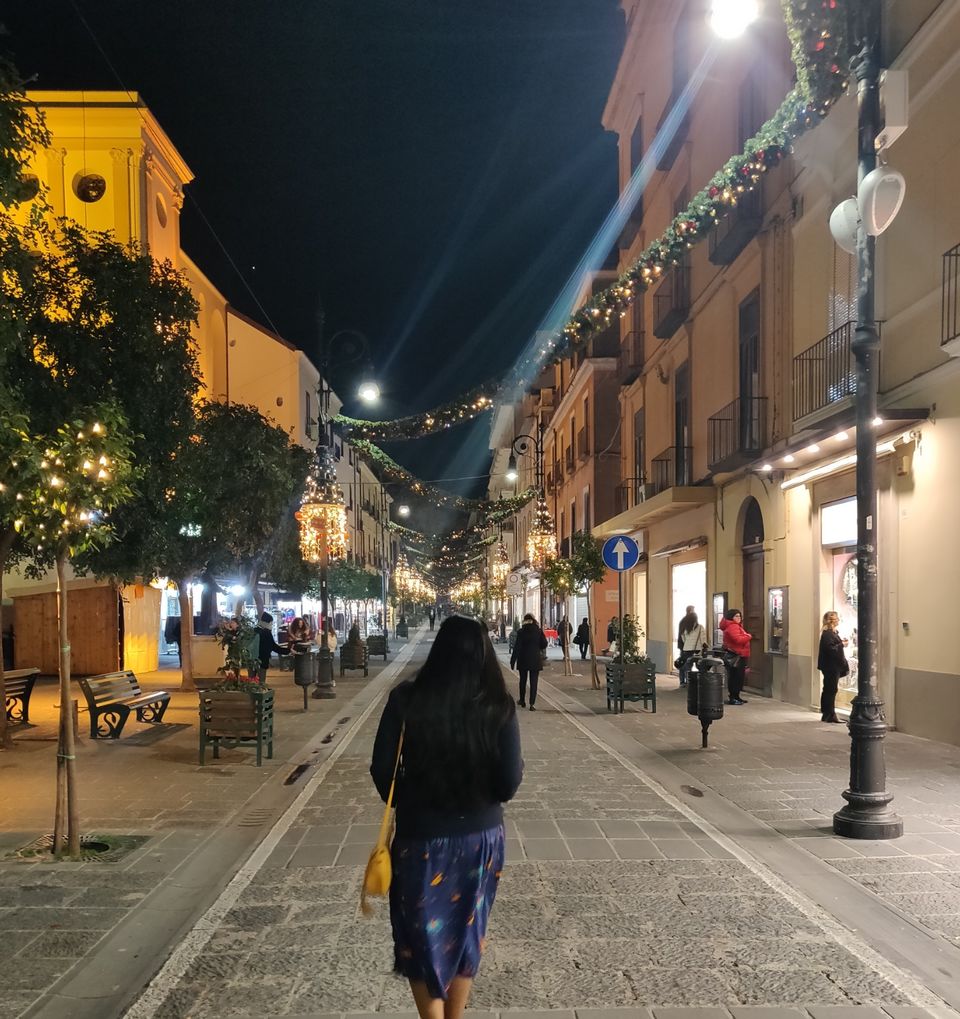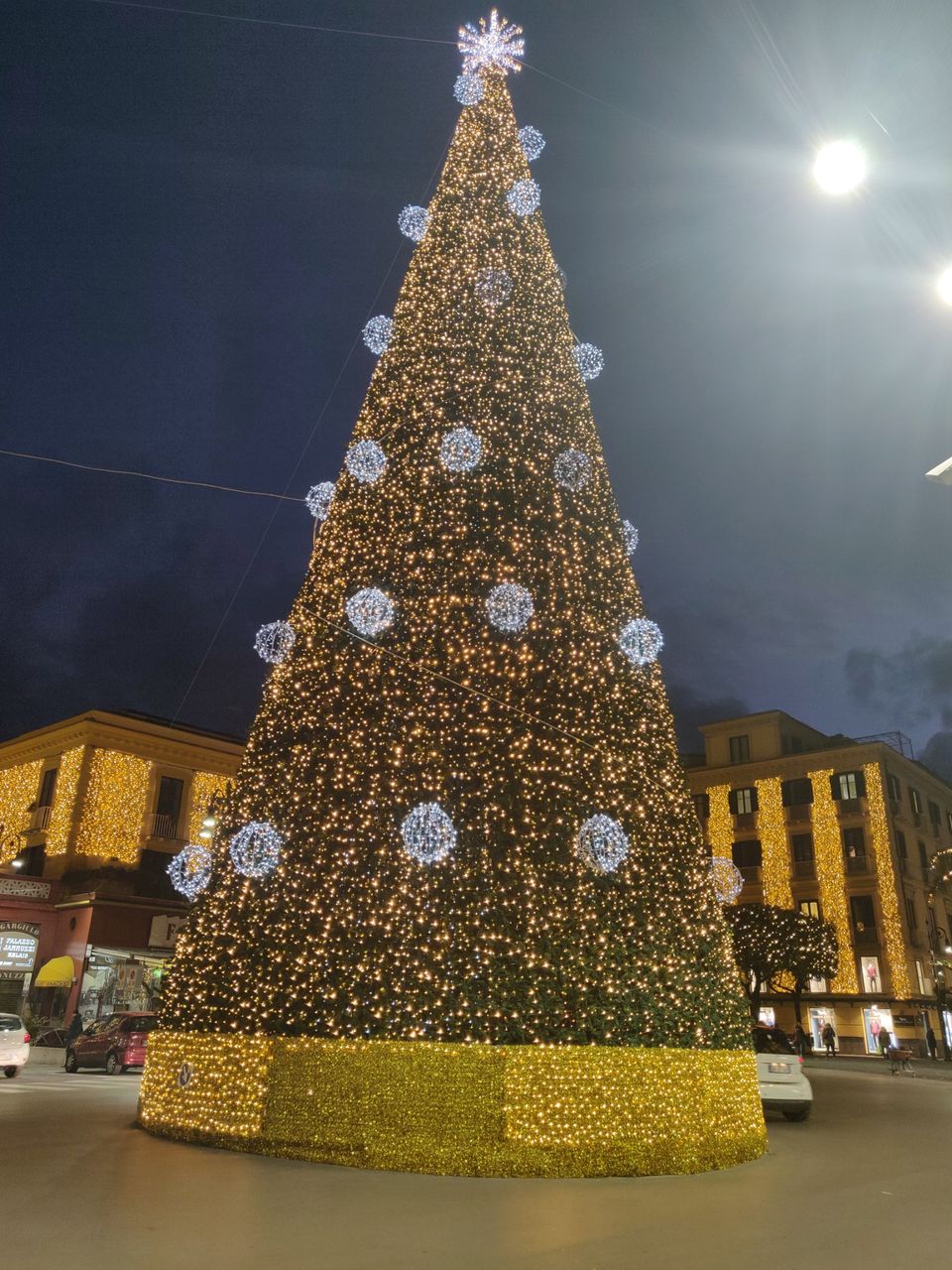 Our roster for the second day consisted of exploring the charming towns of Positano and Amalfi Town, which brag to be the showstoppers of the coastline. And our chariot for the day was SITA bus. This is one incredible bus service in the coastline towns, where one can buy a dirt-cheap ticket and enjoy unlimited rides for 24 hours between the towns of Sorrento, Positano, Amalfi Town, Minori, Salerno among others. We walked to Circumvesuviana Train station, outside which we bought on-the-spot tickets for the bus.
Tip 3: On ur way from Sorrento to Positano/Amalfi Town, hop on a seat to your right to enjoy mesmerizing views of the coast!
A one and half hour ride down the swirling and winding coastal road took us to Amalfi Town. This is an alluring town onlooking the gorgeous blue waters of Tyrhennian sea with a variety of places of interest including Piazza Flavio Giovia, Amalfi Beach, Museum of Papers and lots of pizzerias!
We spent a good three hours in the town before hopping back to the SITA bus to proceed to Positano. The Bollywood freak in you might be interested to know that this is the town where the recent blockbuster song 'Ghunghroo' from the movie War was shot. And to be honest, the place is as gorgeous as it seemed on the silver screen, if not more! 😉
We took a stroll among the curly roads and checked out cafeterias and shops before stumping on the place selling a giant Lemon ice cream. No kidding there, this was a lemon flavoured ice cream in a giant lemon peel cup, to finish, both of us were quite in sweats!
Our day ended with a bus ride back to Sorrento.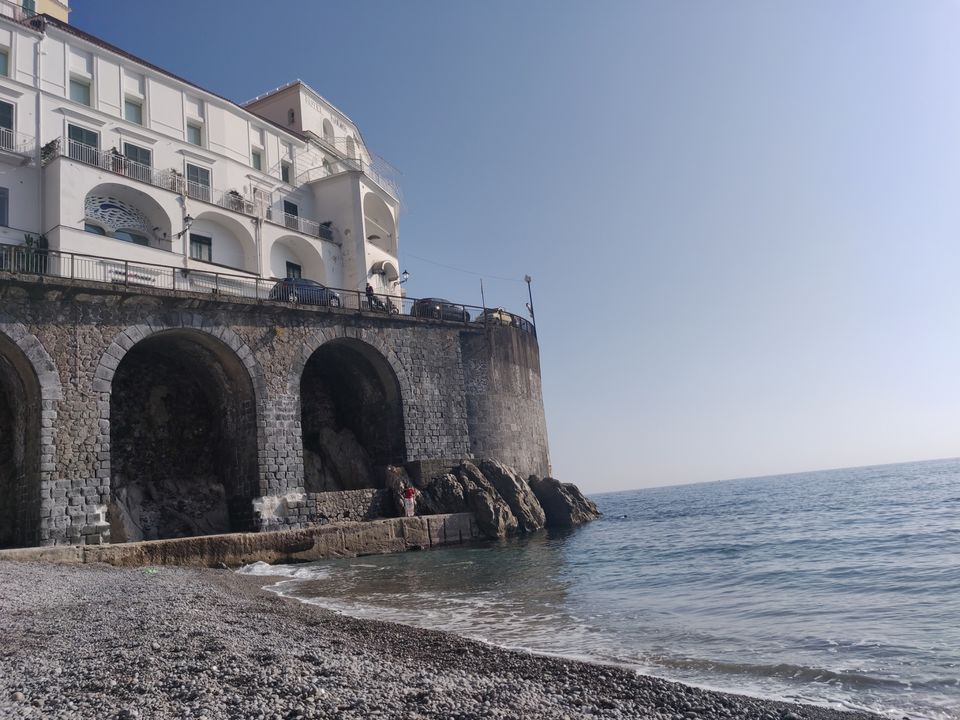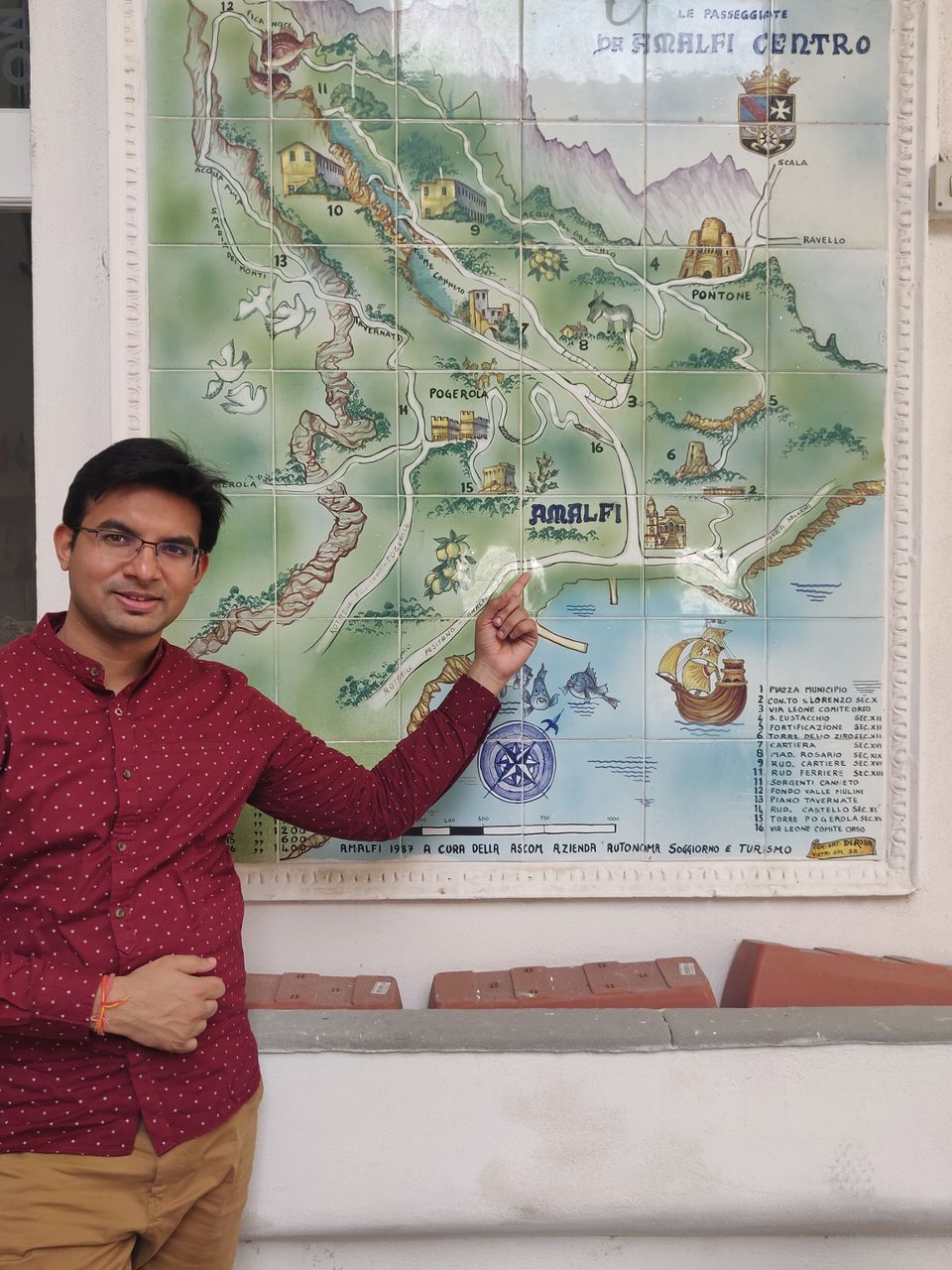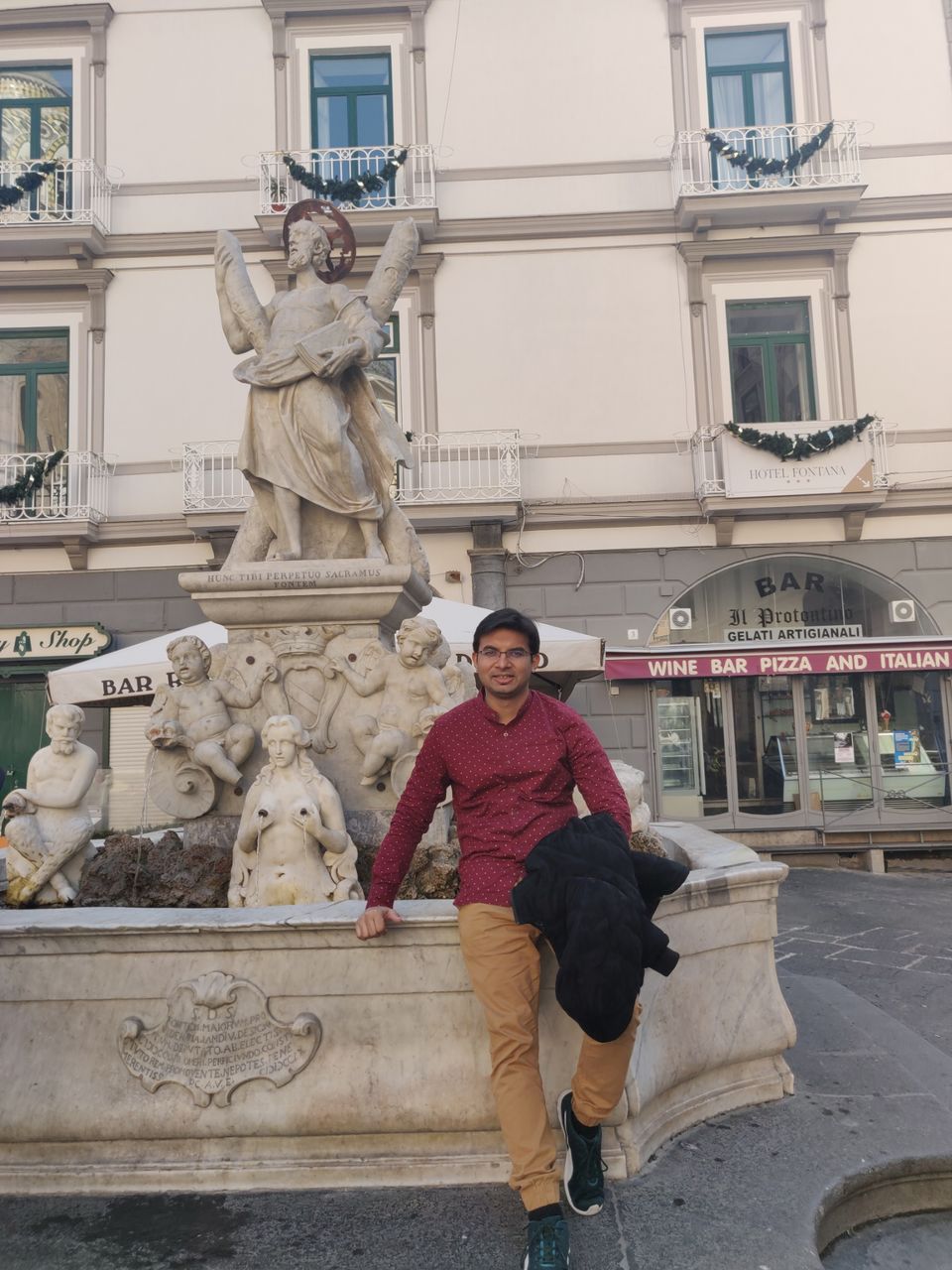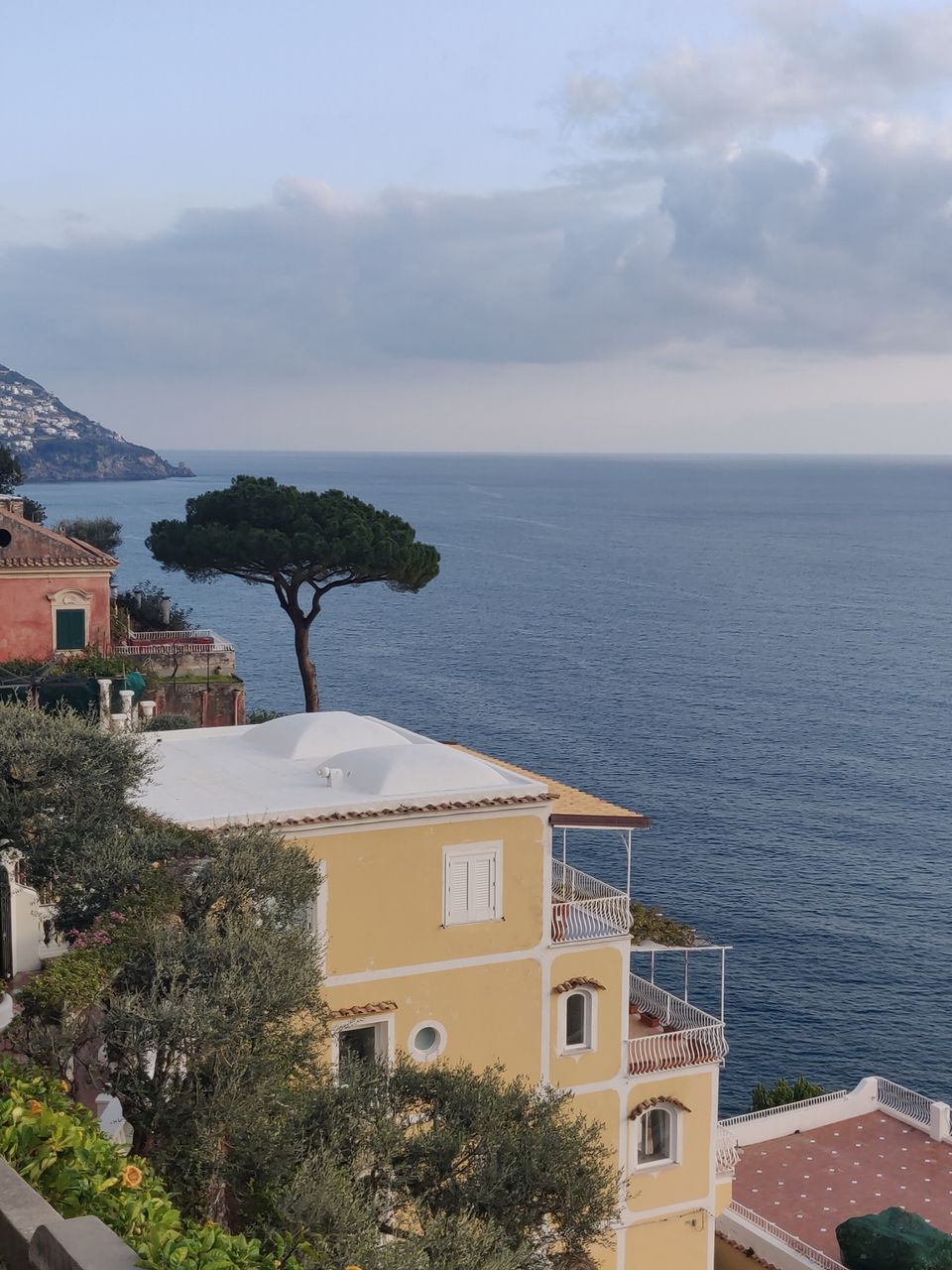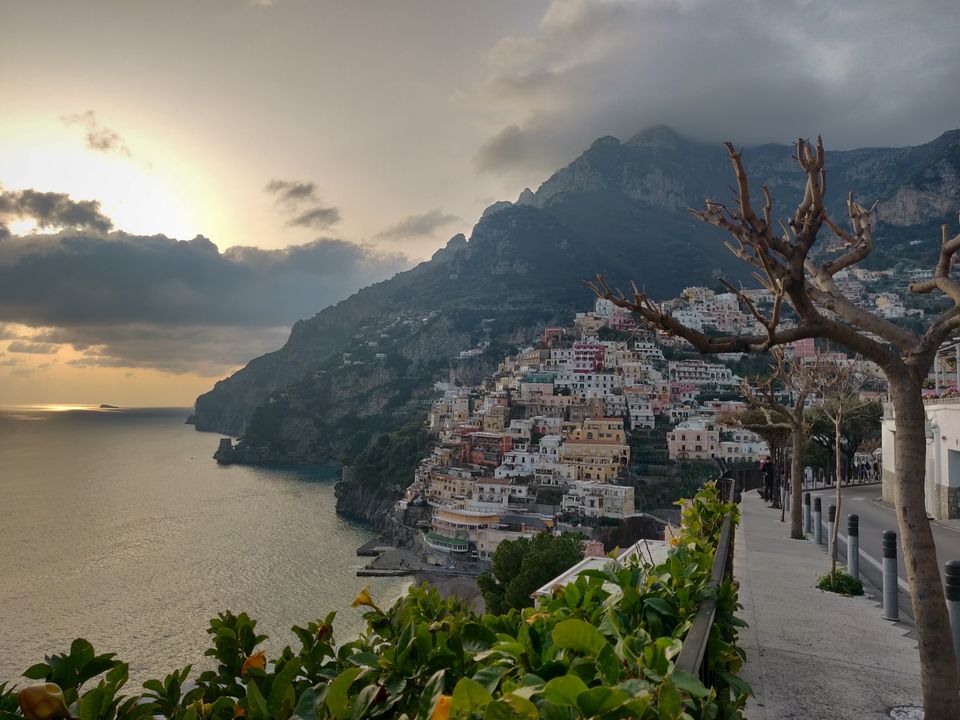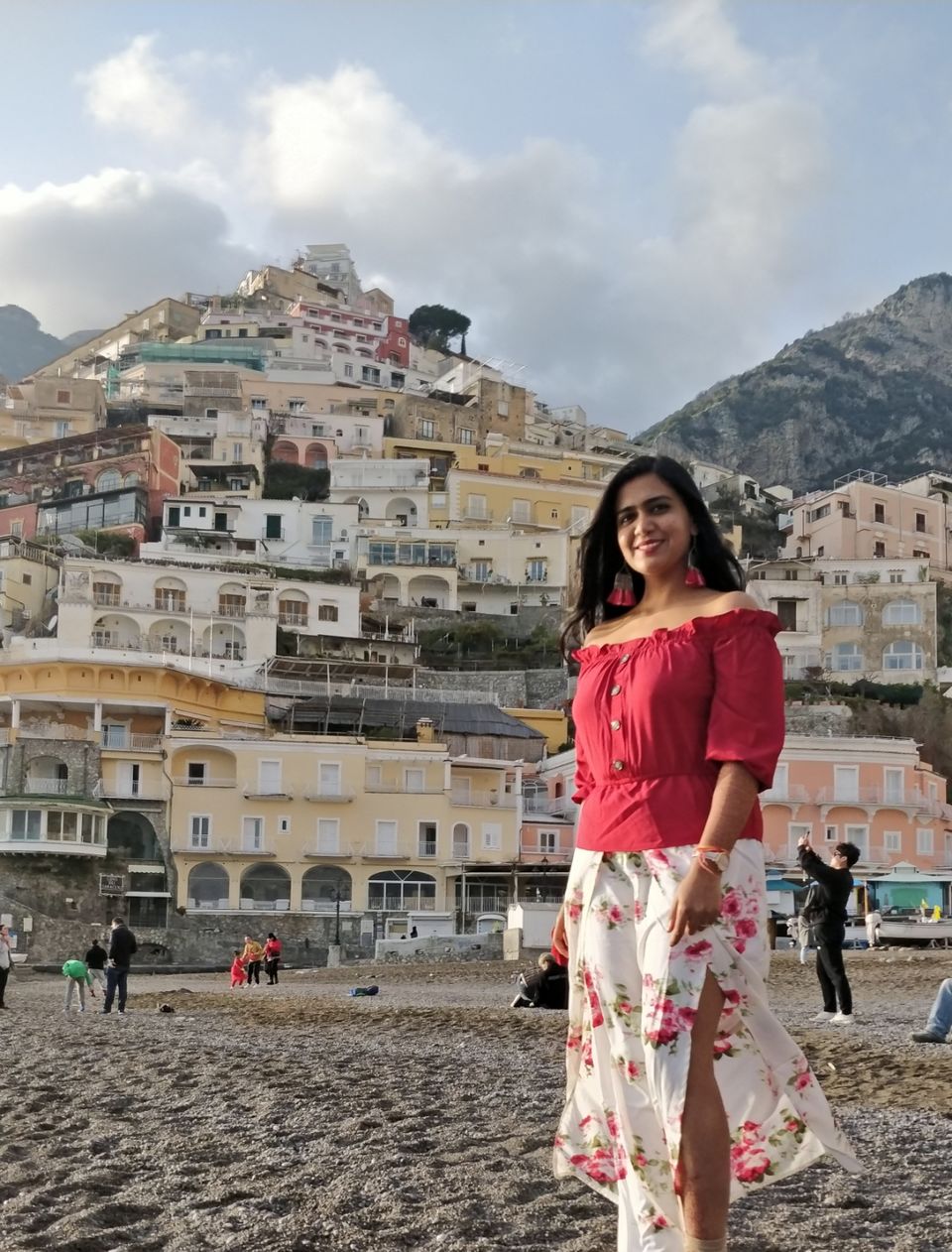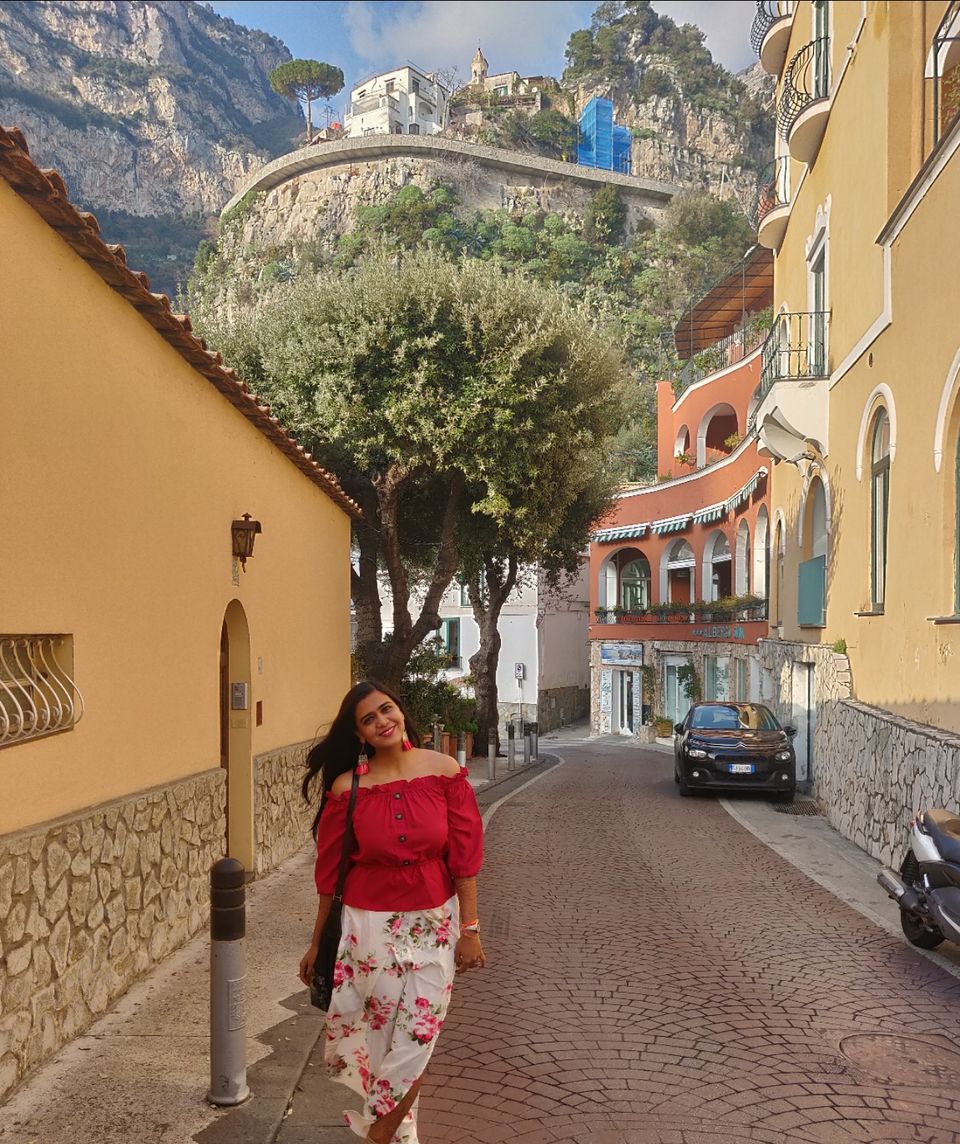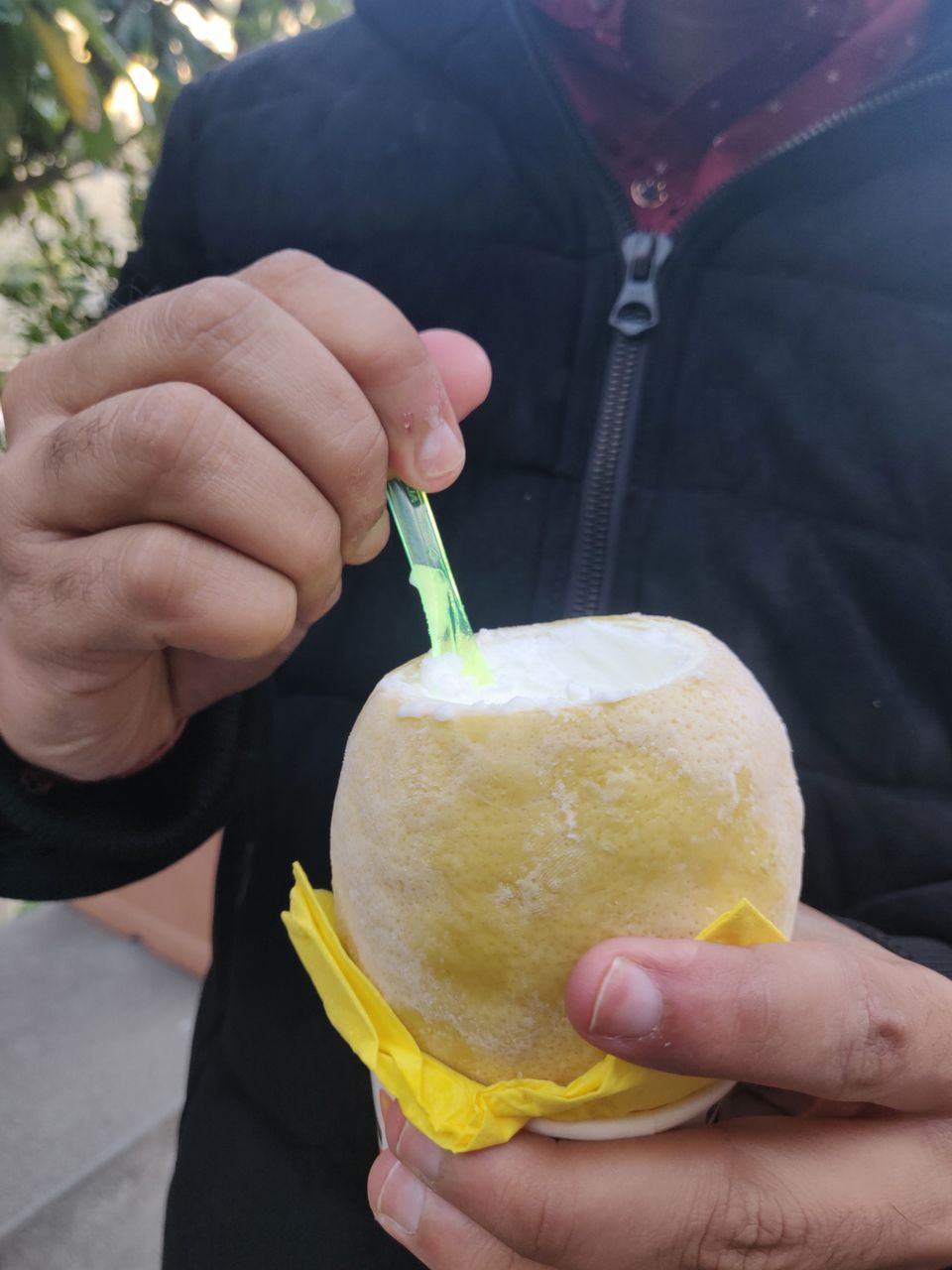 It's some kind of sorcery that Italy has in its kitty that a short train ride of about 45 minutes transports one from a magical coastal town to an archeological marvel. I experienced this as I rode a local train from Sorrento to Pompeii and stumbled upon a different era. The ancient city of Pompeii was destroyed by the eruption of the mighty Vesuvius volcano in 79 AD. Today, the eerie remains of the historic city are dwelling in the backdrop of the Vesuvius and the intriguing remains of the lost town make this a must visit place for history buffs.
After a hearty exploration, we headed for Naples to halt for the night.

Tip 4: Local trains run frequently from Pompeii to Naples are available which present a very cheap option for commute. As we were unaware of the same we had pre-booked a cab and splurged a lot of Euros 🙄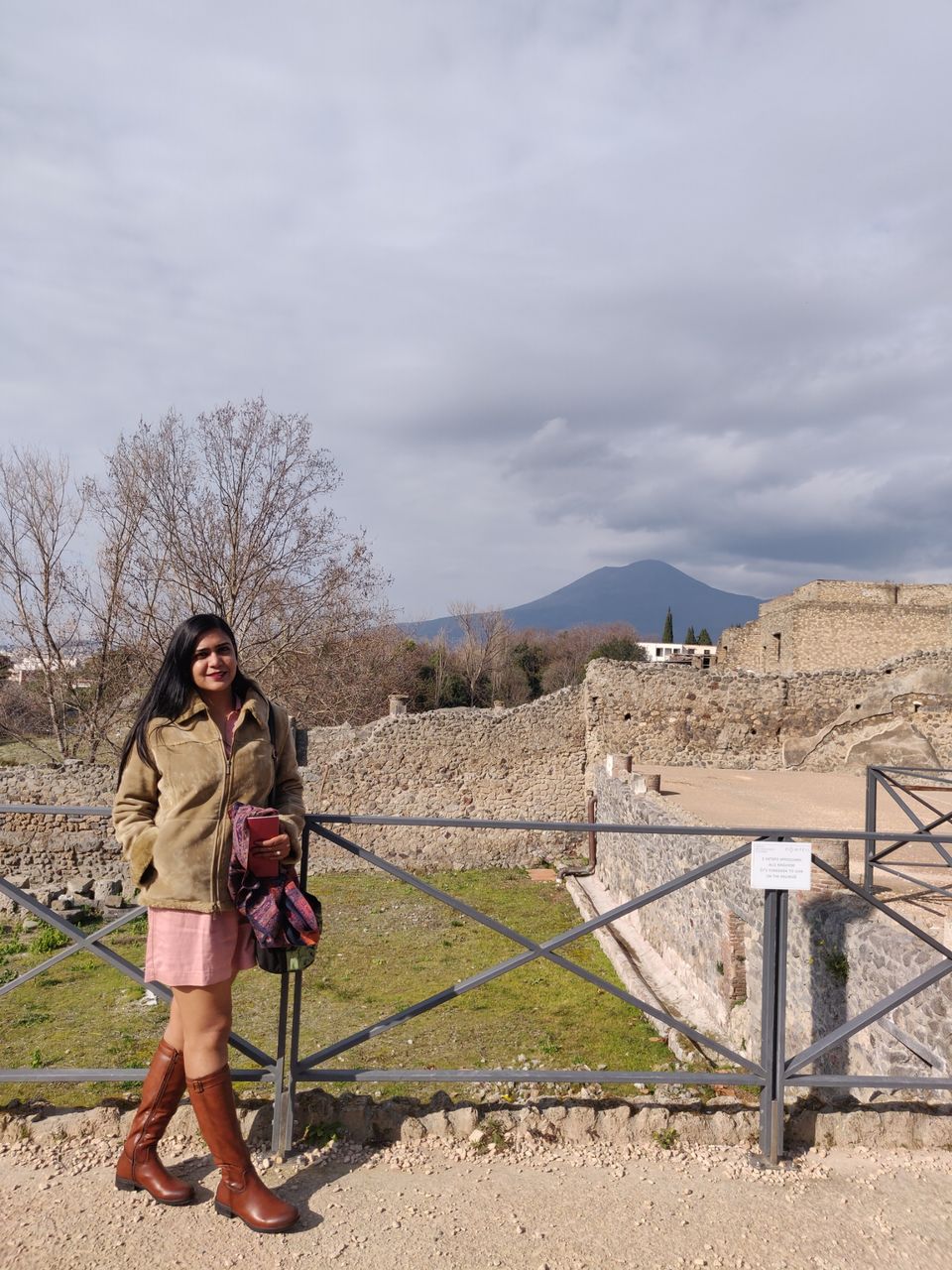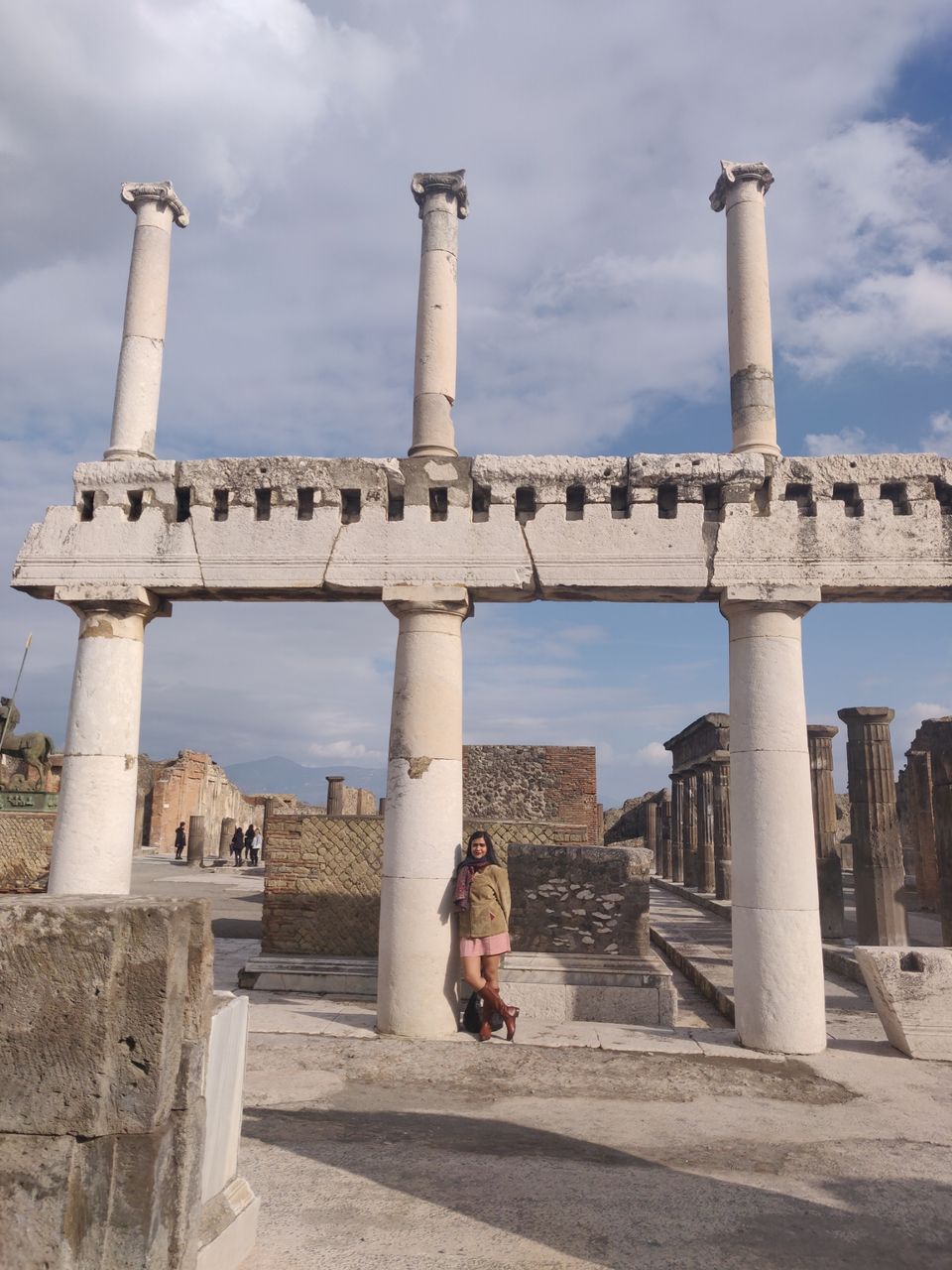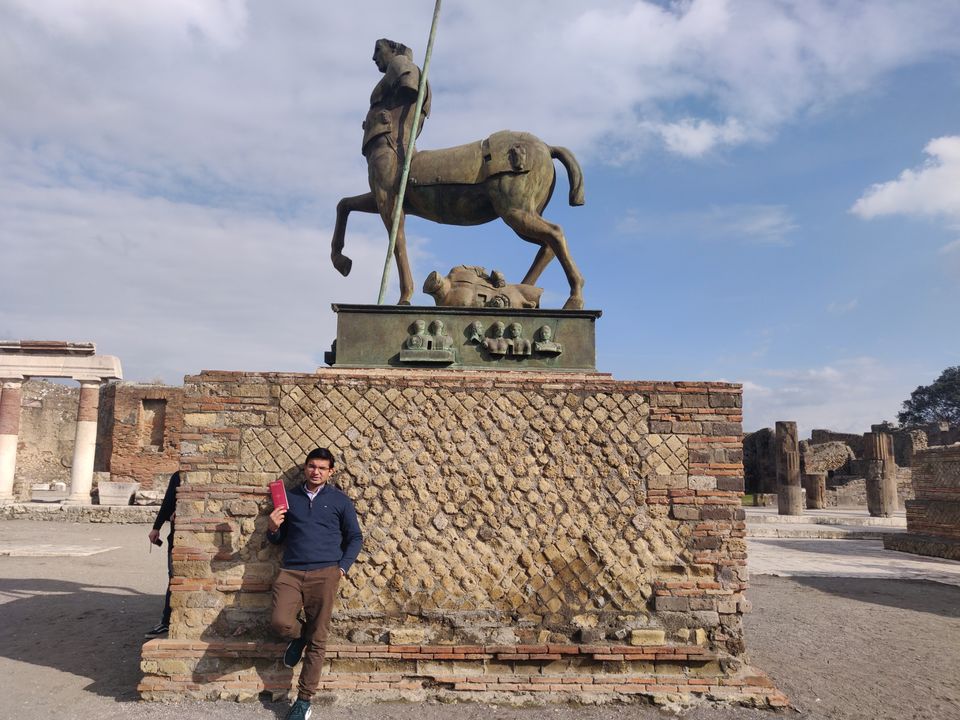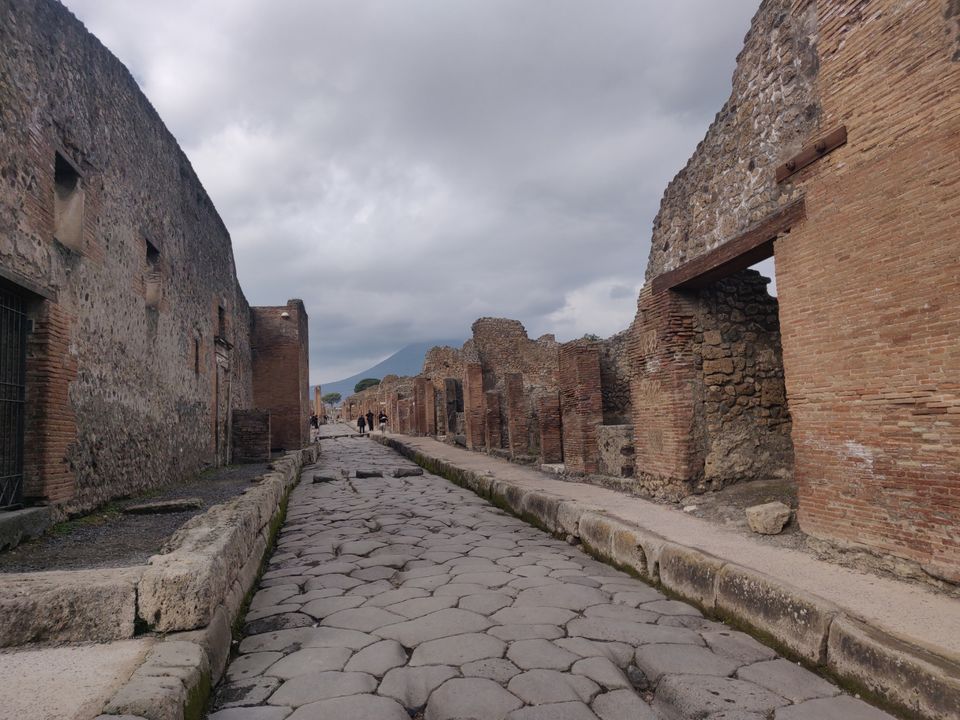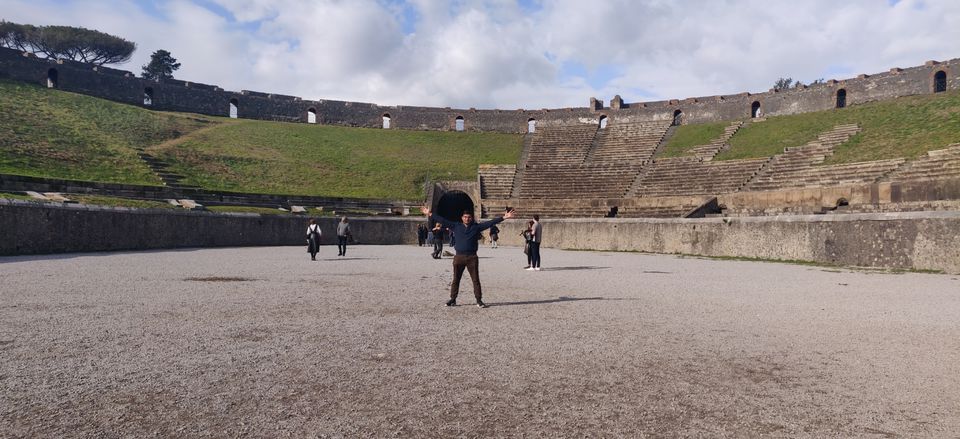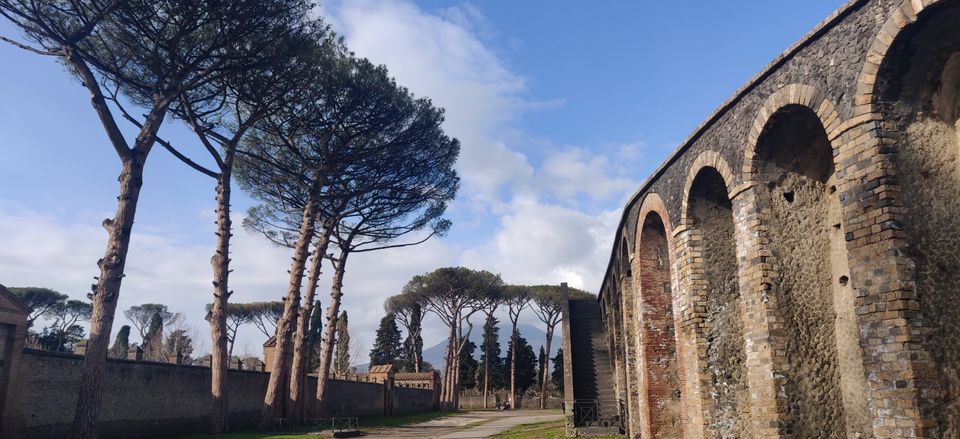 Could a trip to Italy be wholesome without a visit to the Iconic city of Venice? I say not!
An early morning flight from Naples took us this lagoon city which has little to no roads, only canals.
Tip 5: Intra-city flights in Italy seem dirt cheap at the first glance but a heartbreak is hidden in plain sight. Almost all the flights charge baggage fee, which can be as much as € 50 per bag! Sadly, there's no escape from this, except, 'travel light'!
Travel light also comes as a tip if one is planning to visit Venice, as there are no roads or cabs in the city and the best option for one to carry hir or her luggage is to carry it oneself. So if you have decent amount of love for your backbone, travel light!
Coming back to Venice, I'd say that the magnificent Grand Canal and the Rialto bridge over it, the gondola rides, the Basilica Di San Marco and the whimsical shops exhibiting murano glass artifacts are just too good to be missed in a lifetime.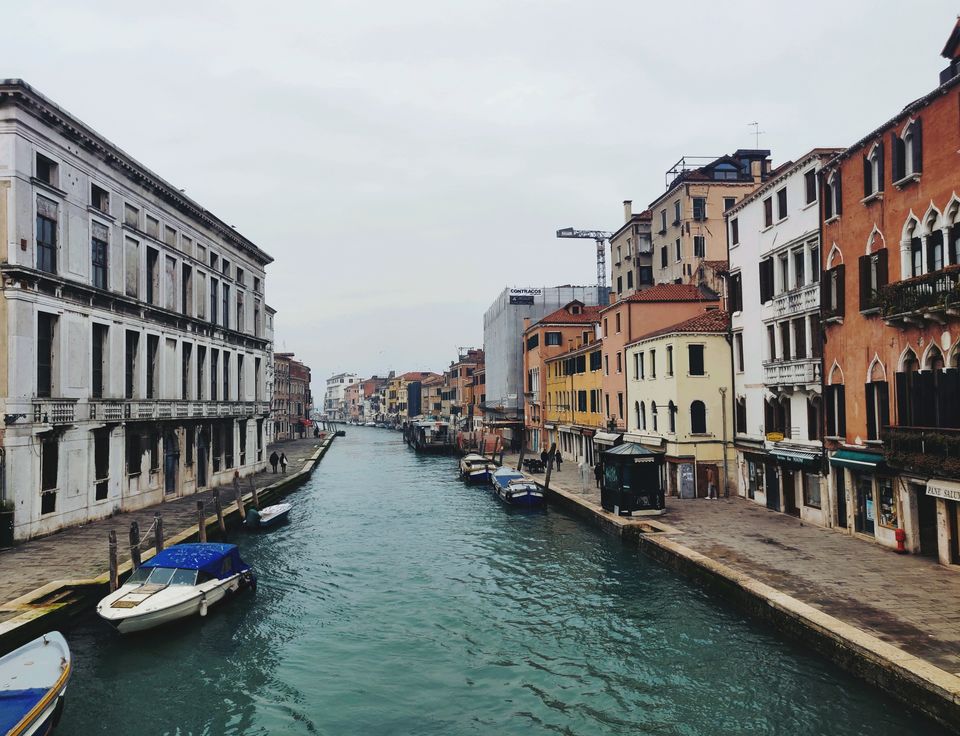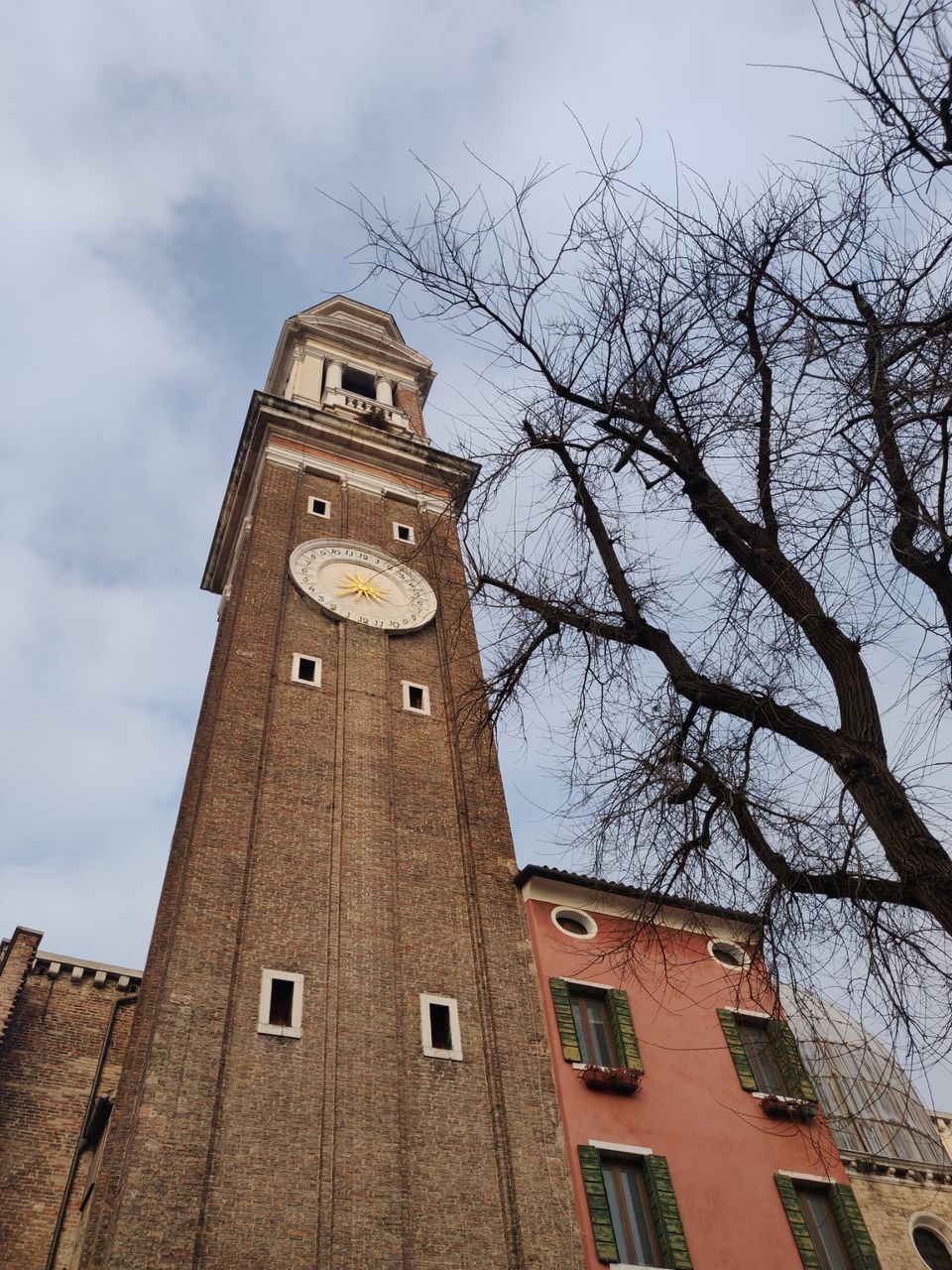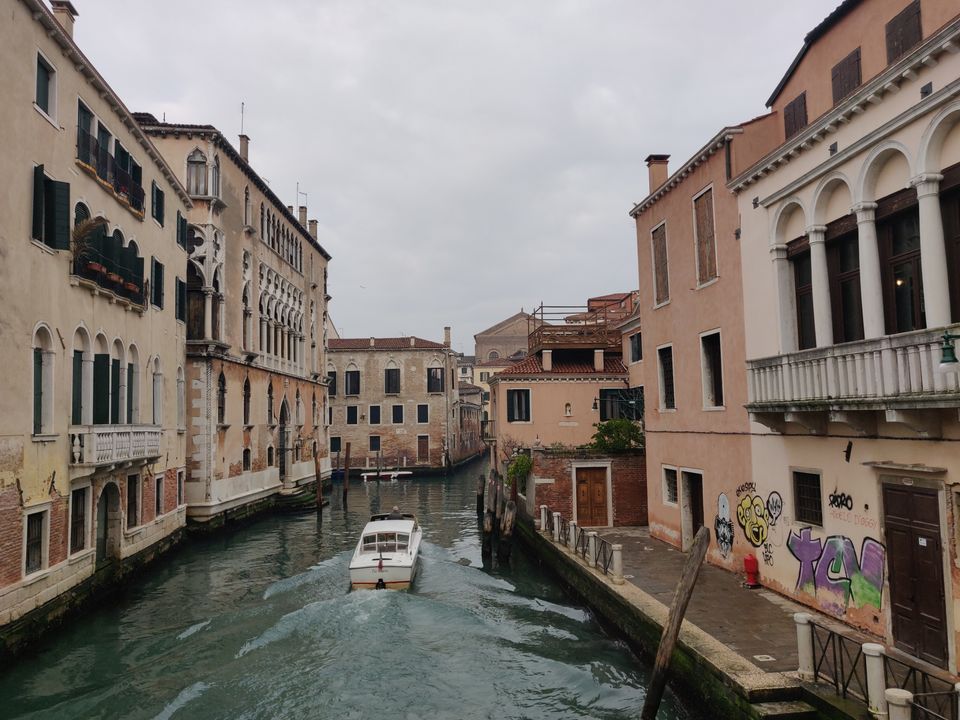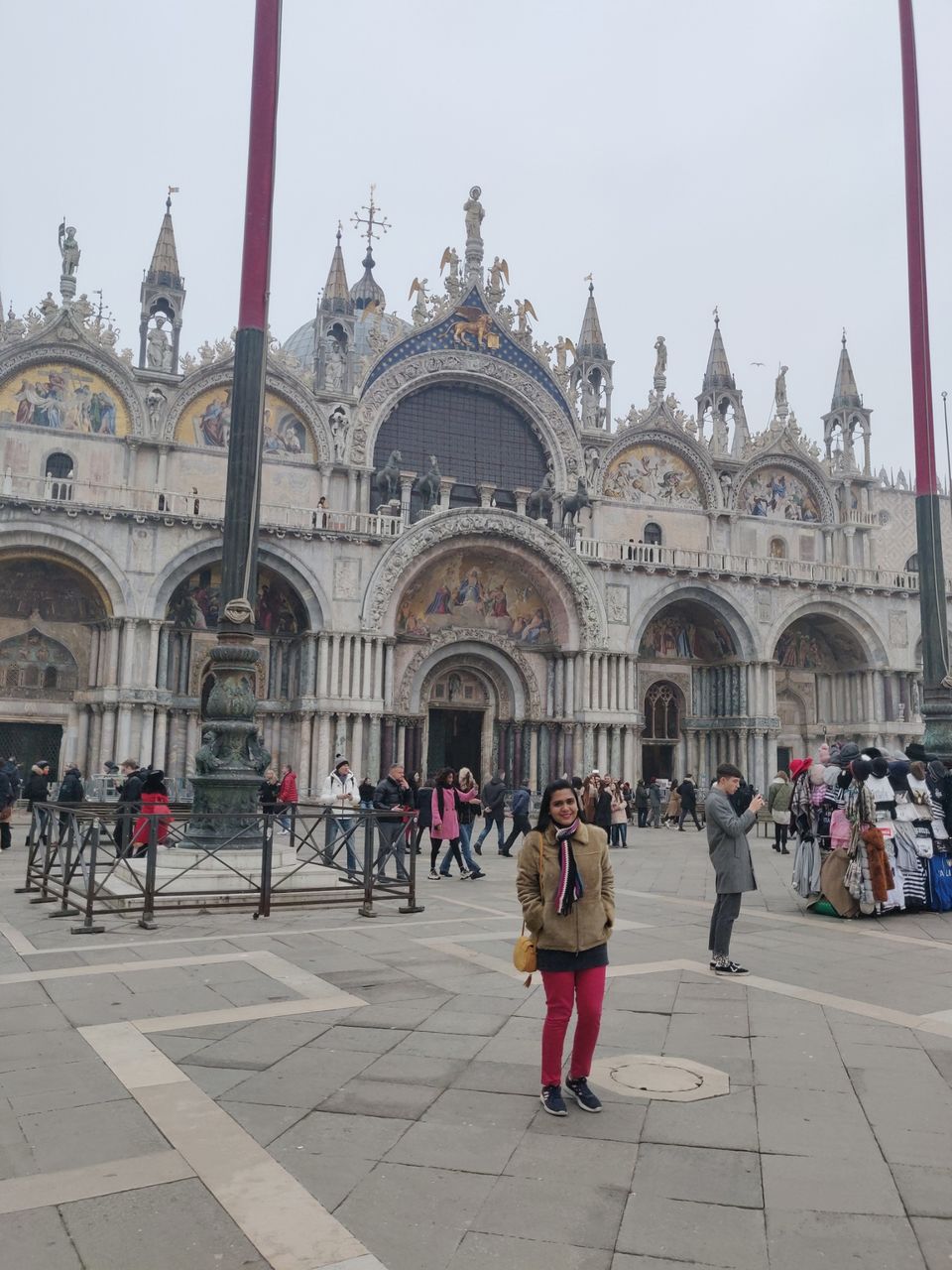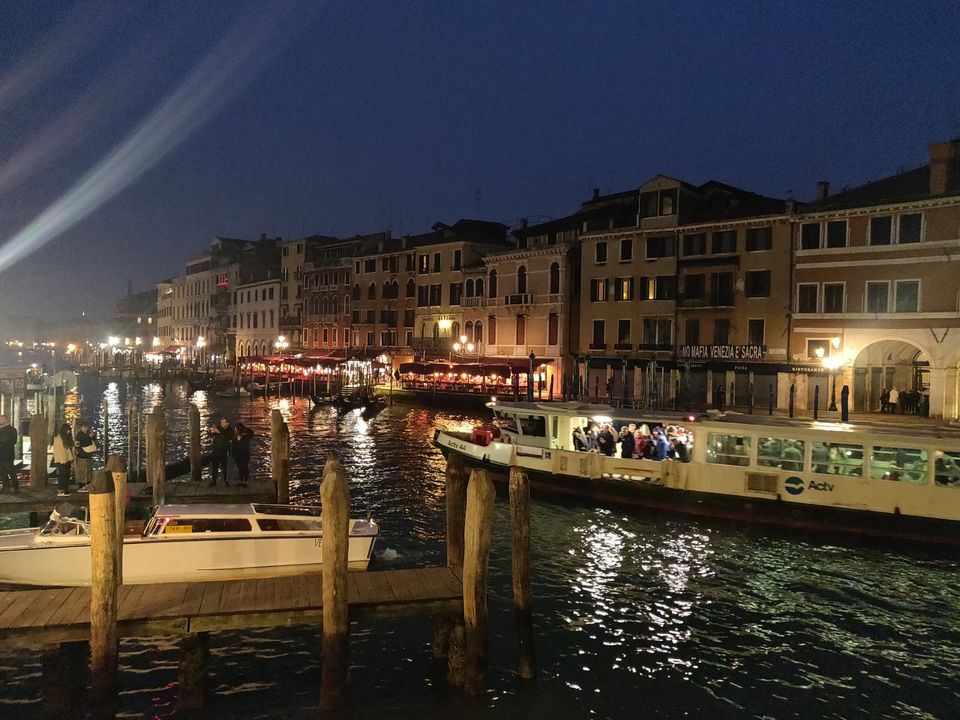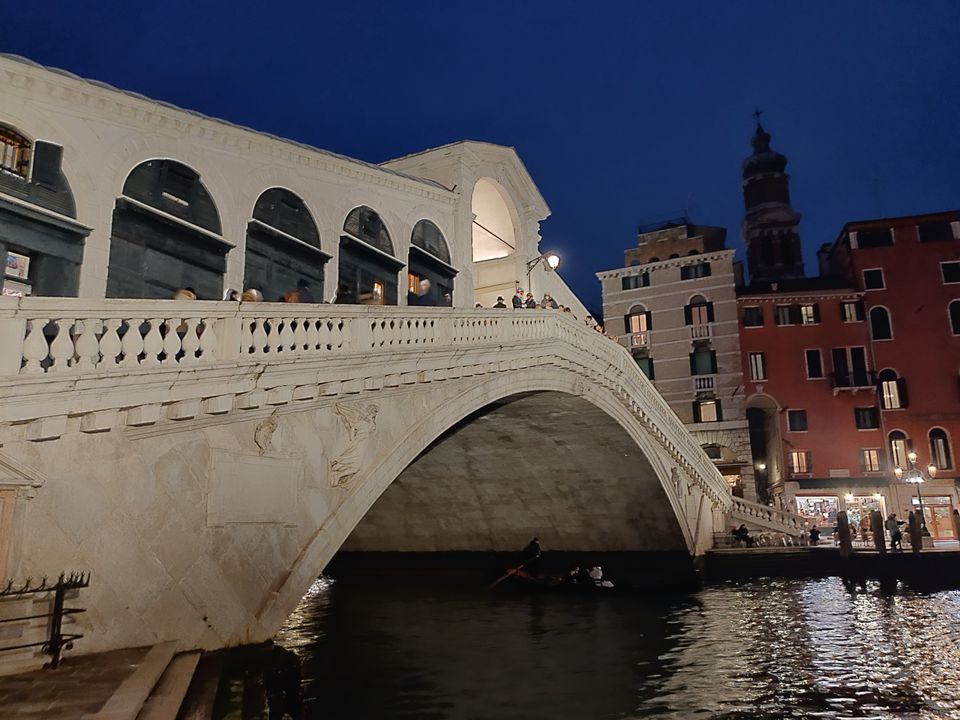 We had earmarked this day for a day trip from Venice to quaint towns of Desenzano Del Garda and Sirmione, which crown Lago Di Garda, the largest lake in Italy. These places are well kept from mainstream tourism and hence have an unparalleled rustic charm to them.
We had pre-booked to and from tickets for Frecciarossa train between Desenzano Del Garda and Venice. The lake shore is pristine and peaceful and sight of Garda's playful waters fill one's eyes to the extent of sight.
Soaking in the tranquility of this place for an hour or so, we proceeded for Sirmione (buses ply regularly from Desenzano bus stop and tickets can be purchased on board).
Sirmione is another gem basking in the lap of Lake Garda. A historical castle Castello Scaligero adorn the entry point of the town and its narrow pathways remind one of the olden sepia times. Other exceptional places of interest are Jamaica beach and Grotte di Castillo. The chilly temperature came as a blessing to us as this place was so thinly populated with natives and tourists that it felts like our own private town 😉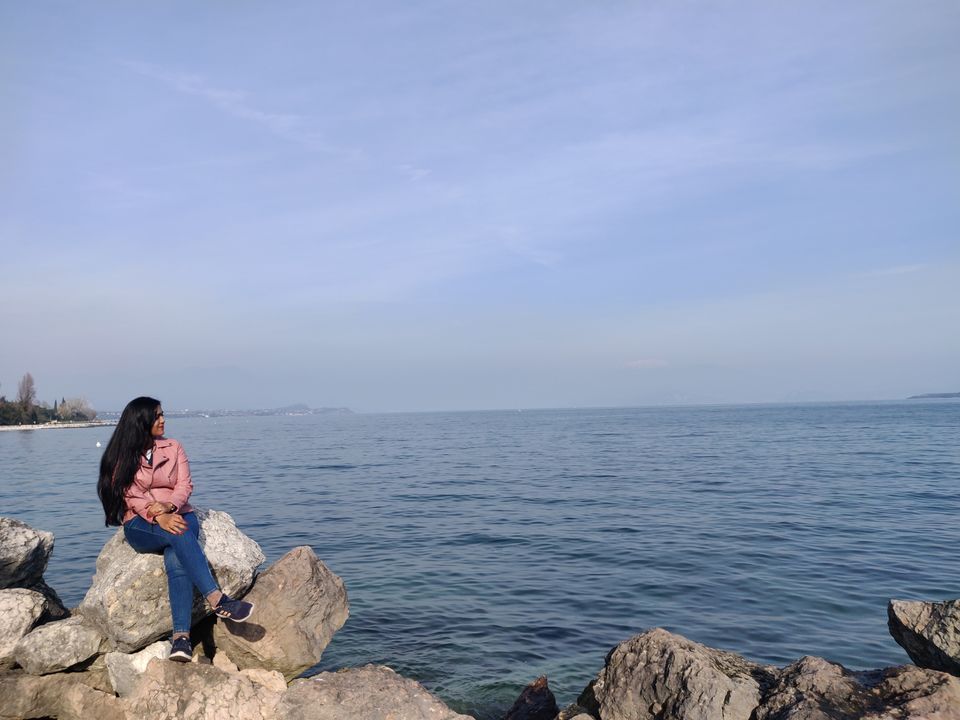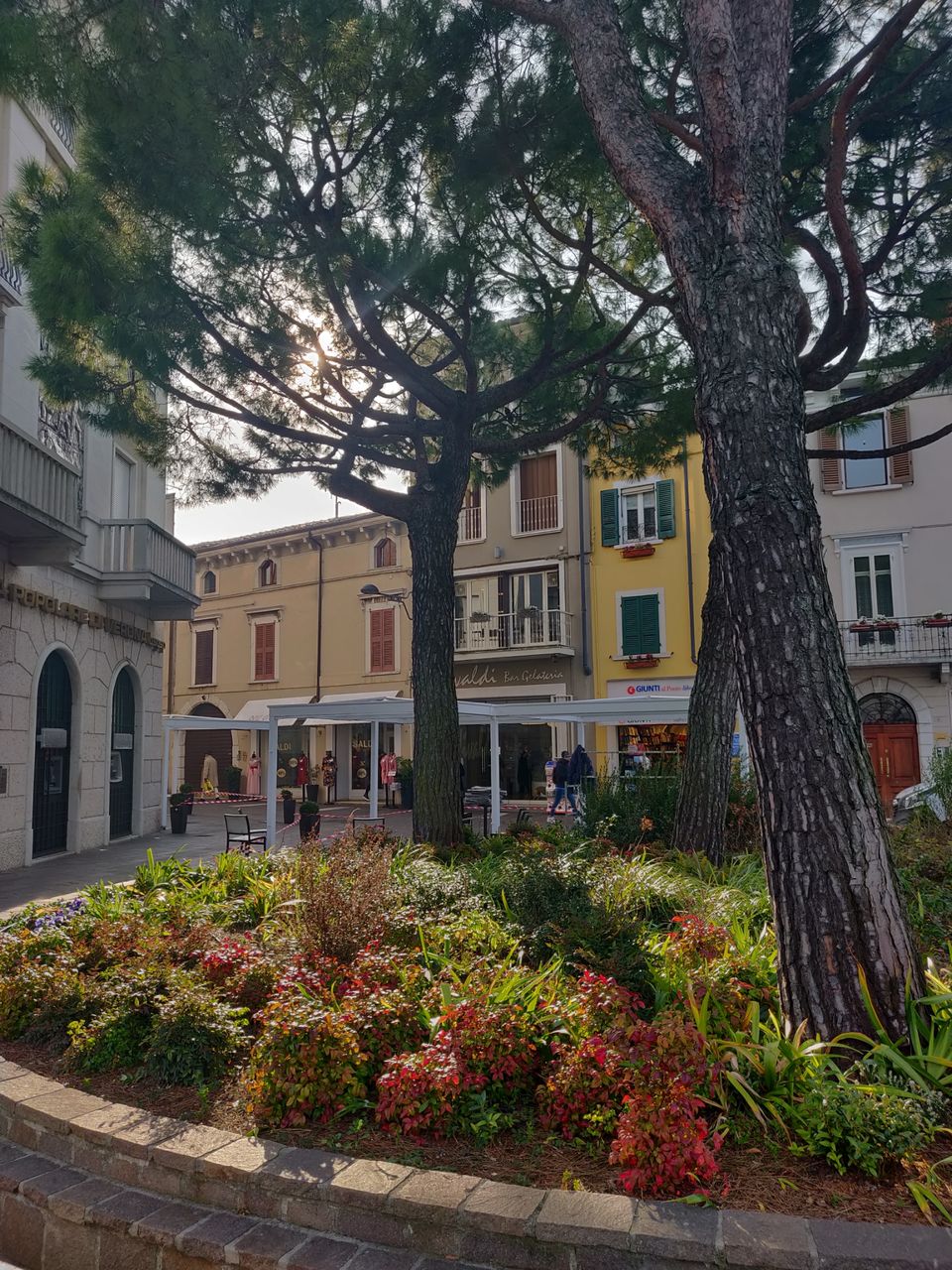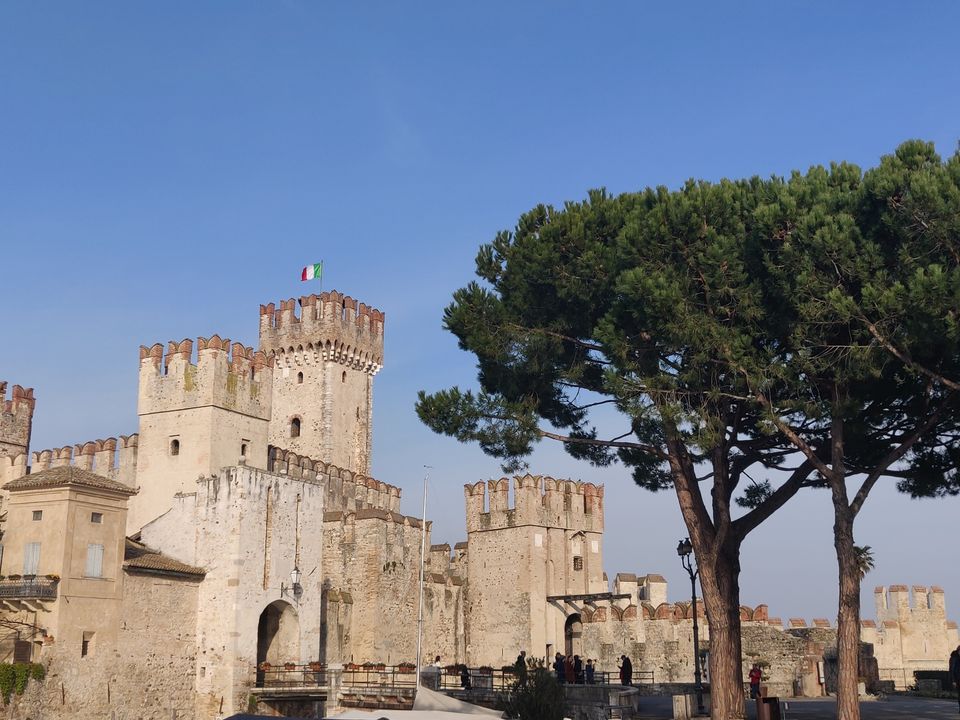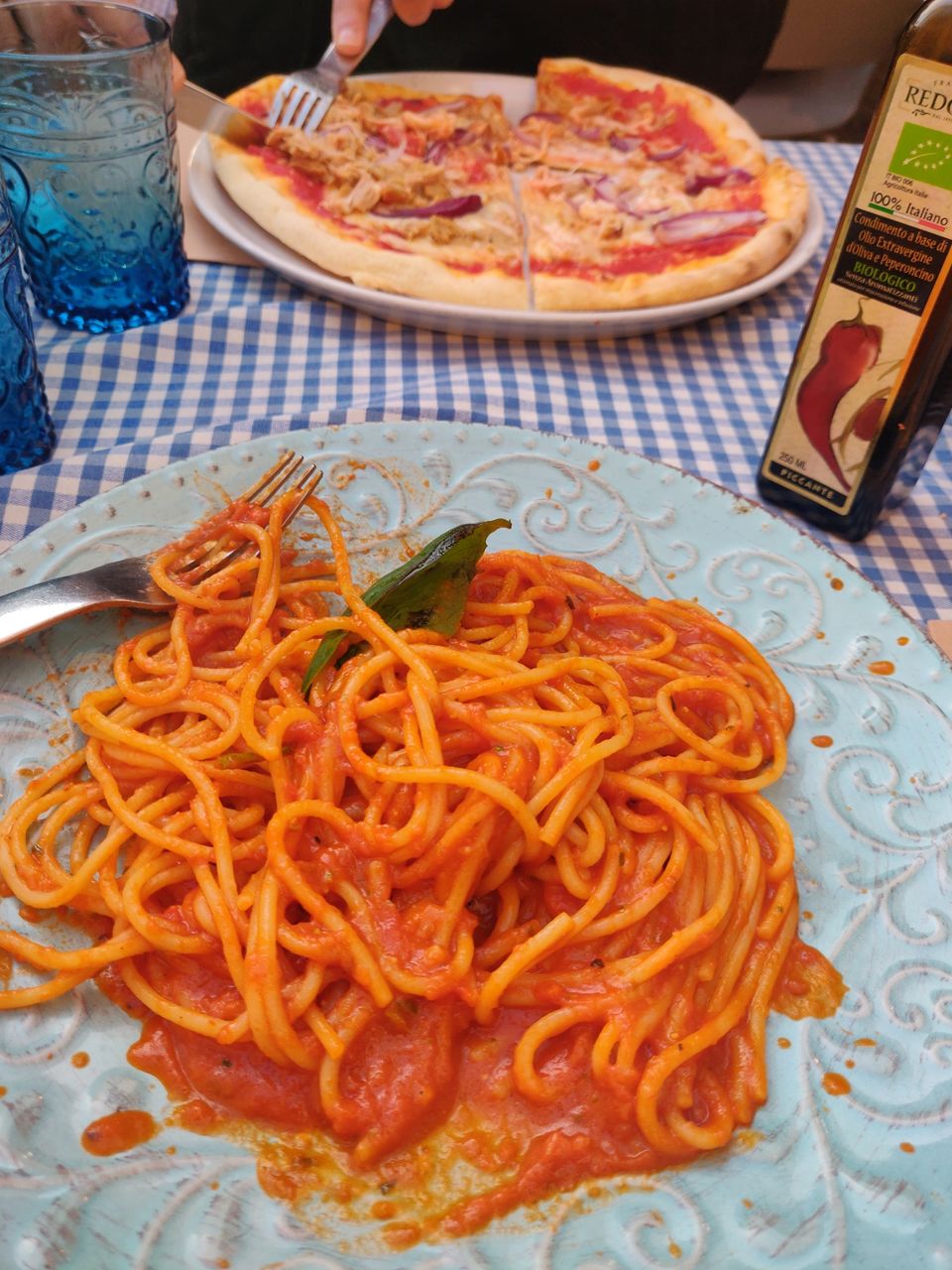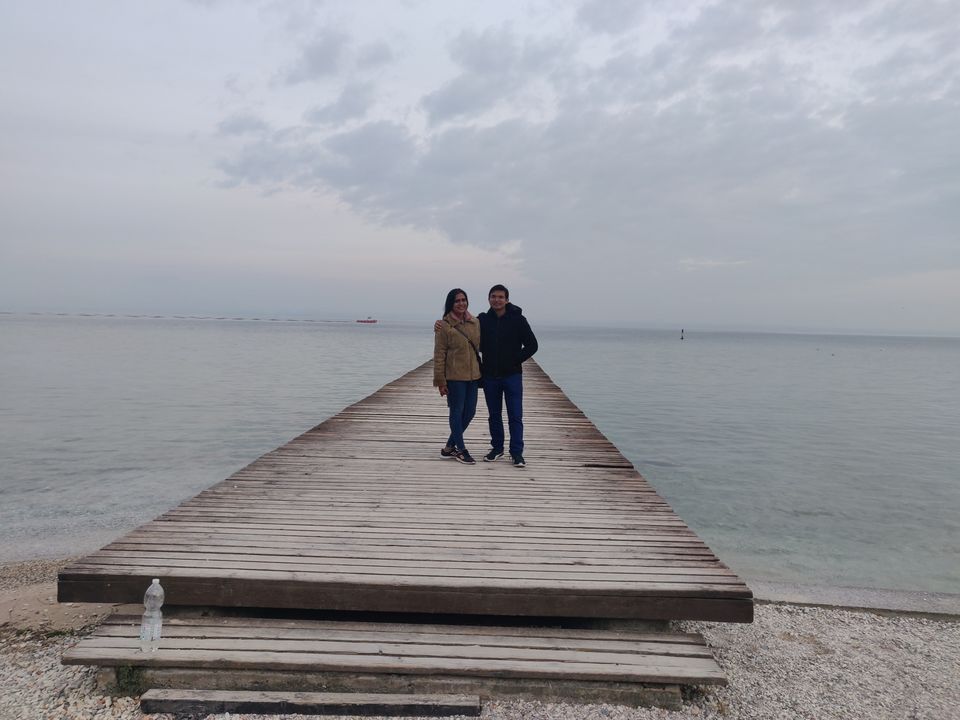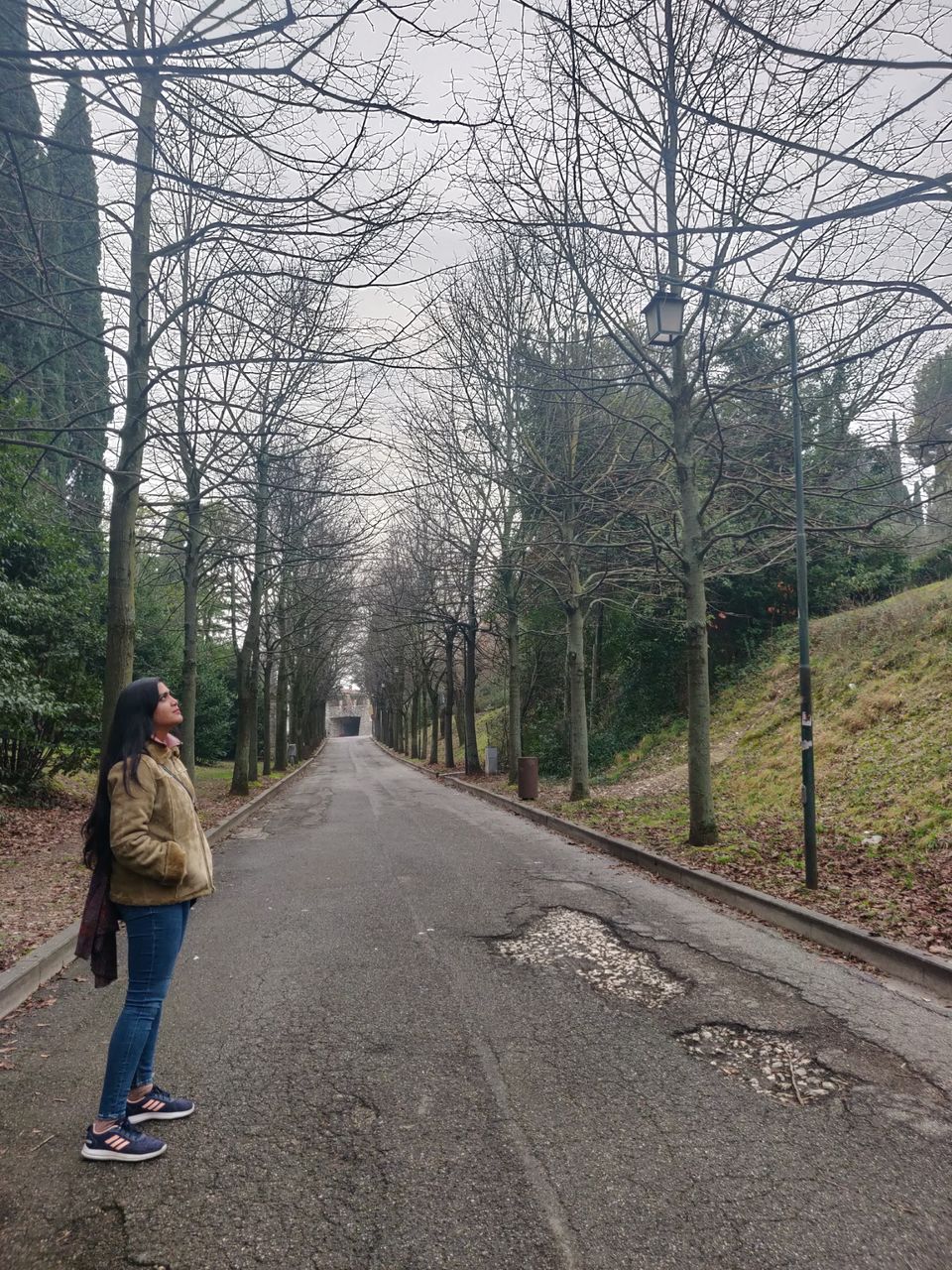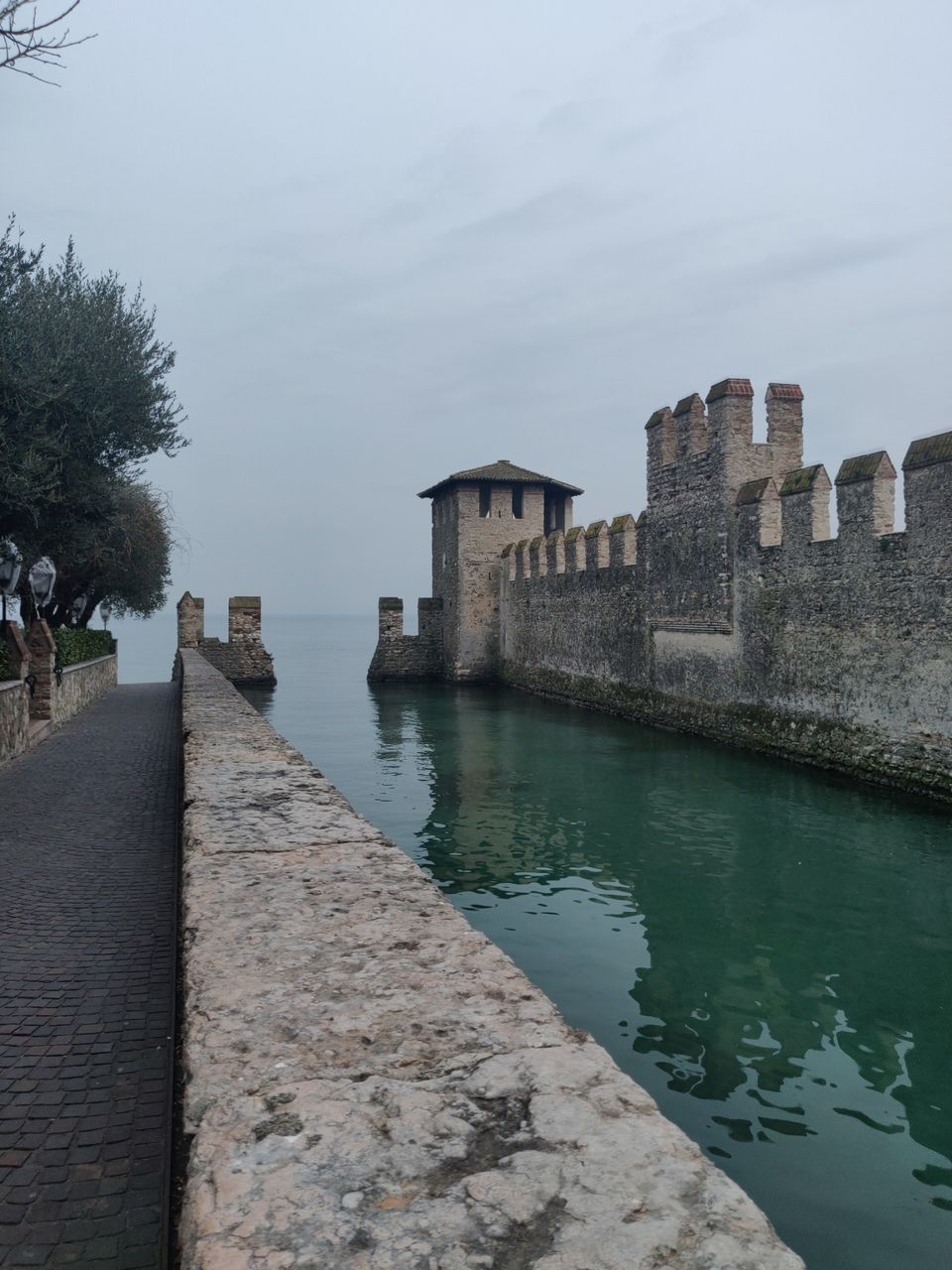 One of the commandments for our trip was to dwell for majority of the days in lesser touched, suburban Italy and following this, we had earmarked only one day for sight seeing in the Italian capital of Rome. On day 6, we caught an early train from Venezia Santa Lucia to Roma termini ( pre-booked from our guardian angel, Omio).
We spent the day gorging on the spectacular sights like the Colosseum, Fontana di Travi, Roman Forum and Basilica di San Giovanni.
It's about time I drop another tip, that holds true not only for Rome, but to whole of Italy that I experienced: Book your hotel near the airport/train station that you are arriving at, in order to save a fortune on cabs. We did this in Venice, Rome and Sorrento and didn't regret the surreal walks along the paths of these dreamy destinations to reach our hotel.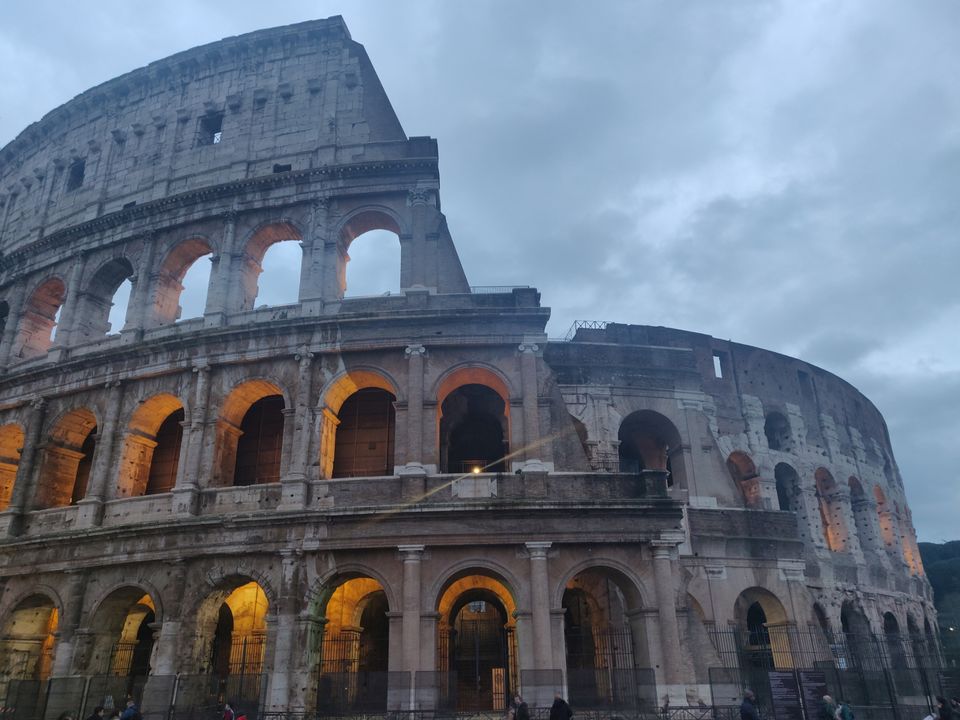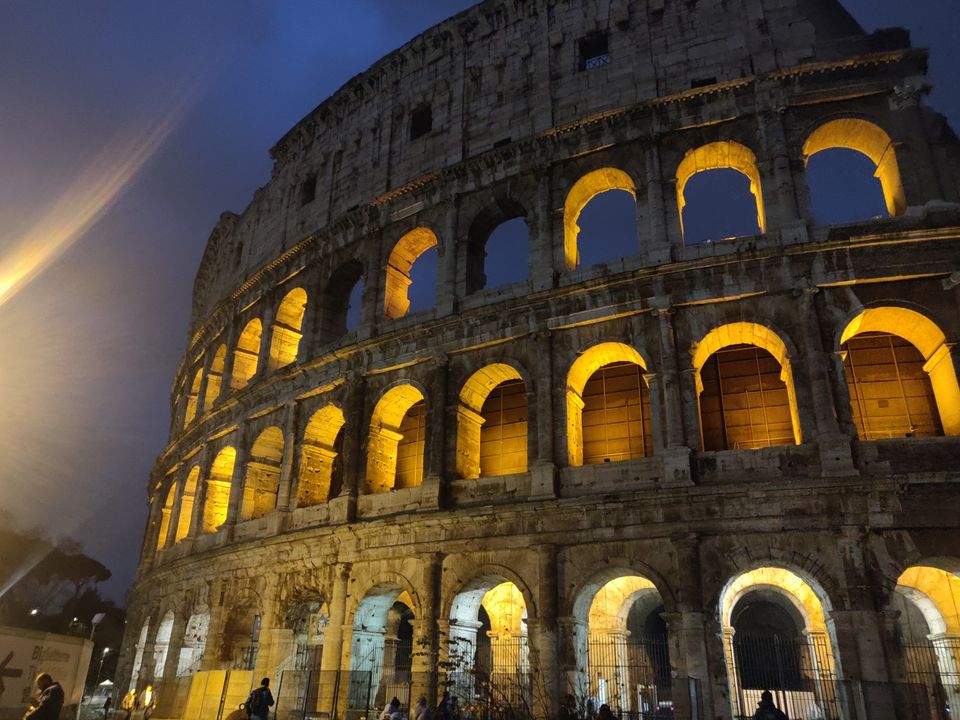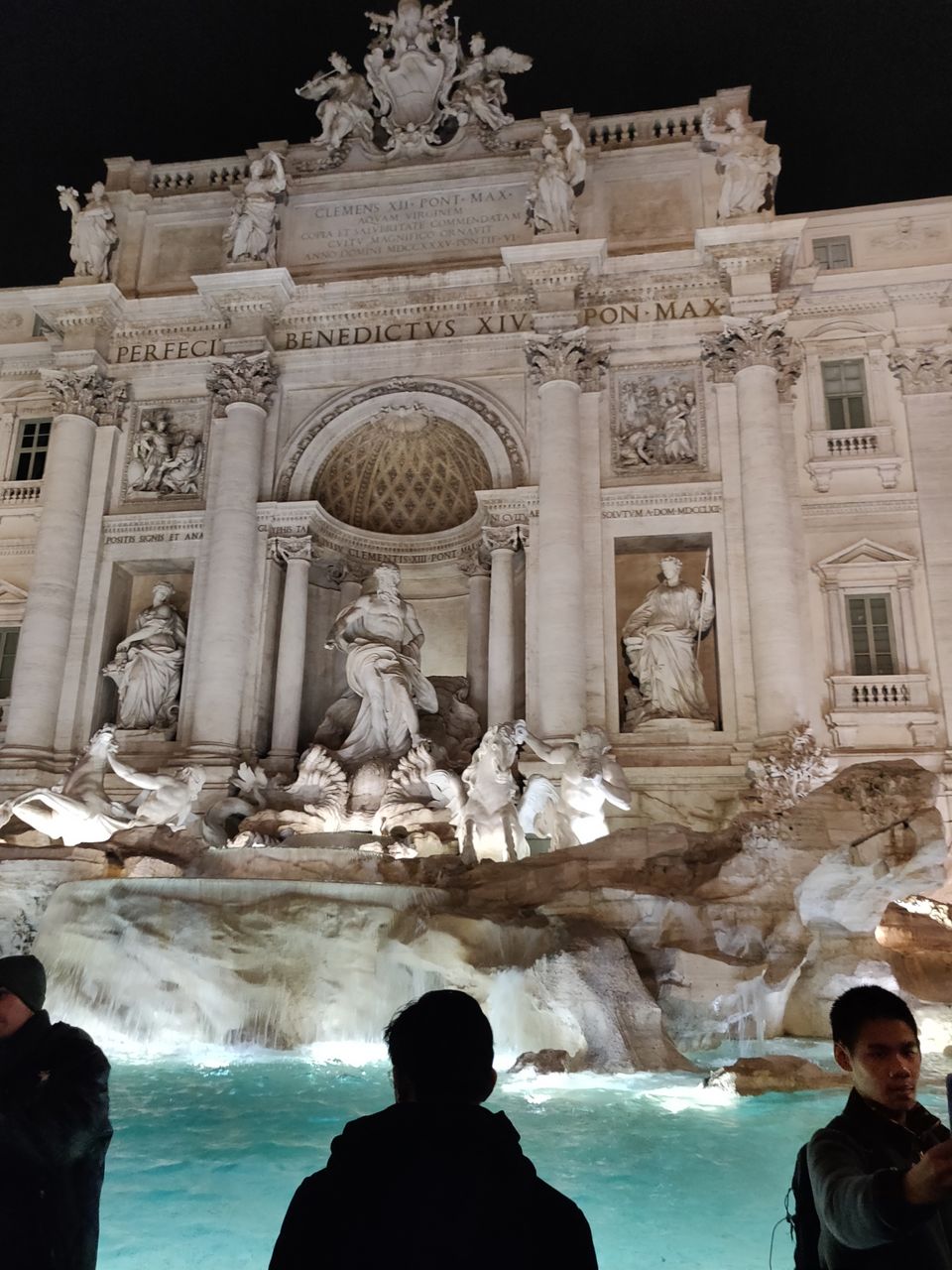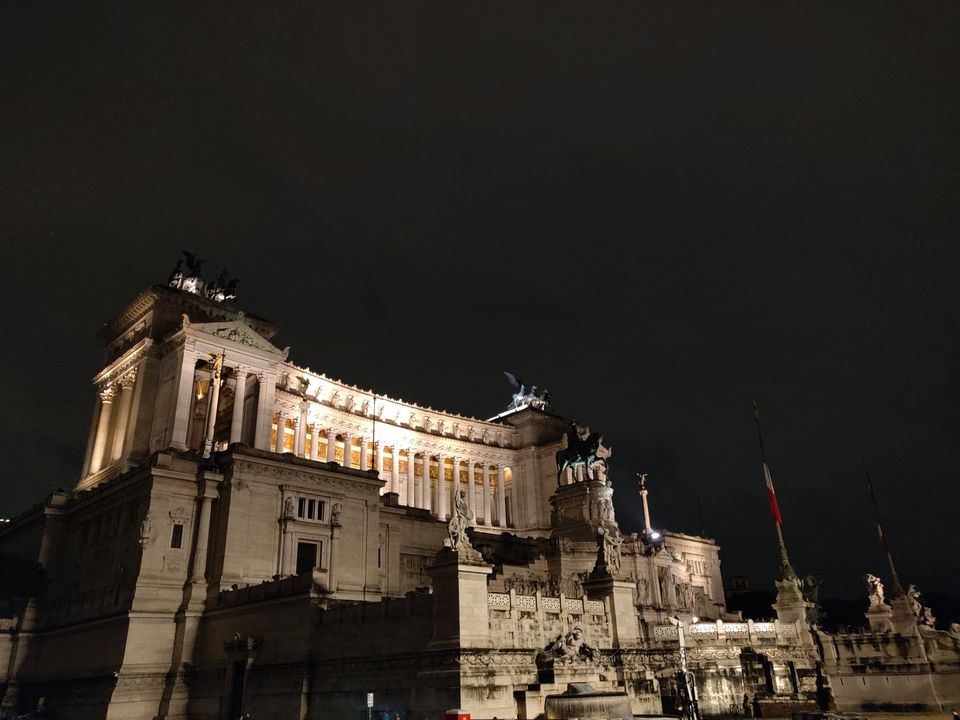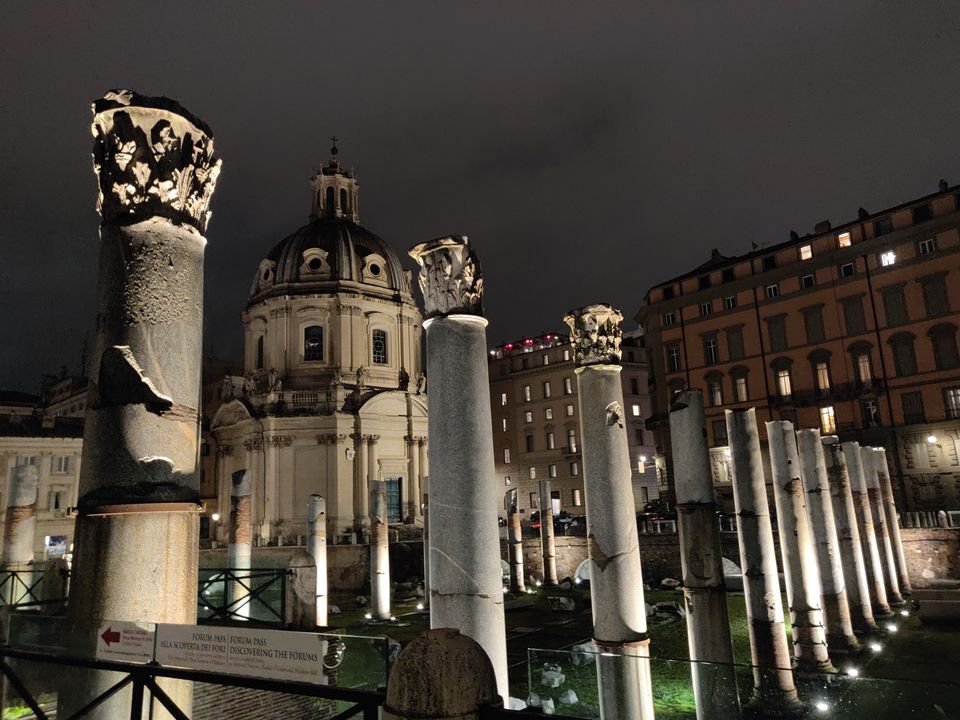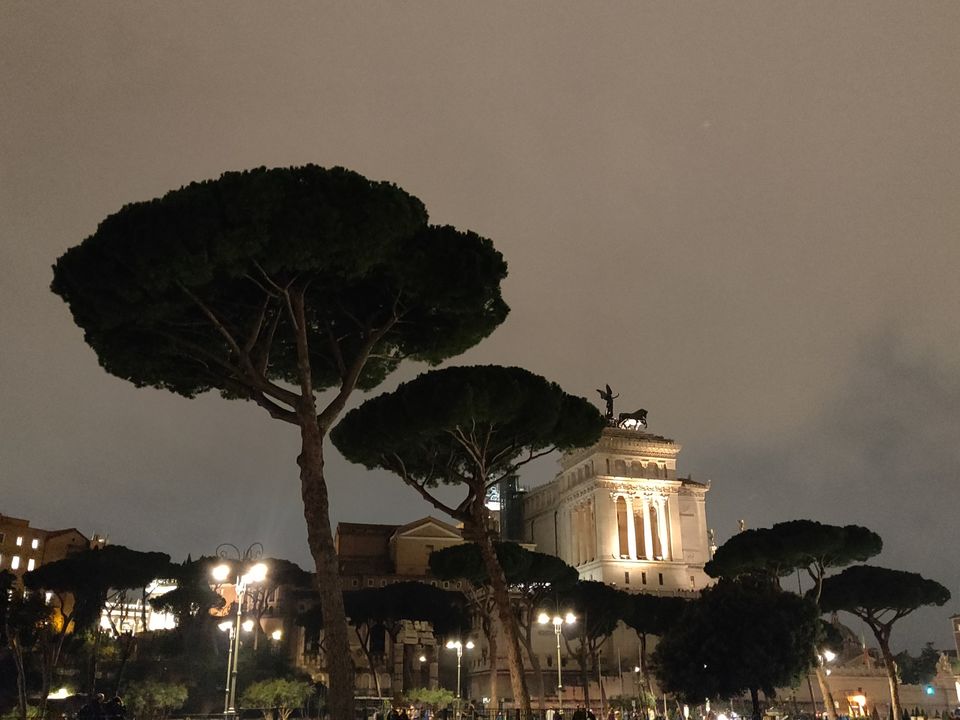 So it was the day we said addio to Italy, only to fly to the dream destination of my life, the tiny little island of Santorini! ♥️
We had a connecting flight from Rome to Thira Airport of Santorini, via Athens. As the flight flew us over the astonishing waters of Aegean sea, my head was pressing against the window and my eyes swooning over the inexplicable beauty of the array of islands beneath.
We landed at what could safely be regarded as one of the prettiest airports of the world and the sheer joy of having touched down the places of dream had me jumping (quite literally, as evident from my husband's fervent nods as I write this! 😝)
The gorgeous ivory island of Santorini has a blue sparkling soul. The small homes made of mud are all painted in white with a sprinkle of blue domes here and there (mostly in case of churches). The sparkling clean streets, impeccably pretty shops, the backdrop of jaw-droppingly beautiful Aegean sea and the world famous sunsets make this Island the most photographed place on this Earth.
Our hotel was at the outskirts of Fira village from where our hotel provided a shuttle service to the main market of Fira. We strolled across the heightened shore line, while our torsos swayed in the strong northerly winds (it was quite a windy day!). After a few hours, we took a bus from Fira bus stand to Oia (pronunced as 'eeya') village. A 30 minutes ride along the twisting and curving roads of the hills took us to Oia and we were blown off with the gorgeousness this place had to offer.
As the day inched closer towards its end, we walked towards the Oia castle, where a street artist was playing some melodious pieces of greek music. We watched the sun go down inch by inch, while the greek tunes serenaded our senses. There is something about sunsets that makes one search his soul, seek answers to some unanswered questions, fend for some hidden emotions and scrap dust off of one's deeply buried desires. The sunset at Oia brought alive someone in me, who I had forgotten about quite sometime ago.
We started the next day exploring the historic sight of Akrotiri (which is rightly called as Pompeii of Greece, as this sight too was destroyed by a powerful volcanic eruption centuries ago).
Thereafter we visited the most beautiful beach of the island, the Perissa Beach. I will let the pictures do the talking, as my words will simply fail to explain the gorgeousness of this beach 😉
We ended the day with a wine tasting tour and another soul touching sunset at Oia and slept off as the next day was about to take us from this land of dreams to back to our real life at India! I'll rewind and rejoice the spectacles of this trip in my head till my next trip, I consoled myself and hopped on the flight back home 😊