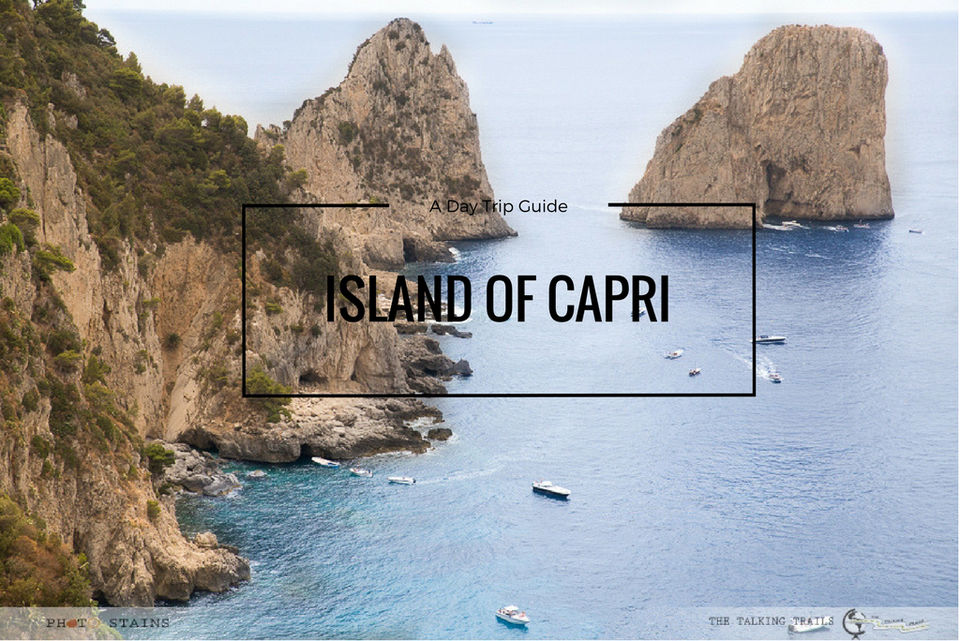 Beautiful , charming, touristy, captivating , glamorous ….. and I can go on and on but still its hard to pick that one right adjective that describes the Island of Capri to its perfection. I don't know if it is the rugged cliffs , beautiful gardens , soothing blue waters of Mediterranean or expansive views of the sea that makes Island of Capri "Must not miss" spot of southern Italy . But rest assured a day in Capri is bound to leave you with one thought – " Wow , Is this heaven?" Capri is one of the most cosmopolitan islands in the Mediterranean and is beloved by the international jet set and Hollywood celebrities. Knowing this that you can spot Hollywood bigies in the island , needless to say it Is not a budget family destination. However if you plan to do the island of Capri in a Day , I got you covered . Here is "Island of Capri – A day trip guide" that will make sure you get the most out of your money spent.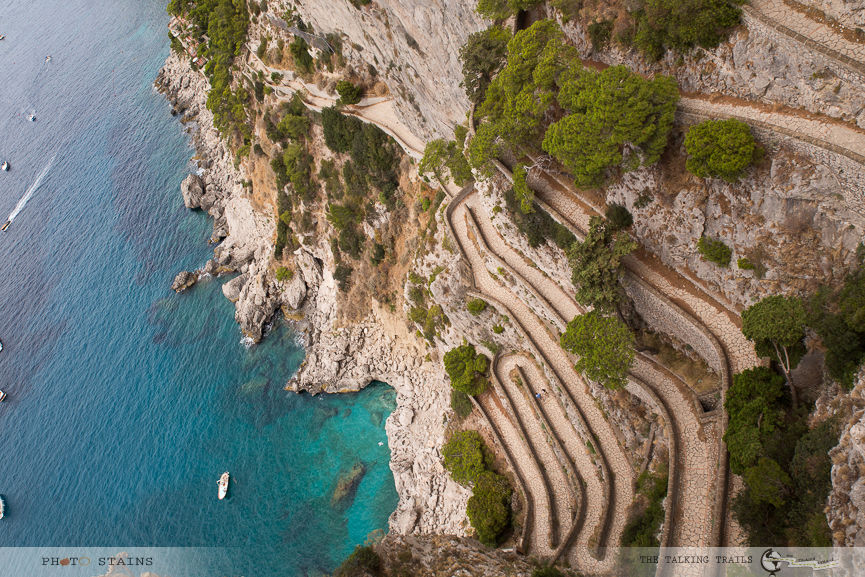 How to reach :
Capri can be reached by ferry from a number of ports. You can take ferry from Naples , Sorrento , Amalfi or Positano. Pre – book your spots as it can get really tough to get a spot in early morning ferries and you would want to leave early in the morning so that you may get full day at Capri island to enjoy. We took our ferry from Sorrento and it took about 30 mins to reach to the island. On windy days , the sea can get really rough so come prepared to witness some sea – sickness.
Cost – 20 Euro per person one way.
Note : If you are renting a car in Italy , it could get a little tough to find parking on the ports. My suggestion will be to book the tour via your hotel , and most of the companies will provide you a pickup and drop service . Total hassle free.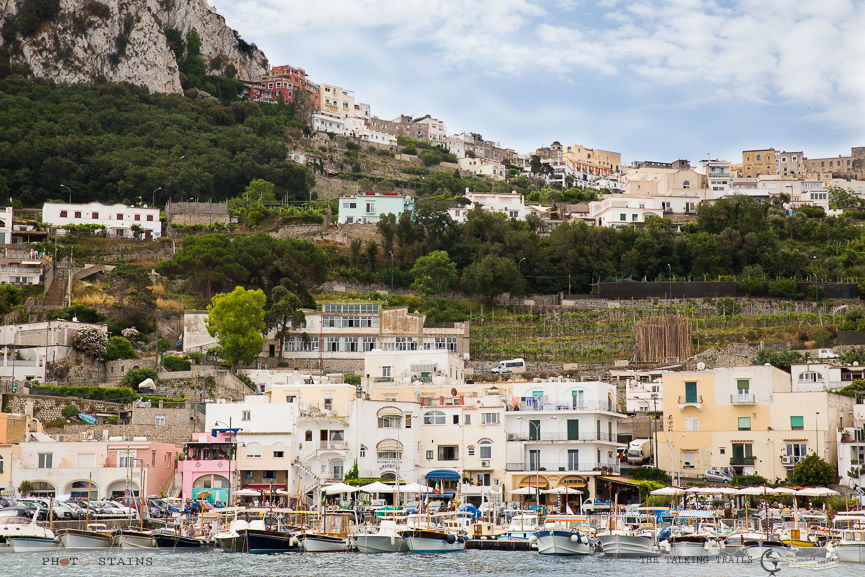 For more luxurious experience , you can hire a private boat for around 200 euros – this provides you with a bit more flexibility on timings and also the enjoyment of spending as much time as you want on your favorite spots in sea , without being bothered of getting late.
Getting around Capri :
All the ferries dock at Marina Grande . This will be your starting point for the day and the pick up spot for the evening. Make sure when you leave the Marina , you confirm the evening departure time with your tour company. From here you will have an option to take the Funicular up to Piazetta ( the main center of Capri) or take a bus to Anacapri . Each ride will cost you 1.80 Euro.
Be aware that, in summer, lines for both buses and the funicular are long—so be prepared to spend some time in sun waiting for your turn. A good alternate to this , is to ask your tour company if they provide a group guide. For a group tour most of the companies hire a bus that takes you through the island without having to wait in queues for your turn. By doing this , you get more time to explore the island . I cannot stress this more , summer months are just too busy in Capri. There are exceptionally long queues everywhere and you will waste a lot of time waiting to get on to a bus .
Note : If you do not want to keep buying tickets everytime you go from one place to the other , you can opt for UNICO CAPRI Day Pass for about 9 Euros. The pass is valid for both funicular and bus rides.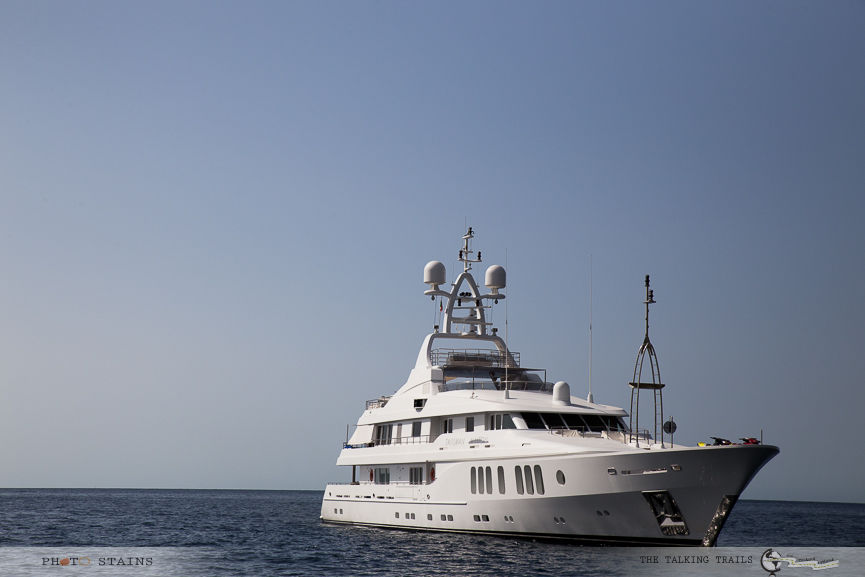 Things to see:
Gardens of Augustus : The moment we touched marina , our guide suggested us to head straight to the Gardens of Augustus. The gardens make for a great retreat if you need break from the hussle and bussle of the island and any trip to Capri must include a visit to the Gardens. The gardens is not big on flora and the amount of time you may spend in here , totally depends on you – but most scenic panoramas of the island can be seen from here. The main attraction is certainly the view of the Faraglioni and you can spend hours looking at the natures perfect set up – Sparkling blue water , rock arches standing tall in middle of sea , luxurious yatchs and down below the incredible winding Via Krupp. You must be thinking – " What is winding Via Krupp?"
Friedrich Alfred Krupps , a German industrialist who established the Gardens had a winding path built from the gardens to the shore below. On the day that we visited the gardens the pathway was closed due to some maintenance, but the road with its winding hairpins turns is considered to be a work of art.
Cost : 1 Euro
Note : Faraglioni is an Italian word that means stacks. Each of the three faraglioni located near Capri island has a name; Stella, Mezzo, and Scopolo.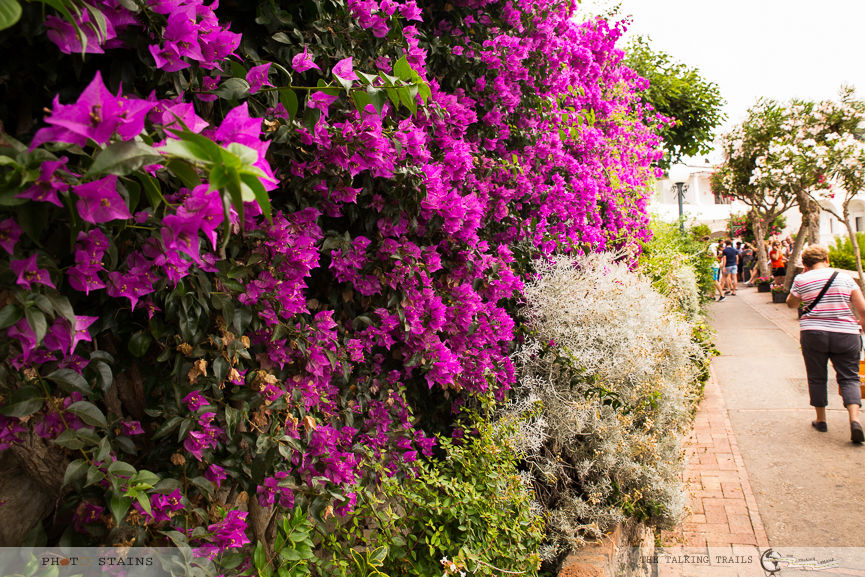 Capri Town : The true beauty of the island is to get lost in its winding streets and enjoy the local art and food. Capri is home to less than 8K people , but the daily count of visitors is huge. On any given day you will find the local cafes packed up and narrow streets buzzed with people. There is definitely a charming vibe to the island , which is best enjoyed walking through its alleys.
Piazza Umberto I : This is the main square of the island and literally the center of all the action of island of Capri. Piazza is lined with expensive boutiques , designer showrooms and luxury hotels and villas . You will find girls in stilettos , men in armanis' – trust me you will feel on a runway here surrounded with models. Nestled under the clock tower, this bustling square is where visitors flock, particularly in the evening for celebrity spotting.
Note : Piazza is an excellent place to try coffee , gelatos etc but not food. If you intend to have a meal here – remember it will come with a price.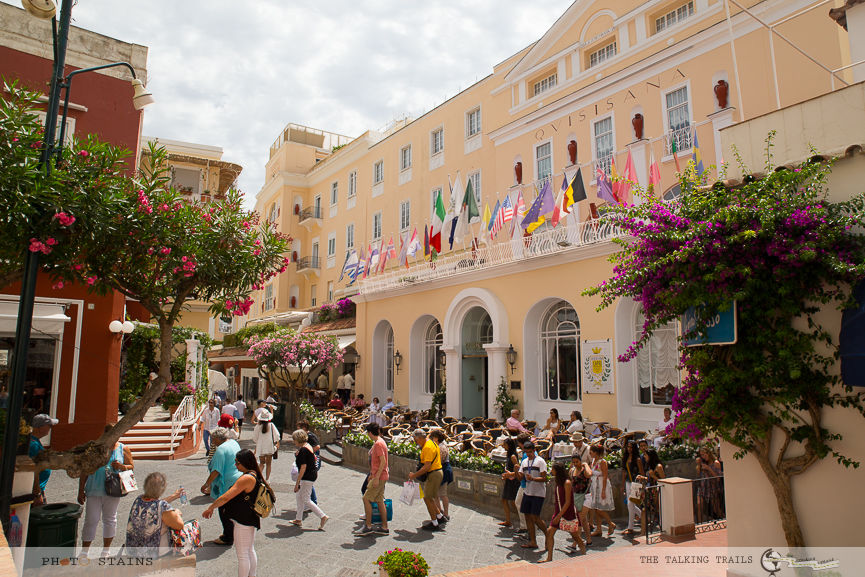 Blue Grotto : Undoubtedly , the so called star attraction of the island is Blue Grotto which is a long, low sea cavern whose water glows a brilliant, unearthly blue from the effect of light refracting through an entrance tunnel. I will leave up to you to decide if the whole visit to blue grotto leaves you underwhelmed or overwhelmed . Just few tips here if you planning a visit :
1) Even on peak seasons , do not buy tickets in advance. The tour companies will never tell you if it is high tide or not and in case it is high tide , it is kind of unsafe and do it at your on risk kind of policy. Long story short – you will loose on the paid tickets, and if you try it on your own , it is very risky.
2) You can save a bit of money by walking to the grotto entrance from Anacapri and just forking over for the boat into the caves.
3) There have been many unfortunate incidents around blue grotto where people have tried swimming in and have got caught in strong underwater current , so do not try to be a daredevil .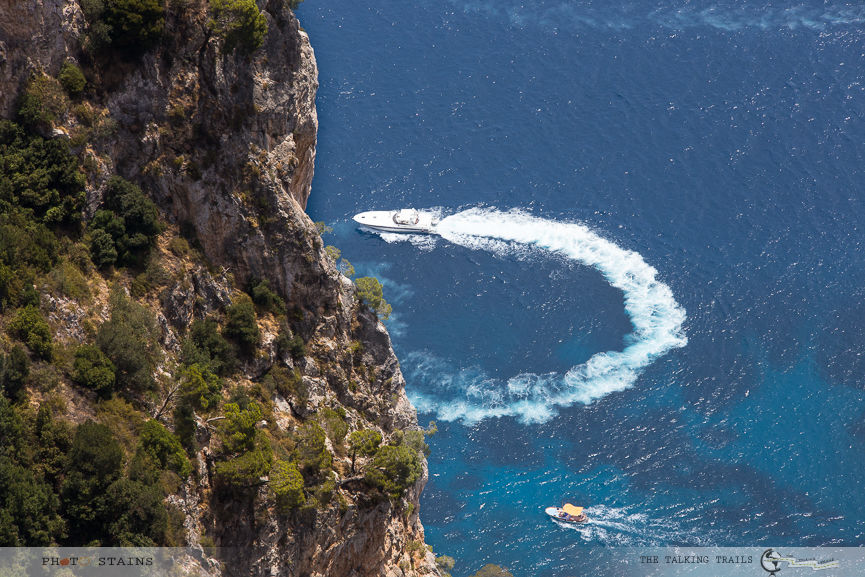 Cost : 23.50 Euro
Note : Almost all the boat tours leave from Marina Grande and the 12 Euros charged by the boat companies are for the ride out to the Blue Grotto and back. The rowboat ride in and around the grotto is a separate fee of 7.50 Euros plus there's a €4 Blue Grotto entrance ticket. This all together make it 23.50 Euro :)
Villa San Michele : Also known as Villa Axel Munthe , was built by a Swedish autobiographer who was in love with the island of Capri. Villa contains a museum of bronze statues , beautiful gardens , arbored paths, overflowing bougainvillea walls and expansive views of the island. You can keep the visit to villa on your bucket list if you are done seeing other highlights of the island.
Cost – 8 Euro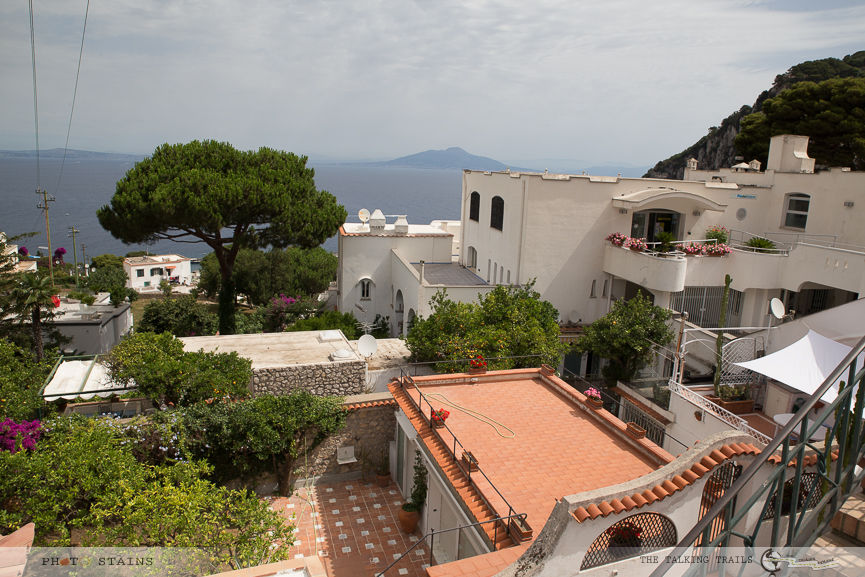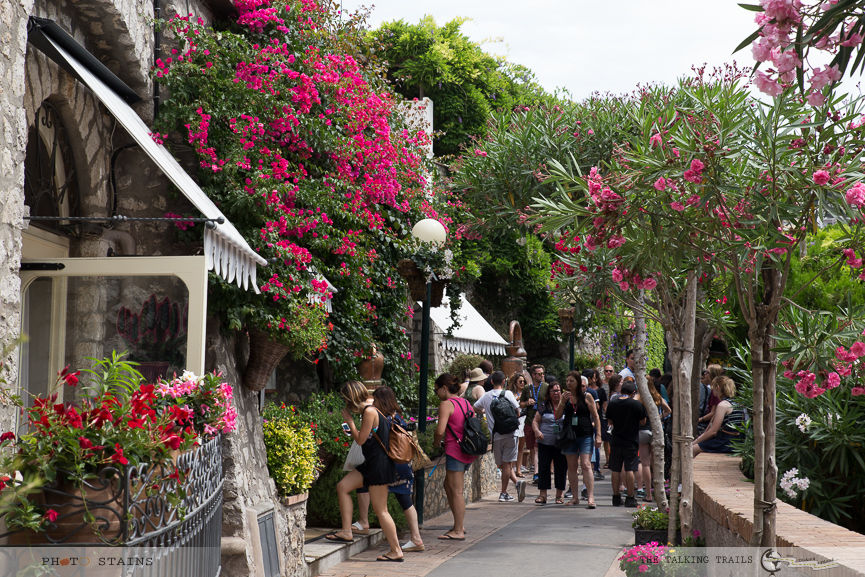 Monte Solaro : Visit to Monte Solaro was undoubtedly the highlight of our trip. Located in Anacapri , you will need to hop on to a chair-lift ride to reach to the top of Monte Solaro. The views from the mountain top are stupendous. There is a small trail that you can do on the mountain top , that will literally show you the island from every angle. Even the 12 min ride of chair-lift to the mountain top is a very enjoyable experience . You will have your feet dangling over rooftops and kitchen gardens of Anacapri , with beautiful views of island's coastal line. You will have olive gardens under your feet and a changing landscape that can only be enjoyed from a bird eye view. My suggestion for chairlift ride is – Keep your Camera ready – Just don't drop it .
So that's it for us. That one day in Capri literally flew by :) . Next time when I visit , I do plan to stay on the island for a night. I am sure the experience will be equally divine. Do tell me in comments below if you were able to see both Capri and Anacapri in a day. Thank you so much for stopping by. But before you go:
Have you been to Capri? How was your experience?