A few months ago my friend Janis texted me asking if I'd like to join her and her boys on a trip to Italy in August. What an exciting prospect, I had to make this happen! Janis and I met in Italy as children of American military families who were stationed in the small town of Gaeta, Italy between 1984 and 1986. She was a year younger than me and not in my class but once we did meet, we became fast friends. We trekked all over the town of Gaeta with nary a cobblestone unturned. We lost track of each other once our families returned to America but some years later after both of us divorced, we reconnected through Facebook. Since then we have vacationed in New Orleans, Palm Springs and she's visited me a few times in San Francisco. I'm honored that she enjoys my company enough to invite me every other year or so to join her on adventures with her family.

And so our Italian adventure begins....

I woke up at sunrise Saturday over a wonderful view of the Swiss Alps which made me thankful to have had a window seat. Although I didn't get a good shot of it, I saw the Matterhorn peak poking out of the clouds in the distance. A little later I began to see the unmistakable Italian coast line and the verdant rolling hills of Tuscany glowing in early morning sun . I was having trouble choosing which hilltop villa with winding drive ways, pools and vineyards I would move in to.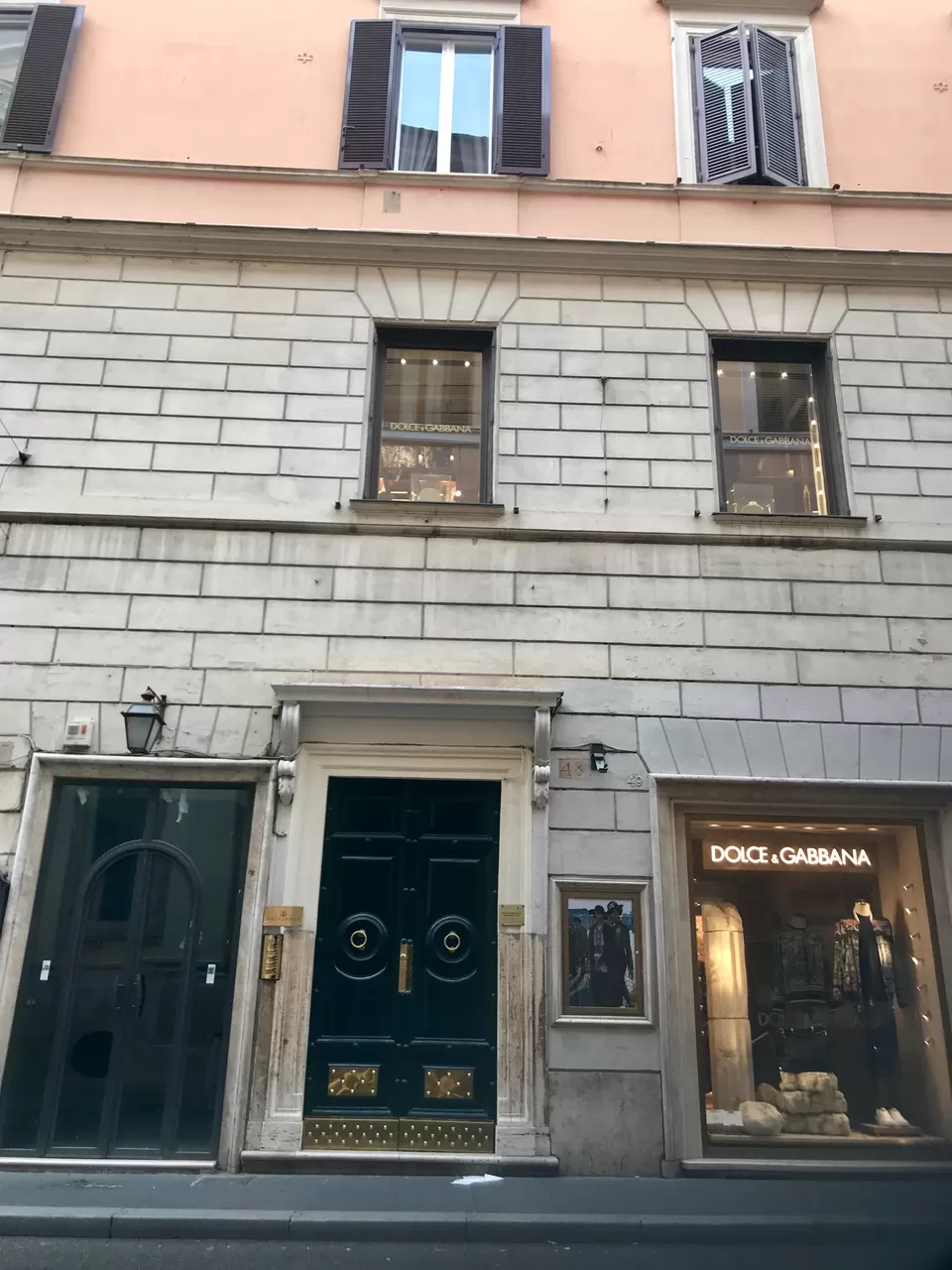 Once at the airport there was some confusion, in my sleep-deprived haze, as to which terminal I was at and where the ride share cars pick people up. I downloaded a local app, mytaxi, as per the recommendation of a travel site because not unlike Vegas, local taxis are known to take tourists for a ride, so to speak. I called my ride share guy who was incredibly patient with my bad Italian and groggy confusion. I tried to explain that I was lost and maybe I should just grab a regular cab but he didn't give up on me. Miraculously he found me on the departure level; a bewildered-looking American woman. He called out my name and escorted me to the car. I was so thankful! Even better, he let me sit in silence during the ride to downtown Rome. You bet I tipped him well.
He drove me straight to the hotel address Janis gave me but her text also said, "Look for the big green door next to Dolce & Gabbana." When we arrived at the Spanish Steps neighborhood one of the first things I saw was a big green door next to a Dolce & Gabbana store so after I got out of the car I bee-lined for it with my suitcase, completely ignoring the address. I waited outside that door for a while and confused poor Janis and her boys with my texts. Turns out there are TWO spots with big green doors next to a D&G store near Spanish Steps. Still sleep deprived with no coffee, I don't function well in that state. Eventually I got to the right place. The apartment Janis rented was incredible as was their continental breakfast. After breakfast, an Americano and a shower I was feeling human enough to set out and explore wonderful Roma on my own while Janis and boys went on a tour of the Vatican.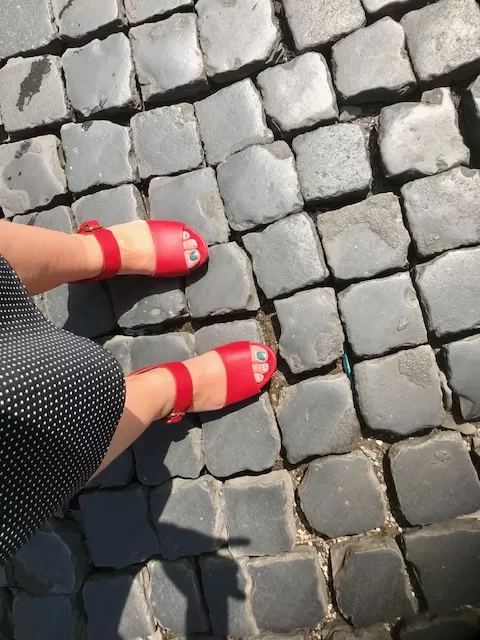 I wanted to dress cute for my walk around Rome, I didn't want to be THAT American tourist in the shorts and sneakers. I thought, these are perfectly comfortable sandals, I wear them all the time in Vegas. Um, well I'm not walking for miles in the heat on cobblestones in Vegas so I didn't factor that in. Turns out, everyone is actually pretty casual in Rome so it was I who looked odd as I wobbled around the city. It was especially a sight as I slid atop wet stones in the afternoon rains. I knew better too, but I'm stubborn and sometimes this is the price I pay for style. Eventually I gave in and bought many boxes of Europe's amazing Compeed band-aids and a cheap pair of sneakers from H&M.
I trudged on like a bloody, wounded soldier along the Tiber river to the Forum, Altare della Patria, Trevi Fountain and finally Pantheon. This marathon reminded me of the time my Mother guided a similar tour in the Winter though Rome in a leg cast. We are a determined lot! I had been to these sites before but not since studying them as an Art History student at UC Berkeley. As for the Pantheon, I couldn't believe I was finally there looking at it with my own eyes instead of in a book or slide. I just stood along the walls and took it all in. I waited around for the impending afternoon storm to experience the water pour in through the oculous and even took a video. The timing was perfect and I'd always wanted to observe that phenomenon. The rains continued so I ducked into a nearby trattoria for a glass of wine to ride out the rest of the storm. I'm sure the Italian waiters thought I was crazy with my ill-advised outfit and no umbrella but I didn't care. I was in Italy!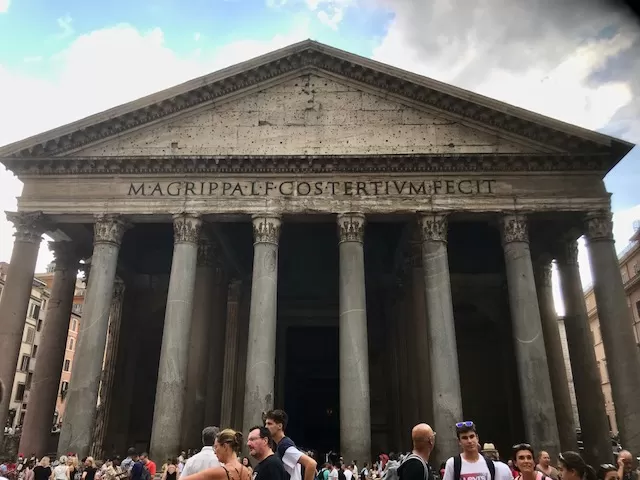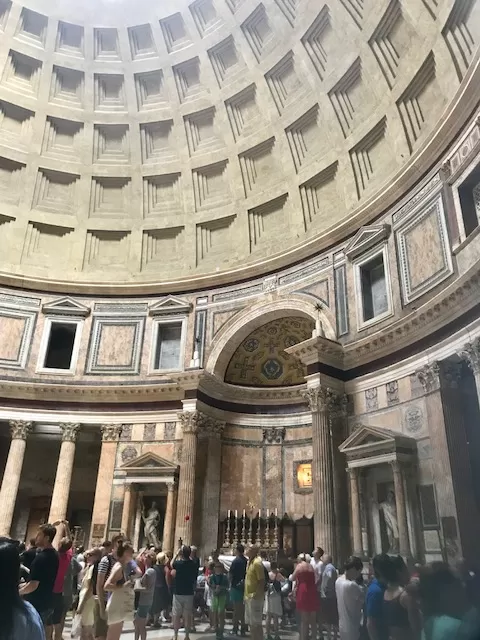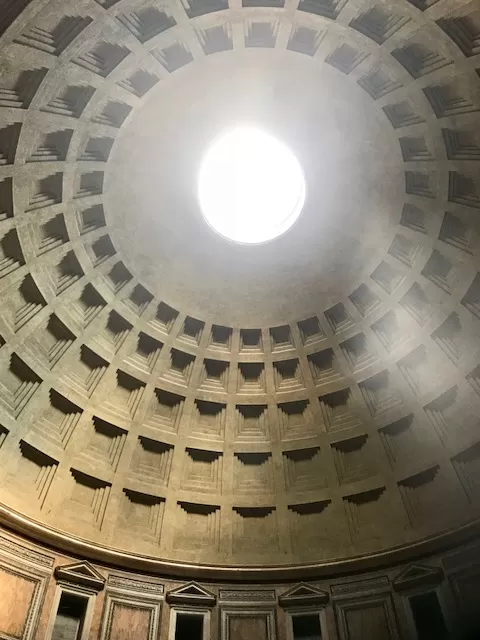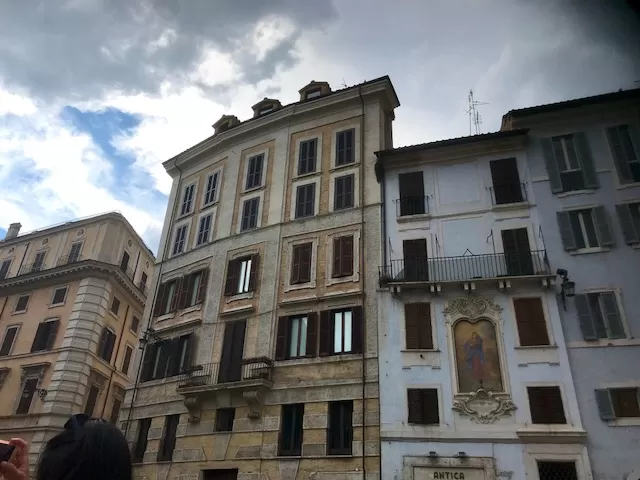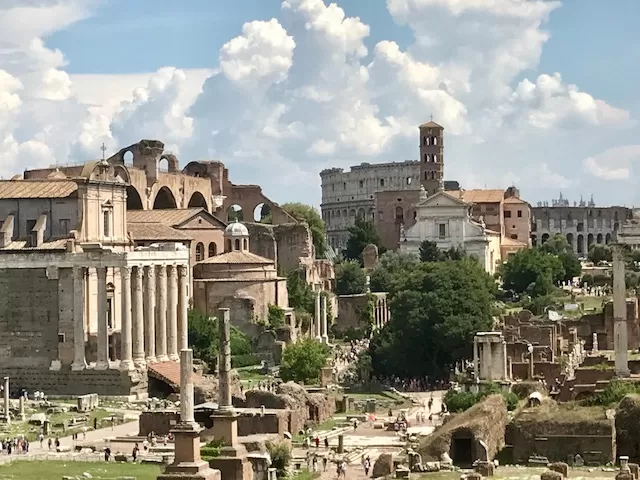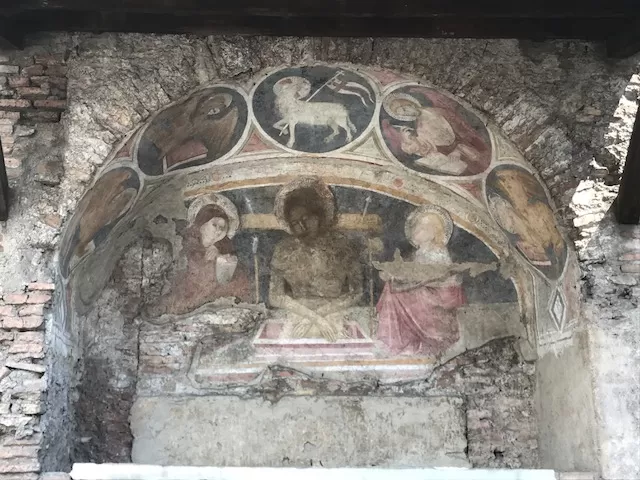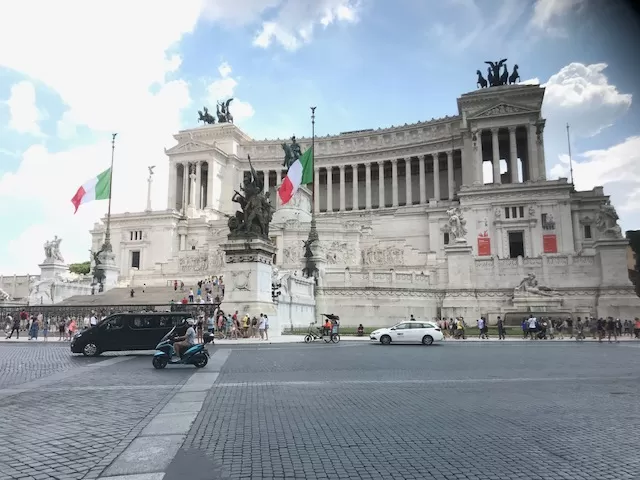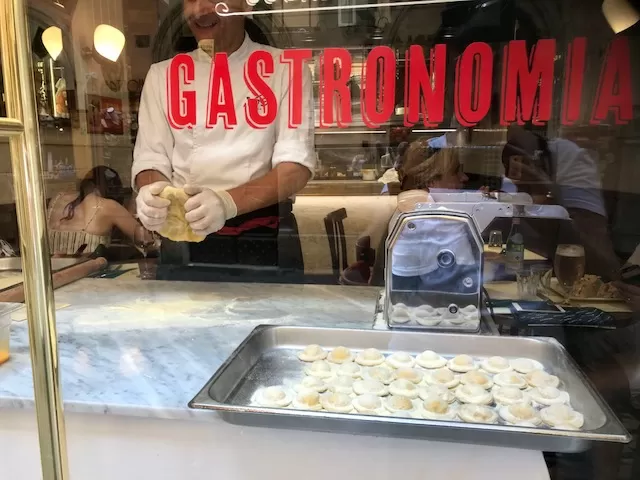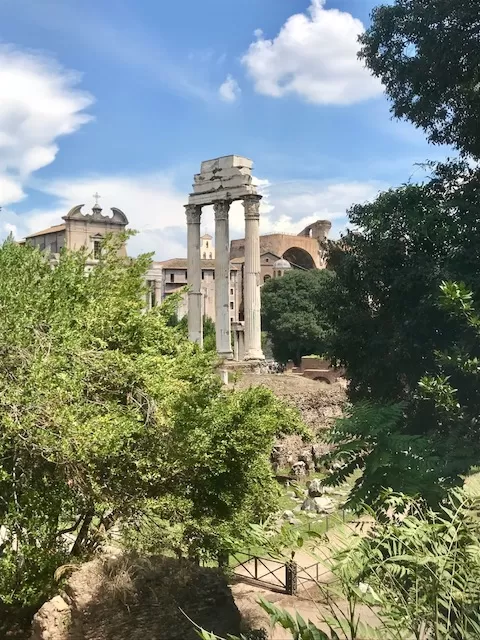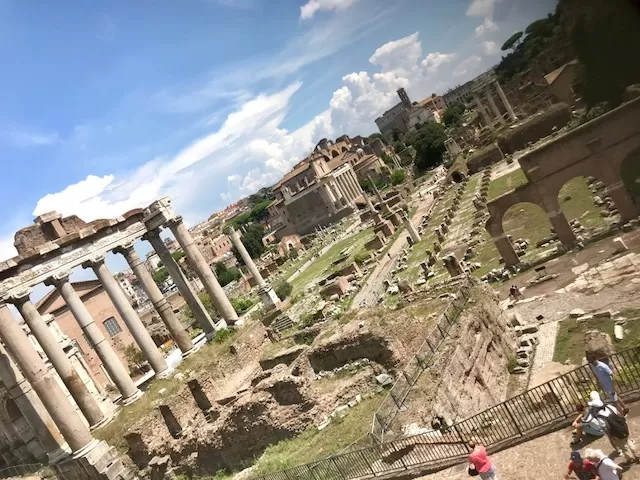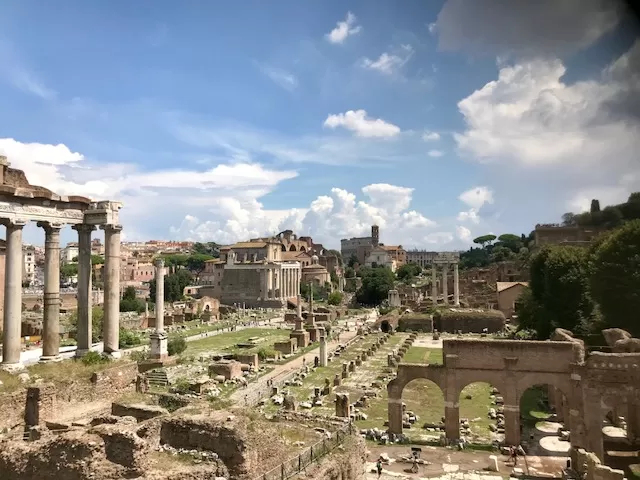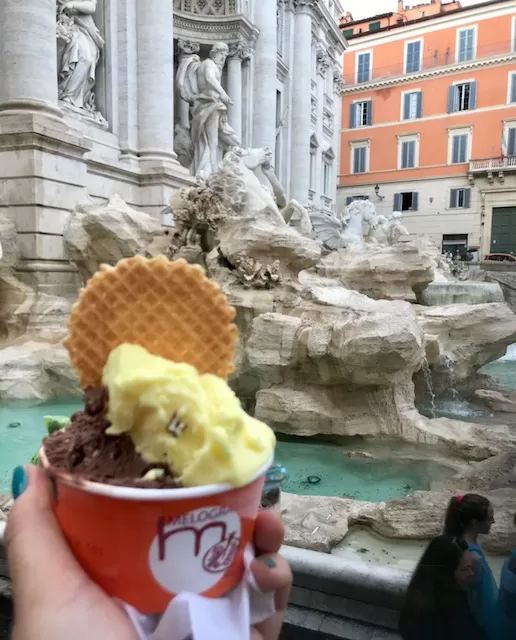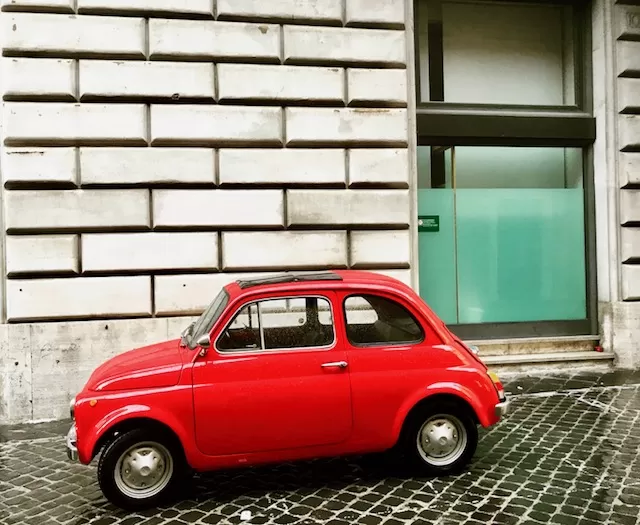 I didn't have a key to the apartment so I waited for the gang to return from Vatican City. I rested my bloody stumps at the Spanish Steps and watched the other tourists come and go, drank more coffee and took in the scene. Eventually Janis and boys returned and we all set out for dinner in the Trastevere neighborhood of Rome. Just then we noticed a perfectly place rainbow! It felt like some sort of divine sign, as one might in The Eternal City.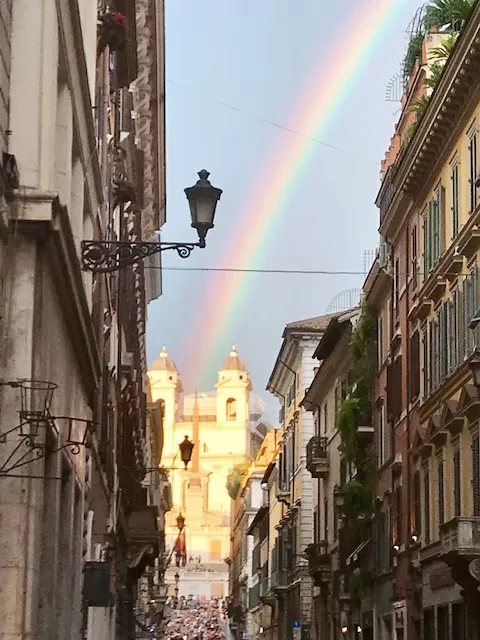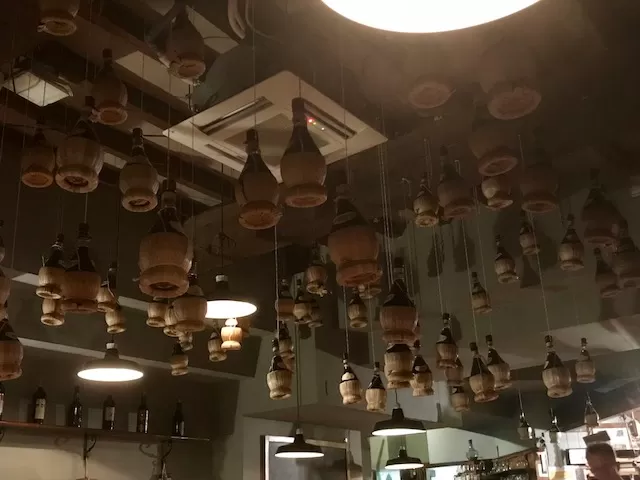 The next morning we all piled into a black van with a private driver who drove us a few hours down to Naples to catch a private boat to Capri. On the way we stopped at a road-side rest stop and stocked up on the Italian snacks we use to love; Grisbee chocolate cookies, gummies, drinks and other assorted goodies. So similar to American road-side shops but with a much better selection.
We arrived at the Naples port and piled our luggage onto the boat. The sky was blue and the water spray felt great, we all relaxed on the back of the boat and took in the scenery for a 45 minute ride to the beautiful island.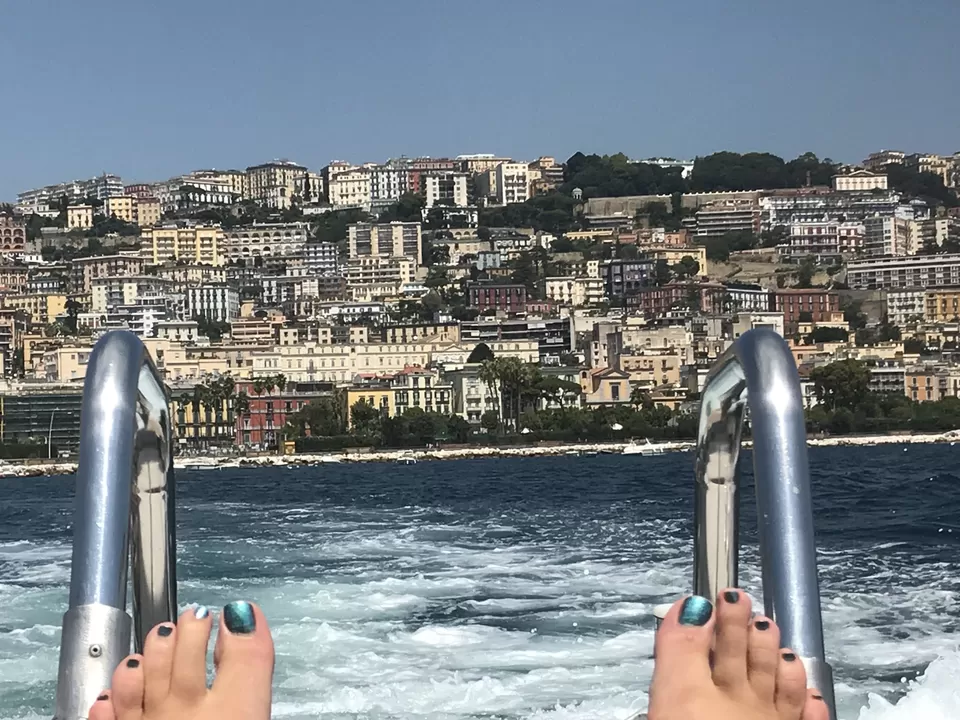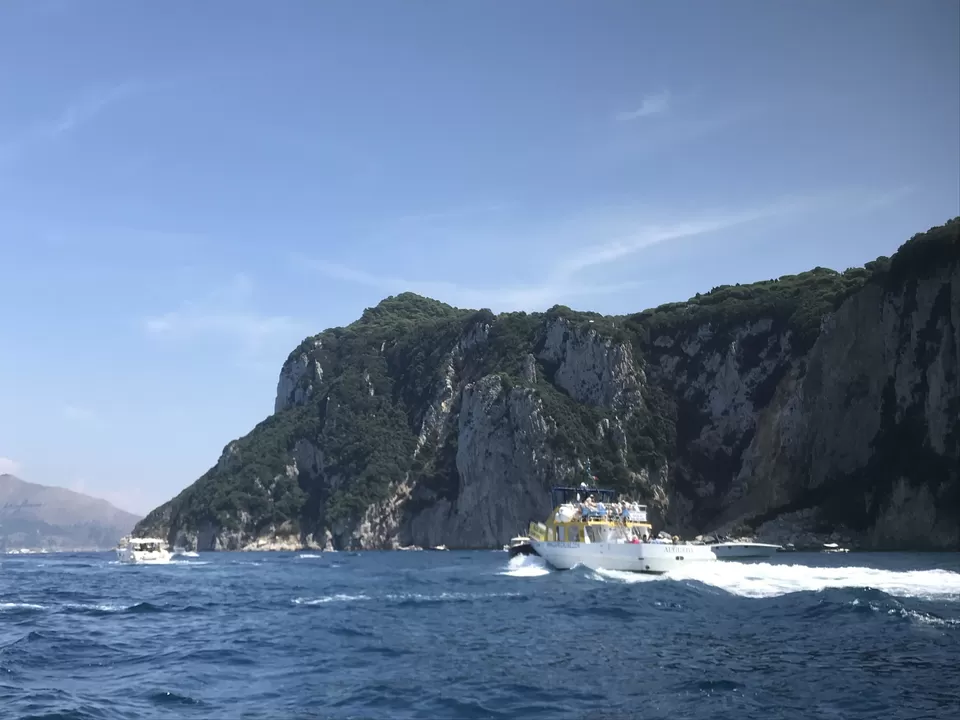 We settled into Grand Hotel Qvisisana, had lunch and a swim. We loved our waiters who always commented on Pearce and Emmet's football (soccer) jerseys. They were wearing wrong ones for the region so they caught a lot of flack, in a joking way of course.
The next morning we met up with our boat driver for a private 3 hour tour around Capri. No, there was no Gilligan or Skipper, just two excited boys itching to jump into the blue waters. Capri is well known for its Blue Grotto, which we were hoping the boat driver would get us into but unfortunately the water level was too high and there were too many people waiting to get in, so we skipped it. There were plenty of other beautiful mini grottos around the island that we got to view close up and we were happy with that. The driver stopped in a cove that was popular for swimming so we did just that. The water was warm and clear. We were given pool noodles to float on which I found odd at first but they were helpful for when you got tired of treading.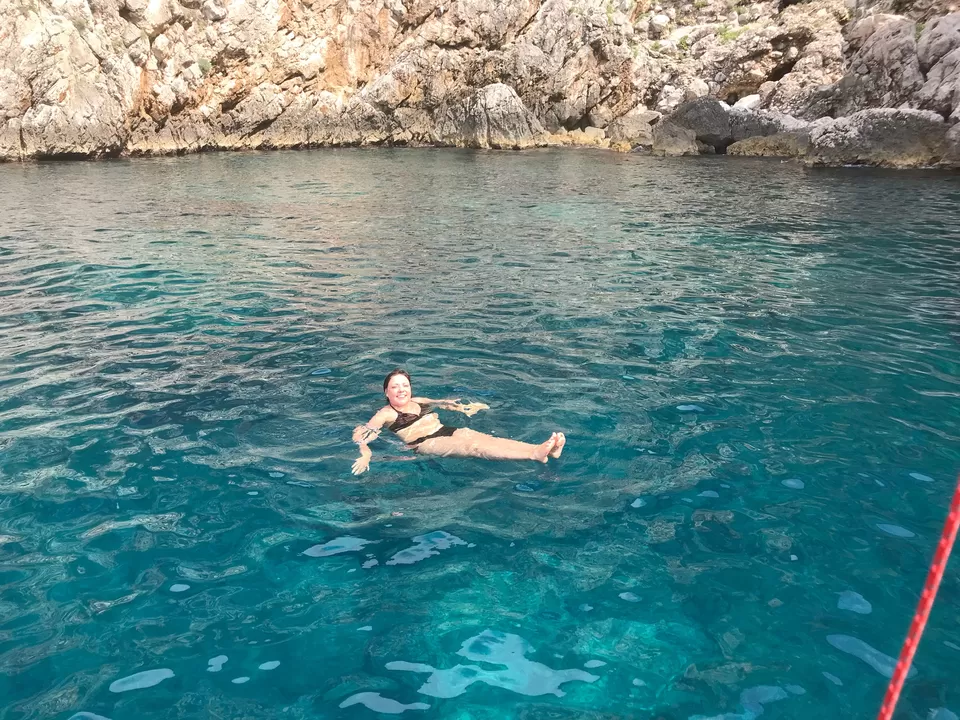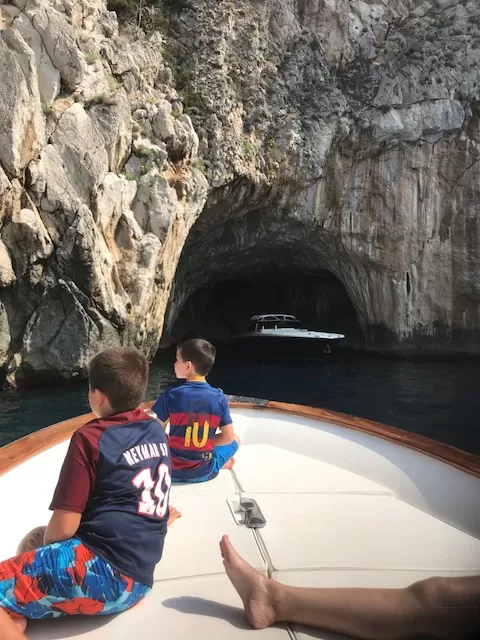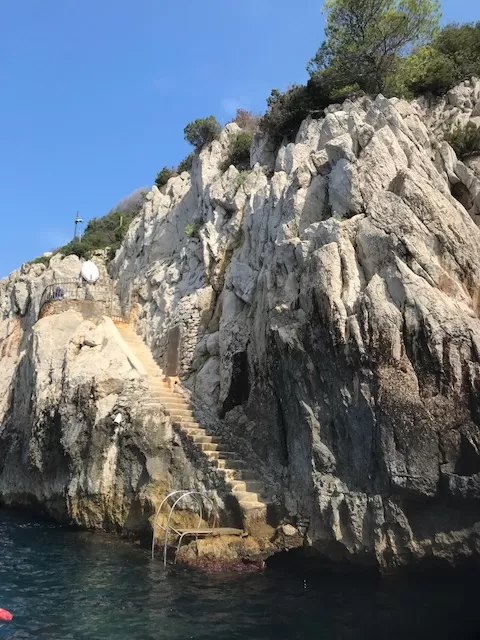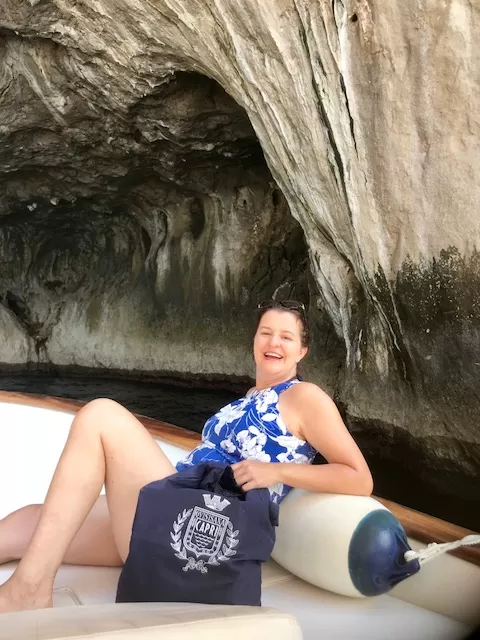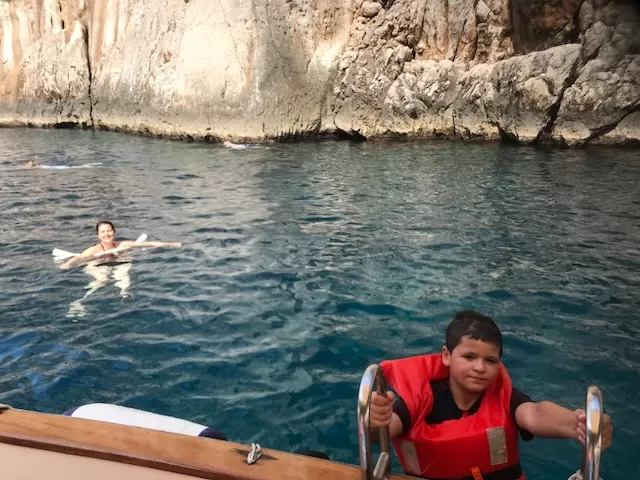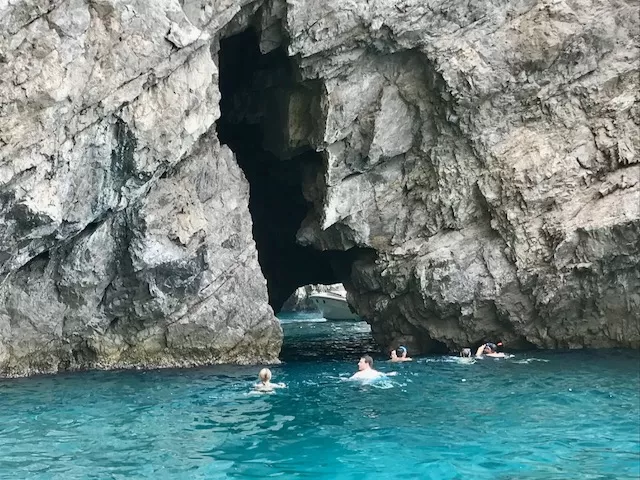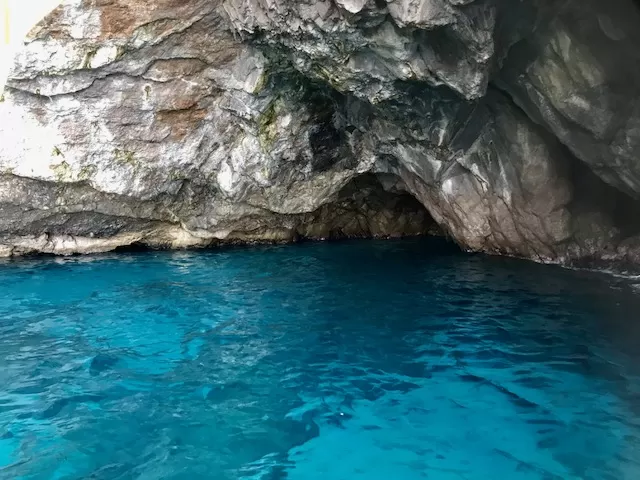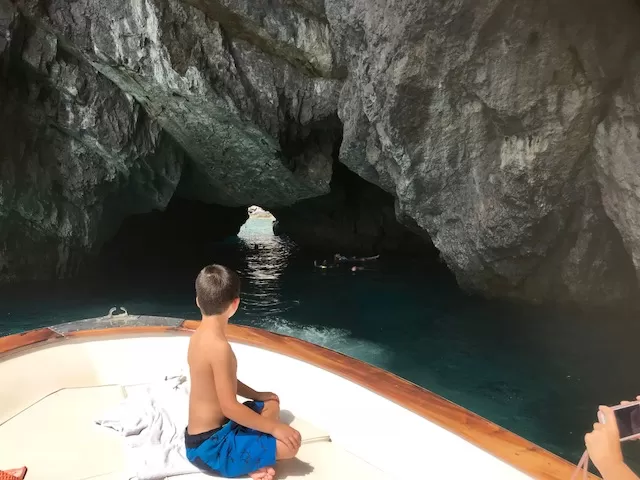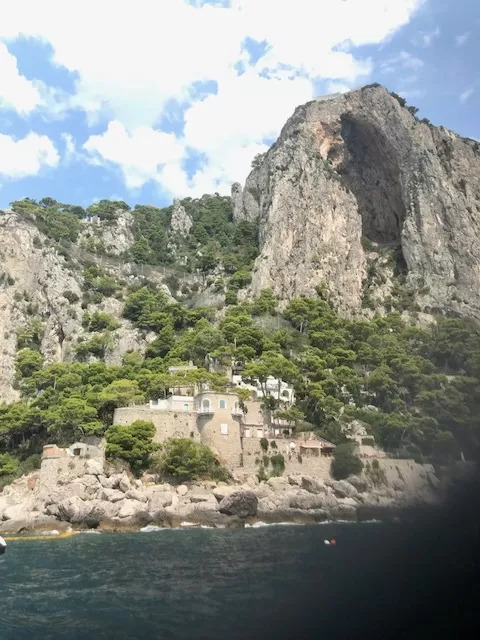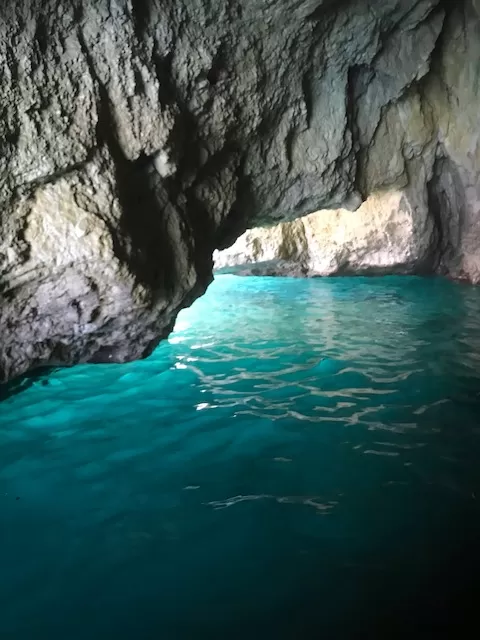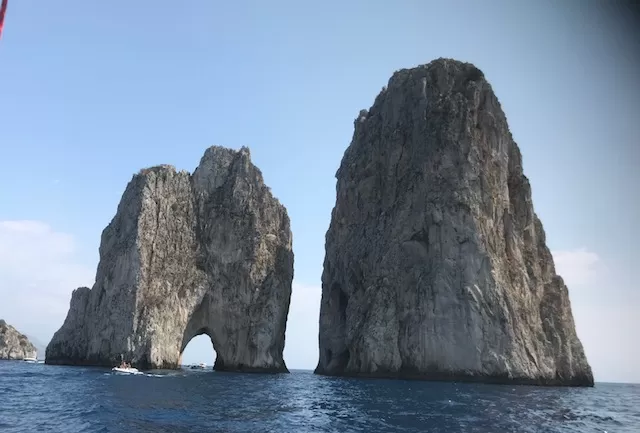 Naturally by the end of our boat trip we were all starving so we plopped down at a port-front trattoria to watch the busy comings and goings of the island...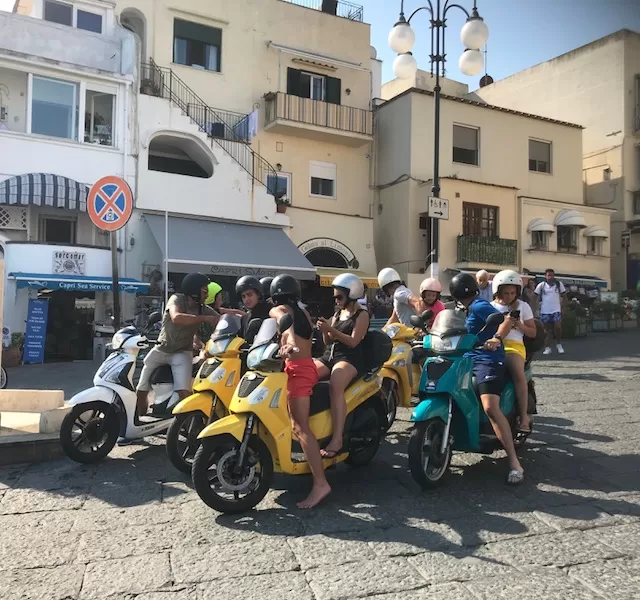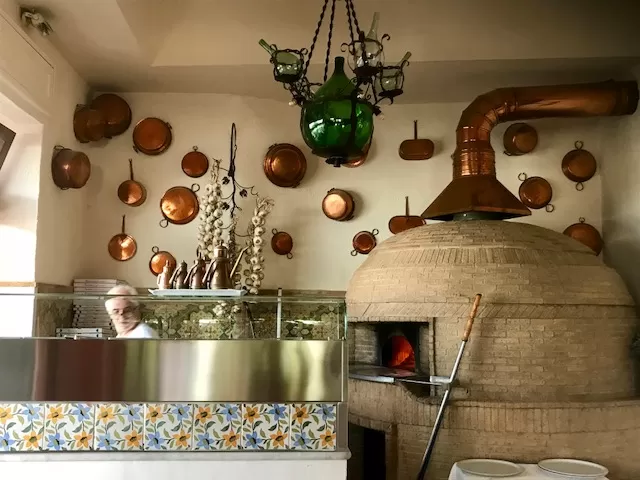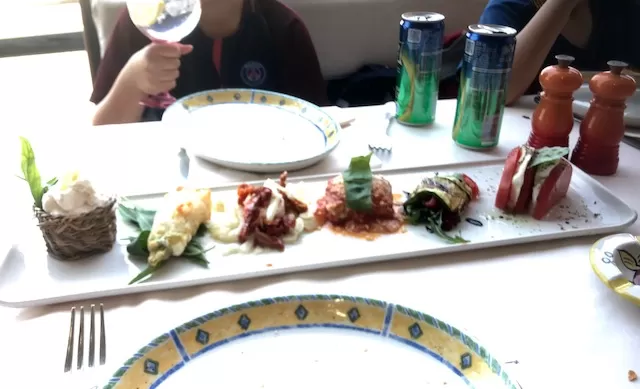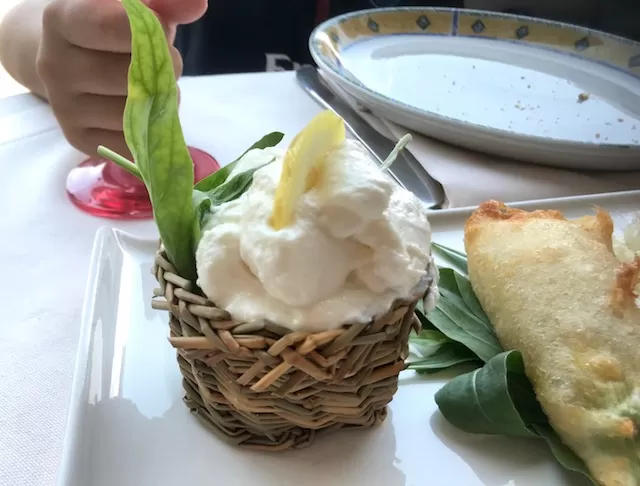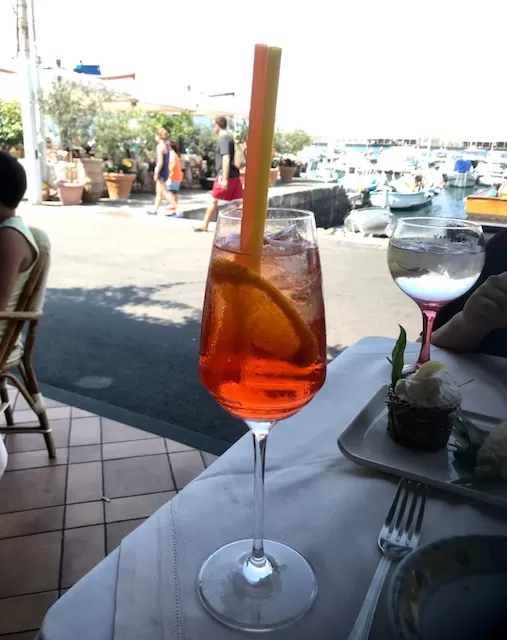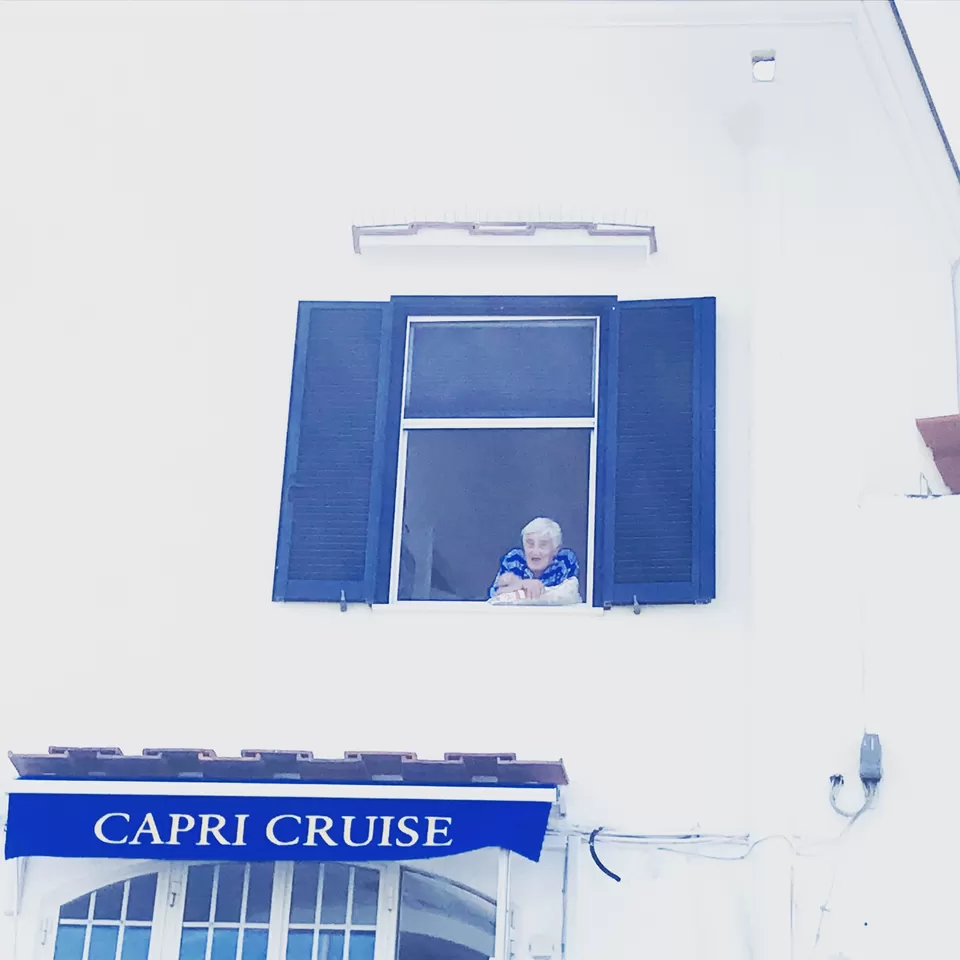 On the way back up the mountain to our hotel, I caught something in the corner of my eye down a tiny alley, it was a sewing machine in a window! I went further down and discovered a busy little tailoring shop, known as a sartoria in Italian. I got so excited; my people! Through my broken Italian and their minimal English I was able to communicate that I do what they do but in Las Vegas. They called me their colleague or "collega" and when I asked if I could work there they said yes! They were kind enough to let me take photos of them and the shop. I'm sure they never saw an American so happy to see them. Later, I saw another boutique that had bolts of fabric and a sewing machine, I suppose many wealthy tourists get custom made clothing there in Capri. Certainly something to keep in the back of my mind for future employment!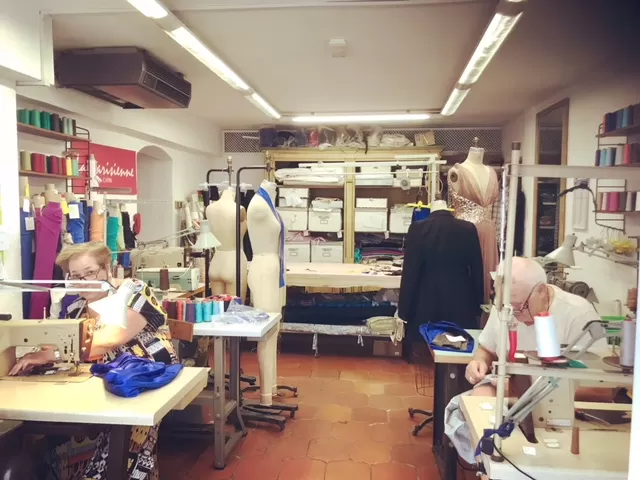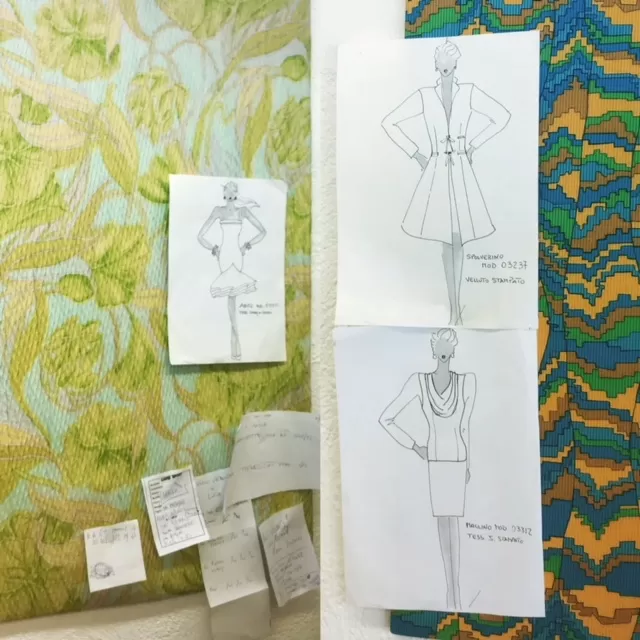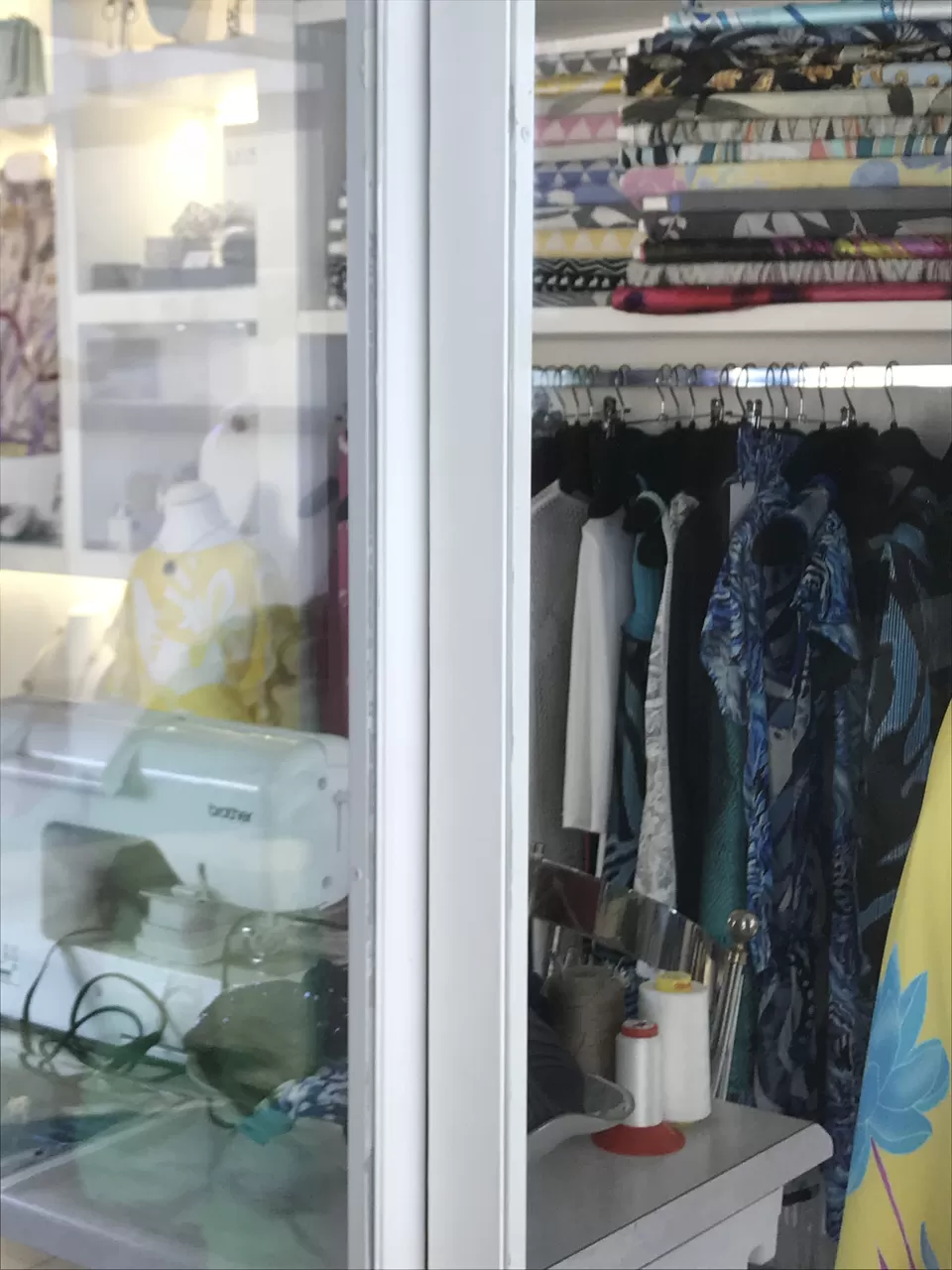 The next day we slept in a little, had a more leisurely breakfast and took a walk to the cliff top gardens. We enjoyed lots of icy lemon drinks on such a hot day as we roamed around the alley ways. Lemons rule the island; lemon trees, lemoncello, lemon perfumes, everything lemon. Another reason I know I belong here.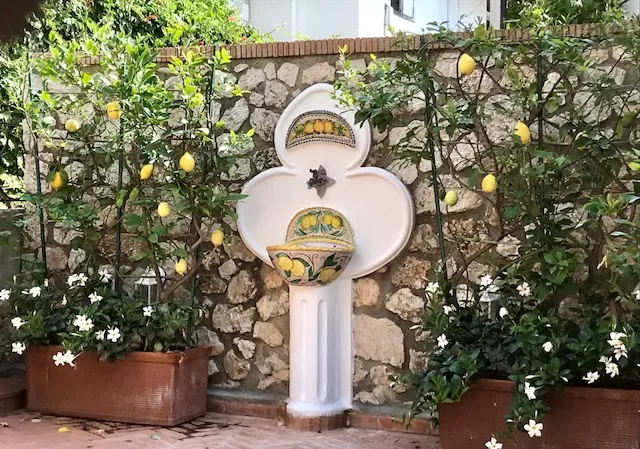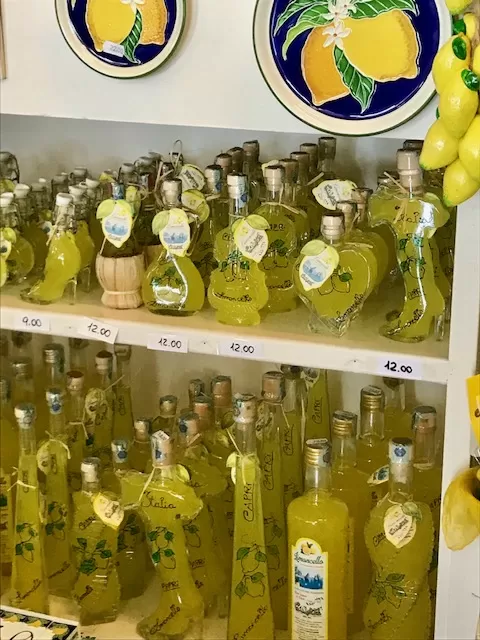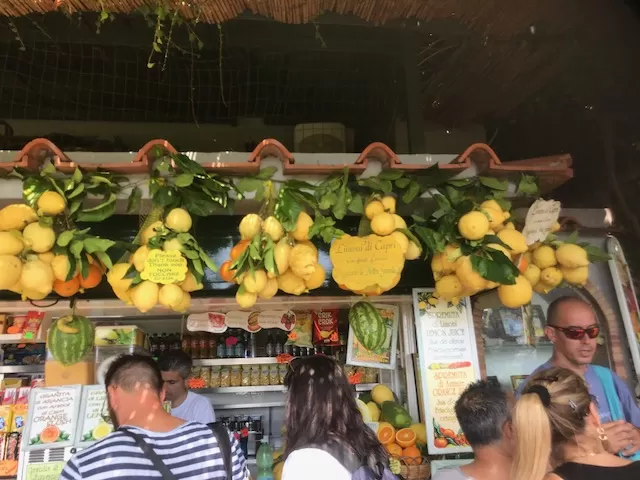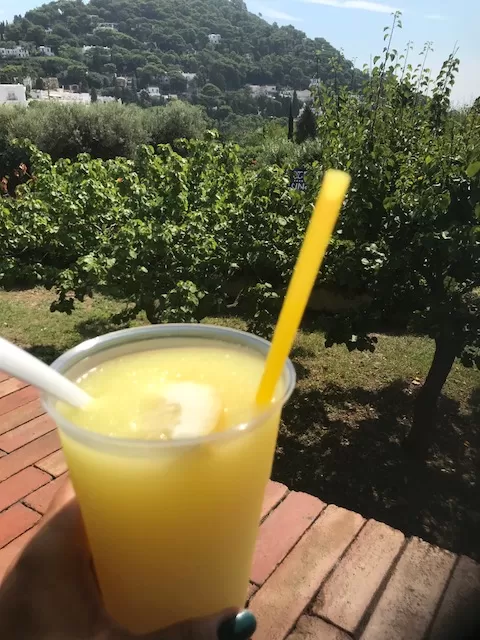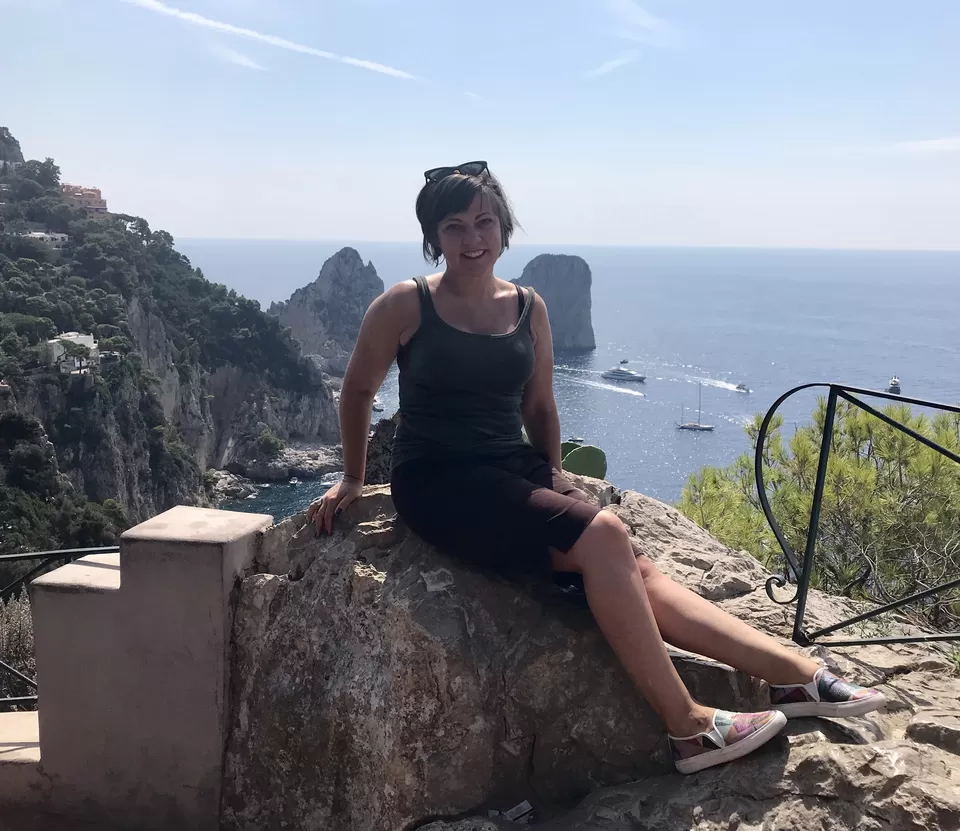 For lunch, Janis had always wanted to go to this secluded restaurant built right next to the Faraglioni rocks known as Da Luigi's. Unless you wanted to endure a steep hike down and up, a boat is the only way to access it and that's usually through a chartered tour. Janis asked around but generally no one offers a boat ride specifically to the restaurant. Janis, not taking no for an answer, asked a local independent boat dude to take us there and wait for us while we dined. He kindly obliged, though paid handsomely for his trouble. The lunch was fabulous and it was a dream come true for her, I'm just happy I got to be a part of it!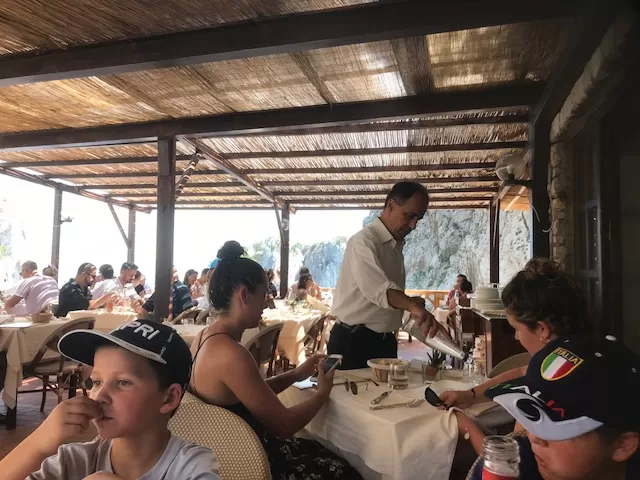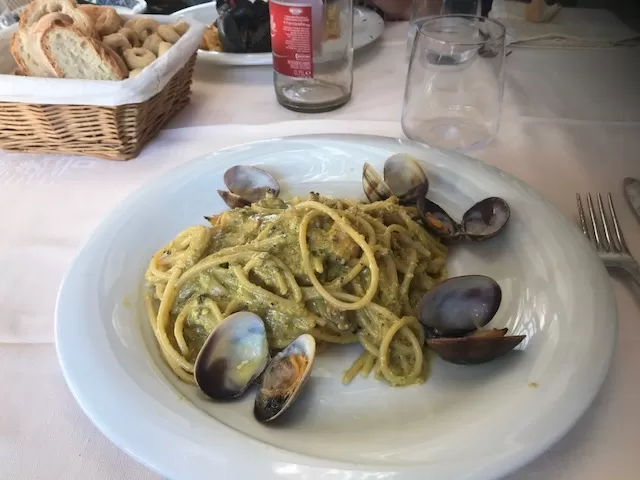 Upon returning from our fabulous luncheon adventure, we were all in a pretty good mood. Who wouldn't be?! Passing a restaurant on the way to the funicular, I heard some disco music and started to dance a little to be silly, suddenly a waiter came out of the restaurant and joined me! We danced for a song and then parted ways. When you're inspired, you just have to go for it!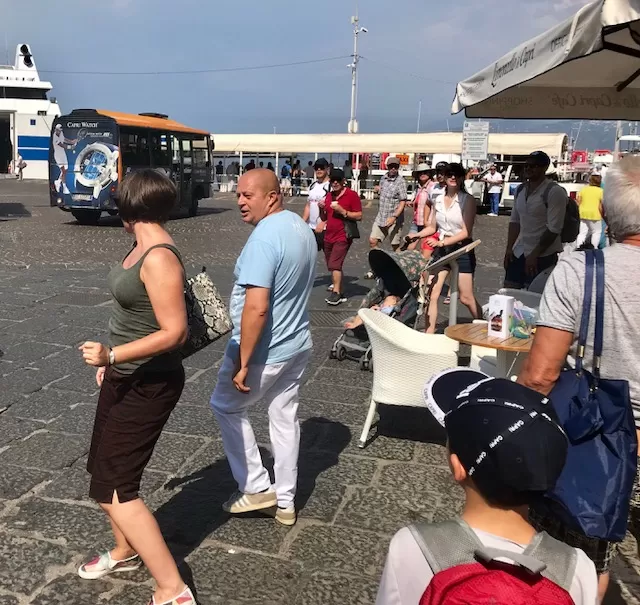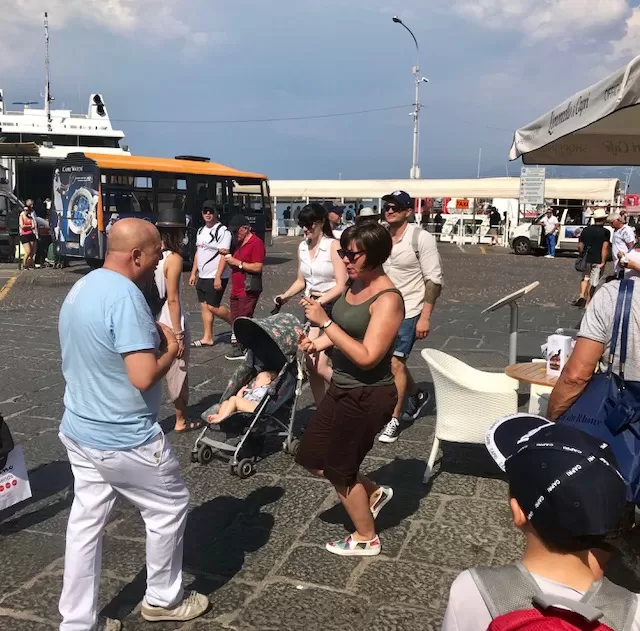 After a swim at the pool, a siesta and dinner with the gang, I would retire to my favorite evening spot in front of the hotel. One of the major alley ways, which is lined with high end shops like Mui Miu, Bottega Veneta, Chanel, etc., lead to our hotel patio. I enjoyed a glass of wine and watched the "fashion show" of well-heeled tourists doing their evening promenade presumably walking to or from dinner.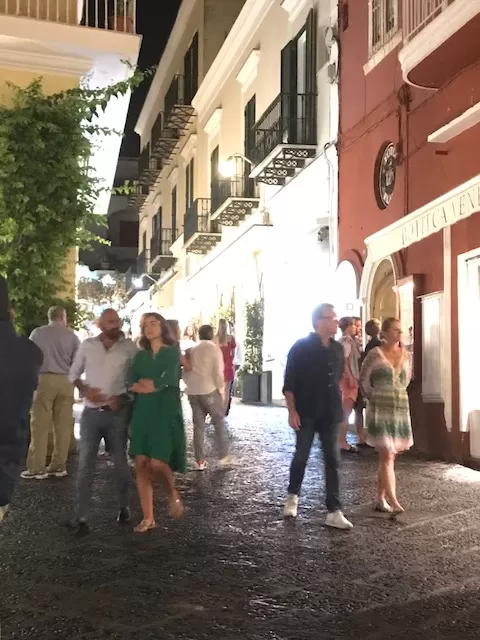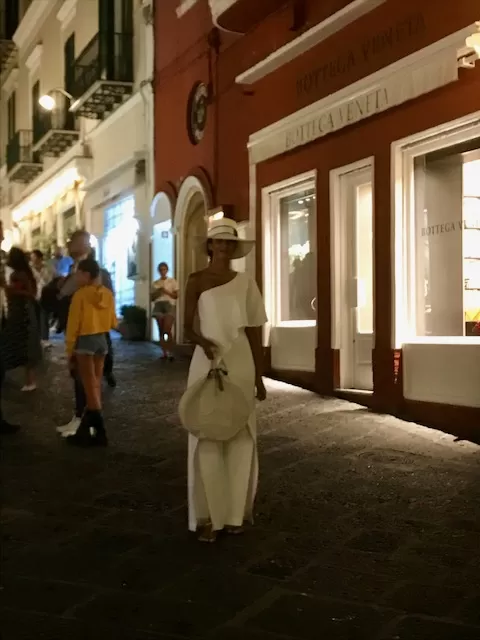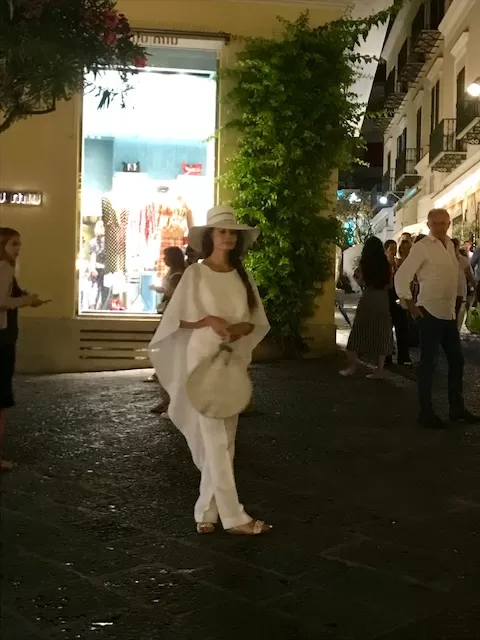 It was time to leave our island paradise for more adventures. We checked out of Grand Hotel Qvisisana and headed for Pompeii via Sorrento.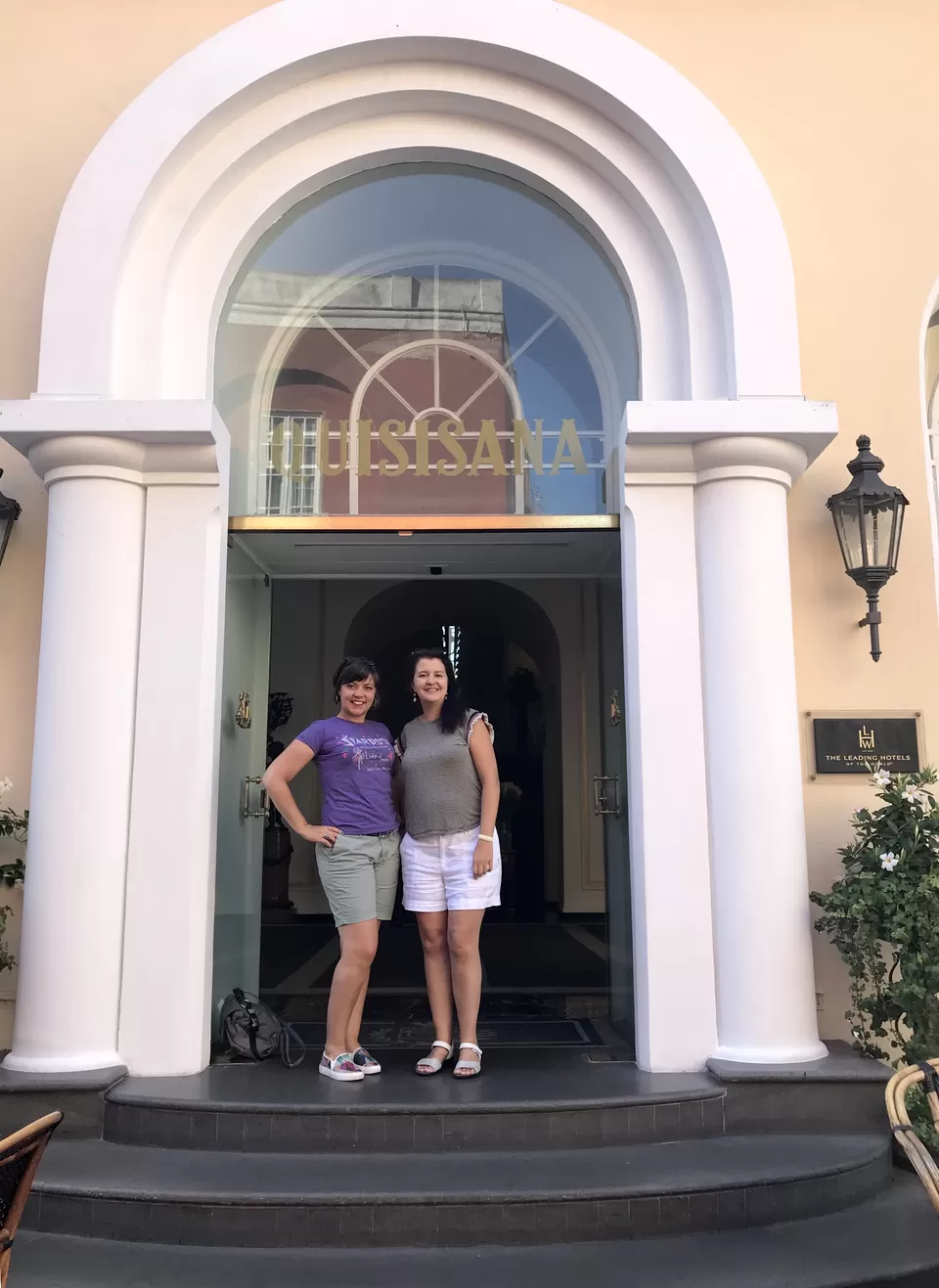 After a long, winding and traffic heavy drive out of Sorrento, in which I think we all took a nap, we arrived in front of the Pompeii gate. Looking in we saw a loooong line waiting for tickets. We begrudgingly got to the back of the line to wait but then a man asked us if we wanted to skip the line and get a personal tour. I was very skeptical but Janis confidently took him up on his offer. He was wearing ID tags and walked us past the line and to the ticket office so it was becoming clear that he was legit. Apparently there are a group of free-agent tour guides that you pay directly plus your admission and you get to skip the line. You tell them how much time you want to spend and they tailor the tour to you. I love this idea! Carmine was lovely, very knowledgeable and patient. If you have a little extra money to spend I highly recommend this because on vacation time is money and it's worth skipping the hour wait and having someone you can ask questions.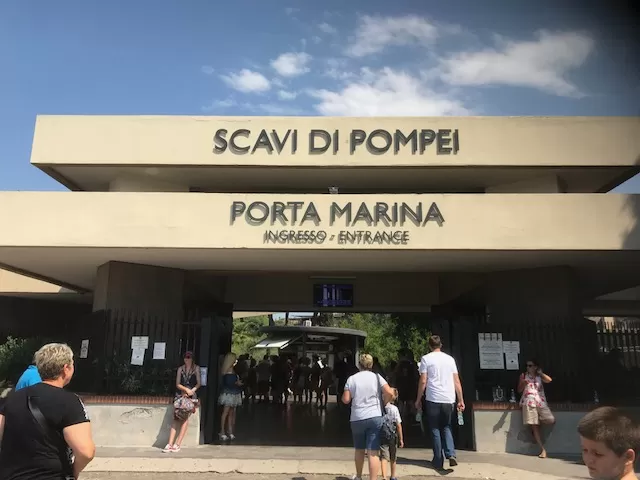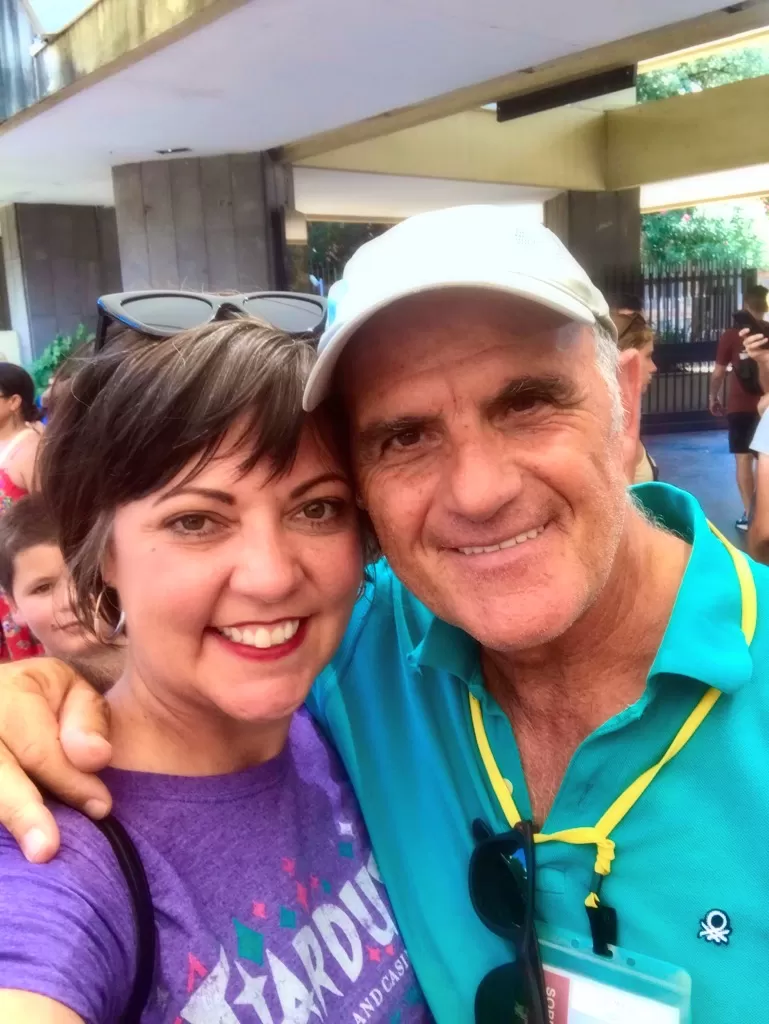 Seeing all ruins and frescos in Pompeii was another bucket list wish. I mean, you can walk right up to anything and touch them, but you don't dare! Everything seemed to be respected and left in good condition with no graffiti or engravings of who loves who. This is why in Italy they can have nice things, sadly Americans are not as respectful. There was some amount of restoration but not over the top. I saw most of what I wanted to see and stumbled across artifacts I only saw in books such as the bull of Pompeii. Some features I didn't know and Carmine taught us what an incredibly intelligent and technologically forward society the Etruscans, Romans and Greeks had developed here. For instance, the small white marble dots among the large stones on the road served as road signs for thru traffic especially for donkeys and horses. At night the white stones glowed and were even coded to indicate various paths. Amazing!!! But like any other civilization, they also had their red-light brothel district where the beds and pillows were made of stone. I imagine that's how they were at The Flintstone's Bedrock.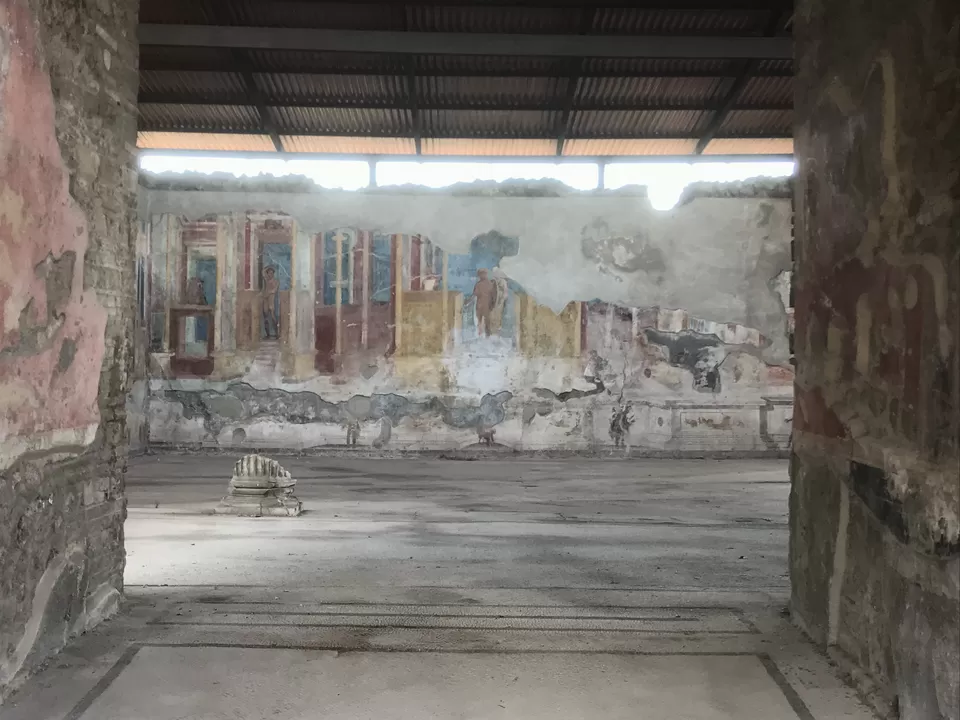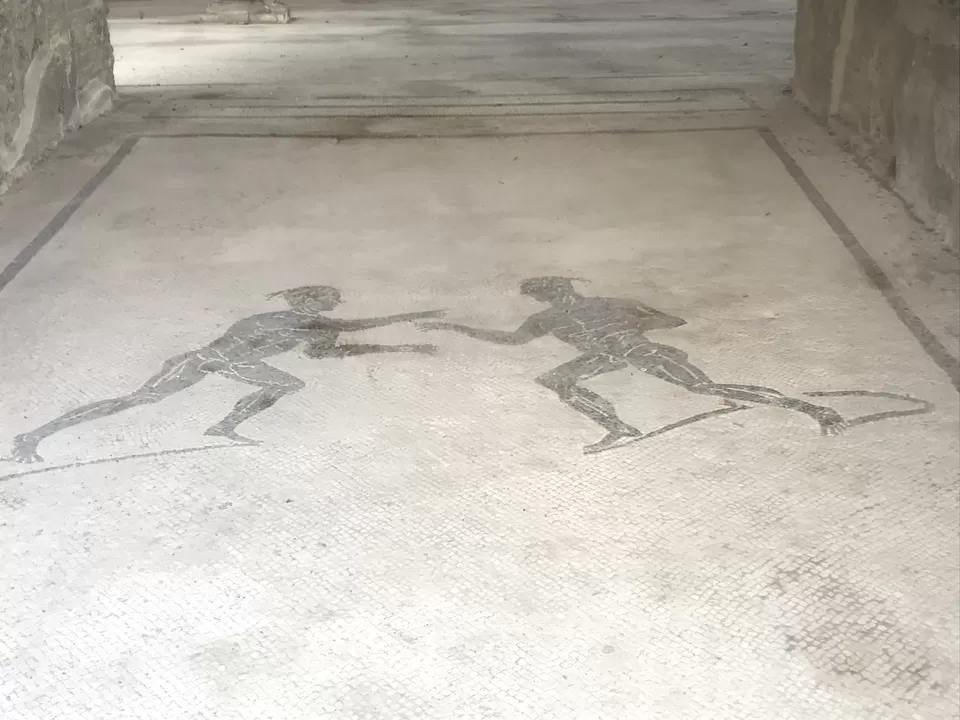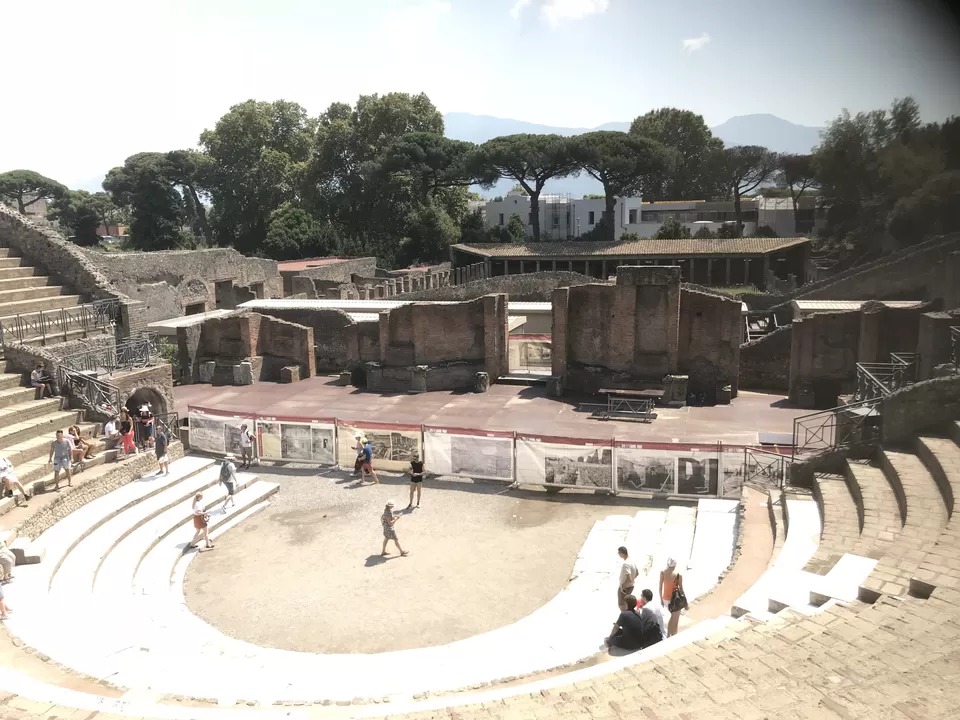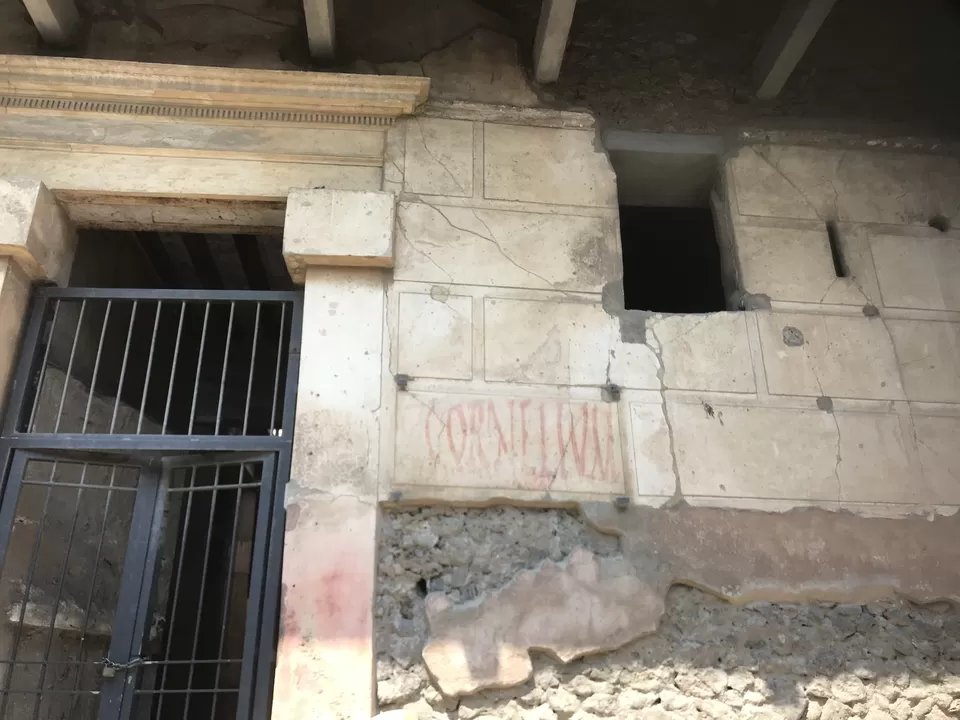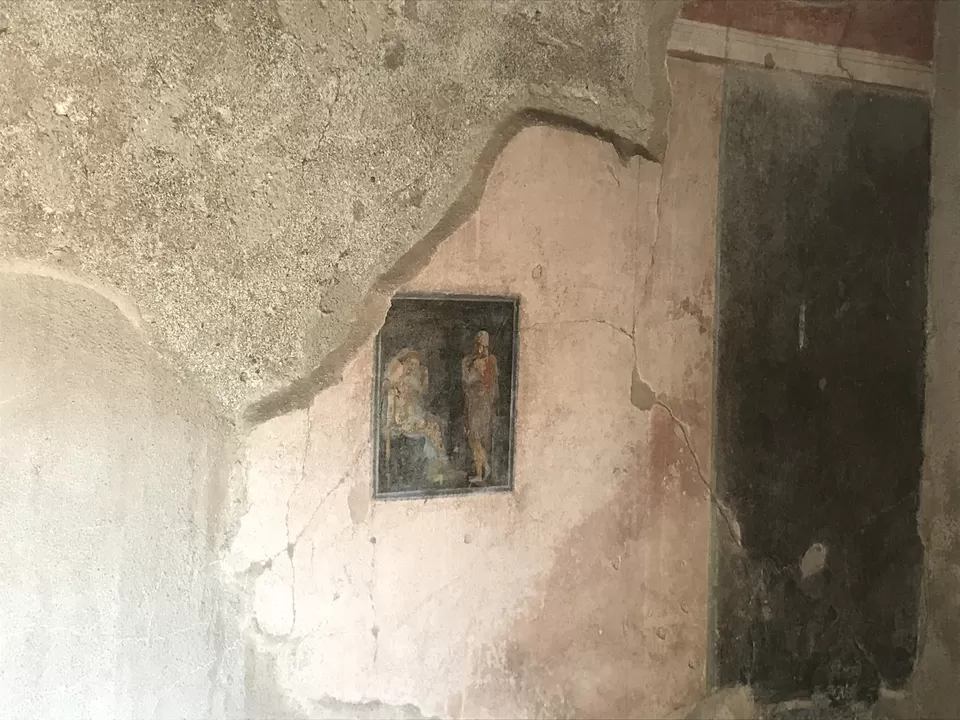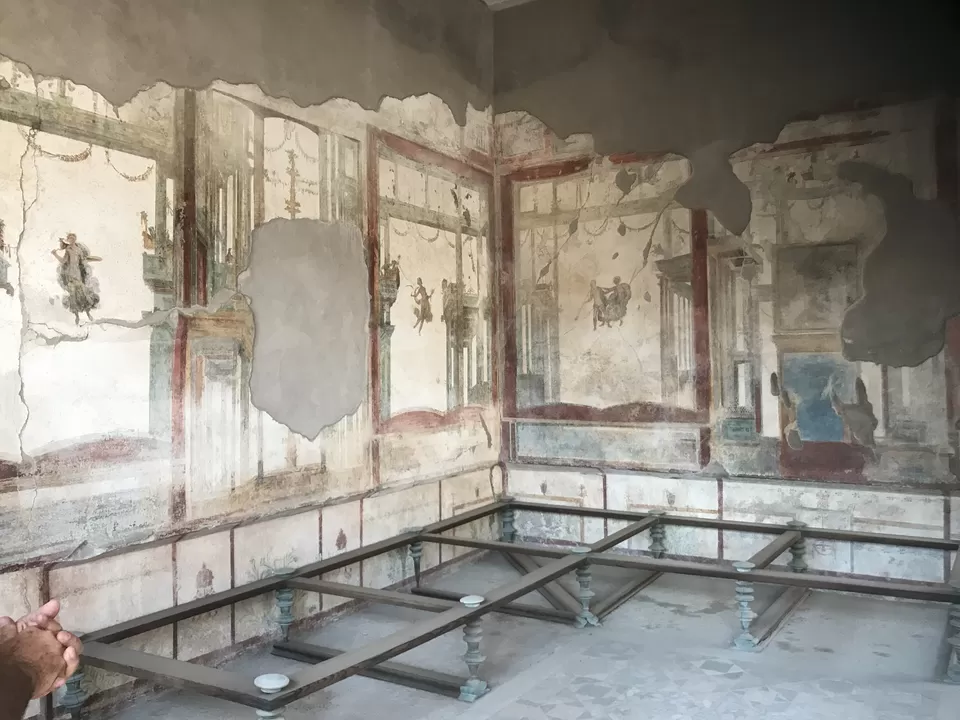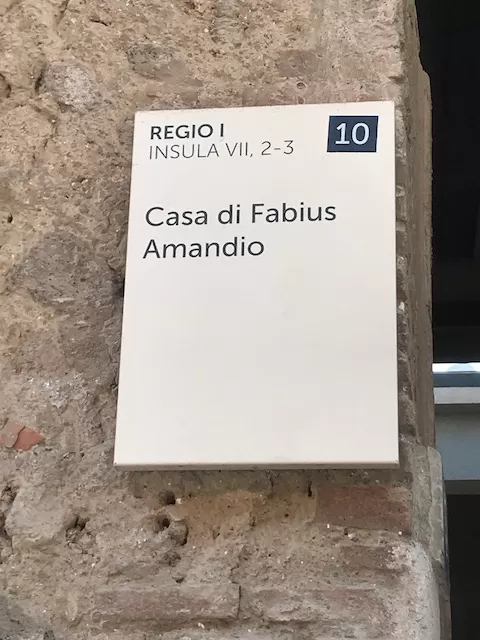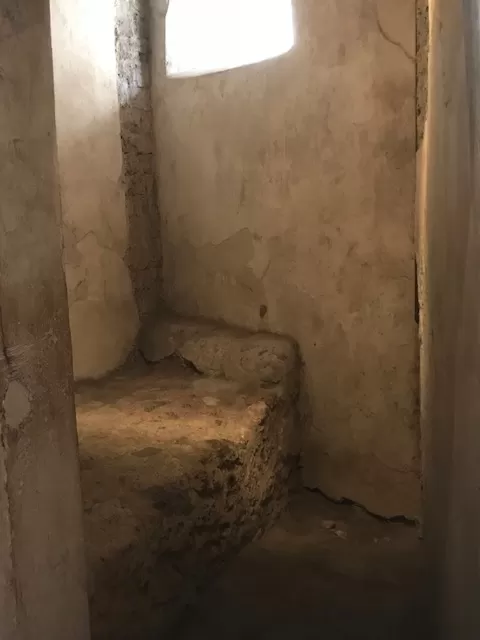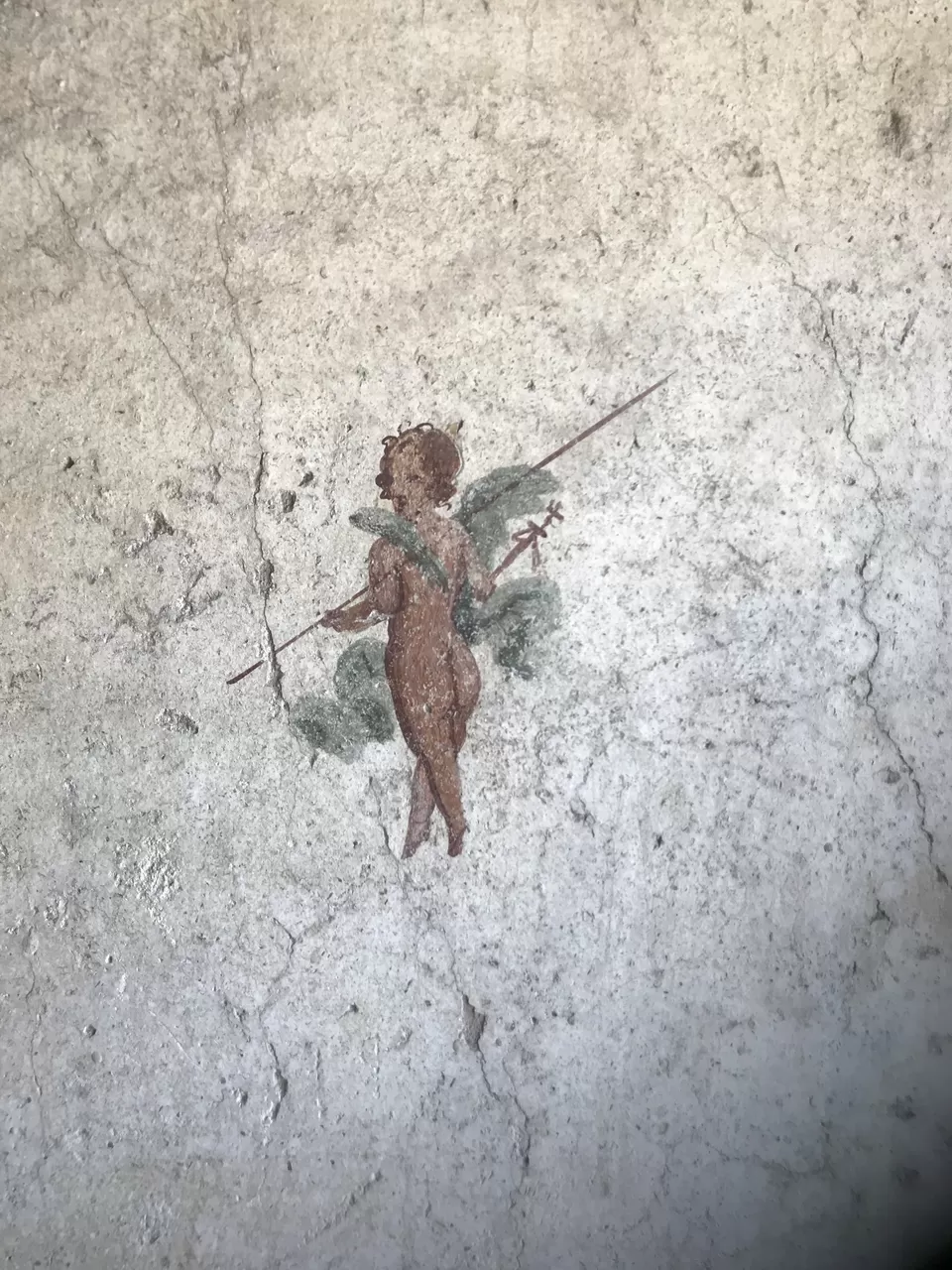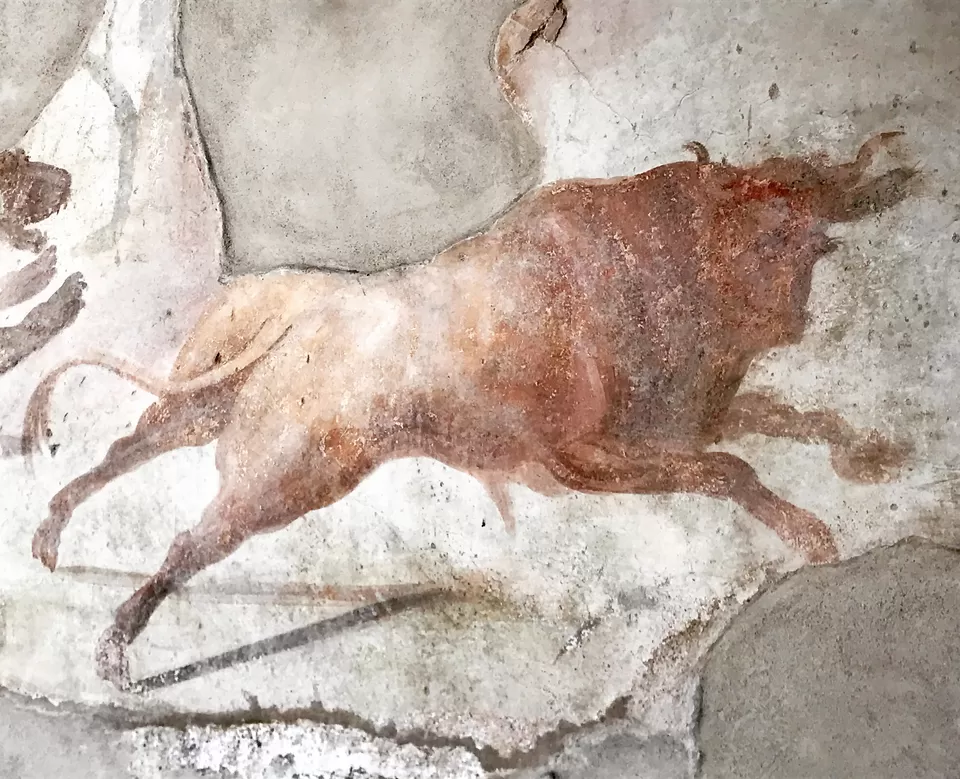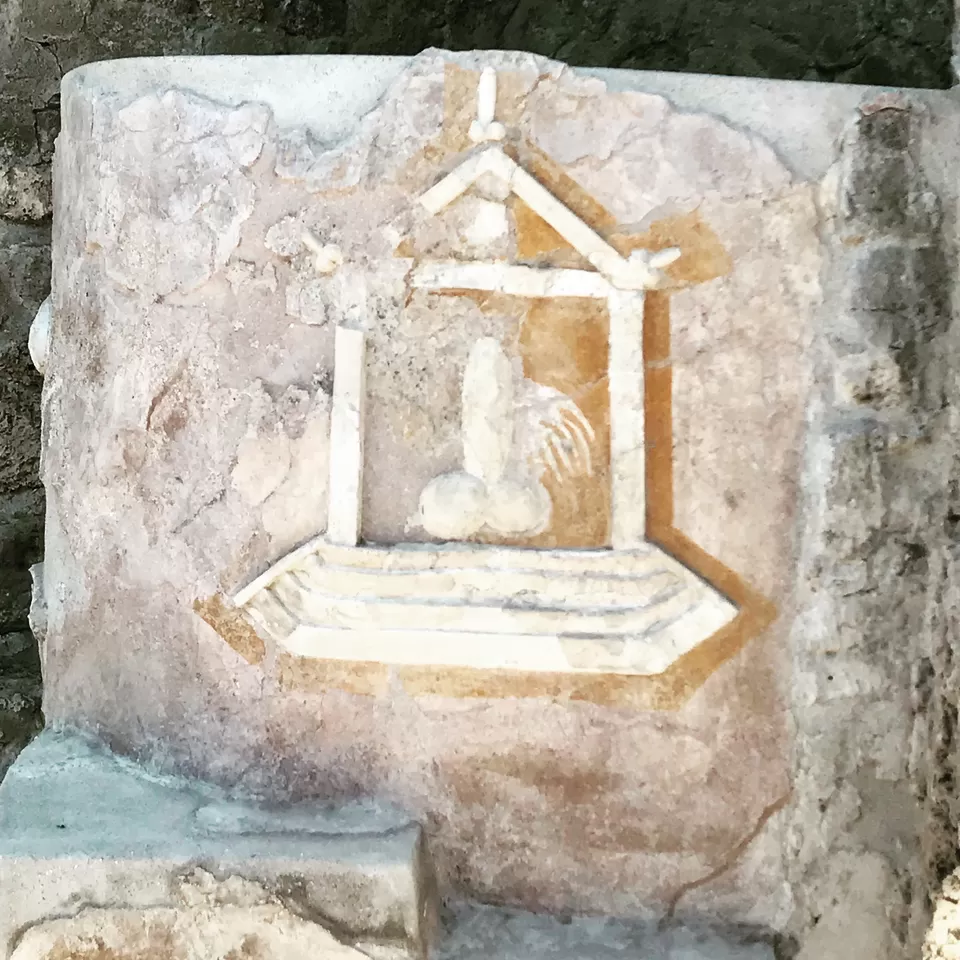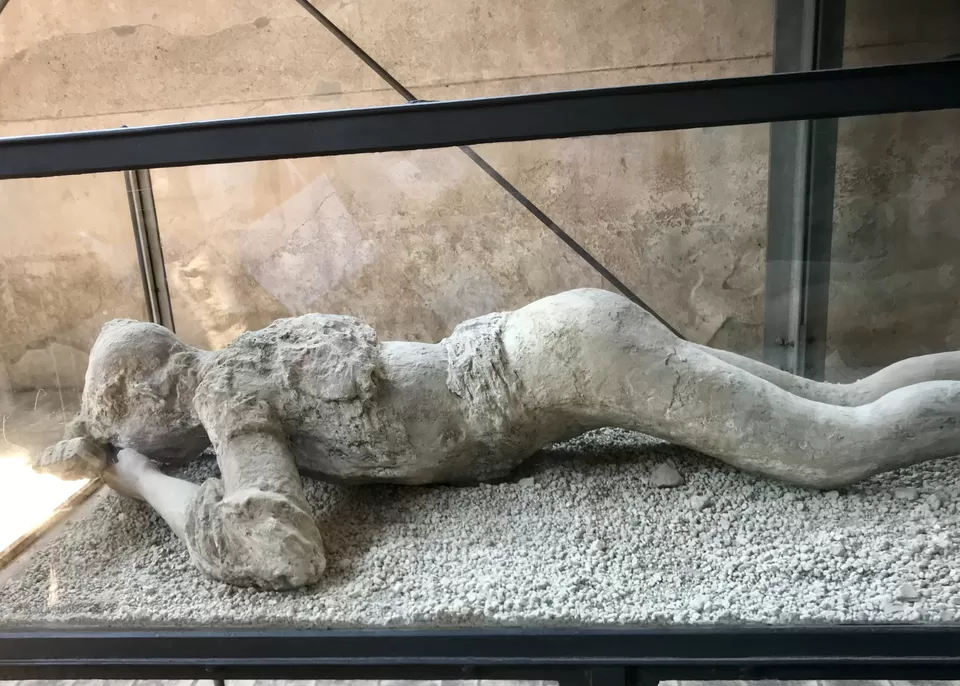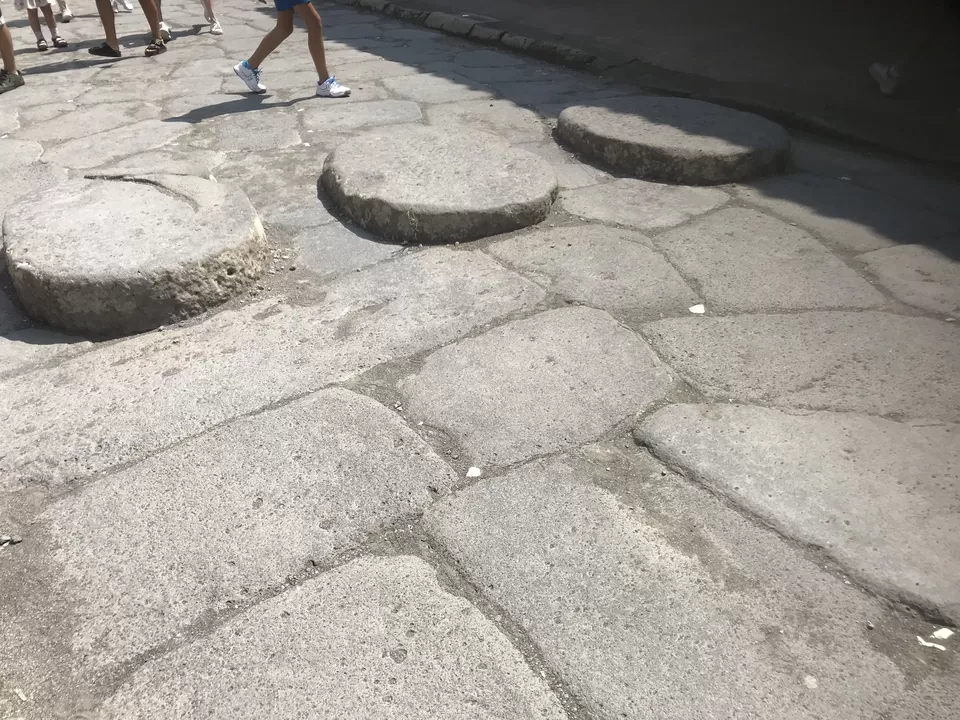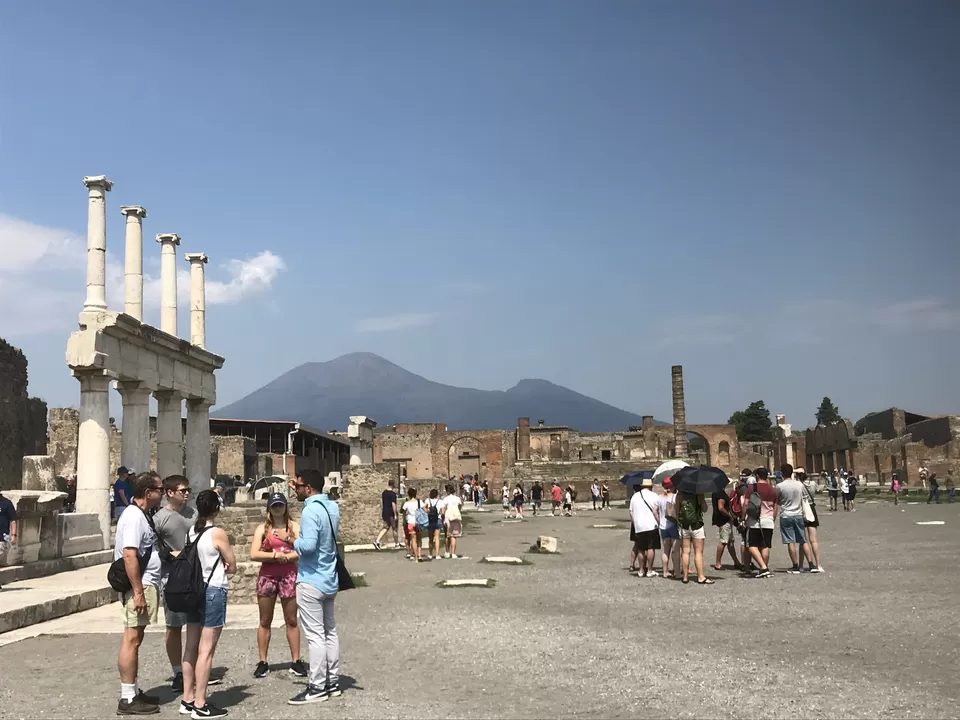 One really could spend the entire day with a picnic and not see every thing Pompeii has to offer, it's massive. But it was hot, the rains were coming and it was time to get on to our final destination, Gaeta.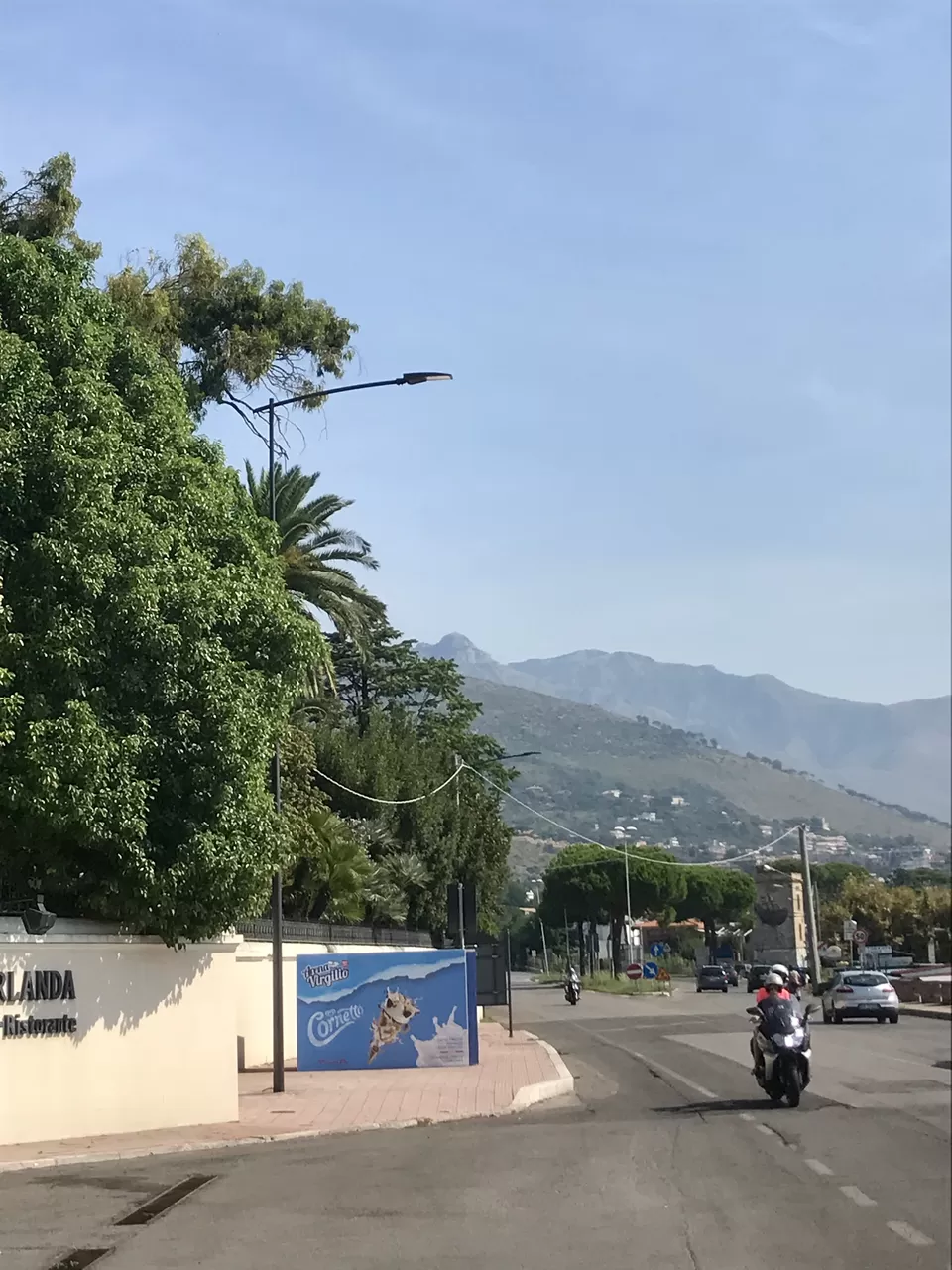 In a little over an hour we arrived at our Gaeta Hotel, Villa-Irlanda. It's built into and on top of a monastery that was as old as Pompeii so we saw similar types of frescos in the lobby. Their roads were cobble stoned and not great for dragging luggage across so they had this cute three-wheeled vehicle to take us to our rooms. Because it's so old, the room configurations were a bit, uh, quirky so the four of us wouldn't fit into one room. The gang divided up and I got my own room which had a spiral staircase through the middle of it that went to the main bed and bathroom. I decided to sleep on the pull-out couch below but I was sure not to drink too much liquid before bedtime to avoid the hell of climbing a tiny, twisty staircase in the middle of the night. Janis's bedroom was a floor above mine but oddly the elevator didn't go up that far, insert obvious joke here. They had the most and heaviest luggage and really no guy around to assist but we all managed to get them up to their room.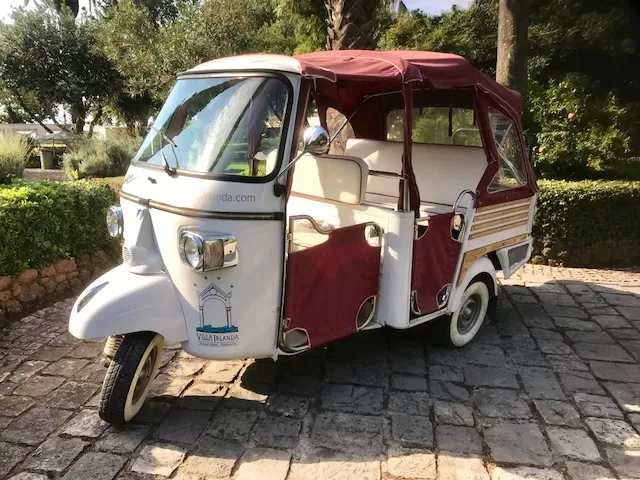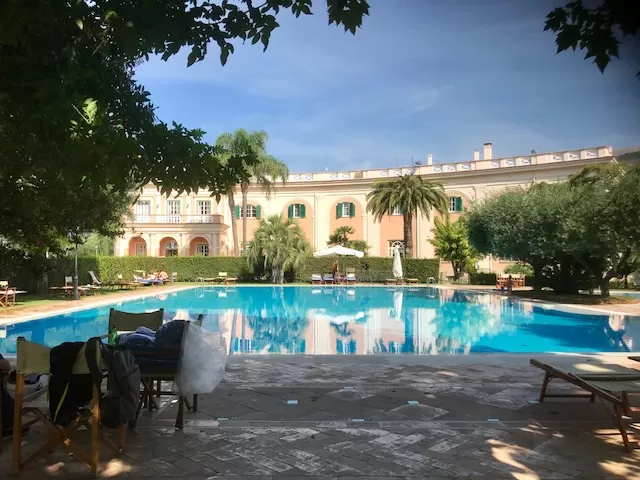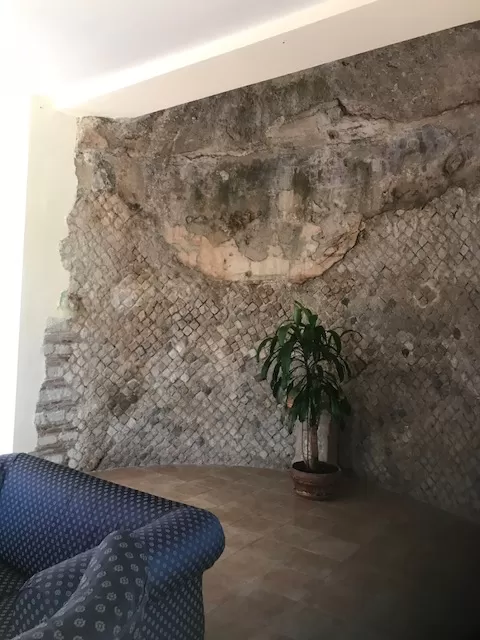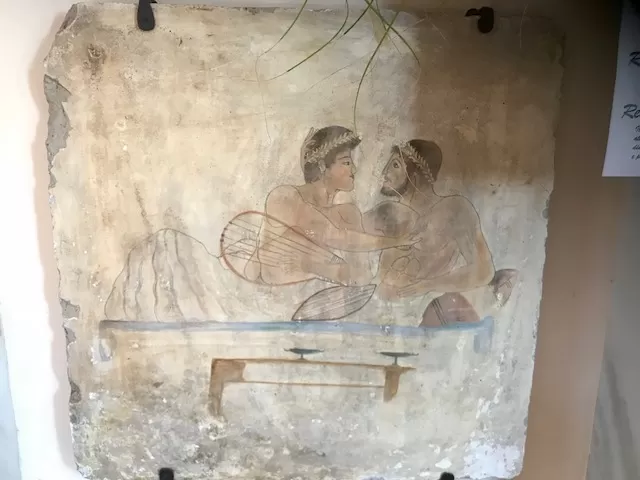 We cleaned up and called a taxi to take us to the center of Gaeta for dinner. Once we were there we immediately walked down the main street and to our old favorite hang out, Pizza Rustica. We wanted a full sit down meal but couldn't resist a slice for an appetizer. Janis went in an ordered an amount of pizza for a few Euros (you name the price and they give you an amount of pizza to match) and she came out with 3 huge slices! None of us could finish it but the little I tasted was exactly, if not better, than I remembered. I think the owner is even the same guy! At the mouth of what we called Piccolo Alley we started our evening promenade going in and out of patisseries, clothing shops and leather stores just like we used to do. Along the way we found a nice trattoria with outside seating where we had more pizza, wine and watched Pearce feed stray cats some of the fish from his seafood pasta.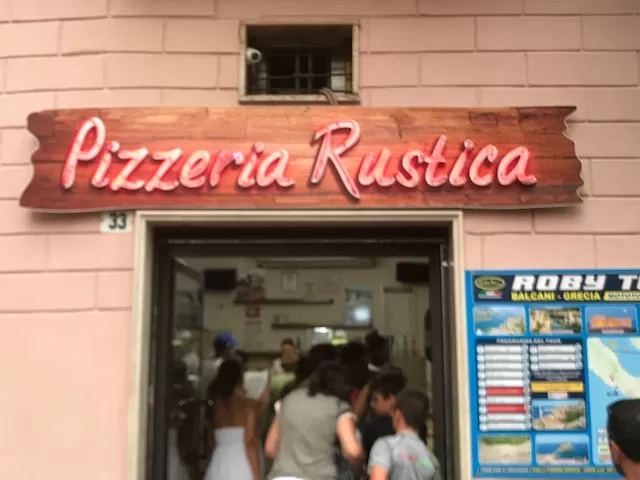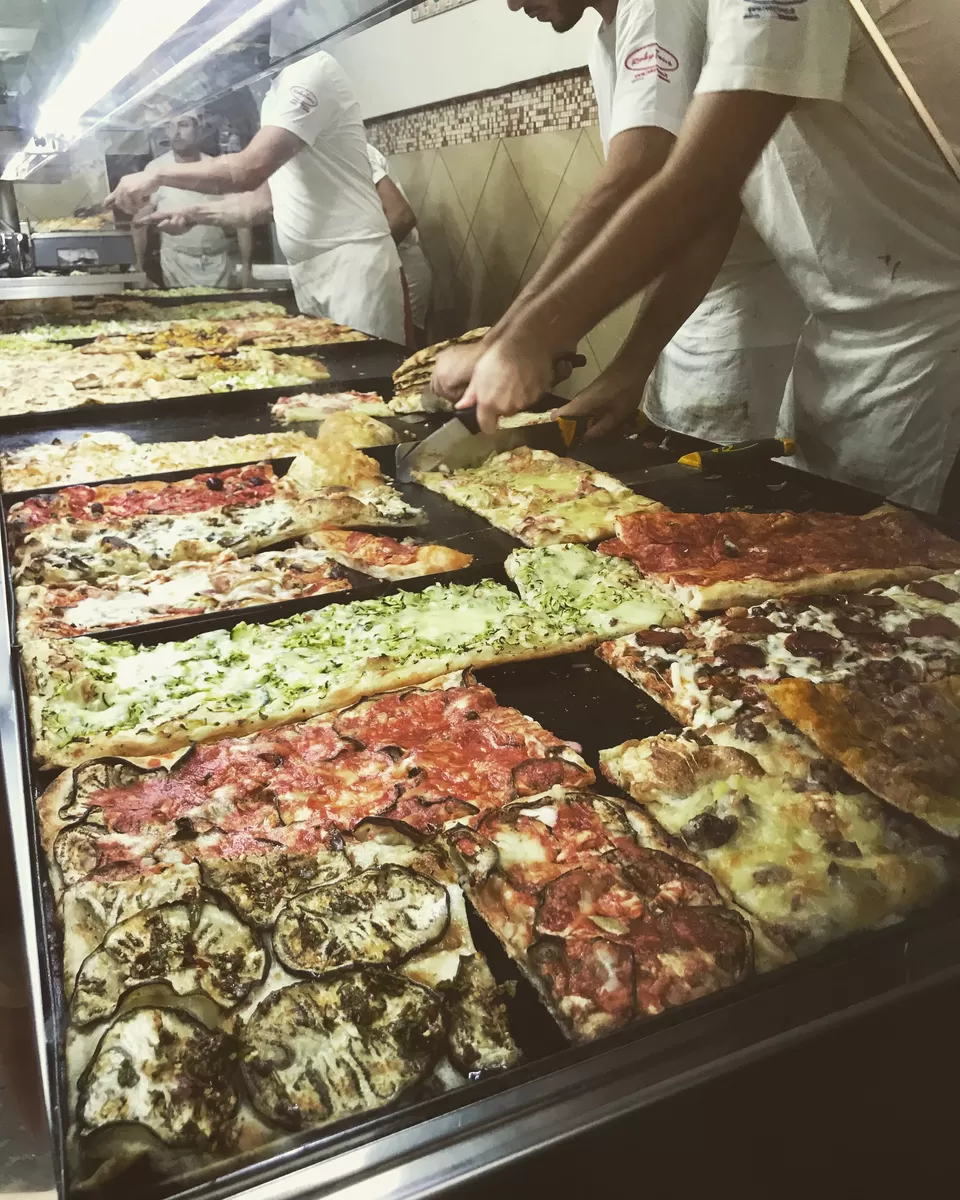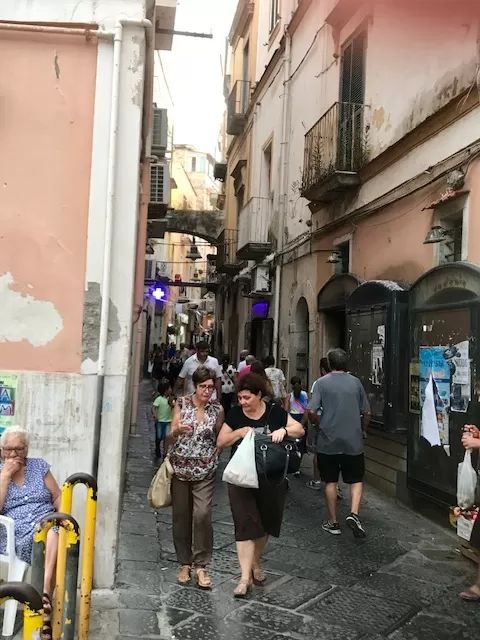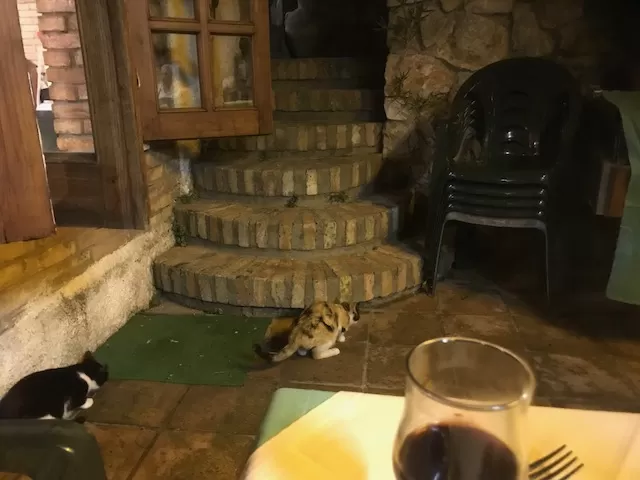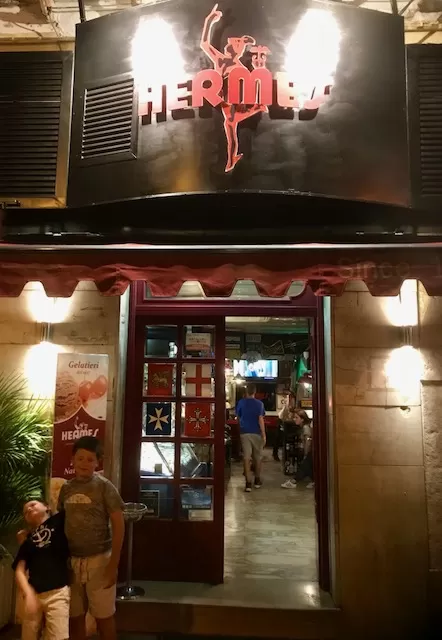 Gelato is currency for the boys so if they "behaved well" they got to have some, but of course it was never denied as much as it was threatened. We stopped for dessert at another old American hangout, Hermes. It really hasn't changed since the mid-80's and it's one of the places that still only serves American fair til late at night. The boys ordered huge gelato Sundays that they couldn't finish and Janis and I had a few scoops and adult drinks. Janis said that Hermes was the place she had her first alcoholic drink. The drinking age in Italy is only 16 and actually we were still only 13 but they aren't sticklers for such things.
Not unlike Paris, catching a cab on the street at night is close to impossible and we didn't have a game plan for getting back to our hotel. It was just a touch too far to walk. The car share app only works in places like Rome so we were at a loss. Luckily a minute later the water front bus line drove past us and we all frantically ran for it and got on. There were machines on it that didn't accept money but no one seemed to be paying attention so we had a free ride back to our hotel. We felt bad but weren't privy to the bus ticket system so we agreed to take the bus with paid tickets back into town the next day.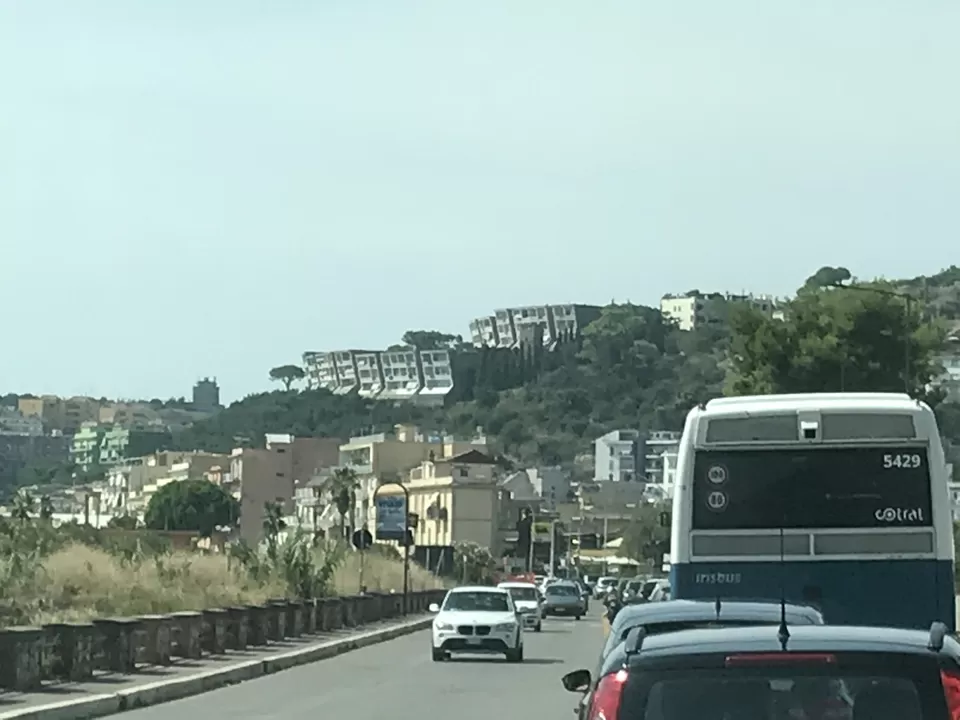 The next morning we had our breakfast, bought bus tickets at the front desk and walked over to the bus stop. It was due to arrive anytime, so we waited with a chatty local lady. Well, we saw the bus come, and we saw the bus go without stopping for us. August is vacation time for Italians and Gaeta is a popular beach town with still only one main two-lane road going in and out. The bus is always full and the traffic heavy. At 10am and it was already crazy so we wondered how we were going to get into town to do our sight seeing. Aside from growing wings we simply had to be patient (like island time) and wait for a cab, which we did. Our driver got us into town pretty efficiently and gave us his card for when we were ready to return, I'm glad I kept that card.
The driver dropped us off at the top of the main street of Gaeta and since it was closest we walked over to my neighborhood first. We walked past the little jewelry store spot (no longer there) I'd spent much allowance on and from where I still have earrings I bought back in the 80's.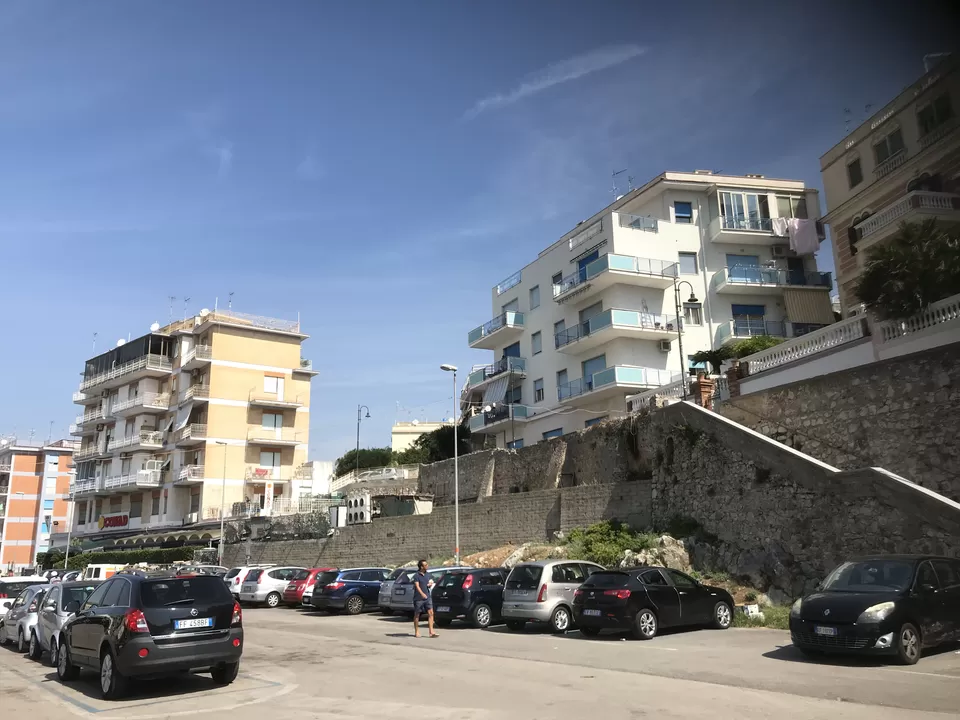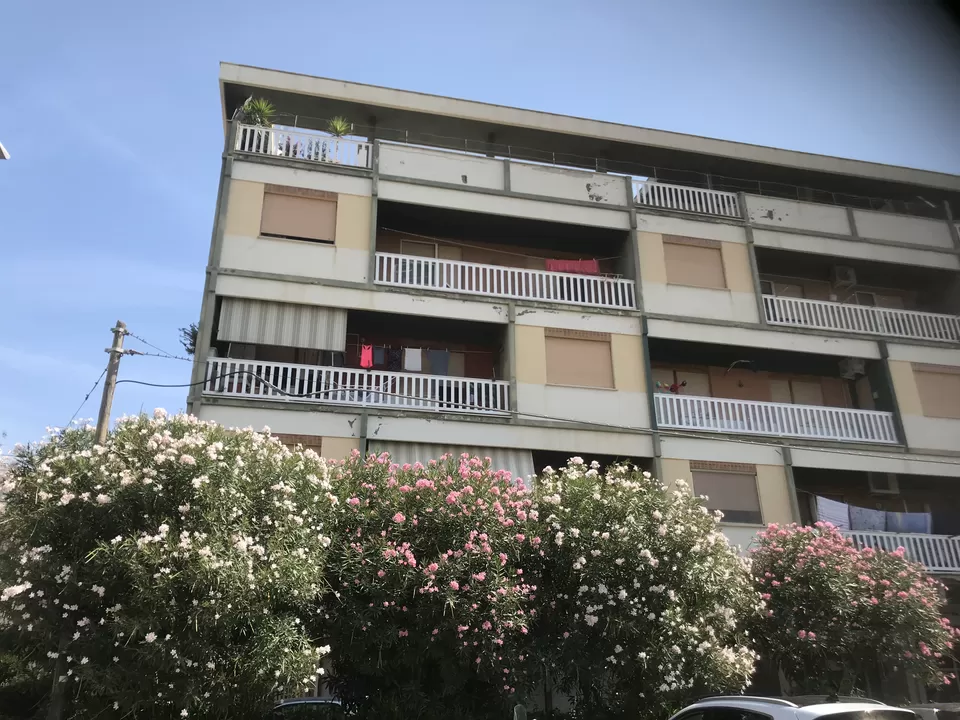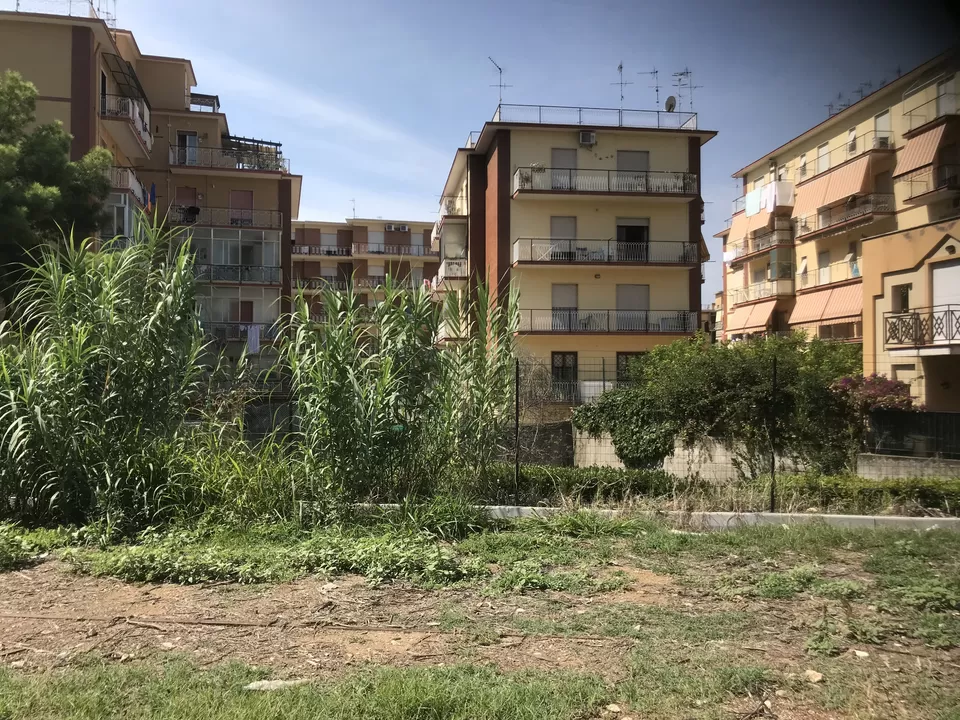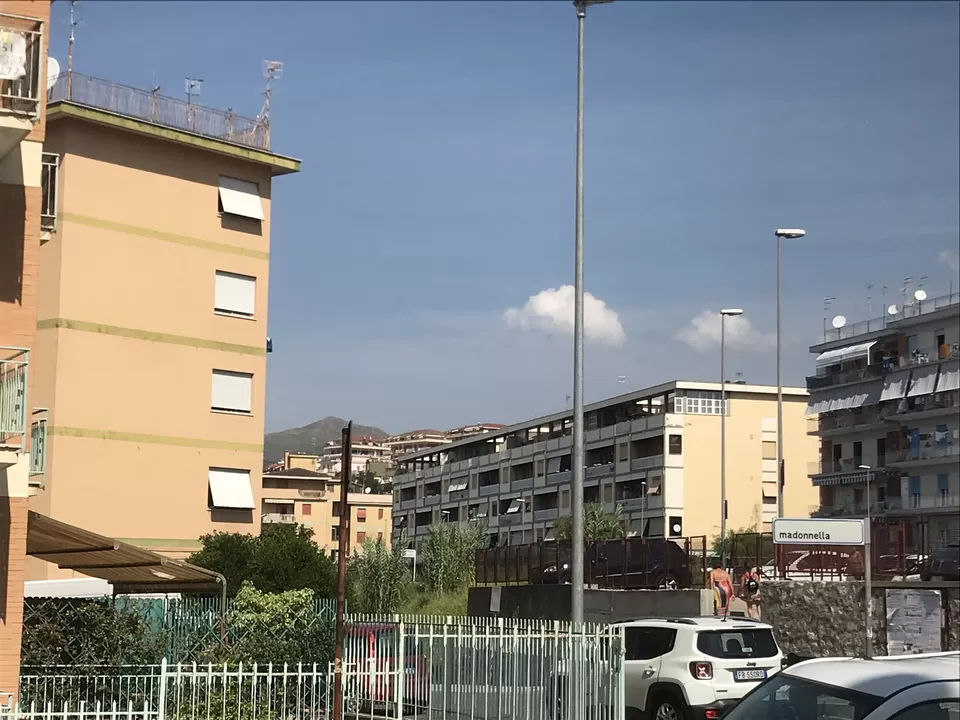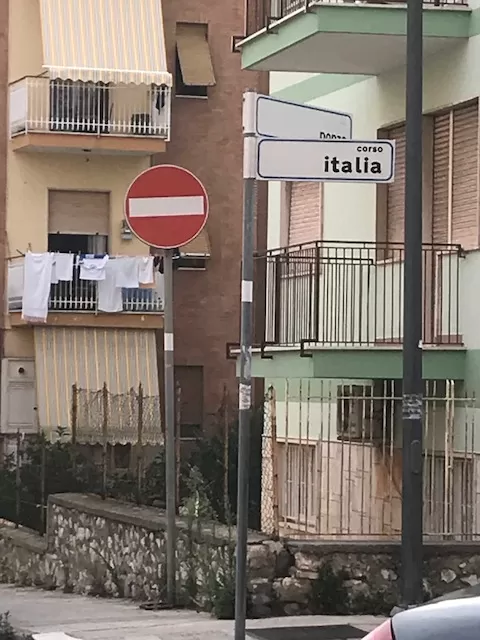 We followed the path across the huge parking lot, train tracks, and down a set of steps and to the road that took us to Janis's family apartment which was a block from the beach. Along the way we saw the American military "Det" which housed various offices and dentist service for military families. It's no longer used for those purposes as is the case with most military centers since American presence was drastically cut mostly after 9/11.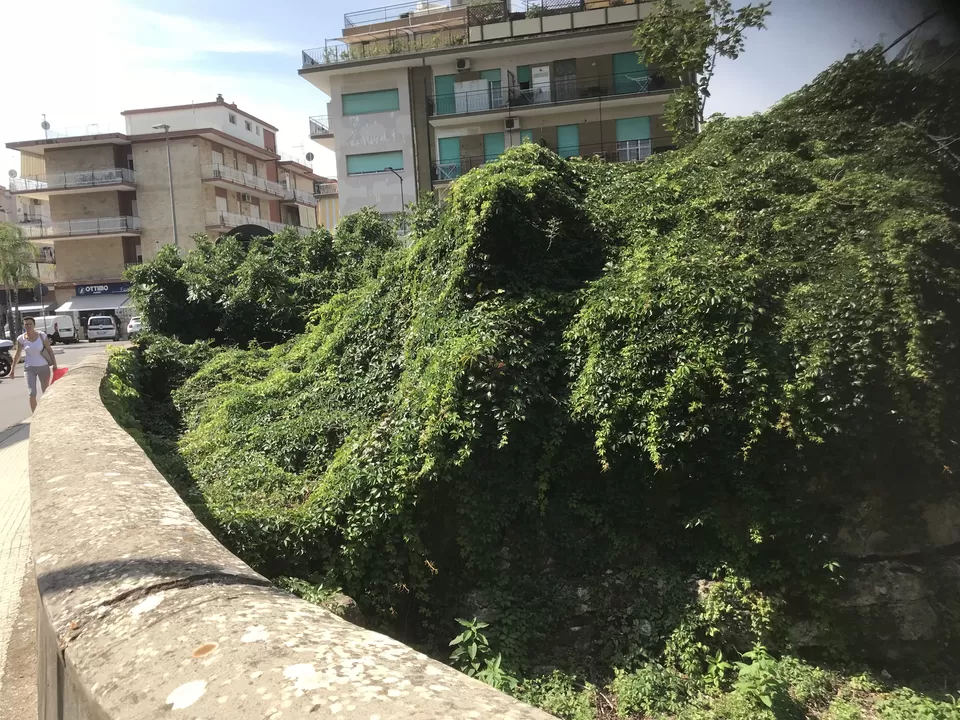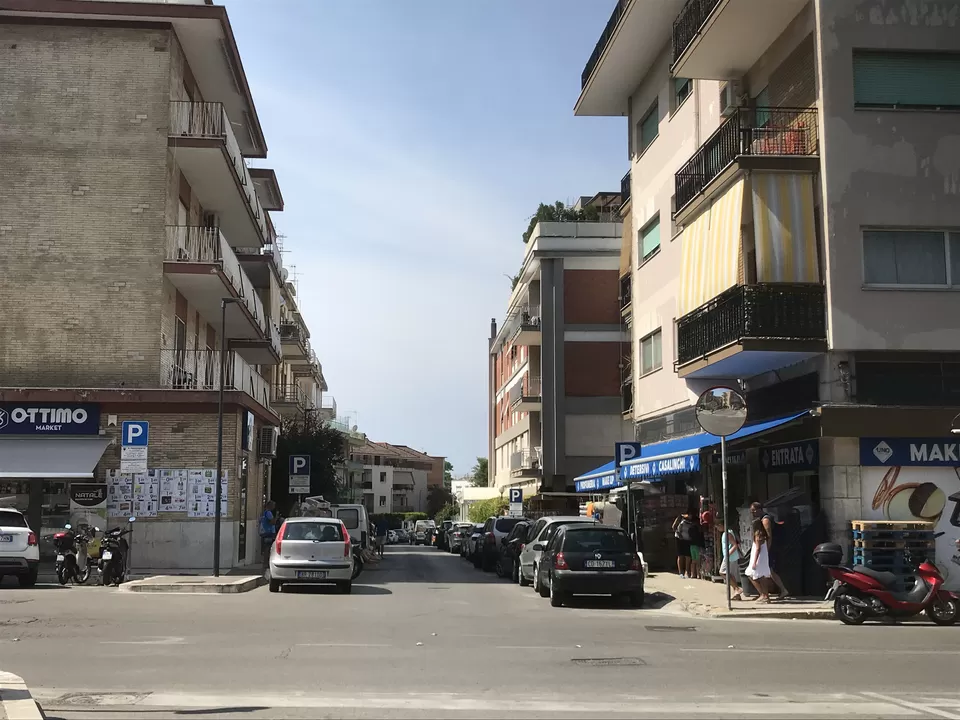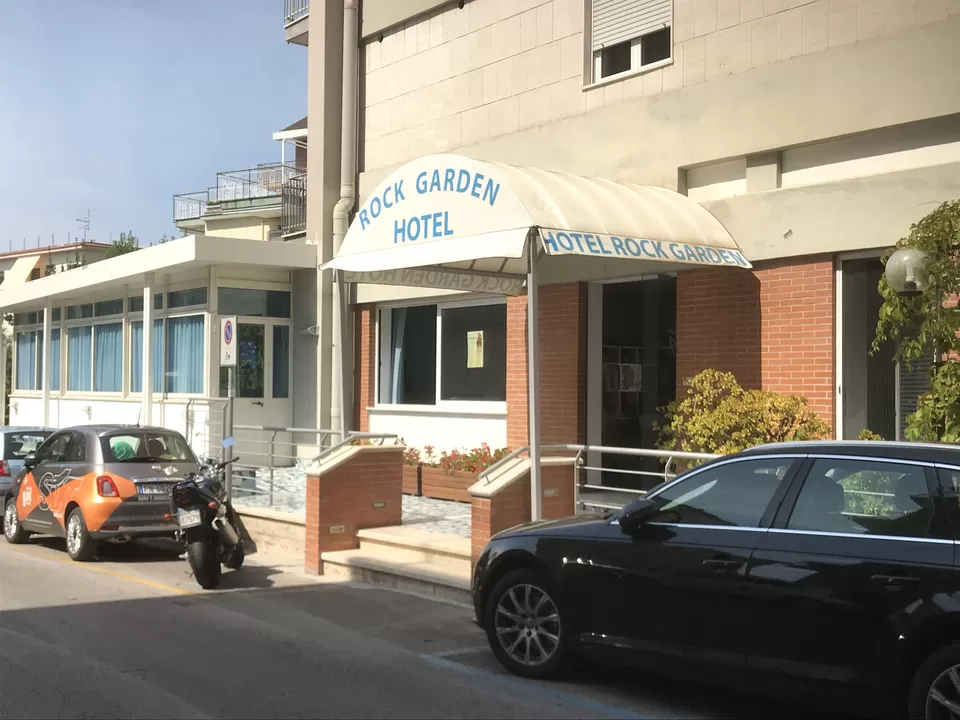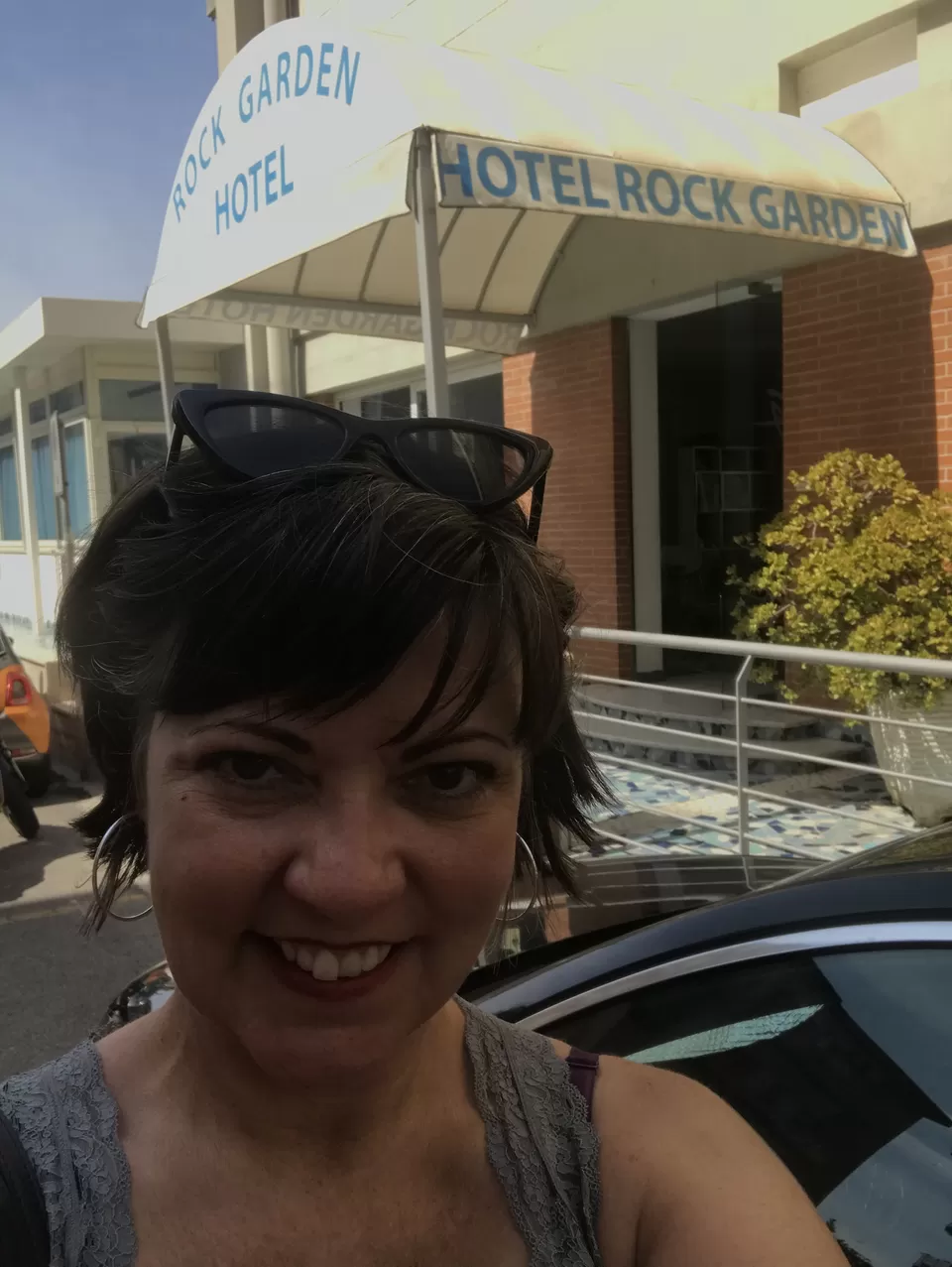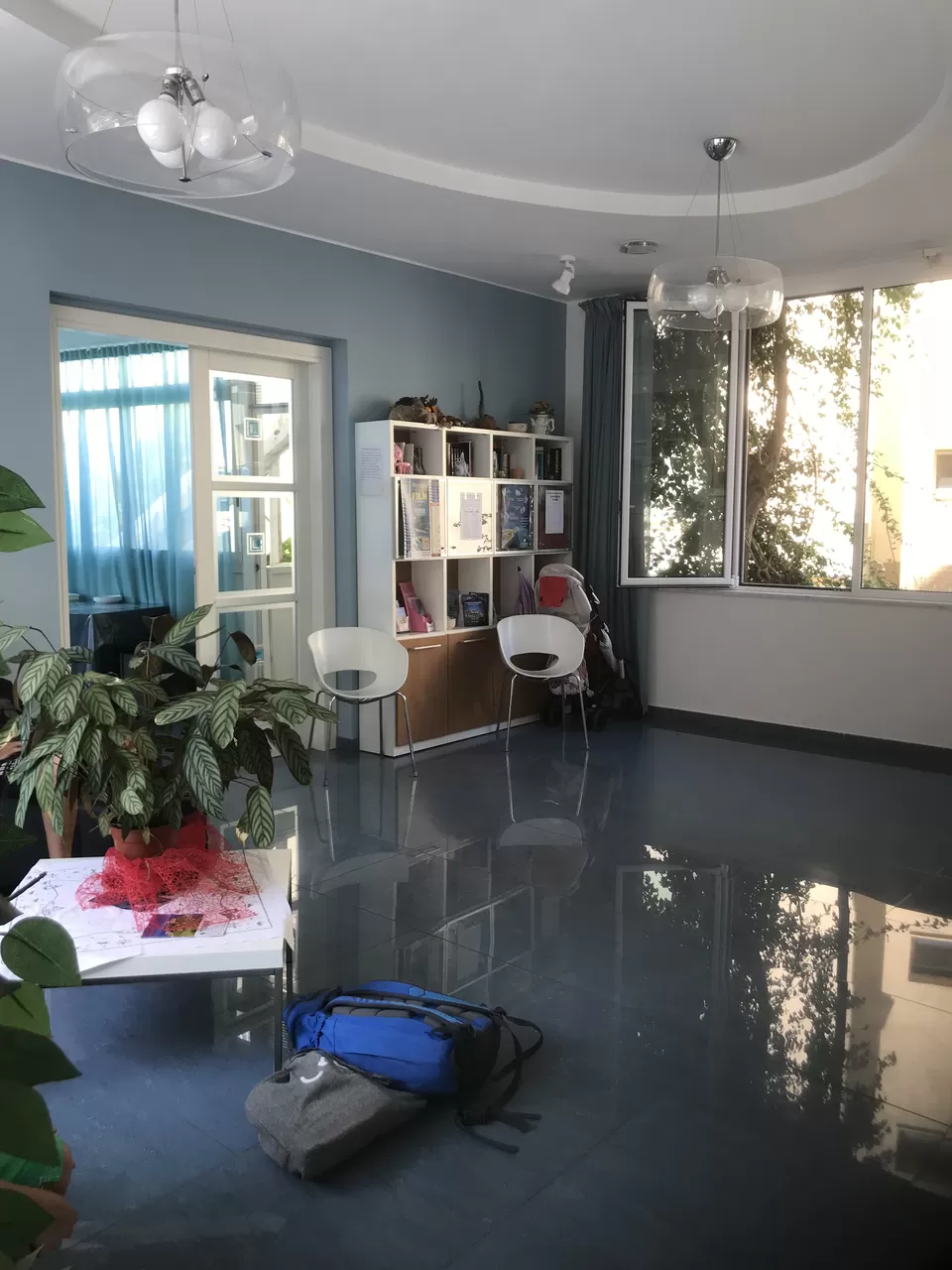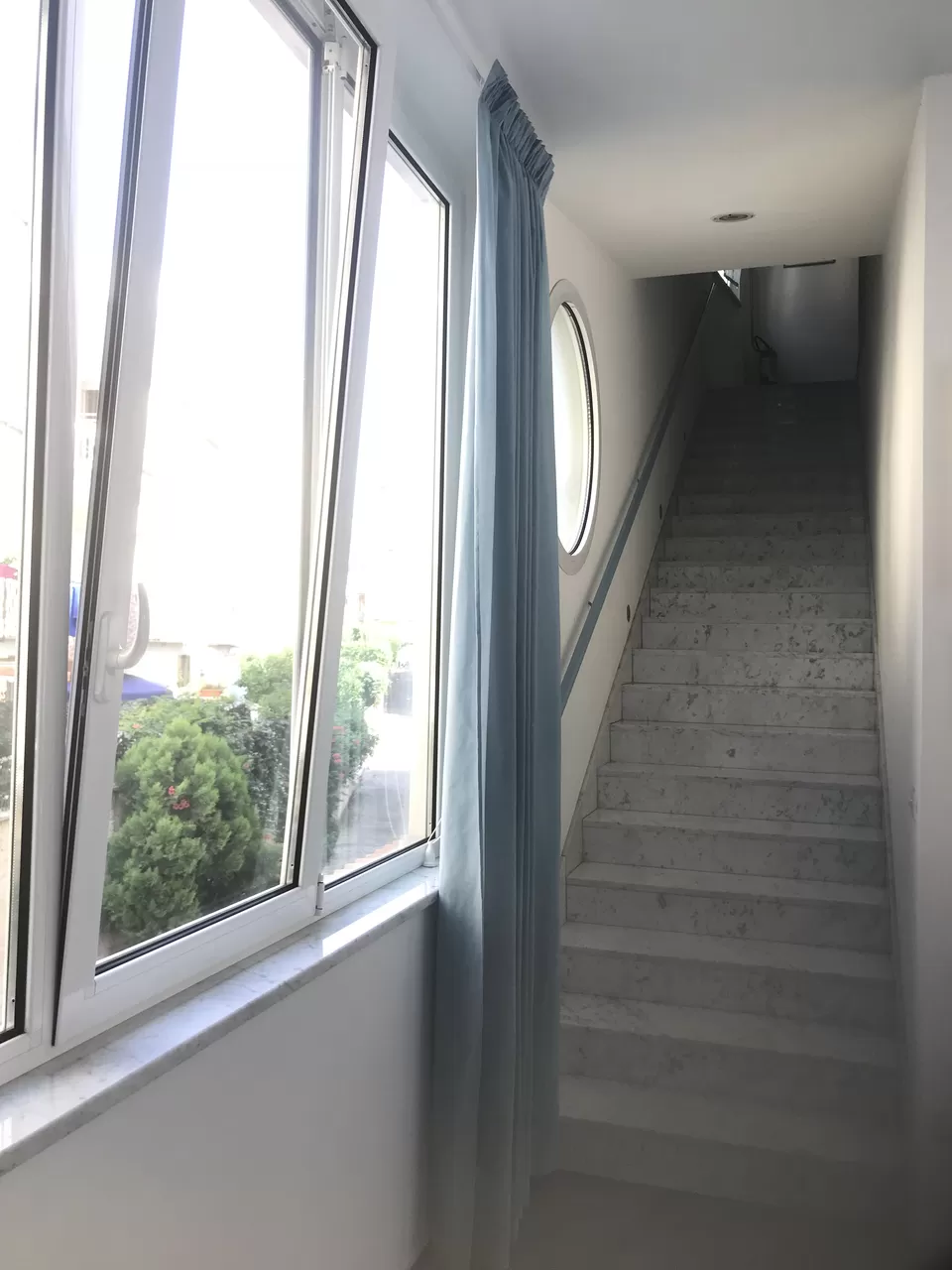 As Janis and I stood out front taking photos of The Rock Garden Hotel the manager came out and asked if we were Americans. He had us pegged! He invited us in to chat about old times. He's an Italian local who lived there through many American family generations in Gaeta and loves to reminisce. He says he and most of Gaeta really misses those days with the huge population and bustling year round economy. He made a lot of friends back then and ended up going to college in Boston to get a degree in hospitality to come back and run The Rock Garden. He also runs The Rock Garden page on Facebook and really wants to have a massive reunion for everyone which logistically seems almost impossible. Lovely thought though! Anthony gave us some coffee, water and juice and sent us merrily on our way.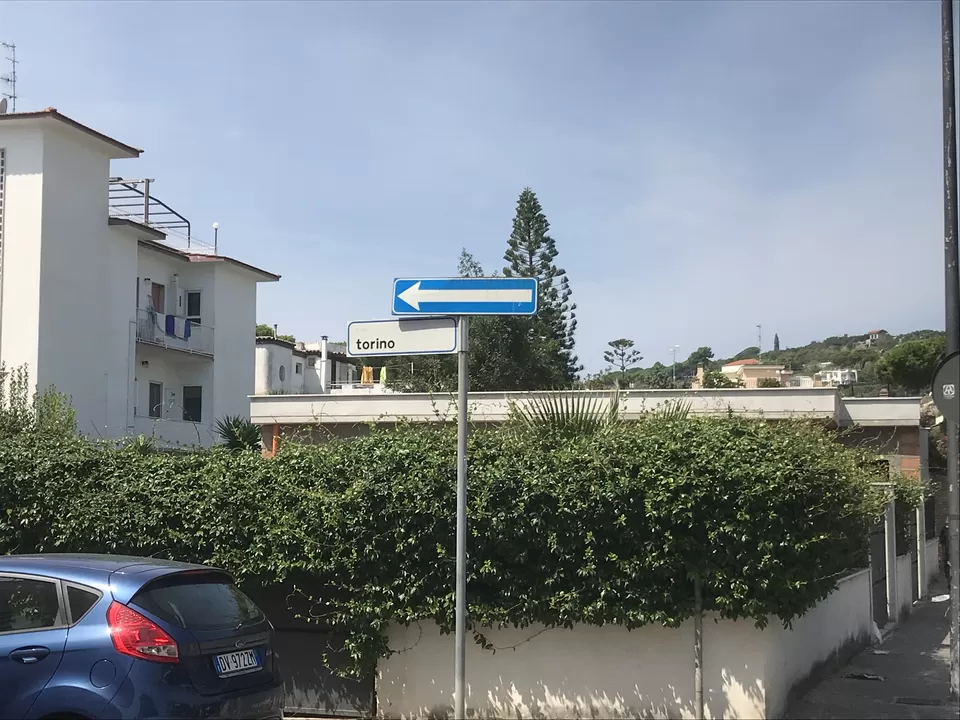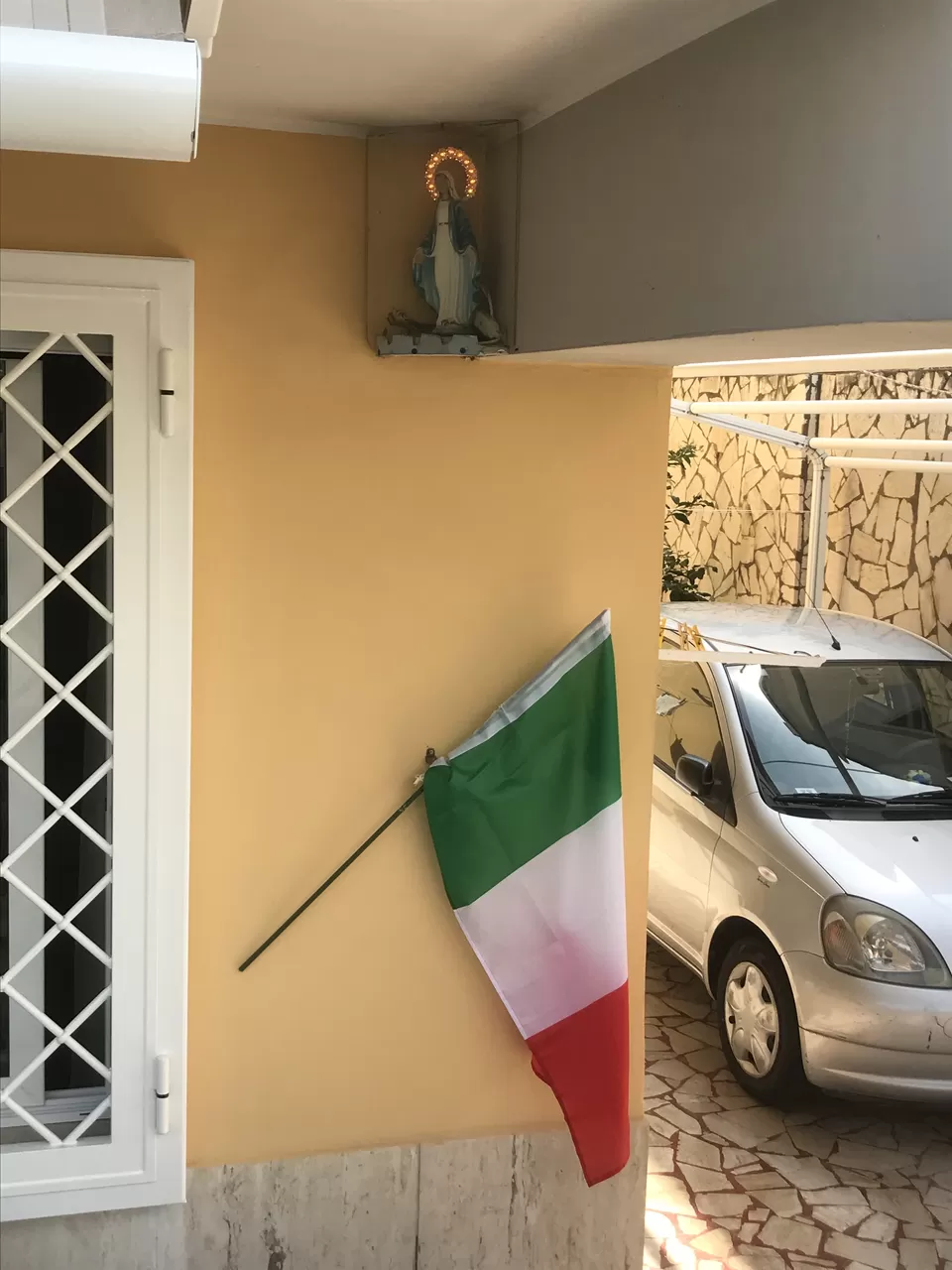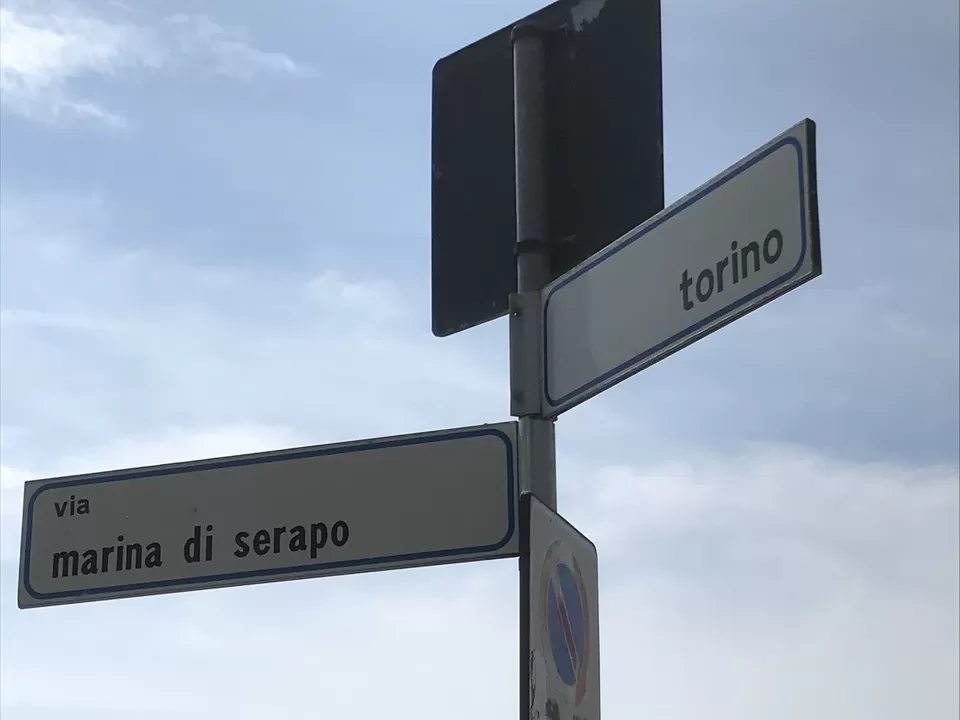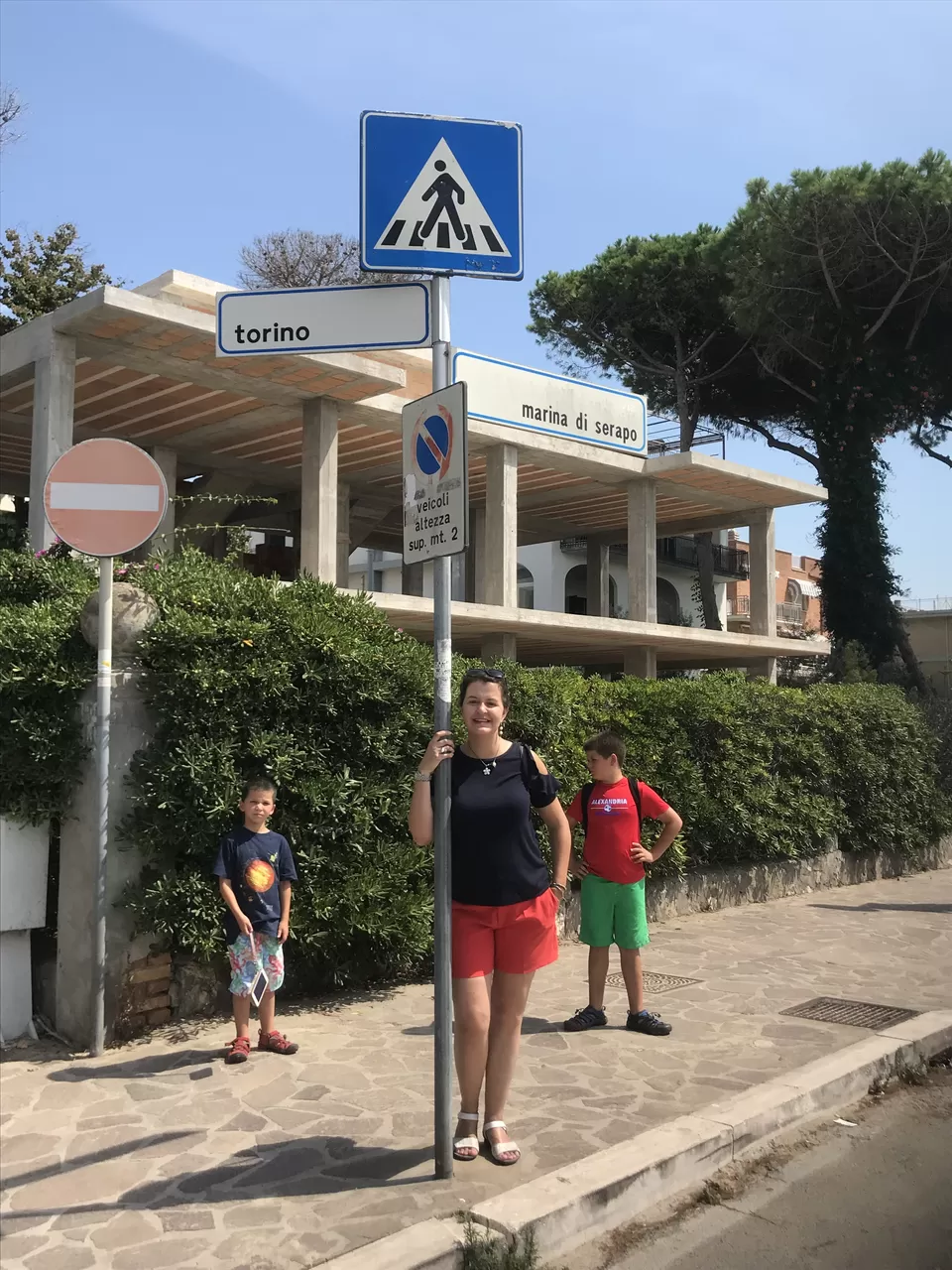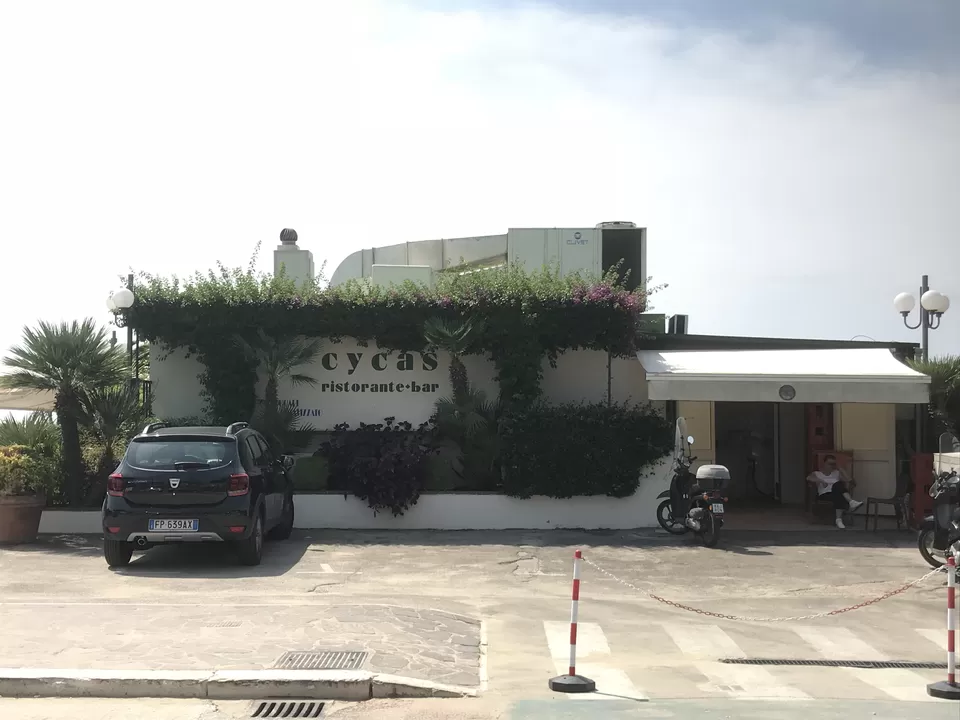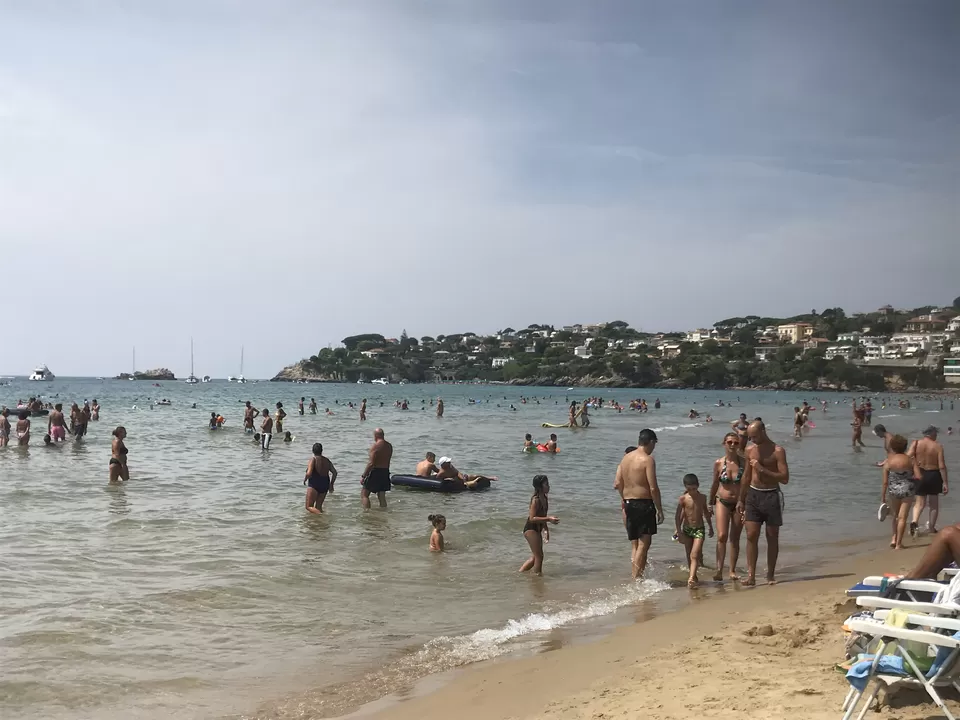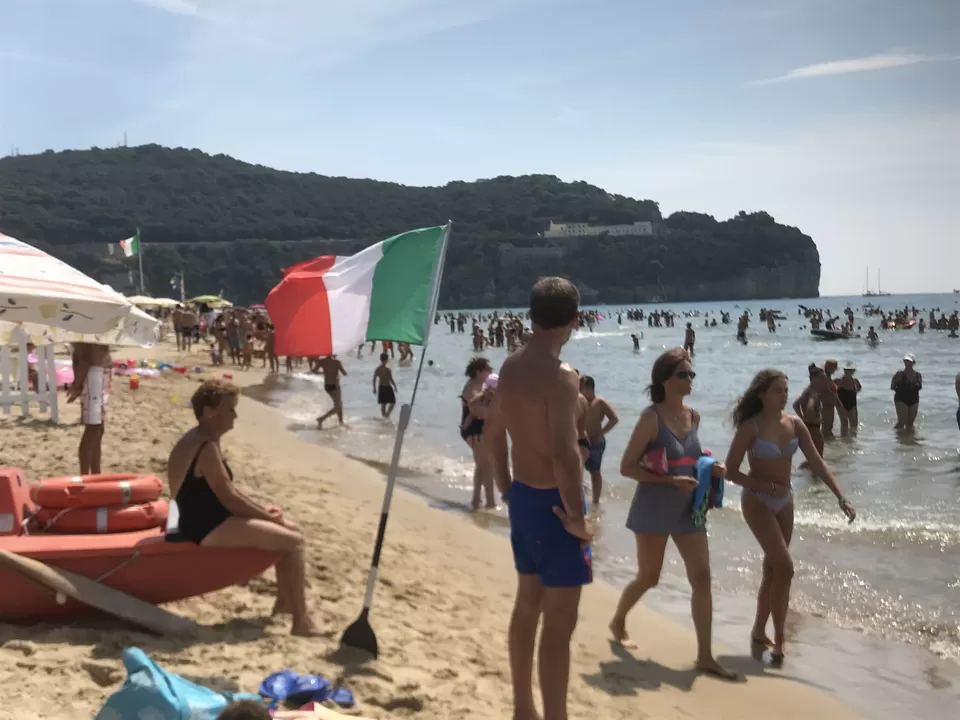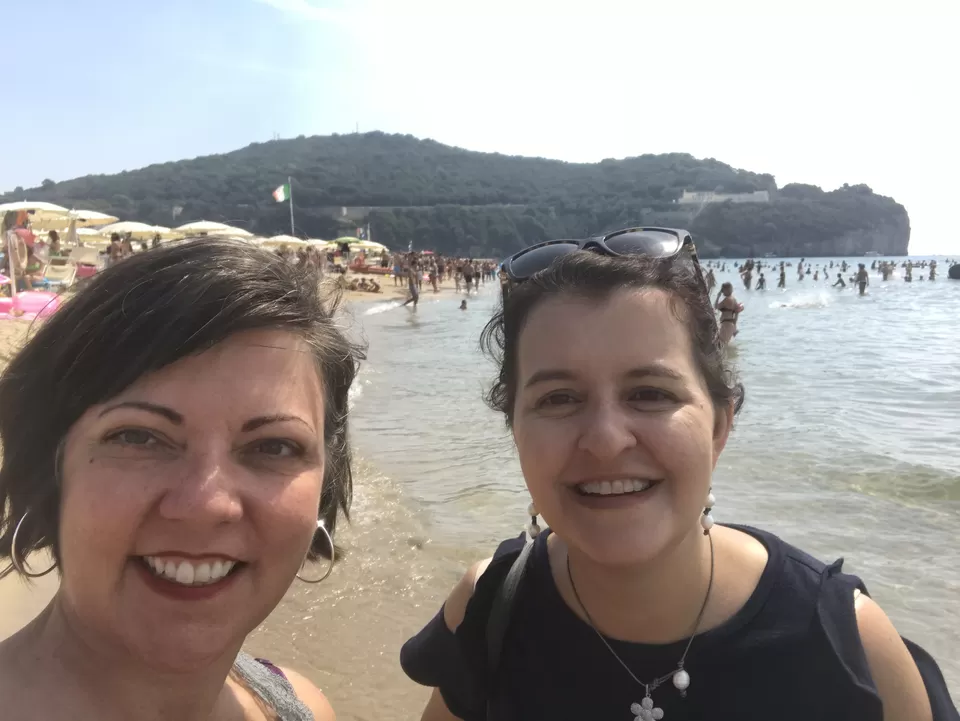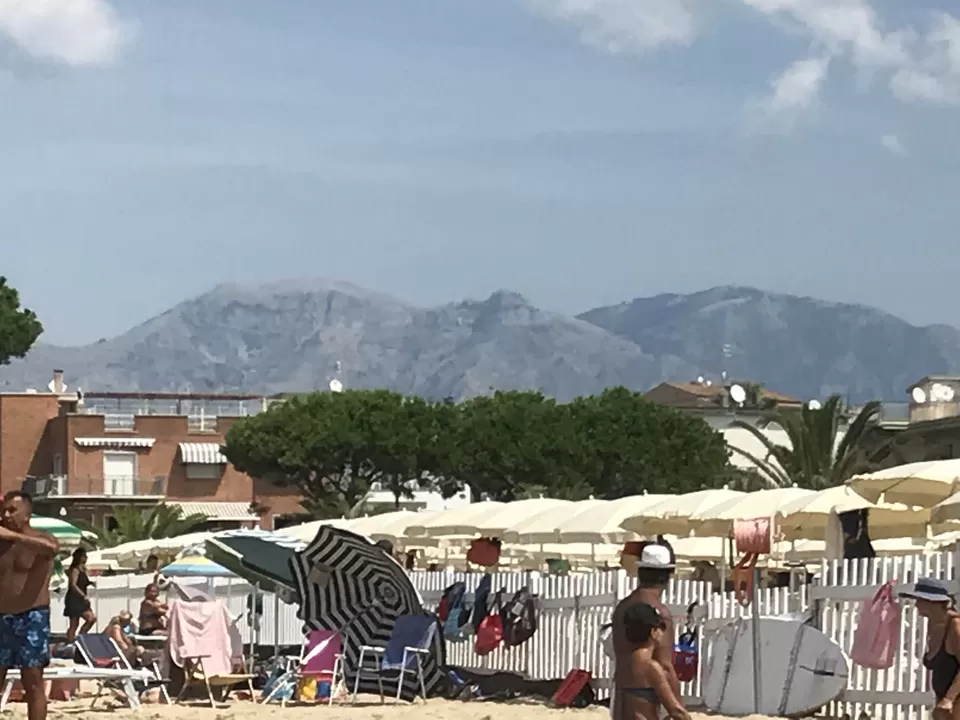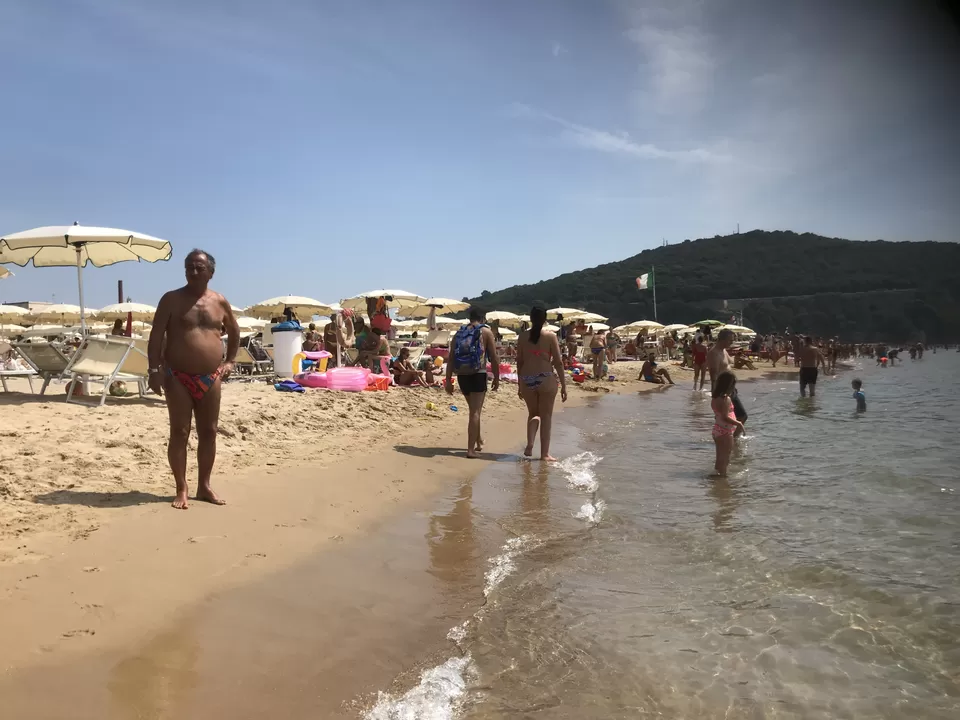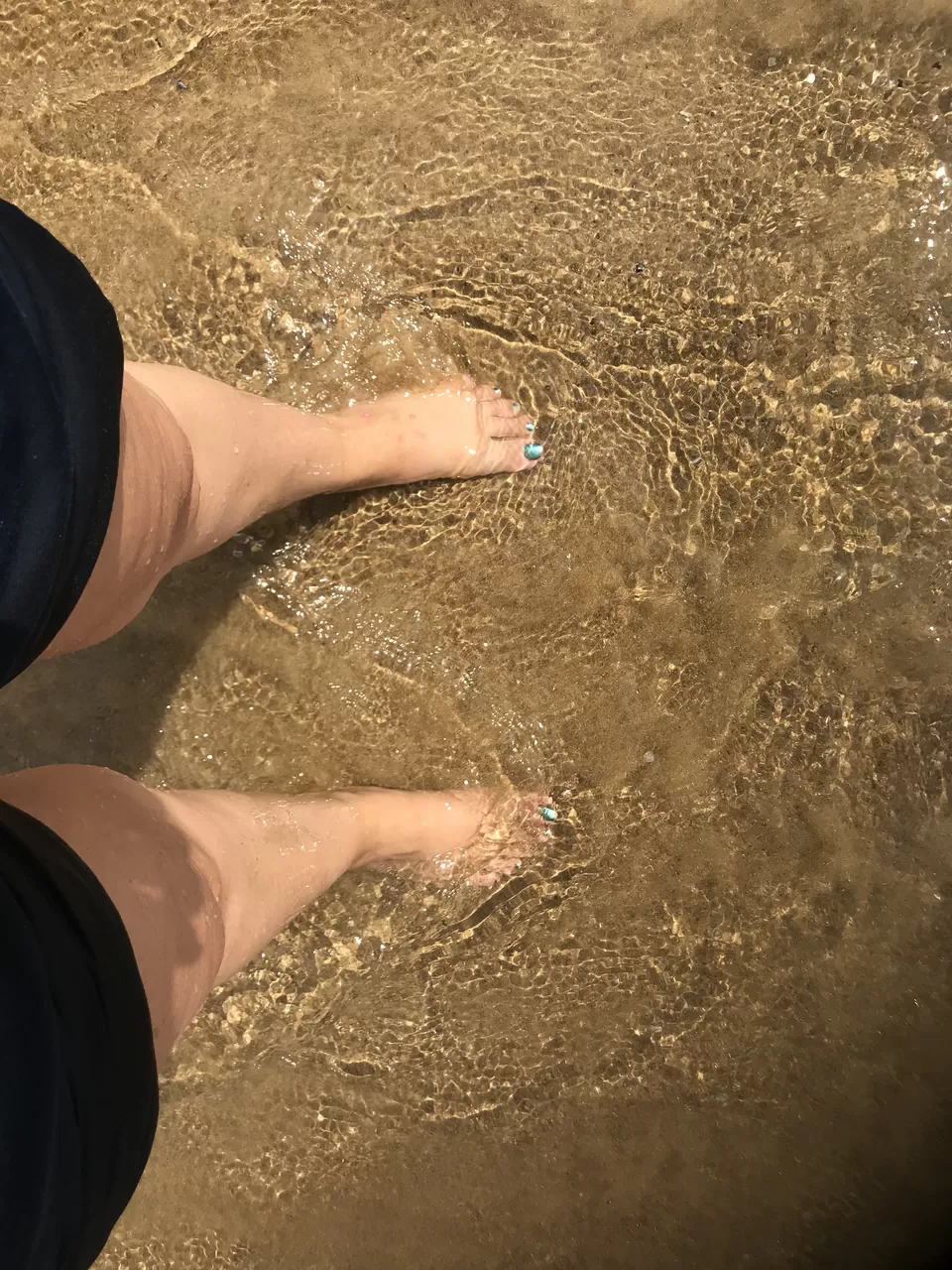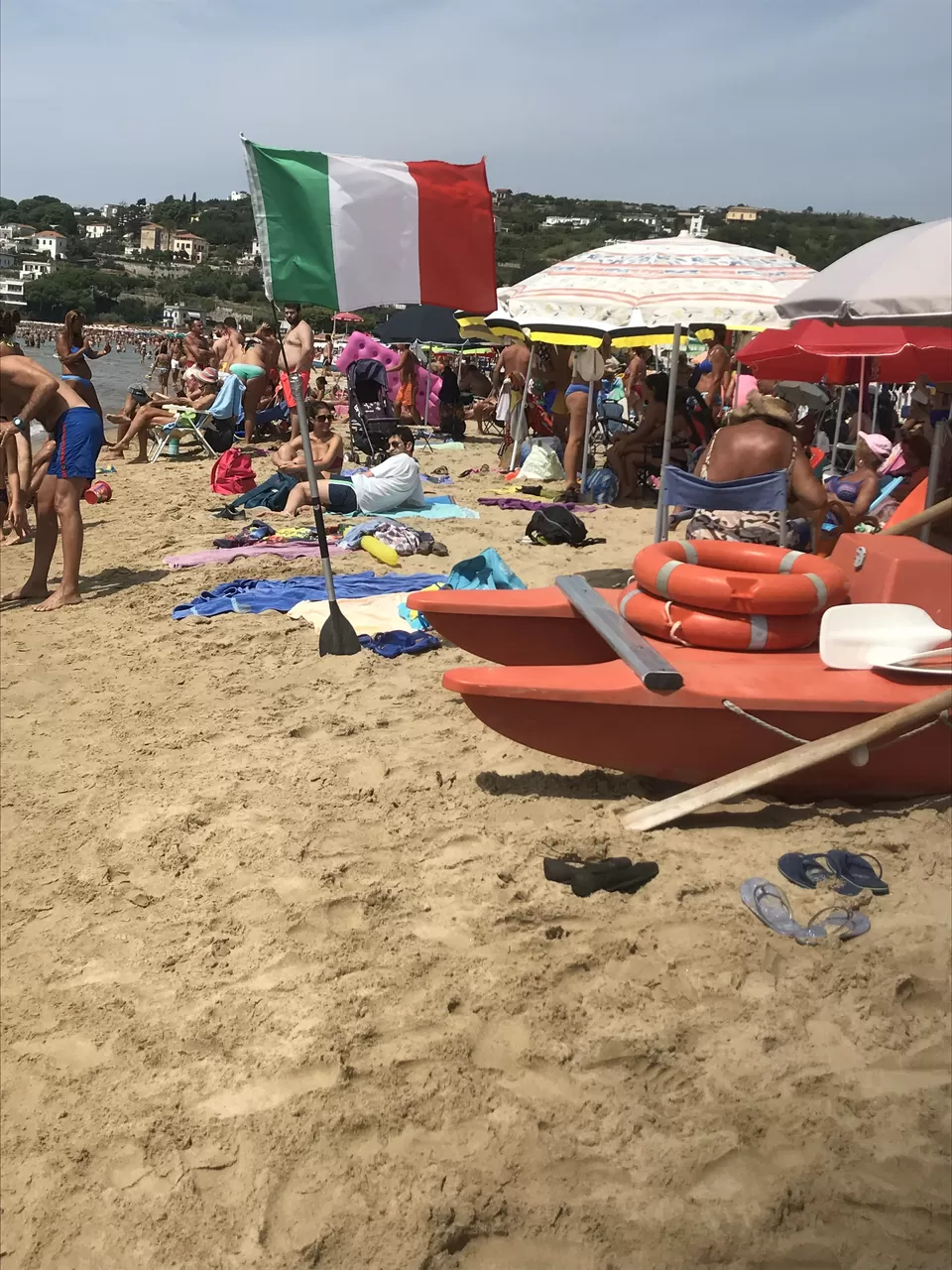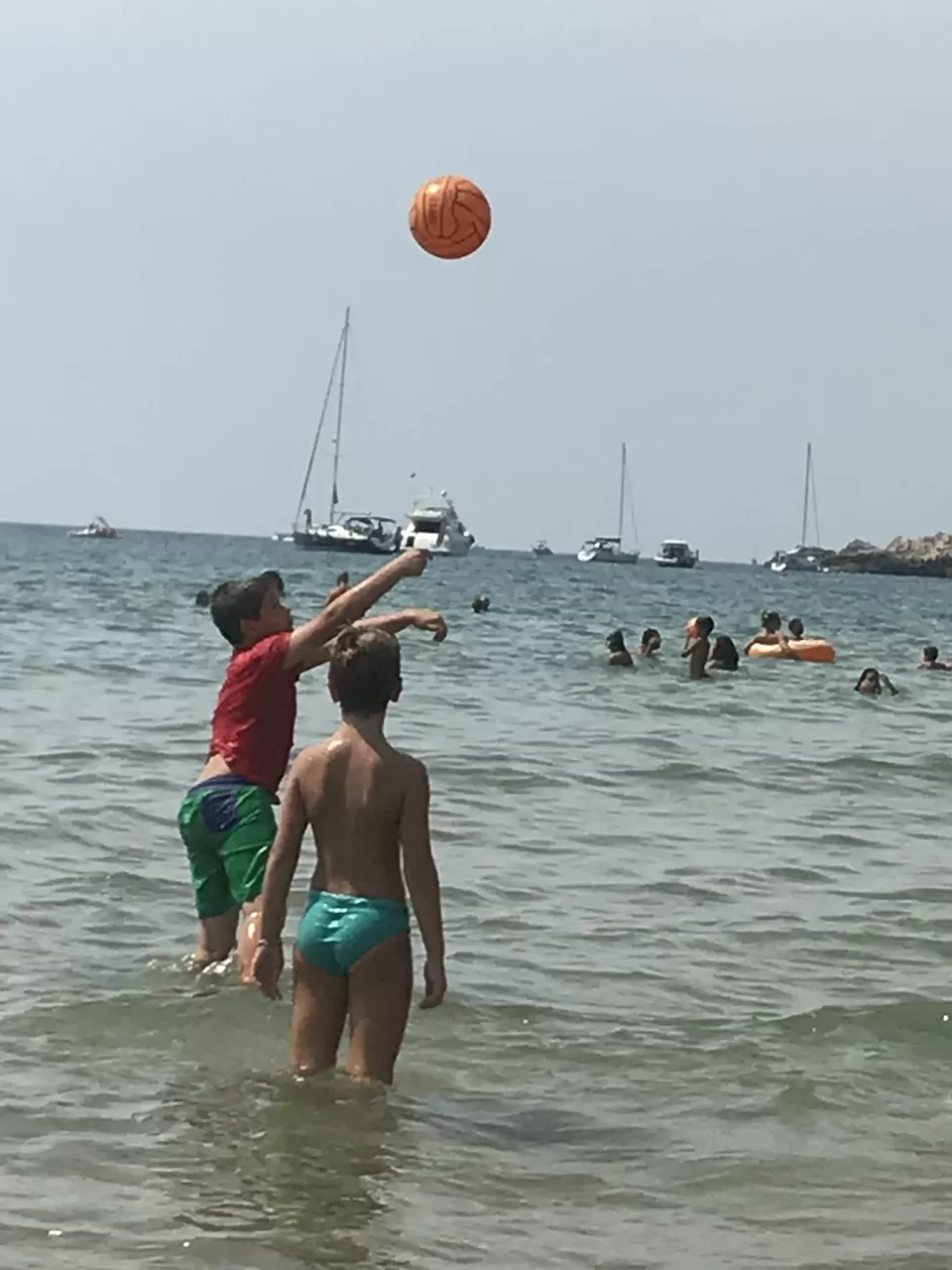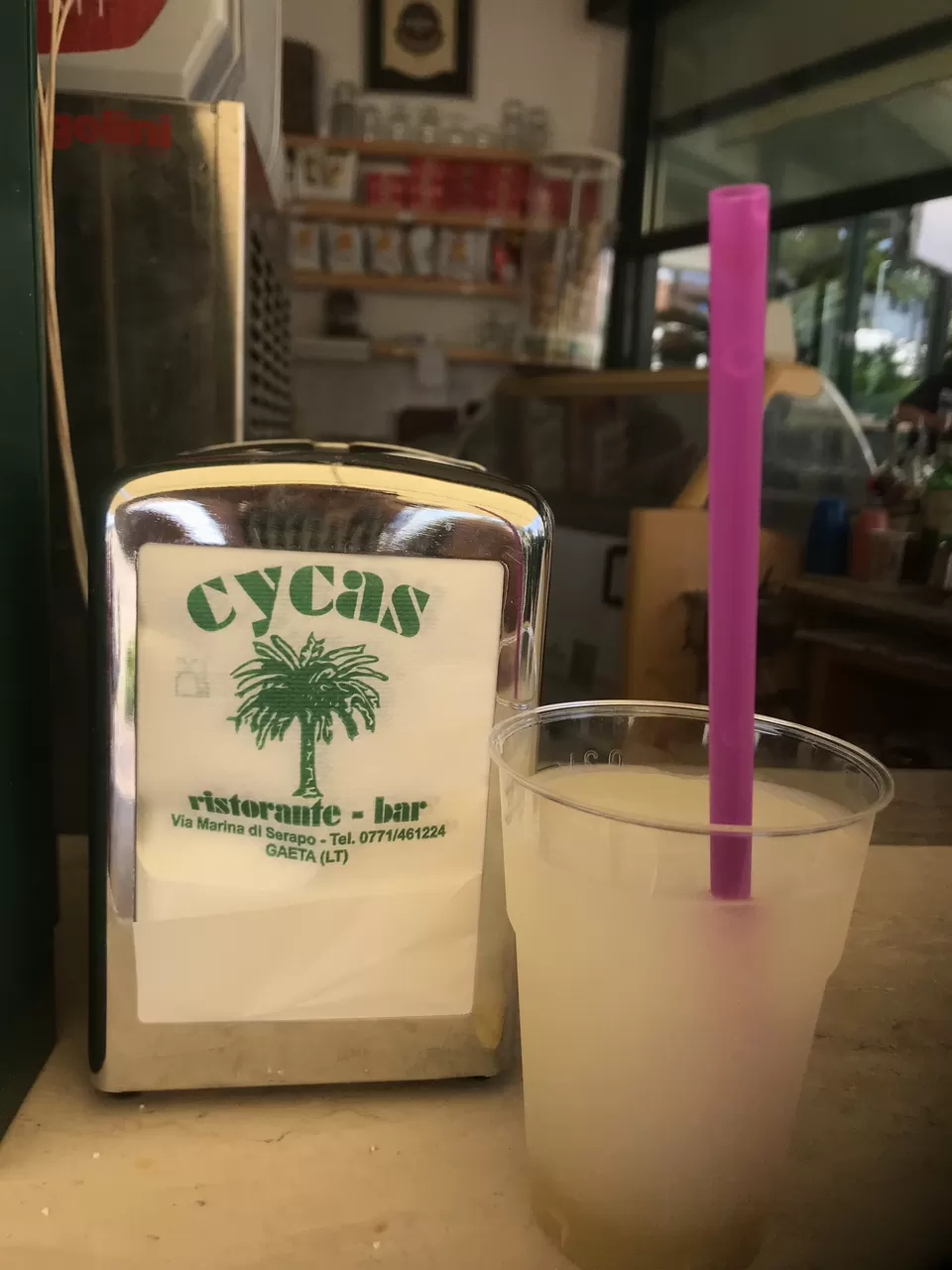 More sites along our walk towards old Gaeta....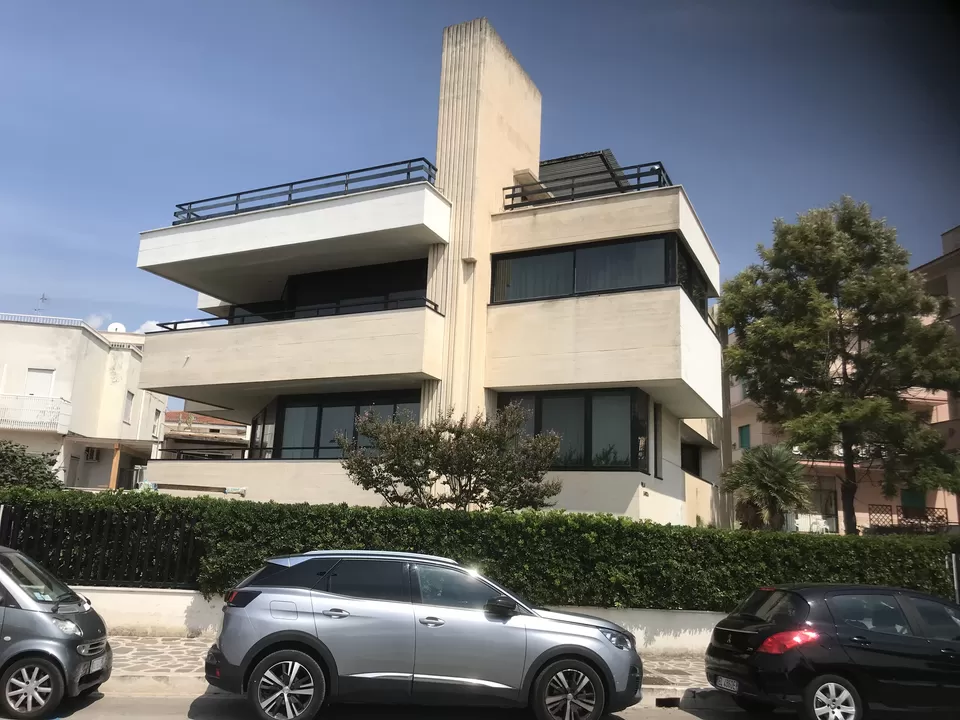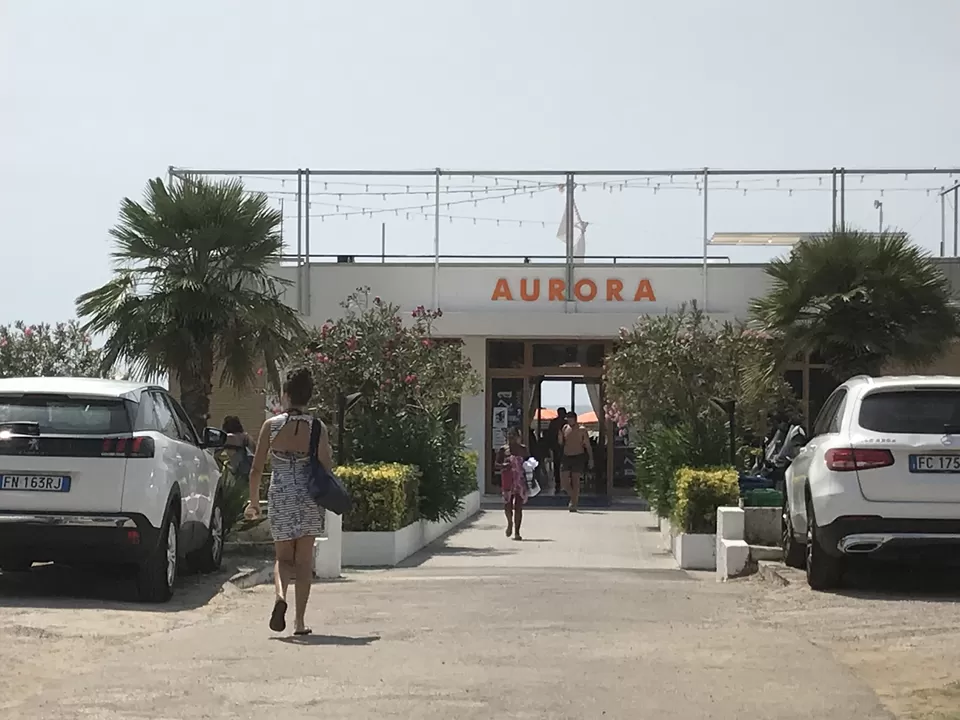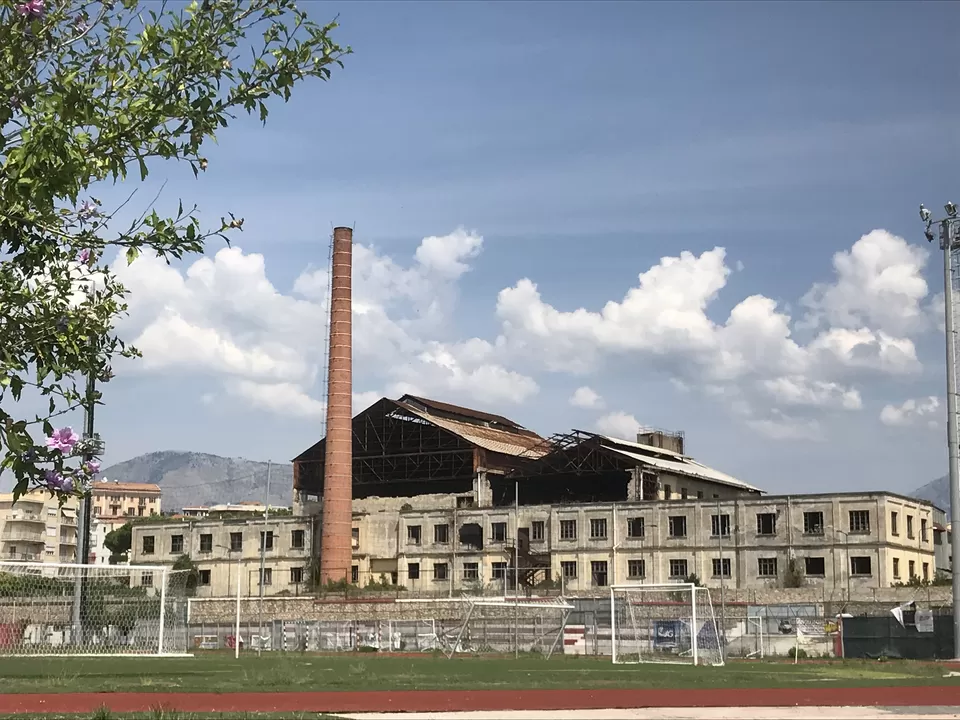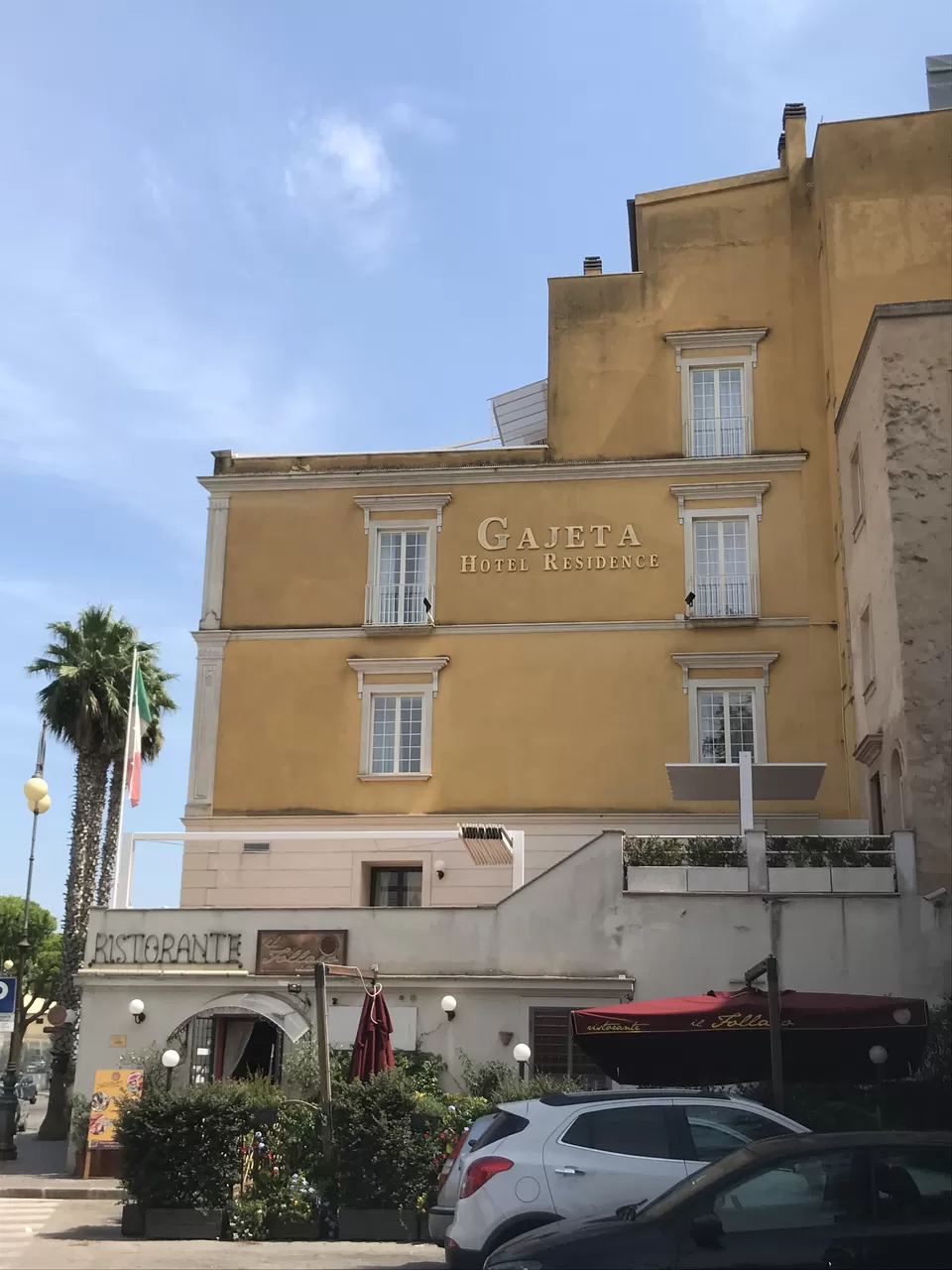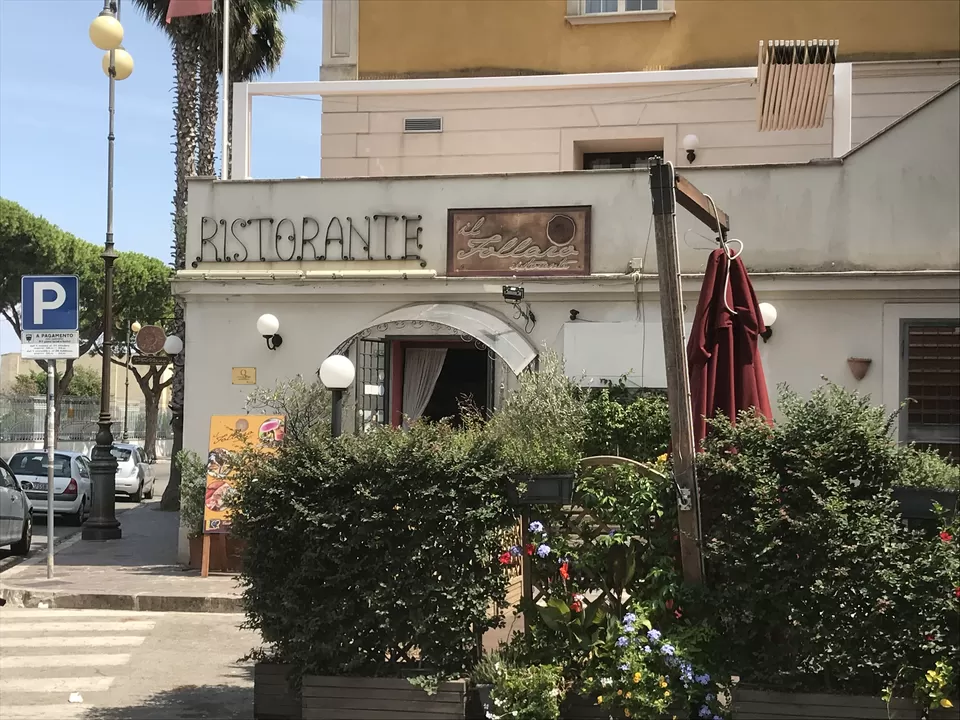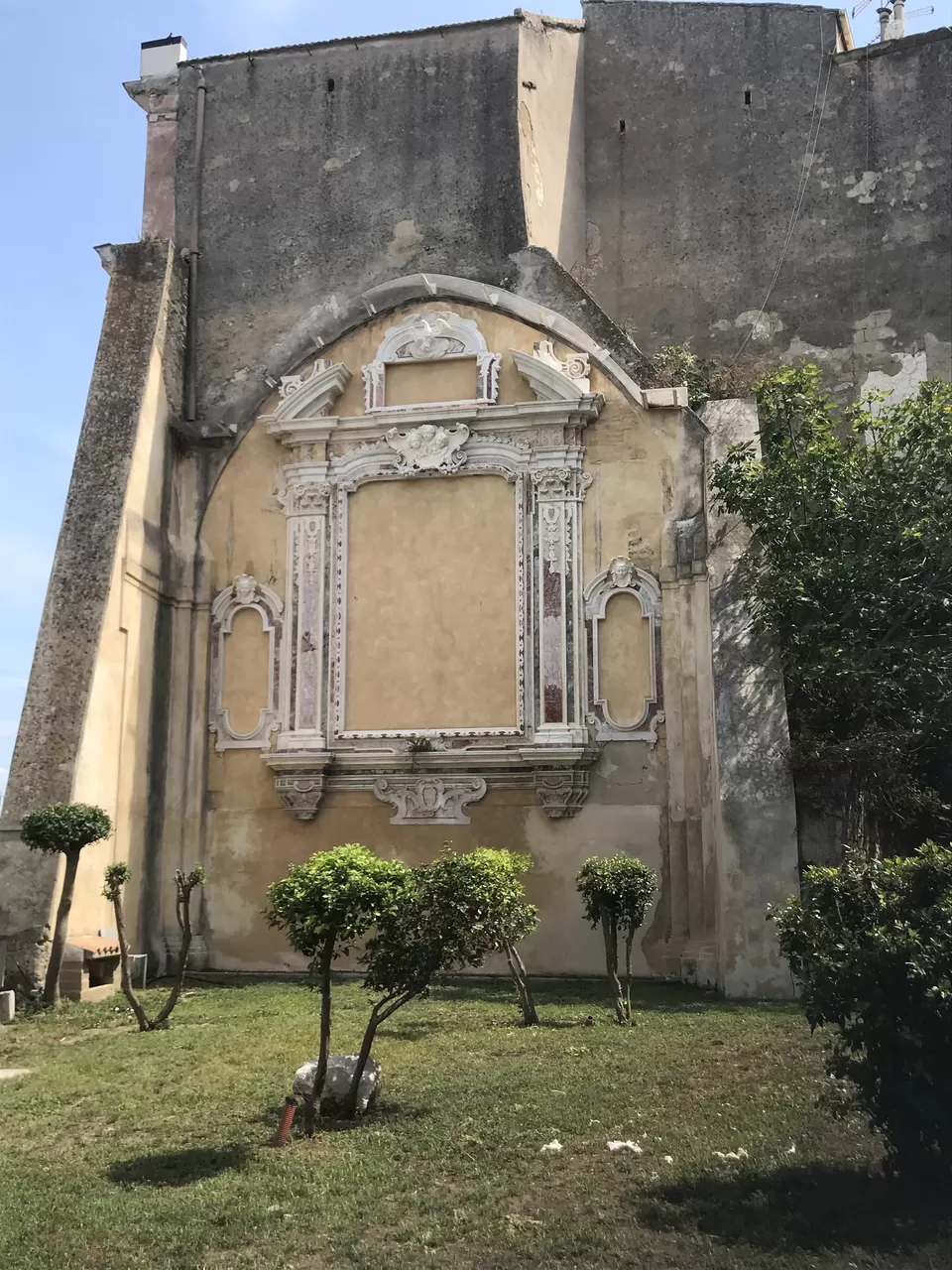 It was lunch time so we decided upon Ciro's which is adjacent to where our father's ships docked. One American ship was there but I have forgotten its name. This restaurant was very popular with the Americans, as one might imagine. They took very good care of us with the best cozze (steamed mussels), Quatro Staggione pizza, wine and lemoncello. They, like every other waiter on our trip, didn't think twice about fetching a plate of "simplice" buttered pasta with NO cheese for picky Emmet. This was essentially our last vacation meal and Janis had grown visibly weary for having to order it for him one, last, time.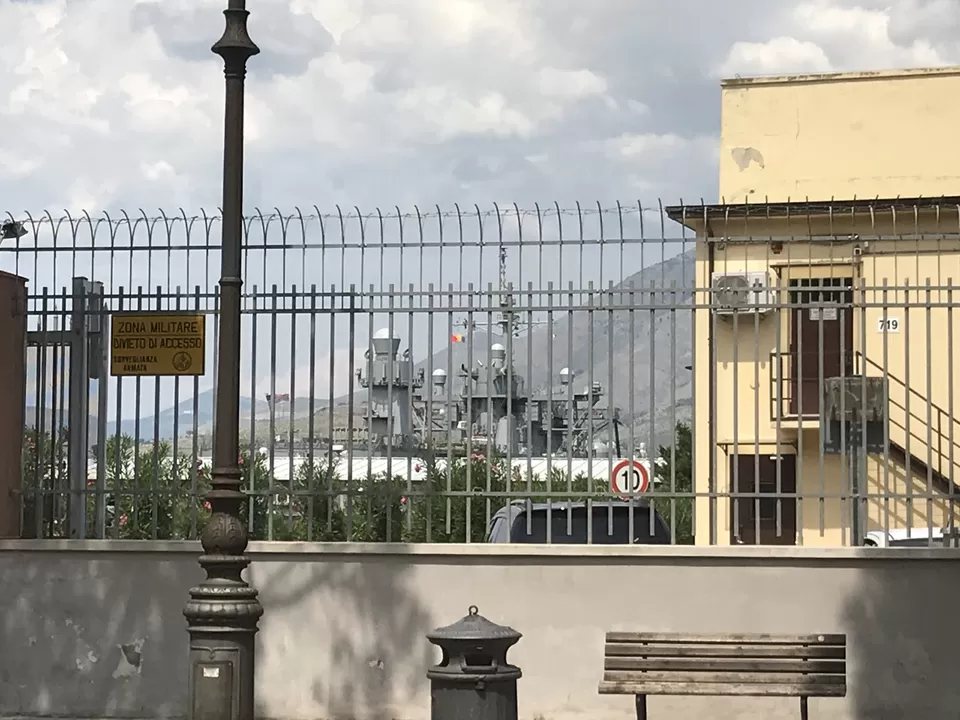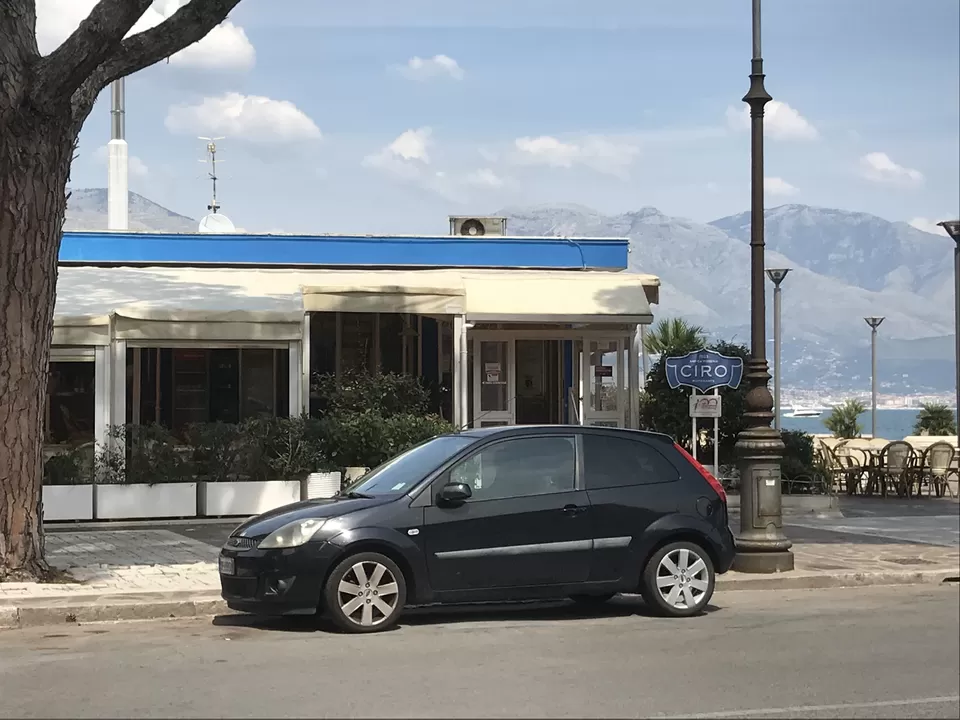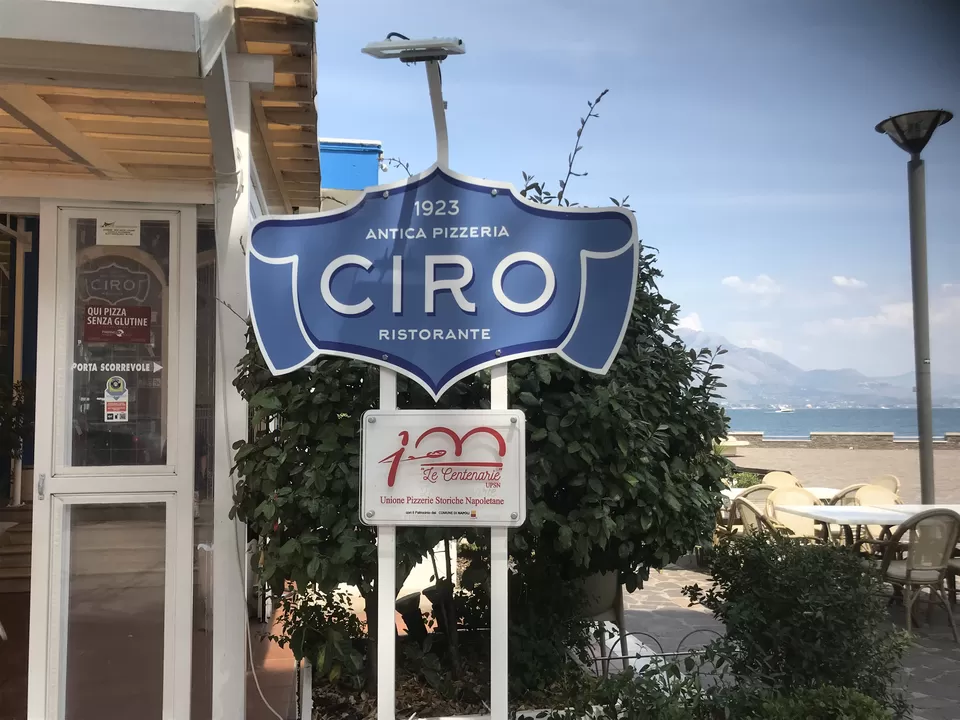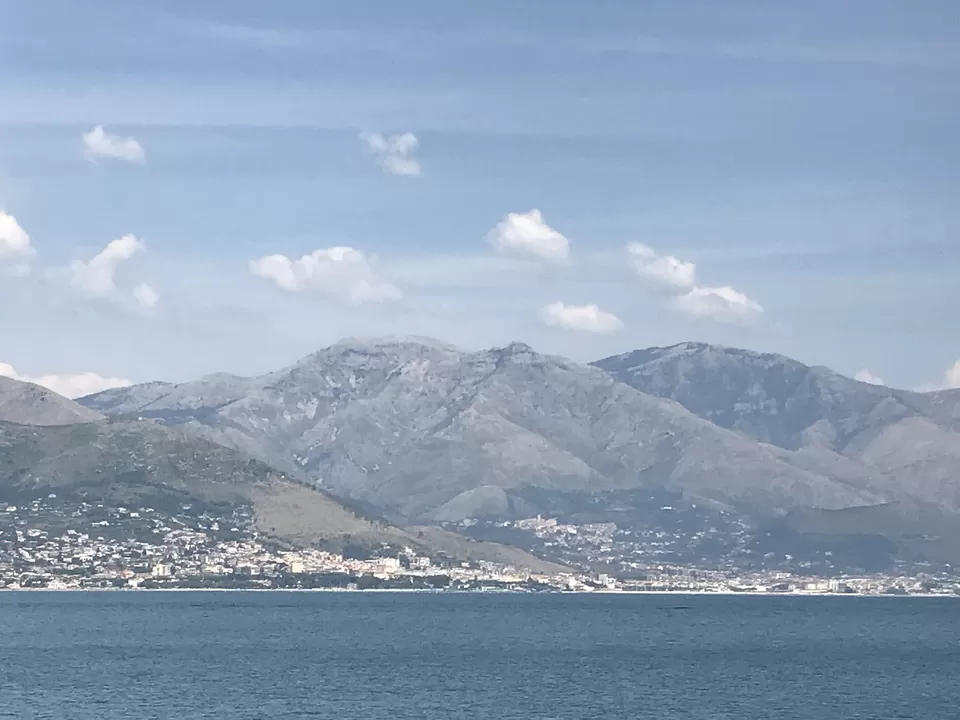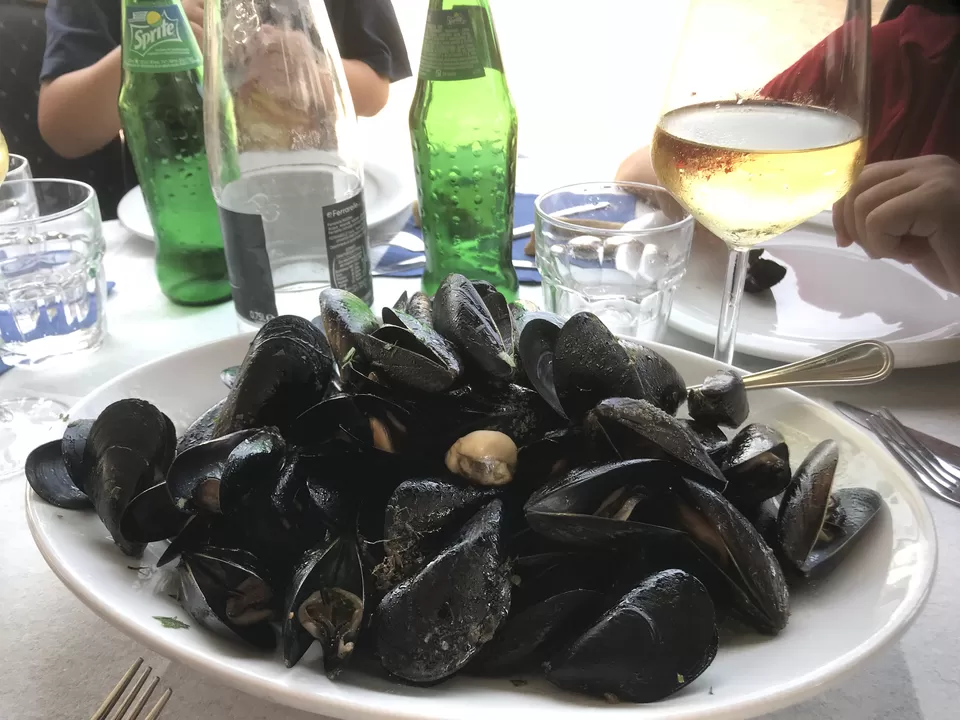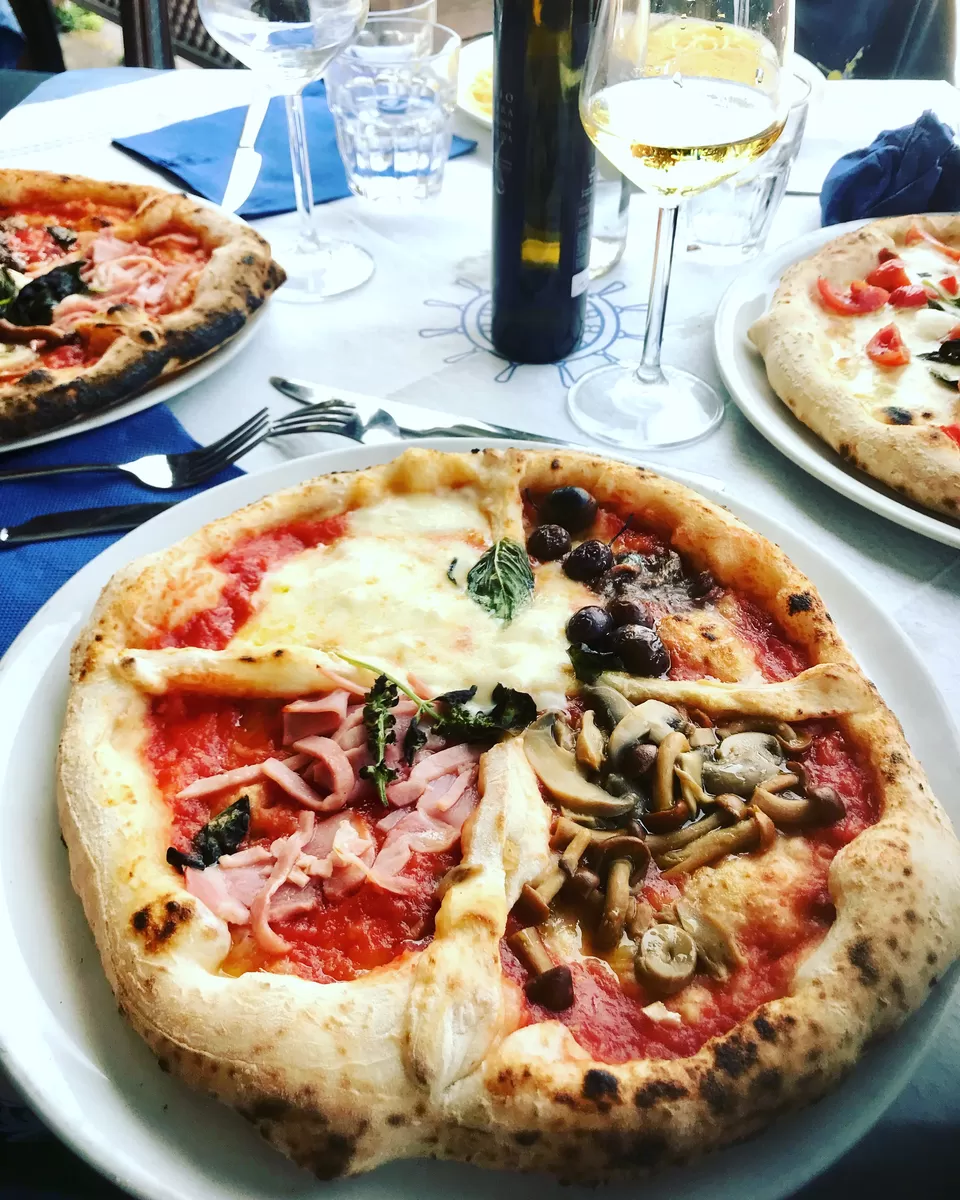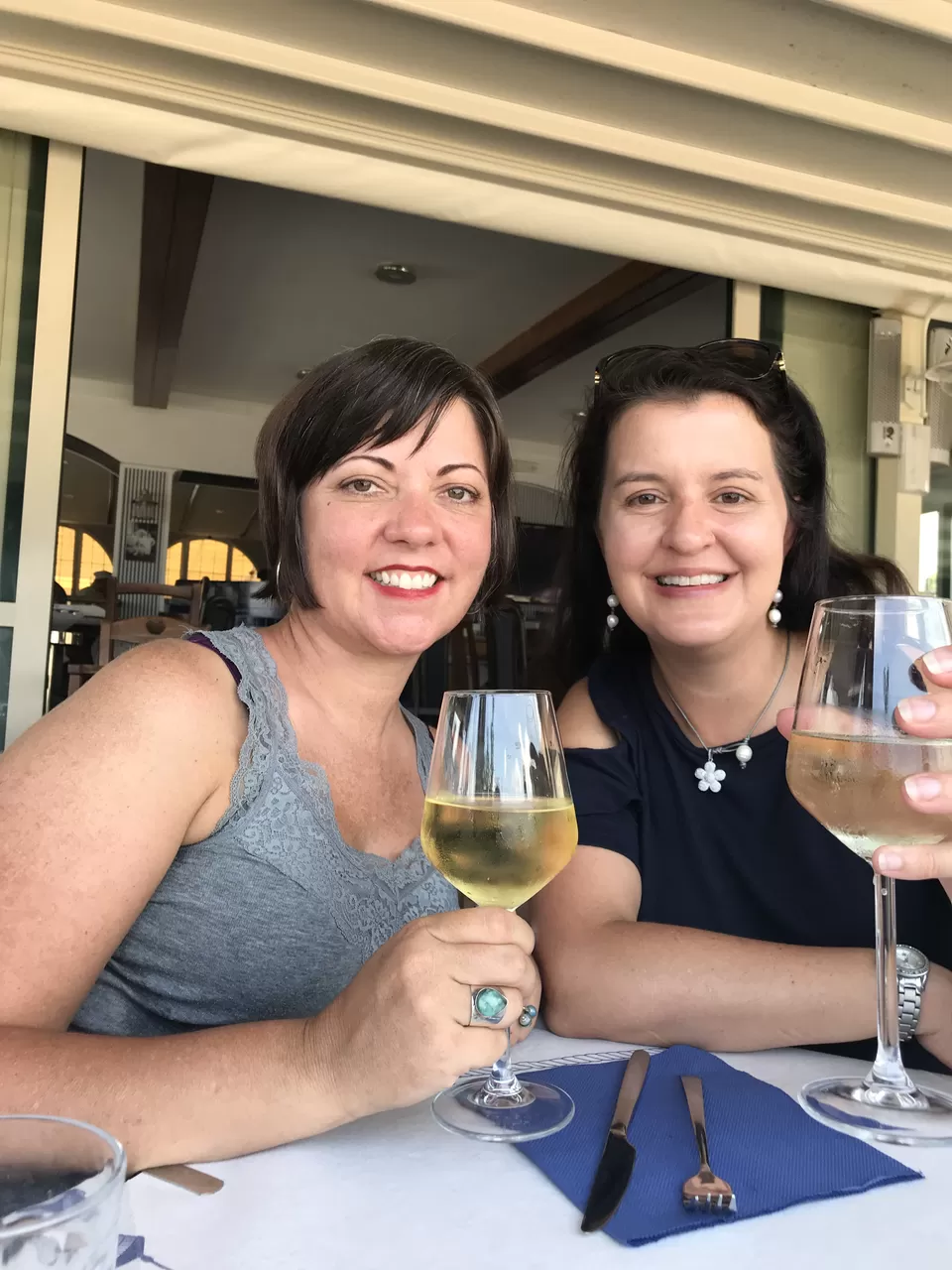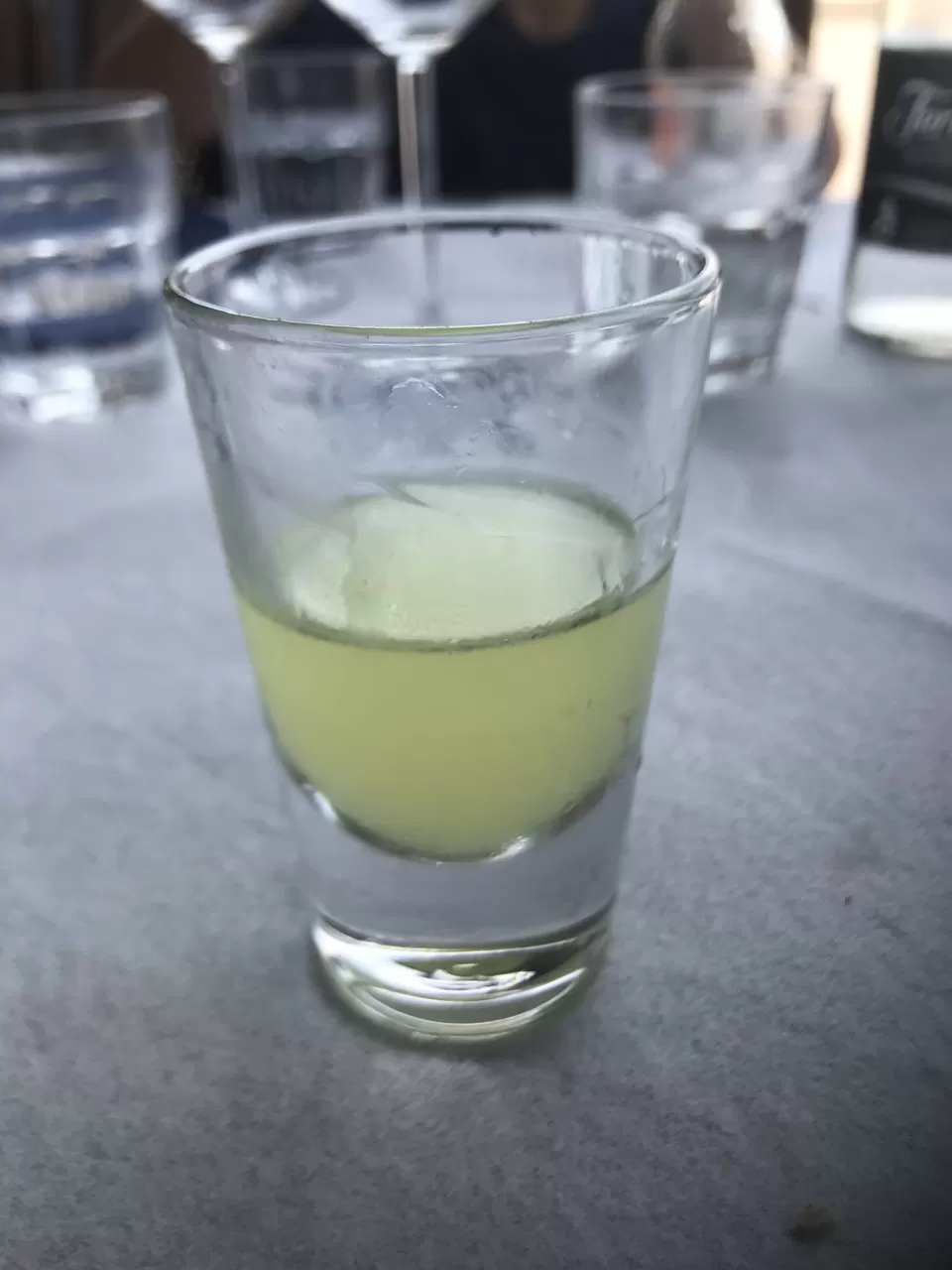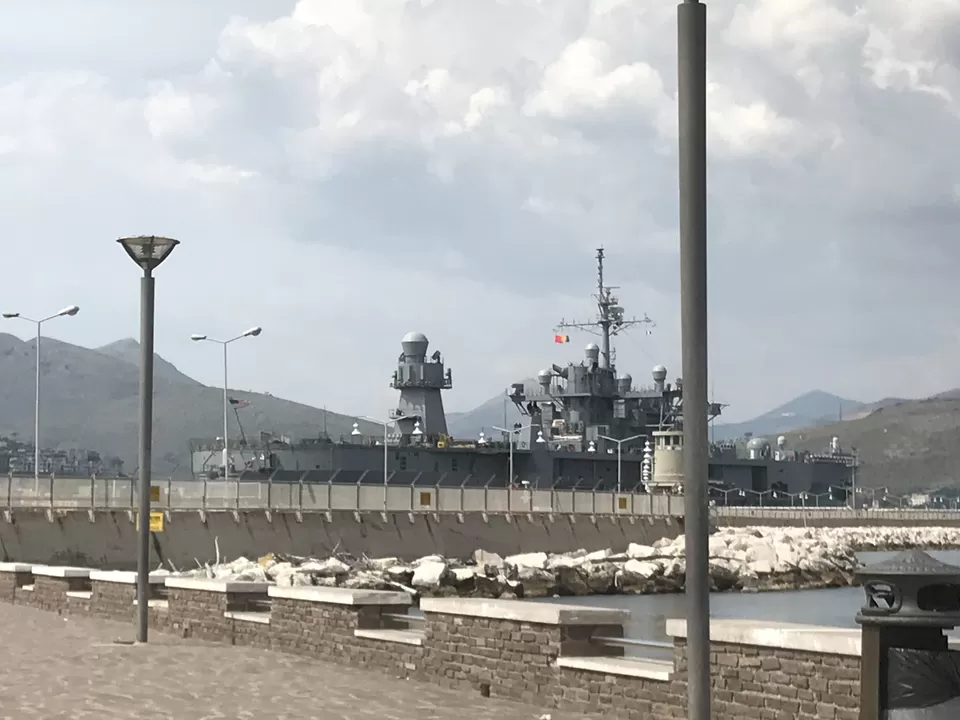 Lunch was over and while most Italians closed the town down for Siesta, we kept on sight seeing. A few places stayed open for stubborn tourists like us, thankfully. We needed gelato and Aperol Spritzer STAT!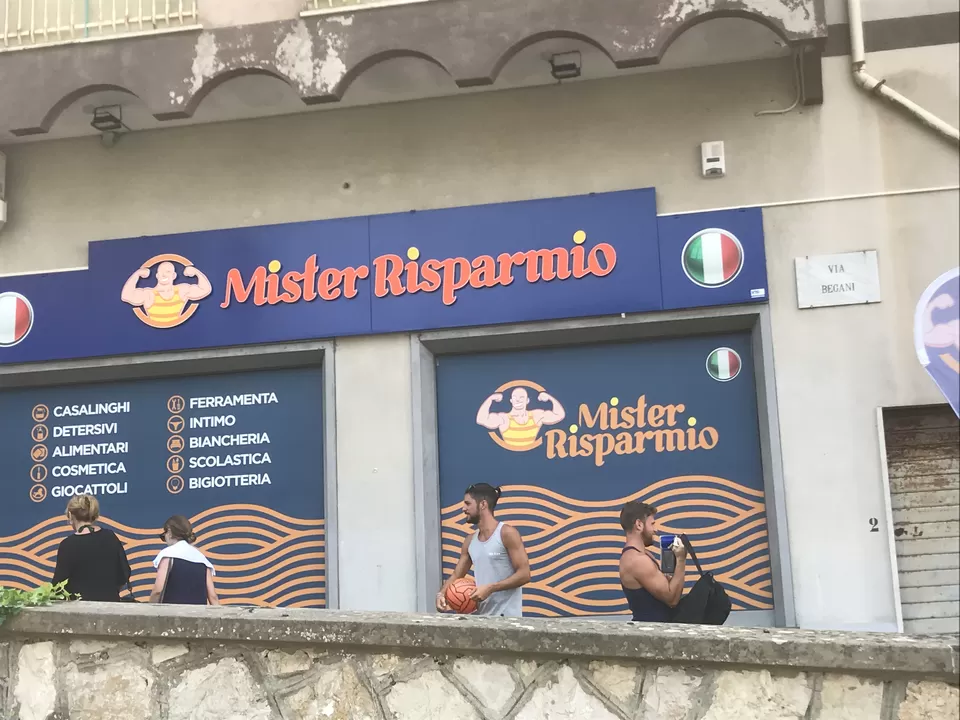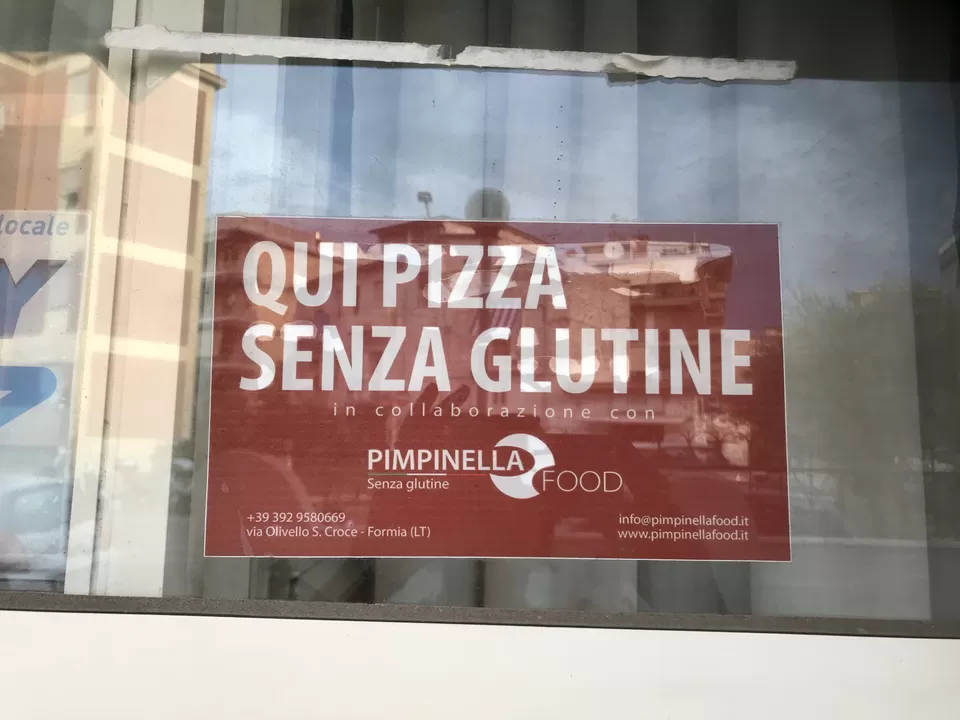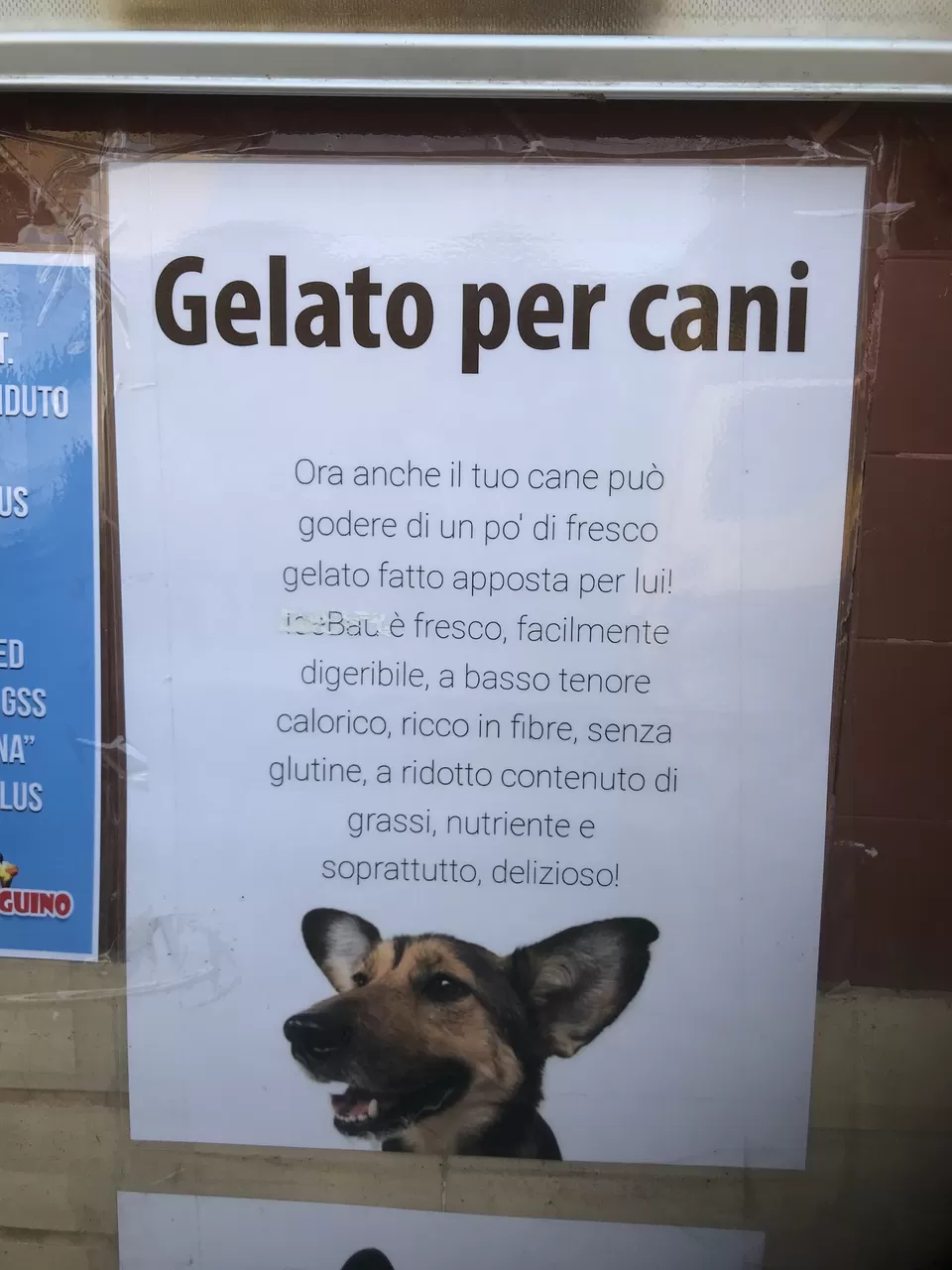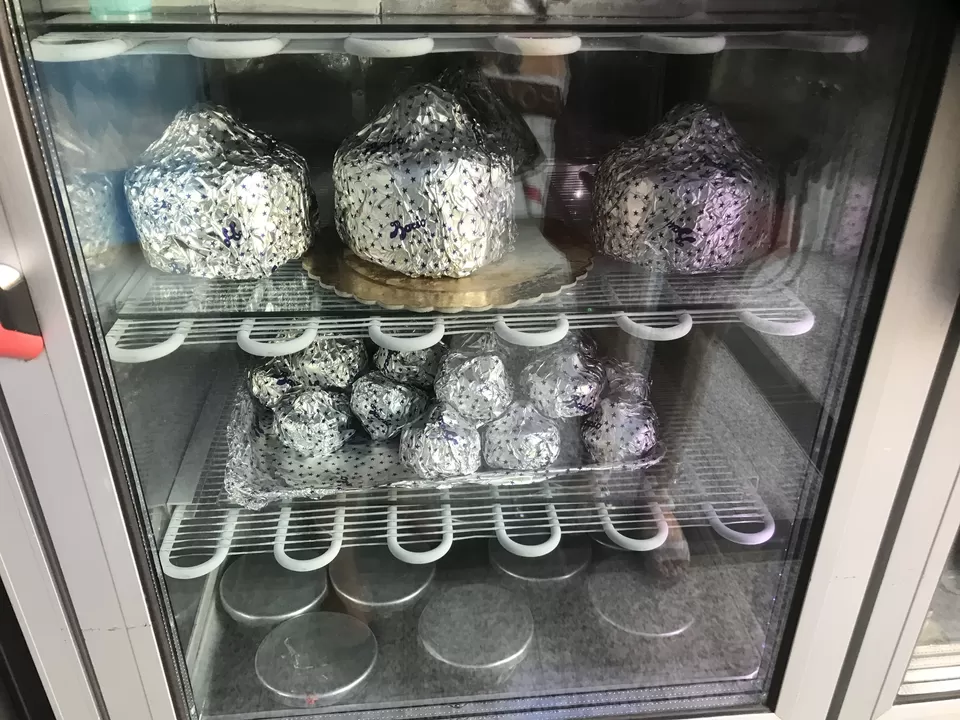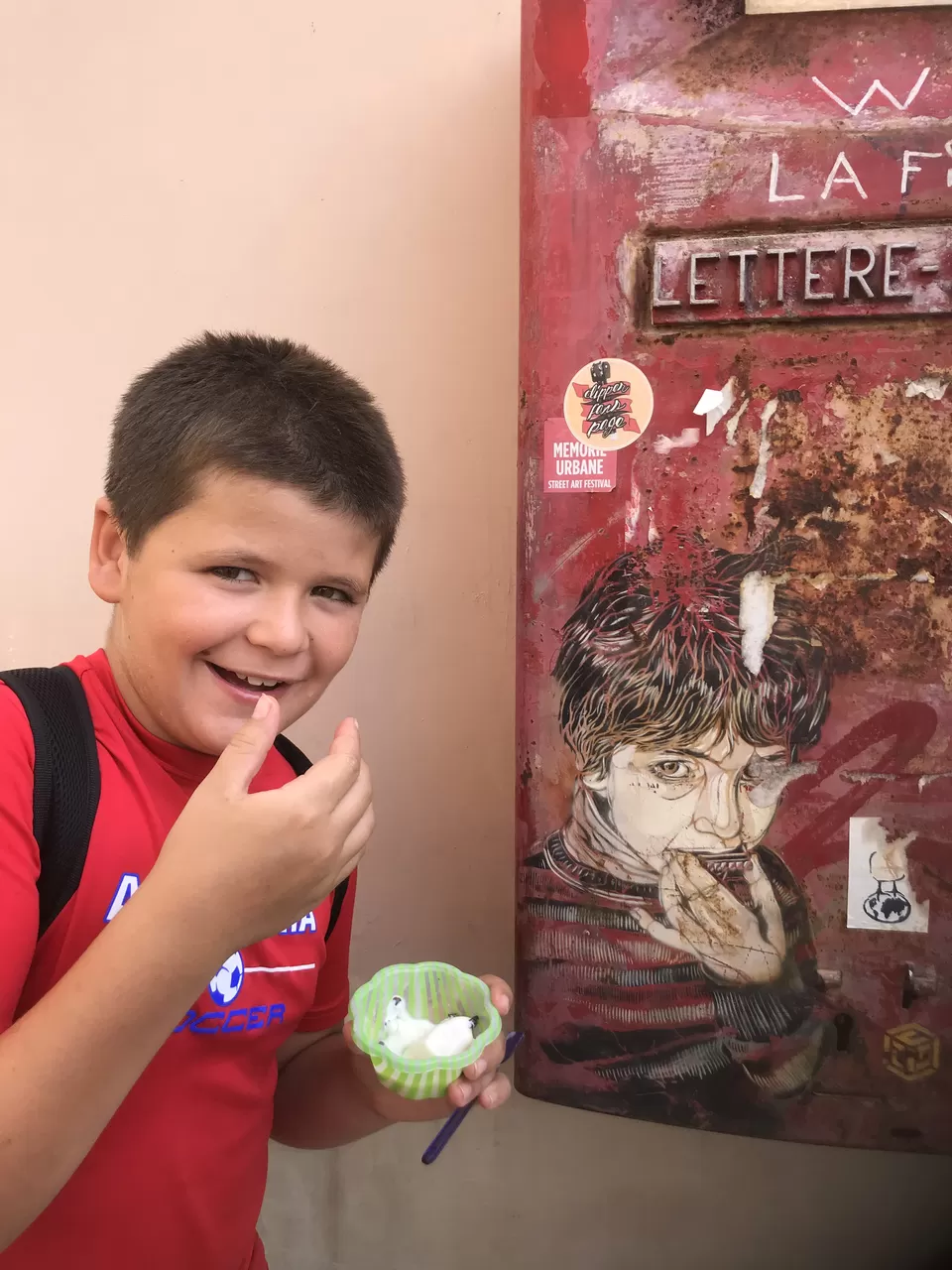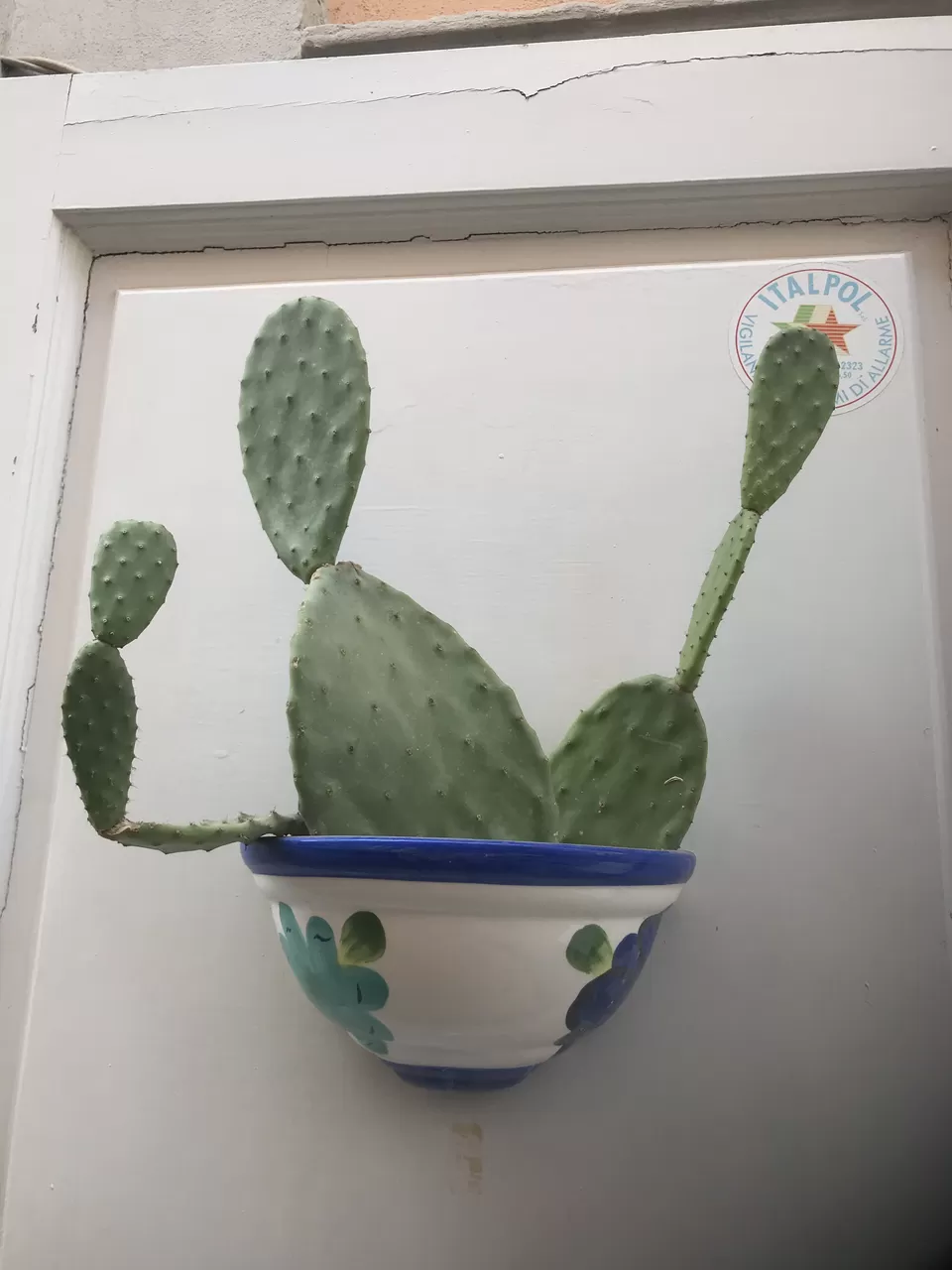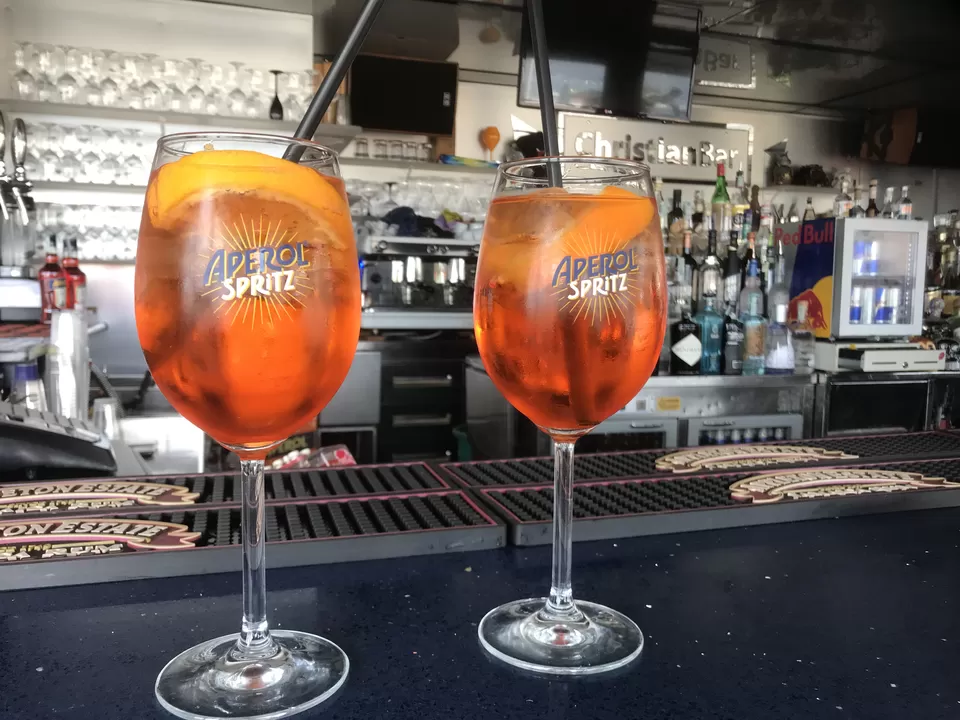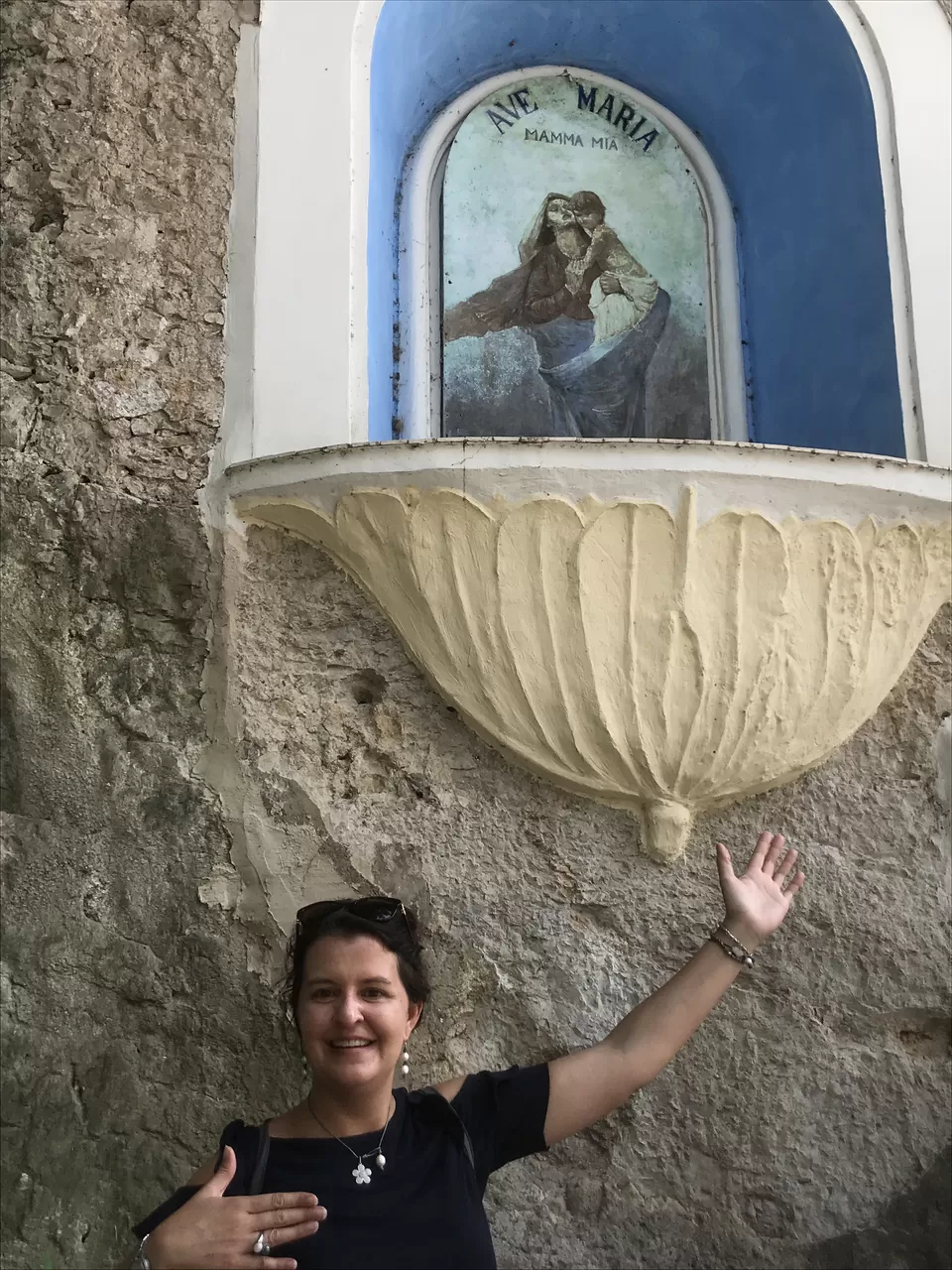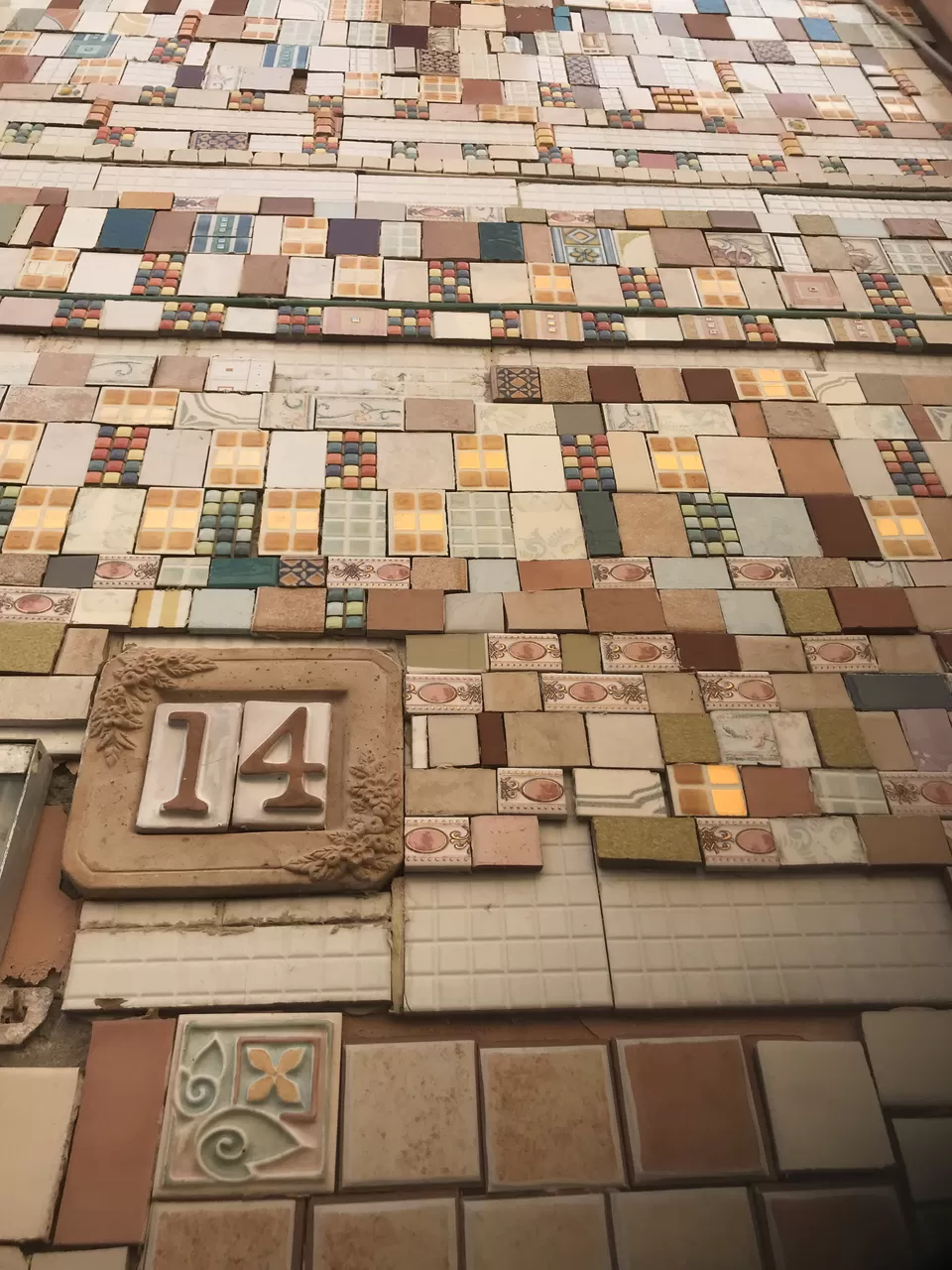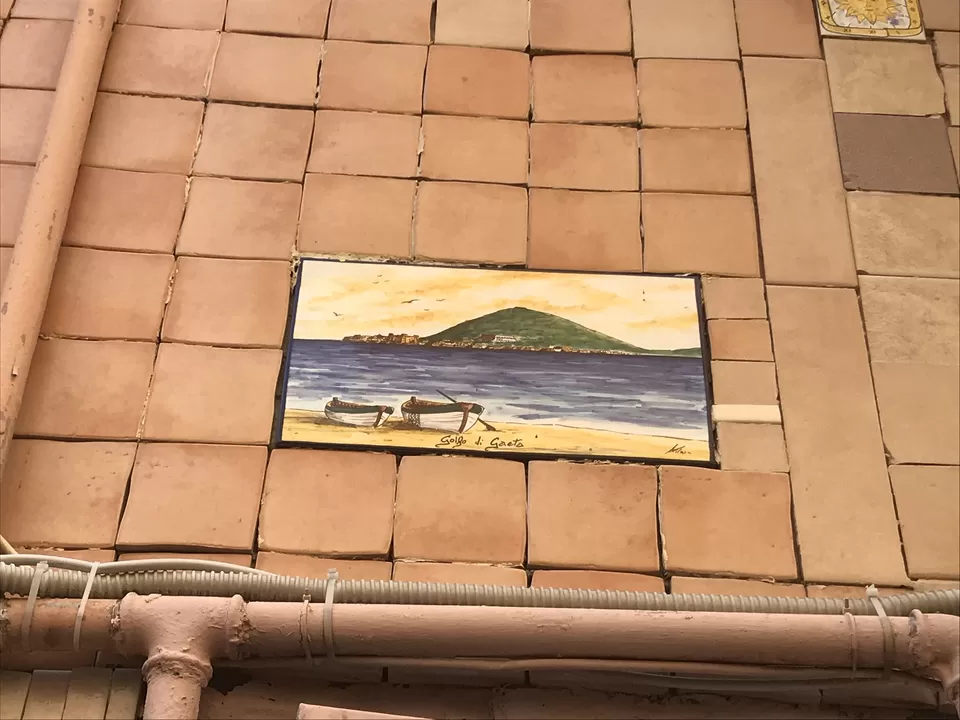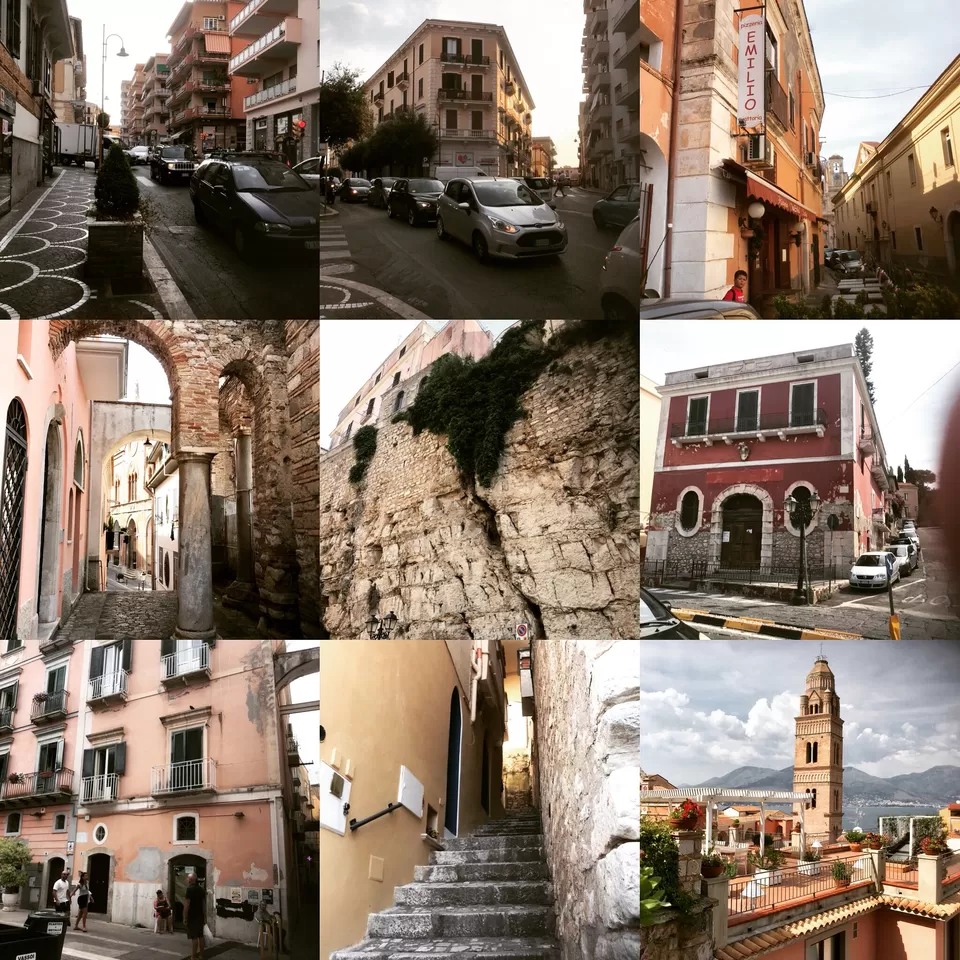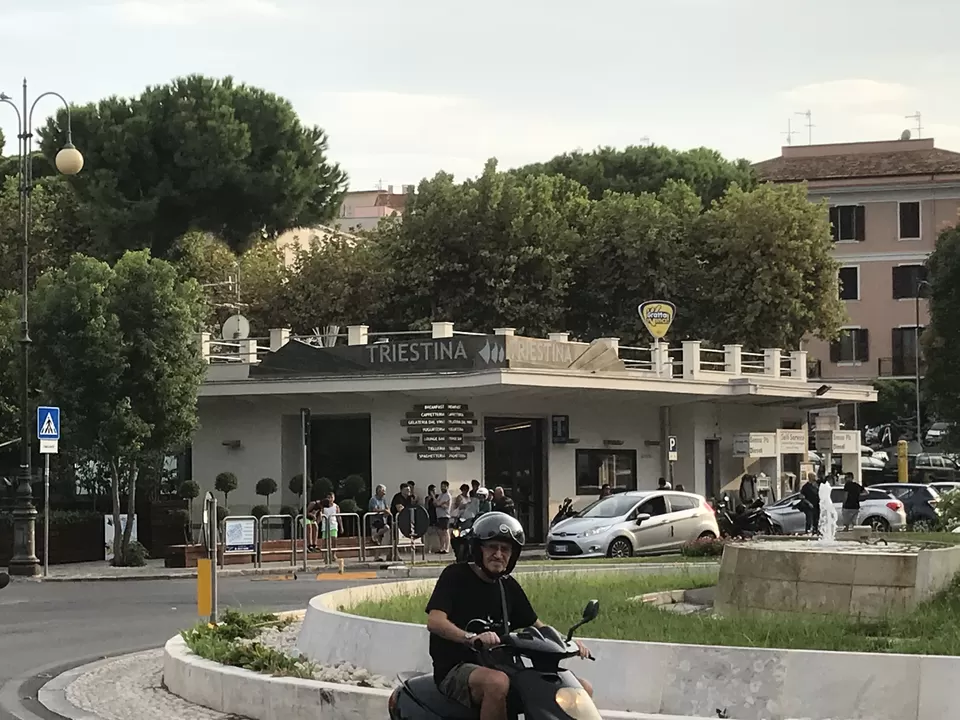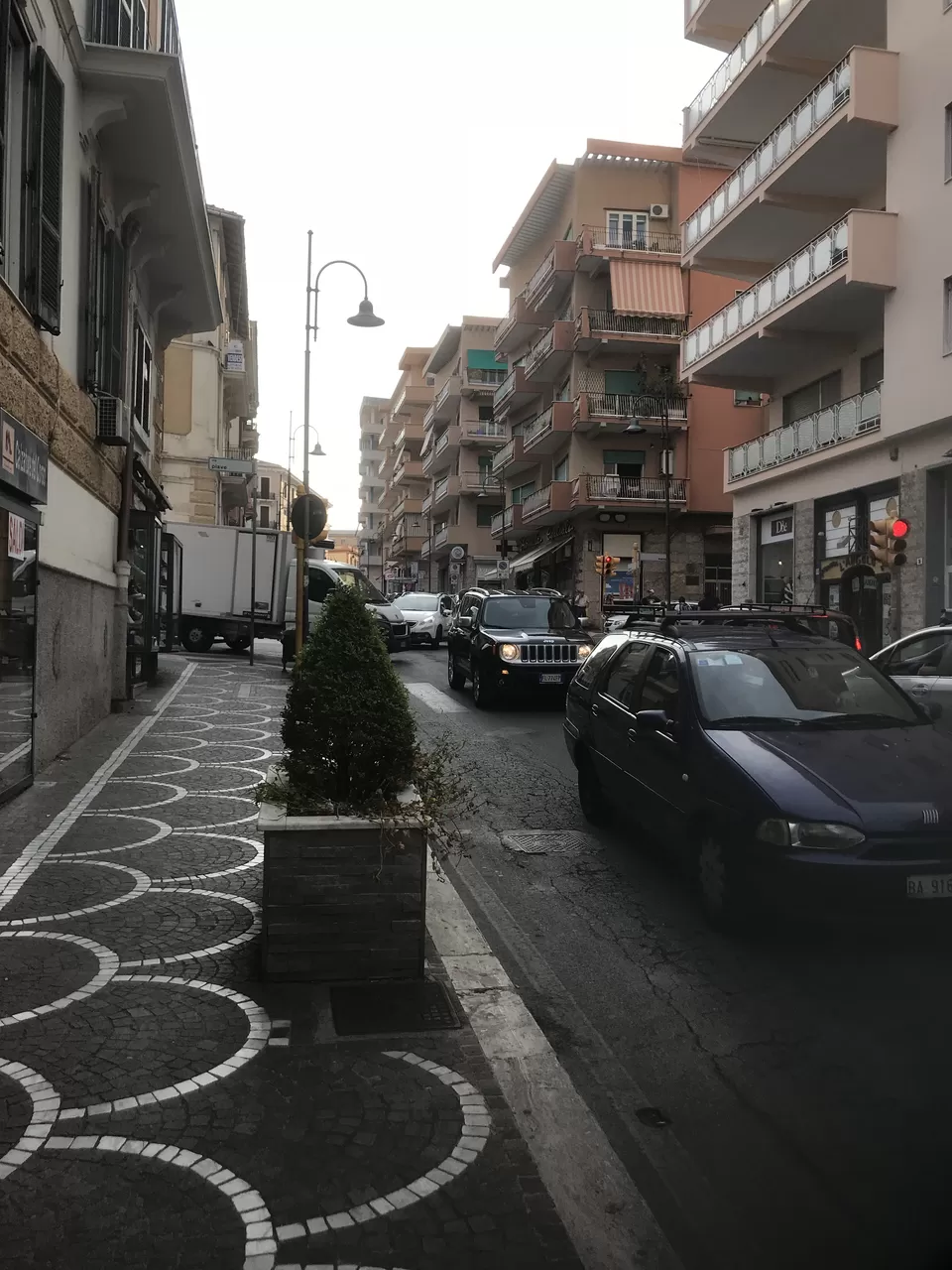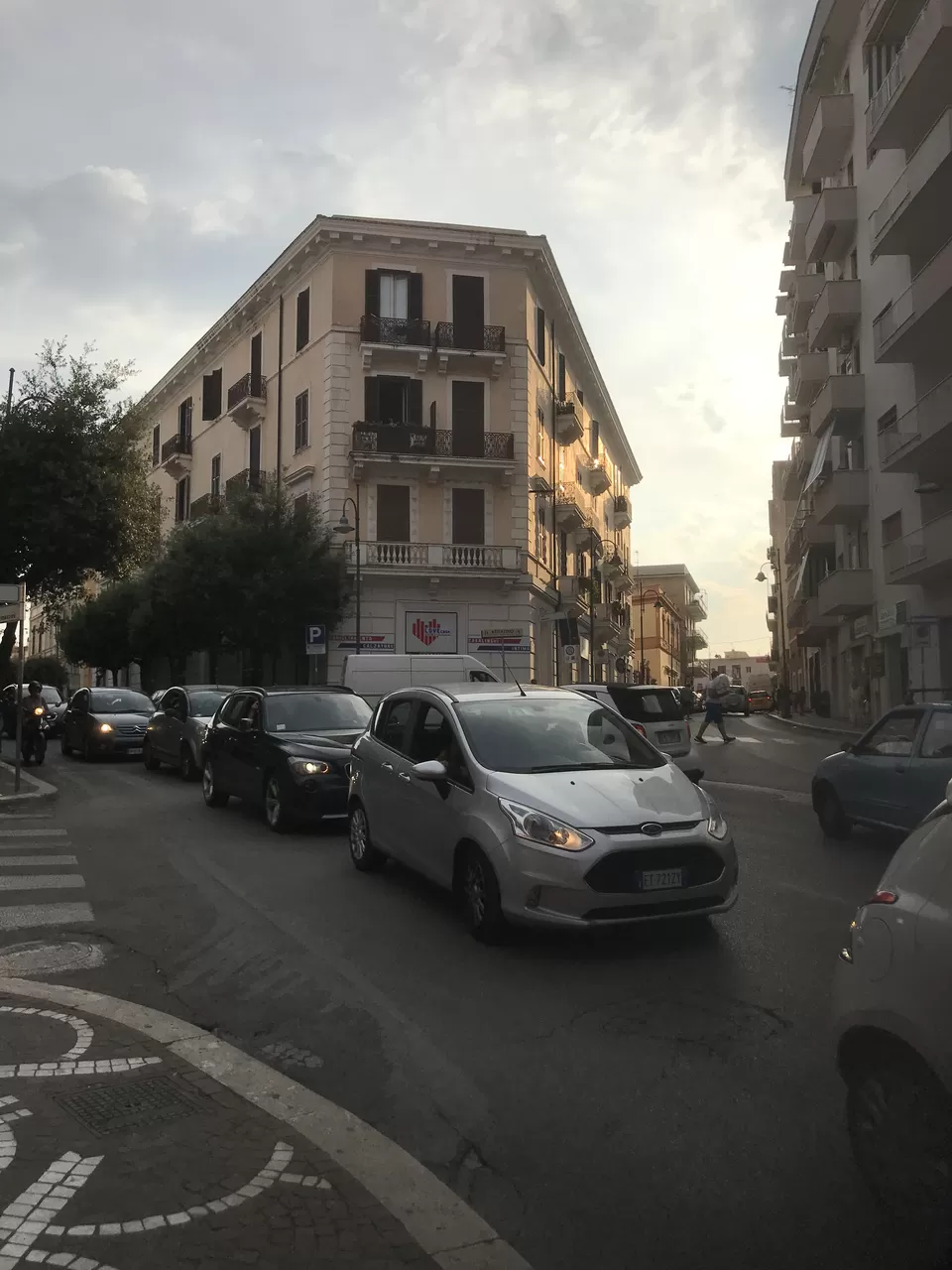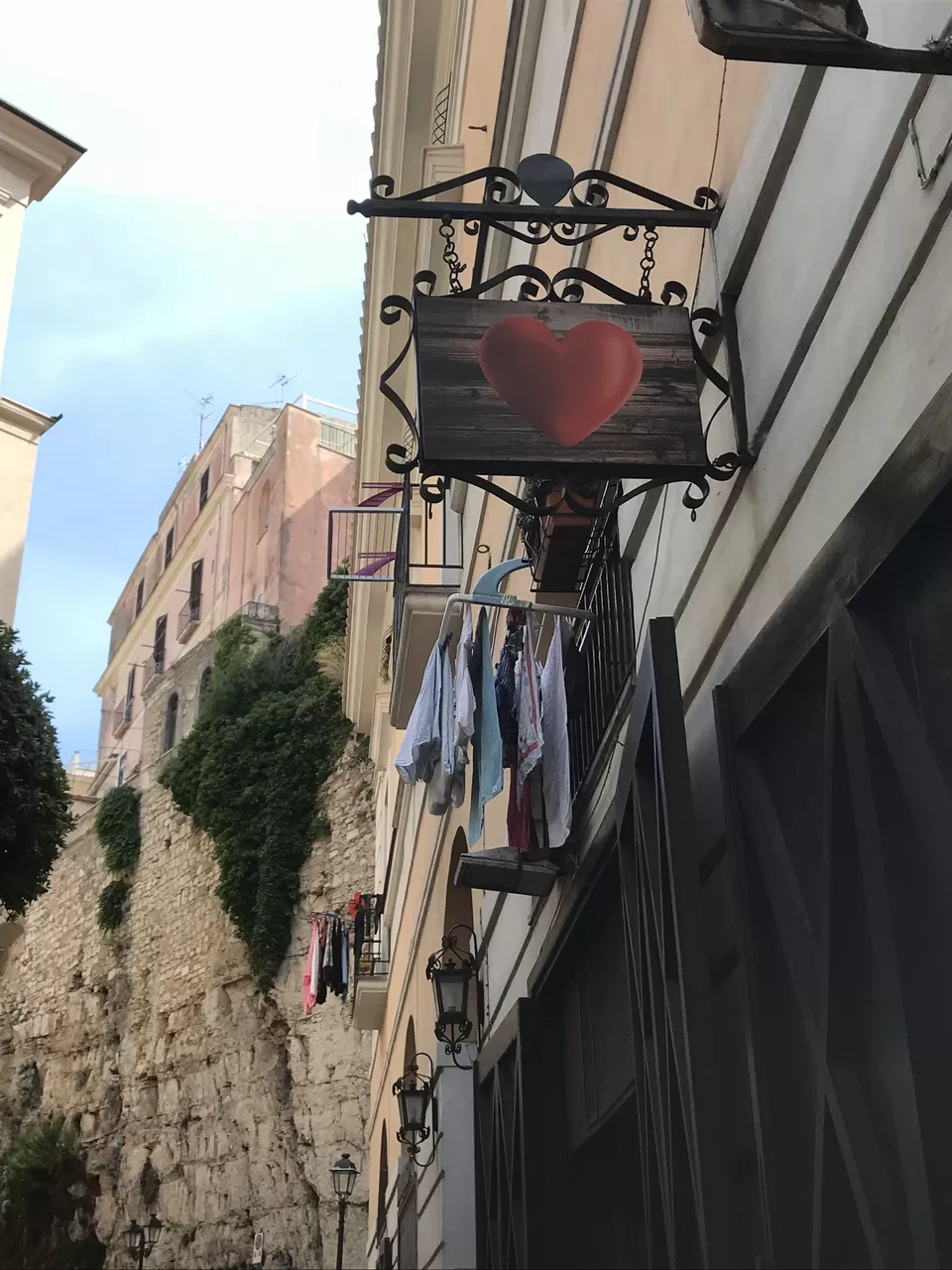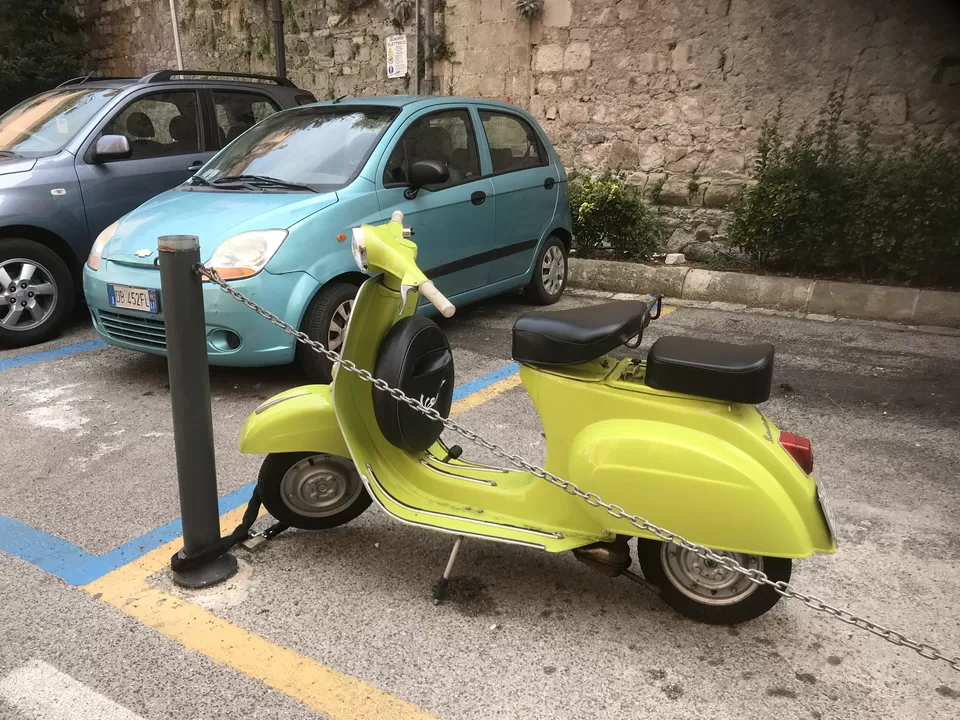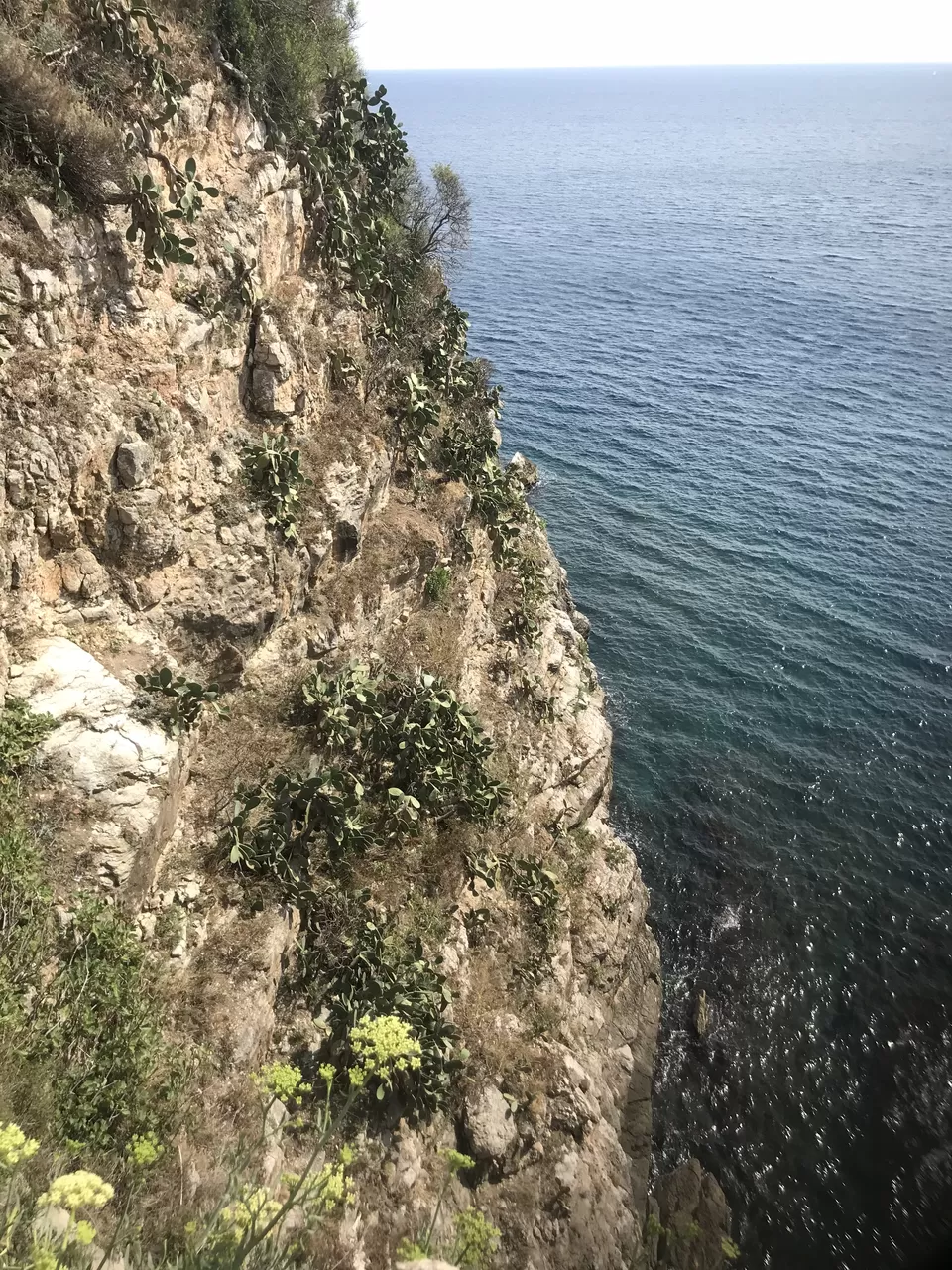 Eventually we made our way back into town and to Hotel Flamingo, another American mainstay. Once again, we were welcomed and recognized as Americans revisiting our old stomping grounds. As they let us go down stairs to the pool area we use to spend time in the old waiter saw us and said he remembered us. Whether he actually did or not, I believe I vaguely remembered him. Nonetheless, his excitement to see us was infectious. We took photos with him and looked around. I remember the place being so much bigger but I was also smaller. One thing the waiter did say was that some tourists have asked if this hotel has any connection with the Flamingo casino in Vegas. We had a good laugh about that.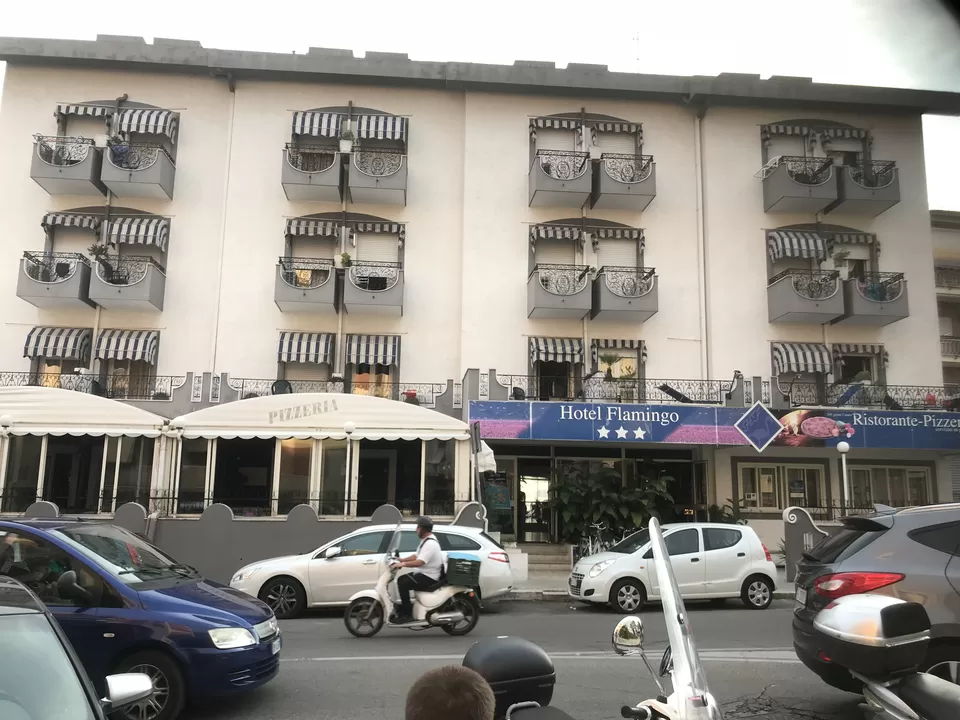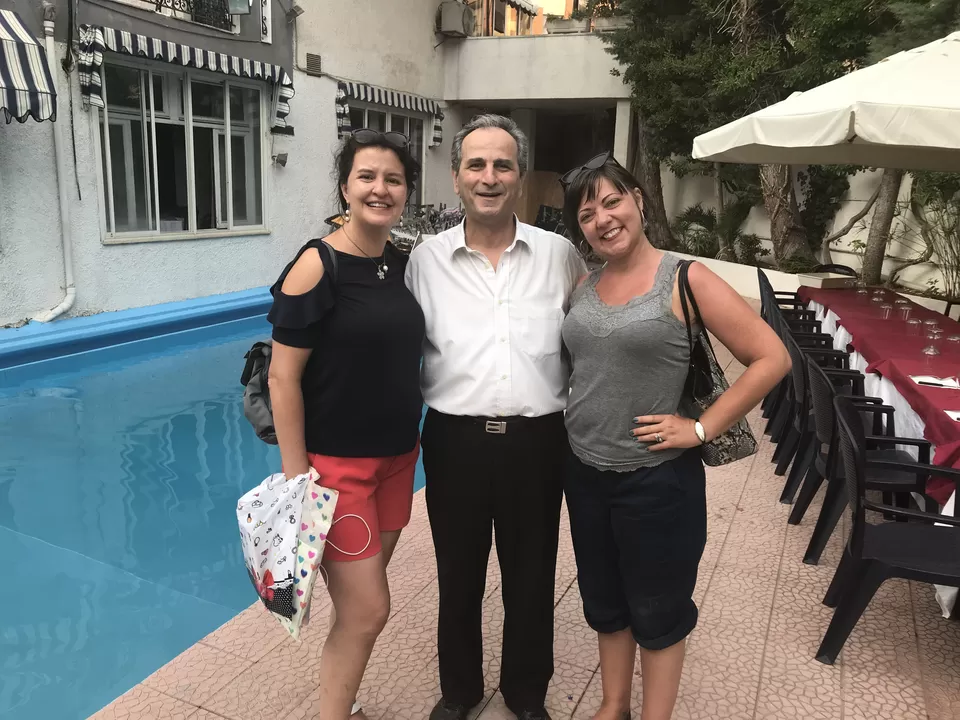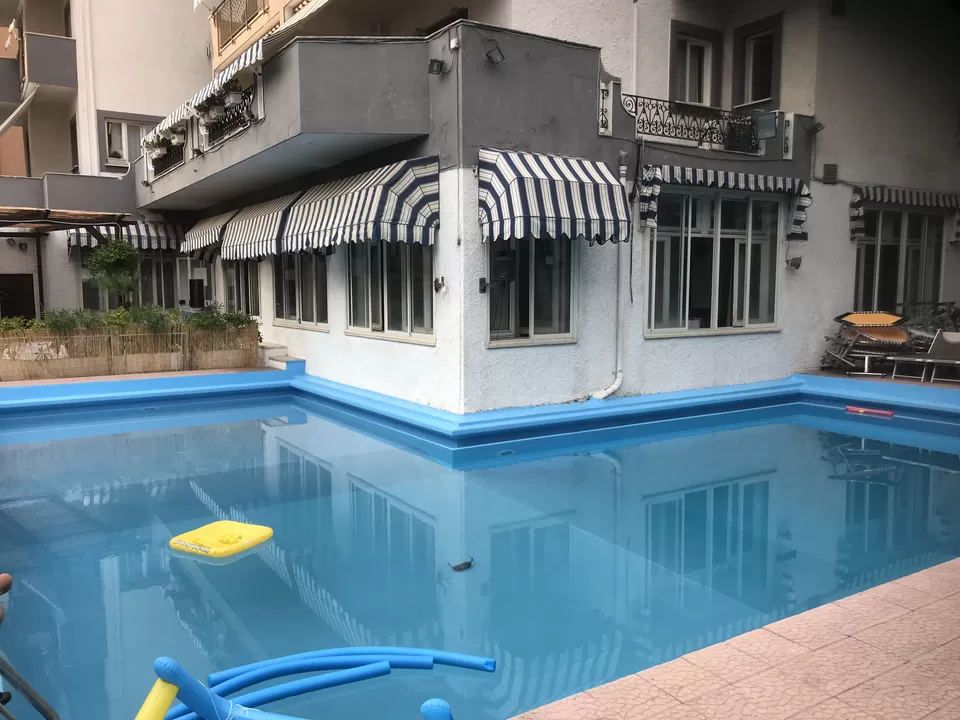 After our marathon day in Gaeta it was time to head back to our hotel to pack for our early morning flights. The cab picked us up and we were whisked back to our hotel. We were all pretty exhausted and feeling ready to go home. We retired to our rooms for the night and prepared for a 5am wake up call to meet our 6am ride to the Rome airport.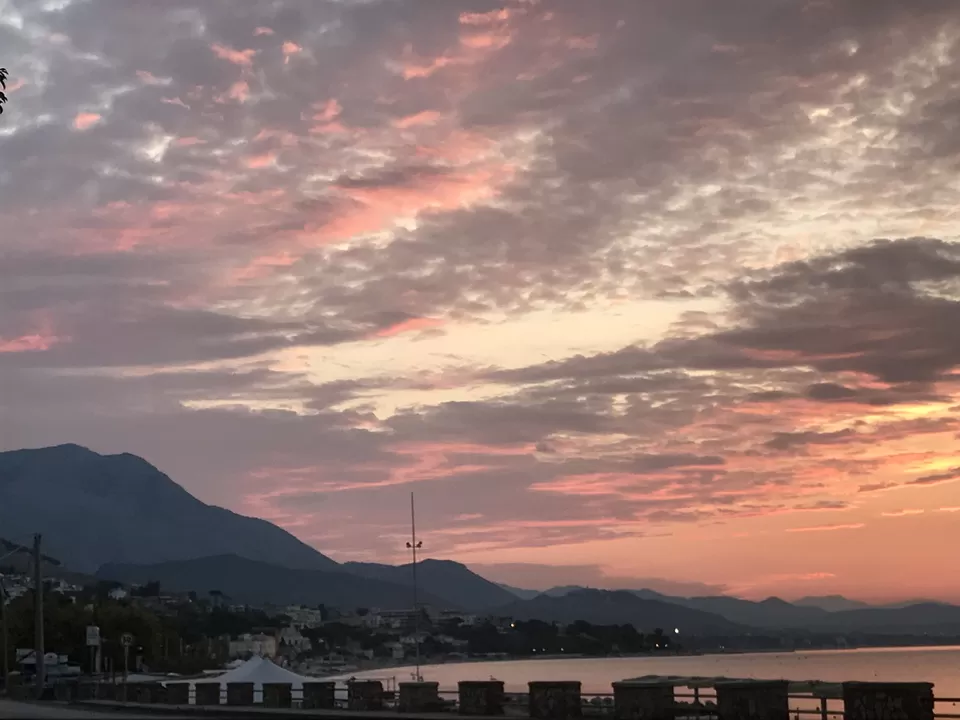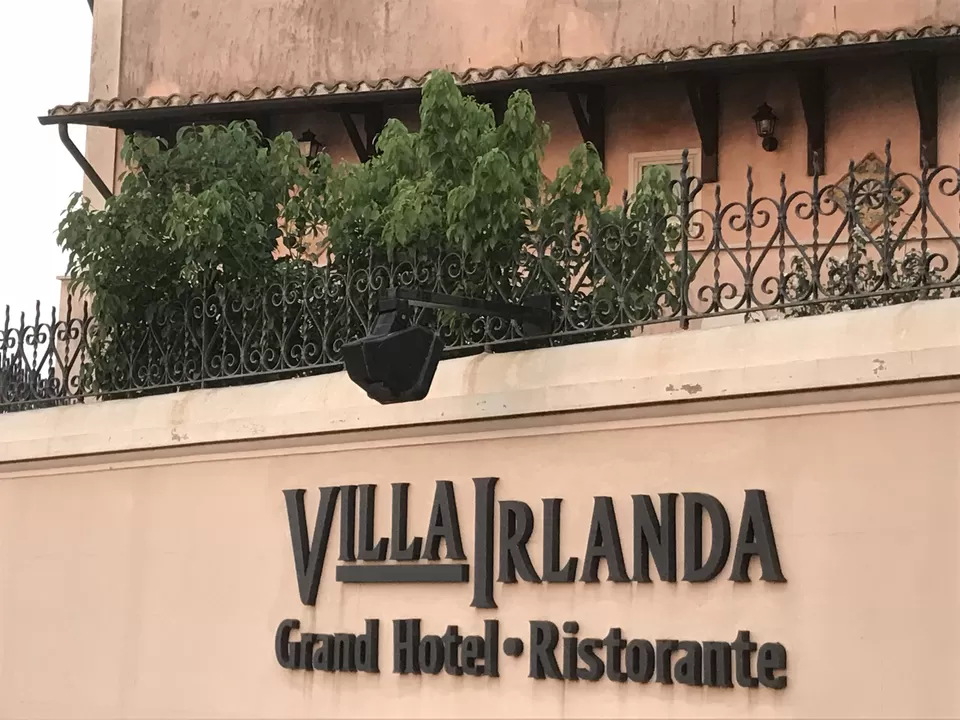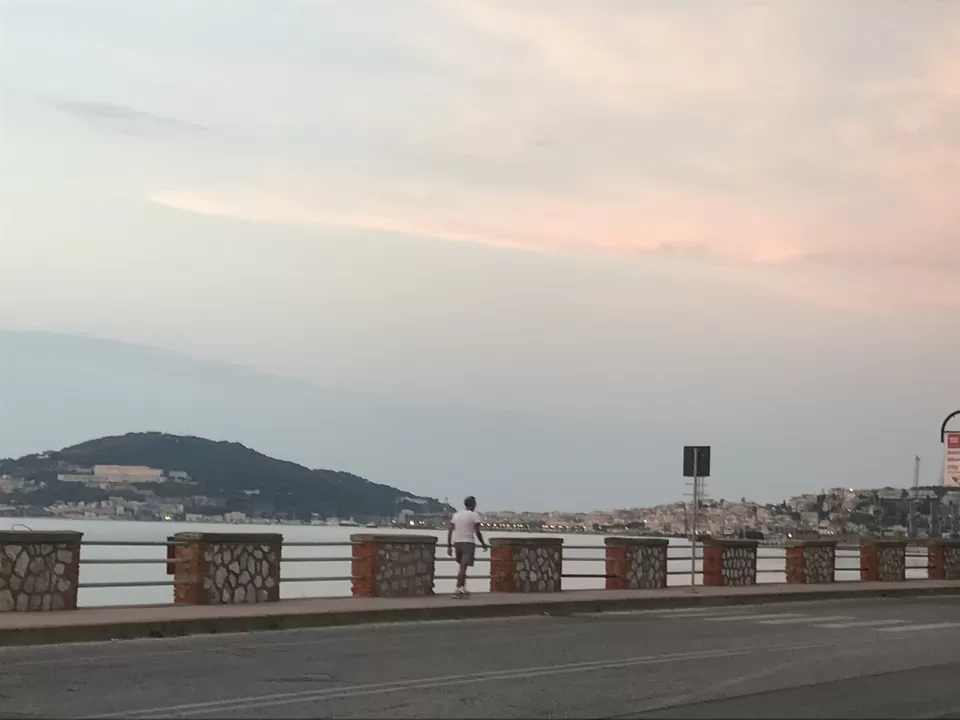 I took a few last photos at sunrise over our beloved town, truly a beautiful view. The driver helped us with our luggage from our rooms, we all got in the car and headed north with plenty of time for dealing with morning commute traffic around Rome. The road we took was along the coast and I was familiar with it, particularly passing the neighboring towns like Sperlonga, Terracina and Fondi where I had spent time with friends. I smiled as I looked out the window happy that the driver chose this route for our departure.
The flight home was painless and I enjoyed my few hour layover in London. It's interesting how Rome and London airports are basically big American style shopping malls. The only indication that they are airports are the digital signs listing flight numbers and people dragging luggage around. It's easy to find a charger for your phone and difficult to be bored with so much distraction. Once I made it to Vegas around 10pm I was exhausted and cranky, but I called for my Lyft. The driver told me that car shares aren't allowed to pick people up at that terminal and I must take a shuttle to another one. There was no way in hell I was feeling up for that and I asked him if he was willing to accommodate me this one time and he said no. Quite a contrast from my car share guy in Rome who found me but I guess I ran out of vacation luck. I got into a normal cab and arrived home for a little bit more money but less wear on the nerves.
This was an incredible dream vacation and although it was only a week it felt like two. I'm indebted to Janis and her incredible generosity and loyal friendship. I'm a lucky gal.