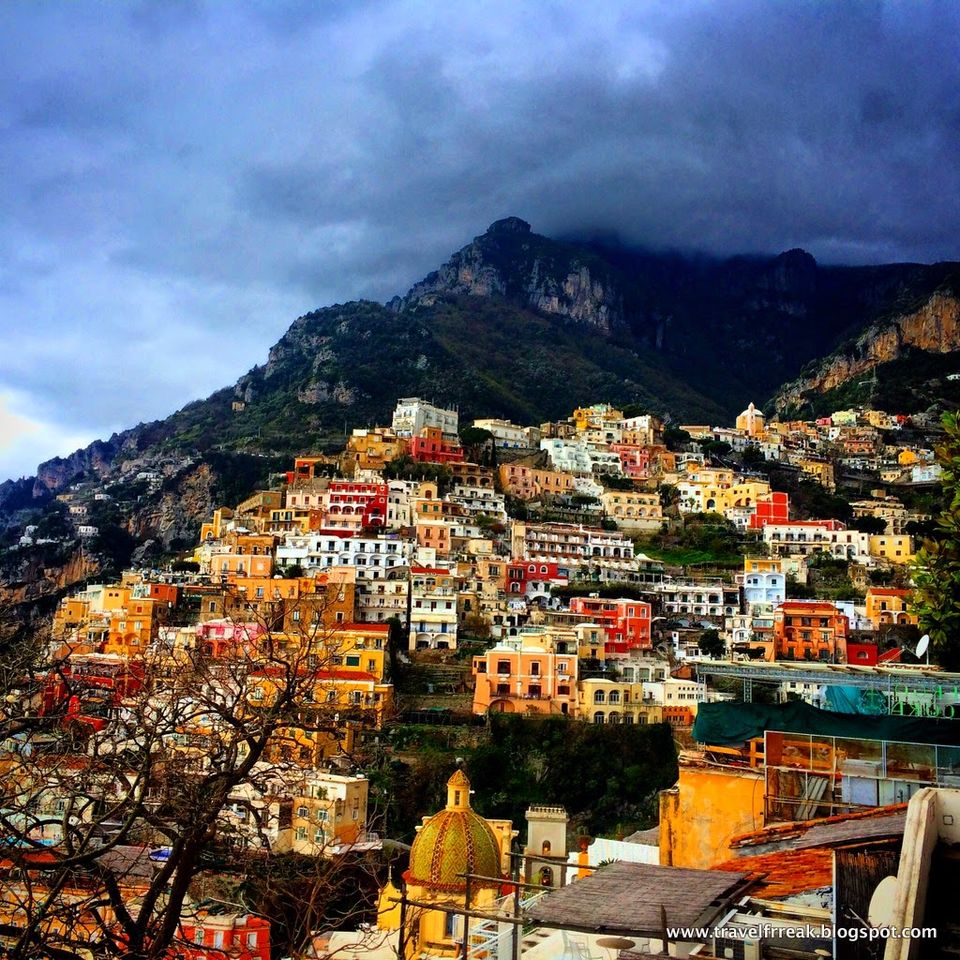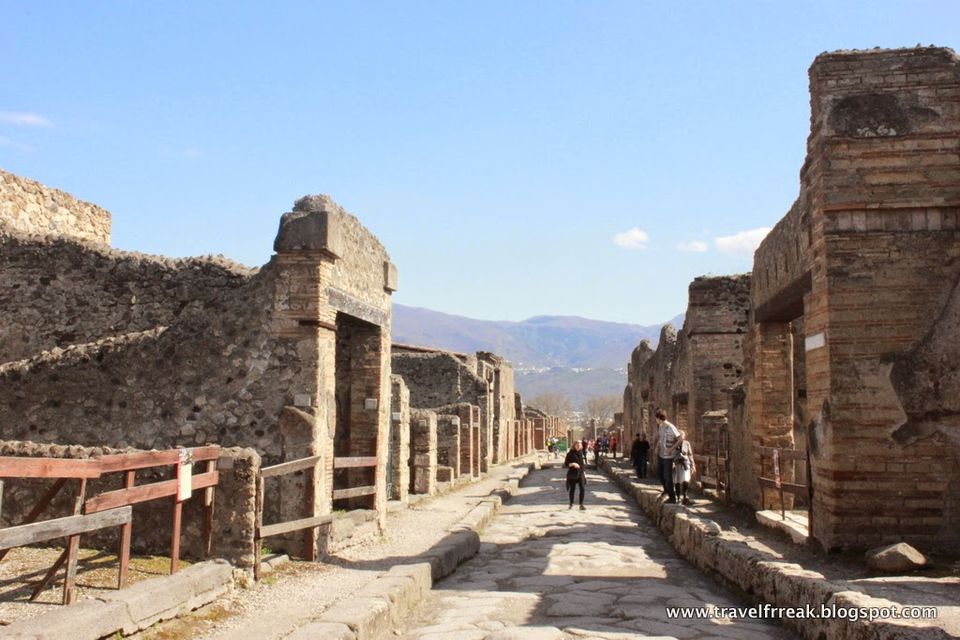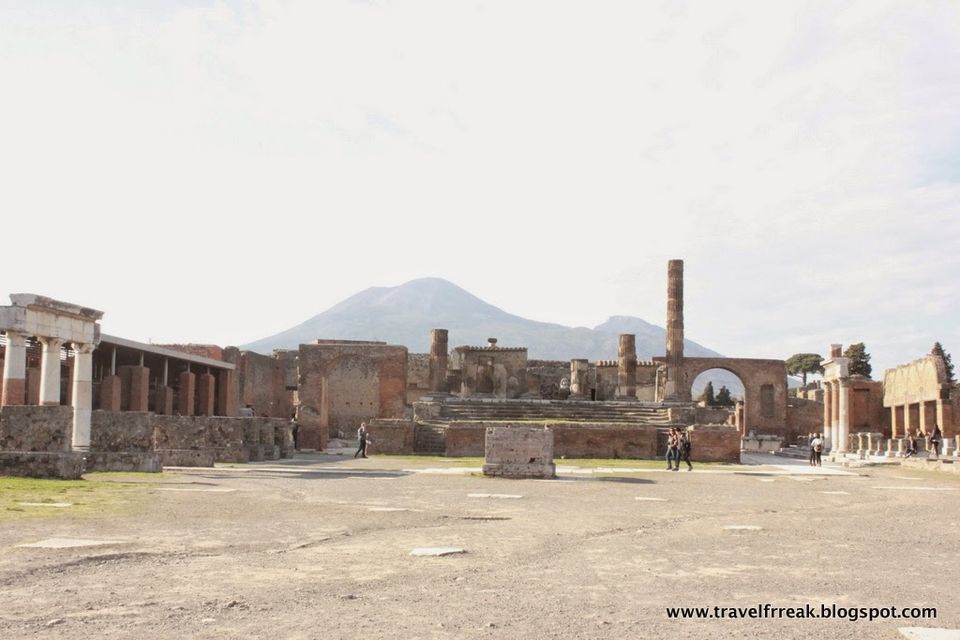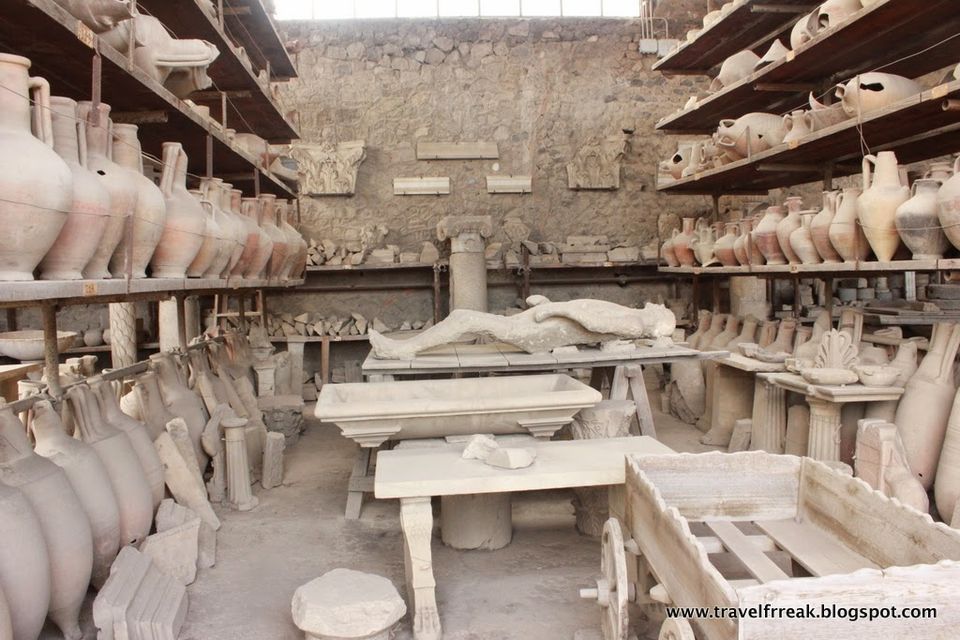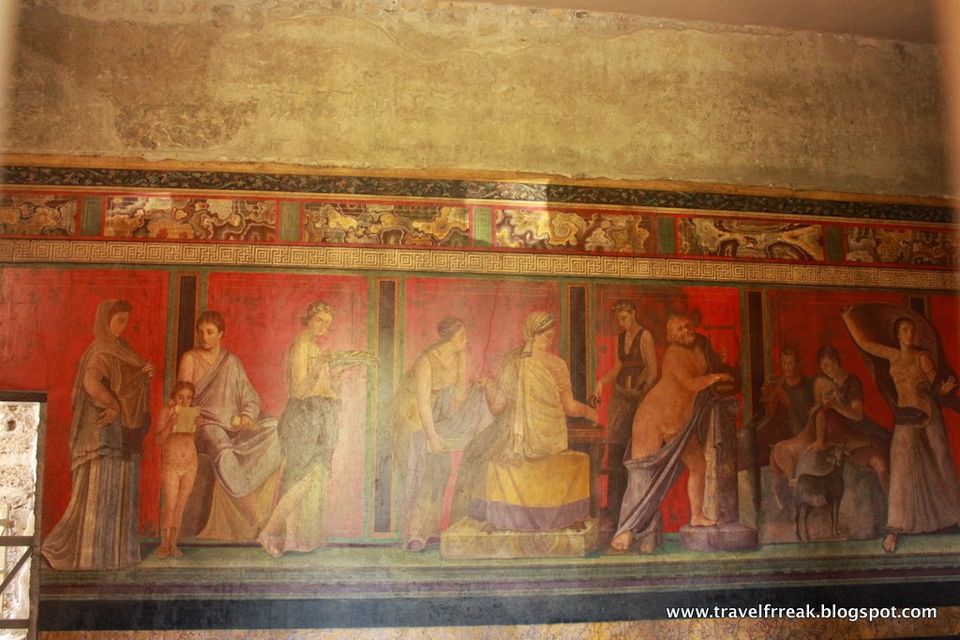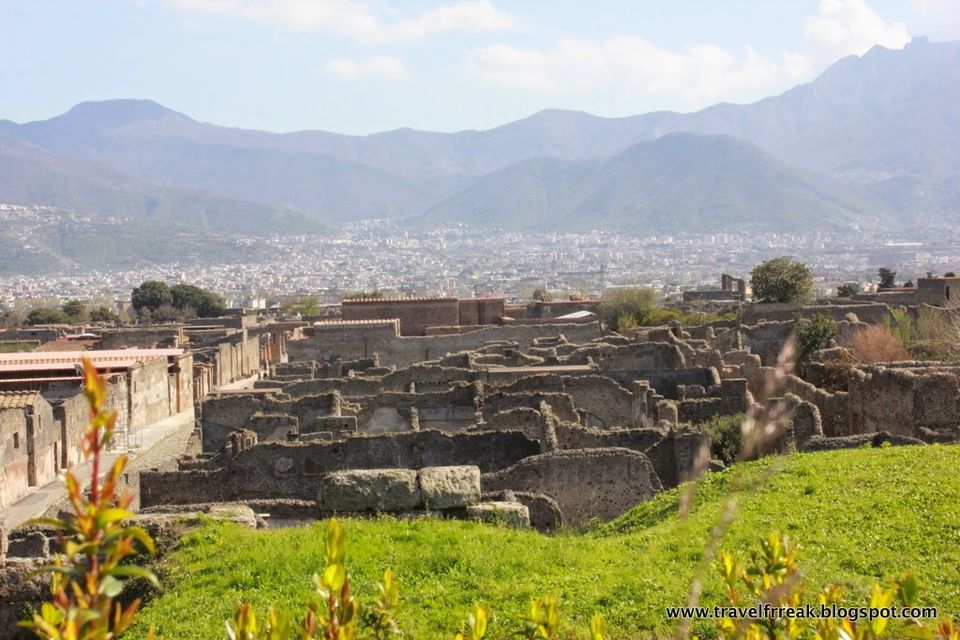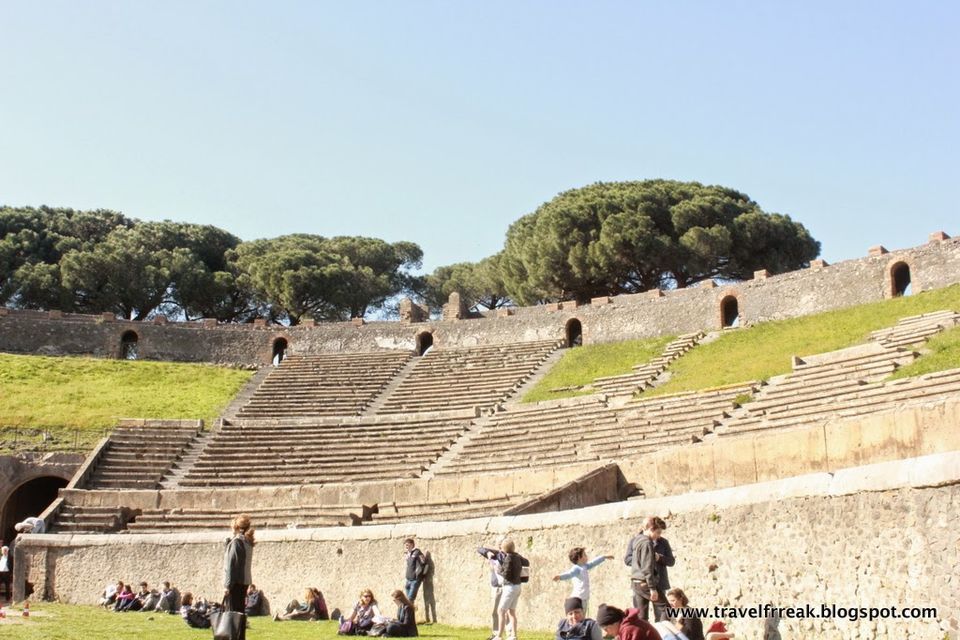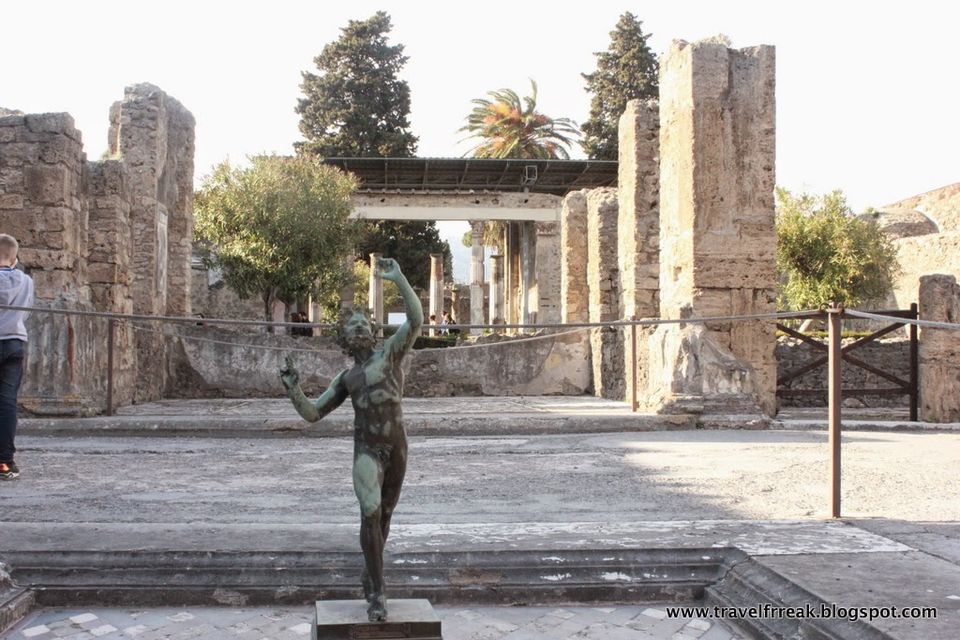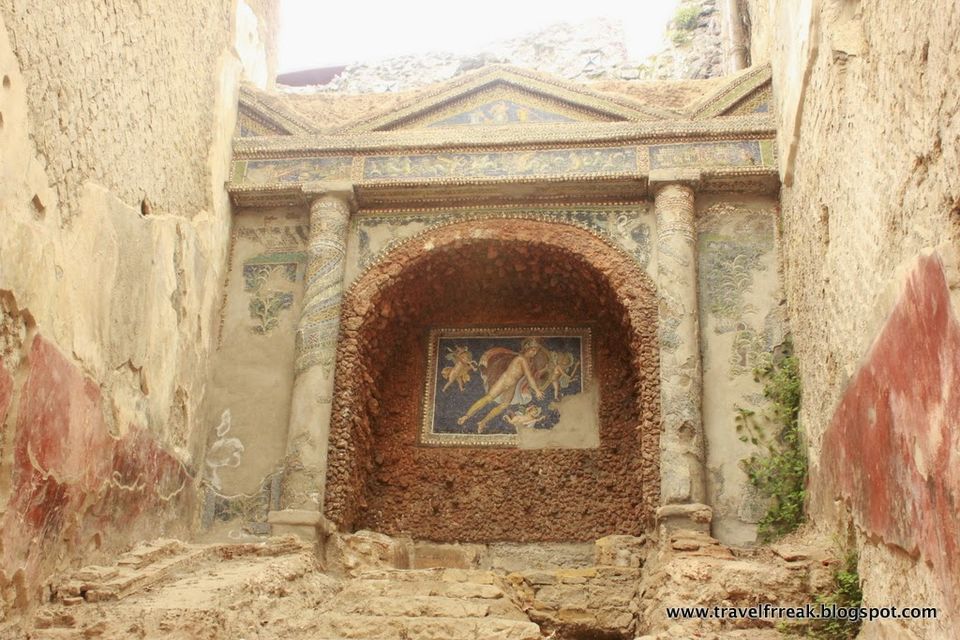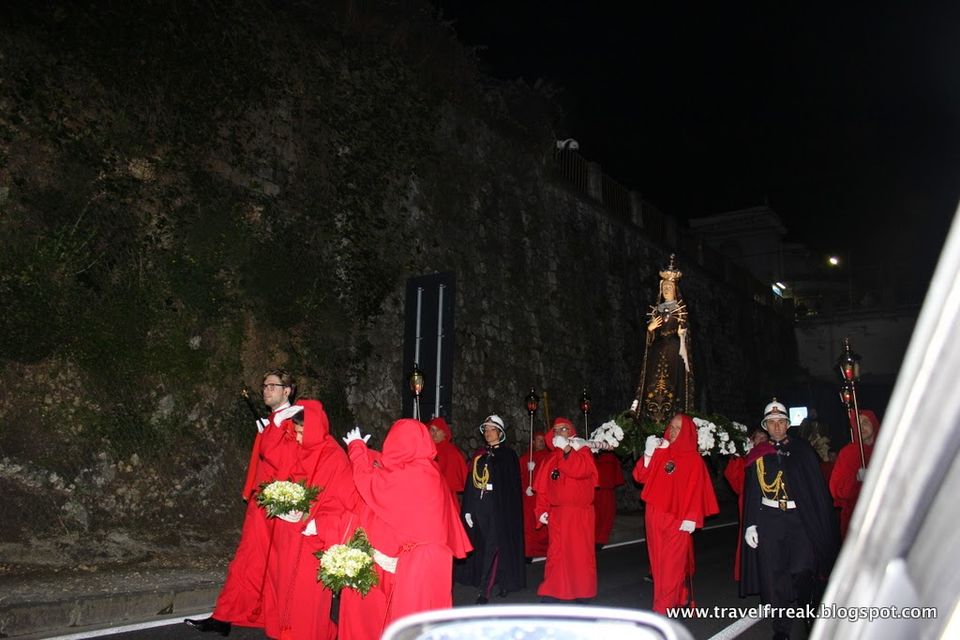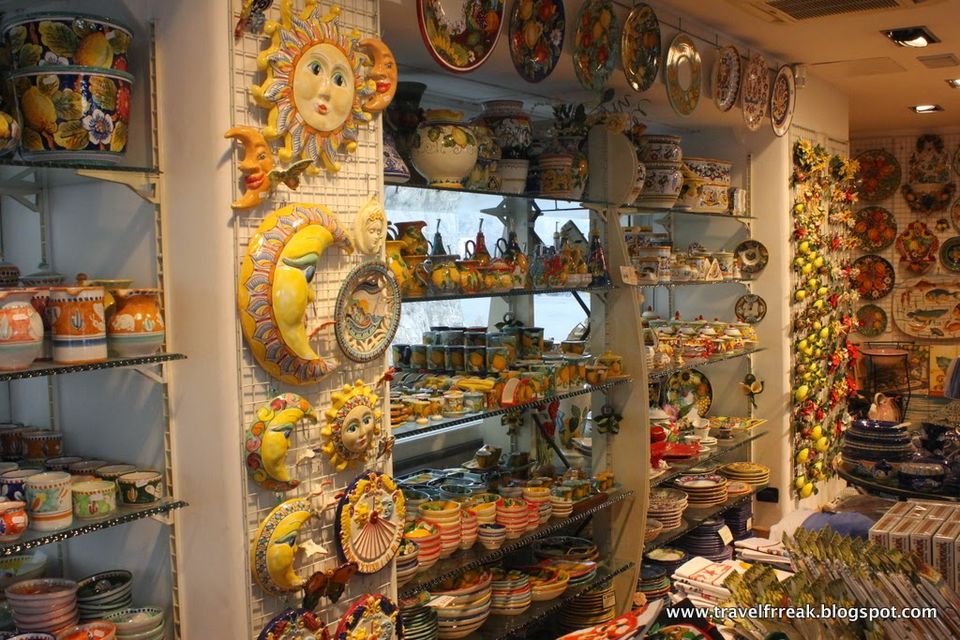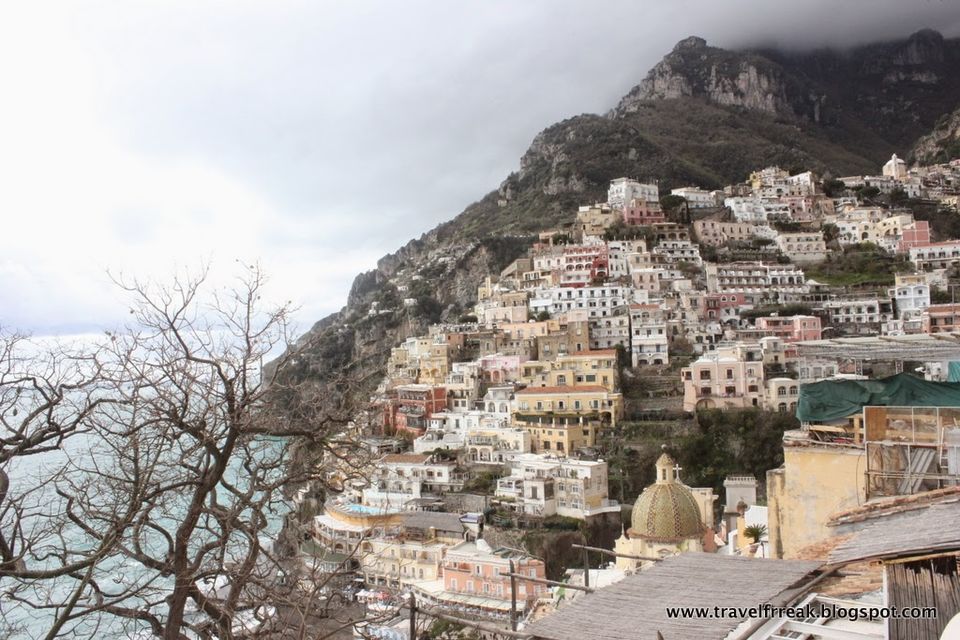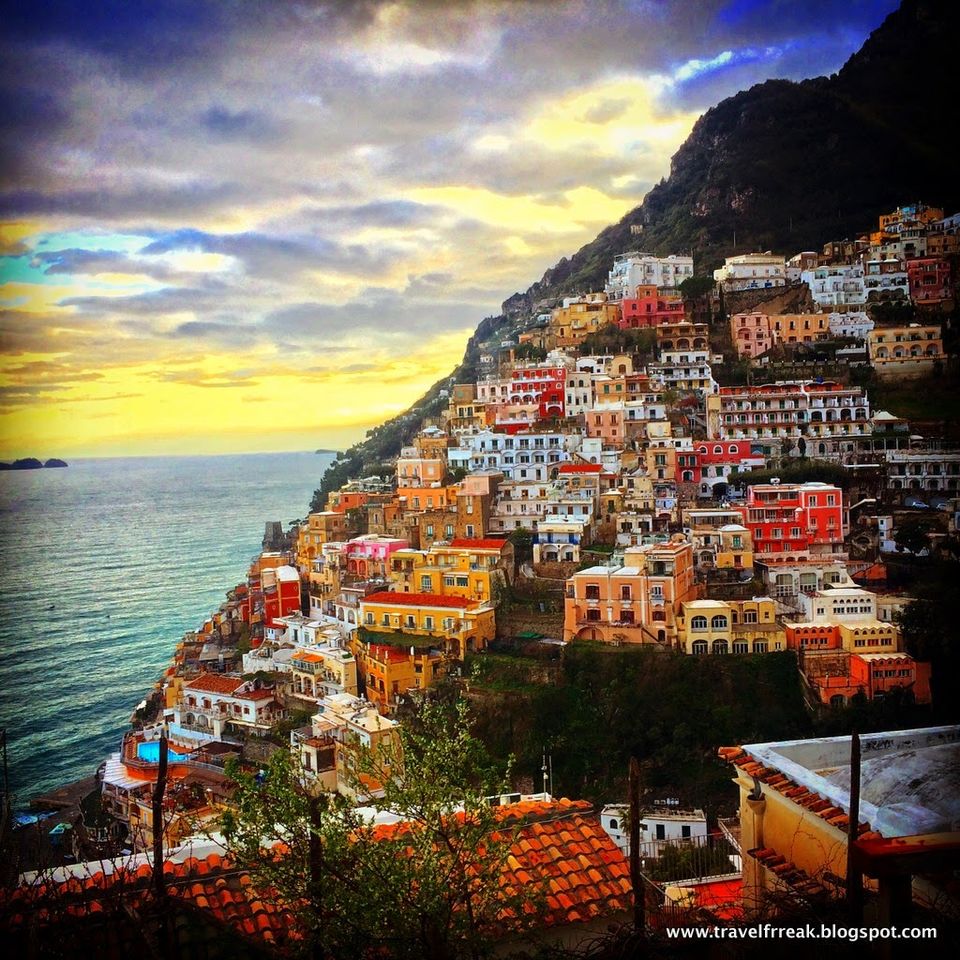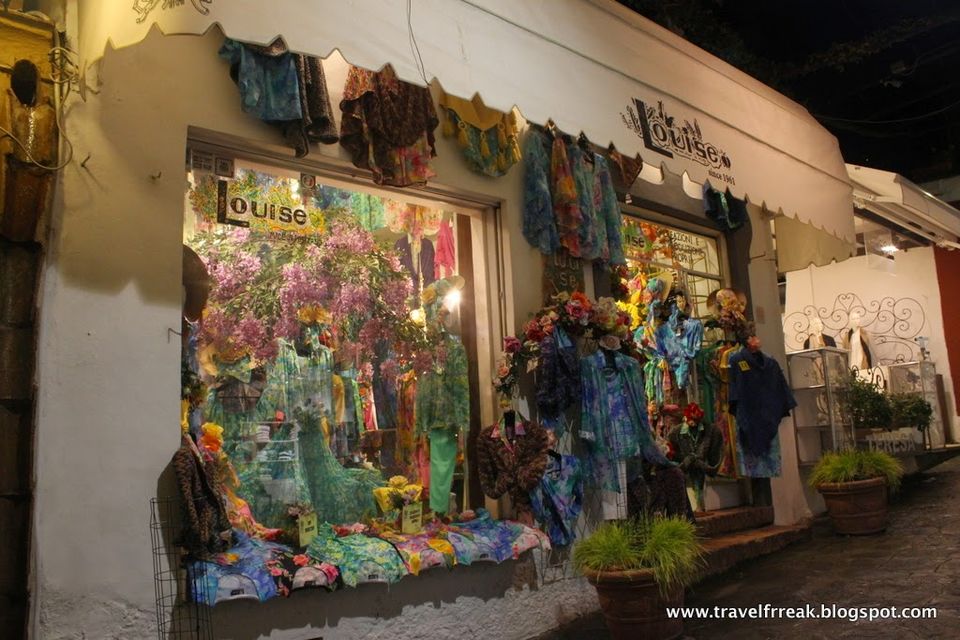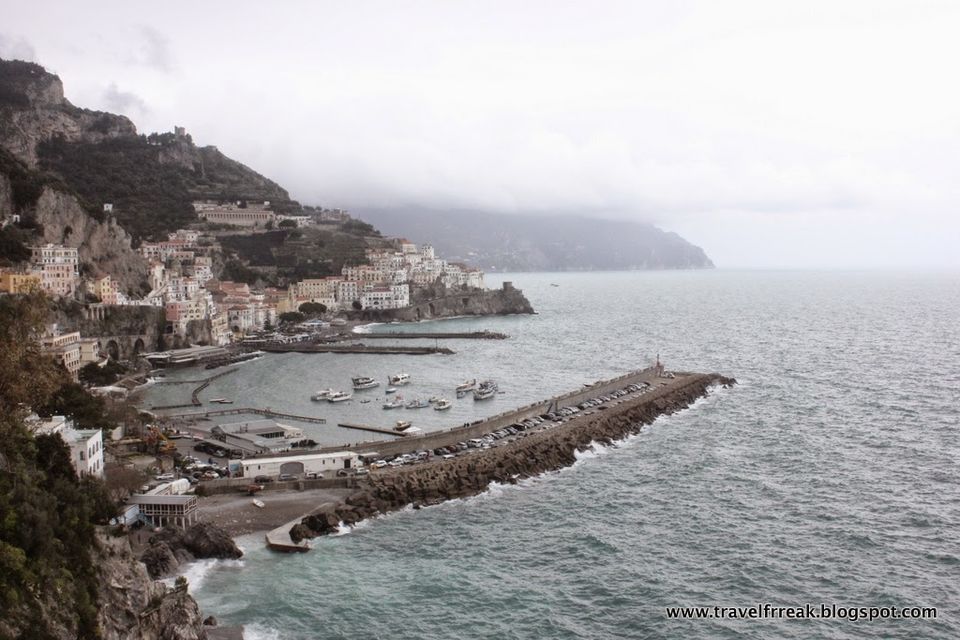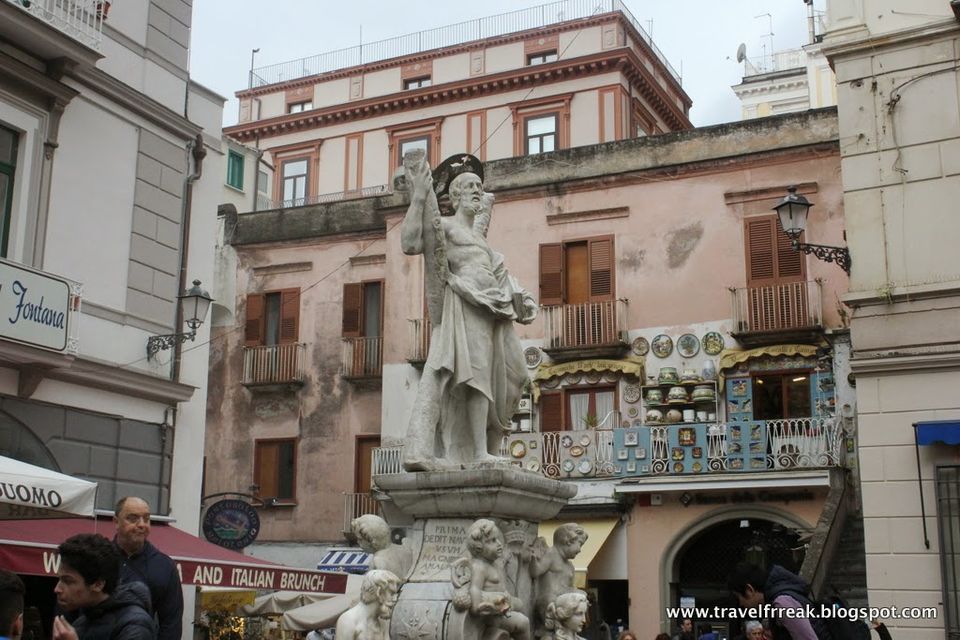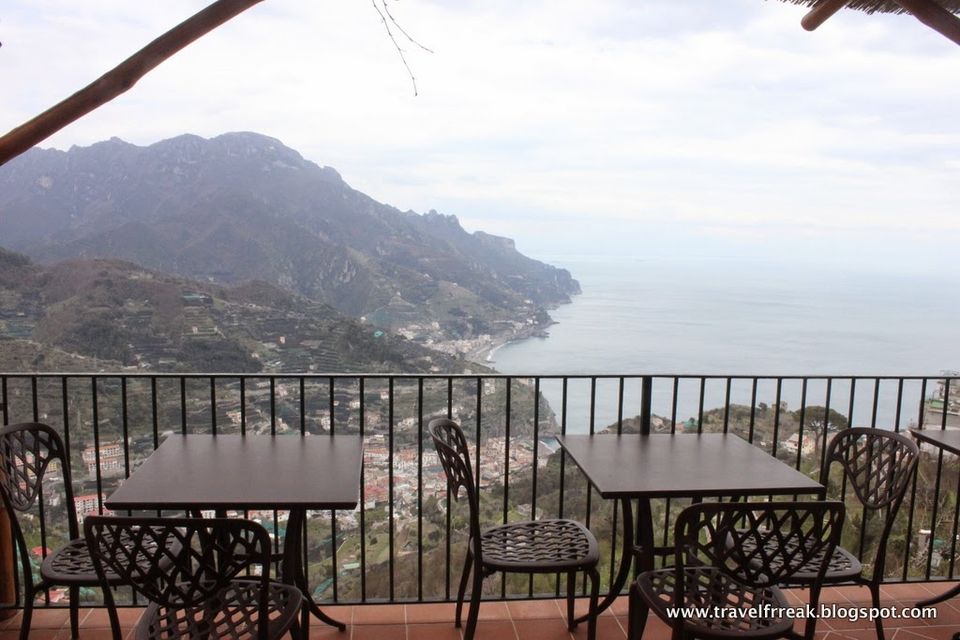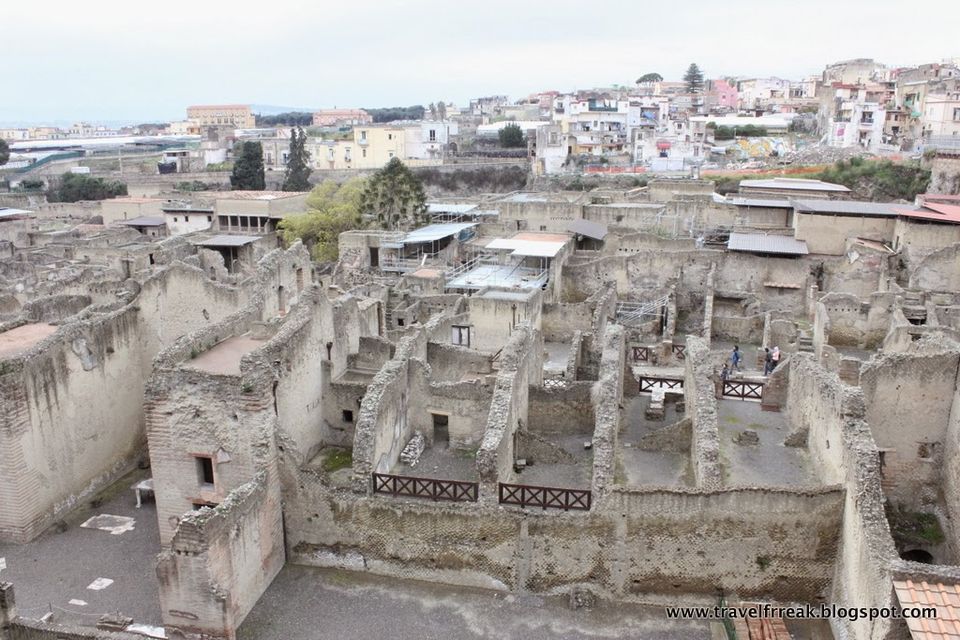 This trip was originally published on travelfreak
This year on Easter weekend, we went on a 4 day trip to the Amalfi coast. Its a coastal region in Italy which is famous for its cliffs dropping to the blue sea, dotted with small quaint Italian villages on its cliffs, ravines and beaches. This region gets its name from one of the villages on the coast and is a popular area for relaxation, especially during summer.

Getting there

The closest airport to Amalfi is Naples. We flew into Naples from London (it was a 2.5 hour flight) and then rented a car for the next four days. The rental area is located very close to the airport, so easier to walk there than wait for the free shuttle bus!

Pompeii

We did not spend much time in Naples but the view of the city looked picturesque - a bustling metropolis located on the Bay of Naples, with snow covered mountains in the horizon. Soon after we landed there, we got our rental car and drove towards the Amalfi coast.
Our first stop on the way was the Roman city ruins of Pompeii. It was a popular city in Roman times and had got buried under volcanic lava from the eruption of Mt Vesuvius in 79 AD. It lay lost for centuries and was rediscovered in 1748 and is being excavated since then.

Pompeii is located very close to Naples airport, it took us just 30 mins to get there. When we got there, we parked our car at the first parking we saw. We assumed it was the official parking for the ruins but turned out that it was a restaurant's parking!

The parking charge was Eur 3 per hour, unless you had lunch at their restaurant. We had lunch there and it was the most expensive meal of our entire trip (and not that great either. Though I felt cheated a bit, I was very very impressed with the restaurant's business model! Trick innocent first time tourists to park their car in your parking and then convince them to eat your overpriced food. We were conned very easily this time for sure but not again on the trip!

Pompeii was a revelation to me. I had expected to find only a couple of excavated houses and so we ventured into the ruins without a map! It was such a big mistake! Pompeii is huge - its the size of an entire town by itself. There are multiple entrances to the ruins too, so you need to remember where you parked your car.
We walked into the city from one end where we first saw a bath house with frescos and paintings inside. As we walked on, we reached the forum - the central market place of the town. There you can see its villain - Mt Vesuvius towering high on one end, with the temple of Apollo in front and surrounded by pillars all around. This central square is surrounded by other important buildings on all sides.
Just next to the Forum is a huge shed which houses hundreds of pots and sculptures discovered during excavations. You can also see a number of mummified men, women and animals bodies kept here. They are still covered by the lava which had encompassed them when it came flowing down Vesuvius. It gives you an idea how people in the city were going about their daily lives when tragedy hit them. And they got framed in their poses forever.
Assuming this was most of what Pompeii had to offer, we randomly started walking on one of the streets going towards the north of the city, which took us through smallish streets with houses all along, finally culminating at the House of Mysteries. This house looks like a summer house located slightly outside the city and the highlight of this building was a fresco from that time - 100 AD - which is still as beautiful and bright as it would have looked at that time! We actually wondered if it had been repainted since then...!
While coming back, we got lost and then realised the true size of Pompeii. We walked for about an hour or so, passing through many crossroads with sculptures and pillars and fountains, and the streets lined with houses on both sides.

Then we encountered some watch towers, cycling paths, and reached Via Dell Abbondanza street which turned out to be the commercial heart of the city. There were shops and buildings in that area with remnants of paintings and fountains and pots and utensils still kept there. There was even remains of a big public laundry and tavern on the street, as well as political graffiti scribbled on the walls - which were all very impressive given it all survived centuries.
We also saw the main amphitheatre and the House of Fawn which had some 40 rooms. By this time we were tired and it had got hot, so we left without exploring the many more places listed in the map.

A point to note though is that most of the artefacts found in Pompeii - jewellery, paintings, sculptures etc - have been removed and placed in the Museum in Naples. So all you see in the ruins is barely a patch of all that was discovered. I've read if you really want to know how Pompeii was, you need to visit the Museum. Though for me, I was impressed with the ruins itself.
Its the first time I has seen a city so old so well preserved. Petra and the Mayan civilisations though old don't have as much left of their times as Pompeii does. So should we be thankful to Mt Vesuvius for erupting and preserving this city in the same state it was in then?
The ruins were what they were, but for me, the highlight of the trip was to get a glimpse of how the city would have looked like 2000 years ago - the cobbled streets and the stone houses, all painted and decorated, bustling with people and horses and trade. It also made me realise that the visuals for the Roman movies and serials that we now see are based on real facts and not figments of imagination.

Drive to Amalfi Coast

We also ventured into the current Pompeii city centre a bit, looking to buy something - it has an impressive church and town square. But then getting out of the town to reach the Amalfi Coast turned out to be quite a disaster.

One, because we took a couple of wrong turns, we ended up having to cross the whole city of Pompeii to get onto the correct road. So we had to drive an hour through a crowded single lane market street where we saw how Italians drive and don't follow rules (just like Indians)! I also learnt that I need to be careful of the scooters on the road, they come in from anywhere and of course the drivers don't follow any rules again!

Second, we ran into Easter processions all along the way which delayed us a lot. After leaving Pompeii, we got to the hills and were driving next to the sea which was supposed to be pretty. You drive till Sorrento and cross the hills to reach Positano on the other side. But we got stuck due to the processions on the way, and took 3 hours for the 1 hour journey!
The procession was interesting - the first time I had seen something like this. Apparently, as part of the Easter celebrations in Italy, they enact the funeral procession for Jesus Christ after his death. There were some 300-400 people walking very quietly as part of the procession. Most of them were wearing red robes with hoods which covered their heads. There were some who were dressed as Roman soldiers and were walking on horses; they were followed by children who were playing music and singing carols. In between there was a group of people carrying the body of Jesus and Mary.

People were standing all along the roads watching the procession, and they had shut down all the lights in their houses too. They all then lit lamps in their houses to provide light as the procession went by. The whole event had such a serene quality about it, it was very quiet and serious. When I read about it later, I realised they were enacting Jesus's funeral procession. I liked seeing it though it meant we got very late in reaching Positano.

We then drove through small and hilly roads, seeing the lights on the seaside - couldn't wait to see the view by day. When we reached Positano where we were staying, we drove the car down the village through a winding road going down the cliff among the houses. It was so narrow, I was sure no car could drive all the way down. But anyways we did and we were so glad to have finally reached our hotel after a long drive!

And even though we had reached late at 10:30pm, there was enough activity happening in the village - shops were open, tourists were about and the restaurants were still open. We just walked down to the beach in front of our hotel and had a quick dinner. The first view of Positano was also pretty - we were in an apartment next to the sea, with a beach right in front and the village church just next to it.

The Amalfi coast

We spent most of the next 2 days driving on the Amalfitana road itself, driving to the villages of Praiano, Furore, Amalfi, Ravello and other smaller villages on the way. The drive is picturesque - driving through winding roads along the cliffs; with sheer drop to the blue sea on one end, the green cliffs to the other (which might be great for climbing). Sometimes its tough to keep your eyes on the road, but its a must given how narrow the roads are and how much traffic there is.
Along the drive, you get panoramic views of the villages on the route; it makes you want to stop at every turn to take in the view. There are loads of beaches too and sights next to the road to see - miniature ceramics towns, Christ statues, beaches hidden in coves on the way. There are some places to dive too, as well as an Emerald cove (for boating inside a cave). The route is also full of shops selling ceramics - a speciality of the Amalfi coast. Most of the ceramics have paintings of lemons which are popular in this area.

The view of the villages is even more breathtaking at night - twinkling lights with the sound of the sea and the dark of the cliffs. What a sight it is.. If you could just sit still and enjoy the view forever…
There was something about this place which made you feel like relaxing. Maybe it was that it Italy, or that its people moved at a slow relaxed pace, or because of the villages which felt from a different time, or the colour of the sea or could be just because of its reputation. It was difficult to pinpoint what it was but the whole coast felt from a different era.

Unfortunately, when we were there, it was raining most of the time and so we could not explore as much as we would without rain. We couldn't really do many things at the time. Maybe that is the reason I did not think the Amalfi coast was worthy of all the superlatives showered on it - I think it deserves a trip when its not as rainy, then I might get to see the azure sea and warm waters that people talk about.

Because it was still cold, we did not do much in the water but it was a pretty sight nonetheless - greenish tinge water rushing against the cliffs in strong gusts. The views from a boat in the sea would also be amazing. And of course the waters would be warm in the summer! I am sure, it would be an amazing place to relax in the summer!

The villages: Positano and Montepuerto
What do I say about Positano, its the prettiest village in the whole Amalfi coast. Brilliantly painted houses (though the colours look much prettier with saturation), along a cliff, with a Duomo near the bottom, the warm waters of the coast providing a small beach, restaurants and shops all around to buy trinkets and designer clothes, picturesque hotels and luxurious restaurants to taste Italian food. Positano has it all there, what more could you want?
We ended up spending most of our time in the village itself due to the rain and relaxed thoroughly. It was impressive how the villages have been modified so well - retaining their authenticity and charm, while making them commercial (there were many shops, restaurants and hotels) and comfortable to stay in and explore. We walked in the shops of Positano, taking in the views of the village as well as the sea. The beach was ok and there were lot of people there enjoying the cold water.

One of the days, we also walked up to the village of Montepuerto, walking up about 800 steps through the forested path. It was a nice walk, again providing views of Positano and the sea. The village was a small and quiet one, and we spent some time in its church. There were some restaurants and hotels in the area too, but the village was very quiet. Maybe because of Easter Sunday.

Amalfi
Amalfi is one of the biggest and famous villages of the region. Its first view is of a spread out village located just above the sea. I was expecting Amalfi to be the best of the villages in the area as the whole coast takes its name from this village but it wasn't so. Its tough to get parking in the village itself, and so we stopped at a hotel a km away to park our car. We then walked to the village, taking in the view as we got nearer.
Its a small village, with a pier, a huge church and a happening main street. There wasn't much sun when we were there, so the colours of the village houses did not come out as bright as the photographs we had seen online. We explored the shops a bit; they were again selling ceramics and trinkets. But did not find anything impressive or different here.

Ravello

Ravello is a village situated on top of a cliff, with views of the sea and villages around. We went to Ravello twice. The first time it was raining heavily and we could not see anything at all. So had to come back disappointed. We went again on our last day and I am very happy we did! It was totally worth it - the only village other than Positano I would recommend to stay in when in Amalfi.
You need to drive up from Amalfi to get to Ravello. Parking is again tough, so you might need to park much further from the village centre. Ravello is a decent size village with a vibrant city centre, pretty houses, green fields and many gardens and hotels. The views from most of these places overlooks the Amalfi coast from Salerno to the villages of Minori and Maiori, right up to Amalfi.

We explored Ravello for quite sometime and loved it totally; we sat in a garden and then a cafe, enjoyed the view and the fresh air; the silence and the gentle sea breeze was very very refreshing. There were flowers in full bloom everywhere. And then we came to the main square and streets which had the usual colour of clothes, ceramics and shoes. I would suggest Ravello as the place to stay if you ever go to Amalfi - its definitely the most beautiful of the lot along with Positano.

Other villages

We passed a couple of more villages while driving, though did not spend time in any of them. Praiano is a smaller version of Positano, again located on a cliff. Furore is a village located in the hill crevices, we got a glimpse of it from the road - might be a good visit too. We also saw a pretty little boutique hotel on the sea called Conca Dei Marini. It would be a definite recommend to stay if you are in the mood to splurge some money:).

Drive back

While driving back to Naples, we took a different route. We drove till Ravello and then drove back to Naples through the hills rather than the coast. And this route provided very different but breathtaking views too. Green hills, again dotted with villages. There was a village called Pietre which was picturesque enough and worth mentioning. Also, the view of a city from the top (was in Pompeii?) was pretty. We also go to see again the Bay of Naples again - the road right next to the sea, with the cities on one side, the sea on the other and snow covered mountains all around. What a view it was!

Herculaneum
On the way back, we stopped at ruins of another city which was destroyed by the Vesuvius eruption - Herculaneum. It was a much smaller town than Pompeii, so its ruins were not as grand. But given the manner in which it was covered with lava, it retained a lot more organic material which survived the years that Pompeii. It still has remains of wooden doors, windows, plants and cloth from that time which still survived. It is still being excavated though and only a small portion is open to the public. So we skipped spending time there.

I must mention that the area around Herculaneum felt quite like a ghetto. Very run down, crumbling houses and a little shady. I think of the European countries, Italy and Spain are the only countries which may be like this, as if the poorer cousins of Europe.

After Herculaneum, we also had the option to drive up Mt Vesuvius - it would have been great but due to lack of time, we didn't.

Capri

Capri is an island very near the coast and is a must go. There are regular ferries to Capri from all the other villages, especially from Sorrento and its takes about 1-2 hours to get there. We did not go though as the ferry from Positano got cancelled because of the weather.

There are many places to go to, here is a list I made but couldn't use. Visit La piazetta (central plaza); Kayak in Blue grotto (leaving from marina grande); See Faraglioni rocks; Hike around coastal route; Go up Monte Salaro, a view point in Anacapri and Lunch at Il Ricco at the Capri Palace Hotel.

Driving around

Driving in this area is a little tricky, though well managed. The coastal roads are narrow and winding, with not enough place for two cars to pass sometimes. With so many turns, you have to drive slow and carefully. There are mirrors on each turn which help. People honk quite a lot on the roads, as well as overtake at speed, which can be a bit scary. The locals drive at very high speeds and its better to just not compete with them.

Car parking is in the range of EUR 5 per hour, which is quite high. Because parking is so expensive, it might be better to not rent a car and just take the local buses to commute - regular buses run between all the villages and tourist spots. But I think the flexibility to stop anywhere for the views is totally worth it! A good option if you still want the flexibility of your own transport, is to rent scooters for driving around. It would be fun in good weather, plus quicker and cheaper than a car.

Food

In Amalfi, we had rented an apartment with a kitchen, so we did not explore the restaurants around much. We did eat a lot of gelato though which was yum. And the hot chocolates in the restaurants are a lot tastier that what we find elsewhere - both are a must try.

There are loads of restaurants in Positano as well as the other villages, so am sure eating out is not a problem at all. We did stop at a restaurant called Al Barilotto Del Nonno when driving from Amalfi to Positano. Was a nice little place run by a local family, worth a stop if you can.

Accommodation

We stayed at Villa Flavio Gioia, a hotel located at the bottom of Positano just next to the beach and the church. The location was great with the Flavio Gioia square next to the hotel and the beach a 2 min walk. We had a very comfortable one bedroom apartment with a balcony with a sea view. Because of the kitchen, we cooked at home everyday and loved it. Especially because the rain made it tough to go out much.

The best way to reach the hotel was to either drive through the village (am still surprised how it was possible to drive through this narrow road along the cliff running through the city!) or else walk down steps from the top of the village.
Tips

1) April isn't the best time to visit Amalfi (it was raining two of the four days we were there which dampened the trip!!). I would think May and September would be the best months - not too crowded and not too hot or cold either!

2) When in Naples, don't wait for the free shuttle bus to the rental area, just walk. Its quicker

3) Buy combined tickets for the multiple ruins in the area - Pompeii, Herculaneum etc.. Much more cost efficient.

4) Of the villages to stay in, Ravello and Positano are the best options to get a feel of local life. Both were very pretty and relaxed

5) Think twice whether you want to hire a car, or just take the local buses to go from one place to another. Makes it more comfortable and reduces driving pressure

6) Self-manned petrol pumps with machines don't return change when you pay extra cash. So be careful

7) Be wary of free parking around the tourist spots - there is always a catch
This trip was originally published on TRAVELFREAK.