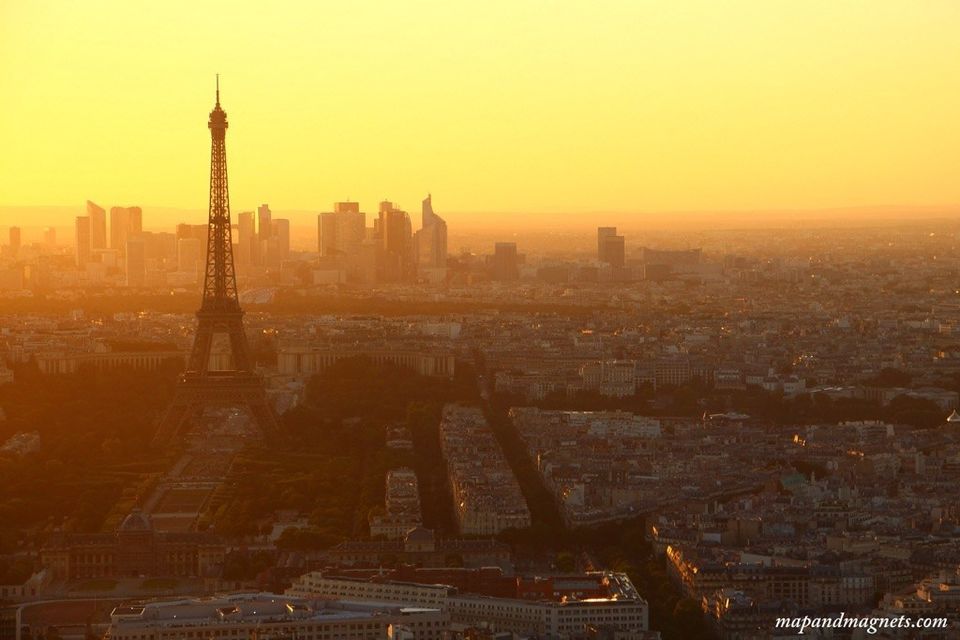 You're in Paris and you're staring at the standard bucket list: Eiffel Tower - check, Notre Dame - check, boat ride along the Seine - check, Louvre - check, Arc de Triomphe - check. Now what?!! We often forget to scratch beneath the surface to really experience what gives a city its unique character. On a recent trip to Paris, I found myself there for 6 whole days - way longer than I had ever spent in a city on vacation. I was positive I would get bored and would need to resort to day trips... I even had a few options in mind: Versailles, Giverny, Brussels or Amsterdam... but Paris doesn't give you a moment to be idle! If you're looking for offbeat Paris experiences, here are some of the best I recommend:
1. Les Bouquinistes
Arrondissement: 1st/5th/6th
My favorite piece of Parisian charm - les Bouquinistes, or "used-book sellers", operating since 1610. These green box stalls line both sides of the Seine River, and sell everything from vintage postcards and paintings to French books and comics. There are approximately 210 stalls, and the waitlist to get a permit is 7-8 years! Les Bouquinistes have also been granted UNESCO world heritage status.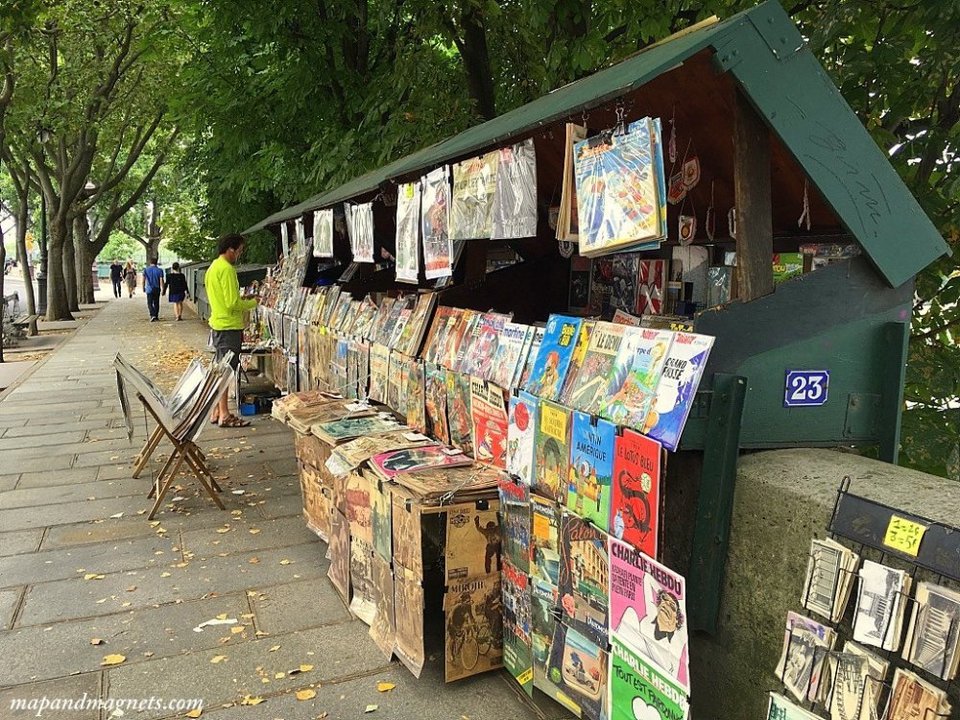 I spent a few hours perusing their collections, and ended up chatting with one of the vendors who shared some great stories. I wanted to know where they got the vintage postcards from; they were from the early 1900s, with clearly legible messages written in ink. The vendor told me how he had received a call a month ago from someone whose grandmother had passed away, and they had discovered her entire collection of old postcards. He sold them to the Bouquinistes vendor!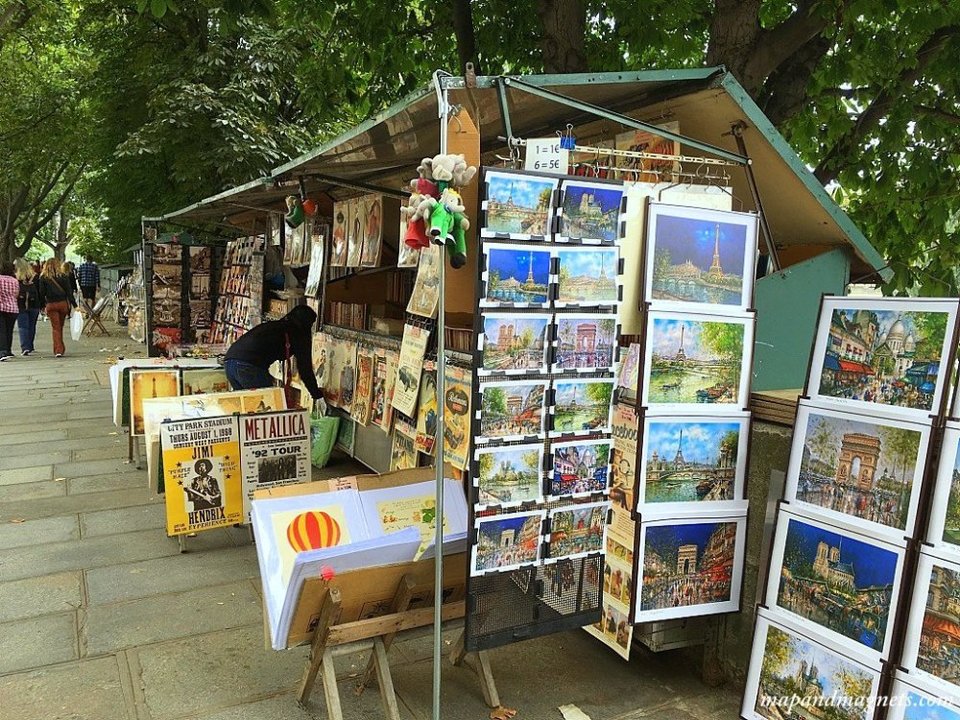 Fun fact: Until 1904, it was forbidden to write messages on a postcard. You can easily identify a postcard from that time because there's only space for an address at the back, but not a message!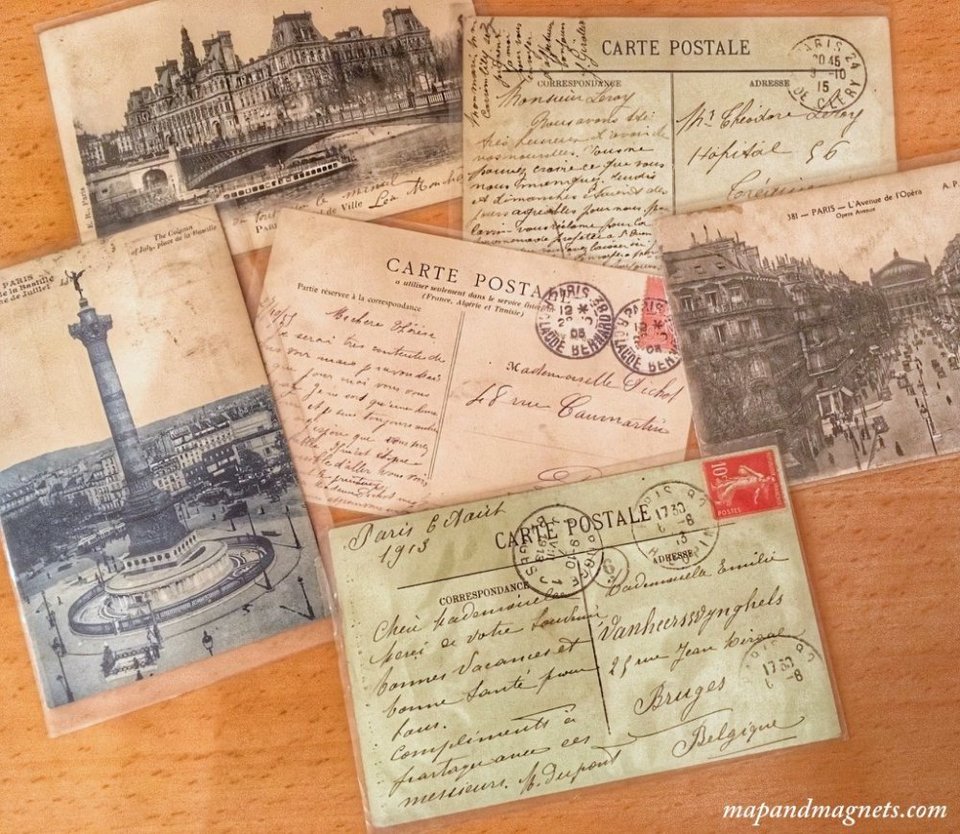 Location: on the right bank of the Seine from the Pont Marie to the Quai du Louvre, and on the left bank from the Quai de la Tournelle to Quai Voltaire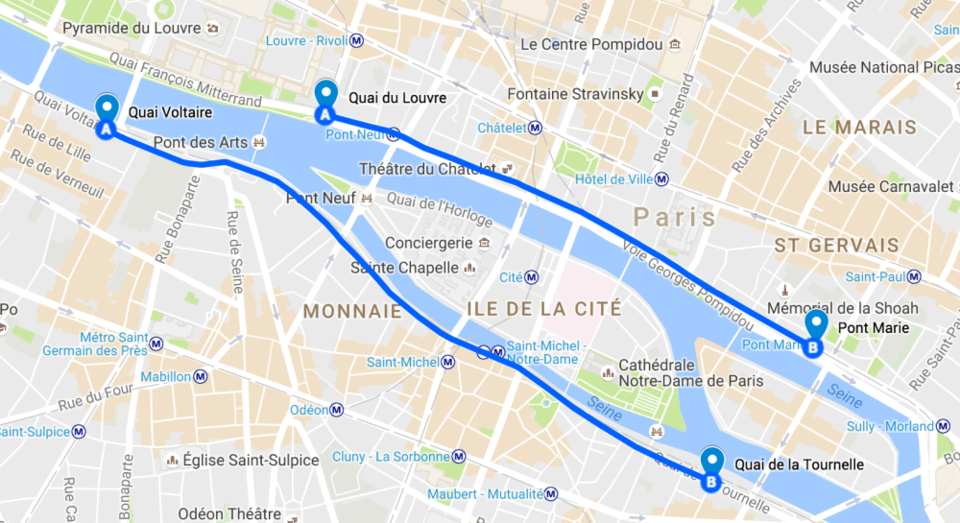 2. Le Marché aux timbres (Market of Stamps)
Arrondissement: 8th
Three days a week, on a street tucked silently off Champs-Élysées, passionate stamp collectors set up stalls to show and sell their collections. You'll find books and books of stamps from every country and time period. France during the time of Napoleon? Yes! India during Independence? Yes! I was in awe! Even if you aren't much of a stamp collector, it's a great way to spend an hour on your way to other sights. They even have old envelopes (with handwritten addresses) from the 1800s and 1900s!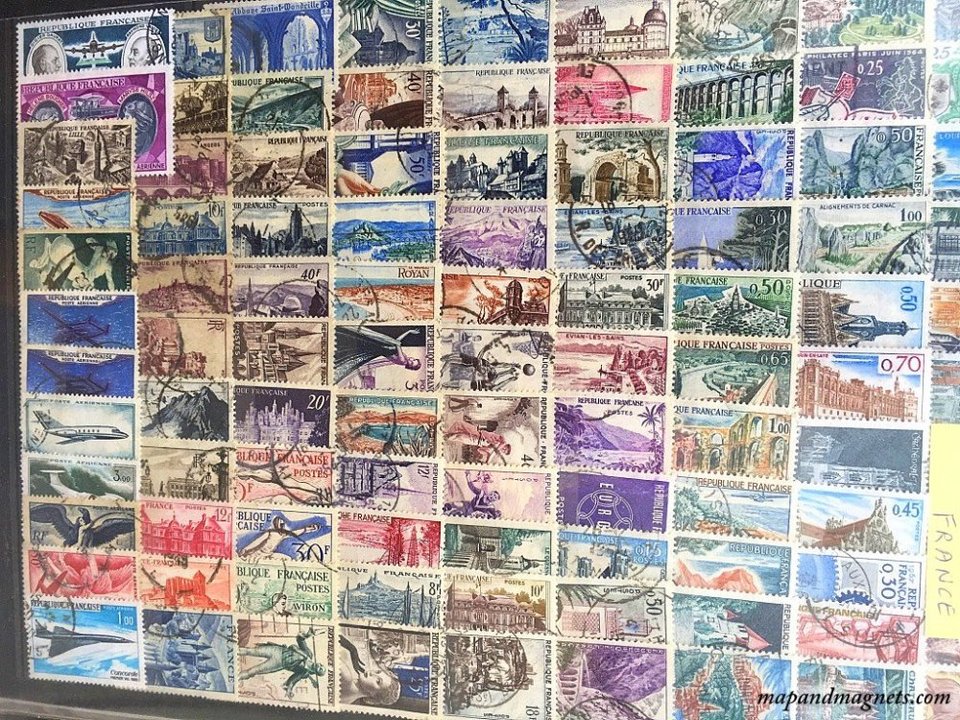 Open: Thursday, Saturday and Sunday from 9:30am onwards. However, these stamp sellers work at their own schedule. You might find only a few stalls on a particular day, or as many as up to 14 on another!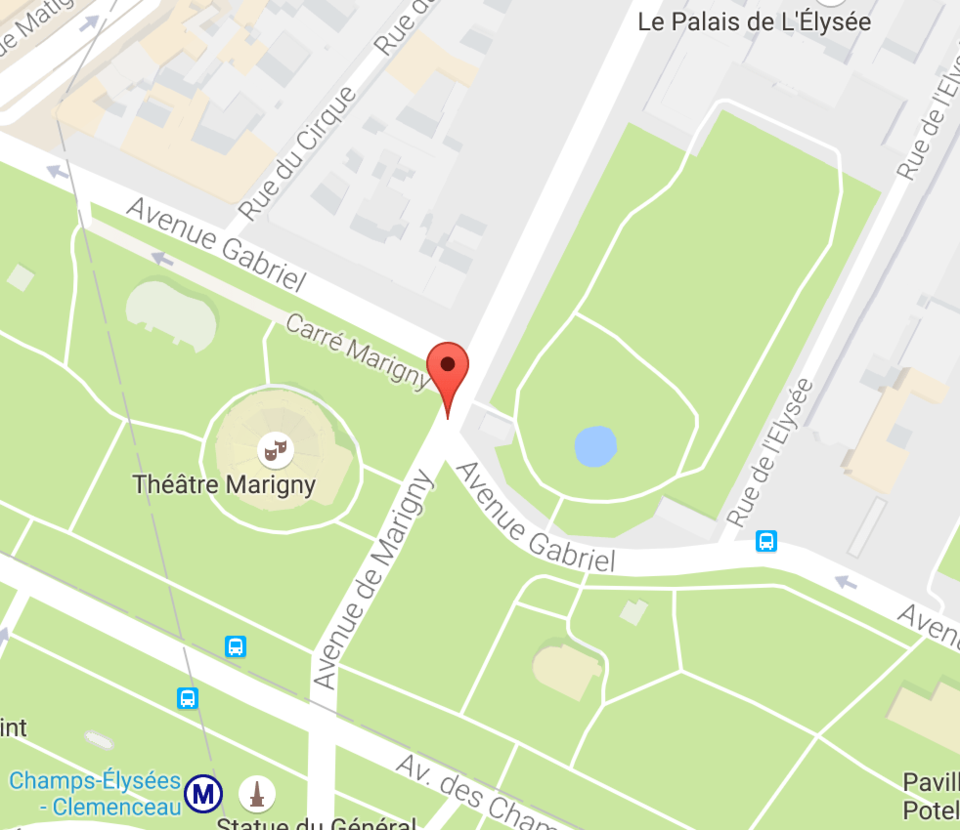 3. Le Salon de Thé at the Grand Mosquée de Paris
Arrondissement: 5th
Not too many people have the mosque on their sightseeing list in Paris. For a 3 euro entry, you get to walk through. It's alright, but nothing too great. What is worth spending time at, though, is the Mosque's tea room, right around the corner from the mosque. Several dining and tea rooms open to sky, with trees, fountains and Mediterranean architecture. The waiter walks around with trays of sweet mint tea, and you can pick up glasses as you please (for 2 euros each). They also have great Middle Eastern desserts like baklava! Super vibrant and funky ambience - definitely don't miss!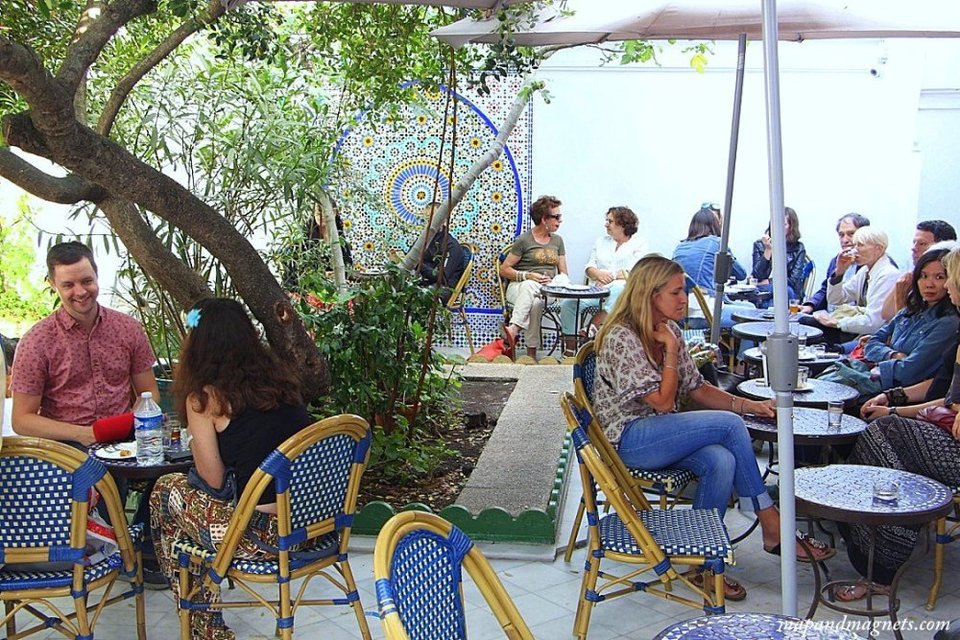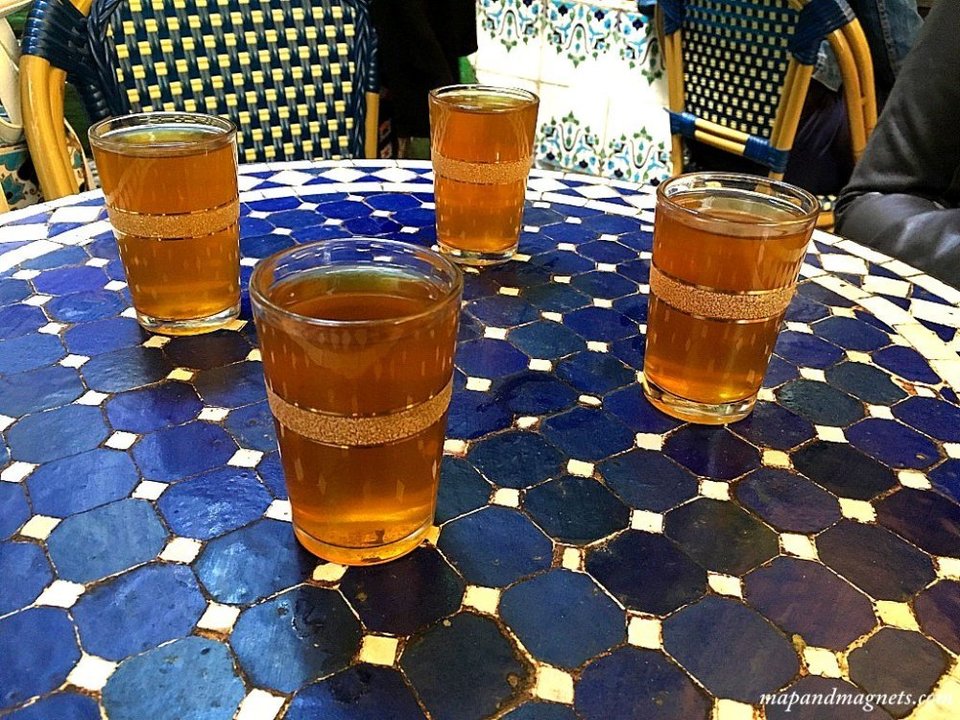 4. A free walking tour around Montmartre
Arrondissement: 18th
Montmartre is the 18 th arrondissement in Paris and considered to be the most artsy. You'll see streets filled with artists' studios and quirky street art. It was my favorite neighborhood and I'm glad I chose a walking tour with Discover Walks here. Our guide covered the history of Montmartre, as we slowly made our way up the hill to the all-imposing Sacré-Cœur. The people of Montmartre (Les Montmartrois, as they like to call themselves) take great pride in their arrondissement, and consider themselves to be different from regular Parisians!
To date, it's probably the only quarter that has maintained an old school Parisian charm. There are lots of excellent bakeries (and even a vineyard) if you're looking to pick up some baguette, cheese or wine for a picnic on the steps of the Sacré-Cœur. The best part about Montmartre is the central artists' square, or Place du Tertre, teeming with eclectic and colorful Parisian paintings - make sure you don't skip this.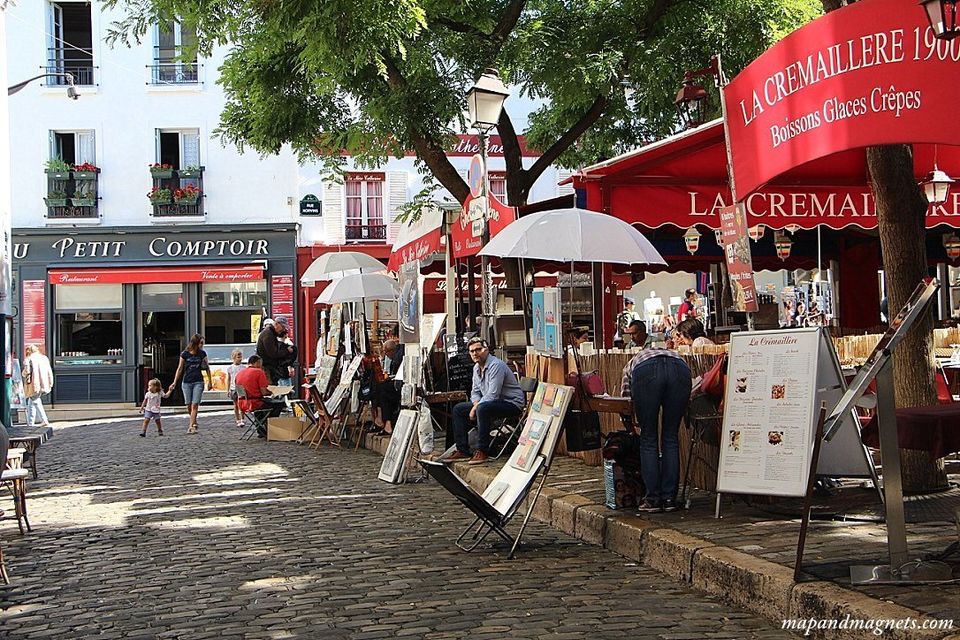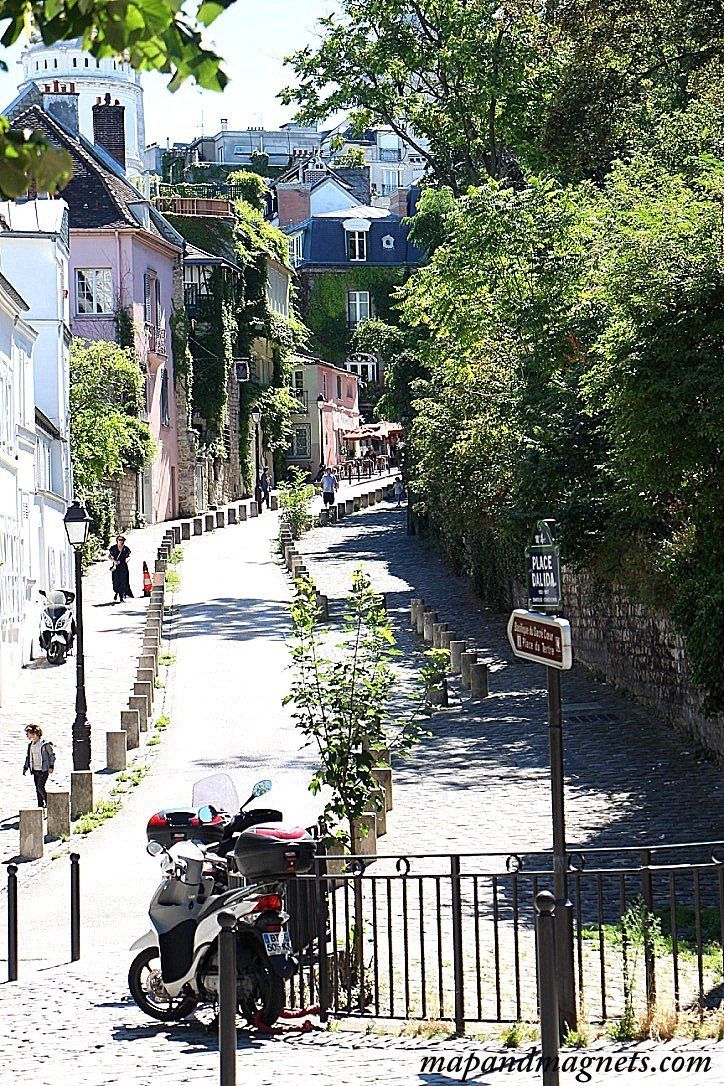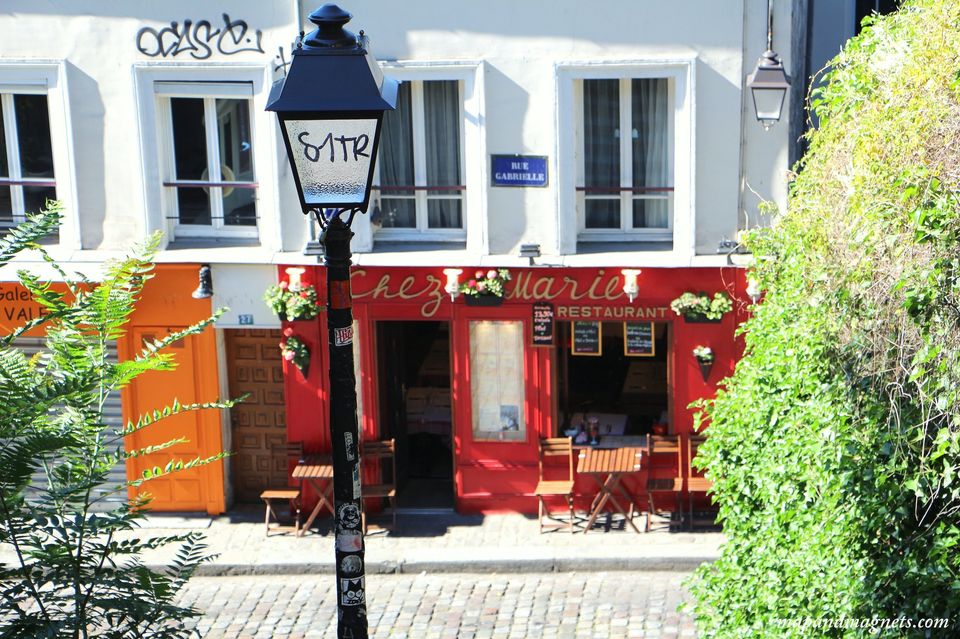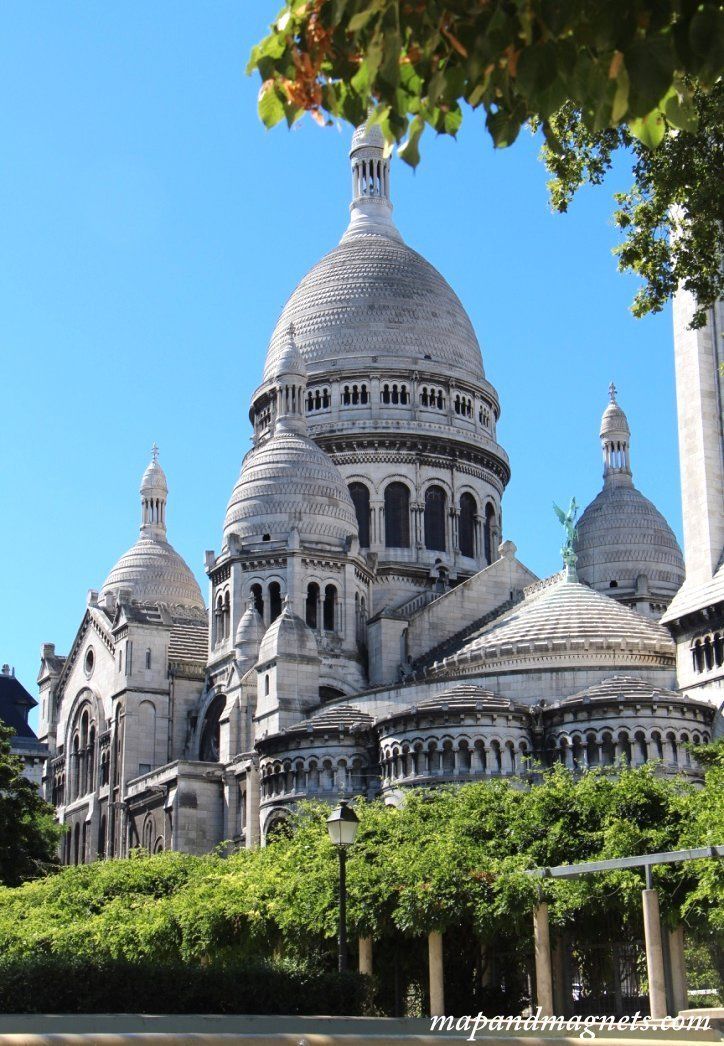 5. Picnic by the Eiffel Tower (or anywhere, really)
Arrondissement: 7th
As I quickly came to realize, Parisians love their picnics, especially in the summer. A local friend told me it's not uncommon to see people picnicking even in the winter. Buy some food from a local grocery store, and set up a picnic spot in the evening at Champs de Mars - the garden surrounding the Eiffel Tower.
Make sure to pick up: baguette, cheeses, Dijon mustard, chips and dip, some dessert, and a bottle of wine!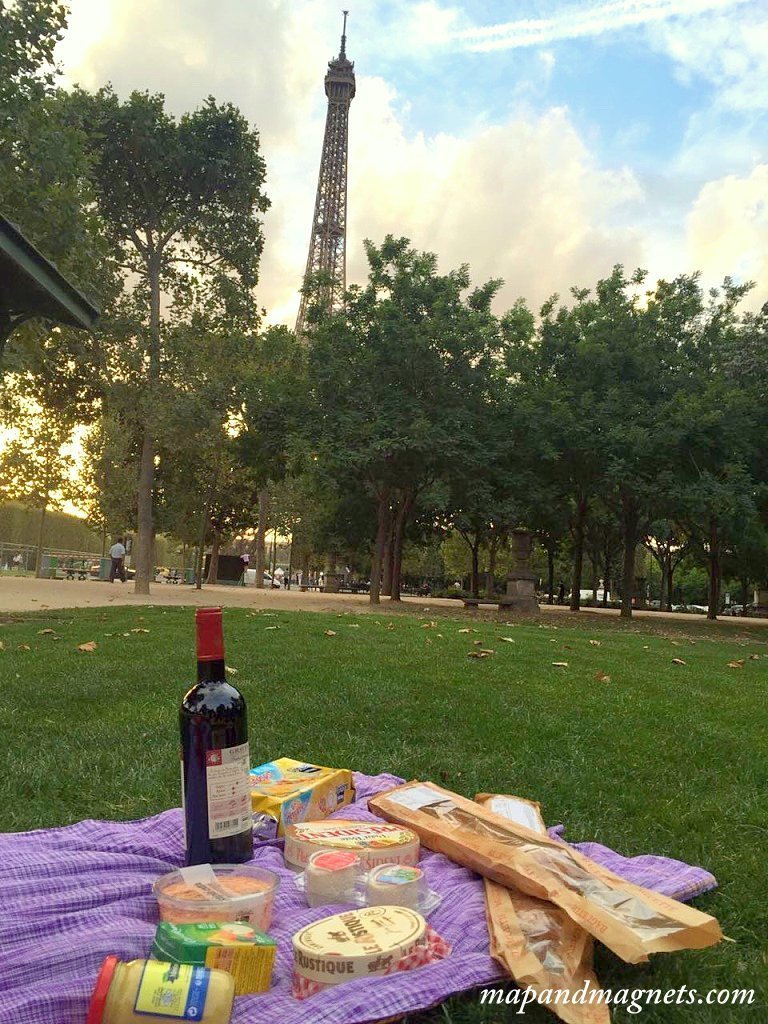 Other picnic spots in Paris:
- Along the banks of the Seine river
- Canal Saint Martin (very much a local favorite)
- Steps of the Sacré-Coeur
- Jardin des Tuleries
6. Gourmet food shopping at Rue Mouffetard
Arrondissement: 5th
This is a great little street for all your food needs, especially if you're looking to pick up little jars of mustard or jam to take back home! There are also lots of open fruit stalls to get some fresh fruit in your stomach as you walk up this hilly street.
7. Indulge in a delicious Ethiopian meal at Godjo
Arrondissement: 6th
Paris is a great place for multicultural culinary experiences - immigrants from different parts of the world have established a place in Paris for their cuisine, especially African and Middle Eastern food! So don't just stick to baguettes and cheese, especially if you're looking for good vegetarian food. Try out Ethiopian cuisine - it's delicious and flavorful, vegetarian-friendly, and fairly cheap. If you've never had Ethiopian food, think of it as similar to Indian food. Lots of vegetables, lentils, spices and a spongy bread similar to roti or naan, served in a huge platter to share.
Check out Godjo! Make a reservation just incase because it's a tiny spot with just a few tables. Order the veggie platter!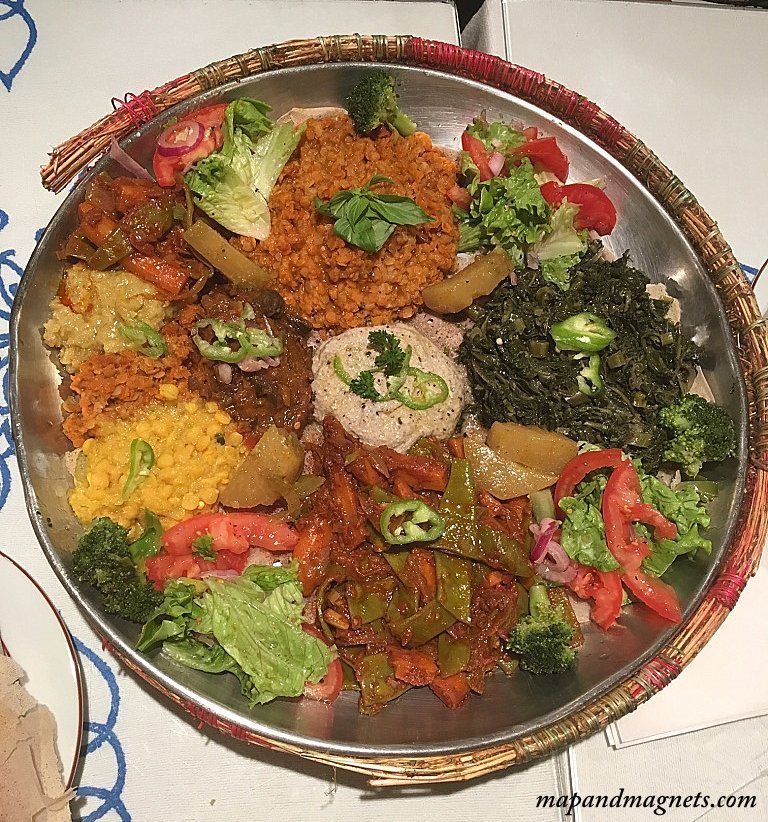 8. Spend a day café-hopping
Arrondissement: 3rd/4th
The best part about being in Paris for more than 3 days is the luxury to spend an entire day café-hopping, and not feel guilty about missing out on important sight seeing. Le Marais (3 rd/4 th arrondissement) is Paris's West Village - hip, young, chic, and historic. It's filled with boutiques, bars and cafés along cobblestone streets. Use this route to chart out a day exploring the coffee culture - I promise you eclectic cafés!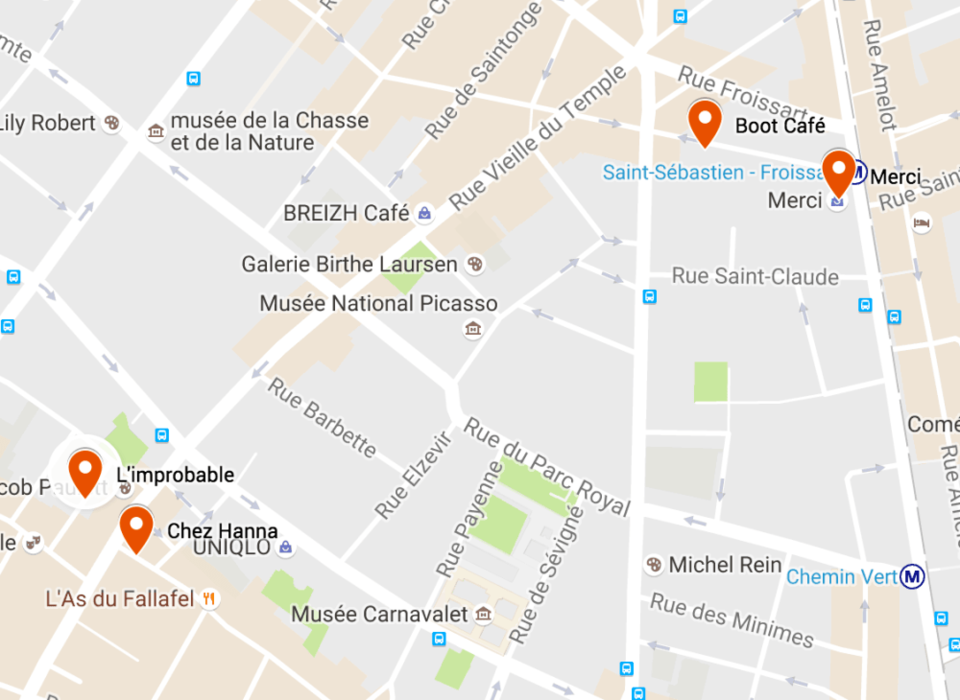 - Merci Used Book Café: a fancy coffee shop with walls filled with used English and French books

- Boot Café: an old shoe repair store converted to a café with delicious scones and café crème

- Pick up a falafel lunch at Chez Hanna and walk to the next café

- L'Improbable: one of the best I've ever been to - what a funky and fun ambience, a food truck set right in the middle!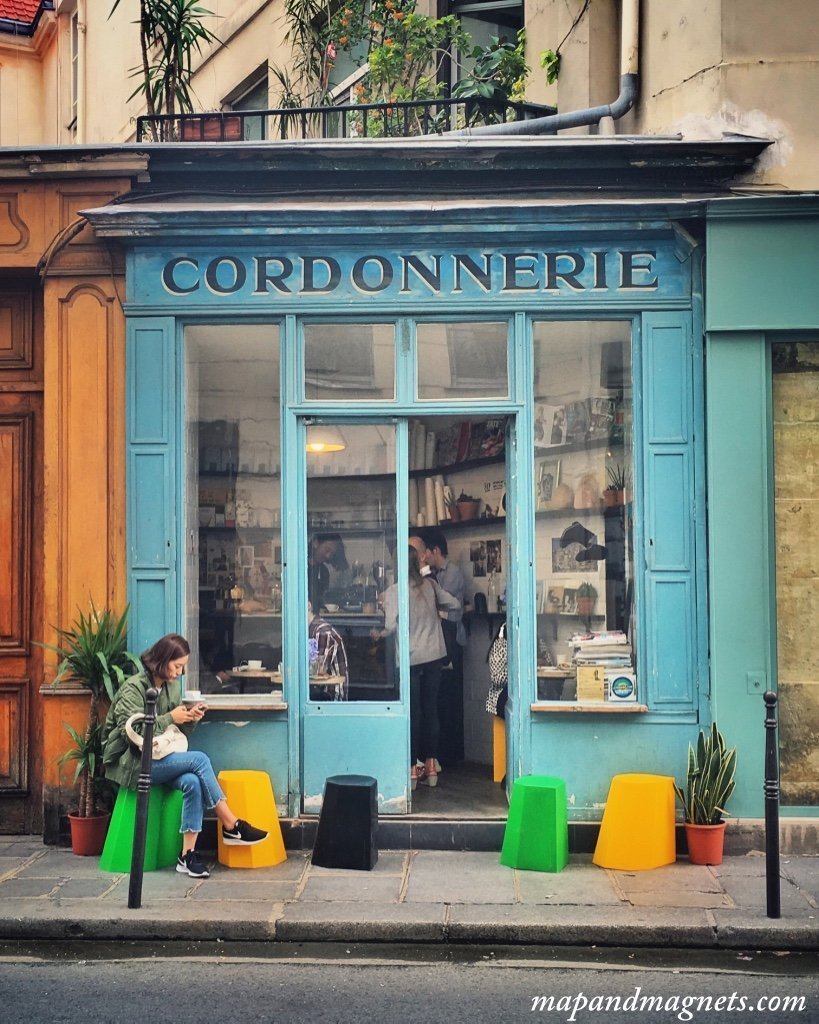 9. Stroll through a street of stationery stores
Arrondissement: 4th
Rue du Pont Louis Philippe has about 4-5 really nice stationery stores - the ones with colorful stacks of textured paper, notebooks you never thought you needed, and just all-around amazingness!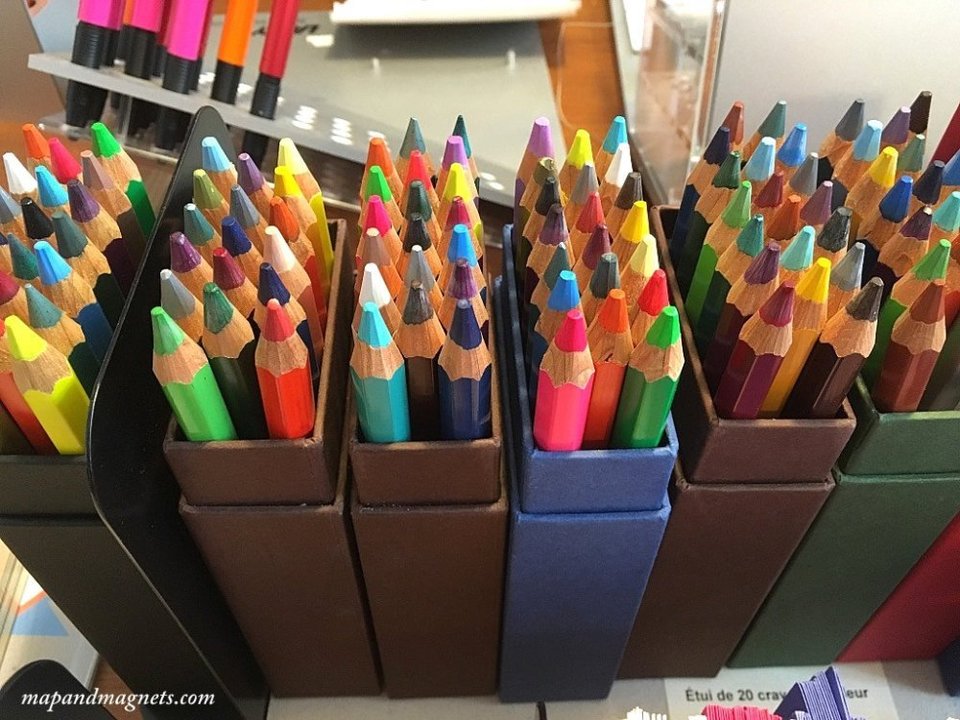 For a caffeine fix, stop by Le Peloton or Le Caféotheque - good coffee shops on the street!
10. Spend a literary afternoon at Shakespeare & Company
Arrondissement: 5th
You can't come to Paris and miss this. I'm not much of a reader, but if there was one place that could convert me, it would be Shakespeare & Company. The bookstore feels like you've stepped back in time and the ladders, typewriters and old chairs in the narrow pathways only add to the magic. On the first floor are reading rooms with beds given to aspiring writers in exchange for helping out at the bookstore. Since its inception in 1951, 30,000 people have slept in the bookstore!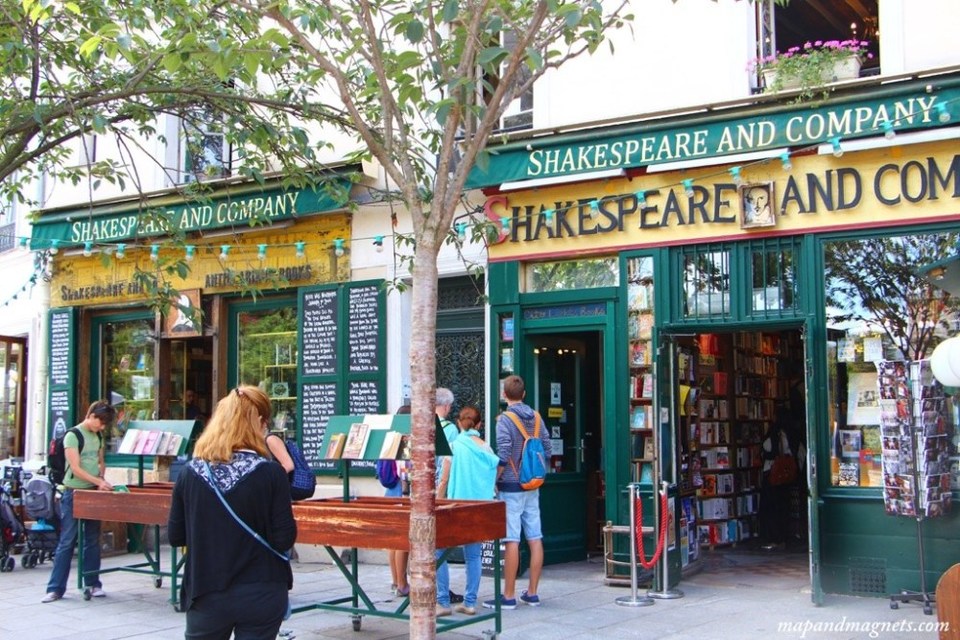 Attached to the bookstore is a newly opened café serving organic fare - bagel sandwiches, juices and smoothies. A bit pricey, but worth it. The outdoor seating overlooks the Notre Dame, but is still tucked in a corner, making it a cozy lunch spot.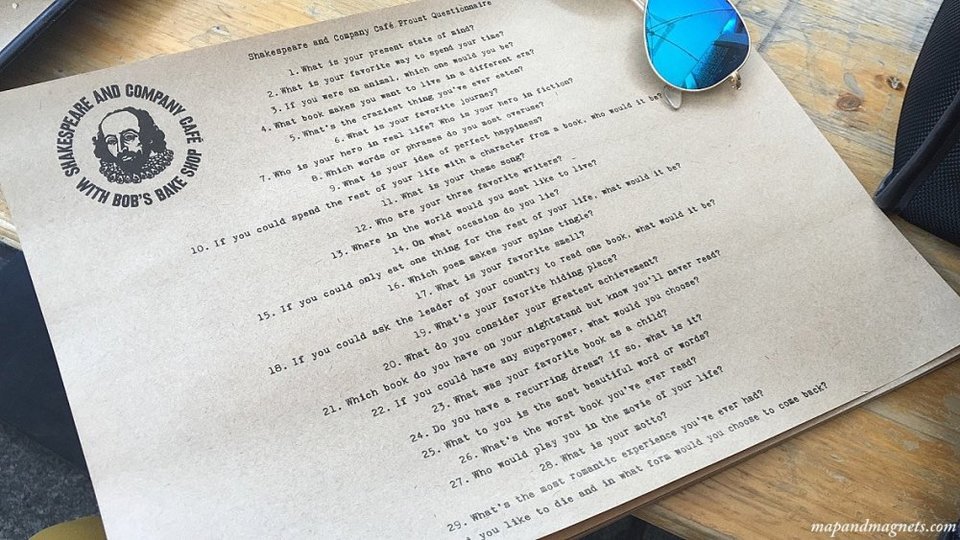 11. Paris panoramas from the Montparnasse tower
Arrondissement: 14th
Don't bother wasting time and money going up the Eiffel Tower - what's the point? You won't actually get to see the Eiffel from up there! Instead, go up the Montparnasse Tower in the 14th arrondissement. For 15 euros, you'll get a much better view of the Paris skyline. They also have a café up there so you can sit for as long as you'd like.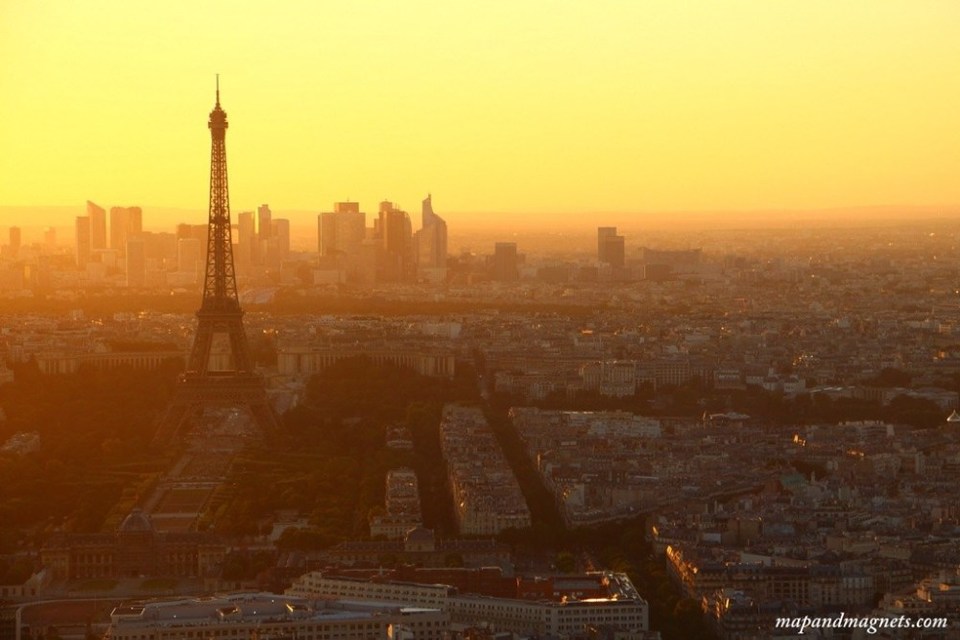 12. Get an unknown cocktail at the Little Red Door
Arrondissement: 4th
Tucked into the bylanes of Le Marais is this speakeasy with a décor that makes you feel you've walked into the 1920s. Best of all, their menu is a book of abstract illustrations, each representing a unique cocktail - you have no idea which image corresponds with which cocktail. Choose the image that appeals to you and be surprised!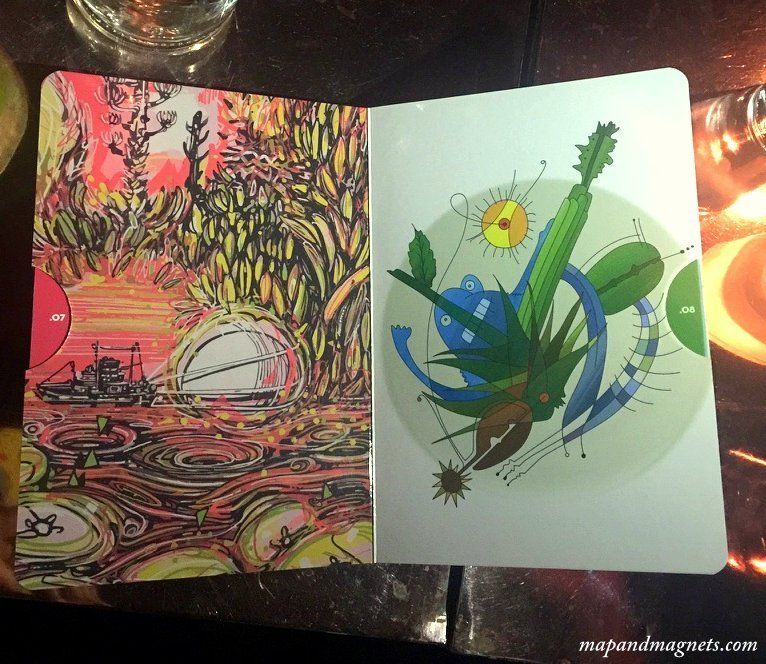 I love getting off the beaten path in a new city. What are you waiting for? Book your flights here.
Have you discovered any other hidden gems or offbeat experiences in Paris? Leave your thoughts in the comments below!