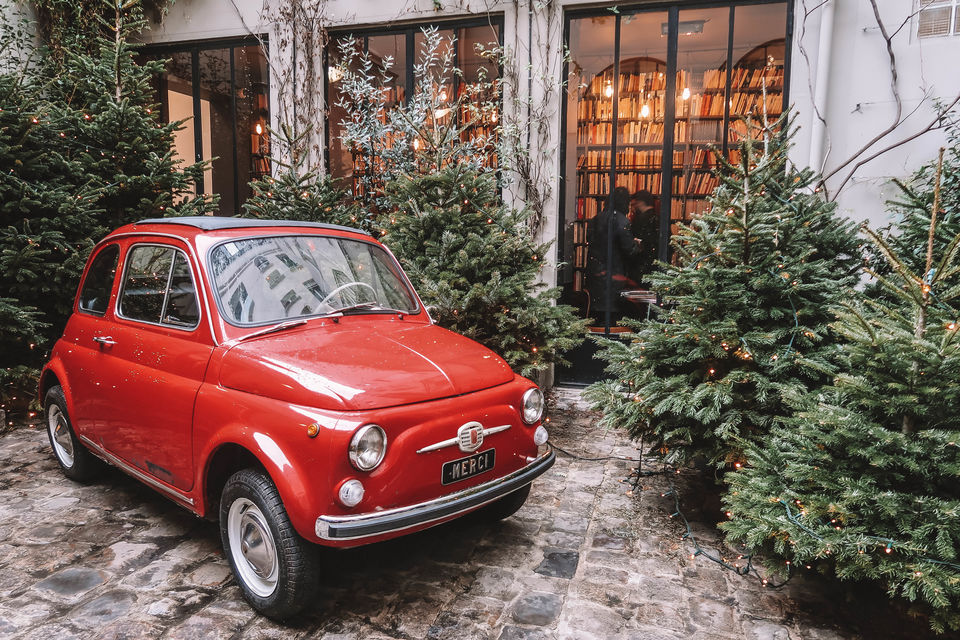 Walk on the streets of Paris and you will come across books at a store, cafe, tucked between narrow streets and stalls at every arrondissement. The city still breathes knowledge where famous writers lived and worked.
Note to all avid readers : Paradise, is the word for these places and you must experience this magic.
SHAKESPEARE AND COMPANY
Promise land, this store is like a dream for bibliophiles. Second hand books showcased outside, which qualifies as a great time pass for anyone who's standing in the long cue. More of these books are mainly sold at a discount in Cafe Shakespeare and Company.
Inside the main bookstore, you'll be awe struck by the number of books squeezed in every corner, quotes imprinted on the stairs and walls, and antique items, giving the most vintage atmosphere. Workshops, group readings, annual literary festival and other events are held at the upstairs library.
Make sure to get your books stamped with the Kilometer Zero stamp for a great reminder of your trip. Photography is not allowed inside the store.
Opening hours : 10am - 10pm
Address : 37 Rue de la Bûcherie, 75005 Paris, France
THE ABBEY BOOKSHOP
Abbey is situated in the heart of Latin Quarter and run by a Canadian, Brian Spence, who's very friendly and helpful. His shop is a great resource for readers searching for otherwise hard to find used and new books. There's literally space for only one person to walk between book shelves. The underground level is so tiny that it's hard for anyone to carry their bags along. Despite these restrictions, the space does not bother it's customers all because of the charming diversity it presents - books piled haphazardly to the ceiling, warm lighting and jazz music playing in the background.
On a side note, the owner graciously offers complimentary hot coffee and green tea for you to enjoy while you browse.
Opening hours : Monday - Saturday, 10am - 7pm
Address : 29 Rue de la Parcheminerie, 75005 Paris, France
BOUQUINISTES OF PARIS
Bouquiniste are mainly book sellers who've made their base at the pavement along the Seine river. It was once said that the Seine is the only river in the world that runs between two bookshelves. Along with used and rare books they also keep old magazines, stamps, souvenirs, magnets, posters and postcards in open green boxes, as per the tourist demand. Make sure you walk these pavements while visiting the Notre Dame Cathedral.
Opening hours : Depends on the area you're visiting
Address : Located on the Right Bank, from Pont Marie to Quai du Louvre, and on the Left Bank, from Quai de la Tournelle to Quai Voltaire
MERCI
A concept store which sells everything from designer home decor, branded clothes, accessories to stationary, books and a cafe. It's a non-profit company that provides funds to support education in Madagascar. Perfect stop for gifts and unique items. Higher on the monetary side but you won't be let down by the quality of their goods.
The cafe entrance has an entire wall covered with bookshelves. So window shop if you don't want to spend much, sip on hot chocolate and read at your own leisure.
Opening hours : Monday - Saturday, 10:00am - 7:30pm
Address : 111 Boulevard Beaumarchais, 75003 Paris, France
LIBRAIRIE F JOUSSEAUME
Inaugurated in 1826, Galeries Vivienne, a covered passage merely created as a shopping arcade is home to this bookstore. Old and used manuscripts, books and postal cards placed inside and outside with a large range of french selection.
Opening hours : Monday - Saturday, 11:00am - 7:00pm
Address : 45-46-47, Galerie Vivienne Vivienne Gallery - 75002 Paris, France