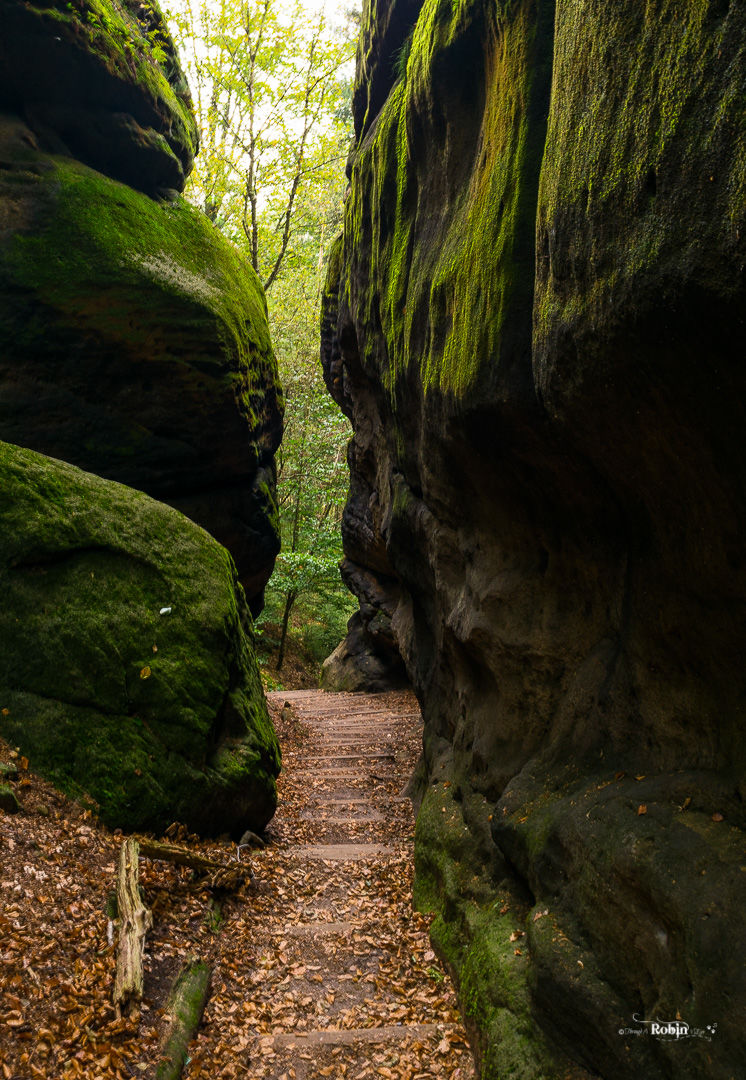 If you never ask, you might never know.
As strange as it may sound, this little piece of advice shared by a backpacker I had met in Germany a few years ago has been my saving grace through all my travel experiences. But today I am going to share with you one of the most amazing secrets that I uncovered during my solo backpacking experiences in Europe – that if you are a little adventurous, then is possible to camp in Europe for free!!
The slight chill in the air had started to blow away all the semblance of autumn when I planned to visit the lesser known corner of Eastern Germany. While casually looking for local hosts in Dresden over Couchsurfing, I was also on the look-out for hiking tips in the beautiful Saxon Switzerland National Park. However, after a 3-hour long discussion with local backpackers, climbers and hikers online, I found myself sitting on a coffee table a few days later, with all of them, taking down notes as they described their most amazing camping experiences from the region – Boofen, as they call it there. A word of caution though – this experience is only meant for adventure-seekers with experience of climbing or mountain trekking.
What is Boofen?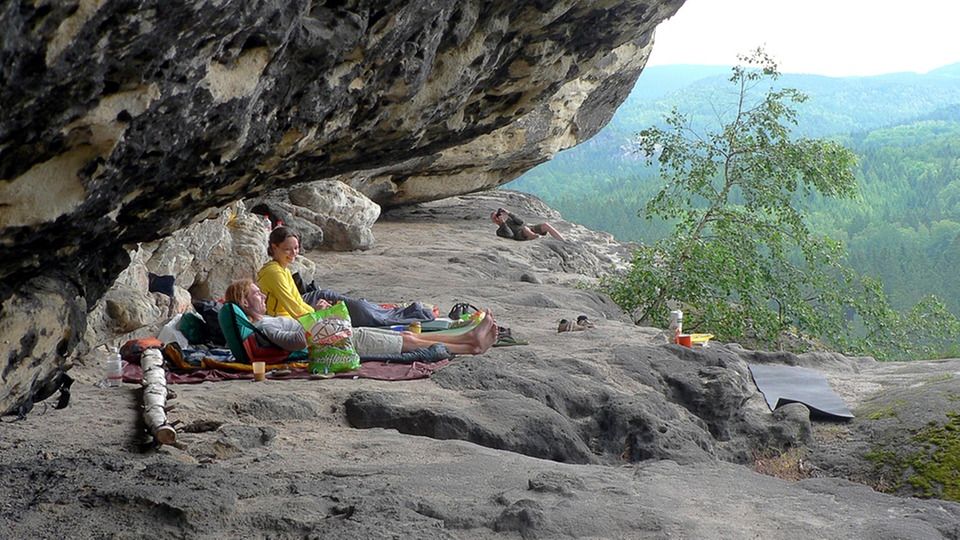 Boofen, or Bivouacking, is the culture of spending a night camping outdoors in the Saxon-Switzerland National Park region along the German-Czech border. This is actually a gesture of respect from the local authorities towards the Saxon rock-climbing tradition, aligned to which they have made natural wild camping legal in certain areas of the National Park. Instead of camping under a canopy or tent, Boofen involves spending the night under the natural cover of cliffs, which makes it almost equivalent of sleeping in a cave with an infinity view of the most beautiful of landscapes in front of you. The fine grains of sand at these sites makes them really comfortable to sleep on, while the natural rock cover provides shelter from weather irregularities. It is not an organised activity under the supervision of any instructors or guides and is community-driven, where hiking and climbing enthusiasts come together to head towards the national park region and then spend the night gazing at the night sky.
Where to do?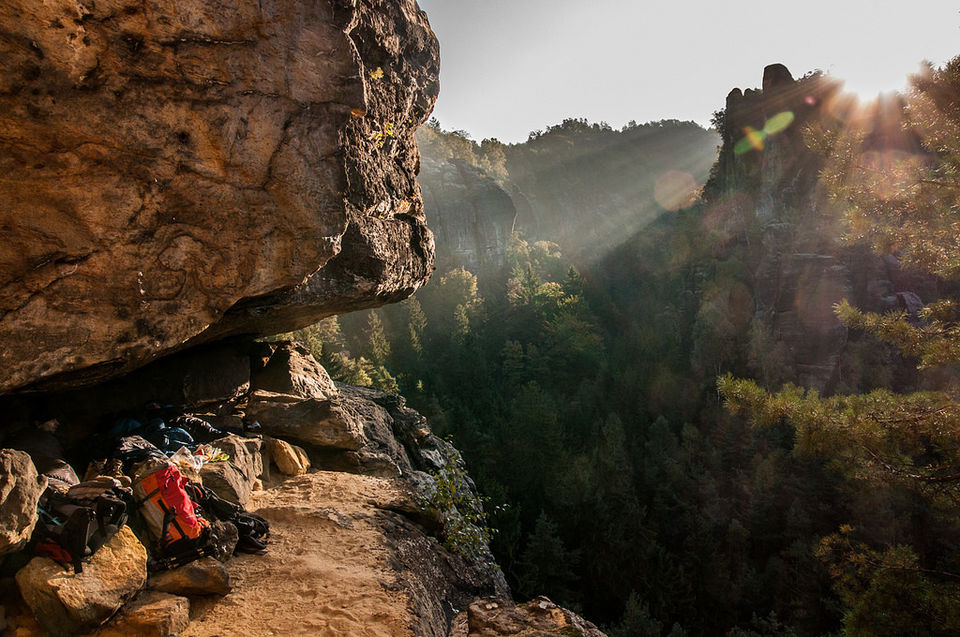 Already boasting of some of the most spectacular natural rock formations in Europe and home to the famous Bastei Bridge, the Saxony Switzerland National Park is only a few hours' drive away from Berlin and Prague. Apart from treating you with breath-taking landscapes all along the Elbe River, this national park has more than 400 kilometers of hiking trails which will satiate the adventurer and wanderlust in you to the fullest. At present, there are 58 marked sites outside the core National Park zone where Boofen is allowed. You can get a list of boofen sites here for your reference. They are a little hard to find even if you know the location on map, so keep a watch out for the following signs put up on the rocks along the trails.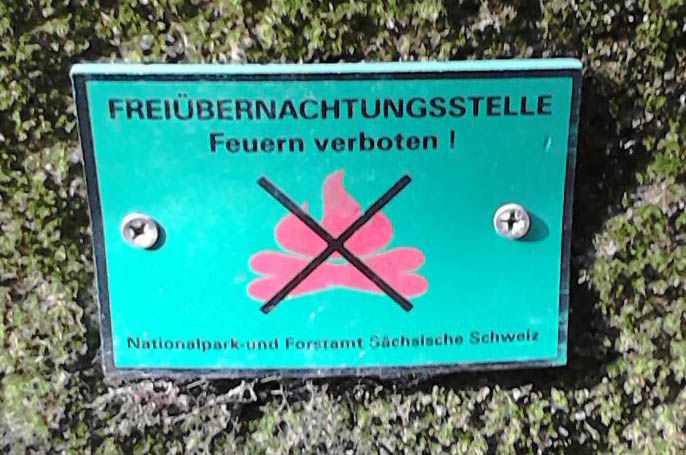 My personal recommendation would be to buy the detailed map made by Dr.-Ing. Rolf Böhm, which is a beautiful map of the Elbsandsteingebirge that shows many of the paths and rock formations in great detail.
How to do it?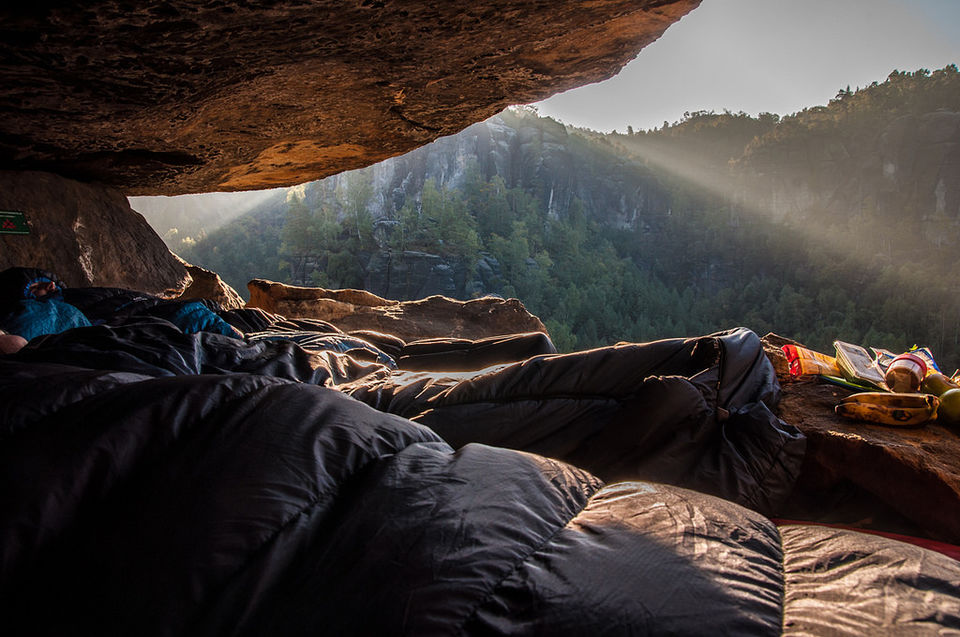 Similar to the way I got to know about this activity and the people involved in it, you can visit local discussion forums on Couchsurfing or Tripadvisor to get the latest developments in the region regarding boofen from locals living in Dresden, Pirna and Bad Schandau. I would personally recommend you to find a local group of hikers/climbers to boofe with, as there are a lot of locals looking for these opportunities on any given day.
Usage of tents is banned and so is lighting up of camp fires. Also, since it a social activity organised and used by enthusiasts sharing a common love for the wild, it goes without saying that you need to leave the place in a better condition than you found it in. Try to find a site at a higher ground as it provides for the most breath-taking sunrise views you will ever find anywhere else.
How to reach?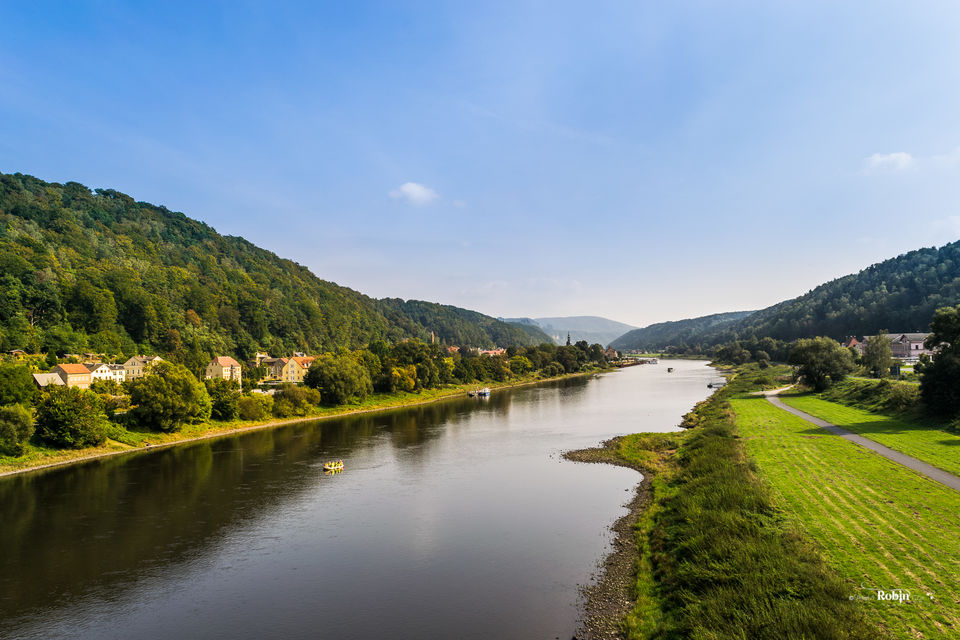 1. Via Train :
The biggest city where you can look for boofe groups and start your excursion is Dresden. Local train S1 from Dresden will take you to the other major town of Pirna along the way before reaching Bad Schandau an hour later. You can check out the train schedule here. You can make any of these cities your base and start your climb from Bad Schandau. You can also visit the Tourist Info Centre located in the centre of Bad Schandau for hardcopies of maps and tips before venturing into Saxony Switzerland National Park.
2. Via Car :
It is a bit more complicated to reach National Park region through car, although it gives you an added advantage of leaving the vehicle closer to the "entrance" of the park, although there is no official entry gate or way into the park but multiple entry trails into the forests. But I guess you got an idea where to find the parking spots now.
How much does it cost?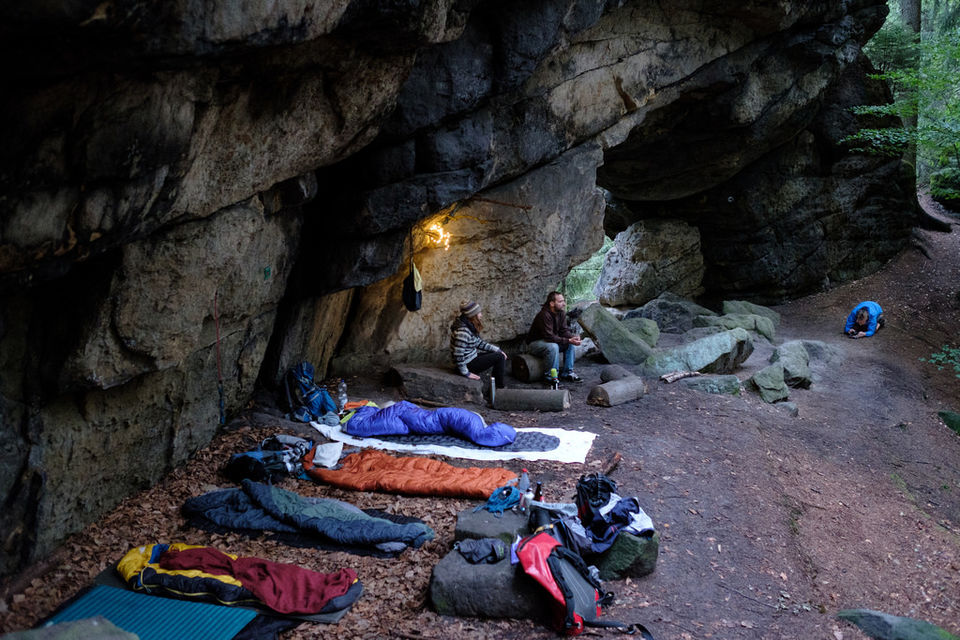 Didn't I tell you already – Boofen is free of cost!! You can carry a sleeping bag if you want, with some food items along with you. But that's practically sufficient for your open air camping experience for the night. However, you can easily find accommodations in Pirna, Bad Schandau or Dresden before or after you have had your Boofen experience. You probably are not planning on leaving your soul out in the mountains forever now, are you?
------------------------
This was one of the local traditions I had coincidentally bumped across during my casual conversations with locals in Dresden and Pirna. Although I did venture towards the region with the intention of boofing the next day, a rain shower forecast later that evening meant I had to cut down on my experience and restrict myself to only hiking across the beautiful landscapes. But I am definitely going back there to complete what I had set my hearts on – and now you know all about it too. So maybe next time we will see each other camping under the starry nights together? I really hope so!!