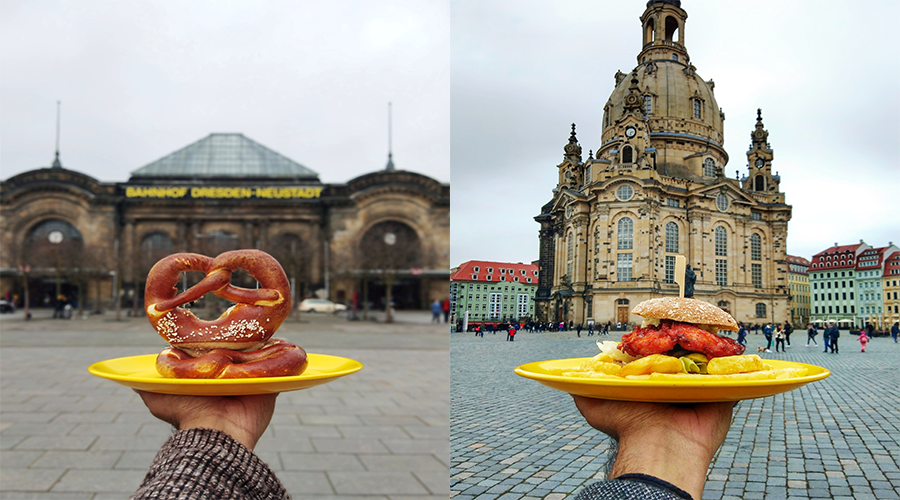 Germany is a land of many contrasts, all of them fascinating, and all of them ripe for exploration in any season. And the one thing it is most popular for is beer! However, Germany has a lot more to offer than just beer and Oktoberfest! And that's what I experienced on my culinary trip there.
On a 7-day culinary adventure across Germany, I travelled all over the country with My Yellow Plate and ate the most delicious foods that the country has to offer. So let me take you through my gastronomic adventures in Germany. But first, Pretzels!
Try mouth-watering German pretzels
I begin my culinary trip across Germany from Berlin, the capital city. Berlin is best known for its historical architecture, street art, lively nightlife, bars and its many cafes. When in Berlin, it would be crime to not tuck into a freshly baked German pretzel - dark, brown, salty and crisp on the outside and soft and doughy on the inside.
Savour Berlin's delicious Currywurst
When in Berlin currywurst is a must eat. And it is even better when it comes with a view of Brandenburg Gate. Currywurst is Berlin's ultimate street food meal. The dish is so loved that it has a dedicated museum named after it, known as The Deutsches Currywurst Museum.
After a yellow plate full of currywurst and a Berliner (a traditional German Beer) to go with it, I packed my bags and moved to Saxony's coolest city, Leipzig. Leipzig is a city for history buffs, music lovers, a playground for young creative people and a perfect place for foodies. One of the most interesting characteristics of Leipzig is its very diverse food scene. Whether you are looking for traditional German food with a modern twist or international cuisine, you won't be disappointed.
When in Leipzig, grab a Bratwurst
What's on my yellow plate? Bratwurst. No trip to Germany is complete without currywurst and bratwurst. It's so delicious and goes best with beer. The name 'bratwurst' is derived from the Old High German Brätwurst, from brät or finely chopped meat, and wurst or sausage. Although in modern German it is often associated with the verb 'braten', which means to pan fry or roast. When in Leipzig, bratwurst is a must eat.
A visit to Leipzig is incomplete without a visit to Leipzig Market Square and digging into a delicious Himbeer Cheesecake (Raspberry Cheesecake).
After a day in Leipzig, it was time to visit the city I was most excited about. Welcome to Dresden. Dresden is the capital city and, after Leipzig, the second-largest city of the Free State of Saxony in Germany. On the banks of the lovely Elbe River, the German city of Dresden is lush and green, filled with forests, gardens and parks. The city is rich with cultural and artistic history; the great opera composer Wilhelm Wagner debuted a number of works here in the 1800s. Today, an independent light opera company keeps the classical art form modern and fresh.
When in Dresden, grab a burger and some beer by the Dresden Frauenkirche. Germany's most notable landmark, the Frauenkirche, boasts of a rich history. Constructed in the 18th century, the church was destroyed in the firebombing of Dresden during World War II. Today, it stands tall and more beautiful than ever.
Enjoy Dresden's decadent Eierschecke
For all the people with a sweet tooth, this is what you cannot miss in Dresden. The Eierschecke (An egg custard cake) is a local specialty and a must eat when you're here. The Eierschecke is a cake specialty from Saxony. This is a sheet cake made from yeast dough with a topping of apples, quark and poppy. Cream, whole eggs, sugar and flour are used for binding. You won't find a cafe, restaurant or supermarket in Dresden that doesn't offer its own variety of this cake. This surely was one of the best cakes I have had in long time!
When in Dresden, Hahnchen Schenkel (grilled chicken leg) with Pommes (French Fries) is a must eat for chicken lovers. The crispy chicken leg is served with french fries and tomato sauce to make it a complete party in your mouth. One bite and you will be hooked!
Now after all that tasty food, be sure to go try out local German beers!
For more tasty adventures from Germany, follow me on Instagram here.
Have you been to Germany before? What were the fun adventures you had there? Share your experience with the Tripoto Community!
In association with German National Tourist Board.