Switzerland is undoubtedly one of the most beautiful countries in the world. It could be best experienced by being close to its natural landscapes.Hiking and camping are the cheapest and the best means to truly feel the Swiss nature. Camping is quite popular in Switzerland and there is a wide network of camping sites offering various experiences. When Switzerland remains as a dreamy elusive destination, camping helps a lot in cutting down the overall cost by a huge margin. Camping now has become even more popular as it is the safest means by which you can spend a night outside. There are many ways in which you can camp in Switzerland. One can stay in an already available camping pod or tent, or can set up your own tent in the dedicated camping site or you can do wild camping. The rules around wild camping is a grey area as there are restrictions associated with certain locations. If you happen to be caught camping in an illegal site like a protected natural reserve, you might be charged a huge fine. And fines in Switzerland like anything else are humongous. For our first experience we decided to camp in a campsite with our own tents and avoid any unnecessary situation.
We had our camping experience in Grindelwald and it was magical. The campsite, Camping Eigernordwand, was right in the cradle of the alps guarded by the mighty Eiger and other peaks and the views were outstanding. The campsite had very clean and well-maintained showers and toilets. One could also buy some snacks from the onsite kiosk. The campsite provides you a travel ticket with which you can take public transportation in the area for free.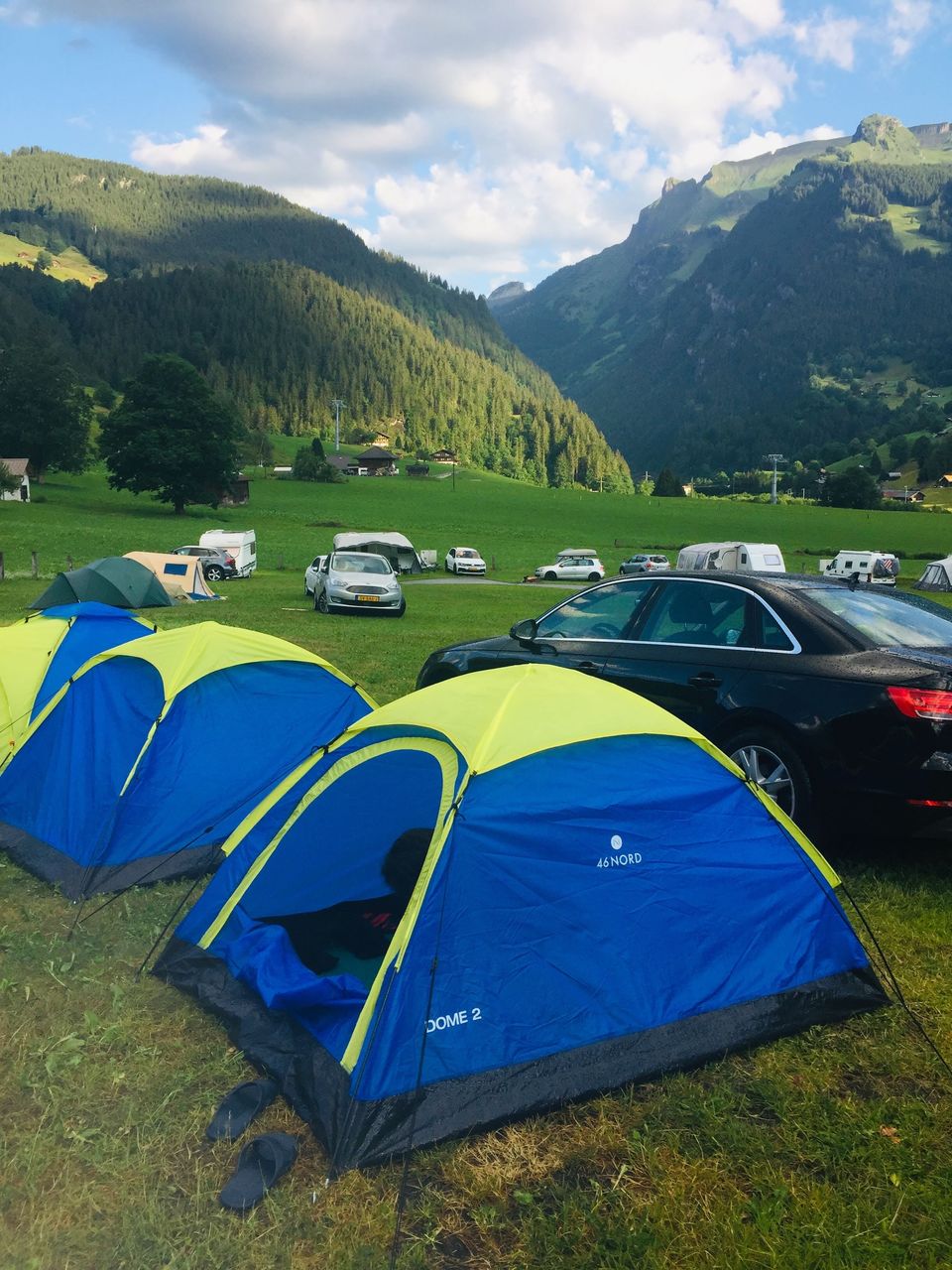 We arrived in the morning around 10 am and booked places for three tents. We were 6 and it was the first experience for all of us. Though the tents were meant to be set up easily, we had spent almost half an hour figuring out how to do it and finally we managed to set them up. Our plan was to do a hike in the nearby area and come back by night. We headed towards the city centre of Grindelwald admiring the tiny chalets dotting the lush mountain slopes contrasted with the snowy peaks. The weather forecast was really bad but we were determined to stick to our plan. After having a soothing hot chocolate from a local bakery, we took a bus towards the cable car station - Grindelwald Firstbahn.
We took the cable car to 'Grindelwald First'. Needless to say, the ride up was epic.
First is a summit at an elevation of 2167 m and gives you unparalleled views of the surrounding peaks. There are many adventure activities to enjoy that start from this location including flyer, glider, mountain cart or Trotti bike. We did the cliff walk which was quite interesting and also free.
Even though it was summer and the weather was rather comfortable at Grindelwald town, it became really cold at the mountain top. We hadn't anticipated that but was relieved to find a sports shop there. Our friends who didn't had sufficient warm layers bought jackets and we started our hike. Our destination for the hike was Bachalpsee or Lake Bachalp , a wonderful mountain lake famed for its unique views with the Alps backdrop. The hiking trail was well marked and it was an easy walk. It's around 3 km and we took nearly one and a half hours with few short stops in between.
To our surprise there were two lakes, both were gleaming like pearls with snow patches around. I still feel goosebumps thinking about the wonderful views of the lake.
We had spent almost an hour relaxing at the lake and taking numerous pictures. We wanted to stay longer but it was getting late we had a long way to go to our tents. Instead of walking back to the First station, we decided to walk down the mountain to the town. This was a rather long route of around 14 km. It was totally downhill and passed many meadows and waterfalls. A particular section of the trail passed a forest and offered a very different terrain. For a good stretch of the trail, you walk facing the Snow clad peaks and was particularly delightful. It got really dark and we had to rely on our mobile torches. We were really tired by the end of the hike and was looking eagerly to curl up in the warmth of our sleeping bags. We discussed that it was brave of us to have the tents already set up and it was unimaginable to think of doing it after the exhausting hike.
It was around 10.30 pm when we finally reached our campsite and we had the biggest shock of our lives. We couldn't find our tents (!!) at the place where we had set it and we had no clue what happened. All kinds of doubts and thoughts passed our minds about the possible explanation. The reception was closed and we had no idea what to do next. Suddenly a nice person came to us and asked if we were looking for our tents. He then explained what happened and showed us our tents. At the campsite, it had rained heavily and there was a storm when we were high up in the mountains. Our novice skills of setting up the tents were not a match for the winds and all three of our tents flew to a nearby field. Some kind people took what remained of the tents and had secured them safely close to the reception building. We contemplated whether to look for hotel rooms or even to head back to our apartments. We were however determined and pulled in our strength to set the tents up again. Our urgency to rest and the experience from the morning session helped us in setting them up pretty quickly. All three tents were torn at places but fortunately the roof section was intact and we managed to set them decently. It was the birthday of our friend and we finished everything before midnight. All 6 of us somehow squeezed into a single tent and celebrated our friend's birthday and the success of our hike over some fine wine and cheese.
It rained heavily throughout the night but we slept comfortably and dry. Woke up to this view the next day morning
It was a truly memorable experience and we are looking forward to do more camping and explore all that this amazing country has to offer.
Costs per person :
Camping: 20 CHF
Cable car from Grindelwald to First – 32 CHF
We bought a tent for 28 CHF. The camping site allowed car parking for a rate of CHF 4 per day.
More pics: