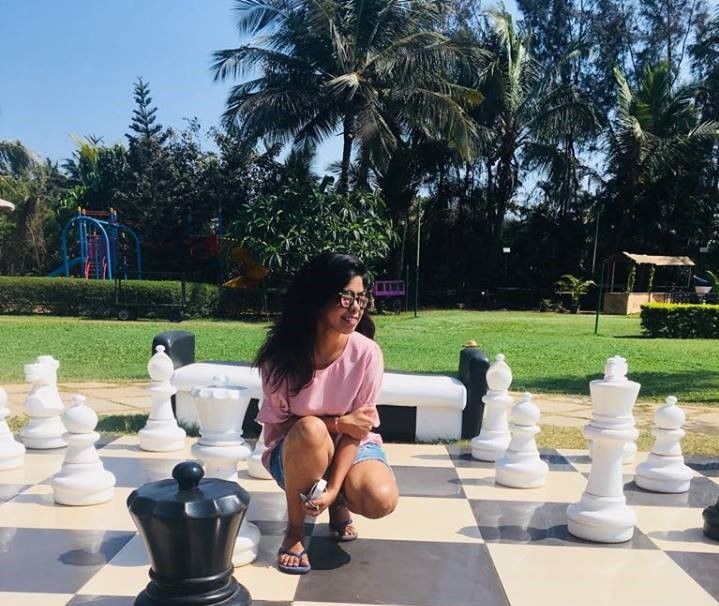 Something amazing happens when you Turn 30, Says Science.
Well yes, what best could have happened when Tripoto Sponsored a 2N/3D Stay at Royal Orchid Beach Resort & Spa, Goa.
Yes, I was a runner up for 2017 November Tripoto Leader Board and took a trip to GOA on March 2018 for my birthday.
So, this resort is located in south Goa and it is perfect to be at peace as I wanted to stay away from Crowded sides. The resort is located right near the Uttorda Beach and you won't have to find any other beach if you just want to relax.
How to reach here?
By Air- The nearest international airport is the Dabolim, which is situated near Vasco da Gama. You have to cover distance of approximately 29 kilometers off Panaji to reach to the airport. The airport supports nearly all the domestic airlines operating to Goa.
By Train - Adequately connected to Goa, rail system is just perfect when it comes to mobility. The railways system is connected from Bangalore and its 1874 kilometers run from Delhi makes it easily accessible. Two most important railway stations are Margao and Vasco da Gama.
By Road- In addition to the Air and Rail, the Goa State Transport Corporation also provides unparalleled transport services when it comes to mobility in the Goa. Maharashtra State Corporations and Karnataka operate from Kadamba bus stand in Panaji making it easy for the commuters to be mobile in the vicinities of Goa. Visitors can also hire private cars from various rent-a-car services in Goa. Surprisingly, there is another unique and interesting means of commuting to and in Goa. You can enjoy Goa's motorcycle taxi that carries a single passenger at a time. Motorcycles can be hired in case you wish to commute in the vicinities.
By Sea- Well, there is another means of transport available in Goa and that is by sea route. Tourists can also opt for ferry services that are also excellent when it comes to commuting in Goa. There are some shipping companies that provide boat services from Mumbai to Panaji.
About Royal Orchid Beach resort – The resort is approx. 5 acres and has 70+ rooms divided into various categories like club rooms, Luxury suites and Royal suites. They also have poolside bar which is convenient to sip a drink while you are relaxing in the pool. You can also request a barbecue in a pool with an extra cost. Also, they serve multi cuisine all day diner. And of course, and in- house water park and a kid's play area.
What did we do?
Well I took one of my friend along with me who was moving back to shilling for good. I thought it was the best idea, so I could spend time with her before I send her off.
We arrived on Thursday morning via Bus from Bangalore, the check-in at the resort is only at 2pm. Well they suggested we could freshen up with their guest bathrooms and have our breakfast and also were given a soothing welcome drink.
The breakfast buffet was spread with too many varieties of food which includes both English and Indian delicacy. Once we filled our bellies with food we went out to take a stroll outside the property and luckily found a bike rent shop right next to the property. We rented one of the bike and went on to a street shopping nearby and bough some accessories and scarves.
It was almost time for check-in, so we got back to our resort and were guided to our room.
We were provided with a club room that offers a lawn and a pool view. The only downside of club room is that they did not have a mirror or a dressing table. so, we had to fight for mirrors while doing make up in the bathroom. But i guess for most of them that should not be an issue. Ha- ha.
It was about time after a relaxing evening and hit 12 for my birthday. The property arranged a cake for me with no cost at all which was a very nice gesture of them. And the dinner was great too. There were some singers at the dining area who were singing some beautiful songs with the guitar while we were cherishing our food. My day started and ended so beautifully.
We took a walk to the beach in the night to star gaze and the shacks nearby was lit up with the fairy lights which all looked too warm to have spent my day .
The next day we woke up a little late and spent the entire day playing in the beach and sipping some beers and utilized the spa facility before we could say goodbye to the property.
Thank you Tripoto for making my 30th so beautiful.
I recommend you all to visit this property once.
Here are some pictures from my adventure.
Cheers,