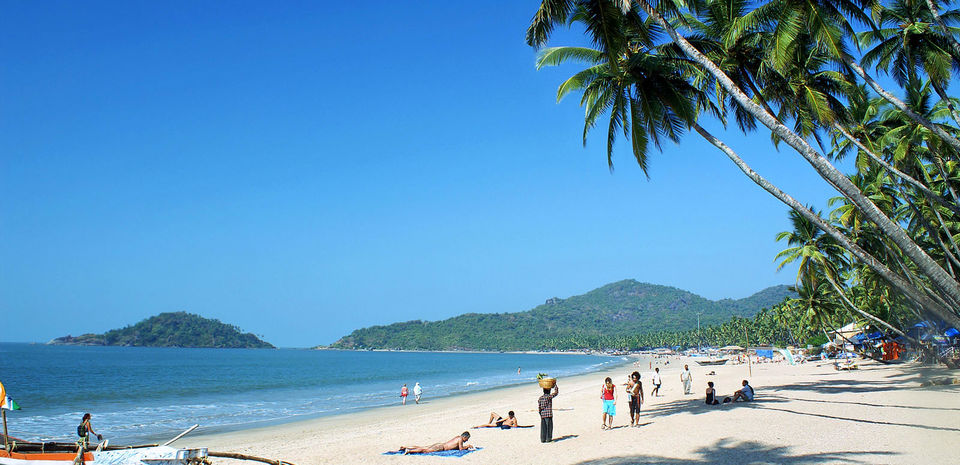 Baga Beach Goa - Baga Beach is one of the most visited beaches in North Goa. It is 2 km away from Calangute Beach which is situated in South Goa. Baga contains rows of shacks and fishing boats, and at high tide the beach is narrow. Baga Beach is popular due to its nightlife hence we place it in the best beaches in Goa list.
Baga Beach Goa 17.3 Kilometer away from Panjim which is capital of Goa. There are plenty of beach shacks, coffee bars, clubs, shops, street food vendors, and water sports activities in Baga Beach which makes it more attractive. It is a very famous beach for nightlife and also known as Party Hub in Goa.
Popular for its shack life, many foods and drink joints are provided by St. Anthony's for delicious seafood and the well-known Cafe Mambo and Tito's Bar for the night-time revel. For couples, a candlelit dinner at the beachside is a perfect retreat for making it a romantic Baga beach holidays. It is one of the best beaches in Goa which has lots of activities and adventure life. You can do water sports activity at Baga Beach including Jet Ski, windsurfing, and parasailing.
Best Time to Visit Baga Beach Goa and Weather Conditions -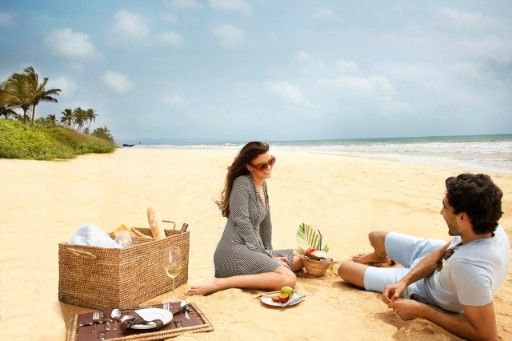 The best time to visit Baga Beach from October to February because at this time the weather is cool with less humidity. It is the peak time when most of the tourist visit this location. You can also visit Baga Beach in monsoon season but the humidity is likely to be higher. April and May are very hot with an average temperature of 35 degrees. So you can visit Baga Beach in the month of October to February when the retreating north-eastern monsoons and the festivities make it one of the best beaches in India.
Nearby Place Around Baga Beach -
Baga Beach Goa is the most famous beach which is surrounded by all another place which makes perfect holiday spot for beach enthusiasts. So you have to visit below-mentions place to make this trip unforgettable.
Also, Read - Top Most Famous Restaurant in Goa
Adventure Thing to do at Baga Beach -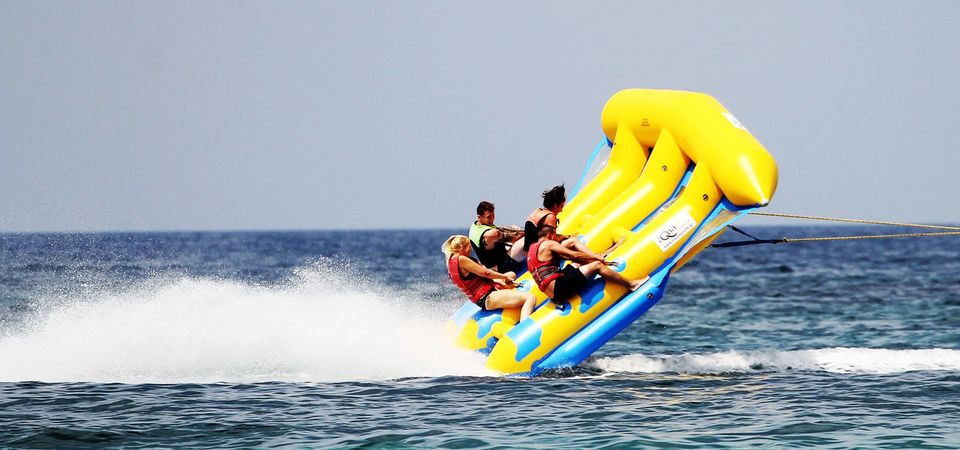 Baga, a top beach in Goa which is a favourite holiday destination for adventure, water sports, and sea lovers. Together with Calangute, Baga makes up the party strip of Goa. You can do lots of activities here including -
1. Water Sports Activity - You can do adventure or water sports activity at Baga Beach Goa like bumper boats, water scooter, Jet Ski, dolphin cruises, and parasailing.
2. Holi Parties - You can enjoy Holi parties at Baga in the early March.
3. Enjoy Nightlife at Baga - Baga beach is a favourite tourist spot which has great nightlife. Café Mambos & Club Titos is the best nightclub at Baga. You can enjoy trance, electronic and Indian Bollywood music here. Entrance fees range is between 1500-2000 including unlimited alcohol.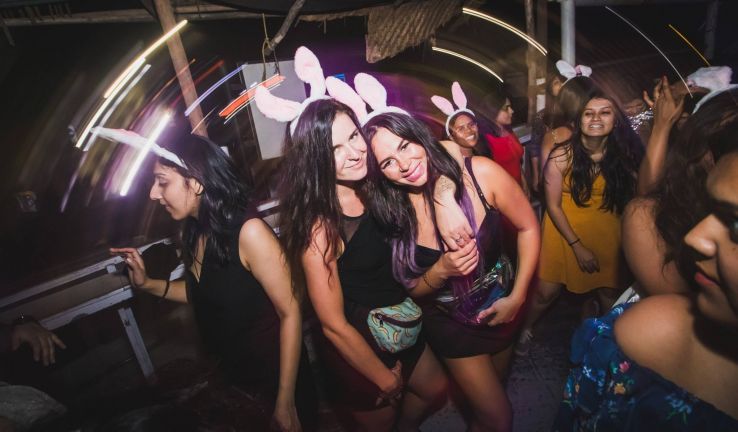 4. Foods at Baga - Enjoy Mediterranean and European cuisine, while sitting beside the pool at Fiesta. You can enjoy seafood and Goan cuisine food here.
5. Health Wellness Activity - You can enjoy yoga and meditations session at ABS Yoga Retreat Centre near Baga Beach.
6. Park Near Baga - You can visit Blue Whale Water Park, Monsoon Fun Park, and Snowpark at Baga Beach which is the best place for kids and adults.
Best Hotels List Near Baga Beach -
You can enjoy all types of food at Baga Beach like North and South Indian, Chinese, Continental, Goan Food and Shacks. Here we placed some hotel, Resort and Villa list at Baga Beach -
1. The Baga Beach Resort -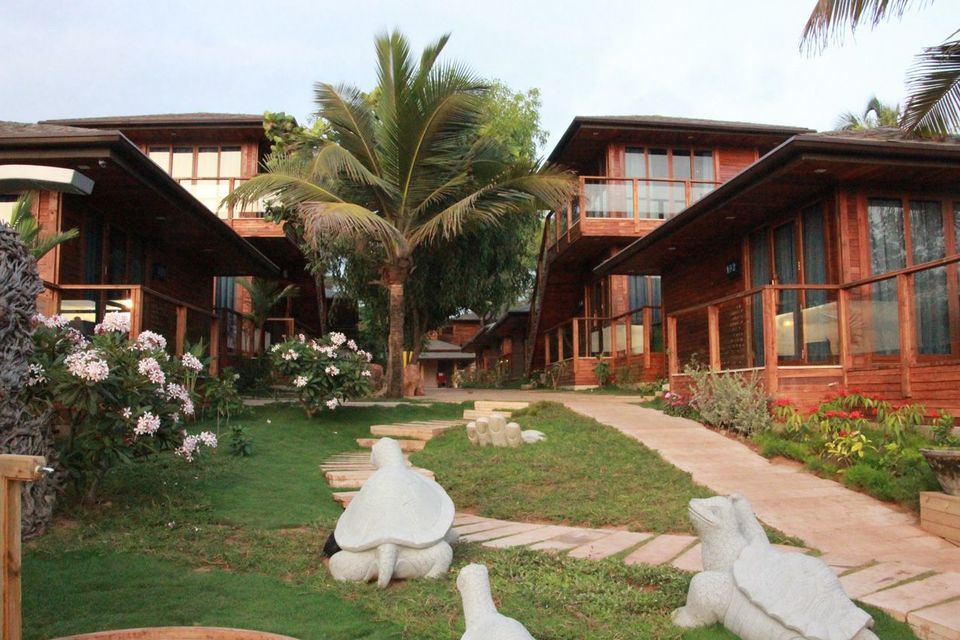 The Baga Beach Goa Resort is a luxury beach resort located at a close proximity to the Baga beach. It ensures an absolutely peaceful and memorable stay to unwind and rejuvenate in Goa. It is located at the 280-metre distance from Baga Beach.
Estimated Price - Rs. 4000 per night
2. Lazy Lagoon -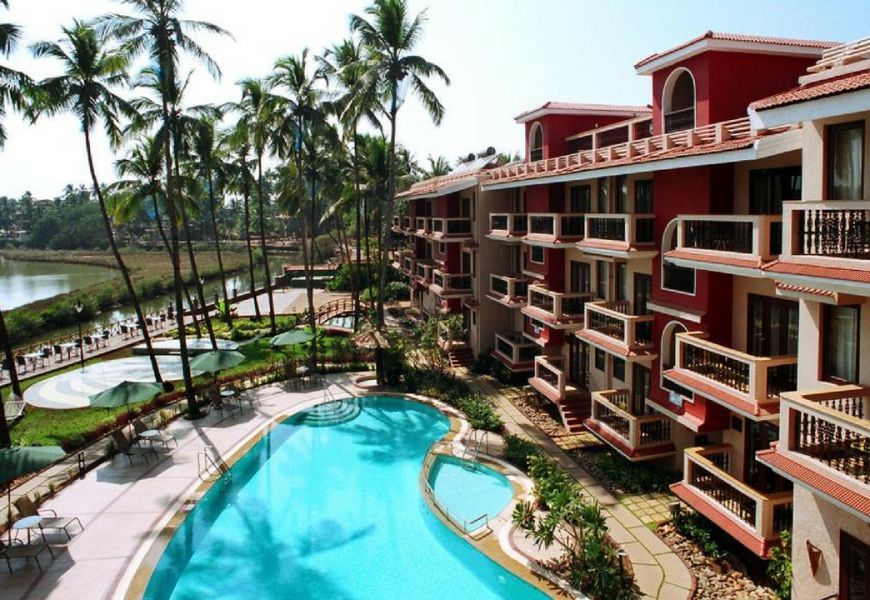 Lazy Lagoon is a very comfortable hotel near Baga Beach which has all the modern amenities to ensure a pleasant stay. It has all basic facilities like a swimming pool, a pub bar and excellent multi-cuisine food. Lazy Lagoon located at 1.5km away from Baga Beach.
Estimated Price - Rs. 5000 per night
3. Keys Ronil Resort -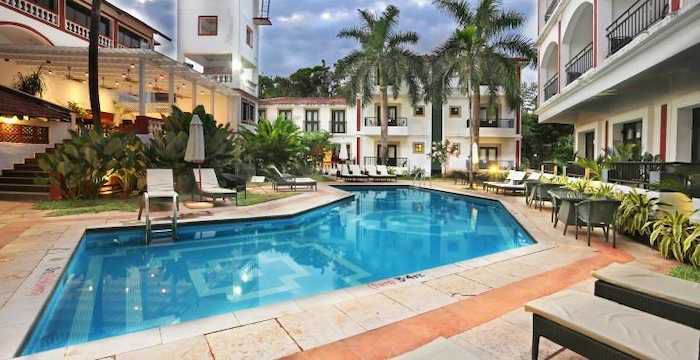 Keys Ronil Resort is a 3-star hotel near Baga Beach which has 24-hour room service with all delicious food. The ultimate luxury Resort according to the price which has a 500-metre distance from the Baga Beach Goa.
Estimated Price - Rs. 3500-4000 per night
4. Sea Horse Private Pool Villa -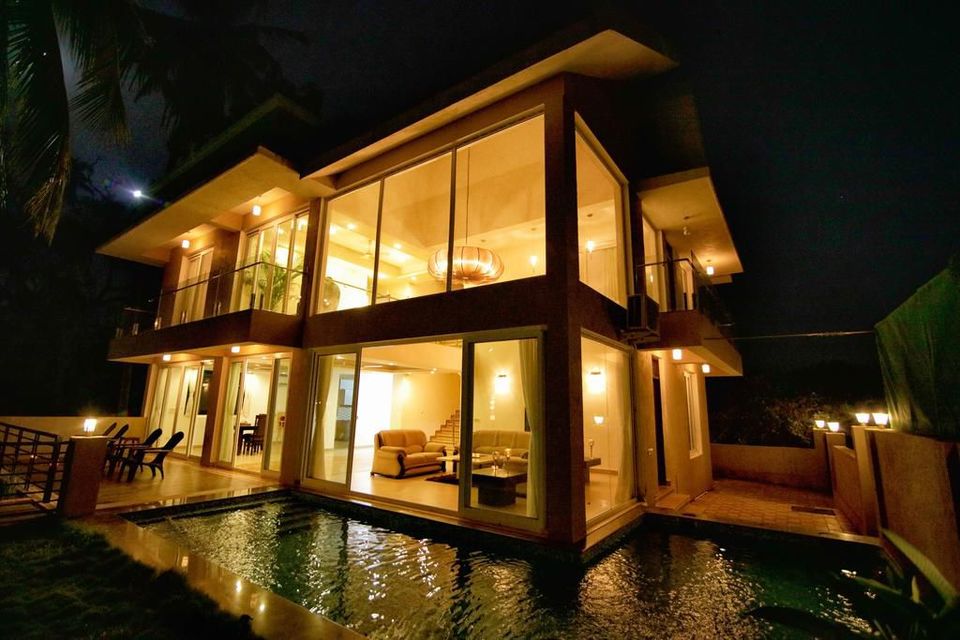 It is one of the famous villas near Baga Beach which is located at the 1km distance from Baga Beach. It is a 4 Bedroom Private Pool Villa which is suitable for the 8-10 group of people. No meal provided in this villa you can hire a cook for making the food.
Estimated Price - Rs. 8000-10000 per night
5. Beira Mar resort -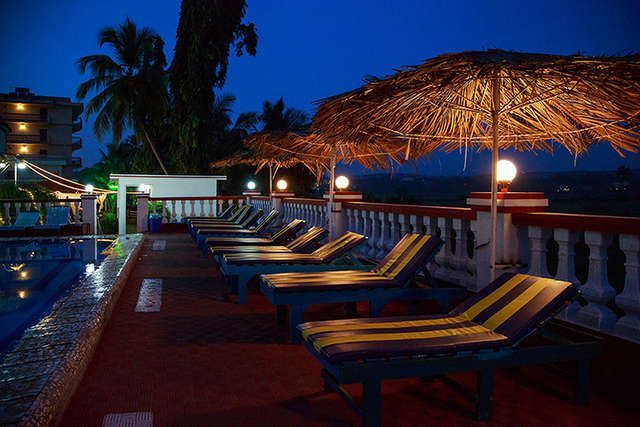 It is a newly opened villa near Baga beach which is just opposite the road from the famous 'Tito's' club and about 5 mins walk to the world famous Baga beach. It offers many options for the holiday goer including a variety of restaurants, shopping, entertainment and nightlife. The famous Baga beach offers all kinds of water sports and beach shacks with a variety of economical cuisine. The resort has 2 sparkling swimming pools and in-house Restaurant and bar which provide all kinds of vegetarian and non-vegetarian delicacies including delicious Goan and seafood and room service are available.
Beira Mar resort is suitable for 10 guests and It is the perfect place for a family vacation or for a small group that wants to be near the beach and clubs.
Estimated Price - Rs. 6800 per night
Click Here - Best Honeymoon Couples Hotels in Goa

How to Reach -
By Air - You can reach to Baga Beach by air which is the time saving or easiest way. Goa airport connected with all major cities like Delhi, Chennai, Kolkata, Jaipur, Mumbai etc. Baga Beach is just 39km away from Goa Airport (Dabolim).
BY Train - You can select a train journey to reach Goa. Vasco da Gama and Madgaon is two major railway station which is about 40-50 km distance away from Baga Beach.
By Bus - The Baga beach is 10.5kms from Mapusa, and 17.6 km from Goa's capital Panaji if you take the Chogm Road. Mostly people not prefer bus services just because of comfortable reasons. You can also book a taxi from the nearest railway station or bus stand.
So that's all about Baga Beach Goa and its adventure places. Before planning a Goa trip keep all above thing in your mind to avoid any hectic situation. Here we mention top Hotels, Resort and Villa list whichise very close to Baga Beach. Bust of luck and have a safe journey.