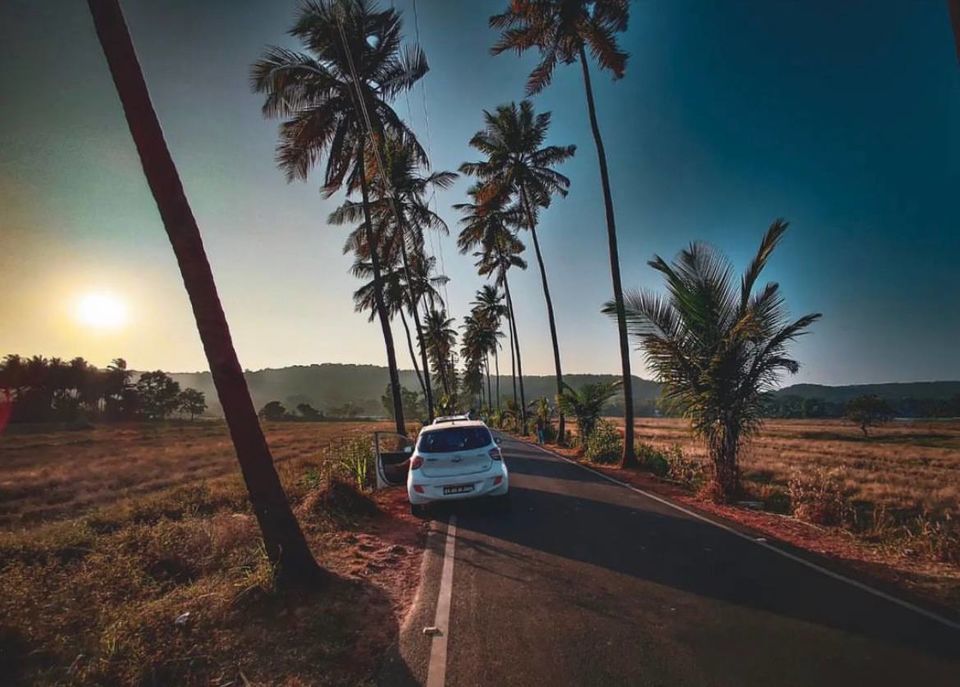 Shall I invite you to a cup of tea, or a trip to Goa?
So, there we were, chilling and sipping on our drinks, discussing where to head for our next adventure. And guess what? After a lot of brainstorming, we finally zeroed in on Goa, haan bhai Saurabh Goa wala idea tera hi tha, the ultimate beach destination in India that promises nothing but pure magic! I mean, who can resist the charm of its hippie culture and susegad lifestyle, right? Every year, hordes of backpackers, travellers and hippies from across the globe flock to this sunshine state during the summer months, to soak up the sun, get a gorgeous tan, fall in love, and make plans to return year after year.
And I must say, I was no exception! The pristine beaches, delectable Goan food, and water sports left me spellbound, prompting me to think of coming back here yet again. Oh, what a spectacular summer it turned out to be!
We decided to reach Goa by train as it's a short 8 hrs morning journey. As you board the train from Mumbai to Goa, you can feel the excitement building up inside you. This is going to be a journey like no other. The scenic beauty of the Konkan coastline is going to unfold before your eyes. The train ride from Mumbai to Goa is an experience that you will cherish for a lifetime.
As the train passes through the numerous tunnels on the route, the darkness gives way to the beautiful vistas outside. The train slowly crosses over the numerous bridges and viaducts, and you can feel the adrenaline rush as you look down at the glistening water flowing underneath.
As the train moves further south, you can see the landscape change once again. The tall coconut trees sway in the wind, and the blue waters of the Arabian sea glitter in the sunlight. The train runs parallel to the sea, and you can catch glimpses of the beautiful beaches that dot the coast.
As you reach Goa, the train slows down, and you can see the beautiful churches and Portuguese-era buildings in the distance. The train finally pulls into the station, and you step out with a sense of awe and wonder at the beauty of the journey
As soon as we arrived in Goa, we checked into our resort and ordered two fascinos (Goa aur Fascino ka alag hi rishta hai). We stayed at Raj Exotic Palms, which was both reasonably priced and luxurious.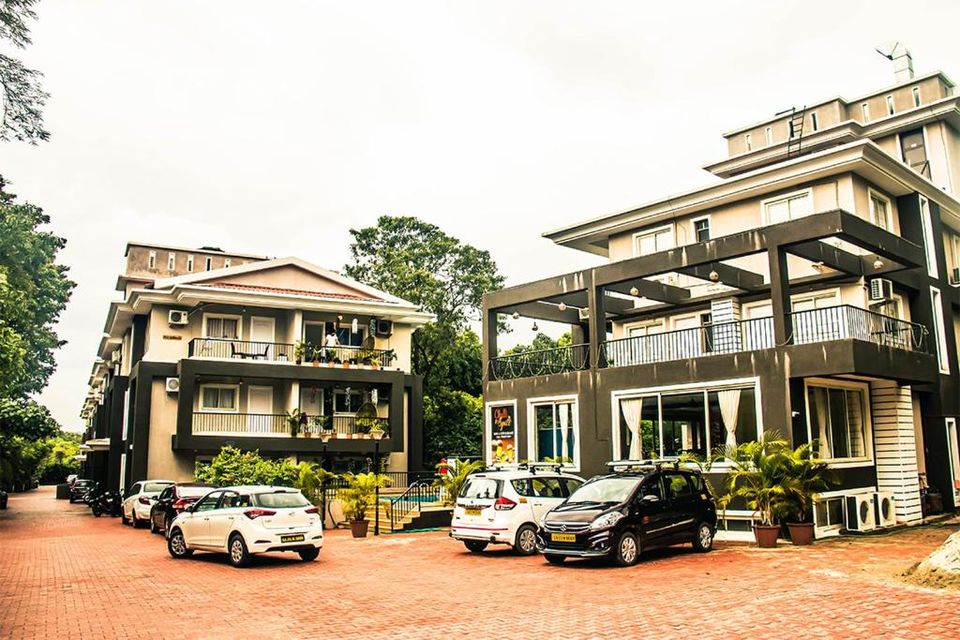 It was already getting late in the evening and we didn't wanted to waste any further time so we started from Anjuna beach which was like 5 kms from our resort.
Anjuna beach is a beautiful and lively spot in Goa, known for its stunning scenery and vibrant nightlife. The beach is surrounded by lush green hills, and the sand is a golden shade that sparkles in the sunlight. As the sun sets, the beach comes alive with music, dancing, and bonfires.
If I were to describe my experience at Anjuna beach, I picture walking along the shore, feeling the warm sand between my toes and the cool water lapping at my feet. I hear the sounds of live music and laughter drifting across the beach, creating a festive and joyful atmosphere.
Whether you're looking for a peaceful retreat or a lively party scene, Anjuna beach seems like a fantastic destination to explore.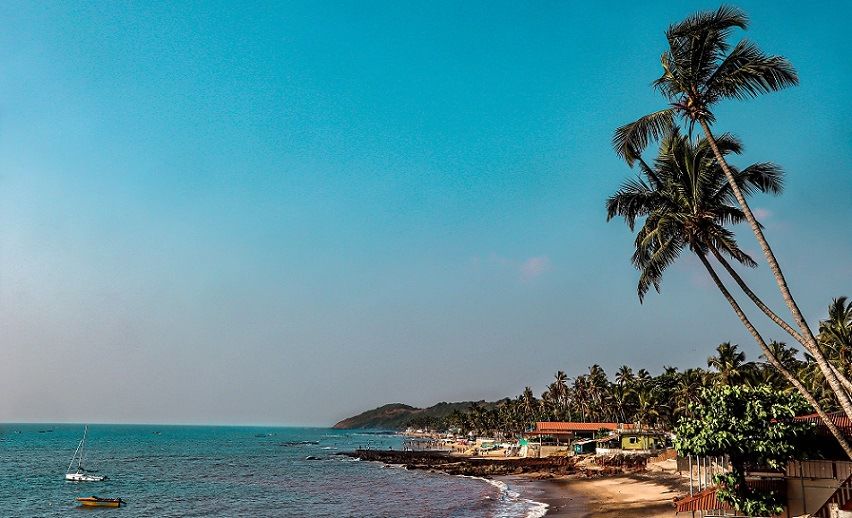 We tried speed boating at Anjuna Beach to obtain a sight of both the Arabian Sea and the adjacent beaches.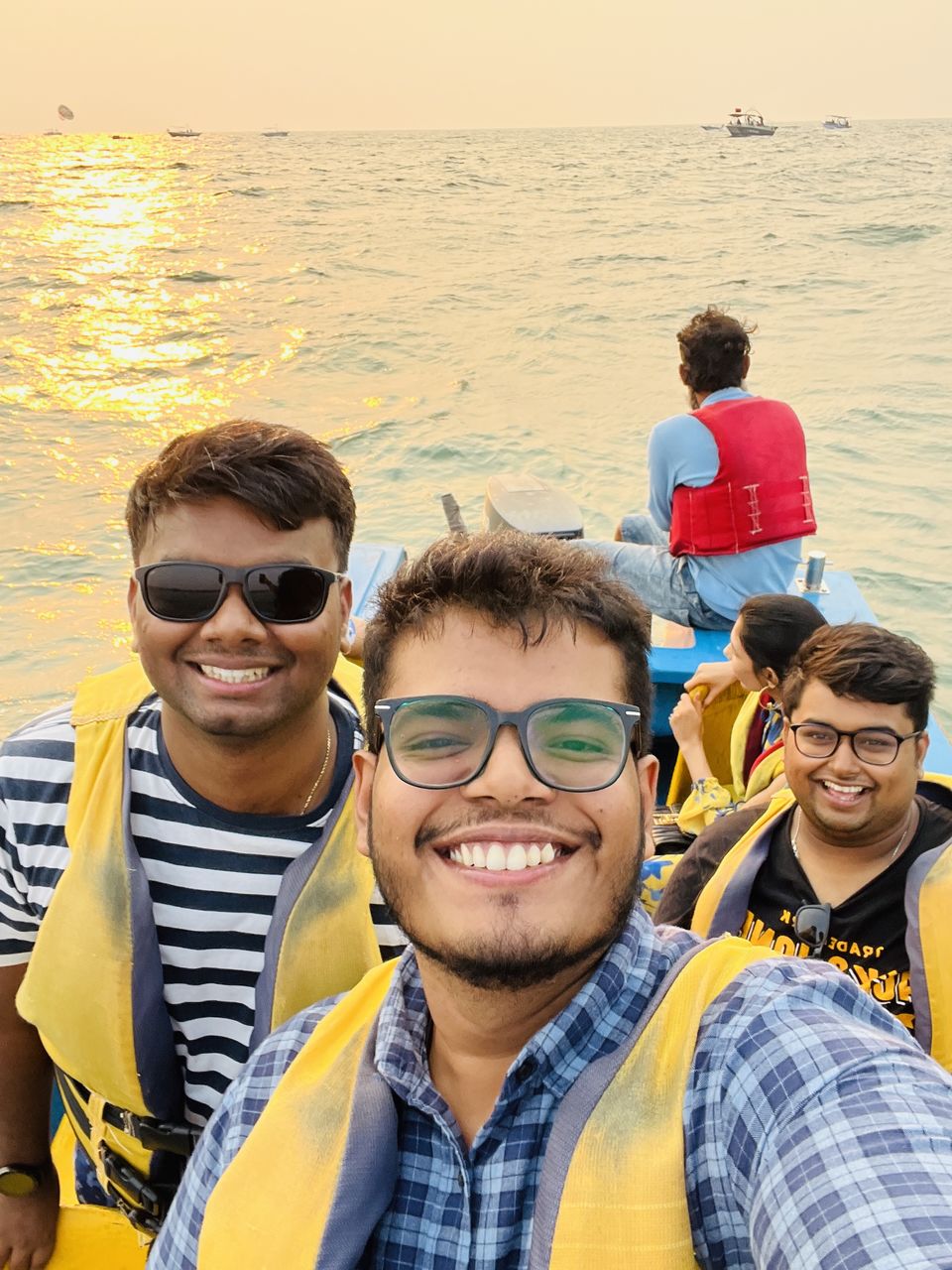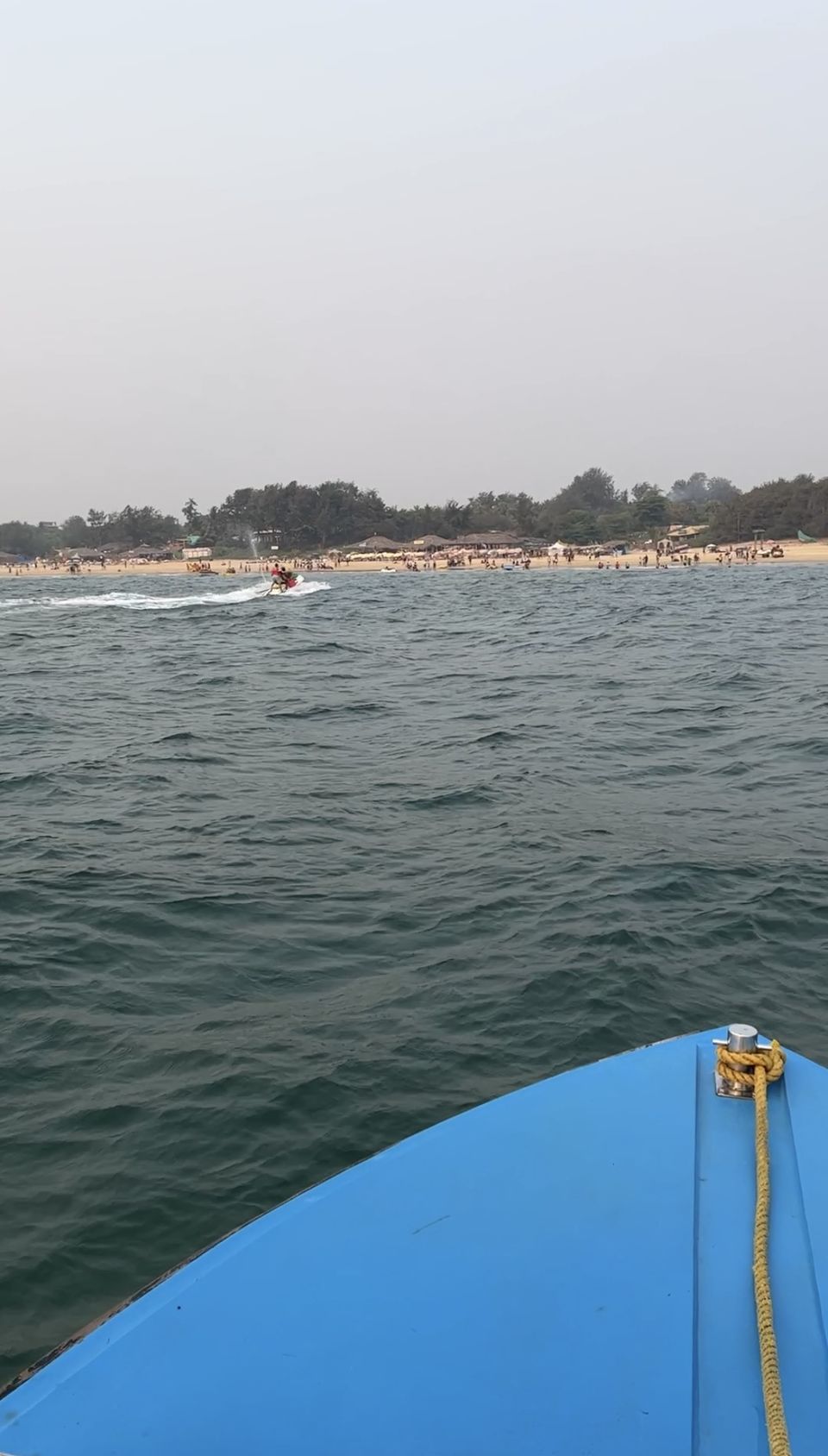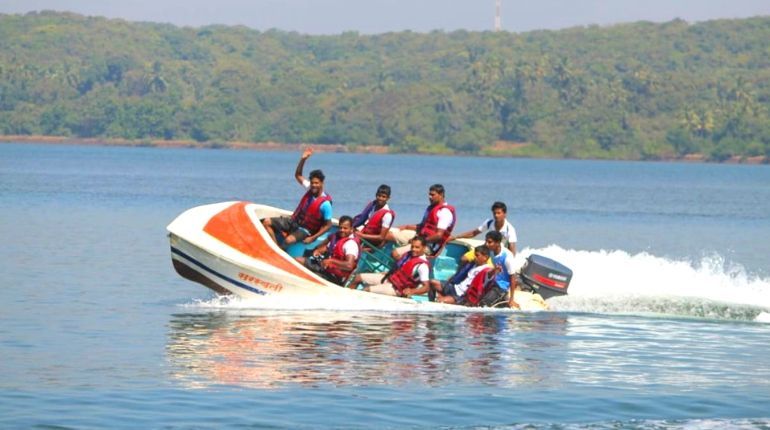 Goa speed boat ride is a thrilling and exhilarating experience where you can ride on a high-speed boat and feel the wind rushing through your hair while enjoying the stunning coastal views of Goa. During the ride, you can witness the picturesque scenery of the Arabian Sea and its sandy beaches.
Apart from the speed boat ride, there are several nearby places that you can explore in Goa, such as the Calangute Beach, Baga Beach, Anjuna Beach, Fort Aguada, and the Basilica of Bom Jesus. These attractions offer a perfect blend of history, culture, and scenic beauty, making your trip to Goa a memorable one.
For Dinner we went to Titos lane, located in Baga, is one of the most famous party destinations in Goa, with numerous clubs and bars that offer a variety of music and drinks. It is home to several famous nightclubs, including Tito's, Cafe Mambo, and Club Cubana. These clubs are open until the wee hours of the morning and offer a mix of Indian and international music, including techno, house, hip hop, and Bollywood.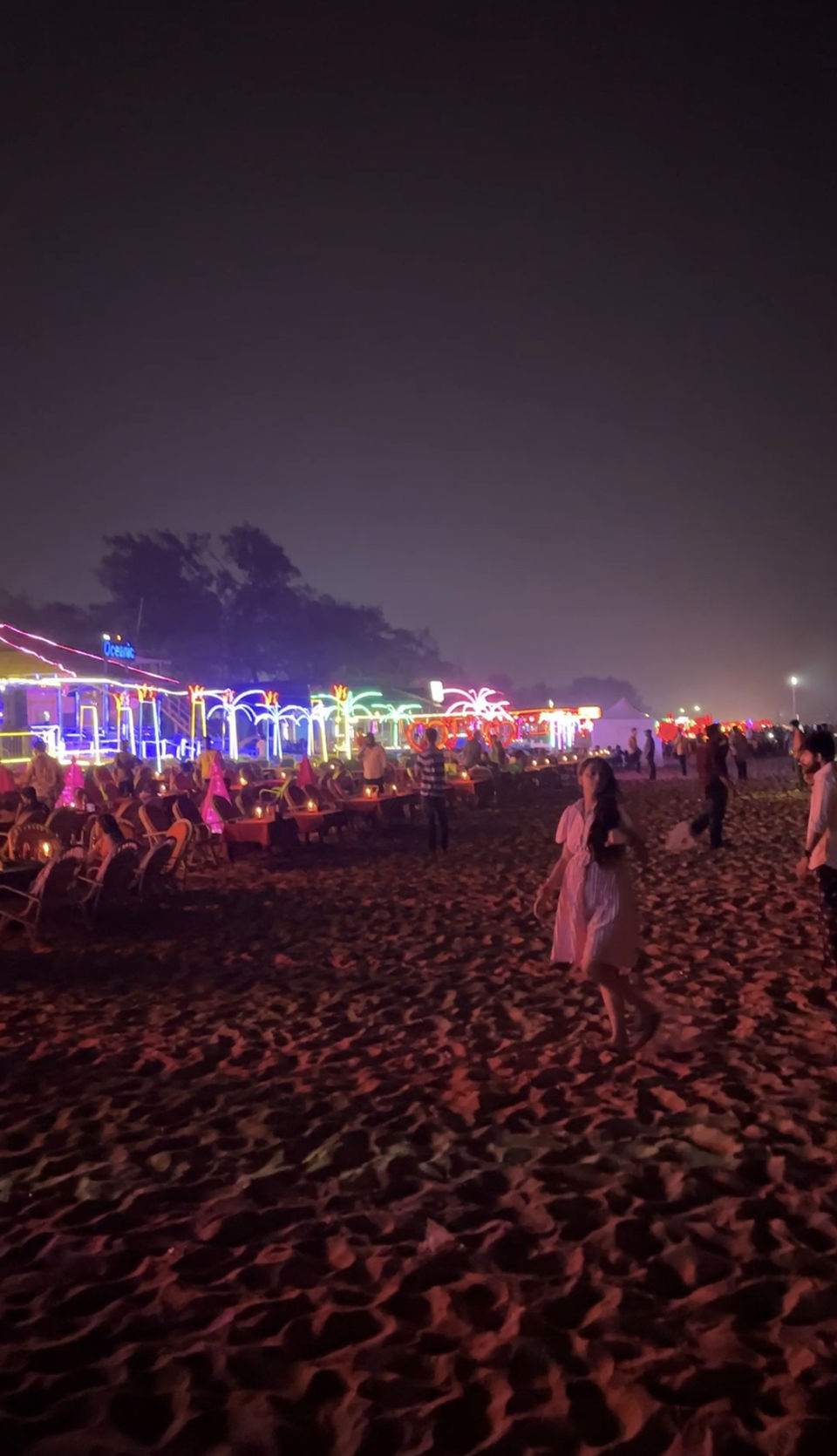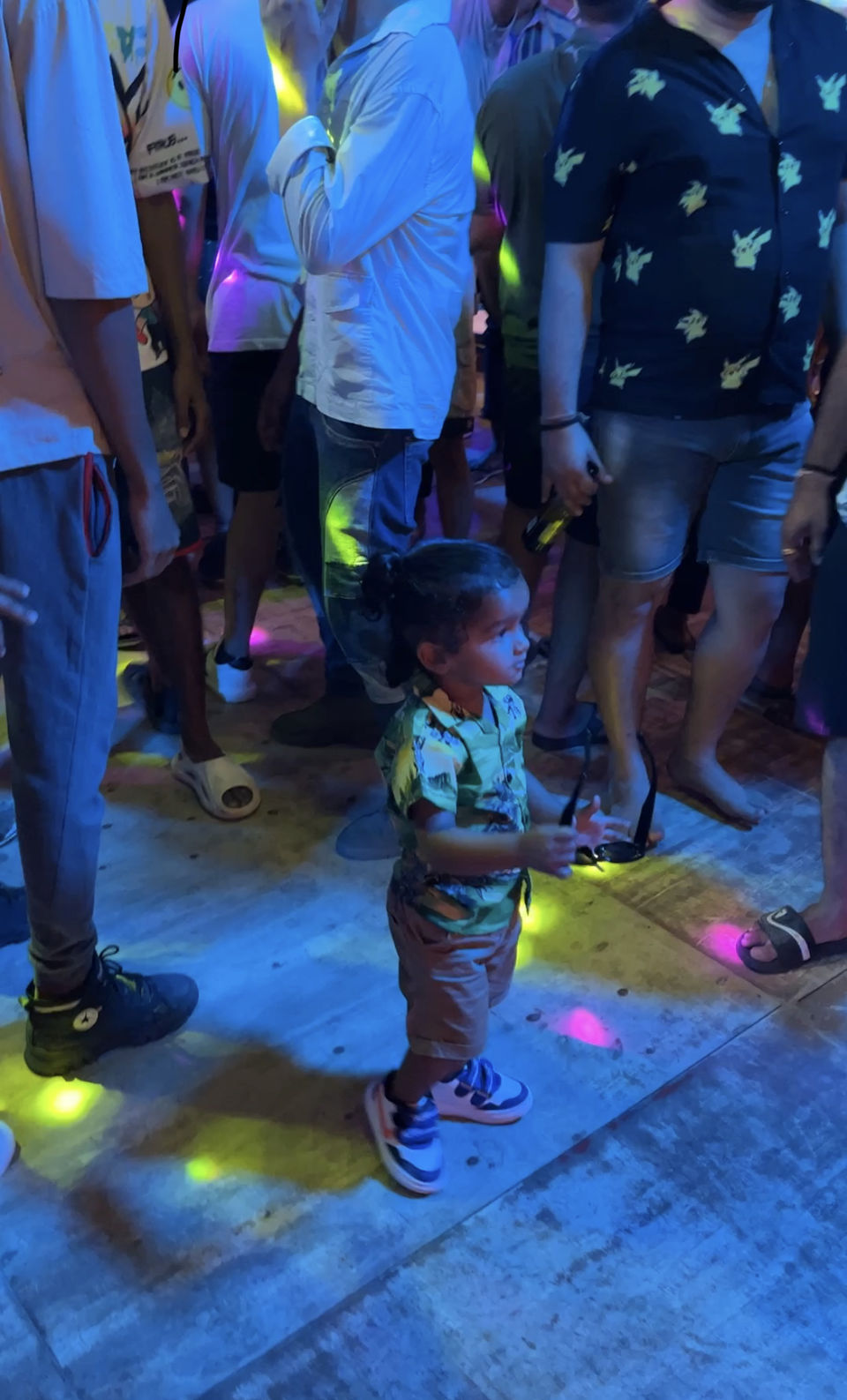 Early morning we grabbed our fascinos and headed straight to a nearby beach for sunrise. One of the most popular spots to catch the sunrise is the Vagator Beach. As the first rays of the sun peek over the horizon, the sky lights up with shades of pink, orange, and yellow, creating a breathtaking view.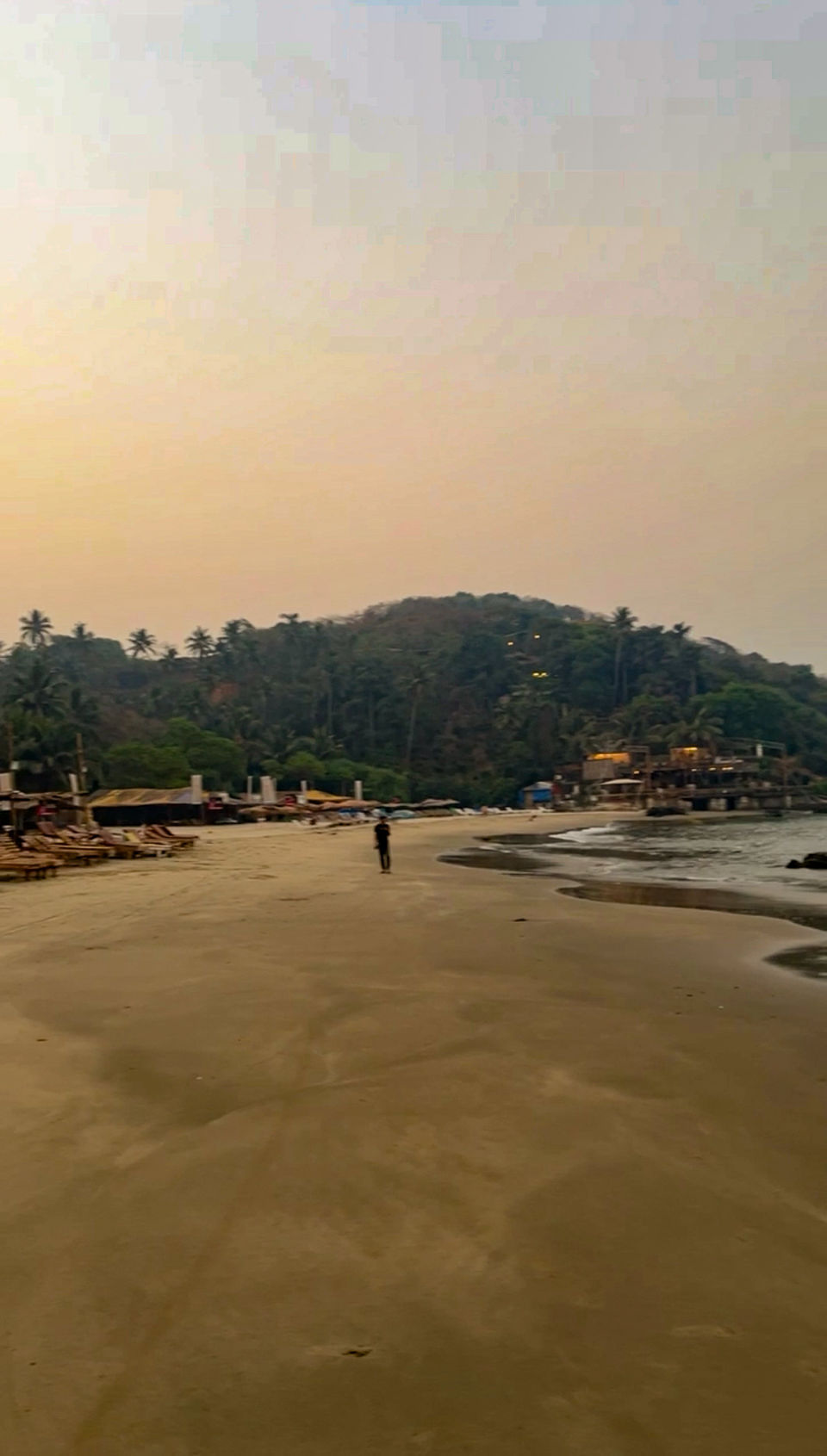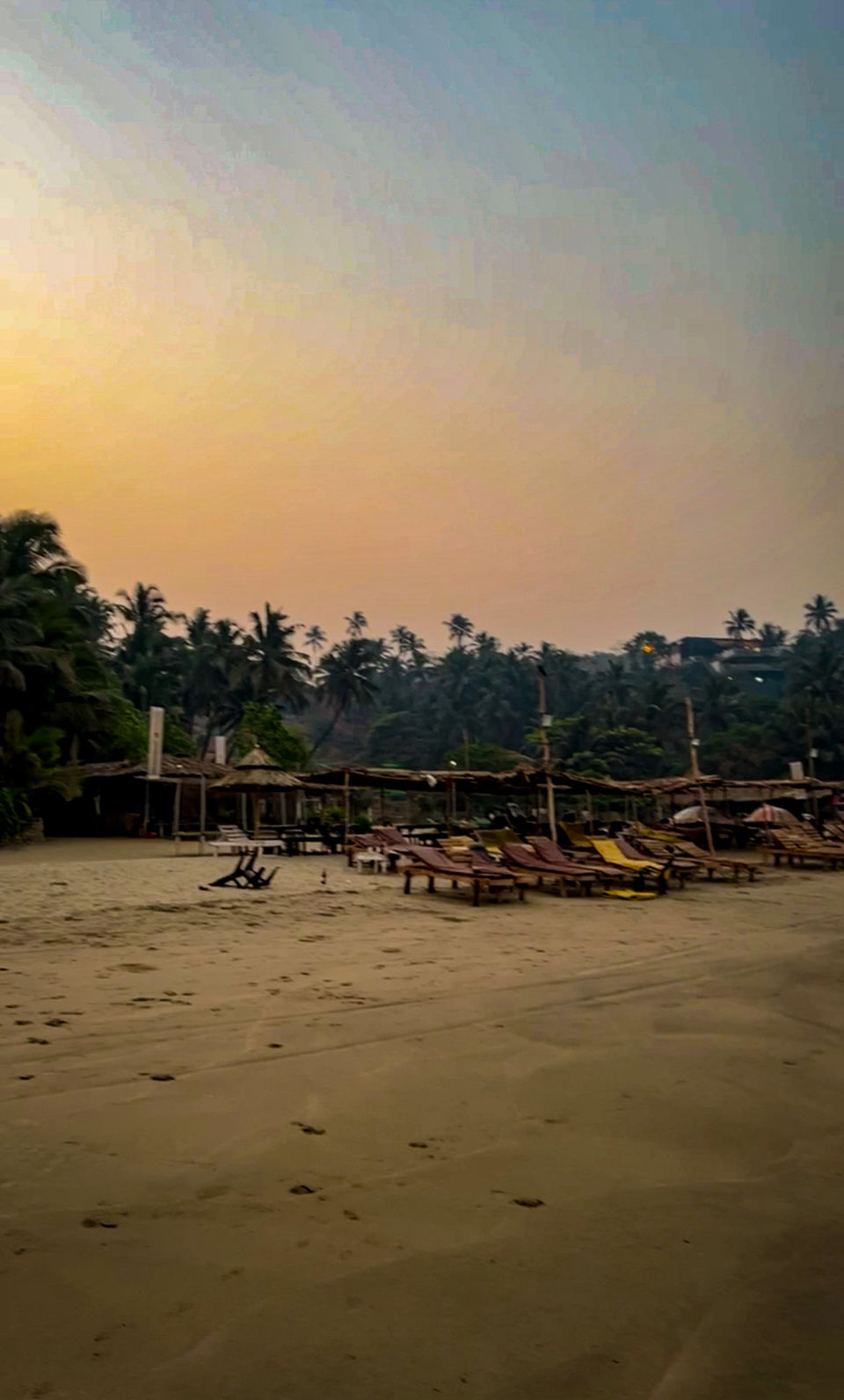 One of our friends was due to arrive in Goa that morning, so we drove to pick her up. New Goa airport is a small but beautiful airport ideal for people planning to explore North Goa in particular.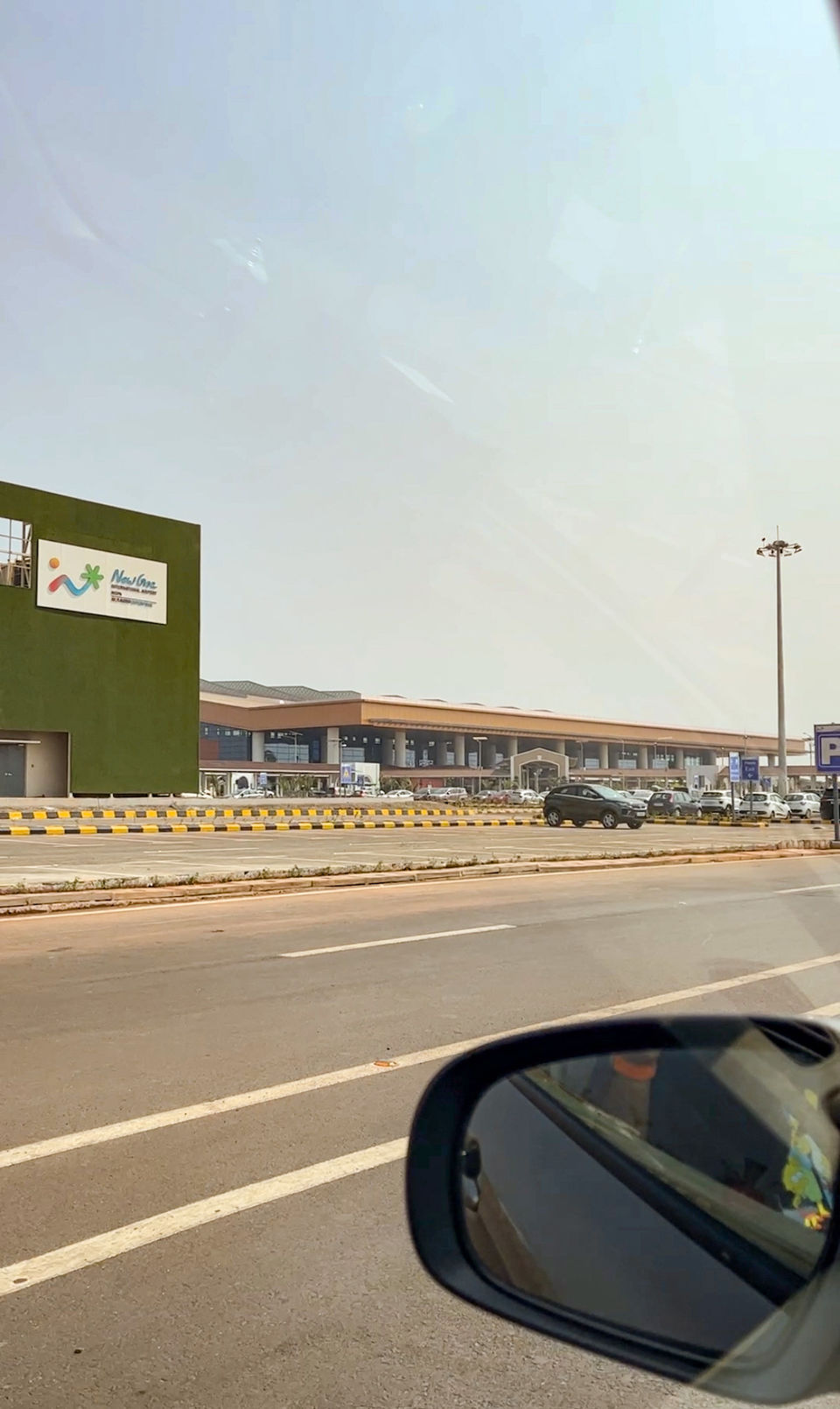 Following a hearty breakfast, we set out for Arambol Beach, a delightful 21-kilometer ride from Arambol. This is the only place in northern Goa where you may find serenity. It is a prominent tourist spot that draws visitors from all over the world. It is well-known for its relaxed atmosphere, gorgeous surroundings, and friendly residents. The majority of the people here are immigrants.
We drove from Arambol beach to Sweet Water Lake, a must-see attraction in north Goa. The water here is less saline, as the name implies, and is ideal for bathing and swimming. This beach also provides several opportunities for sky sports such as paragliding and paramotoring. And how can I forget this is the most perfect spot for photographers.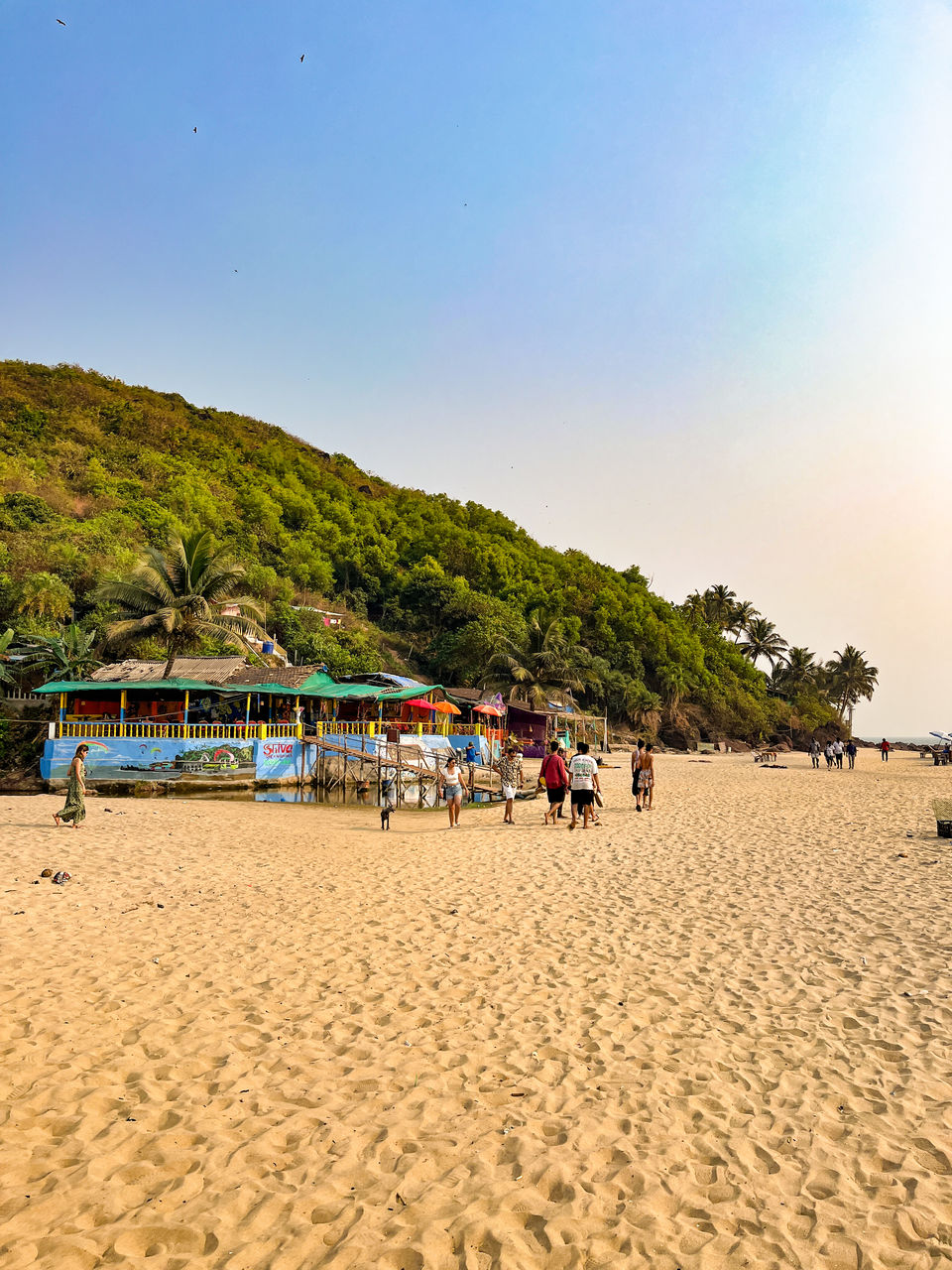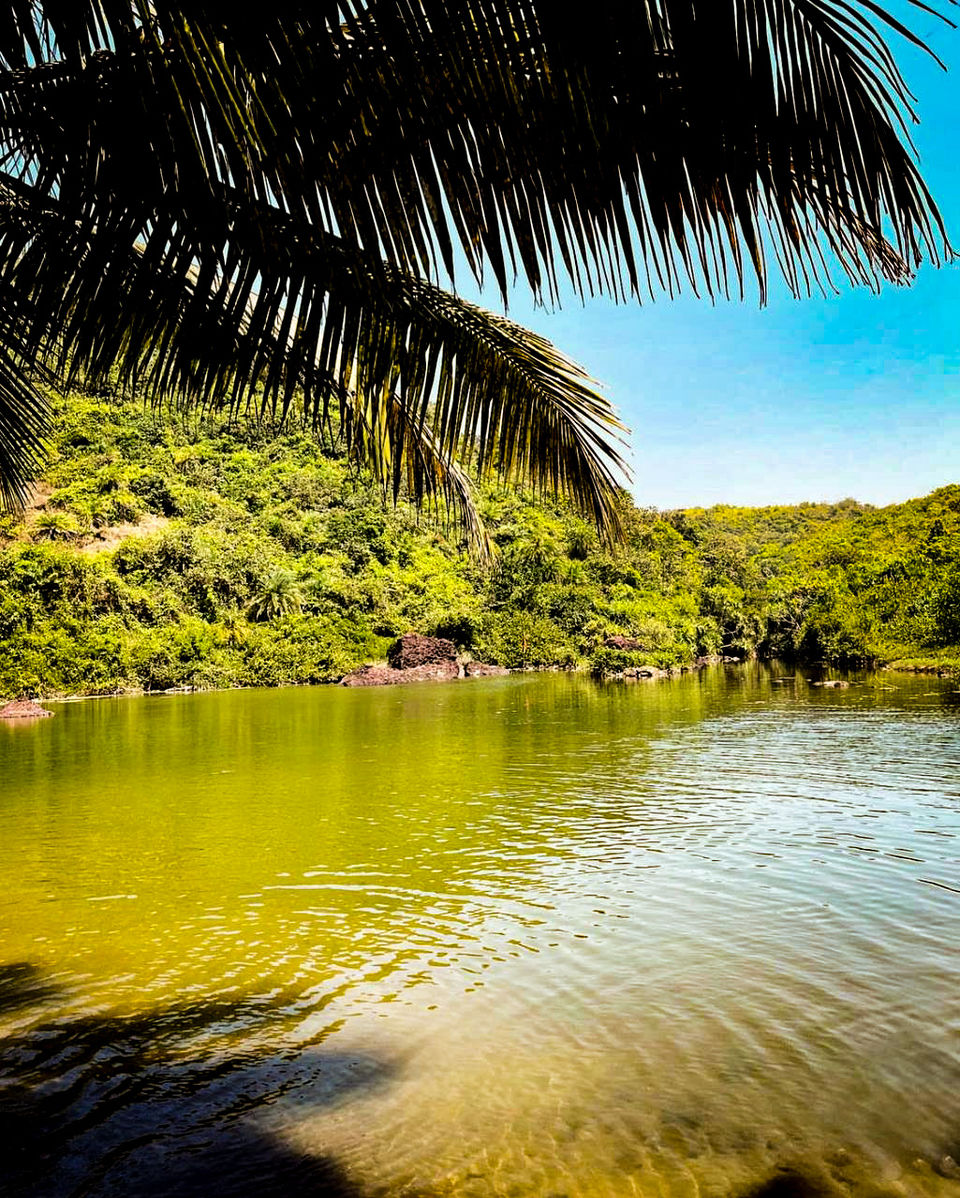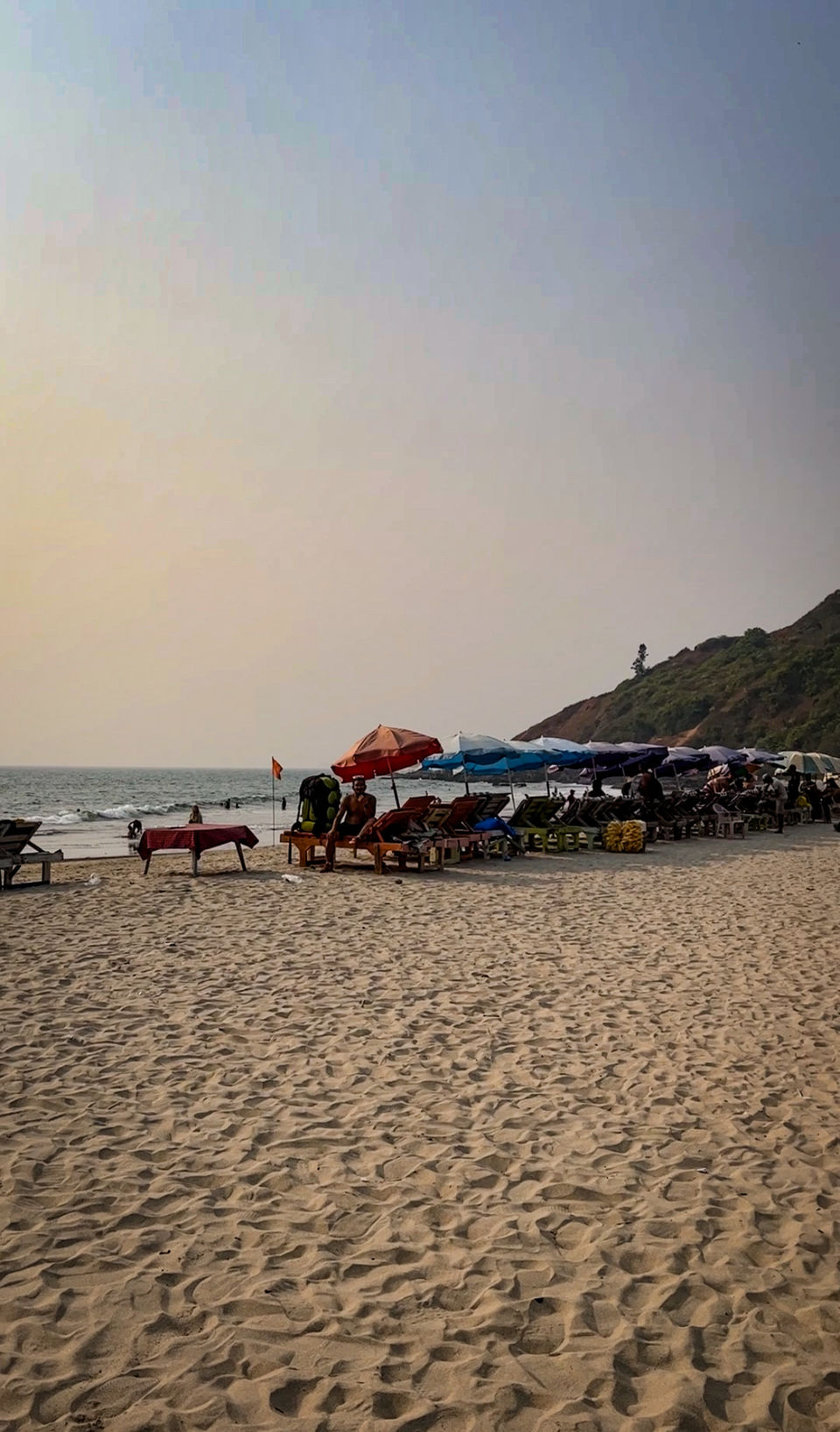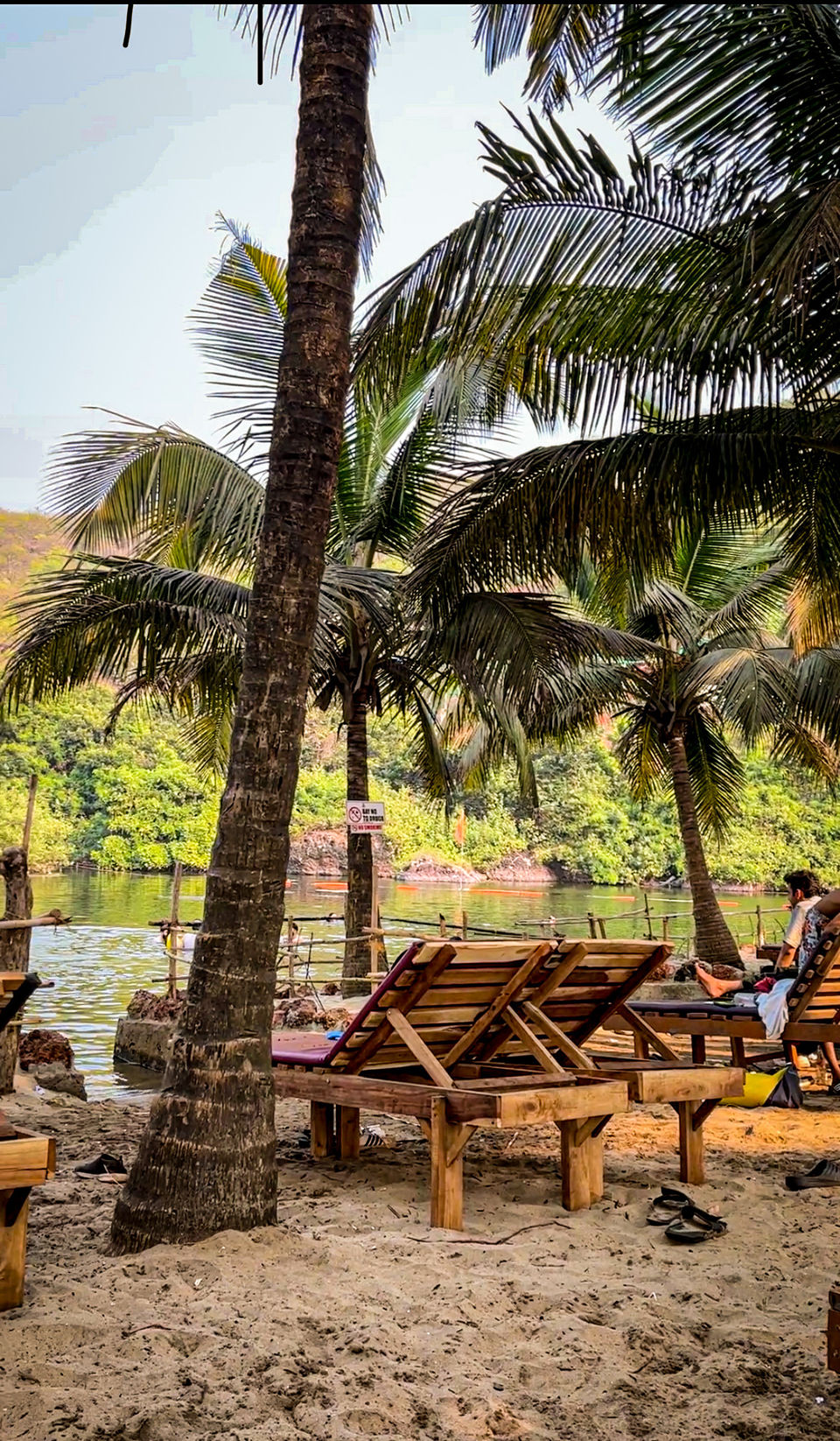 It was late in the evening, so we didn't waste any time and went straight to Chapora fort, which was the setting for the all-time classic film Dil Chahta Hai. We arrived about 7 p.m. and realised it was closed, but our friend Shivam's zeal got us in anyhow. We were blown away by the breathtaking view of Vagator Beach from the fort, and the sunset was the icing on the cake.
Then comes our most anticipated moment: recreating the Dil Chahta Hai poses.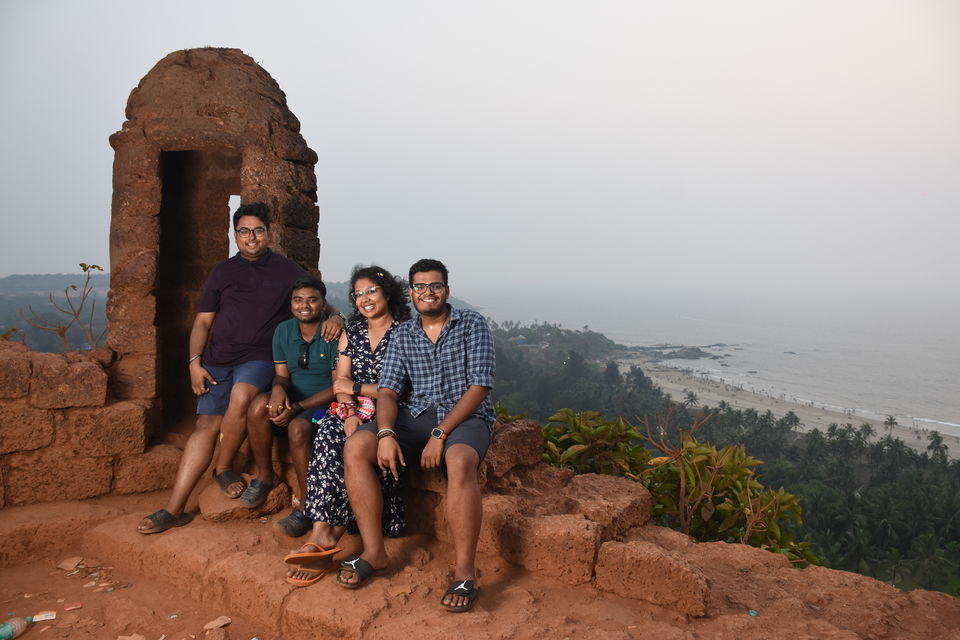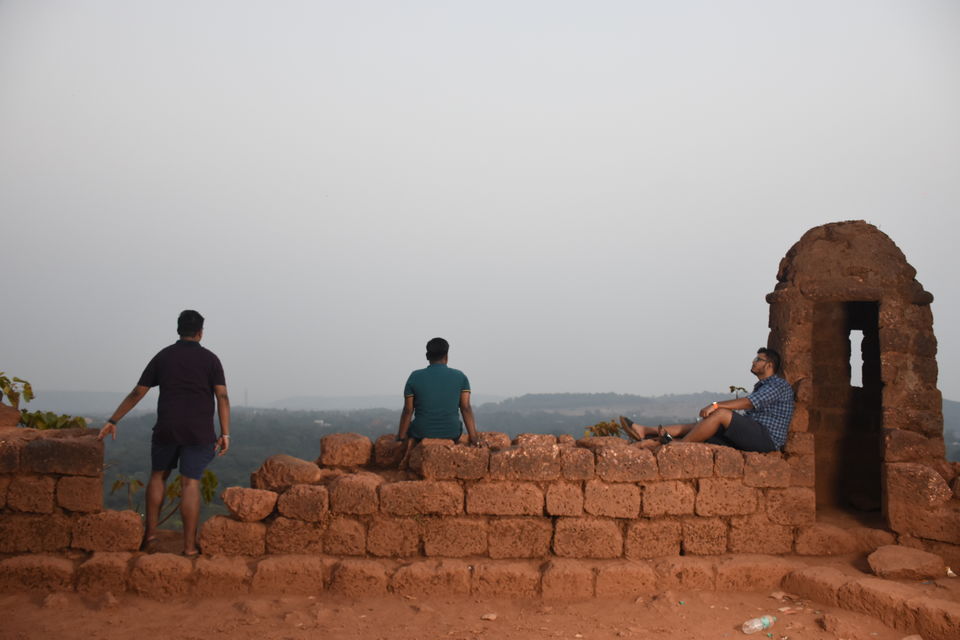 The journey from Anjuna to Dudhsagar will take you through the lush Western Ghats of Goa. To get there, you'll need to reach Kulem by hiring a taxi or taking a bus. From there, you'll need to board a jeep to Dudhsagar and trek for about 1.5 km to reach the waterfall.
The waterfall is located in the Bhagwan Mahaveer Sanctuary and Mollem National Park, which is home to a diverse range of flora and fauna.
Once you reach the magnificent Dudhsagar waterfall, you can take a dip in the refreshing waters or simply relax and enjoy the stunning views. The journey is a thrilling and memorable experience, and it's advisable to wear comfortable shoes and carry enough water and snacks for the trek. Also remember to bring a life jacket from Kulem because the water in the waterfall is very deep.
The Dudhsagar waterfall is a must-visit destination for nature lovers and adventure enthusiasts, and its fame has only increased after being featured in the movie "Chennai Express".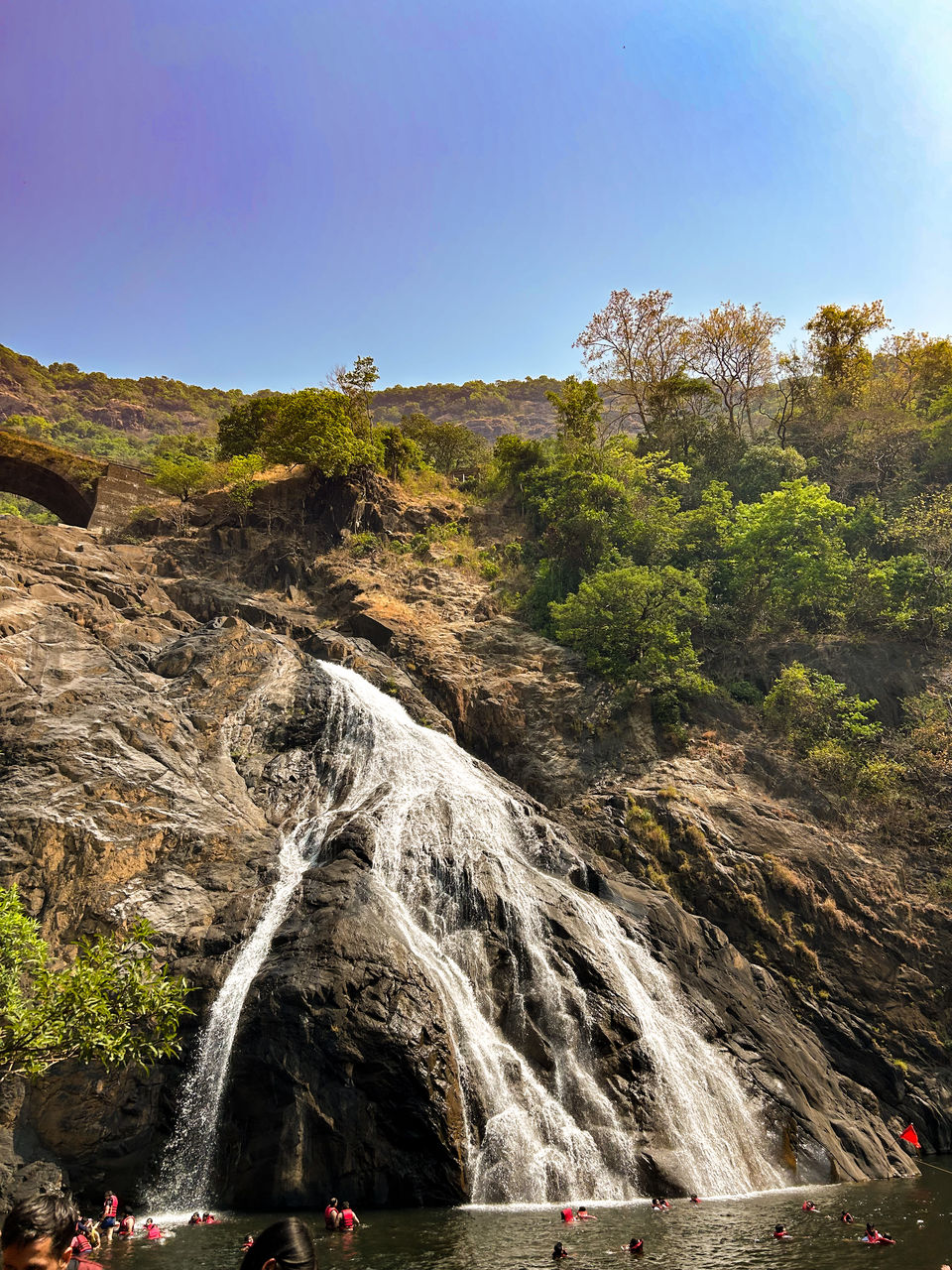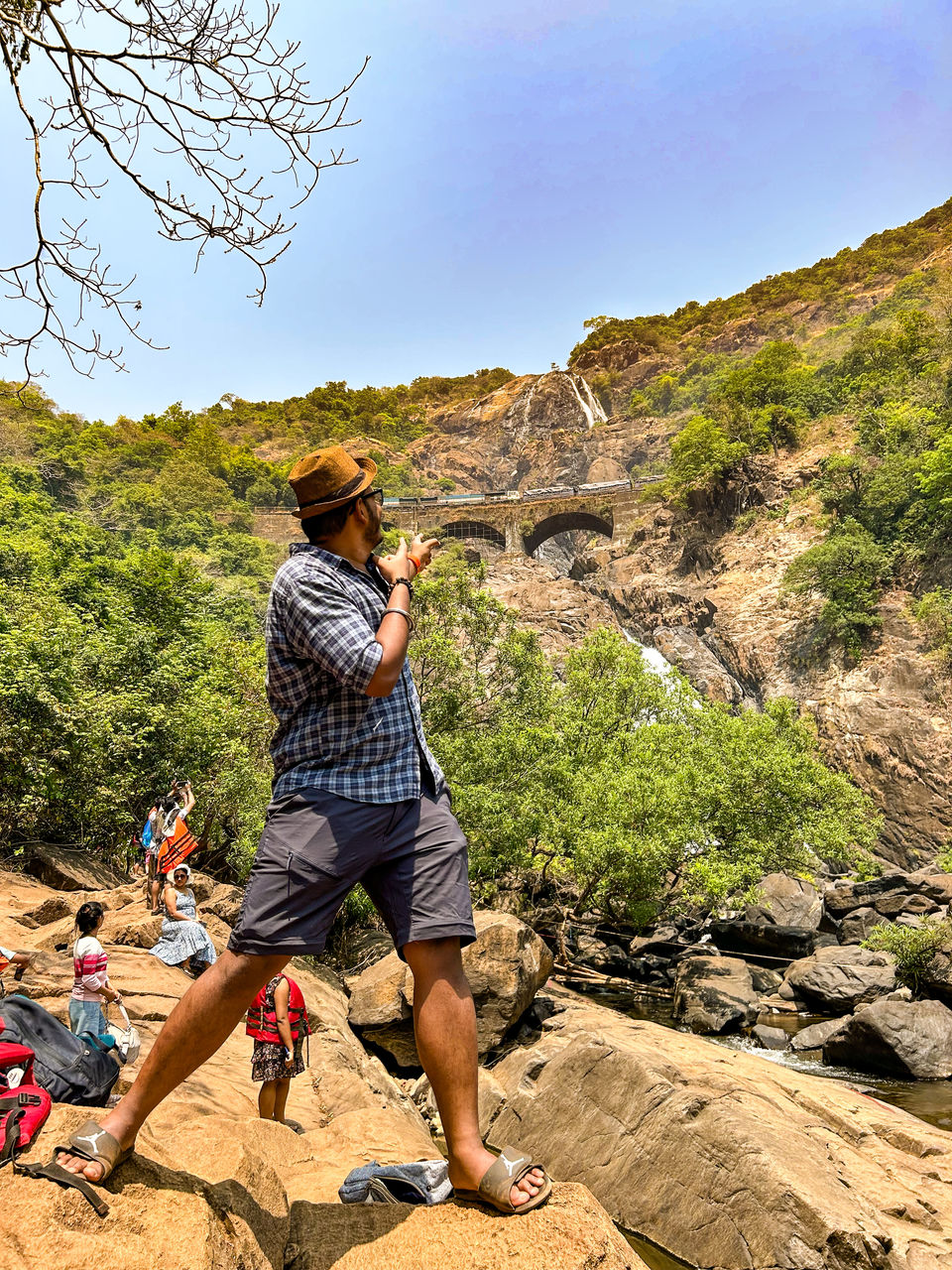 After this we headed back to Anjuna.
On the way back we halted at the famous church, Basilica of BOM Jesus, located at Panjim. The Basilica of Bom Jesus is a famous landmark and a UNESCO World Heritage Site located in Old Goa, India. It is one of the oldest churches in India, built in the 16th century and is known for its stunning Baroque architecture. The church is a popular pilgrimage site for Christians and houses the remains of St. Francis Xavier, a revered Christian missionary, believe me it's 400 years old. The interior of the church is adorned with beautiful paintings and frescoes, while the exterior is a stunning example of Jesuit architecture. The Basilica of BOM Jesus is a must-visit destination for history buffs and architecture enthusiasts, offering a glimpse into the rich cultural heritage of Goa.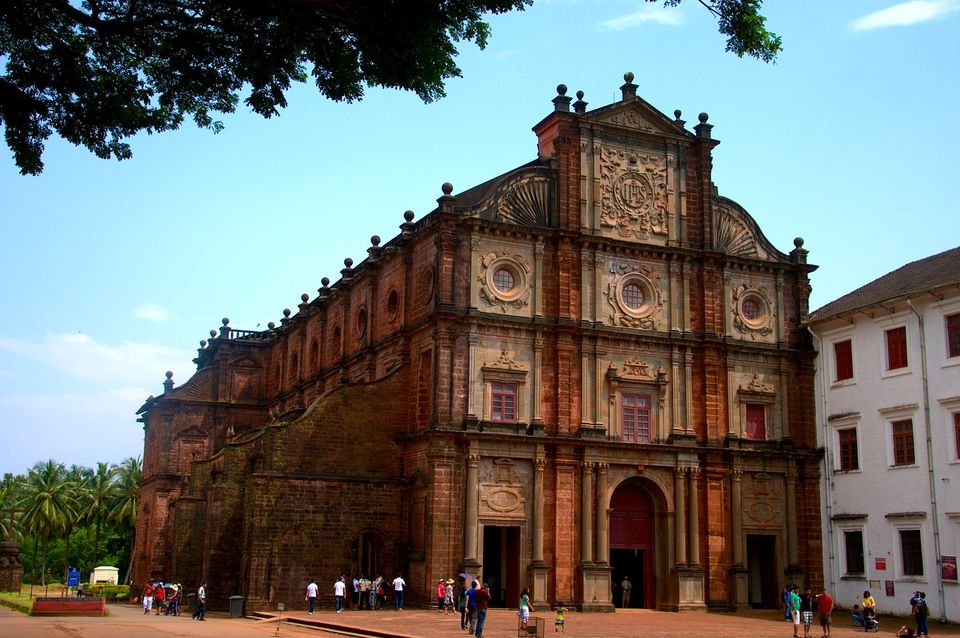 It was late in the evening when we remembered another drama film, Dear Zindagi, which had been shot right here in Goa, phir kya chal diye ham banjare jhola uthake. Parra road is flanked by lush greenery and coconut trees on either side, and is a popular route for cycling and walking.
It is a must-visit destination for nature lovers and anyone looking to experience the authentic beauty of Goa.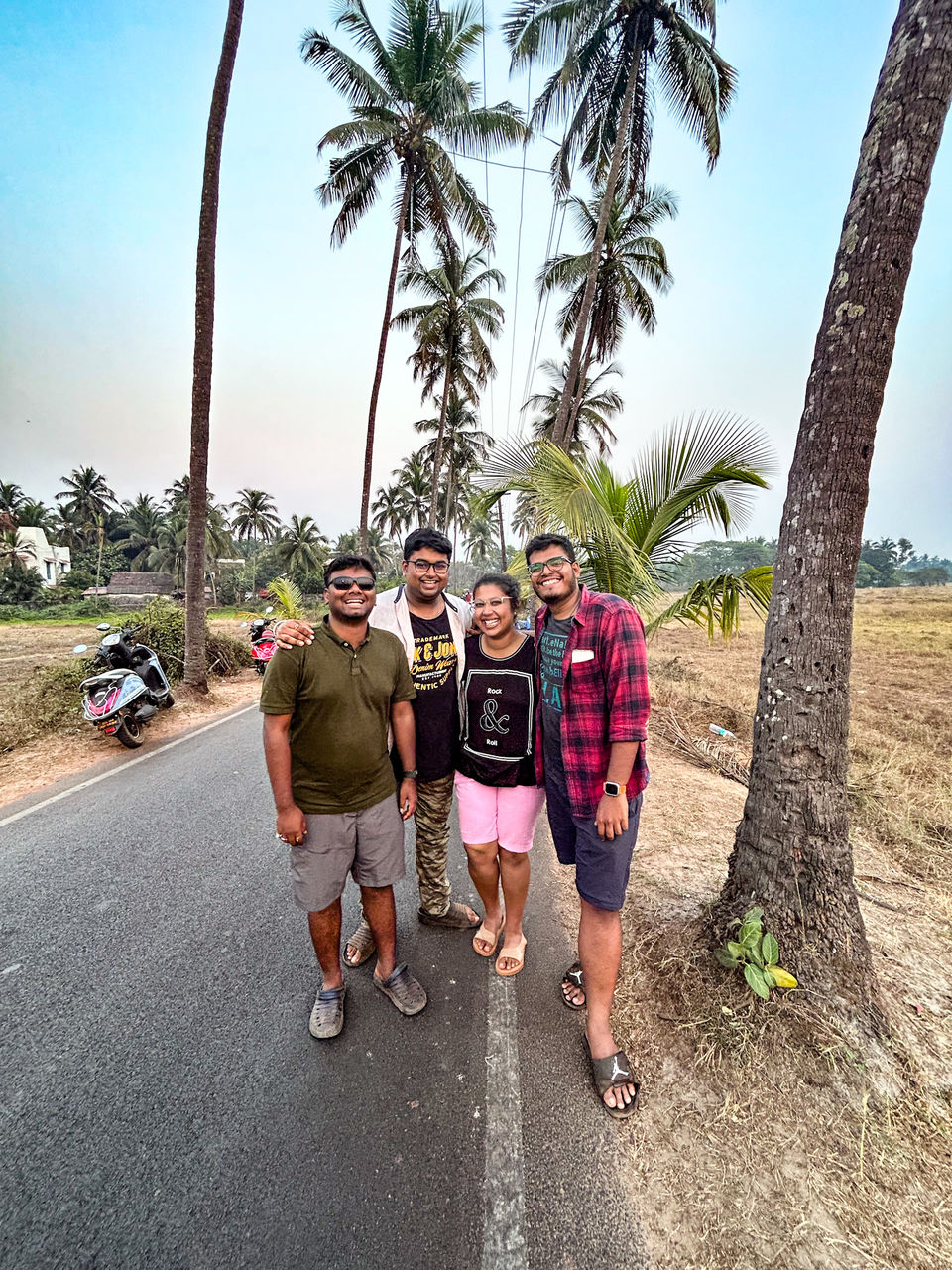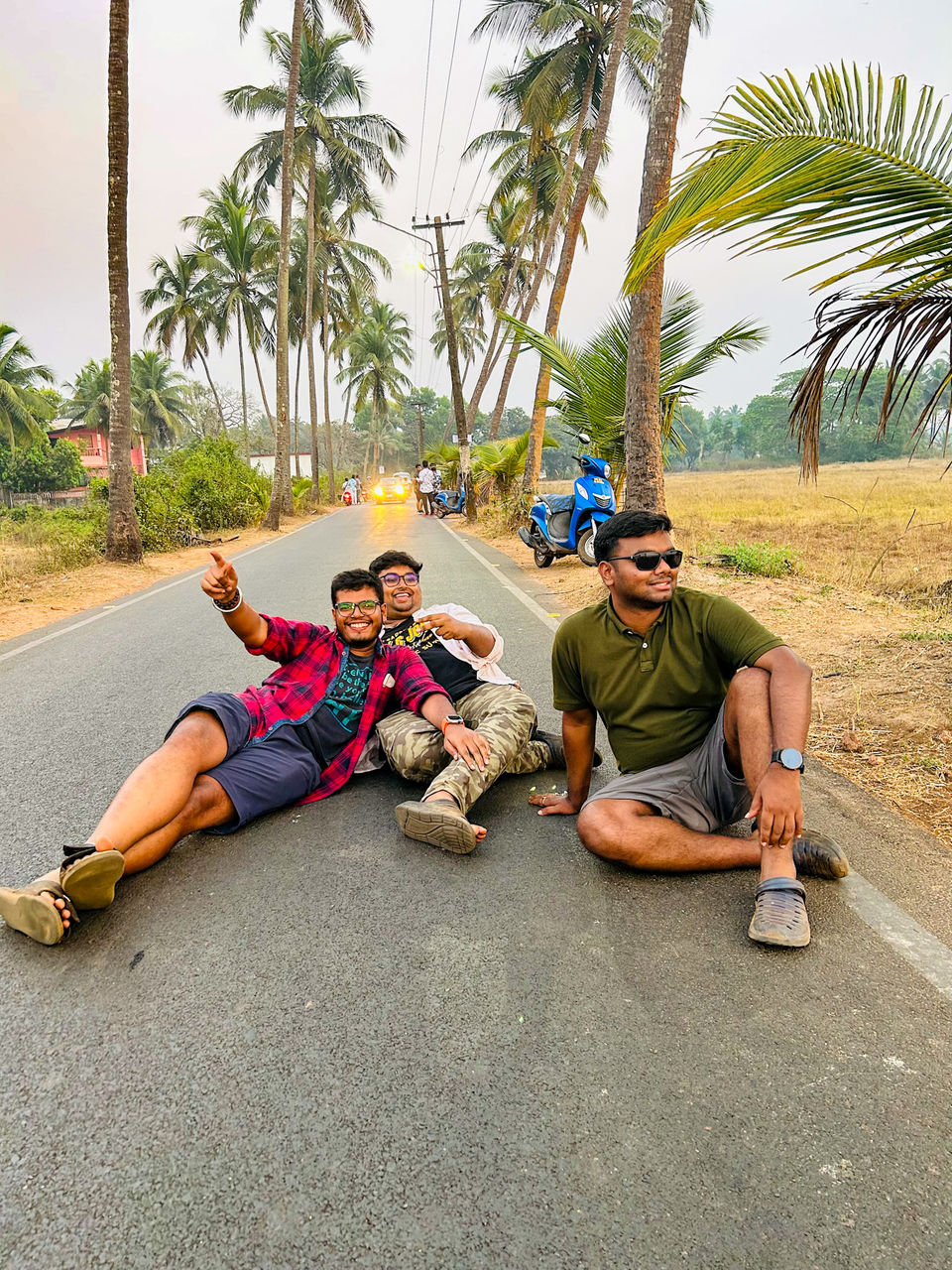 After a long and exhausting day, we decided to relax along the beach and have a continental meal. We returned to Anjuna Beach and found a restaurant with a pleasant yet atmosphere with good ambience, which is quite hard to find in north Goa.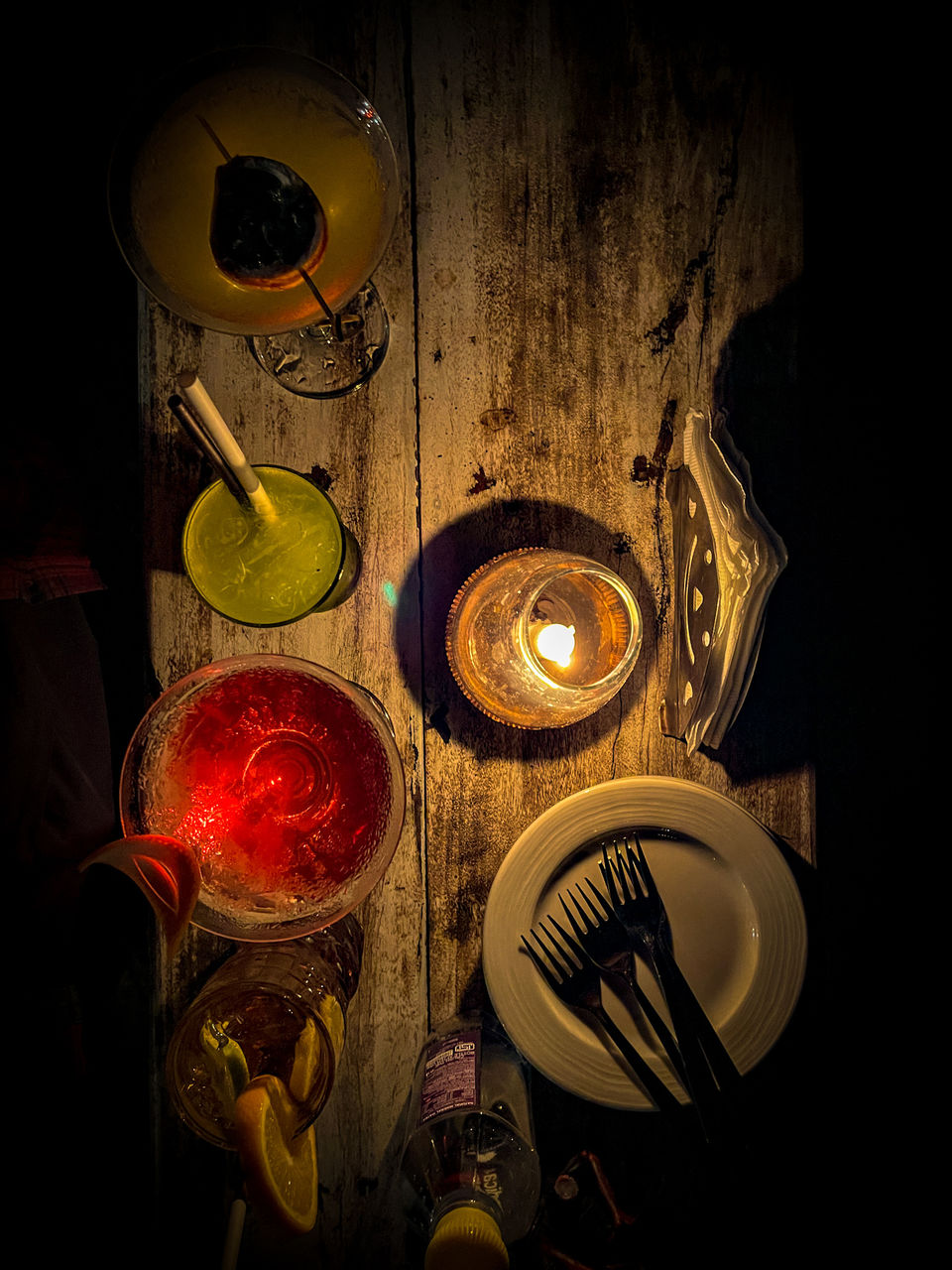 Finally came the D-day, Goa aye aur water sports try nhi kya to kya kiya.
We got ourselves ready for the ultimate adrenaline rush with the unforgettable water sports experience in Vasco da Gama, Goa! I started my adventure with the high-speed thrill of speed boat, racing over the waves with the wind in my hair and the salty spray on my face. The excitement was palpable as I navigated through the sea, carving sharp turns and feeling the thrill of the ride. If you're lucky, Dolphines may appear out of nowhere and greet you, aur haan hum lucky the.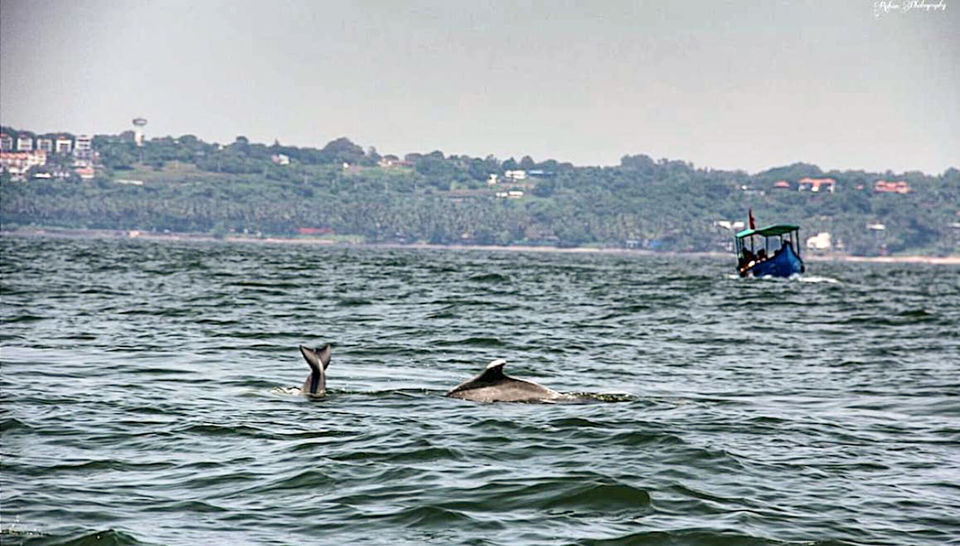 Next up was parasailing, and I couldn't wait to experience the rush of being lifted high up into the sky, towed by a speedboat. As I soared above the azure waters of the Arabian Sea, I felt the thrill of the wind in my face and the breathtaking panoramic views of the coastline below.
For a wild ride, I hopped onto a banana boat and held on tight as I bounced and splashed through the water, feeling the rush of the waves.
The ultimate wala adventure came with scuba diving, where I got to explore the underwater world of Goa, discovering vibrant marine life and hidden treasures. With my adrenaline pumping and my senses heightened, I felt a sense of pure exhilaration as I immersed myself in the stunning underwater world.
My water sports experience in Vasco da Gama, Goa was one of the most thrilling and unforgettable experiences of my life, and I mean it. From Parasailing to scuba diving, I discovered a world of adventure and adrenaline that left me with unforgettable memories that I will cherish for a lifetime.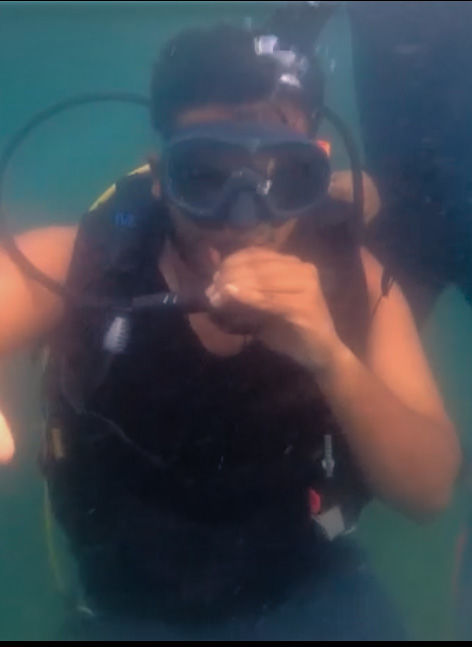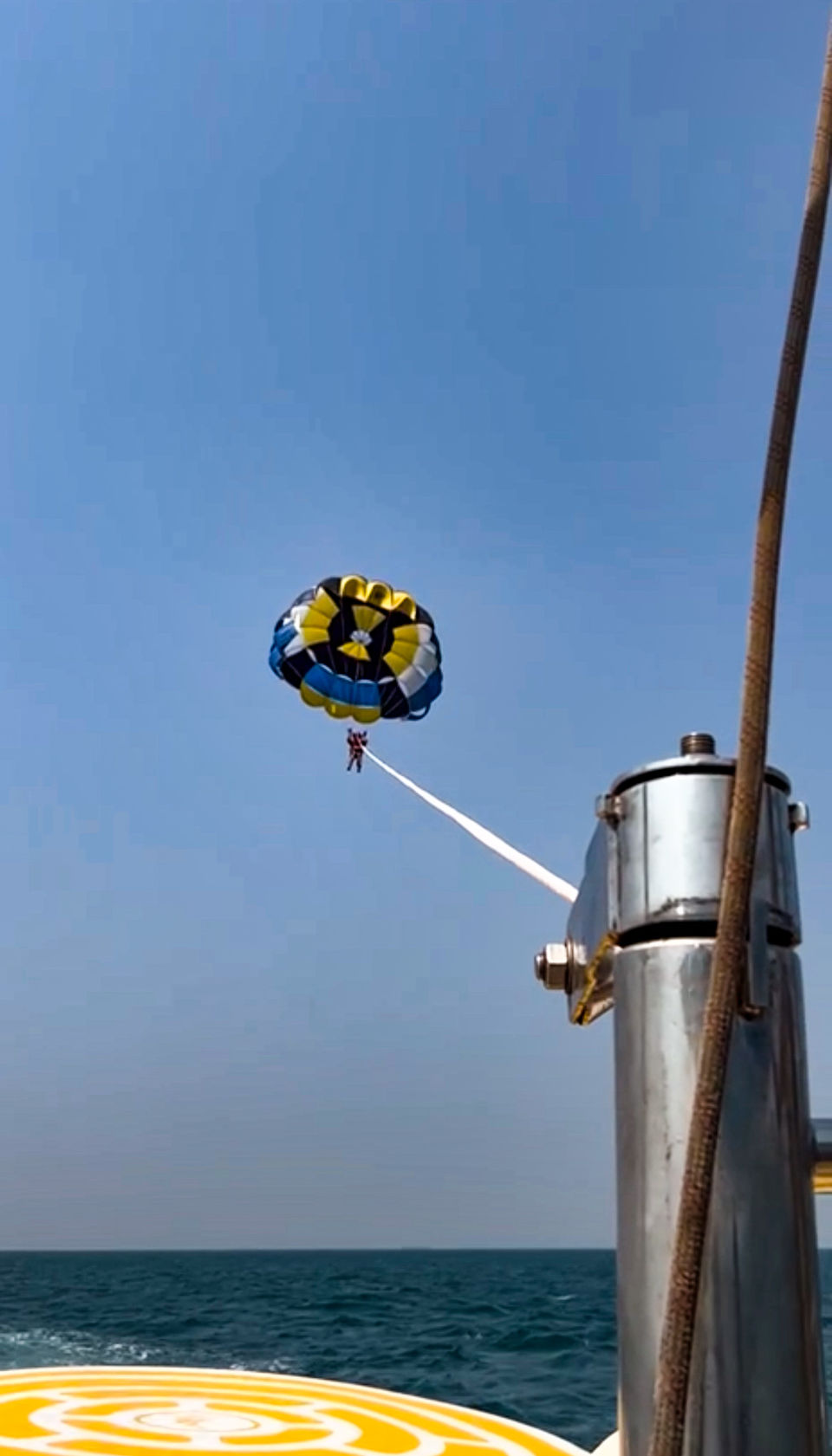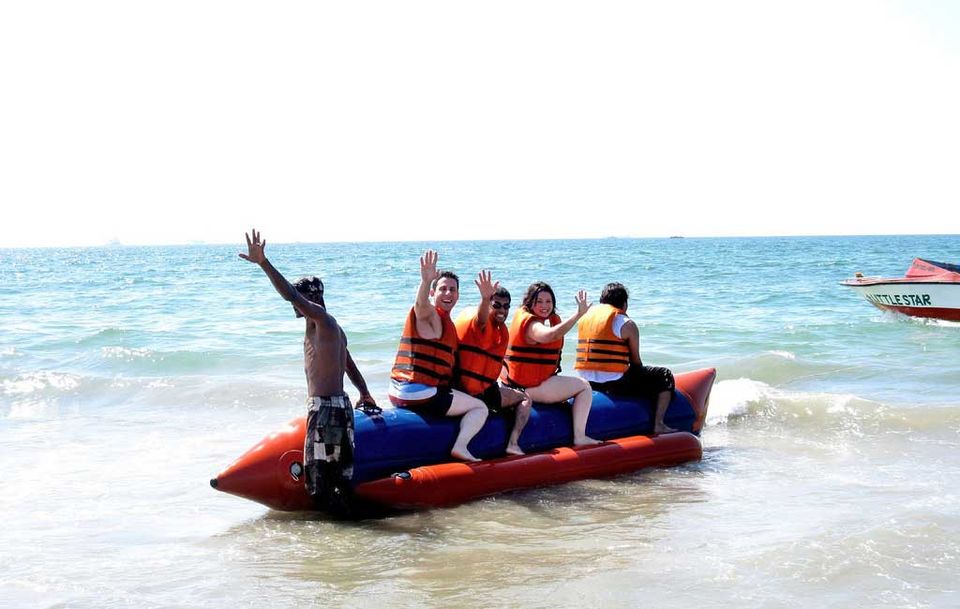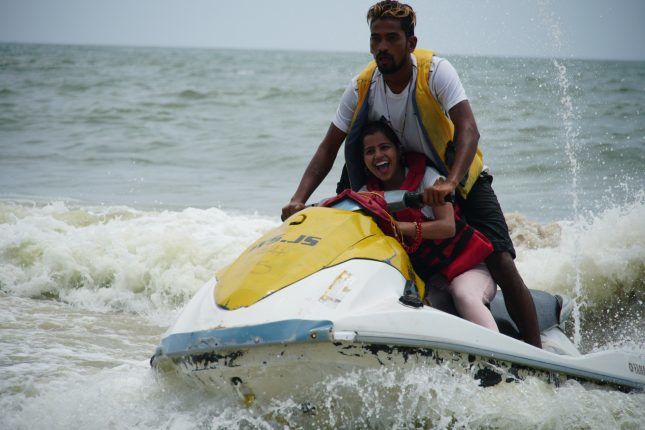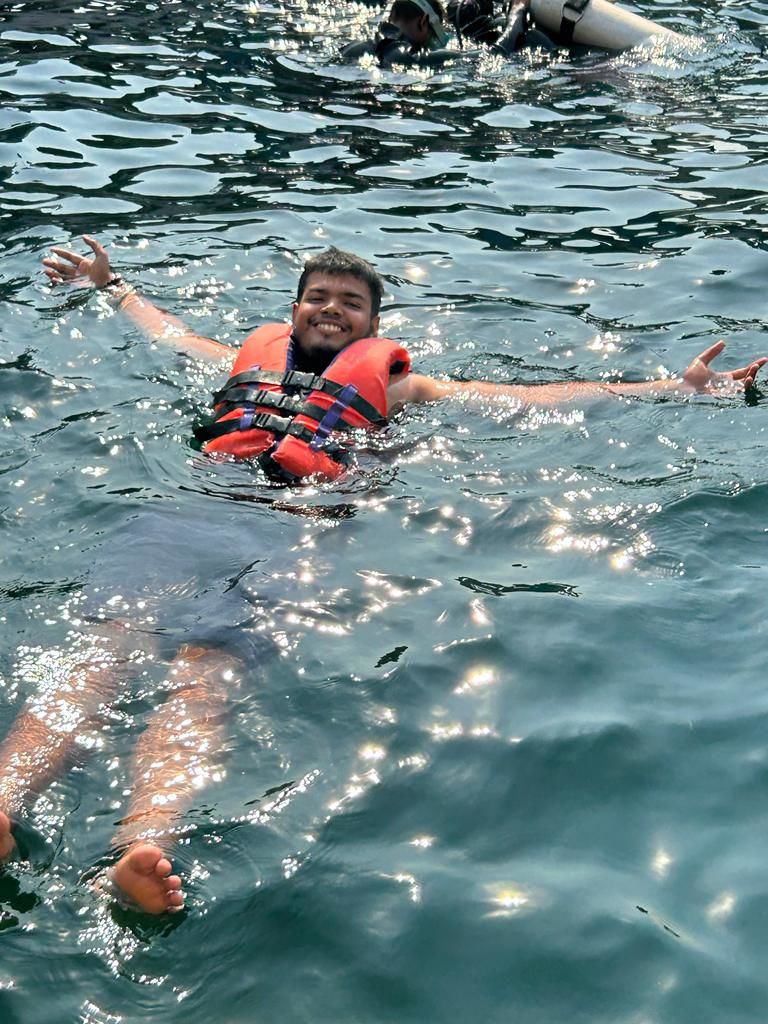 It was truly a one-of-a-kind experience. A person who has been scared of water from infancy, jumping into the water right in the middle of a sea is quite a struggle, and it couldn't be a more suitable spot for me to overcome that fear, thanks to Shruti for teaching me to swim. Scuba diving ultimately captivated all of us, most of us while returning were quite as they were whole into different world of water. Even though everything we say or write , there are still things in the heart that are too big to be said, yes scuba was one of them. When heading back, we enjoyed a peaceful and magnificent sunset.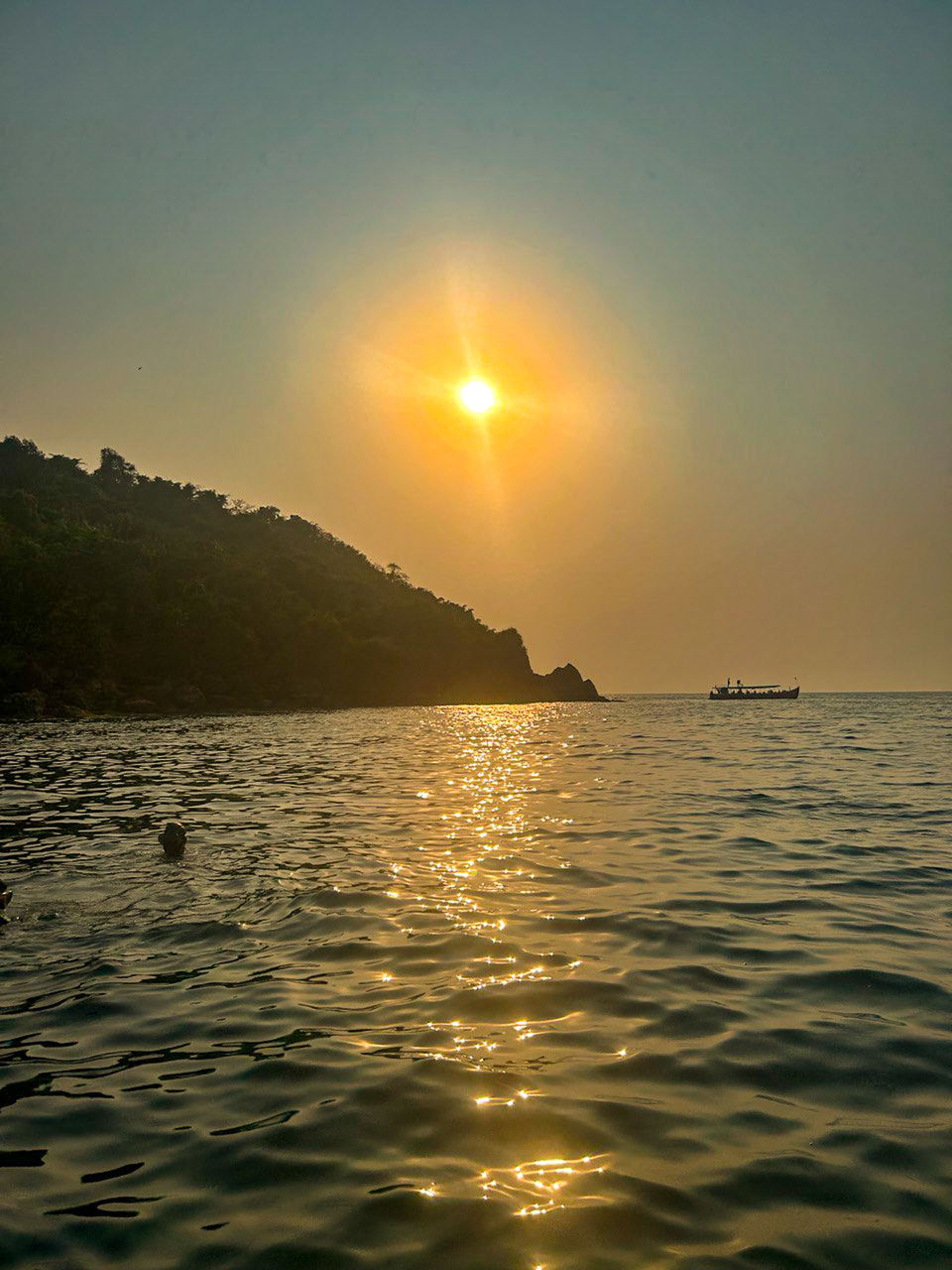 As it was our last day in Goa and some of us were heading home, we decided to buy some local items, particularly kajus and mementos. Shopping at Candolim was a unique and exciting experience for me. The vibrant markets and colorful streets were filled with a plethora of options ranging from souvenirs, local handicrafts, jewelry, clothes, and much more.
Back to pavilion
We bid Goa farewell and returned to Mumbai with a promise to visit here again.
Whenever I'm traveling I always get tripped out at the fact that this is someone's actual hometown like they know every back road and how to get everywhere and they've probably had tons of memories in this city and many stories to tell, but I'm just someone passing by, only there for a moment that I might forget later and for some people the whole life revolves around it.
Goa, I wish I had met you earlier.
Until next time...