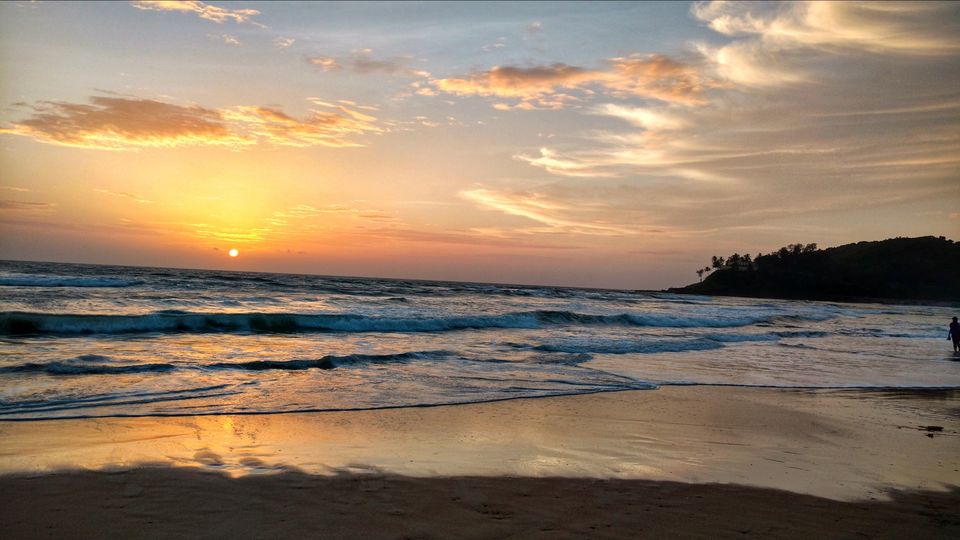 Goa in September is a trip in off season when you don't get much tourist,but it's a good time to visit Goa if you wish to explore and capture every moments in your memories.
We visited Goa on 2nd Sep and checked in a Sea Breeze Hotel , vagator.
North Goa, Goa
Fort Aguada Beach Resort, Aguda Fort Area
A much welcome change from the flurry of beaches in Goa. Aguada fort still has a lingering presence in it back from the days when it is used to served as a prison. Tour of the entire place takes almost 2 hours and overlooking the Arabian Sea is a pleasant experience.
Basilica of born Jesus, Baga
This is one of the twenty-seven wonders of Portuguese origin around the world - Basilica of Bom Jesus(built in 1605).This is one of famous Churches of GOA. The Basilica is a fine example of baroque architecture. The Basilica of Bom Jesus is a UNESco World Heritage site. The basilica holds the mortal remains of ST. Francis Xavier(died 1552).
The Location is very beautiful that it could serve as a good shooting location .
Panjim, Goa
Panjim is very popular for cruise trip. It is also known as Panaji. Located on the banks of the Mandovi River, the city has cobblestone streets lines with colourful villas and buildings from the Portuguese colonial era.
If you visit Goa, don't forget to visit Paradise Cruise.The folk dance is a value addition. This will add on happiness to GOA visit.
Calangute, Goa
The largest and the most commercial beach of Goa .
Brittos
The typical Goan restaurant - Drinks, cocktails, Seafood, Sizzlers, Music , Dance.
Tropical Spice Plantation _ Ponda
I have always love plants and trees, Our trip to GOA became more interesting after visiting this wonderful place. Spice Plantation Walk is damn beautiful anti is something that most of people are not aware of it.
Great tour guide, interesting information , lovely scenery & opportunity to see , shower with and ride elephants. You can buy spices very cheaply. Lunch arrangement was there. Lunch was very basic but plentiful and served on plated that the plantation make themselves from leaves.
Snow Park, Calangute - Baga
Indoor park with a sledding hill & ice bar.
How to travel in Goa??
The cheapest way to travel & explore Goa is to rent bikes . Taxis are exorbitantly priced(Rs. 25/km) Bike will cost you anywhere from 350-600 per day depending on that bike you want.Fuel cost is cover and above that , cost around 500/day for 2 people .
Accommodation :
If you visit Goa in non peak season like March to October, you will find really good accommodation at affordable price.
Following Restaurants - must try :
•Brittos
•Fat Fish
•Café Mambo
•Curly's
•Tito's
•Martin's Corner
•Joet restrurant and bar
Few things you need to remember to pack if you are visiting Goa :
1. Footwear - a pair of sandals and a pair of beach slippers.
2. Shorts
3. A couple of swimwear
4. Shampoo & conditioner
5. Of course Sunscreen
6. Phone , earphones , MP3 player , pocket speaker
7. If you are reader , then carry a book or two
8. Definitely Camera , tripod (must important )
9.Power bank
10.Must carry your driving licence ( if you rent bikes or car)
Other very Important Advice :
Plenty.
@ Respect the Goan people , you are not at home. So I repeat you are someone's else backyard.
@Again , if you should choose to drive a car or ride a bike on Goan roads, show some respect to Goan traffic when you drive.
@Please Do not pollute the area. Goa is not like other places in India and you will seriously taken to task. It's not just a place for tourists but is also place that many people call their HOME!!