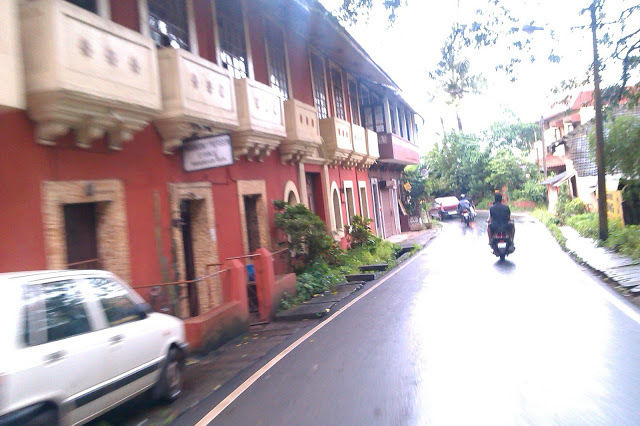 Week long vacation and this time we backpacked to Goa.It is a great party town with beaches, boozing, dancing and endless music.But I realized , Goa is not just for that. Like many of the World's famous cities Goa has a great history tied in itself. Be it food or people or architecture every moment of stay remained surprising for me.The destination not just re-energized me, it revamped me.
The best way to experience a city is by road travel.The more I walked the more I indulged in the minute details of it.The city was without much hustle-bustle. Fresh faces of people from various cultures, architectural splendor with the Portuguese touch nourished my soul. Everyday stress that has taken toll on me began to vanish and I felt pampered.
The facility to avail bikes on rent is a great boon in a city like Goa. I had the best driving experience in Goa. Ferry service is available to commute across rivers in north, south and central parts of Goa. The ferry took me to places along with our bikes.
I had the best food of my life in Goa.Goa is an ultimate abode when comes to food. With many restaurants sprawled up in the city one can relish the World famous Goan delicacies. Goan or Konkani cuisine is mostly influenced by the ingredients available on the west coast of India. Seafood, coconut, rice, vegetables, kokum dominate the food. Though the food preparing style has its roots from India, it is heavily influenced by the colonization of Portuguese. The food palette was a great fusion. Being a seafood lover I got the chance to taste some of the region's fresh catch like Snapper,Mackerel,Tiger prawns etc. The ingredients used to spice up the dishes was so unique, flavorful and distinguishing in taste.Vegetarian lovers also have great options.Some of the region's best are :
Poi or Poee
I have fallen in love with this bread when I was in Goa. Also packed some when I returned home. This bread is a masterpiece in the art of baking. Palm sized bread ,which can sit so cutely in your plate. Resembled a well baked bun but hollow inside. Tasted heaven. This is a staple bread which goes well with most of Goan vegetarian and non-vegetarian curries.
Chicken Vindaloo
A traditional home style Goan chicken gravy. Made out of freshly ground spices. Bright in color and unique in flavor. Very light for stomach. Best accompanied with rice or Poi.
Prawn or Mushroom or Crab Xacuti
Another traditional Goan curry made from prawns or crabs or mushrooms.I tasted all three. Ingredients used in the preparation gave a special taste to the gravy. The region's sea food is a daily fresh catch. Prawns or crab in the gravy were succulent and juicy. I couldn't wait to order more "Poi".
Red Snapper or Mackerel Fry
Not a usual fish fry. Fresh, juicy fish in a batter marinated with spices straight from the Goan kitchen. Great starter for your meal. Light for stomach.
Bebinca
A goan menu card never gets fulfilled without this awesome recipe. Seven layered dessert made out of flour,eggs,sugar and some magic. The chef told me its prepared in an authentic style. Melts in mouth. A hearty heavenly dessert.
Goa is rich in heritage structures. Portuguese rule in Goa lasted for 450 years. One can explore the exquisite Portuguese touch in the buildings and monuments built during 16th century. The style and workmanship is unique. There are many museums across Goa which can explain the history of the city. A World map explaining how adventurers including Vasco de gama discovered en route to Goa caught my attention. I became a curious kid to know about the treasures trapped in golden olden days.One cannot miss a chance to visit The Basilica of Bom Jesus - UNESCO World Heritage site.If history, antiques, ancient engineering and planning can fascinate you, then visit The history, antiques, ancient engineering and planning of these splendid buildings truly fascinated me.
Must visit monuments of Goa:
The Basilica of Bom Jesus
"Bom Jesus" means "Good Jesus" or "Infant Jesus".Located 10 km east of Panjim,capital of Goa.It is a UNESCO World heritage site and an ancient marvel. Inside sacred relics of the body of St.Francis Xavier is kept in a casket.Paintings and wooden carvings were exquisitely carved to depict the scenes from the life of the saint.The buildings surrounds itself a beautiful lush green garden.
Se Cathedral
Largest church in Asia, largest and grandest in Goa.Located in Panjim,old Goa.The magnificent church bears sky high ceilings and giant bells.The giant bell is known as "Golden Bell".Ancient paintings and decors can be seen on the walls of the church.The museum "Archaeological Survey of India" is located inside the church campus.It is composed of information about the discovery and history of Goa.
Our Lady of the Immaculate Conception church
Church to be first built in Goa.One cannot surpass the roads of Panjim without noticing this pleasing architecture.The interiors of the church is simple but the exterior design of the building will catch your eye.The church is dedicated to Jesus crucified and Our Lady of Rosary.
Fort Aguada
Largest Portuguese fort in Goa.Located in north Goa.The fort was built to control water flow from Mandovi river into Goa.Also it protected from enemy attacks during ancient times.This is the only fort which was not conquered by invaders during the 450 year Portuguese rule.The fort expands into a picturesque view of Mandovi river aside.Another monument which should not be missed while on a visit to Goa.
There are lot more churches, monuments and temples to visit in Goa.
Goa beaches have lot of water rides to enjoy.
Banana boat ride
Excellent water sport activity in beach waters. 4 or 5 persons are seated on a banana shaped raft tied to a speed boat. Speed boat will be driven by a Professional. He can take you into sea waters so efficiently. Banana raft will move along the waves.Speed boat attempts you to slip into water.How tightly you can hold is the key and its fun.Even children can play this sport safely. Life jackets are given for safety.
Paragliding/Parasailing
Another water sport activity to satisfy the adventure hunger in you. You will be attached to a parachute.A speed boat will be pulling the parachute.The majestic view of the landscapes and beaches can be enjoyed while sailing in a parachute.
Snorkeling
Snorkeling is an underwater exploration sport. A simple breathing apparatus will be given to the divers. A tube in the apparatus is exposed to the outer atmosphere while you were floating in the sea waters. This ensures uninterrupted oxygen supply. So you can easily float and observe under water life.Everyone can enjoy this sport. This doesn't require training or swimming skills.
Scuba diving
Scuba diving is yet another underwater sport. It takes you to the deep sea levels.As you will be swimming deep inside the sea,training is required.Expert guys will guide you.You may be required to undergo pool sessions with the equipment needed to do scuba diving.
Vacation without shopping is impossible. Panjim is a great shopping circle. Markets and bazaars in the beaches are a must try. Anjuna flea market in Anjuna beach is a popular one. Goa is also popular for cashews. Shops selling cashew nuts will be available throughout the city.
I had the best vacation in Goa. The unplanned trip still remains very special to me.
Frequent Searches Leading To This Page:-
Best Tour Packages for Goa, Goa Tour Package for Couple, Best Travel Packages for Goa, Best Goa Trip Packages, Goa Holiday Tour Packages, Top Goa Packages for Family, Goa Honeymoon Packages from Delhi