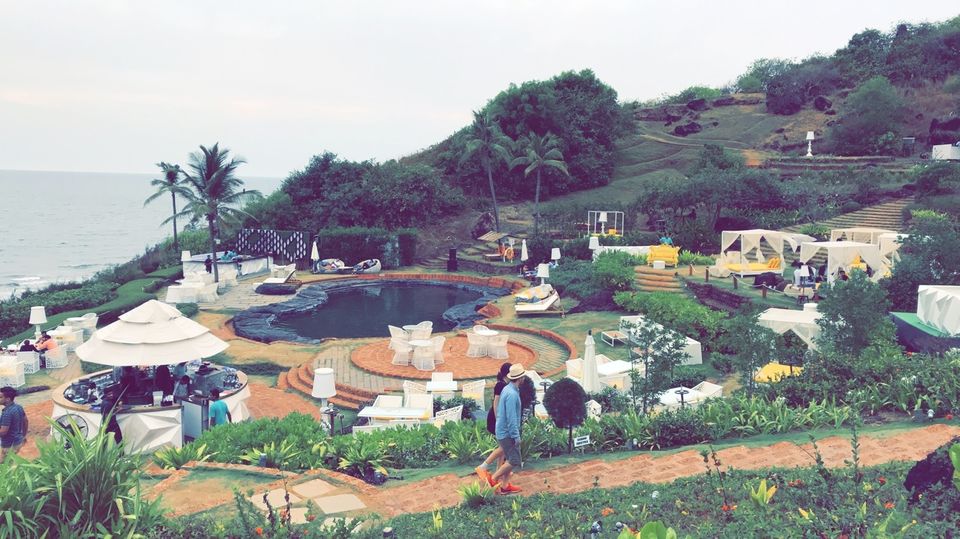 Goaaaaaaa... the dream friends vacation. For almost every indian, breaking up would lead to goa so will patching up. Its Goa for partying hard and its GOA again for lazing around. From best of beaches to best of churches, it has to be the one and only-GOA. It has got it for all types of moods/groups.. So heres to epitome of "the friends' place".. Cheers!!
Goa is to be explored like a freeee bird. No point in following any day wise itinerary.
Its a well known fact that north goa is the "hap" hub in goa while for cleanest beaches, best churches and larger than life resorts, south goa is one point contact.. Here are some of the wows of Goa...
North Goa:
Amongst the north goa beaches, i personally enjoyed vagator and anjuna the most.
Vagator: positive vibes, great cafes and the jaw dropping crowd make vagator the perfect place for a vacation. Have sumptuous breakfast at jaws cafe, enroll for some yoga classes or shop to the core at the local shops on the way to the beach.. vagator boasts some bestest places to chill and enjoy sunsets in goa namely thalassa, antares, vista mar (all in one line) or rock bar of w resort. Time to enjoy hot chics, hot food.. cool dudes, cool drinks (thinking of hitting vagator right away??) Vagator, u surely bowled me out!!
Anjuna : a small unique beach with foam like waves and awesome restaurants on its shore (including all famous curlies restro bar), anjuna is a must visit place for the dashing waves, the shacks and the sunset.
(Ohhh did i forget to have sumptuous meal at au french cafe on the way to anjuna)
Baga:
Your trip to Goa would be incomplete without a visit to the vibrant, colourful and lively bagha beach and the bagha lane. Party in the clubs like titos, mambos, cocktails & dreams, cape town cafe or party on the beach in one of the shacks.. Baga has it all: Your music, your decor, your budget and your crowd. This place literally never sleeps- up and bustling till 4 or even 5 in the morning!!
Moral of the story- baga party scenes cannot be missed!!
Aguada fort : the fort which has been famous since"dil chahta hai" release, this place overlooks sea and offers damn good views and super cool breeze. Important : this places stops entry post 5 so make sure u are there before that to continue till sunset. You could also visit light house adjacent to the fort for a 360° view..
Best clubs: The clubs like Goa are another world altogether. They are magnificent.. theme based.. got awesome music and attract crowd like the ones you have never seen before.. Amongst the damn famous ones are Club Cubana (superb club built on a hillock around a lake) , LPK (grand entrance, lake and super dj) , silent noise club (headphoned club in south goa)
Shopping:
Best shopping experience is available in almost every alternate street/lanes of however huge markets with lots of stalls can be visited in Anjuna's Wednesday market, Arpora's Saturday market, Mackies night market on Saturdays in Arpora or Baga/Calangute markets..
South goa
"Already smitten by north goa? Wait for me, dude", says south goa..
Dudhsagar: Is named so because it looks like a milky waterfall. Dudhsagar is damn well maintained-private vehicles/outside eatables not allowed inside. Their safari takes u in, u trek in a supercool and natural environment for around half an hour to reach the falls. Now comes the bestt part- swimming or floating in the waterfall.. swim with big fishes beneath or go under the mighty falls or just float on freezing water. Blissful!!
Pro tip: traveling to dudhsagar would be a little far and also expensive. Make sure you go in a big group and early too as there is an entry limit to number of vehicles per day.
Churches - there are ample of awesome churches in South goa, this being native to many goans/Catholics.. you could visit a few to soak yourself with positivity and peace of mind.. not a bad idea..isnt it?
Resorts- Taj, Leela, Novotel, Radisson etc etc. You name it and south goa has it for u. Luxurious resorts with private beaches in most of them. Could go for one of these in some off season to experience lavish lifestyle and comfortable stay yet be pocket friendly.
Overall, goa is freaking fun and fabulously fantastic.. baby, i ll keep seeing u, very very often. :)