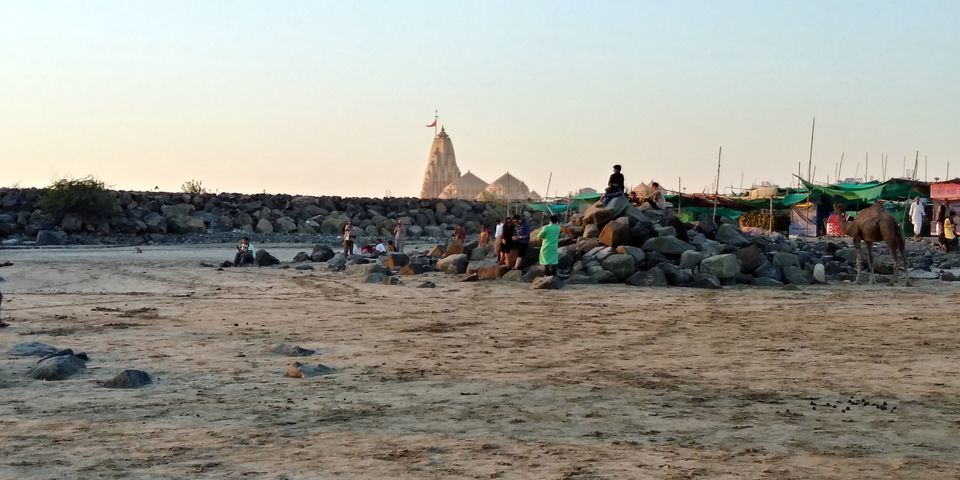 Somnath, the First among twelve Jyotirlinga dedicated to Lord Shiva, is a beautiful destination of Hindu's beliefs located at western coasts of Gujrat, India. Somnath is epitome of perseverance as it resurrected from destruction and invasion atleast 17 times. During Dec'17, I visited this artistic temple which was reconstructed in 1951 based on Chaulukya architecture. Not just that, the entire Prabhas Patan area is blessed with diverse ancient places of significant historical and religious faiths.
I, with my group started my trail to Somnath after a thrilling Lion Safari at Gir National Park which is just 30 miles from Somnath. We started from Gir at noon towards Somnath, which can be traversed easily in 1-1.5 hour through Shared Transport available such as buses or Autos, we got the latter one as frequency of buses is limited. This road has some rough patches and pass through few villages, but entire route is hushed and can be smoothly covered on personal car or hired taxi as well.
The plan was to start our trail in Somnath with a plunge into the Triveni Sangam where Hiran, Kapil and Saraswati rivers meet with Arabian Sea. But as soon as we looked in water, it didn't feel like dunking into water as it was mucky probably due to cremation rituals which were being performed nearby. Hence we decided to move directly to our Hotel which we had already booked online. There are plenty of hotels available at pretty reasonable prices, the one we booked was in proximity to Somnath Railway Station.
After freshening up it was time to begin the trail with Bhalka Tirth which was just 3 miles from our hotel. So we hired an auto to guide and take us through all major places of interest. The route was scenic with Arabian sea on one side.
Bhalka Tirth is a prominent place of Hindus since at this place Shri Krishna got fatally wounded when a huntsman Jara pierced an arrow through His feet as he misapprehend him to be a deer. Lord Shri Krishna, however pardoned the poacher and made his sacred journey to Neejdham from Dehotsarg near Triveni Sangam, here footprints of Shri Krishna are also carved.
A temple was later built to mark this holy place which is also known as Mahaprabhuji's Bethak. Then we moved 2.5 miles towards sea-shore from where huntsman Jara supposedly aimed at Shri Krishna. Another temple dedicated to bhagwan Shashibhushan with Bhidbhanjan Ganpatiji was later established here.
In the vicinity of Dehotsarg, few more divine destinations are present which hold strong historical significance as per Hindu scriptures. Amongst these are The Gita Temple and Laxminarayan Temple where the divine chants of Shrimad Bhagwad Geeta are engraved on beautiful Marble pillars and Lord Laxminarayan is worshipped.
Nearby is an ancient holy cave known as Baldev Gufa or "Dauji-ni Gufa" in local language, it's believed that Lord Krishna's elder brother Baldev who is surmised as incarnation of Sheshnag (king of snakes) disappeared to the netherworld from this cave in his indigenous serpent form.
Paanch Pandav Gufa and Suraj Mandir are another exemplar of heritage, dedicated to Five Pandava Brothers and Sun God. The atmosphere here is spiritual and reviving.
After this we quickly covered Parshuram Temple on the banks of Triveni where Lord Shiva alleviate Lord Parshuram from his curse after a long penance and Kamnath Mahadev Temple with a pond believed to cure any human diseases with just a dip in it. The next pit stop on the list was Ahilyabai Temple built by Rajmata Ahilyabai Holkar to cover the actual Jytoirling from being raided where Shiva is still being worshiped.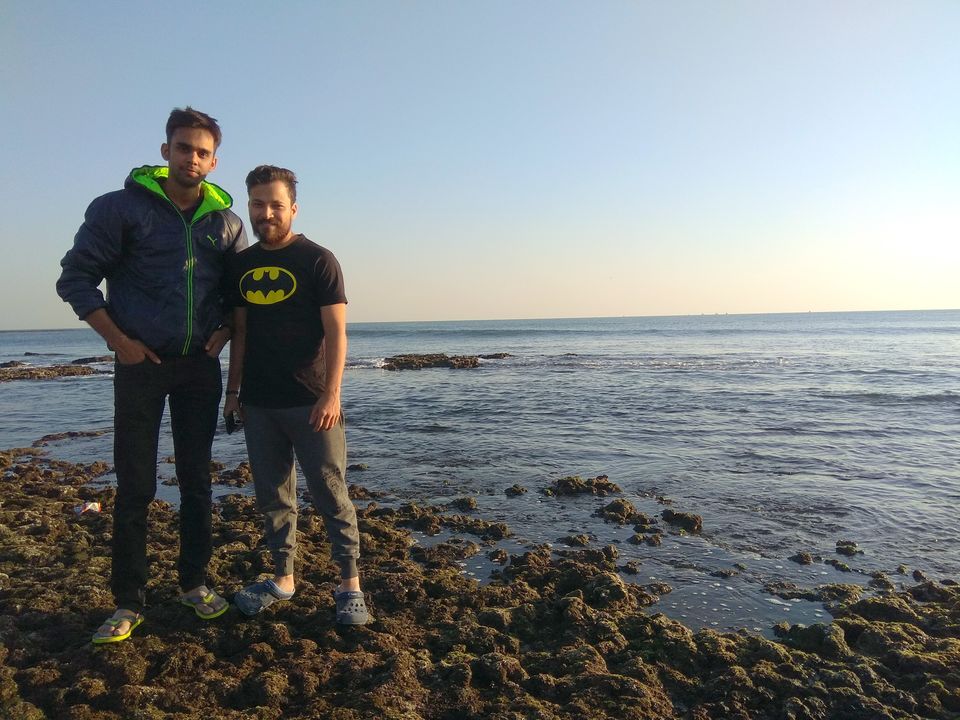 And finally, it was time to reach the main attraction of our visit, the magnificent Shri Somnath Jyotirlinga Temple located at the verge of Somnath Beach. We deliberately reserved the evening time for this because we wanted to witness the pleasing Aarti at 7 PM and the astonishing "Jay Somnath" Sound and Light Show from 8 to 9 PM. Generally the Darshan timings at temple are from 6 AM to 9 PM.
But before that we thought of swigging fresh coconut water and lip smacking street food at Somnath Beach Chowpatty where numerous local food joints and shops selling handcraft items were congregated. Dusk was spreading in the whole sky making the entire ambience picturesque.
And now we proceeded towards the Main Temple entrance. But before that, we had to lock all our belongings including mobile phones and cameras into cloakroom. And that's the reason we couldn't click any pictures of the majestic temple. The fact that this temple was built with Gold, Silver and other precious stones repeatedly after getting plundered many times left us dumbfounded. Another interesting fact was linked with Baan Stambh (Arrow Pillar), as per that there is no hindrance in the straight line from this point to the south pole. It was built decades ago without any technology like GPS, makes this fact spellbinding.
As per legends, at this place, Lord Shiva blessed Moon God with light and relieved him from the darkness cursed by his father-in-law Daksha Prajapati. Hence a Golden Temple was built by Moon God first and then later by Ravana in Silver followed by Sandalwood by Lord Shri Krishna. This temple was destroyed atleast 10 times and looted 17 times by Emperors like Mohammed Ghazni, Alauddin Khilji and Aurangazeb, but yet it resurrected every single time due to faith and reconstructive spirit of people.
After attending the beautiful Aarti of Shri Somnath, we roved around the exquisite realm of temple and then gathered at the amphitheater to watch the "Jay Somnath" Sound and Light Show. And believe me, that was the most breathtaking event of the day! A show walking through the history of temple with stunning lasers projected on the temple with fantastic sounds.
It was time for dinner after this awe-inspiring show and we had a sumptuous Gujrati Thali at one of the restaurants nearby. Then we walked towards our hotel to end our day with soothing breeze and rousing journey to pristine coastal town of Diu next morning !!
Some Useful Additional Information –
How to Reach Somnath-
Diu airport is closest to the Somnath (Prabhas Patan) (nearly 80 kms). From here you can either take a bus or hire a taxi which takes approximately 2 hours to cover this distance.
Ahmedabad which is nearly 410 kms is another option from where you can get direct buses either to Somnath or to Junagadh. You can also hire Taxi from here.
Junagadh (90 kms from Gir) receives trains from different cities and can be a good option to reach Somnath by Train.
Places to Visit Nearby-
Being a small town, just one day is enough to explore the Prabhas Patan area in Somnath. You can club few amazing nearby places in your itinerary to make the trip more memorable. The two best nearby places are-
Sasan Gir (coastal town nearly 65 kms) commonly known as Gir, is a National Park, spread over 1882.6 sq km at the Land of Gujrat, India. It's the only place in India to see Asiatic Lions in their natural habitat from an Open Jeep Wild Safari. More details for this can be read on another trail of mine Gir – The Playground of Lions.
Diu is a small island territory with beautiful serene beaches and many other Picturesque attractions including Naida Caves.