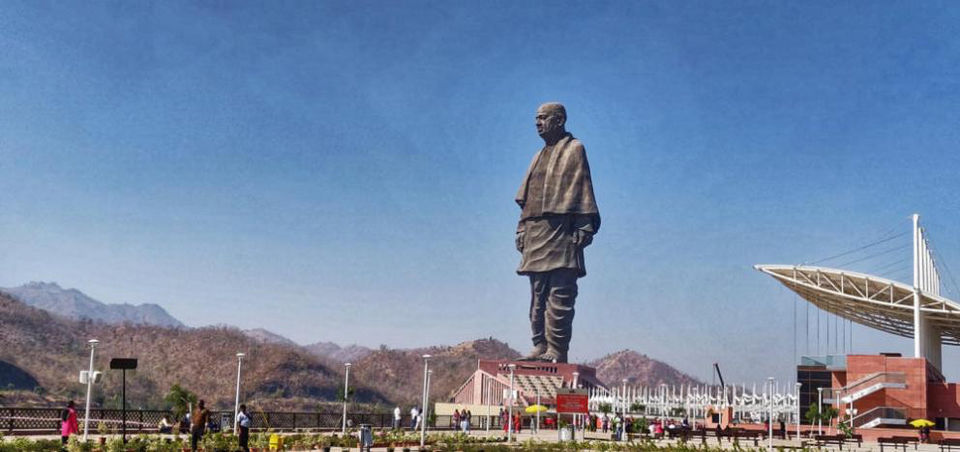 Back in 2013 the budding idea to build the tallest statue in the world in the honour of the Iron man of India is now open to the world to witness in reality.
Sardar Vallabhai Patel who is rightly given the title of the Iron man of India as he had played a pivotal role in unifying the princely states of India during the country's struggle for Independence.
What makes this statue so unique in it's making ?
At the time the idea was proposed to build this tallest statue, the Government of India began an initiative called the Loha Campaign (Iron campaign) which encouraged the farmers of India to donate their used tools (one from each village of India) in making this magnificent structure. This campaign was in sync with the ideologies of Sardar Patel to unite India as one Independent nation.
Why you should plan a visit to the Statue of Unity ?
The topmost priority when you visit the Statue of Unity should be visiting the observatory deck which is accessible to tourists through elevators built within the statue. The observatory deck is at an approximate height of a 45 storeyed building. One thing that must be followed is to visit the observatory deck within two hours of buying the ticket. Do check your slots written on your own tickets before you enter. The observatory deck offers a panoramic view of the Narmada river and surrounding villages.
2. Sardar Sarovar Dam : This is one of the largest dams in the world that is situated in the premises of Statue of Unity making it a very peaceful place to visit and observe this grand structure.
3. Valley of Flowers : It is one of the tourist and picnic spots around the Statue of Unity. You will enjoy a good family time during the evenings amidst the wide variety of flowers.
4. Museum / Audio visual gallery : This museum and the gallery sows the life journey of Sardar Vallabhbhai Patel since his childhood days. You can also witness some old archives of the photo collection in this museum. The movie of his life journey is worth watching. All the original clippings of his life events are available. You can also see the stages of how this statue was constructed right from the scratch and appreciate the combined efforts of engineers, workers, labourers and all others associated to it.
5. Laser light and sound show : This show is conducted in the evening time after the sunset around 7pm which display's how India was united as one nation.
6. Helicopter ride : There is helicopter ride that you can enjoy which will take you to the topmost point of Statue of Unity giving you a whole new perspective of the surroundings of the statue. It is one of the most affordable helicopter rides to experience in India.
7. There is a proposal of starting boat rides as well on the Narmada river.
Visiting hours and entry tickets. (ONLINE BOOKING AVAILABLE)
Visitors can buy tickets for the Statue of Unity from 8am to 6pm from Tuesday to Sunday.
It is closed on Monday for maintenance.
The ticket window closes at around 5.30 pm.
Ticket rates include visiting Observatory Deck, Valley of Flowers, Sardar Sarovar Dam, Laser Light and Sound Show, Museum and Bus ride that will transport you from one point to another around the premises of Statue of Unity.
Adult : ₹ 350
Child ( 3 to 15 years ) : ₹ 200
Express entry : ₹ 1,000 per person for both child & adult. The benefit of express entry is that you will get priority entry to board the bus and to visit the Observatory deck
Timings for observatory deck
The slots during which you can enter the observatory deck are :
9am – 11am
11am – 1pm
1pm – 3pm
3pm – 5pm
Check before you book as it may be subject to change.
Helicopter ride and bus service charges :
Charge for 10 minute helicopter ride is ₹ 2,900 per person
Bus service : Tourists can hop on / hop off the respective spots. You do not have to buy separate tickers to each spot that you wish to visit.
Where to stay ?
The Gujarat government has built tent city in the Narmada region which is 10 minute away from the Statue of unity which is open for the tourists all throughout the year.
Food Availability
There is specific area allotted to food court and food stalls in the Statue of Unity premises. You can have a variety of food options as per your choices. Make sure to try some local snacks.
How to reach Statue of Unity ?
Vadodara is the nearest city to Statue of Unity situated at a distance of 95 km.
Surat is the second nearest city to Statue of Unity situated at a distance of 154 km and followed by Ahmedabad which is at a distance of 200km and Mumbai at the distance of 420 km.
All these major cities are well connected with train network and can easily be accessed.
There are daily flights from Mumbai to Ahmedabad as well.
Some important points :
-> You can hire a guide who will explain you everything in detail.
-> There are no camera / Videography charges
-> There are wheelchairs available
-> Decent and well maintained washroom facilities
-> Safe drinking water and medical aid
-> A souvenir shop which sells various products that you can buy as per your choice
-> Parking facilities are available
Since it has been opened the footfall of the tourists have been a lot and the Government of Gujarat is able to manage so well with footfall numbers going up to even 50,000 people visitors on a single day.So plan your visit to this grand statue and experience it for yourself and appreciate its beauty.
For more further information go on to the official website.