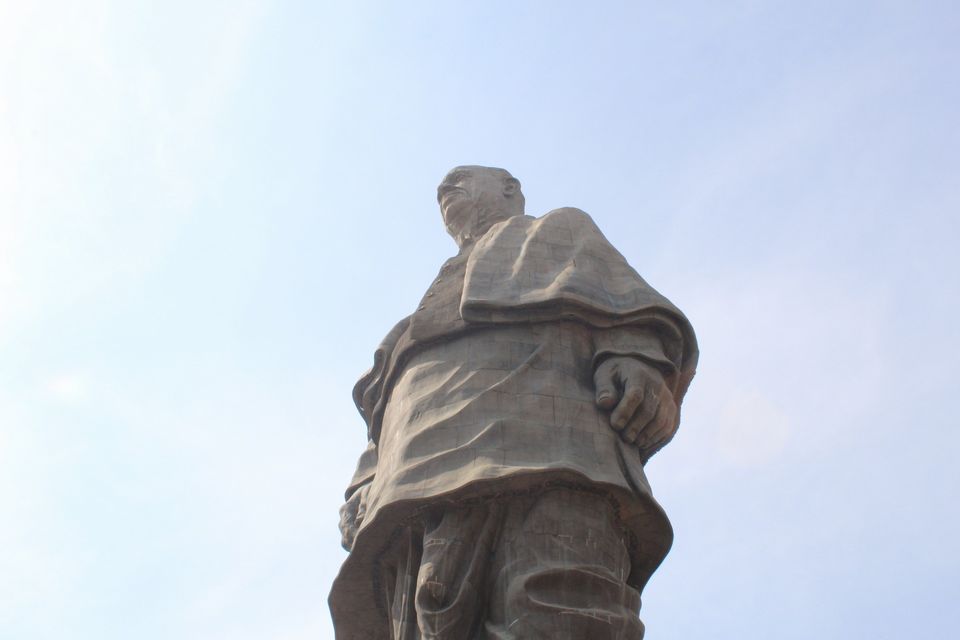 Statue of unity.. world's tallest statue in a beautiful narmada valley will definitely make you feel  mesmerizing. When I was planning for rann of kutch.. gujurath trip.. I made sure to visit world's tallest statue which is trending recently.. It is located on Narmada river bed near sardar sarovar dam in kevadiya colony.
Most convenient way to reach statue is by nearest city vadodara which is 90km away.
Here is the story how i reached statue of unity from vadodara by public transport.

Arrived vadodara at 6.am thorough bus. After reaching we head to hotel nearby bus stand area.. as we are leaving same night from vadodara we made instant budget hotel booking.
we are eagerly awaited to visit staute of unity, after fresh up we headed to vadodara bus stand which is more like mall than bus stand!!
The breakfast inside it was very good with minimal cost. There is no direct seperate bus to statue, there will be frequent regular bus to kevadiya colony which will drop to booking counter for statue of unity in 3 hours from vadodara.
After reaching statue of unity parking lot  we need to take tickets including its own bus tour about 22km round trip in a naramada valley. We can ride any bus any time for any type of ticket.
Tickets will be in 2 rates.
1.  150rs for adults n 70rs for childerns which is accessible to statue of unity outside view and a bus trip for sardar sarovar dam, valley of flowers, about 22 km round trip.
2.  350rs for adults n 230rs for childrens other than above places it includes gallery view inside statue. The observation deck where we can see  narmada valley view from top of statue window..n a museum inside statue.
To view observation deck there will 2 hour slots which we need to choose from.

Buses take tourist from the parking lot to statue, as the area around the statue is 'no private vehicle" zone.
15 mins of ride we reached at statue of unity. Have to walk inside 1km but no worries as there will be elevators which take us near statue of unity n even inside observation deck at the top.
Its amazing to watch the world's tallest statue with height of 182 meters. It takes minimum 2 to 3 hrs to watch it satisfyingly. Had dokla near entrance n even have some kadhi shopping center there.
After this we headed bus at 2.30pm which takes a tour of  nearby  places like sardar sarovar dam, valley of flowers which takes  about 45mins and  drops you again at starting point of entrance parking lot.
Around 4 pm we decided to return vadodara. To take bus we need to reach kevadiya bus stand which is 2km from statue entrance. There will be auto for 30 to 40rs to take us to bus stand. Every 1 or 2 hour buses will be there for vadodara. We took 5pm bus from kevadiya colony bus stand to vadodara feeling proud of India with lots of beautiful memories in narmada valley. I m happy that we could visit within 1 month of its opening day.😊
Note:
The statue remains closed every monday for maintenance.
Other days time: 9am to 5pm.