Vietnam is a country of breathtaking natural beauty with a unique heritage, astonishingly exotic and utterly compelling. The stunning and varied geography, amazing cuisine, plentiful beaches and endless shopping centers are all reasons to travel to the country. Vietnam's war-torn history—the French, Americans and Chinese have all left their own unique stamps on the nation and not so positive ones.
The most interesting thing that we found about Vietnamese culture is that they are always outside hanging on the streets. People are seen hanging outside on their doorsteps, in public parks, and sitting on the sidewalk on tiny plastic chairs. The first thing that blew our mind was the insane amount of motorbikes on the streets. Due to the fact that there isn't a metro/subway system, nearly everyone drives a motorbike around town. There is something like 6 million motorbikes in this city of 10 million people. The people, as expected, are very friendly and always smiling.
We loved what we did see and experience in Vietnam. To give you a taste of what we loved and why we loved it, here we share our experience.
Eating your way through Old Town Hanoi
The old quarter in Hanoi–with its French architecture, buzzing motorbikes, overflowing storefronts, and tucked-away temples is a charming city with its steaming street food. If you are a non-vegetarian, Vietnam is a great place for food. You will enjoy a variety of street food and yes, don't miss out Pho Noodles, a popular Vietnamese Noodles.
Halong Bay and Kayaking
The emerald-green bay with its dramatic limestone karsts truly is a must on any visit to Vietnam. The beauty of the bay just took our breath away, it was mind blowing. The World Heritage seascape of Halong Bay, dotted with jagged limestone pinnacles, is one of Vietnam's biggest attractions. The most popular way to experience the bay is on a cruise and enjoy an hour or so of kayaking, swimming and hiking. Paddling around the karsts allows you to experience the limestone towers from a completely different angle: up close, at sea level which was extremely beautiful.
We did kayaking which was an awesome experience. It was so much of fun. We were surrounded by a breath-taking scenery. It was very relaxing. The surprising thing was that many local people live there in small wooden houses doing some fishing, selling food and fruits to tourists or renting boats and kayaks.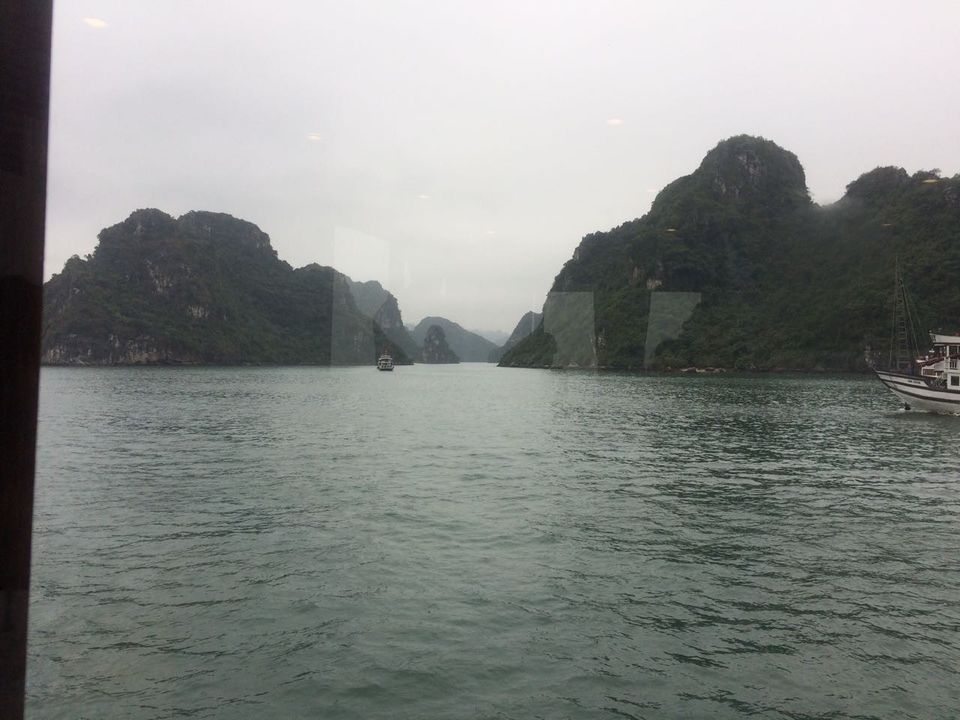 We, then, sat on the terrace of the cruise and admired the view. It was spectacular. The karst mountains seemed to rise out of the water, the sky was perfectly blue. We relaxed on the deck of our luxurious double-sailed junk and enjoyed the sight.
There are these caves as well with thousands of stalagmites in the grotto. There is a lighting system inside which adds more charm to the beauty of the cave. We spent there around half an hour and that is quite enough.
This is the best way to explore Halong Bay with limestone islets, with your loved one. 
Water Puppet Show
The water Puppetry show in Hanoi depicts the Vietnamese cultural scenes, countryside life, and folklore stories. It was interesting to not only see the puppets, but something we enjoyed was listening to the traditional music and singing that was synchronized to the water puppet show.
Night in Ho Chi Minh
Nightlife in Ho Chi Minh, Downtown in District 1, rooftop bars and smooth jazz bands are the choice forms of nightlife entertainment in Saigon. A street named Bui Vien, with its boisterous street bars, good eats (for us it was French Fries, Garlic Bread and Saigon Beer, a great combination :P) and good time vibe, is certainly the place to be when night falls. Sit back with a cocktail and soak up the stunning view of Ho Chi Minh City from sunset until late into the night. It is the backpacker hub of the city and welcomes a mix of foreigners and local Vietnamese who mix freely and chat the night away, drinking beers on small plastic stools all along the street. Everyone casually hangs out and drinks beer on the street in little plastic chairs.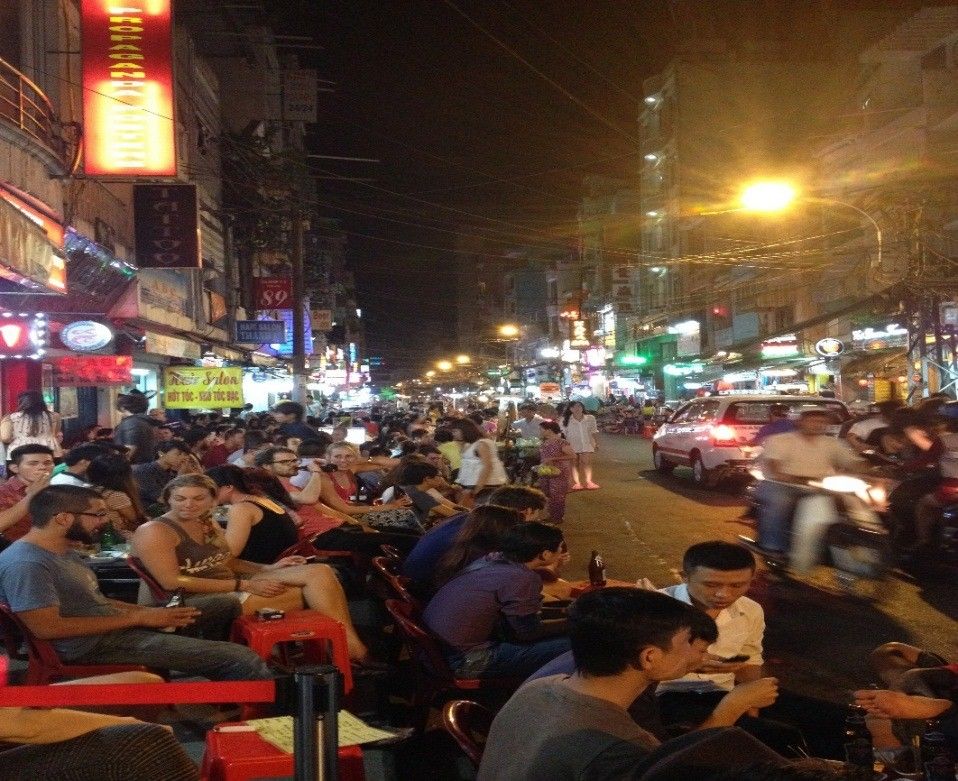 Historical Place
We spent most of my time roaming around the city and soaking up the culture. One of the most popular things to see is the Vietnam War museum and the Cu Chi tunnels. We learned a lot about the War that whenever knew before. Another cool thing to see is the French-style Church of Notre Dame and the Grand Palace. The Museum is amazing, you can peacefully walk around and click the pictures and see the war exhibits and military equipment.
Ben Thanh Market
Even as touristy as it may be, it's a buzzing market, full of shopping stalls and being located in the heart of the city, it is probably the most important central landmark of the city. We saw a both foreign tourists from around the world, as well as Vietnamese shoppers. If you are shopping for clothes, souvenirs, or dry foods like nuts or dried fruit, tea or coffee, you could easily spend a few hours getting lost in the tiny, stuffed lanes of the market.
This is one of the main night markets in Ho Chi Minh City, but I didn't really care for it too much – it was a bit over hyped for me, but still a good place to walk around.
The Bitexco Financial Tower and its helipad folly
The tallest building in Saigon is the Bitexco Financial Tower, which would rank as one of my favorite skyscrapers anywhere. Its iconic shape has become a local landmark .The most prominent feature of the tower is the helipad.
Mekong Delta
This day again was a perfect one!!!. It was a super super day! So relaxing but also active.
There was a bee farm on the first island we sailed to. We went through the small market where locals were selling some clothes, fruits and some souvenirs. After a quick window shopping we tried some natural honey produced by bees on the island. The tables with goodies were waiting for us. We firstly tried some honey tea, with some grains (I actually don't remember what grains were they) which made the tea taste fresher and sweeter. We also tried some fresh fruits such as dragon fruits, jack fruits, watermelon, papaya and were extremely delicious. There was also a snake wine and banana wine tasting after these snacks. What did it taste like? Hmm… the wines tasted like VODKA, a straight shot of vodka, the bottle looked awesome though.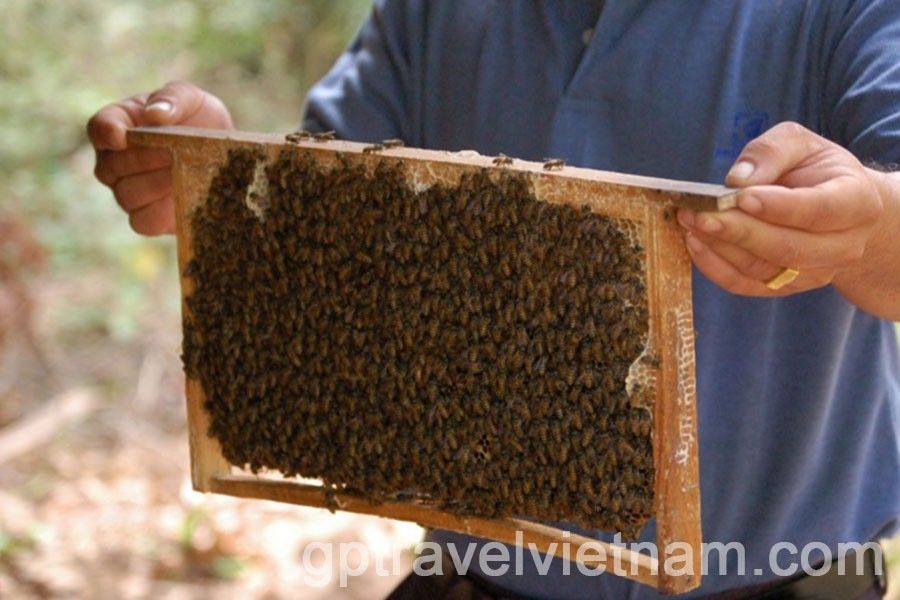 You can see the snake being coiled and locked up inside of the bottle. This was something fascinating. After that, we were ready to face our fears!! Python fear! I had a go first. It was scary as Python was moving but then again a great experience. We were then off to visit the next island on a horse-cart and got on the boat again to visit our next destination.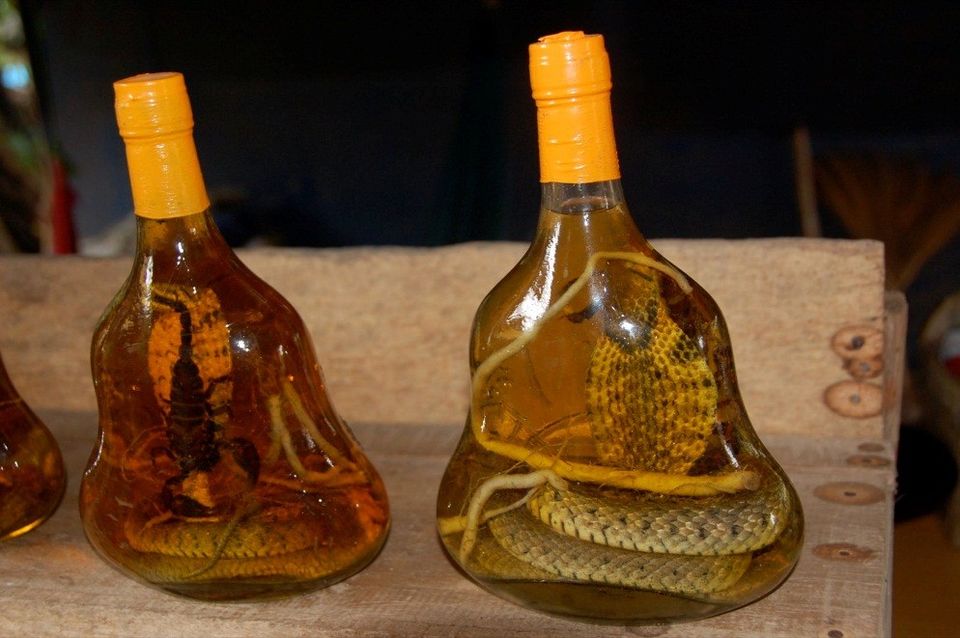 Overall, I would say if Vietnam was not in your travel list, please take it in, you will have a great time, no doubt!!!
And now it's your turn to navigate your way through the bustling traffic, discover new areas, stop at a museum or market, grab a bowl of hot noodles and beer on the sidewalk, enjoy some live music, dance, clubbing and explore many other possibilities waiting for you in Vietnam!