We being avid travellers with an unsatiable hunger for history and good food, after a lot of research on what would match our preferences we decided to visit Vietnam which has a longstanding history plus is a foodies haven.
It took us months of planning especially calculating the cost factor since ours is always a budget travel combined with visiting maximum places in the tour, in short 'value for money' as we call it. We had initially planned Vietnam & Cambodia since we had visited Bangkok & Pattaya previously. But while checking for our air tickets ,we found the return tickets from Cambodia to India were considerably expensive whereas the return tickets via Bangkok to India were cheaper and the cost of travel would be reduced inspite of us having a four day stay at Bangkok/ Pattaya . And thus our trip was finally planned as Vietnam-Cambodia -Thailand .
A brief introduction to Vietnam especially for a first time visitor : Vietnam is a Southeast Asian country sharing its borders with Cambodia & Laos. It is famous for its beaches food and history mainly the Vietnam war The climate is tropical with high humidity. It is recommended to visit Vietnam in February to April ,but we had visited in November and the climate was quite cool and pleasant.
How to reach : In November we embarked upon our exciting journey from Mumbai to Vietnam by Malaysian Airlines. With a stop over at KL International airport, Malaysia we reached Hanoi by afternoon. We normally arrange with the hotel where we are going to stay for an airport pickup. 
After driving downtown to our hotel situated in the Old quarters of Hanoi which was just a 2 minutes walk to the famous Hoan Kiem Lake and 5 minutes to the Night Market right where the action is.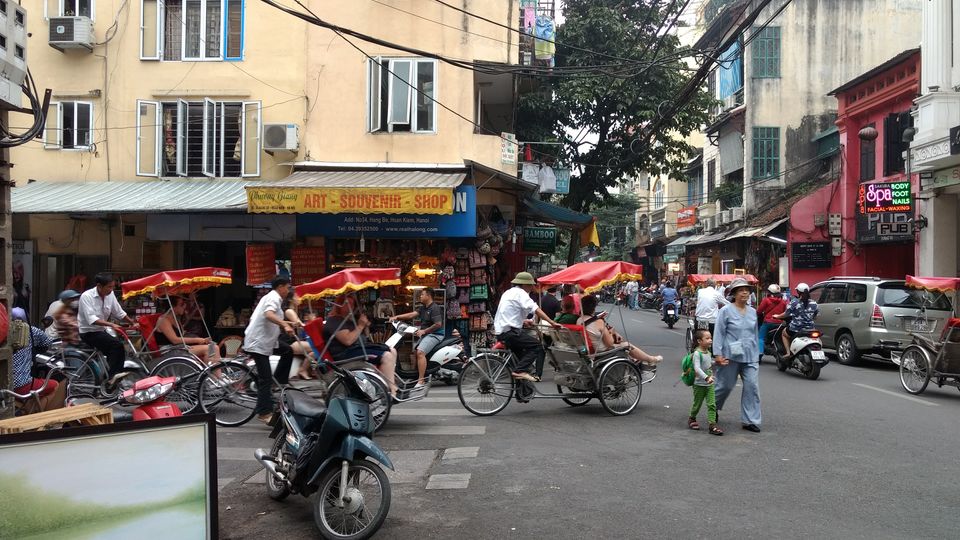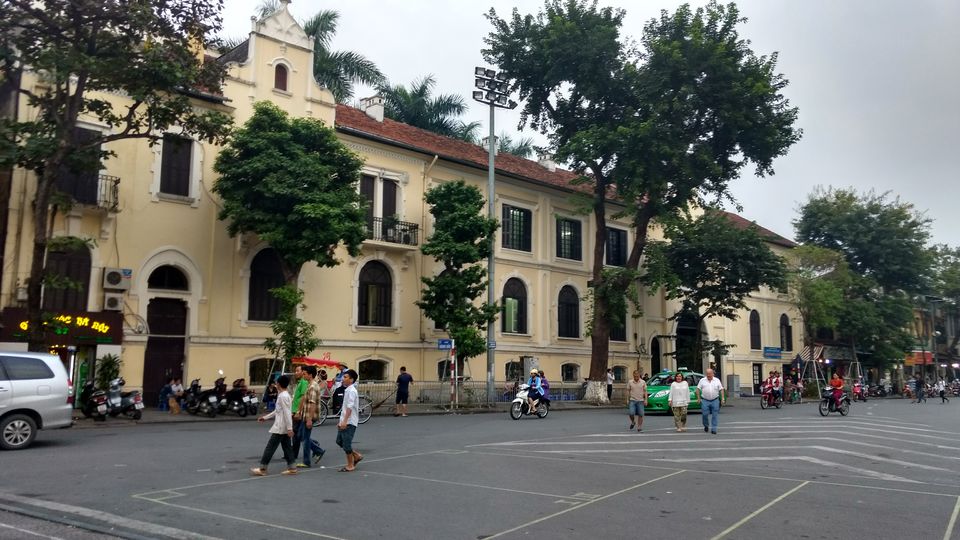 Places to See : The Ho Chi Minh Mausolem (Ho Chi Minh was a Vietnamese Communist Revolutionary Leader and also the Prime Minister and President of Democratic Vietnam) ,One Pillar Pagoda , Hoan Kiem Lake ,The Temple of Literature & the Hoa Lo Prison used by French colonists in Vietnam for political prisoners are various places to visit when in Hanoi. All places are close by and easily reached by the local tuk tuk (equivalent to our rickshaws) or taxis.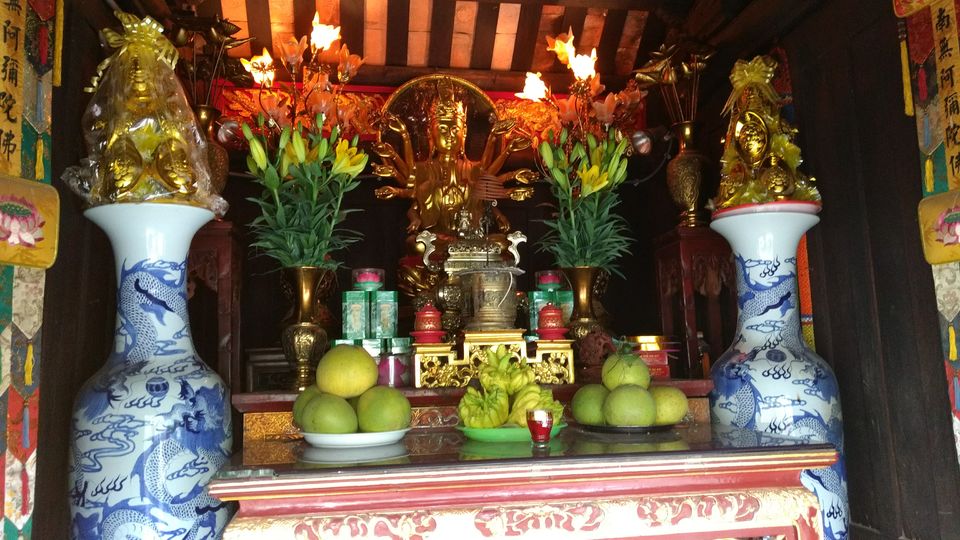 Food Travails : We being foodies , we had hired a Food Guide who took us through the lanes of Old Hanoi into homes of residents to taste authentic Vietnamese food. We had Bun cha ( dish of grilled meats with noodles ) , Pho ( the famous street food of Vietnam which is a delicious noodle soup made with chicken , pork or beef ) , Banh Mi (a hot dog type bread with pork slices/ chicken ,Vietnamese sauces,pork pate) , Banh cuon ( rice crepes with stuffing of meat with sauces ) ,Vietnamese Spring rolls being authentic Vietnamese delicacies.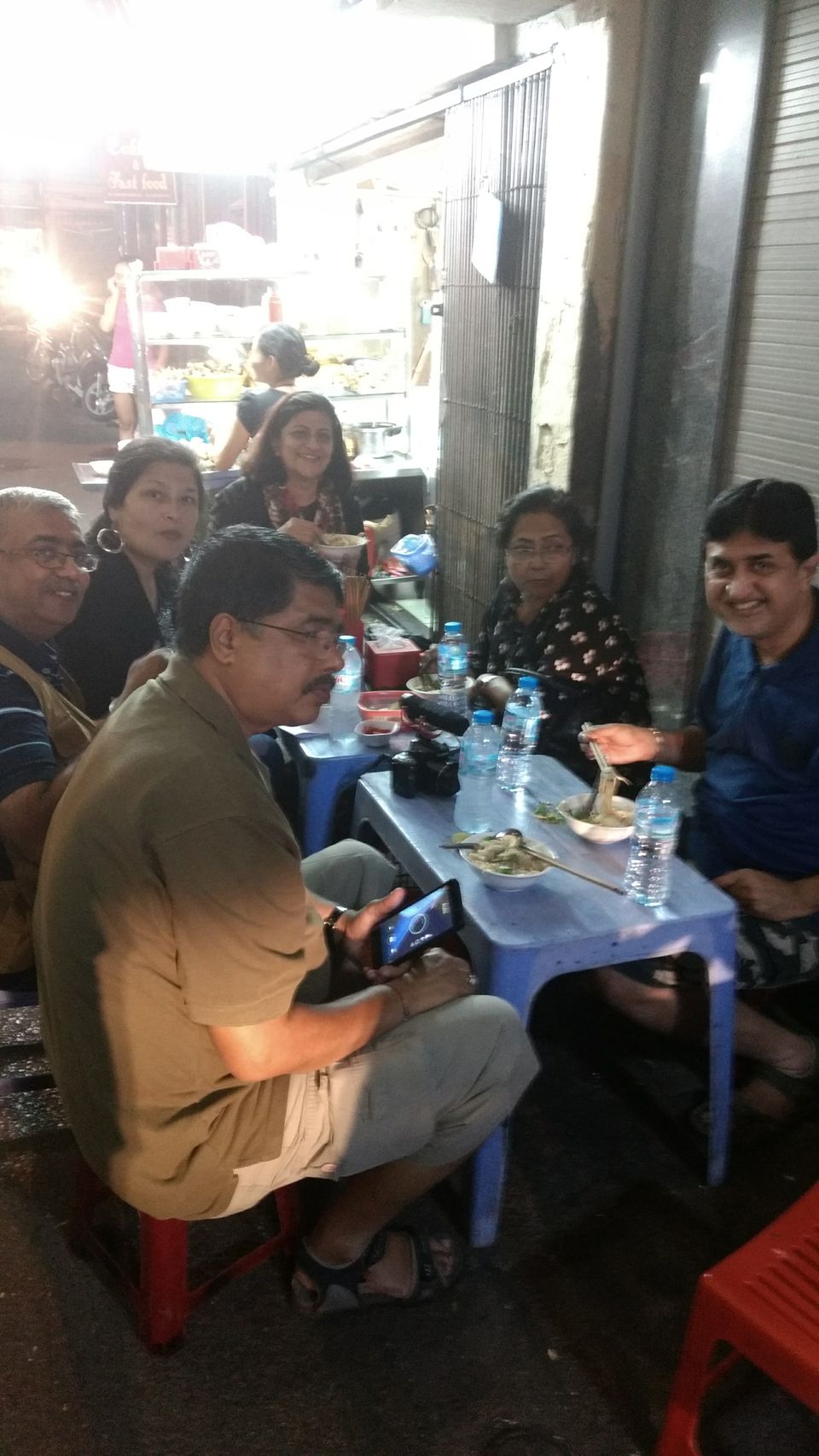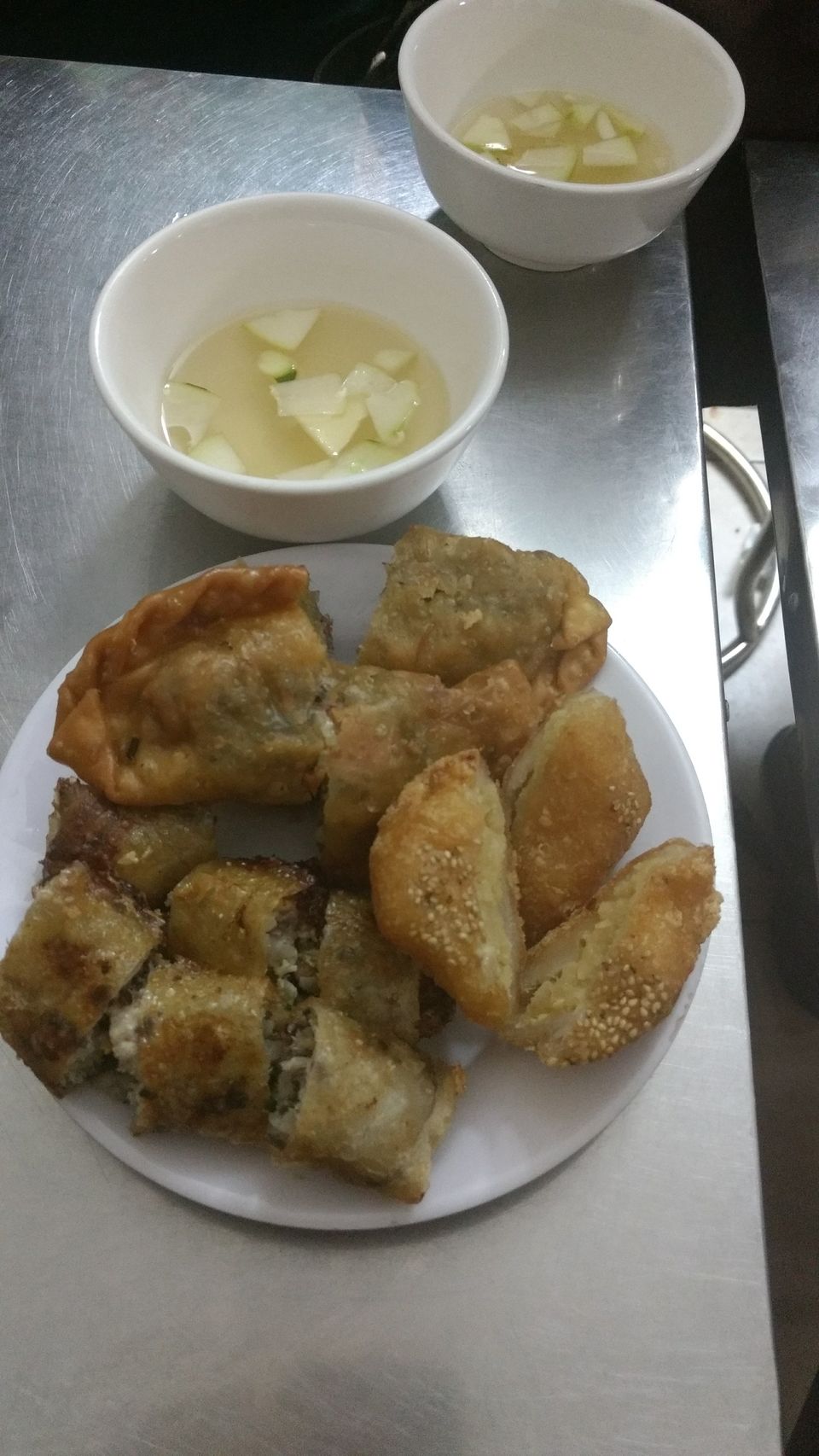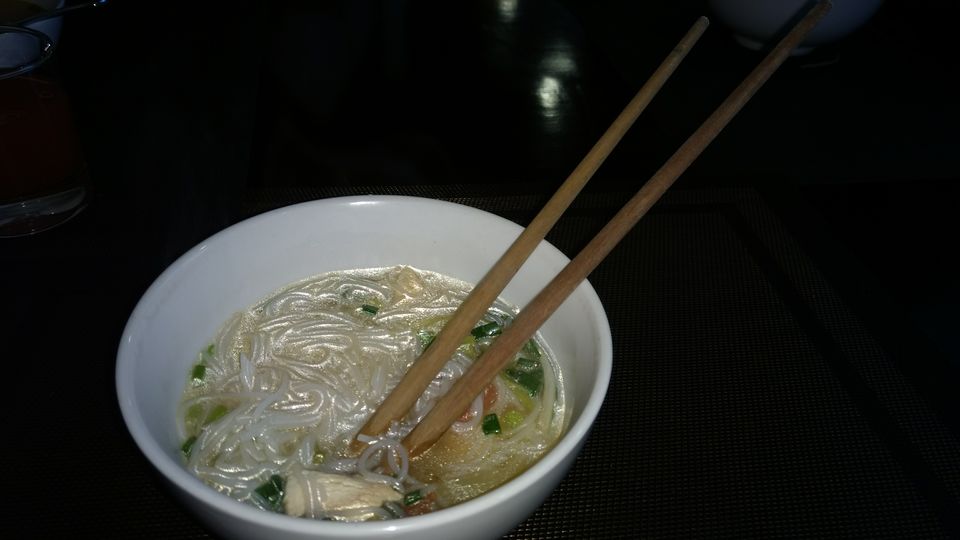 A word of caution for the vegetarians though. You are advised to carry along non perishable food stuff which will last you through your trip,cos though you may get dishes having veggies but the broth is mainly of chicken/beef /pork or fish sauce. Of course ,if you have the time you can scout for Vegetarian hotels which are very rare or subsist on fresh fruits available in the local markets .
A special mention should be made of Cafe Giang 39 a old coffee house since 1946 which serves the most delicious Egg coffee and a variety of unique Icecreams like the Black rice Yoghurt Icecream,Sticky rice icecreams etc etc.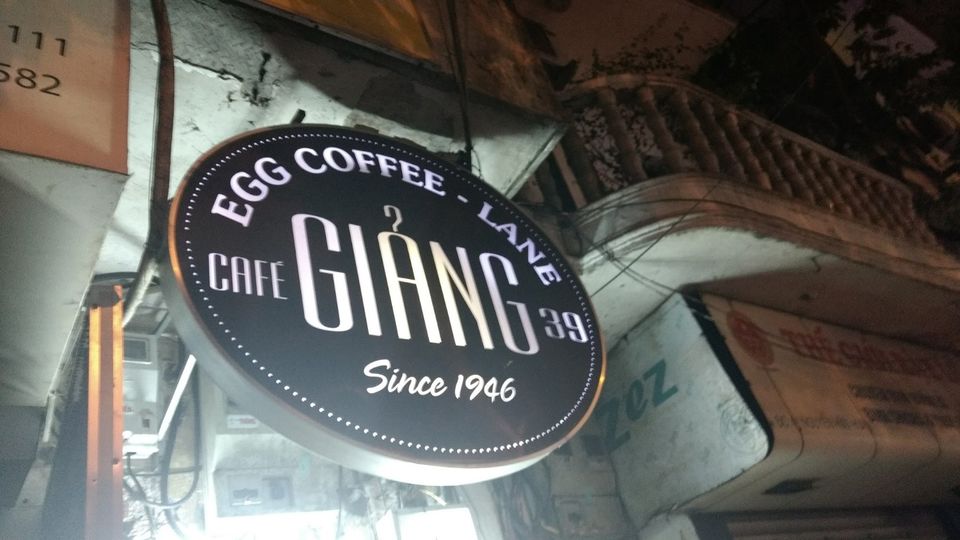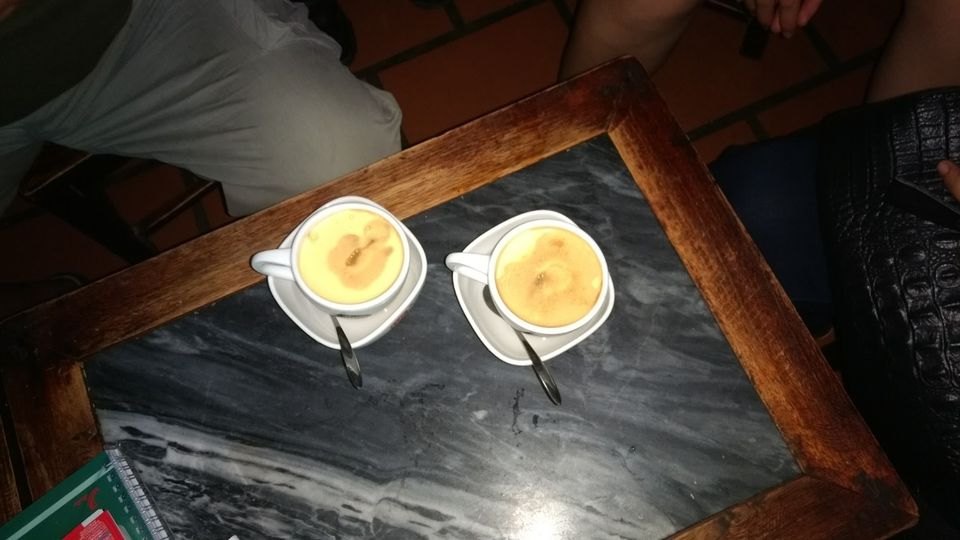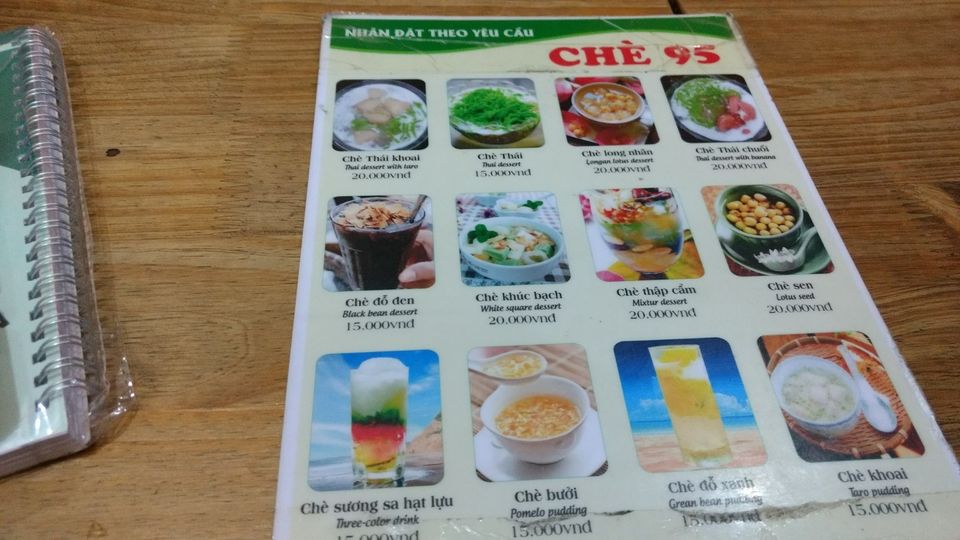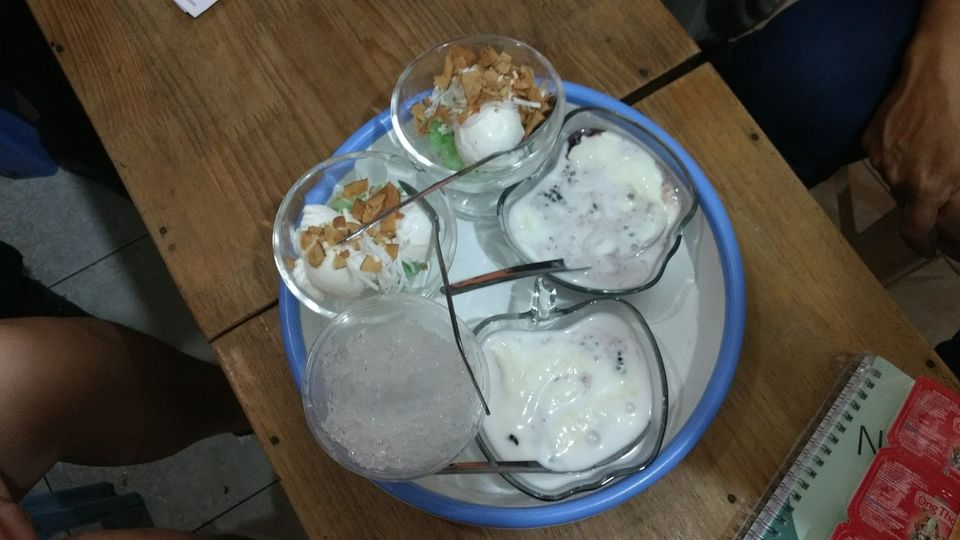 Since Vietnamese drink black tea / coffee and we being used to having milk in our tea / coffee it was a tough time intially explaining to the waiter that we wanted milk. After a lot of efforts trying to explain in different ways he finally understood what we wanted and gave us a can of condensed milk which doubled up as milk and sugar for the tea. The rest of our trip in Vietnam was easy. We directly used to ask for Condensed milk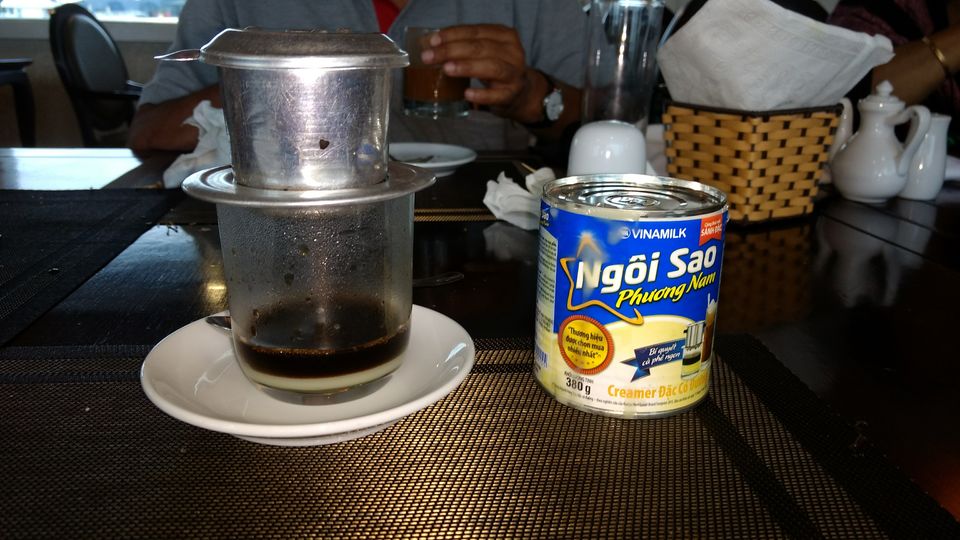 As night sets, after 10 pm the lanes and bylanes in Old Hanoi get transformed into a Food street. There are small plastic chairs and tables set outside on the pavements and the traffic is cordoned off. The entire place is crowded with locals and foreigners who gather to relish the delicious food over a drink .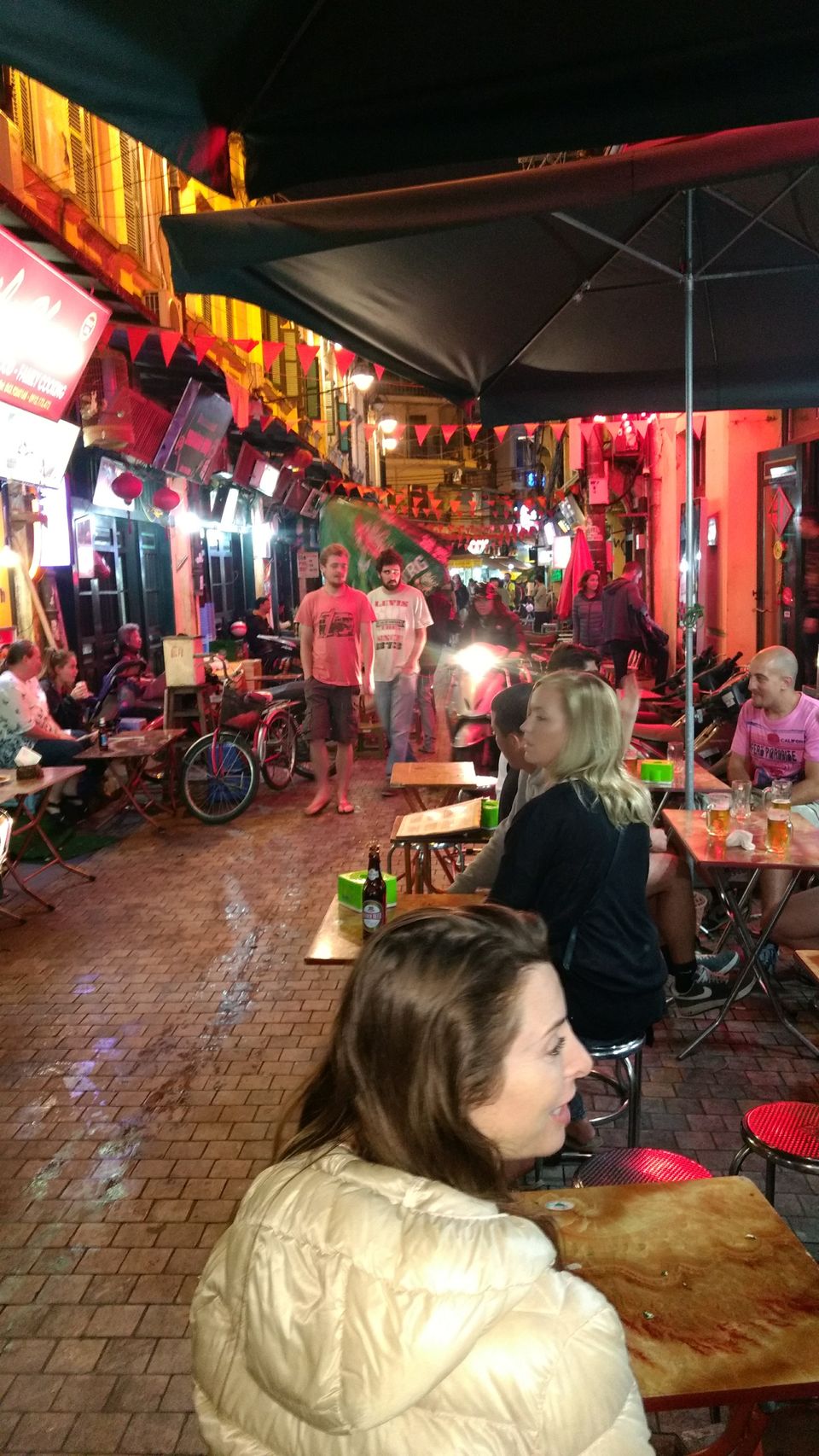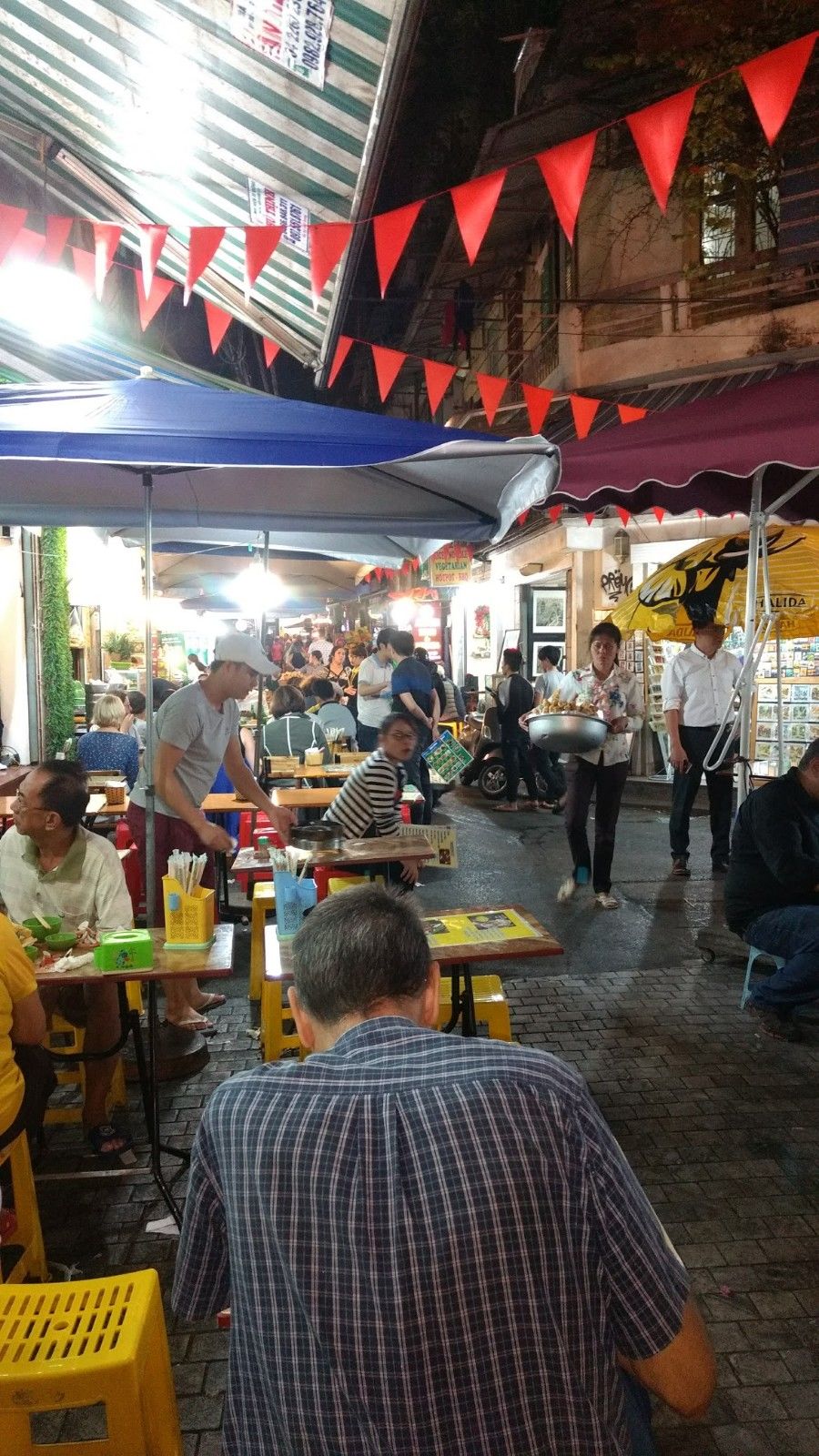 The atmosphere is casual and vibrant. Some unique things which I noticed were, after the crowds disperse by the wee hours of night the stall owners wash the footpaths so that the footpaths are clean for the next business day. And there is a garbage truck which stops outside every lane at 11 pm to pick up trash and it continously plays music so the stall owners know that the truck has arrived and they come to deposit their trash .
Currency in Vietnam is Vietnamese Dong (VND) . The exchange rate when we had visited was 1 $ = 250000 VND. The smallest denomination is a 10000 VND note. The initial few days were tough for us while shopping since we were not used to the locals quoting 5 million or 10 million and we used to take back our VND note as a reflex action thinking we were buying expensive stuff . But within a few days we got used to this term and were expert shoppers at the end of the trip
Traffic in Hanoi is chaotic and crazy. The traffic does not stop at the red signal,especially bikers and it is upto you how to dodge the traffic and cross the road.
The Vietnamese people are friendly and helpful though communication is a major issue. Most of the locals don't know English especially the street vendors so shopping and bargaining is really tough. It was mostly playing dumb charades with them and finally we managed to convey what we wanted to
Shopping is extremely cheap and curios and sovenirs can be bought in the local market place . Haggling is perfectly acceptable
From chaotic Hanoi,next destination was the beautiful Halong Bay Cruise, which is 170 kms from Hanoi where we arrived by the Cruise Shuttle bus. We had booked the cruise online from India itself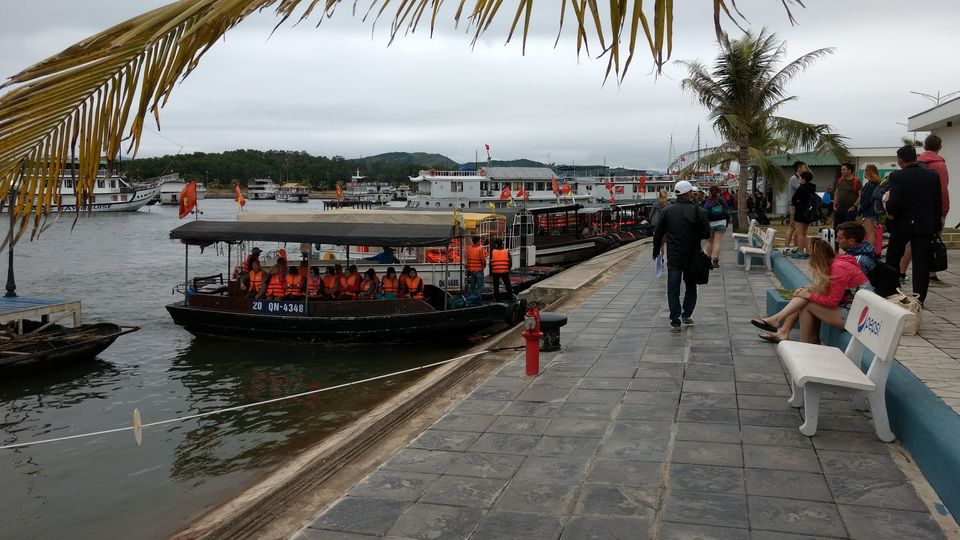 Halong Bay is a UNESCO World Heritage site with more than 2000 limestone peaks that jut from emerald green waters. We had booked an overnight cruise at Halong Bay with Lunch /Dinner & Breakfast included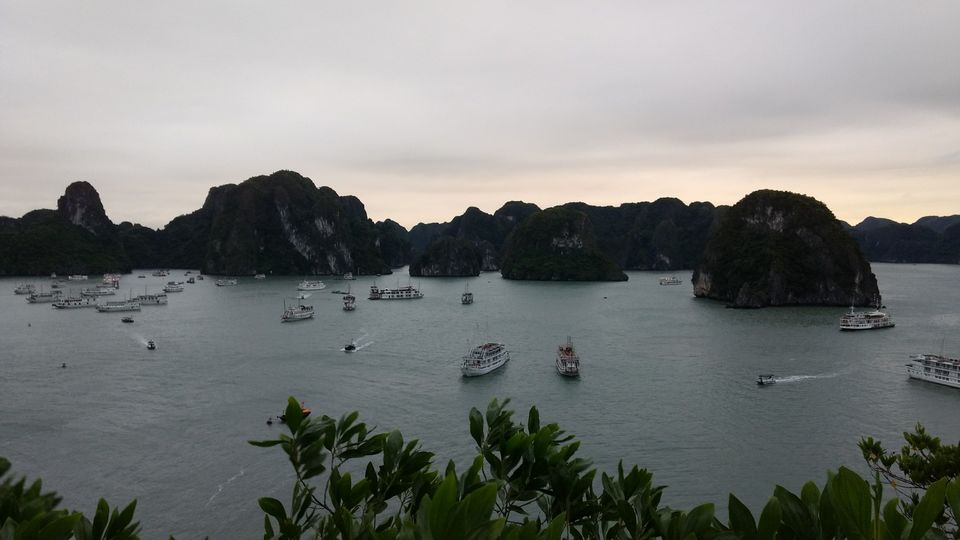 After a lunch consisting of Sticky rice ,Vietnamese Prawns ,Squid fry,Pork,Pho,Carrot & Yam salad we were transported in a smaller boat from where we visited a island beach called Ti Top named after a Russian captain who helped them in their war against the imperialists .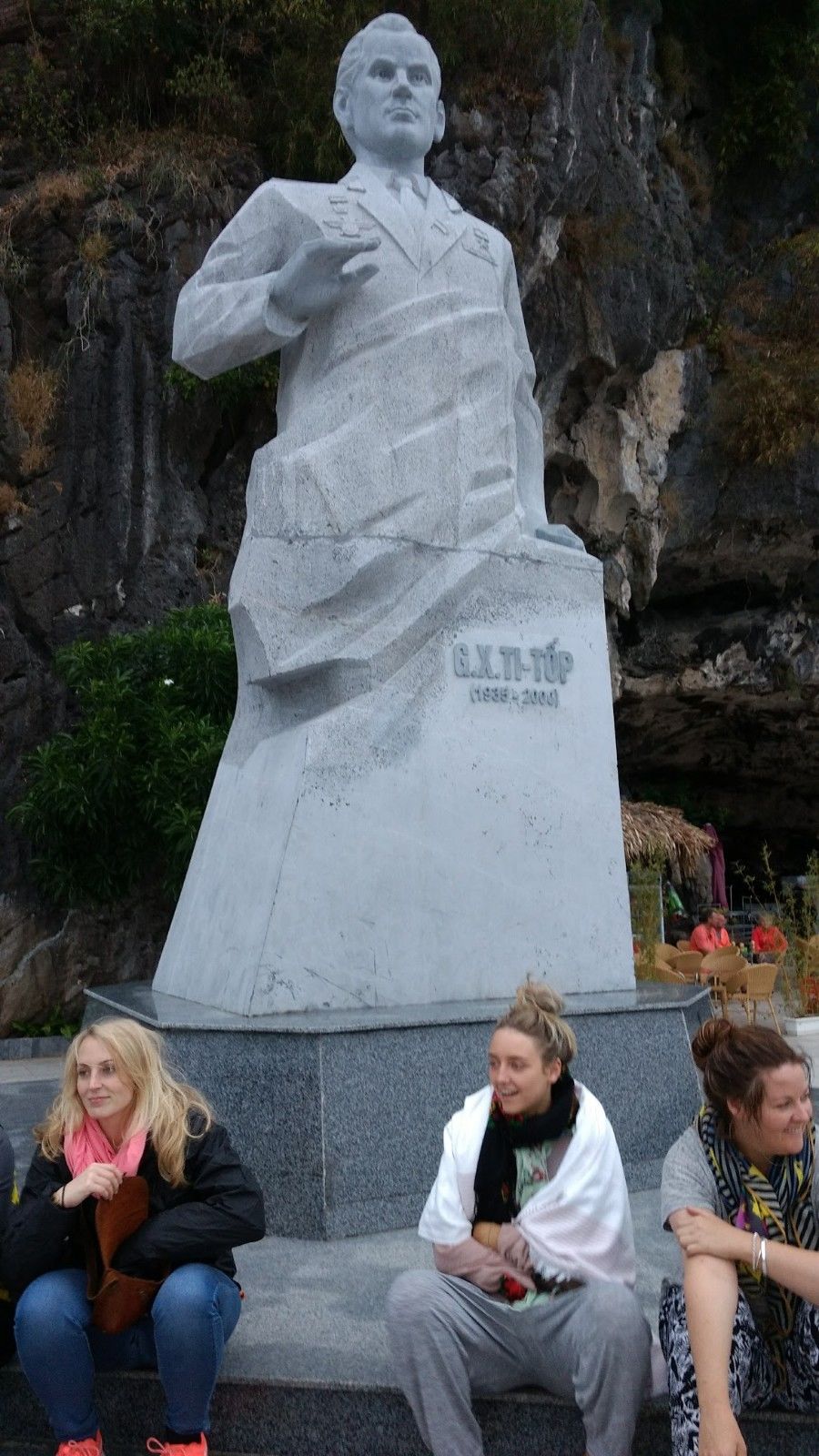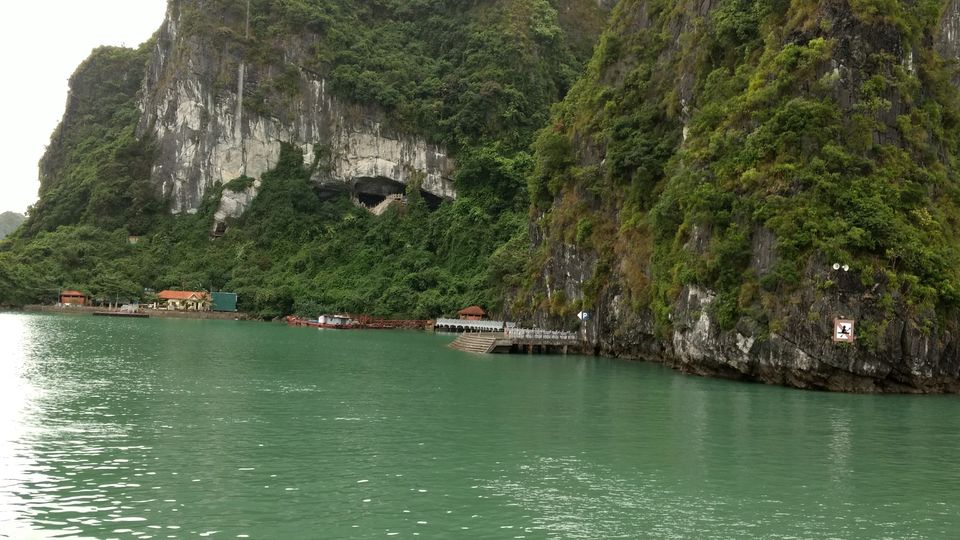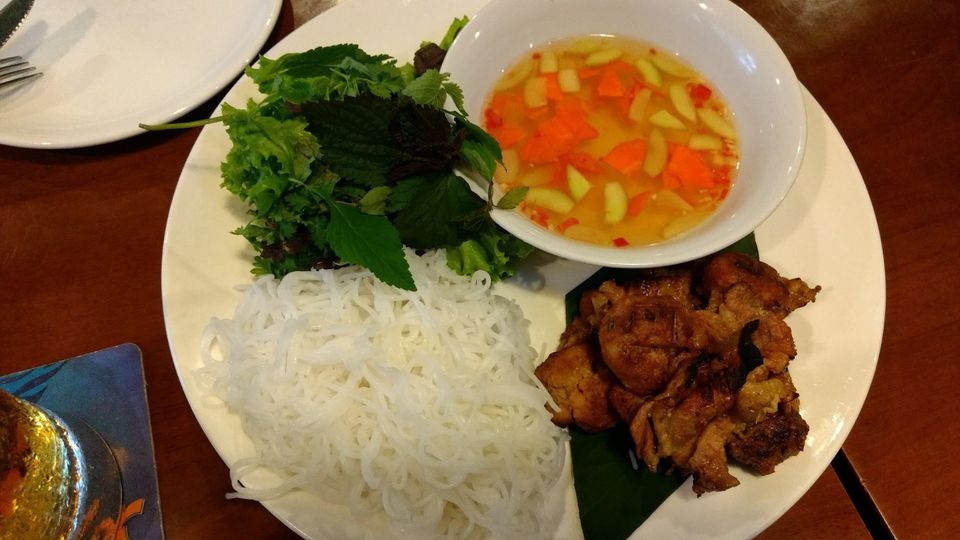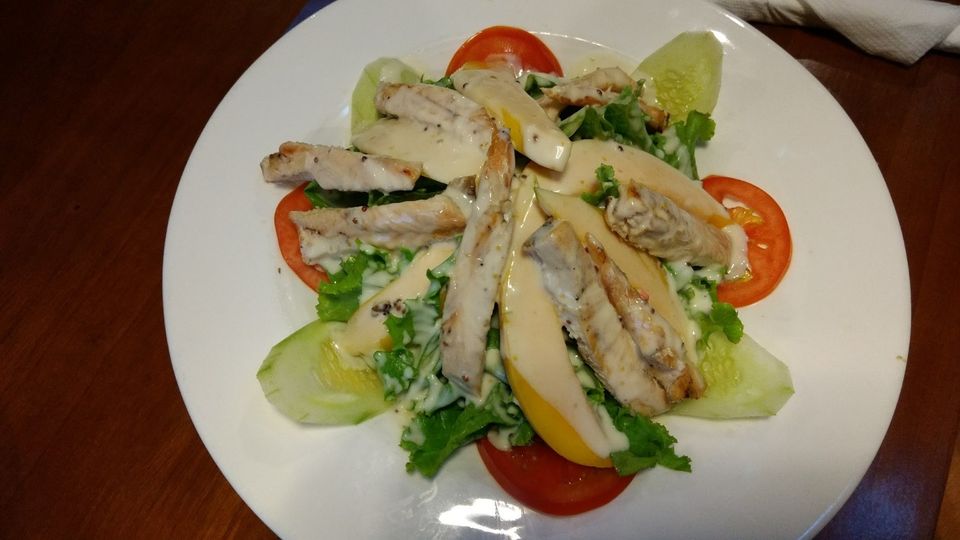 There is a climb to the top of the structure from where we could see the beautiful scenery around Halong Bay. We also did kayaking in the Bay waters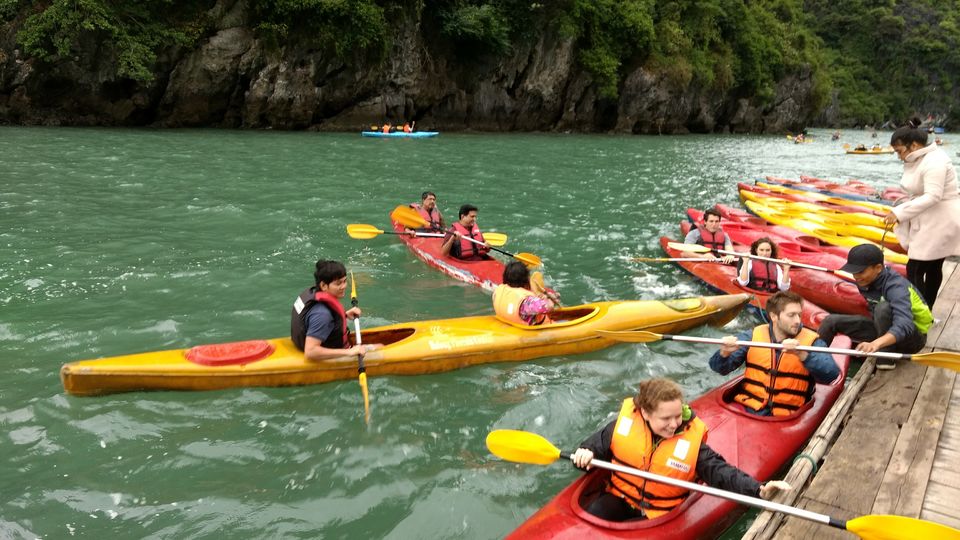 Next morning after a fitful sleep and a sumptuous breakfast we visited the Sung Sot Caves ( Surprise Caves ) which true to its nickname took us by surprise. The inner space of the caves is large and the ceiling is decorated with stalactites like colorful chandeliers and the floor with plenty of rocks in diverse shapes of elephants,horse to trees and leaves,flowers. It was a sight to behold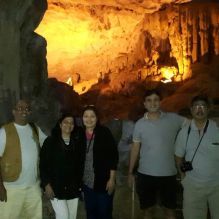 After a cooking session organised by the Cruise boat we disembarked for our return journey to Hanoi.
Next day was our 2 hour flight to Ho Chi Minh ( Saigon ) which is in South Vietnam. We had booked a tour for the Cu Chi Tunnels from India itself. Immediately on landing at Ho Chi Minh airport we directly drove to the Cu Chi tunnels site
The tunnels of Cu Chi are an immense network of connecting tunnels located in Cu Chi district of Ho Chi Minh and are a part of the many network of tunnels that underlie much of the country.The Cu Chi Tunnels were a location of several military campaigns during the Vietnam war .The tunnels were used by Viet soldiers during combat as well as communication and supply routes,hospitals, food and weapon caches . The tunnels are amazing and is a must see for all history buffs.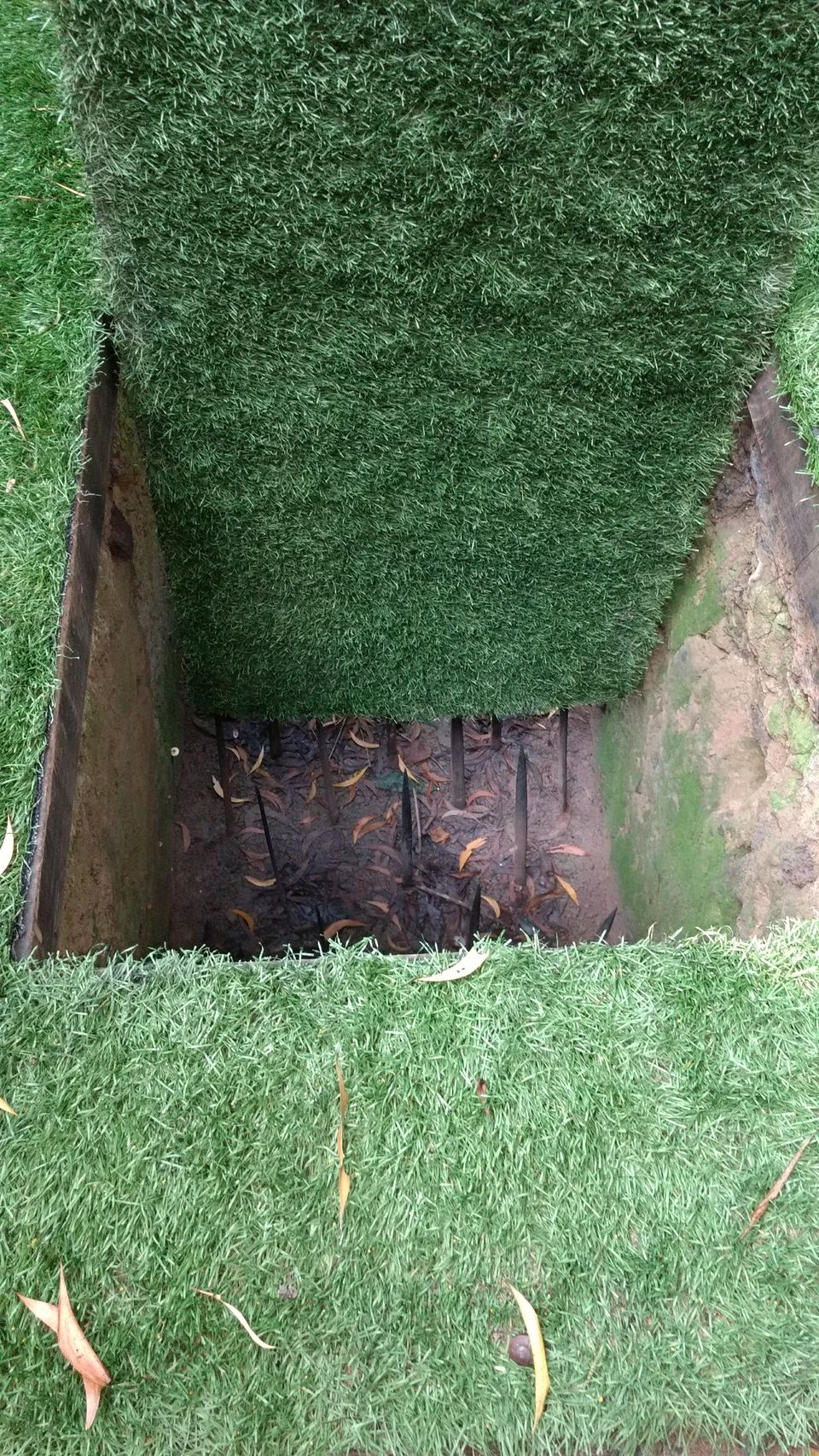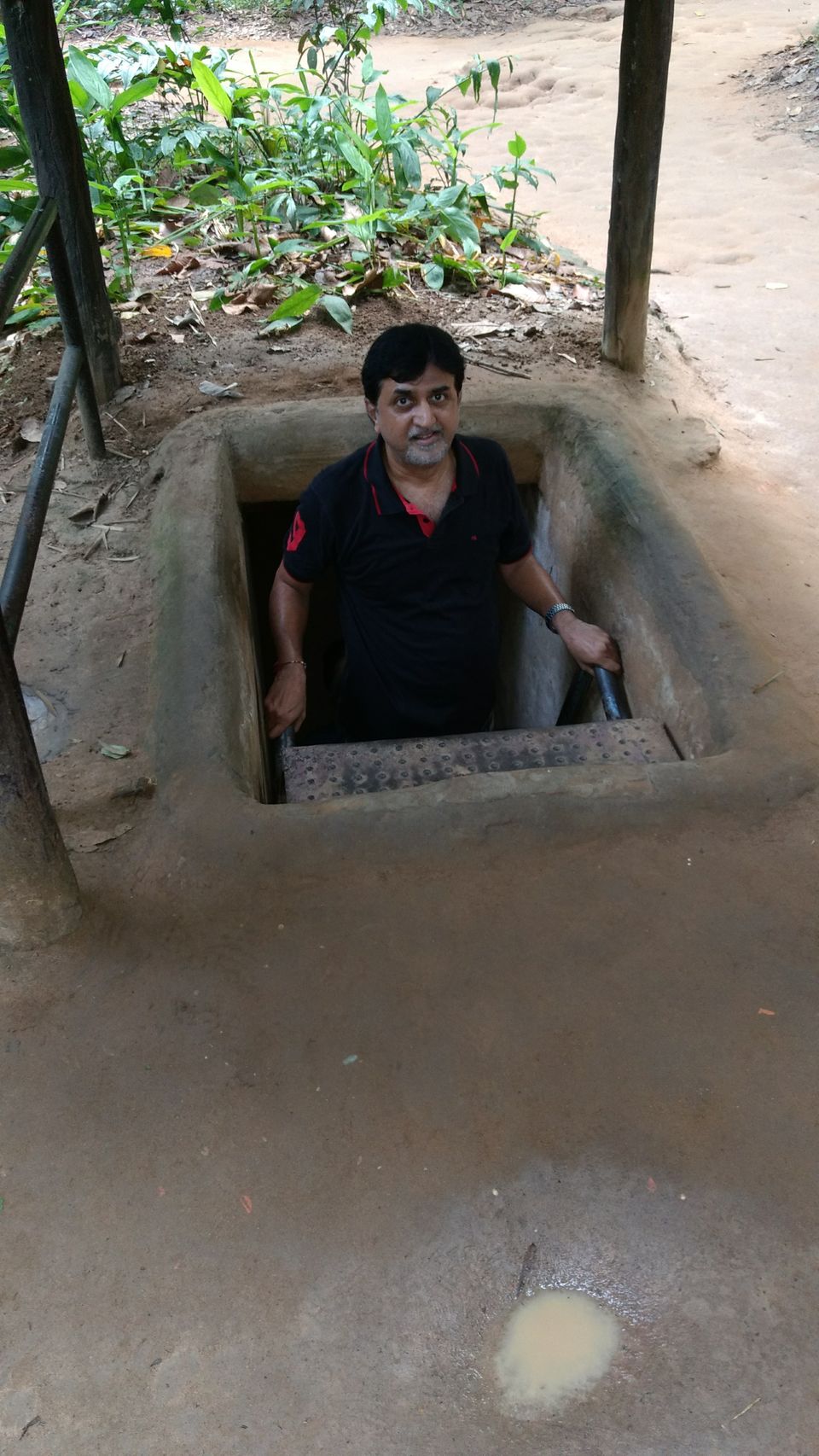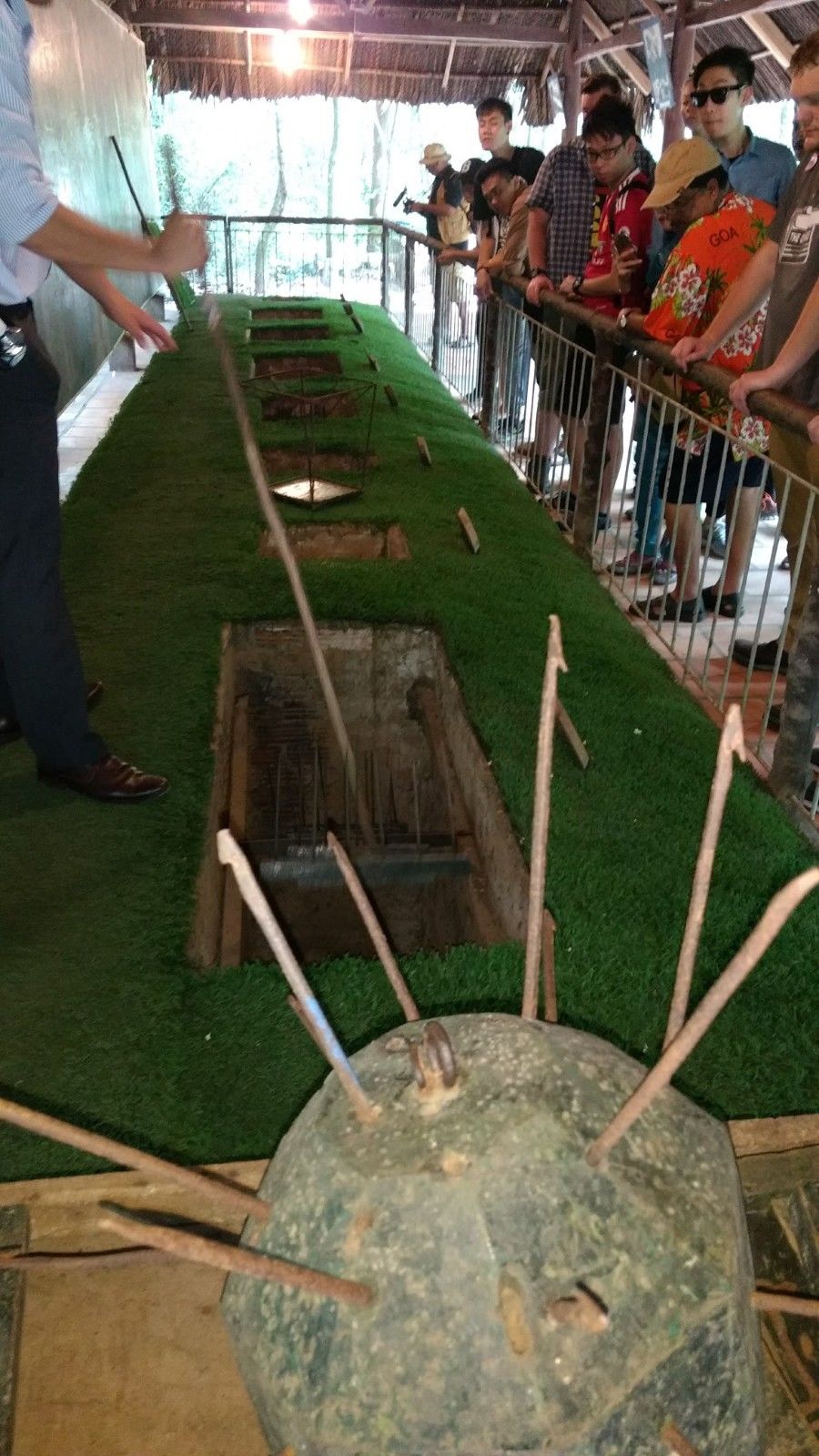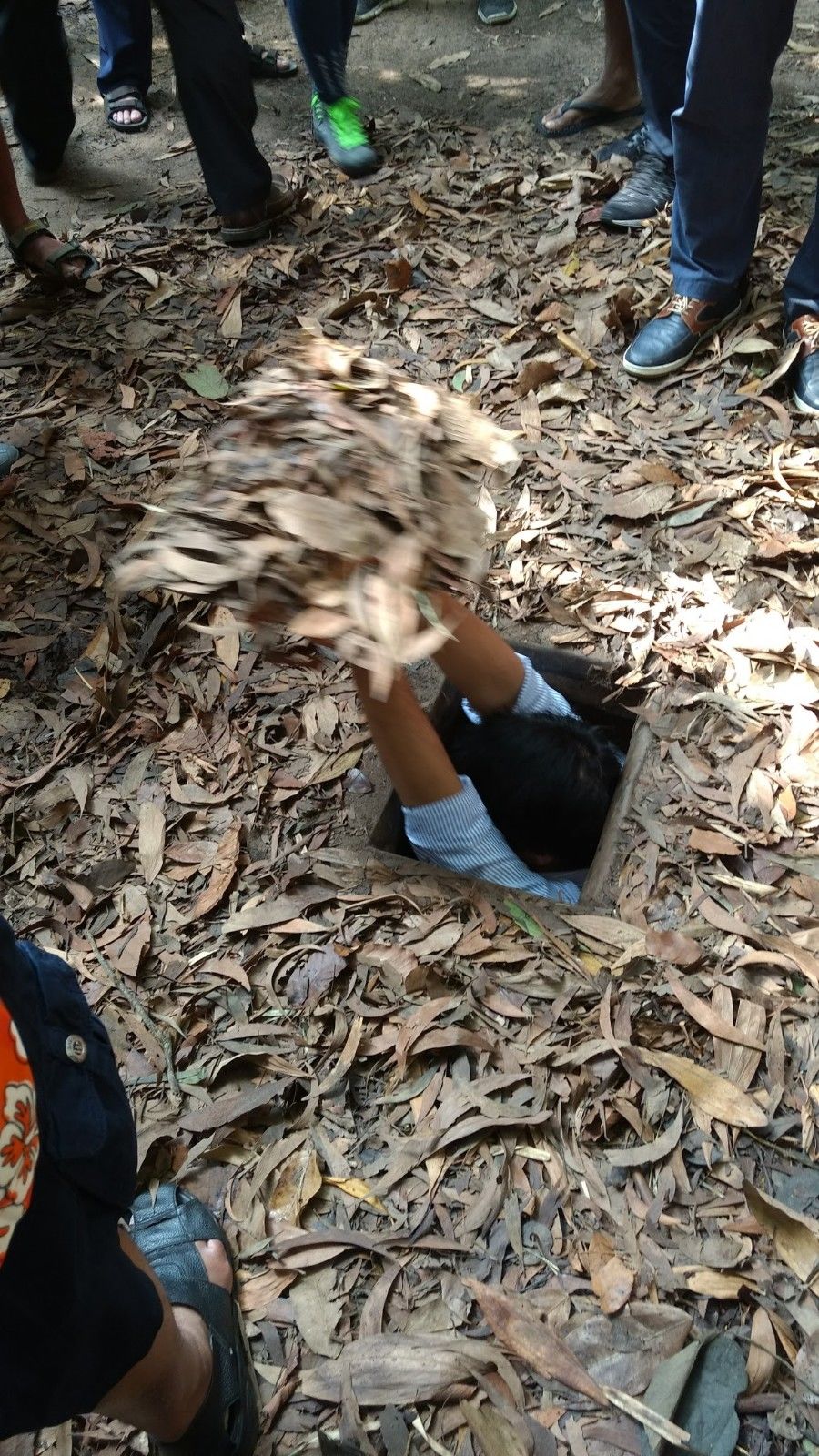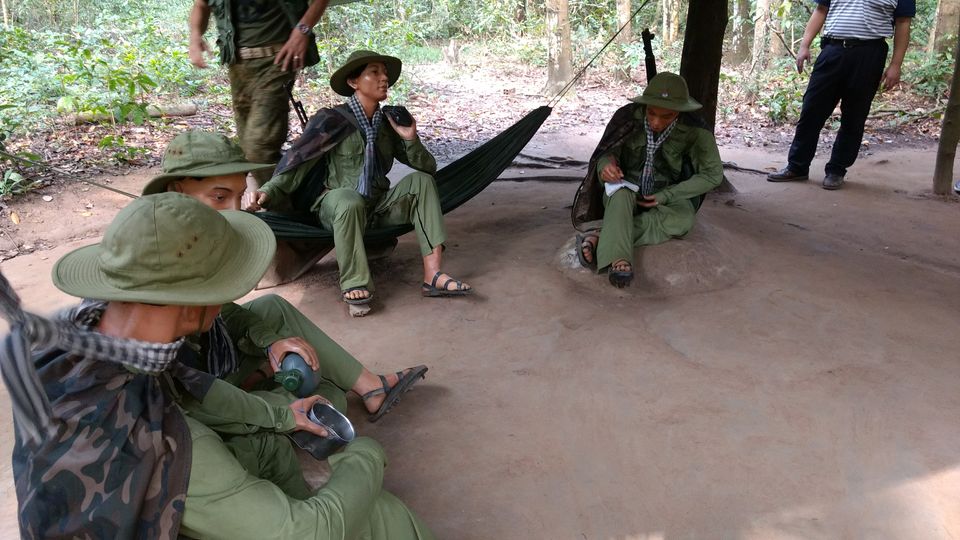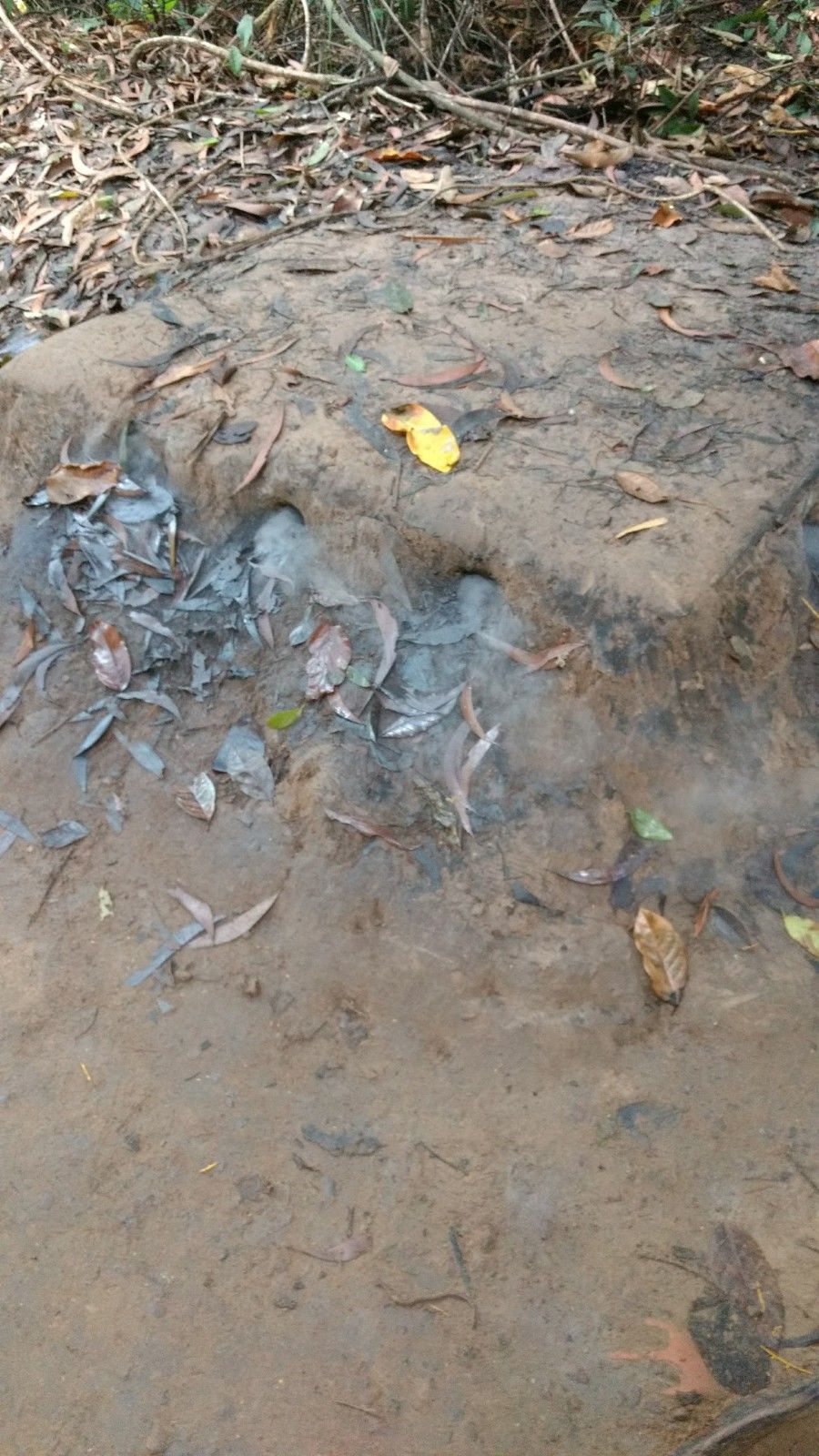 Evening was a walking tour of Ho chi Minh which was equally a vibrant city bustling with traffic like Hanoi and a Night food market and sovenir shops etc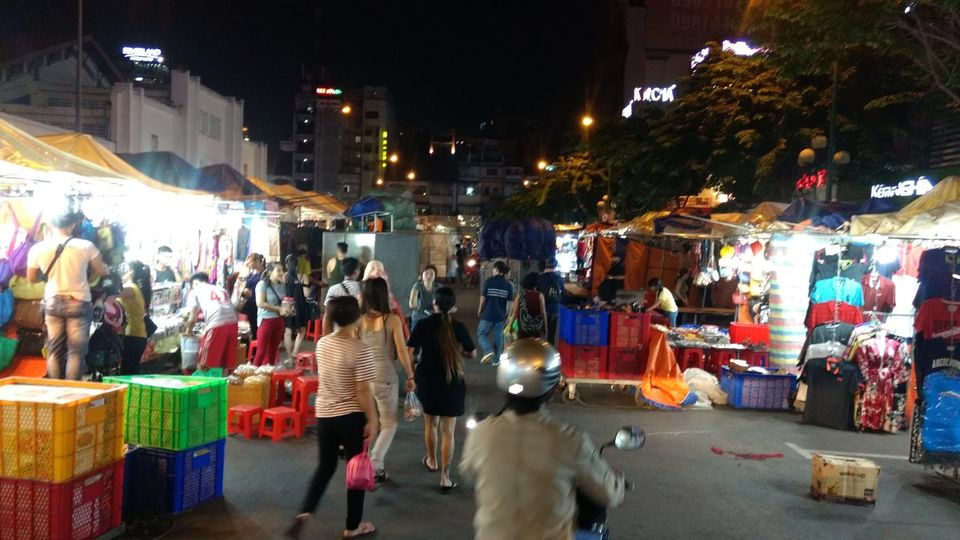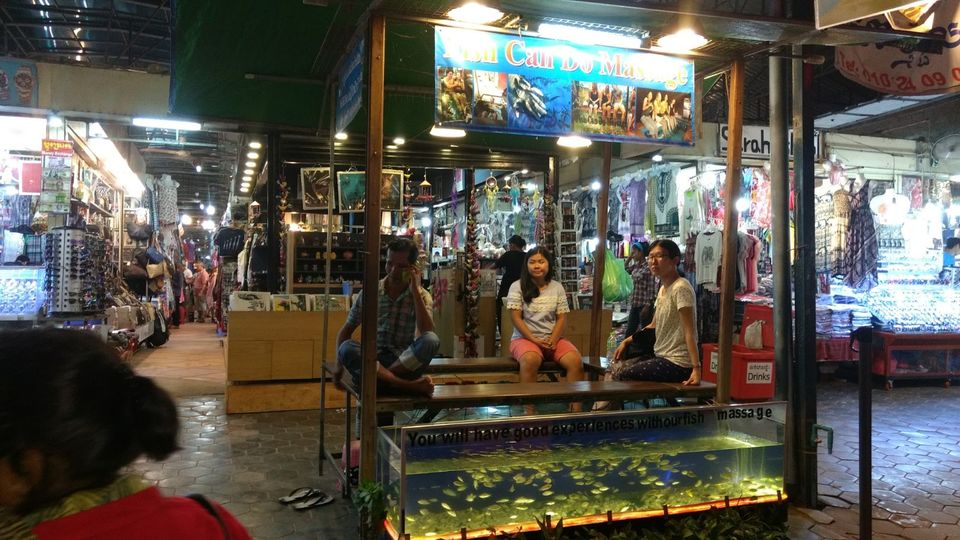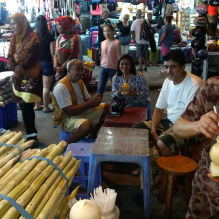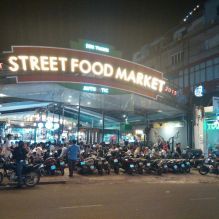 Next morning we had a full day visit scheduled to the Mekong Delta , 75 kms away from Ho Chi Minh. Enroute to Mekong Delta , the entire countryside was picturesque surrounded by orchards and rice fields. We were given a boat ride in the Delta followed by lunch at one of the restaurants in the islands. From there we participated in various activities like visiting a bee farm, tasting different wines including snake wine,coconut wine, a coconut candy mfg unit, a horse cart ride and a canoe ride amongst the small waterways in the delta.It was an amazing experience. The tour lasted till mid afternoon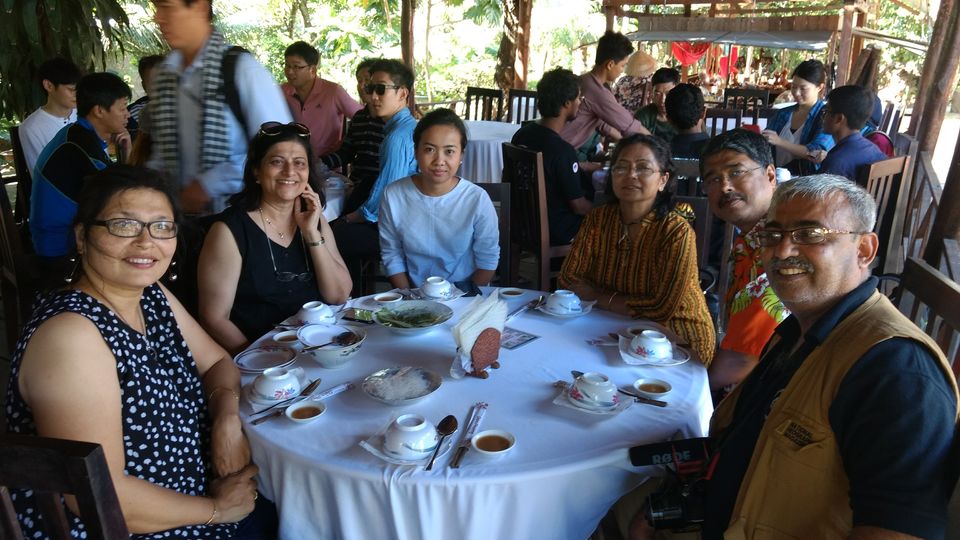 After an overnight halt at Ho Chi Minh, next day we were ready for our trip to Cambodia ( a seperate blog written ) by bus.